Last fall I finally caved in and bought myself a pair of Blundstone boots. Despite their surge in popularity, I'd initially written them off as being too clunky and not a good fit within my style definition, not to mention my bewilderment as to how I'd actually wear them.
But after seeing how Dave has enjoyed his, I decided to give them a second look. With weakened resistance I visited the Toronto store, tried them on and well, a few laps around the showroom was all it really took to convince me! Since then they've been a great boot for all types of weather and I feel like I've spent enough time in them to share a proper review (even though it's late in the season). I've also figured out how the heck to style them so I thought it'd be helpful to show how I do that today too!
So let's dig in shall we?
---
---
BLUNDSTONE REVIEW
---
As per usual, I'll start this review with some basic information like the specific style, price, size I bought and where to find them, then I'll get into more specific details like company values, comfort, warmth and break-in period. So here goes!
STYLE | Unisex – 1392 – Winter Chisel Toe in Rustic Black | Regular version 1308 in Rustic Black
I went for the Chisel Toe style because of the sleeker design and sharper sole and tread profile. I opted for the winterized version because the leather is lined with Thinsulate, treated to be 100% water-proof and comes with interchangeable sets of shearling and regular insoles making them suitable for a wide range of temperatures.
PRICE | $259.99 CAD or $195.99 USD
SIZE | I wear a US 7 – 7.5 and have a narrow instep. I have the unisex size 4 in these.
MADE IN | Vietnam
MATERIALS:
Upper: Premium waterproof leather
Lining: 200 grams of Thinsulate insulation
Outsole: Thermo-urethane
Midsole: Polyurethane
Removable sheepskin footbed for warmth and comfort
CARE | Blundstone boots are low maintenance but there is a comprehensive care guide here to help you keep them looking great. So far all I've done is wipe them off with a wet towel to get any mud cleaned up.
WARRANTY | All Blundstone products are fully guaranteed against defects in materials and workmanship. The warranty does not guarantee or imply an expectation of service life (ie: a time frame) but if there is a discernible defect you can return the product at any time and Blundstone will do their best to either repair or replace the defective elements.
WHERE TO FIND THEM:
---
OTHER STYLES TO CHECK OUT

---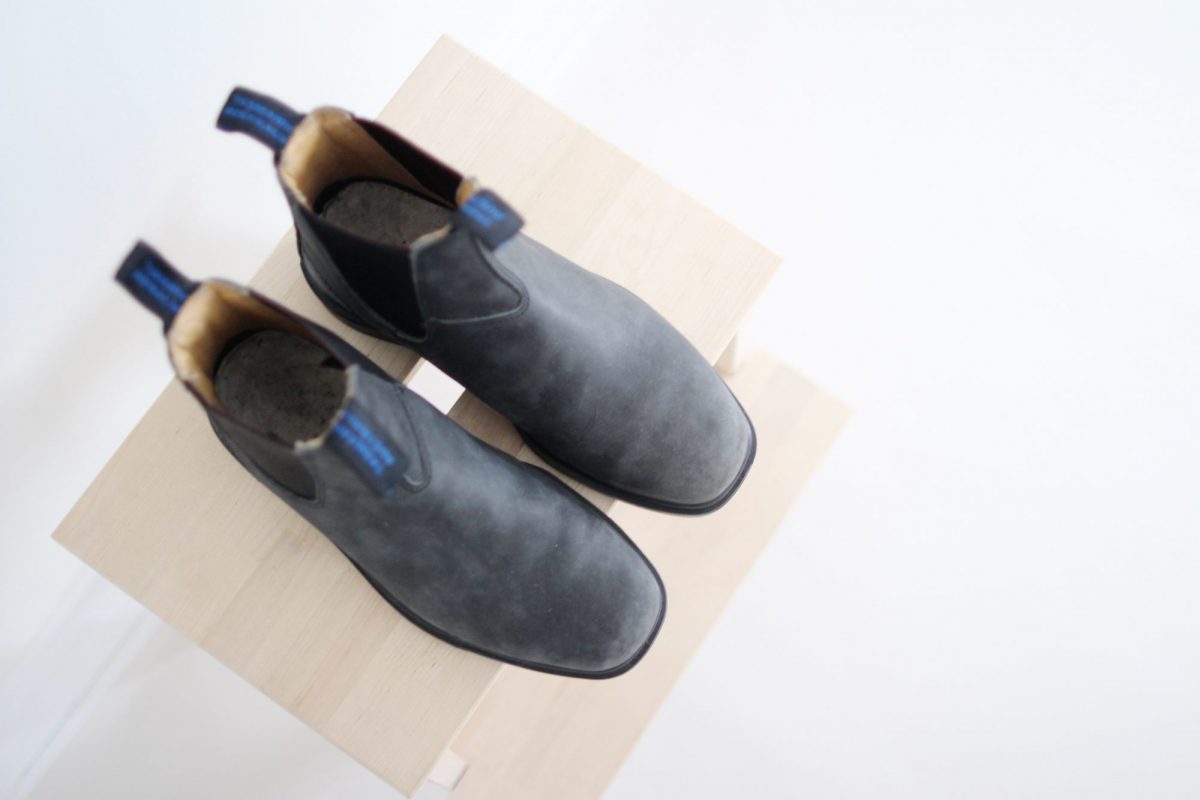 ---
COMPANY VALUES | Until Dave bought his boots, Blundstone wasn't a brand I'd had on my responsibly-made radar. So when I started considering them I did a bit of research, as I do with any brand. Are they perfectly transparent, no, but their company values were up front enough that I felt comfortable supporting the brand, especially knowing that the boots are really made to last. Here's a quote from their website:
The Blundstone Group operates according to a set of values that ensures legal, ethical and responsible policies, practices and processes are adopted throughout the company and at all times. From our people and business management activities through to our interaction with the physical environment, Blundstone strives to meet and, where possible, exceed community expectations.


– The Blundstone Group
You can learn a lot more about the company's Environment Standards and Ethical Employment on the Our Values page and more about the brand's quality promise on this page.
FIT | I mentioned my size above but to reiterate I got the unisex size 4 and typically wear a US 7-7.5 (7 in Everlane for reference). Sizing guides suggest women order 3 down and men order 1 down from their usual US or Canadian size.
I think the style I have is perhaps a bit roomier compared to some of the classic styles. I don't find them too big and my foot is very comfortable in them and doesn't slip around. The extra room works well for a winter boot since your sock thickness will change throughout the season. The boots come with a winter and a regular insole so you can swap them out depending on the temperature.
ARE THEY EASY TO PULL ON? | I found they were pretty stiff to begin with but have softened up nicely now. I've probably pulled them on about 60+ times at this point. Honestly, I'm tempted to cut the tabs off but they are pretty useful when it comes to pulling them on. Taking them off can be a little tough depending on the sock I'm wearing but that's getting better too.
SOLE GRIP | The sole on this style is a lower profile tread than the original but that's what helps them look a bit sleeker too. Still, I find the traction quite good generally, but on very icy, slippery terrain it doesn't hold super well. You can see the tread below and compare it to the original shown here.
---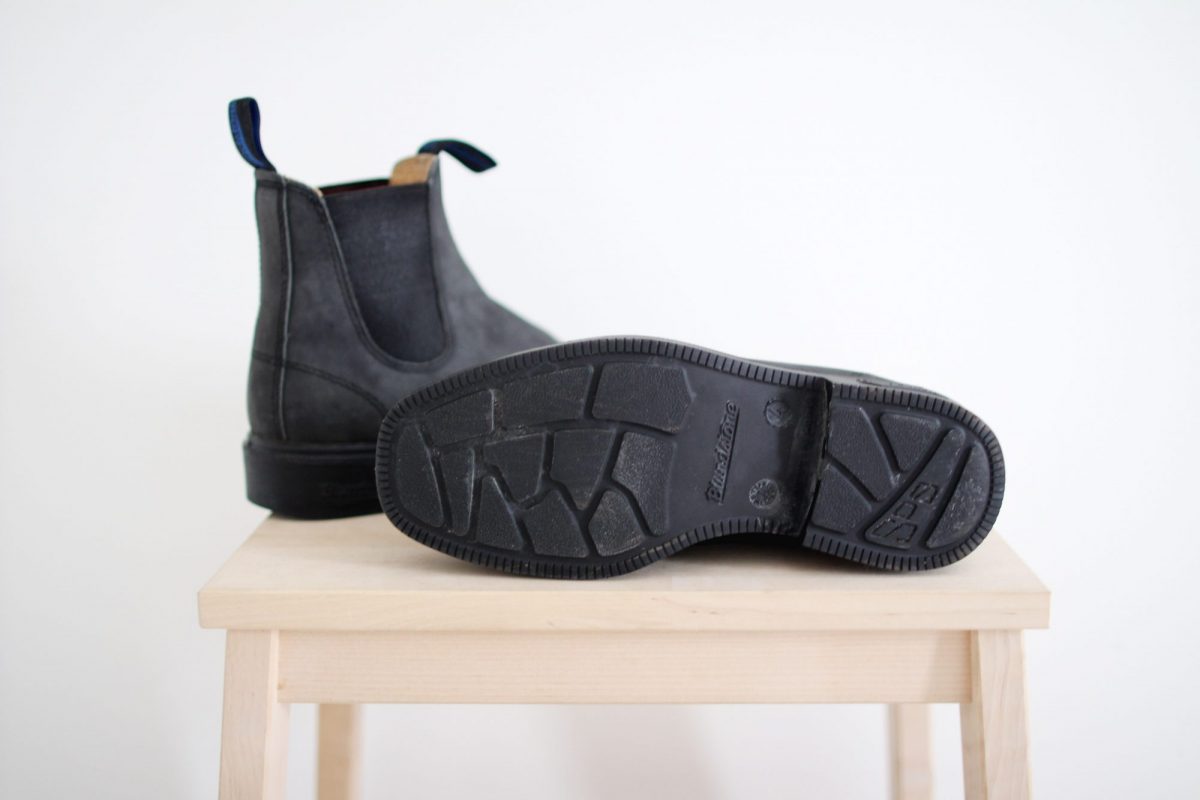 ---
WARMTH | The winter lining and sheepskin insole in these boots makes them very warm. I'd say they are entirely sufficient for anywhere from -20 (if you're moving and wearing a warm sock) up to 15 or so degrees celsius with a think sock and the insole swapped, otherwise they'll be too hot.
If you don't need additional warmth of the Thinsulate lining or the sheepskin insole you can opt for the same style in straight leather with a regular insole. Find that version here for $40 CAD less.
As it is, I'll be wearing my Winter Chisel Toe Blunnies well into spring. I imagine they'll be great for the next 2+ months at least.
ARE THEY REALLY WATERPROOF | Oh yep. I've waltzed through inches of slush, deep snow, downpours and more without so much as a hint at a damp toe.
COMFORT LEVEL | They are SO comfy! I wear them daily for dogs walks but I've worn them for hikes, plane rides and entire days at a time. The break-in period was almost non-existent and there were no signs of the blisters or hot spots that I was expecting in the heel area. The sheepskin insole/footbed is soft and adds a cushioned feel too. They're solid so you know they're on but not super heavy.
That's about all I could think of to cover on this review but feel free to ask me any further questions you might have! Now onto….
---
BLUNDSTONE STYLING IDEAS
---
LOOK 1
---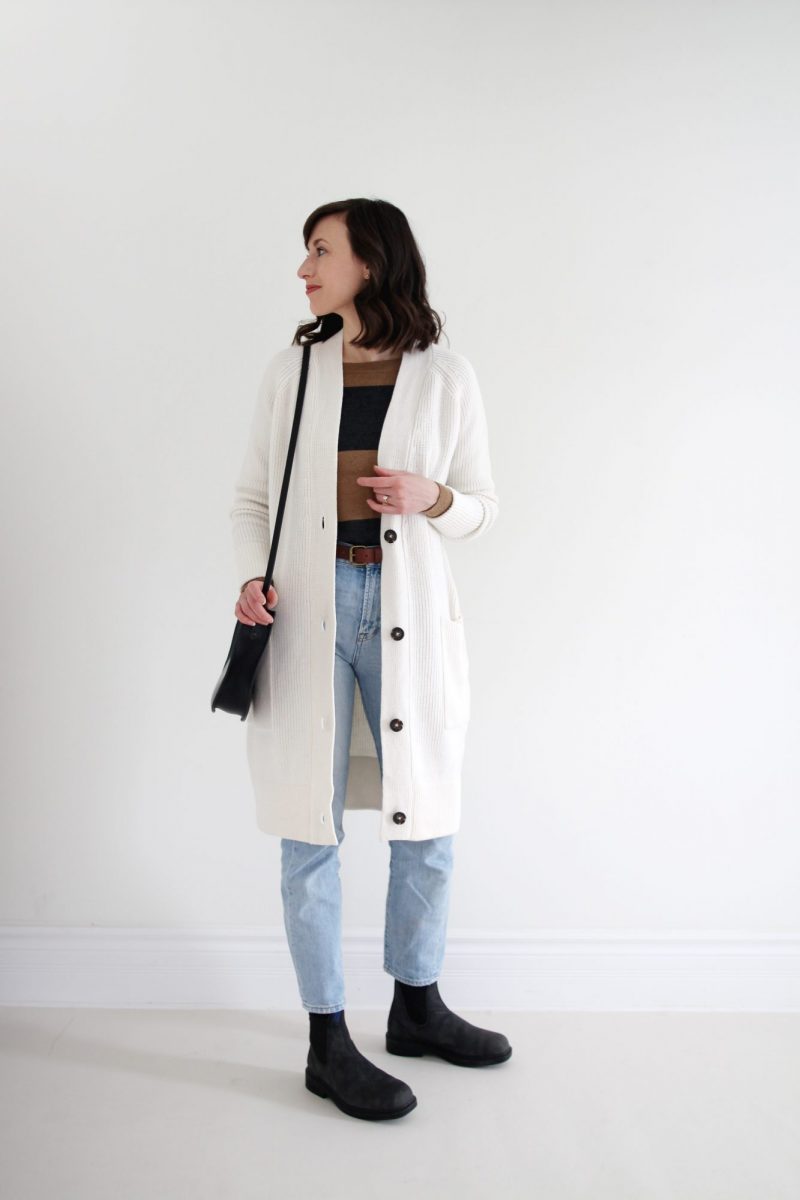 ---
SWEATER COAT* (use LEE15 for 15% Off) | STRIPED CREWNECK* | PERFECT VINTAGE JEANS | BLUNDSTONE BOOTS (also here in Canada) | BLACK BAG* | BROWN BELT | *Old items, linked similar options.

---
This is an outfit you might find me in on a weekend or for an average day of running errands when I'll be in and out of a car or shop. I like pairing these boots with cropped jeans so the hem doesn't get caught around the top of the boot. I think this also creates a visually slimming effect around the ankle, especially with a tapered pant leg.
Pairing a sturdy boot with light pieces like these summer jeans and my cream sweater coat offer a nice contrast, yet, they're not too refined to look out of place. The dark buttons on the cardigan and the black leather bag offer some repetition as well to keep the black boot from feeling heavy. A classic striped fitted sweater and a belt add a little bit of polish to bring it all together.
---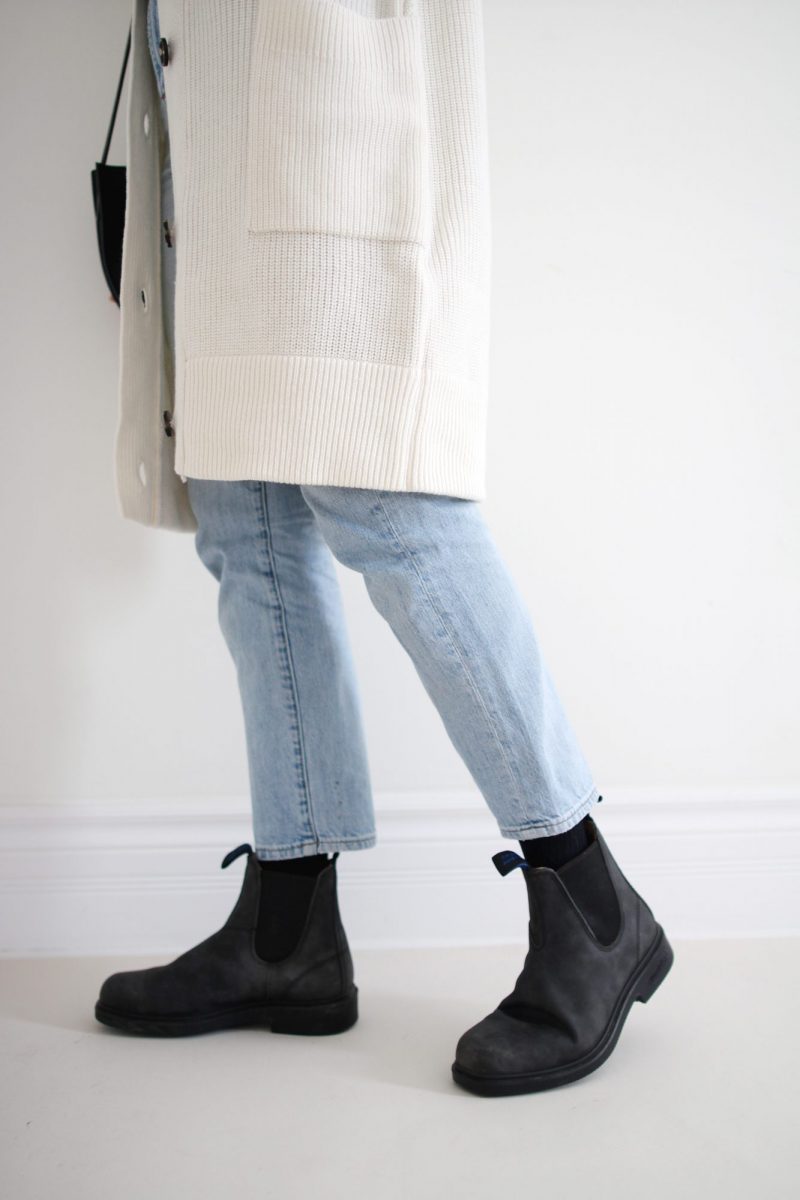 ---
LOOK 2
---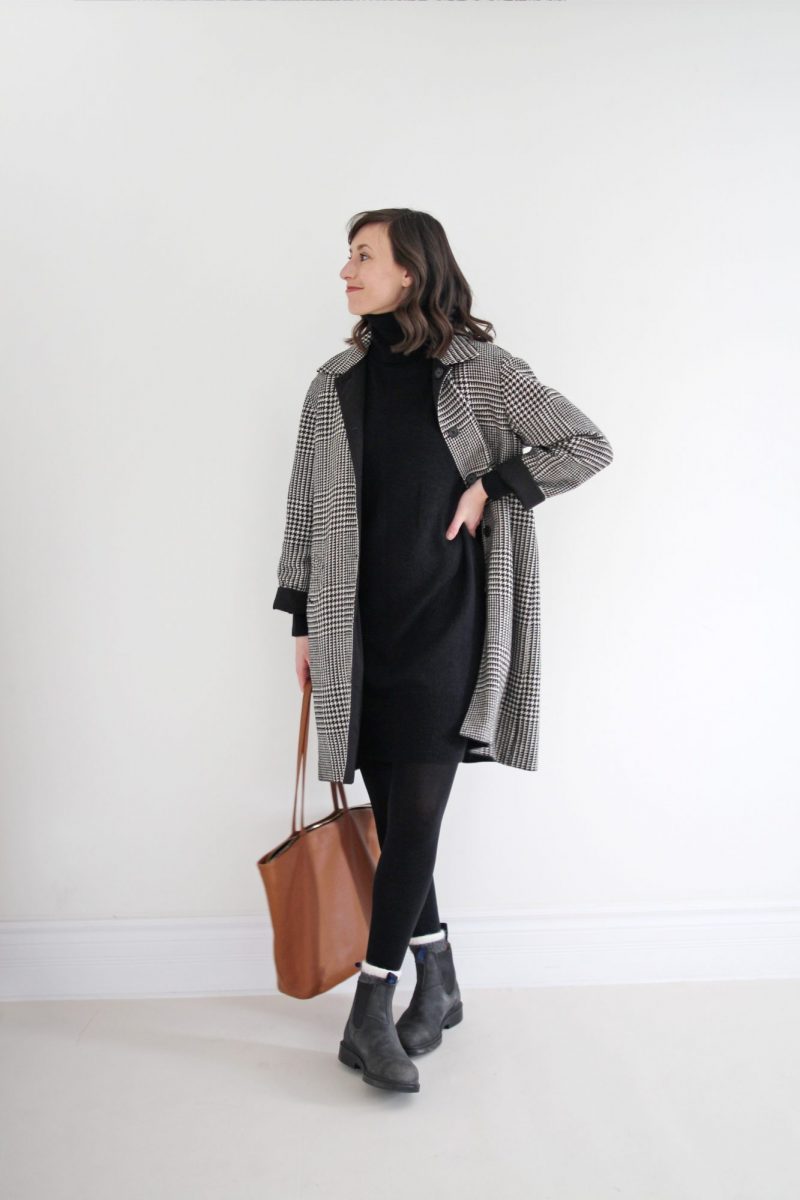 ---
VINTAGE HOUNDSTOOTH COAT* | SWEATER DRESS* | TIGHTS | WOOL SOCKS | BLUNDSTONE BOOTS (also here in Canada) | MINDY CARAMEL TOTE* | *old, linked to similar


---
This look is something you might find me in for a meeting, weekend day trip, cafe work session or casual dinner out. I wanted to see if I could make these boots work with a dress and so far my sweater dress is the one I feel works best. I think the short length is critical to balancing the proportions.
I added my opaque black tights (high opacity is key) and a striped wool sock that peeks out of my boots for a bit of texture. It also serves as a visual transition from a refined element (the tights) to a rugged one (the boots). To add some interest I topped it off with my houndstooth vintage coat and grabbed my caramel tote to warm things up.
I think a crisp white button down shirt dress or denim shirt dress would also work really well and same goes for a simple cotton shift in an earthy colour.
---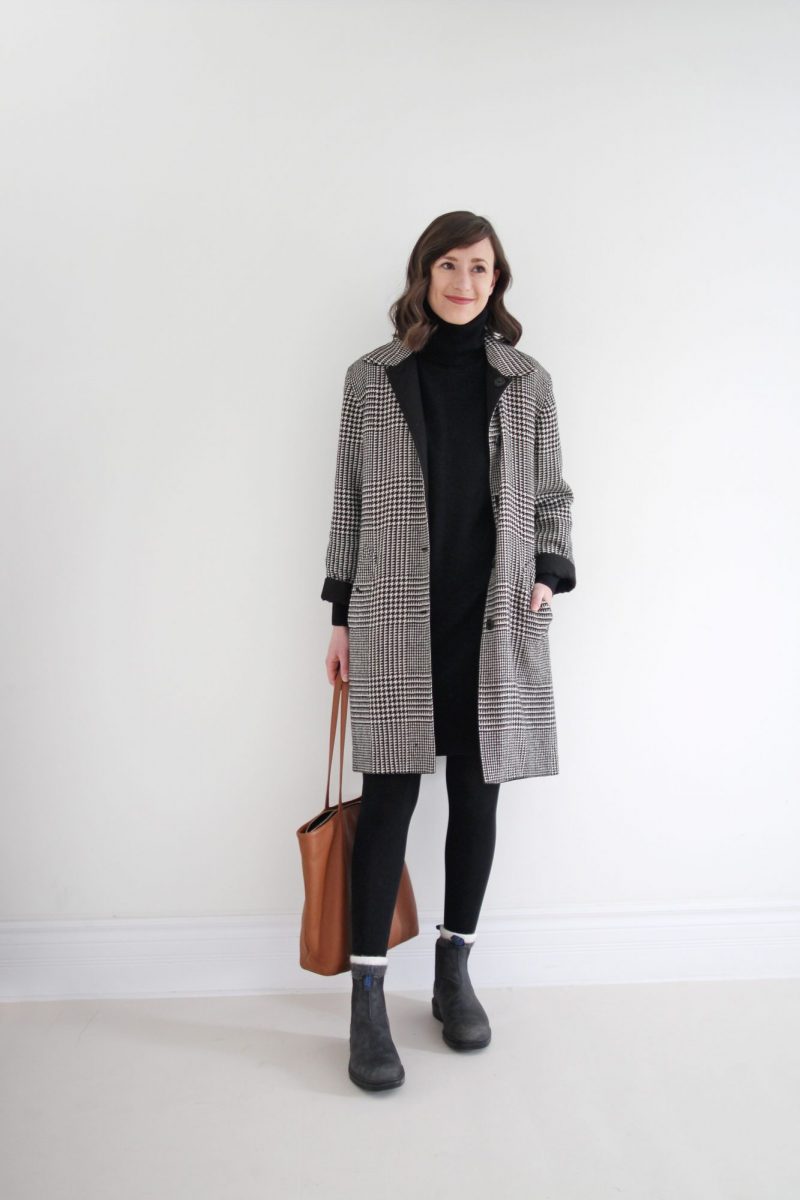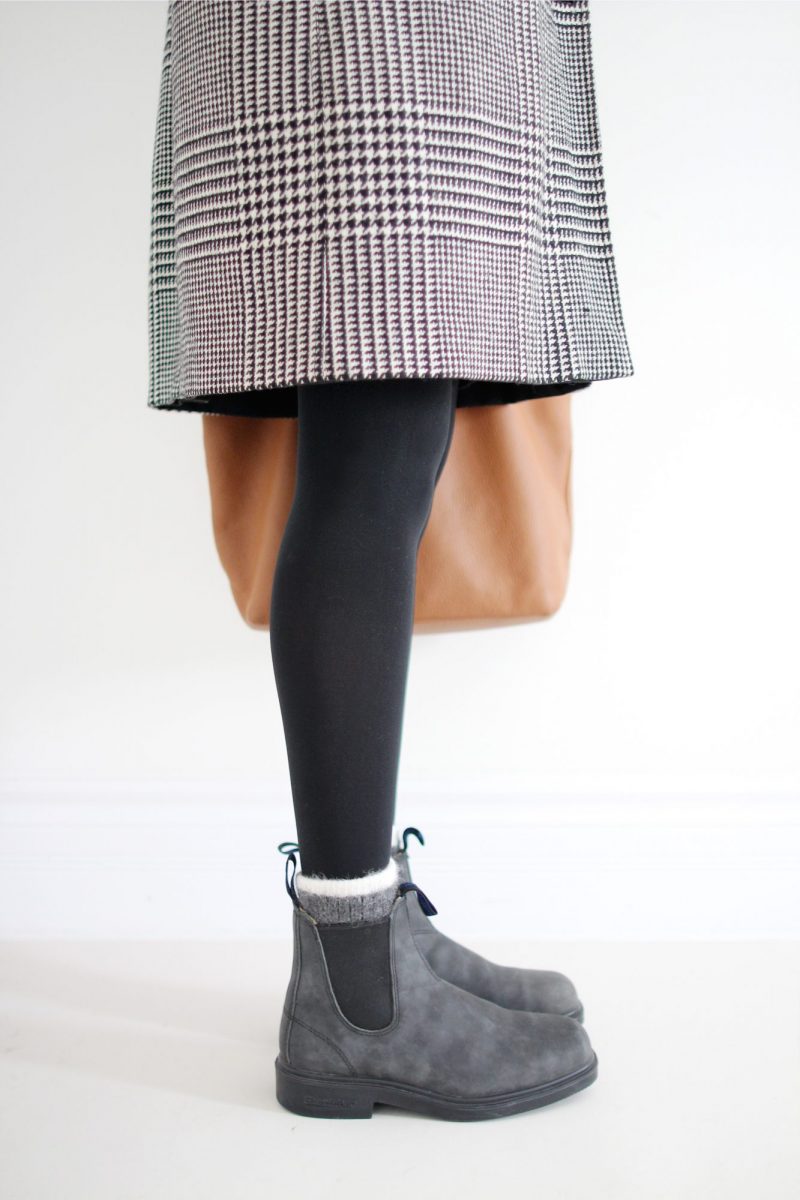 ---
LOOK 3
---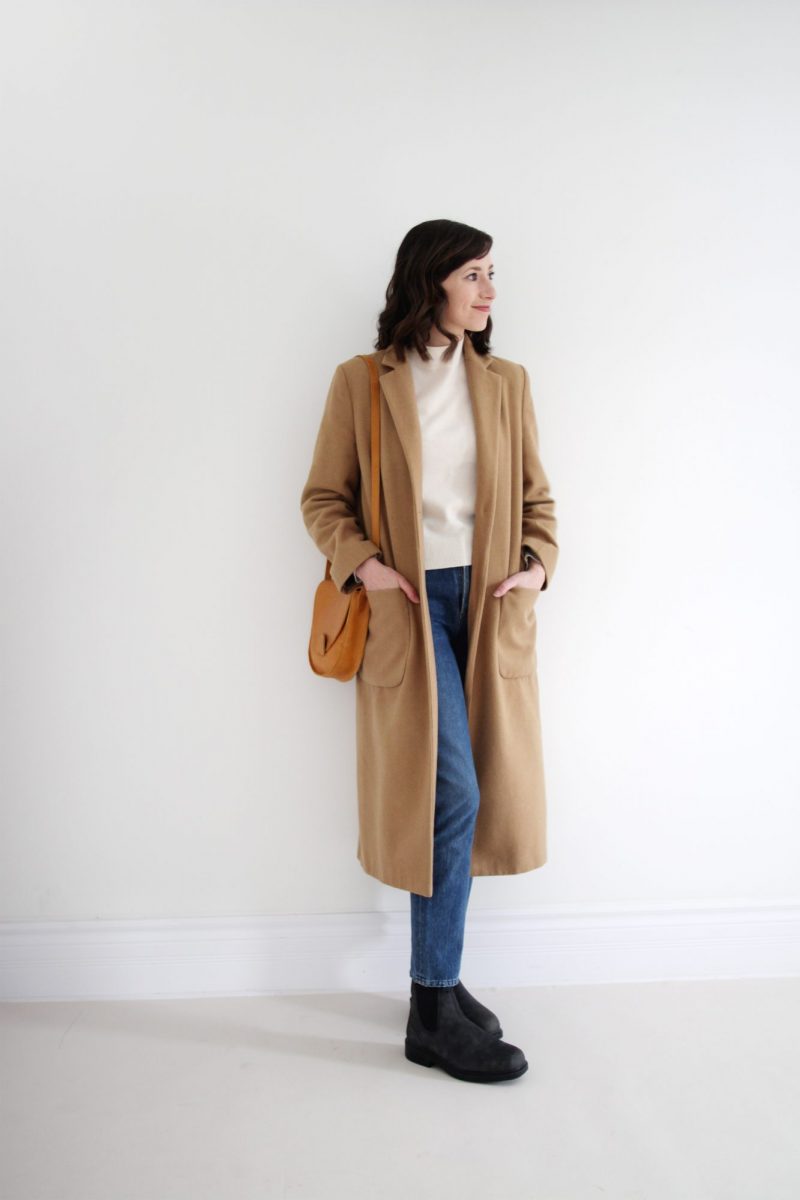 ---
CAMEL WOOL COAT* | IVORY CASHMERE SWEATER* | RILEY JEANS | CROSSBODY BAG (Similar linked use LEEV20 for 20% Off) | LIP COLOUR | BLUNDSTONE BOOTS (also here in Canada) | *old, linked to similar
---

---
Finally, this look is what I'd say has been a predominant winter uniform this year. I'm a huge fan of this classic palette (ivory, denim, camel, black and a pop of cognac) and the ease of refined comfort and timeless pieces. I just kept this one super simple and didn't even bother with a French tuck on this sweater because it's already slightly cropped and covers the waist on the jeans nicely.
While these jeans do overlap the top of the boots they don't get caught because the opening is wide enough that the ankle of the boots can move freely within the pant leg as I walk. To take this look out into the winter weather I just add a beanie, gloves and a big scarf.
---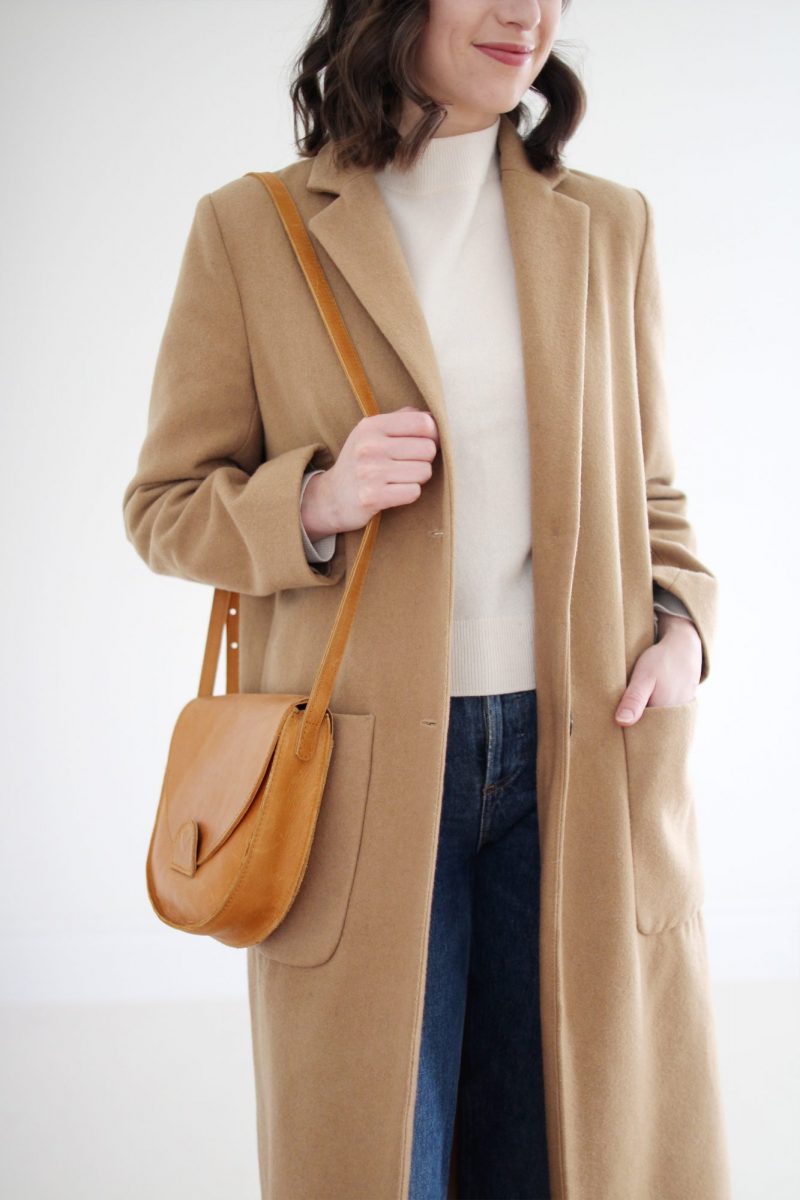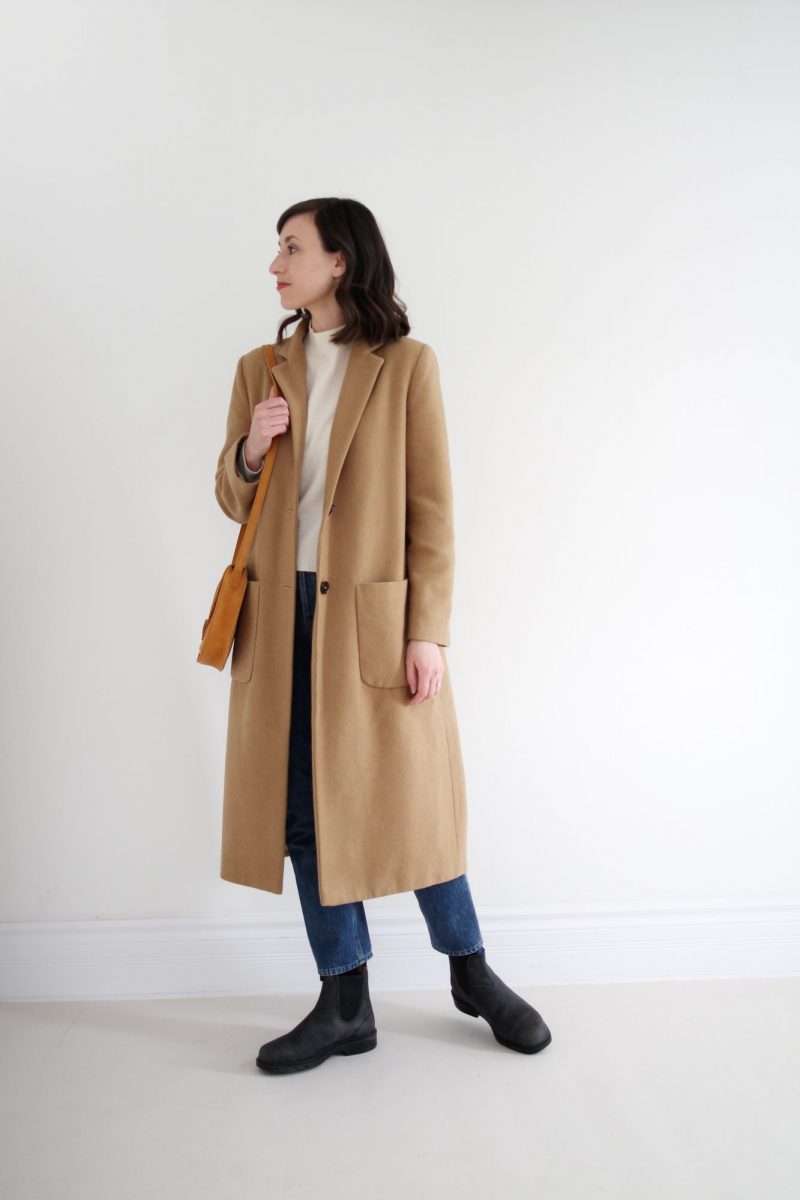 ---
I hope this post was fun for all the Blunnie fans out there! I'm glad to finally be part of the club!
Got a favourite of these looks or a way you like to style them? Let me know! I'm all for some additional ideas.
---
This post is not sponsored but contains affiliate links. When you shop via the links above I may make commission on a sale. Thanks for supporting Style Bee! All opinions are always my own.