Well friends, the countdown to the end of this #Spring10x10 Challenge is officially on! I can barely wrap my head around it but with this one down there's only two looks left to go. I think it's fair to say my co-host Caroline of Unfancy and I both feel a little bittersweet about it but all good things must come to end I suppose!
I spent some time perusing the feed last night and I've got to say, some of these late game looks are really stealing the show for me! You're getting creative and testing out different styling ideas which is awesome and even though some work better than others there's so much to learn from the trial part of this challenge. I'm glad so many of you are powering through it with us and sticking to your guns. It's called a challenge for good reason! If you jumped ship, no worries, trust me I get it, but hopefully you discovered some helpful style takeaways and we'll catch you next time!
If you haven't started you're more than welcome to join in. Everyone is working at their own pace and there's no set timeframe so if you're interested please feel free to get going! You can get all the info here and tons of inspo here.
So let's have a look at this easy mid-week outfit!  
---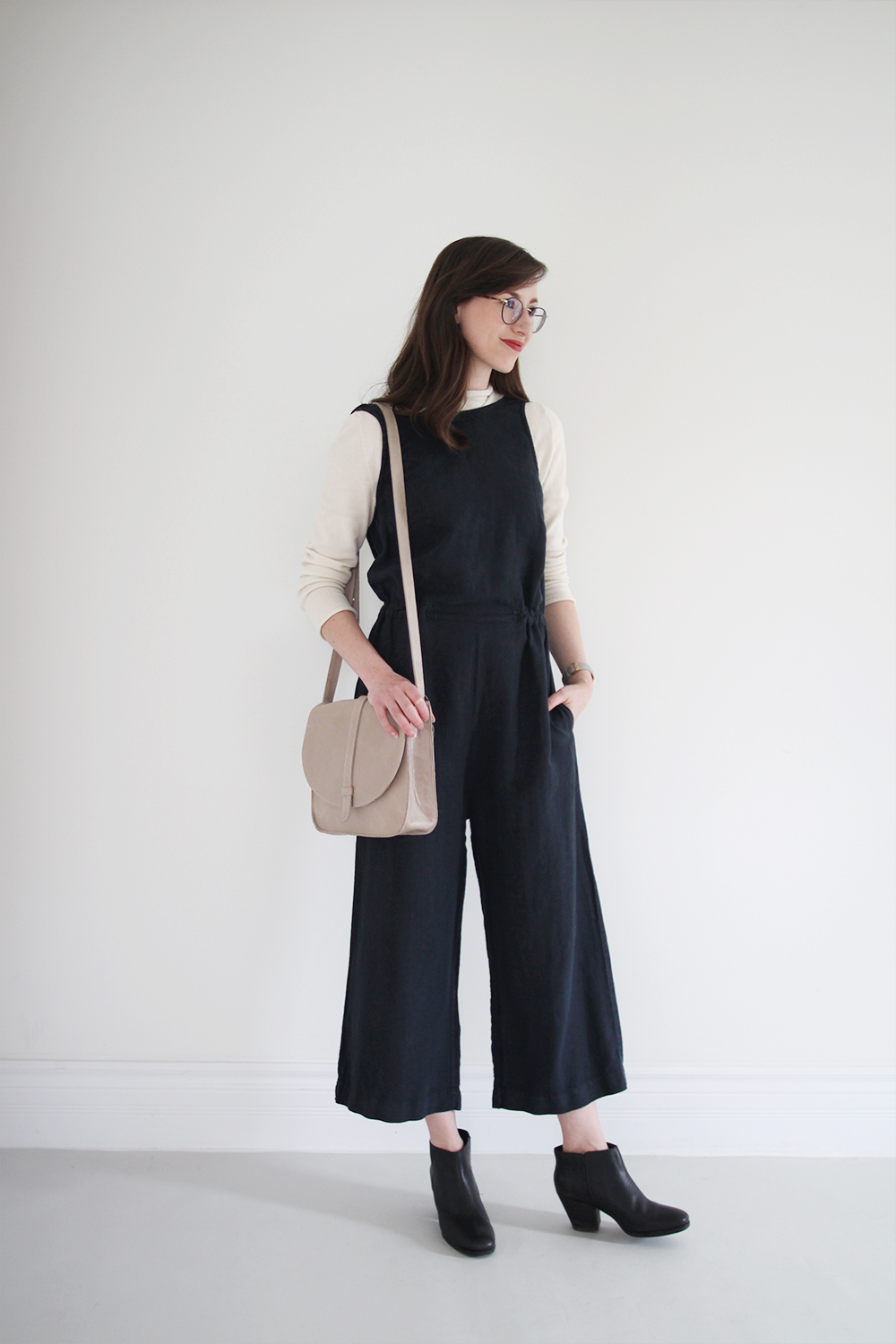 ---
INITIAL THOUGHTS
---
This one is a bit of a repeat from another look I shared on the blog last Fall (see it here) but I loved it then and my feelings haven't changed. In that one I turned the jumpsuit around so the criss cross side was facing forward but I prefered this option with the high neck side towards the front and the tie at the back. It just feels a bit cleaner somehow but it's nice to know I've got the option.
Usually by this point in a 10×10 Challenge I'm forcing myself to try new combinations and styling tricks to keep things going but so far each piece has practically styled itself, which I'll take as a good sign! Tomorrow I'm pushing my boundaries a little and trying something different so we'll see how that goes!
Honestly, I'm surprised it took me this long in the challenge to revisit the jumpsuit but I was waiting for a good reason to wear this cozy turtleneck underneath and to see how it paired with my black boots. Normally I would have paired it with my whiskey Mars boots instead but I think, in this case, the black helps it feel more cohesive and simplified.
Normally tops underneath a jumpsuit can be annoying but this one worked well because the drawstring waist hits an inch or so above the rolled hem on the sweater so it stays in place. So no bunching, yay!
TODAY'S AGENDA: This look is super comfy and easy for a chill day in the studio and some errands. It's warm out but rainy and gross so I'll just need to grab my umbrella when I take to the outdoors. I've been feeling stretched a little thin this week so it's nice to know I'll be extra comfy all day. 
---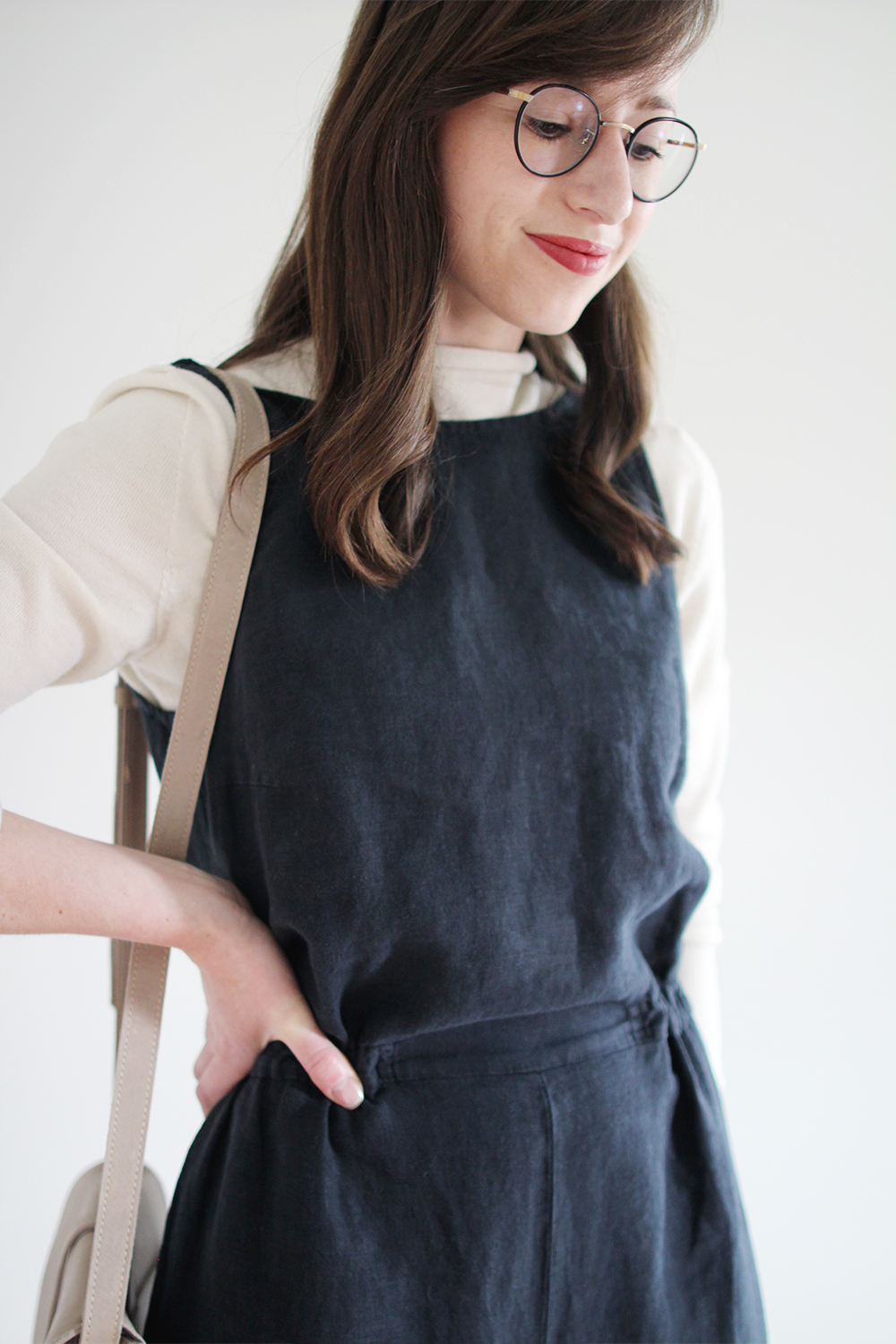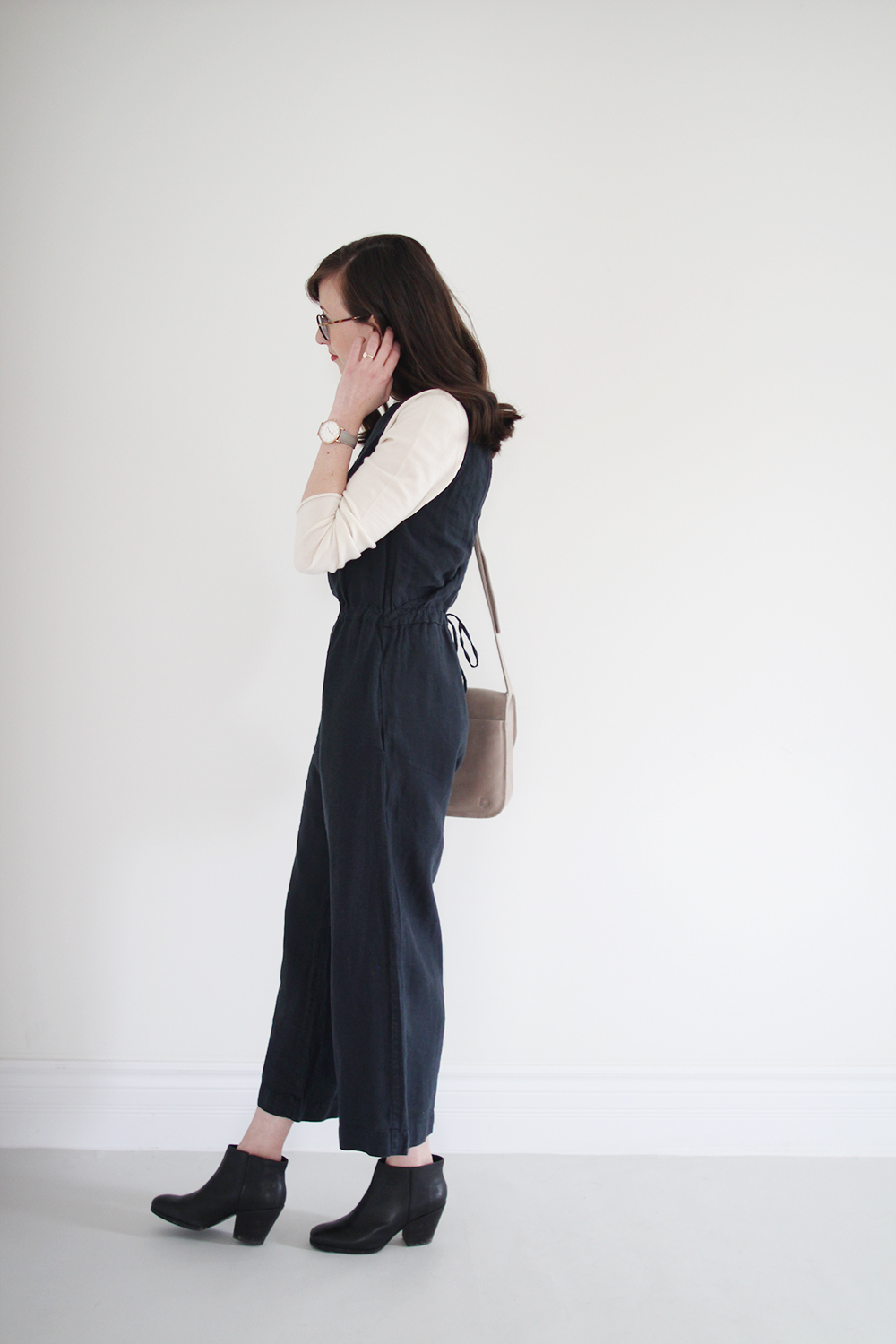 ---
STYLING DETAILS
---
1 | LIGHT GREY | I knew I wanted to add a lighter neutral to this palette of ivory and black and this slate grey bag and watch band seemed like the best way to do that without complicating things. A black one would have been okay too but perhaps a bit too much of a focal point.
Sometimes something as simple as a watchband or a bag choice can pull a look together. Trust your instincts when adding extras and opt for the simplest solution.
2 | OVER + UNDER | I've worn both of these pieces (the sweater and jumpsuit) over and under other ones during this challenge and I still can't say which is my favourite.
The ability to pair an item both over and under other pieces is a great versatility test. It doesn't have to but if it passes the test, then you know it's got closet workhorse potential. 
3 | CINCHED IN | I love that this jumpsuit allows you the option to cinch the waist slightly and define the figure underneath. This helps to offset the wide leg and create a more flattering shape.
If you're not sure whether you're a jumpsuit persons, try options with something defining at the waist. Whether it's a drawstring or a high positioned seam, having a visual cue to the shape underneath. Then it won't feel like you're in coveralls or something more utilitarian (which is totally a cool look if you're into it!). 
4 | HIGH NECK | I wasn't sure how these two pieces would pair together in the neck area but I quite like the layering effect that's happening. They're both wide and the jumpsuit is wider so it works. The little bit of mock-neck that peeks out the top adds a bit more interest than a simple crewneck would have and creates a wider band of light colour which serves as a flattering transition on the neck. The collar on a button-down would serve the same purpose too.
 Try not to shy away from uniquely layered necklines. As long as it's comfortable it's worth a try and can make both pieces a bit more interesting. 
5 | SOFT CONTRAST | I'm loving the soft contrast of the ivory turtleneck with the washed black linen jumpsuit. It's not as stark or severe as white on black and feels a bit more relaxed because of it. The contrast is carried further by the soft materials each piece is made of. The balance of light and dark still plays a key role without being the focus.
If you're not into harsh contrast opt for softened tones (off whites and mild darks) to pair together for a bit of drama without the severity.
6 | A LITTLE SKIN | When I first started shooting this look I had the sleeves pulled down and something just seemed off. So I hiked the sleeves up a little and all of a sudden it felt right. The trick was to balance the bare ankles with exposed wrists.
If you're pairing a long sleeved top with a cropped pant try pulling up or cuffing the sleeves slightly to mirror the open ankles. It's one of those minimal effort big impact styling tricks I love to use.
---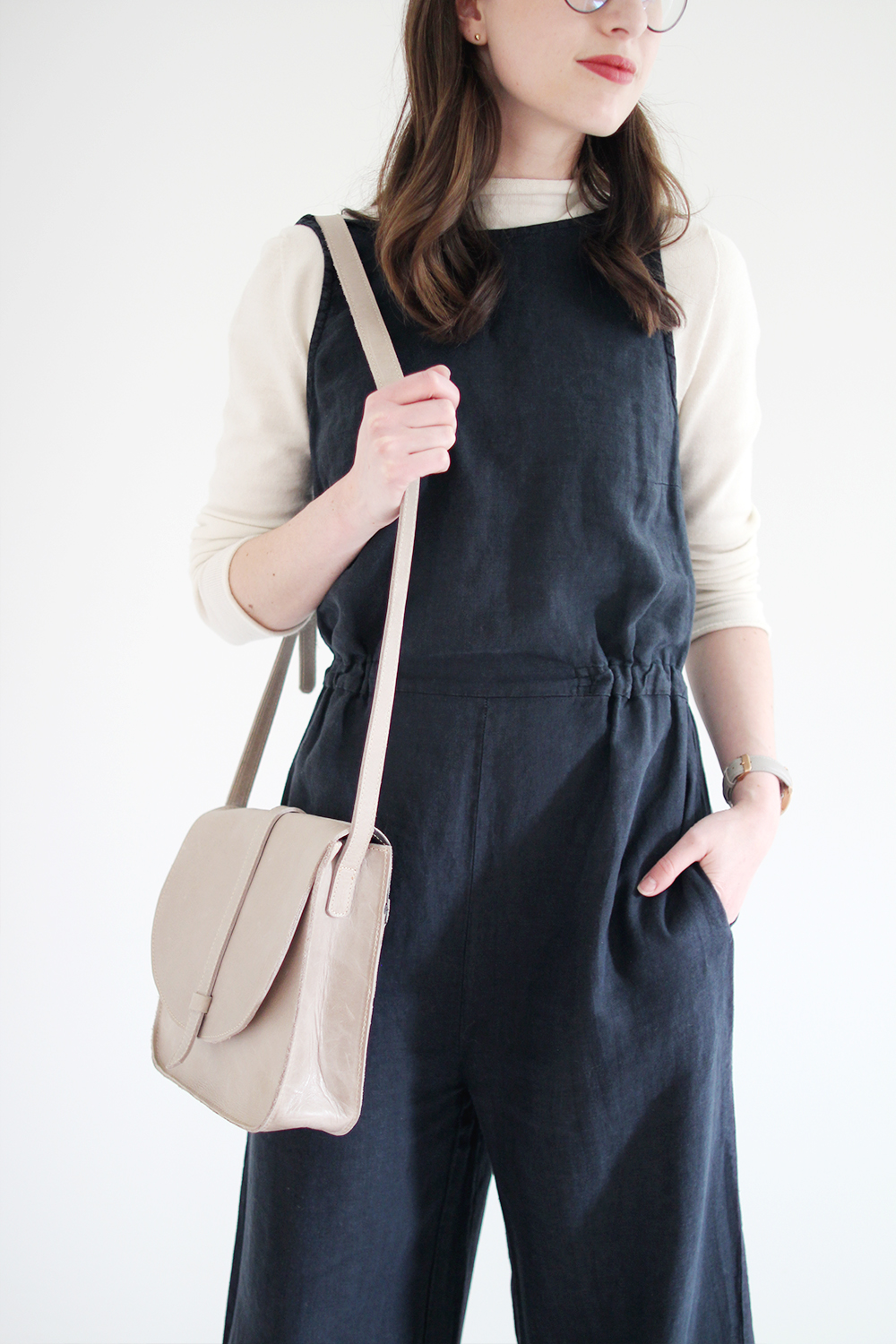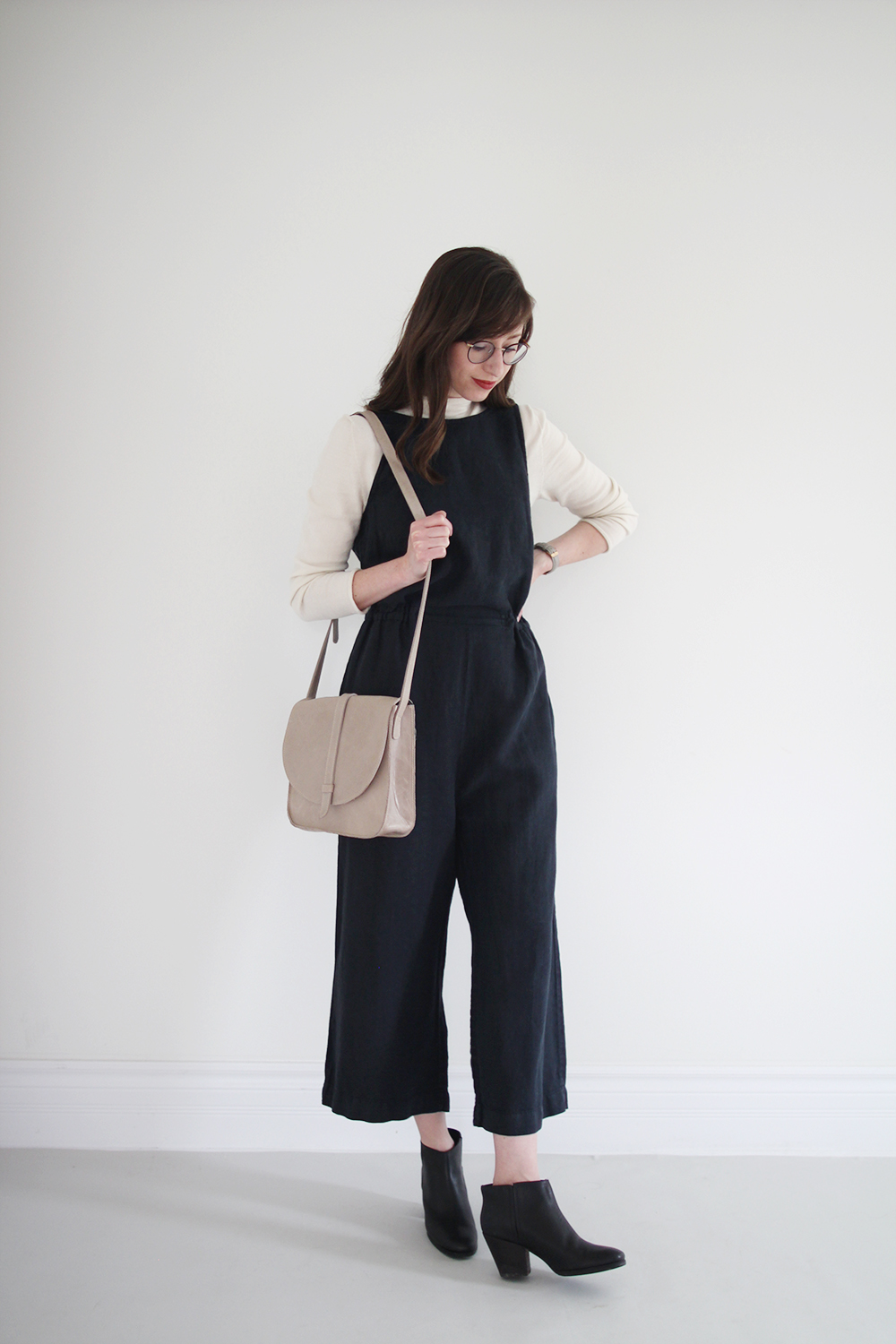 ---
ITEM SPOTLIGHT: LINEN JUMPSUIT
---
Jumpsuits are really enjoying their time in the spotlight this spring and I can't say I'm mad about it. I received the Allison Jumpsuit by Esby Apparel early last Spring and it's been a personal favourite ever since. Details like a drawstring waist, useable pockets and reversibility have made this gem a go-to for me and I can honestly say it's one of a few pieces I really missed wearing during the Winter. Luckily ESBY has brought it back this year in two colours (black and olive) so I'll share a bit about it and a few other options worth checking out if you're in the market for a fabulous one-piece.
SIZE: I'm wearing a size S. I'm 5'7, 125 lbs and my measurements are 32/26/37 for reference.
FABRIC: Linen/Cotton blend that's been garment dyed, pre-washed & pre-shrunk for added softness and a true fit. I'd say it feels somewhere between a lightweight and a midweight linen but it's super soft thanks to the cotton fibre. It's very breathable and has great movement. It will gradually wrinkle/crease with wear but that's part of it's charm. This one is a washed, muted black but the new version is a true black. So far I've washed it a few times and it hasn't faded.
PRICE: $295 USD | Made responsibly in the USA | Get $20 OFF when you sign-up here. 
DETAILS: This beauty has two fully functional pockets, a reversible design, wide, cropped legs and a drawstring waist for use as the wearer sees fit.
WASHABILITY: Washing on cold, tumble dry or lay flat to dry. You can wear it as is after a wash (with it's natural worn-in texture) but I like to iron it with some steam for a smoother finish.
FIT: One of the great things about this jumpsuit is the versatility in fit. You can wear the neck high or flip it around for a deep v-neck depending on your mood and occasion. You can leave the drawstring waist loose for a super casual look or cinch it in for a more tailored vibe. The wide leg and cropped length also make this one a great option for lots of different heights. You can wear the leg long or hem as needed.
Measurements on the latest version are: S: chest: 38", front drop 9 1/2", waist extended: 42", inseam: 22"
FACILITIES: I always get questions about how easy it is to use the washroom in this and the good news is that it's a super easy jumpsuit to slip on and off. Plus when you have a top underneath it's basically like wearing pants. Just watch the drawstrings and the toilet! Learned that one the hard way.
ARE YOU A JUMPSUIT PERSON? It's hard to know if you're going to love a jumpsuit or not if you haven't tried one but I can definitely say it's one of the easiest pieces to throw on and go. So consider trying one out this Spring/Summer season. Here are a couple of other responsible options that might be of interest: Overalls by Black Crane ($190 USD), the Loose Jumpsuit by Not Perfect Linen ($136 CAD) and the Ludlow Jumpsuit by Rachel Comey ($495 USD).
---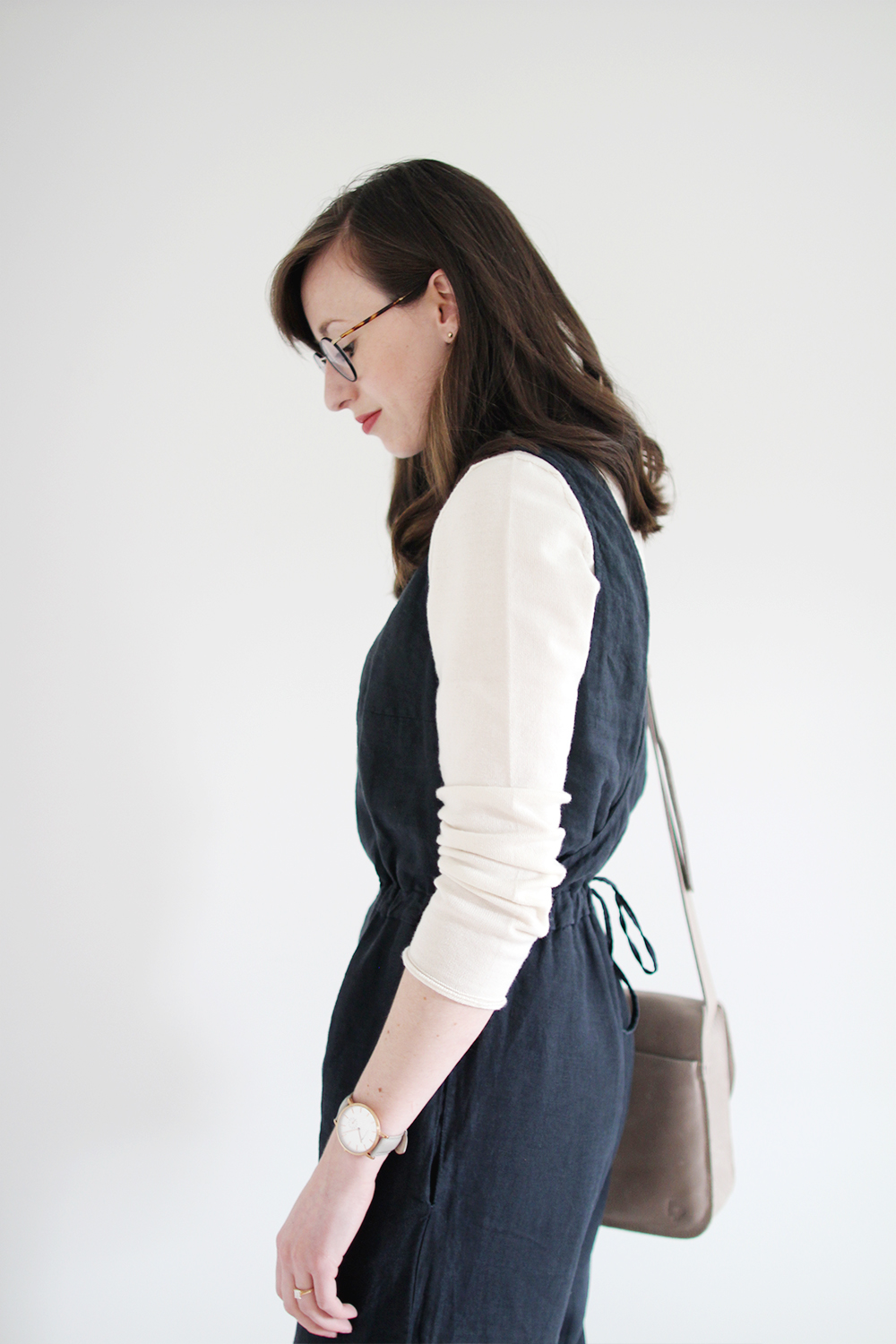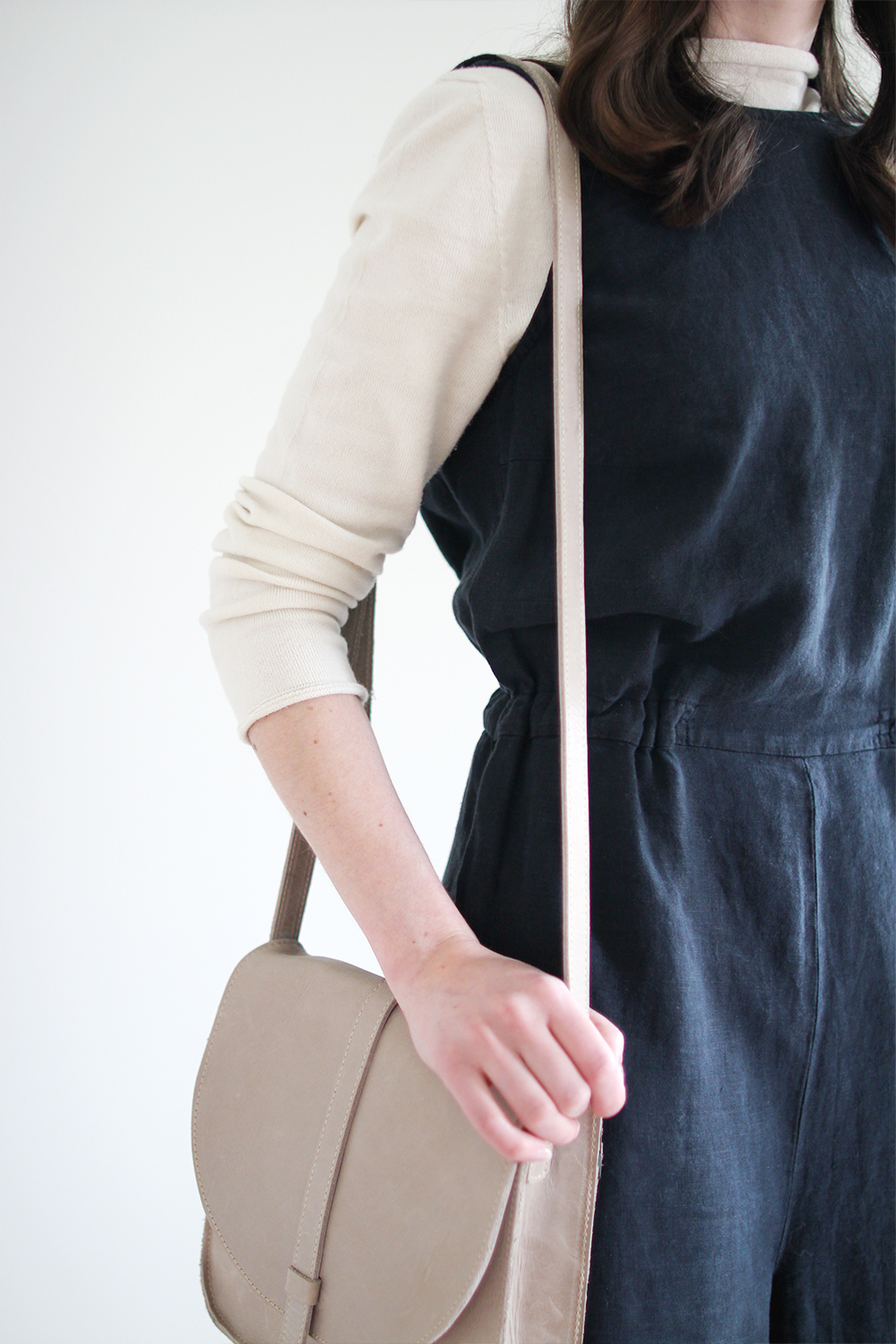 ---
COAT ADDITION
---
If all goes well today I won't need a coat but if it doesn't, well, I won't be mad about it thanks to my Cardiff coat! It's the perfect shade of ivory for this look and I love how the sweater peeks out under the big kimono sleeves. I love how the shape of it works with the wide leg pants on the jumpsuit for a contemporary feel with a nod to Japanese vibes. This look feels very Black Crane meets Rachel Comey meets Diane Keaton and I'm into it!
---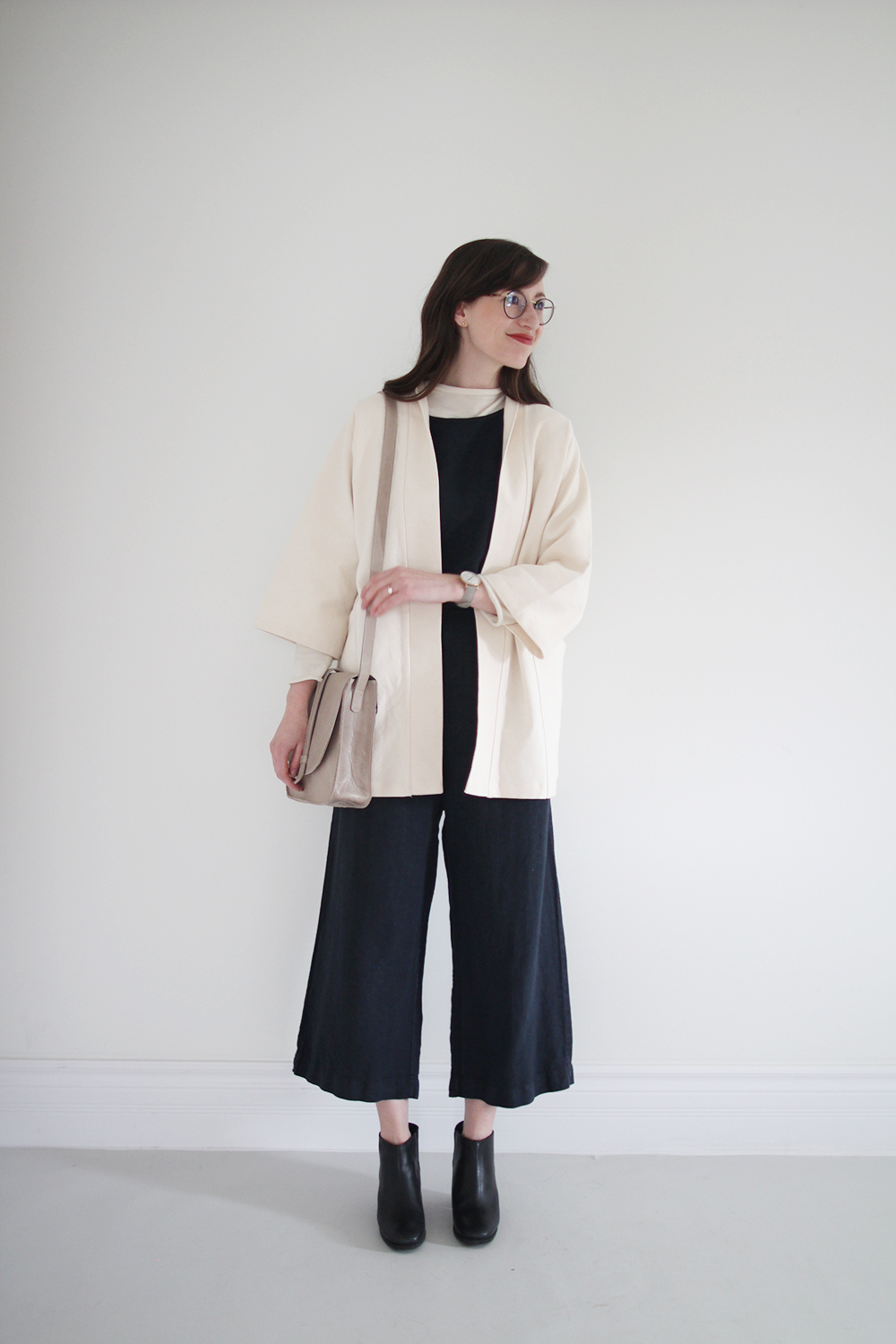 ---
1 | JUMPSUIT | c/o Esby Apparel (1 yr old, linked to new version) | $295 | Made responsibly in USA | Similar by Black Crane ($190 USD) and Not Perfect Linen ($136 CAD)
2 | LIGHTWEIGHT SWEATER | Elizabeth Suzann (new, sold out) | Made responsibly in USA | Linked to similar by Everlane ($120 USD)
3 | MARS BOOT | Rachel Comey (6 months old) | $426 USD | Made in Peru
4 | CARDIFF COAT | c/o Only Child | $225 USD | Made responsibly in USA
5 | TIRHAS SADDLE BAG | c/o FASHIONABLE | $148 USD | Made responsibly in Ethiopia and Mexico
WATCH | c/o Chapter 10 | Linked to similar ($165 USD) | DOME STUDS by ATTIC | $290 CAD | Made in Canada |  GLASSES | GARRETT LEIGHT | $335 USD
---
EEP! JUST 2 LOOKS LEFT IN THIS 10×10 CHALLENGE!
ARE YOU IN IT FOR THE LONG-HAUL WITH ME? 
Tune into my Instagram Stories (@leevosburgh) later today for a look at this one in action. Be sure to see what Caroline is up to over on her blog and Instagram too!
See you on the #Spring10x10 hashtag and tomorrow with Look #9!
---
This post is not sponsored but contains affiliate links. When you shop via the links above I may make a small commission from a sale. Thanks for supporting Style Bee! All opinions are always my own.