Last weekend I spent some time getting my closet edited and organized for the season ahead. I'd been putting off a proper clean out and wardrobe assessment but now that it's done I feel like I can really lean into my spring style and have some fun!
I've talked about seasonal closet prep in the past and I figured if I was due for a refresher, you might enjoy one too. I've also been meaning to create a Closet Mission tool for this purpose. So that's what today's post is, my official seasonal closet prep guide!
I've been using these steps at the start of each season for several years now and it really helps me keep my personal style cohesive, budget in check and builds excitement for the season to come.
Here's what my seasonal closet prep entails:
STEP 1 | ASSESS + EDIT
STEP 2 | REORGANIZE + REINVEST
STEP 3 | MAKE A WISH LIST
STEP 4 | SET A BUDGET
---
NOW LET'S DIG IN!
---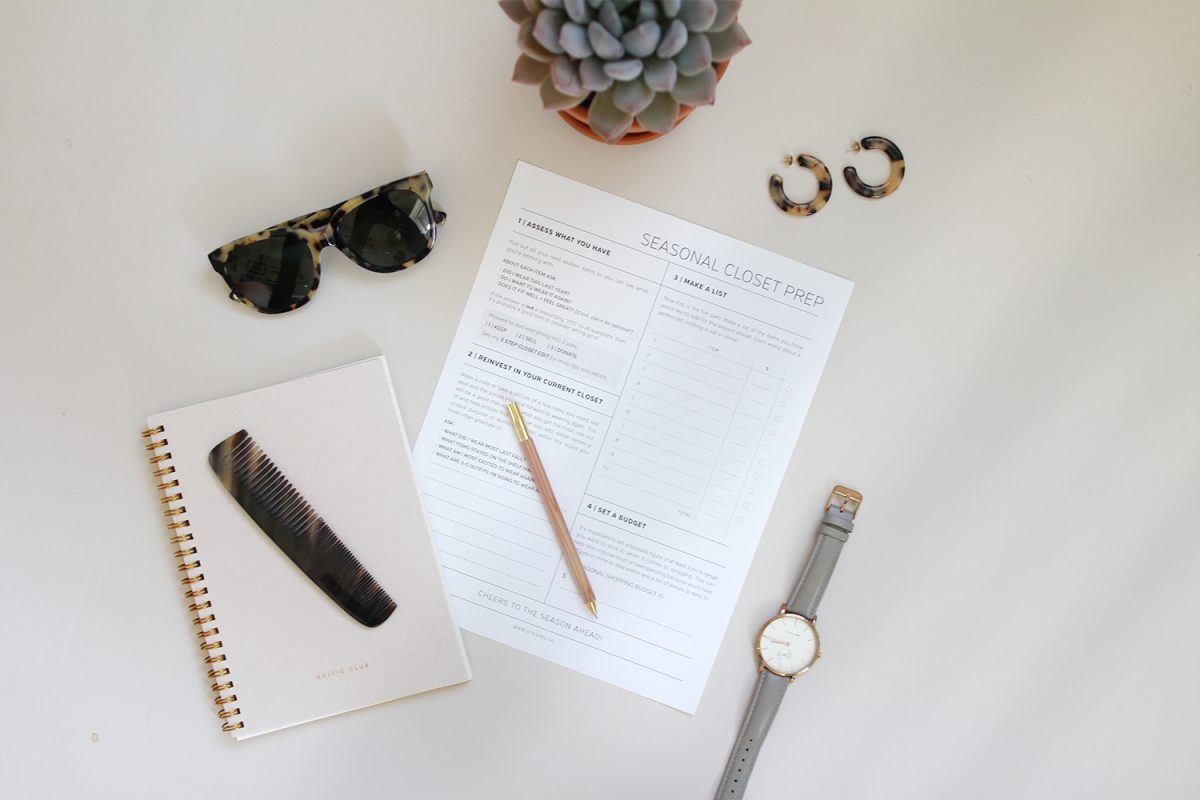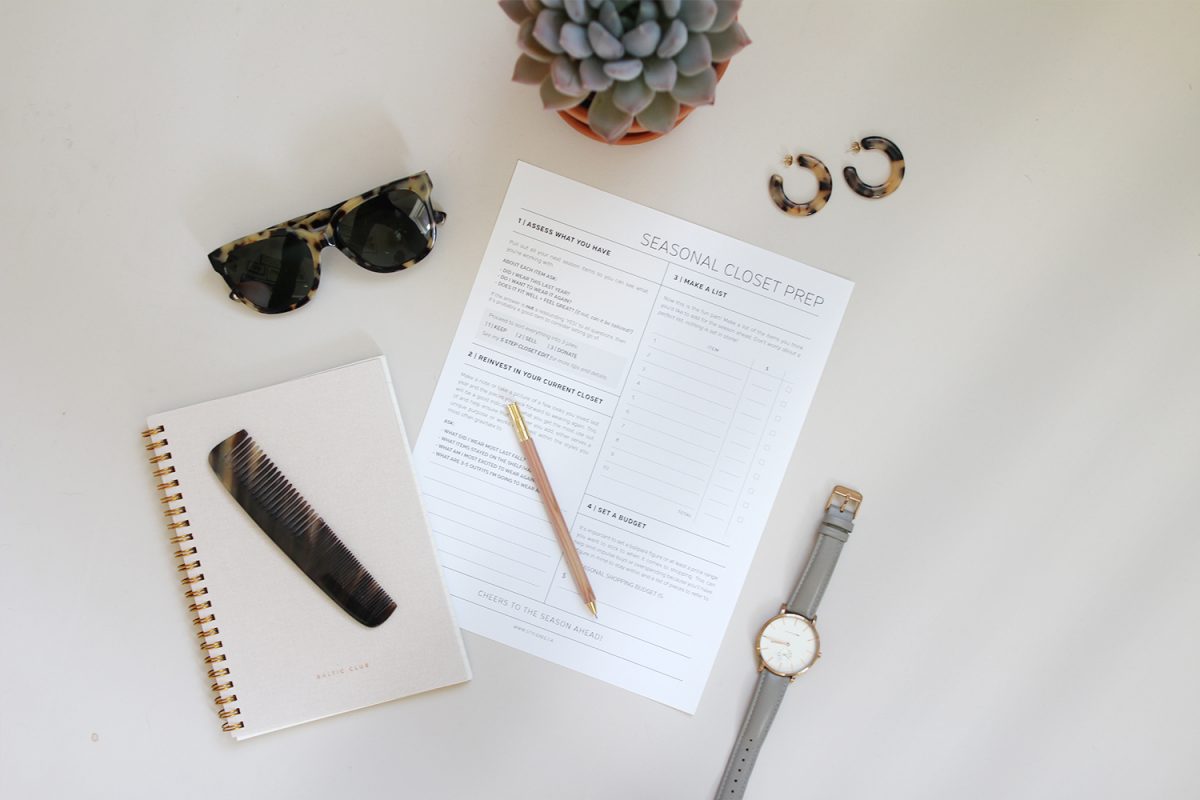 ---
---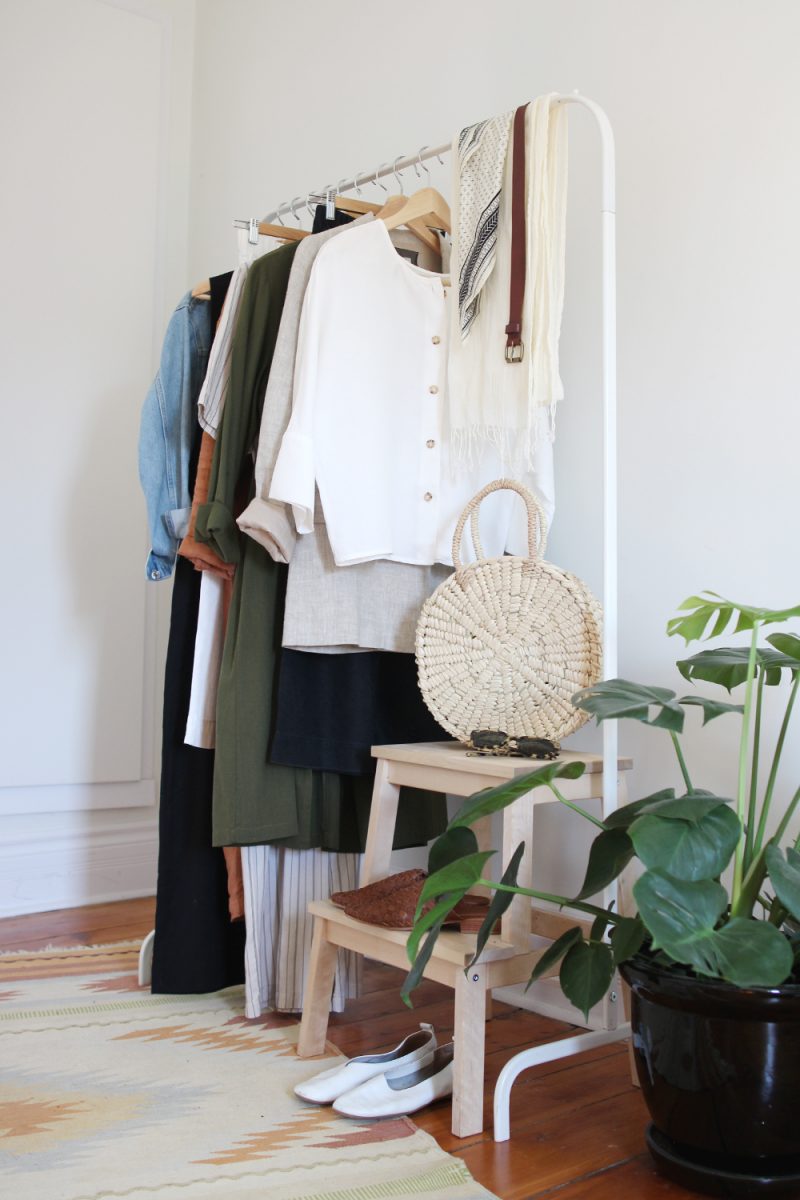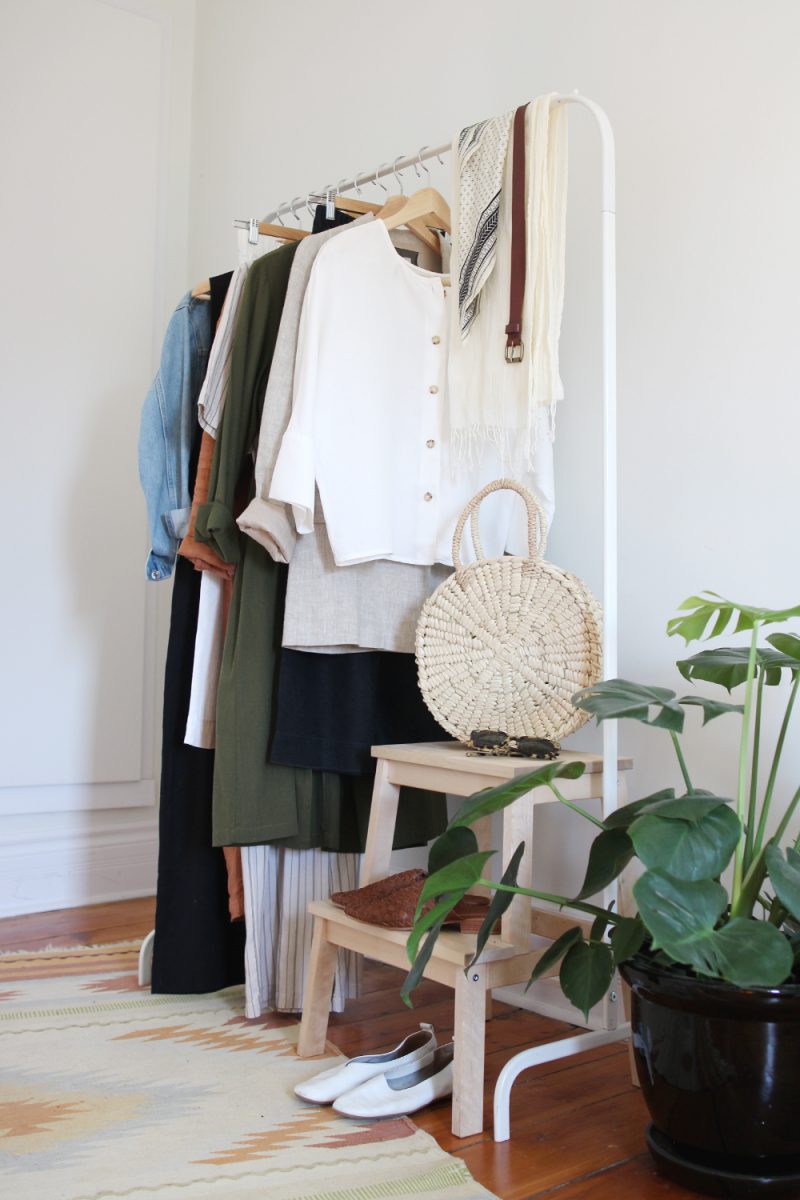 ---
WHY I STARTED DOING SEASONAL CLOSET PREP
---
I used to dive head first, or should I say credit card first, into a new season, snapping up trends and pieces without much planning or thought behind it. If I liked an item, it was cheap enough and I could get my hands on it, I'd order it. The thrill was instant but fleeting and by now we all know how that consumption story goes and it's not a happily ever after scenario.
Now, instead of letting my instagram feed or my newsletter subscriptions dictate my choices, I take a much more pragmatic approach to organizing and adding items to my closet. I spend about an hour or so conducting my seasonal closet prep, which helps me assess what I have, edit what isn't working, reinvest in my wardrobe and plan out any additional items.
An hour or so at the start of a season can help you save so much money and closet frustration! So let's take a look at this 4-step process.
---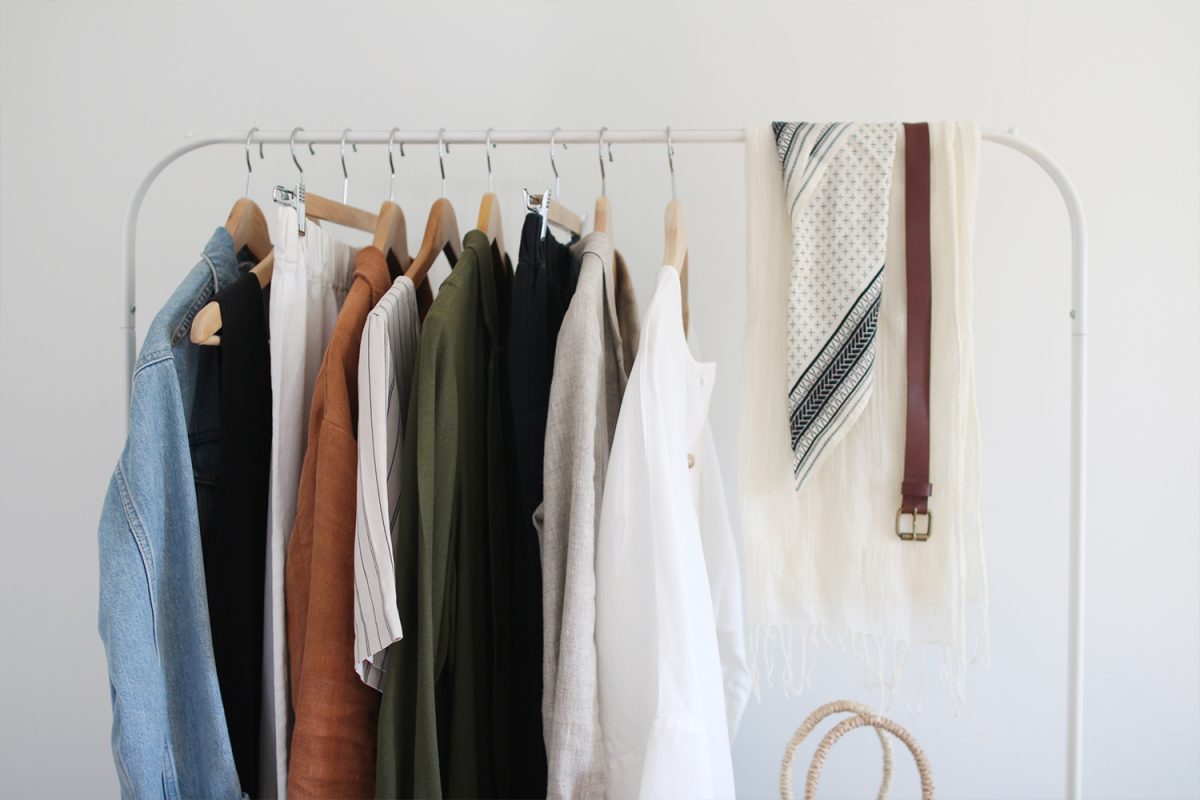 ---
1 – ASSESS + EDIT
(IT'S TIME TO MAKE A BIT OF A MESS & A FEW DECISIONS.)
---
It's no secret that I love a good closet edit. It's one of my favourite ways to begin a season and after conducting them for several years I can promise it only gets easier. Even if you don't have the Kondo gene for tidying and organizing, I still think it's possible to learn to love this exercise, especially after you see how much clarity it brings to your closet and style! Additionally, if you live in a more temperate climate without significant seasonal changes, it can still be a great way to get organized and give your wardrobe a reboot for a few months.
---
ASSESSMENT – PART A
Pull out all your upcoming season items so you can see them.
I typically put everything on either my IKEA clothing rack, bed or floor. It's not pretty but it is very helpful to see everything together to get a sense for colour palette and to quickly identify trends in certain styles. However, if you're short on space or tend to get overwhelmed, that's okay! Start with sections like shoes, bottoms, tops or jackets.
---
ASSESSMENT – PART B
Begin the assessment process by holding each item up and asking:
DID I WEAR THIS PIECE THIS TIME LAST YEAR?
WAS IT IN HIGH ROTATION OR MORE OF A ONCE IN A WHILE ITEM?
DID I FEEL GOOD WEARING IT?
DO I WANT TO WEAR IT AGAIN THIS YEAR?
DOES IT FIT WELL AND FEEL COMFORTABLE?
It's a bit more involved than simply asking 'Does this spark joy?' but you get the drift. If the answer is not a resounding 'YES!' and you can't tailor a piece to suit you better, then it's probably a good item to consider letting go of, which is where the next step comes in!
---
ASSESSMENT – PART C
As you're assessing each item, assign it to one of three piles:
KEEP
This pile is for the items you love and can't wait to wear again. It's also for pieces that might need some tweaking like a hem adjustment, fit tailoring or repair.
SELL
This section will be for good quality items, in excellent condition that you're ready to say goodbye to and plan to take to a consignment shop or post online for resale.
DONATE
These pieces are the ones that aren't serving you anymore but might not be special enough to consign or sell. Stained or irreparable items should be disposed of accordingly.
---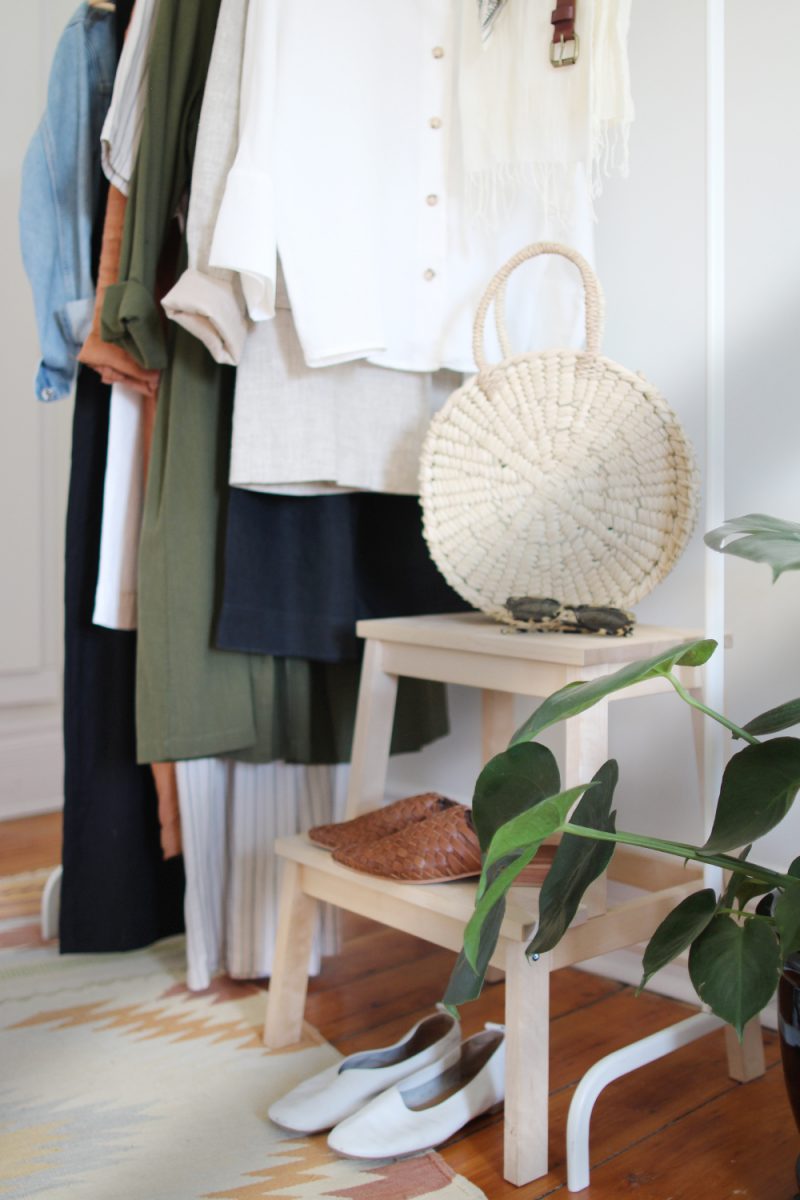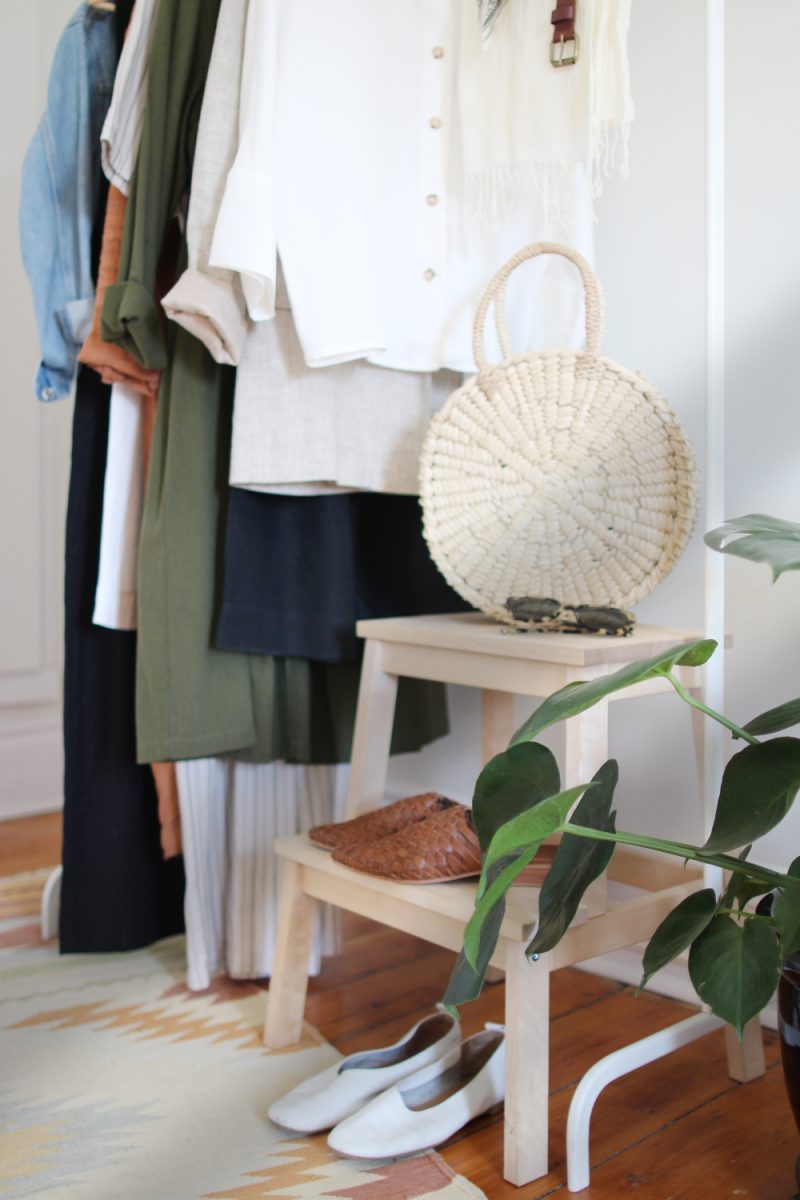 ---
My 5 Step Closet Edit post goes into more detail on the editing process, includes tips on where to resell your good-quality items and demonstrates how I organize and maintain my closet. Plus lots more!
---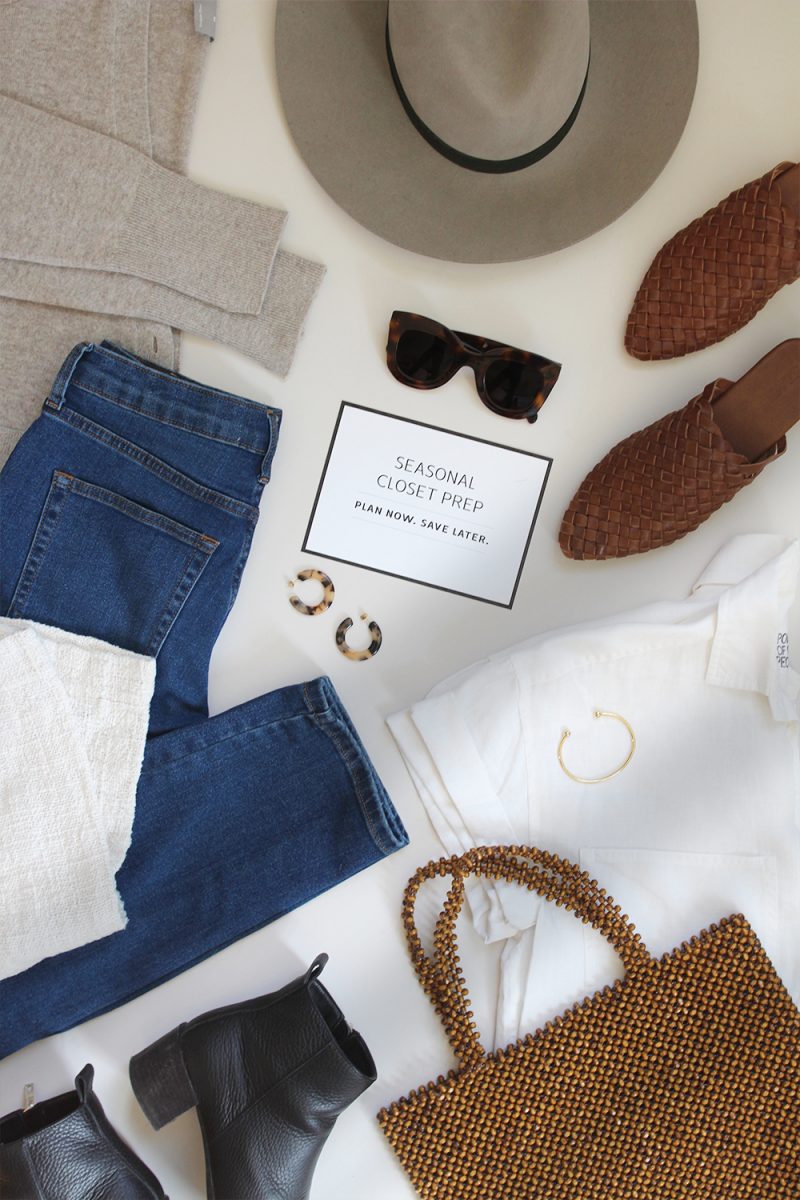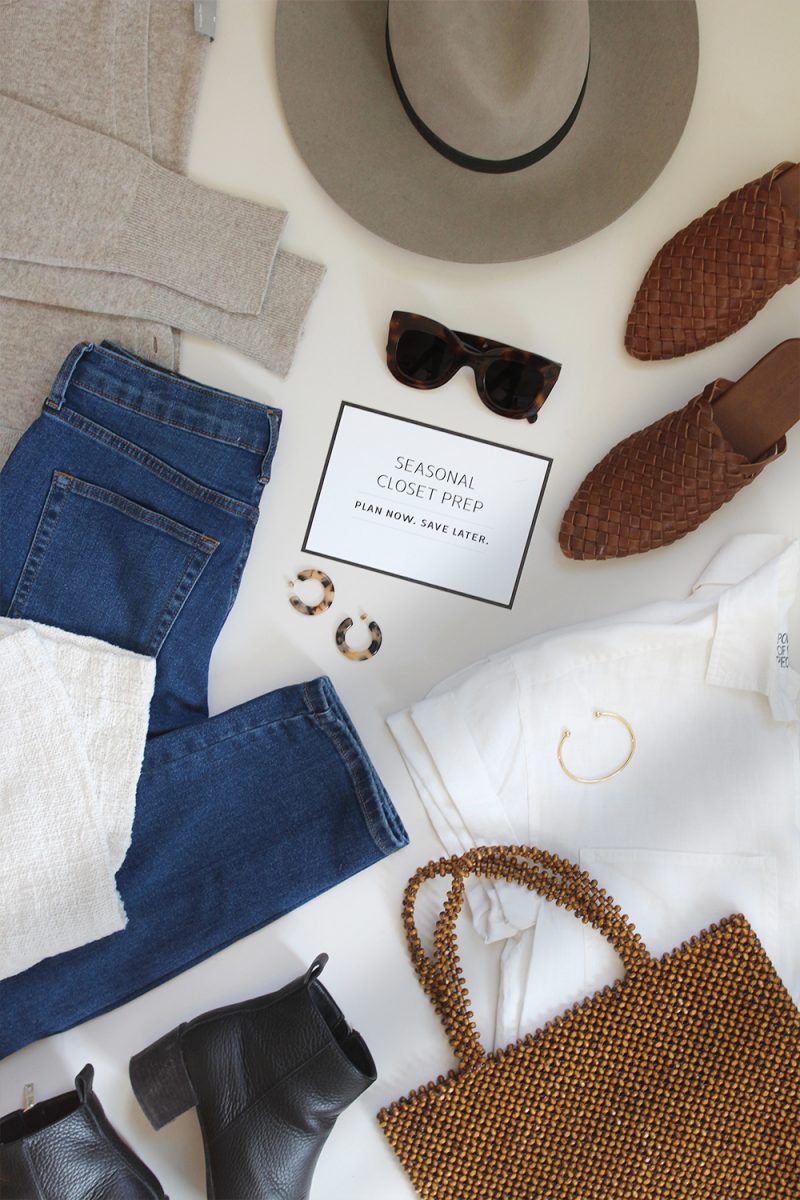 ---
2 – REORGANIZE + REINVEST
(NOW IT'S TIME TO SET UP & SHOP YOUR CLOSET!)
---
Now you're ready to return this seasons KEEP pile to your wardrobe. I go into more details about organizing your closet in this post but the general strategy is:
Categorize – By item type and colour. Shoes love to hang out with shoes, sweaters with sweaters, hats with hats, coats with coats and pants with, you guessed it, pants!
Put Up Barriers – To help limit overflow and maintain order. Whether it's through baskets, boxes or in-drawer barriers it's helpful to have a physical delineation between sections and categories.
Designate A Spot – Defined locations, even if on a shared shelf, for specific closet categories (ie: sweaters or jeans) makes getting ready so much easier. It also helps you keep much better track of what you have.
Stow Off-Season Items – A great way to give yourself more closet space is to store clothes that you won't wear for a few months like sweaters, boots and coats in the summer and light dresses, shorts and sandals during the winter.
Maintain Visibility – I believe that you wear what you can see more than what you can't (or have to look for), so if space allows, try to keep your items as visible as possible. I have a standing clothes rack where I keep my most reached for favourites during the season and that has been a huge help.
---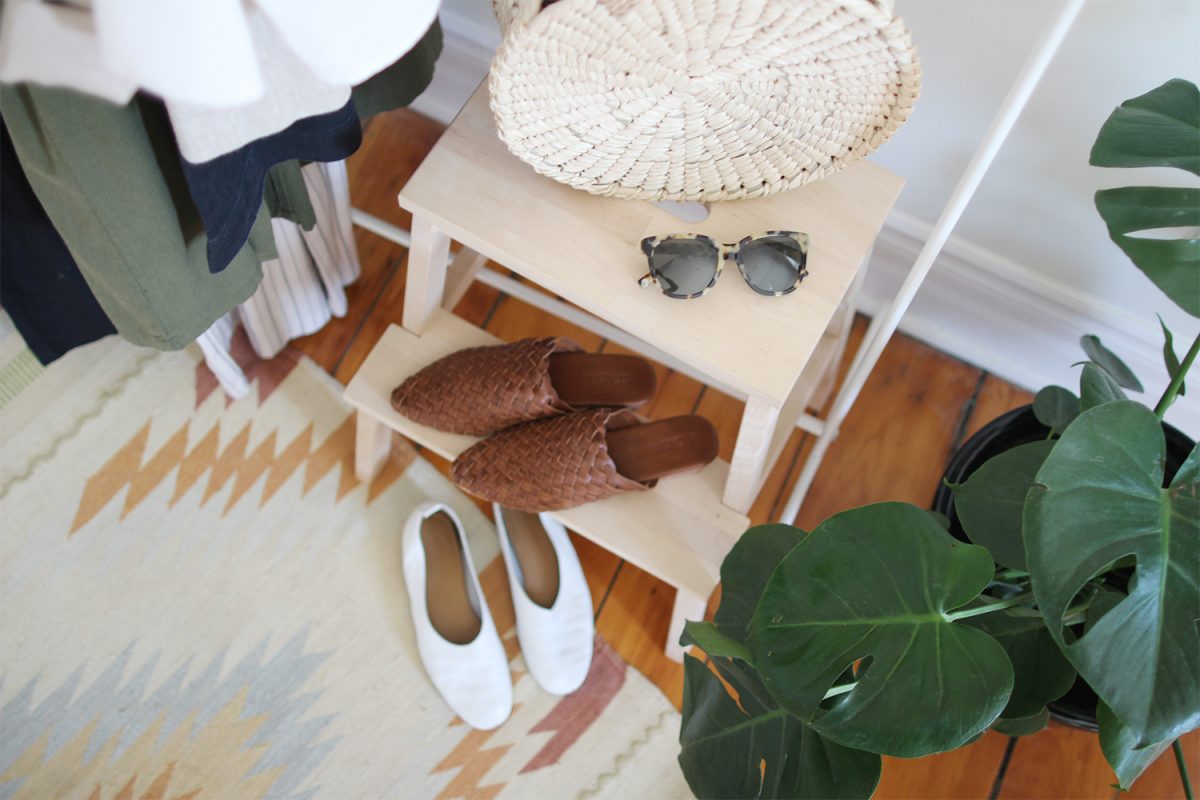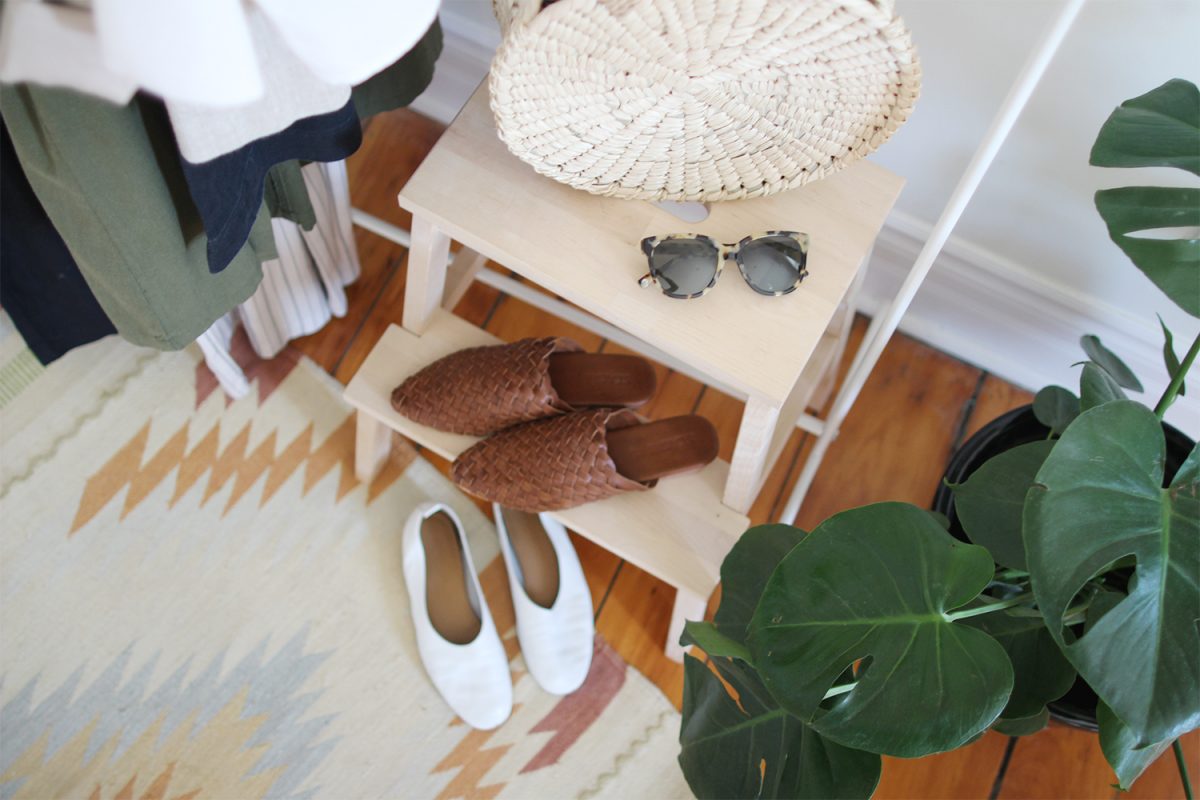 ---
Now this might actually be my favourite part of the whole prep process, reinvesting in the items I have and can't wait to wear again. This step can really help to curb your shopping cravings too!
Begin the reinvestment process by asking:
WHAT DID I WEAR MOST THIS TIME LAST YEAR?
WHAT AM I MOST EXCITED TO WEAR AGAIN?
WHAT ARE 5-10 OUTFITS I'M GOING TO WEAR AGAIN?
Make a mental note or take a picture of a few looks you loved last year and look forward to wearing again. This will be a good indication of what you get the most use out of and highlight some potential looks/silhouettes/uniforms that will help ensure that whatever you add, either serves a unique purpose or works really well within the styles you most often gravitate to.
---
HERE ARE SOME LOOKS I'M EXCITED TO REPEAT THIS SPRING:
---
For Example: I loved wearing jumpsuits, blazers and straight-leg denim last spring. My slides and flats stomped many a street and I'm pretty sure I'll never tire of my wide-leg pants and duster jackets.
---
---
---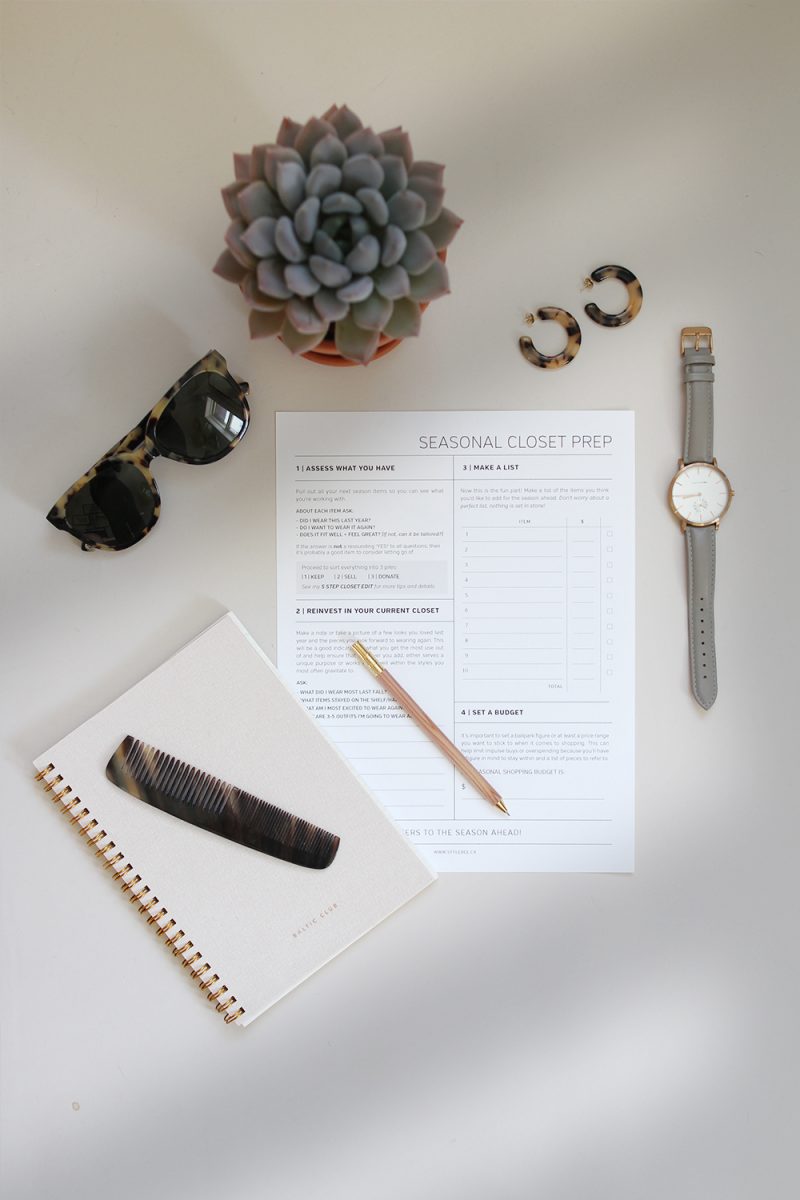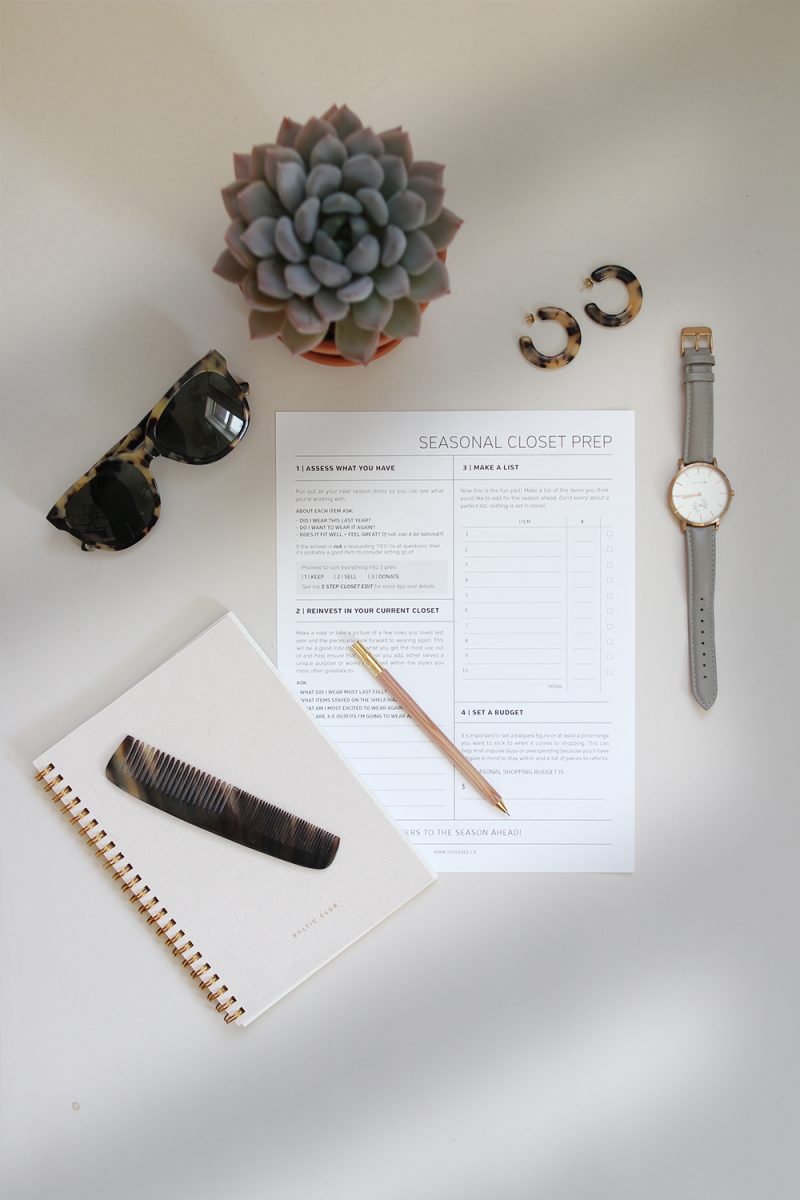 ---
3 – MAKE A WISH LIST
(NOW IT'S TIME TO MAKE SOME PLANS & DREAM A LITTLE!)
---
PIECES TO ADD
While you're putting items into their places for the season ahead, look at your various categories like shoes, sweaters, coats, pants, accessories etc. and…
CONSIDER WHETHER OR NOT:
THERE ARE ANY GLARING GAPS WITHIN THE SECTION.
THERE ARE STILL A FEW PIECES YOU NEED OR WISHED YOU HAD LAST YEAR.
Maybe you only have one pair of flats or your favourite jeans are wearing dangerously thin or you have only one basic tee left after the edit. These are all important things to note so you only add things you can really make use of. So often we add variations of things we already have enough of and end up wearing things even less.
---
PIECES TO AVOID
Look at what you're planning to donate or sell. What are the things you didn't love enough to wear much (if at all)? This way you can avoid repeating old habits.
ASK YOURSELF:
WHAT ITEMS DID NOT GET WORN DURING THIS SEASON LAST YEAR?
WHAT SHOULD I DEFINITELY NOT BUY?
---
Now that you have an idea of what you didn't get much use of and, alternatively, what you would have liked to have, it's time to make yourself a wish list. I swear by short and thoughtful wish lists and always have one going for each season. They really help to keep me on track with both my spending and personal style and deter me from any impulse shopping. I'll be sharing my 2019 Spring Wish List next week!
Most seasonal collections will have started launching by now so it's a good time to note the designers/items you love. That way you can save your budget before getting distracted and buying things you might later wish you'd passed on. I tend to hold off until I've seen what a few of my favourite brands have cooking before committing to anything. If that means I miss out on certain item, that's okay!
---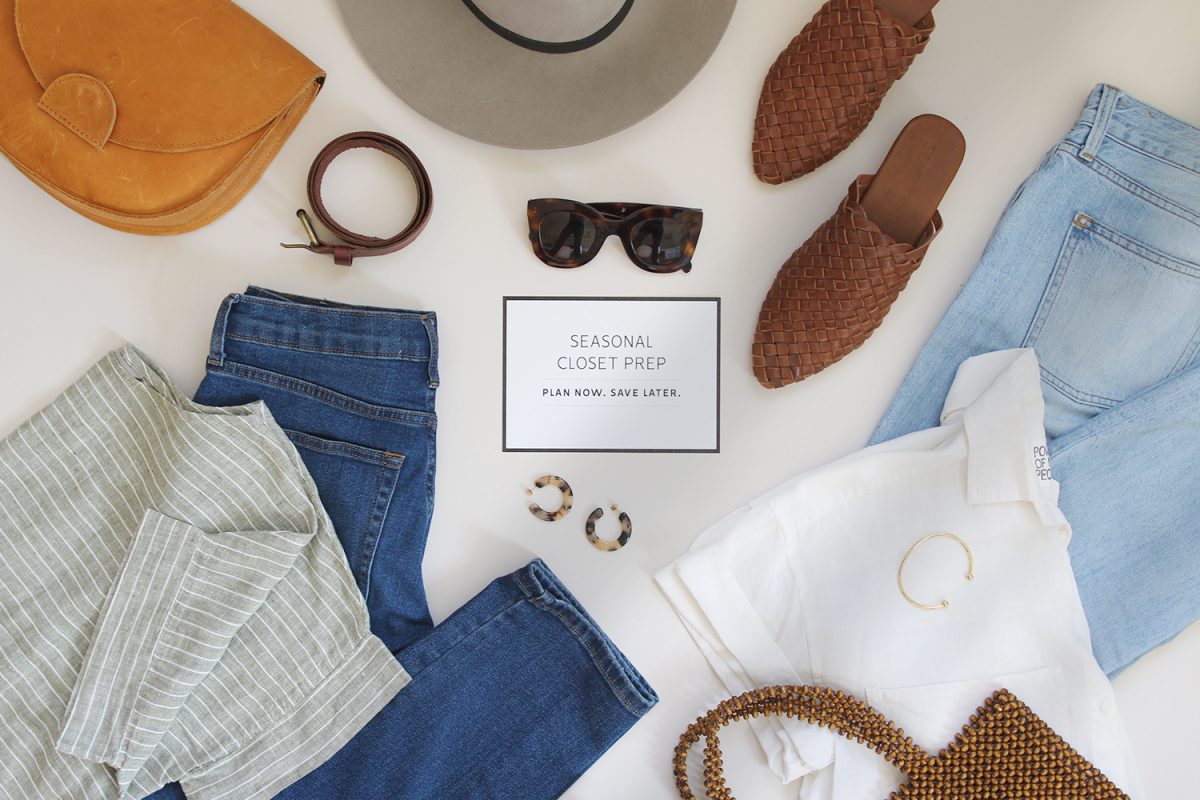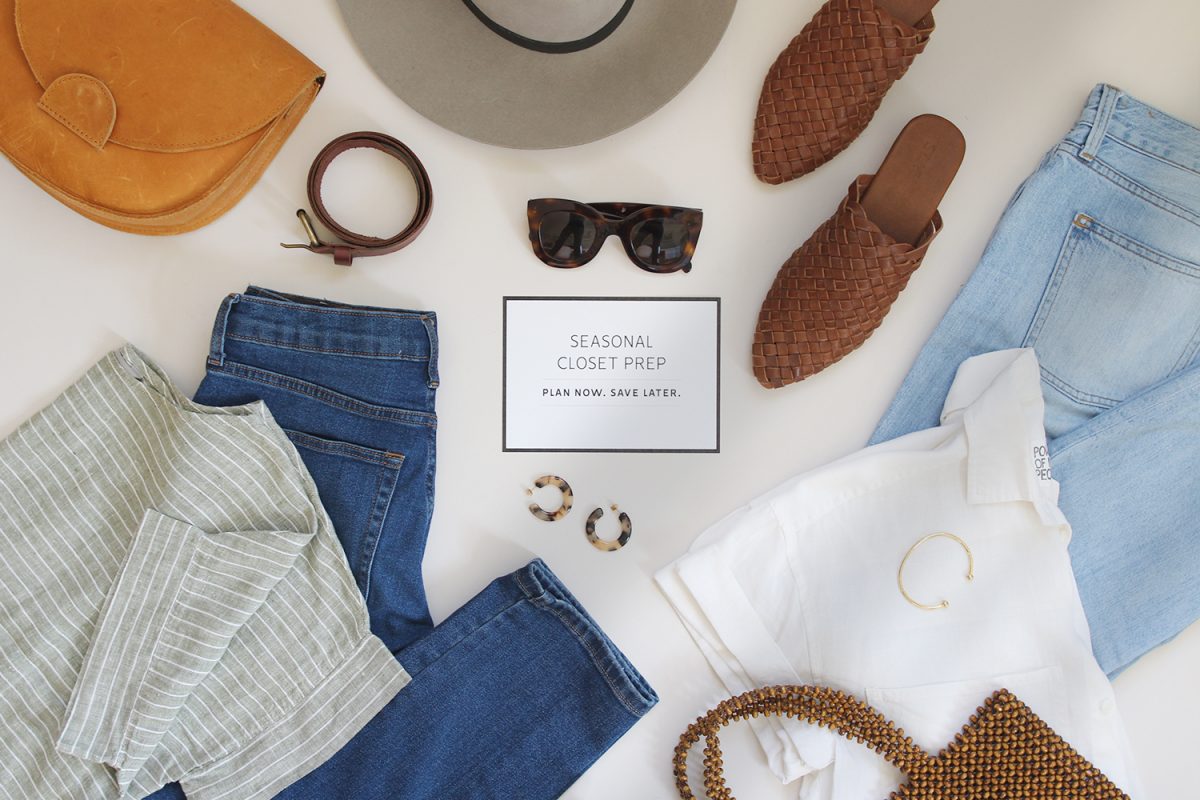 ---
4 – SET A BUDGET
---
The final step in your seasonal closet prep is to set a budget or a price range you want to stick to when it comes to shopping. This can help limit impulse buys or overspending because you'll have a figure in mind to stay within and a list of pieces to refer to (thanks to your wish list!).
---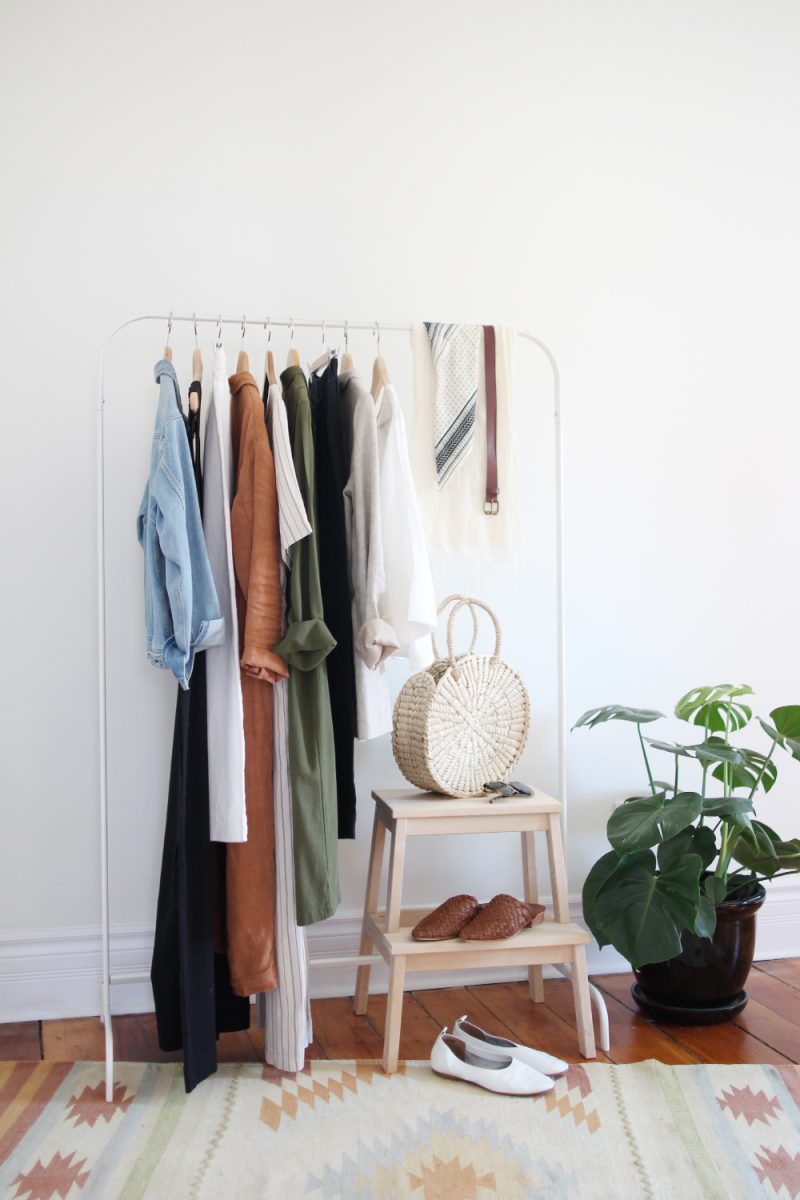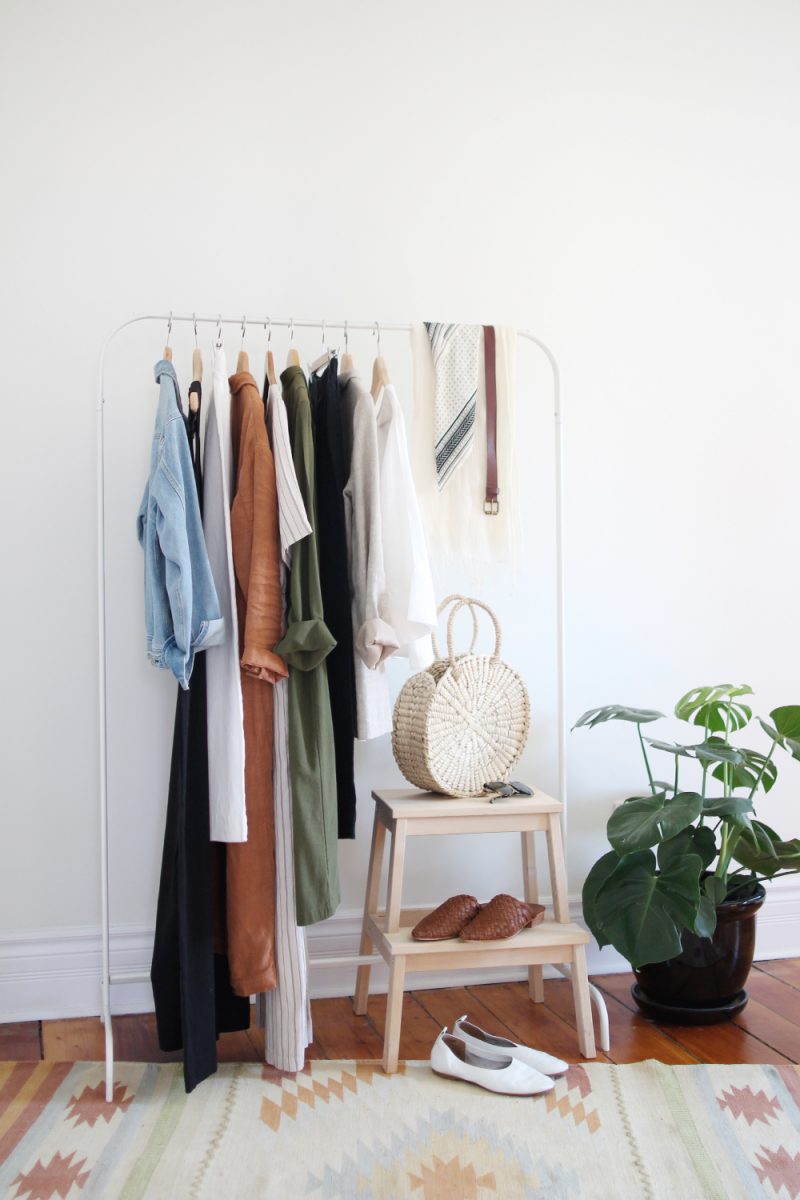 ---
NOW YOU'RE WELL ON YOUR WAY FOR THE SEASON AHEAD!
---
I hope you'll find that this exercise helps you:
See what's really in your closet.
Reinvest in you favourite items.
Achieve a much clearer sense of your personal style.
Avoid adding items that won't get worn.
Let go of the 'stuff' that's been holding you back.
---
---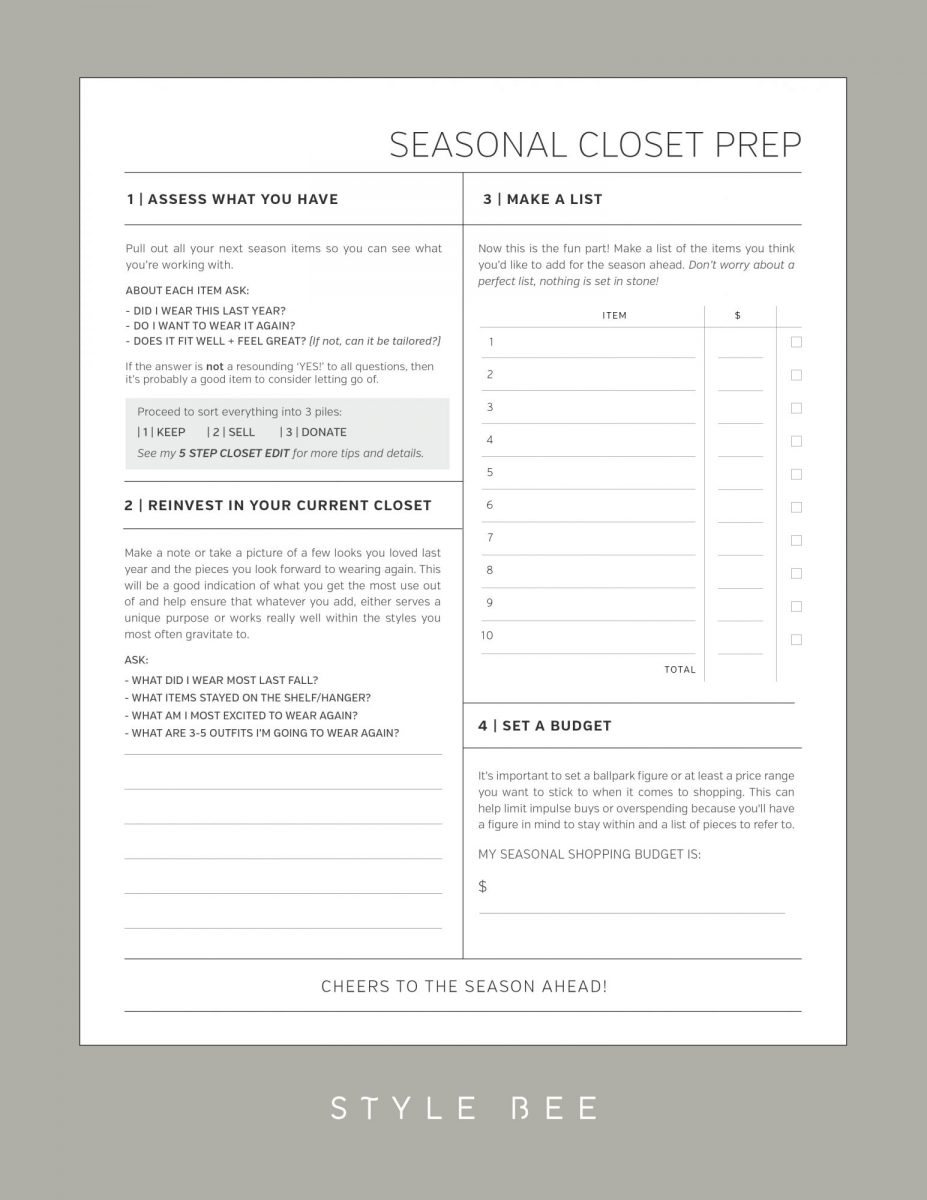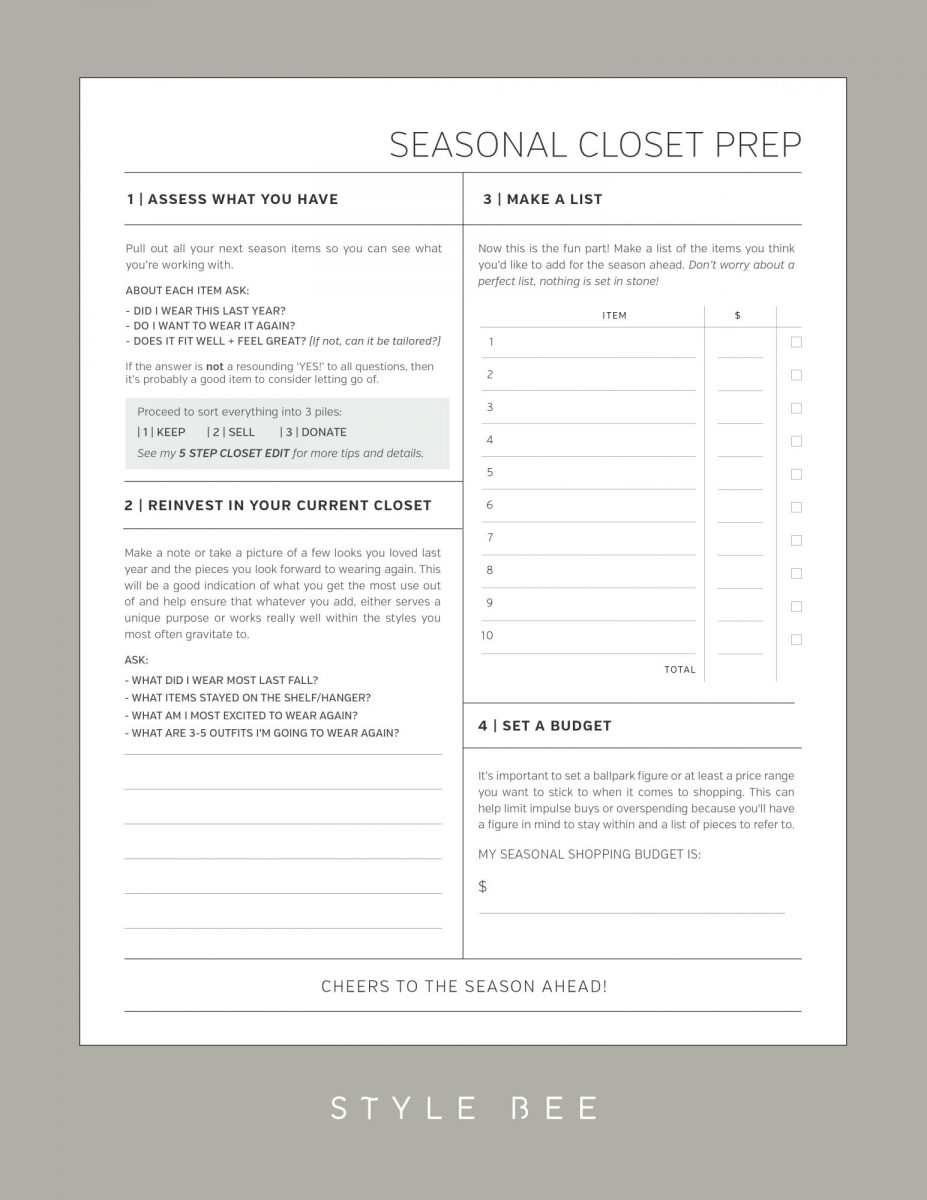 ---
SO WHAT DO YOU THINK, ARE YOU UP FOR A SEASONAL CLOSET PREP?

WHAT STEPS DO YOU TAKE BEFORE A NEW SEASON?

DID YOU LEARN ANYTHING FROM LAST SPRING?

---
SHOP THIS POST
---
CLOTHES RACK PHOTOS: DENIM JACKET | JUMPSUIT gifted | FLORENCE PANT | DUSTER* gifted | JUMPSUIT*| GREEN JACKET | BLAZER* | WHITE TOP*| BELT | BANDANA* | ROUND BAG gifted | PARIS MULE | DAY GLOVE | *linked to similar
---

---
FLAT LAYS: HANA COGNAC BAG gifted | BELT | HAT* old | SUNGLASSES* | PARIS MULE | LIGHT WASH DENIM | WHITE SHIRT gifted | BANGLE gifted| BEADED BAG | TORTOISE HOOPS | MID-WASH DENIM | STRIPED TEE old | *linked to similar

---
This post is not sponsored but contains affiliate links. When you shop via the links above I may make commission on a sale at no additional cost to you. Thanks for supporting Style Bee! All opinions are always my own.