Hello again! I hope you enjoyed the weekend and you're diving into the week well-rested and refreshed. Last week I had planned to start my Fall closet planning but I seemed to just keep hitting walls (not to mention a horrible heat-wave!). So instead of trying to force myself to look ahead, I decided to embrace the present season a little longer and take another look at my summer style. I also realized that it has been about a year since my last 1 Formula – 3 Ways post so I'm trying one that focuses on some simple, end of summer style ideas surrounding the heat-wave hero that is shorts!
Acknowledging that I wasn't quite ready to move on from this season may seem like a little thing but it was actually kind of a big realization for me. In the past I'd usually just begin mindlessly seeking out the newness of an upcoming season (especially my favourite one!) instead of checking in with myself and making a conscious note of how I was feeling. The moment I got bored with my closet I'd start searching for updates and distractions instead of choosing creativity. But not this time!
Of course, soon enough, the time will come when I'm ready to dive into Fall but I hope you're OK with a little more summer before we go there! So with that being said, today I'm sharing a simple outfit formula that I've been loving lately, which is:
A SHORT JACKET + LOOSELY TUCKED TANK + LINEN SHORTS + LOW HEEL SANDALS = SUMMER CHIC 
Now let's take a look at how I've put together three easy outfits using that combination if items!
---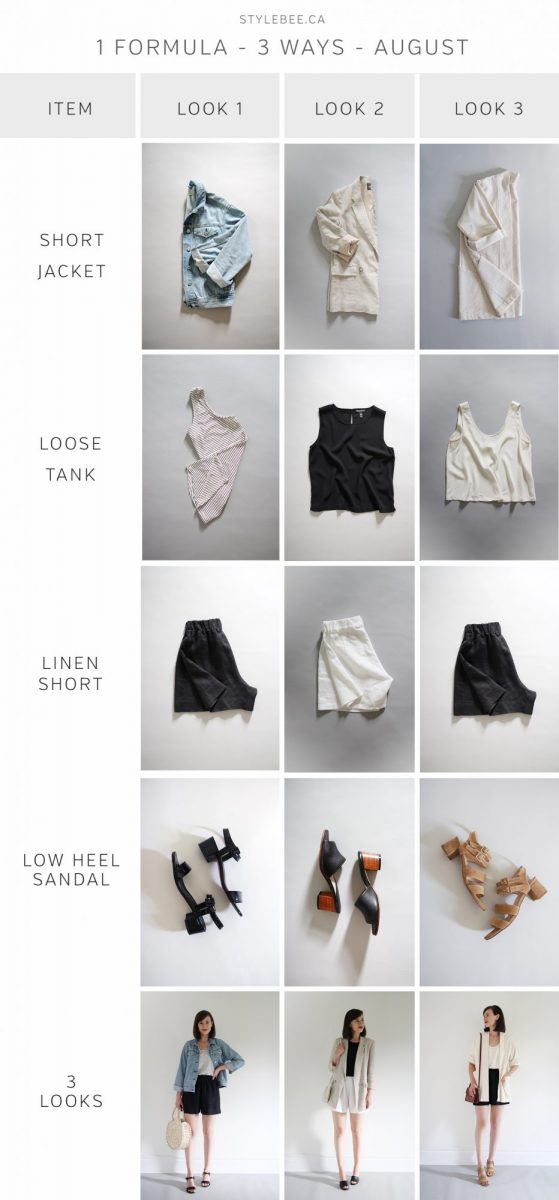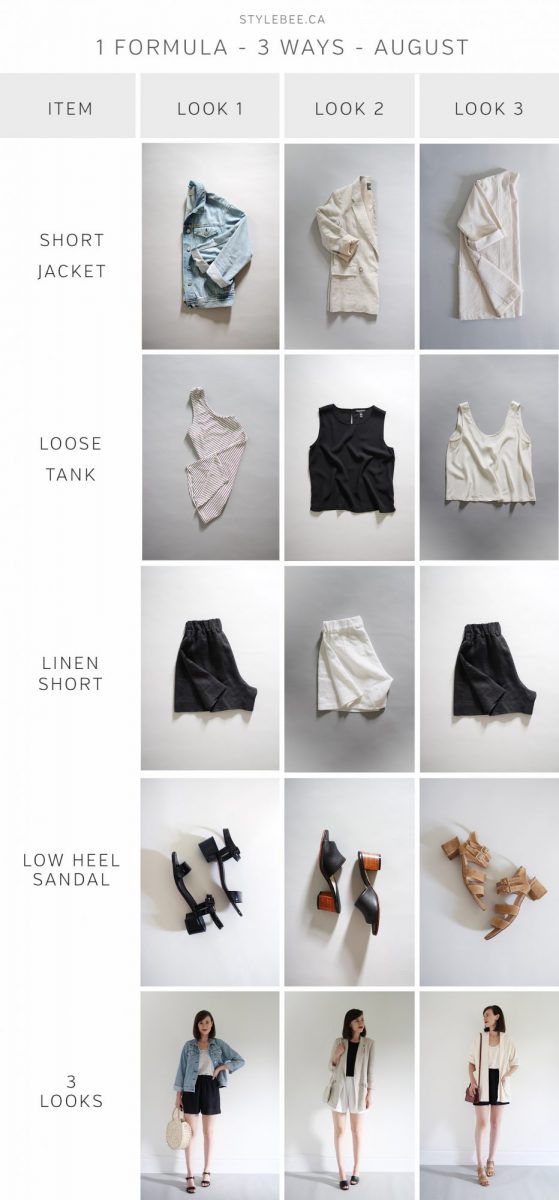 ---
LOOK 1
---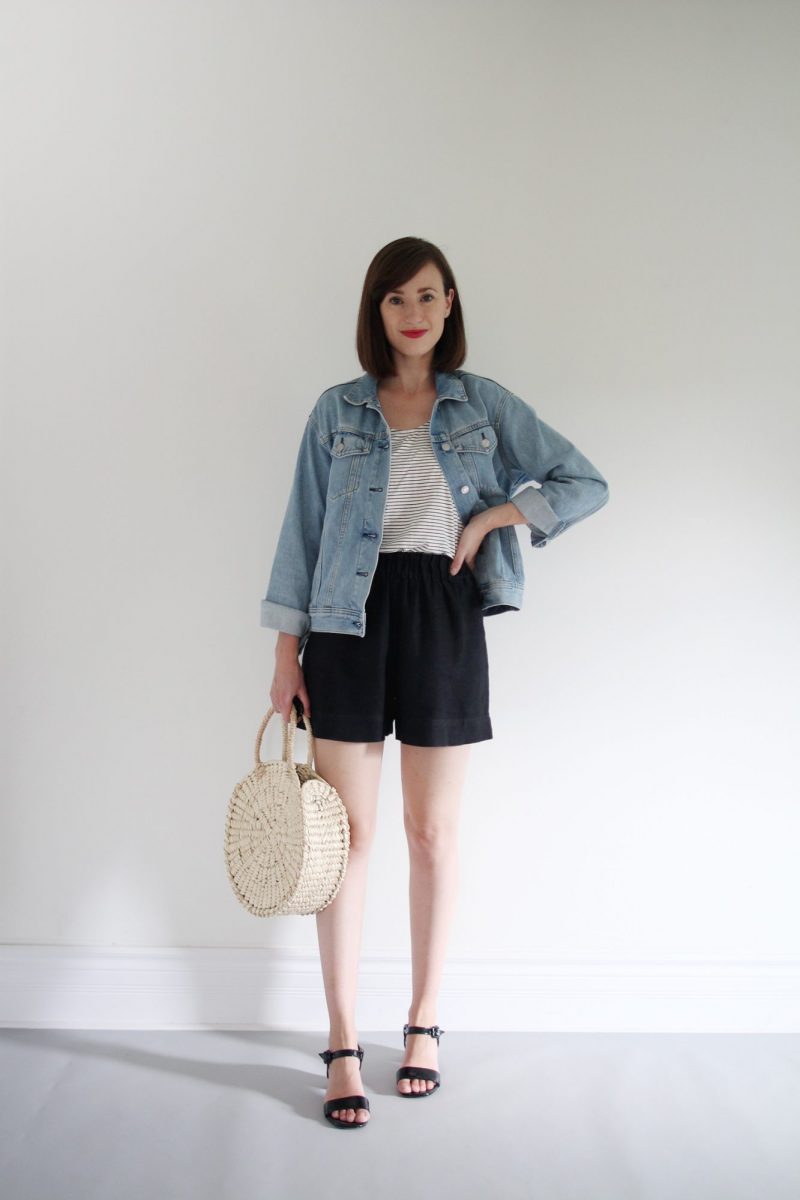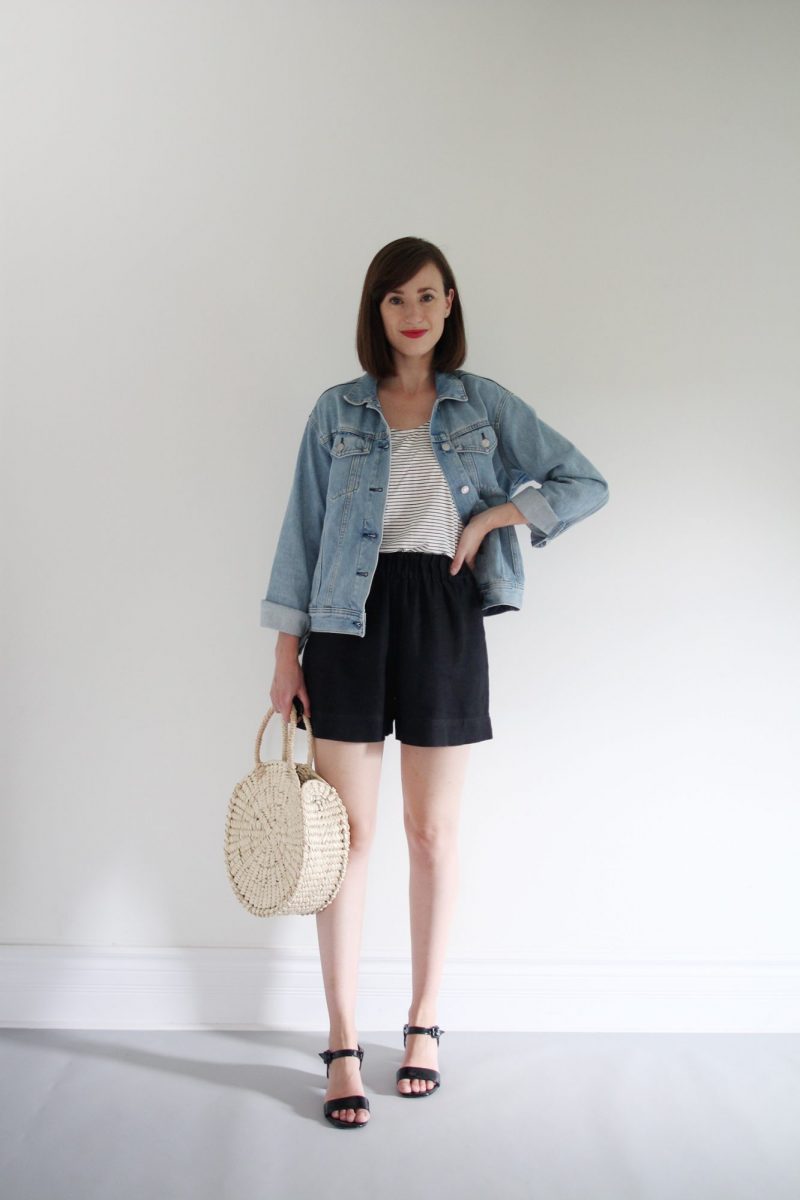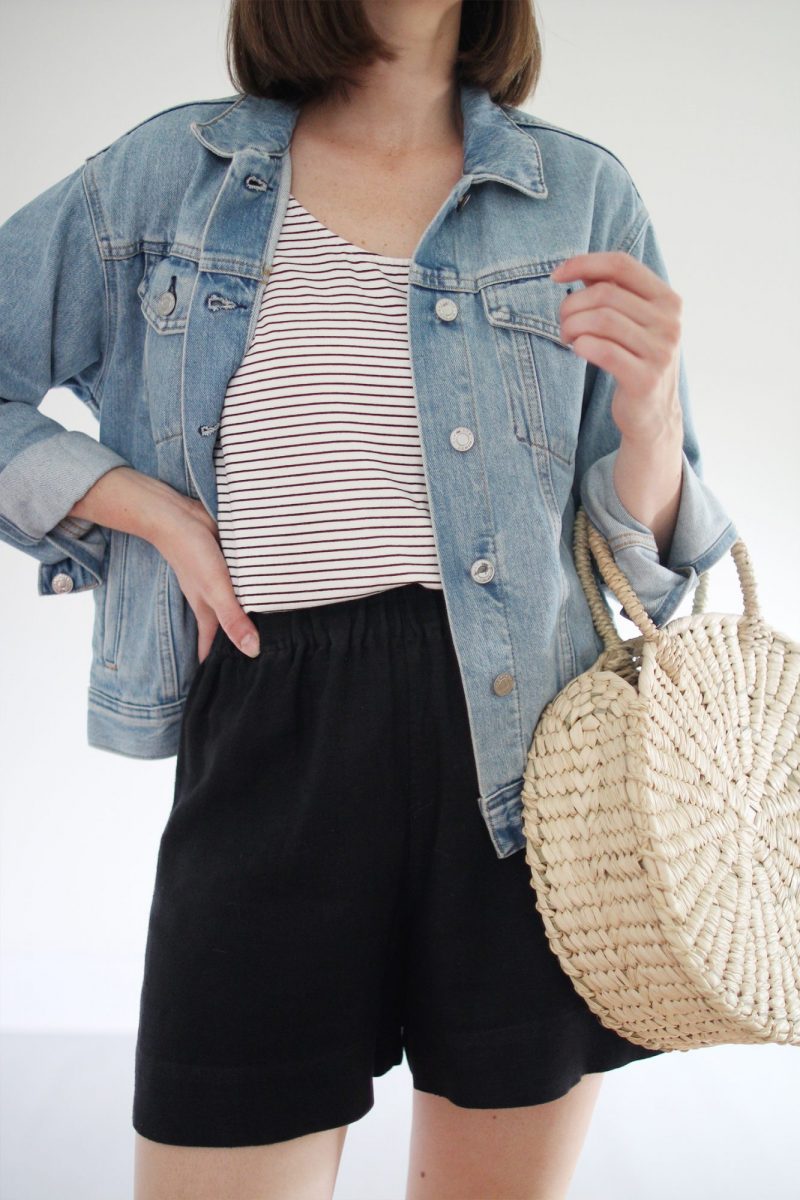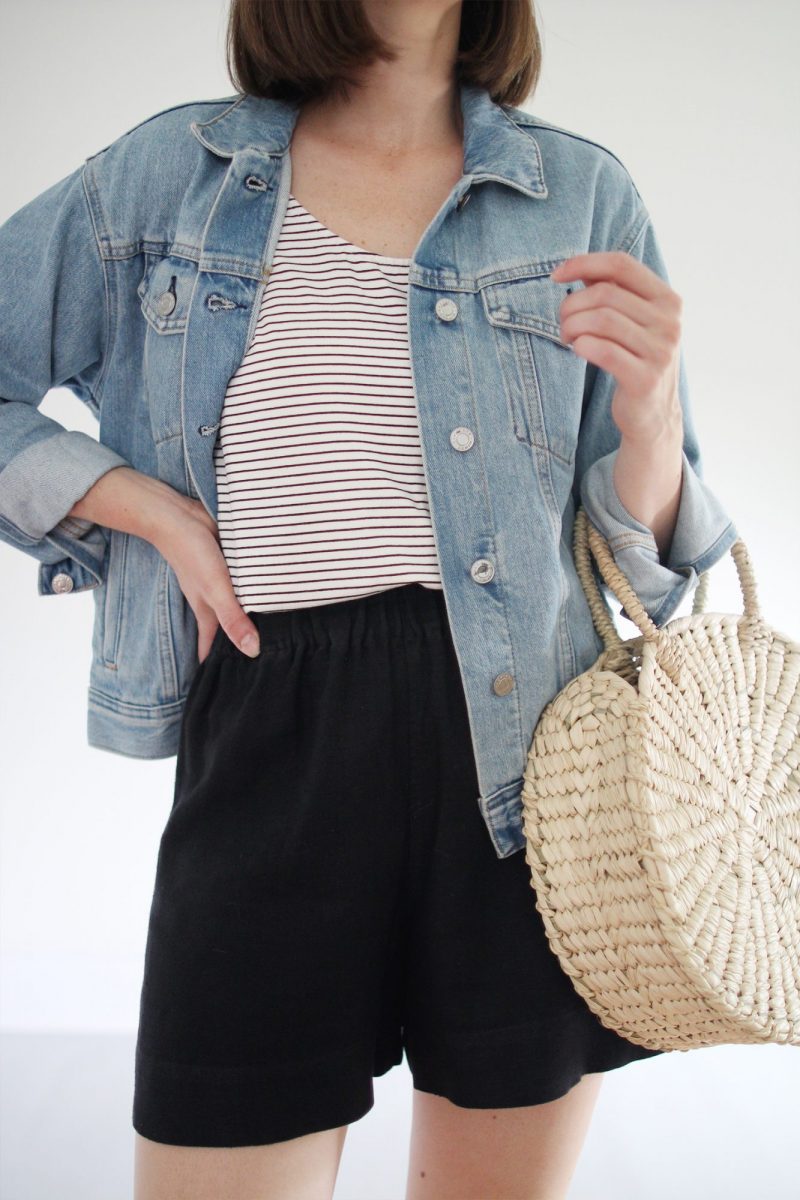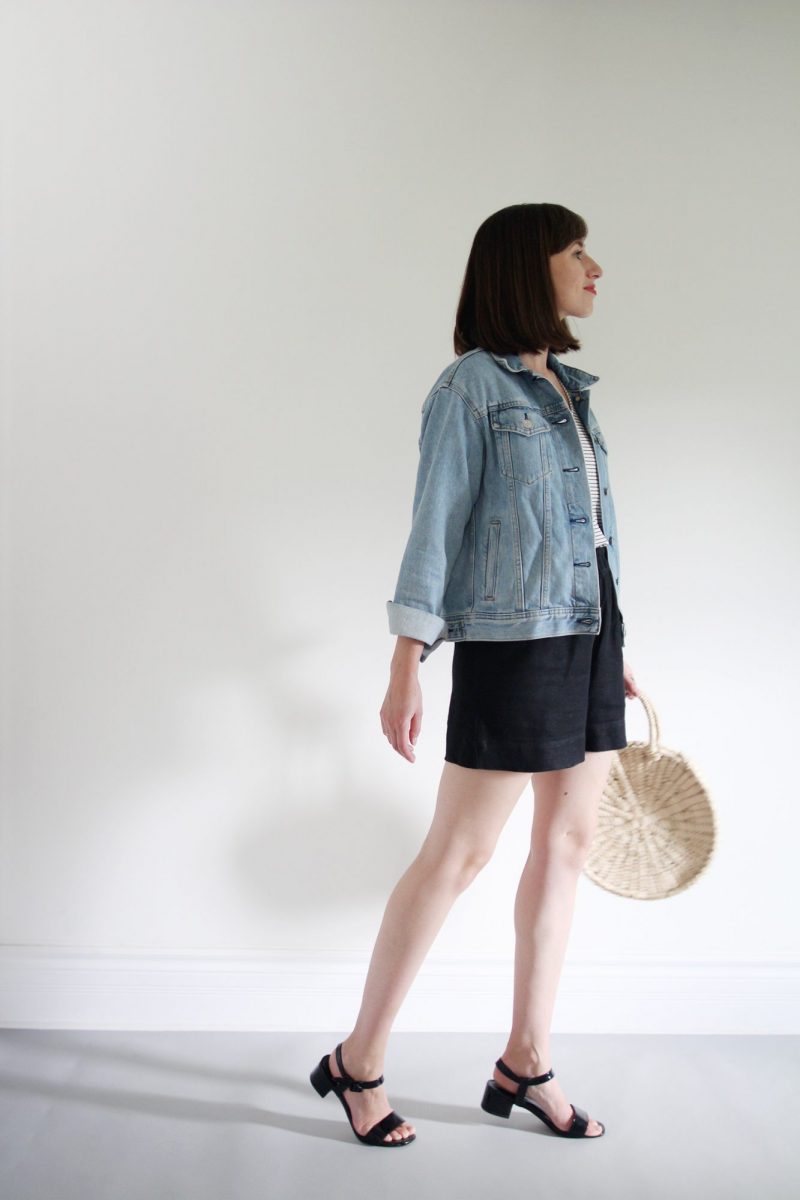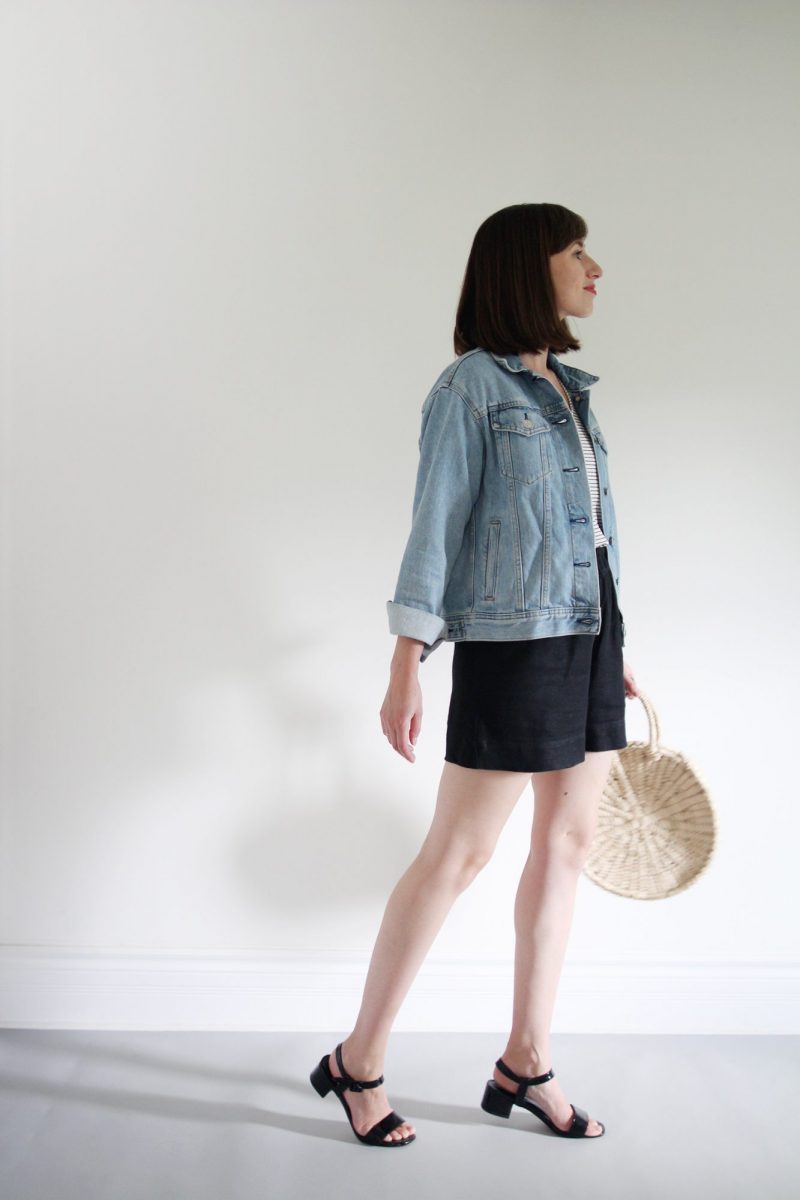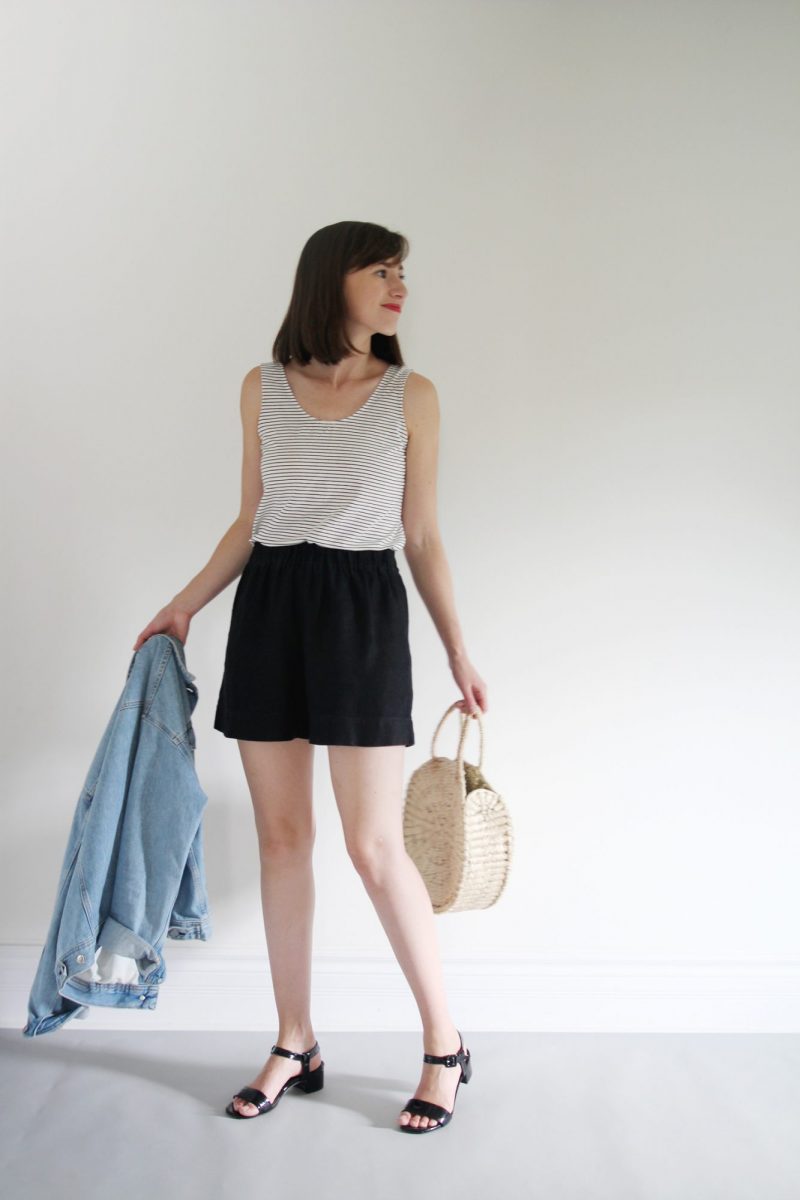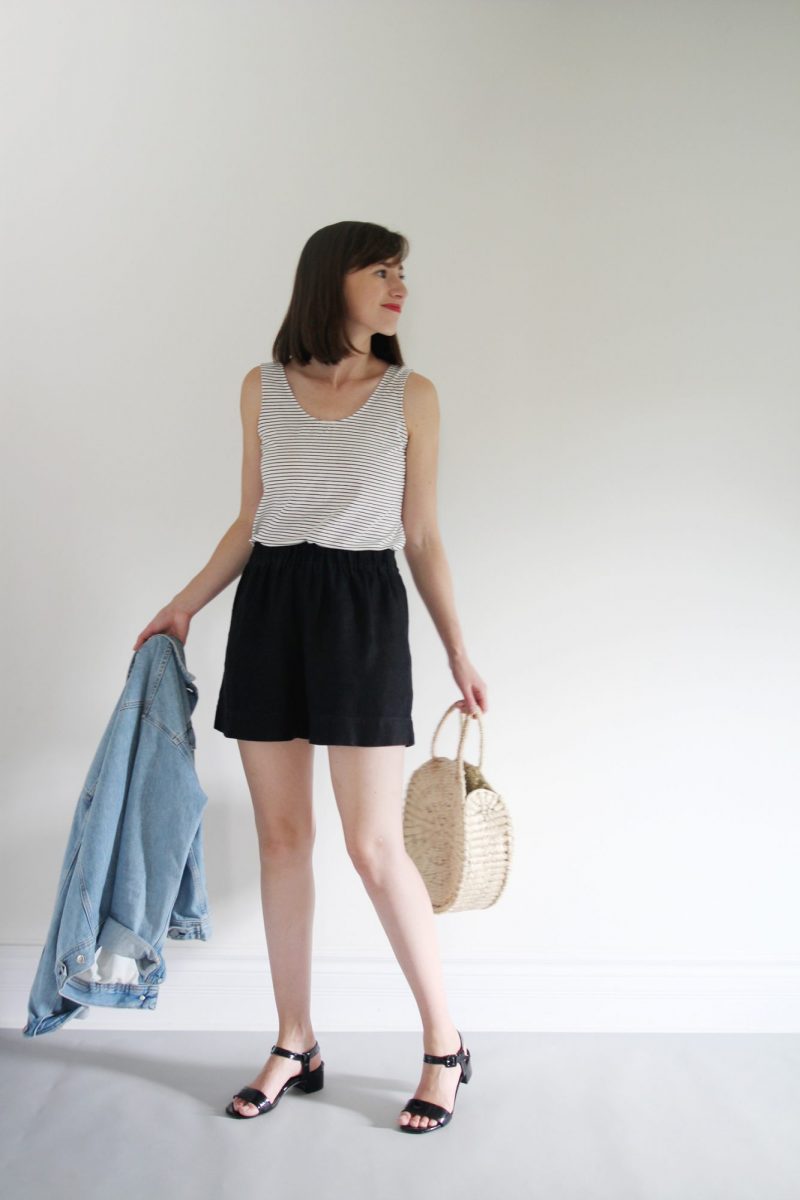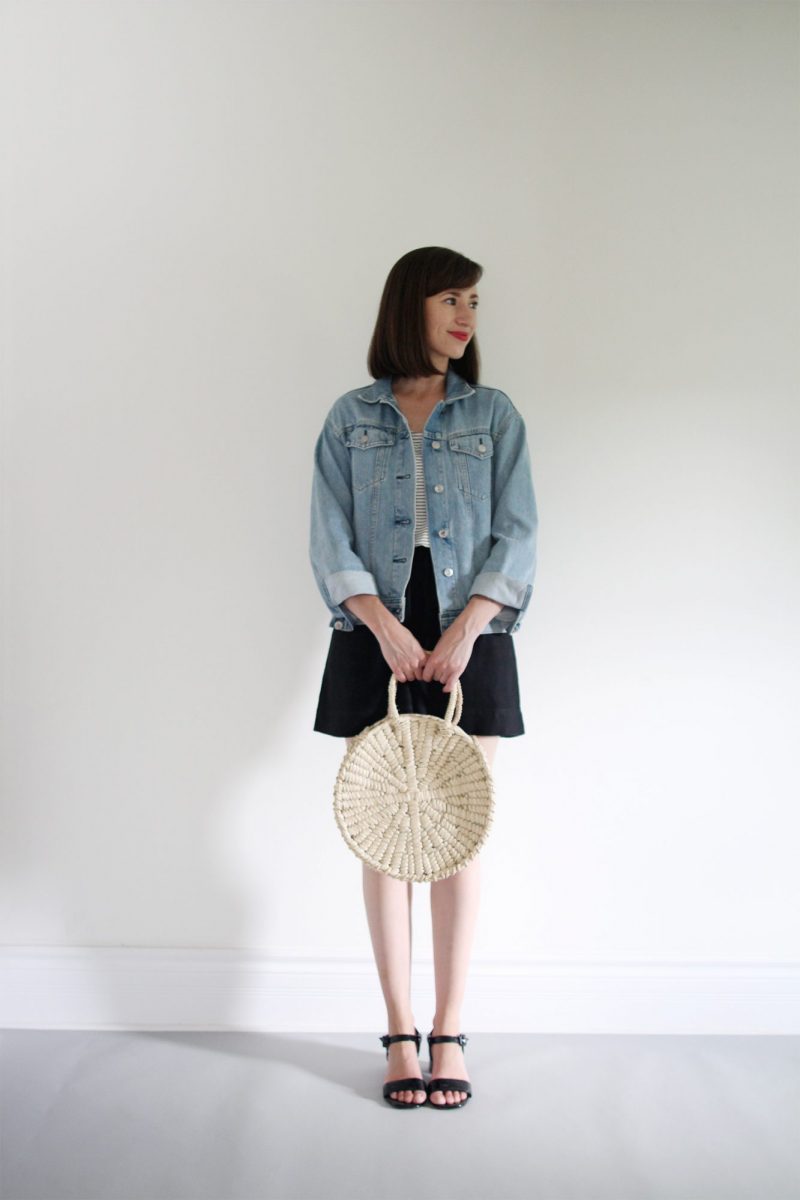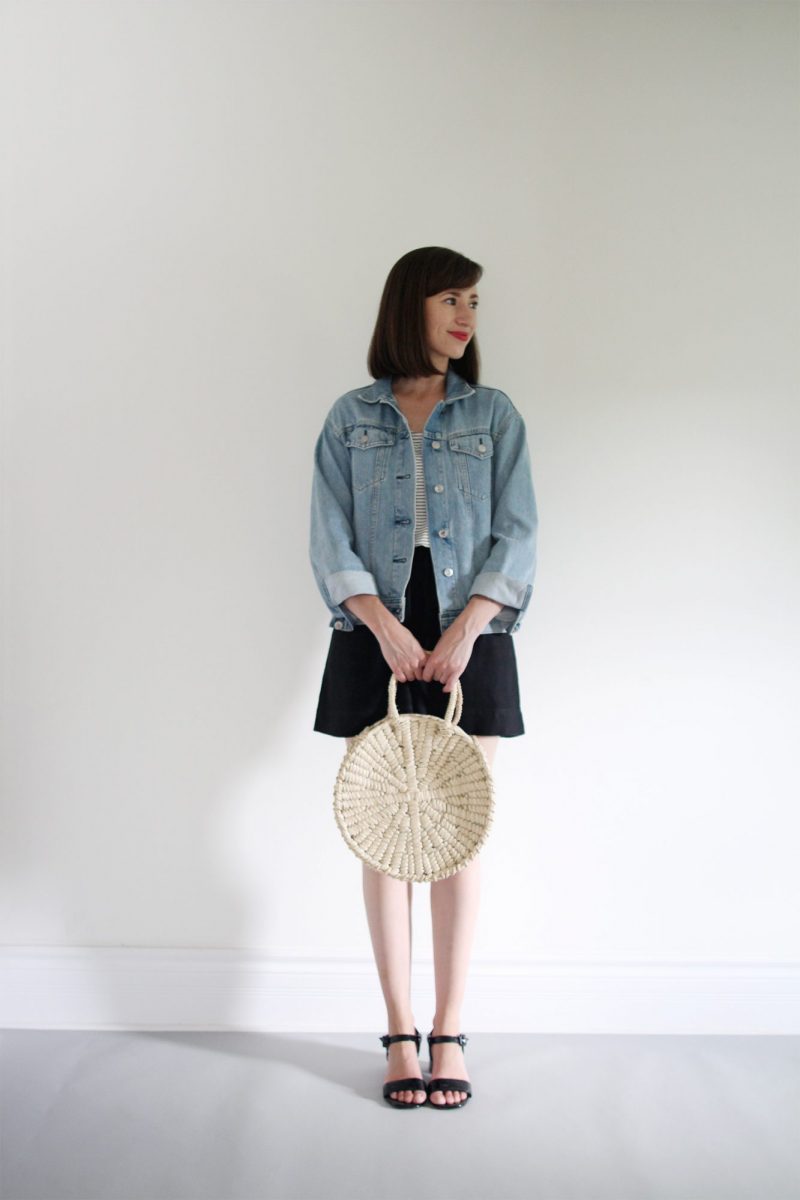 ---
There are few, if any, combinations more timeless than denim, stripes and black. It's just one of those fail-safe palettes that works no matter what trends are currently in style and I love that. There is a reason you'll find these pieces in almost every 'minimal capsule closet' out there. While I certainly never tire of these, the combo can get a bit predictable so here are a few ways to keep it feeling fresh!
---
ADD A BOLD LIP COLOUR – A punchy red lip always makes it seem like you put in more of an effort than you really did and when you're trying to elevate linen shorts and a jean jacket, that's just the ticket! Plus, you can change the colour depending on the season to give the outfit a different mood each time. I'm wearing Thrillest by KOSAS, linked below.

MIX YOUR ACCESSORY MATERIALS – I wouldn't have thought patent black leather would work with a woven bag but once I tried it I was sold! Think about what shoes and bags you might not usually mix and give them a try with an outfit palette you wear often. Chances are it will feel brand new! 

LOOSEN UP – This look has a relaxed but still put together vibe and that's thanks to the easy fits of each item. Nothing is giant but nothing is particularly tight either, except for the elastic waist on my shorts, which helps create a bit of shape and a high visual midpoint.
---
SHOP LOOK 1 
---

---
LOOK 2
---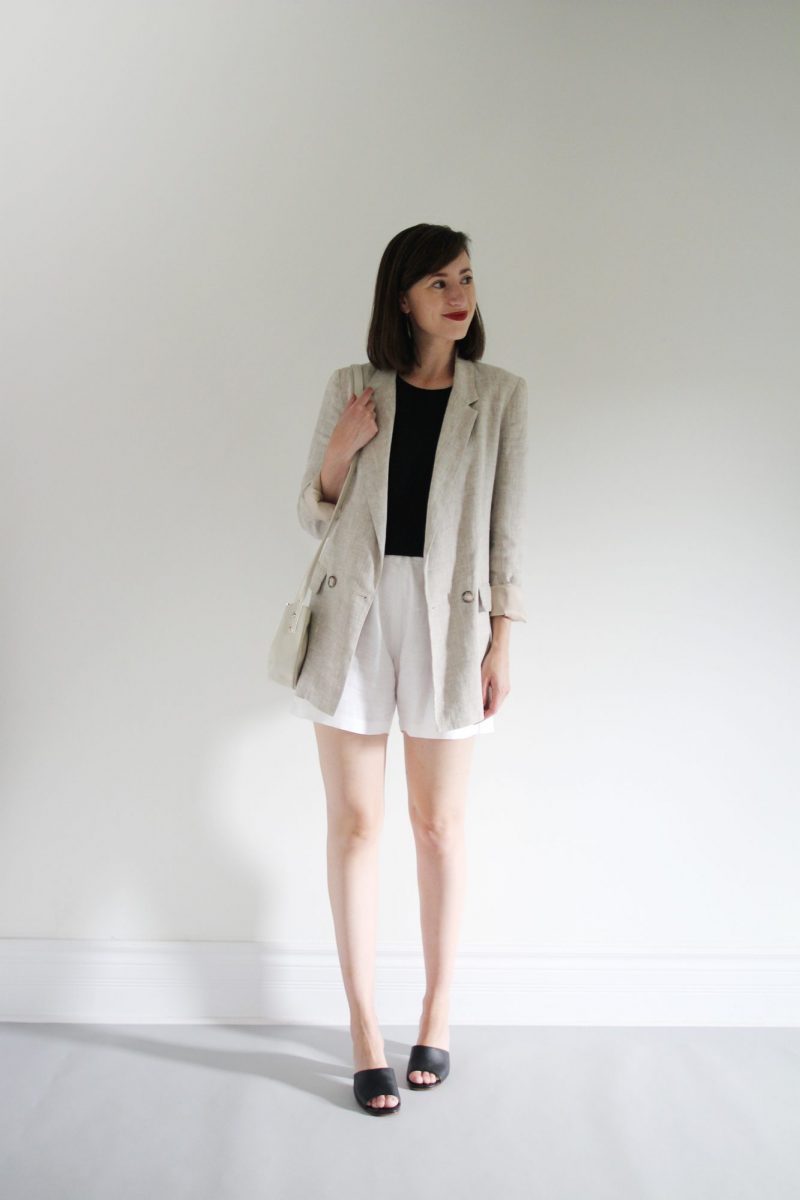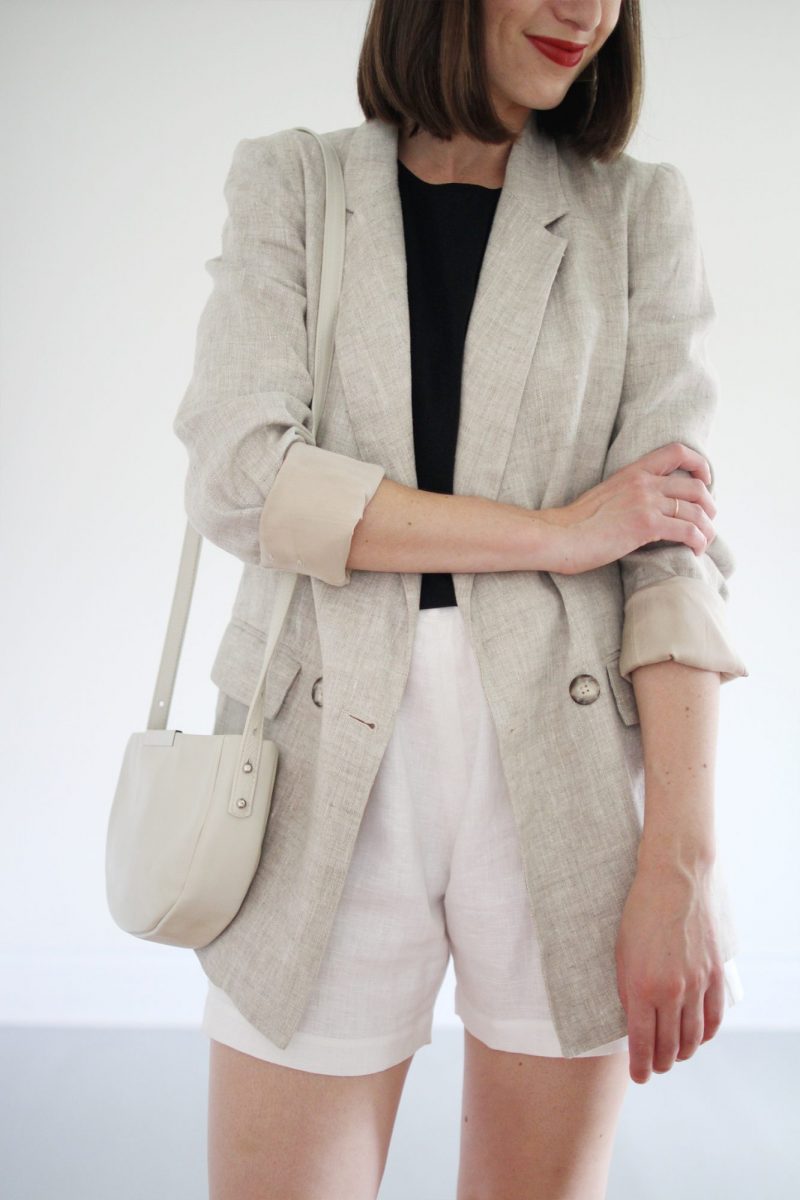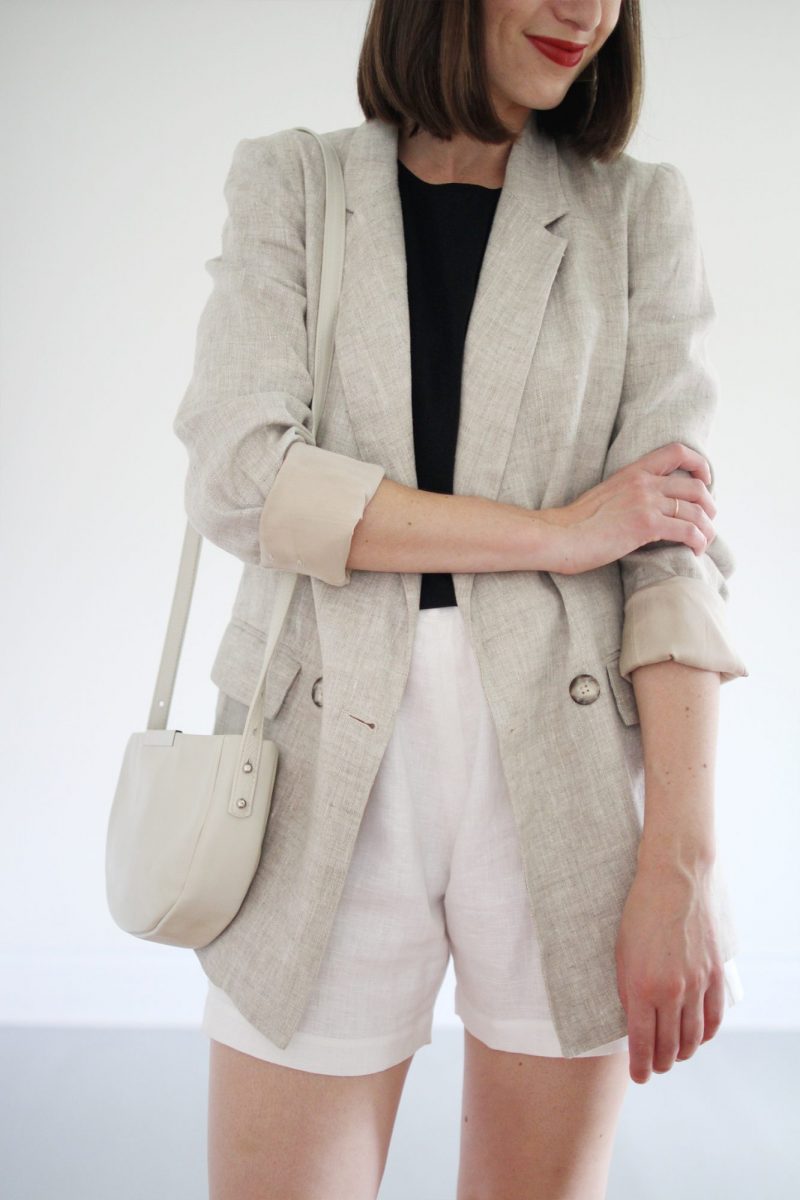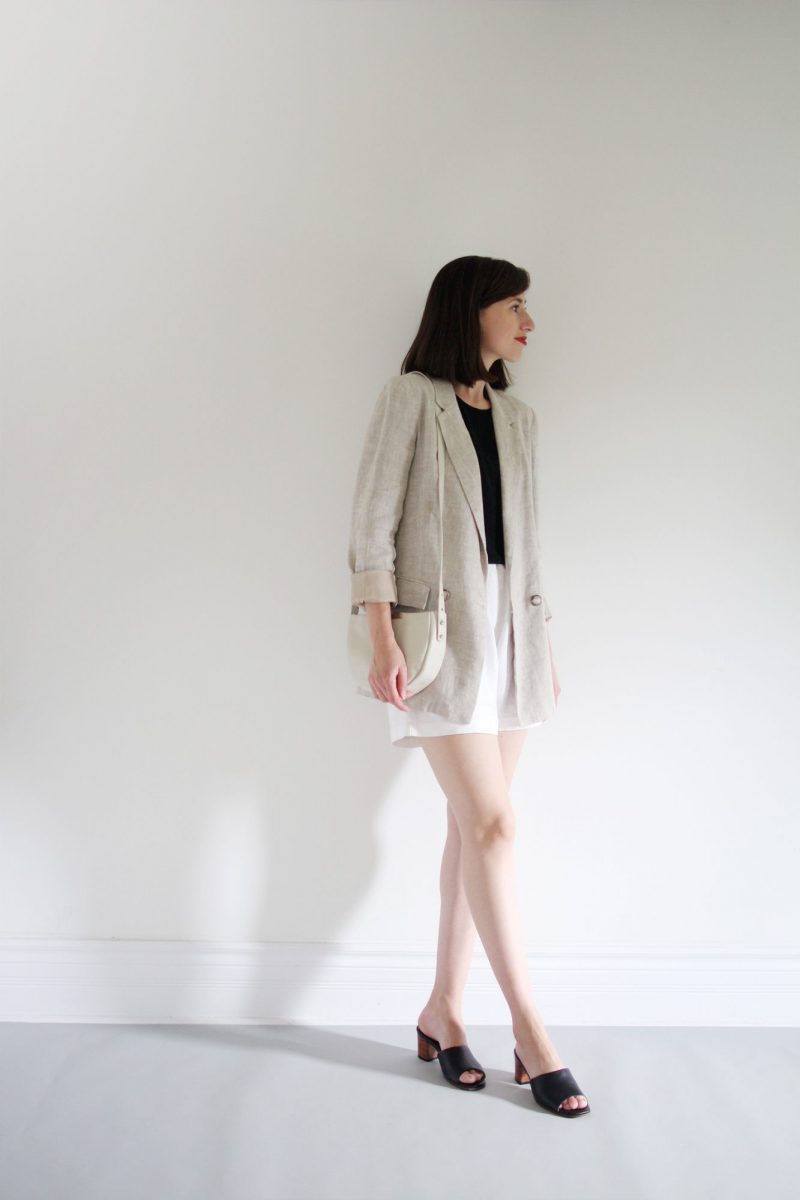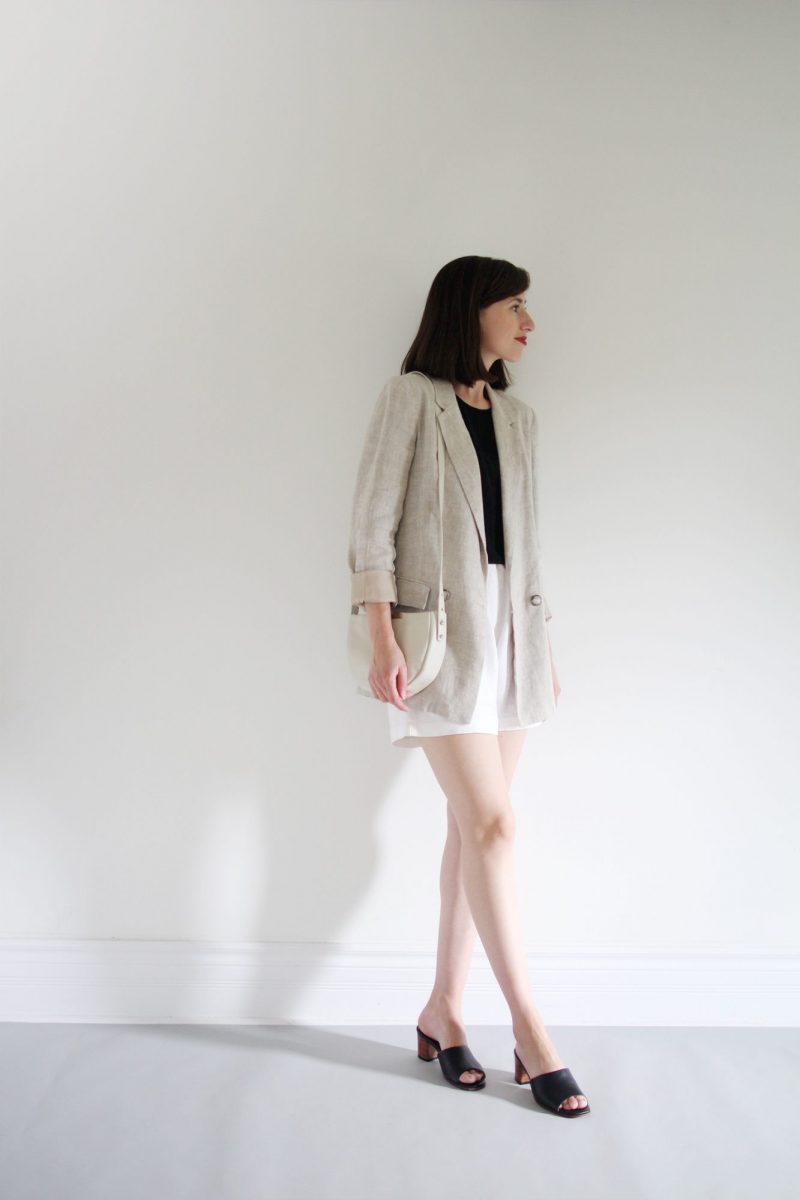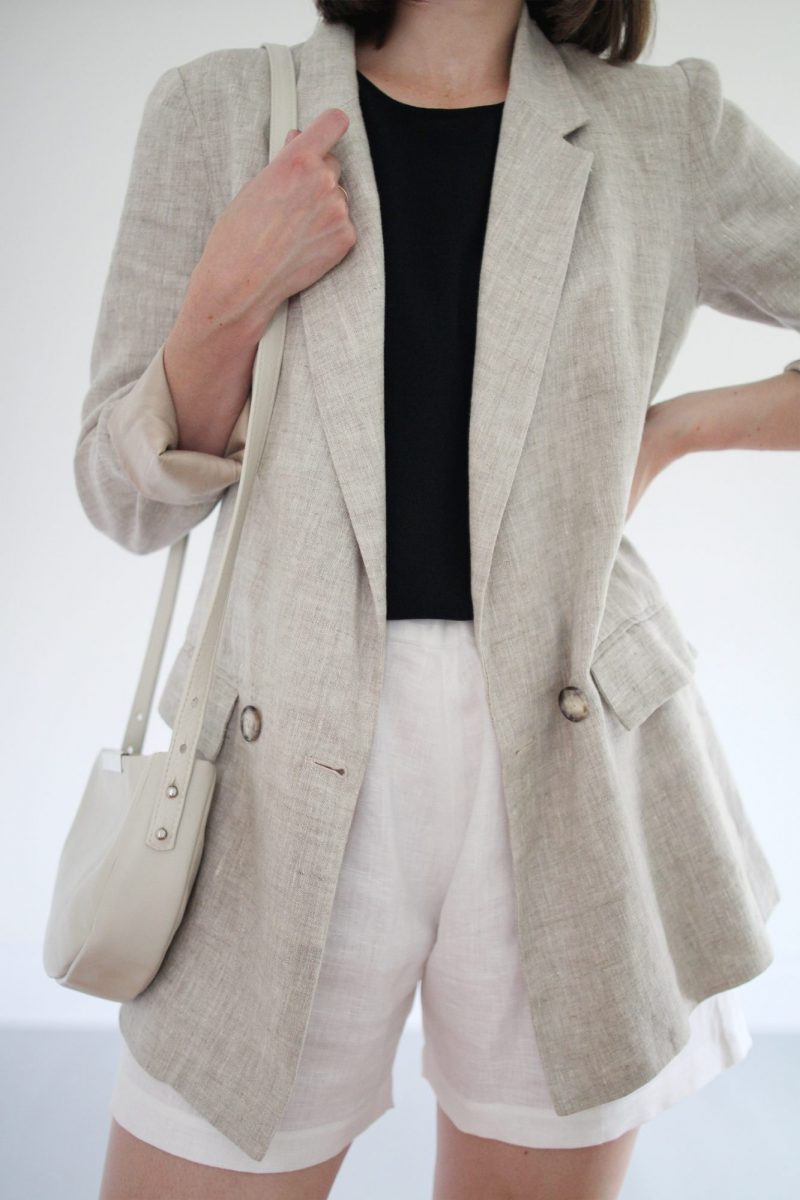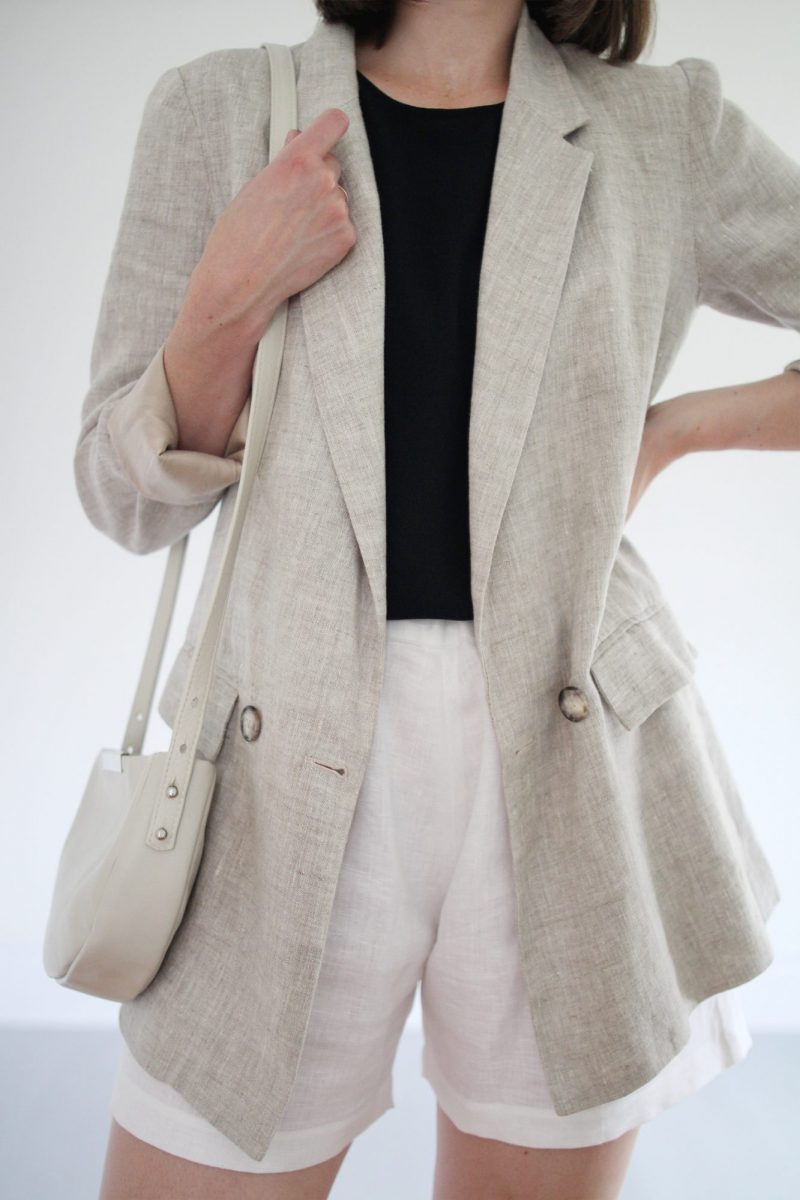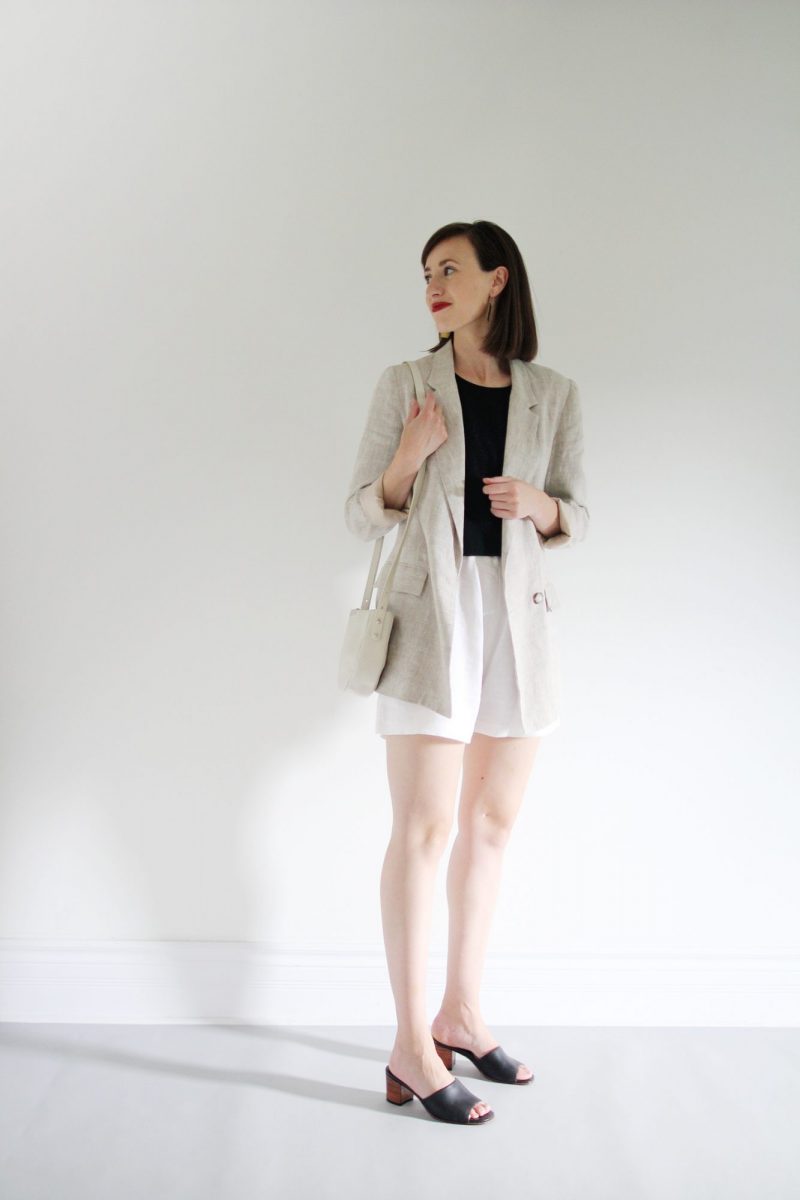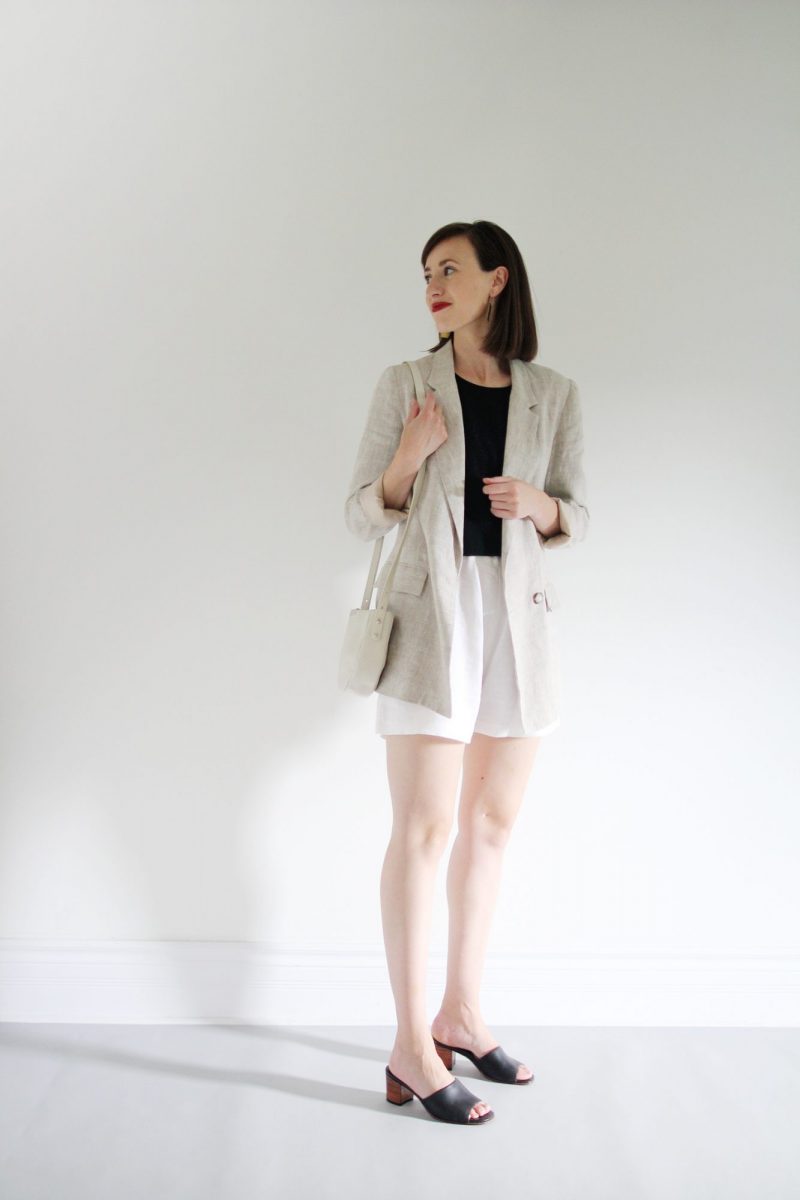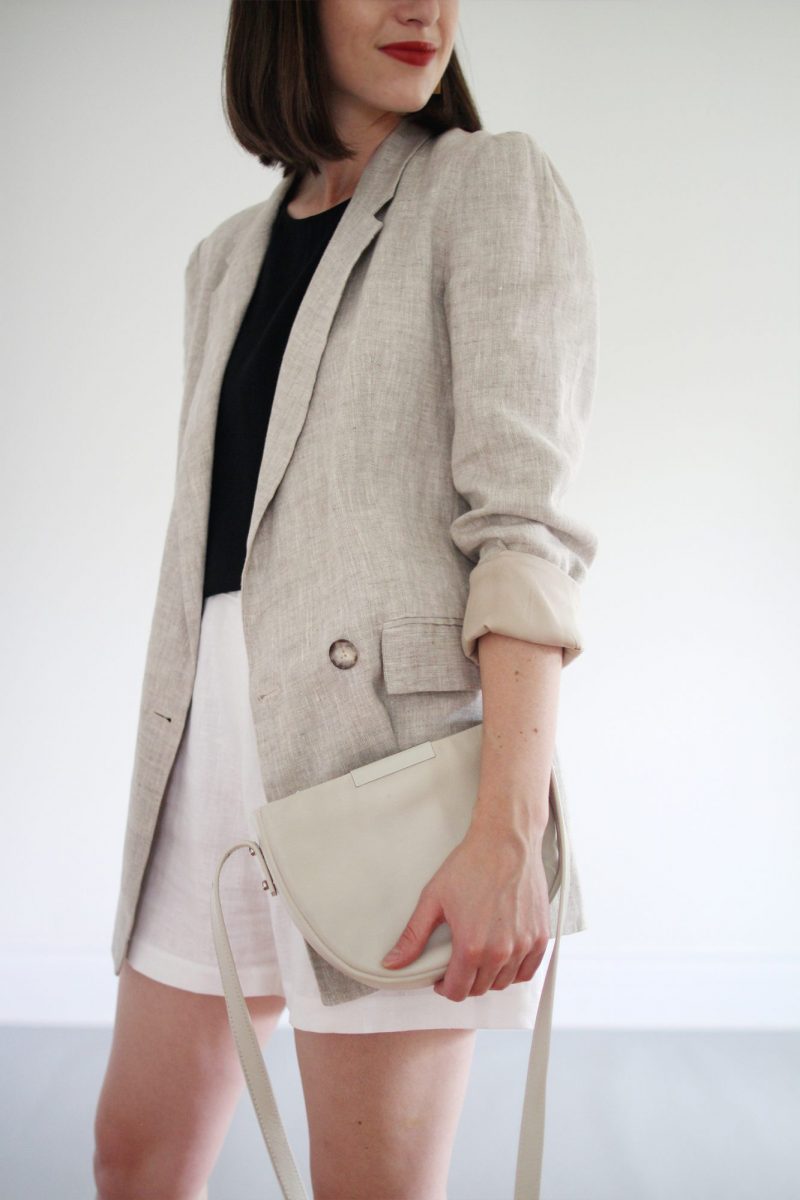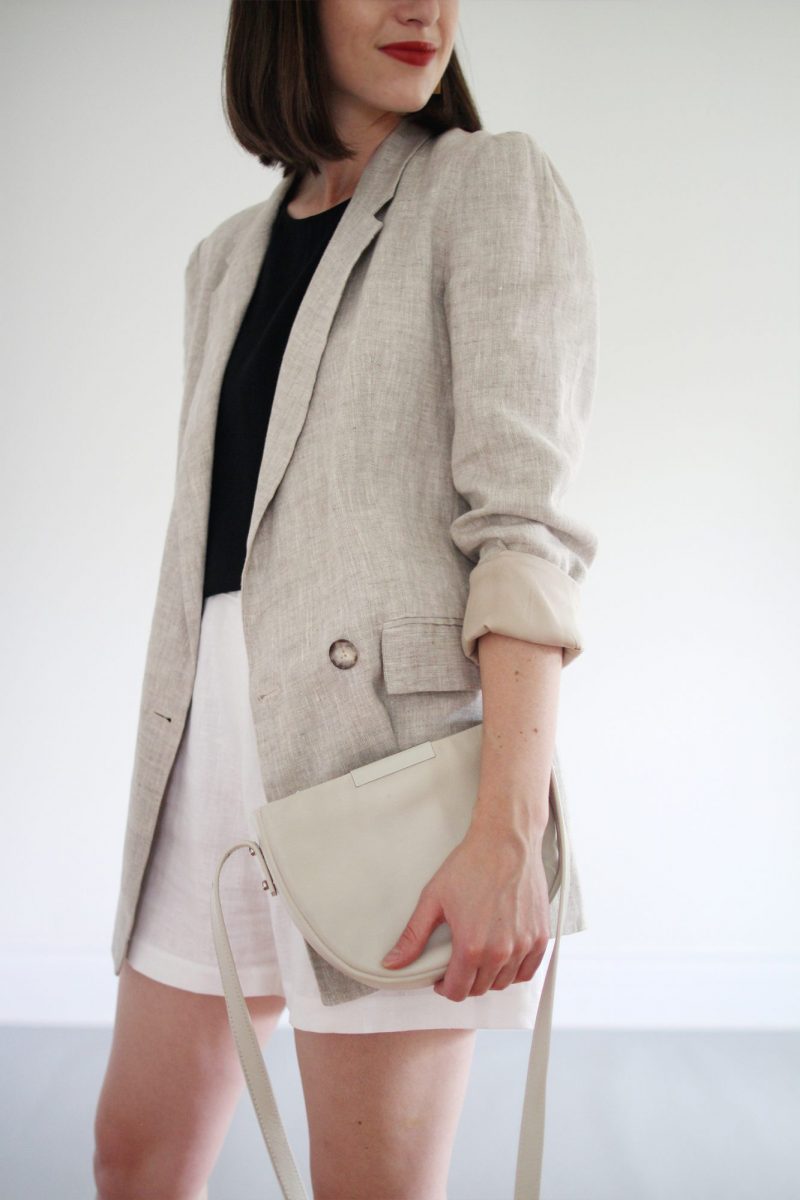 ---
This outfit has to be one of my favourite looks from the last little while. For some reason I hadn't been reaching for my white linen shorts much this summer, but as soon as I paired them with my favourite linen blazer they felt great! This look has dinner and drinks on the patio written all over it and I can't wait to wear it out and about. Here are a few reasons why it's working for me:
---
MATCHING MATERIALS – I wasn't sure how these almost PJ-esque shorts would work with this structured blazer but I ended up loving the combo. I think it works because they're both made from the same textured type of linen so the eye reads them as a 'set' and loose shorts with a sharp blazer instantly feels less bizarre and more modern.
CLASSIC CONTRAST – Whenever I'm pairing two elements that are a bit unusual I like to keep other aspects of the look clean and classic, which is why I went for the black tank. Black and white is such a timeless pairing and helps to tie in the more contemporary elements of the look quite nicely.
SCULPTURAL ACCESSORIES – By now this trick might feel like old news, but it's still my go-to. I love adding intentionally minimally designed accessories to a look to give it a purposefully pared-down vibe. Rectangular earrings with a half-moon bag and sleek mules make for the perfect elevating elements.
---
SHOP LOOK 2 
---

---
LOOK 3
---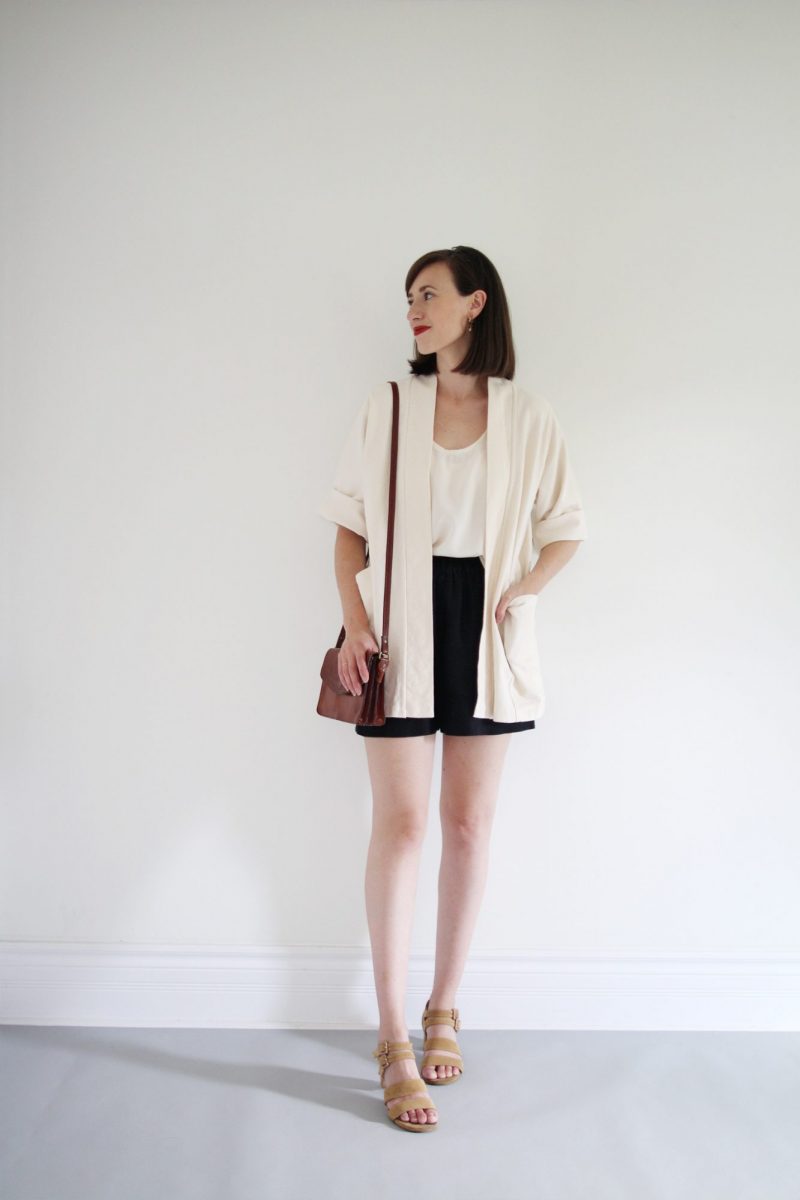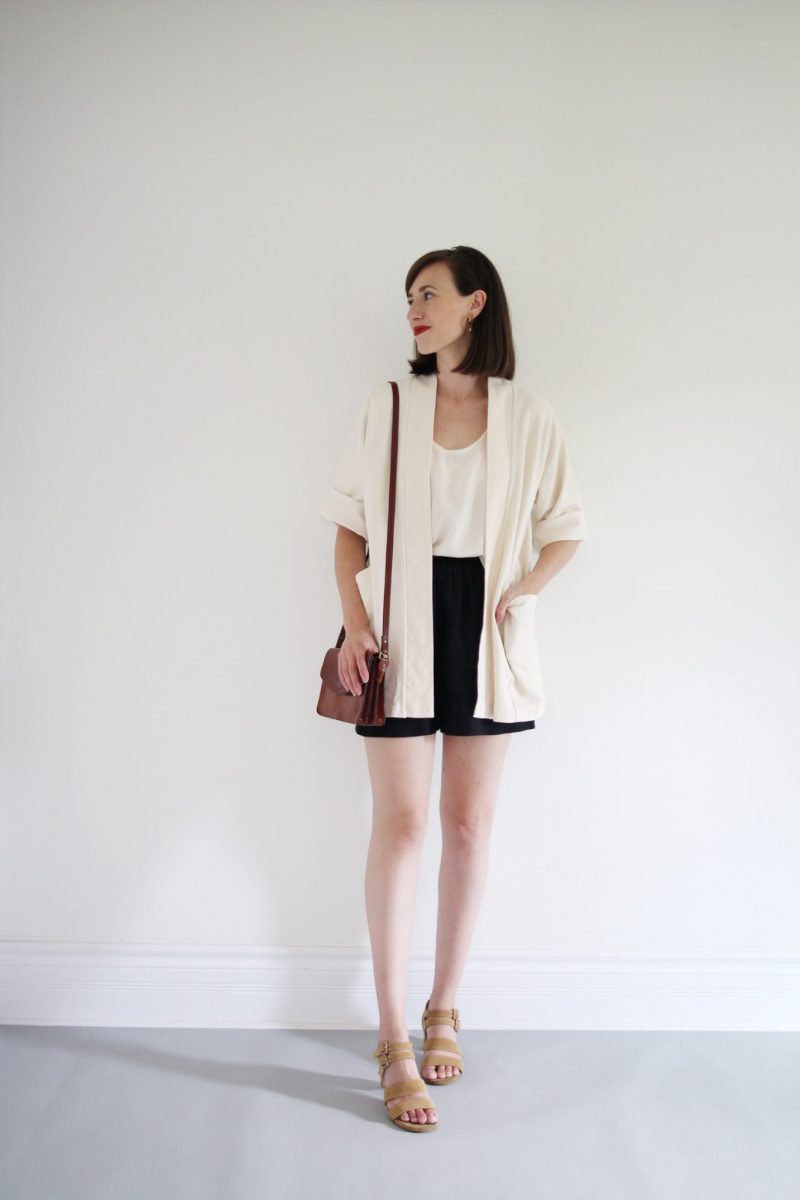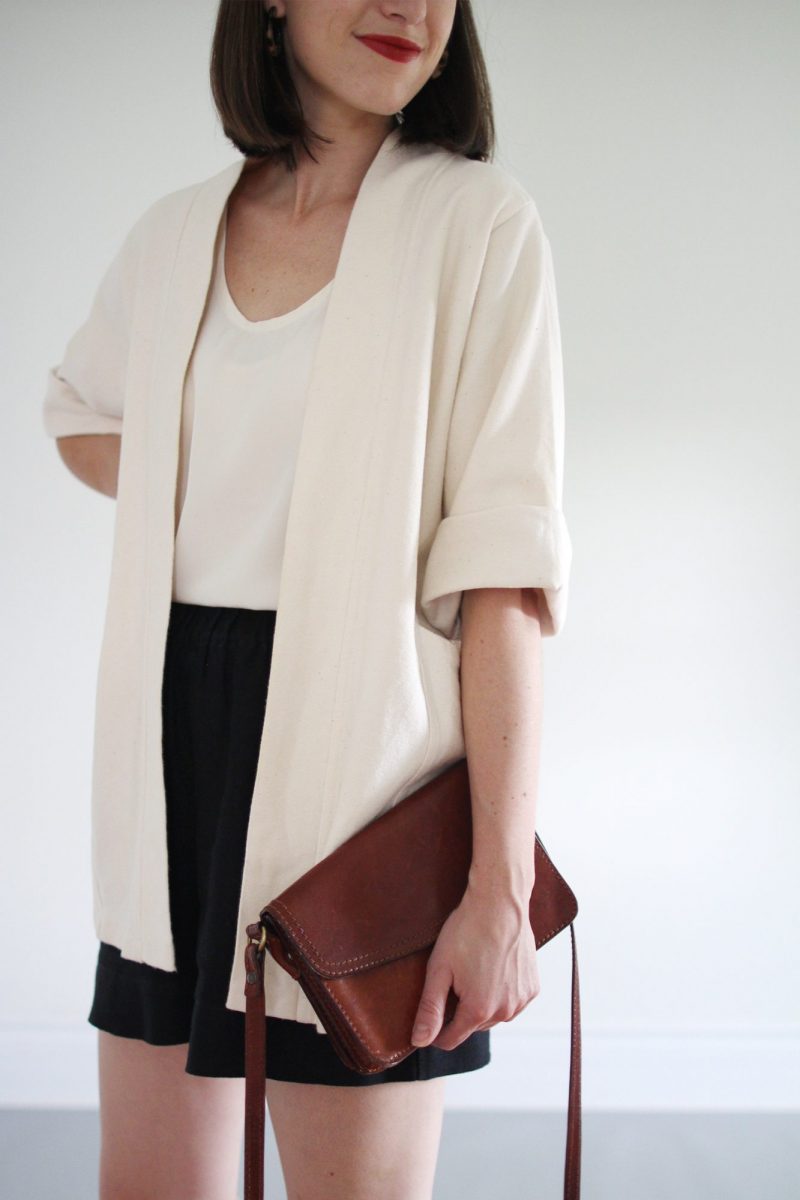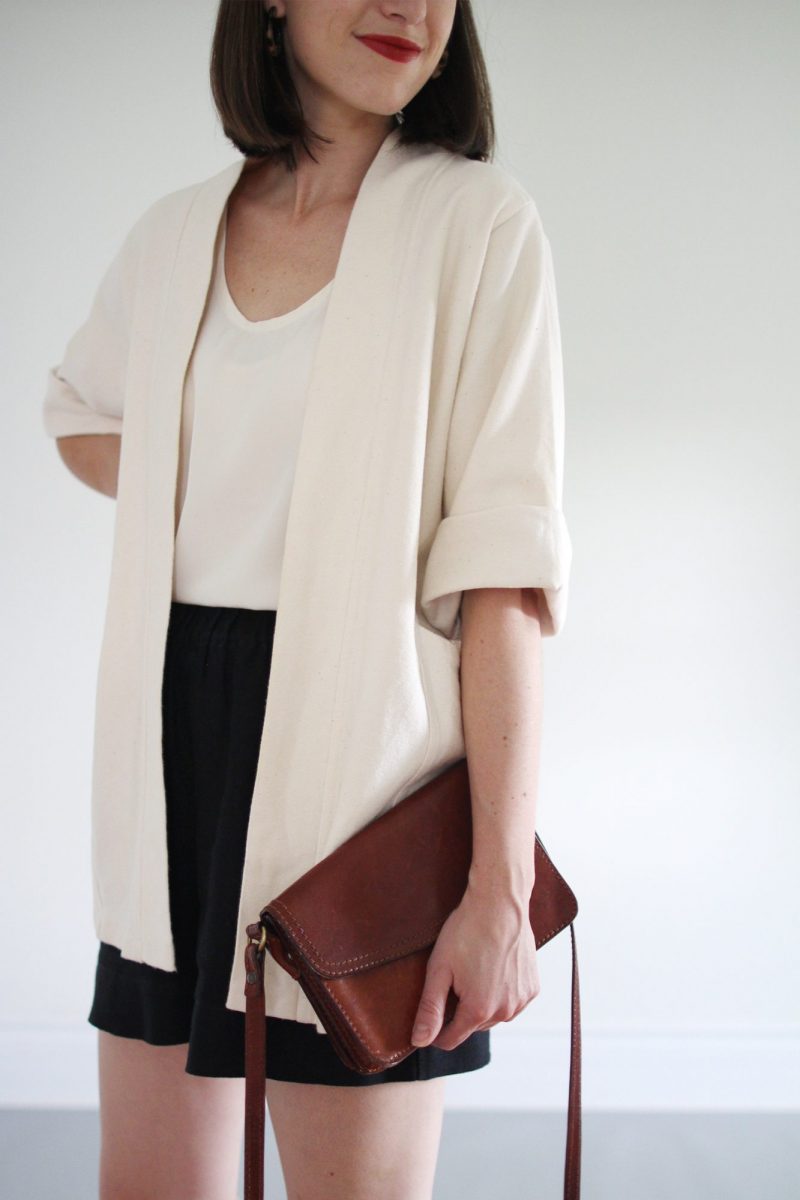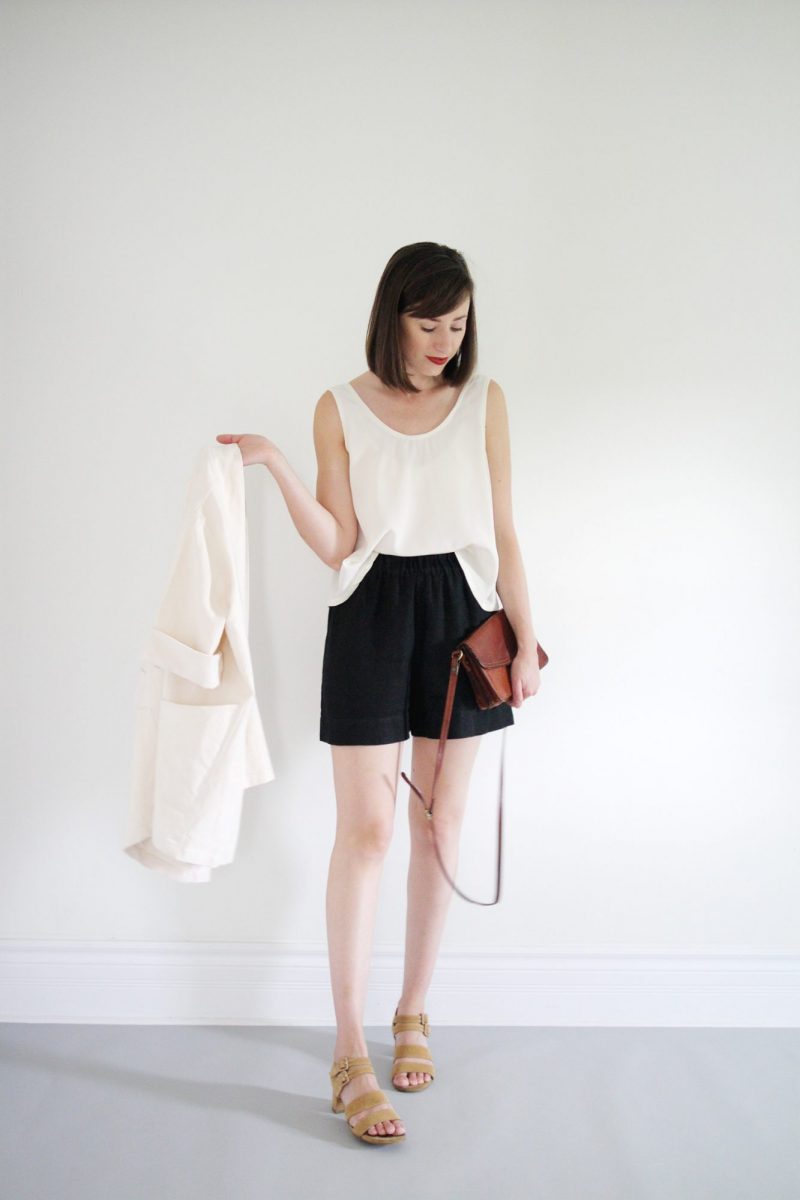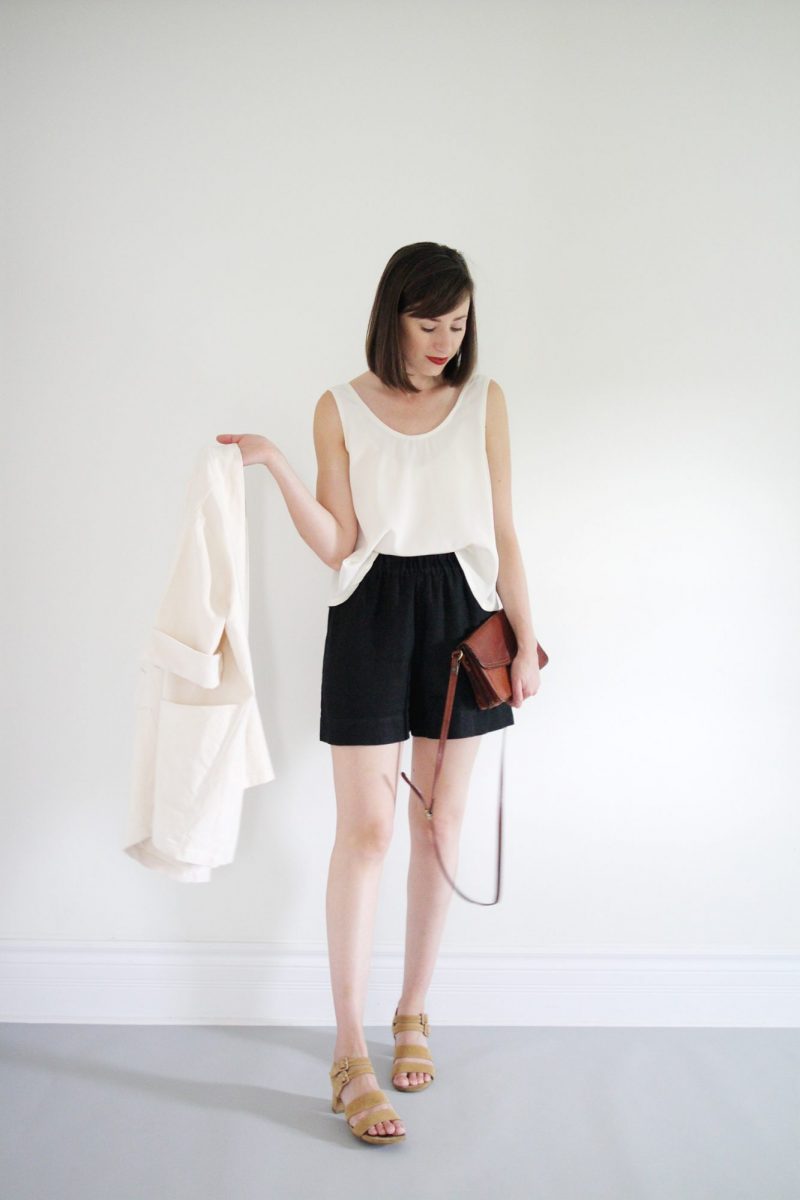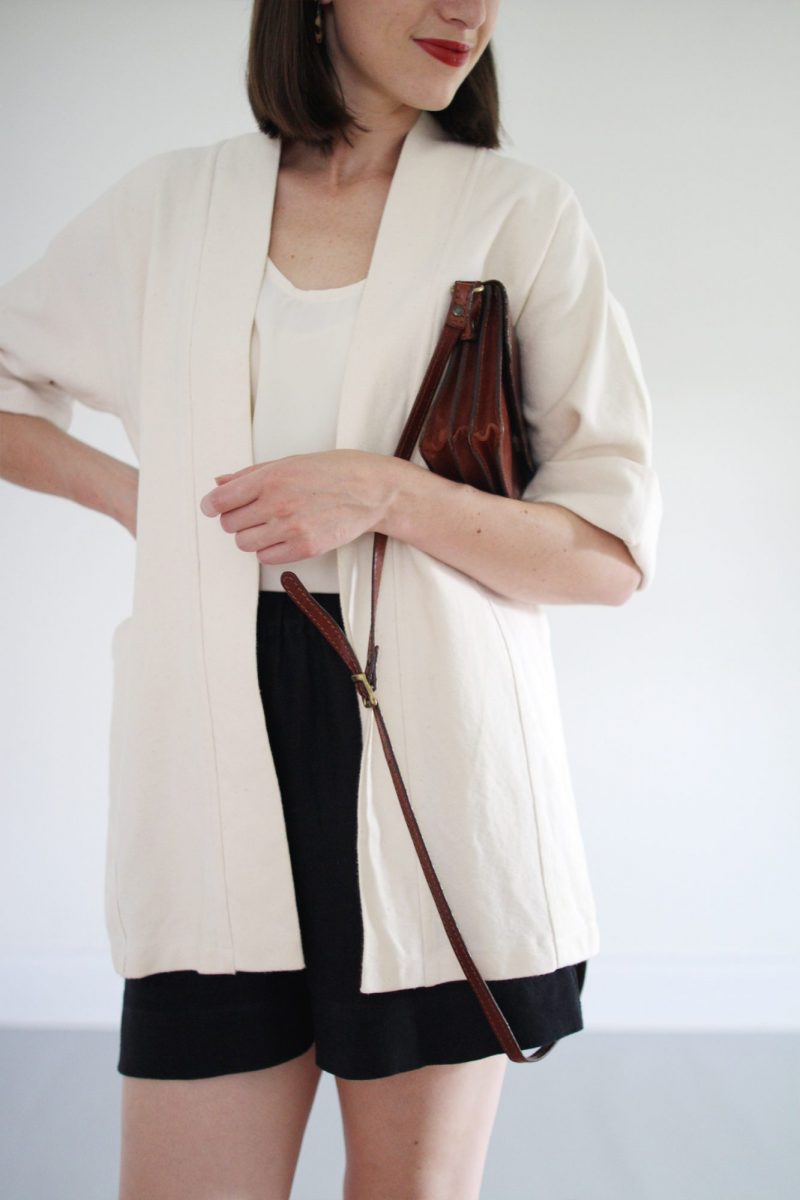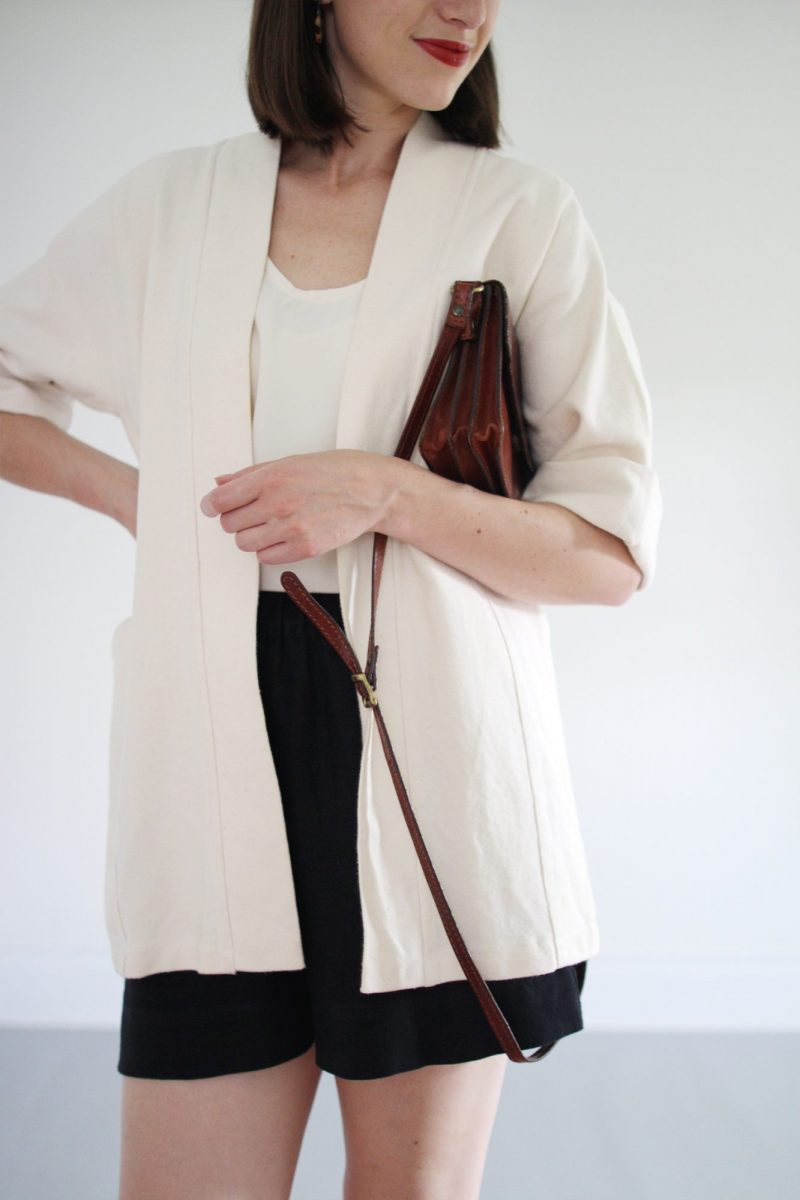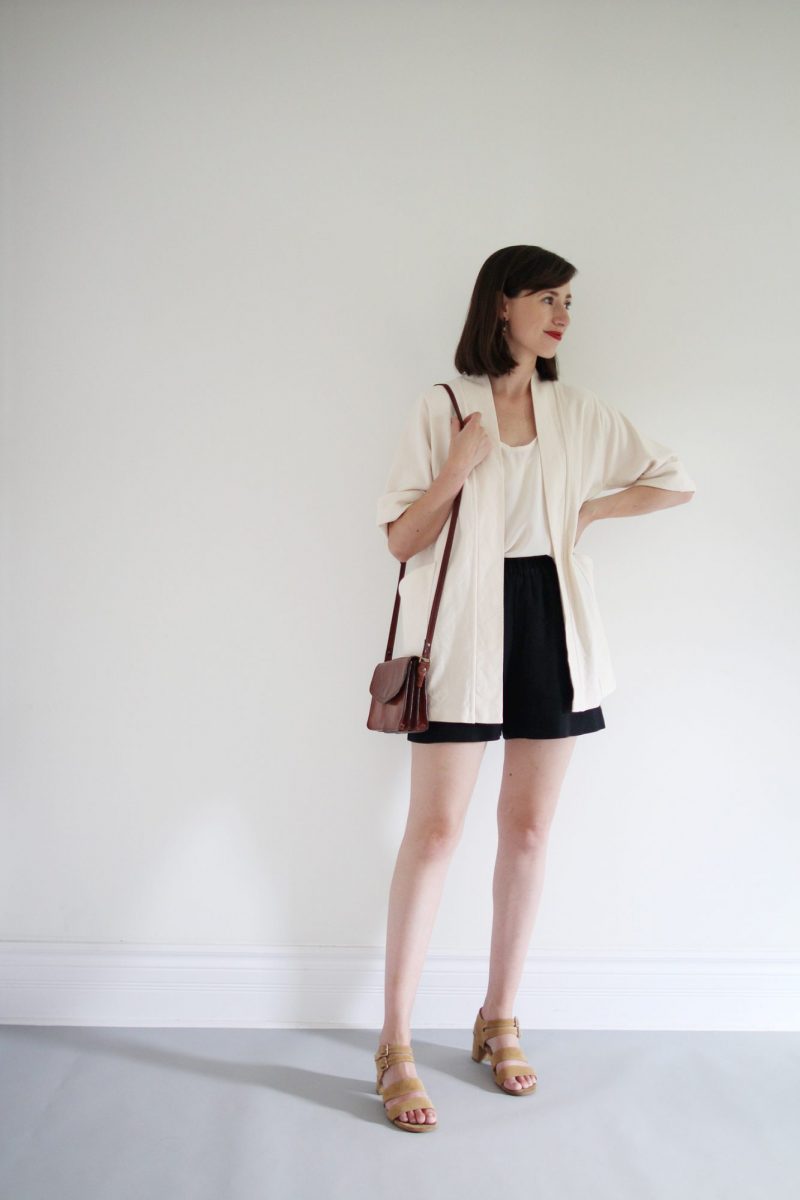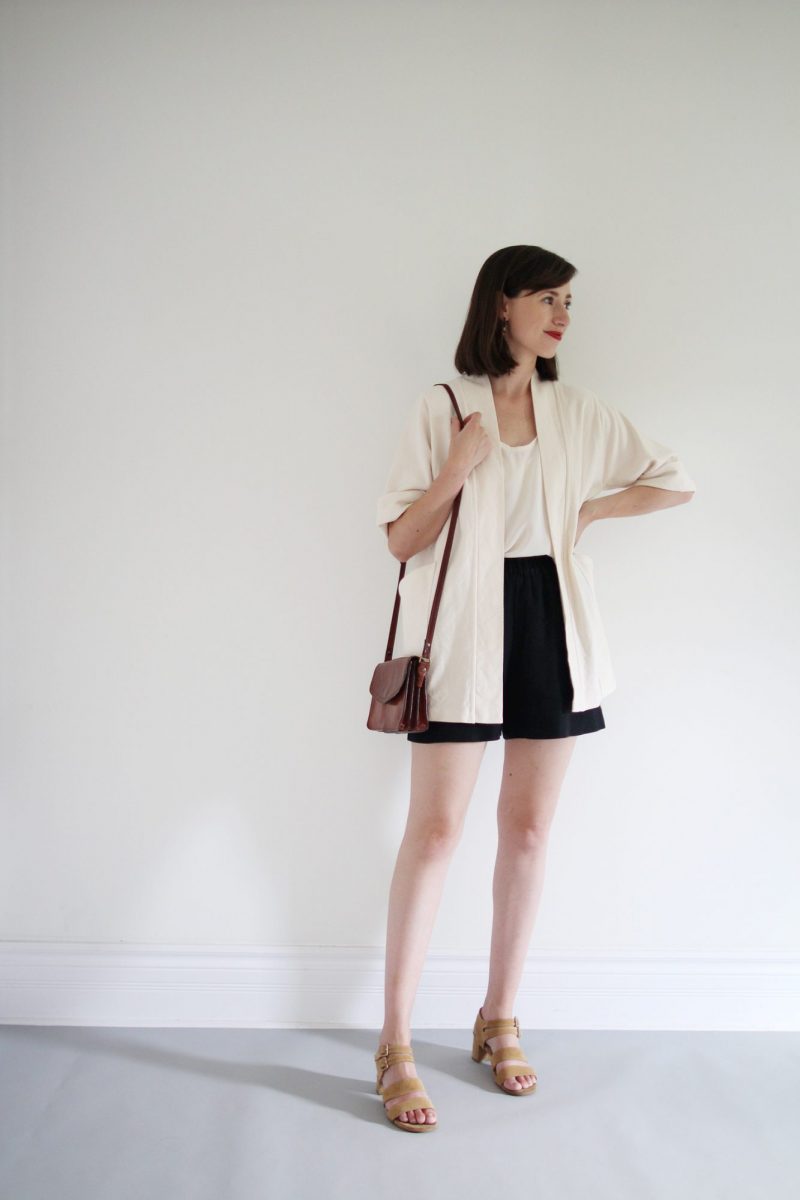 ---
This outfit is another great option for an average day in the office or running around town. It's both heat-wave and AC friendly thanks to the lightweight jacket that's perfect for tossing on and off as needed. This one is giving a little nod to the warm tones of autumn (camel suede and oxblood leather) and I really like the soft lines and simple styling elements that pull it together without being fussy at all. Here's a few of those elements:
---
WARM WHITES – I've paired this tank and jacket together a few times lately and I really like how the warm whites create a soft, lived-in vibe. It doesn't feel too matchy-matchy since the materials are different textures, the tank is silk while the jacket is cotton canvas, and this keeps the layers visually dynamic.
HAPPY HEMLINES – I am a big fan of how the length of these shorts works with the length of the jacket. Having that 1-2 inches of difference of length makes for a lovely layering effect. Layering details don't just apply to sleeve lengths!
EASY EXTRAS – A thick rolled cuff creates an interesting sleeve length and a lazy front tuck creates dimension in the silk tank. A bit of texture is added thanks to the suede sandals and smooth leather bag. But my final and favourite detail is how the tortoise earrings tie in the creamy whites, rich black and brown tones throughout the entire look. Tortoise is going strong into the Fall and I'm loving it more than ever!
---
SHOP LOOK 3
---

---
Thanks for reading and indulging in some end-of-summer style with me! As much as I love Fall, I know it'll be here soon enough! 
---
FEELING THE 1 FORMULA – 3 WAYS POST FORMAT? CHECK OUT THESE PAST EDITIONS:
---
This post is not sponsored but contains affiliate links. When you shop via the links above I may make commission on a sale. Thanks for supporting Style Bee! All opinions are always my own.