Today I'm doing something unthinkable within the mainstream influencer & blogging world. I'm repeating an outfit you've already seen.
*GASP*
Well, not exactly the same outfit, but it's pretty darn close! Instead of feeling guilty for my lack of originality or deciding not to share this one, I'm choosing to see this as a sign that it's just a great look and that's all there is to it! It's so strange that even after all these years of mixing and matching and making my closet work harder, repeating an outfit still feels taboo!
The funny part is that I actually thought I'd come up with an all new look, then when I was adding a link to the original post I realized, nope, this is pretty much identical to what I shared 4 months ago. The difference is that this version feels a little more casual and I'm sharing how I dress down a special piece for everyday wear in the notes below!
---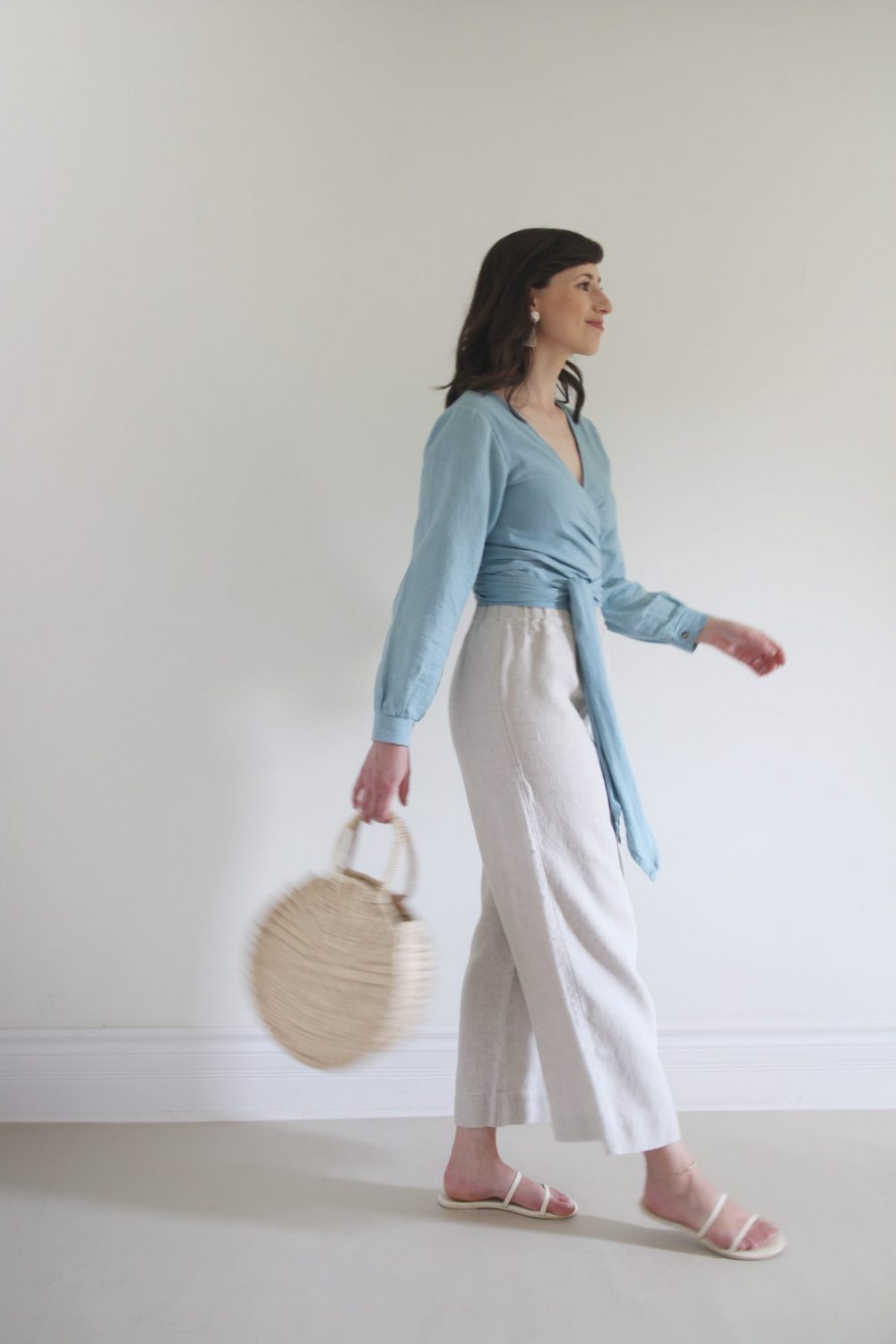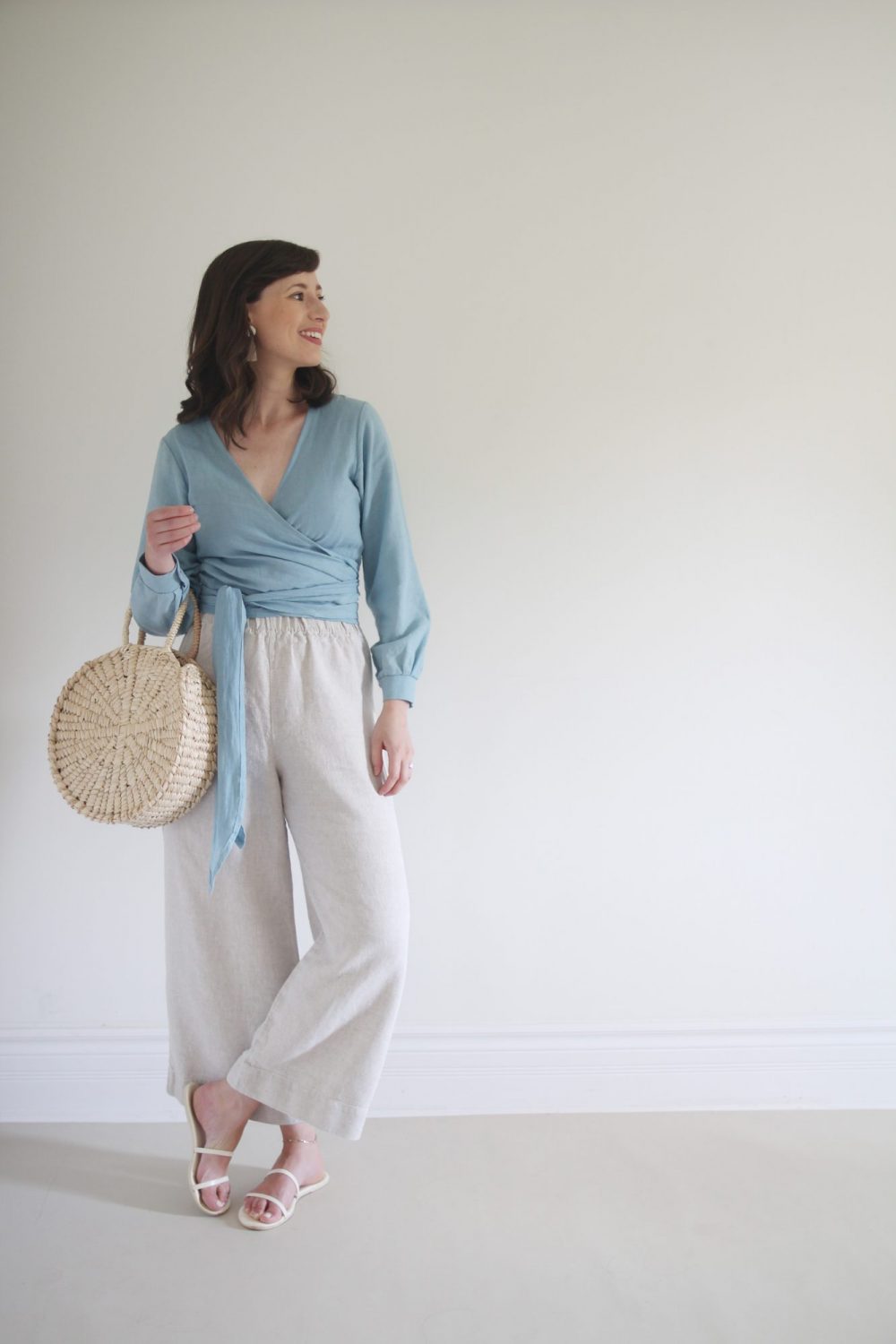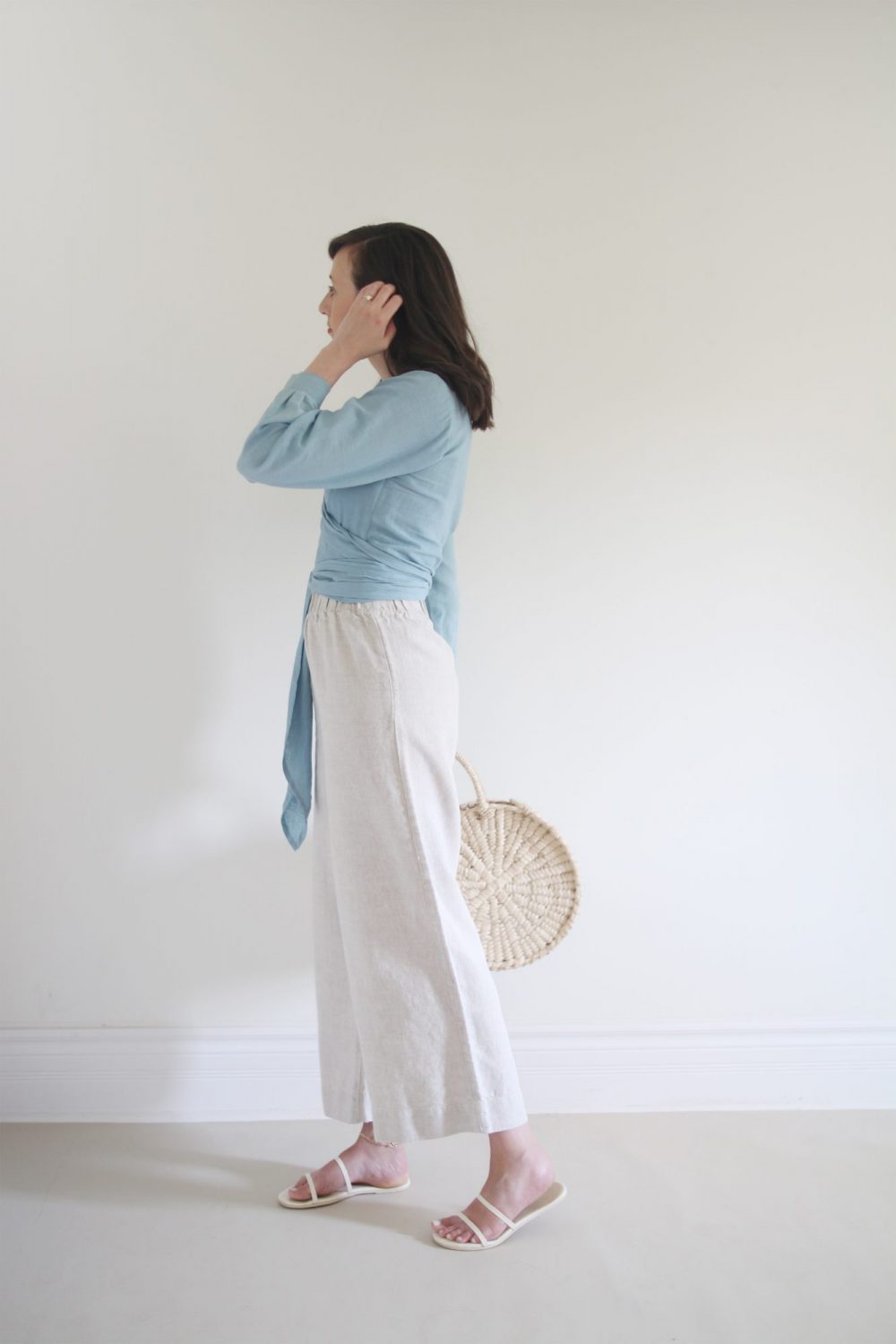 ---
TODAY'S TOPIC: UN-FANCIFYING
So no, 'un-fancifying' is not a word, however, it's the best one I could think of to describe how I've been styling this wrap top. This one is a special piece within my closet and because of its unique colour (for me anyway) and the statement feel it has, I found I was saving it for special occasions. At the same time it's really comfortable and such a pleasure to wear so when I'm pulling it out for more everyday occasions this is what I do:
1 – PAIR IT WITH A BASIC PANT: I find that the first and most obvious way to make a special top feel a bit more casual is to pair it with a comfy pair of pants. The elastic waistband and minimal design of the Florence pant combined with the low-key feel of linen is a nice balance to the tailored elements and raw silk of the top. In this case, the flax linen feels a bit more rough and ready than the ivory pants I wore in the first post.
2 – FLAT FOOTWEAR: My next step is to pick a pair of flat shoes to wear. A simple pair of slide sandals adds a laid-back feel and ups the comfort factor. This keeps the everything feeling pretty relaxed. Compared to the grey suede mules in the first post these leather slides are less precious.
3 – BOHO ACCESSORIES: A woven bag and tassel earrings are fun and summery additions to this look that add some interest without feeling fussy or over complicated. I like the added textures and love how the tassel thread is a similar colour to the flax linen pants. A little gold anklet has been my favourite summer addition to any look this year too!
There you have it, outfit repeating and un-fancifying all in one!
---
Have you tried wearing a special piece in your closet for a more average day?
---
OUTFIT SOURCES: THEA WRAP TOP gifted (See my full review here) | FLORENCE LINEN PANTS | CIRCULO TOTE gifted | GEMMA SLIDES | TASSEL EARRINGS old | GOLD ANKLET similar
---

---
This post is not sponsored but contains some gifted items and affiliate links. If you see something you like and decide to shop through the links above I may make commission on a sale at no additional cost to you. All opinions are always my own. Thanks for supporting Style Bee!