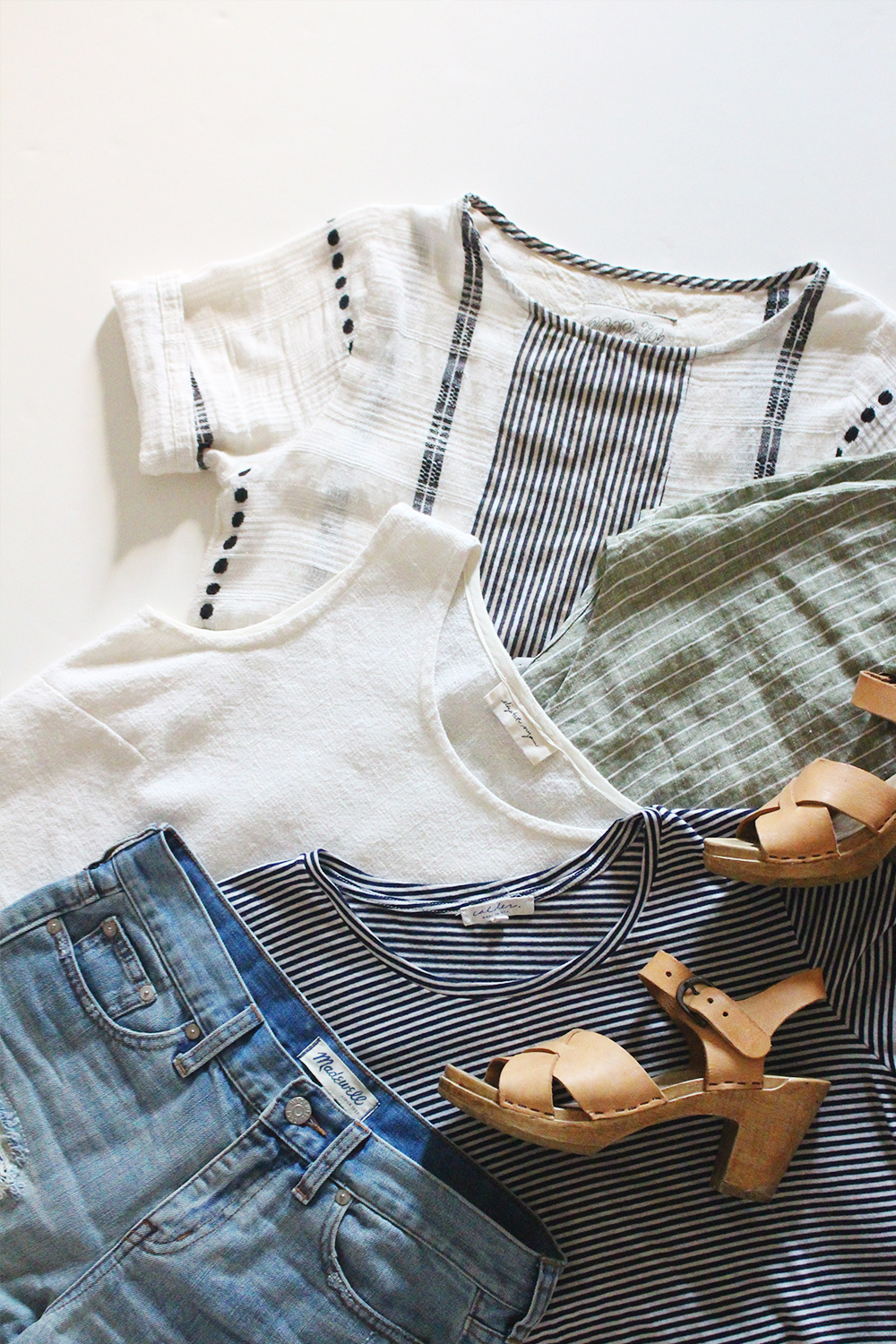 I always have the best intentions of collecting my thoughts and doing a thorough recap right after each capsule but then I just can't seem to pull it together. I think once these projects finally culminate I just need to zone out and let the experience simmer in my mind before I can really iron out my thoughts. But the ironing is all done and it's time to talk pros and cons, do agains and never agains and what's next on the list for this lean closet mission I'm on!
First let's just take a look back at all the items I included in my 20 piece summer foundation closet. As you may recall there was a lot of white, black, denim and few injections of stripes and pattern. The items ranged from super casual (black t-shirt and chucks) to pretty dressy (long dresses, flowy skirts and gorgeous shoes) with lots of options in between. So without further adieu here they are:
20 SUMMER PIECES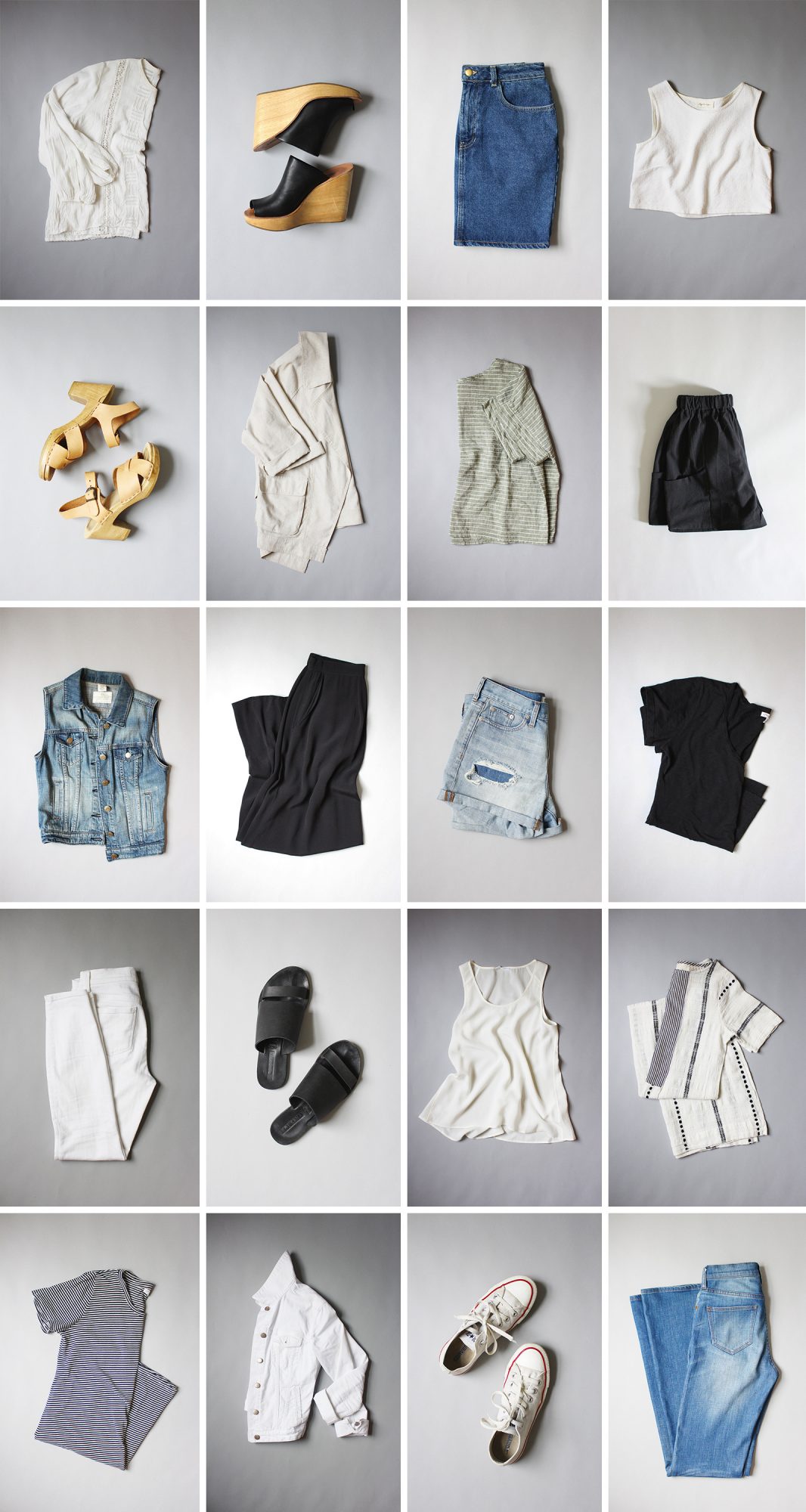 Now we'll take a peek at all 20 summer looks that I put together from these pieces. I managed to use everything at least 2 times by pushing myself to be a little creative and pair things I might not have otherwise worn together. It was a ton of fun and turned out to be easily my best summer for style and closet contentment! See all the looks in more detail via the new Outfits page.
20 SUMMER LOOKS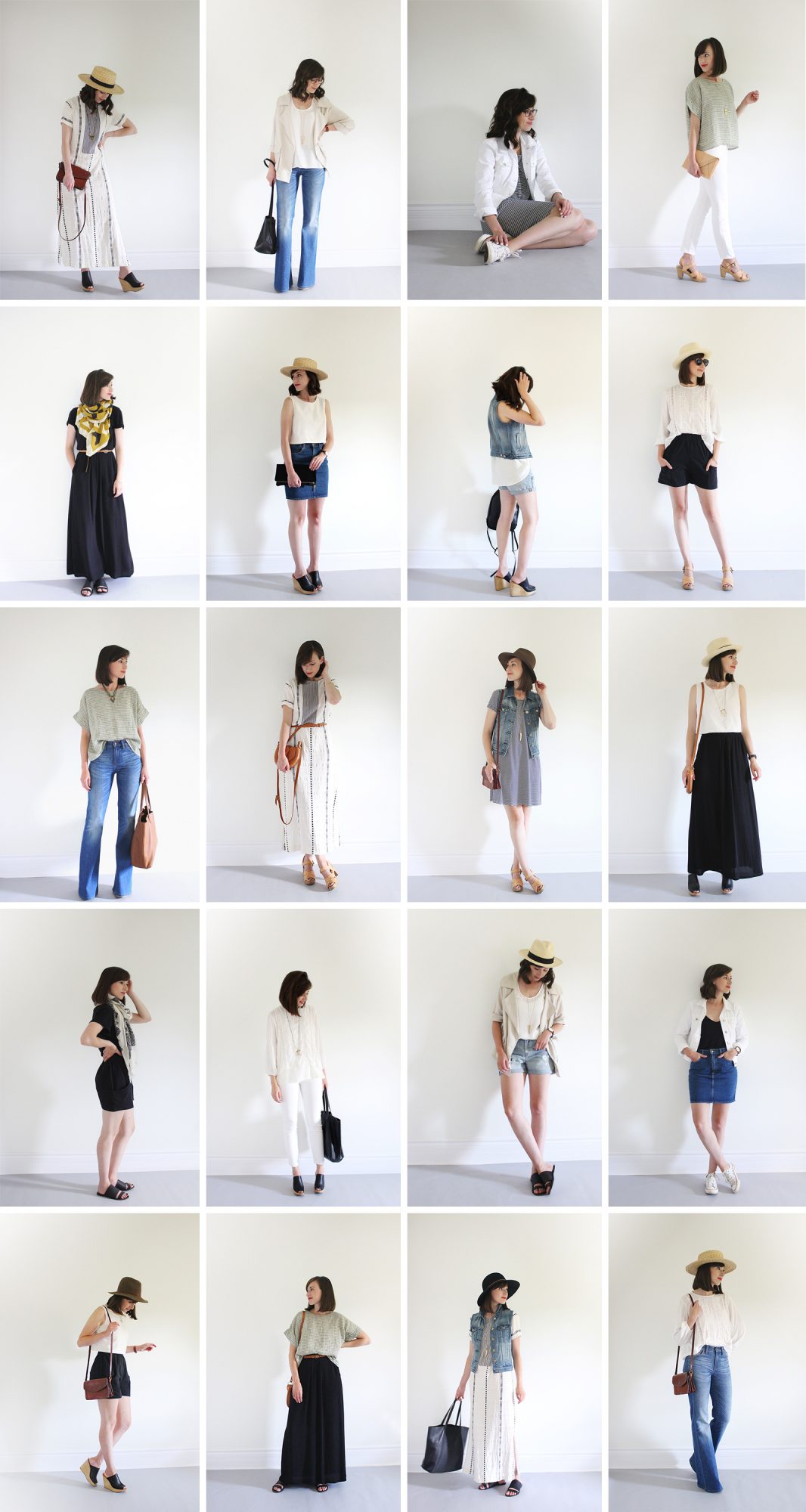 SHOP THE CAPSULE
---
TOPS + DRESSES

---
BOTTOMS

---
SHOES

---
ACCESSORIES

---
Last time I did a capsule recap (after my Spring 10 x 10 challenge) I asked myself some questions about it and that seemed to be a great way to assess the success of the experiment. So here goes:
What were the 5 biggest takeaways?
20 items could easily be an entire Summer wardrobe.
It's really satisfying to decide on all the pieces you'll be wearing at the start of a season. Then you can get excited about each one and not worry about 'what else' is out there. It used to intimidate me or make me feel as though I was limiting myself. Now I find it's just the opposite.
I really like wearing items a lot of times. It makes everything seem more useful and valuable.
Considering the silhouettes that I feel good in (ie: flowy tops and high waists or long skirts and dresses) makes a big difference in my closet satisfaction. If I don't feel comfortable in an outfit it won't make it out the door.
I don't miss colour. A little green and some warm tones via accessories are all I need.
What were the best things about it?
I found the exact same positive take aways as my last capsule and it was great to see how consistent the experience was.
I loved knowing what I was going to wear in the morning. Not having to hum and haw over my options was really liberating and actually made for more productive and positive starts to the day.
I felt like I was actually 'wearing' all my clothes. Everything help up well to washing and lots of use so I felt like every investment I made in quality pieces was well worth it.
It was really great from a blogging standpoint too. I had a much better idea of what I was going to post throughout the summer and my concern with what other bloggers and fashion trend setters were doing was basically non-existent.
The positive response from readers made it so fun and anytime I was doubting myself you guys set me straight!
I saved a lot of money because I wasn't shopping, which means I can splurge on a few great Fall pieces without feeling strapped or guilty.
What would you do differently?
Overall I'm really happy with my choices but we did have an unexpectedly hot summer so I could have gone without one of the two jackets I included and had an additional sleeveless option instead.
I would have loved to have a pair of wide-legged linen pants and another summery dress on hand as well.
Footwear was great but I might have exchanged the chucks for Birks or something open.
While it gave the blog a lot of direction it was a little stressful to complete all 20 looks within two months.
It's important to really like wearing everything in the capsule. A couple pieces were fun to style but not something I was dying to wear all the time. So I would want to be careful about that next time.
Could you live with a capsule closet for a whole season?
I definitely could live out of a capsule wardrobe. The more I embrace living with less the better I feel! Although I do feel that 20 pieces might be too few for 3 months. Maybe that's just the North American consumer ingrained in my head but I would be reluctant to commit to one so small at this moment though.
Do you want to?
So here's the thing, I really like the idea of pulling together all my pieces at the start of the season and working my way through them without adding too much or muddling the overall style and vision I have. Plus, I'm also fairly sure that if I eliminated everything I haven't worn in the last 3-4 months from my closet I would essentially have a summer capsule closet. So what's stopping me from committing 100%? I think I've yet to find that perfect ratio of wardrobe contentment to style satisfaction but I know I'm SUPER close to achieving that. Maybe it's a matter of setting a limit on what I can add (ie: 1 piece a month) or there is a one in one out policy that could work. I'm still working that equation out though.
What were your favourites?
It was really tough but I forced myself to name my top 4 favourite looks from the capsule. Truth is I had only a couple looks that I probably wouldn't wear again so I think that's a really good indication of how well a capsule can work!
TOP 4 LOOKS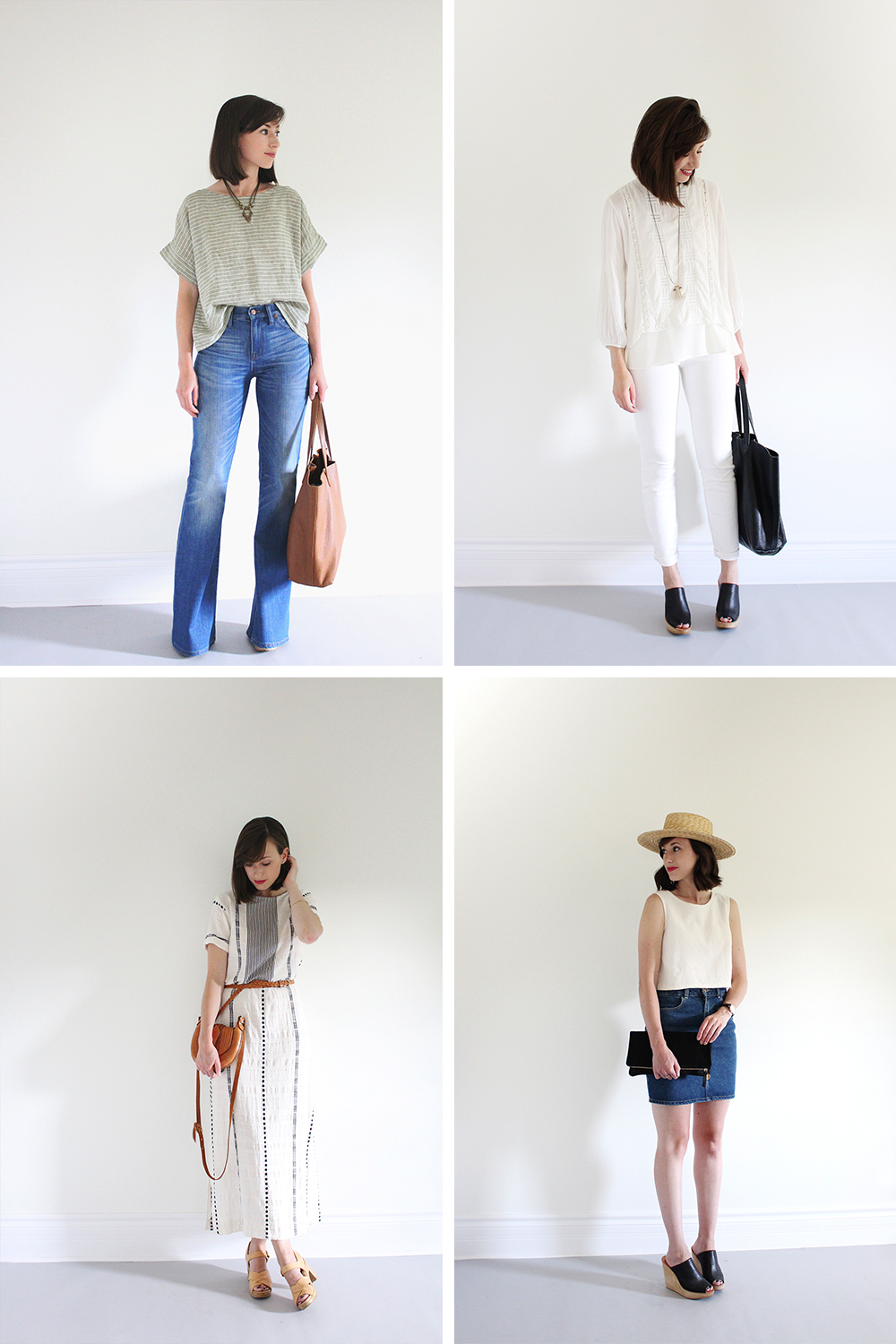 So what's next?
While doing a capsule of 20 pieces and 20 looks within 2 months was a fabulous exercise and super fun, it was also an insane amount of work. I felt like I was always behind in shooting looks and while it's good to maintain momentum I did feel rushed and a little stressed about completing it in good time (ie: before everyone stopped caring about summer style). But I'm still riding the capsule closet train in a big way and the next stop is FALL! For my Fall Foundation Closet I'm going to stick closer to 10 pieces (many of which are slowly but surely getting checked off my Fall Wishlist). Autumn is typically my most unstable shopping season, meaning I tend to go a little overboard. But I'm trying my best to stick to my list and budget! Here's a little peek at what might be in the next capsule:
FALL PREVIEW
Striped tee old J.Crew (similar here, here and here) | Madewell Flares | Rachel Comey Boots | Madewell Leather Jacket (similar here, here and here)
---
So there it is! My Summer Foundation Closet Recap! Thanks for joining me and piping in on all my wardrobe endeavours. You guys are such great motivators and I hope you know how much I appreciate it! I'm going to take the rest of September to pull together my Fall pieces and start shooting. Until then there will be a few great collaborations and more Closet Mission posts so definitely stay tuned! xo