I've been busy behind the scenes over at Style Bee headquarters (aka. my home) and I'm beyond thrilled to finally be able to share our living room update with you! This project has been more than a year in the making because I really took my time deciding exactly how to adjust the space to best suit the way we use it.
We're so happy with how everything came together and it's definitely our favourite room in the house. I love all the earthy tones, rich textures, natural elements, bits of green life and handmade details. The room feels calming, inviting and like a true reflection of our a little family. It's no longer just a spot to binge Netflix from, it's a space we live in.
I hope you'll come on in and explore:
Why we needed to make some updates (the before)
What my design goals were (the inspiration)
The updates we made (the after)
My thoughts on the Sven Sectional (the review)
---
PARTNERSHIP DISCLOSURE: Article provided the Sven Sectional and Pendula Floor Lamp in exchange for feedback and coverage on Style Bee. This post is not sponsored and I do not earn a commission on the gifted items. Article highly encouraged my honest thoughts and I'm delighted to be working with a brand.
---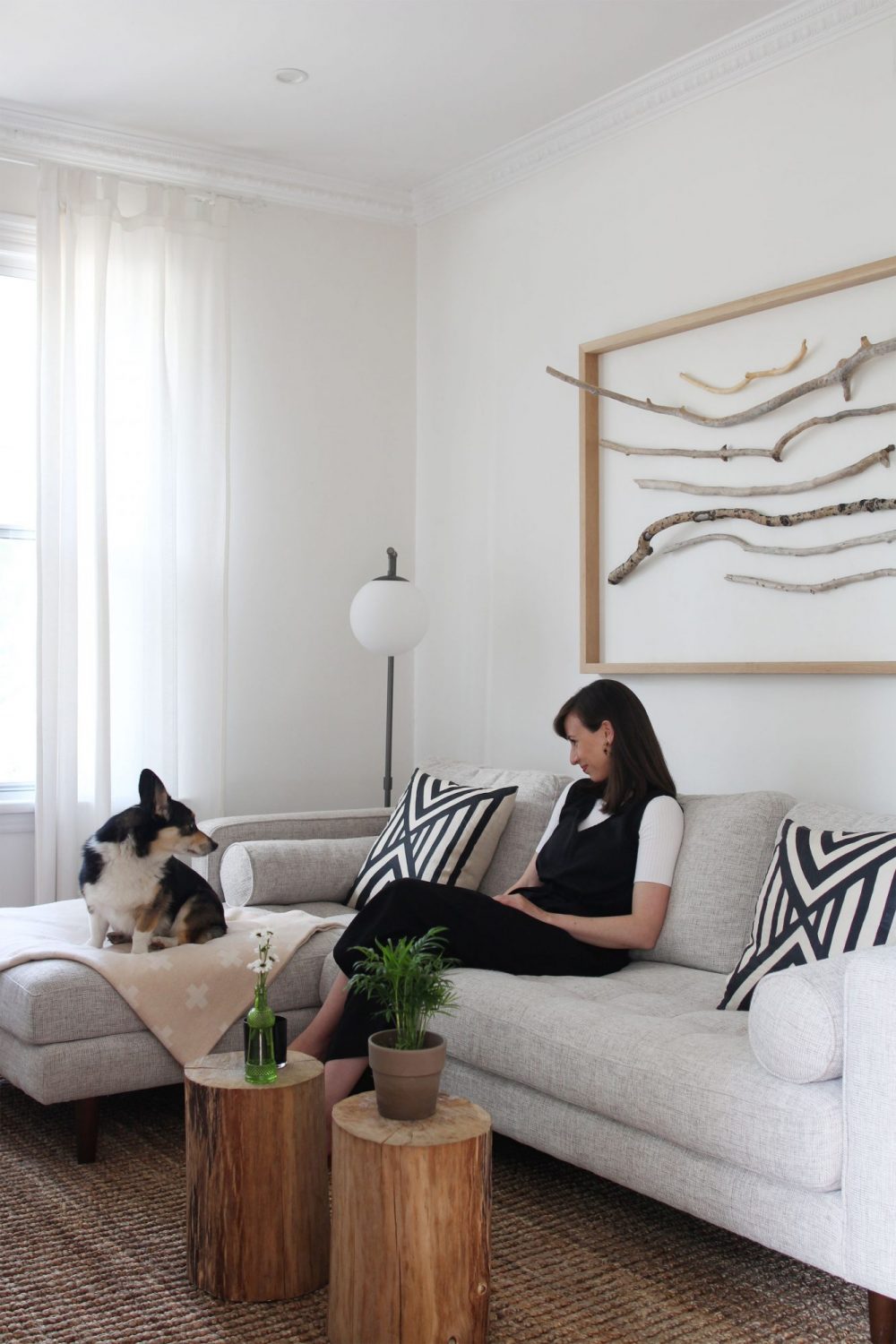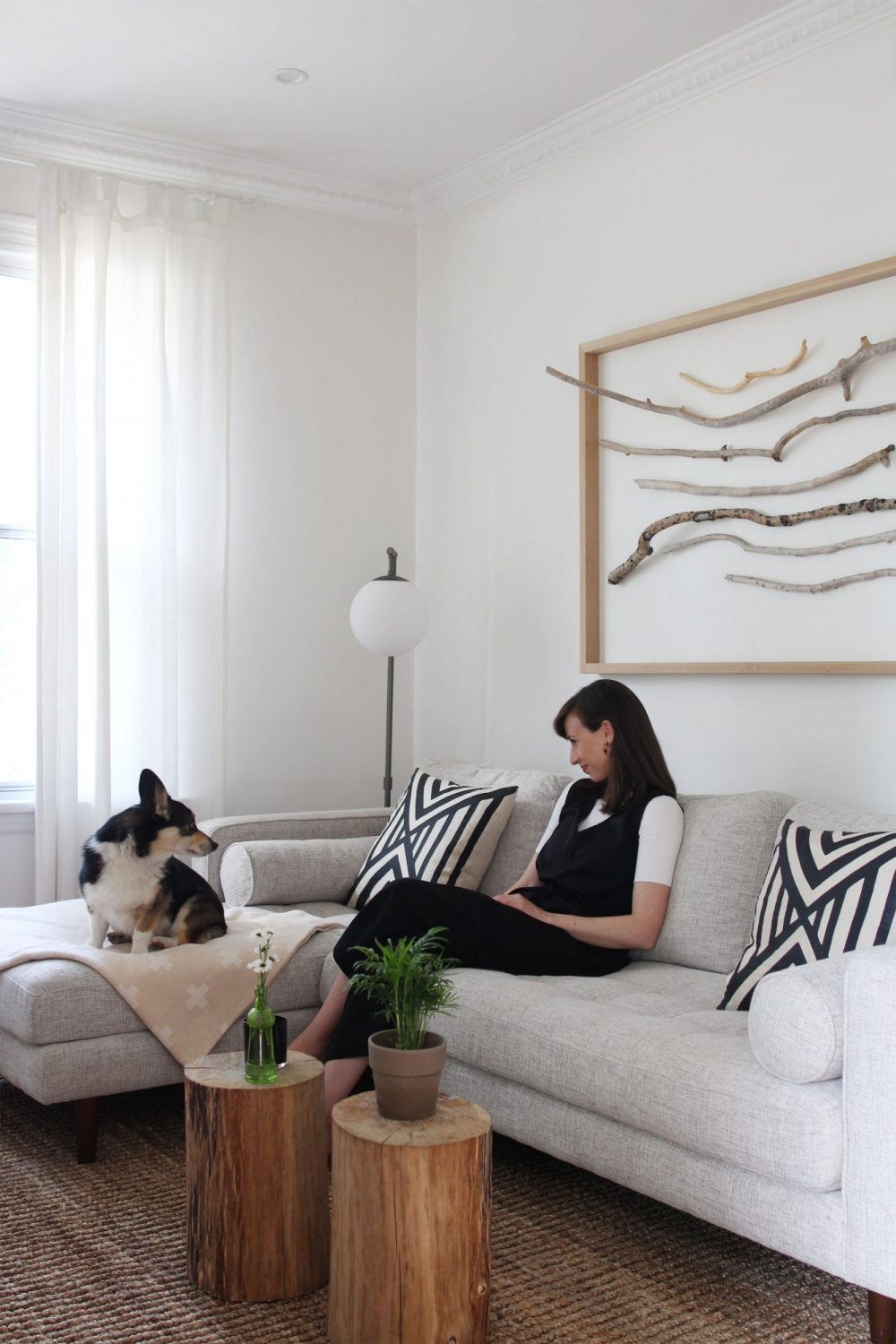 ---
THE BEFORE
---
---
Our living room was the first room we pulled together when we began renovating our house in 2013. We hadn't been in it for long and rushed to get furniture in place so we had somewhere to relax during a whirlwind of a time.
I didn't have a clear sense of my interior design style at that point or how we'd really be using the space but we bought some mid century modern pieces on sale, found a vintage map and combined it all. I was proud of our quaint and cozy space and it served us well for several years.
In reality though, the couch was too small for us both to relax on comfortably and Dave would often end up on the floor, using Dobby's bed as a pillow. No one was happy about that! Having two stand alone chairs wasn't really a good use of the room since no one ever sat on them, except Evie. The colour palette didn't reflect our personal taste and felt a little bit erratic for me. Overall the space felt a busy and disjointed so I decided it was time to improve on it.
The key changes we wanted to make were to:
Find a couch we liked that was large enough for us both to relax on (we found a good home for the couch and chair we were parting with).
Create a cohesive flow through the elements of the room.
Establish a more natural, calming colour palette and mood.
Embrace the natural light and implement more permanent greenery.
Find / create artwork that felt more relaxed.
Integrate the media centre on the opposite wall.
---
DESIGN GOALS + INSPIRATION
---
IMAGE 1 | IMAGE 2 | IMAGE 3 | IMAGE 4
---
To help myself narrow down my plan for the space I kept a design profile in mind as my general goal, which was:
FRESH | CALM | NATURAL | TEXTURED | WARM
From there I began carefully selecting sources for design inspiration that would guide my choices for the space. I knew we'd be keeping the following elements:
Wall colour (White Heron OC-57 from Benjamin Moore)
White curtains (from IKEA) until we replace the windows.
Original pine floors, which I love but add a very strong warm tone.
Mid-century modern credenza (from GUS* Modern sold out)
Storage baskets (from June Home Supply)
Throw pillows and blankets (from Pia Wallen & Lint & Honey sold out)
Tree stump coffee table (from my parent's property)
Butterfly chair (from The Citizenry), which I ended up removing from the space but won't ever part with.
While adding/replacing the following items:
A natural jute rug
An 'L' shaped sectional couch in a light neutral fabric
A floor lamp with diffused light
Neutral artwork above the couch and TV (we kept the map of Canada for future a space)
Hanging planters and a large corner plant
Personal touches like photographs from our travels (still to come)
A floating shelf below the mirror (still to come)
I looked for spaces that had incorporated several of the elements we'd be keeping/adding. The images above helped to guide my plans and choices because I could see how everything worked together.
---
THE UPDATES
---
Now I'll briefly walk you through the updates we made to each section of the room, starting with the sitting area and working counter-clockwise around to the media unit. I'll save my thoughts on the couch for the end. Let's take the tour!
---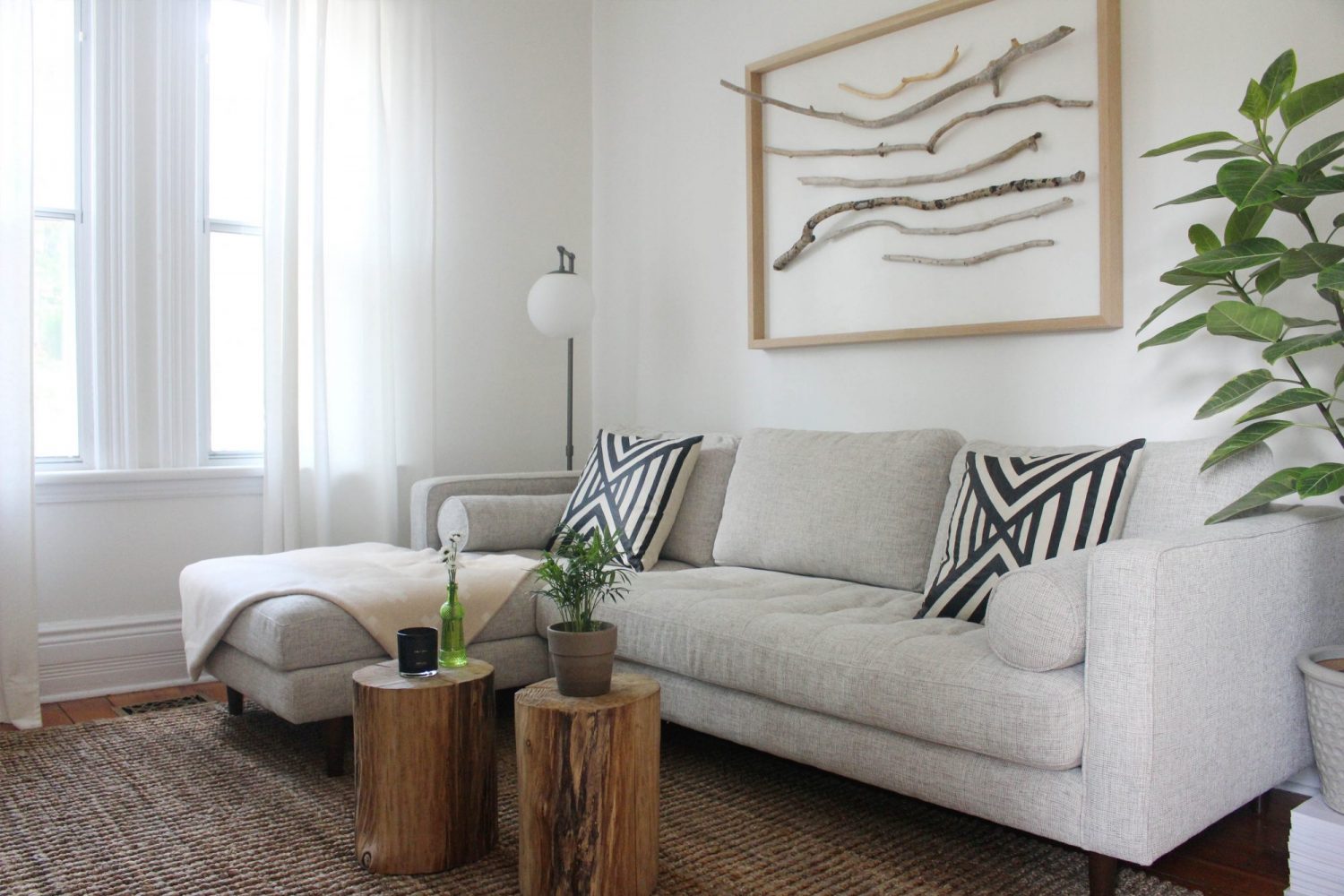 ---
LARGE CORNER PLANT
---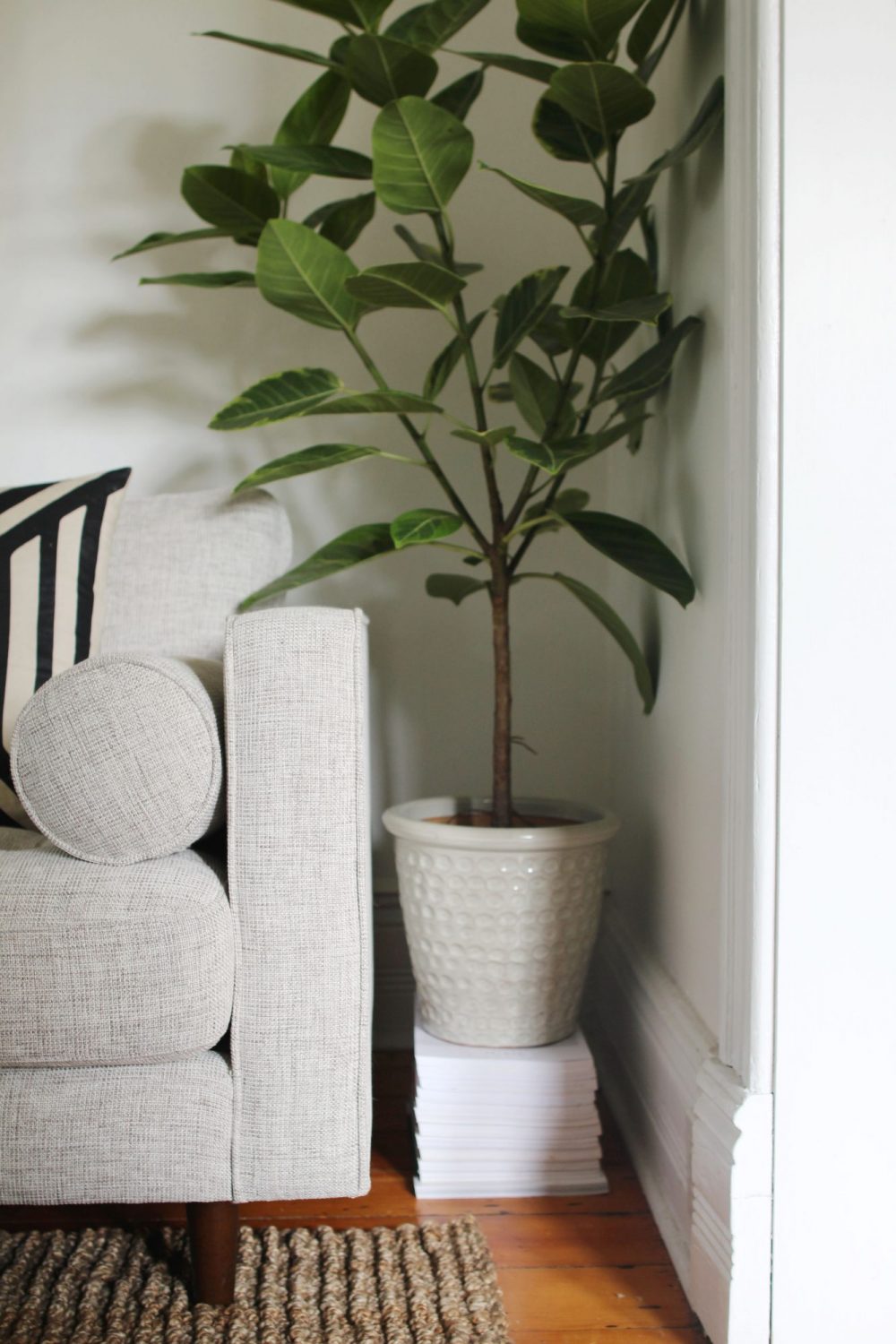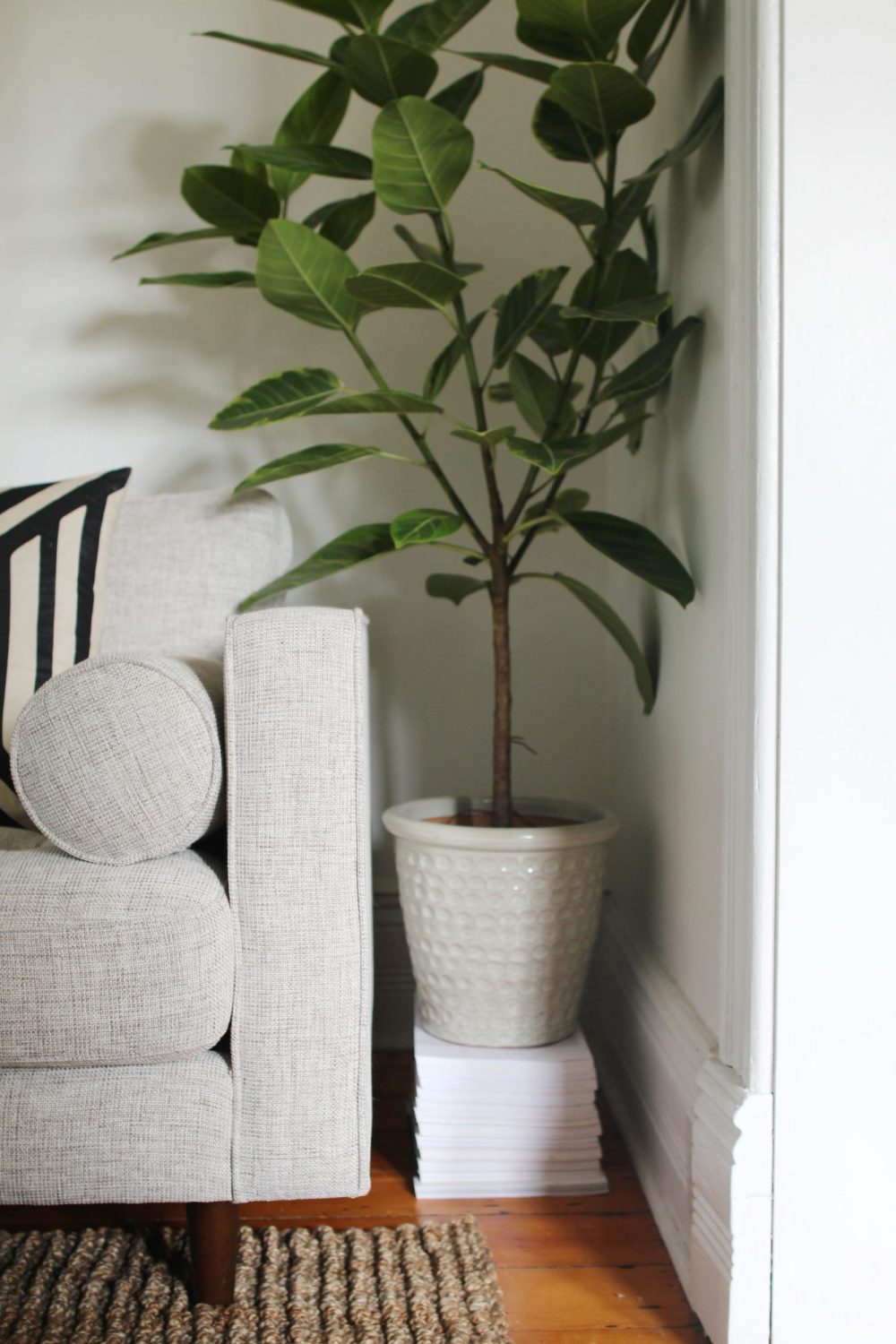 ---
I wasn't quite sure what to do with this small space between the couch and wall. We had been storing a basket with extra pillows but weren't actually using it. Of course, my motto is, 'When in doubt, add a plant!' and so I did precisely that!
I found this beautiful ficus elastica variegata (rubber tree) on sale and sought out a planter that would tie in nicely with the other colours in the space while adding a new texture. The plant needed a little height so I stacked old issues of magazines to give it a boost. In hindsight it may be a little large for this corner but I kind of like how it spills over the couch.
---
---
ARTWORK
---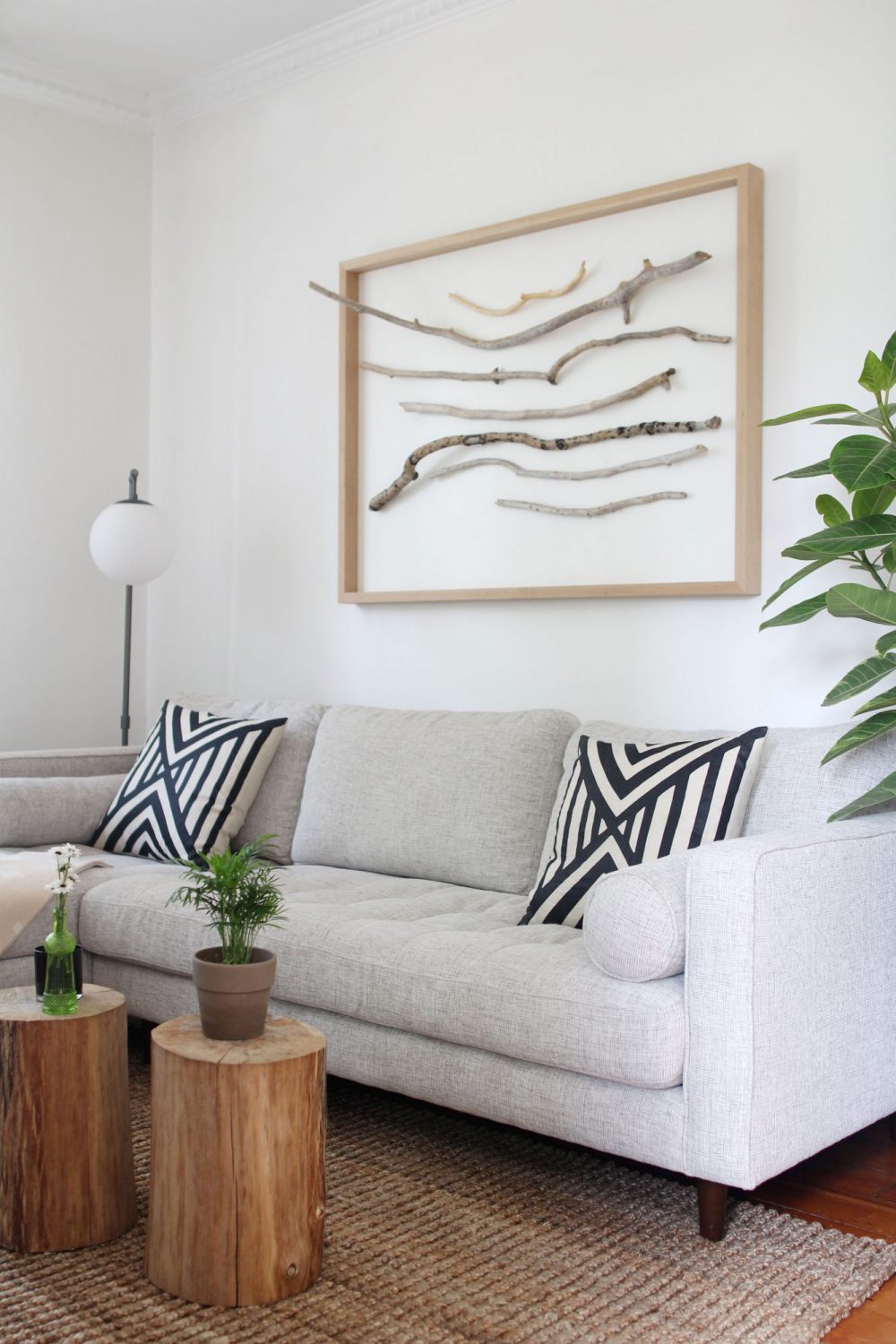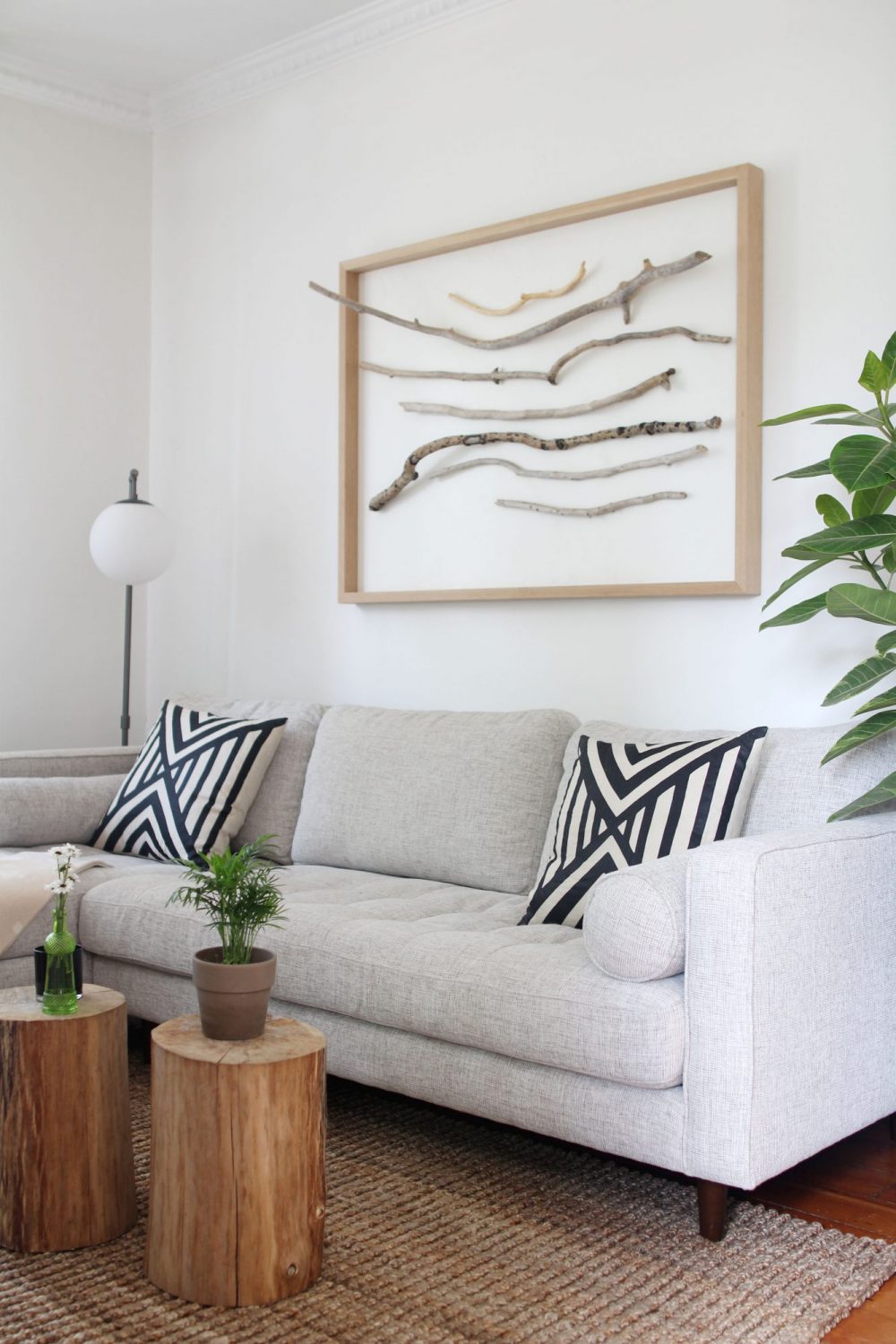 ---
I have this thing with driftwood. I don't know what it is exactly but I've always been drawn to the shapes and textures of dried and weathered branches. So much that I've been collecting them on various hikes and adventures throughout my time with Dave.
I wasn't sure what I'd do with them but when we needed a large art piece for this wall we decided to create something with the collection. Dave graciously made me this beautiful oak frame and we mounted the branches onto a sheet of white melamine. I love how it came out and that it serves as a reminder of our times together in the wild.
---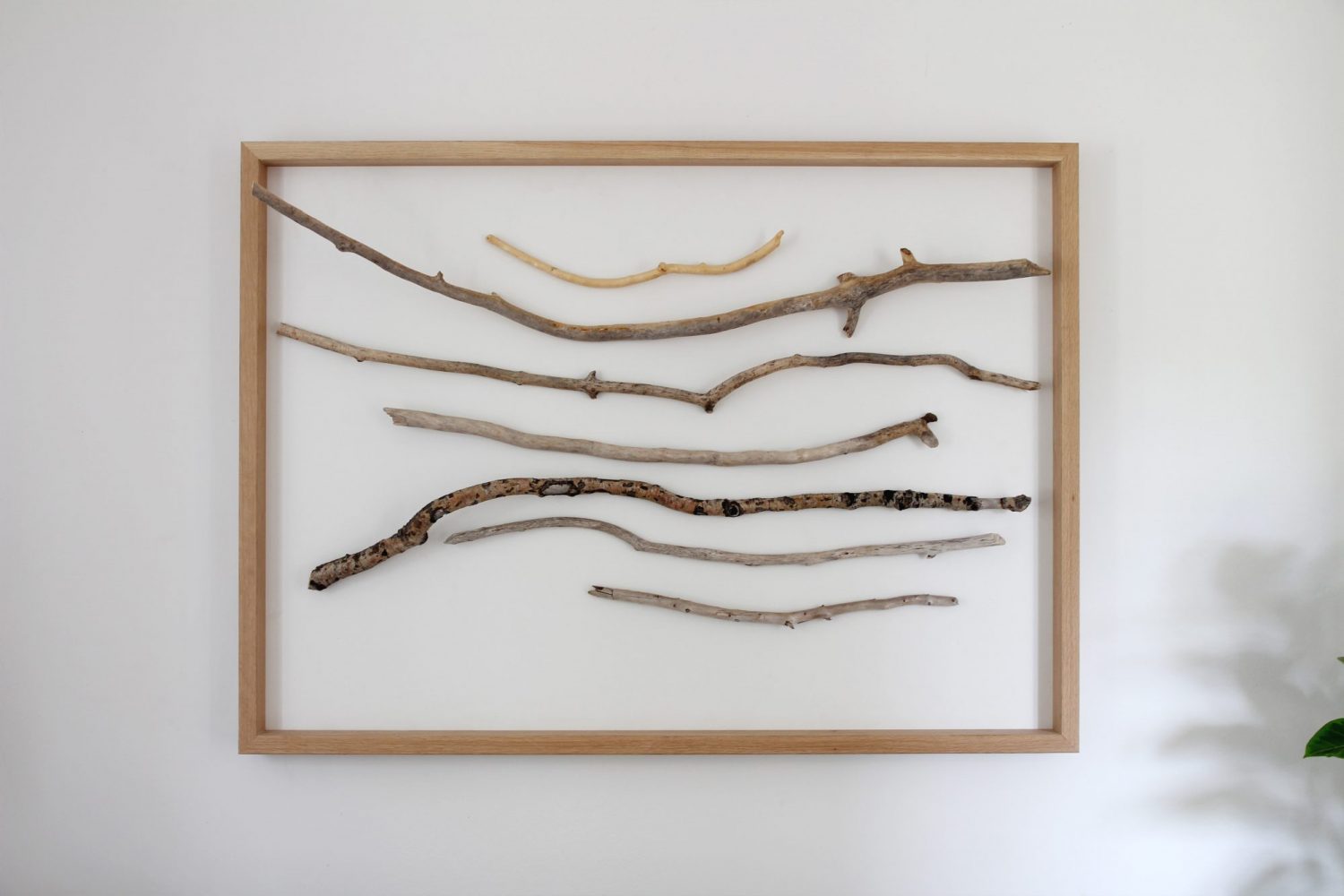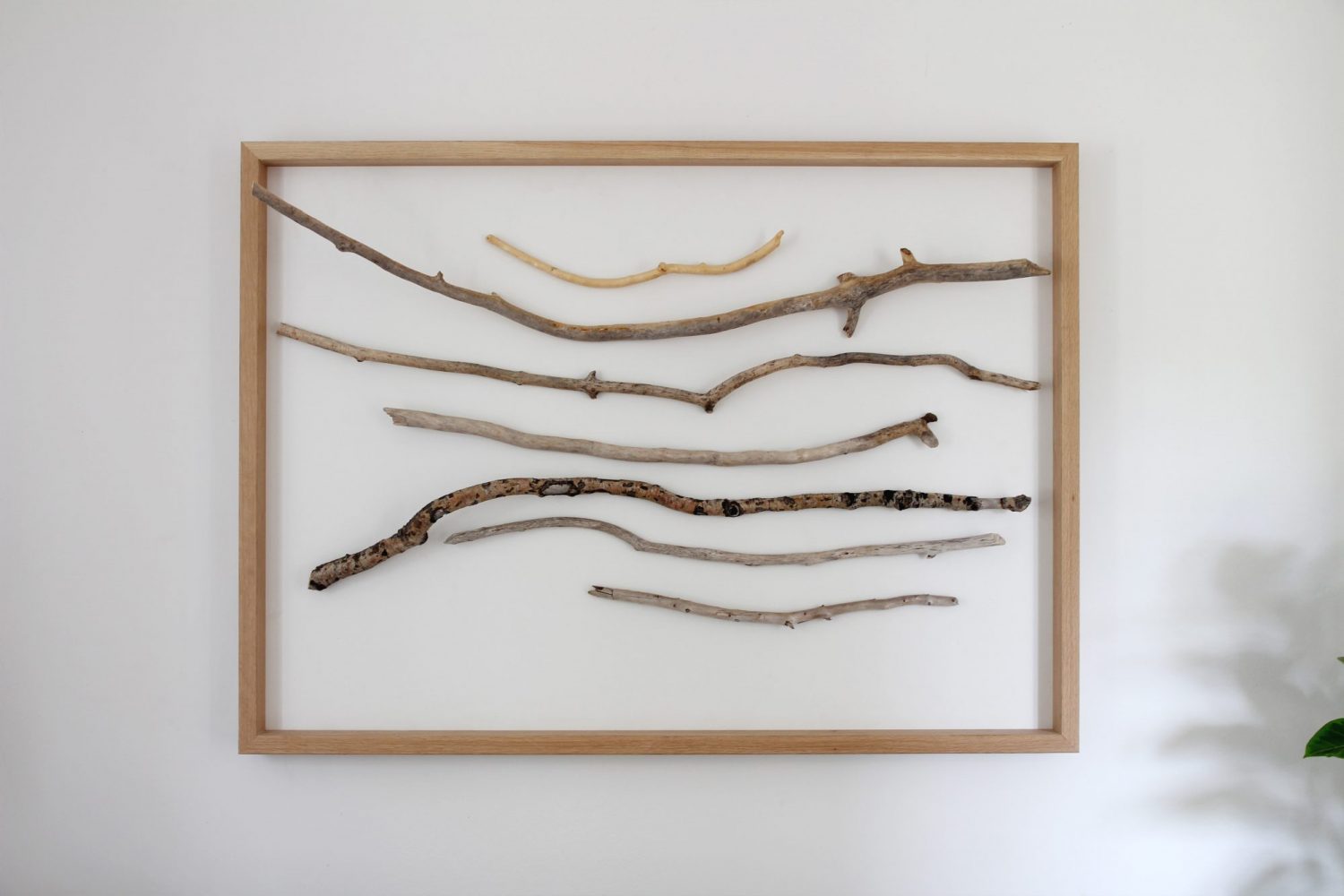 ---
FLOOR LAMP
---
---
I was excited to replace the floor lamp we'd been using because the switch was so tight it took all my strength to turn it on and off. I loved the Pendula* in gunmetal grey with its frosted orb shade that diffuses a lovely soft light and the slim but sturdy stand. It's base is a beautiful black marble with a floor step switch, so no more suffering to get some light!
*The Pendula lamp was gifted by Article and is currently on sale. It's also available in gold with a white marble base. $259 CAD (reg $339 CAD).
---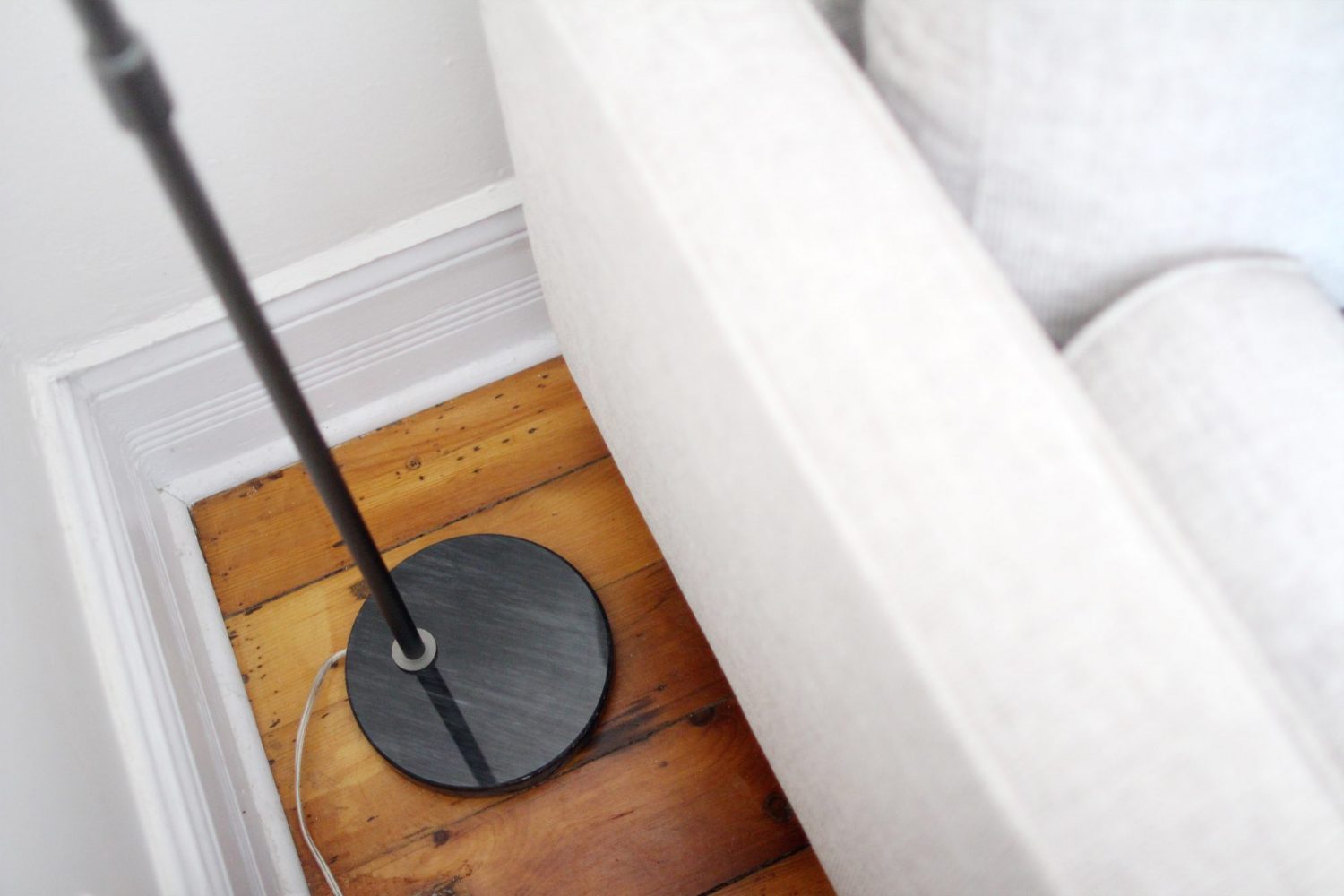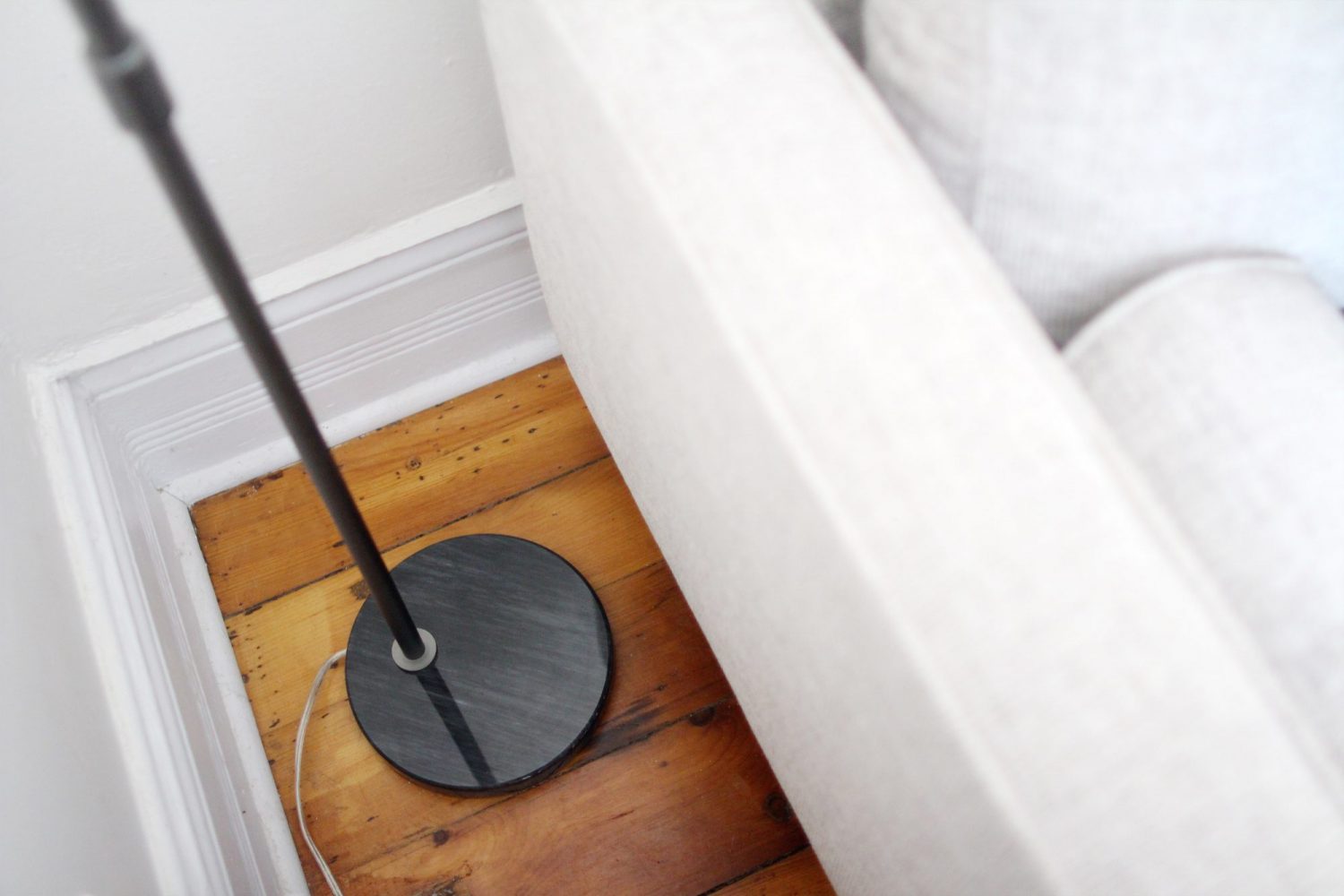 ---
JUTE RUG
---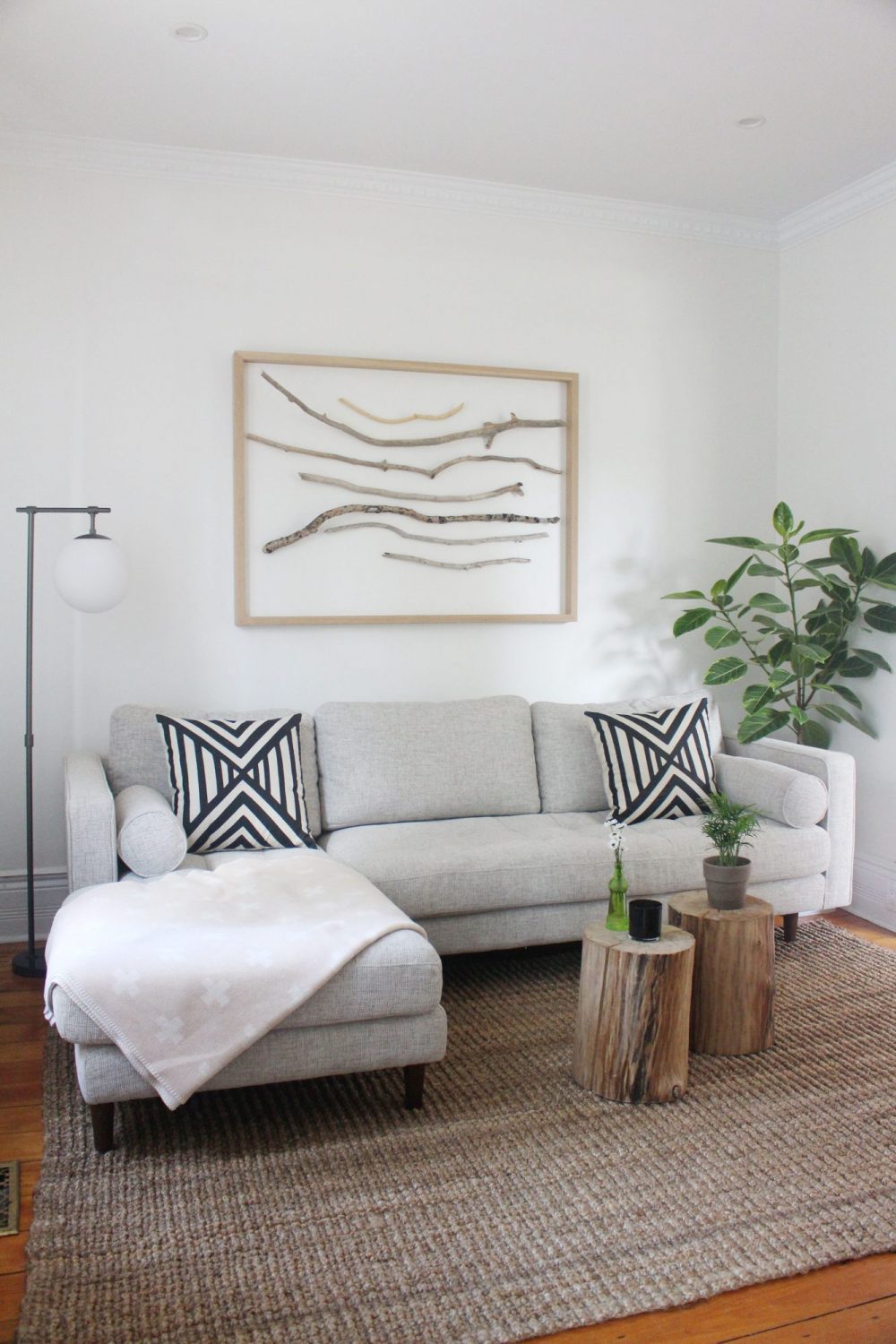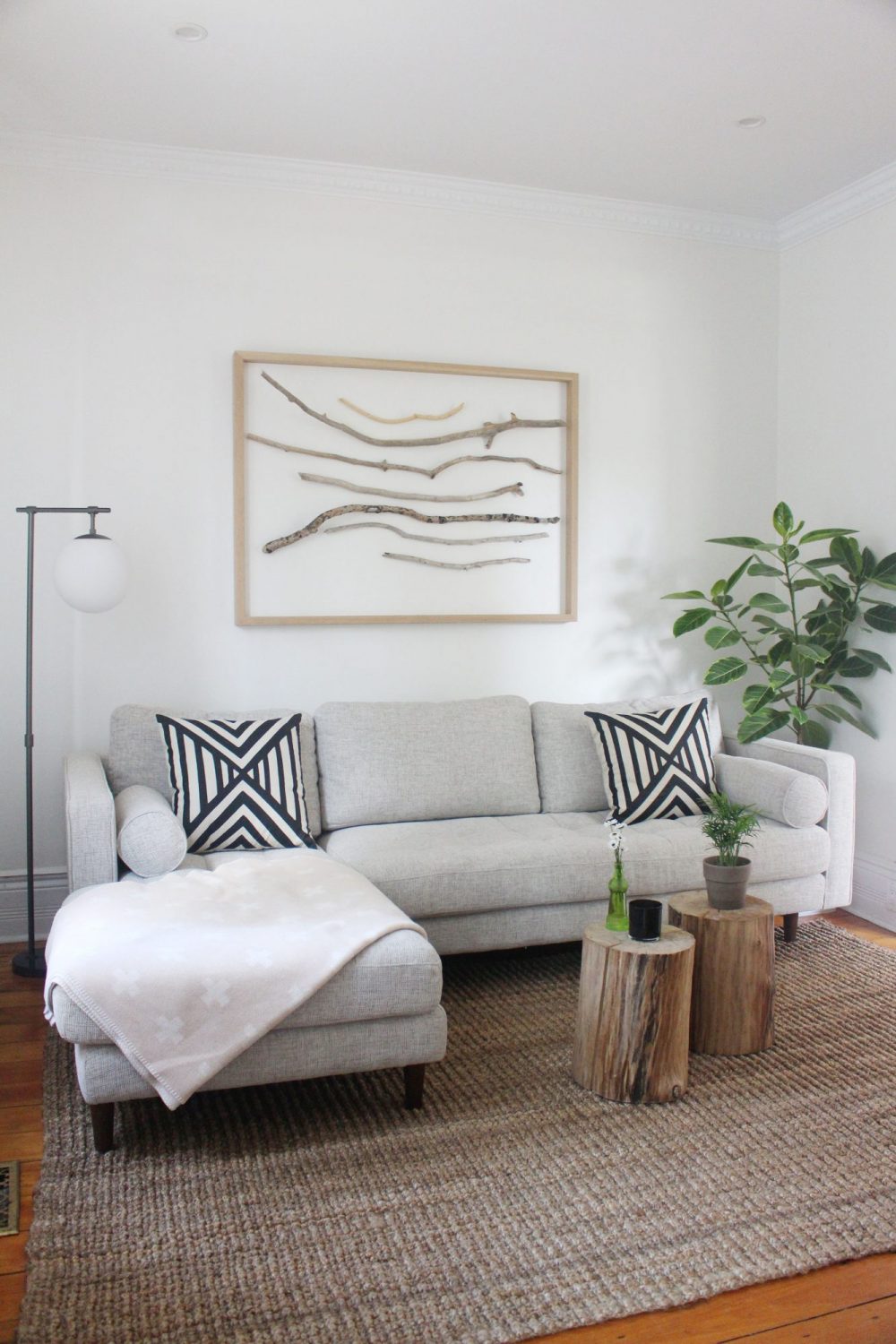 ---
I noticed that most of the inspiration and mood board images I was collecting for the space had the same type of natural jute rug. Jute has a beautiful texture to it and I love how many tones it has to pull from while still remaining neutral in any space. It is also a great segue between the warm oak floor and the other elements in the room, like our grey couch. Our natural stumps have the same earthy tones, which was a very happy accident!
I sourced this one from Wayfair and have been really happy with the quality and durability so far. We've had it for about a month. Shop it here.
---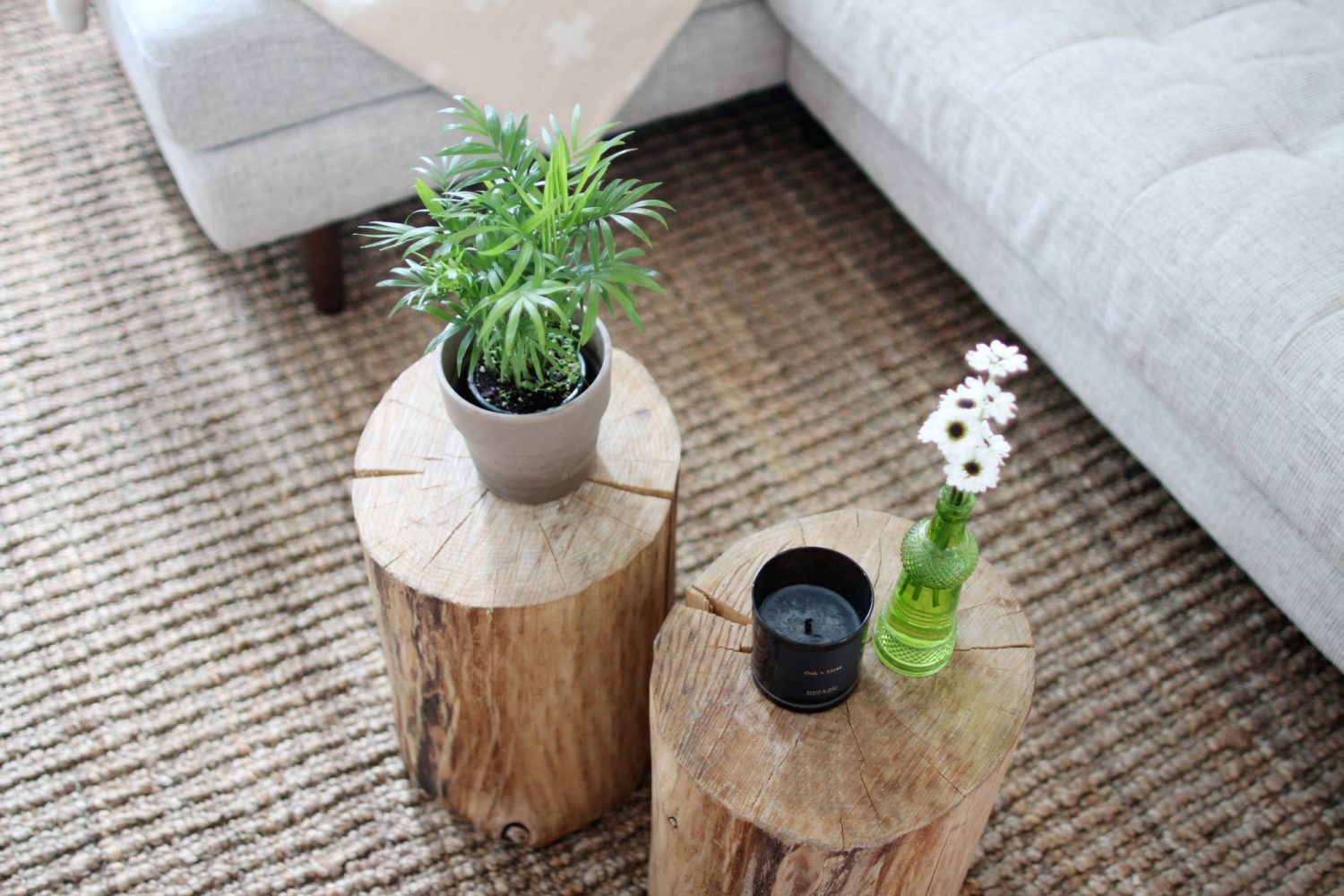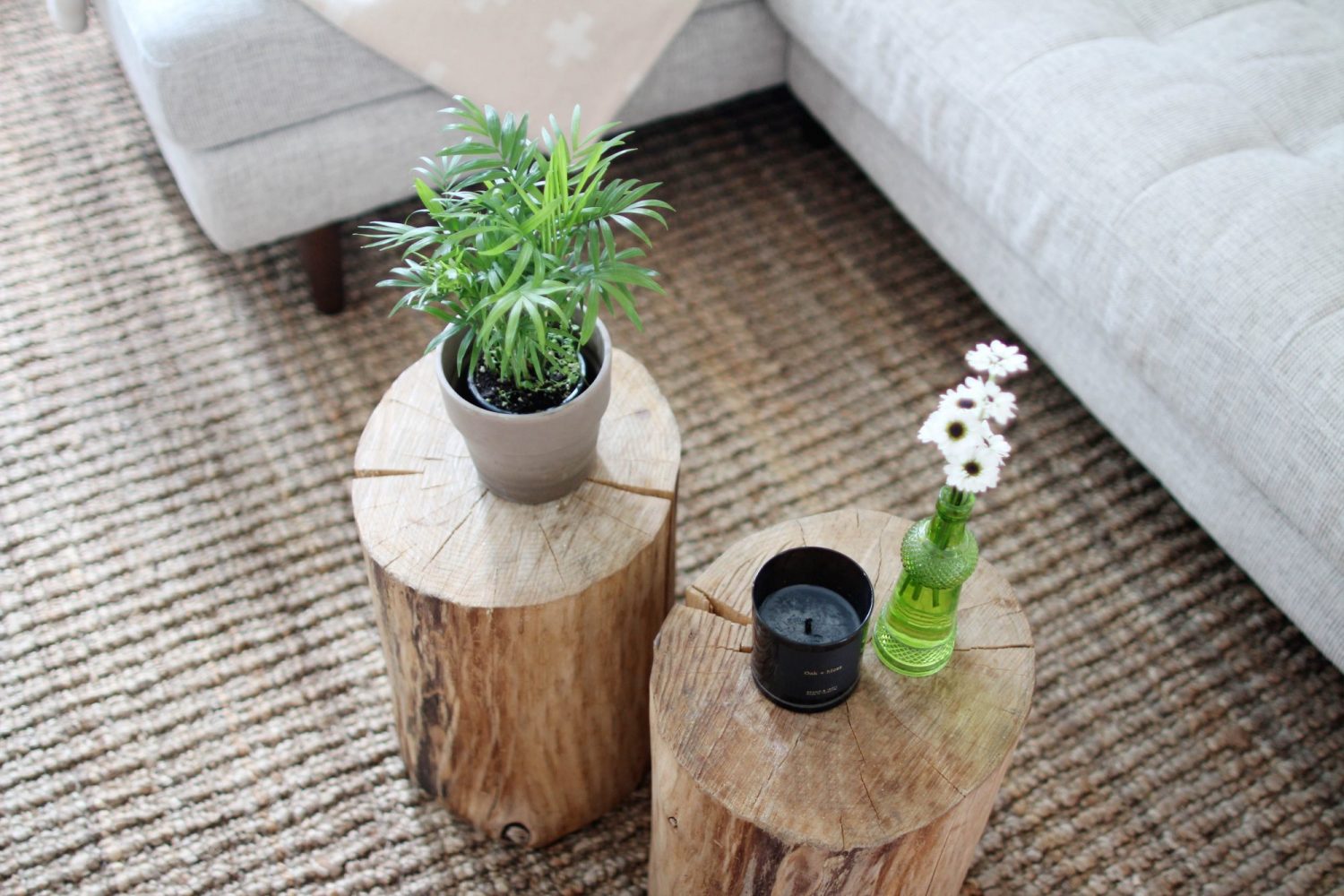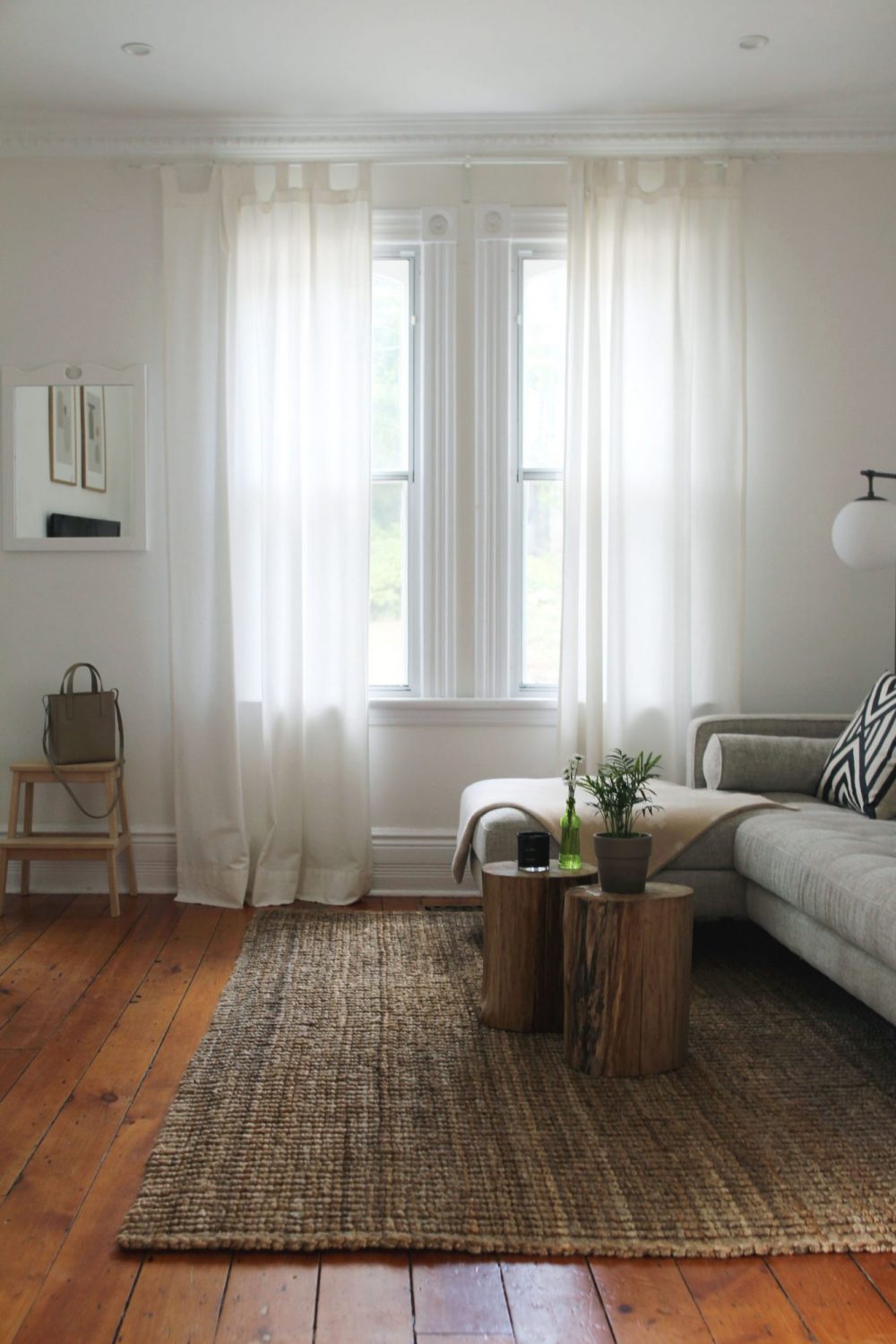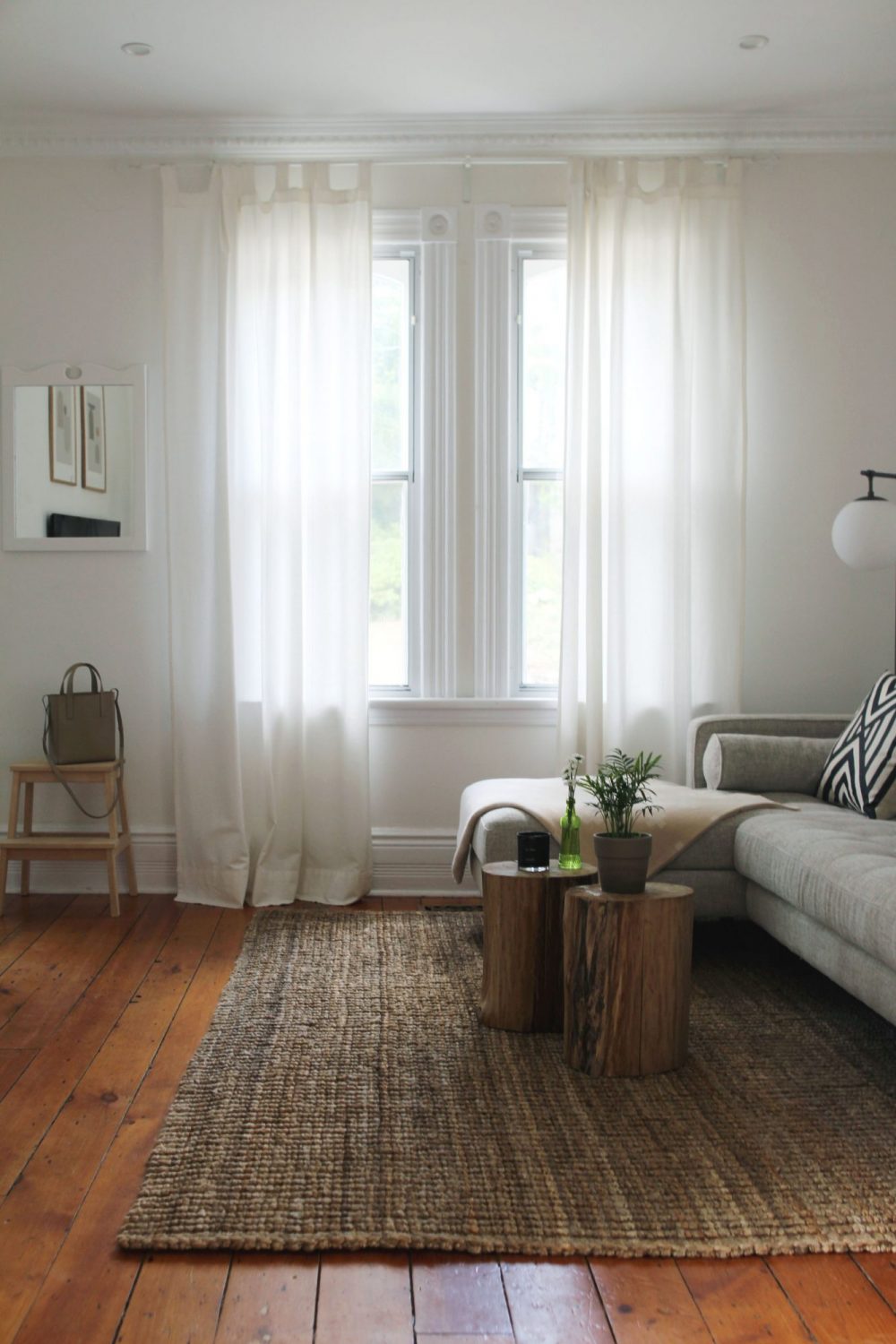 ---
MEDIA CENTRE
---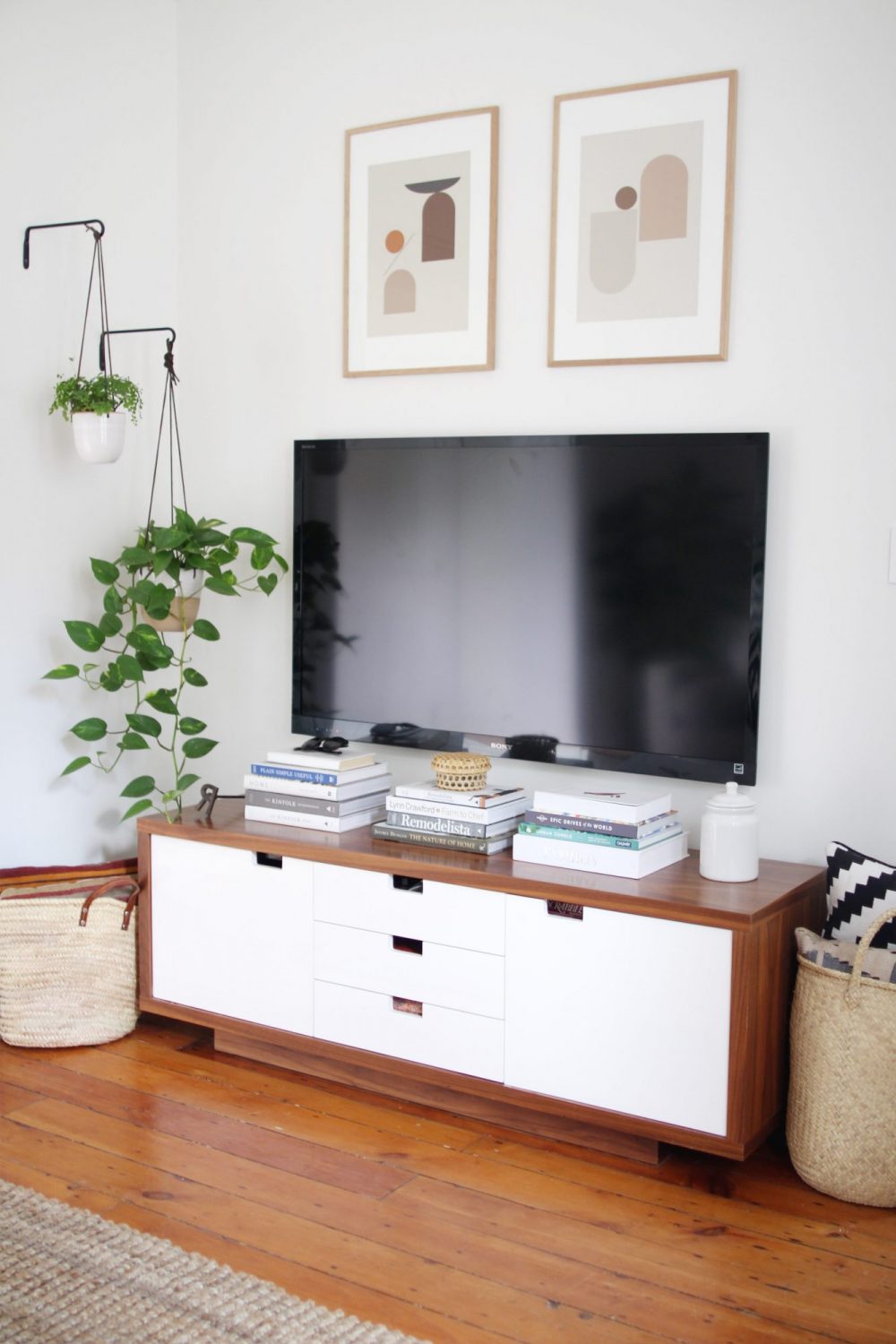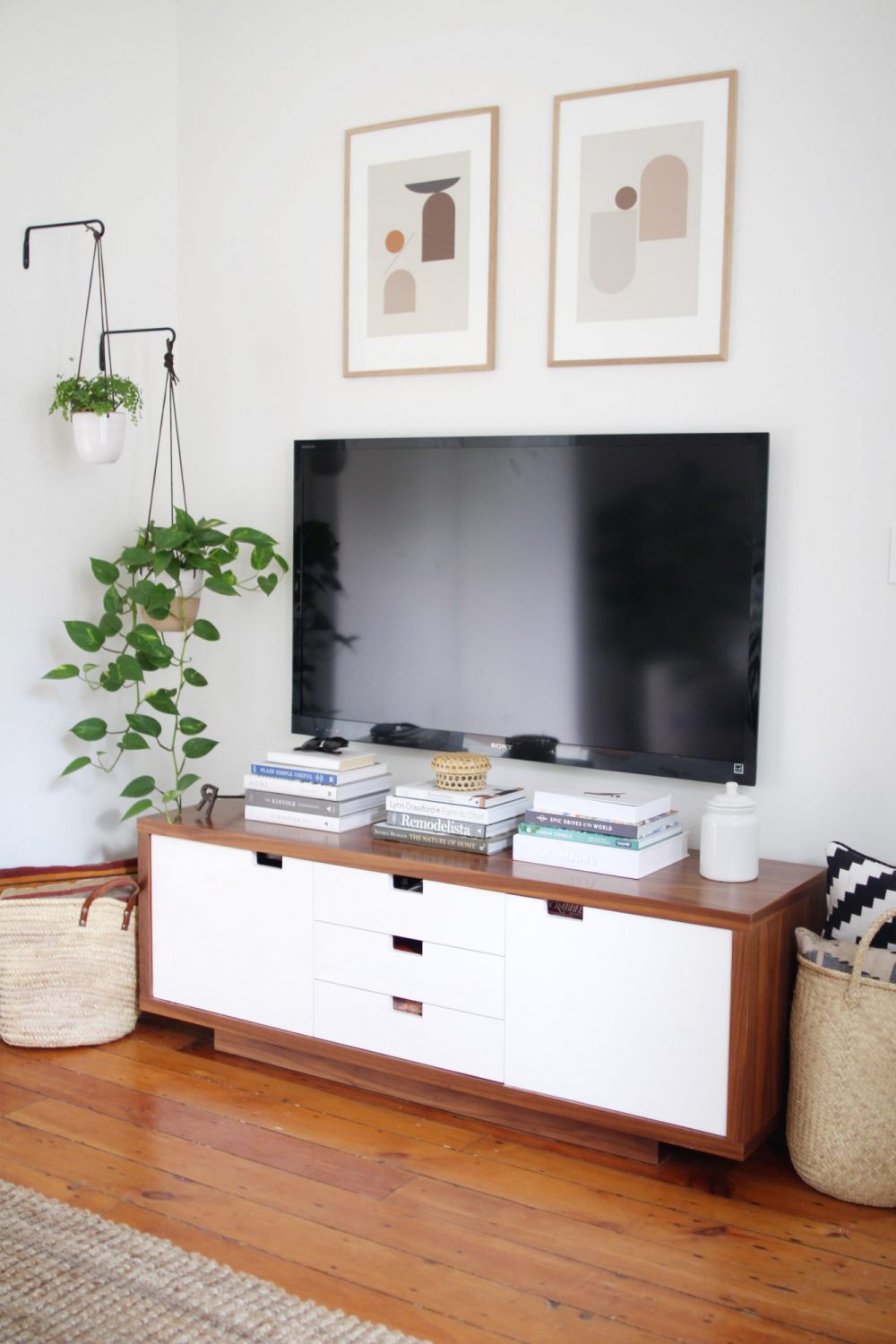 ---
We kept the media unit (similar option here and here) from our original living room and I really wanted to create a media zone that didn't just feel like a TV stuck on the wall. Using this as inspiration, I added some key elements to make it feel less sparse and more integrated within the space. Those elements included:
Our favourite coffee table books. More on my favourite books here.
Dobby's treat jar, of course!
Two contemporary art prints. From the Poster Club.
Large woven baskets on either side filled with pillows for easy access, softness and texture. Found at June Home Supply.
Two beautiful ceramic hanging planters with leafy green friends inside. Found at Parlour Studio in Prince Edward County.
I think the space transformed really well and now instead of being a wall I try to ignore, it's one I'm happy to look at!
---
---
SVEN SECTIONAL REVIEW
---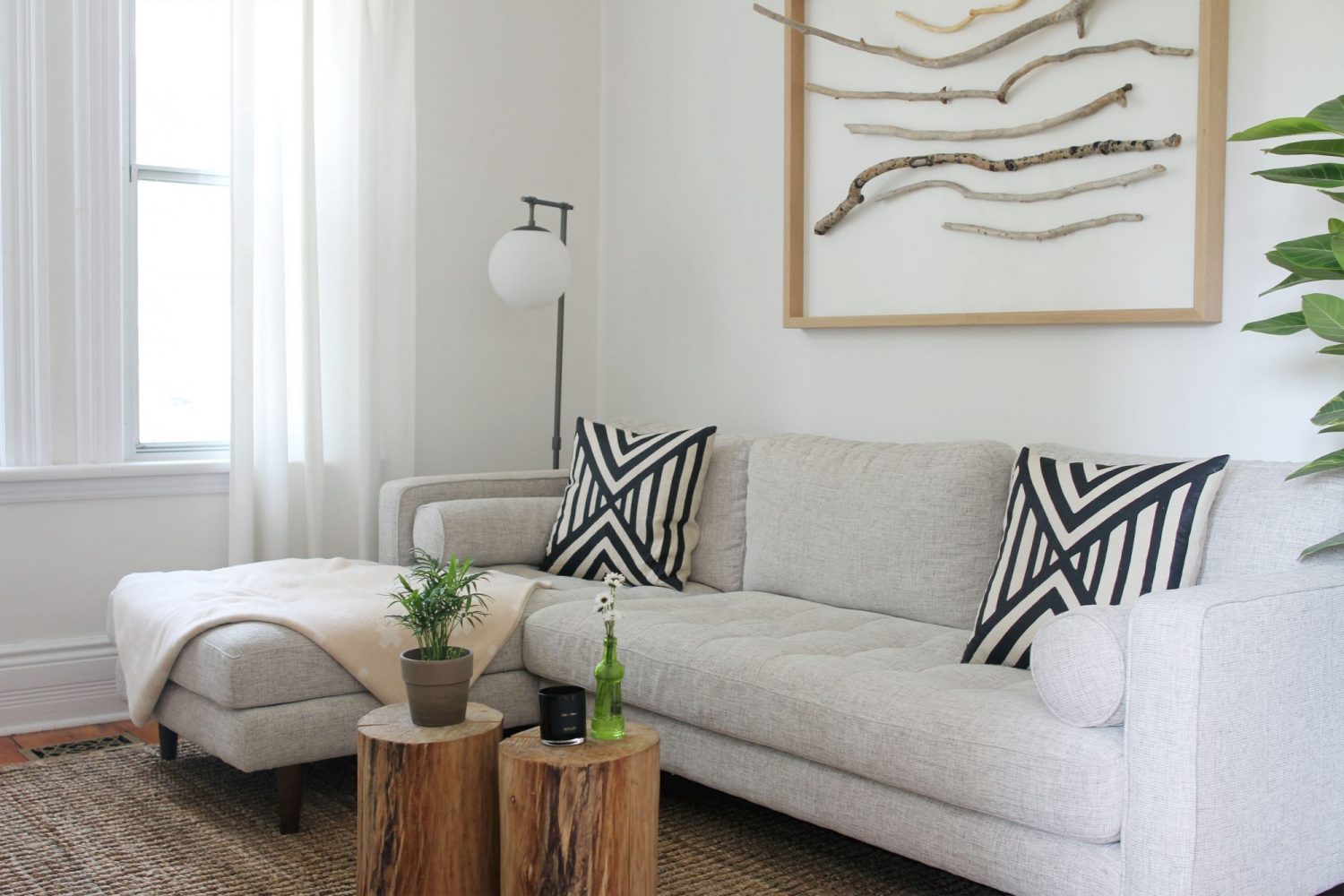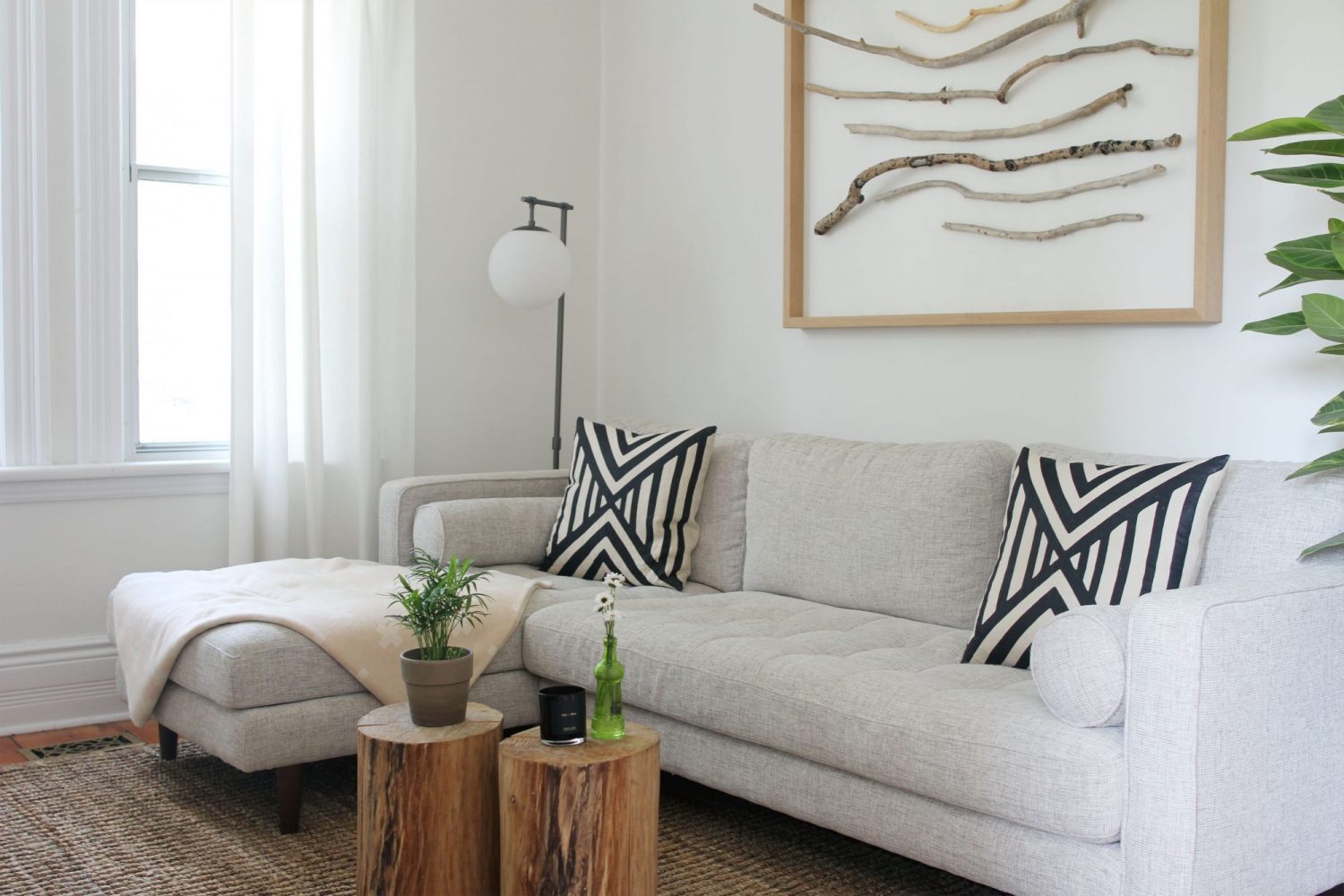 ---
Now for my thoughts on the star of this living room update, the Sven Sectional*! It was truly serendipitous when I heard from Article because I'd been making a short list of sectionals and the Sven sofa was at the very top. I felt it was a great option for our space for a few reasons, those being:
Size – It tucks perfectly into the nook we have for a couch while still being super spacious. There is room for 3-4people to sit comfortably or two people to lounge/nap/Netflix the night away. Dimensions are 100 in wide and 67 in deep if you opt for the chaise.
Design/Style – I love the mid-century modern design that's both refined and inviting. It's a timeless style that will work in lots of spaces if we ever move.
Price point – Yes, the Sven was generously gifted to us, however, I had been planning to buy a sectional so price was a determining factor for sure. At $2399 CAD it was an excellent price and having spent the last two months on it I can attest to the quality being even better than we'd hoped.
Fabric/Colour – We'd considered going bold with a velvet green or luxe with brown leather but the woven Ivory Birch resonated with me the most. I was nervous about choosing a colour sight unseen but it worked out! I just learned too, that Article sends free fabric swatches upon request so you don't have to wing it like I did.
Delivery – The activation effort required to go and pick-up a sofa is non-trivial. For just $49 CAD Article will deliver everything right to your door and orders over $999 CAD ship free! See more delivery options here. Ps. Exchanges are free too.
More details below.
*The Sven Sectional was gifted by Article in exchange for a review and feature here on Style Bee. It's available in several colours, configurations and fabrics (incl. velvet and leather). $2399 CAD.
---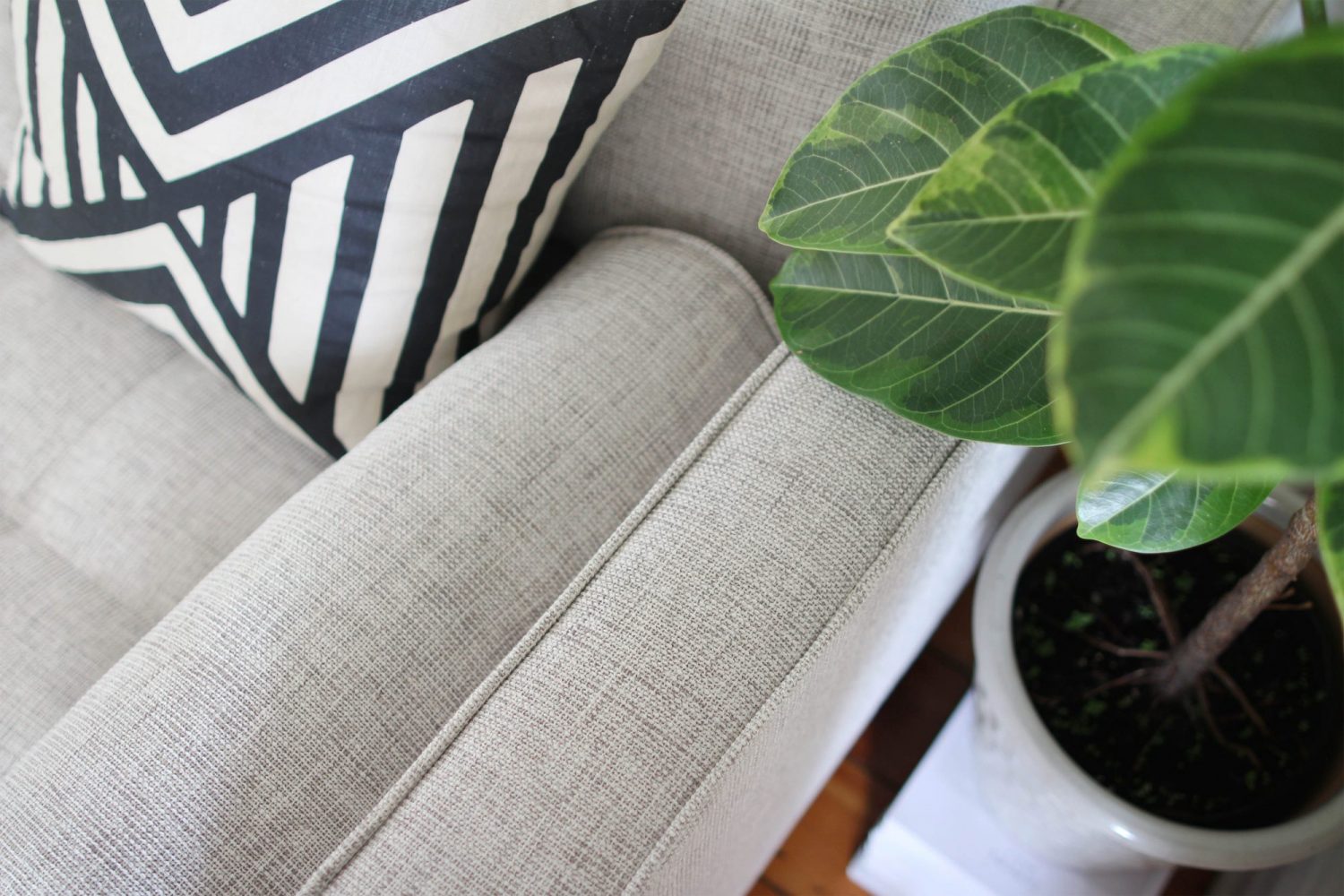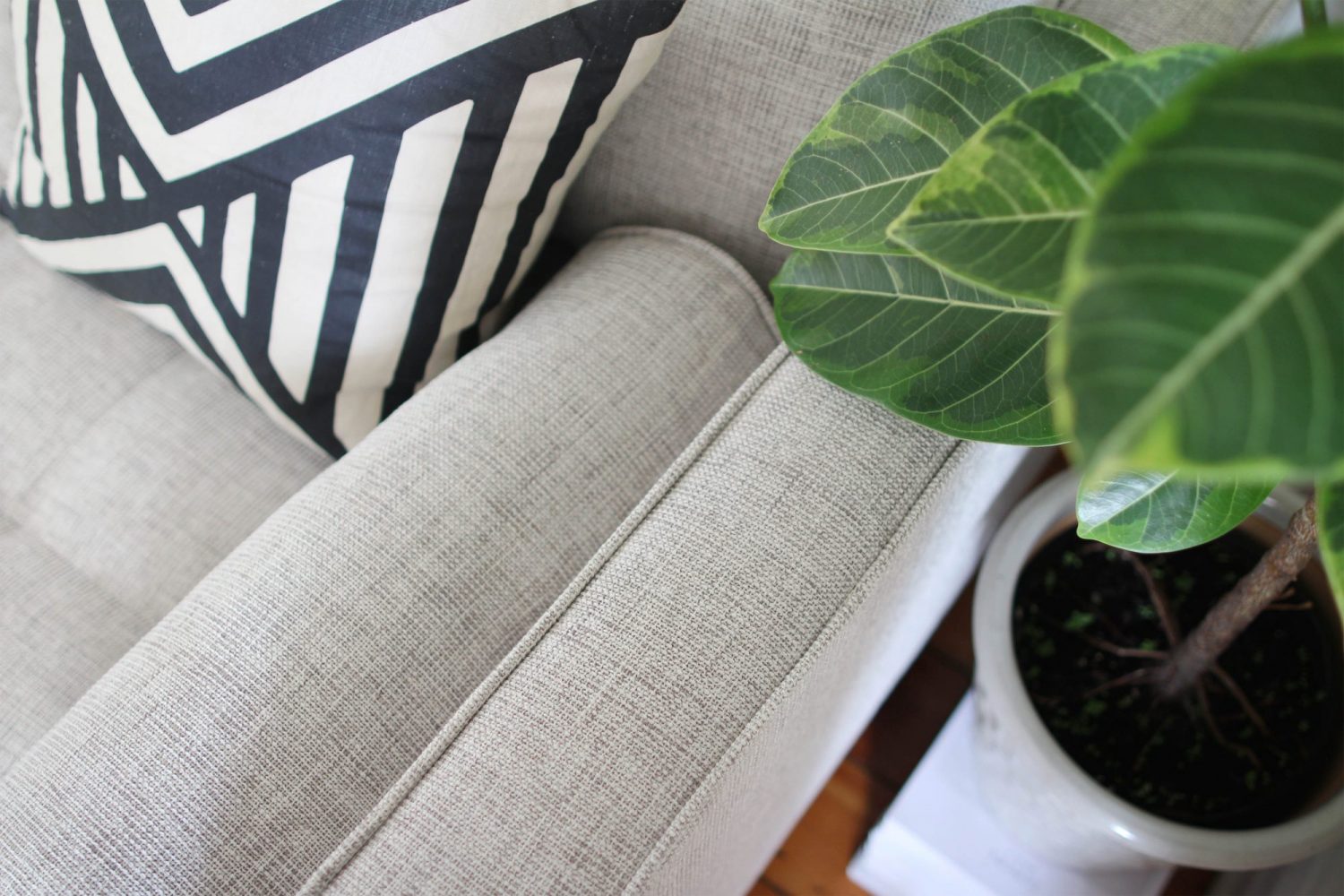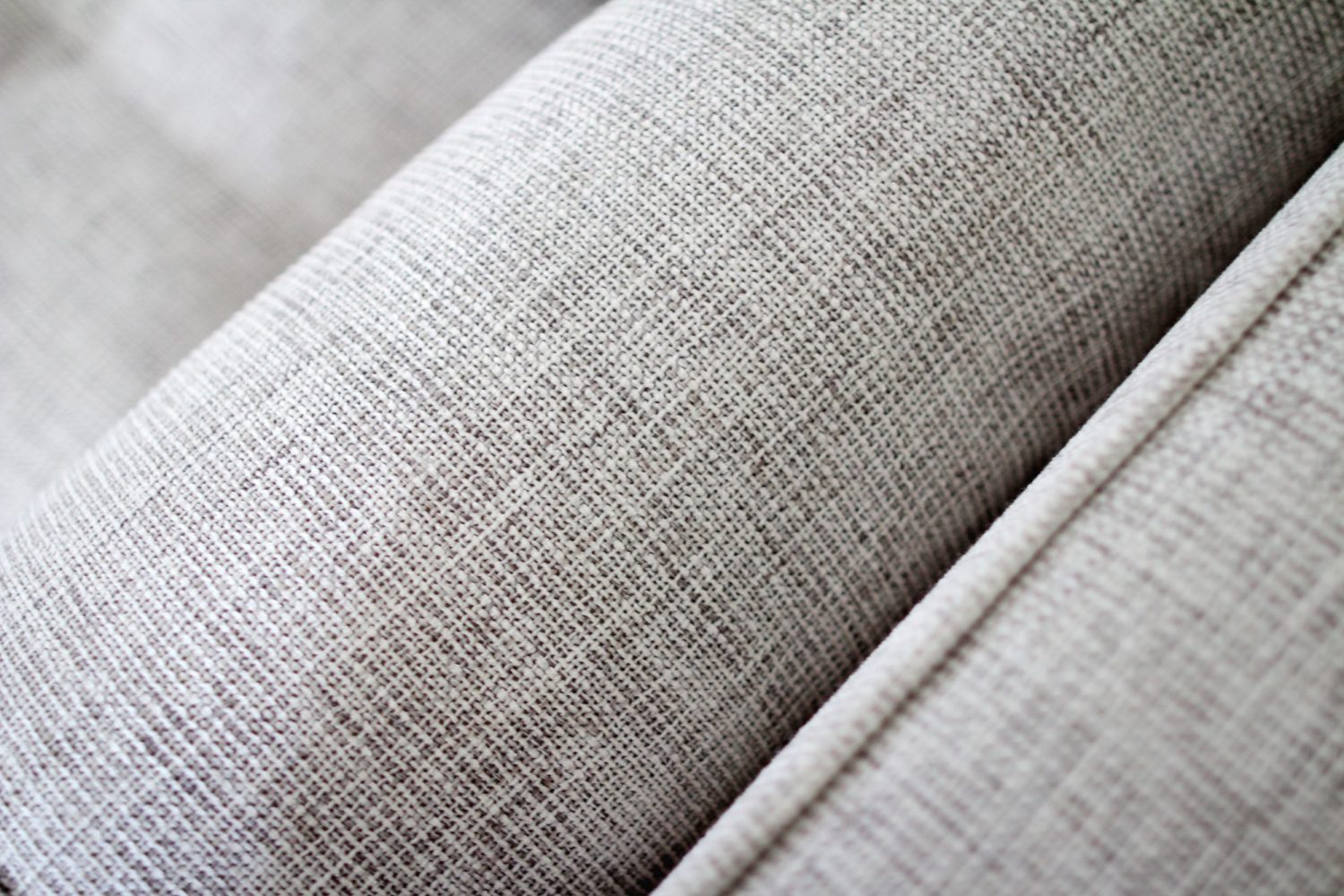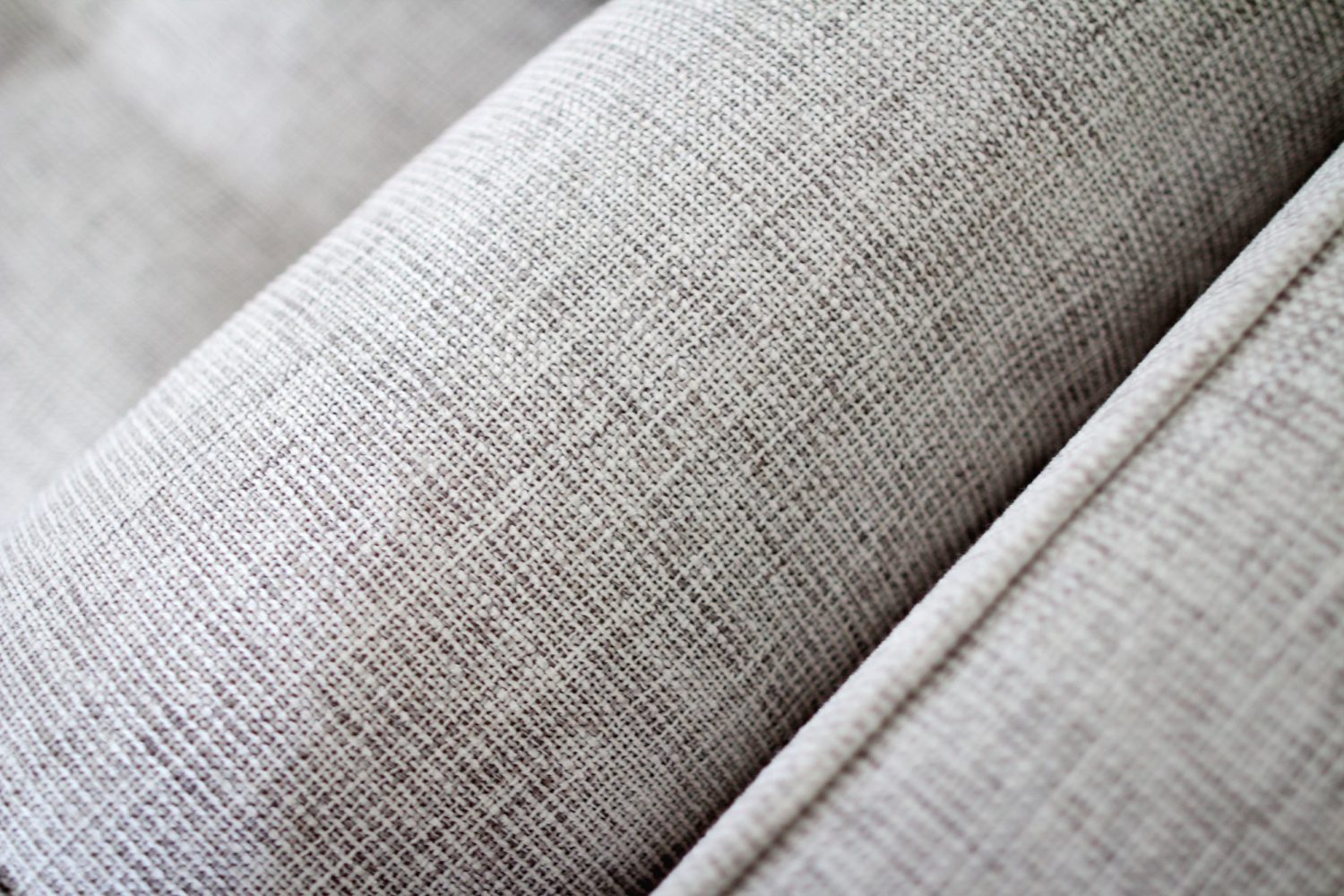 ---
FABRIC
---
As I mentioned, selecting a fabric without having seen it in person can be a little scary but Article seems to have this well covered (hehe). Their photography is highly accurate and gives a genuine, un-glorified depiction of what you're going to get.
When I first told Dave I was thinking 'Ivory Birch' he practically spat out his morning coffee. However, I assured him it was not white but instead a creamy, silver-grey with a hint of darker charcoal notes. My only real concern was whether or not it would sway too cool or too warm but it's a true neutral tone and takes on it's surrounding palette and bends towards cool or warm depending on the light in the room.
I will note that it may get a little bit fluffy and pill slightly over time. That said, after the last two months of near daily usage by all four family members it's showing little to no signs of wear. The Ivory Birch is 'dry clean only' on the site but Dave is notoriously spilly so I've done a few emergency spot cleans and everything has cleaned up easy.
---
---
PETS
---
I'm so happy (and relieved!) to report that this couch has been unfazed by the task of pet fur, corgi window guarding, cat napping and general lint and dirt from our cuddle buds. The fabric camouflages pet fur so well and as you can see both our pals are very furry and not in the least bit trained to stay off the furniture (not that we tried!). I just take the vacuum to the cushions (on low so nothing gets puckered or pulled) once a week and it comes up looking like new!
Evie has shown a slight interest in clawing the arm rests but luckily Dobby has strong opinions about her doing anything he can't and swiftly chases her off.
---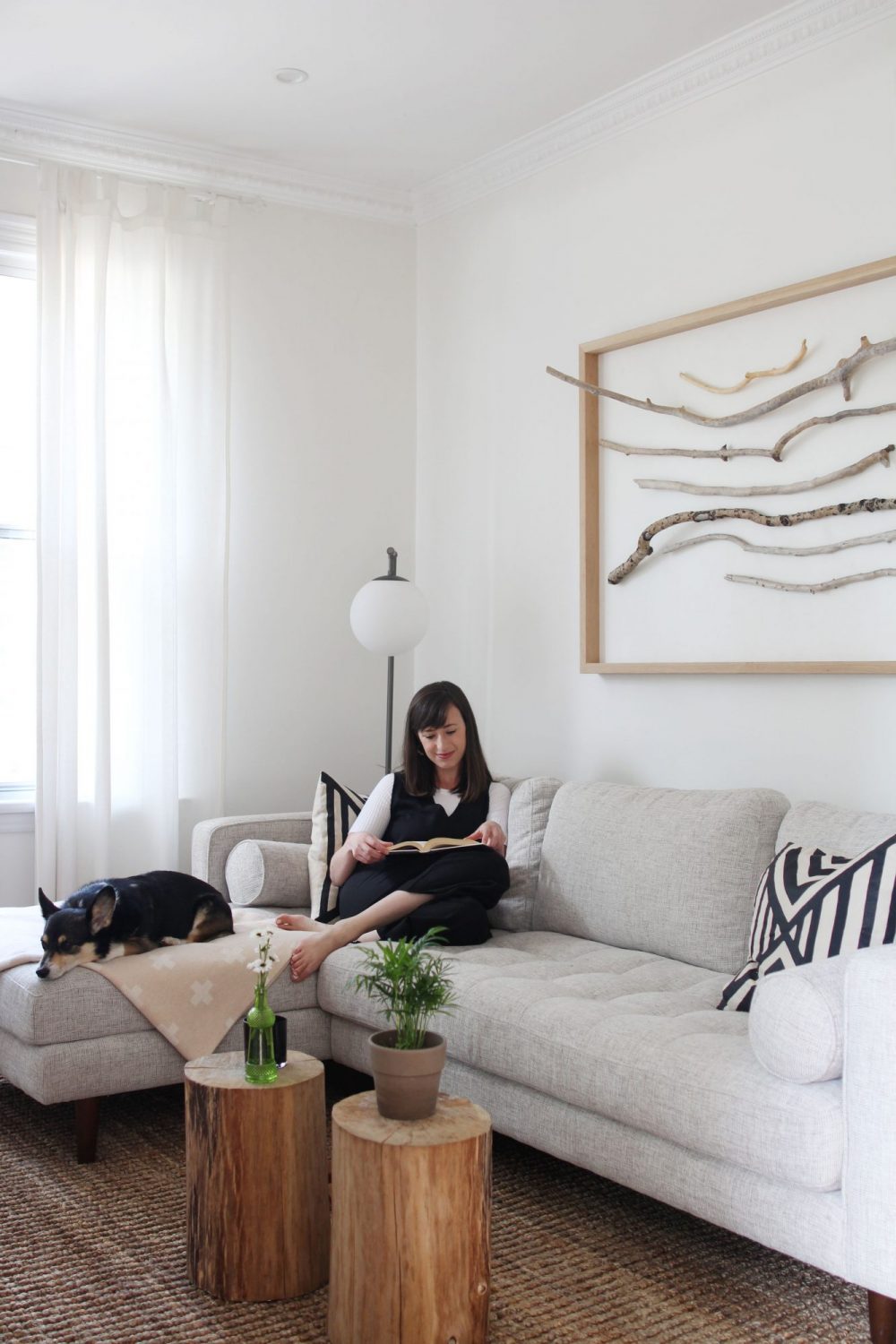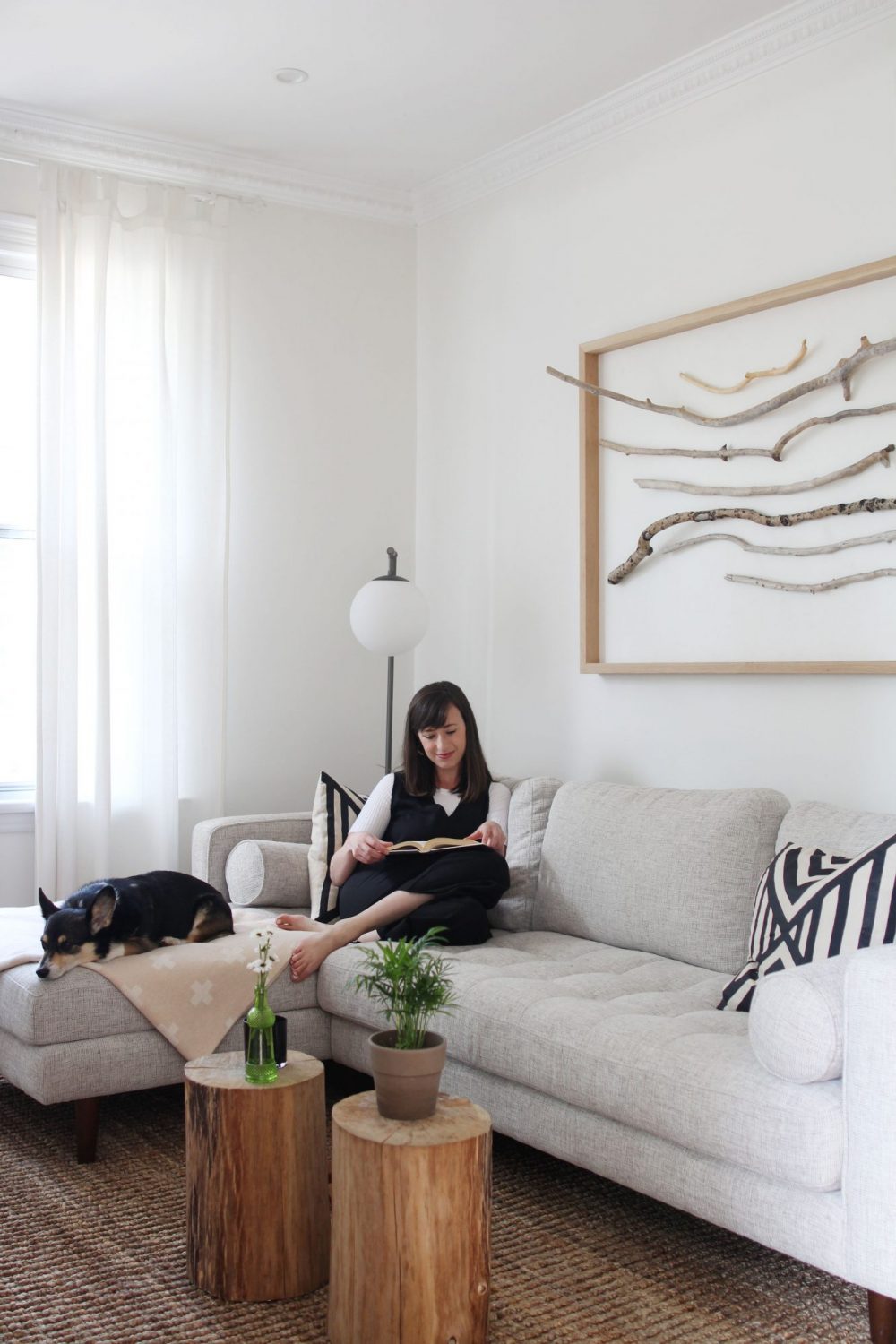 ---
COMFORT
---
I didn't realize how much comfort we'd been missing out on until I sat on our Sven and felt it's soft cushions supported by a strong frame. It's easily one of the comfier sofas I've spent any considerable amount of time on. I will warn though that it's impossible not to find yourself slowly succumbing to a nap-like state on a lazy afternoon, so look out!
Luckily, while soft and spongy, the cushions retain their shape well. As I type this my lumbar is being gently propped up by a bolster pillow and when I'm done it'll get a quick fluff and be back to normal in no time.
---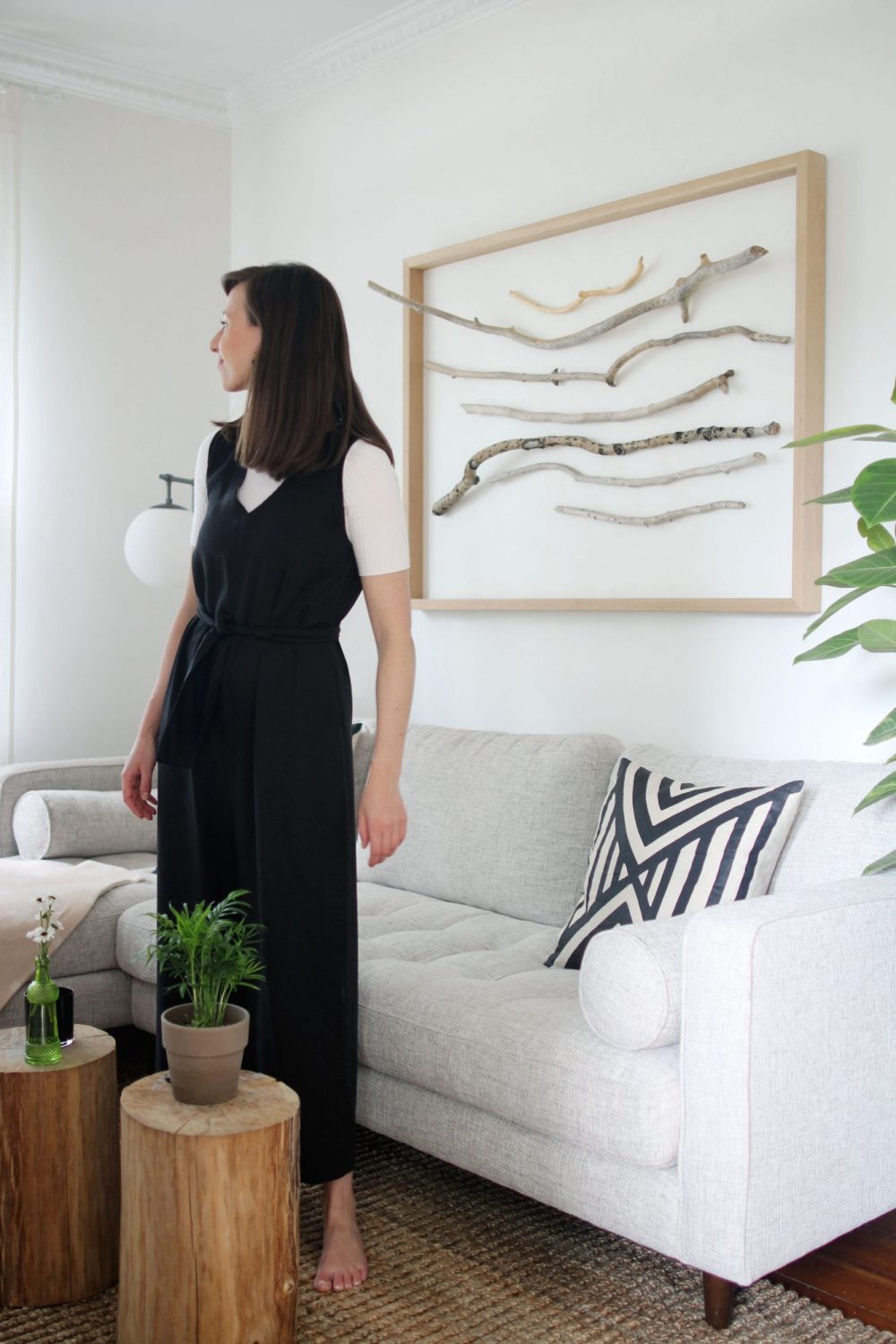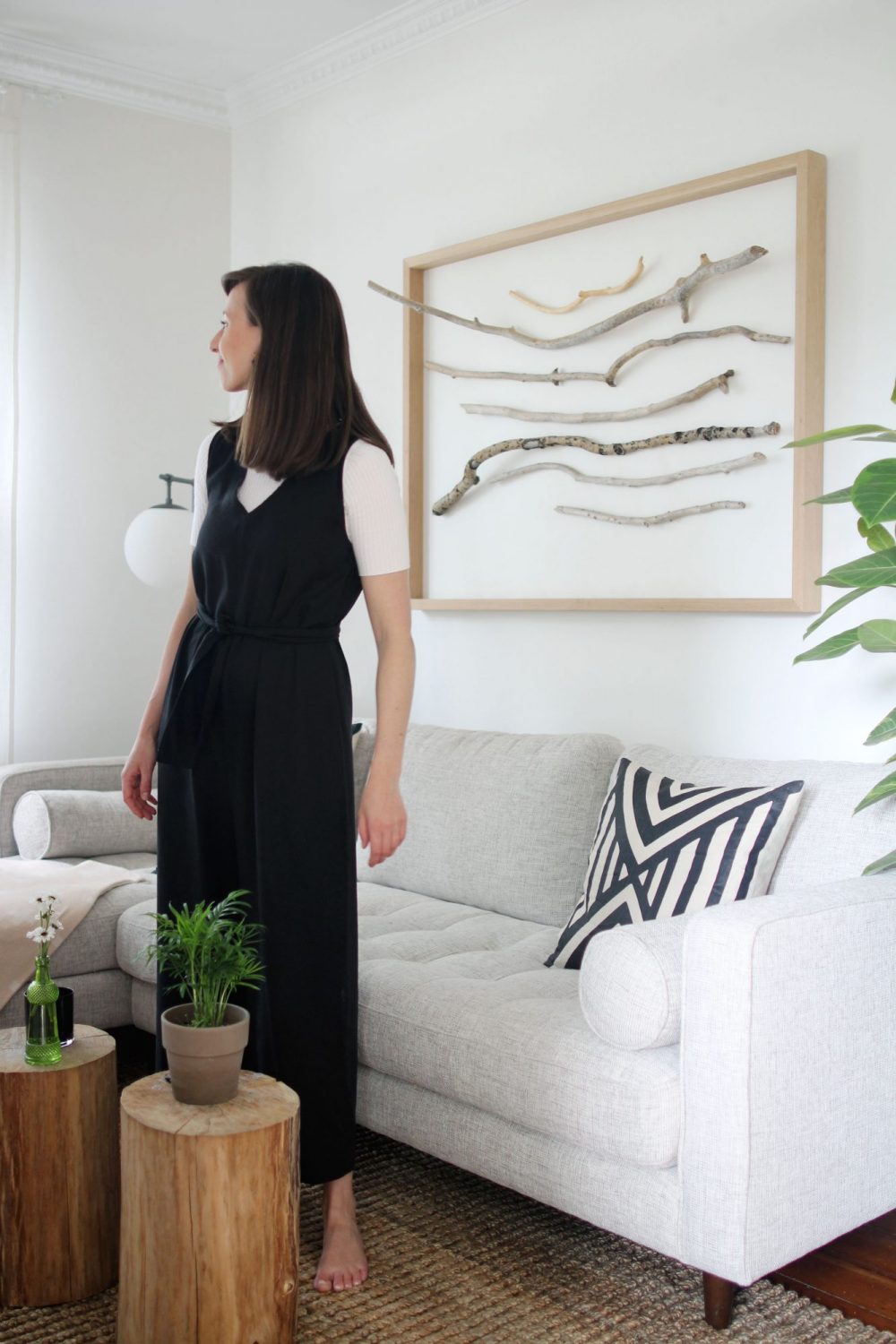 ---
QUALITY
---
I didn't know what to expect in terms of quality but over the two months we've had our Sven we've been thoroughly impressed. It has held it's shape, had no notable defects in construction or materials and we've even moved it around, separating the chaise from the main love seat on a couple of occasions. It's fair to say we have not been precious with it and it's shown zero inclination towards letting us down!
---
PRODUCTION & SUSTAINABILITY
---
I asked Article some questions about their production partners and how sustainability factors into their manufacturing process and they were very forthcoming with information. Here's a brief synopsis of what I learned:
Article works only with suppliers they've met in person and visits their partner factories several times a year. All of their suppliers adhere to BSCI (Business Social Compliance Initiative), a certification noting that suppliers meet excellent sustainable trader and social responsibility guidelines. Before establishing a relationship with a new vendor, Article carefully vets them against stringent criteria for ethical business practices and quality control to create a mutually trustworthy relationship.
Article ensures that all material is sourced in a sustainable and responsible manner. All manufacturing partners are sustainable and practice eco-friendly management operations and efficiently manage resources.
The majority of Article's product line goes into final production in Vietnam, China, Indonesia and India because these countries have the best manufacturing facilities to meet Article's needs and requirements.
I appreciate Article for being so open with me and would love to see them make this information more readily available to all of their customers. If you have any additional questions let me know!
---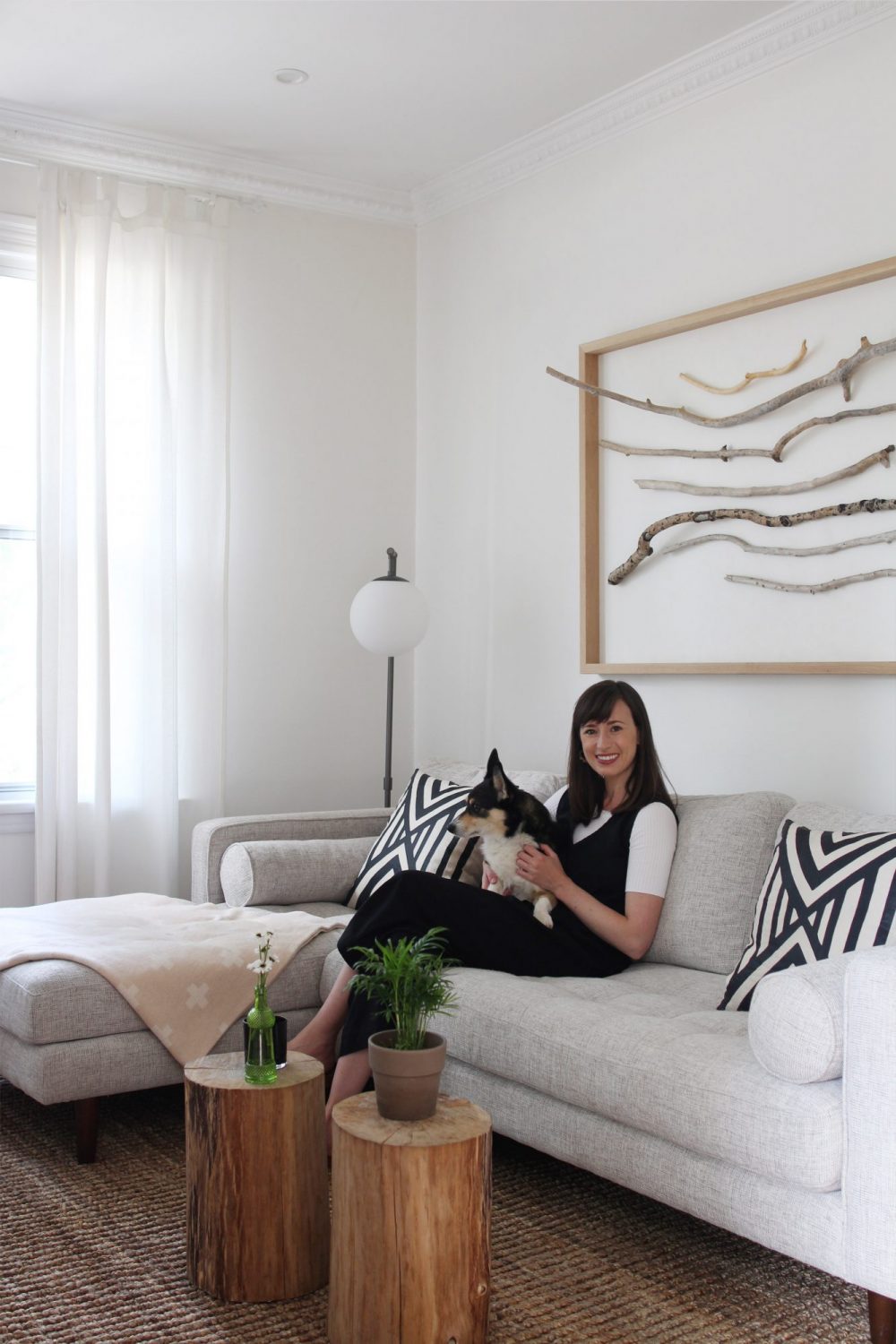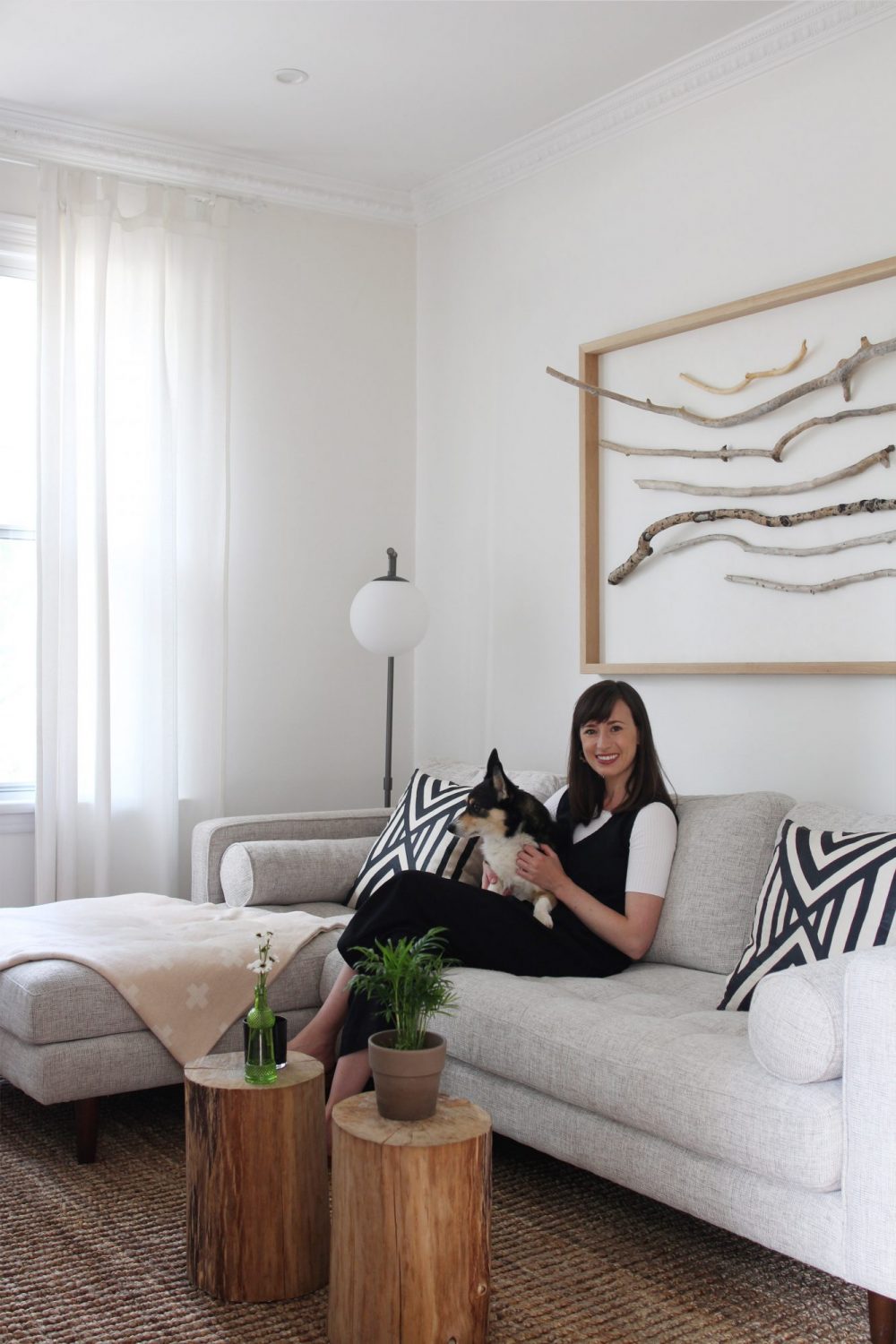 ---
That's it for our living room update!
I hope you enjoyed this little peek into our home and my interior design thought process.
---
If you've got any additional questions about any of the items noted throughout this post, please feel free to ask in the comments!
Thanks so much for tuning in! Have a wonderful weekend!
---
This post is not sponsored but contains some gifted items and affiliate links. If you see something you like and decide to shop through the links above I may make commission on a sale at no additional cost to you. All opinions are always my own. Thanks for supporting Style Bee!