Craving a break from neutrals, I'd planned a series of colourful spring outfits for the week but had a nagging urge to get creative and infuse a little something extra into the posts.
Inspired by a collage exercise that @jasmindowling shared, I decided to try it out myself using the colours within the outfits as inspiration for the collage. It's a quick and easy way to get creative and just the motivation I've needed to crack open some old magazines.
So here's a fresh, peachy outfit I'm loving for spring PLUS a fun, colourful collage. I hope you'll tune in each day this week for a new outfit and a new (just for fun) creation!
---
This post was not produced in partnership with any brands mentioned but does contain affiliate links and some gifted items. If you see something you like and decide to shop through the links included, I may earn commission at no additional cost to you. All opinions are always my own and I only feature items I love. Thanks for supporting Style Bee!
---
THE OUTFIT
---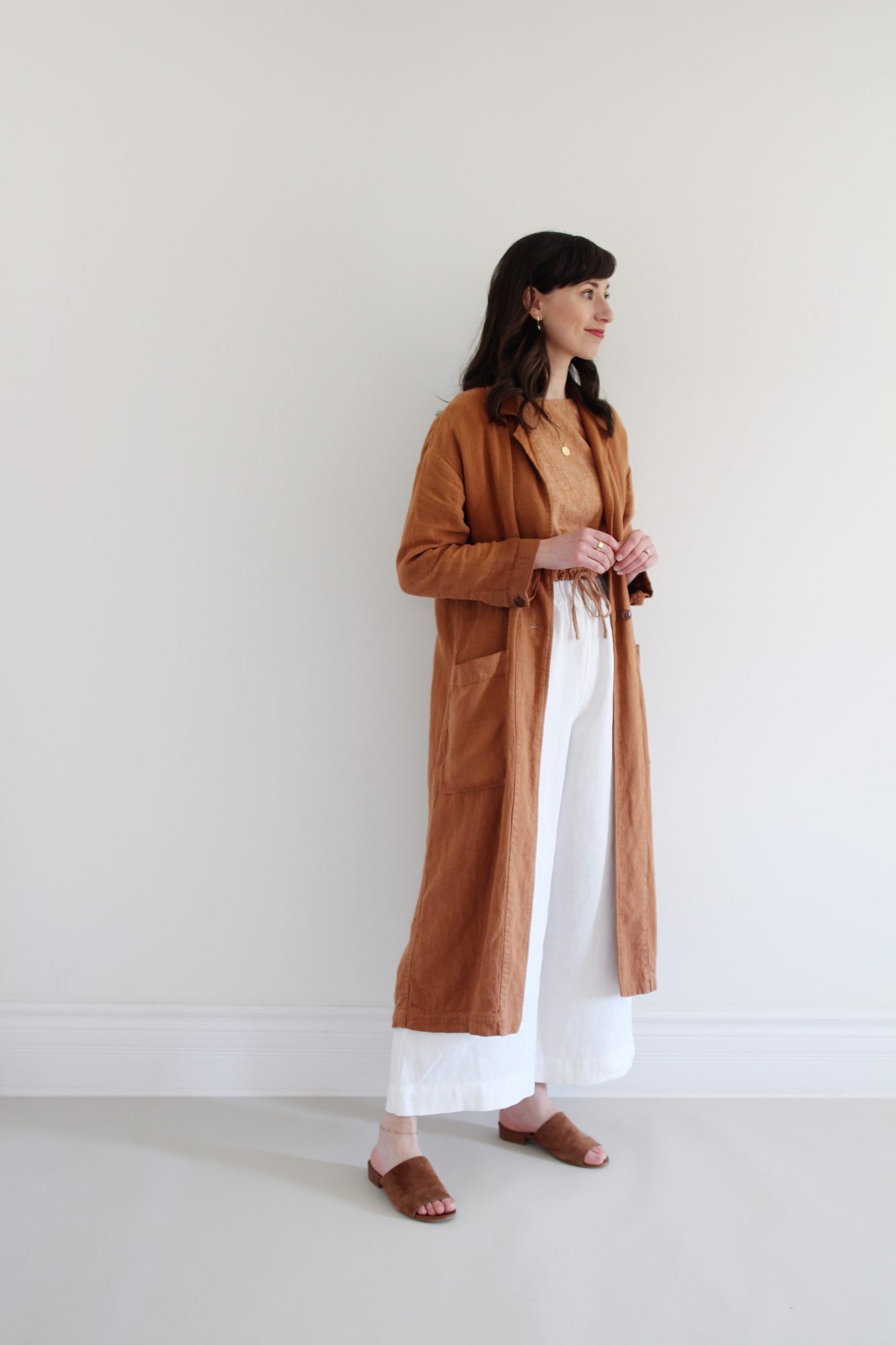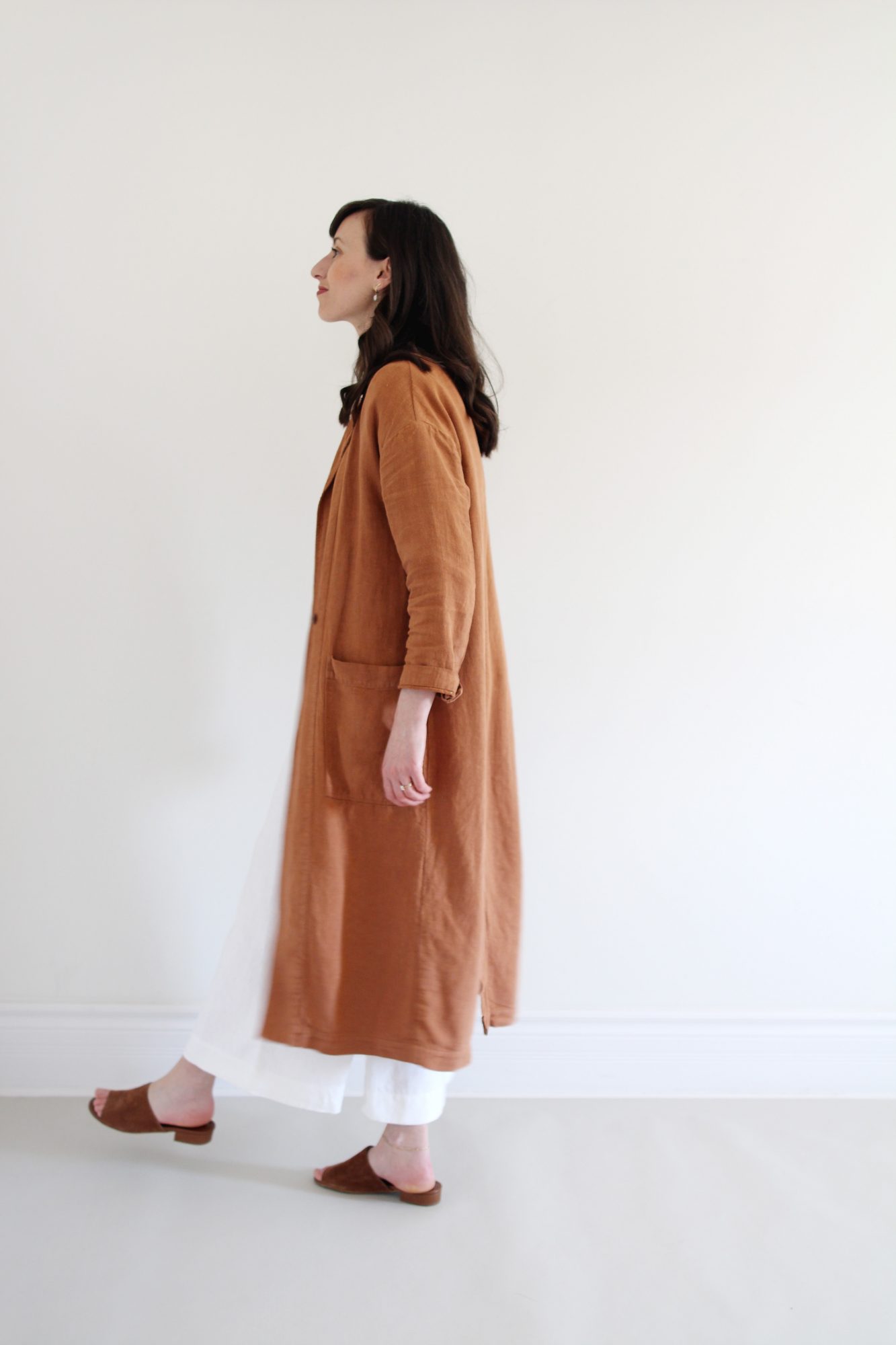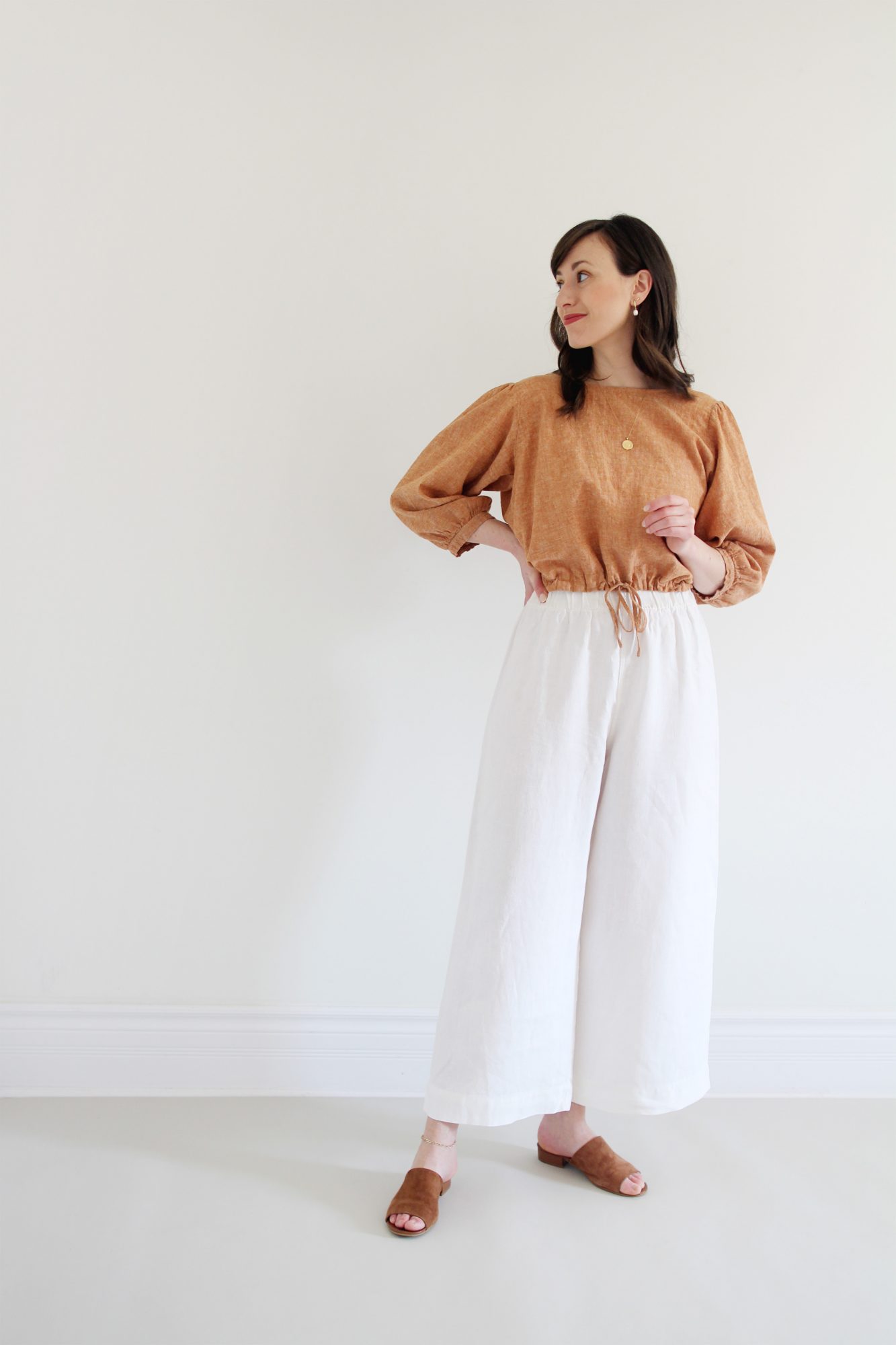 ---
Years ago I used to envy bloggers who were churning out new head-to-toe looks on the regular. Of course, I've since realized that it's so much more fulfilling when an old item in my closet can be given a whole new life by pairing it with something fresh. This look is made up of items I've collected over many years and each one tells a little story.
This duster is a long time spring favourite from ESBY's first release of the style a few years back (early 2017). I love the rich clay colour of the heavy linen and how it pairs so well with their newly released vintage brick Marie Top (which is indeed reversible!). The joy I felt when I realized that they would work so well together was not insignificant.
I've lost track of when I added my ivory linen Florence Pants because the style has become so integral to my closet but they're at least a couple of years old now. These sandals were a purchase during my short time in Barcelona last summer and I couldn't wait to bring them out for this year.
My jewelry collection is largely Canadian-made and four of my favourite independent designers are all part of this look (linked to each below).
While it takes time to build a wardrobe you love, it's well worth the wait!
---
SOURCES: BARONNE DUSTER JACKET (on sale!) & MARIE TOP gifted ESBY (wearing an XS & S resp.) // FLORENCE PANT by ELIZABETH SUZANN (wearing a S Reg) // SLIDES* n/a // LUMEN NECKLACE & ANKLET by WOLF CIRCUS (Canadian) // PEARL EARRING by CADETTE (Canadian) // STRIPE STUD gifted JEWELS & ACES (Canadian) // CIGAR RING by ATTIC // *Linked to similar
---

---
THE COLLAGE
---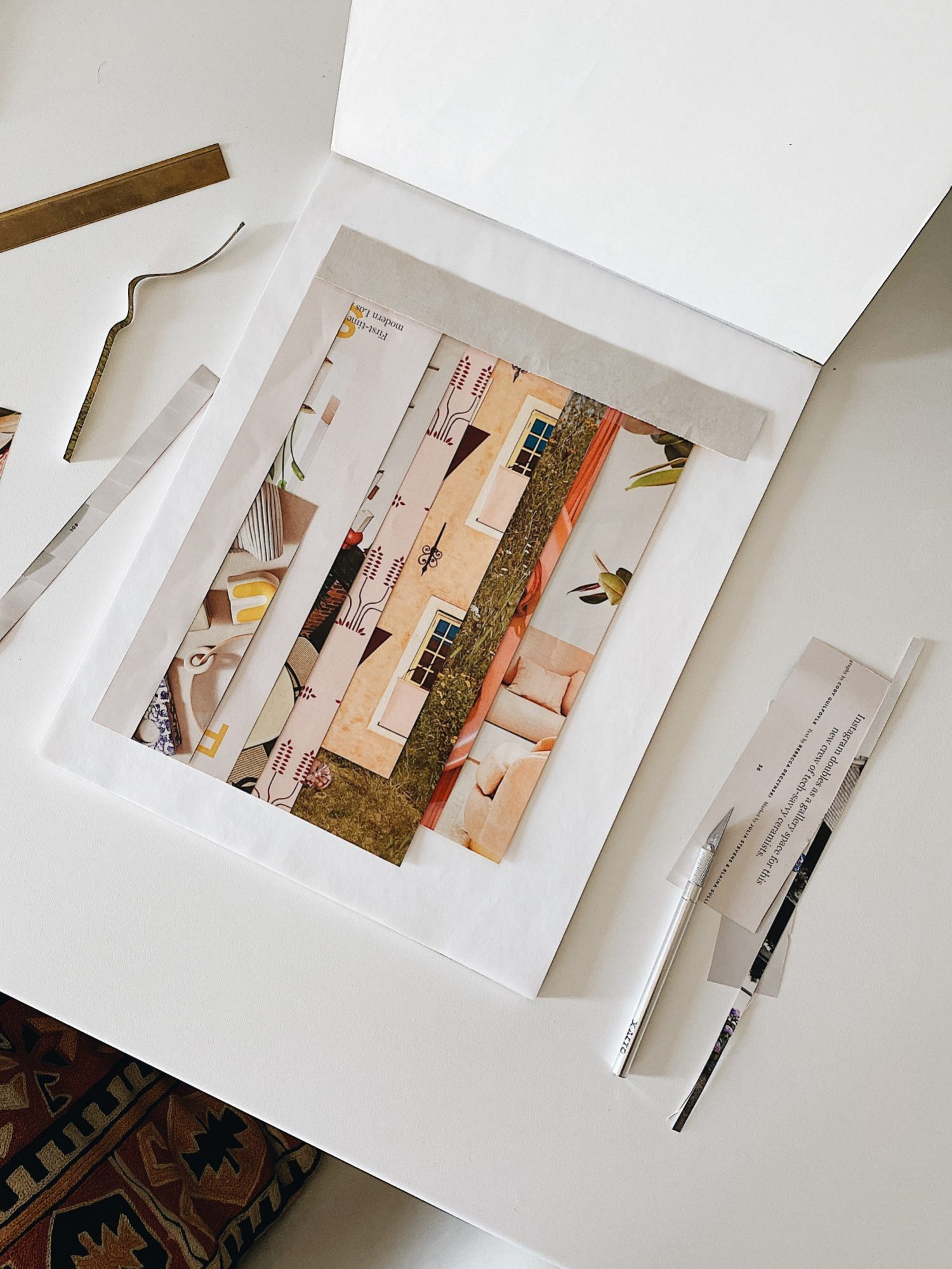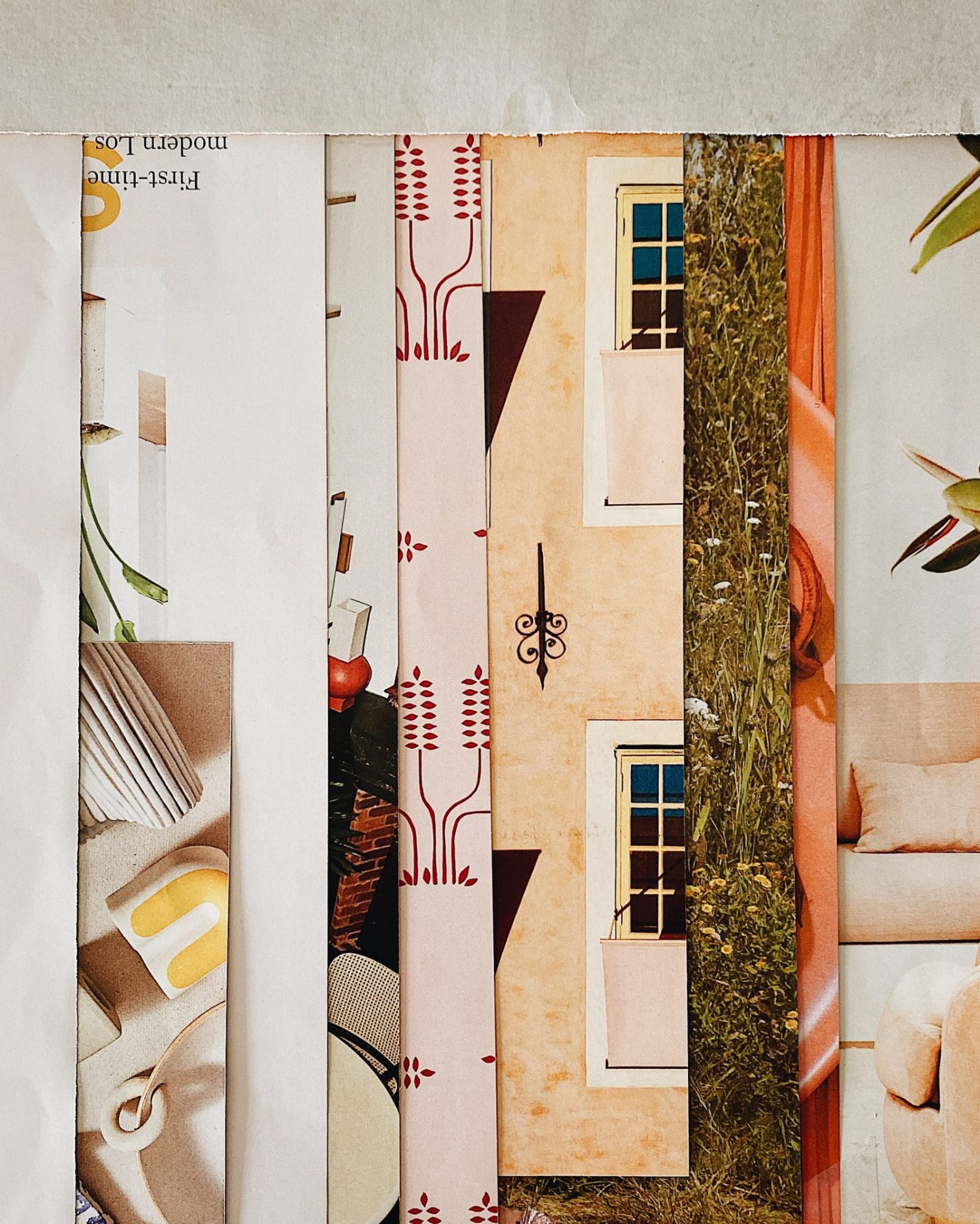 ---
With no deliberate intention, this collage actually ended up having many similar themes to the outfit. Beyond just the colour palette there are notes of nature, travel, handmade patterns, sculpture, comfort and ease.
If you're in need of a minimal time, minimal skill, minimal mess creative exercise, I'd highly recommend this one. It gets the creative juices flowing in no time. Tap through on Jasmin's time lapse to see how it's done!
---
That's it for today's spring colour!
Thanks for reading and I hope you'll tune in tomorrow for something totally different.