The good news is, we're halfway through the week already and I'll just skip the bad news since we've all got enough of that coming in right now.
Today's outfit is about optimism. Sunny days, blue skies, warm air, fresh water, rolling waves, golden beaches and all the things I'm longing for right now.
Read on for an easy outfit prompt and see how my third collage came out!
---
This post was not produced in partnership with any brands mentioned but does contain affiliate links and some gifted items. If you see something you like and decide to shop through the links included, I may earn commission at no additional cost to you. All opinions are always my own and I only feature items I love. Thanks for supporting Style Bee!
---
THE OUTFIT
---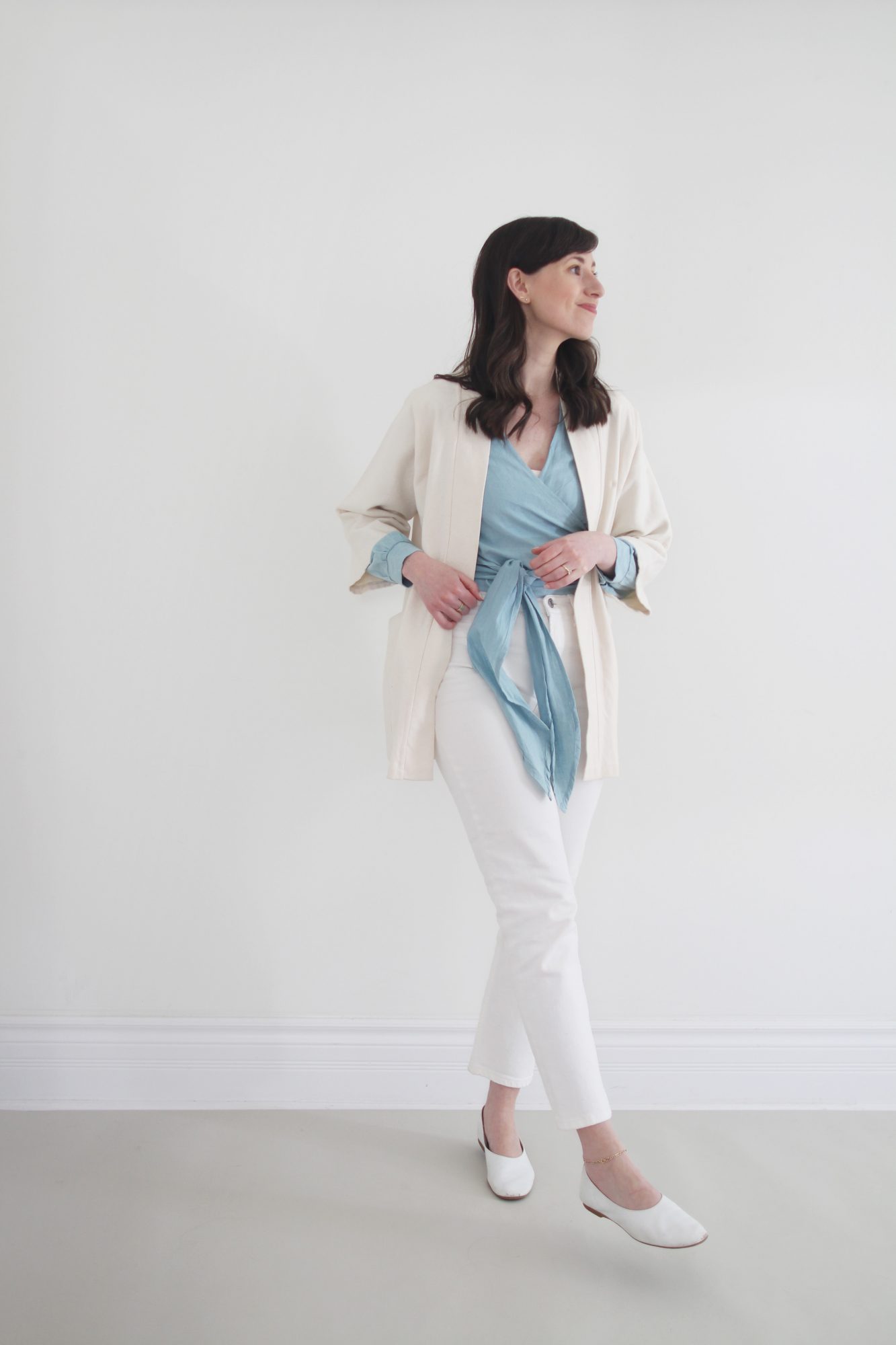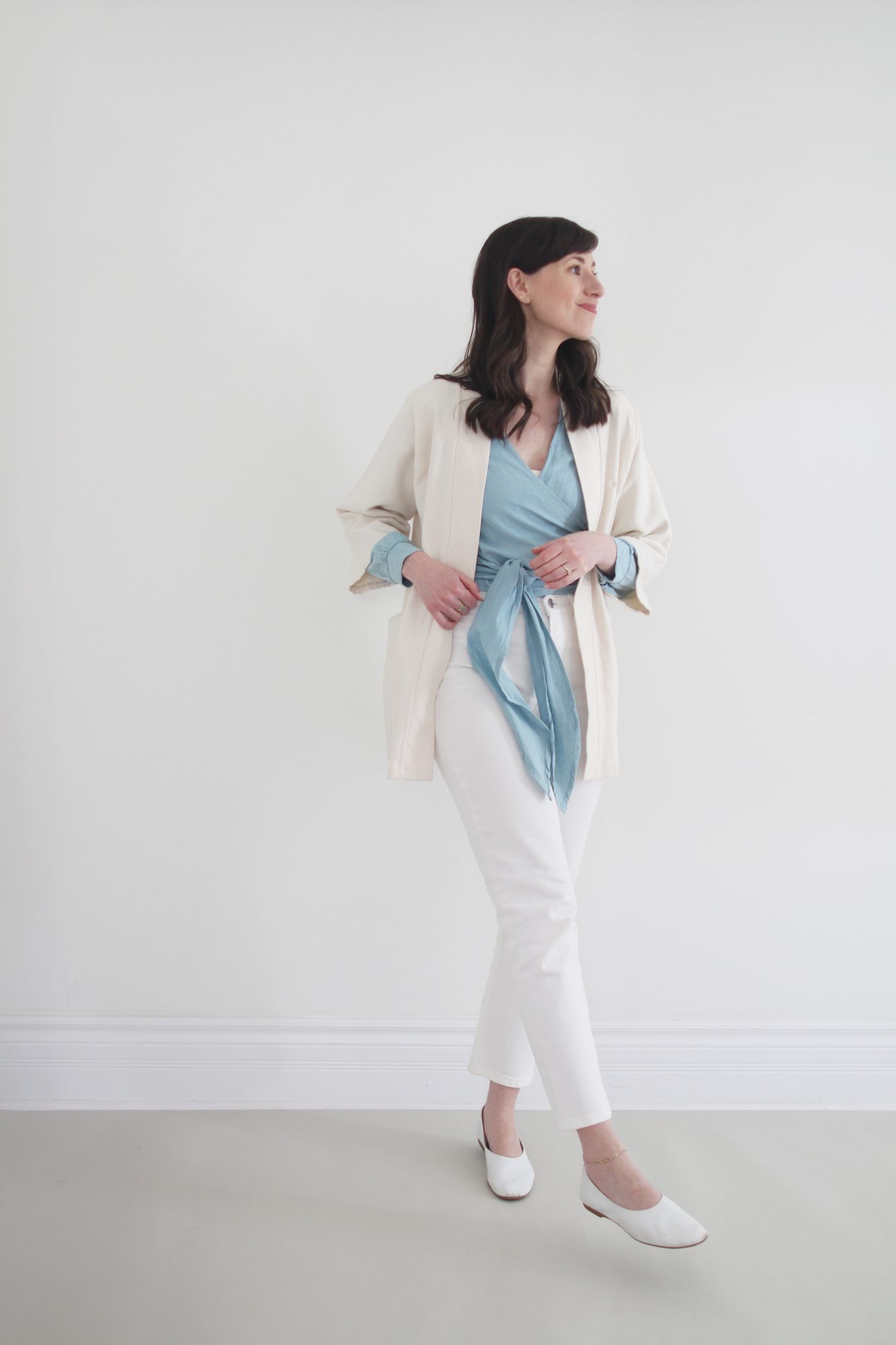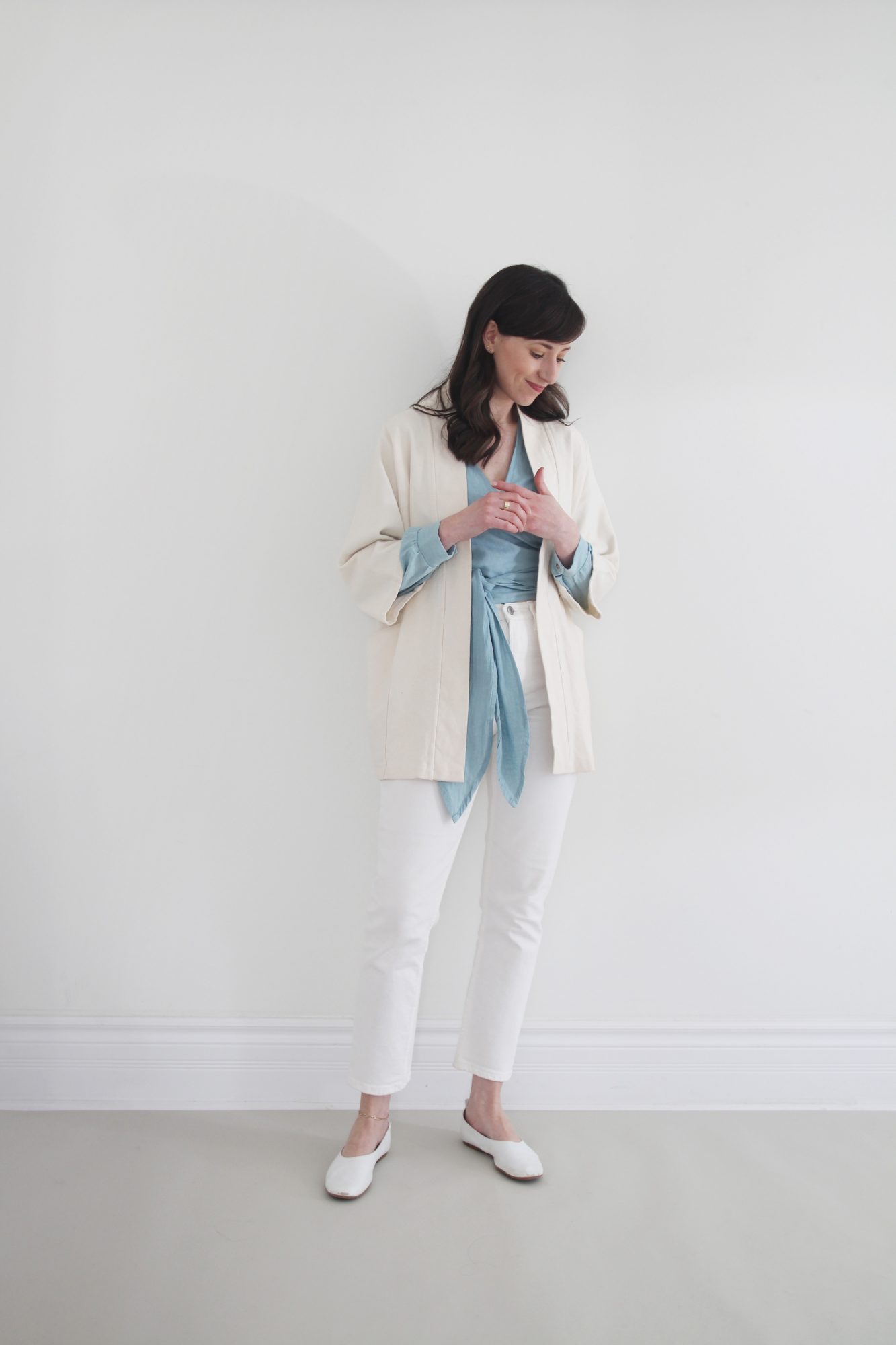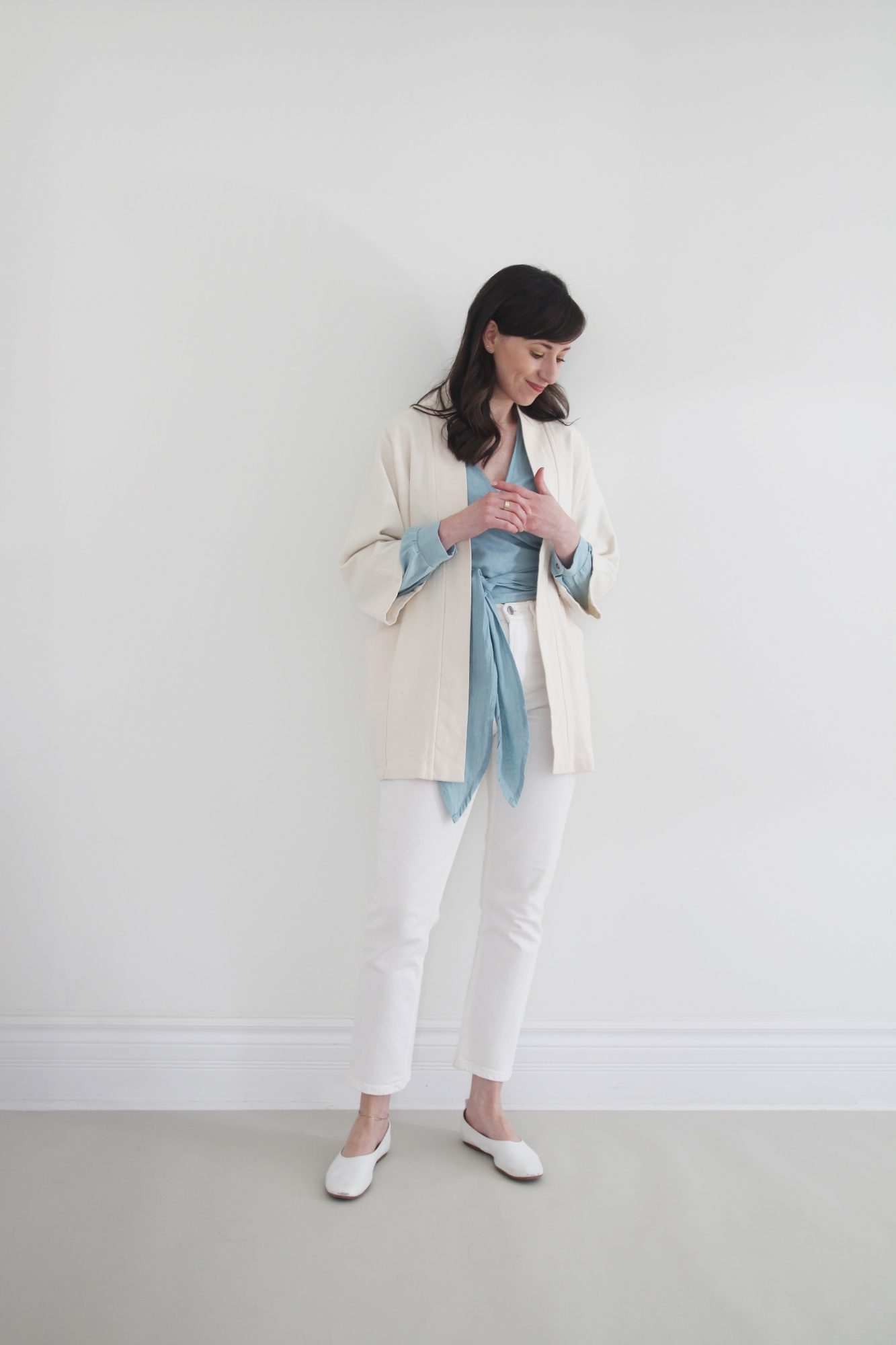 ---
Today's outfit prompt (I guess I'm doing those now, idk just roll with it lol) is to try giving yourself permission to dress up 'just because'. We all seem to save our favourite pieces for a special occasion but with none of those in the near future I say grab that cute wrap top, flirty dress, epic jumpsuit or the fun heels you would normally wait for a reason to wear.
Right now for me, that's this beautiful sky blue Thea wrap top, a piece I've treasured since my collaboration with EMLEE last year (see it here). Whenever I wear it my mood is instantly lifted and if paired with a good song and a glass of wine, well, there is just no stopping me!
With my favourite soft white jeans, minimal flats and a creamy little jacket (another long-time treasure) I'm still comfortable but the psychological effects of getting dressed up have a chance to work their magic.
Of course, if you're not in the mood for 'real' clothes, that's just fine too! Maybe it's just putting on lipstick, taking a bubble bath or making up the bed with fresh linens that you're up for. I say any small act that will help to bring a sense of optimism into your day is worthwhile!
---
SOURCES: THEA WRAP TOP gifted last year EMLEE (sky discontinued but the same top in IVORY and COFFEE are on sale!) // CARDIFF JACKET gifted years ago ONLY CHILD (wearing a Small) // WHITE CHEEKY JEAN (I wear a 26 in this style) & DAY GLOVE from EVERLANE (unsponsored review here) //
---

---
THE COLLAGE
---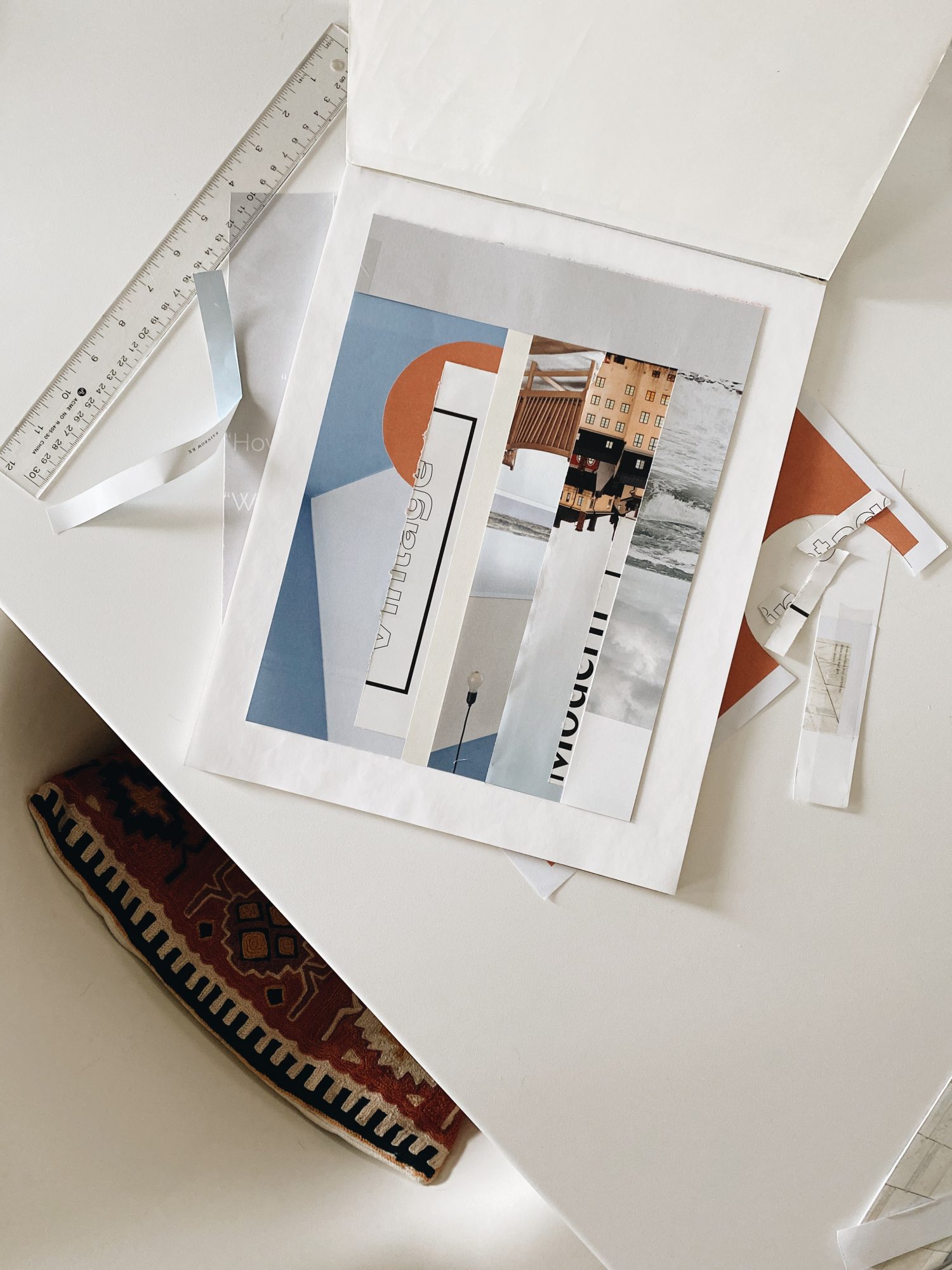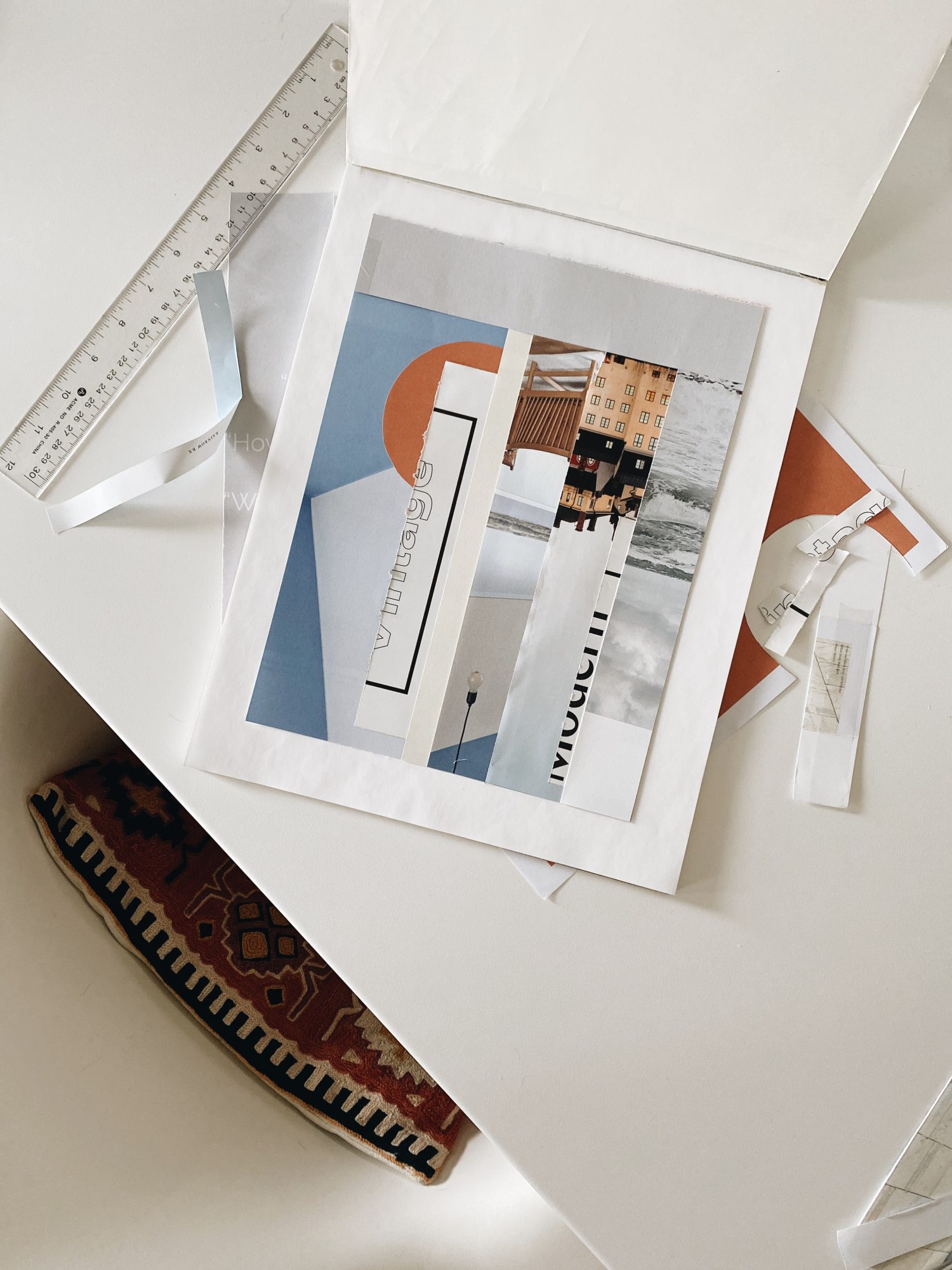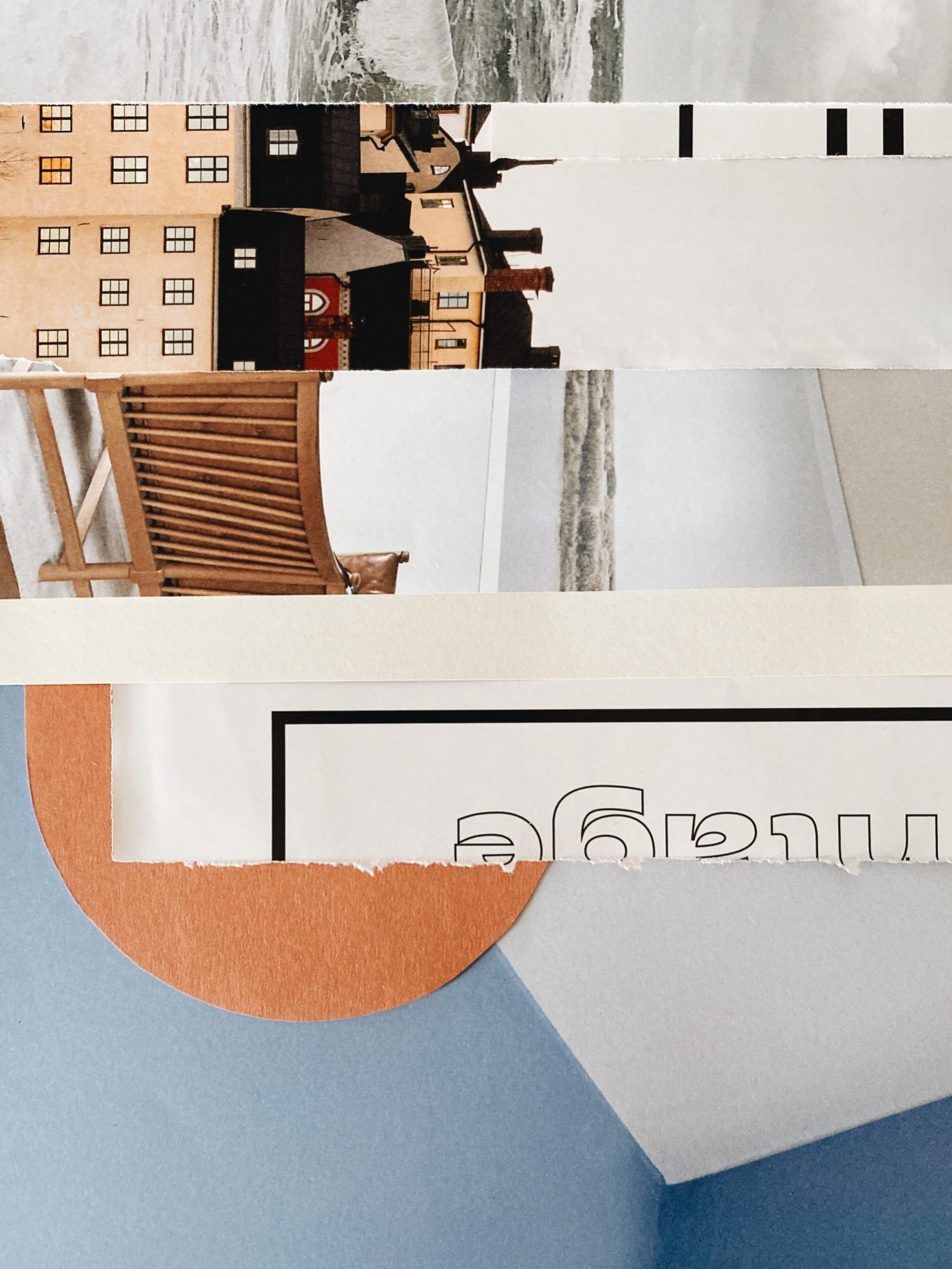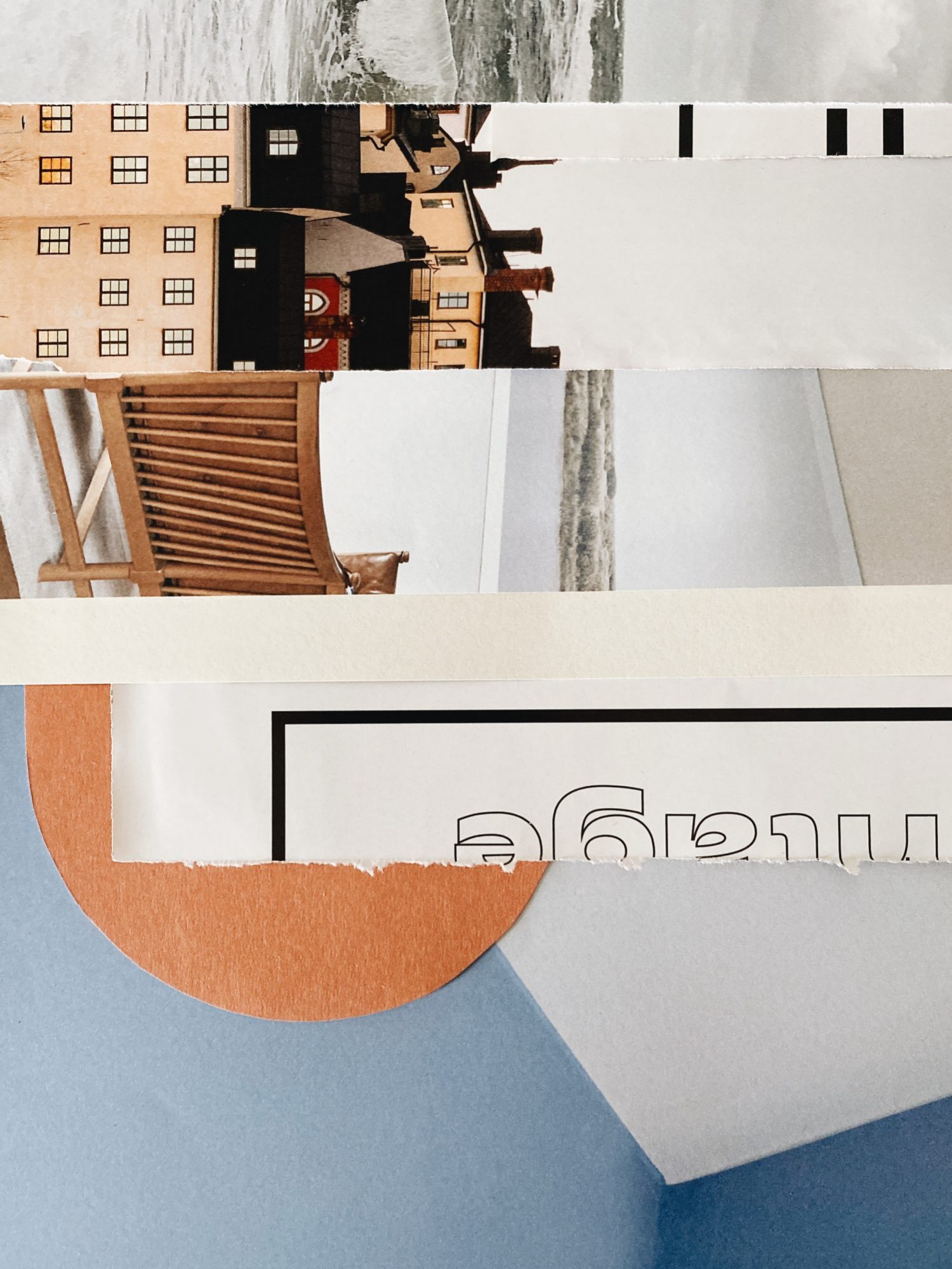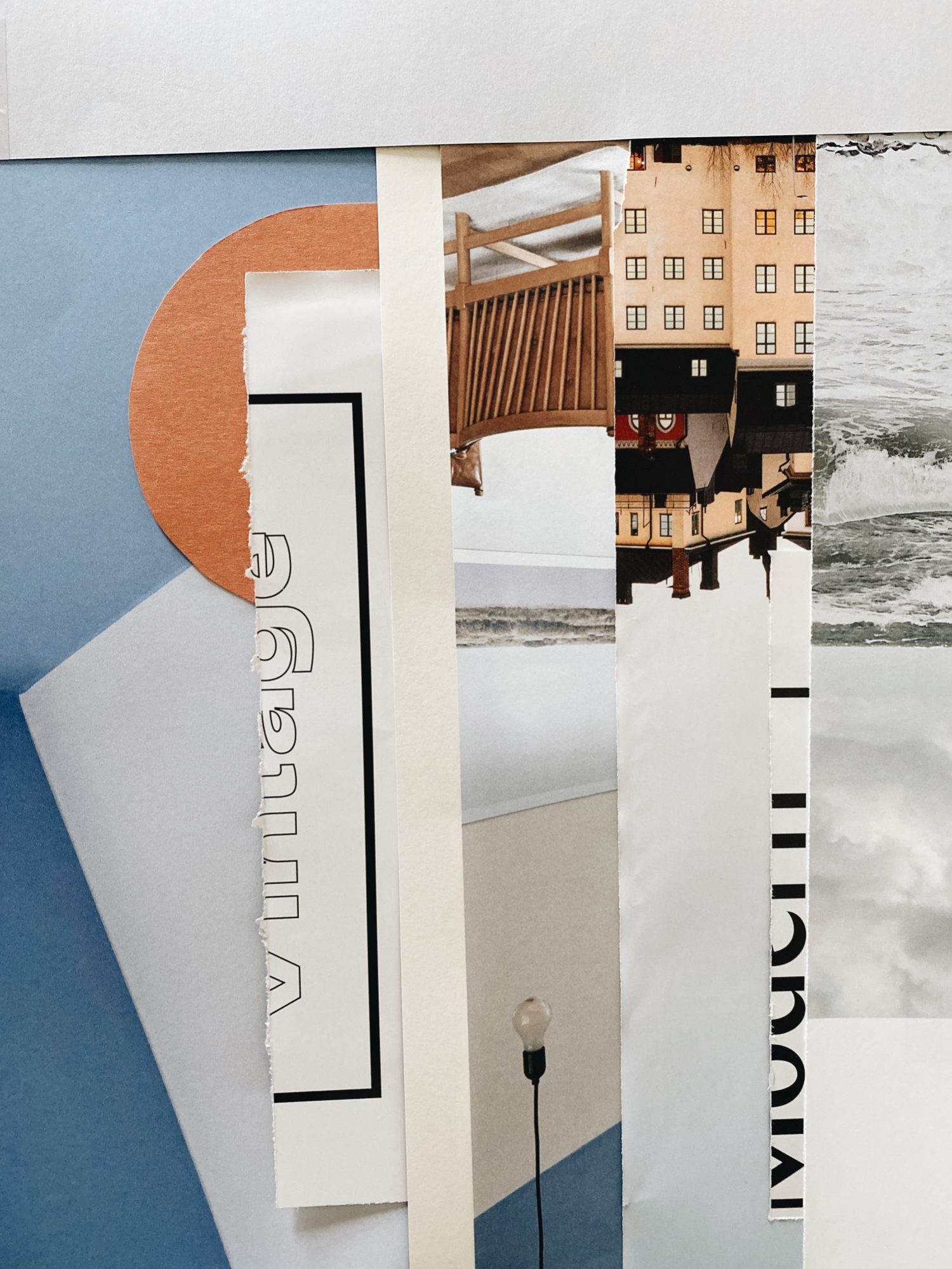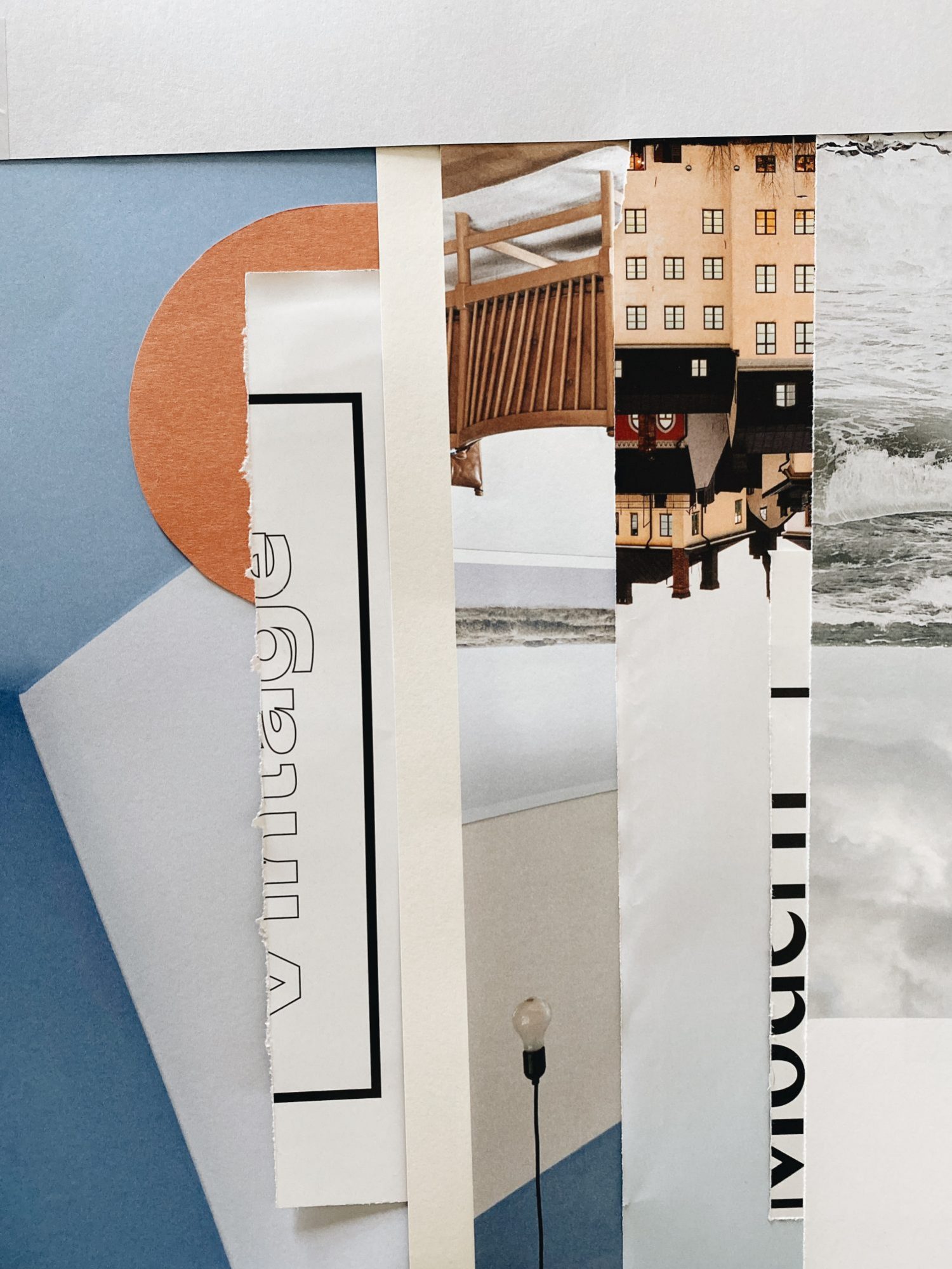 ---
I'm so glad I committed to doing these collages this week and I've really noticed how much I look forward to the hour I set aside to create. I've been doing them distraction free, meaning no screens, no Netflix, music or podcasts running while I flip through the pages and play with layers.
At first I felt super antsy about the silence but each day I've been noticing how my awareness changes. I'm loving the sound of the pages brushing together, the different feeling of glossy vs matte paper on my fingertips and the satisfaction I get from a page that tears out easily is not to be under appreciated.
This may sound boring, or pointless even, but it's a form of meditation and if it helps my mental health, I say it's worthwhile!
---
THANKS FOR JOINING ME FOR SPRING COLOUR #3!
I hope these posts have been bringing some brightness and calm to your days this week. I know we're all going through this experience in different ways from different perspectives. One of my coping mechanisms is to continue to create and share what I love. It doesn't feel like enough right now but at least it's something. Know that you're all in my thoughts and I'll see you back here again tomorrow!