Who's ready for an epic outfit roundup? Well, hopefully you are since that's what today's post is all about! Even though capturing daily looks hasn't been a priority lately, I've started to get back into a rhythm and it always feels good to play with style.
This roundup spans back to early summer and includes a range of looks that can work for hot days and cool ones alike. One of my favourite warm weather combos is wide leg pants paired with white t-shirts or crop tops. Another summer uniform I love involves swingy dresses with block heels or flip flops. So if either of those are your thing, read on!
My style this season has been about celebrating the little things, like letting my hair do its own thing and playing with lip colours. It's also been about wearing my older summer favourites and getting lots of use out of the select new pieces I've added.
I hope this post can boost your style inspiration a little bit and serve as a reminder that sometimes (or all the time?) simple is the way to go.
---
This post was not produced in partnership with any brands mentioned but does contain affiliate links and some gifted items. If you see something you like and decide to shop through the links included, I may earn commission at no additional cost to you. All opinions are always my own and I only feature items I love to wear. Thanks for supporting Style Bee!
---
LOOK 1
MINI DRESS + GOLD JEWELRY + BLOCK HEELS
---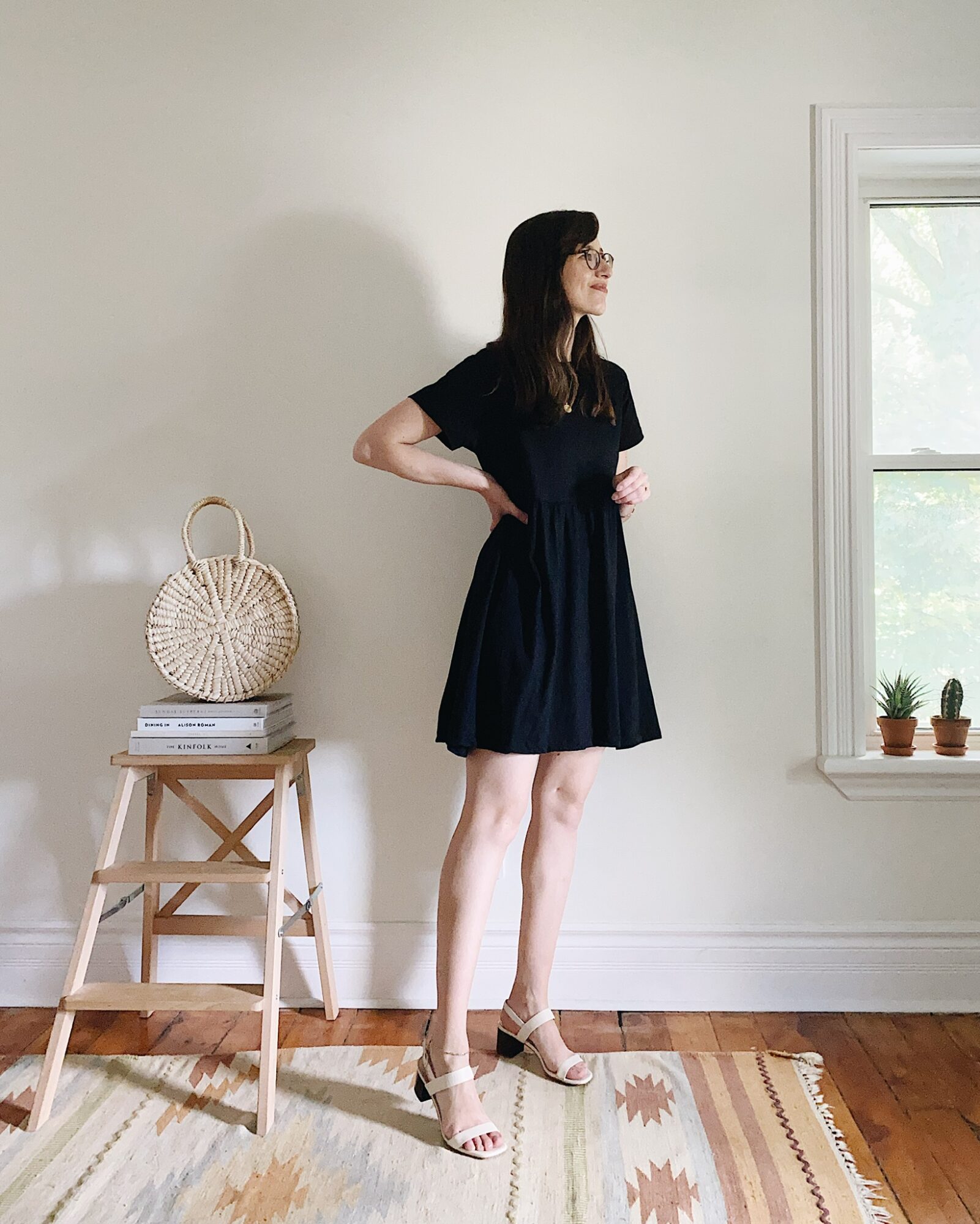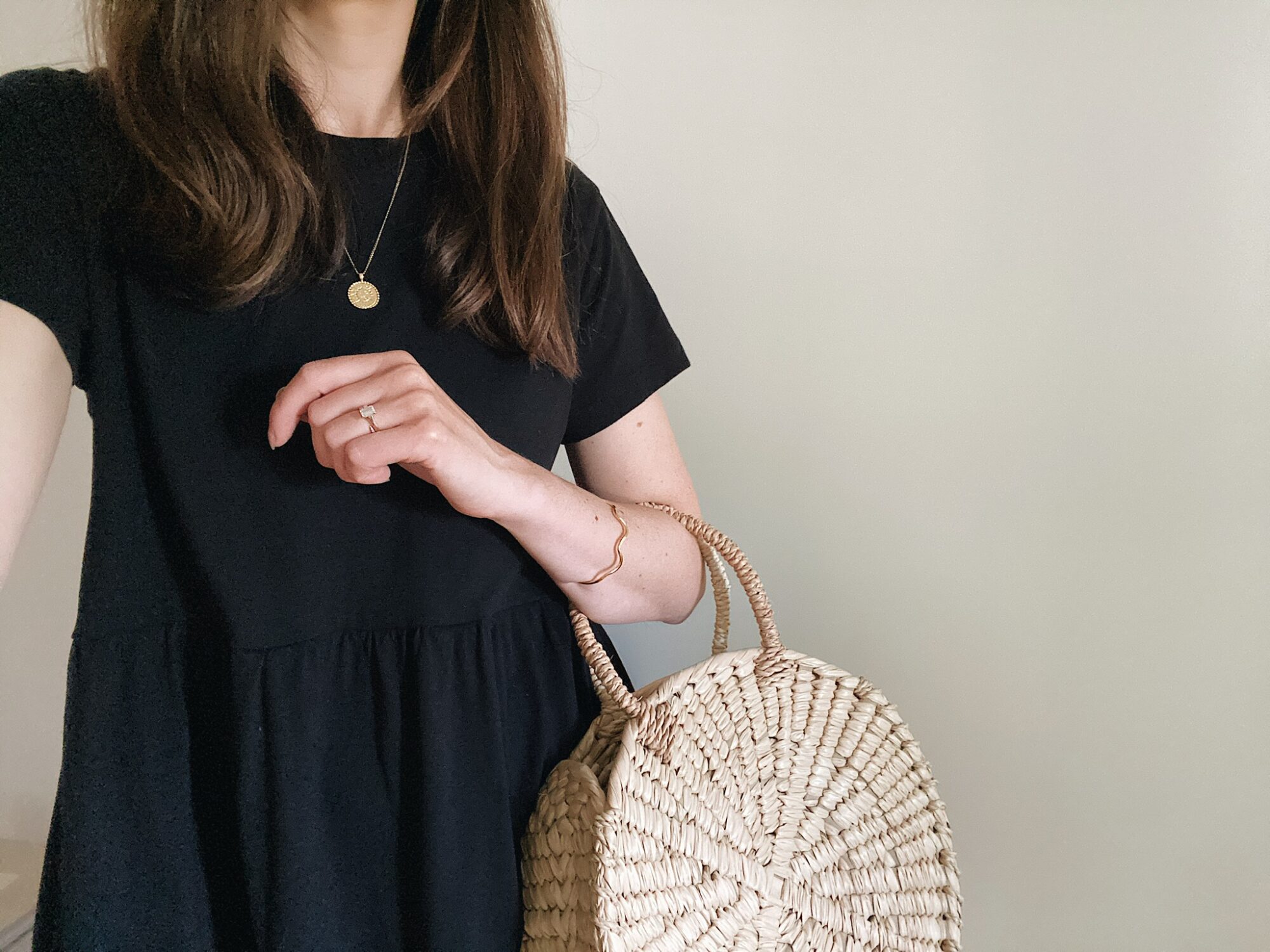 ---
SHOP LOOK 1

---
LOOK 2
CROP TANK + CREAM PANT + MULES + RED LIP + ANKLET
---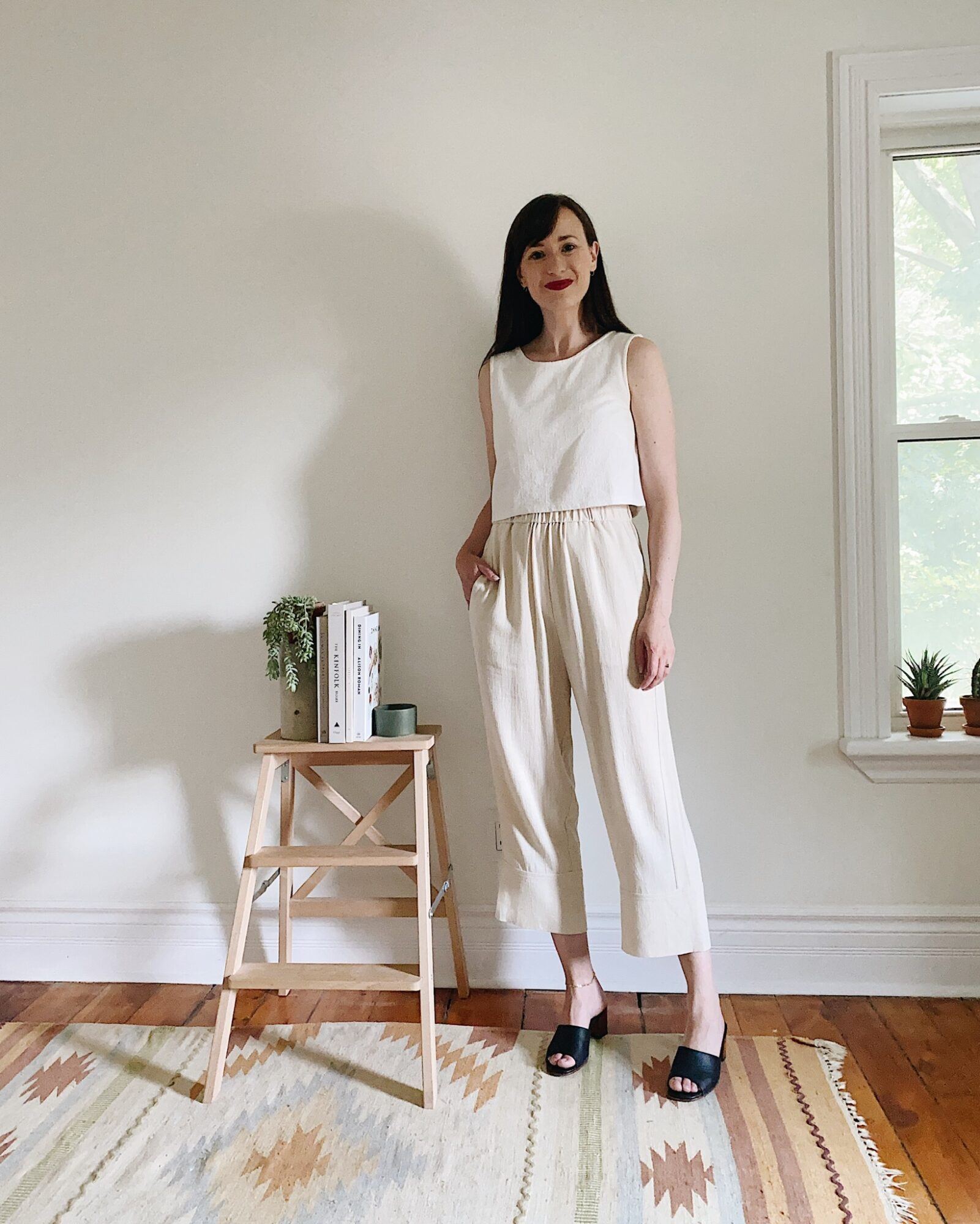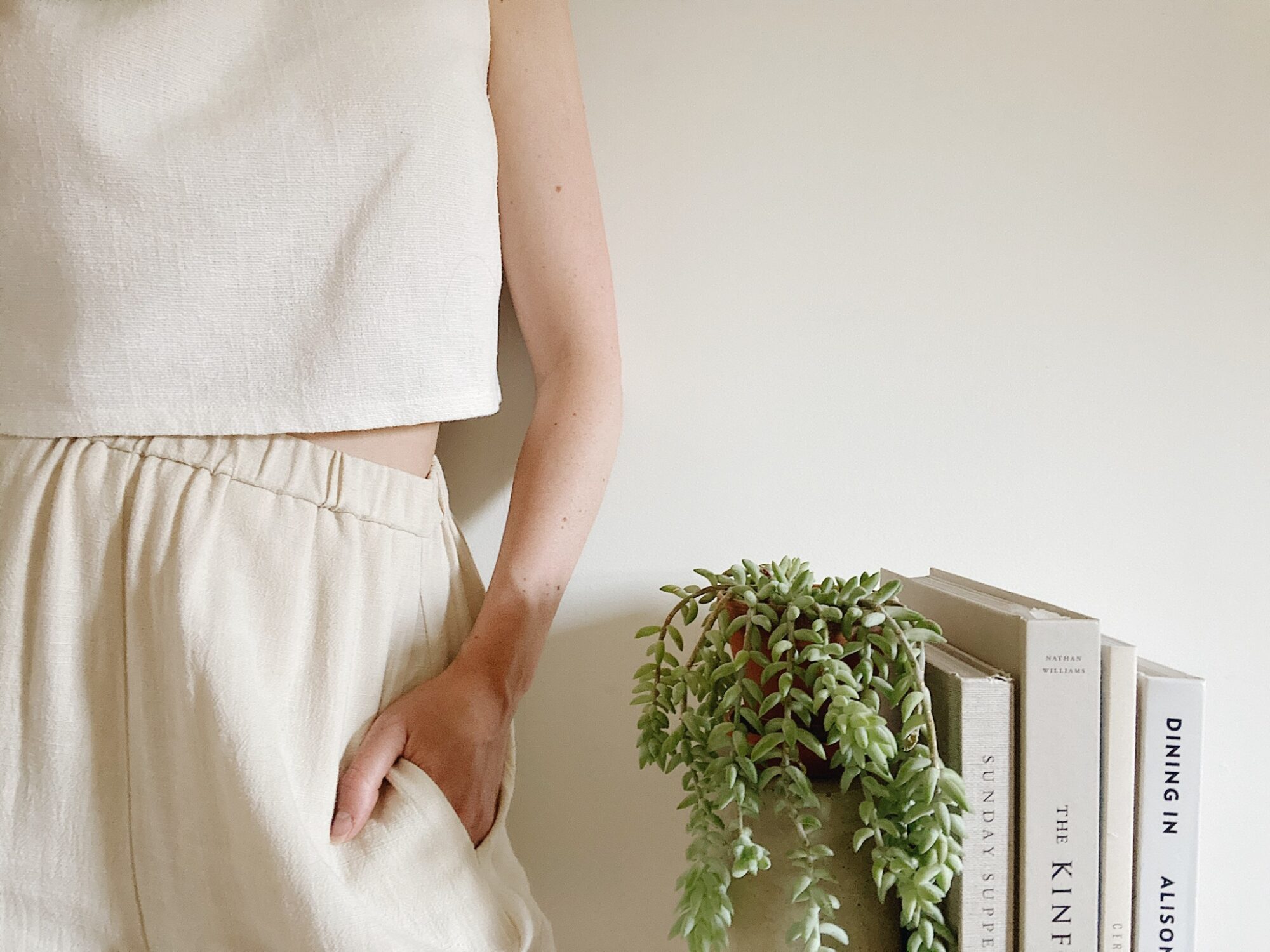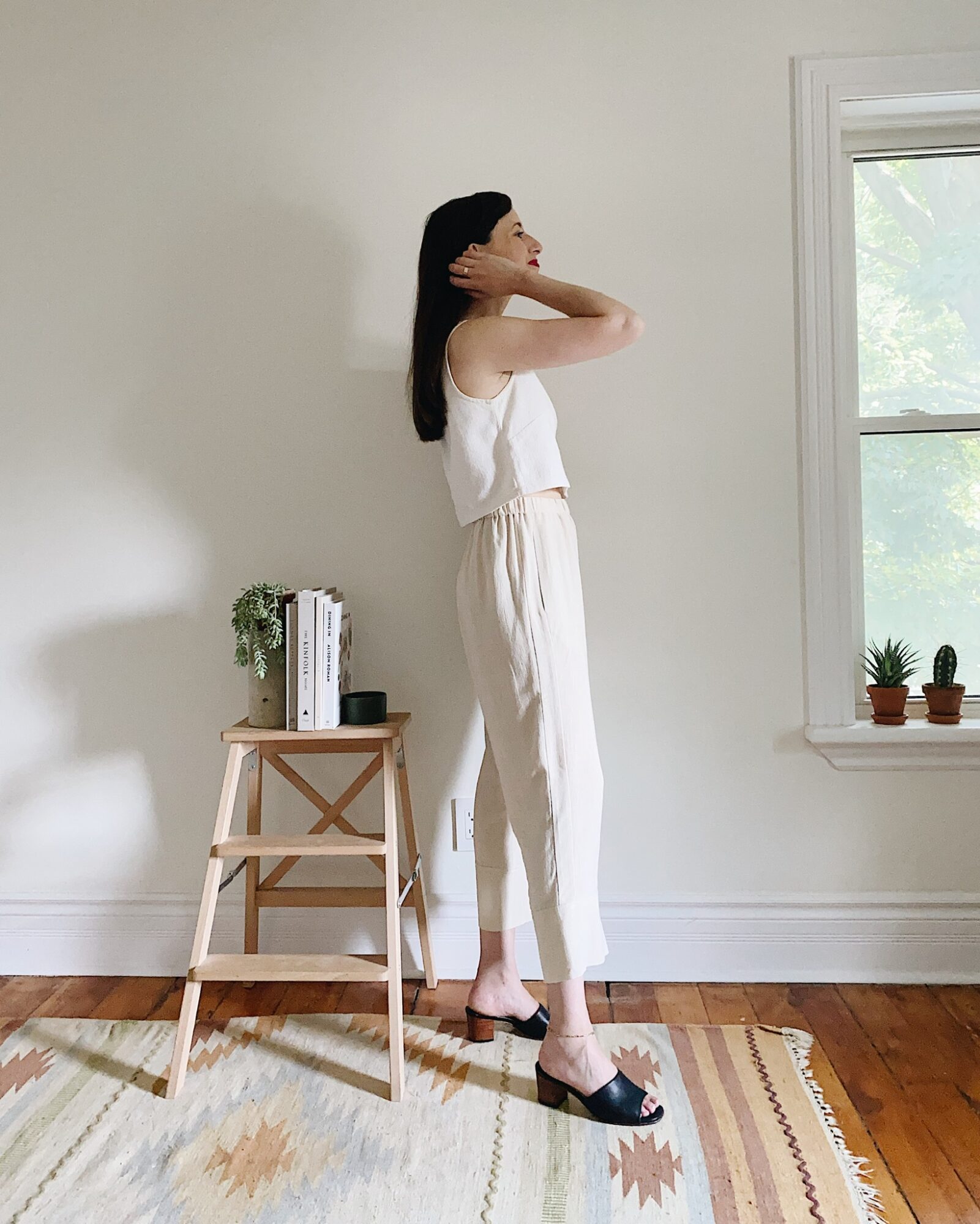 ---
SHOP LOOK 2

---
LOOK 3
MIDI SLEEVE TEE + LIGHT DENIM + CLEAR FRAMES + FUZZY SLIPPERS
---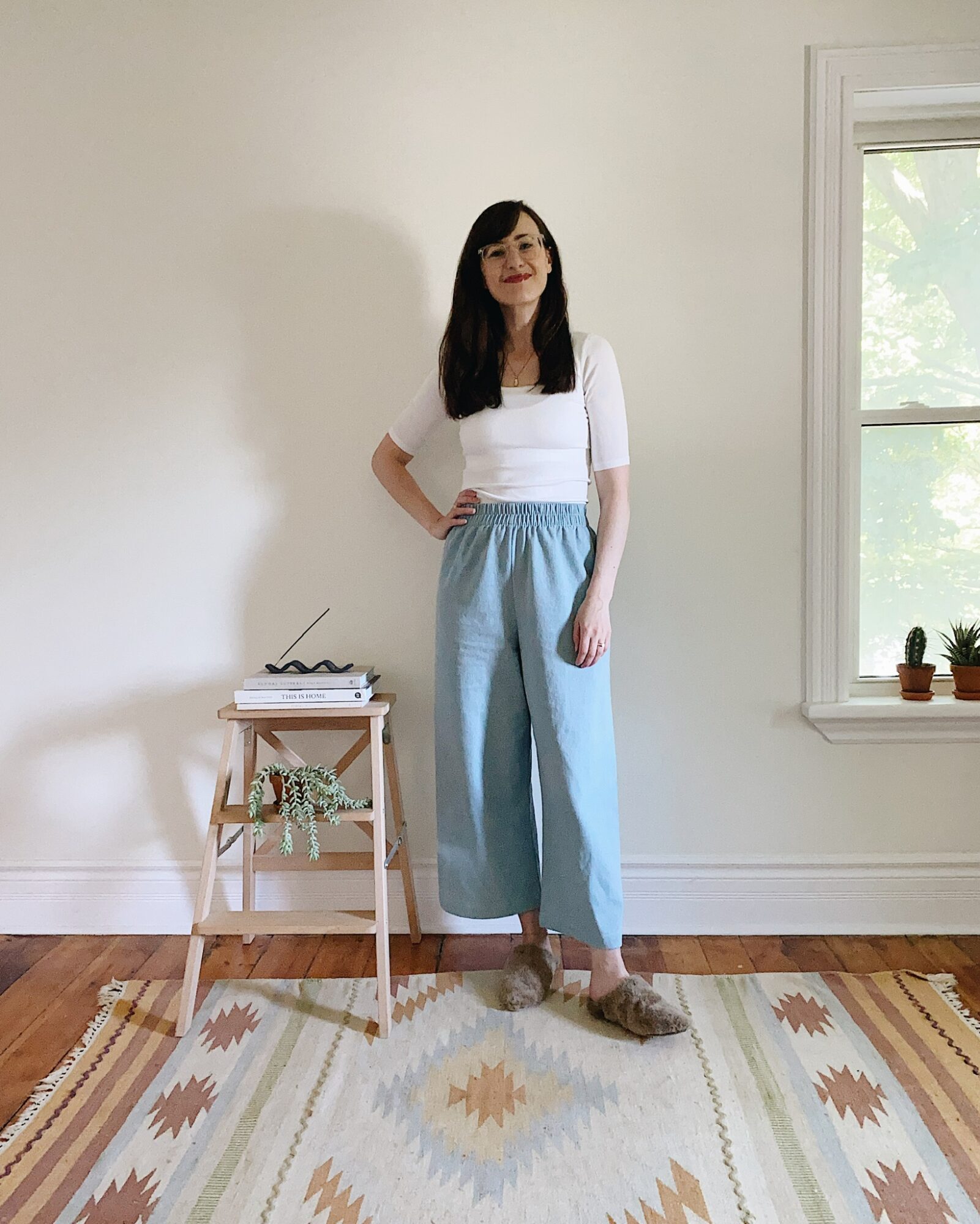 ---
SHOP LOOK 3

---
LOOK 4
MATCHING LINEN TRENCH + PANTS + WHITE TEE + BROWN SLIDES
---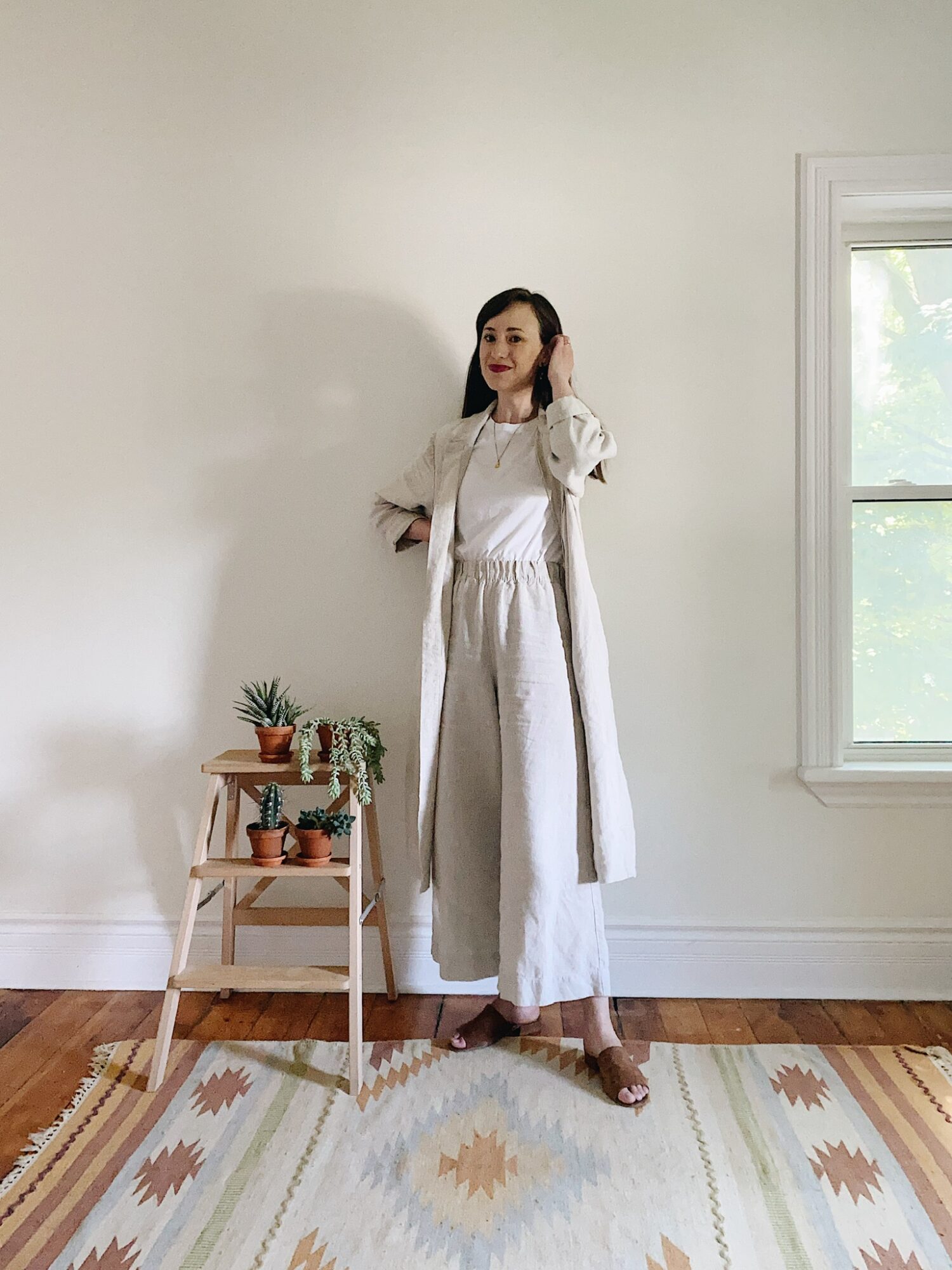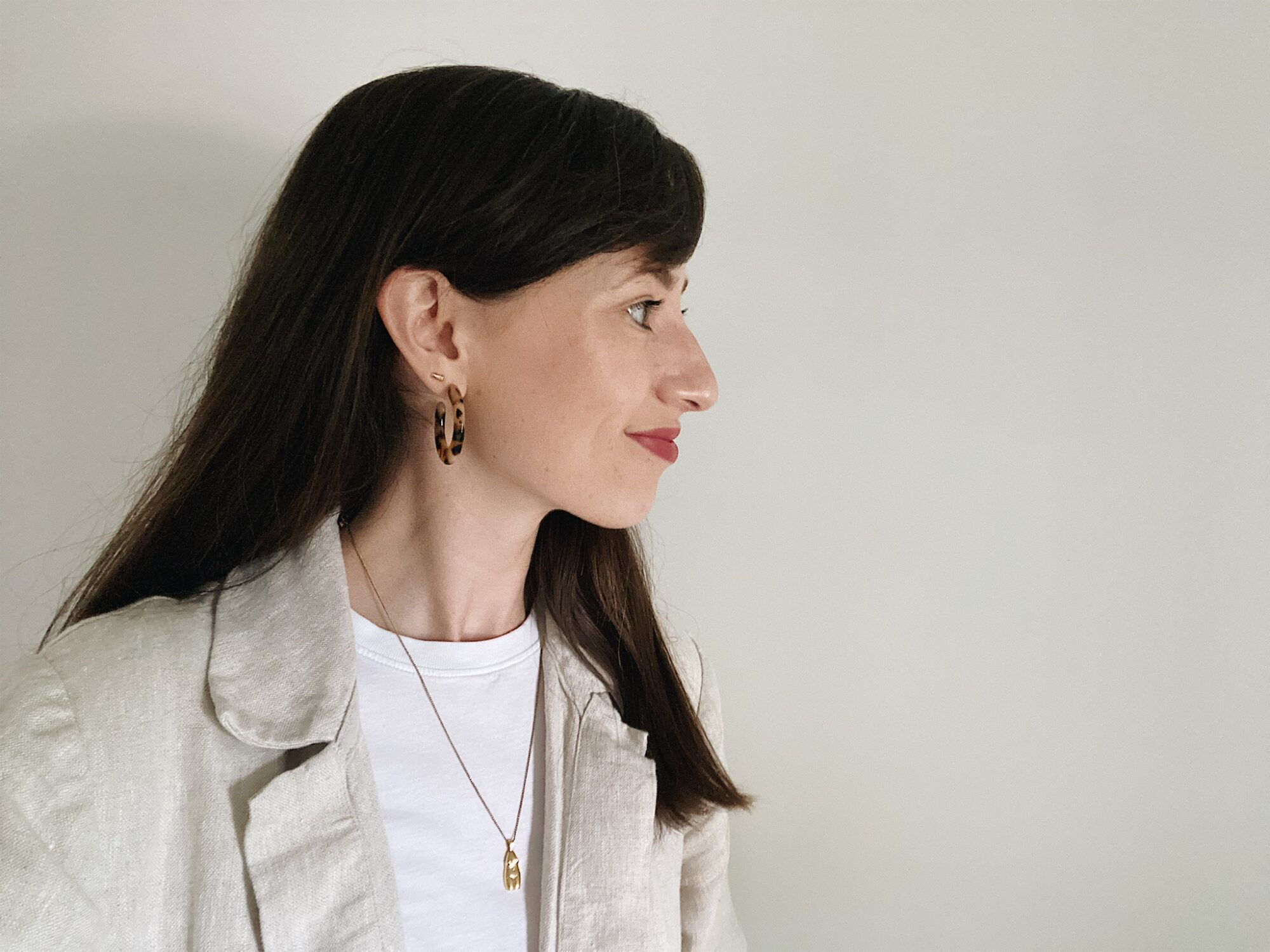 ---
SHOP LOOK 4

---
LOOK 5
GAUZY BLACK DRESS + COTTON CARDIGAN + CHIC FLIP FLOPS
---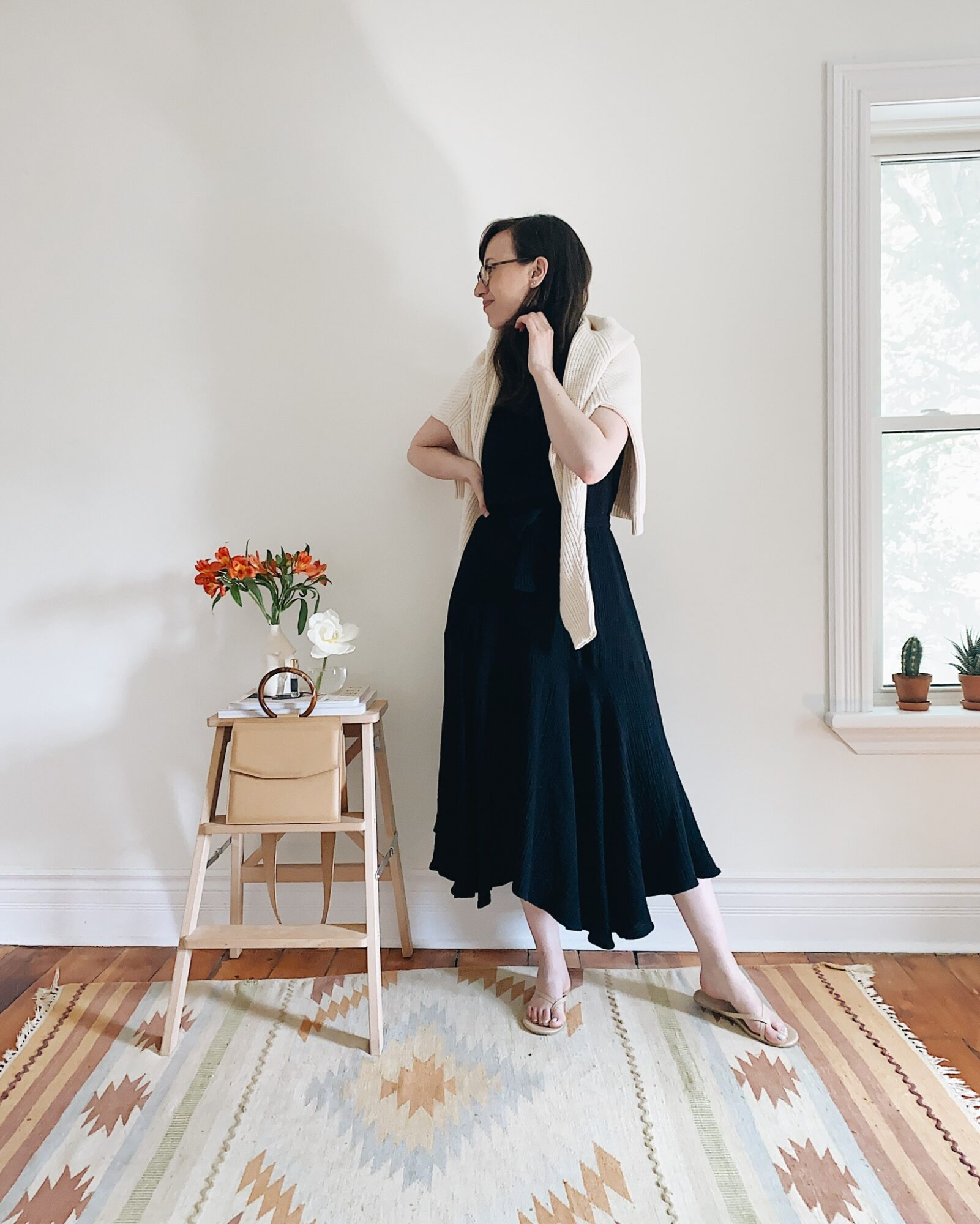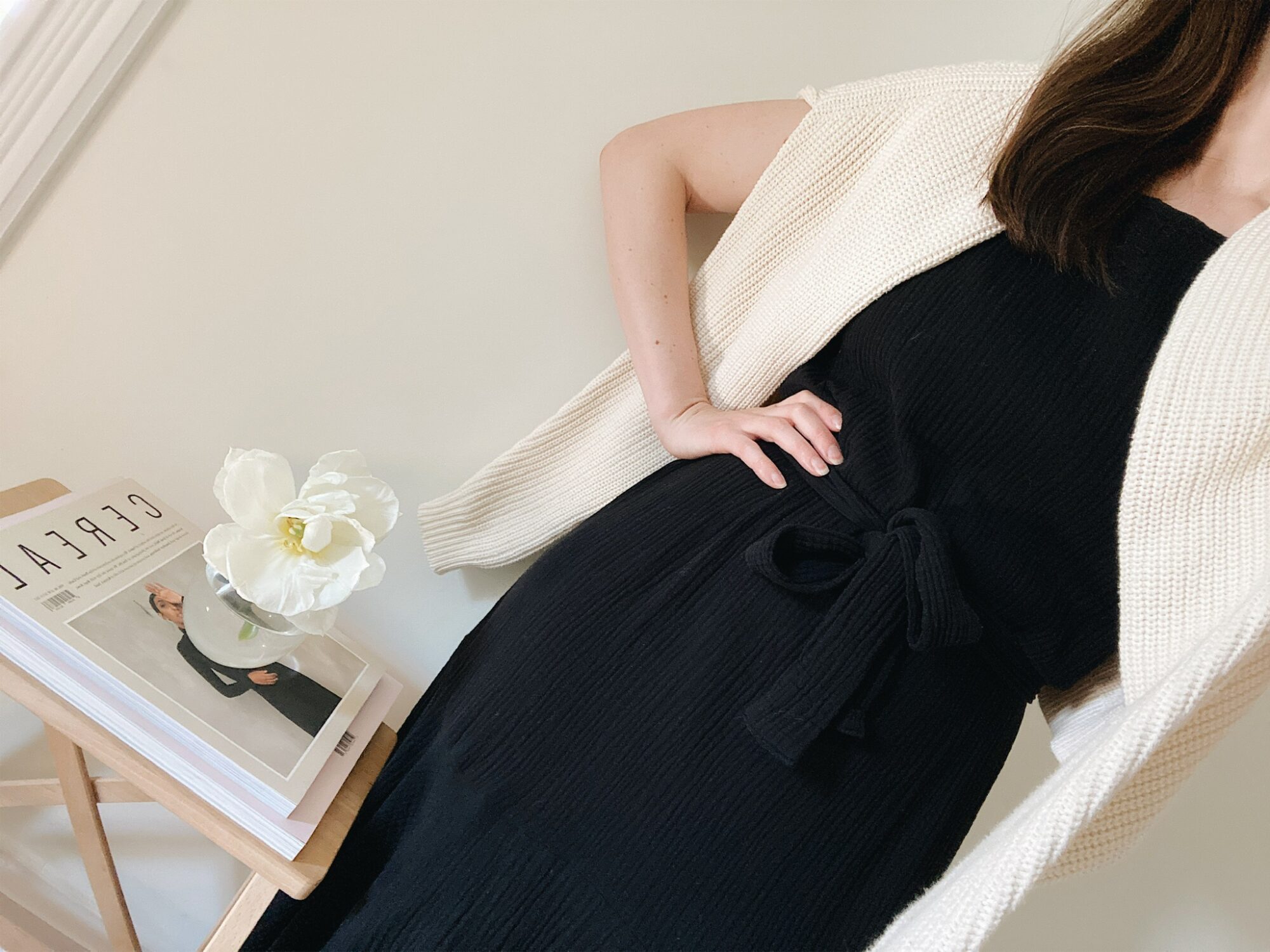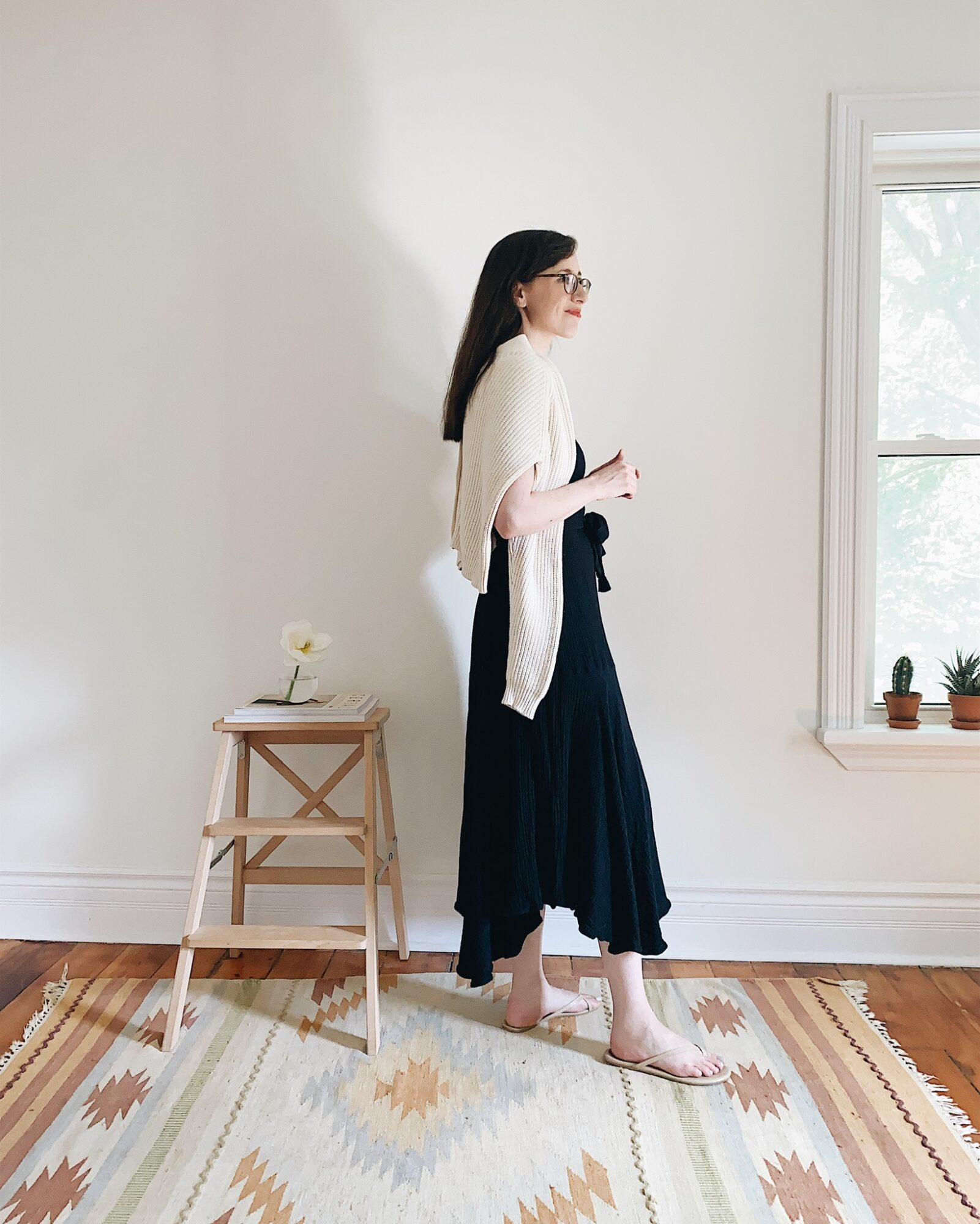 ---
SHOP LOOK 5
DRESS – OLD – Linked to a similar option here.
SWEATER – Anna Cotton Cardigan gifted in 2019 | I wear a small | This is my favourite sweater for the summer.
FLIP FLOPS – Riley in Sunkissed | TTS I wear my usual 7

---
LOOK 6
KNOTTED TOP + SILKY PANTS + FLIP FLOPS
---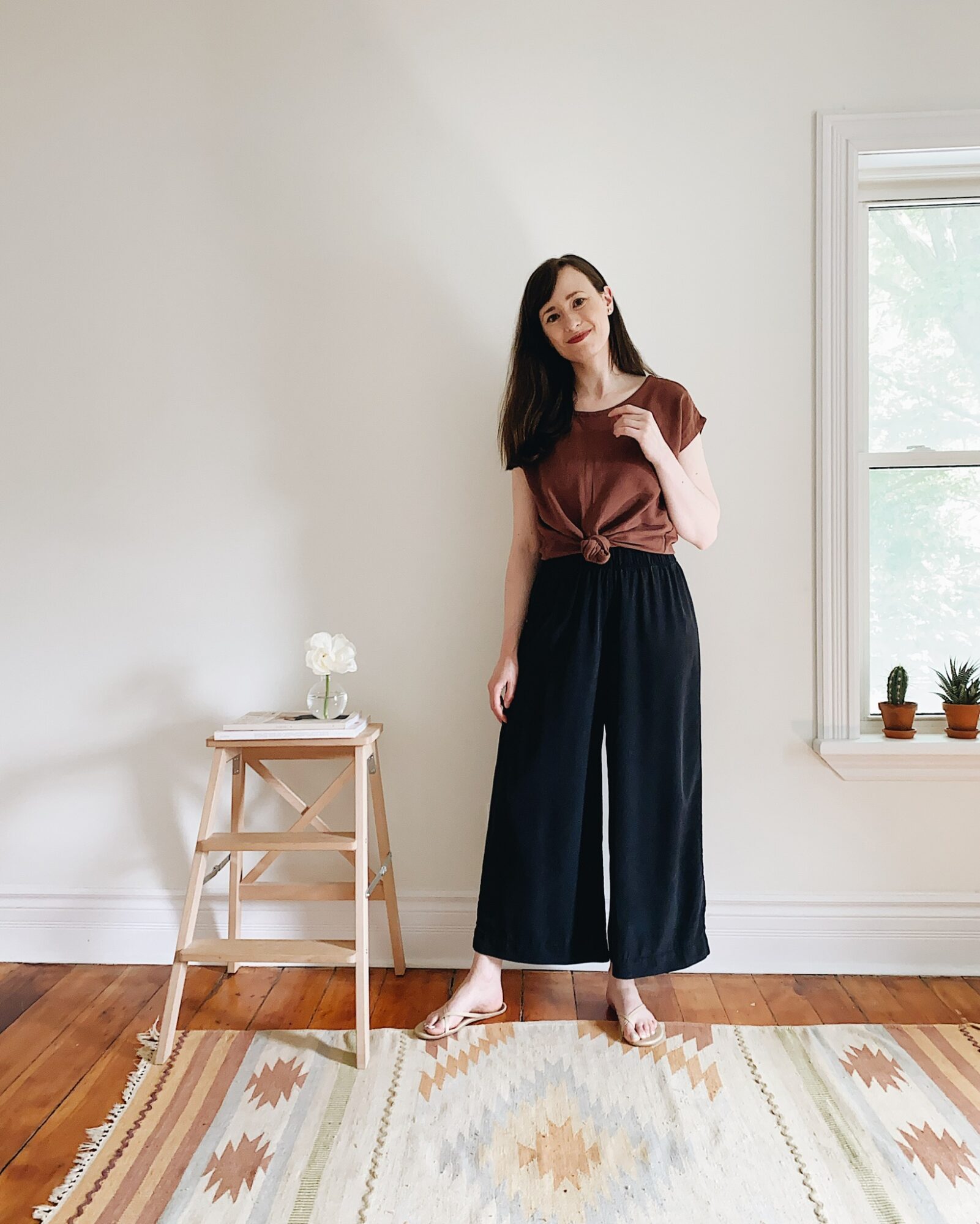 ---
SHOP LOOK 6

---
LOOK 7
FLAX LINEN TRENCH + BLACK TEE + UMBER PANT + SUEDE SLIDES
---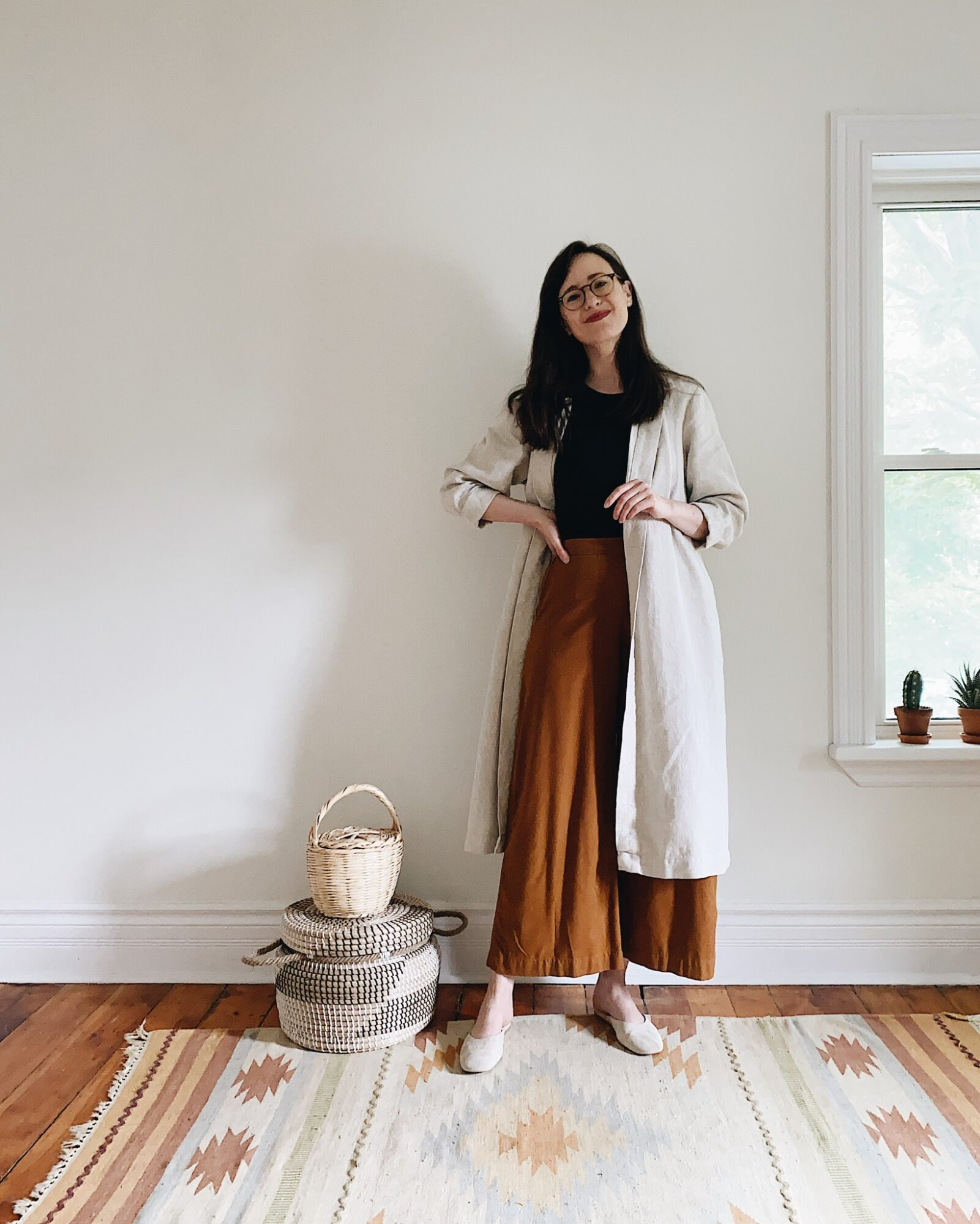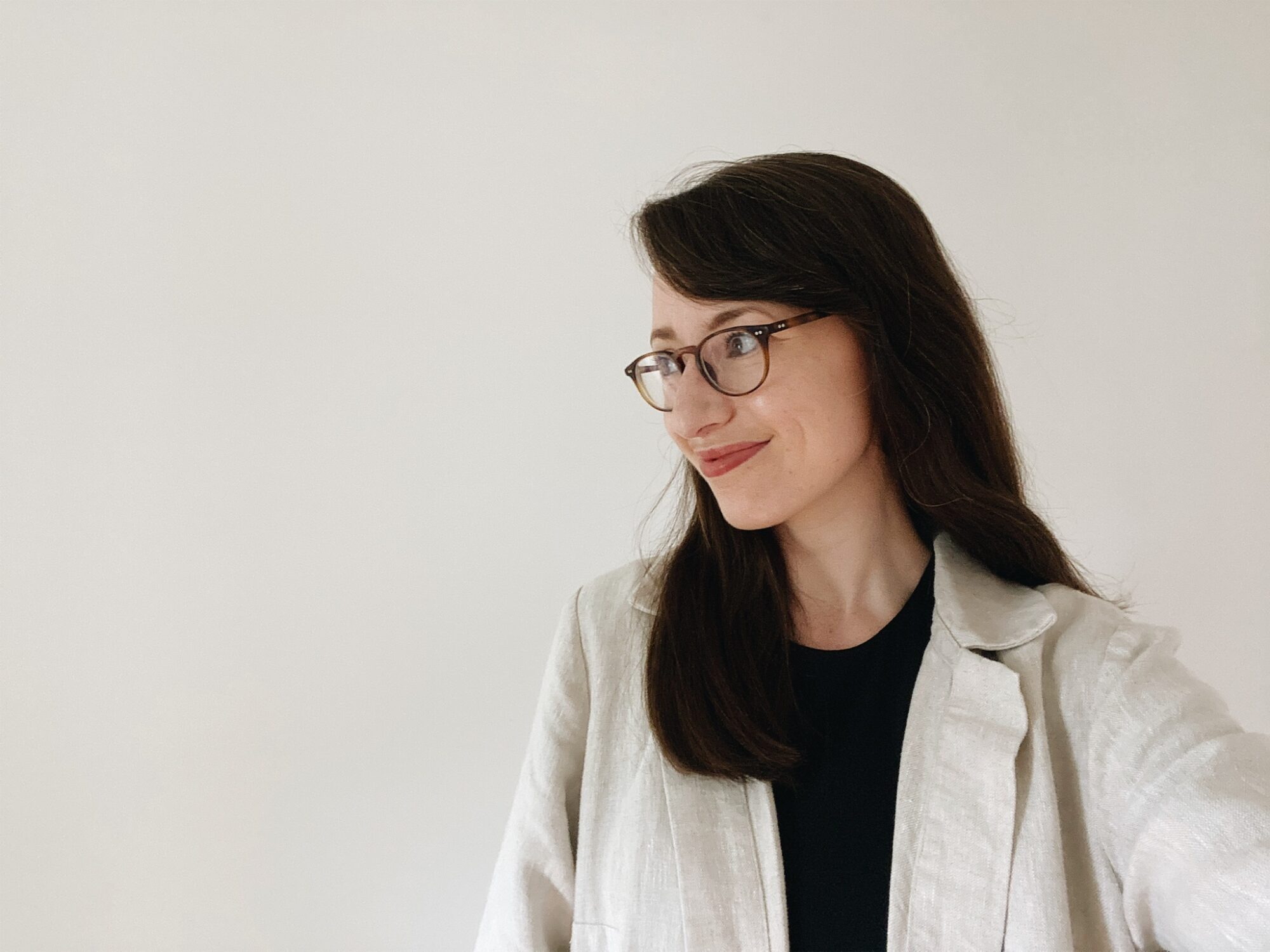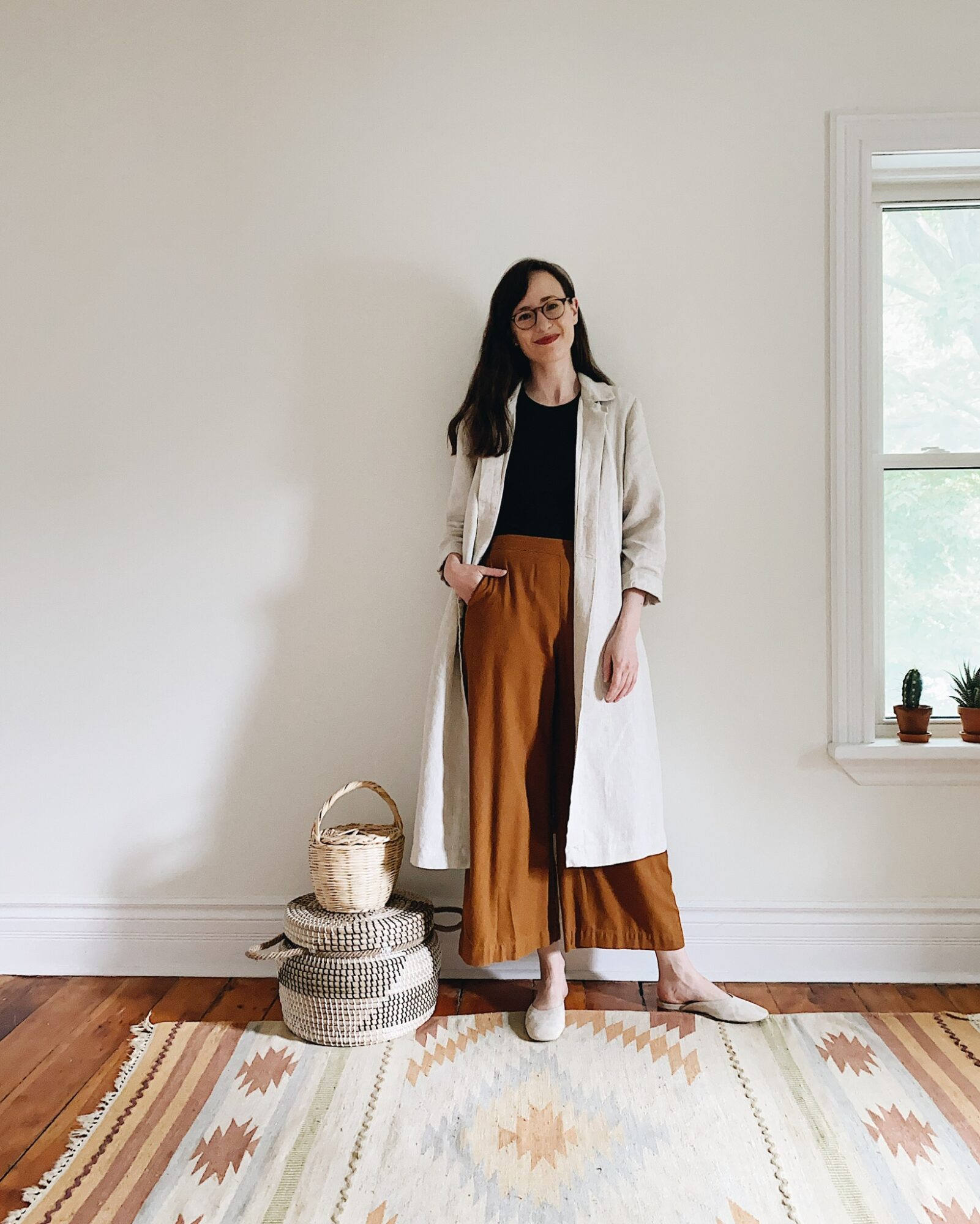 ---
SHOP LOOK 7

---
LOOK 8
GREEN BOX TOP + MOSS SILK PANT + WHITE FLATS + STATEMENT EARRINGS
---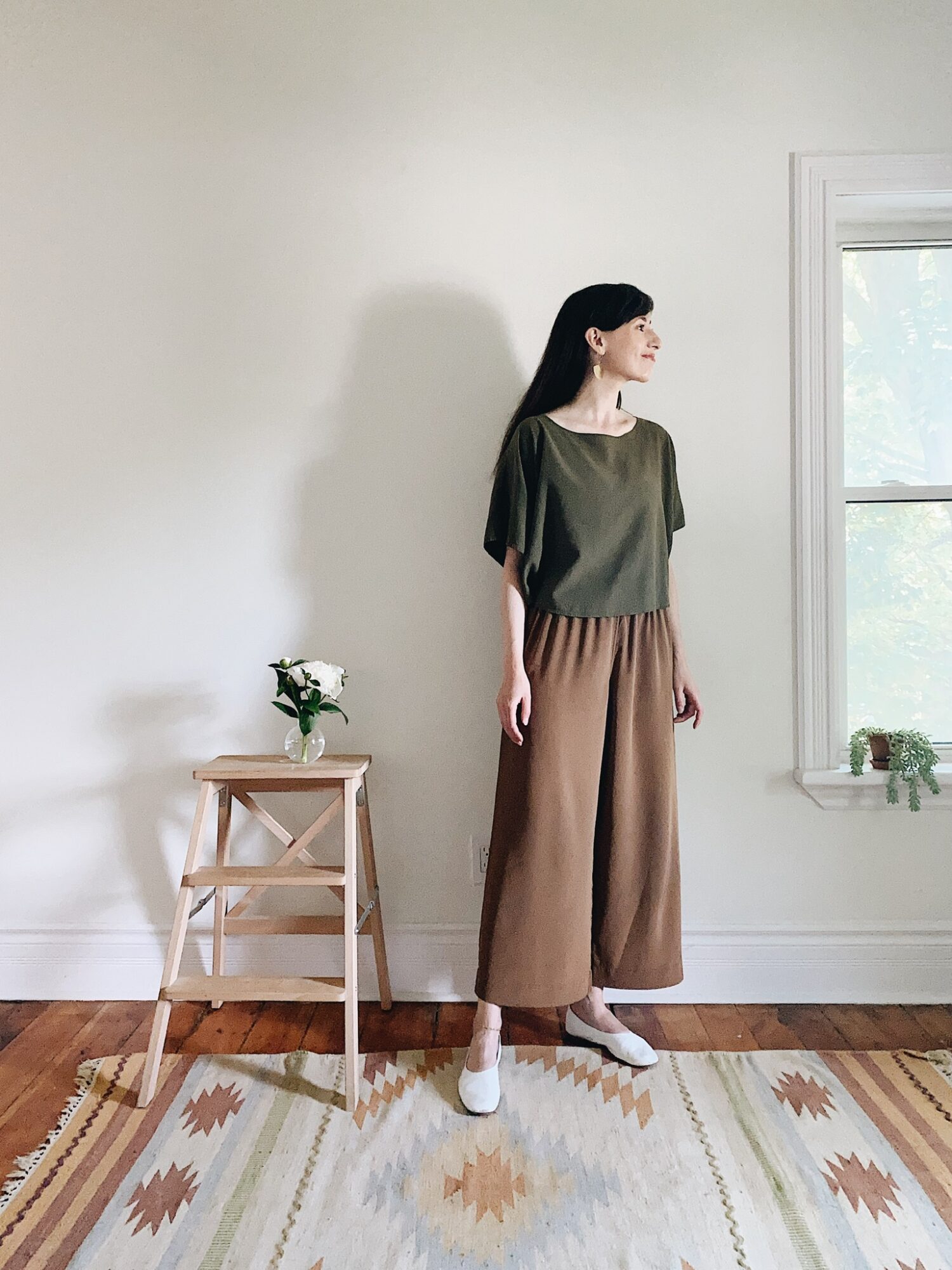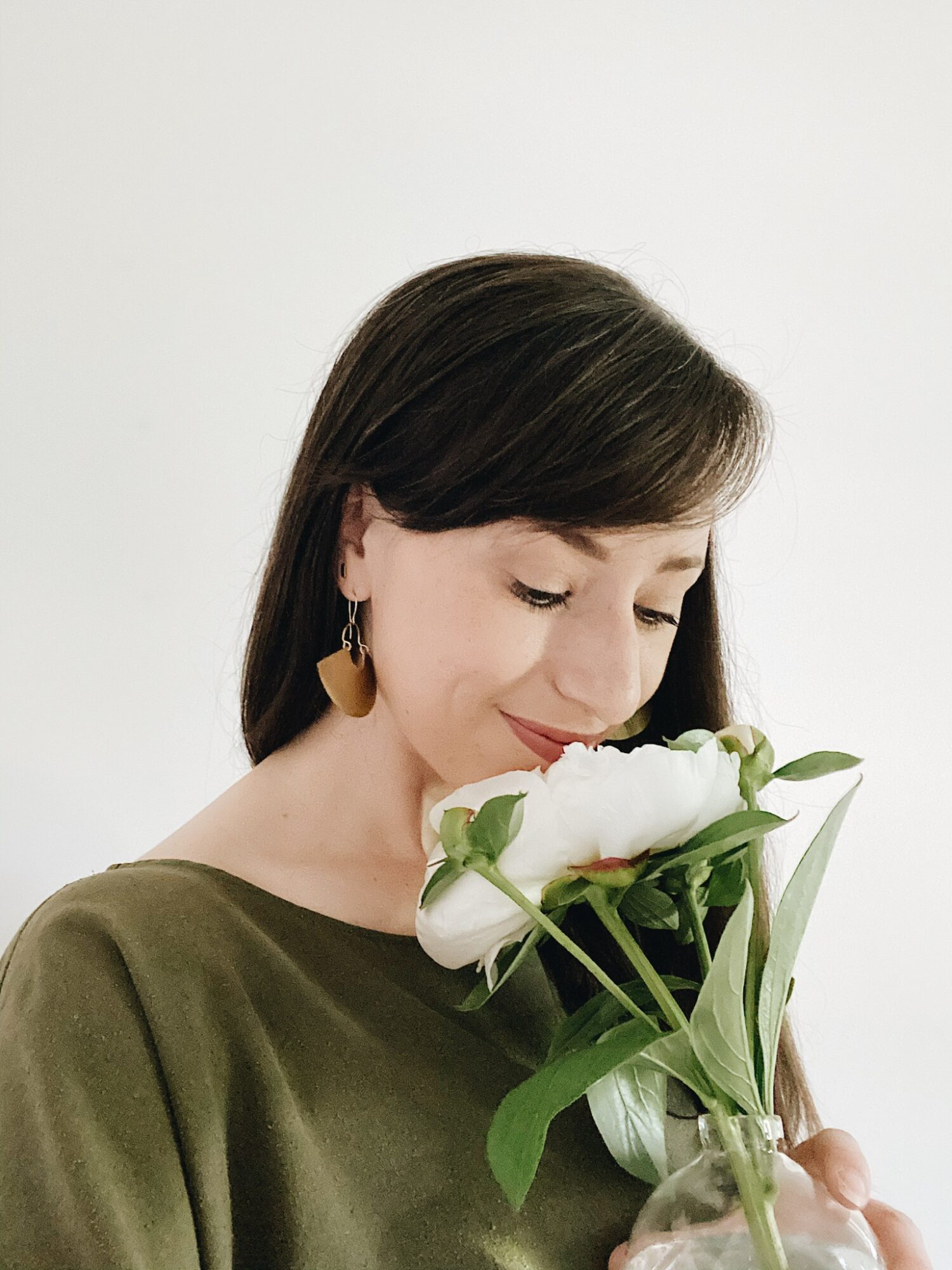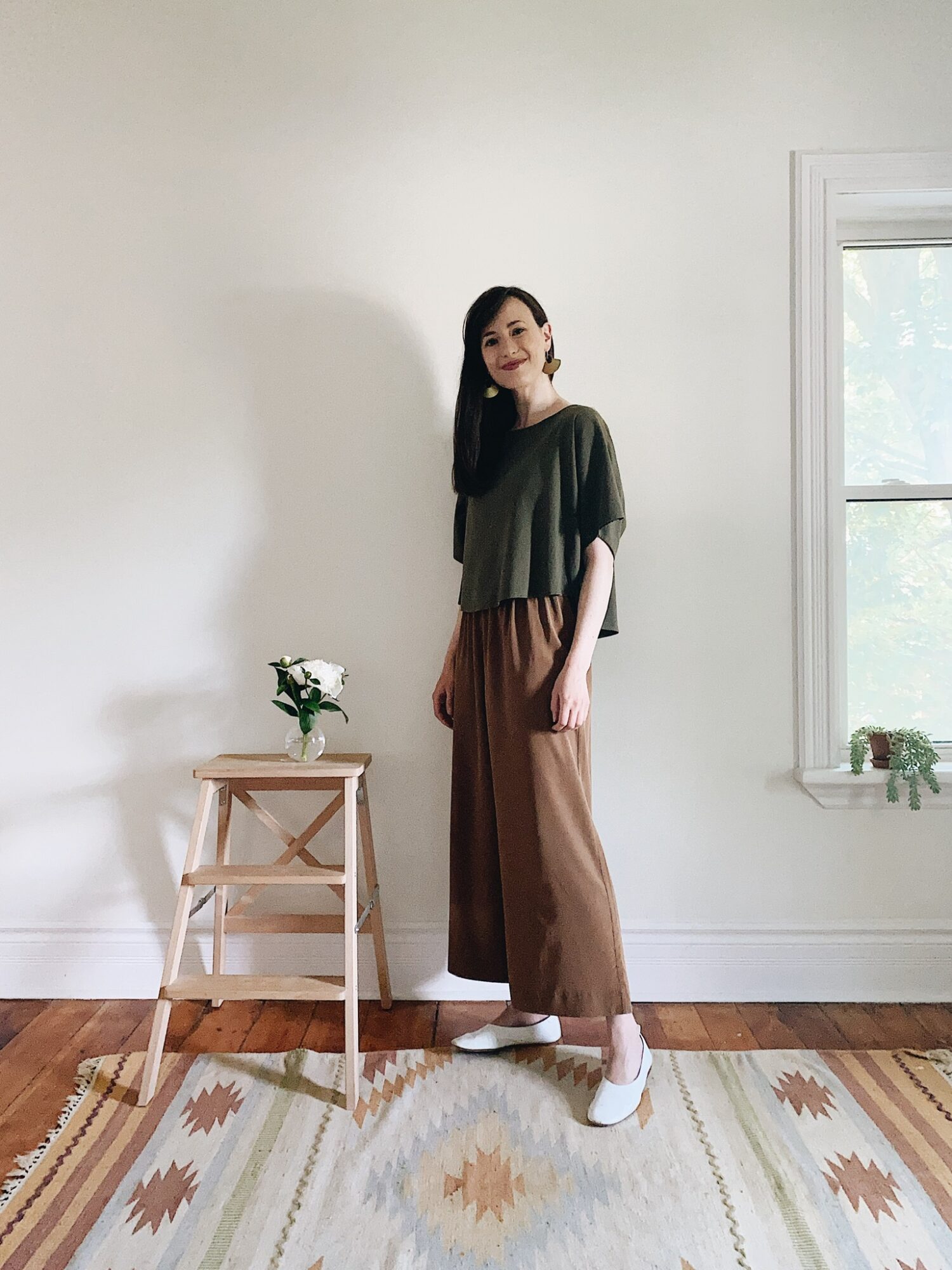 ---
SHOP LOOK 8

---
LOOK 9
LINEN TRENCH + BLACK JUMPSUIT + FLIP FLOPS
---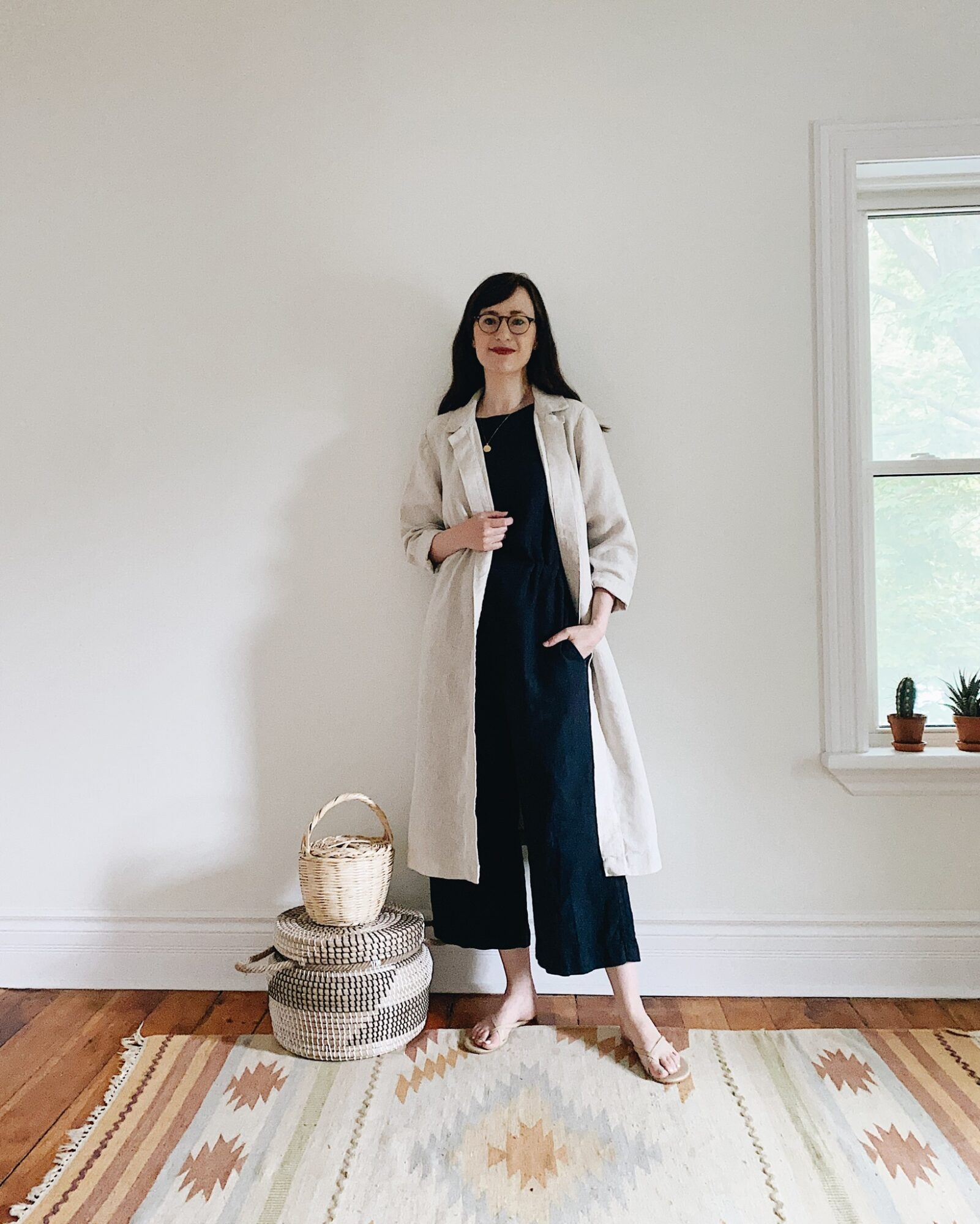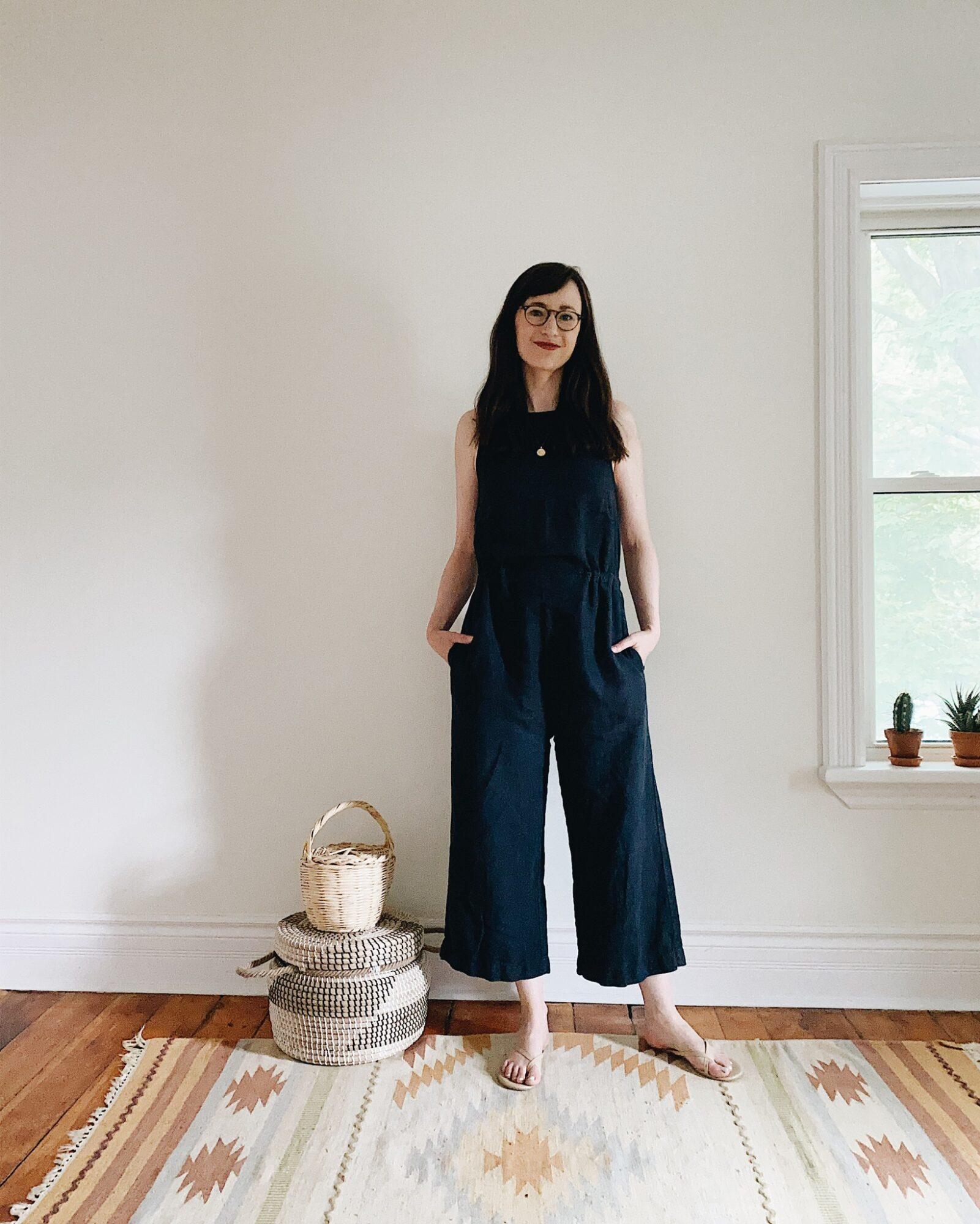 ---
SHOP LOOK 9

---
LOOK 10
RED WRAP DRESS + SANDALS + SCENTED SPRITZ
---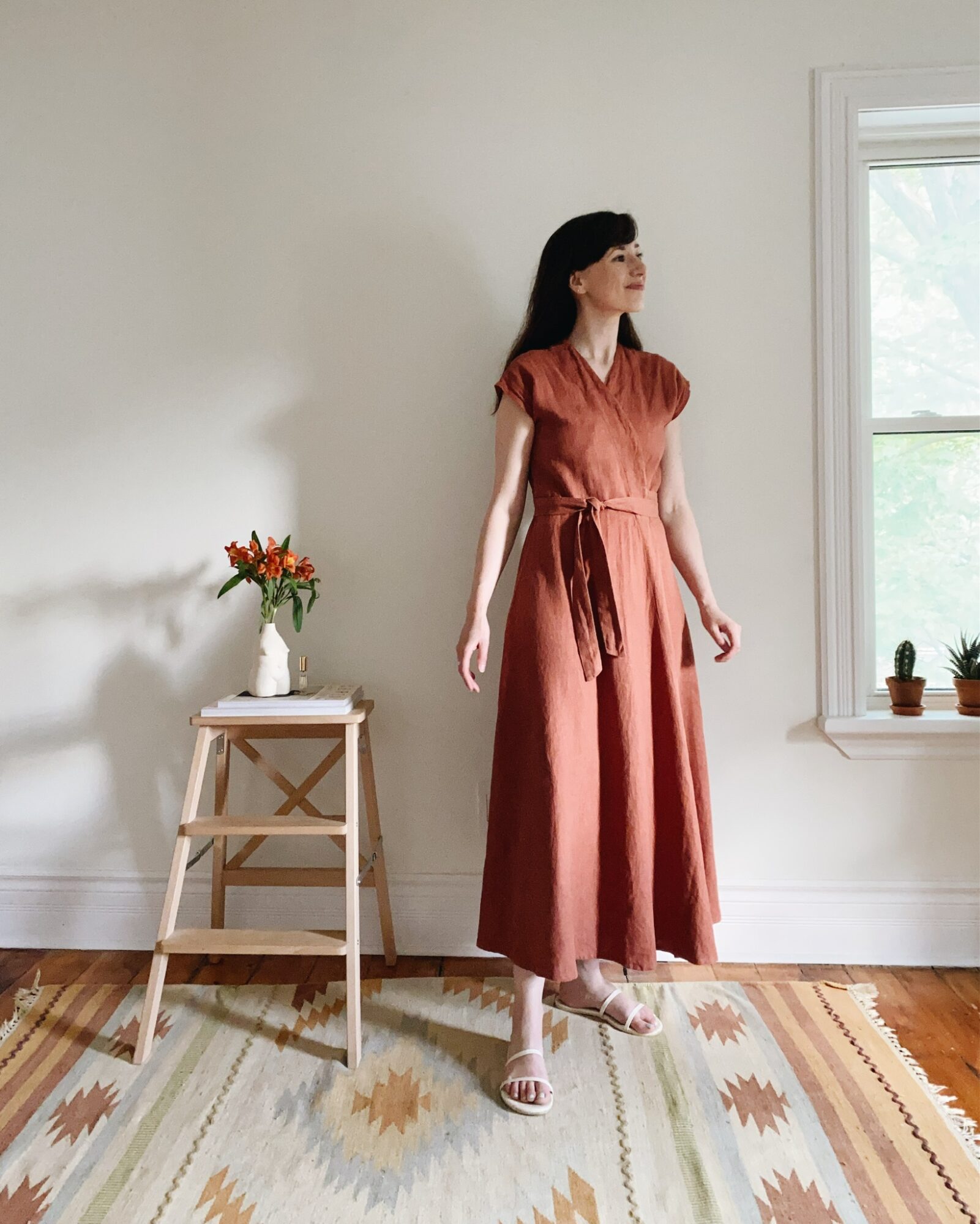 ---
SHOP LOOK 10
DRESS – Rust Linen Wrap Dress* gifted in 2019 | Colour is no longer in production but 3 colours are currently available here | I wear a size S | *Linked to a very similar style in rust linen at a great price. More below.
SANDALS – Gemma Slide Sandal | Runs TTS but slightly narrow | 9 colour options and they're a great price at $50 USD (free global shipping)
OTHER – Woman Vase | Made in Canada) | Otis & Me Fragrance by Jazmin Saraï | Made in Canada

---
LOOK 11
LIGHT DENIM + WHITE T-SHIRT + LINEN TRENCH + WOVEN MULES
---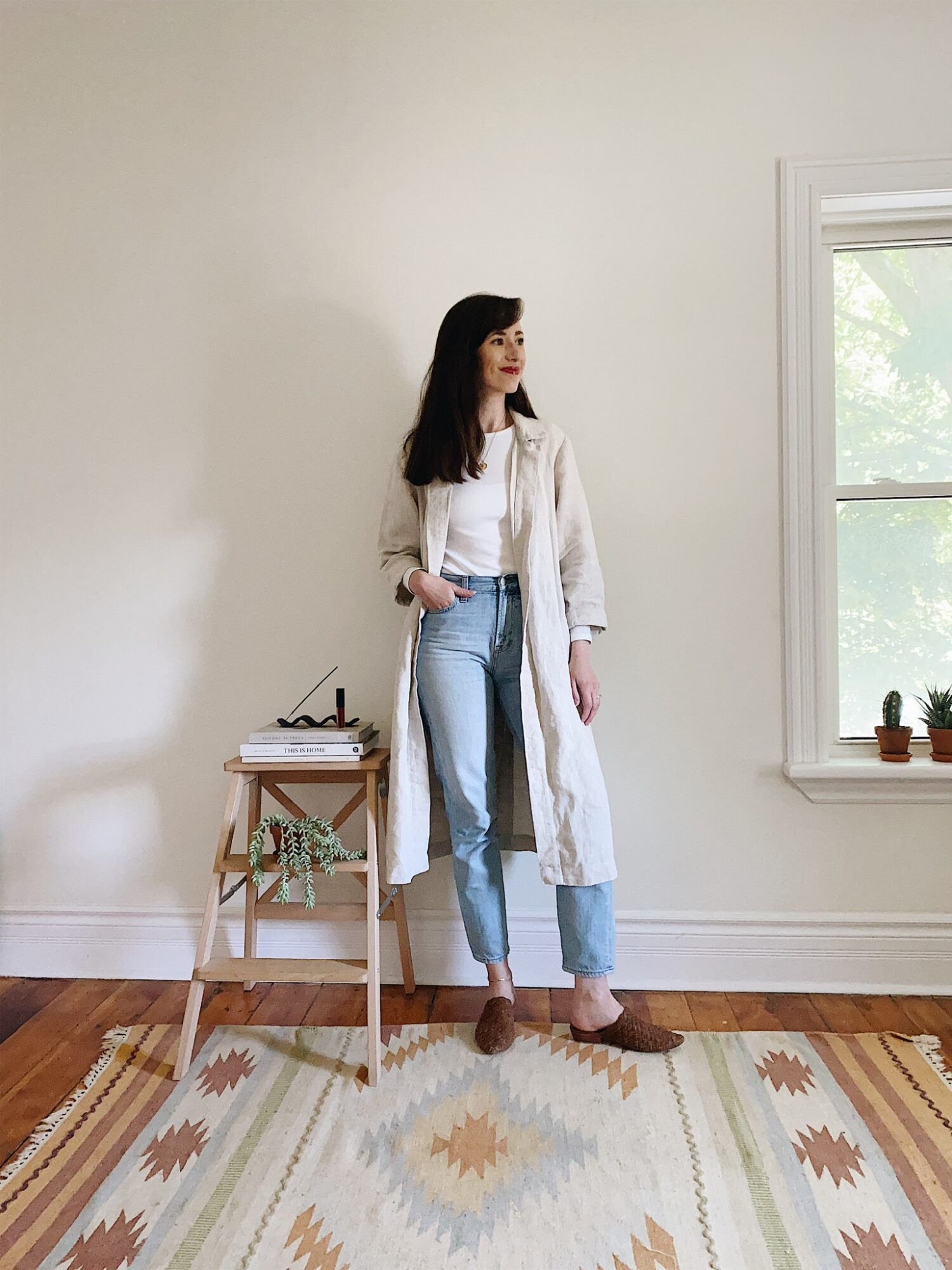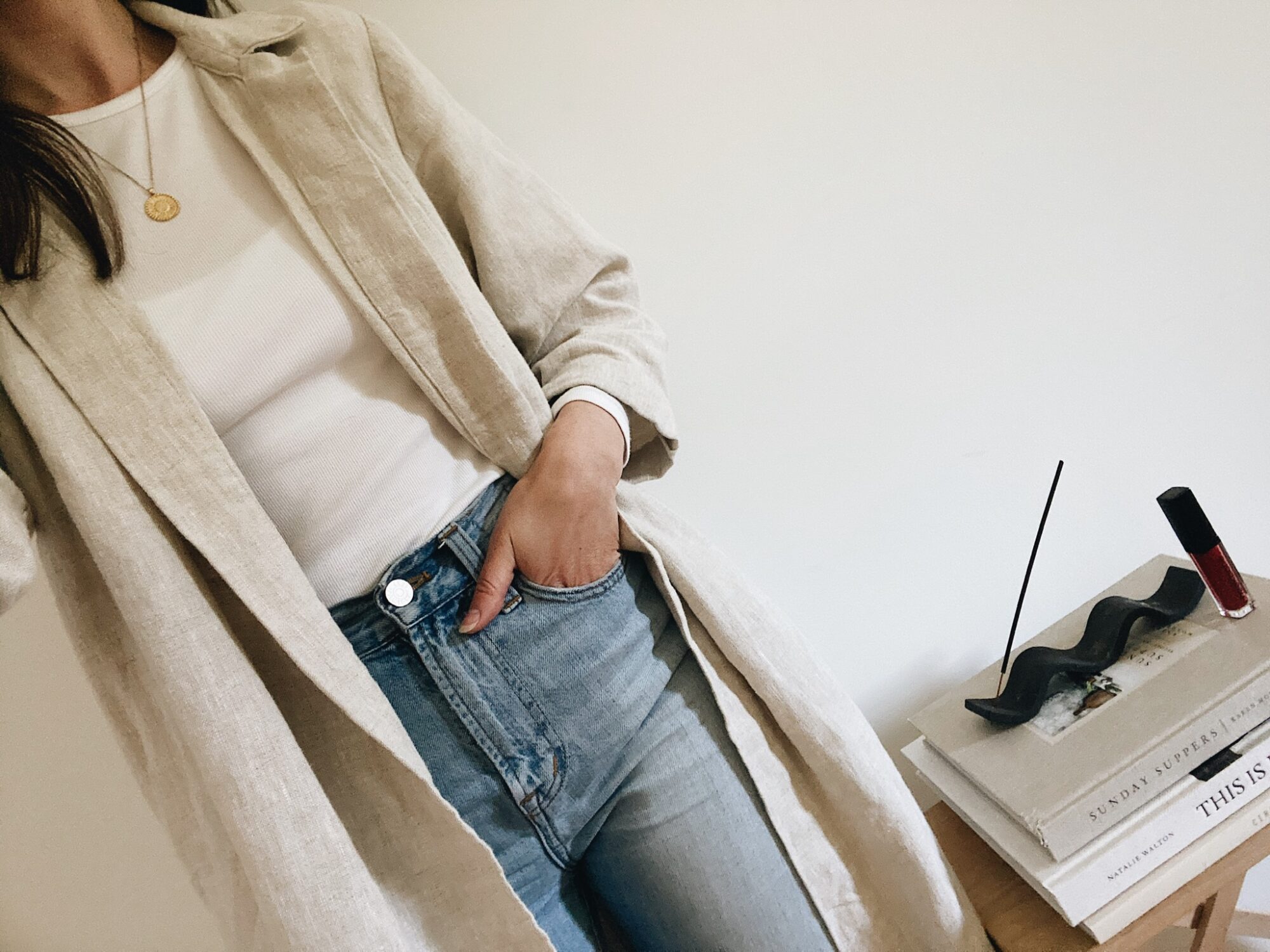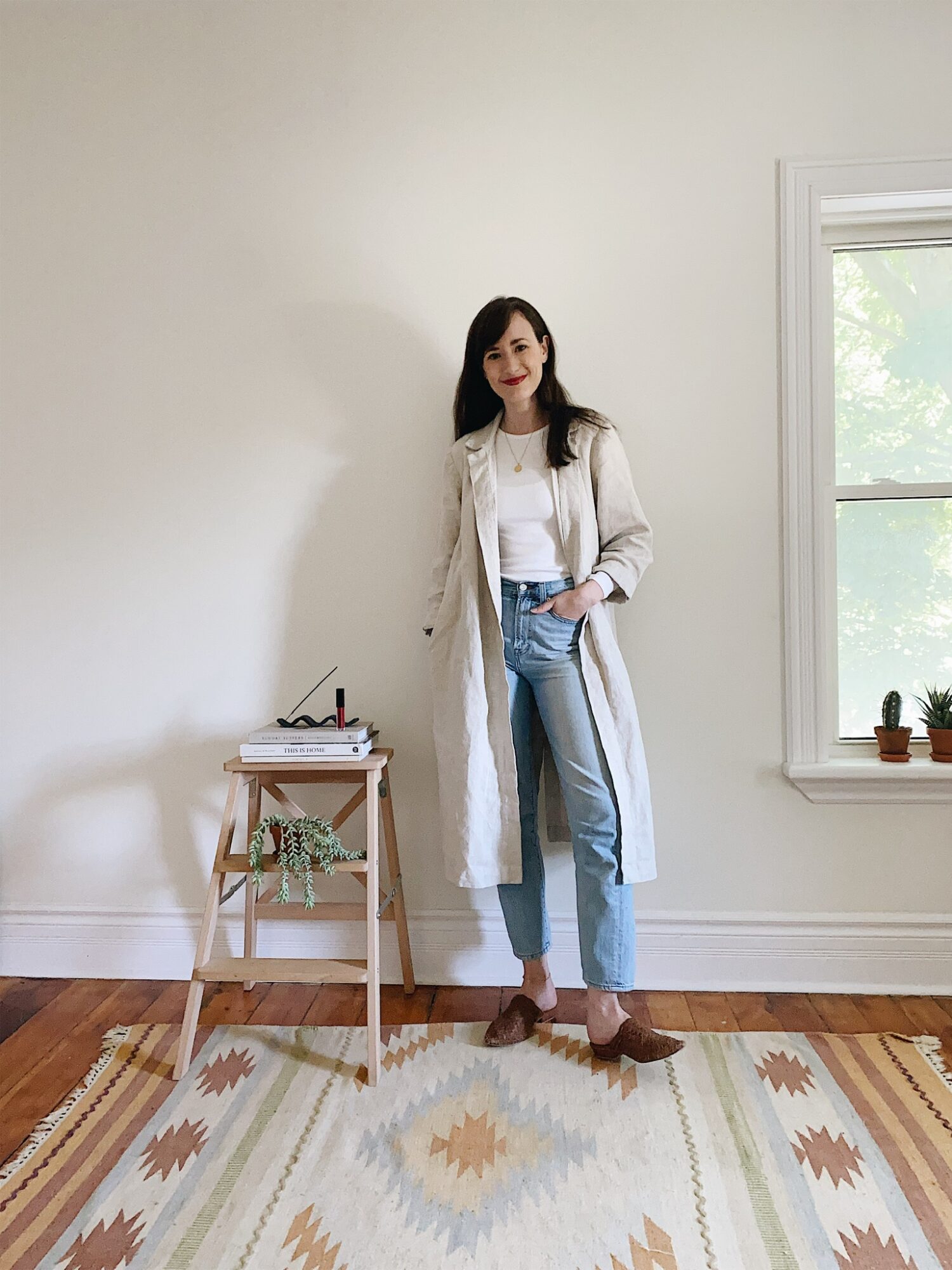 ---
SHOP LOOK 11

---
FAVOURITE BTS PHOTO
My girl Evie loves it when I take outfit photos. Whenever she hears me moving things around in the office, she emerges from her napping spot under our duvet, stomps in and plonks herself down on the carpet for pets and attention.
---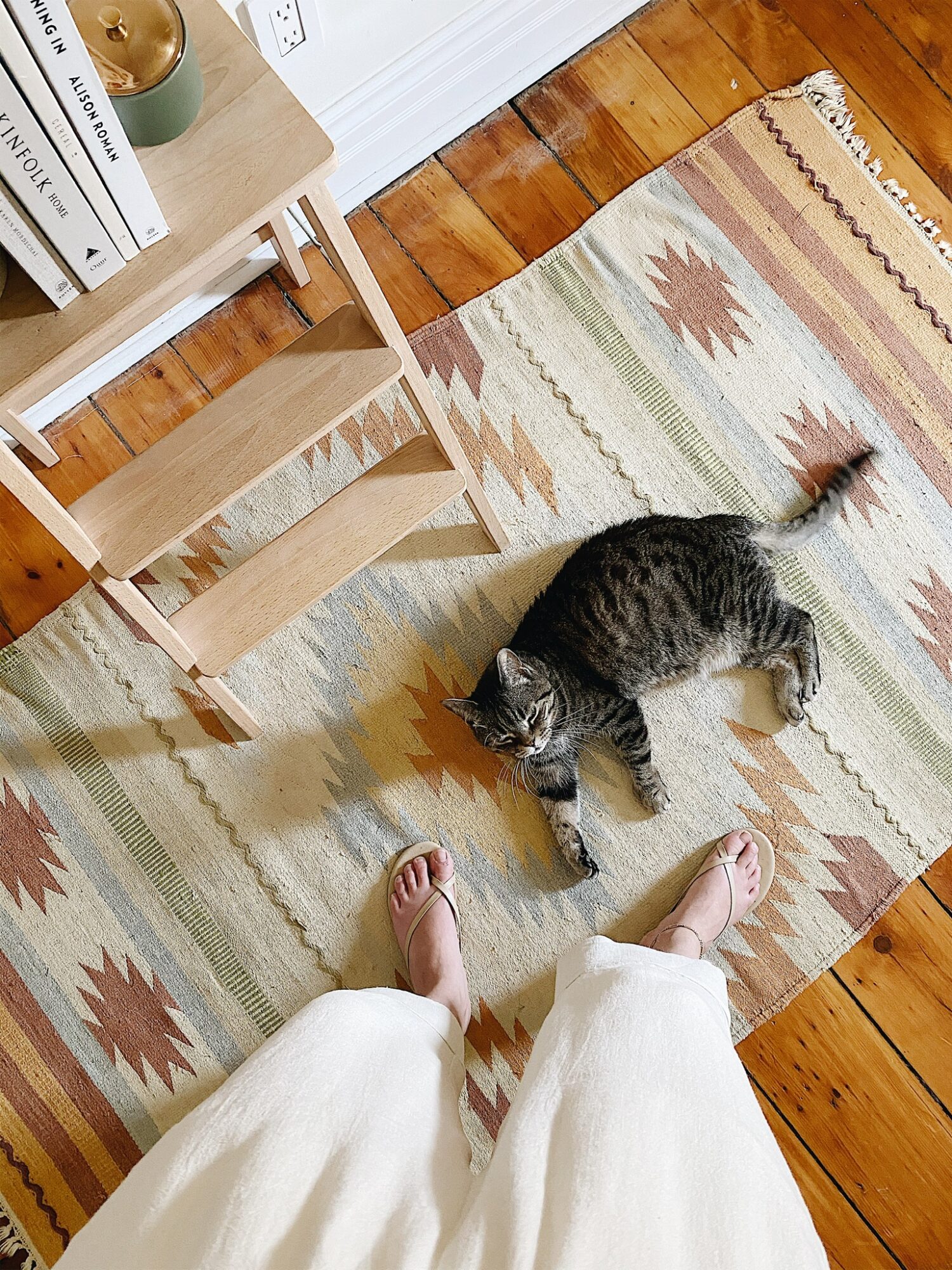 ---
THANKS FOR TUNING IN!
I hope this roundup offers you some styling ideas and a bit of levity in your day. Your readership and support means so much and I've got lots of content and projects I'm excited to share with you soon!