Today I'm starting a new series where I dig a little deeper into the items in my closet that I believe are truly timeless and span all types of personal style. I'm starting with the category that I reach for every time I need a boost of confidence or a take-charge mindset, which is none other than…BLAZERS!
There's something to be said for a style that returns season after season, year after year, and decade after decade. While the fit and details may evolve the core premise of the blazer remains the same. It's the kind of piece that adds instant polish, sophistication and strength to any look.
In today's post we'll take a look at:
A fun fact about the blazers origins.
My current collection and how I style them.
Where to shop for blazers.
How to determine the right fit.
Plus some easy care tips.
Let's suit up folks!
---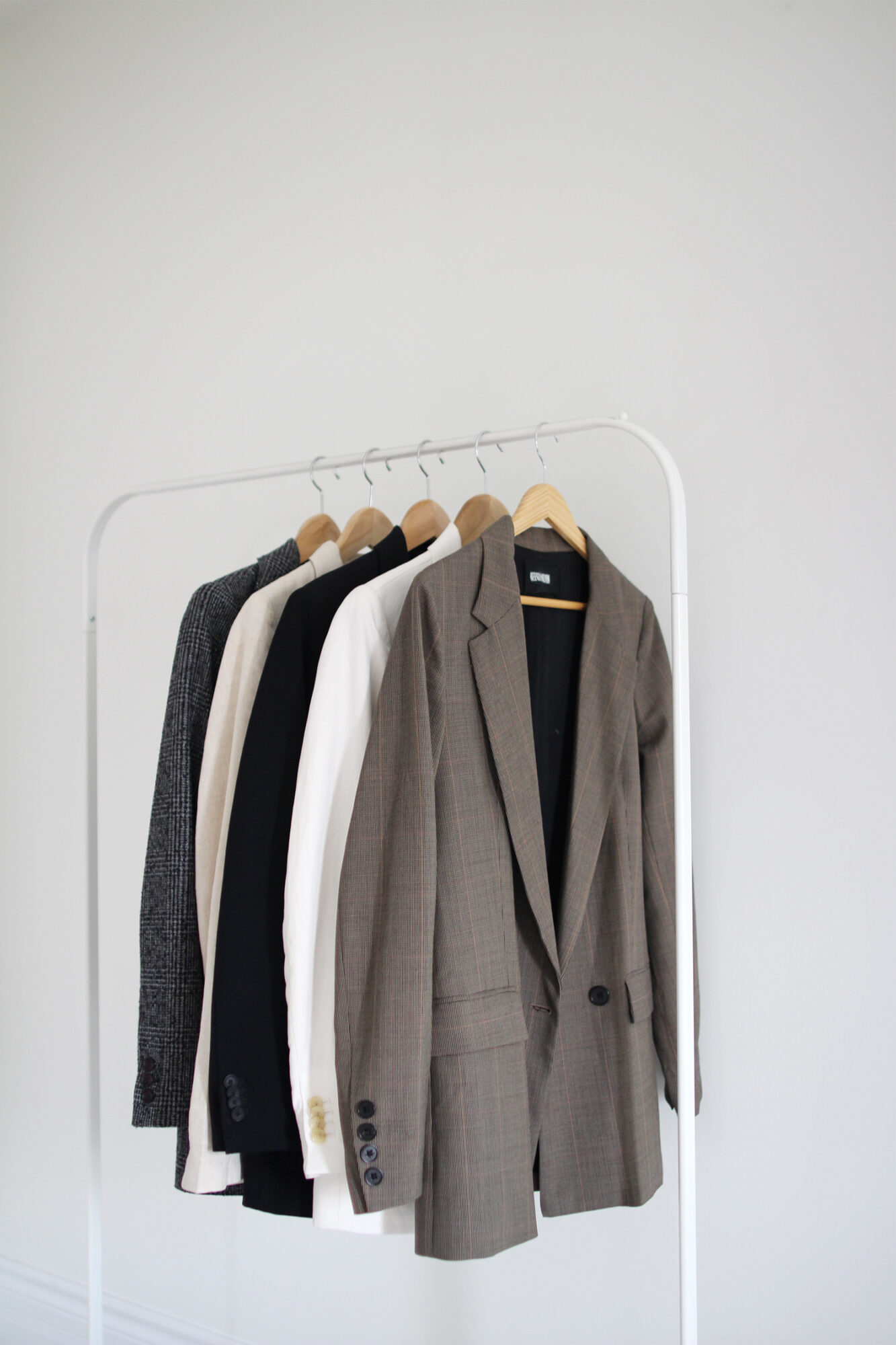 ---
ORIGINS OF THE BLAZER
---
Ever wonder where the term "blazer" originated? No, just me? Well, when I say that blazers have been a recurring style staple for decades, the truth is that they've actually been around for centuries!
According to Wikipedia:
"The sartorial term "blazer" originated with the red blazers of the Lady Margaret Boat Club (1825), the rowing club of St. John's College, Cambridge. The Lady Margaret club jackets were termed blazers because of the bright red cloth, and the term survived the original red coat."
I thought it was so interesting that the original purpose for a blazer was not for business, or professional activities, but in fact, the opposite. It was designed for sports and play. Intended for movement and not too precious to get wet or messy. I loved learning that the roots of the blazer as a garment are so much more about joy and not at all about being buttoned down or restricted. This really resonates with my connection to the style because I often feel a sense of excitement, a jolt of courage and a general empowerment whenever I wear my blazers.
I recommend a quick perusal of this Vogue Australia article, which goes into more detail about the garments origins and how it came to be of sartorial significance. The piece also serves up some delightful blazer moments from over the years.
---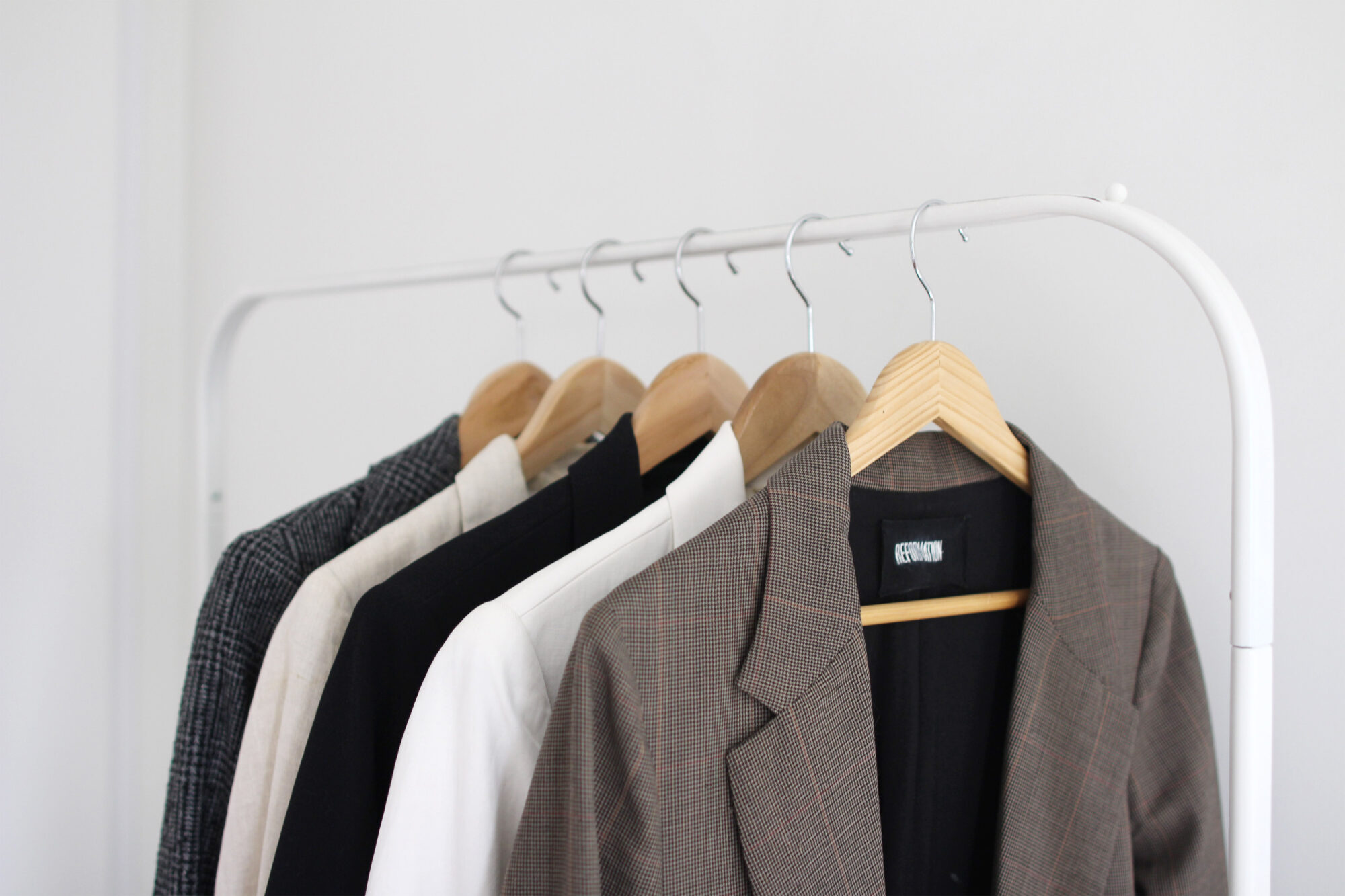 ---
MY CURRENT BLAZER COLLECTION
---
I currently have 5 Blazers in my collection, which I've slowly been adding to over many years. I tend towards a relaxed, oversize or boyfriend style fit, which is generous through the shoulders and straight through the torso, hitting at the upper thigh.
I like this fit for a range of reasons but primarily for comfort and ease of layering. It's not so oversize that it's impossible to wear under a coat and not so fitted that I can only wear thin layers underneath.
---
1 – BROWN PLAID – LAZER BLAZER by REFORMATION – Shown here
This one is no longer available but they do bring this style back in different dead stock fabrics occasionally.
2 – IVORY – COTTON/LINEN BLAZER by EVERLANE – Shown here
This one is also sold out now but I love the cotton-linen blend because it has a very gently rumpled texture without looking too wrinkled. Very similar here.
3 – BLACK – OVERSIZED BLAZER by EVERLANE – Shown here
This is the one I wear most and, amazingly, it doesn't seem to attract much lint or pet fur. I wear a size 2 and the fit is perfectly relaxed without being too boxy.
4 – OATMEAL LINEN – CLUB MONACO – Shown here
This one has been in my closet for over ten years now and it's still going strong. I love it over dresses or shorts in the summer.
5 – GREY GLEN PLAID – SMYTHE (also via Nordstrom) – Shown here
This is a Canadian-made line known for their Duchess Blazers but I snagged a boyfriend style a few years back on sale. Definitely one of the most beautifully tailored garments in my closet. I'm currently ogling their 90's Blazer.
---
Since most of my blazers are no longer available, here are some very similar options to those in my collection.
---

---
HOW I STYLE BLAZERS
---
I think a common misconception around blazers is that they can't be comfortable. As long as you're able to move freely and mix your blazers in with the casual pieces you love, they can be a joy to wear.
To help myself get past the "corporate" connotation with blazers, I like to think of them as interchangeable with just about any jacket or cardigan in my closet.
My favourite way to wear them is with a fitted t-shirt or lightweight knit and jeans as a base. Then I like to add a comfortable but streamlined shoe and some minimal accessories. This is a fail-safe outfit combination that can work in any closet at any life stage.
A blazer instantly elevates jeans and a t-shirt and I love the gender-neutrality they offer too. Whenever I slide myself into the sleeves of a blazer I feel an instant surge of self-assurance.
---
SHOP MOST OF THESE LOOKS ON THE STYLE JOURNAL UNDER 'BLAZERS'!
---
WHERE TO SHOP FOR BLAZERS
There are loads of spots to shop for blazers these days. In fact, it can actually be overwhelming. Here are a few spots that I've personally shopped from for blazers or other tailored items, plus a few that are on my radar.
---
I have two of the Oversized Blazer and love the fit but the Easy Blazer and Fatigue Blazer also look great.
One of my oldest closet items is a blazer from Club Monaco.
They don't have any at the moment but keep an eye out as the Lazer Blazer is a personal favourite.
Canadian made & very high quality. Also available via Nordstrom.
This sustainable brand does a reversible oversized, double breasted blazer that's essentially 2-in-1!
The Vaudie Structured blazer has a lovely bit of green in it. Use LEEV20 for 20% Off.
Single button, with a relaxed, slightly a-line fit, thoughtful production. Truly timeless.
Beautifully tailored, double-breasted classic black option for sizes 12 – 26.
Really elegant styles in sustainable materials.
Canadian-made in small batches. The Blazer in Straw and Tan is a total dream and definitely a more relaxed option!
Europe-based. Great range of oversized fits and fabrics. This lilac option is pure eyeball delight.
The Christie Blazer in Lemon Cream is a summer dream and with these shorts, I mean, just wow.
The Larson Linen Blazer is a linen beauty (on sale!) and the Caldwell Blazer is a best-seller and goes up to 3X.
The Sophie Sweater Blazer is currently on my wish list, on major sale & goes up to 3X. Perfect for some structure with the ease of a sweater. I used to have the Regent Blazer and it's a great fitted option.
Approachable price points, spring colours, in natural materials like linen, cotton & silk. I love this double-breasted peach beauty and this perfect khaki green. Both have matching shorts!
Theory does some really good classic tailoring and their outlet is a great place to find deals on a wide range of suiting styles.
---
HERE'S A ROUND UP OF A FEW I REALLY LIKE

---
SECOND HAND
Blazers are a great piece to shop second hand if you have the patience. Look for cotton, wool, linen and silk fabrics over polyester and pay close attention to the measurements. More notes on finding the right fit below.
---
---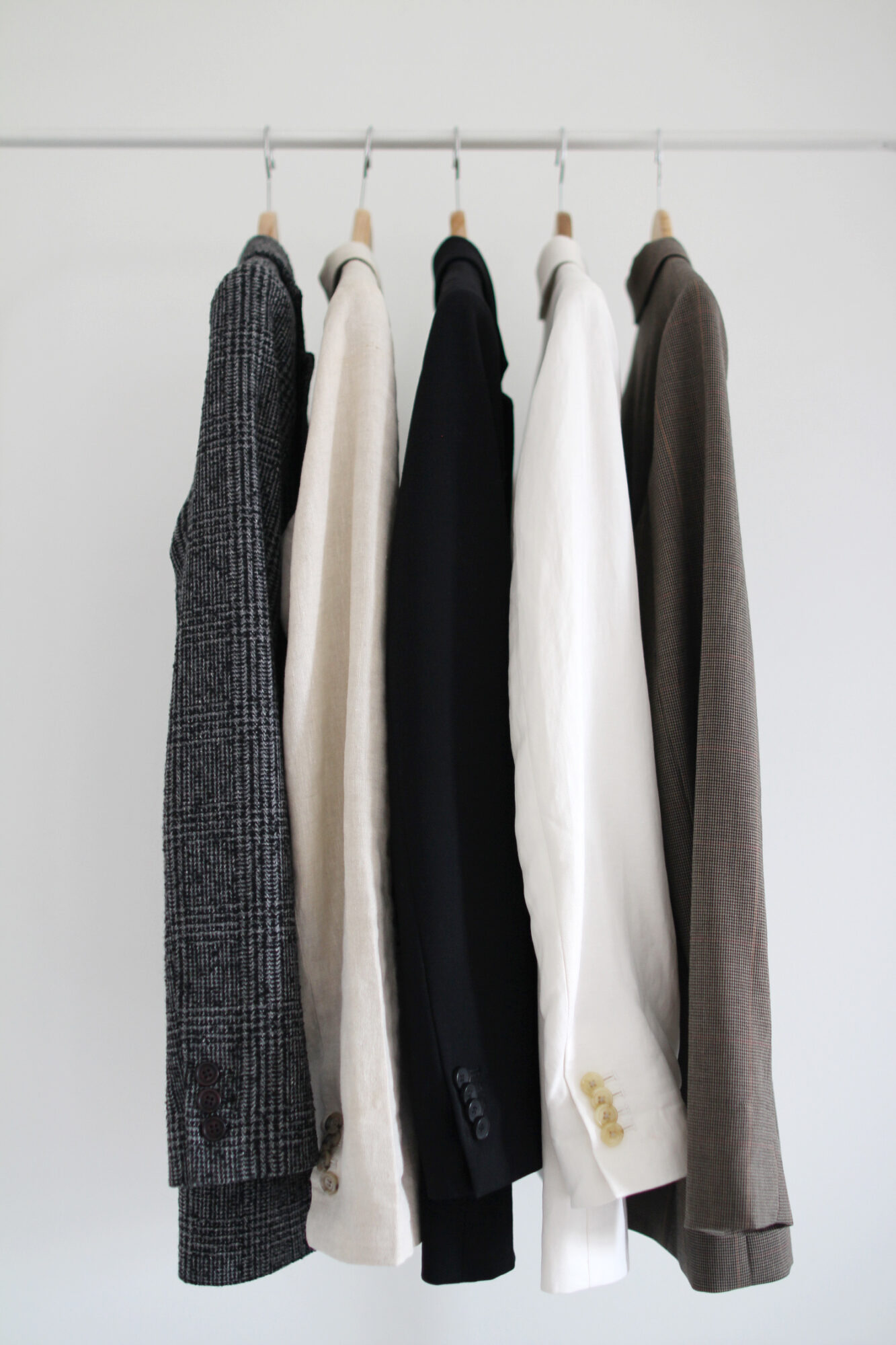 ---
DETERMINING THE RIGHT FIT
---
Generally, I like a relaxed fitting blazer for ease of layering and movement, so I look for the following measurements:
SHOULDERS: 16 inches (from seam to seam on sleeves) – This is about 2 inches wider than my natural shoulder.
LENGTH: 30 inches (from top of collar to hem) – This length falls to just below my lower hip/butt.
WIDTH: 20 inches flat across chest/hip – Sometimes wider if I intend to button but I usually wear my blazers open.
SLEEVE LENGTH: 30-32 inches from centre neck to sleeve hem is fairly typical. You can always have sleeves shortened or roll the cuffs up for a cool-girl styled look.
I find these measurements usually result in a relaxed fit on my frame and the length falls to just below my hips. For reference, I'm 5'7 and about 130 lbs and usually a size S/M in tops, 2/4 in dresses and 26/27 in denim.
The most important measurement to me is the shoulders because that's where the most structure exists in the garment and if it's too tight it won't feel good and if it's too big it may feel like you're playing dress-up in your grandpa's closet.
If you're just starting out with blazers then you can use a light jacket that you like the fit of from your existing closet. See what those measurements are and look for a blazer that has similar ones. I like to err of the side of two big rather than too small with blazers because you can always tailor something to be smaller but not the other way around.
---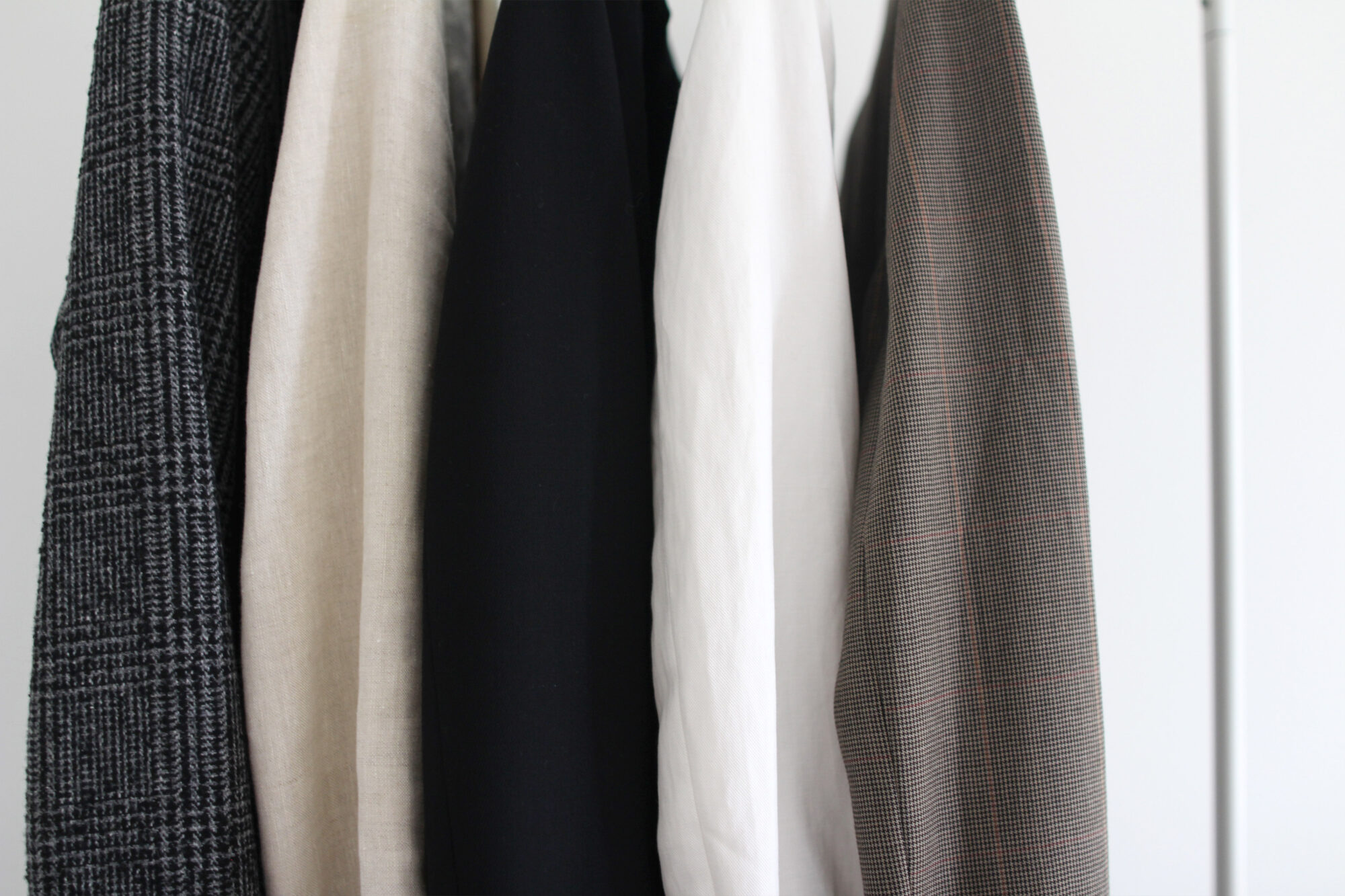 ---
EASY CARE TIPS
---
Most blazers will come with a Dry Clean Only care tag. This is usually the case with most tailored garments that often have a mix of materials used for the outer fabric and the lining, plus buttons or other hardware. BUT don't let that deter you.
Unless I've spilled a full drink on myself, I almost never bother dry cleaning or fully washing my blazers.
Instead, I spot clean small stains on the outside and do an inner collar and inner cuff spot clean every so often to keep the parts that sit directly on my skin nice and fresh. I've been using this spot clean bar and it works great!
I'll also use my steamer to release any wrinkles that don't naturally fall out between wears.
---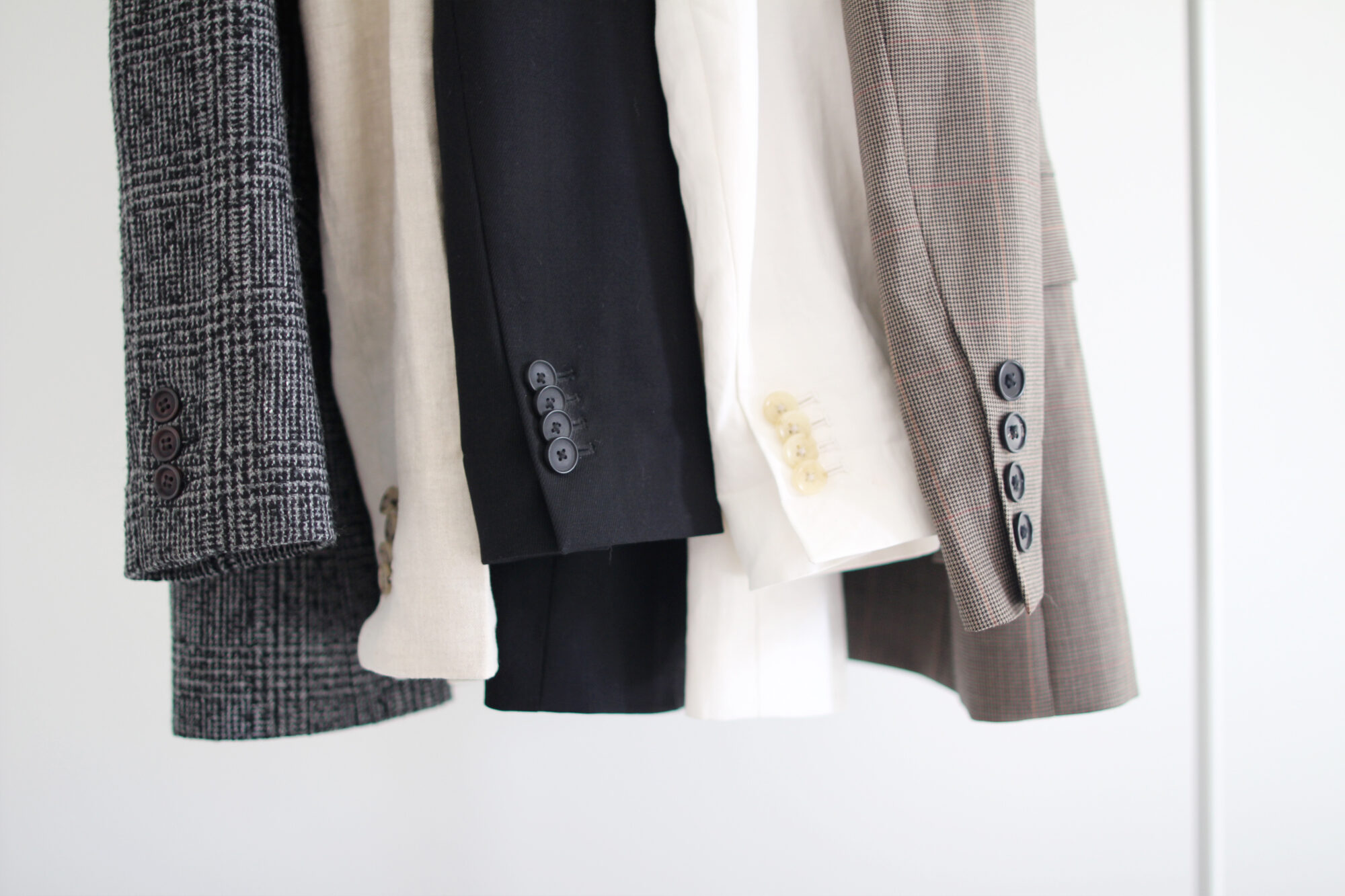 ---
& THERE YOU HAVE A SPOTLIGHT ON BLAZERS!
I hope this post offered some helpful notes on this long-standing style staple! If you've got any questions, you know where to leave 'em and I'll get back to you asap!
I've got another spotlight instalment in the works but I'd love to know if you have any requests!