Fall is coming in swift and brisk this year and I'm not about to resist it. Those who know me well, know I harbour a deep affection for sweater weather and today my favourite Canadian knitwear line, Bare Knitwear, is returning to the blog! We've collaborated every autumn for several years now and each time I'm reminded of how thoughtful design and traditional craftsmanship can create the most incredible garments.
Bare Knitwear's FW21 collection was inspired by vintage knits, with design details taking cues from shapes and fits of decades gone by. I love how all the styles look just as at home in a closet today as they would in a polaroid from the 1970s. That's always a testament to truly timeless pieces that can be passed down and treasured through generations.
The featured piece for this year's partnership is the the Rib Jacket, which has all the makings of a modern heirloom. It also ticks all the boxes for my dream cold weather layering piece. Read on to explore some of the elements that make it so special and see how I'll be styling this closet keepsake for years to come!
---
Enter code at checkout through September 12th, 2021. More details below.
---
Partnership Disclosure: This blog post was produced in partnership with Bare Knitwear and Style Bee earns a commission on all sales made using the reader discount code (at no additional cost to customers). The Style Bee reader discount is valid on all regular priced items (excluding sale, sweater care kits and slippers), for 1 week, through September 12th. Simply enter the code at checkout. Thanks for supporting the brands that support Style Bee!
---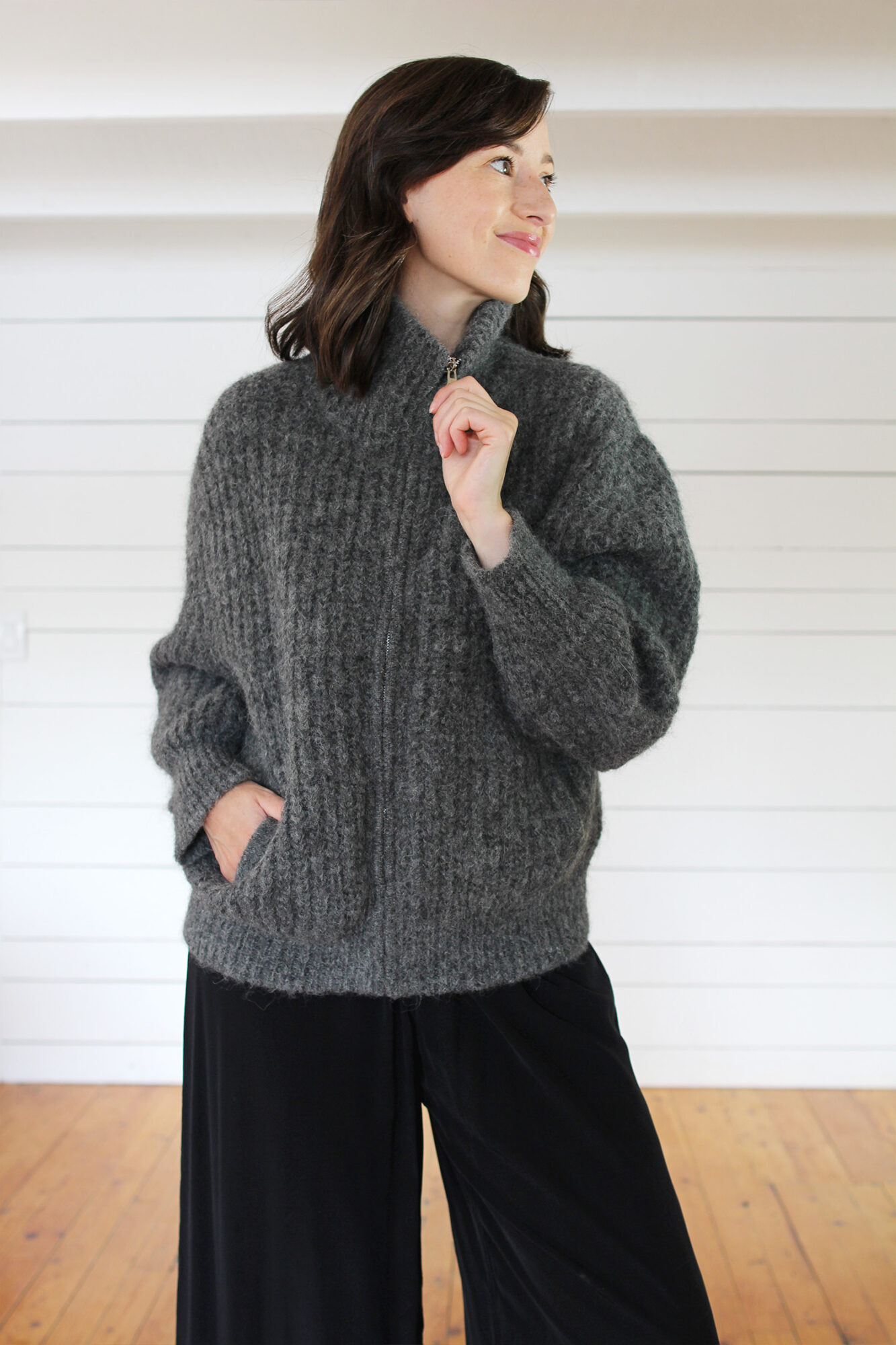 ---
UNIQUE FEATURES OF THE RIB JACKET
---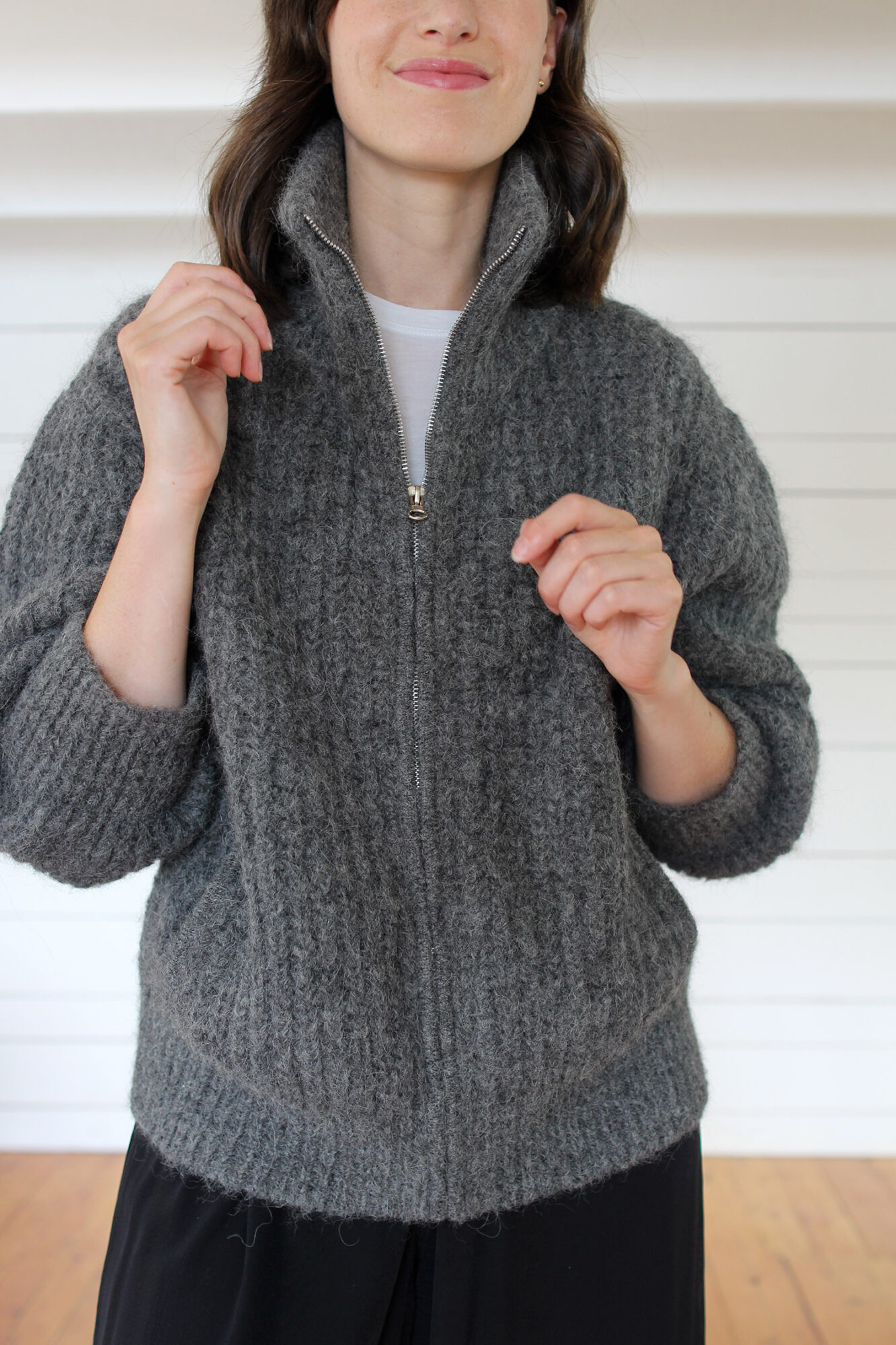 TALL, COZY COLLAR
This jaw-grazing standing collar has been doubled in thickness, giving it a sturdiness and density that keeps the warmth in and the cold out. Easily zip it up all the way or fold it down for an open neckline as desired.
---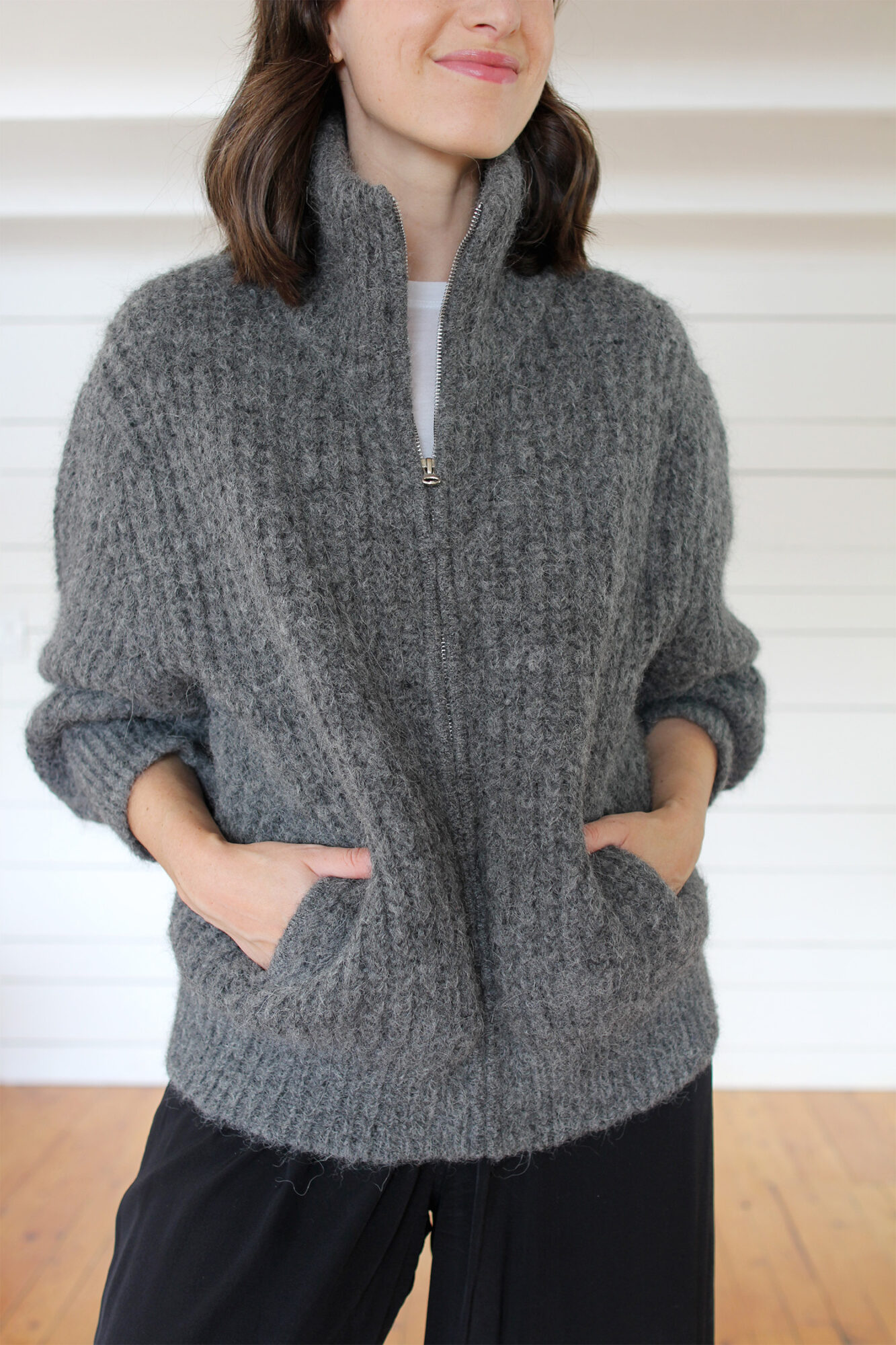 TOASTY, CONCEALED POCKETS
I can't help but shimmy my paws into the toasty front pockets on this piece. They're made from the same alpaca knit as the rest of the jacket and like a little sleeping bag for your phalanges.
---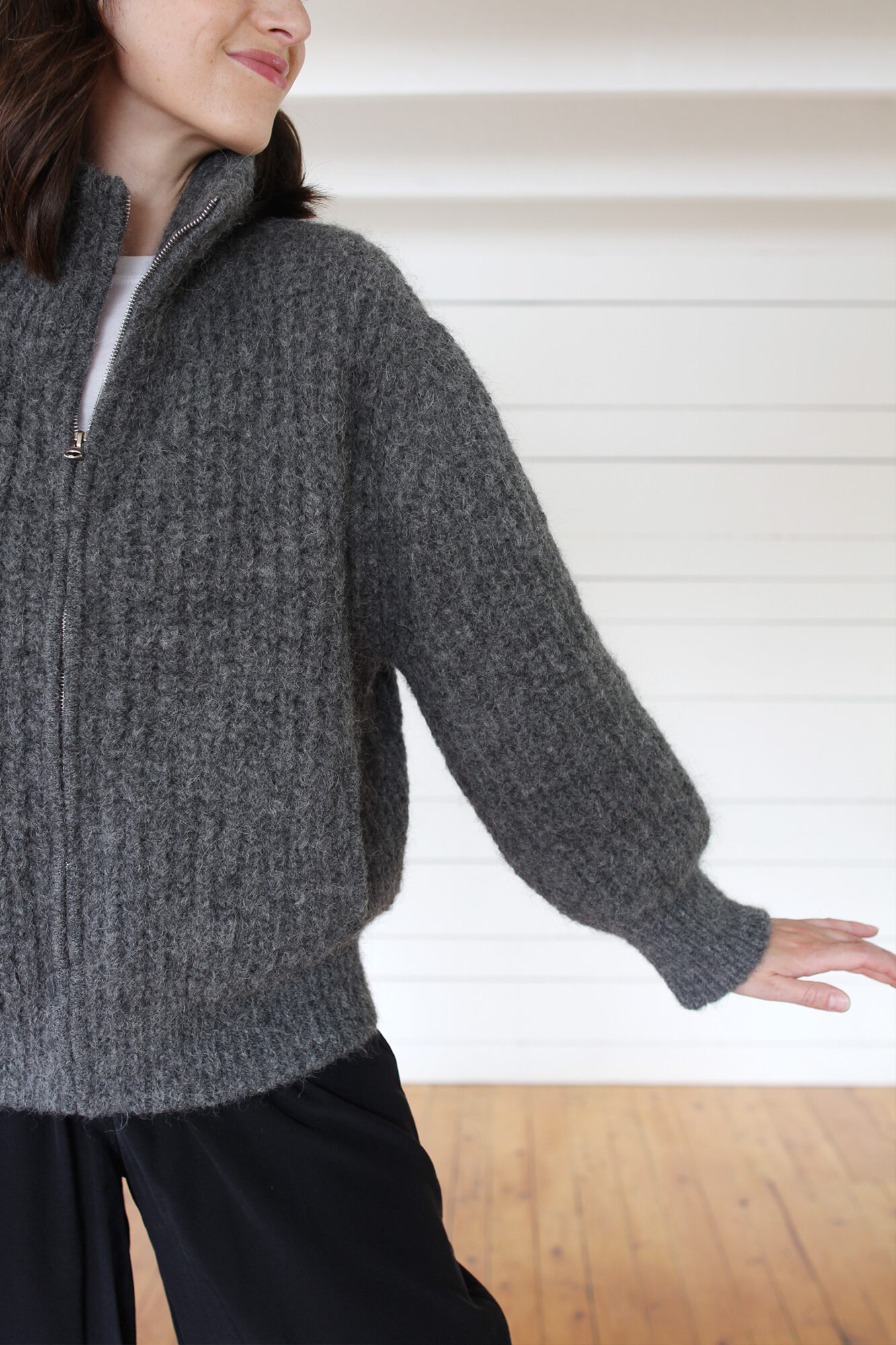 BALLOON SLEEVES DROP SHOULDERS
I love, love, love how Bare Knitwear does sleeves. I've collected several of their knits, which each feature a balloon sleeve and it makes for a gorgeous shape and easy layering. I particularly like how the sleeve cuffs and this jacket hem have a tighter fit to them too.
---
SPEAKING OF THE FITTED HEM
I don't have many knits with a fitted element through the hip but I really like that feature on the Rib Jacket. It gives a nod to sportswear and I like to style it two ways: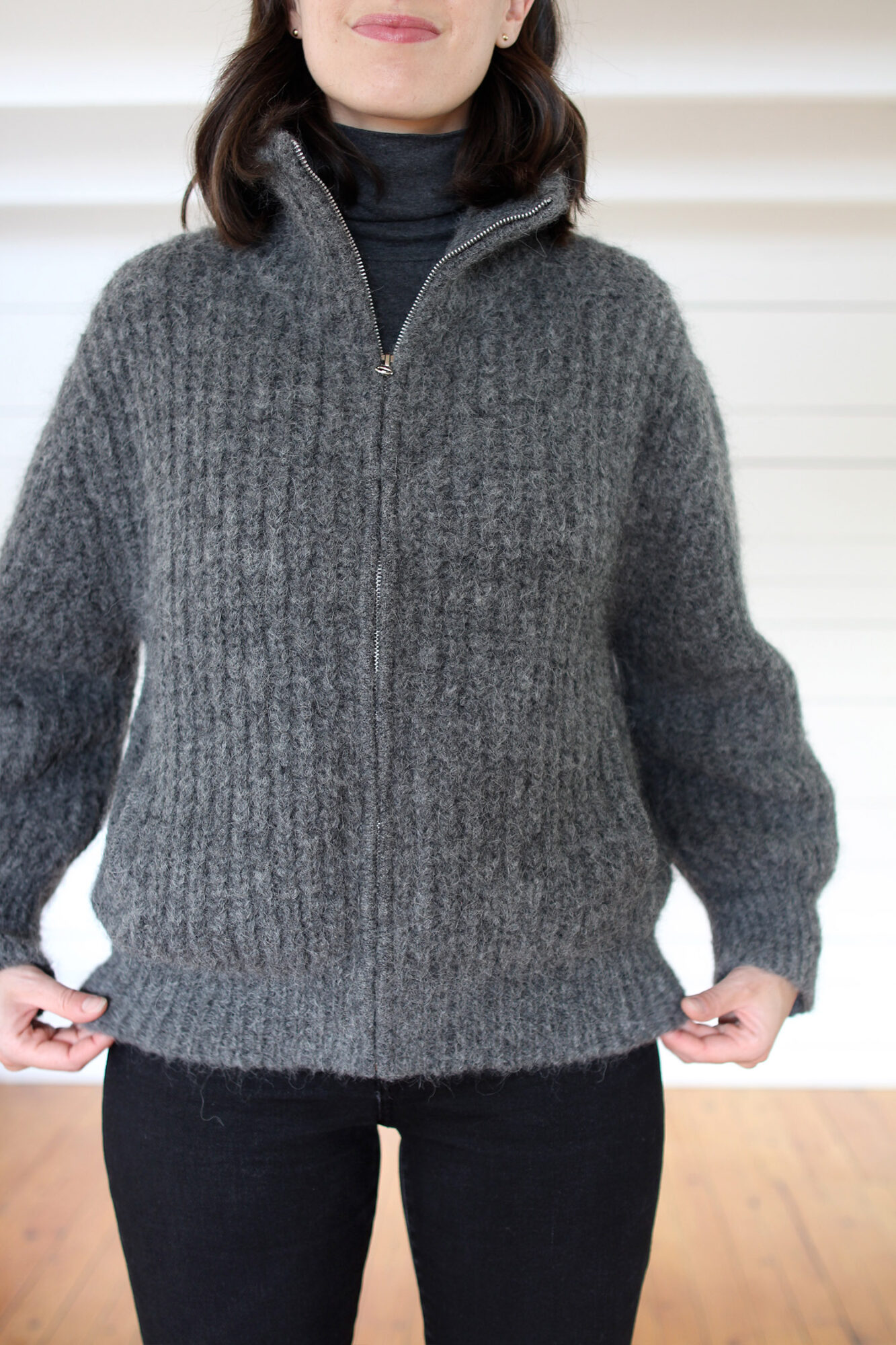 ---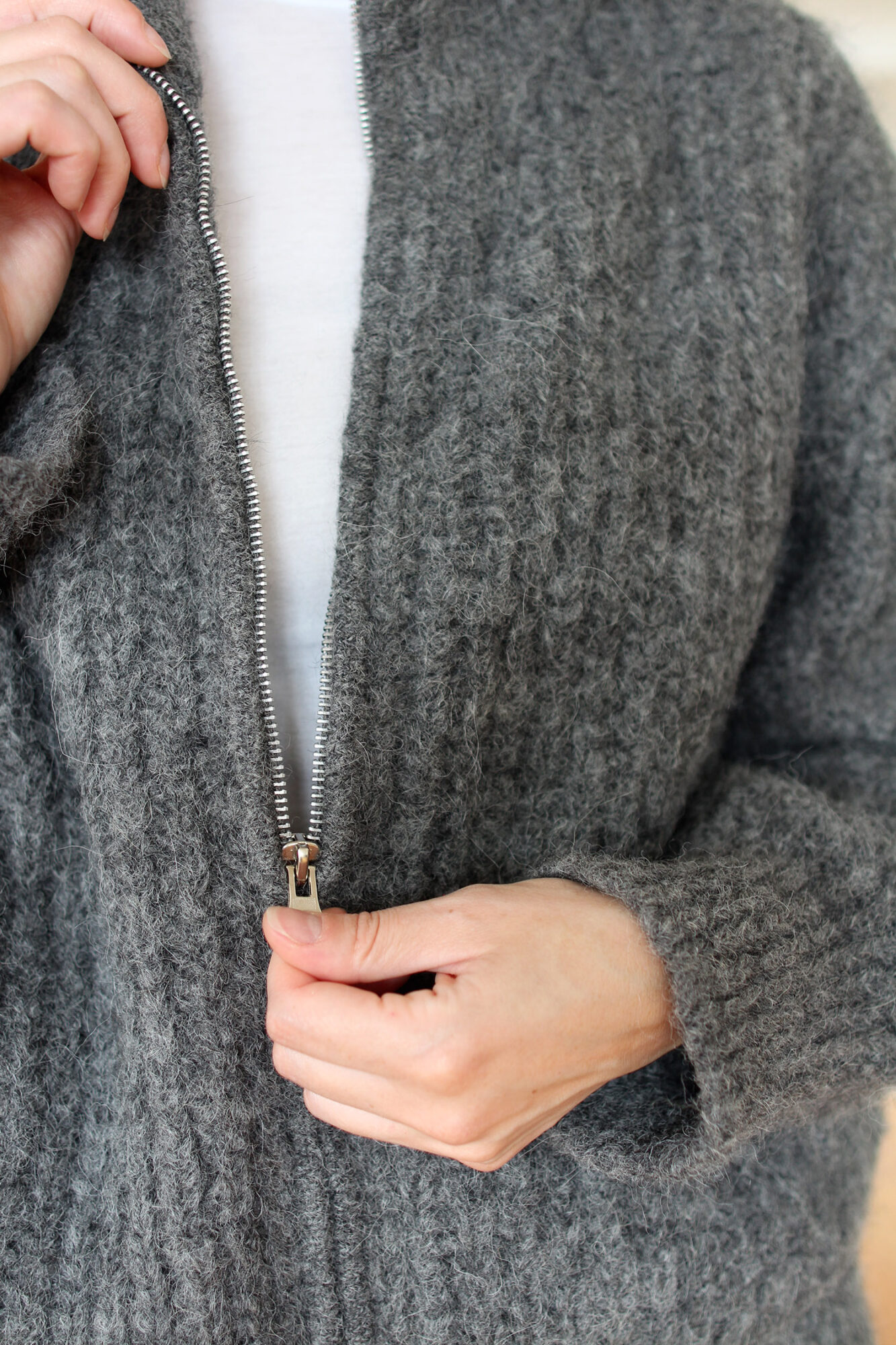 CONCEALED METAL ZIPPER
To me, the metal zipper is what sets this apart from other pieces in my closet. This utilitarian detail helps the garment bridge between a sweater and a jacket, making it applicable to both outdoor and indoor wear.
---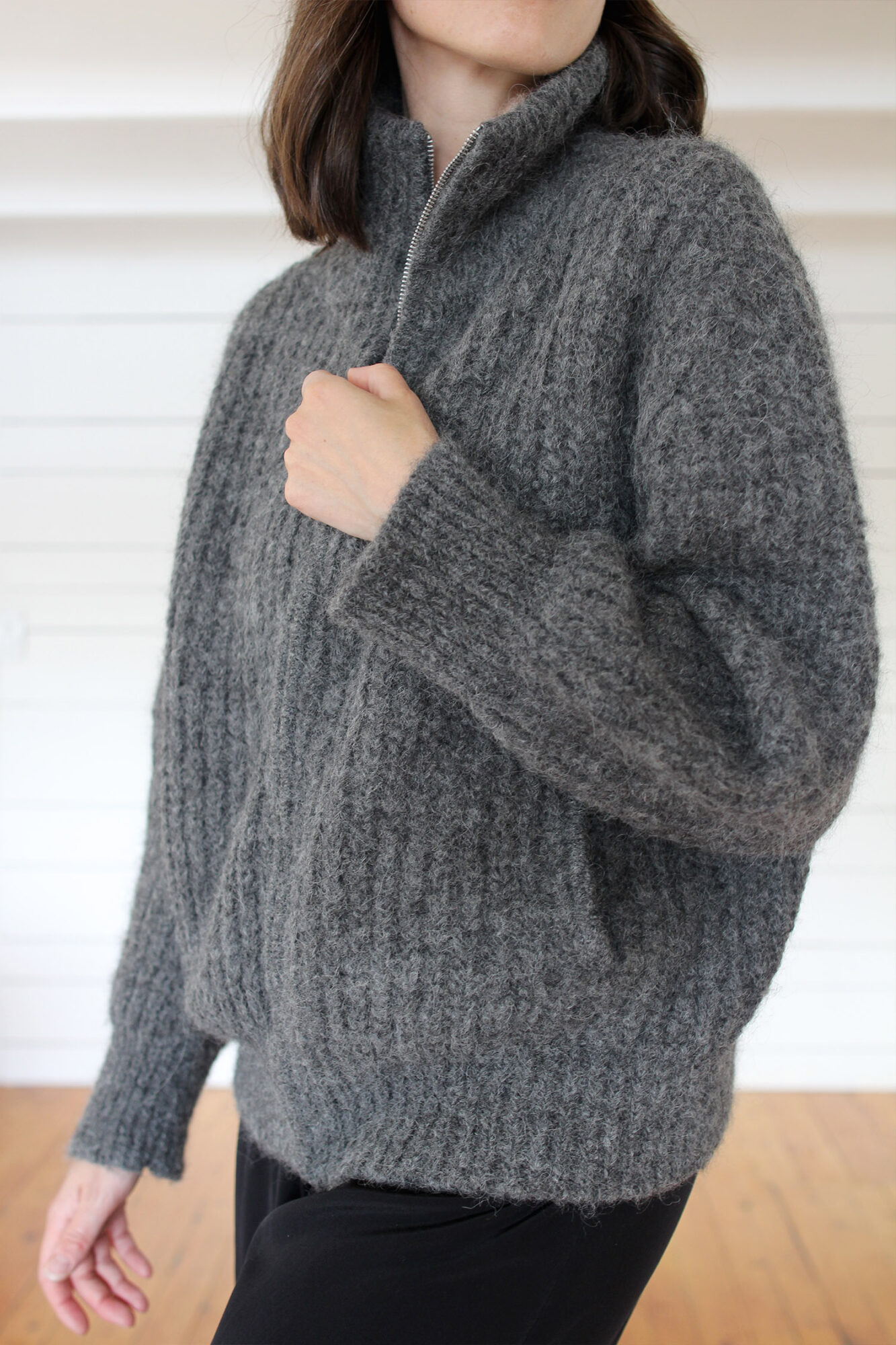 SUPER SOFT, CHUNKY RIB STITCH
Now a Bare Knitwear signature, the voluminous rib stitch is brilliantly brought to life through a light weight blend of alpaca and polyamide (to keep its shape). Incredibly soft to the touch, without an inkling of an itch to be encountered. Not to mention the miraculous temperature regulation properties it beholds.
---
Use STYLEBEE10 for 10% OFF THROUGH 9/12
---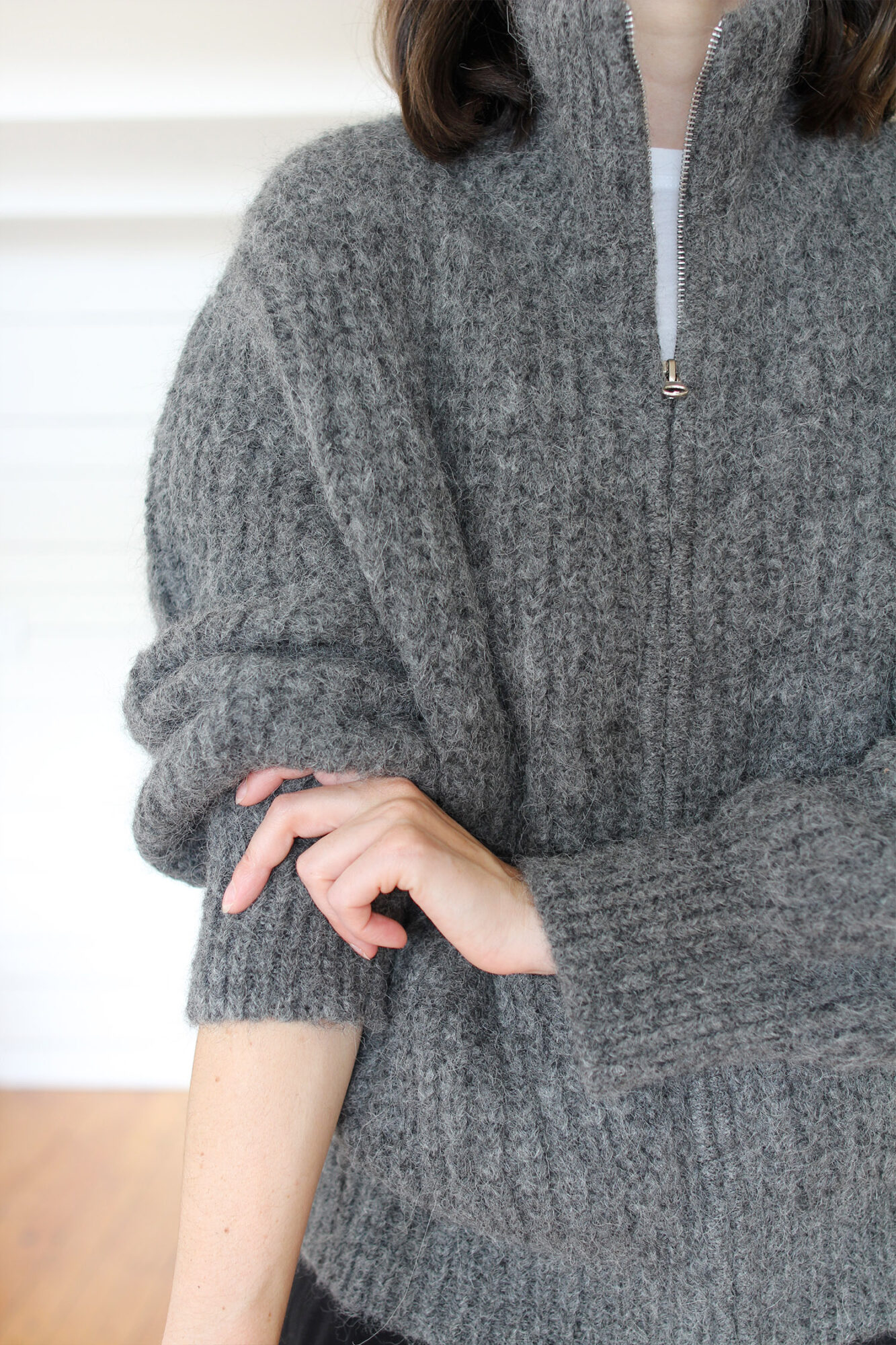 ---
A FEW DETAILS TO NOTE
ABOUT BARE KNITWEAR AND THE RIB JACKET
---
"Bare Knitwear was born from a desire to create luxurious, heirloom knitwear while preserving traditional craft and supporting artisan communities."
MORE THAN JUST A GORGEOUS GARMENT: Bare Knitwear garments are each created through intentional design, environmental awareness and collaborative craftsmanship with artisan partners in Peru. You can learn more about these thoughtful brand pillars right here. When you invest in a piece from Bare Knitwear, you're investing in so much more than your own closet, which is one of many reasons I've loved this brand for all these years!
---
Price: $468 CAD $421.20 CAD with 'STYLEBEE10' through September 12th, 2020.
Bare Knitwear pieces are indeed a considerable purchase. They're made to last, easy to care for and truly timeless styles that are intended to be worn year after year, with the hope of one day bridging generations of knitwear lovers. I've had Bare Knitwear pieces for many years and I'm sure they'll see me through many a winter to come.
Made with ethical practices in: Lima, Peru
Available in 3 colours: ASH (shown throughout post) // BLACK // SAND
---
---
Size Options: XS/S (2-4) // S/M (6-8) // M/L (10-12 // L/XL (14-16) // Garment measurements and model references are listed on the product page.
I'm wearing the XS/S and I'm 5'7 and about 130 lbs for reference.
Composition: The Rib Jacket is made with a light weight, voluminous blend of 89% alpaca, 11% polyamide.
Care: Hand wash in cool water using a neutral soap. Re-shape and lay flat to dry. Reference the Washing & Care page for tips and see the Sweater Care Kit for care tools.
More on how I care for my knits here, which is Bare Knitwear approved.
Pilling: In my experience alpaca wool is surprisingly resilient to pilling, however, wherever there is friction (under the arms or where a bag might rub) there is always the possibility of pilling. Bare Knitwear offers a lovely little sweater comb, which you can use to easily comb off pills on any knits you may have.
Shipping: All orders over $300 CAD ship free across North America
Availability: Limited quantities are available given supply constraints at this time. If you're super smitten with the Rib Jacket or any other Bare Knitwear styles, I wouldn't wait too long.
---
Use STYLEBEE10 for 10% OFF THROUGH 9/12
---
A FEW MORE BEAUTIFUL STYLES FROM BARE KNITWEAR
Imagine a winter closet filled with these stunning pieces?
---
---
1 | THE CLASSIC CREW (Alpaca and Merino wool blend – 3 colour options)
2 | THE FUNNEL NECK (Un-dyed Alpaca and organic pima cotton)
3 | FULL LENGTH HOUSE COAT (Alpaca and Merino wool blend – 2 colour options)
4 | LAYER V (Alpaca – 3 colour options)
5 | DUSK CARDIGAN (Peruvian Pima Cotton – 3 colour options)
6 | COASTAL PANTS (Peruvian Pima Cotton – 3 colour options)
7 | SERENE TANK (Peruvian Pima Cotton – 3 colour options)
---
10% DISCOUNT WITH 'STYLEBEE10' IS APPLICABLE ON ALL STYLES SHOWN ABOVE
---
NOW ONTO
4 WAYS I'LL BE STYLING THE RIB JACKET
---
LOOK 1
FOR EARLY FALL
---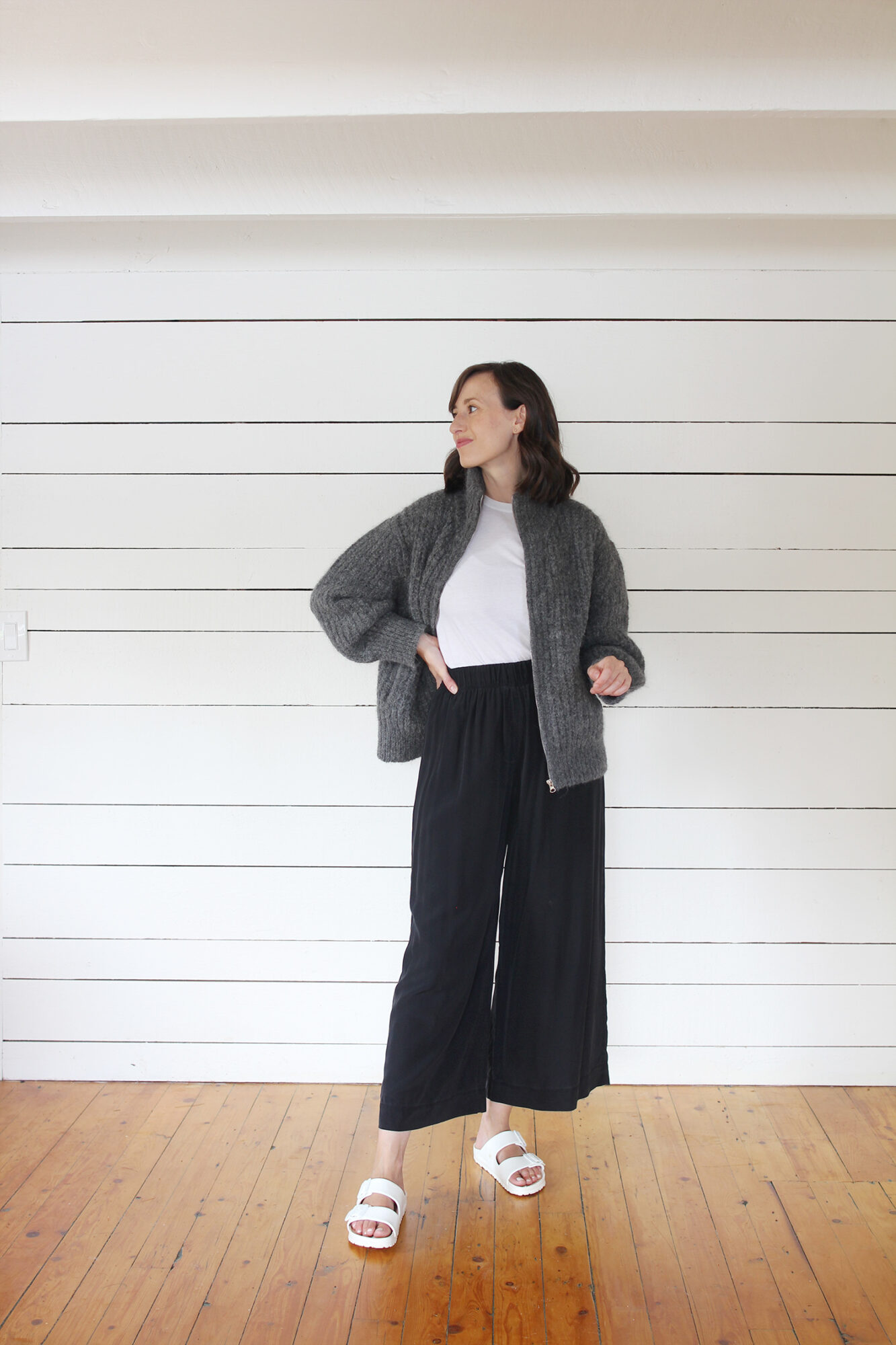 ---
RIB JACKET (Use STYLEBEE10 for 10% Off, ends 9/12) | COTTON CREW | FLORENCE SILK PANT (Similar here and here) | EVA ARIZONA

---
I'm wearing the Rib Jacket now in a simple formula, which is:
T-SHIRT + WIDE LEG PANT + BIRKENSTOCKS + RIB JACKET
It's perfect for the weather we're getting here at the lake. Cozy but light and soft as a feather.
---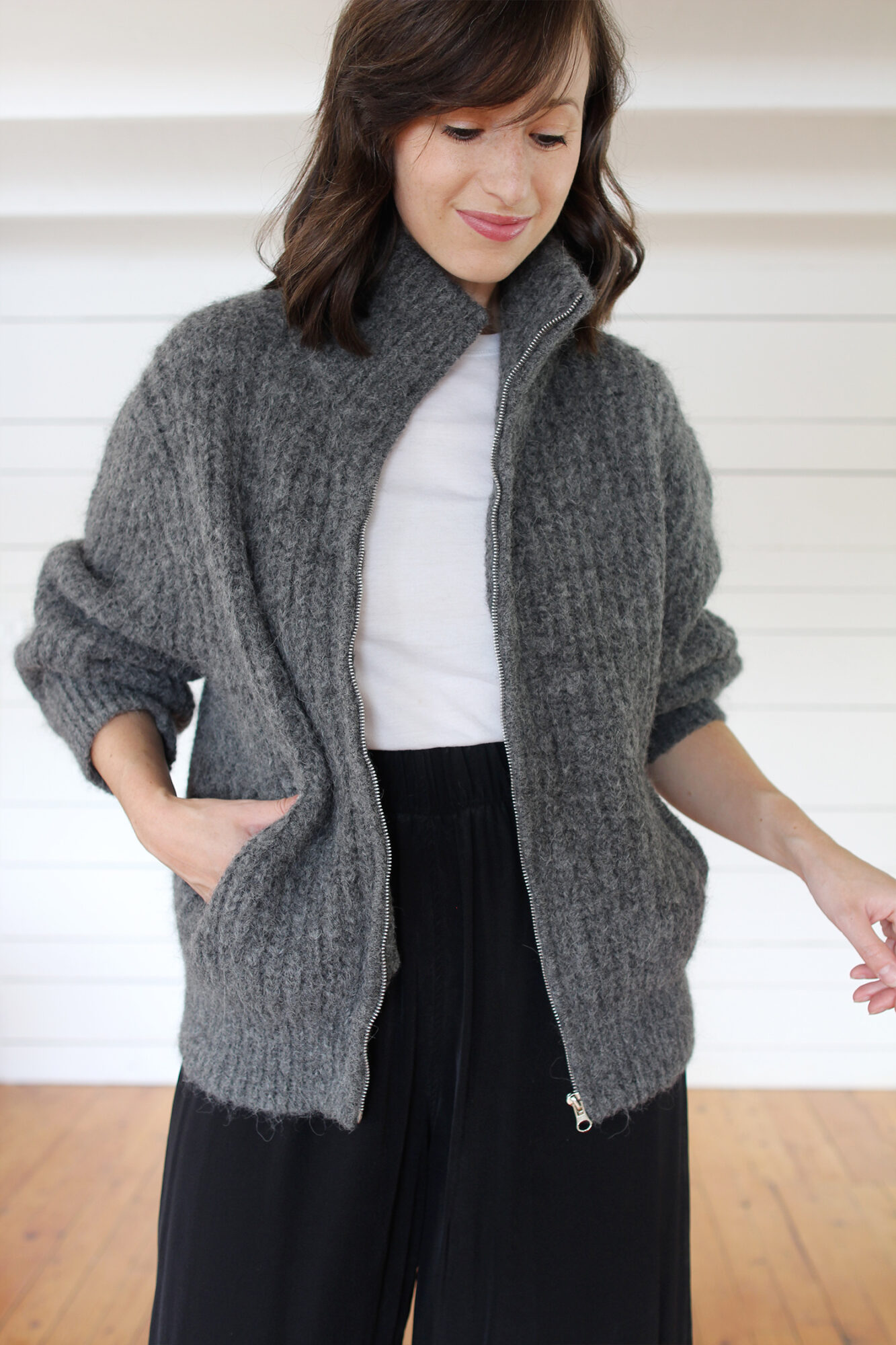 ---
LOOK 2
FOR FALL DAYS IN THE CITY
---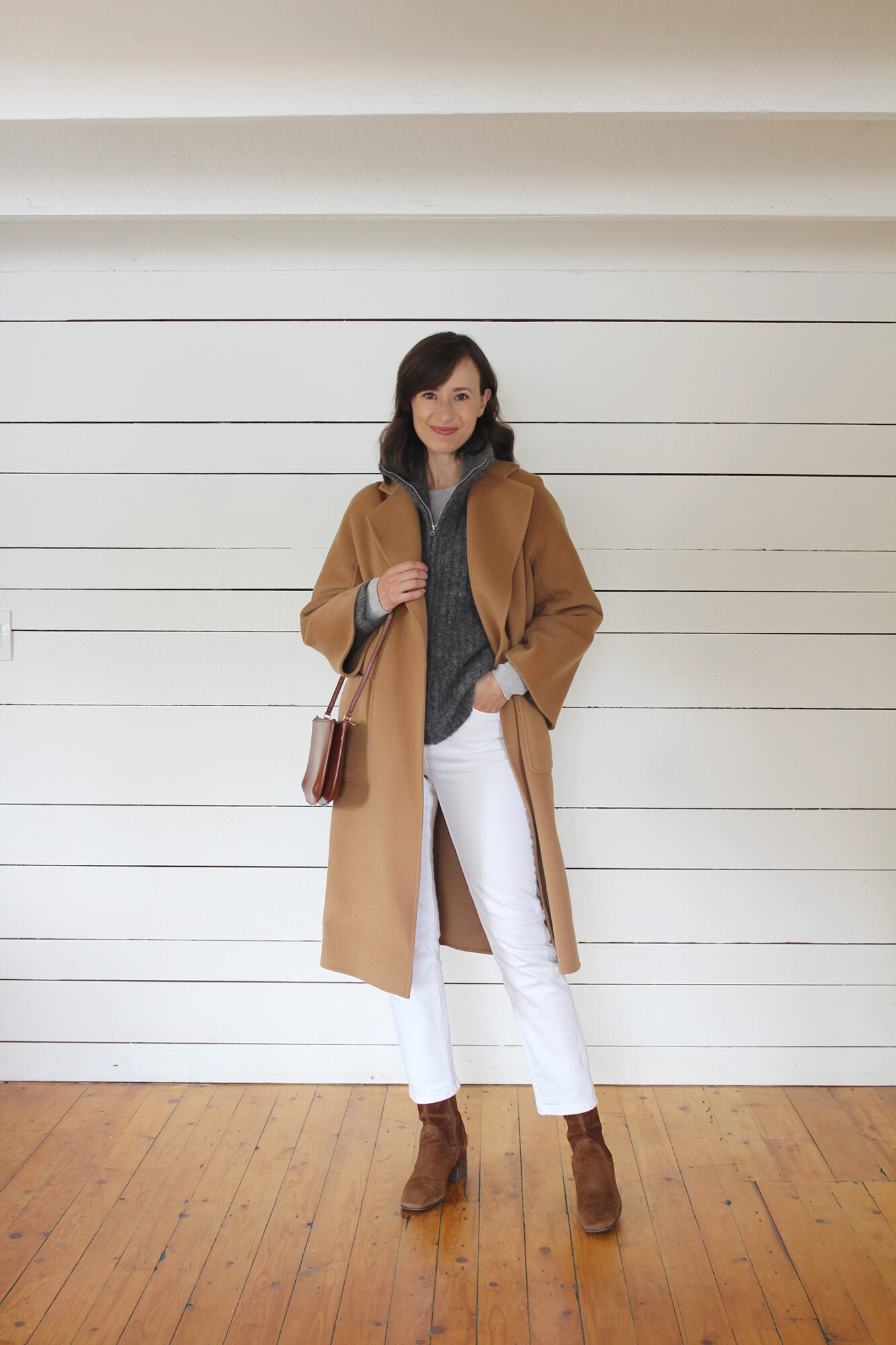 ---
RIB JACKET (Use STYLEBEE10 for 10% Off, ends 9/12) | GREY RIBBED KNIT | ORIGINAL CHEEKY JEAN (in Bone) | CLASSIC CASHMERE CAMEL COAT (full review here) | SARAH CROSS BODY BAG | SUEDE GLOVE BOOT (Similar linked)
---

---
When it gets chillier and I have reason to visit the city, I'll be wearing the Rib Jacket over a lightweight knit tucked into white jeans with my go-to suede boots and an open camel coat on top. I call this combo "function forward chic".
---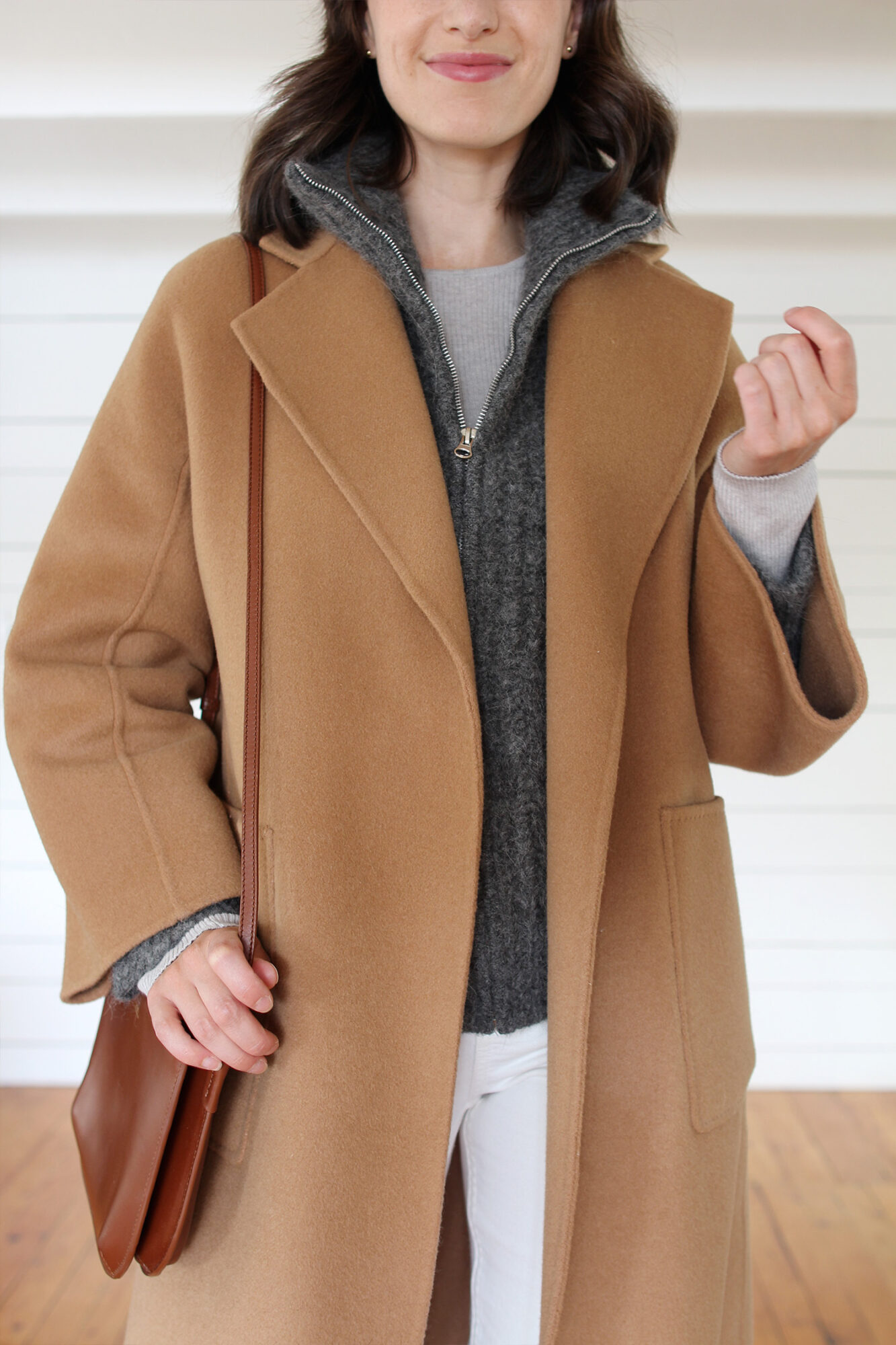 ---
LOOK 3
FOR ADVENTURES
---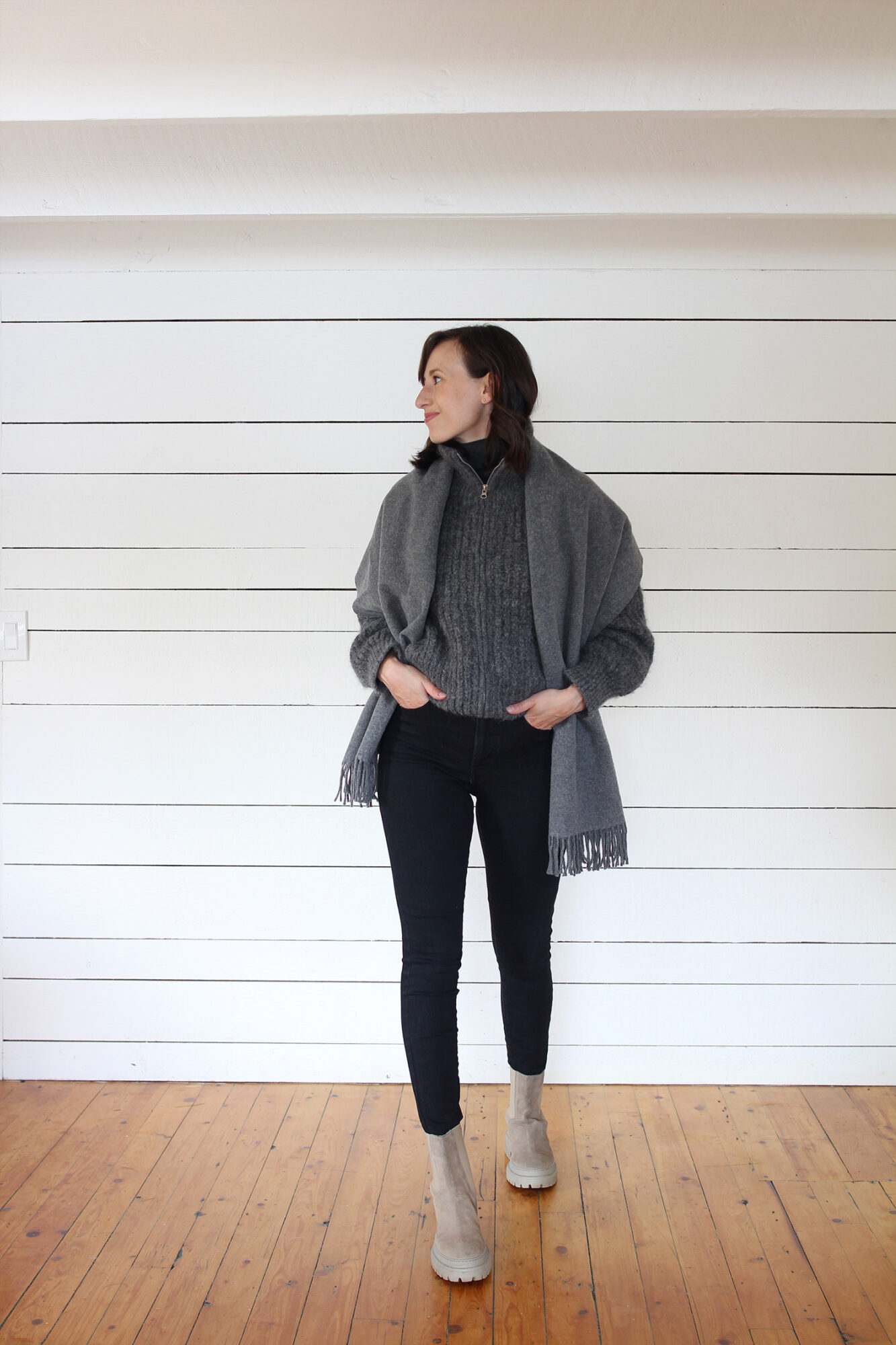 ---
RIB JACKET (Use STYLEBEE10 for 10% Off, ends 9/12) | FITTED TURTLENECK (similar linked) | BLACK SKINNY JEANS (full review here) | CANADA SCARF | CHUNKY SUEDE BOOT
---

---
I can't wait to wear this one on colourful autumn trail walks, cider sipping with friends and visits with family. For all of the above, I'll be wearing the Rib Jacket with a tonal turtleneck and my favourite skinny jeans. I love how put-together this one feels and how chunky boots and the jacket balance out the fitted jeans and turtleneck.
Adding a big scarf in another shade of grey gives this look depth and texture without feeling too busy. If it's raining or blustery I'll add a rain coat or puffer vest on top and let the Rib Jacket work some insulating magic.
---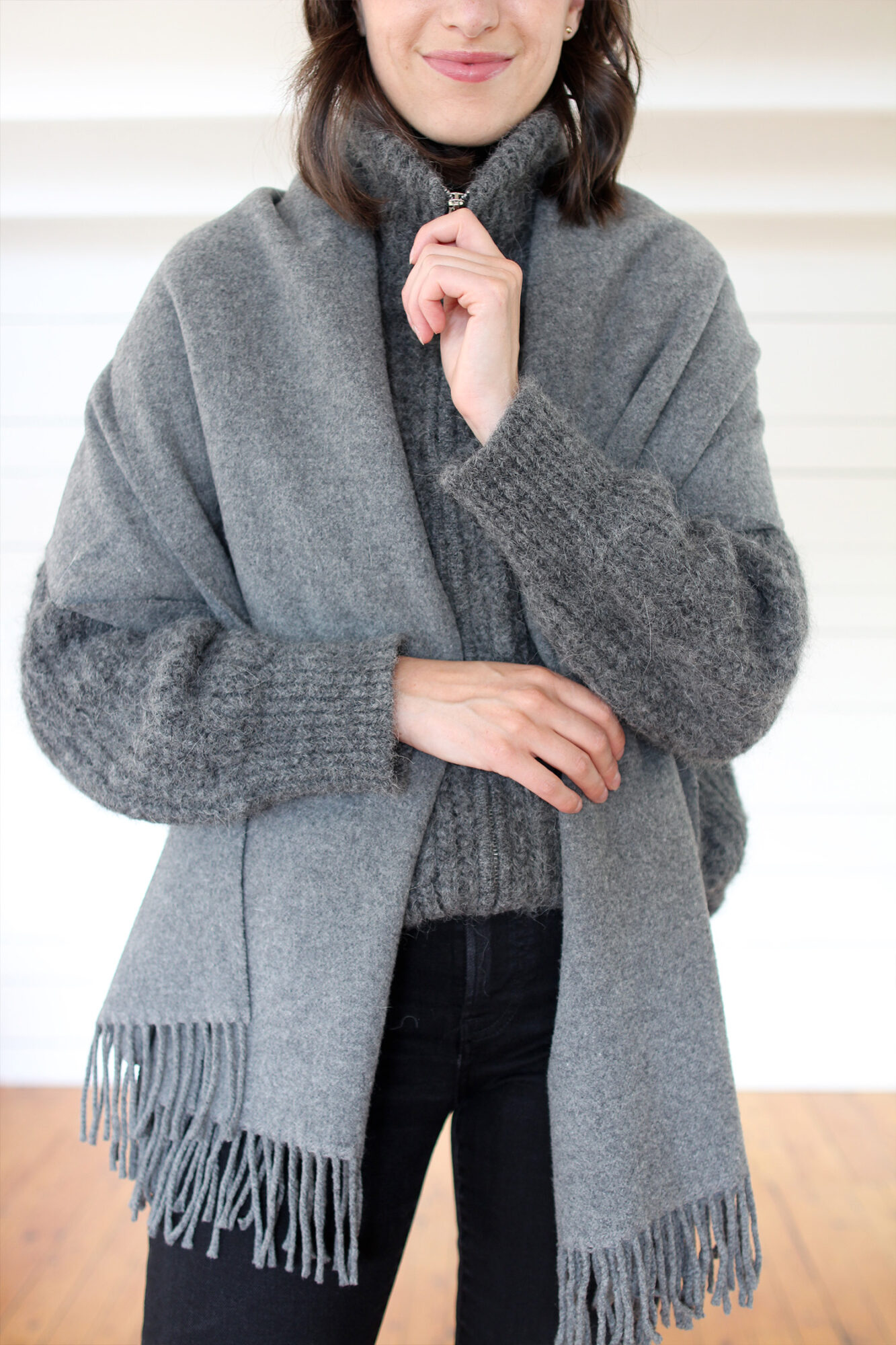 ---
LOOK 4
FOR LOW-KEY DAYS BY THE LAKE & FIRE
---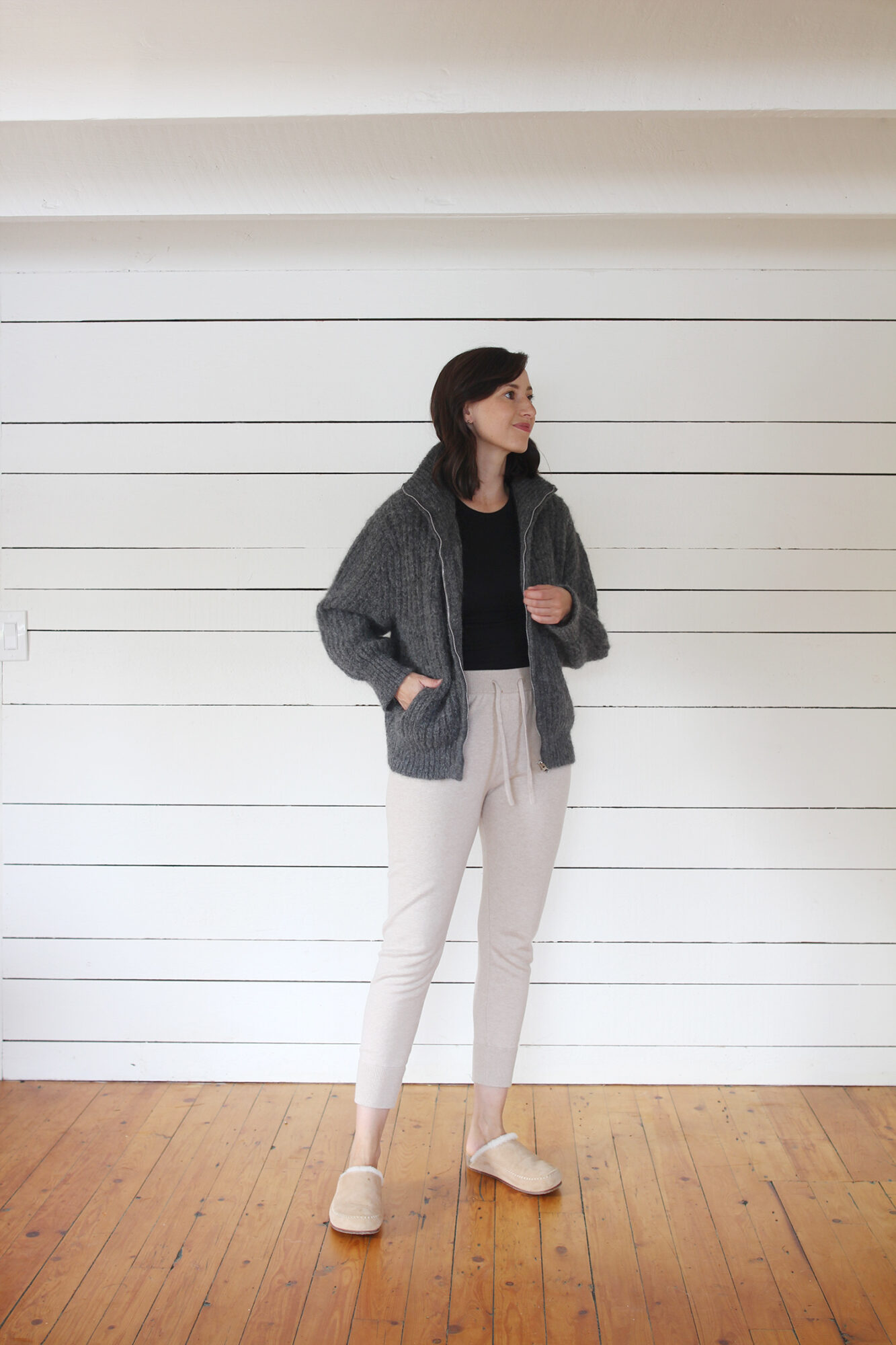 ---
RIB JACKET (Use STYLEBEE10 for 10% Off, ends 9/12) | FITTED BLACK TEE | COTTON/CASHMERE JOGGERS & SHEARLING CLOGS (Use LEE15 for 15% Off, anytime)
---

---
I know I'll be reaching for this piece A LOT throughout fall and winter because it is truly ideal for lake life. With a soft t-shirt, a pair of joggers and some cozy clogs, I'm all set for nature gazing over coffee, fireside renovation planning with Dave, bits of blogging and bouts of meal prepping for the winter freeze.
---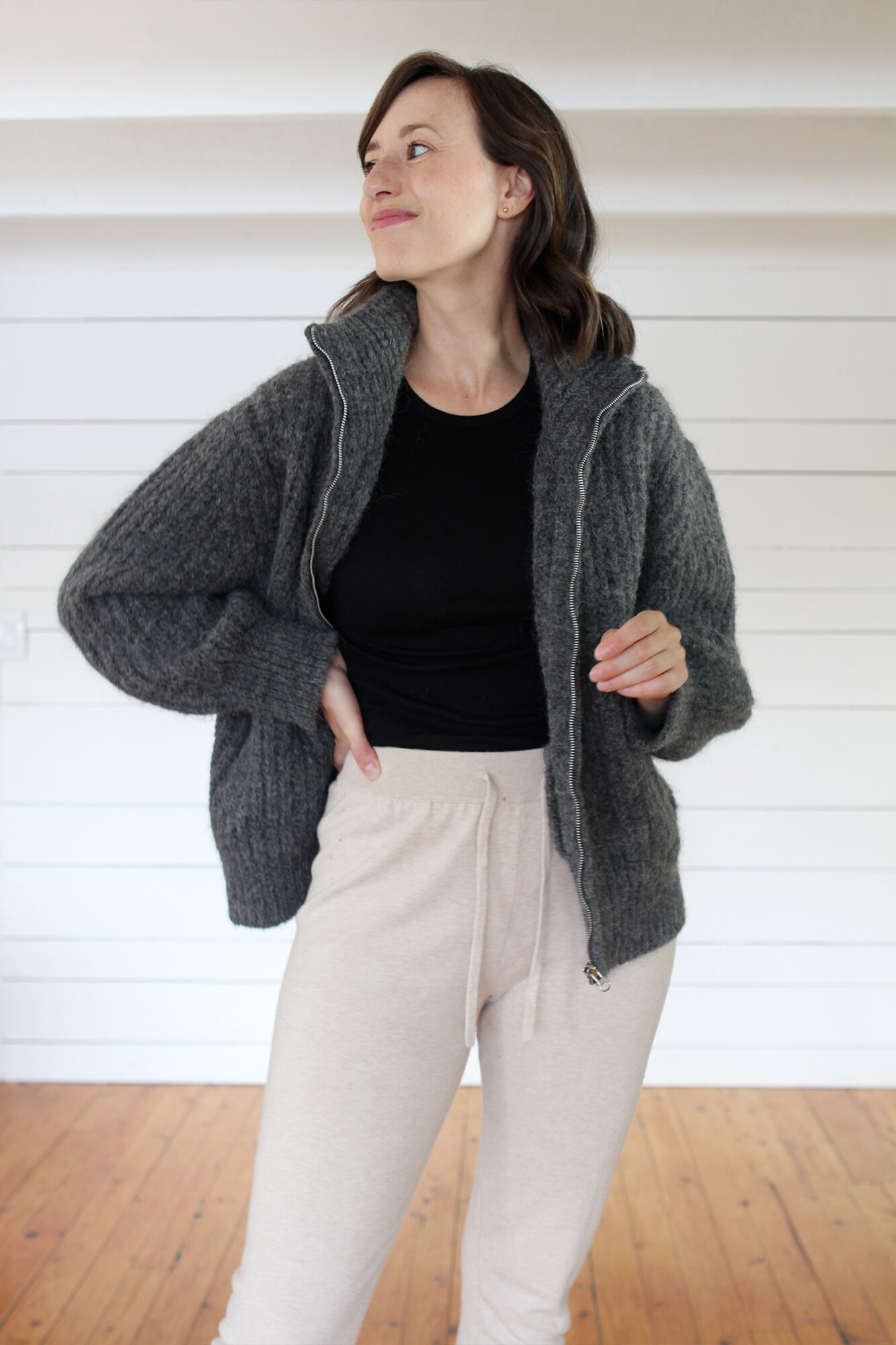 ---
See all 4 looks in action (ie: video!) in my latest style idea pin right here!
---
Use STYLEBEE10 for 10% OFF THROUGH 9/12
---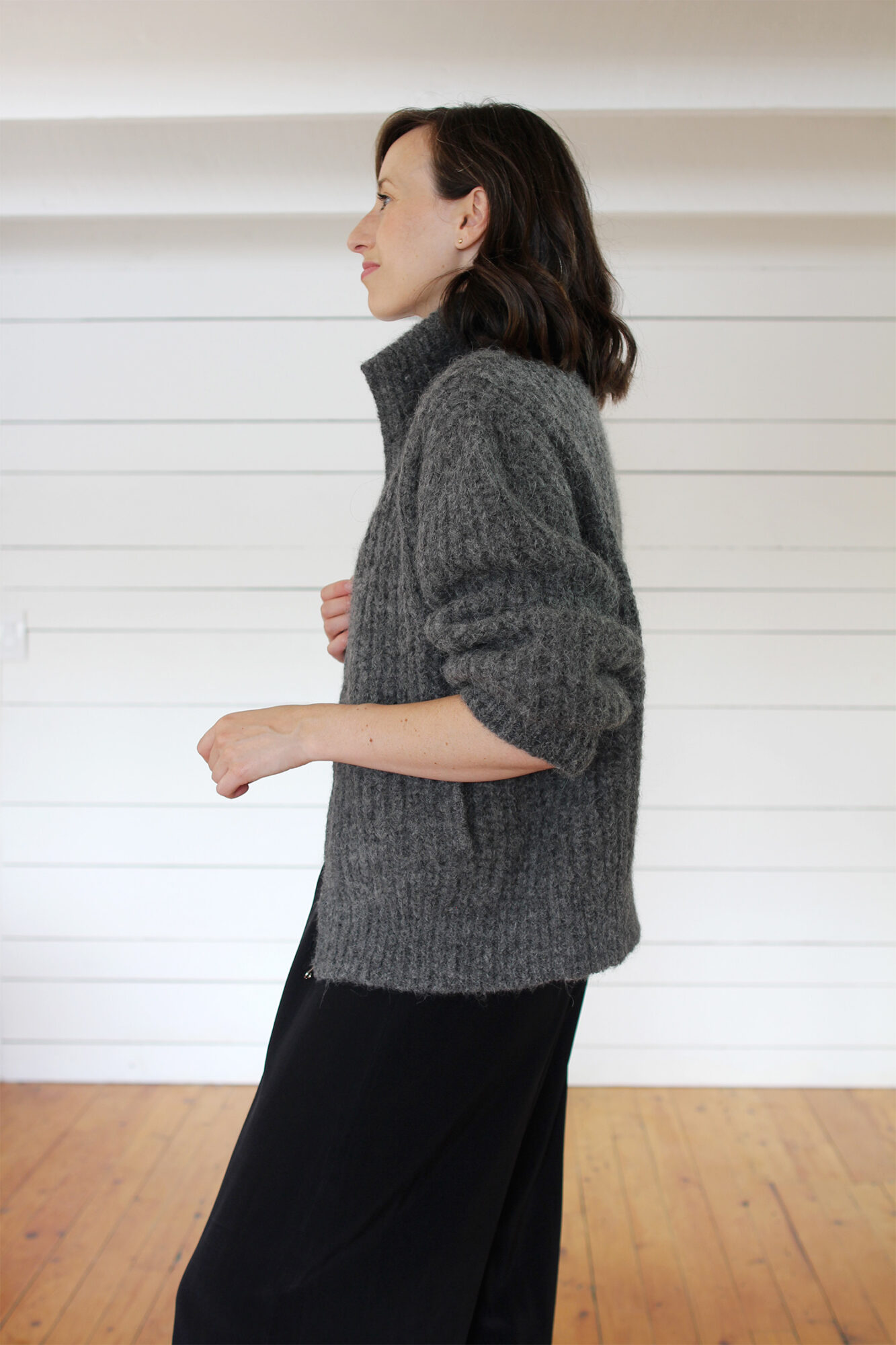 ---
Thanks for tuning in folks!
I hope this post is helpful for anyone looking to invest in their knitwear collection this season. You really can't go wrong with Bare Knitwear and you'll be supporting a Canadian business and some talented artisans in the process!
---
Thanks for your interest in discovering and supporting the independent brands that support Style Bee! If you're not shopping right now I hope this post still offers some new ideas for your wardrobe!