It's been a minute since my last check in and now that things are quieting down I thought I'd share some updates. This Life Lately is packed with pretty photos and some light musings on the following range of topics:
Findings from my instagram hiatus – What 3 months off the app has shown me.
My rough and ready closet organization – PLUS tomorrow's closet sale info!
A favourite lake scene & garden harvest – Including 3 recipes I've been making on repeat.
Wood shed progress – I know you've been waiting with baited breath.
The cat and the corgi – Of course!
Late summer blooms & early fall tones & textures – Because it wouldn't be a life lately otherwise!
Quite the odd group of topics but such is reality. Read on for a peek into some of the highlights of life lately!
---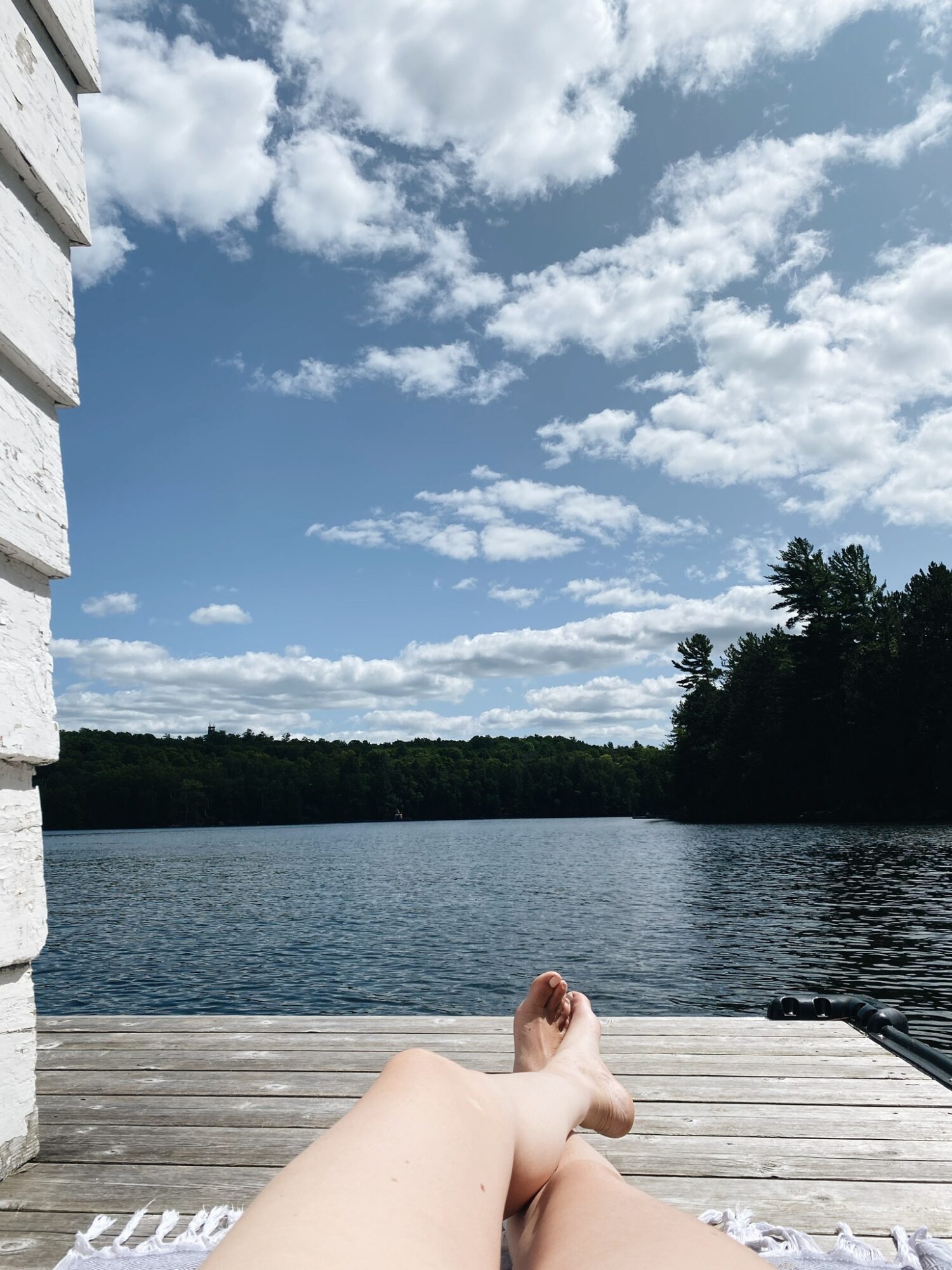 ---
Findings from My Instagram Hiatus
---
My time off of Instagram has been nothing but positive. These months away from the app have been incredibly liberating and eye-opening in many ways.
---
3 Key Findings
1 | My business faired better than anticipated. Thanks in large part to you, my amazing readers that continue to show up to this little corner of the internet and trust my recommendations. I truly couldn't do this without you!
Learning that my work relies less on the app than I thought was a huge eye-opener for me. This has given me a new perspective on Style Bee and the ability to see my role as a creative in a whole new light. That saying, "Couldn't see the forest for the trees." is so fitting.
2 | The FOMO fades but it takes discipline. After a couple weeks "off" but still checking-in, I realized that to fully detach I needed to delete the app. That's when the positive changes started. Not only was it good for my mental health but my productivity has also been given a boost. I shudder to think of all the time I've wasted on mindless scrolling.
3 | Life FEELS better when I'm not using Instagram. This is the one folks. The realization that's really forcing some change in my behaviour and future plans.
I refuse to look back in 5+ years, only to realize that I spent my 30's tailoring my life, work, and goals to the whims of an algorithm living in a little glass brick. Which bring me to, what's next…
---
---
No, no, I'm not going off Instagram altogether, but I will be using the platform very sparingly. For now, it'll simply be a way to keep my followers updated on what's happening on Style Bee and share bits of video content. It still has some positive elements and I want to reach as many folks who are interested in the pursuit of timeless style and intentional living as I can.
If you're here, you're in my digital happy place, and I can't thank you enough for joining me!
---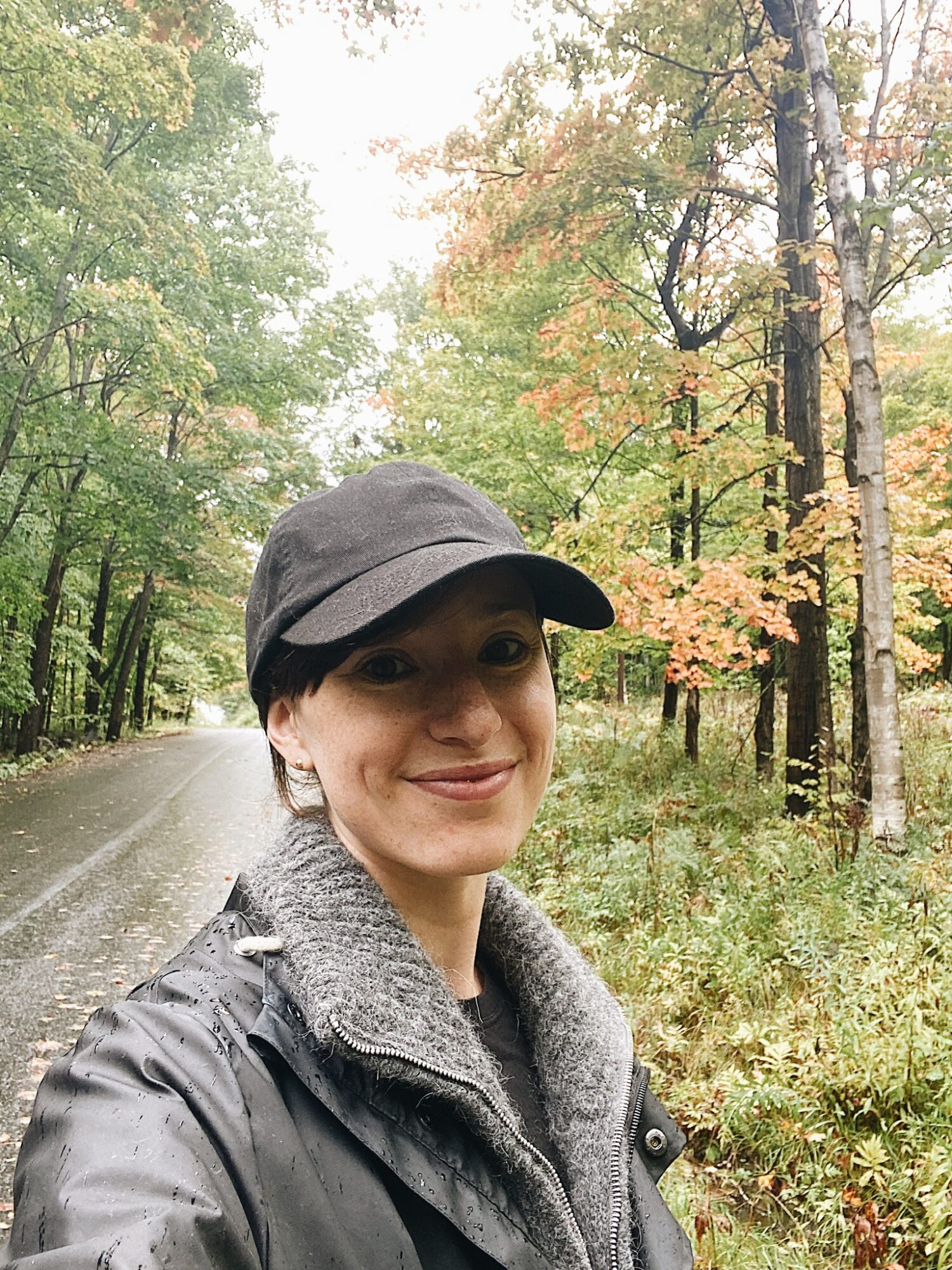 ---
MY ROUGH & READY CLOSET ORGANIZATION
---
Not exactly the massive walk-in closet that you're used to seeing from influencers. No wall of shoes, dedicated bag shelves, massive selfie mirror, but I'm working with what I've got and this is the honest situation. T-shirts, loungewear, undies, socks and jeans are all housed in an old chest of drawers in another bedroom. So I grab my base layers and then head in here for sweaters, coats and shoes!
This is possibly the best my closet storage will be until we finish renovations next year. For now, I'm enjoying the open concept for easy visibility. These wire shoe racks make for easy knitwear access and my trusty IKEA clothing rack is still going strong, 6 years on!
---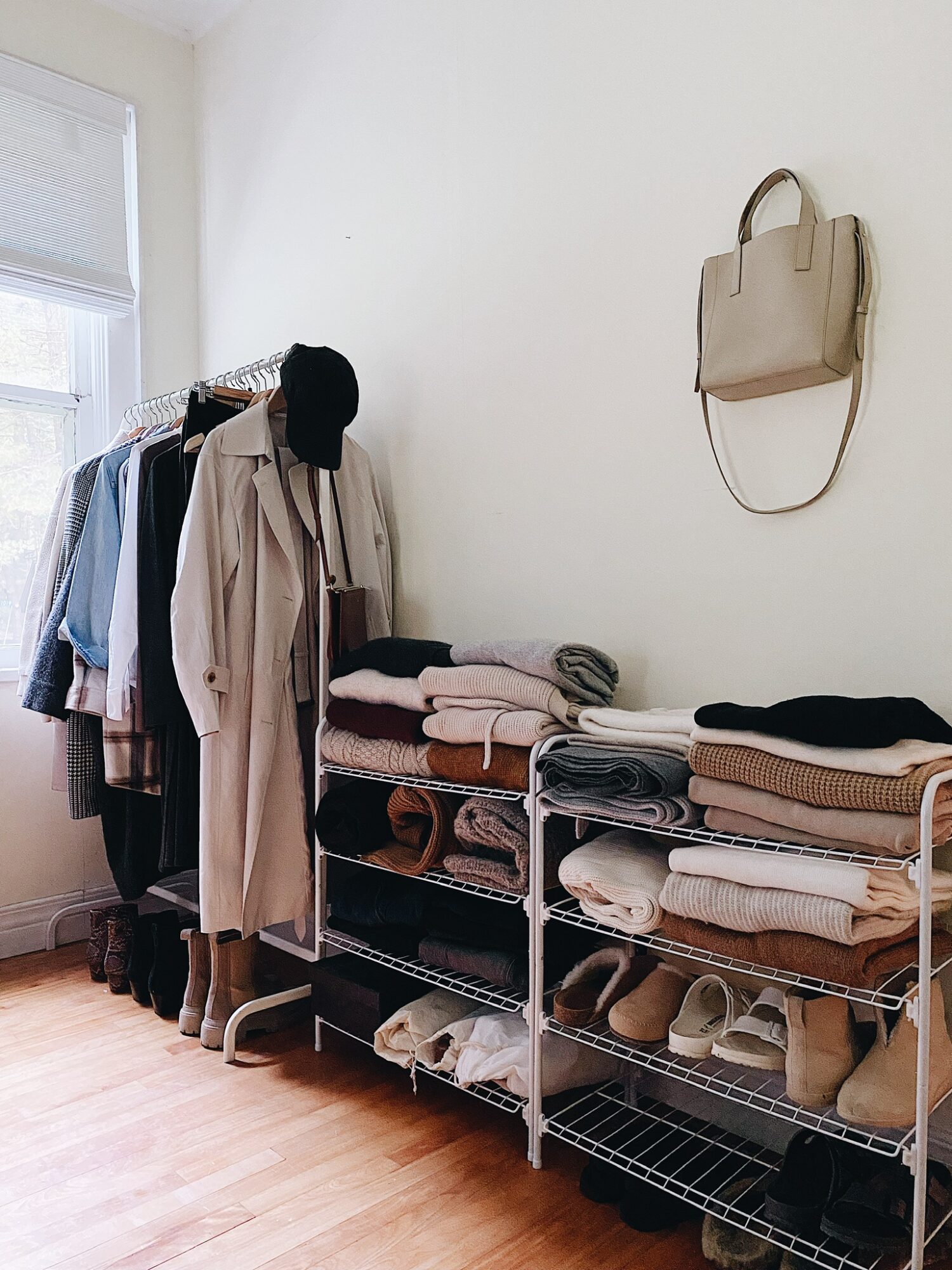 ---
CLOSET SALE INFO
I'll be listing a handful of my fall and winter pieces tomorrow, September 26th, on DEPOP starting at 9 am ET. International shipping will be available and all orders placed on Sunday/Monday will be shipped on Tuesday, September 28th.
There are lots of capsule closet and slow fashion gems (read: ES, Only Child, Jamie and the Jones) in this batch and they're all in great condition and ready for a new homes!
Follow me on DEPOP for first access.
It's my first time using the app so fingers crossed it all goes according to plan!
---
Now onto the rest of this life lately.
Less talk, more photos!
---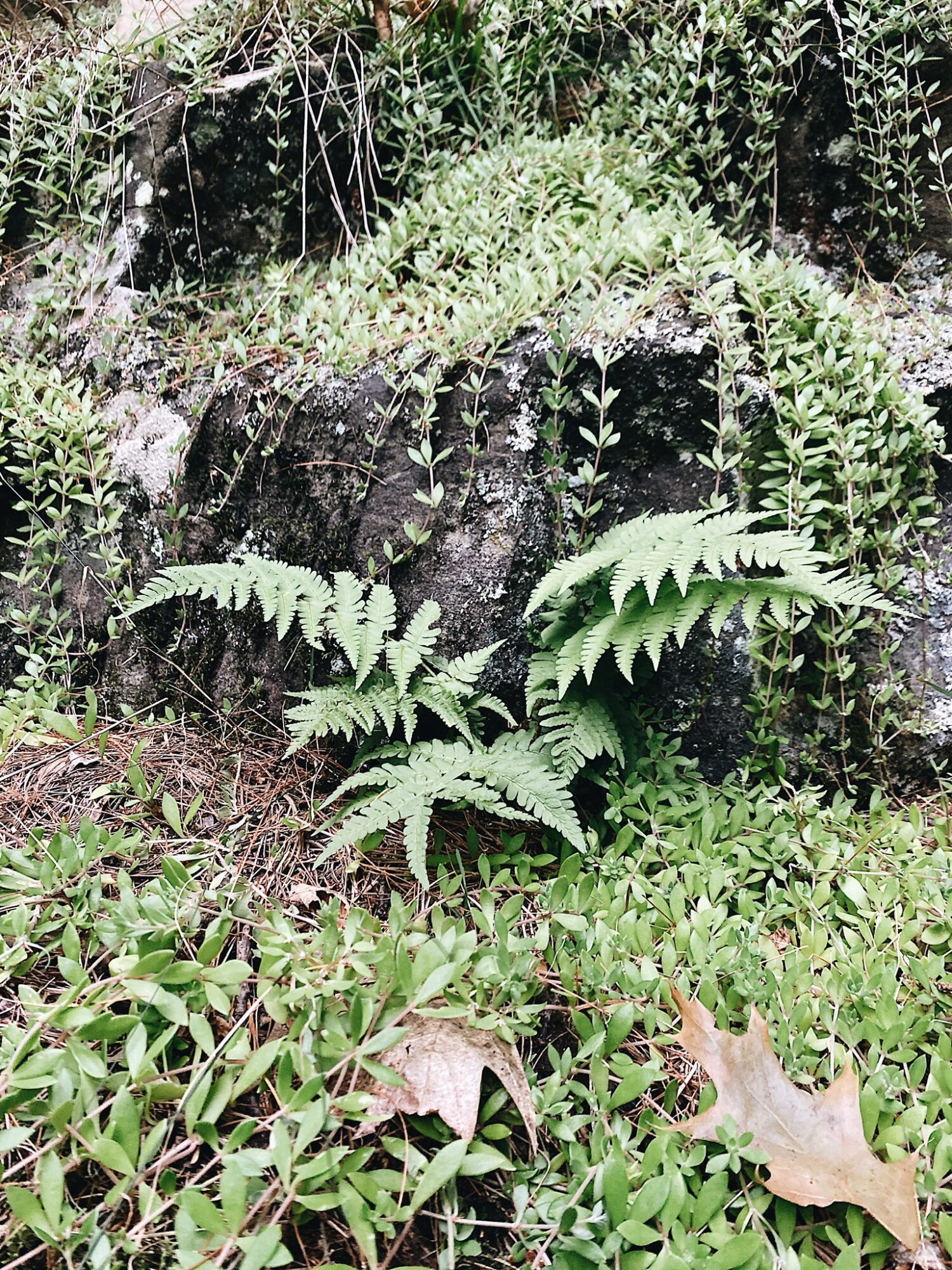 ---
A FAVOURITE SCENE OF THE LAKE
---
The lake is getting quieter with the onset of colder weather and I'm not complaining one bit. Nothing is more peaceful than when the water smooths to glass as the sun goes down.
---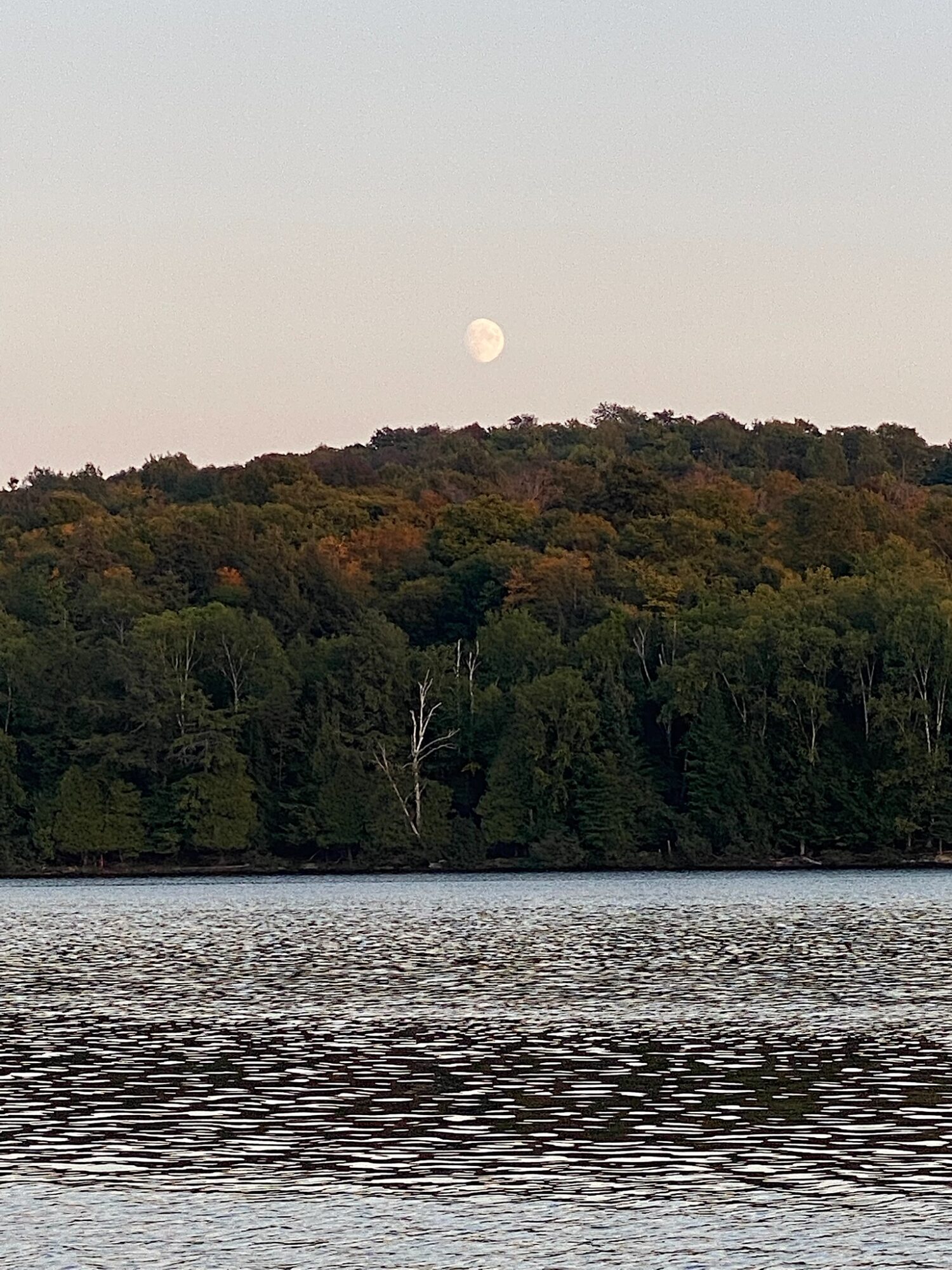 ---
THE GARDEN HARVEST
---
I don't know why and I don't know how, but the deer graciously allowed our garden to thrive this year. Maybe next summer they'll decide otherwise, but for now I'm very grateful. The kale has been more prolific than I could have ever hoped and my first attempt at growing eggplants has been a success! I've eaten enough pesto to practically turn green but I'm far from over it yet.
---
I've been making these three recipes a lot:
Pesto Chicken with Zucchini Noodles
I mix in some hot pepper to give everything a little extra bite!
---
---
SHED PROGRESS
I know, I know, you've been on the edge of your seats waiting to see the wood shed take shape. Well buckle up folks because she's got walls and a roof and the wood is going in! I'm saving the big reveal for when all the wood has been stacked and the final touches are done but here's how it's coming together.
---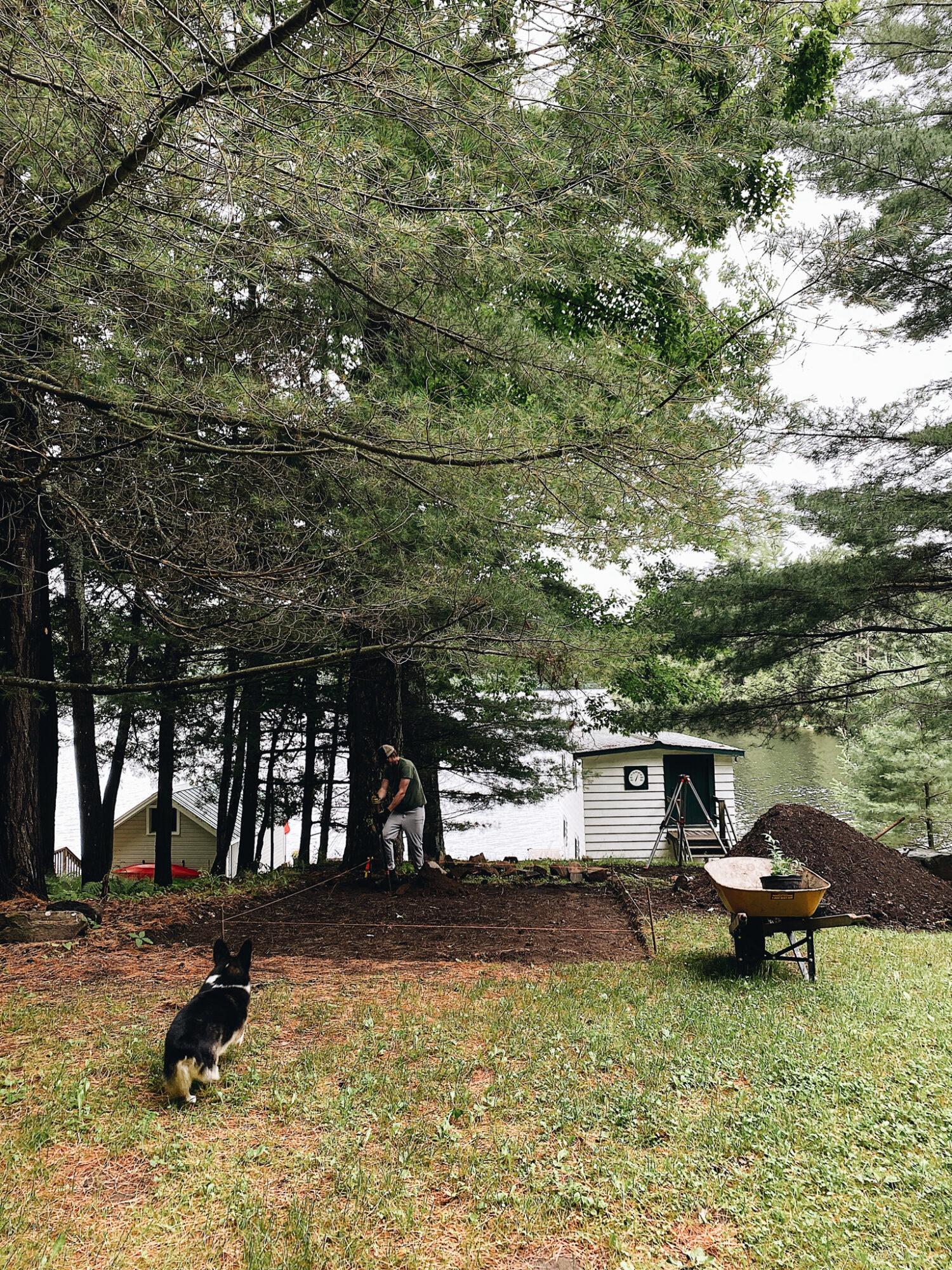 ---
THE CAT
---
Miss Miss, as I called Evie most of the time, has been fairing as fine as any feline could hope to in this life. After her requests to explore the outdoors are met (she wears a little harness so the chipmunks don't end up as lunch), she takes her morning sun on the window ledge of the Muskoka room. Then proceeds to to retire to the bedroom for her day of arduous napping.
---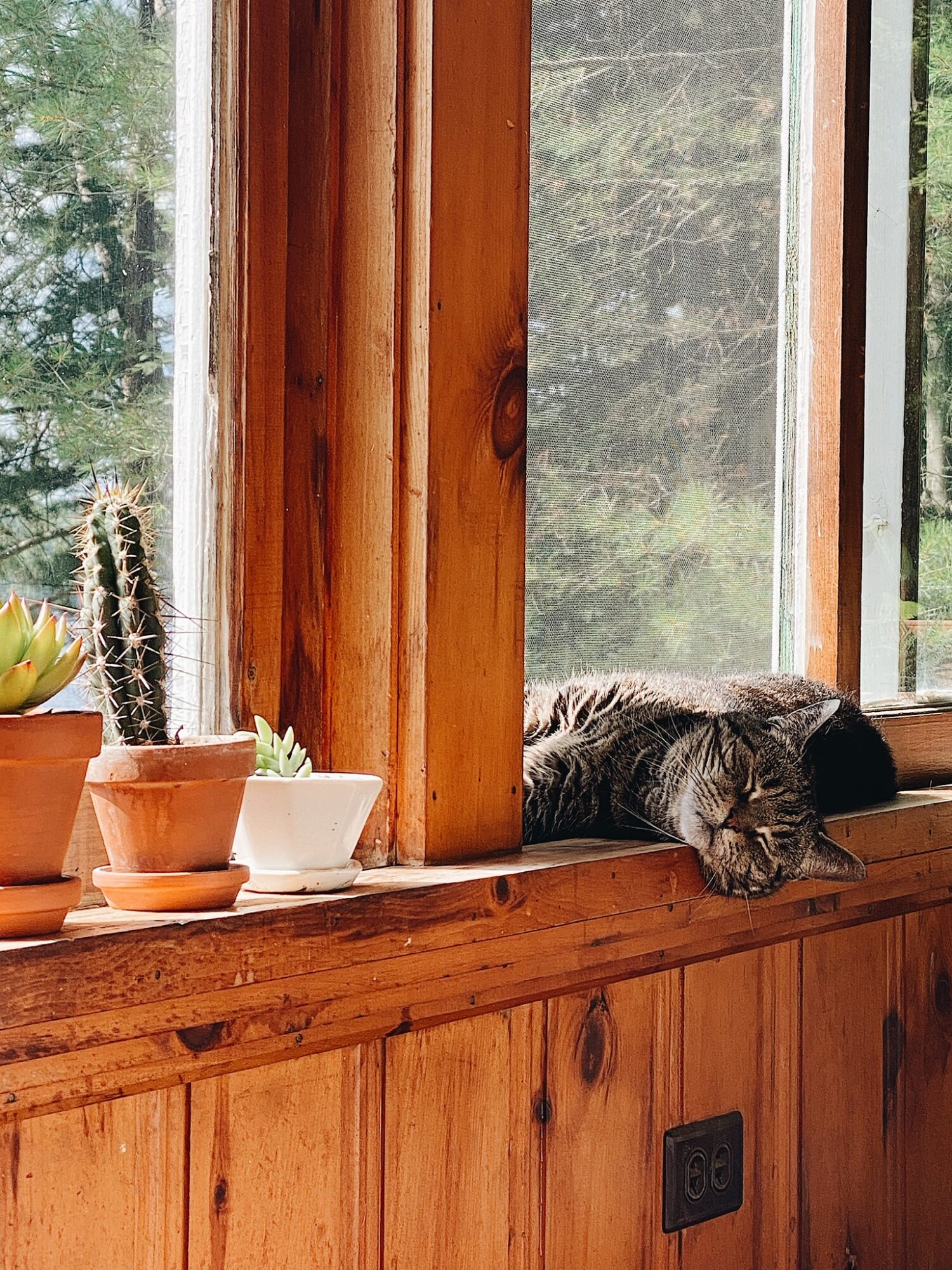 ---
& THE CORGI
---
This little 10 year old fella has been living his best life. Snooping through the woods, hopping aboard for boat rides, snoozing on whatever bed or couch (or person) suits him best. Not much for this little prince to wish for!
---
---
Dobby has been my best little sidekick and joins me for morning coffee on the dock, boathouse office days and walks along our quiet, tree-lined road. Come to think of it, I'm probably the sidekick seeing as he's clearly the star of the show.
---
---
LATE SUMMER BLOOMS
---
I'm loving all the fuchsia petals and pretty purples that have been out in recent weeks. Seems my fellow bee's are fans as well.
---
---
EARLY FALL TONES & TEXTURES
---
The real fall colours are just starting to come in but I can already tell it's going to be a beauty. I'll just need to dodge the golf-ball-sized acorns while I'm out exploring with Dobby.
---
---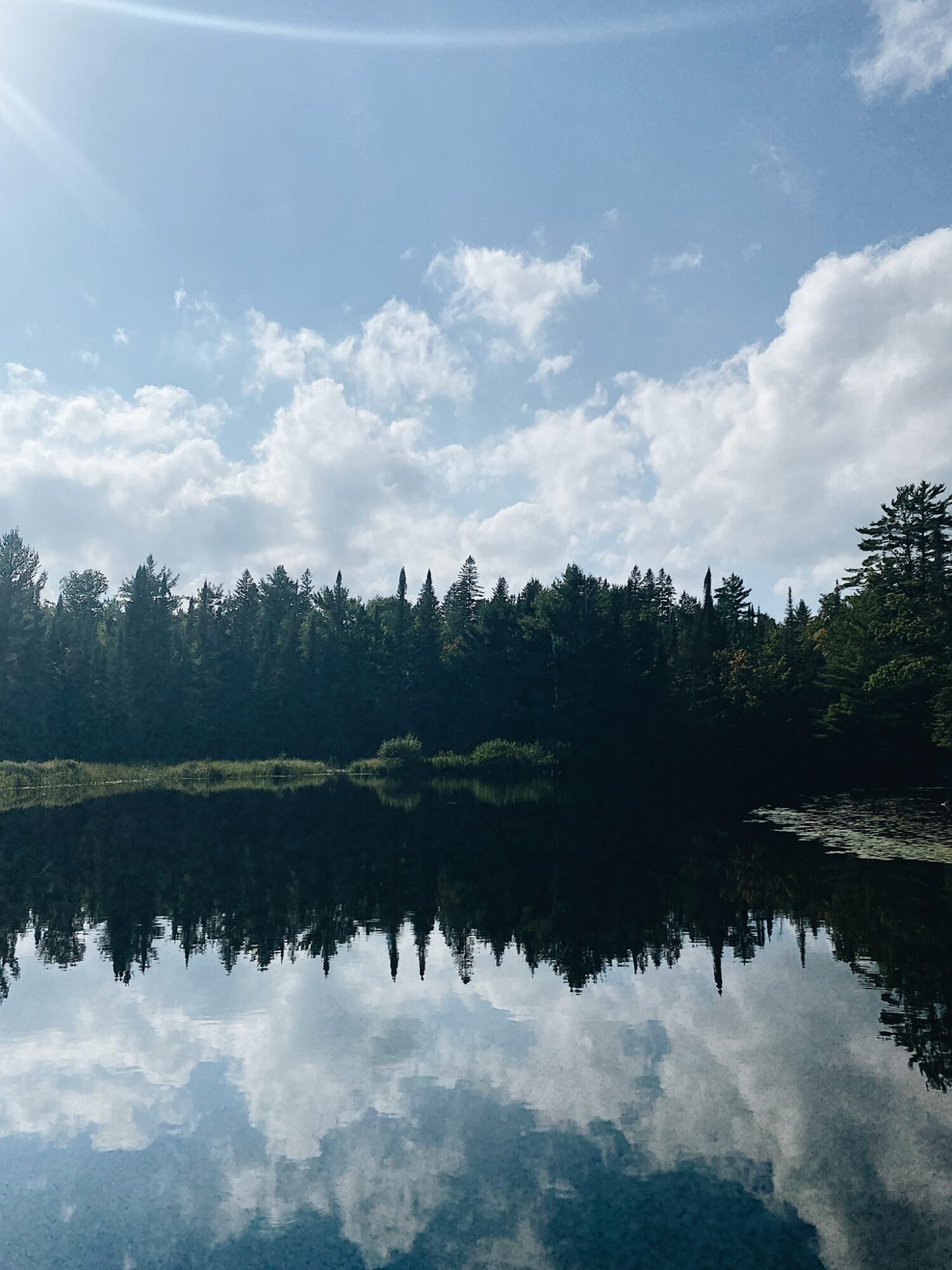 ---
Thanks for tuning in folks.
I hope your autumn is off to a beautiful start. Wishing you all a wonderful weekend!