Hello friends, it's been a minute but I'm back, and with new bangs to boot! I'll update you more on where I've been in my next Life Lately but today's post is something a bit different.
Since sharing a peek at the new 'do on IG I've received A LOT of messages (thanks for the love!), so I figured a post with all the details would be helpful.
Here's what this post will cover:
Why I decided to change things up.
The inspiration.
What I *wish* I'd known to ask my stylist for.
How it looks!
Answers to the questions I got in my DMs.
'do join me!
---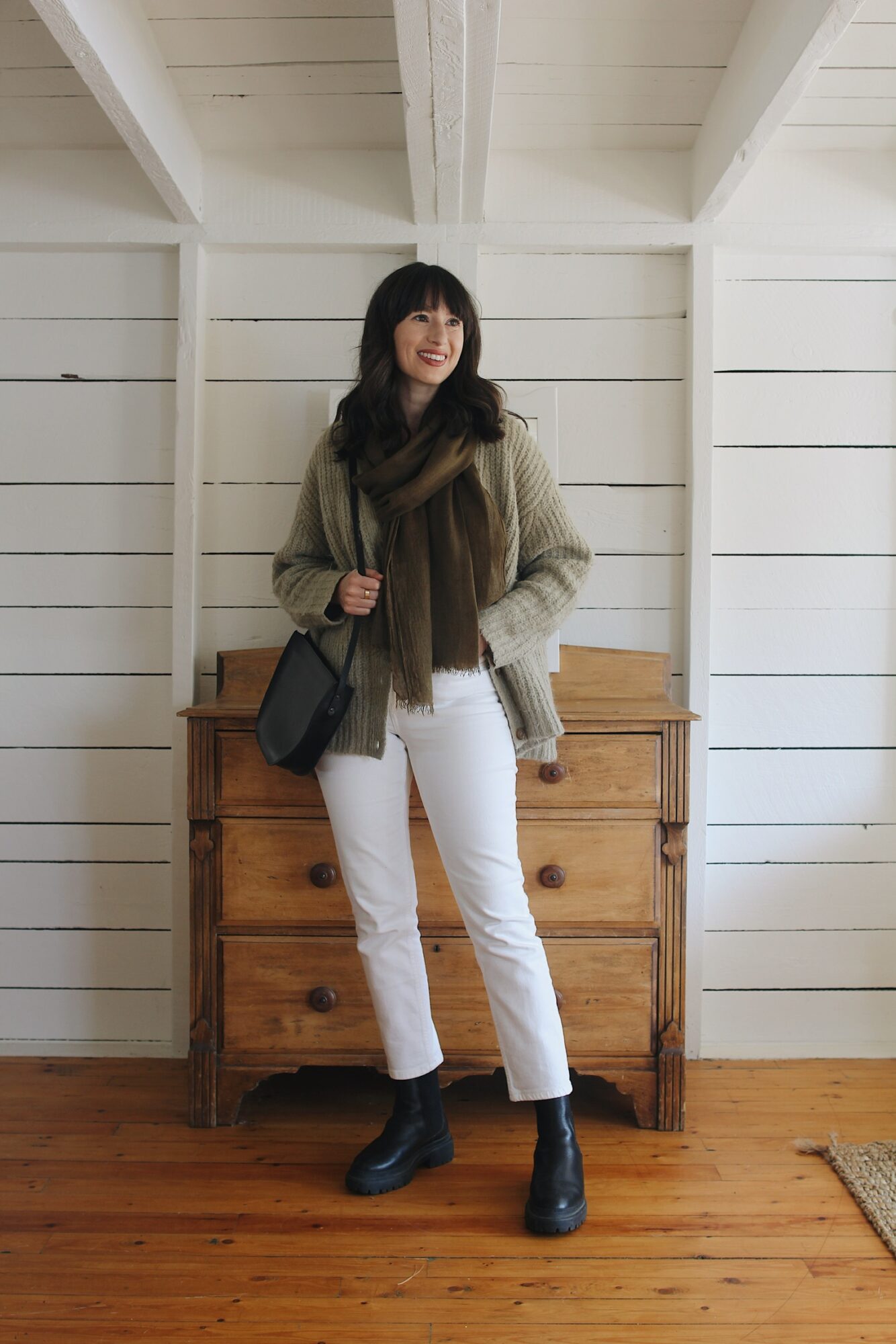 SCARF old // CARDIGAN LEE15 for 15% Off // JEANS // BOOTS // BAG old
---
Below is a photo of my hair before, in case you're new or forgot. I've worn my hair side parted with side swept bangs for basically my entire life. I have a high forehead and an oval shaped face so I find they suit me well and I've enjoyed them. I will also say, one of the "fringe" benefits (sorry not sorry) of lifelong forehead coverage, is that I have very few lines or sun damage to speak of. So that's good I guess!
My "swoop" is a touch shorter than usual in the photo below since I'd recently trimmed them, but you get the idea.
---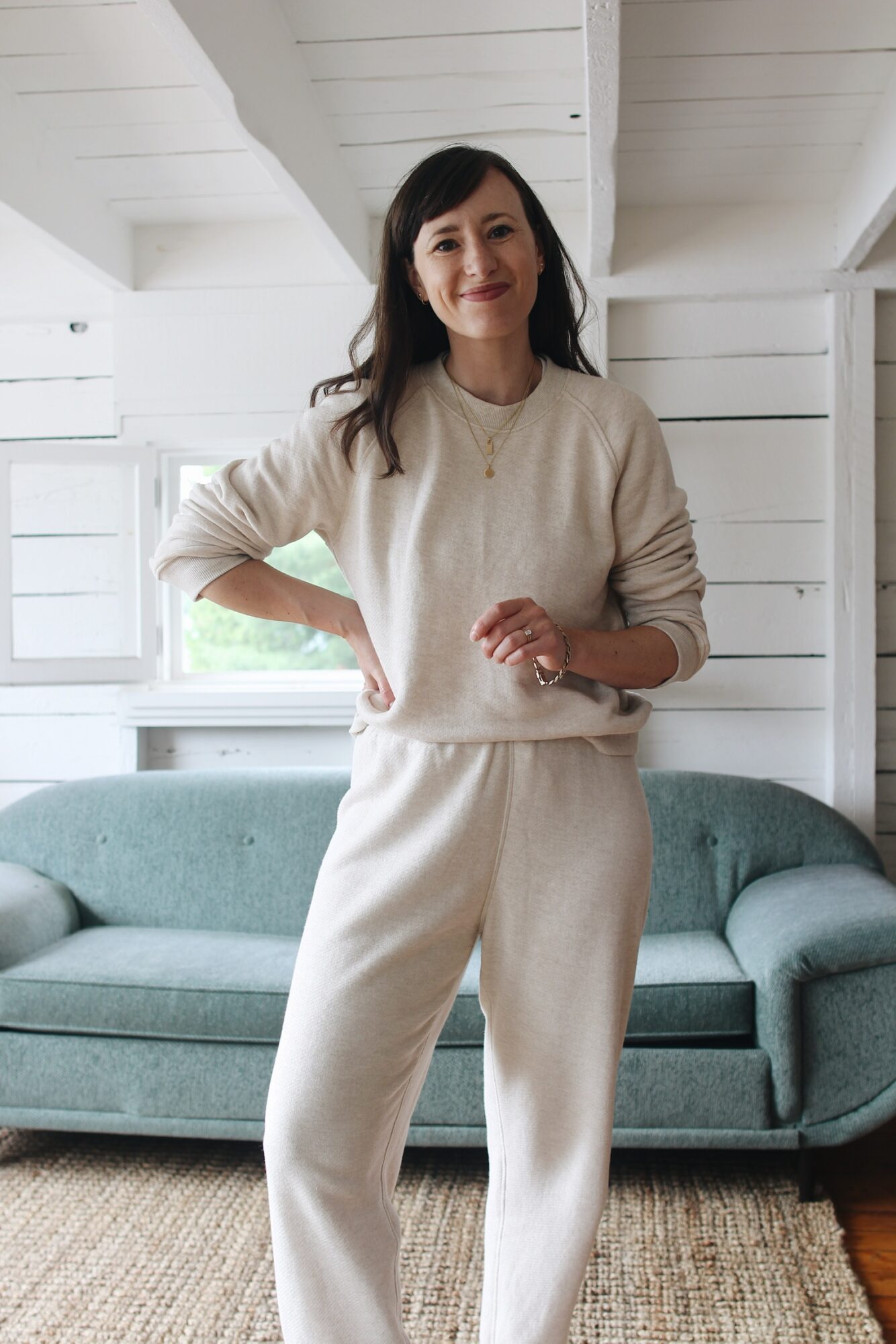 ---
WHY CHANGE THINGS UP?
You know when something just hasn't been feeling right for a while? You can't put your finger on exactly why or where it started (of course a good guess is social media) but you're ready for a change? Well, that's how I'd been feeling about my hair. I'll also admit that Gen Z did get me thinking about a centre part, which I never thought would be in my future.
I've been in the process of growing my hair out after a long bob phase and I wasn't sure how I'd make a full fringe work with longer hair until I started gathering evidence that it was possible.
Plus, it's just hair! So why not have some fun with it while the mood strikes?
---
THE HAIRCUT INSPIRATION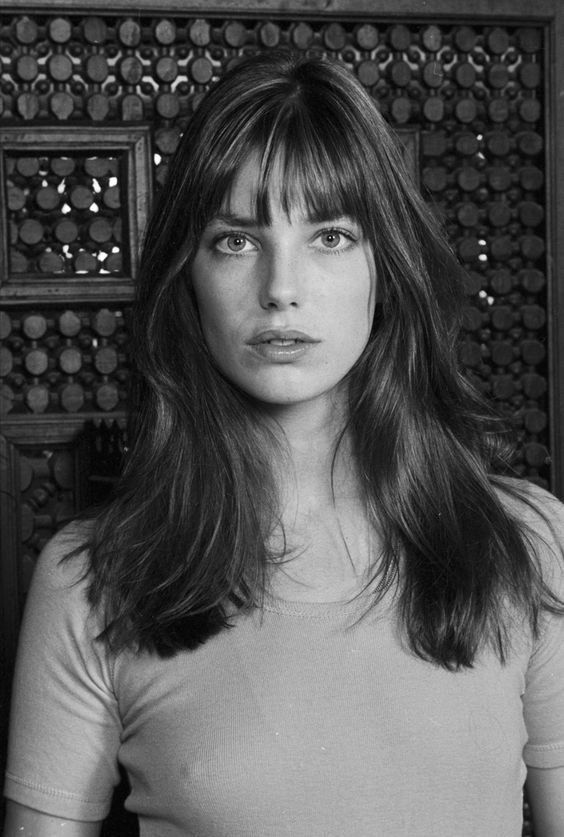 I've saved more examples of this style on my How Do You 'Do? Pinterest board to show how it might work for different textures and tones.
---
WHAT I WISH I'D KNOWN TO ASK MY STYLIST FOR
(and will next time)
I've trimmed my own bangs forever so I wasn't worried, however, in my haste to try out out a full fringe, I ended up snipping things a touch wider than I should have. Not the end of the world, and luckily my stylist was able to help the sides blend in a little more. As it grows out she'll be able to shape it into the style I should have asked for, which is, "Bottleneck Bangs".
Aptly named after the shape of a glass bottle because they're wider around the face and cheekbones and taper inward to a small section in the centre of the lower forehead between the eyebrows.
Bottleneck bangs look really great with a voluminous blowout or a messy ponytail. They also work with long and short hair alike, any face shape, and all sorts of hair textures. The longer sides make them easier to grow-out so if you're not sure you want bangs for life, they're a great option.
This article covers the style very well and gives some more advice on what to ask for but, London-based hair stylist, Tom Smith, recommends:
"Ask your stylist to create longer bangs that skim your cheekbones at an angle that flatters your face and curves around to create a layer that sits somewhere between your cheekbones and jaw. Then, ask for the central part to be cut slightly shorter, keeping the cutting line soft and choppy, with the shortest part in the middle gradually getting longer on the edges."
---
HOW IT LOOKS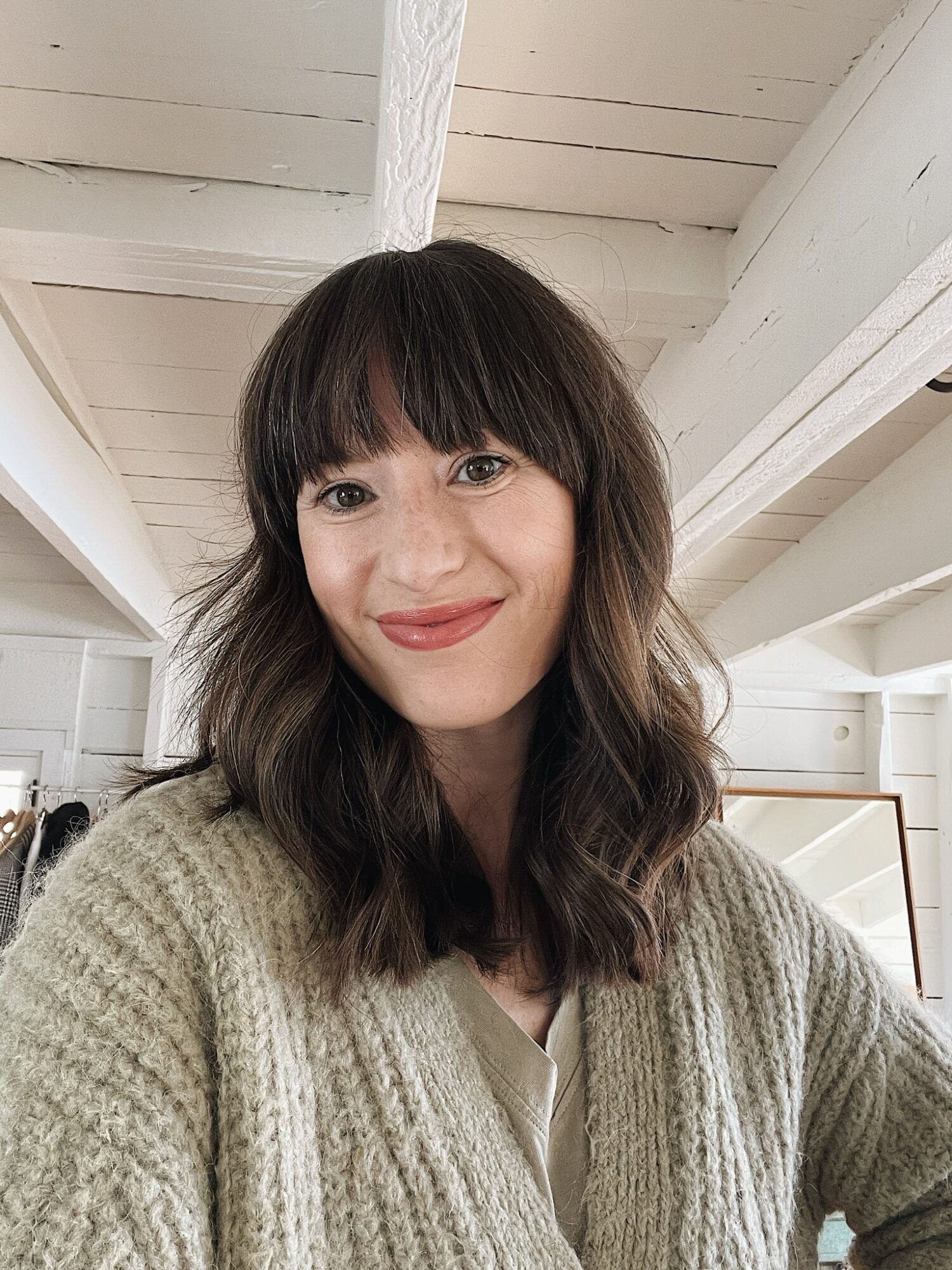 Here's how it looks about a week post professional trim, with my own styling. That's always the true test of a good cut for me. If I can make it look good at home, then it's a winner. I think I did a decent job and have been finding the fringe itself super easy to maintain and style.
You can see it in action in this saved IG Story.
---
Answers to the common questions I got in my DMs.
---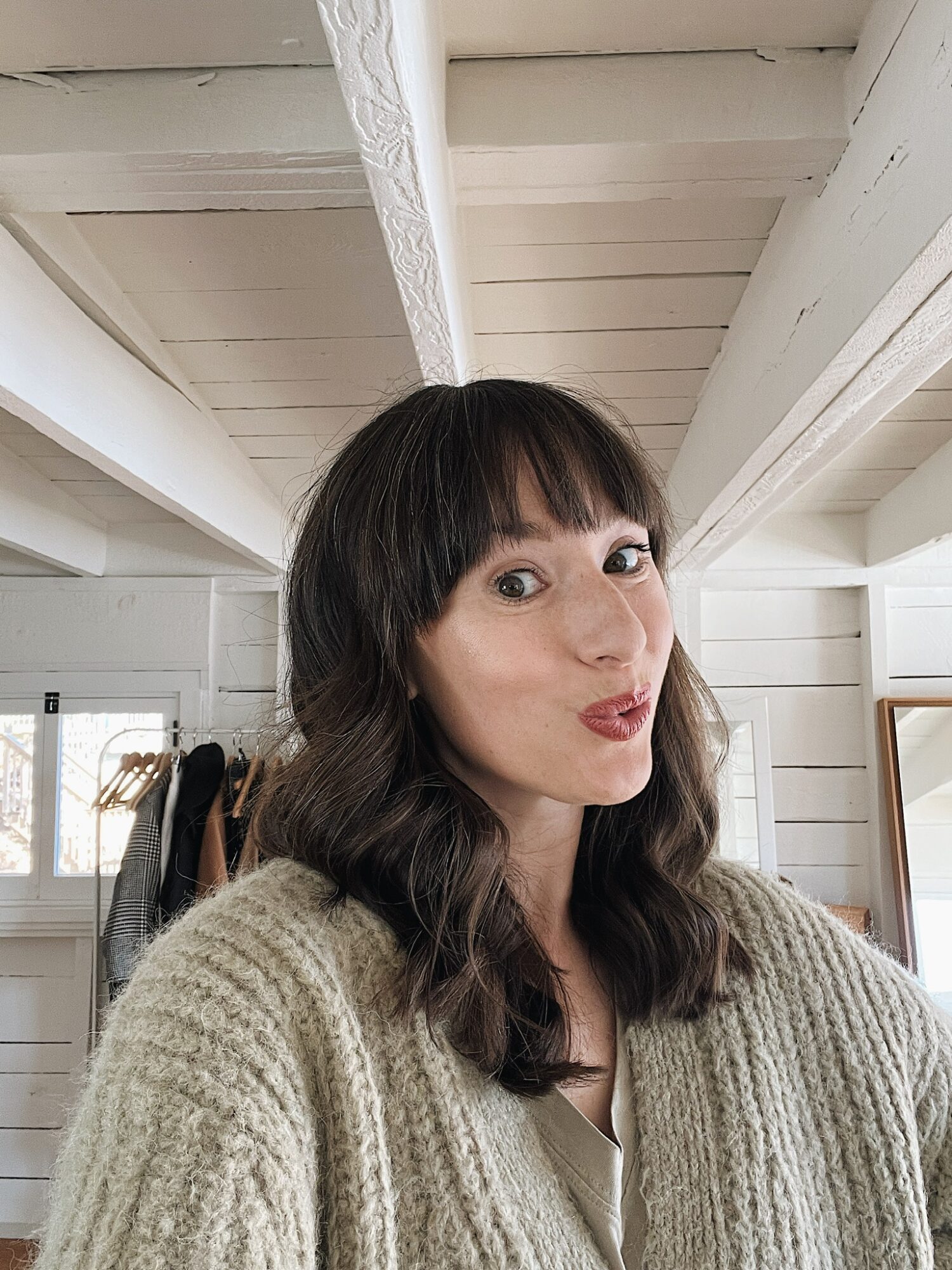 ---
Q: How did you decide how wide to go?
I just went with the section of bangs I already had and tried to shape the sides a bit. As I mentioned, I think they're a bit wider than a true "Bottleneck" but it works for wearing glasses and I'll see how things grow out.
Q: How do you style them?
Two ways. The first, and most common:
After a wash I vigorously towel dry them.
Comb them into place generally.
& that's it! They tend to air dry quite well and look just fine for lake life.
The second, for shoot days or any occasion where I want styled hair:
I still vigorously towel dry them.
Then I blow dry while still damp.
Using a fine tooth comb I comb down from my roots to train the hair to fall evenly and flat over my forehead. This reduces any kinks or cowlicks.
Then I use a bristly curved brush to swoop the sides out and add a bit of volume in the centre.
I finish with a soft hold spray.

Q: Do they get greasy easily?
This will depend on your hair type, skin type, and general hair touching habits. I have fine hair, with combo skin and I tend to touch my hair a fair amount. So my bangs need a freshening up most days. Having a good dry shampoo handy has helped so much.
I will say that I'm much less inclined to touch my bangs in this style compared to when they're side swept.
Q: Do they get in the way of your glasses?
So far, I've found they don't get in the way when I'm wearing glasses or sunnies. I typically wear contacts from day to day, but I always try to remember to bring my glasses when I get a haircut. Then I can make sure they're cut sort enough not to interfere with the frames.
Q: Do you plan to colour your hair now that you have more greys?
First of all, nobody actually asked this, but I figure a few folks must have thought it as the question has crossed my own mind and come up in discussions I've had with my girlfriends.
The answer for me is no. I haven't dyed my hair in any way since high school so I'm not about to start. I'm much too lazy to maintain that sort of thing and I love how grey hair looks on women. I will admit, I was slightly surprised by how much more my greys show up now that I'm parting my hair down the centre but I also really like the bolts of lightning they add to my darker base.
---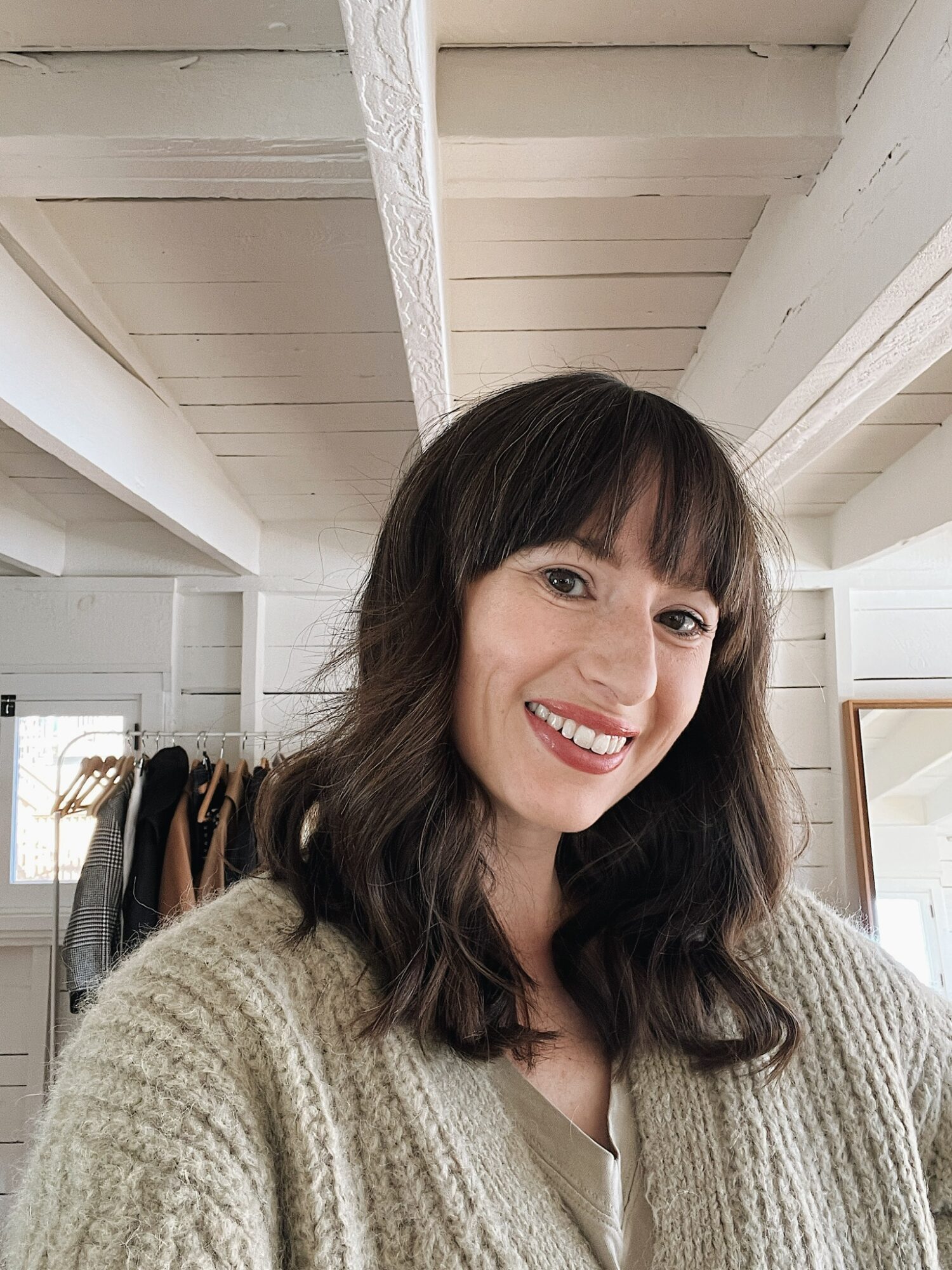 ---
& that my friends, concludes my hair update. I'll be back soon with a proper life lately update but if you've got any hair q's feel free to drop them here!
Oh and if you're not a fan of bangs or my hair, that's no prob, just consider keeping that thought where it is. Thanks!