Woo! We made it a full 30 days without shopping!
Pat yourself on the back, high five the mirror, fix yourself a fancy drink or do whatever celebratory thing you'd like because that was no small feat! There were definitely some high points and some low points but overall I'm coming out of it feeling great. My resolve to buy fewer things and live better with less is stronger than ever. So I thought I'd share a few of my findings from the experience and how I plan to implement what I've learned about myself and shopping habits. Then I'll quickly break down the outfits I wore most because a big objective was to take note of the pieces I go for most and where my closet could use a little refreshing.
Biggest Takeaways:
I wear WAY fewer clothes than I thought I did. I barely touched 1/3 of my winter closet. This means I can absolutely live better with less and that was really reassuring. Even items I thought were 'essential' ended up resting on the shelf until my true essentials were in the wash or at the cleaners.
What I don't know about can't stress me out. I know I've mentioned this before but unsubscribing from retail newsletters (especially those I barely shopped at to begin with) and unfollowing some major 'buy buy buy' influencers on Instagram really helped. My inbox is much less cluttered and I can get straight to work in the morning without feeling like there are 100 things I 'need'. Now when I seeing the occasional lookbook or outfit post it's refreshing and inspiring, rather than anxiety inducing.
Money looks better in my bank account than on my feet. I owe Sofia Amoruso (Author of #GIRLBOSS and NastyGal Founder) for that bit of wisdom but the fast forced me to see it's validity. I often use the excuse that "I'm in my prime now, this is when the great style matters!" but that's nonsense. My prime is far from over and being careless with how I spend money is definitely not chic.
Living with less requires more creativity. Which is great! I love using my creative talents in any way possible, so having to be clever and more thoughtful about how I put together outfits and mix and match pieces is a great outlet for it. Buying something new because I'm too lazy to use my brain is just a cop out.
Shopping less = doing more. I hadn't realized just how much time I waste browsing. I use it to distract myself from things I'm putting off or unsure of how to start. Not shopping as much means I can allocate my time to things that will actually bring me satisfaction. Like planning for our renos, putting finishing touches on the rooms we've done so far, making headway on some career goals I had been afraid to tackle.
Biggest Temptation:
I allllmost caved last week when Everlane restocked their leather loafers. I have been desperate for the black pair, but I held off and sure enough there is a wait list and a restock coming in March, so no big deal! That fear of missing out is a pesky devil!
---
 Most Worn Outfits
The end goal on this mission is to achieve closet contentment and knowing what I really LOVE to wear and the pieces that make getting ready a breeze is paramount. So here are my most worn outfits for the month of January.
Outfit #1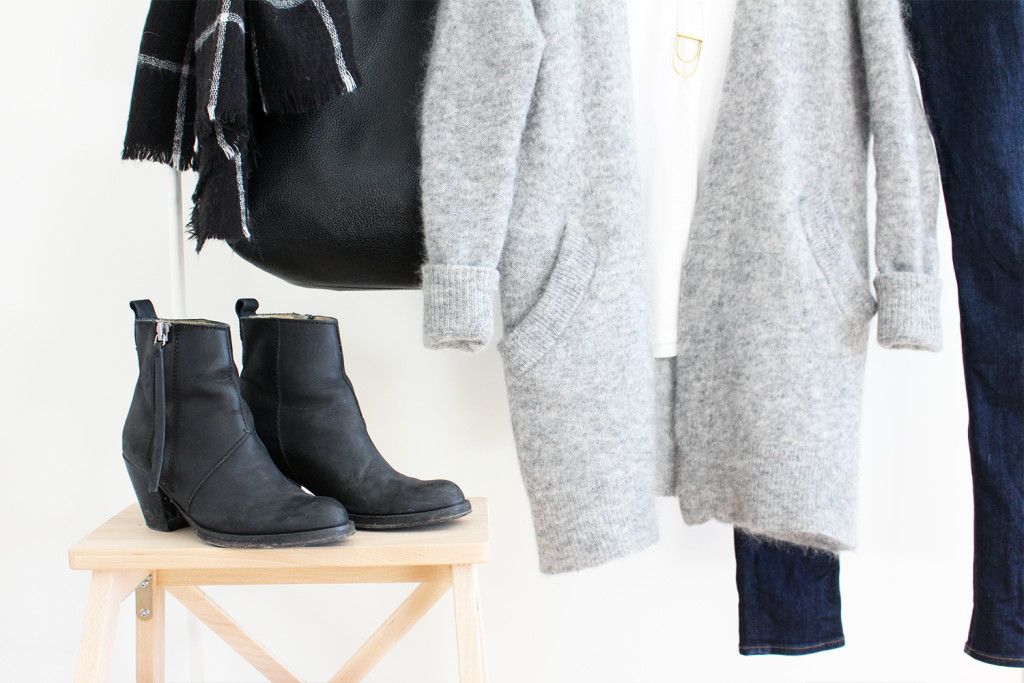 Acne Cardigan My #1 winter staple! (link to dark grey version) || Rag & Bone high rise dark wash denim || Cuyana Simple Black Tote || Acne Pistol Boots || Zara blanket scarf || Another Feather Necklace || Everlane U-Neck Tee (Style Mint tee pictured)
---
 Outfit #2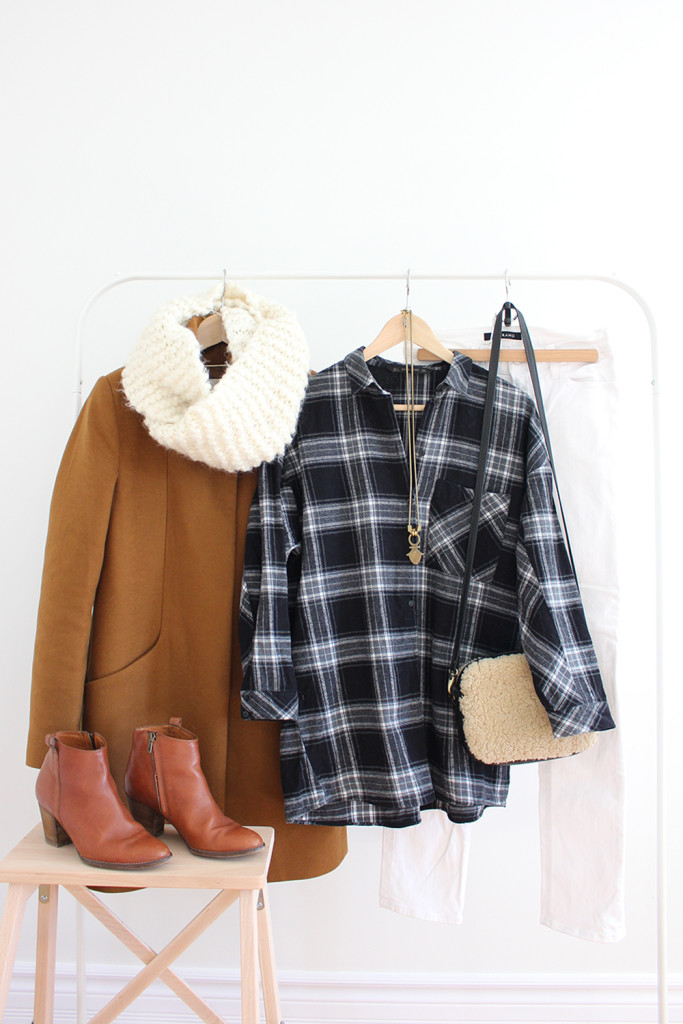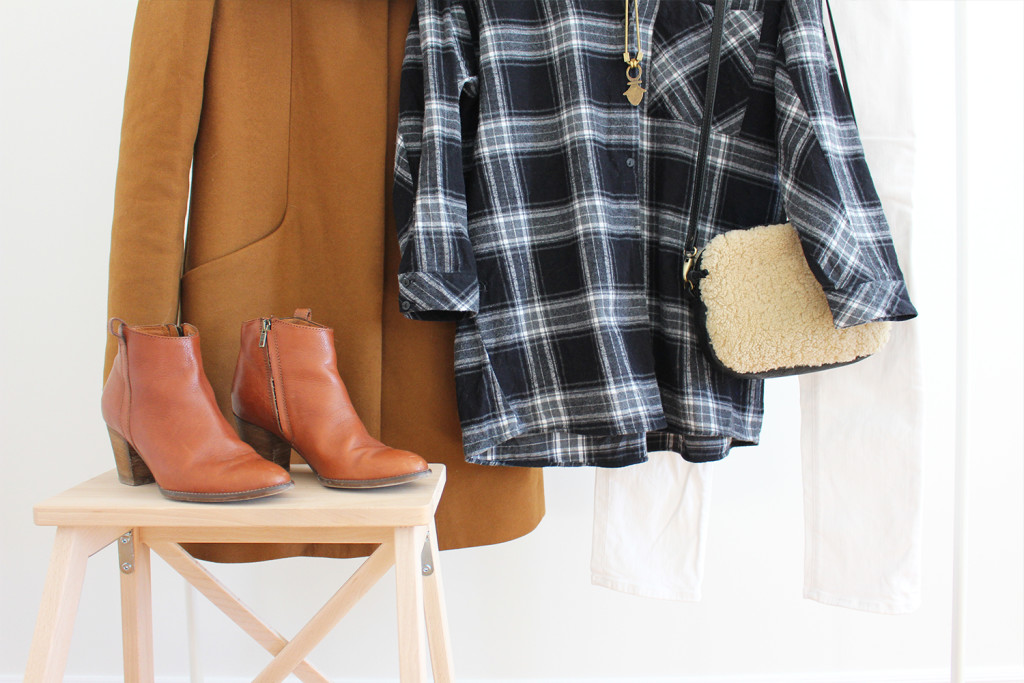 Zara Oversize plaid shirt || Aritzia Camel Coat (on sale in black) || J Brand White Skinny Denim || Chunky Knit Infinity Scarf || Primecut Neutral Textured Cross Body Bag || Biko Chunky Long Necklace (link to similar) || Madewell Boots (link to similar)
---
 Outfit #3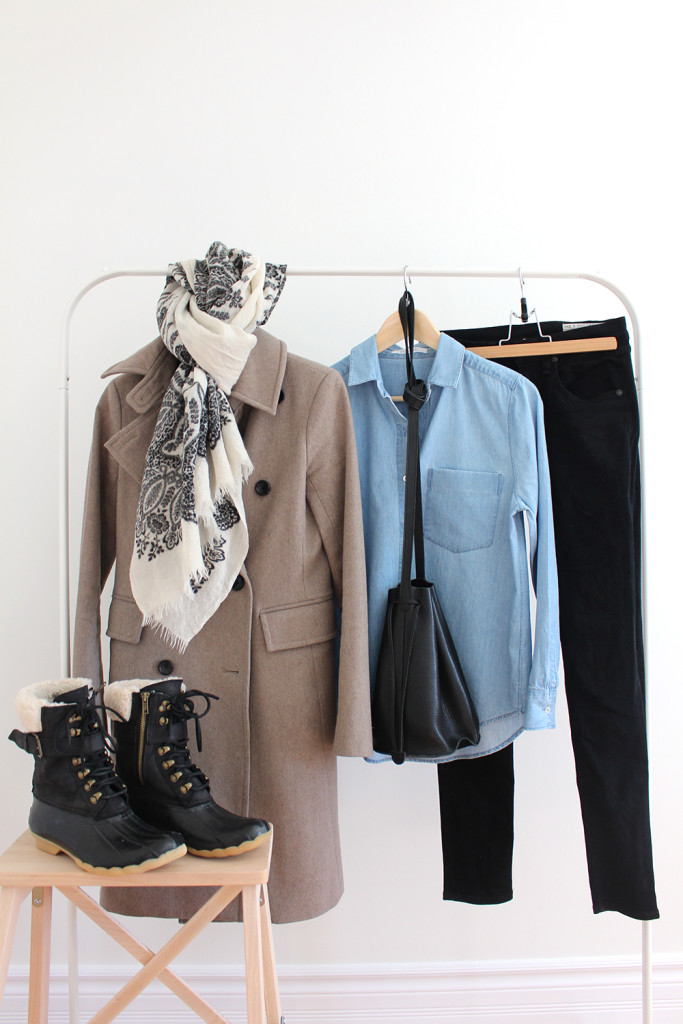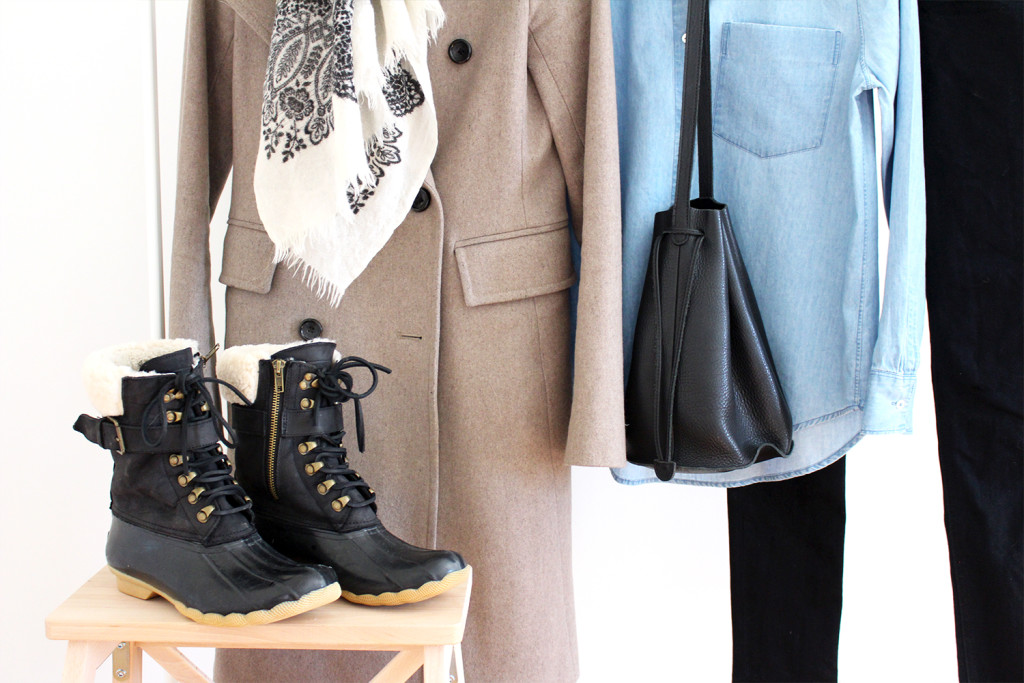 Everlane Chambray (link to short sleeve version) || Rag & Bone Black Skinnies || Neutral Peacoat || Paisley Scarf || Baggu Bucket Bag || Sperry for J.Crew Boots (these have been life savers!)
---
 Missing Ingredients 
I was actually quite relieved about how content I felt with my winter wardrobe options but in a perfect world a few little extras would go a long way. A few I'm keeping in mind are:
A high waist denim skirt. This will give me all the same options as pants but add a little femininity to my vibe. It's also a great way to dress things up a little.
A grey cashmere crewneck sweater. Would be great for layering and looks perfect paired with both light and dark wash denim.
Chic black dress for dinners/nights out. A dress that makes you feel great is key and that's something I've been missing.
---
Future Fasting
Going forward I'll be making shopping fasts a more regular part of my life. It felt so good to just cut myself off from the pressure and constant barrage of 'buying' and 'must having' that's become so standard in our consumer culture. So my plan is to start each season with a fast. January, April, July and October are hereby declared no shopping months! I'll admit this is a big change for me and a bit frightening (ok, downright terrifying) but I've got big plans for the year ahead and saving money is going to be integral to seeing them through. I'll be sure to announce my next fast and try to wrangle a few of you to join me!
So tell me, how did your fast go? Did you pass with flying colours? Did you cave? Was it pointless since you're already a pro? If so, please impart your ways! 
I hope you're excited for part 2 of the closet mission, which is already underway (first post here). It's time to really dig in and define our style!