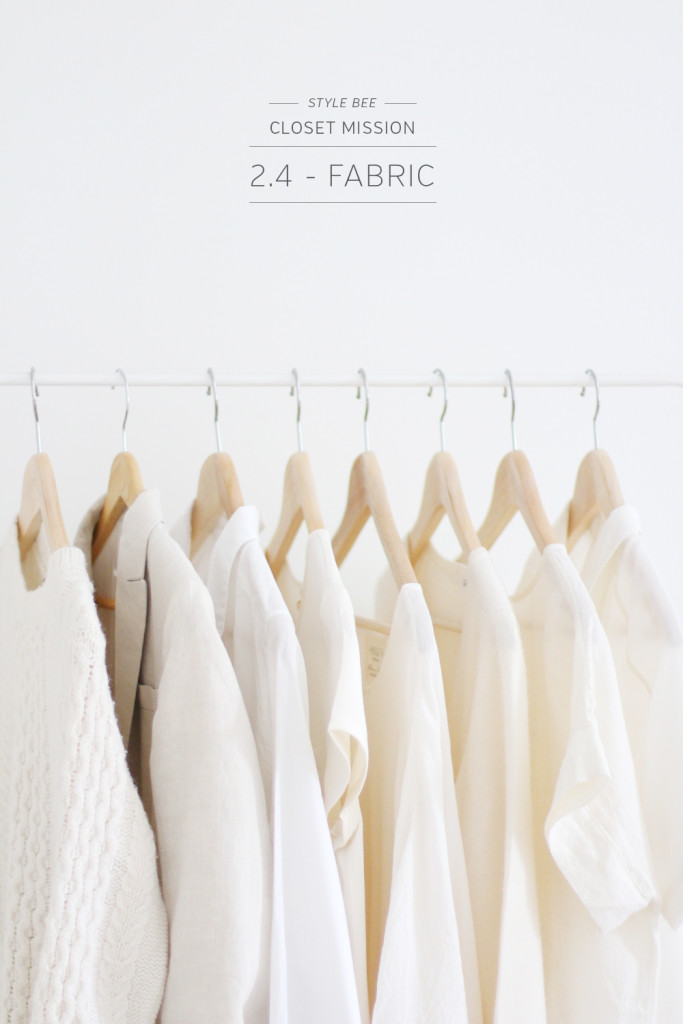 FABRIC
Ah, it sure feels good to be digging back into the closet mission. It's fun to change things up on the blog here and there but with spring around the corner it's prime time to push ahead and get our closets in ship shape! Next up in the series we're talking fabric and texture.
A piece of clothing may have the perfect fit and be just the right colour but if it doesn't actually feel good it's a waste of money and closet space. This is one of those basic truths I had to learn the hard way and still need to remind myself of every so often. Too many times I've been tempted by a 'cheaper' or 'faster' option, whether it's a sweater substitute or a similar pair of shoes, only to be left feeling as though I'm wearing cling wrap or that within a few wears or washes the thing has lost any resemblance to it's former self. All of which scenarios are less than awesome.
Now that's not to say something that costs less will necessarily be made with a low quality material. Cotton is inexpensive and it's my favourite! But if you've been reading Style Bee much this year you'll know that I keep pushing the idea that the better you know yourself and what you like, the better your style and shopping choices will be. This most certainly applies to fabric choices too.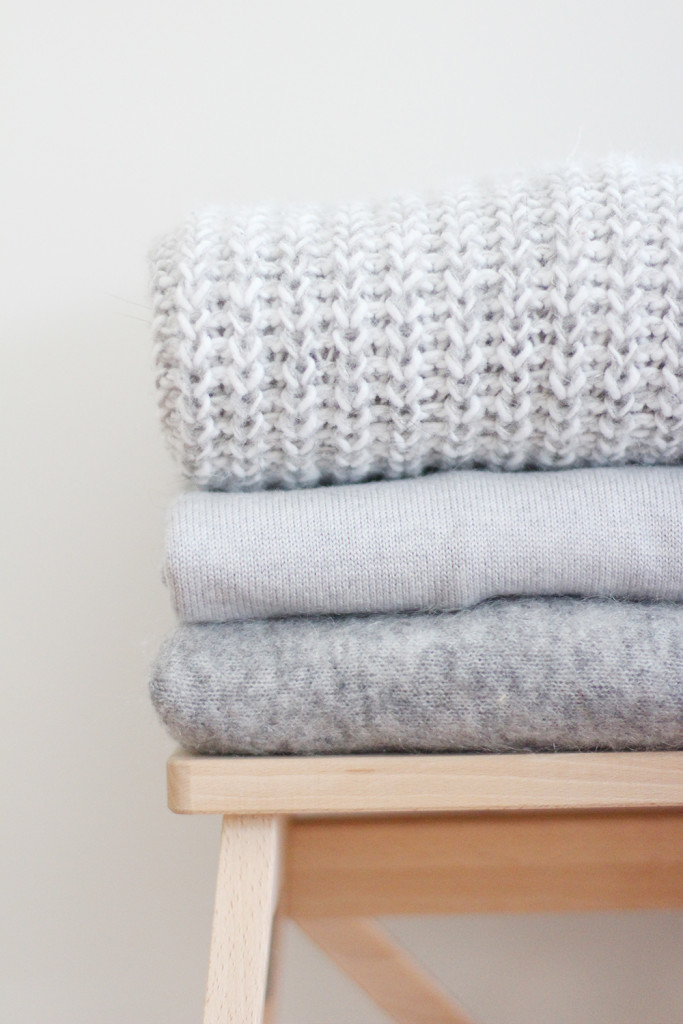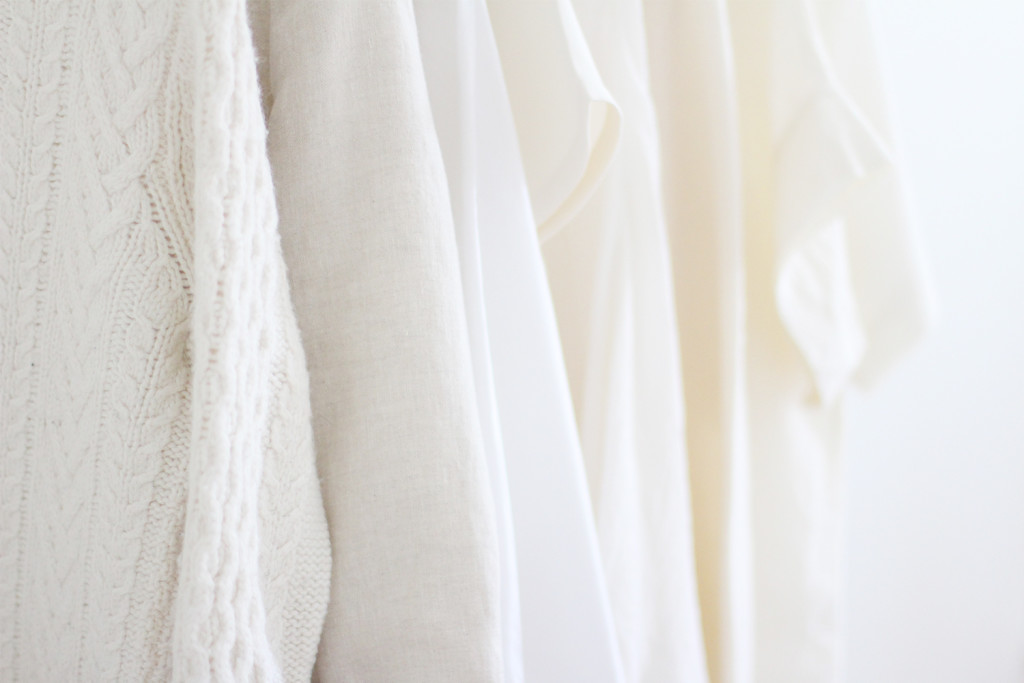 LEAN CLOSETS + TEXTURE
I know I already said this about print and pattern but it just so happens that texture is a great way to add interest and options to your wardrobe too. It becomes increasingly more useful as your colour palette narrows as well. I love combining different fabrics to make a monochrome look more interesting (like this one) or mixing slightly different tones to keep things fresh (like this one). But it's important to choose the right fabrics for your lifestyle and activities. Personally I gravitate to natural fibres like cotton, linen, silk and various wools like cashmere and merino for everyday wear. Nothing beats leather for shoes and accessories either. These materials feel great, breath well and stand up to a lot of use, which is critical if you're looking to buy fewer pieces and live with a leaner closet.
This article by textile guru Rebecca Atwood provides an excellent breakdown of quality fabrics made of natural fibres and outlines what to look for and how to care for them. While there are general rules of thumb and recommended fabrics to invest in, it really comes down to what feels right for you!
You may already know what you like but if not you can easily figure out your ideal texture palette by asking a few simple questions such as:
1. Take a look at your closet and/or dresser. What fabrics do you see repeating themselves most?
I said: My closet has a lot of cotton (jackets, denim, t-shirts, button-downs etc.), silk is common for my more formal shirts and dresses, lots of merino wool in my sweater collection, linen for my favourite summer wears (loose tees, blazers, jackets) and some rayon, tencel, polyester and acrylic blends are in there too. For the most part my winter coats are wool for warmth and durability.
2. What fabrics have you worn lately and felt great in? 
I said: Silk, merino wool, rayon and cotton.
3. How prepared are you to dry clean clothes? If you're not then you might need to avoid some more sensitive materials like silk, cashmere and various types of wool. Always check the care instructions before buying something.
I said: I am prepared to dry clean my investment pieces and find they last WAY longer when I care for them correctly. My dry cleaner is local, reasonable and very quick so that helps a lot.
4. Are you prepared to invest in higher quality fabrics? If not, then you'll need to be prepared to replace or repair certain items more often. In my experience synthetics tend to lose their shape faster, the seams on cheaper garments start to break after a wear or two and faux leather shoes start deteriorating after a season if not sooner. But that's just my personal experience!
I said: I'm definitely a supporter of the invest now, wear forever approach but it's not always easy to stick to and it can be hard to justify spending more on one thing when you could be buying two of something else. I just try to remember that I still love and wear many of the investment pieces I've bought even as long as 7 years ago. I've had designer jeans for several years and they've aged beautifully. Even the better quality cotton t-shirts I've washed 1000 times are still hole free and looking good. Of course, in the end, it all comes down to budget.
5. List the top 5 materials you'd like your closet to be comprised of. Keep these in mind whenever you buy something new and if it's not made from a preferred fabric think carefully before you seal the deal.
I said: Cotton, silk, linen, wool (includes cashmere, merino, mohair and alpaca) and leather.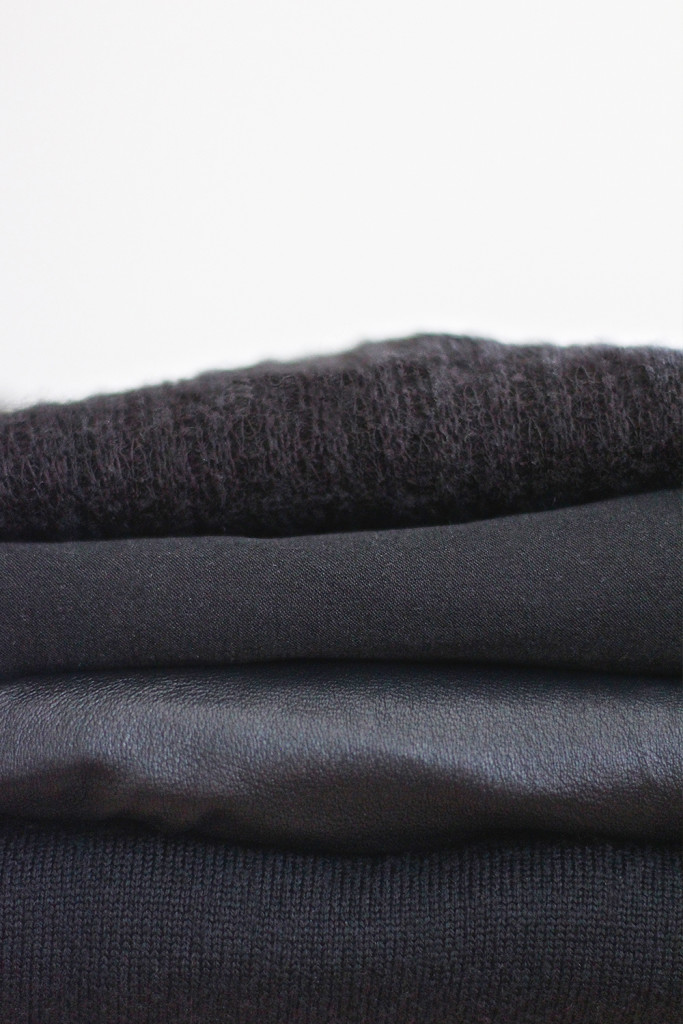 FABRIC + ENVIRONMENT
I'd be remiss not to acknowledge that the fashion industry's impact on the environment is under heavy scrutiny. While I don't mean to kill our happy fabric and texture buzz, the stats are tough to ignore. The textile industry is the #2 polluter of water in the world. Most of the chemicals and dyes used to bleach and colour our clothes are pouring into the oceans, not to mention all the unused material heading to it's forever home, a landfill. While I'm certainly no saint in this department and definitely no expert on sustainable or eco-friendly practices I've begun to take a more keen interest in this topic. So here are a few simple ways to lighten your fashion footprint:
1. Buy Less. This one is pretty simple and, well, totally free. Less consumption just means less waste. It's sort of the mandate behind our whole closet mission here too so that's convenient!
2. Shop Vintage. It's fun, affordable and bottom line, they really don't make things like they used to.
3. Shop Local. This way you get to support a small business, an awesome maker pursuing their passion and wear a unique piece of hand crafted goodness. These features often come with a higher price tag but if you're buying less already then you might just have room in the budget. (I'm working on a great list of North American makers I've shopped from and love. Stay tuned!)
4. Shop Savvy. Look for fabrics made of the following fibres:
Organic Cotton and linen (extra points for vegetable died options or naturally grown colours).
Silk is surprisingly eco-friendly and there are more vegan options available now too.
Bamboo (while not totally innocent it is easy to grow without pesticides).
Lyocell (aka Tencel) is probably the best option as it's both biodegradable and recyclable, plus it's production requires less energy and water than more conventional fabrics and no bleach! Oh yeah, it feels awesome too.
Hemp is a common fabric associated with sustainability however it's a good rule of thumb to aim for organic options as it's production can be poorly regulated (read: heavy pesticides and chemical use).
Cashmere is indeed an investment but it's long lasting and we all know nothing feels quite like it.
Alpaca is one of my new favourite fabrics for it's warmth and softness. Not to mention the cute hypoallergenic creatures that produce it for us!
Read more about these and other eco-friendly fabrics here and as you may know I'm an avid reader of the blog Into Mind and found these three posts very insightful: Eco-Conscious Consumer Basics, Ethical Fashion + Minimalism, Eco-Conscious Shopping.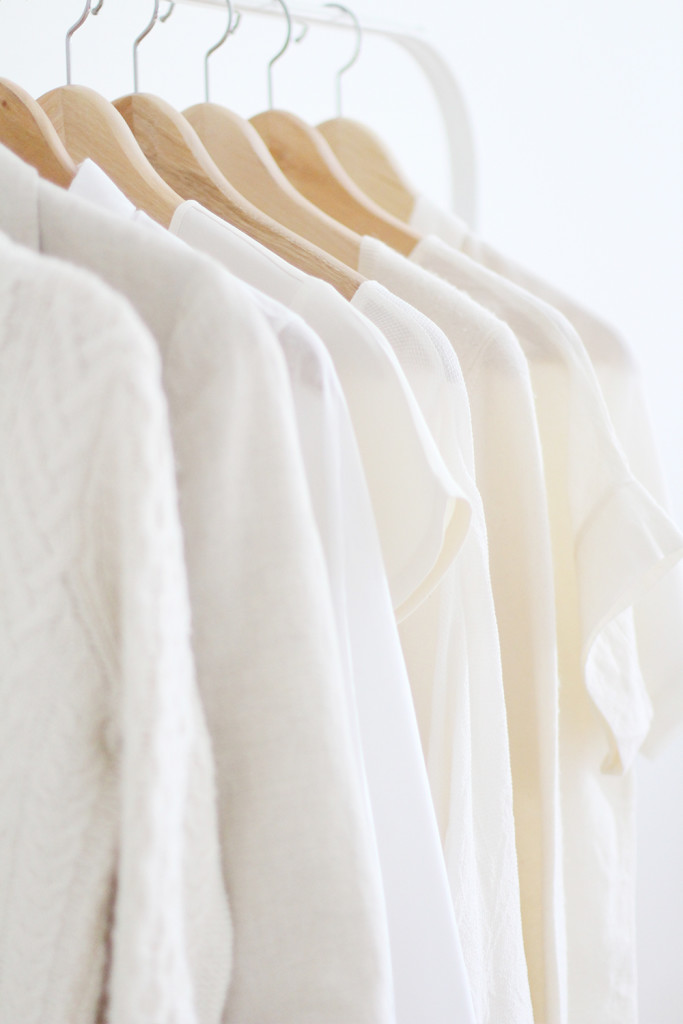 So there we have the Closet Mission post on Fabric! When I first started drafting this segment I wasn't sure where it was headed but I'm glad I had an opportunity to talk about making choices that feel good for both our closet and our conscience. So many fashion blogs glaze right over these issues (this one included) but I think it's an interesting and important discussion to have.
Questions: What are your favourite fabrics to wear? Do you know any fashion blogs talking about sustainability and eco-conscious shopping? Let me know if you have a moment in the comments.