Hello, hello! How is your 2020 going so far? I must admit, despite my best efforts to start the year slowly, it's already zipping along. So before I get swept too far downstream I wanted to share a roundup of my favourite additions from 2019.
Now that I've got some distance on the past year it felt like a good time to take stock. I love reading these types of posts and thought it might be useful to provide some candid insights on the pieces I've added and love.
Some of these were personal purchases and some were added through partnerships but all these items have played an important role in steering my personal style and making my closet more functional.
So let's take a look!
---
This post was not sponsored or produced in partnership with any brands mentioned but does contain affiliate links and some gifted items. If you see something you like and decide to shop through the links included, I may earn commission on a sale at no additional cost to you. All opinions are always my own and I only share items I love. Thanks for supporting Style Bee!
---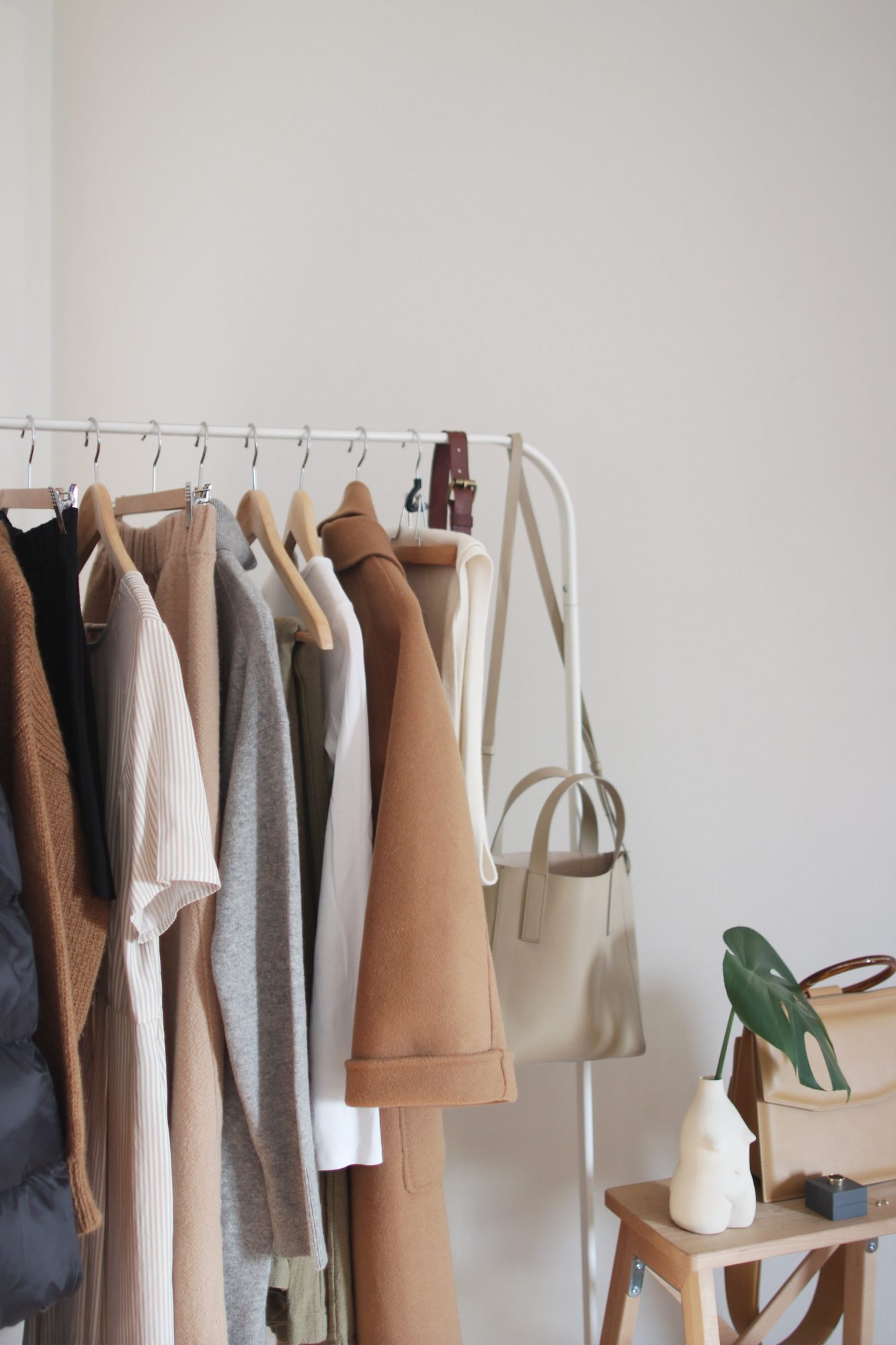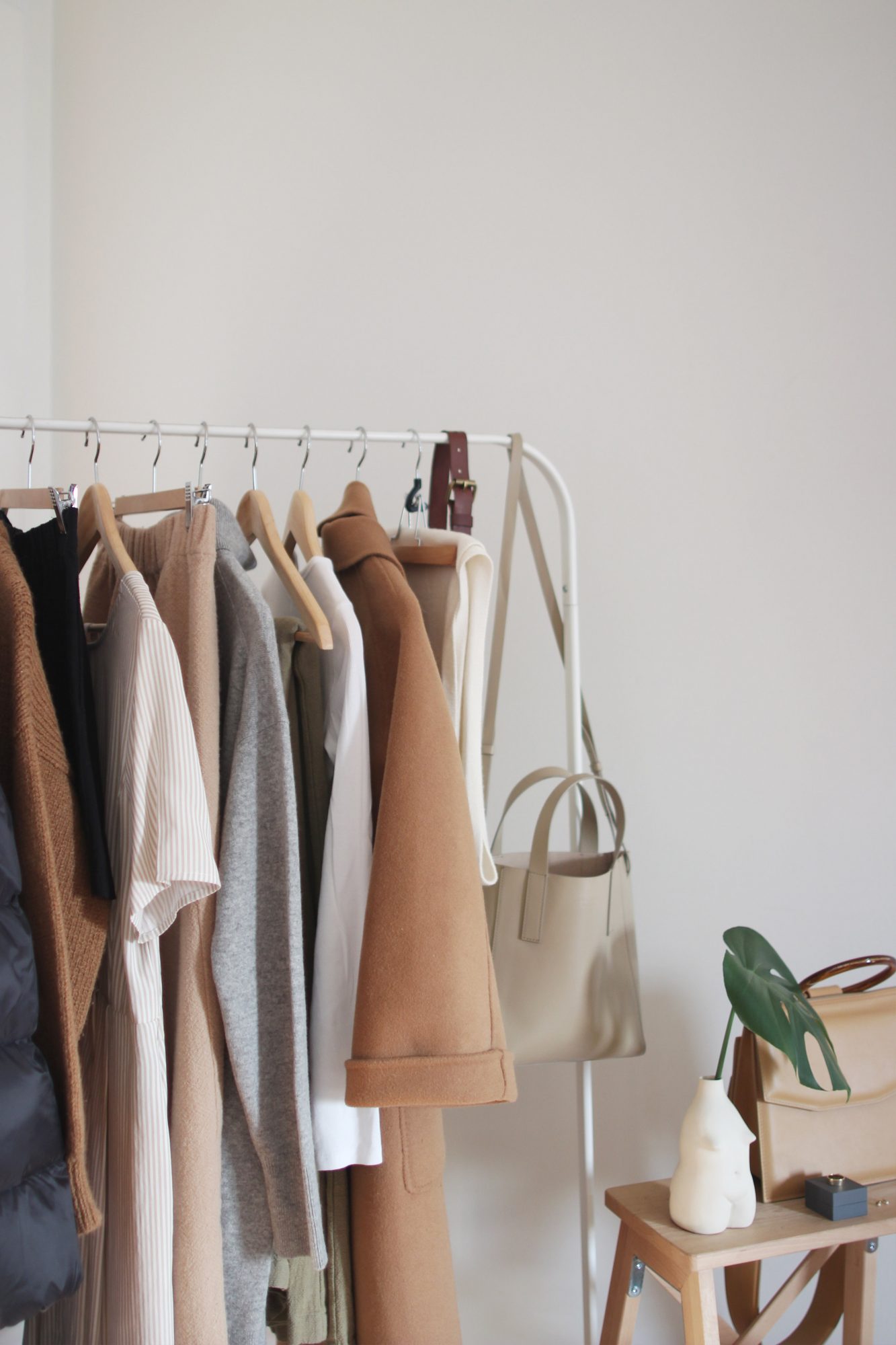 ---
MY TOP PERSONAL PURCHASES
---
---
1 – CAMEL WRAP COAT by THE CURATED – I wear a size S.
I don't usually gravitate to highly popular items but as soon as I tried this coat on I understood everyone's obsession. It's elegant, timeless, versatile, warm and effortlessly makes even the most basic outfit look elevated and chic. I'll save the rest of my thoughts for a full review coming soon!
2 – RIMA BOOT by MAGUIRE (Canadian) – I wear a size 37 (slightly narrow through toe). These are currently sold out but sign-up for a restock notification (similar option by another CDN brand here).
I bought these boots on a whim during a trip to Montréal and they've become a go-to whenever the temps are low. They are warm, lightweight, stylish and super functional. I love that I can simply zip them up (no lacing needed) and that they're essentially a more refined take on a classic combat boot.
3 – TURTLENECK SWEATER DRESS by EVERLANE – I wear a Medium for extra room and length.
This piece spent a while in my shopping cart and I'm so glad I pulled the trigger on it for the fall/winter. I love the minimal cut, timeless heathered grey cashmere and find it's super versatile for anything from a work meeting to a night on the couch.
---
---
4 – STRUCTURED BAG by ATELIER BATAC
This was a very special find during my time in Barcelona, Spain this summer. It's been one of those pivotal pieces that has steered my style in a way that's hard to articulate. It's truly a wearable piece of art and one I'll treasure for years to come.
5 – OLIVER SHORTS by NA NIN – I wear a Medium.
I'd nearly given up on finding shorts that I would genuinely love wearing but these turned the tides. They're just the perfect balance of relaxed and tailored and hit my leg at the perfect spot. Not too short and not too long. You bet I'll be buying more colours this year!
6 – BROWN BELT by ATELIER B (Canadian). I wear a small. More colours available.
I'd been on the hunt for a simple, classic brown belt last winter and found this gem during the same trip to Montréal as the Rima Boot. I really like the weight/thickness of the leather because it's super low profile so it doesn't add too much bulk to my pants and feels very comfortable. It's also a great price at just $40 CAD.
---
---
7 – CIGAR RING by ATTIC (Canadian).
This ring was a special gift to myself for my 32nd birthday because I don't think you should have to wait for anyone else to buy you jewelry. I'd long dreamt of adding a cigar ring to my daily accessories and after trying it out during a partnership with ATTIC I knew it was the perfect one. It was a significant investment and a piece I plan to be wearing for decades to come.
8 – MICRO RIB TEES by EVERLANE – I wear a Small.
I don't know what I used to do during the winter months before I had these basics. I absolutely adore these tops and have them in almost every colour and style. They're the perfect fitted tee and always feel great and wash up well. See more about why I swear by base layers here.
9 – PARIS MULE by ST. AGNI – I wear a size 37 (slightly narrow through toe). On Sale!
These were a purchase I felt a bit of guilt about since I already had the almond version of the Paris Mule. I had been humming and hawing about the vintage brown and once I saw them in person I knew they were the right colour and fit for my closet. I ended up passing the almond leather ones along and I'm glad I followed through and got the pair that would be best for me longterm.
10 – LUMEN NECKLACE by WOLF CIRCUS (Canadian) – Also available in silver.
My jewelry tastes have simplified in recent years and I find myself gravitating towards minimal pendants on dainty chains for daily use. I'd first purchased the Woman Vase necklace from Wolf Circus and loved it so much that I picked up another pendant from the designer. I love wearing them each on their own or together for a layered look.
---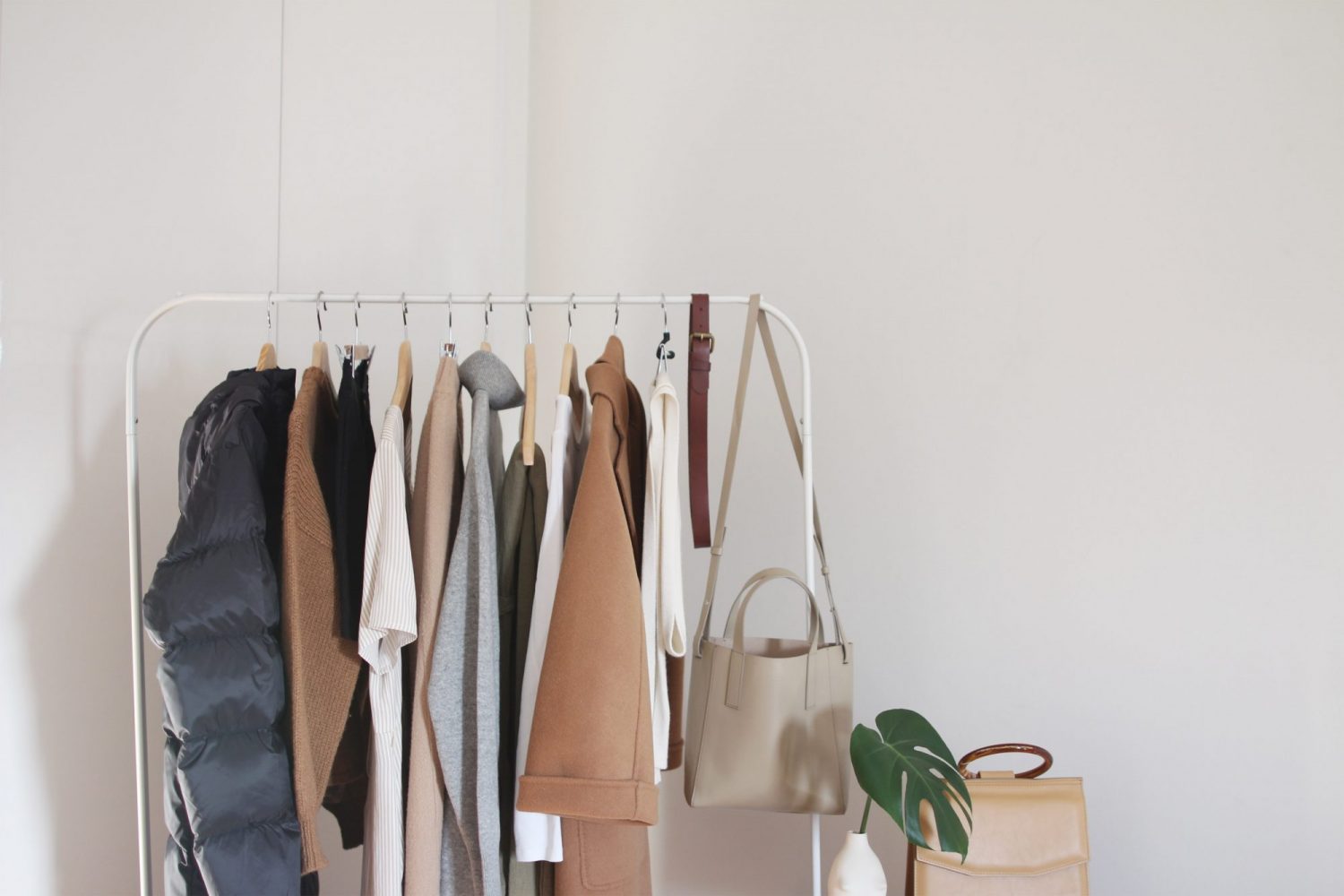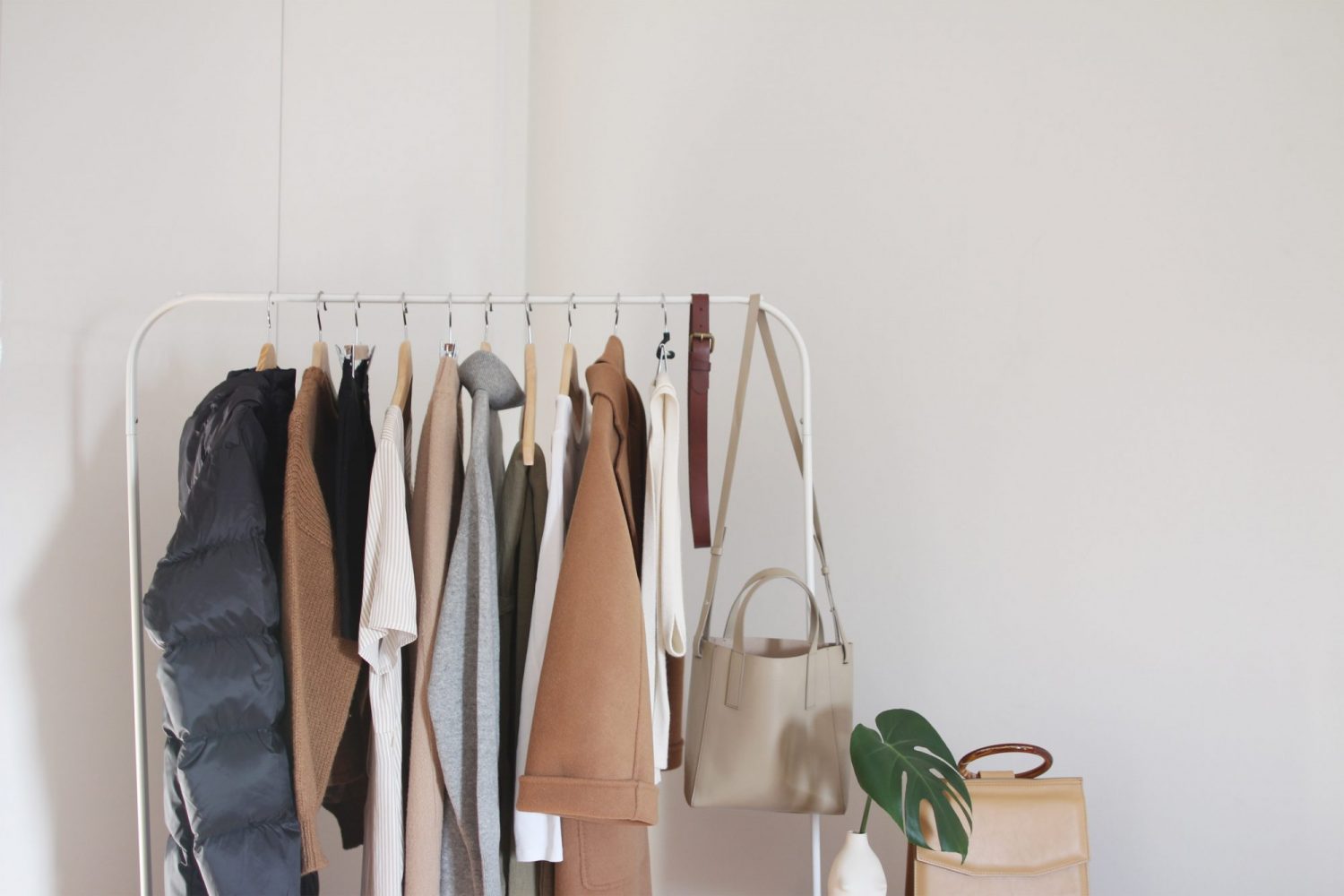 ---
MY TOP GIFTED ITEMS
---
---
1 – RE:DOWN LONG PUFFER COAT by EVERLANE – I wear a Small, which is roomy.
When accepting gifted items, I always try my best to only add pieces I really believe I'll wear a lot and this puffer coat definitely surpassed all expectations. I've worn it almost every single day this winter and it's been such a game changer for outdoor activities, staying warm during walks with Dobby and running errands downtown. I've shared lots more about it in this style series.
2 – CLASSIC CREW by BARE KNITWEAR (Canadian) – I wear a XS/S. See more details and fit notes in this post. This colour is sold out but black and charcoal are on sale.
Similar to my puffer coat, this chunky tobacco knit sweater had been on my winter closet wish list from 2018 so I jumped at the opportunity to add one. I'd already had the chance to try Bare Knitwear's incredibly soft hand loomed baby alpaca knits so I knew this would be a very special addition. Since arriving, I've reached for this sweater several times a week, whether it's to throw on with jeans or to drape over my shoulders when I'm feeling chilly at my desk.
For a more accessible price-point this alpaca crew option has also been a winter favourite (I have one in Almond).
3 – WOOL ANDY TROUSER by ELIZABETH SUZANN – I wear a Small Regular. See more details and fit notes in this post.
If we're picking a winner for coziest pants ever, these are a top contender for sure. I know it's annoying when bloggers say they've been "living" in something but that's sort of the only way to describe my relationship with the wool Andy Pant. I've slept in them, hiked in them, worked in them, traveled in them, gone out for dinner in them and the list just goes on. They're incredible and I cannot recommend them enough!
---
---
4 – MIDI DAY TOTE by EVERLANE – Taupe is sold out but the black version is still available. See this piece in lots of outfit posts.
This bag has turned out to be a wildcard closet hero, which was not the fate I'd expected when it first arrived. I love the taupe colour, which magically works with everything, the compact size that's still big enough to toss all my essentials in, the convertible cross-body strap and the leather has held it's shape and withstood scuffs incredibly well. It's the bag I reach for most often when I'm zipping out the door and always adds a touch of polish to any outfit.
5 – BUTTON DOWN DRESS by VETTA – I wear a Small – See it in action here.
I'm not a huge dress person but when I find one that works, I'm all in. This one was a summer favourite because it's just the right mix of feminine, fun and practicality. The fit is easy-going enough to wear on an average day but with the right heels (see below) and the sash belt, it transforms instantly for a more formal occasion. I love the feel and fluidity of Tencel as well so this one ticks a whole bunch of boxes. It'll be summer again eventually and I can't wait to pull this one out!
6 – BLOCK HEEL DOUBLE STRAP SANDAL by EVERLANE – I wear a size 7 – See these in action in this post.
Gosh I love a sensible heel (not something I would have said when I started this blog haha)! A cute sandal that adds a couple of inches, goes with everything and lets me dance the night away (without ravaging my feet) is a rare find indeed. These sandals totally changed my summer style game and became a go-to for events, trips and any day I just needed a little boost.
---
---
7 – DUFFY JUMPER by ESBY – I wear a Small, which is quite roomy. – See it on in this post.
This jumpsuit is sort of like the warm weather equivalent to the Andy Trouser, except it's a whole outfit in one. ESBY always uses beautiful fabrics in their line and this gauzy cotton/linen blend is extremely soft. I love that this piece can be dressed up or down and found myself reaching for it all throughout the summer and well into the fall. It is supremely comfy and the breathability of the fabric lends itself to a range of temperatures.
8 – CREAM CASHMERE SCARF by EVERLANE – Sold out but this option is very similar.
Another piece I'd had on my winter wish list was a light neutral cashmere scarf and this one has been perfect for adding a touch of freshness to my winter style. It can feel a bit gloomy to wear black and grey all season long so having something a little brighter that's still highly functional and warm has been a very welcome addition.
---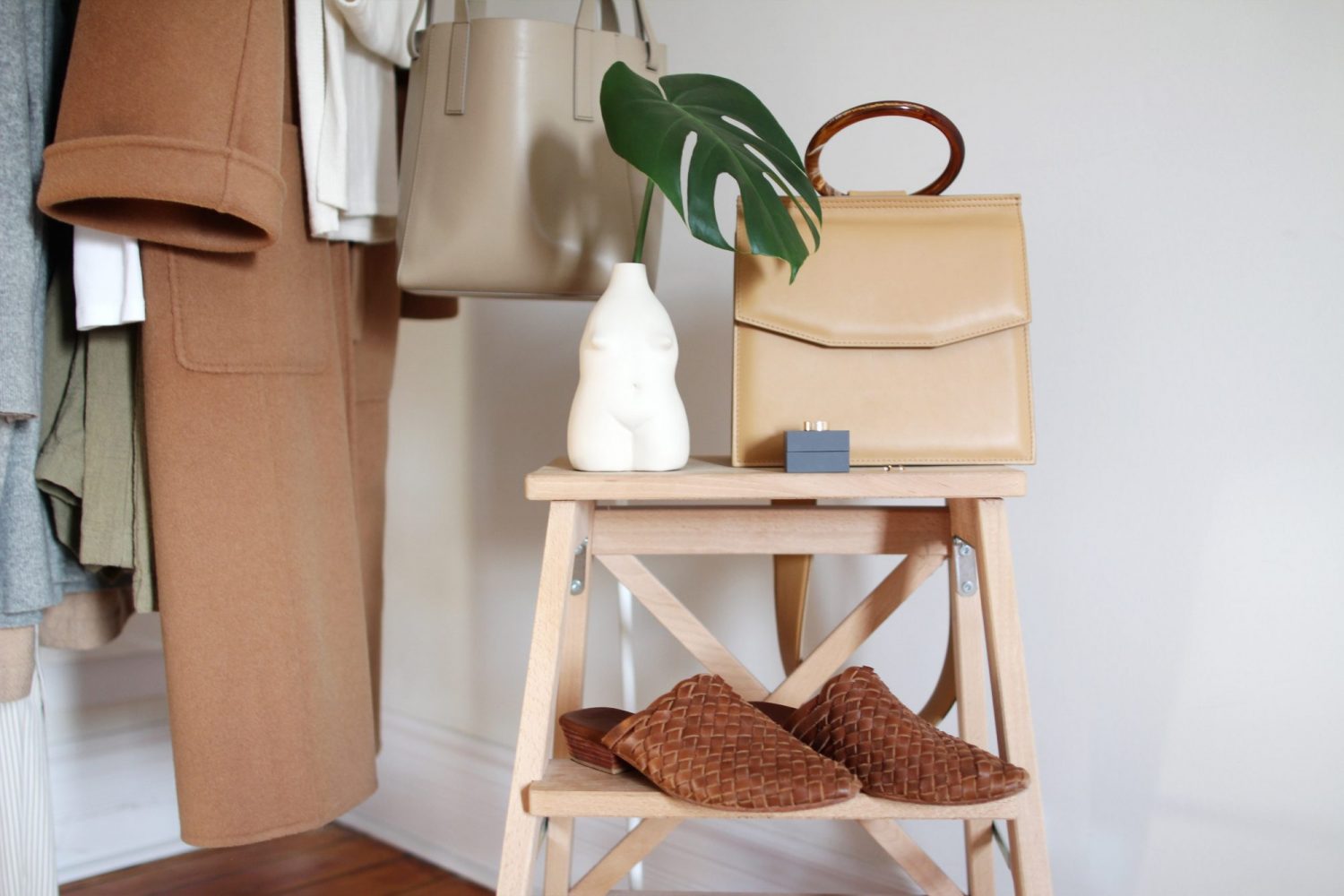 ---
WOMAN VASE by RACHEL SAUNDERS CERAMICS (Canadian) via ROOK & ROSE (based in Victoria, BC) was my Christmas gift from Dave and I'm so obsessed I had to include it in this post.
Clothing rack and wooden step ladder from IKEA.
---
THANKS FOR TUNING IN AGAIN, I'VE MISSED YOU!
I'd love to hear about any additions you made and loved last year too!
I hope this post is helpful in planning out your additions for the year ahead. Feel free to ask me any additional questions you might have and I'll respond asap.