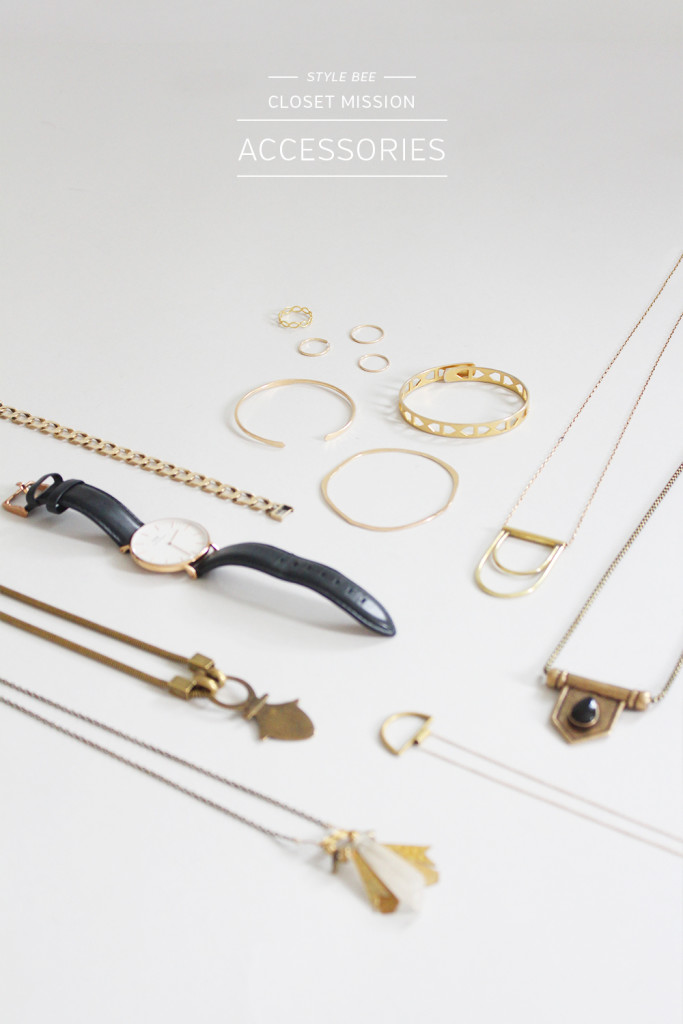 The right accessories make such a difference when it comes to getting more out of your closet and broadening your style options. They're the icing on the cake, the sprinkles, the cherry on top that turns a good outfit into a finished look. Even though I've always kept my accessories fairly minimal, it's pretty rare that I'll feel completely put together without at least a few added details to pull everything together. But when my collection (of bags, jewelry etc.) was overrun it made it difficult to know what to choose and I'd end up over doing it or adding things that didn't work.
Earlier this year I conducted a major accessory edit. I cleared out my extra bags, scarves and jewelry and kept only the items I truly liked and felt great wearing. My collection isn't perfect and there's definitely room for improvement (and further reduction) but I'm more content than ever with the current accessories in my repertoire. As I've been working through the process of streamlining my wardrobe I've been making note of which ones get the most use and why. As far as I can tell it comes down to three key factors, which are versatility, function and organization.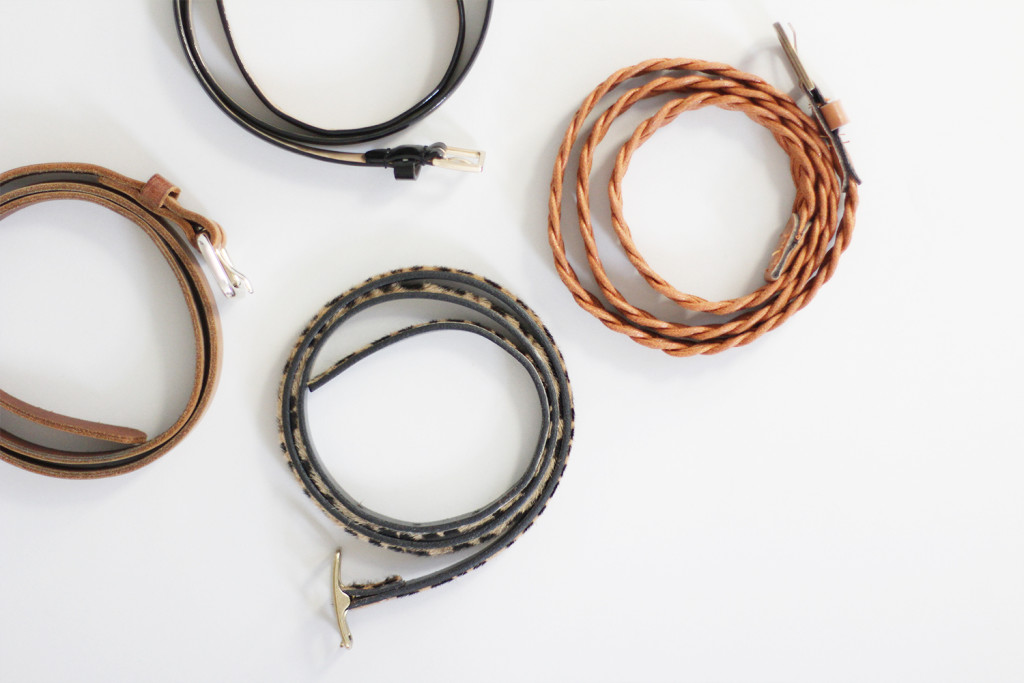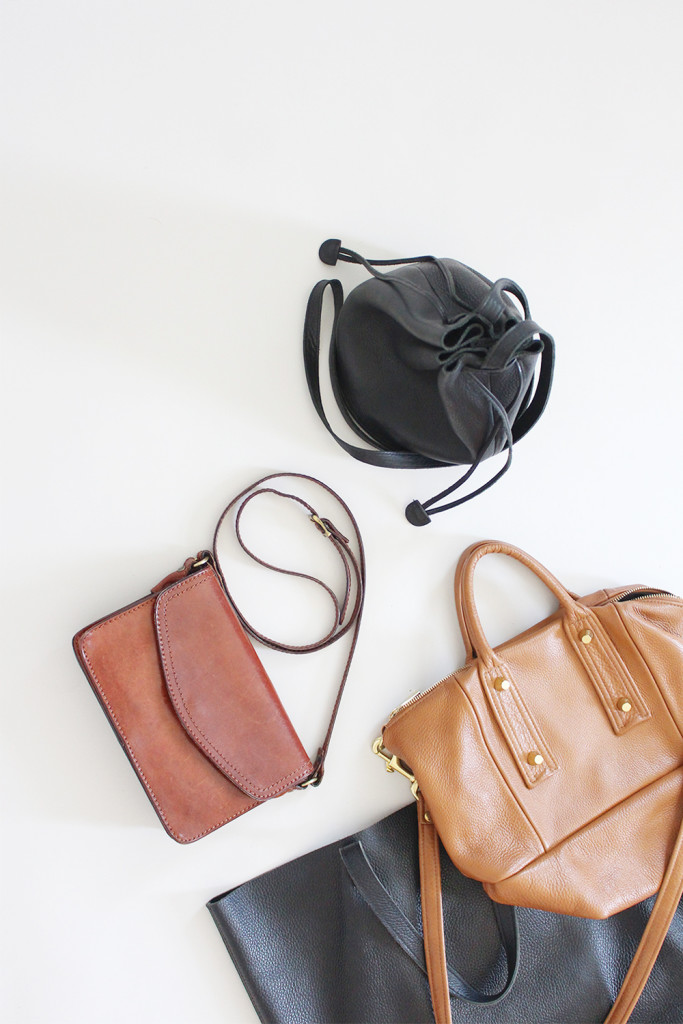 VERSATILITY
Of course, it's no surprise that versatility is sought after in a lean closet but it doesn't mean that everything has to 'go' together. In fact, I think it's helpful if you have a few stand alone items in your wardrobe for the odd occasion when you're looking to switch things up or you're getting a little bored with you're day-to-day options. But as far as everyday accessories are concerned it's best to choose ones that can lend themselves to many different looks.
For me, versatility has a lot to do with colour. Choosing the right one, whether it's a bag, a necklace, a hat or a scarf is key to getting the most use out of an item.We talked about curating the perfect colour palette and the same palette applies to accessories too. My closet's colour scheme is pretty neutral and earthy because that's what I'm drawn to and my accessories reflect this. If I had a brightly coloured or more pastel palette my choice in bags and jewelry would follow suit.
Accessories are a great way to incorporate an accent colour or pattern too. If your clothes are mostly neutral, a pop of a richer colour or a statement piece of jewelry can really change the game and make a potentially 'meh' look something much more interesting or chic.
If you're not happy with the versatility of your current accessory collection ask yourself a few questions, such as:
What is my colour palette? (see my original post on defining your colour palette here >)
What is my style definition? (see the original post on defining your style here >)
Am I a silver or a gold person? Both?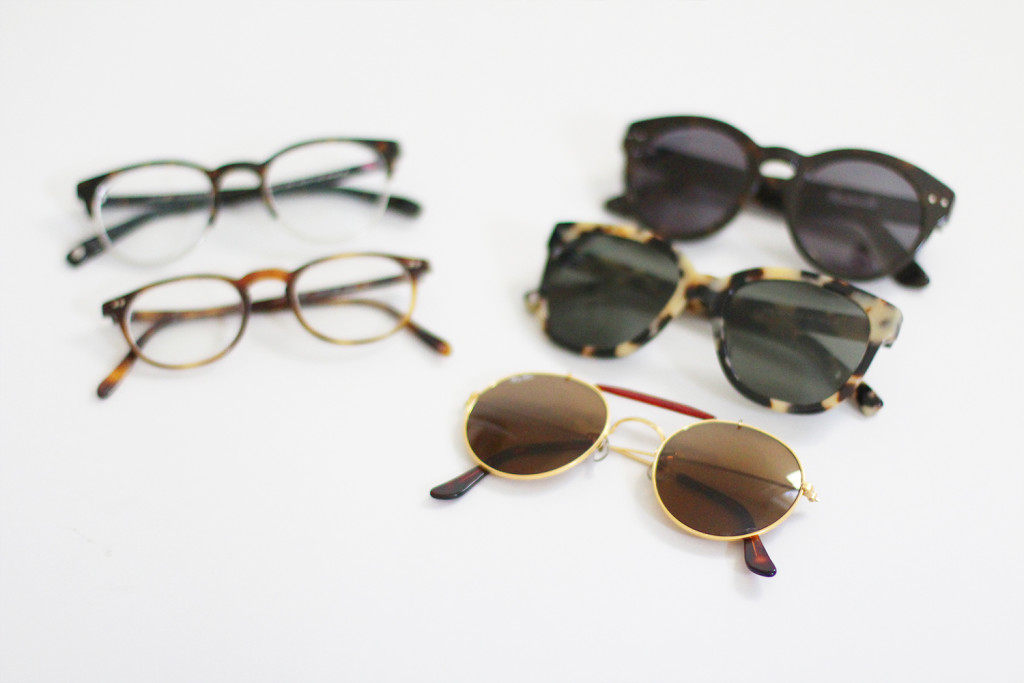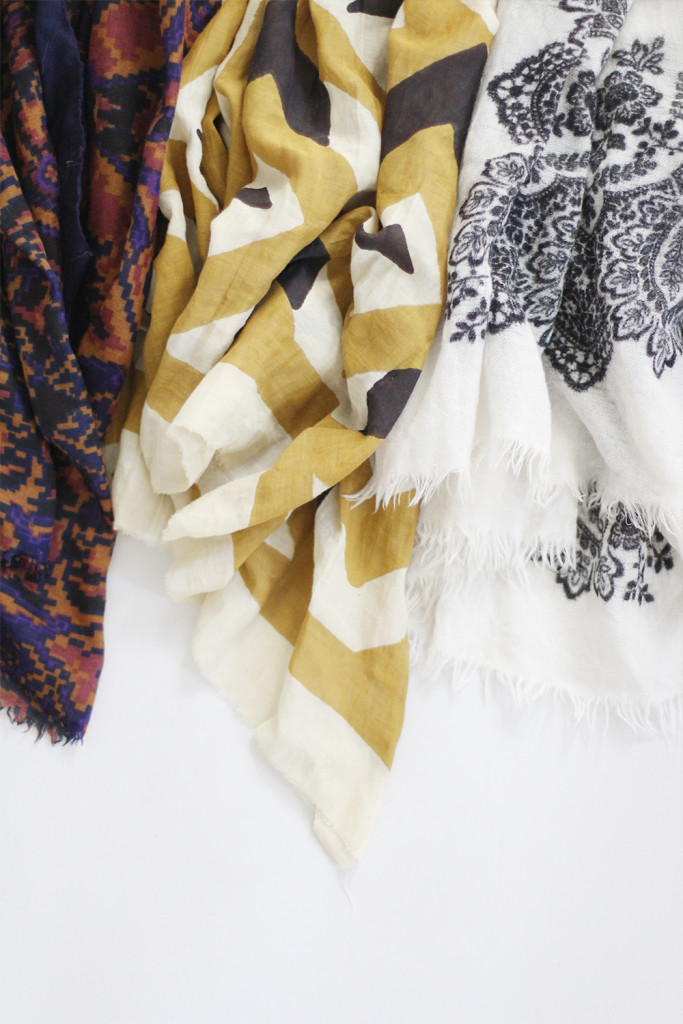 FUNCTION
It's all well and good if something looks great but if it's not useful or its uncomfortable you're probably not going to use it much. A bag that's too small is equally as annoying as one that's too big and a hat that flies off in a light breeze is about as useful as a scarf that's too short! But when an item serves it's purpose well and actually ends up making a positive difference, that's a sign you're onto something. For example, a small cross body bag is great for running errands or going out at night but not exactly laptop ready. Yet something bigger like a tote is ideal for work and hauling your life around.
It's easy to see the functional qualities of bags, hats, scarves, sunglasses but what about jewelry? Other than a watch or a wedding ring the real function of most jewelry is a bit of a mystery to me, yet I never feel quite right when I'm not wearing any. As far as I'm concerned jewelry serves as wearable art. It adds intrigue, detail and can totally sway the vibe of a outfit from modern to bohemian or from classic to rock 'n roll and so on.
When you're ready to edit your accessory collection think about how each item actually functions:
Is it comfortable?
How does it actually add to your life? 
What do I carry with me during the week?
What do I need to carry on the weekends?
Would a wrist watch be useful for me?
Are my current scarves, hats, sunglasses etc. actually comfortable?
Do I currently have two (or more) things that serve the same purpose?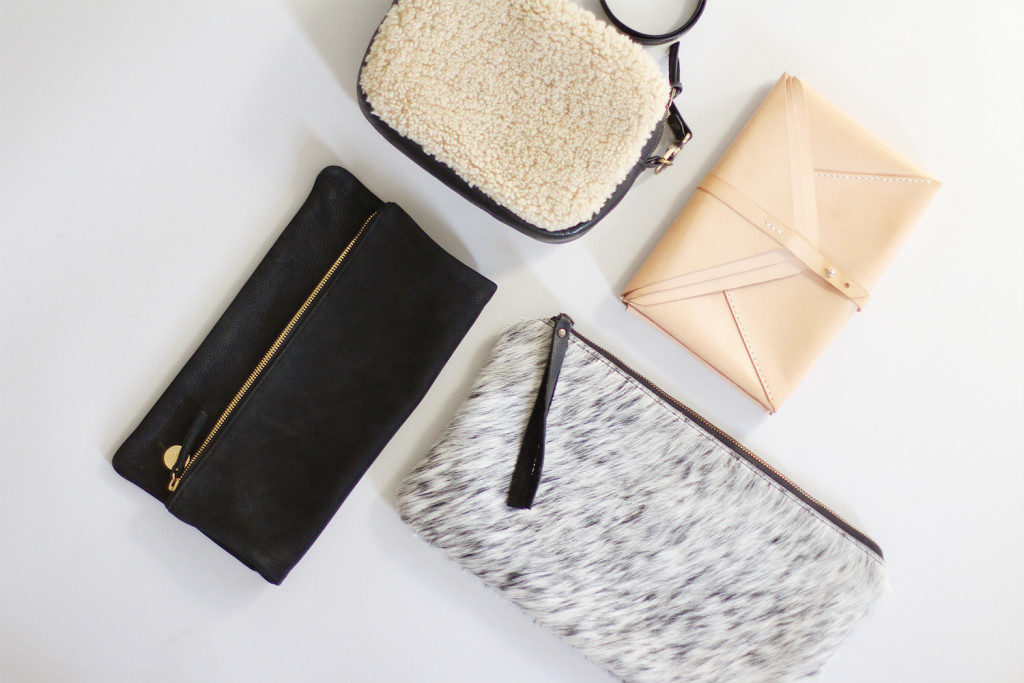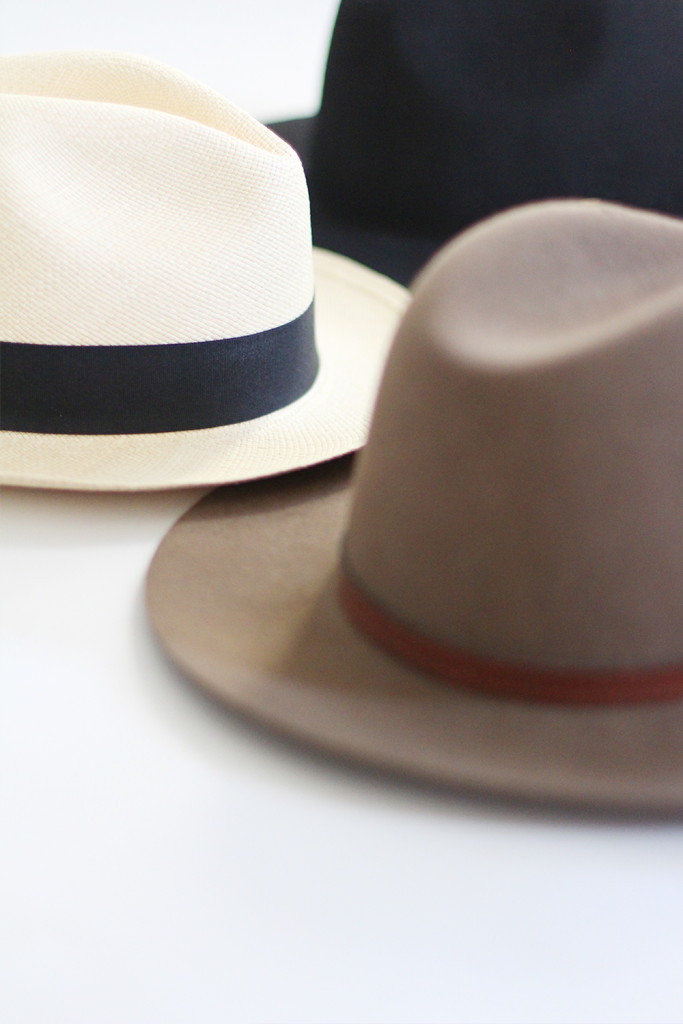 ORGANIZATION
Unless I'm at the antique market, sifting through boxes of tangled necklaces or searching for a missing earring back is just no fun. It's also no fun to spend 20 minutes looking for a scarf to find that it's a crumpled heap in the corner of a drawer. Having your accessories organized makes them much more accessible and you'll have a much better idea of the options you have if you can quickly and easily get to them. I know, that's just common sense right? And yet I've spent the better part of my adulthood with all my jewelry strewn about in multiple tiny boxes, scarves in baskets all over and bags thrown into cupboards here and there. And definitely don't ask me where my sunglasses are at this exact moment! These habits stem from transient student living, moving apartments every year or two and, most recently, from enduring renovations. But once I finally felt settled at home I decided to give certain things a more permanent place to live.
Now we can't all have an epic walk-in closet with glass cases for jewelry and walls of hooks and shoe shelves, but we can all improve on our organization a little bit. I started with my jewelry and realized that I always forget to take my rings, watch and bracelets off until right before I bed down for the night. In that moment, just as I've climbed into a cozy bed, it seems unthinkable to get out! So I decided to get a couple ring dishes to put on my bed side table. This way I don't have to leave the paradise that is a fresh bed, I have somewhere to toss everything and I know exactly where they'll be next time I go for them. Necklaces were next on my list and I decided to hang them next to my closet so as soon as I'm dressed I can top things off with just the right one. Plus they're NEVER tangled anymore!
From there I picked up a simple set of hooks for my bags to hang on, organized a big basket near the door for my scarves (this solution is in need of improvement) and I'm borrowing a fabulous antique bust from Dave for my hats to hang out on. It's not a dream closet situation, but it's definitely an improvement!
If you're ready to rethink how your accessories are organized you might want to start with these questions:
What is not working about my current system?
Is there anything I can eliminate?
Where do I usually leave my bag, sunglasses etc. when I come home.
Where do I take things off before bed?
Can I amalgamate my accessories into one area? 
How can I see all my options easily at a glance?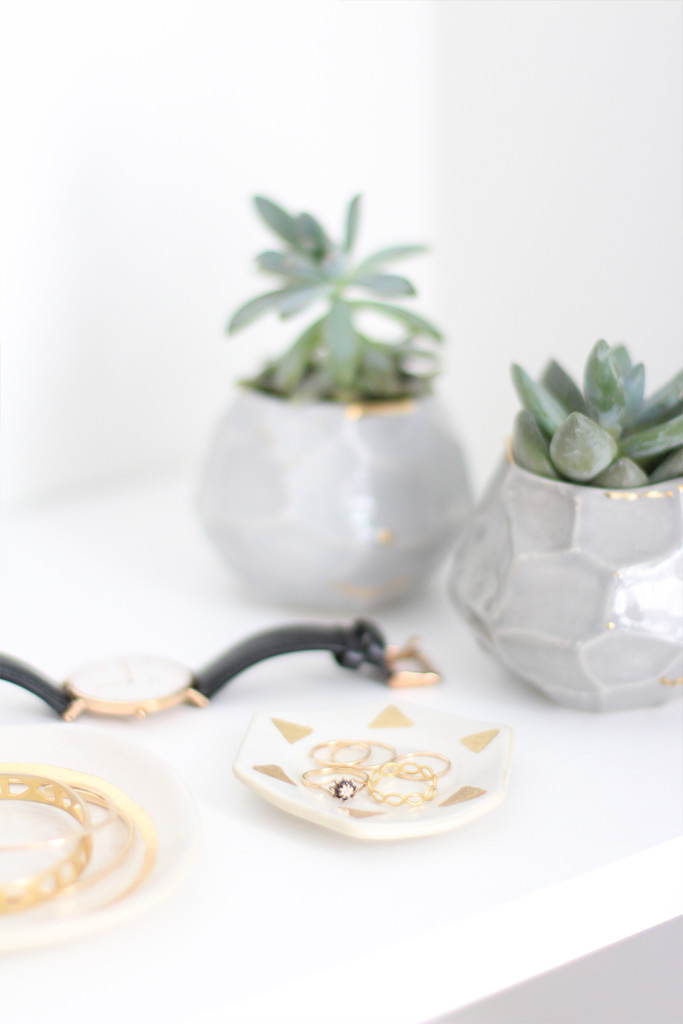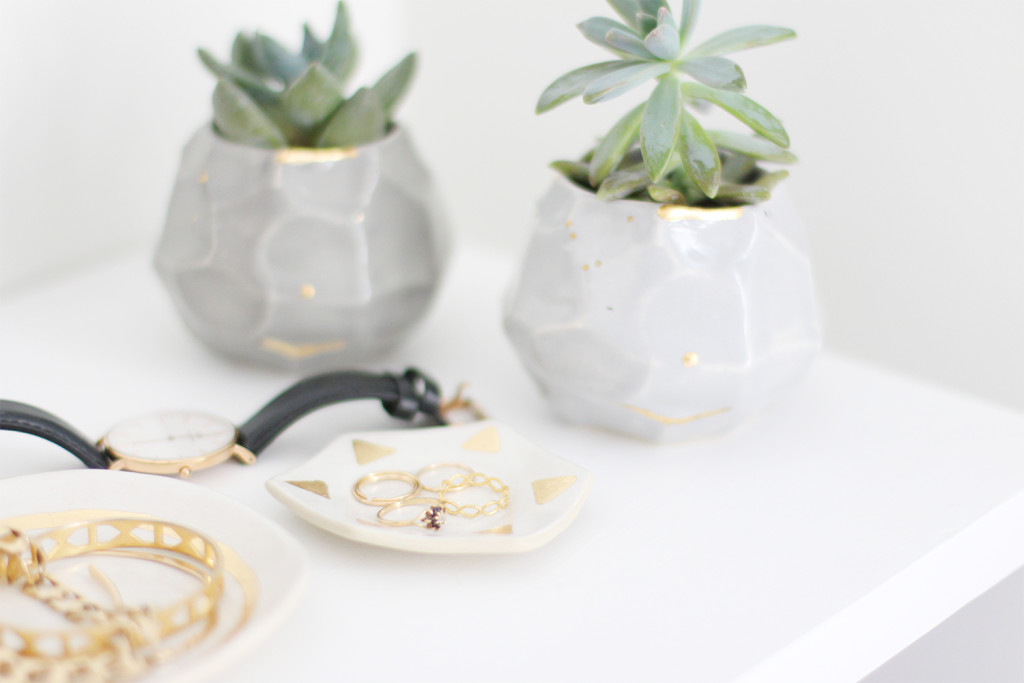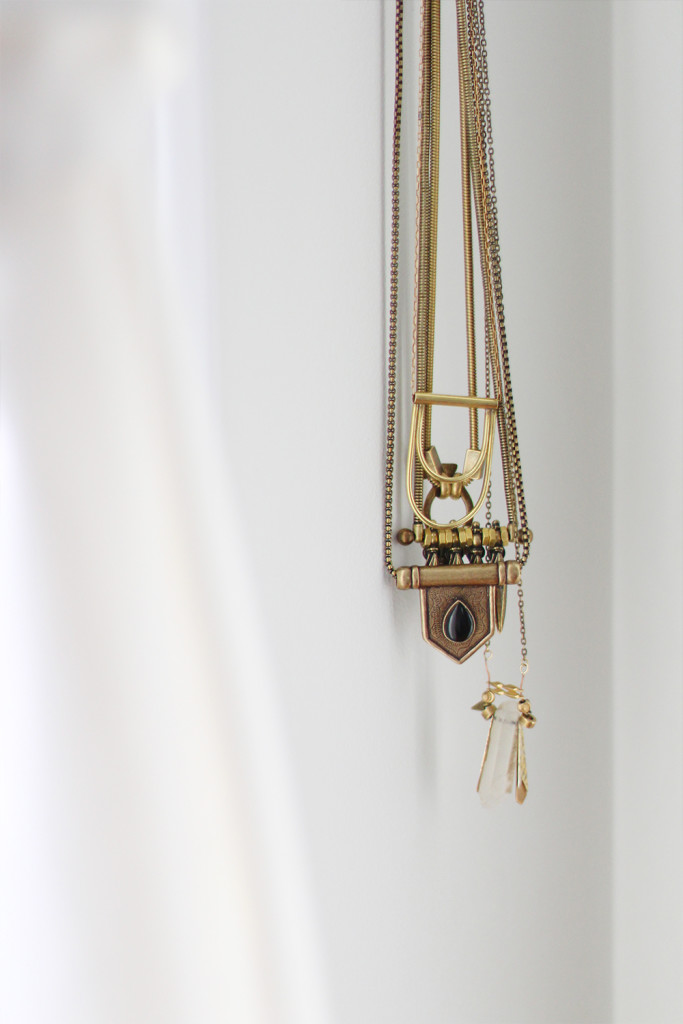 So those are some thoughts on accessories and how I've gone about curating a collection thats on it's way to working really well for me. Next I'll be sharing what's in my bag during the week and on weekends, then it's time to talk about routine and how streamlining your mornings can make for a better day. Stay tuned!
---
SOURCES
JEWELRY (From top) – Infinity Ring (c/0) || Stacking Rings || Cutout Bangle || Cuff || Thin Bangle || Chain Bracelet (vintage) || Watch (c/o) || Double Arch Necklace || Black Onyx Necklace (c/o) || Small Bow Necklace || Other necklaces n/a
BELTS – Black (similar) || Braided (similar)|| Brown (similar) || Leopard (old)
BAGS – Bucket Bag || Cross Body (vintage) || Brown Mini Vanda (c/o) || Black Tote
SPECS – Top Frames || Tortoise Frames || Top Shades || Middle Shades || Bottom Aviators (similar)
SCARVES – Mosaic (old) || Block Print || Paisley (old)
 CLUTCHES – Nubbly || Natural || Salt and Pepper || Black
HATS – Black (similar) || Panama || Brown
Vessels + ring dishes by The Object Enthusiast