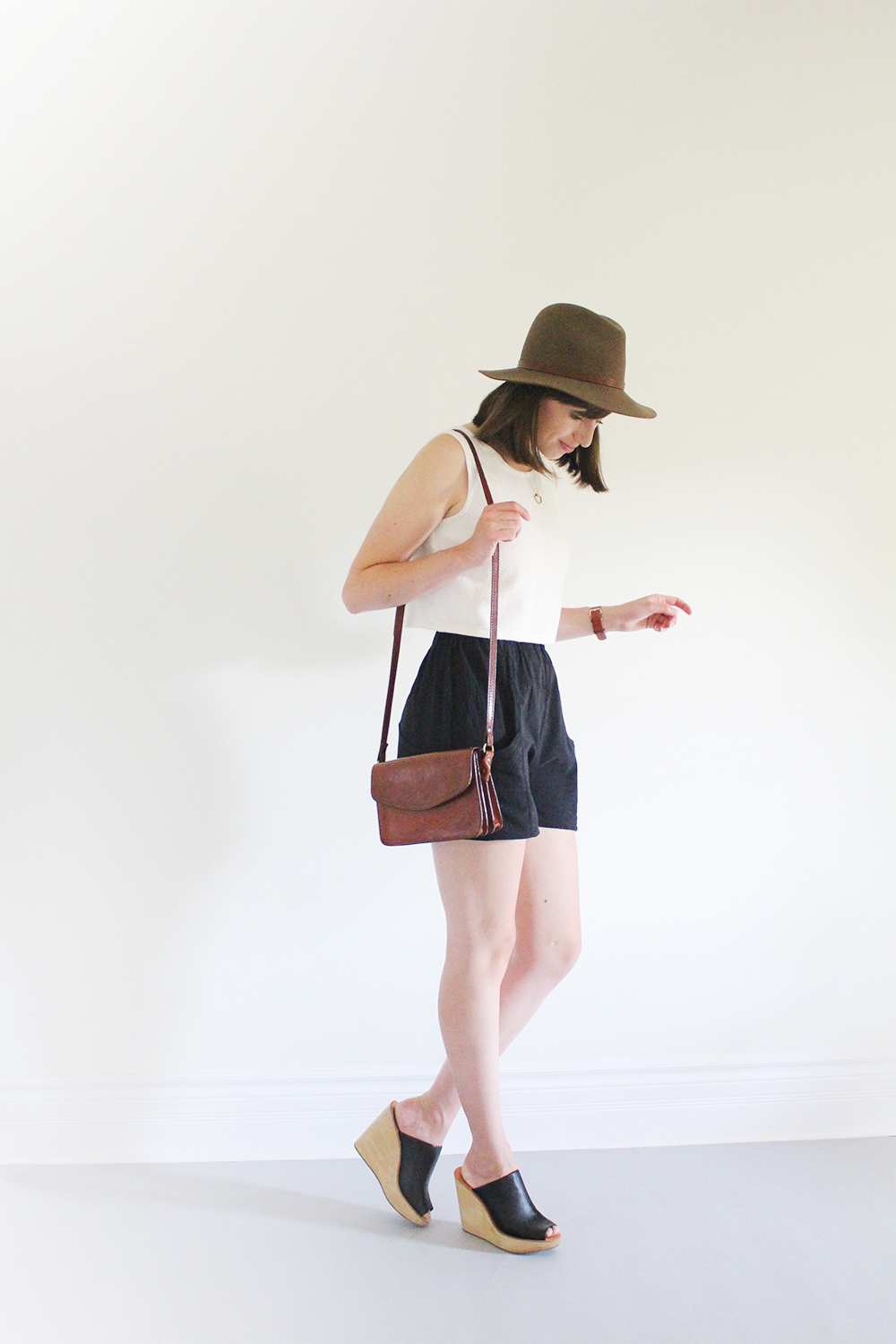 Question for you. Are you getting bored seeing the same things over and over on here? It's ok if you are. If you're not, even better! But I am getting a little tired of styling/wearing the same things over and over too. Don't get me wrong, I still love each piece, I'm just getting antsy to try some new things out. But I guess that's only to be expected at this point. In fact, I thought I'd start feeling this way several outfits ago. The good thing is that it's the home stretch of this Summer 20 exercise so I hope you'll bear with me just a little longer! There are still a few awesome outfits left up my sleeve, so to speak 😉
I did a quick check and I dare say I've managed to style all 20 items at least 2 times so far, which I definitely didn't think would happen until the bitter end. So that must mean something, right? I think it means a few things. 1. The items I included were highly versatile and interchangeable. 2. I enjoy wearing every one as much as I'd hoped. (Plus they were weather appropriate.) 3. I'm a little more creative with mixing and matching than I predicted. Woohoo!
For these last 4 looks I'm letting myself play favourites by pulling out my most worn items of the Summer Foundation Closet and letting them shine once more before F.A.L.L. arrives. This crop top and these high rise shorts have been indispensable all summer long!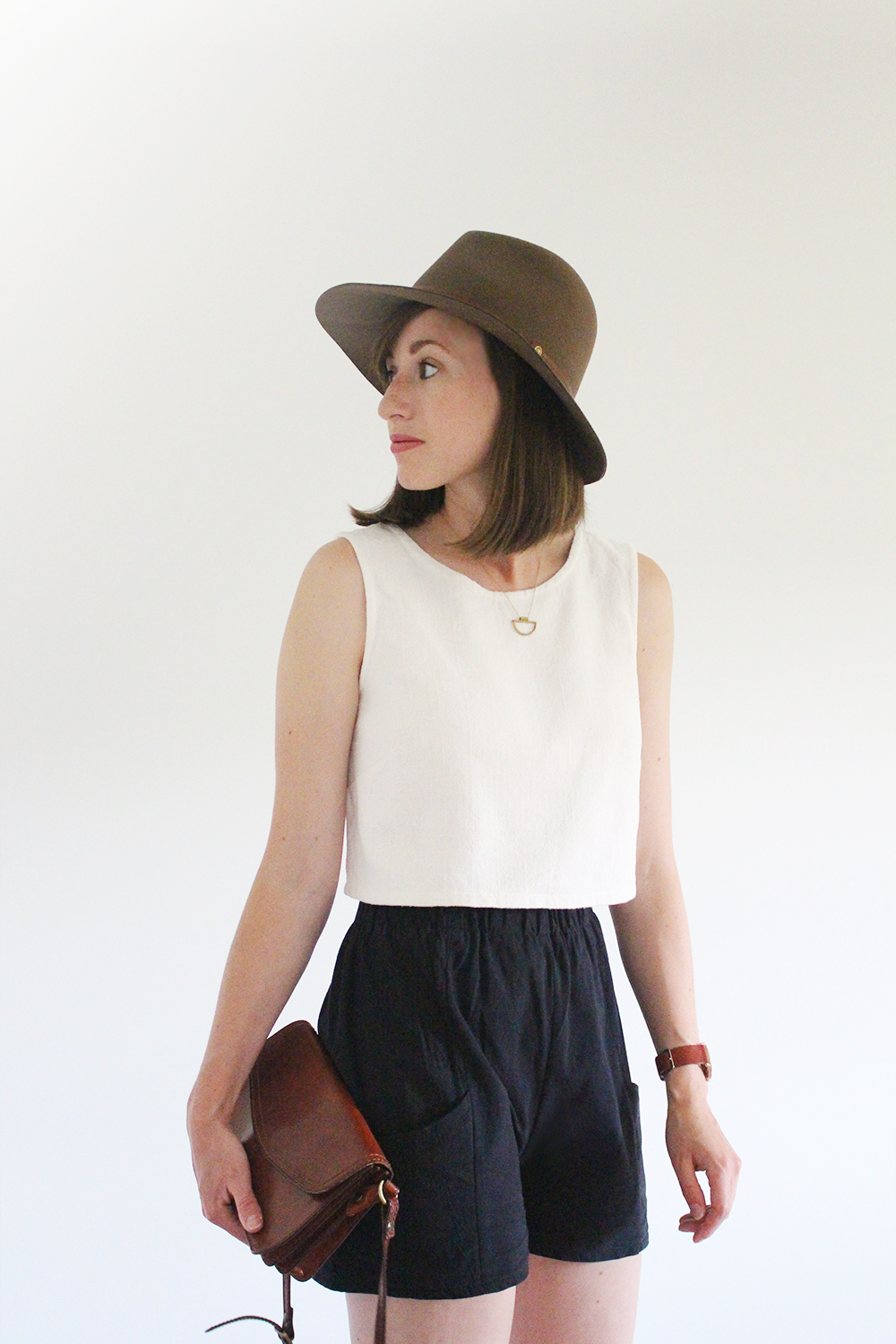 Quick Sidebar:
These three accessories have been some of my best buys ever. This hat seems to go with anything and everything and it fits so well. It's quite snug which gives me the confidence to wear it on even the more blustery days of the year. The RC Moon Wedge is easily my favourite summer 'heel'. I've worn them for hours on end without so much as an aching toe. Not something I can say for some of my flats shoes! I haven't checked but I think it's possible that this purse has been in more outfits than anything else in my closet. It's from the 1970's and has held up insanely well (similar options below).
Basically what I'm getting at is that simple, well-made, neutral accessories will go a really long way in helping you round out your looks and make an otherwise basic outfit feel put together. I also have a sneaking suspicion that they might be the key to finding lean closet contentment. Just don't underestimate their importance, whatever you do!
This weekend I'll be sharing a few new ones that are on my list for the seasons to come!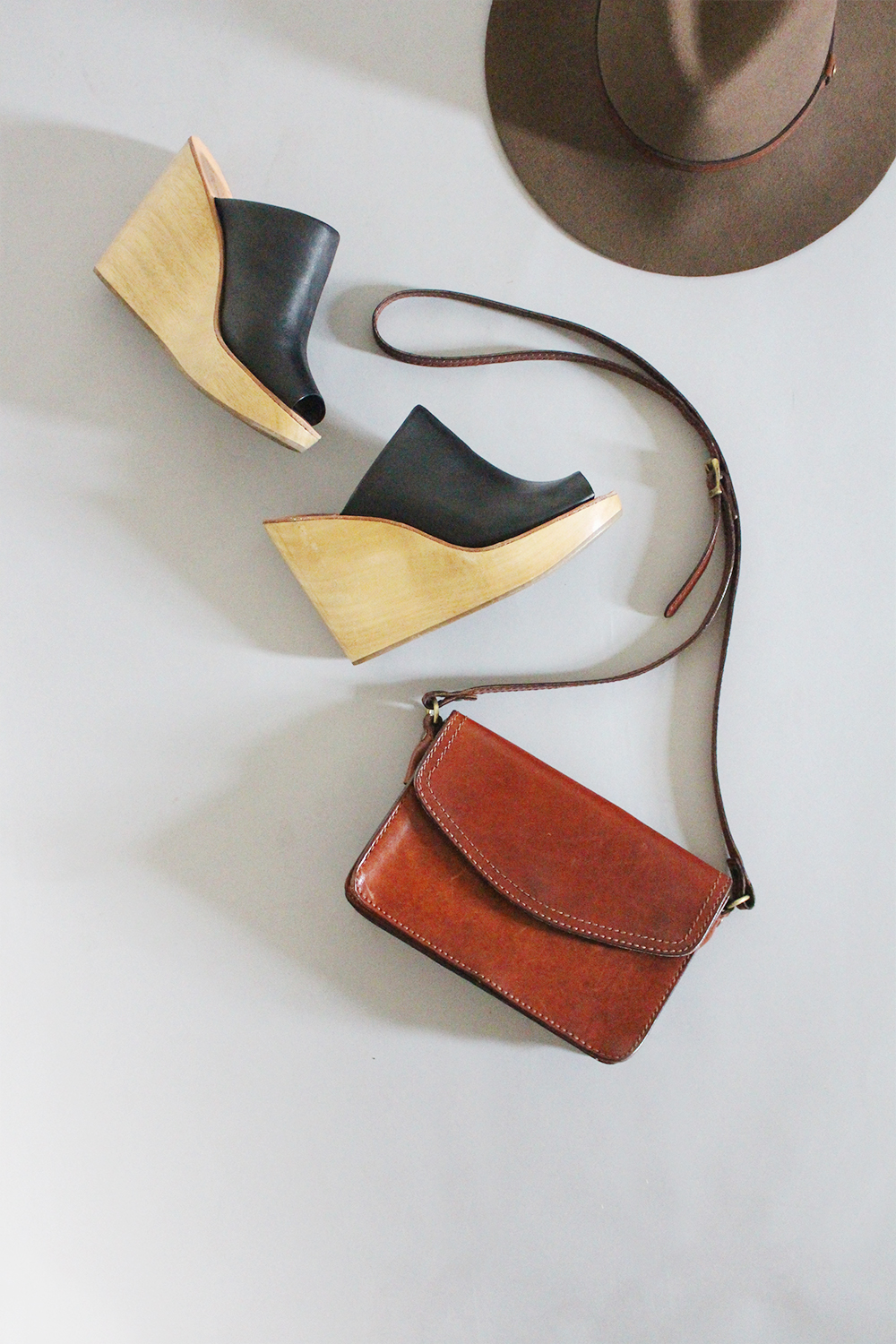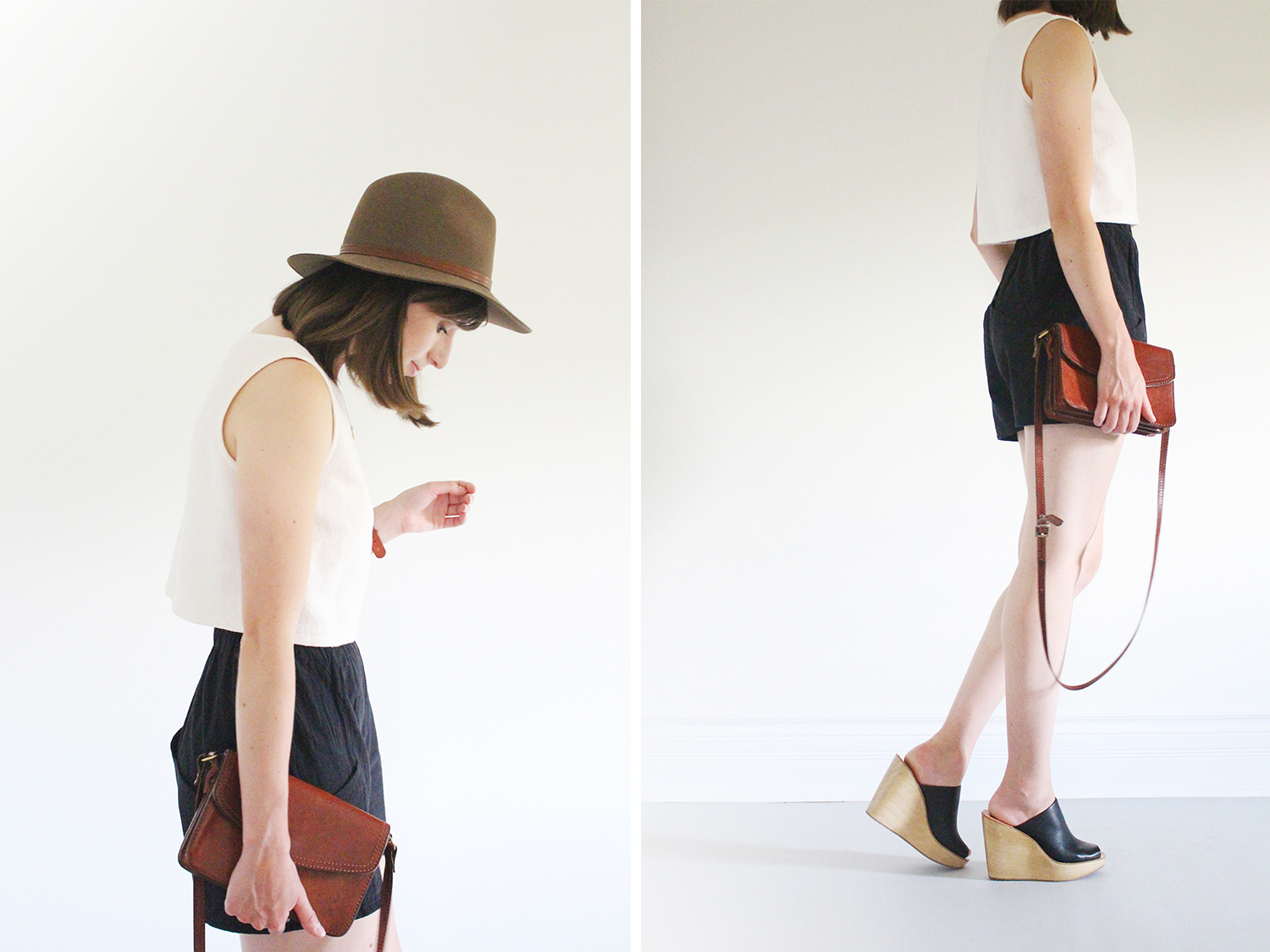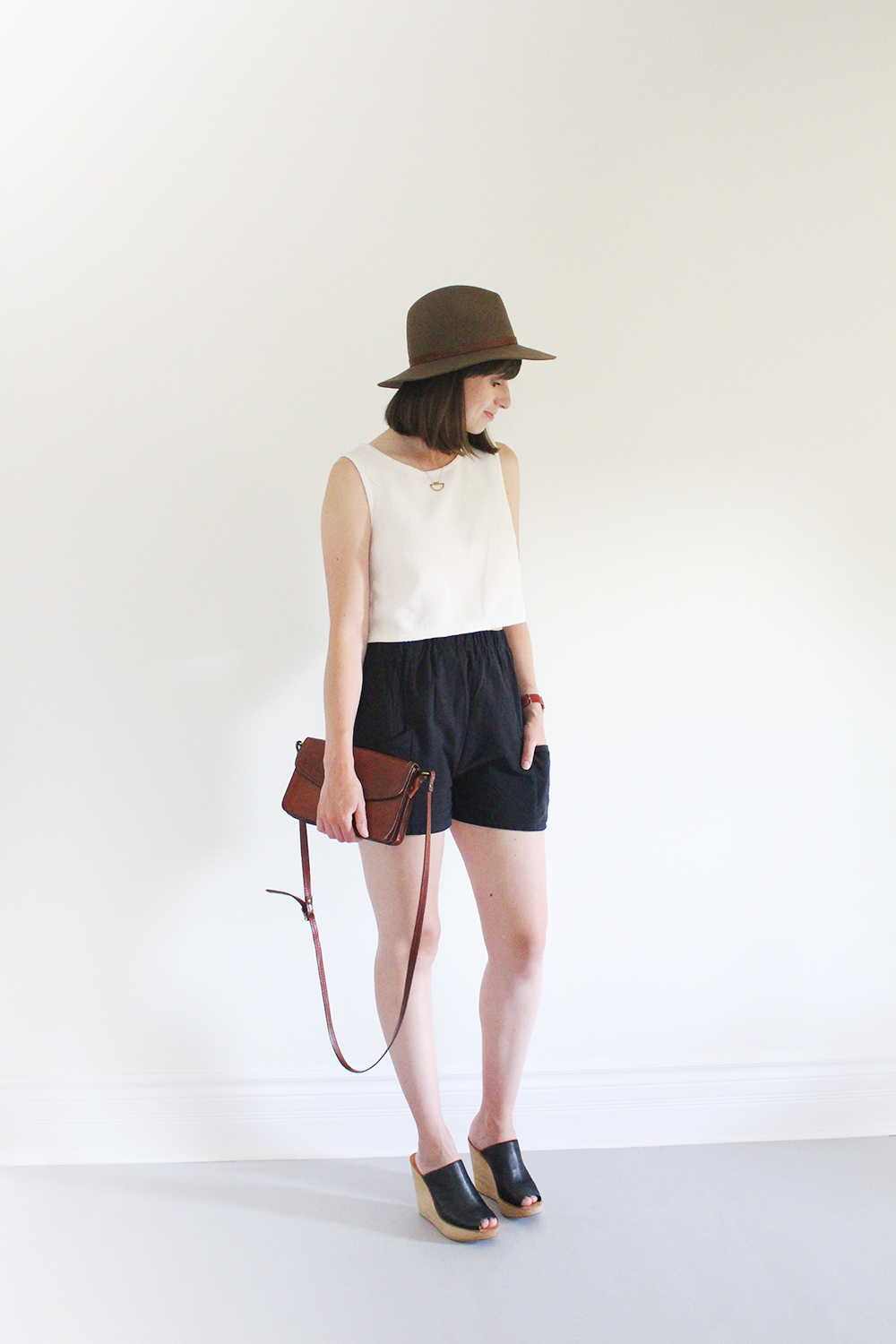 ---

---
Hat Rag & Bone || Crop Top old Elizabeth Suzann (love this one) || Shorts Formation Design s/o (similar options above) || Bag vintage || Shoes Rachel Comey || Watch c/o TRIWA || Necklace Another Feather