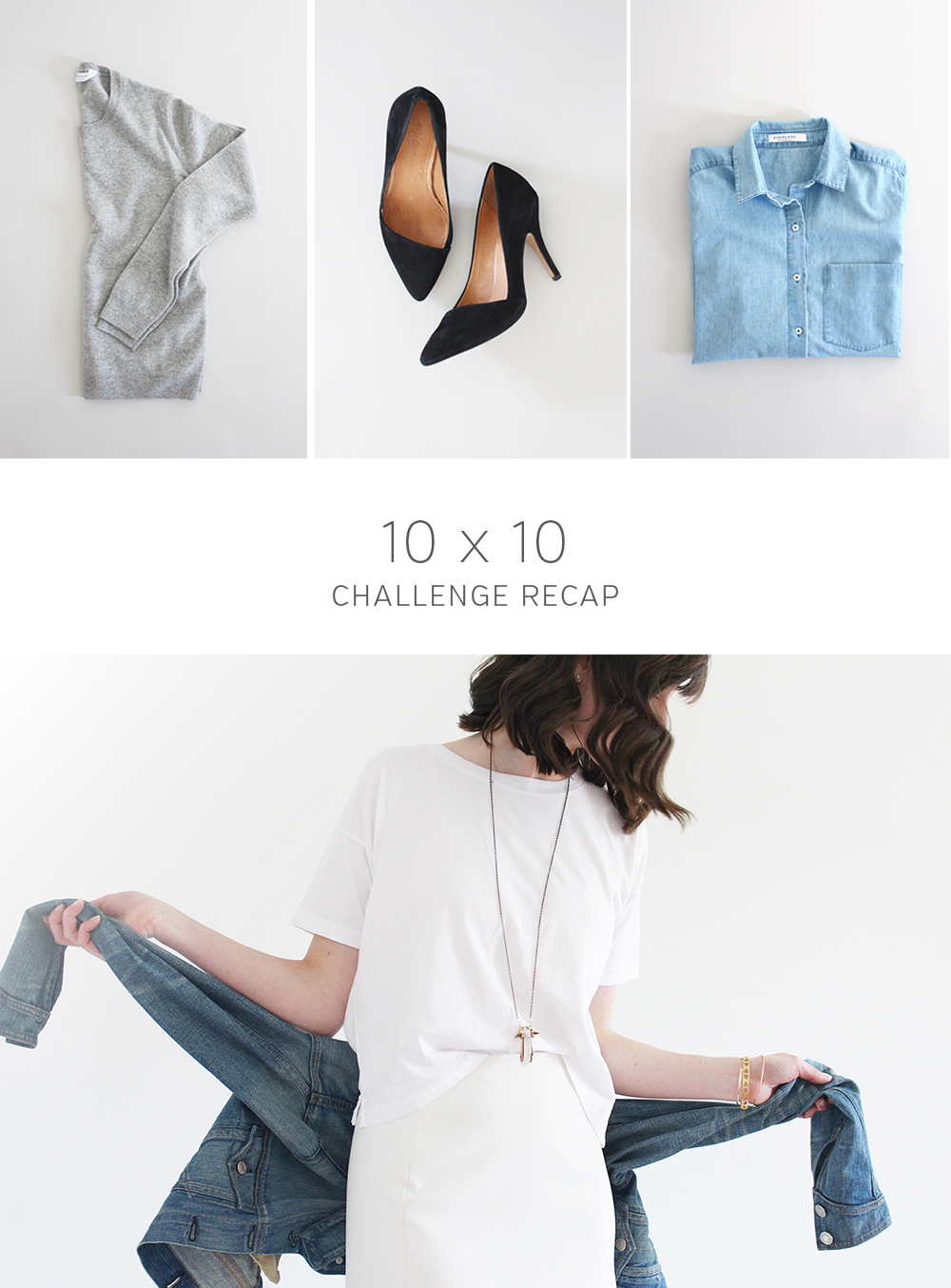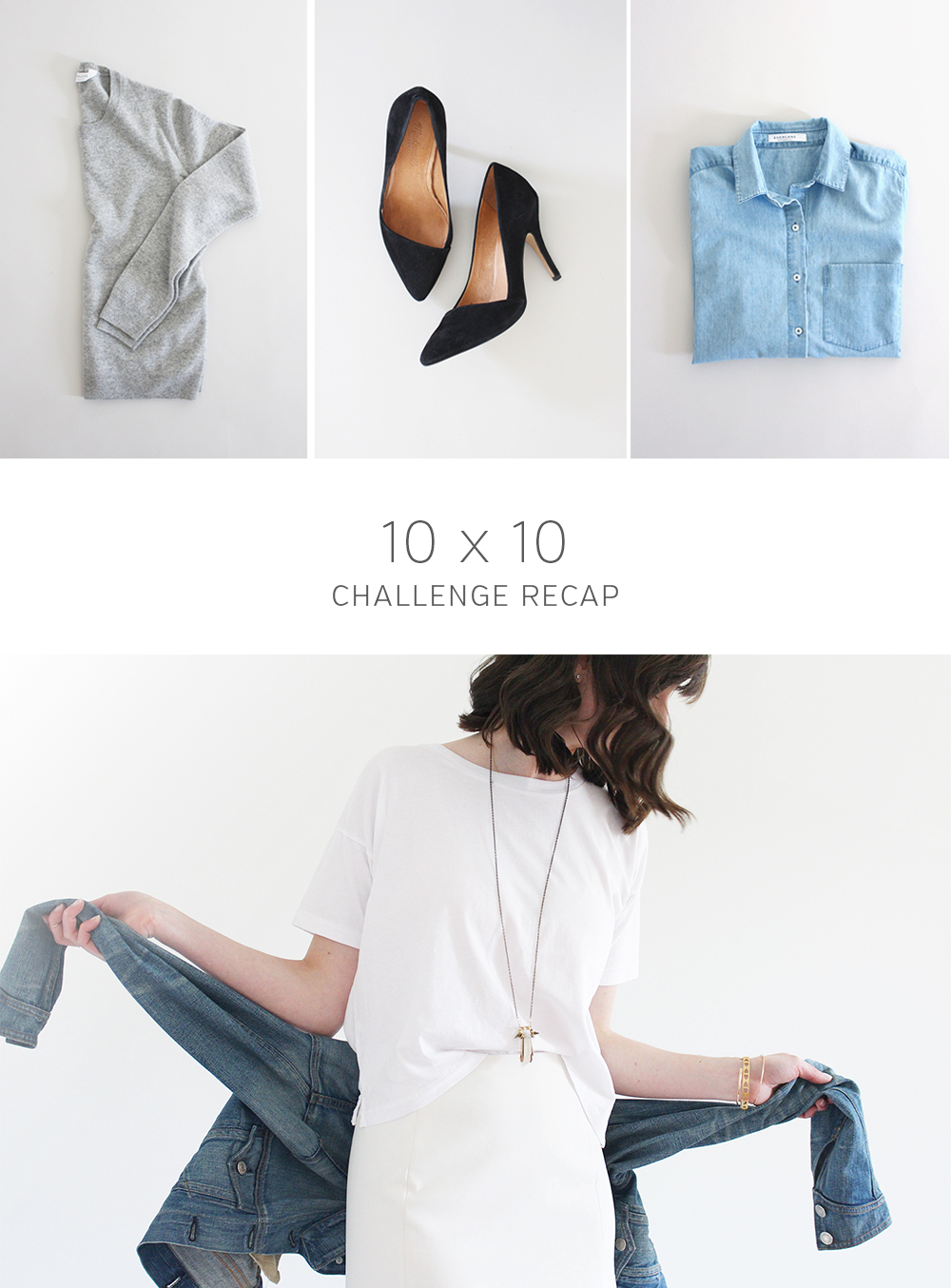 I've finally had a chance to collect my thoughts on the whole 10 x 10 Challenge and it's time to share them!
First let's take a quick look back at the pieces I chose for my mini capsule closet. The prerequisite for every item was that it needed to be super versatile, comfortable and chic. I went for all my spring favourites and tried not to overthink how they were going to work together. We'll also take a peek at how I styled those 10 pieces to make 10 different looks that could work for casual days in the office, client meetings, weekend events and dinner dates. (You can shop the capsule later in the post!)
---
TEN PIECES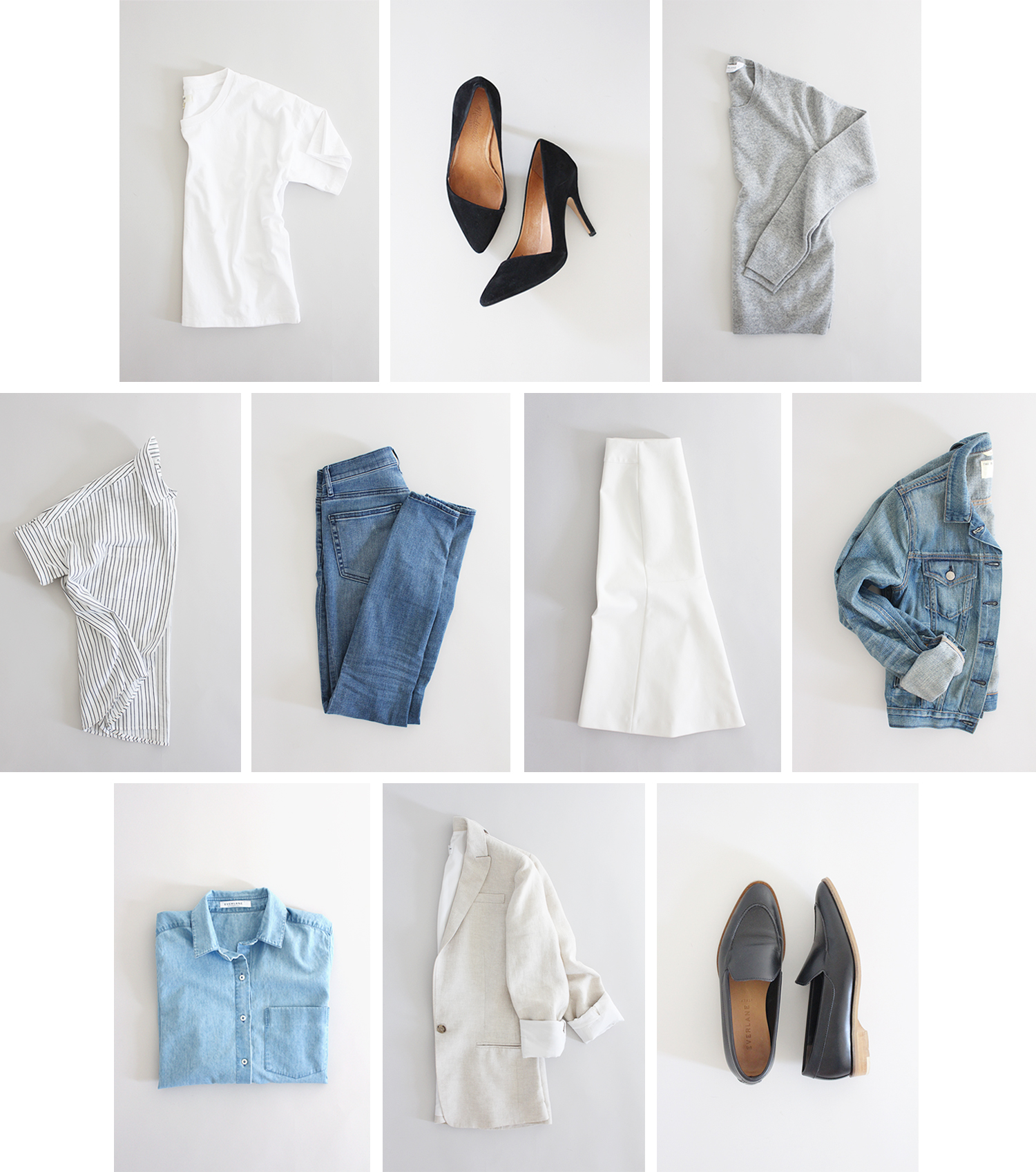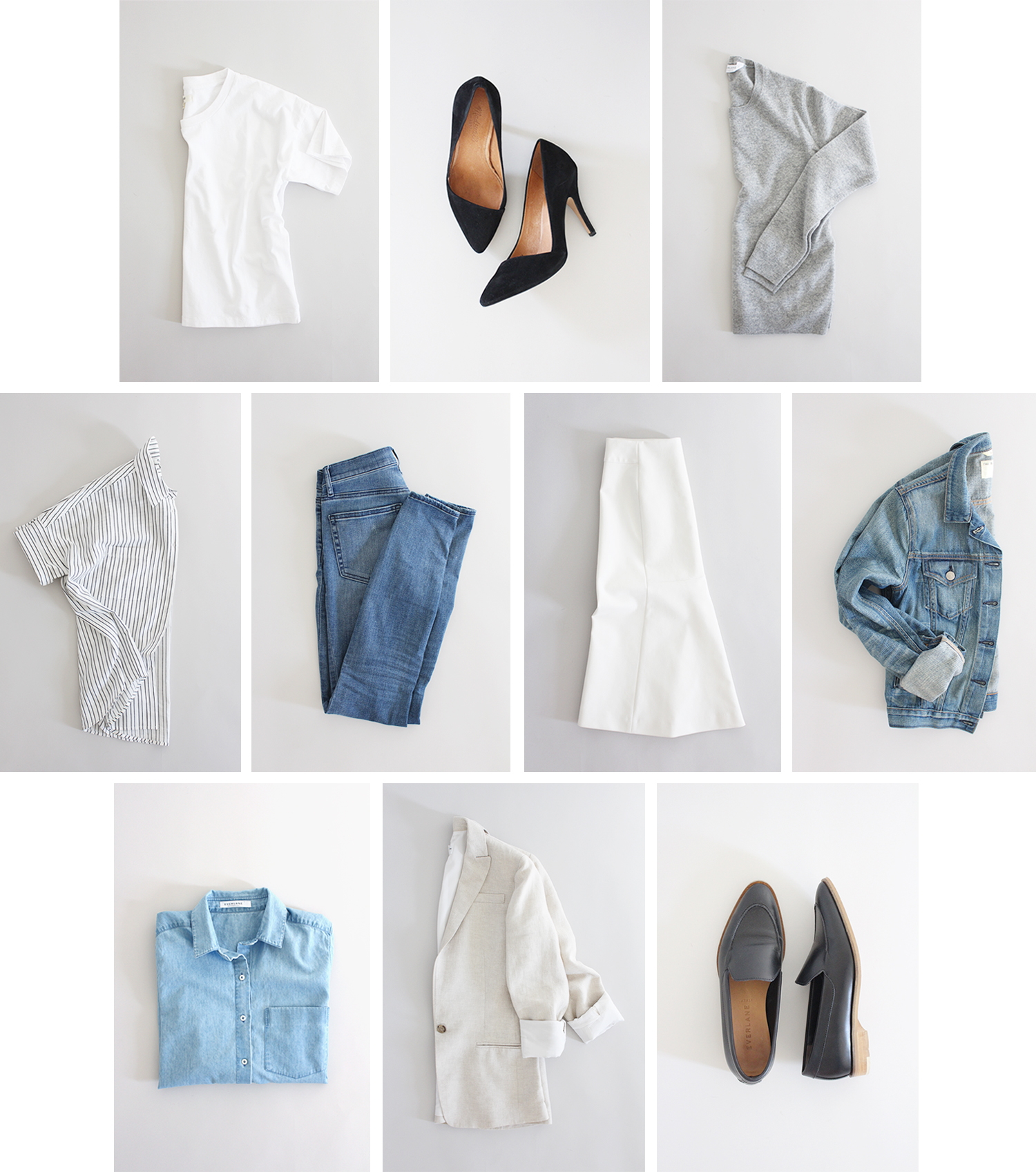 ---
TEN OUTFITS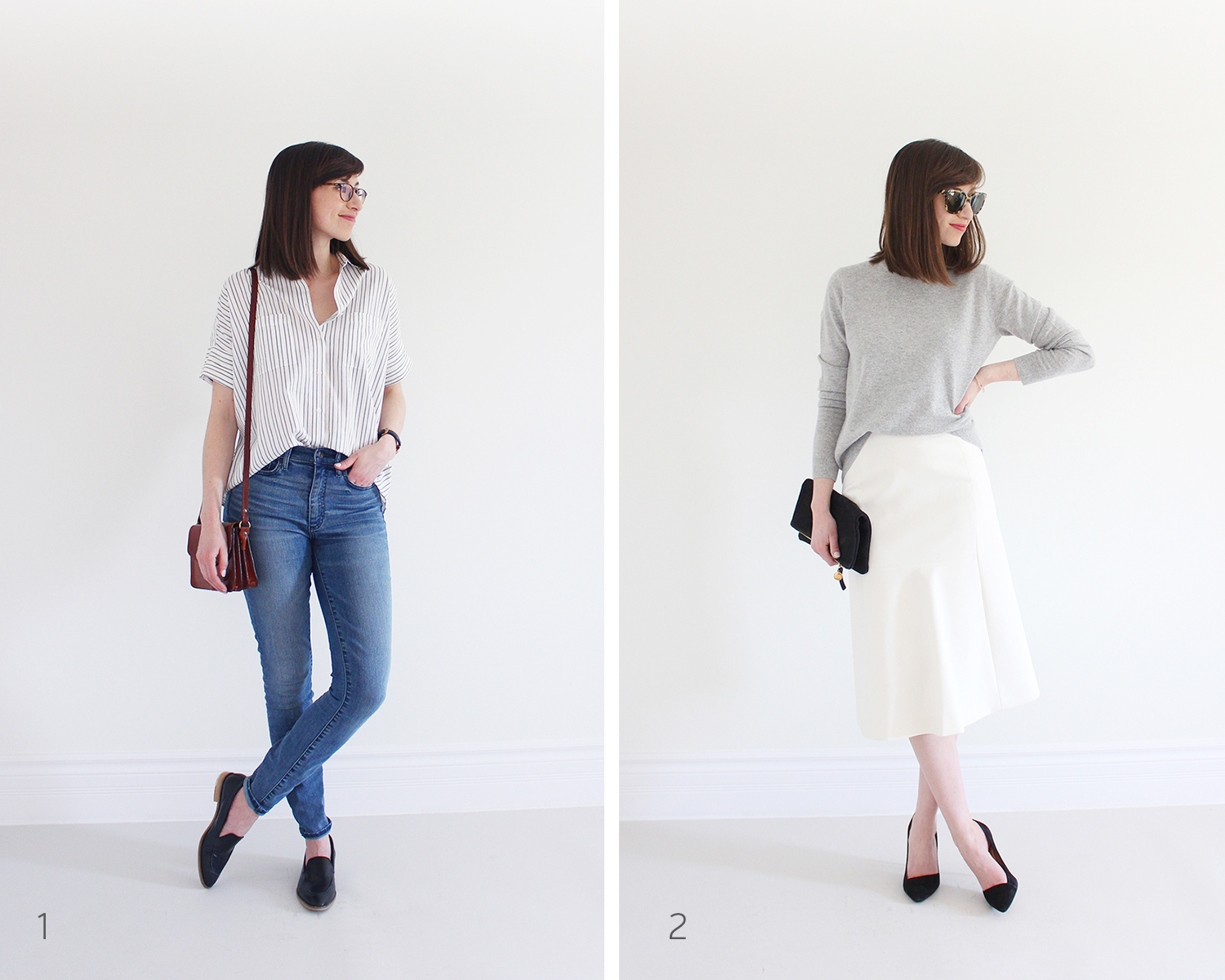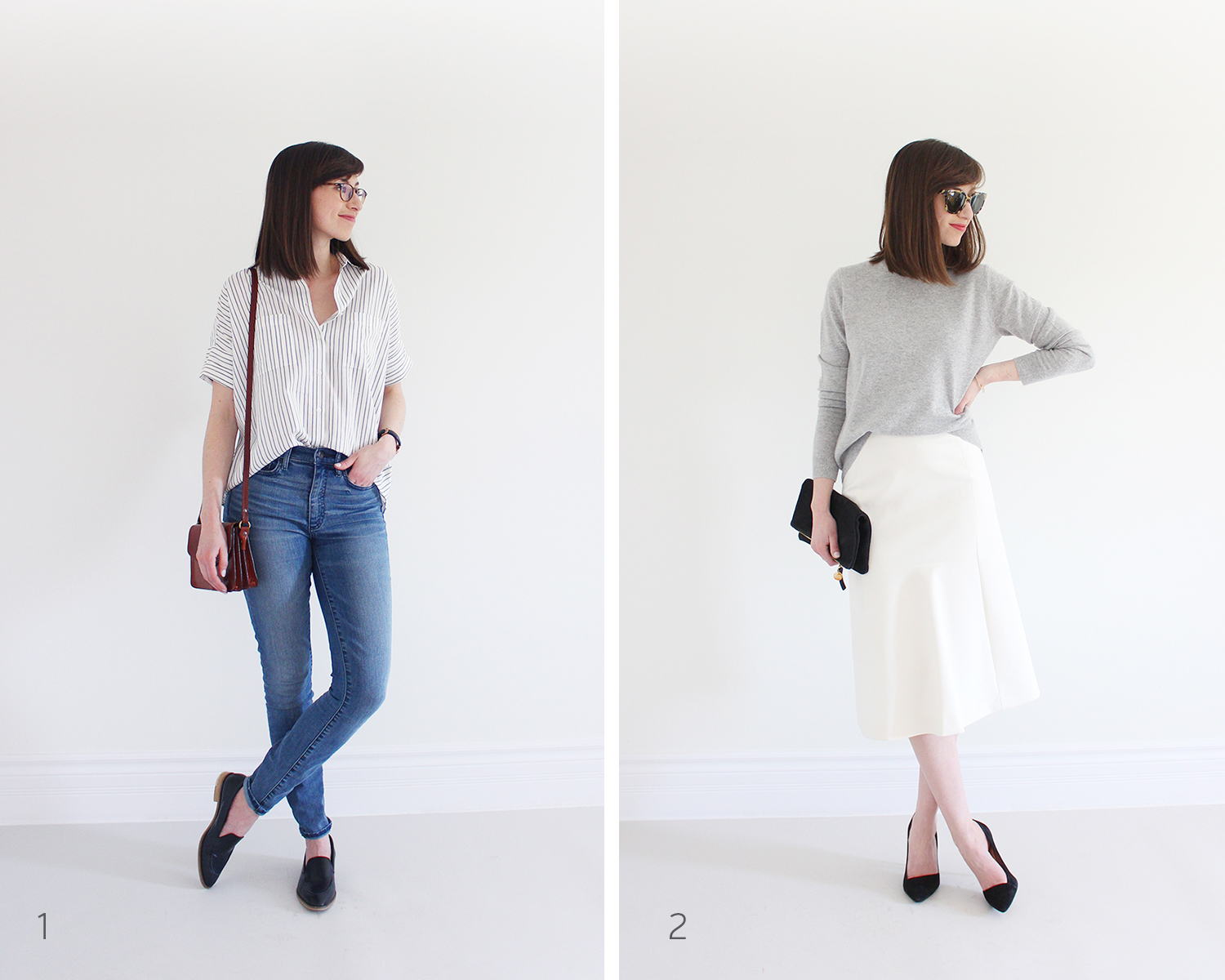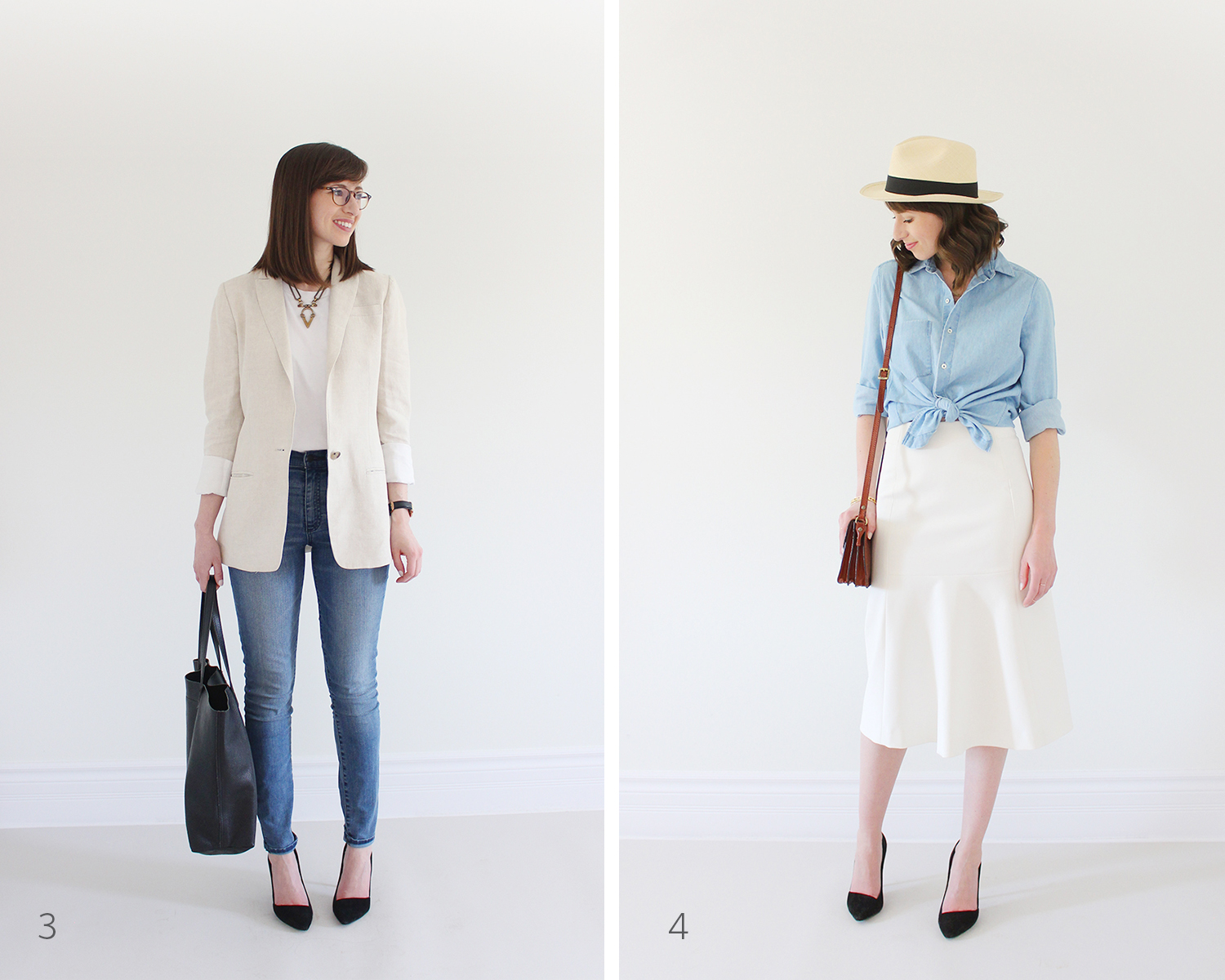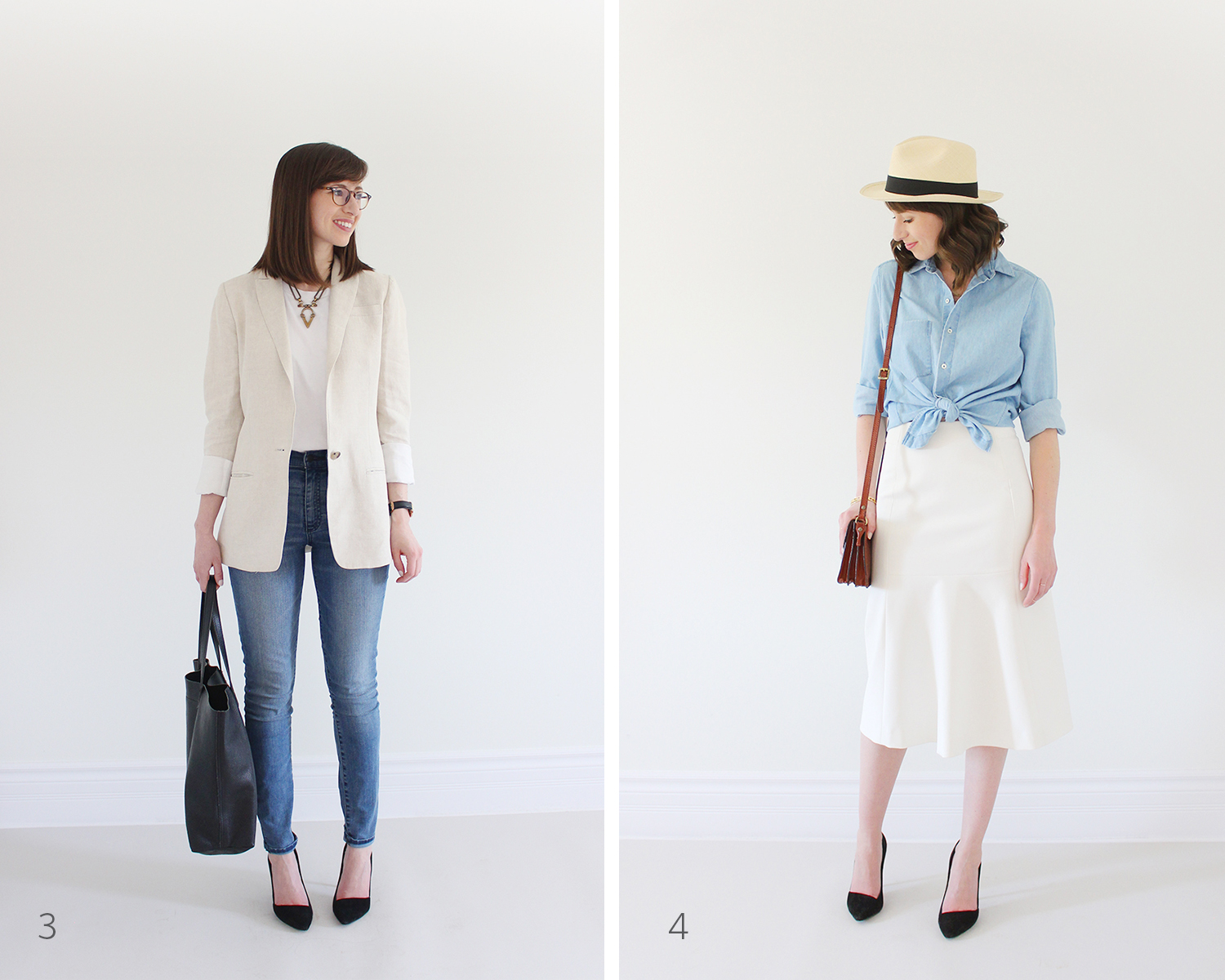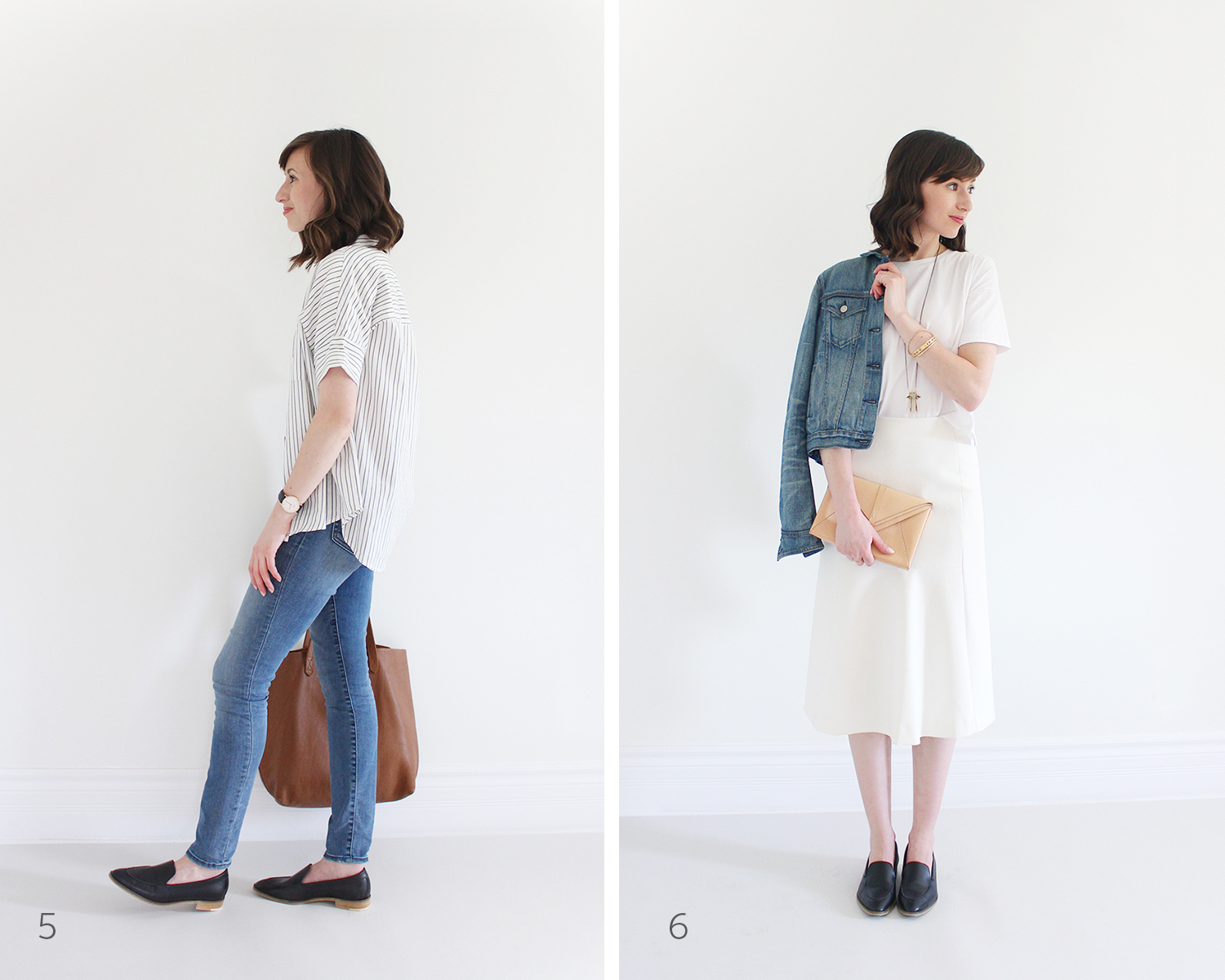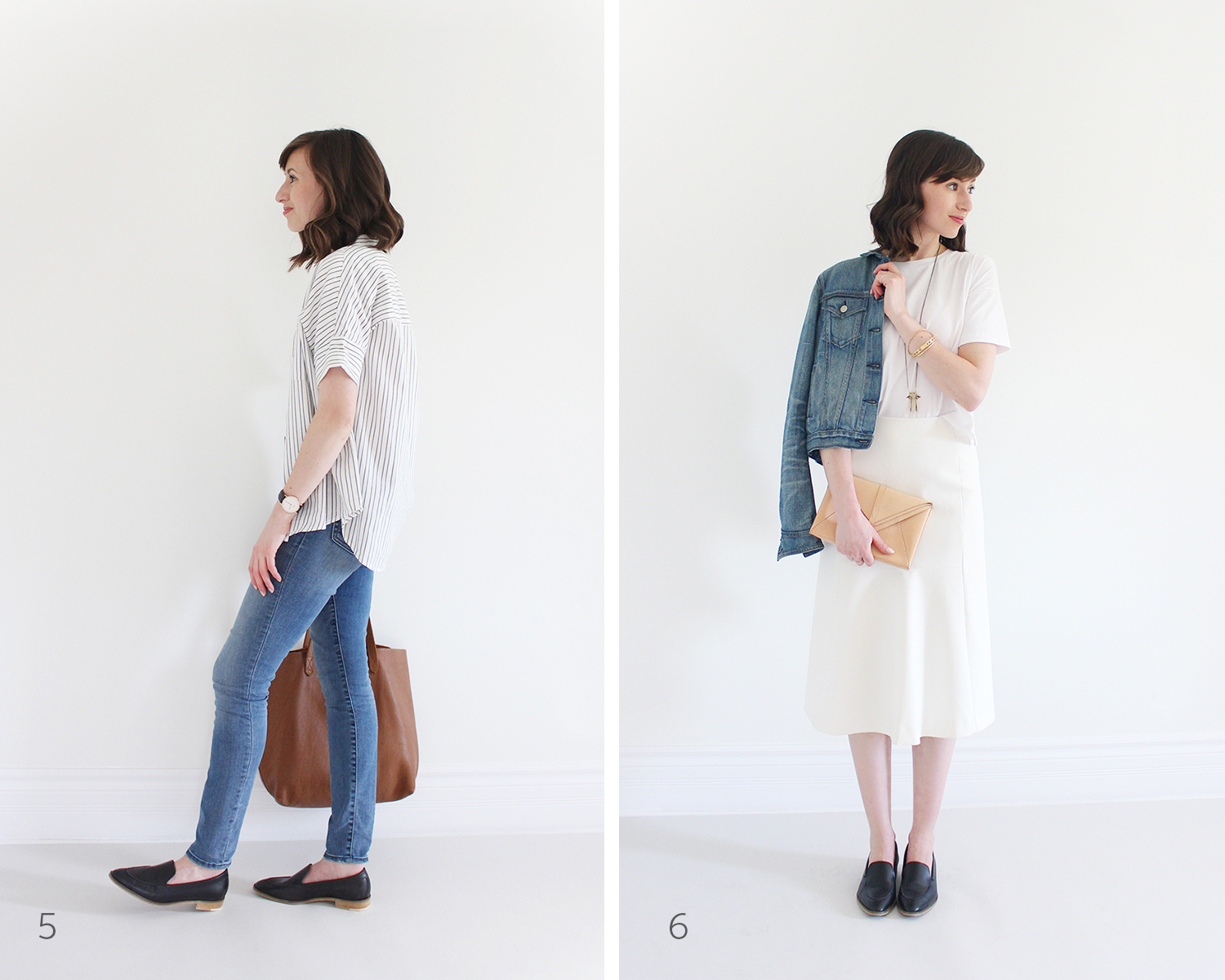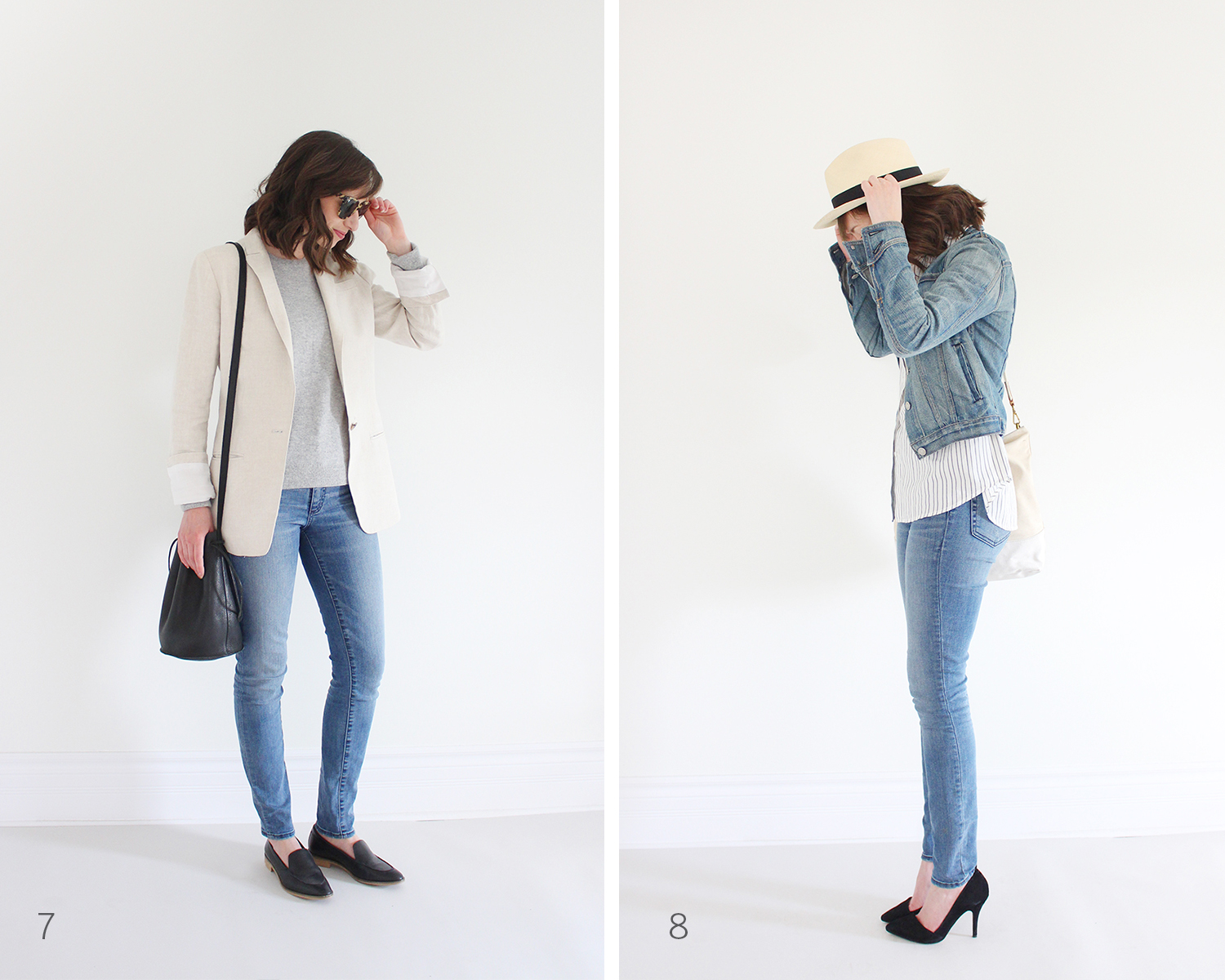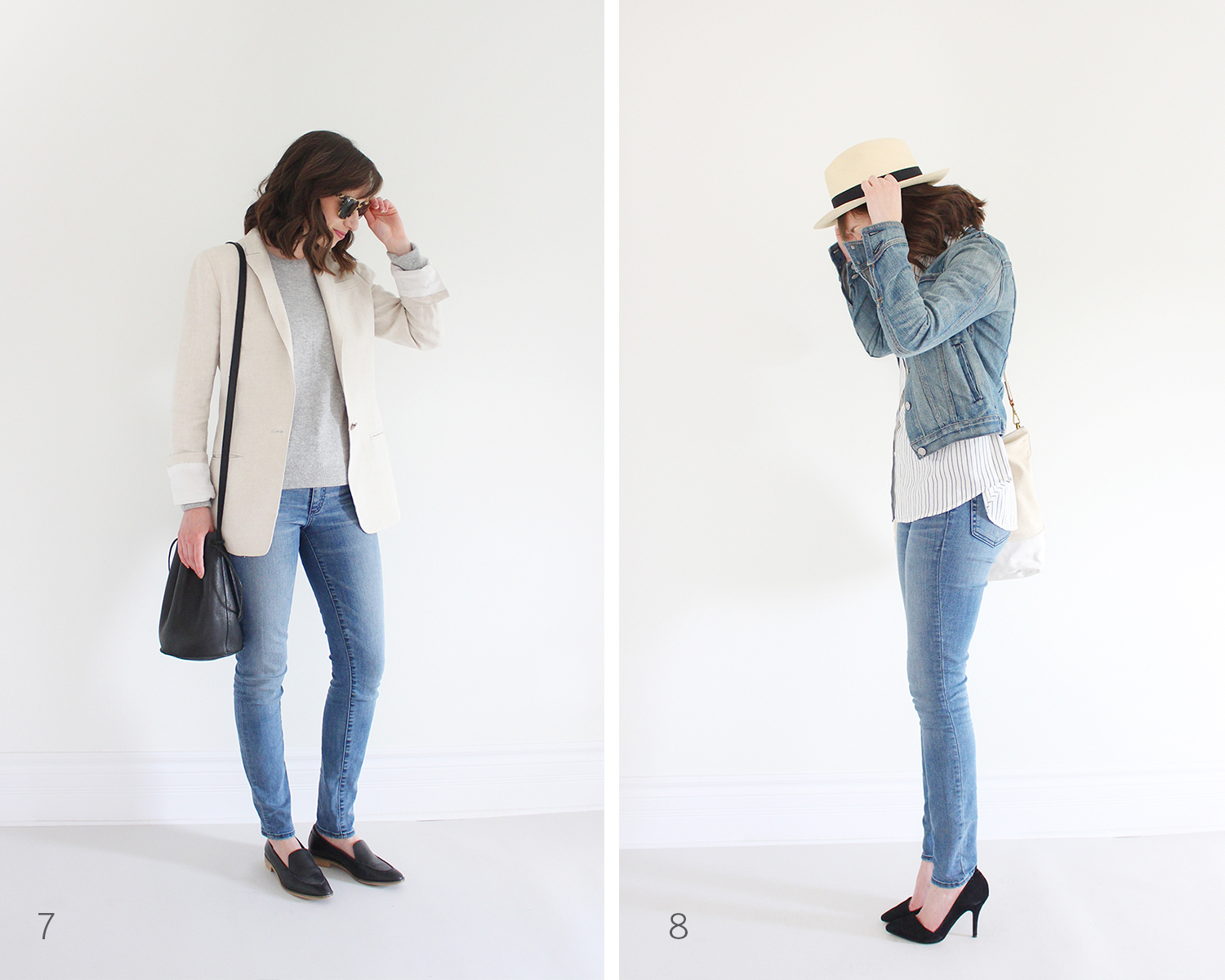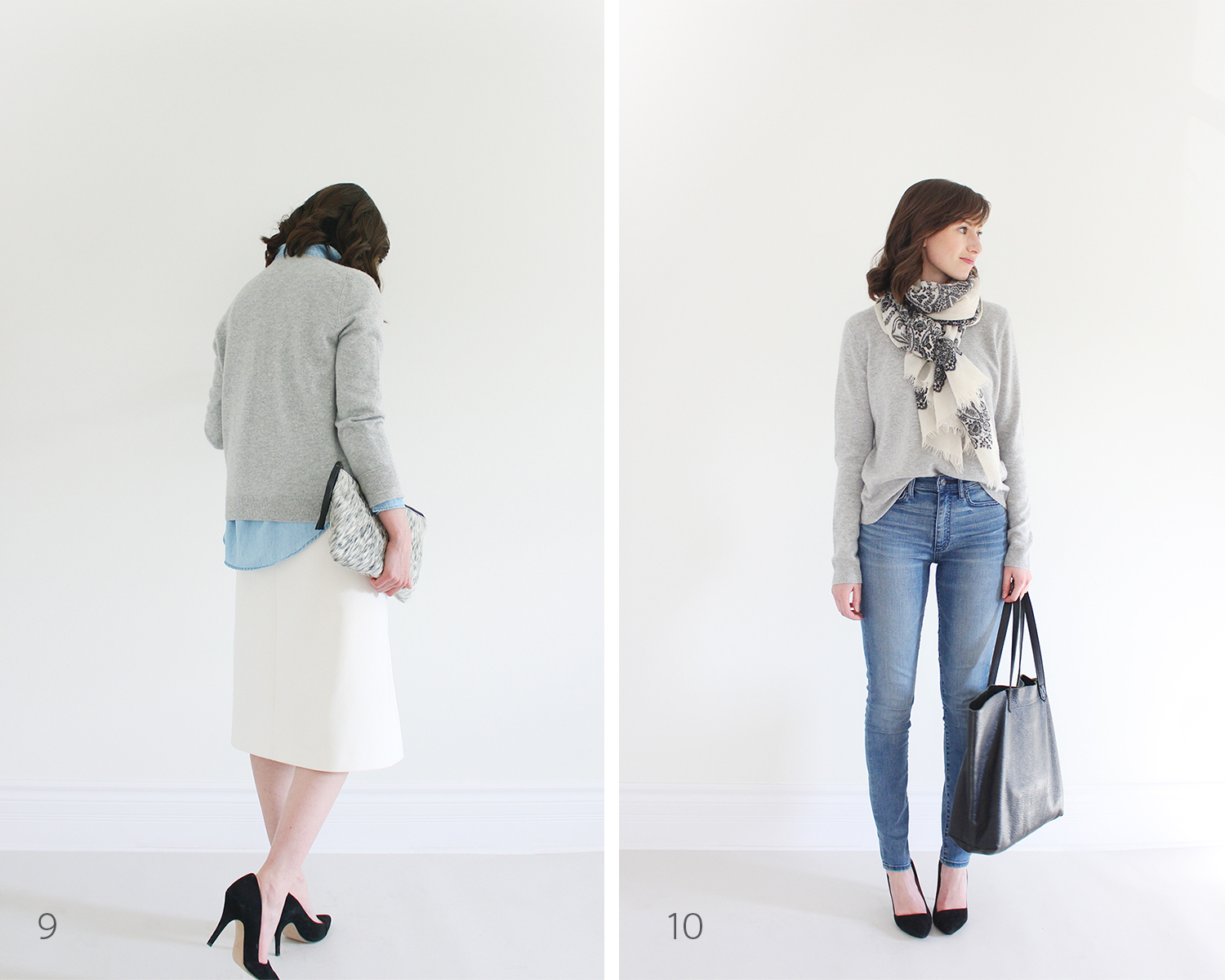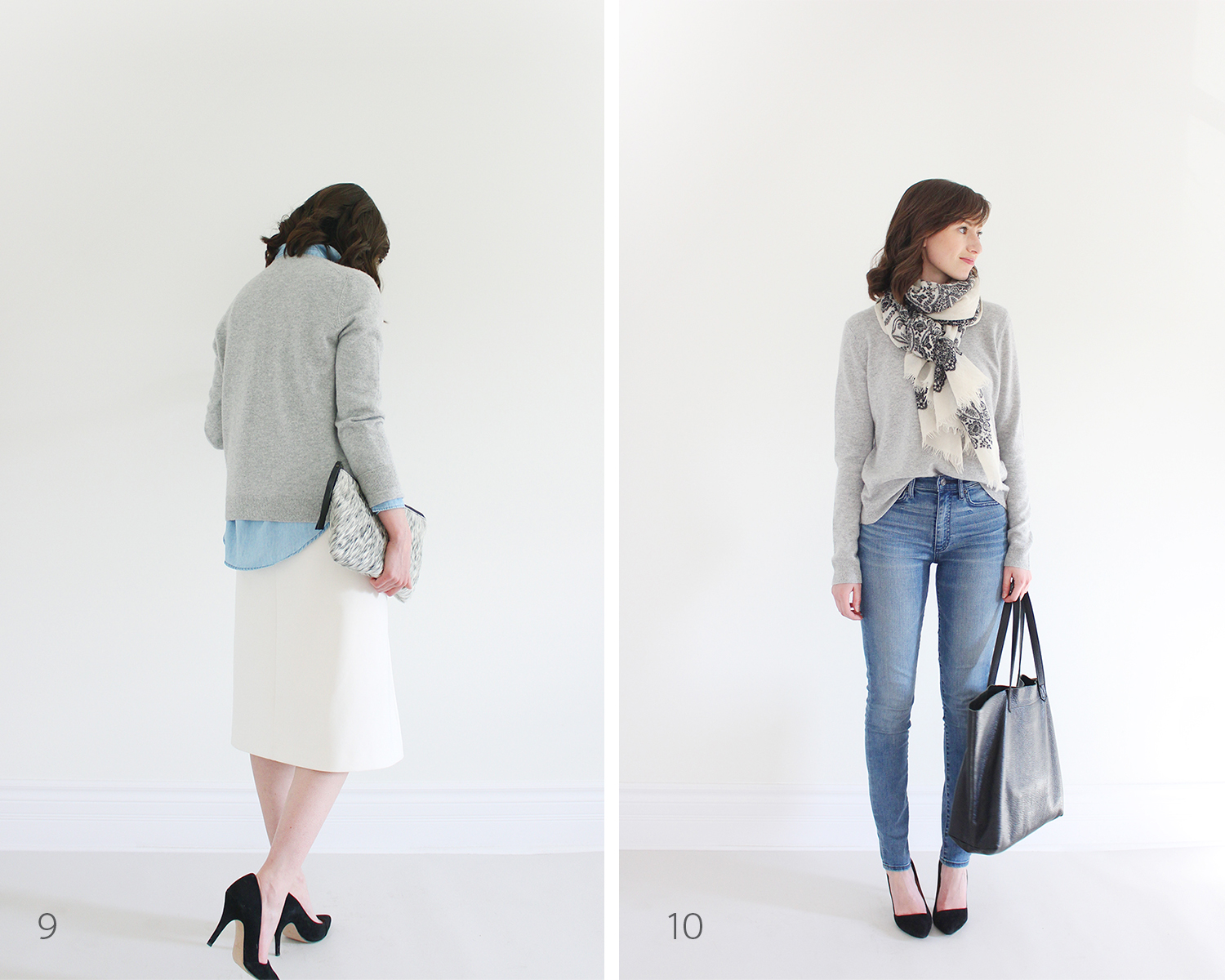 SHOP THE CAPSULE

---
Ok, so we're all caught up!  To get an honest sense of how the experiment really went and how I truly felt about it, I asked myself a few questions:
What were the 5 biggest takeaways?
You don't need a lot of items to have a lot of options.
Having less to choose from actually gives you more freedom.
Knowing your lifestyle and what you dress for is essential.
Remain open to pairing and styling items in new ways.
Your closet can work a lot harder than you might think.
What were the key factors that made it work well? 
A lean colour palette (mine was obviously black, white, grey, denim and neutrals)
Unfussy, comfortable items that I truly feel good in.
A wide spectrum of styles from very casual (cotton tee) to somewhat fancy (white a-line skirt) helped me feel like I could apply the closet to any occasion in my life.
What were the best things about it?
I loved knowing what I was going to wear in the morning. Not having to hum and haw over my options was really liberating and actually made for more productive and positive starts to the day.
I felt like I was actually 'wearing' all my clothes. Too often I've bought something, worn it once or twice and let it slowly but surely slink into the back of my closet.
It was really great from a blogging standpoint too. I had a much better idea of what I was going to post throughout the month and my concern with what other bloggers and fashion trend setters were doing was basically non-existent.
The positive response from readers made it a ton of fun too!
I also saved a significant amount of money because I wasn't shopping.
What would you do differently?
Not a whole lot actually but would probably switch out a top for another bottom or a dress. This would give me a few more options and help to stave off the slight monotony I was starting to feel towards the end.
Could you live with a capsule closet for a whole season?
I dare say I could. Mind you, it would need to be a lot more than 10 pieces!
Do you want to?
No, not exactly. I've paired down my wardrobe significantly over the last 6 months but not to the point of dressing solely from a capsule closet. To me it feels a little bit like living out of a suitcase. I love discovering and exploring new brands, makers and collections too much to cut myself off completely. BUT I think a capsule closet as the foundation of my wardrobe is definitely a good idea.
So what's next?
Drumroll please……a summer foundation capsule! That's right folks! Another capsule closet is en route, but this time I'm doubling up. I'm going to pull 20 of my most essential summer items: dresses, shorts, tops and shoes and style them 20 different ways! I'm really excited about it and feel like it'll be a great way to make more of my summer wardrobe and save up for my August trip to Vancouver, where I'll surely be tempted to pick up a few Fall foundation pieces.
---
SUMMER FOUNDATION CAPSULE PREVIEW
So…YAY! A summer foundation capsule is on it's way! I'm going to take some time during June to pull the 20 pieces together and start snapping photos. Then July will kick off with a full 20 piece foundation closet and the outfits will commence. Sound good? I hope so! Here's a little sneak peek to wet your whistle.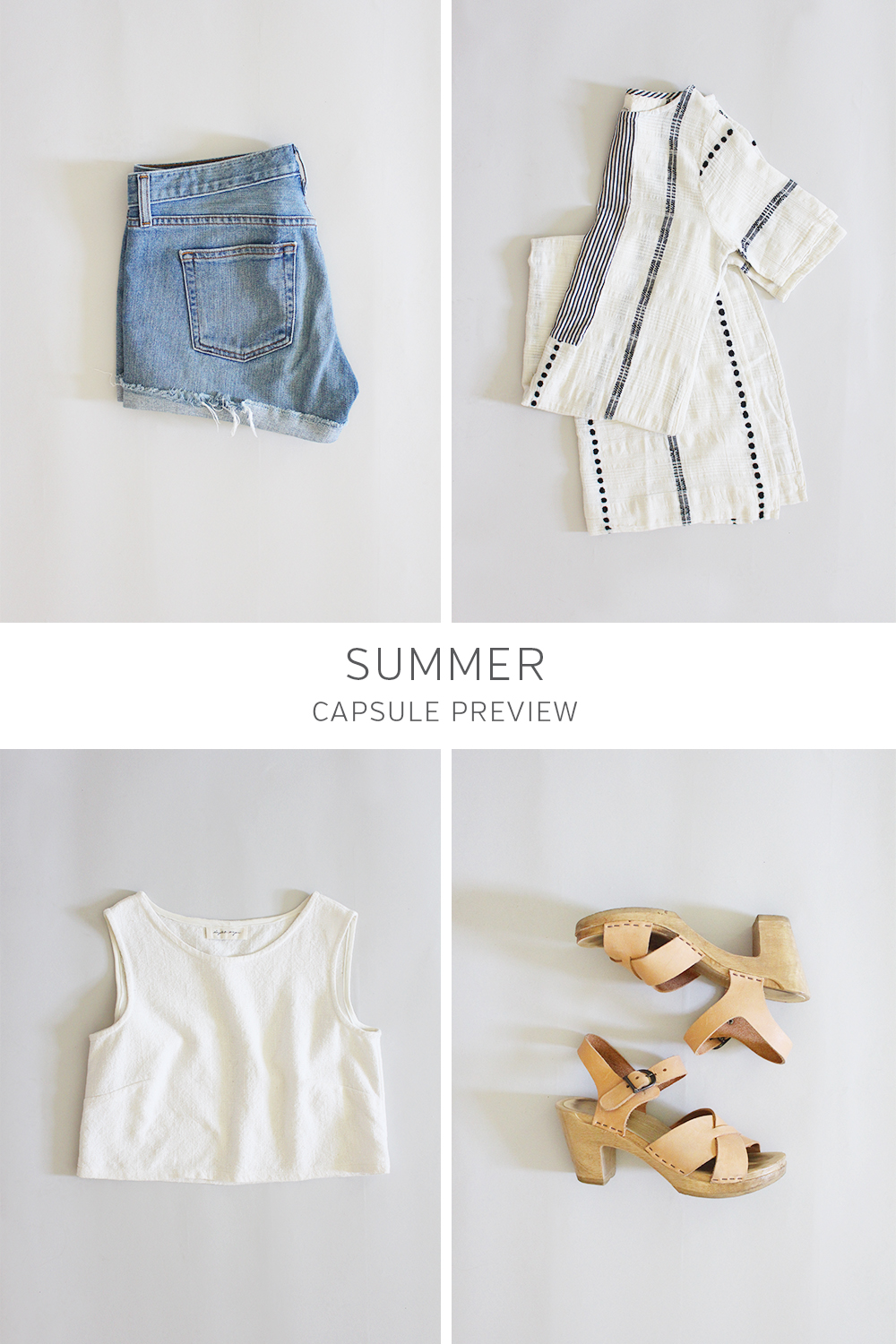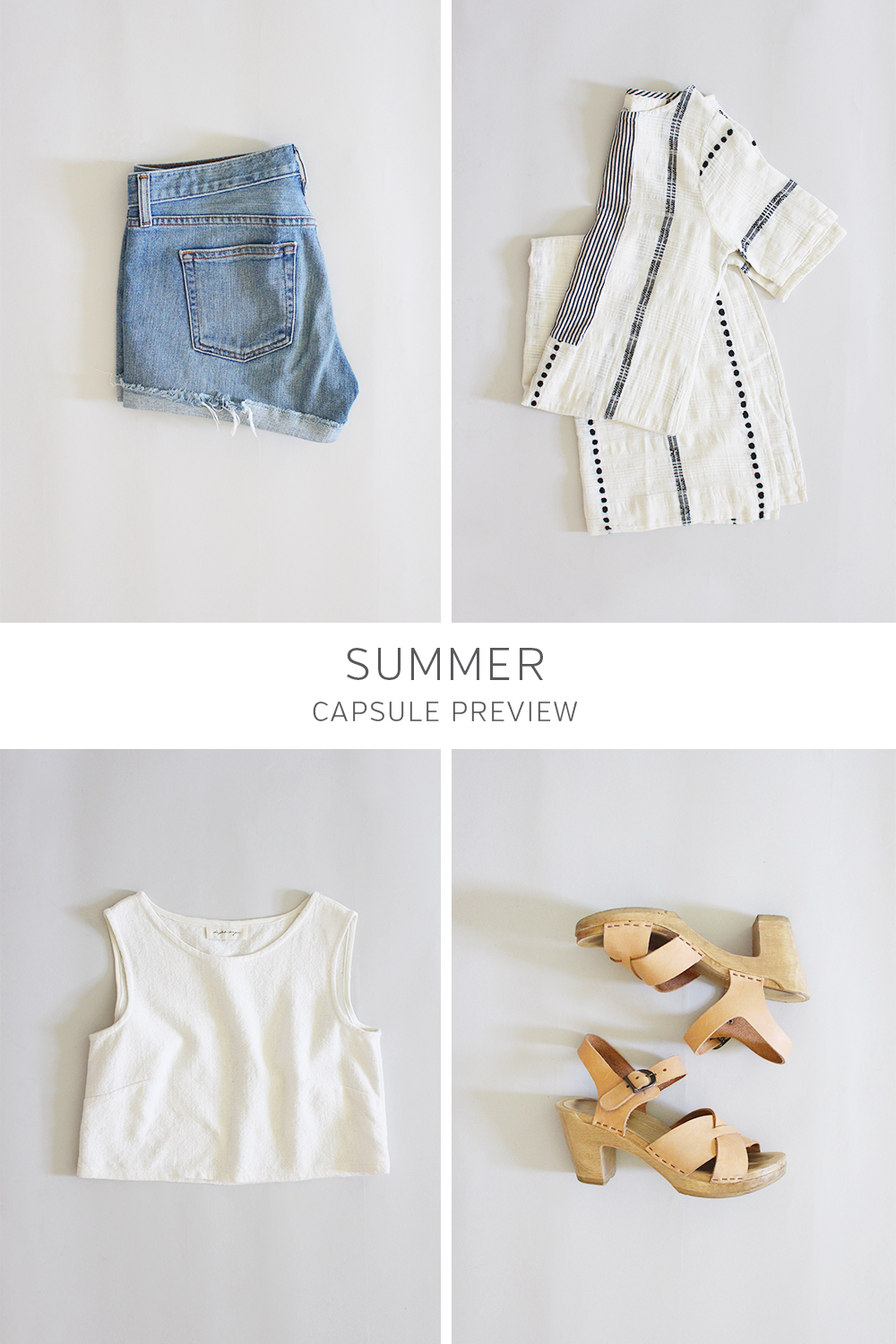 Shorts old J.Crew (similar here and here) || Dress Ace & Jig || Crop Top old Elizabeth Suzann (similar here and here) || Clogs custom No.6 (almost the same here and here)
---
Until the Summer Foundation Capsule starts it will be business as usual on the blog. I'll be sharing more outfits, style inspiration and possibly a home office reveal! As always, thanks for reading!