Lately it hasn't been feeling like Fall around here but the apple trees are full of fruit and the days are getting ever so detectably shorter and, unfortunately, they never lie. Neither does my inbox, which has been peppered with new Fall arrivals and lookbooks that are downright tantalizing! It's so easy to get sucked in and blow your entire fall budget before September is even halfway over but this closet mission has taught me a thing or two that I feel compelled to impart to you.
I wrote a lengthy post on acknowledging shopping 'Triggers' but one of my tried and true ways to avoid impulse buys is to make a list early in the season and stick to it. I actually like to jot things down at the end of a season so I can refer back to it when it comes around again. In fact, that's what I did last Fall and now some of those very items are back on my radar. I also feel like I really know my Fall wardrobe needs better than ever. Or rather, what I don't need. Such as fancy blazers or 4″ heels (yes, tears were shed at that realization). I've already invested in a few great staples like a leather jacket, black ankle boots, a couple leather totes and some classic sweaters that will play a big part in my style again this year.
What it's going to come down to this year is my budget (much of which has gone to the site redesign, launching in a matter of days!) and my desire to invest in a few more of those staples I was talking about. I don't want to succumb to any fast fashion trends or pieces that will only last a few months. I'm only going for things I'll be glad to wear for years to come. Which happen to be the following: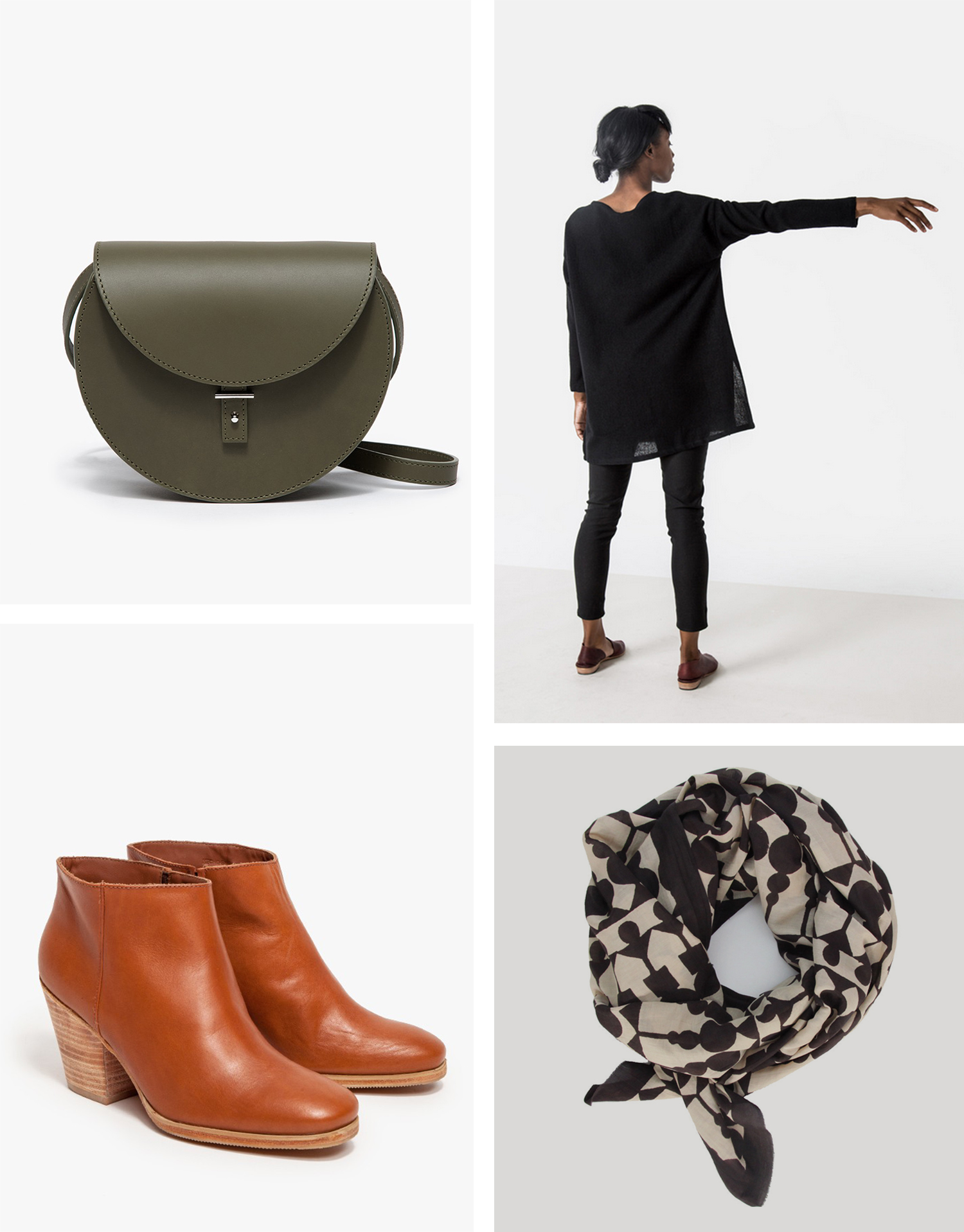 Cross Body Bag – This has been a wishlist item for forever but I just haven't quite been able to bring myself to say goodbye to such a large amount of hard earned cash. These three are all beautiful, classic and would totally up my Fall accessories game. We'll have to see what my late September finances say about it.
PB 0110 (also in black) | The Stowe | Clare V. Messenger
---
Tunic Sweater – I've been looking for just the right long, but not too long, warm but not too warm, tunic for the Fall and winter. Of course Elizabeth Suzann would answer my sweater dreams with this gorgeous wool number. But there are some other contenders for the closet position out there too.
Elizabeth Suzann Greta Tunic |  Ever Ames Tunic | Riller  & Fount Adelaide Tunic
---
Brown Boots – I know these boots have already made an appearance on the blog but they are seriously amazing! I have been wearing them at every chance I get and can't say enough good things. Rachel Comey shoes are officially on my obsession list, which from what I hear is pretty common once you've experienced them. But if they're not your jam or not in the budget there are lots of other more wallet friendly options too!
Rachel Comey Mars Boot | Rag & Bone Newbury | Madewell Billie Boot | Sam Edelman Petty Booties | Belle by SM Young Booties
---
Scarf – I've gotten so much use out of my BlockShop textiles scarf (shown here) that I've decided it's time to add another one to my roster. I'm really feeling the black and white geo vibe of the Finial print!
Blockshop Textiles Finial | Rachel Comey Woven Scarf | Madewell Wool Scarf
---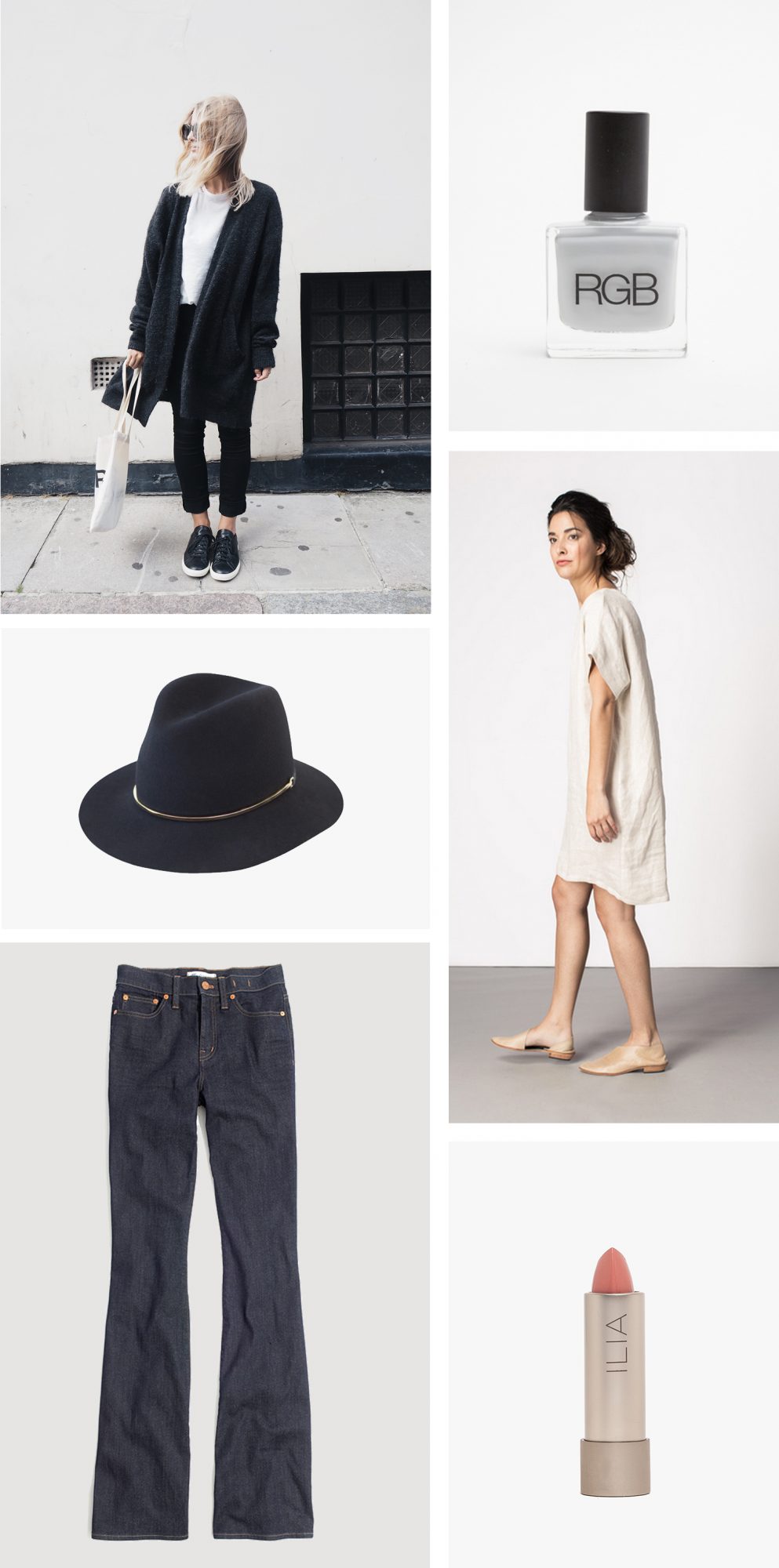 Giant Cardigan – Hands down my most worn and loved item (by me and by social media) has to be the Acne Studios Raya cardigan. I wore it damn near daily last winter (seen here), all spring and even find myself reaching for it when the A/C gets a little overzealous or the nights gets cool. I am currently debating between the long or the short black one. (image via Mija my current style icon)
Acne Studios Raya Cardigan (Short | Long) | I Love Mr. Mittens Cardigan | Madewell Oversized Cardigan
---
Grey Nails – I haven't painted my nails much lately but I've been feeling the urge to try out a new colour. Well, a new neutral anyway. I'm loving a super light, almost smoky grey for Fall. Still super versatile but a little more serious than a pink or nude.
RGB Dove | Deborah Lippmann Desert Moon | Butter London Ta Ta 
---
Wool Hat – You know how much I love my Rag and Bone fedora (seen here, here and 100 other times) and I've been wearing my Janessa Leone boater all summer so I'm keeping a look out for either a dark grey or black wool fedora for the fall.
Janessa Leone Stephen | Rag & Bone Floppy Fedora | Hat Attack Avery
---
Wear With Everything Dress – I'm a separates girl at heart but after getting so much use out of my favourite summer dress (seen here) I just had to consider an option for Fall. I've got my eye out for something loose fitting and perfect for wearing with boots and a scarf in early fall and with tights and a leather jacket when the weather chills out.
Elizabeth Suzann Georgia Dress | Etsy | Everlane Silk Dress
---
Dark Flares – I must admit, I've already crossed these bad boys off the list. They're the same style as my lighter wash flares that I wore all summer (seen here)  but the darker wash and classic contrast stitching make them perfect for Fall.
Madewell Flea Market Flare | JBrand Doll Flares | Blank Denim High Rise Flares | Paige Denim Flares
---
Lipstick – I've decided to slowly start transitioning to more natural and organic ingredients for my skin and beauty products. I've been using the Origins skincare line and my skin has been much happier lately. I've also heard great things about the following cosmetic brands:
Ilia Blossom Lady | Bite Beauty Musk | RMS Lip Shine Bloom
---
So that's the official list I'll be referring to whenever I'm tempted to shop in the coming months! But I'd love to know, what's on your Fall wishlist!?