Christmas Eve is exactly 1 month and 1 day away. Now, if you're like me and haven't done one lick of your holiday shopping yet, that realization might be anxiety inducing. The good thing is that we still have plenty of time to tick every name off our lists and find that perfect little something for everyone. There are a TON of gift guides out there this year and it can be a little overwhelming to sift through them all. So I decided to keep it simple and do one gift giving post that covers lots of different types of people that might be on your list. I also wanted to help you stick to your holiday budget so every item (there are 50) on this list is under $50 (I even did my best to keep them under $50 CAD). This way you can be an awesome gifter without going broke and you may even have some funds left to treat yo-self!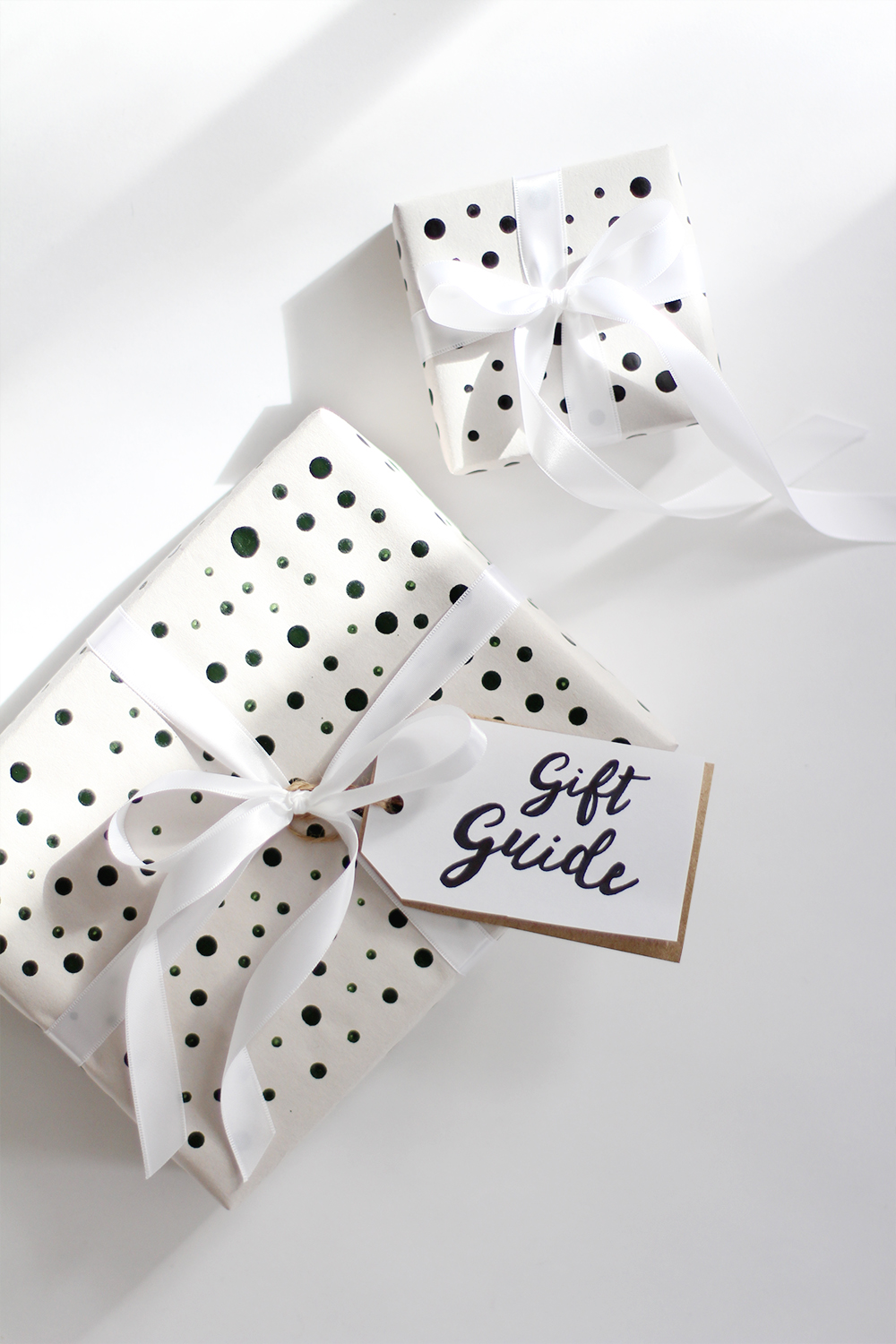 ---
50 GIFTS UNDER $50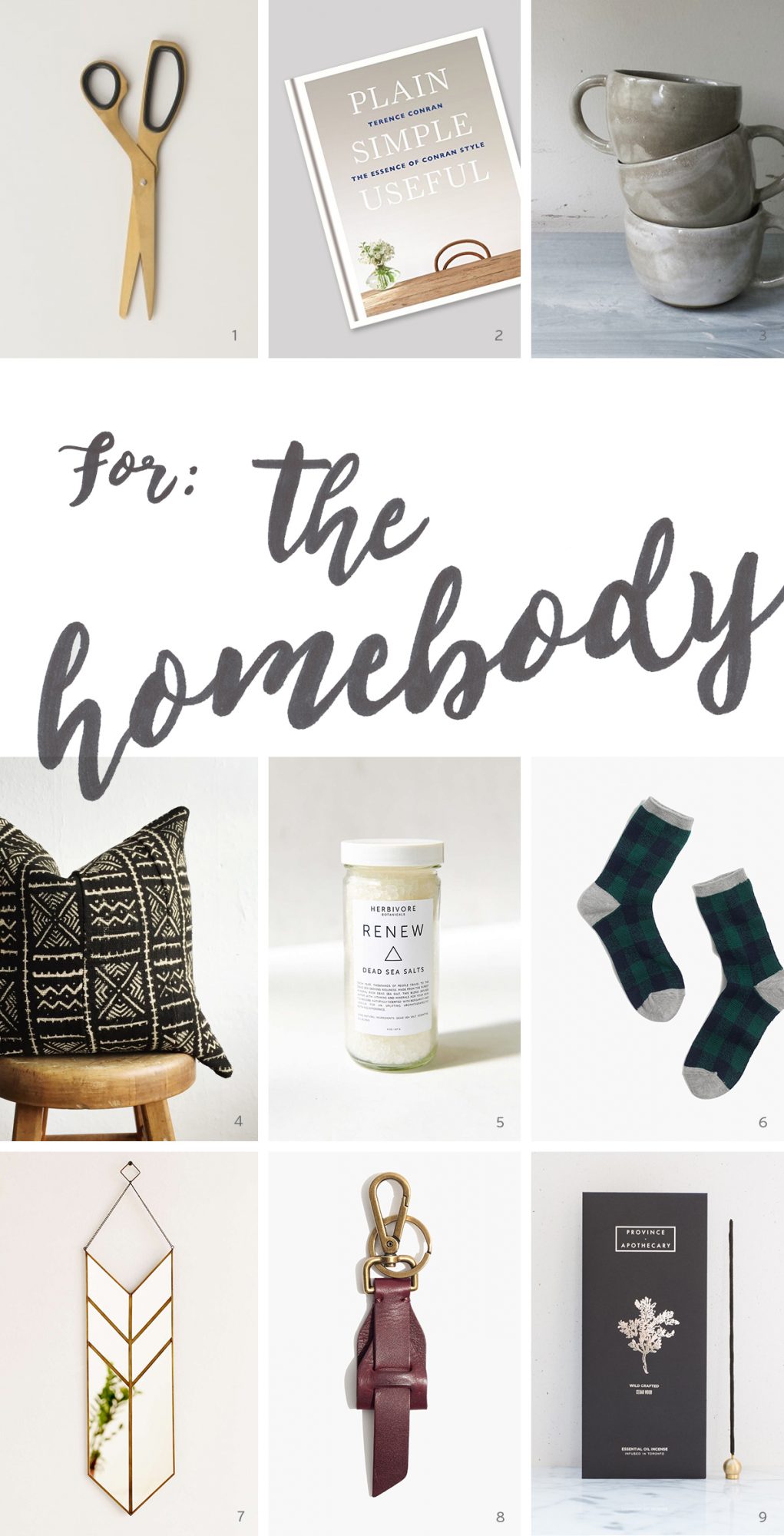 FOR: THE HOMEBODY
1 – Brass Scissors ($18) | These are both practical and totally gorgeous enough to leave on the counter.
2 – Plain Simple Useful ($35) | To this day, my all-time favourite interior design book.
3 – Cozy Mug ($36) | Speck & Stone is one of my favourite ceramics makers and everyone needs a big gorgeous mug.
4 – MudCloth Pillow ($50) | For the bohemian or the monochrome enthusiast homemaker on your list.
5 – Bath Salts ($18) | Because Friday night in a hot bath with a glass of wine basically trumps any other plans ever.
6 – Buffalo Socks ($12.50) | If you're Canadian you'll agree, you can never have enough socks!
7 – Hanging Mirror ($39) | Perfect for a new homeowner or someone who's just settling into their place.
8 – Key Chain ($20) | This won't make your keys harder to lose but they'll look good wherever they hide.
9 – Incense + Holder ($24) | Incense for the aroma therapy lover on your list (psst, that's me!)
---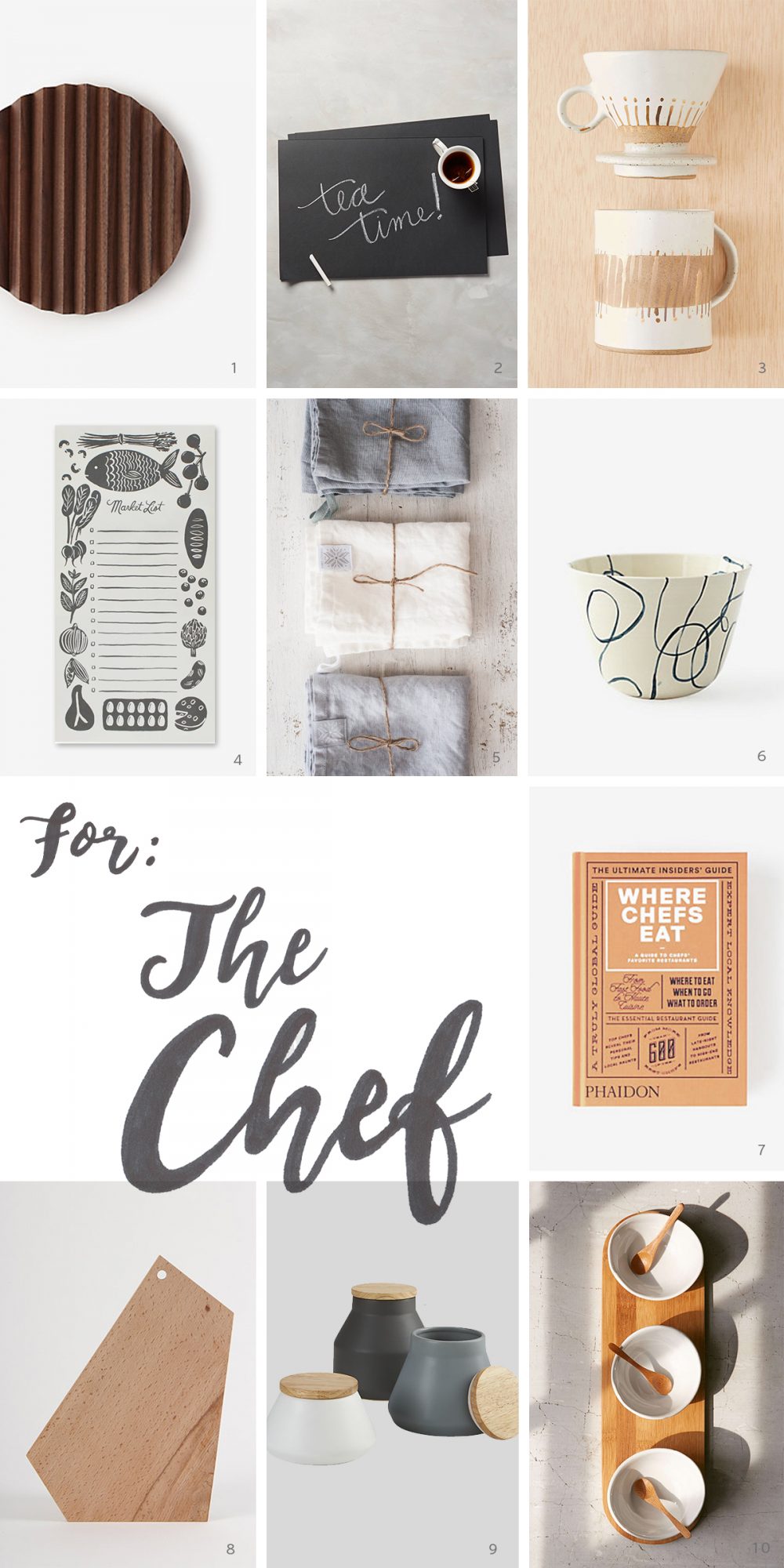 FOR: THE CHEF
1 – Walnut Trivet ($48) | I love this sleek minimal take on a classic kitchen staple.
2 – Chalkboard Placemats (25 for $28) | These are perfect for the dinner party host on your list.
3 – Pour Over Coffee Maker ($49) | Perfect for anyone that's particular about their morning coffee.
4 – Market List ($10) | Who doesn't need an extra excuse to make a list?
5 – Linen Towels (3 for $50) | Beautiful linen tea towels for the chic chef you know and love.
6 – Cute Bowl ($50) | Whether it's used for mixing, whisking, whipping or just for looking at, this bowl is a sure hit.
7 – Where Chef's Eat ($24) | For that person who can't wait to try the next best resto.
8 – Beech Board ($30) | This is a personal favourite and begging for a great charcuterie.
9 – Canister Set ($35) | The cutest clutter busters I've seen in a while.
10 – Appetizer Tray ($30) | Whether your giftee love's sweet or savoury this little tray is a great option.
---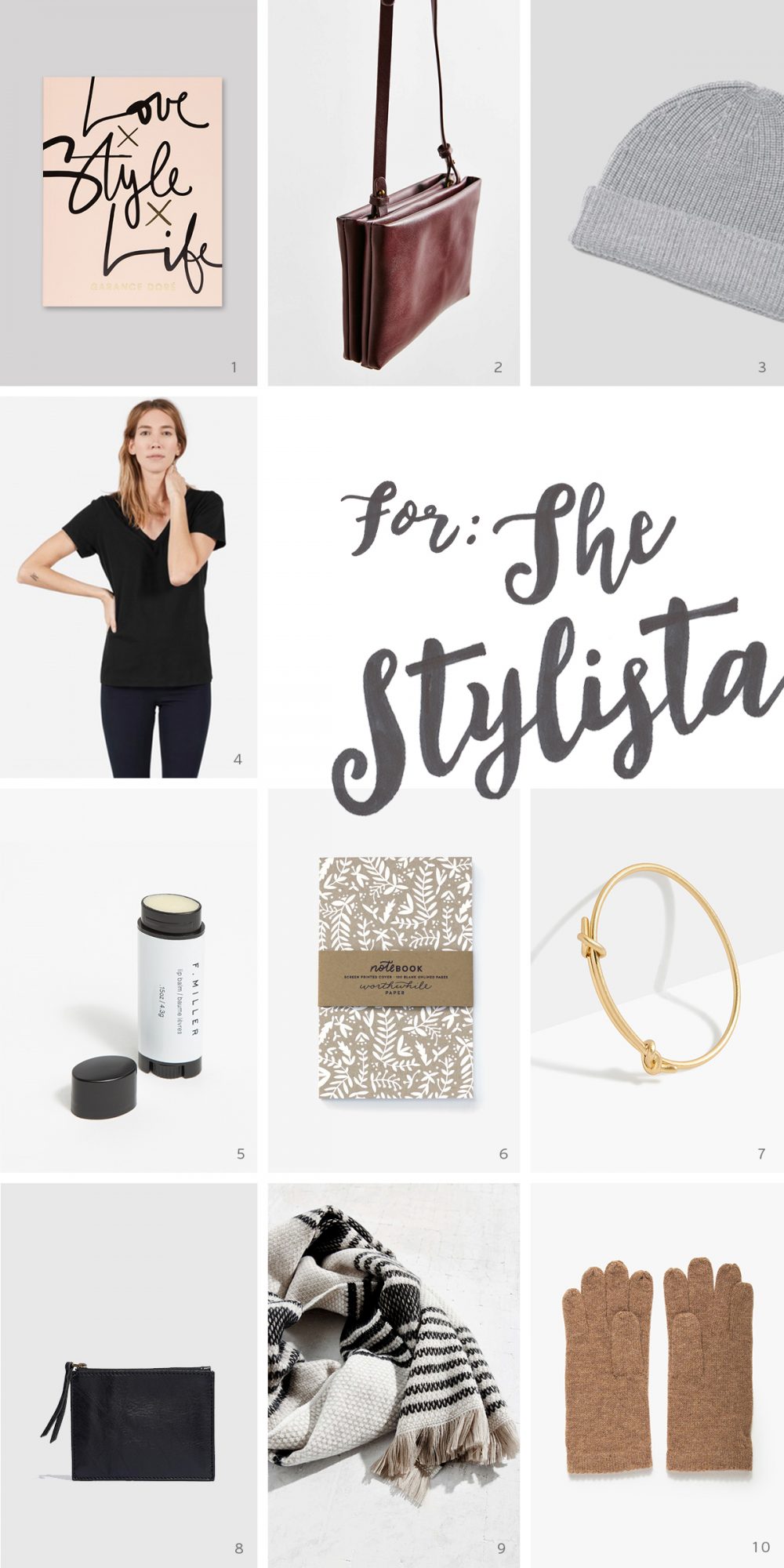 FOR: THE STYLISTA
1 – Love Style Life ($30) |I played Santa for myself and ordered this book already. A must read for any fashion lover!
2 – Minimal Cross-Body ($39) | I can't quite believe how cute and reasonable this bag is! Lots of colour options too.
3 – Chunky Knit Beanie ($38) | For your cold weather bestie. Maybe you need a matching one?
4 – Black Tee ($15) | The perfect black tee is never not on my wish list.
5 – Lip Balm ($12) | All natural and totally chic lip balm. Made in Canada!
6 – Notebook ($16) | Love this paper maker and these screen printed notebooks are perfect.
7 – Gold Bangle ($22) | The perfect stocking stuffer any bling fiend.
8 – Black Wallet ($30) | For the minimalist on your list.
9 – Blanket Scarf ($49) | Because you cannot have too many scarves, especially if you live in Canada.
10 – Gloves ($24) | Same applies to gloves of course!
---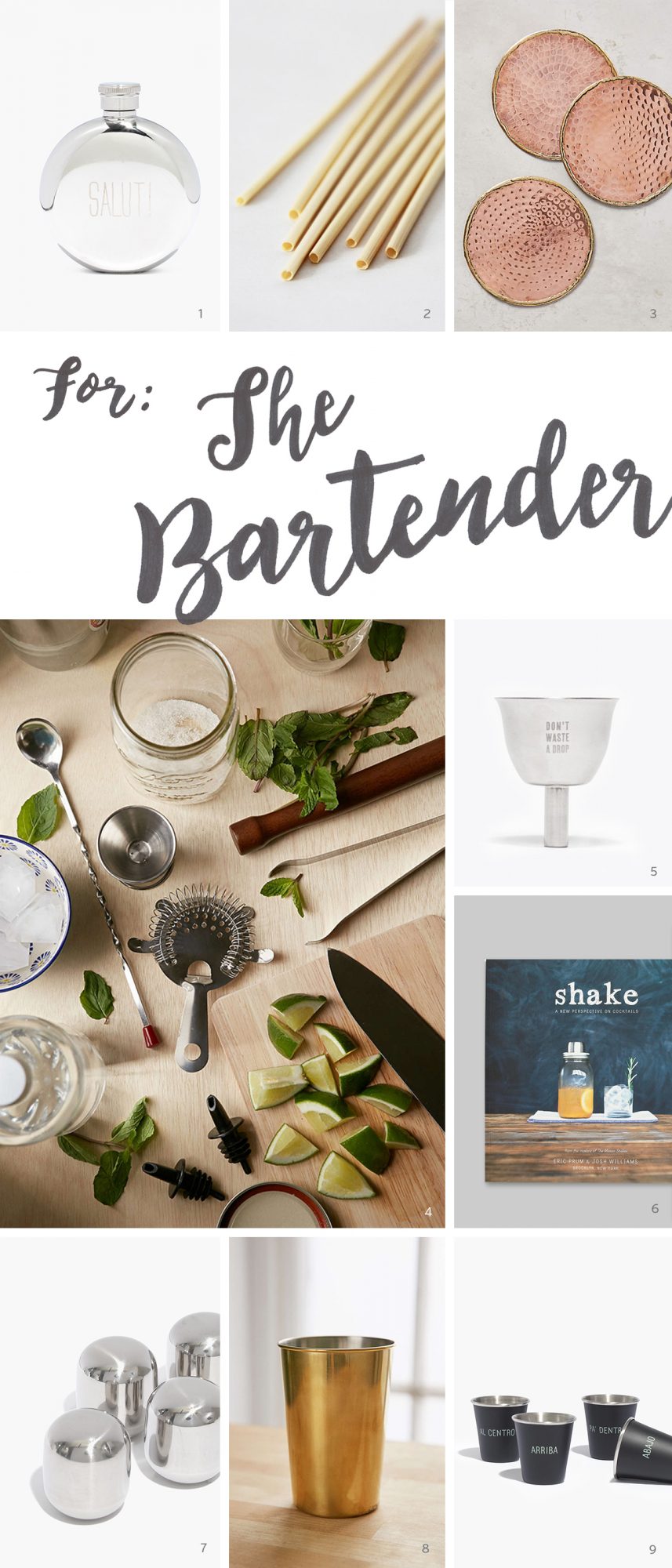 FOR: THE BARTENDER
1 – Flask ($24) | Anyone who's paid for beer at a hockey game knows a good flask is invaluable!
2 – Wheat Straws ($11) | So much better than those paper straws that disintegrate into your drink, right?
3 – Copper Coasters ($6 each) | For the Monica Geller-esque bartender that's on your list.
4 – Mixing Kit ($40) | For the newbie mixologist.
5 – Funnel ($10) | Makes pouring your fourth drink a lot easier!
6 – Shake ($25) | Perfect to keep on the bar cart for inspiration.
7 – Wine Pearls ($25) | When you just can't wait for the wine to cool!
8 – Gold Tumbler Set (4 for $40) | Um, gold tumblers…'nough said.
9 – Spanish Shot Glasses ($30) | Because 'cheers' is much more fun in Spanish!
---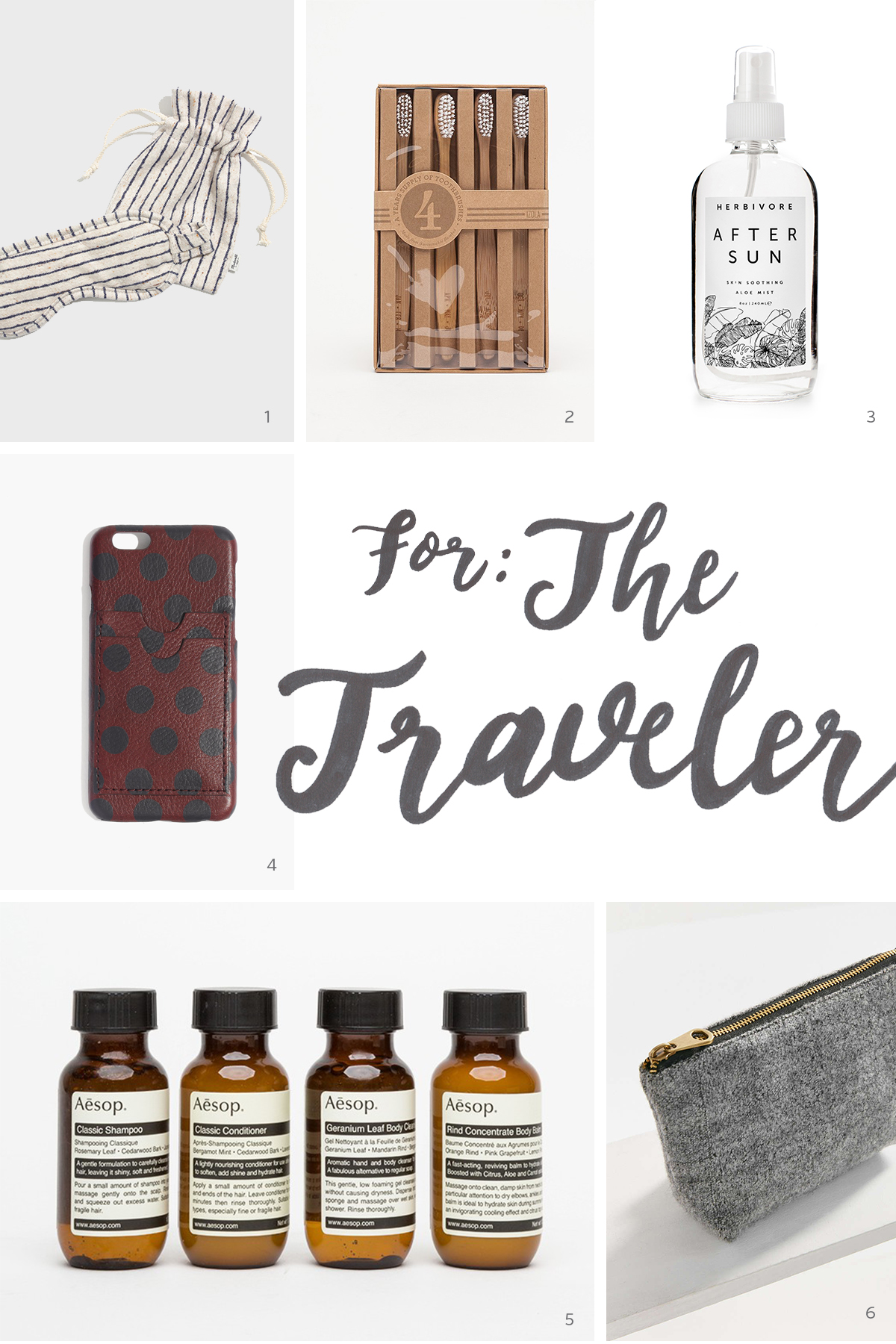 FOR: THE TRAVELER
1 – Sleep Mask ($12.50) | Perfect for the red-eye flyer on your list.
2 – Toothbrushes ($12.50) – Something tells me these won't be so easy to forget at home!
3 – After Sun Spray ($20) | For the die-hard sun seeker you know and worry about and love.
4 – Carry All Phone Case ($40) | Such a chic and clever way to keep your carry-on lean.
5 – Jet Set Kit ($37) | All you need for your next trip!
6 – Pouch ($16) | This cute grey pouch works double time as a dopp kit and a clutch.
---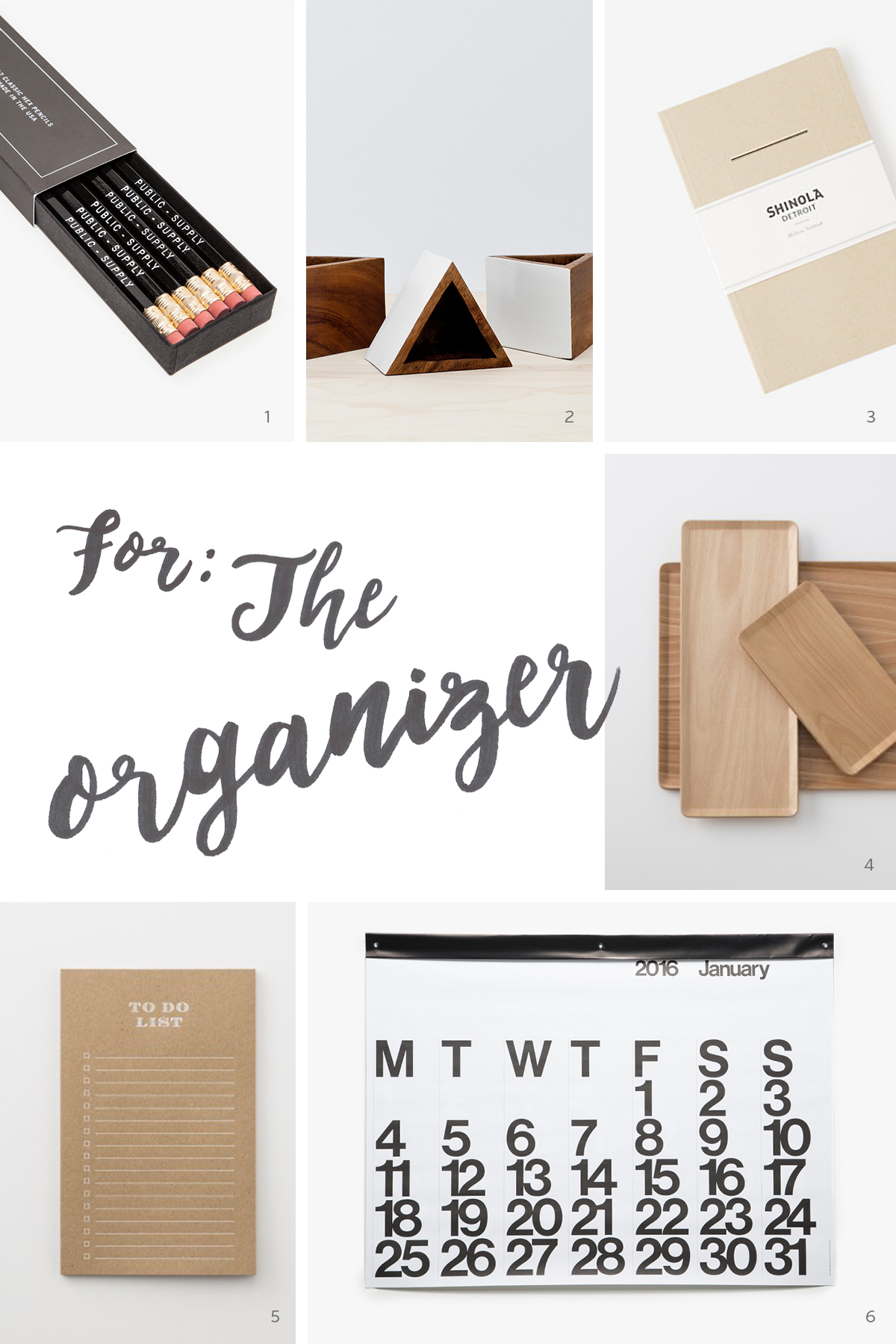 FOR: THE ORGANIZER
1 – Black Pencils ($12) | For the sketch artist or the old school note taker we all know and love.
2 – Desk Triangles ($35) | I LOVE these cute little containers that are perfect for any minimalist desk top.
3 – Shinola Journal (2 for $9) | These beautiful notebooks are renowned for their high quality paper and construction.
4 – Birch Tray ($14 – $34) | The cure for desktop clutter, no drawers needed!
5 – To Do List ($13) | What, you don't make at least one of these a day?
6 – Stendig Calendar ($38) | This bad boy is a Scandi-style office must-have and VERY high on my decor wish list.
---
5 in-a-pinch gifts that never disappoint: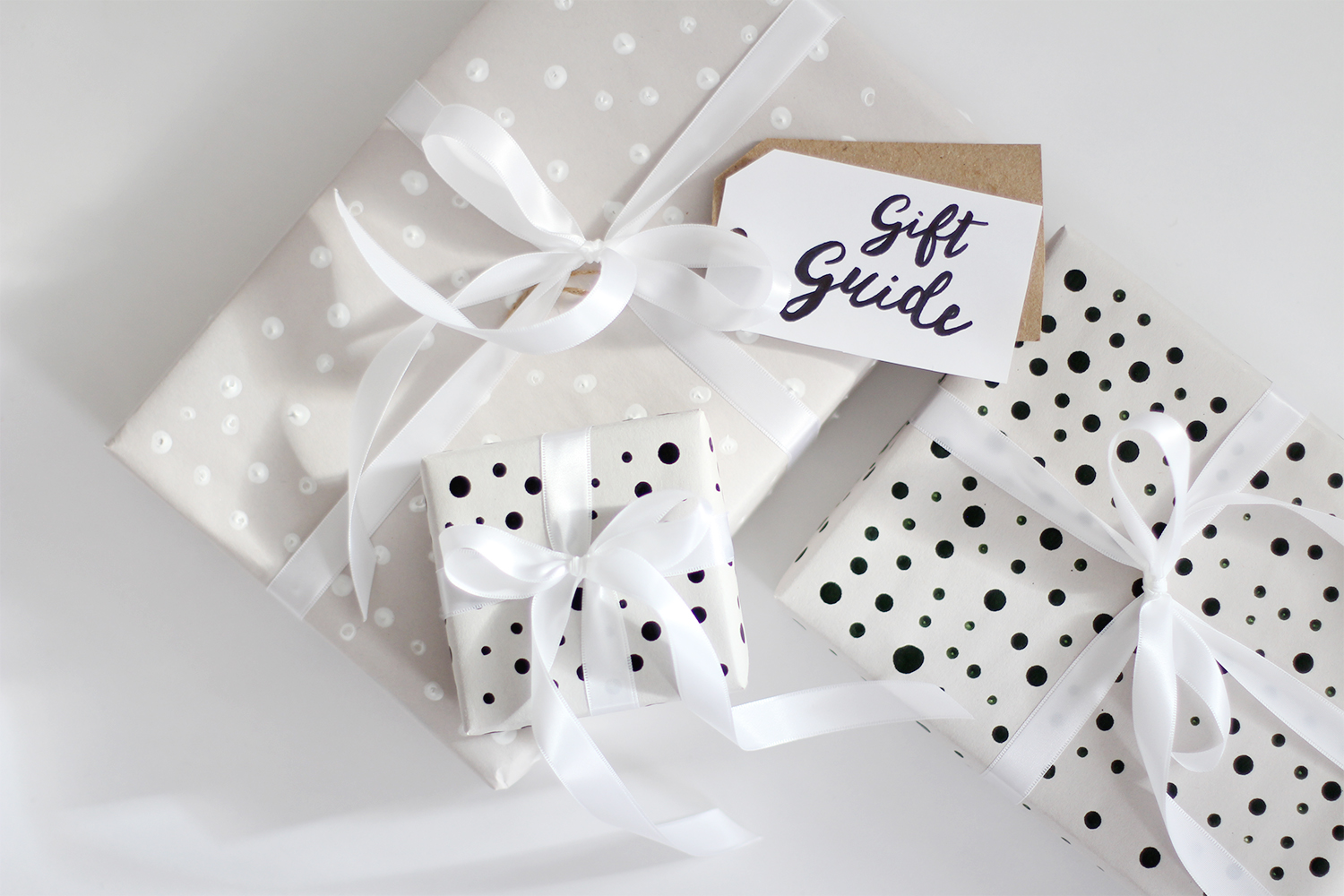 You did your best but sometimes someone slips from the list. Oops! But worry not, with a couple of these goodies on hand your guests or giftees will never know.
Bottle of Wine
---
Happy Shopping Friends!!