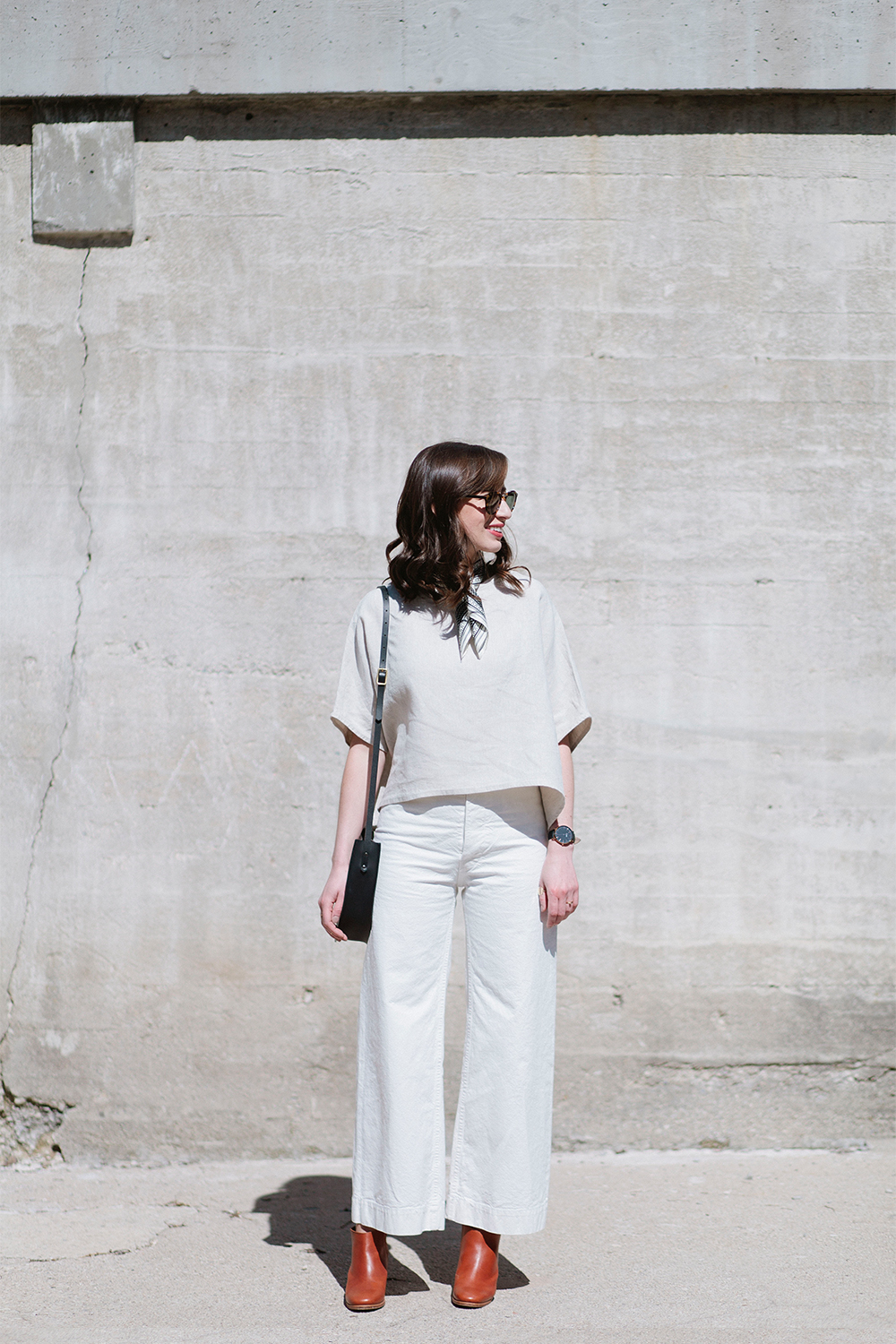 Here we are! The first of 10 looks for my 10 x 10 Challenge is indeed this neutral little number. Now, you might be thinking, "Weird, I guess she does leave her office once in awhile." and you're totally right! I thought it was about time to change things up and get out of my studio to shoot these outfits in real life or so to speak. So I asked the lovely and incredibly talented Jacklyn Barber to help me capture the series. We had a great time shooting and despite the fact it was definitely NOT as warm as it looks, I love how Jacklyn captured each look. So now that you know why I'm not in my usual location, let's dig into the details of outfit #1 shall we?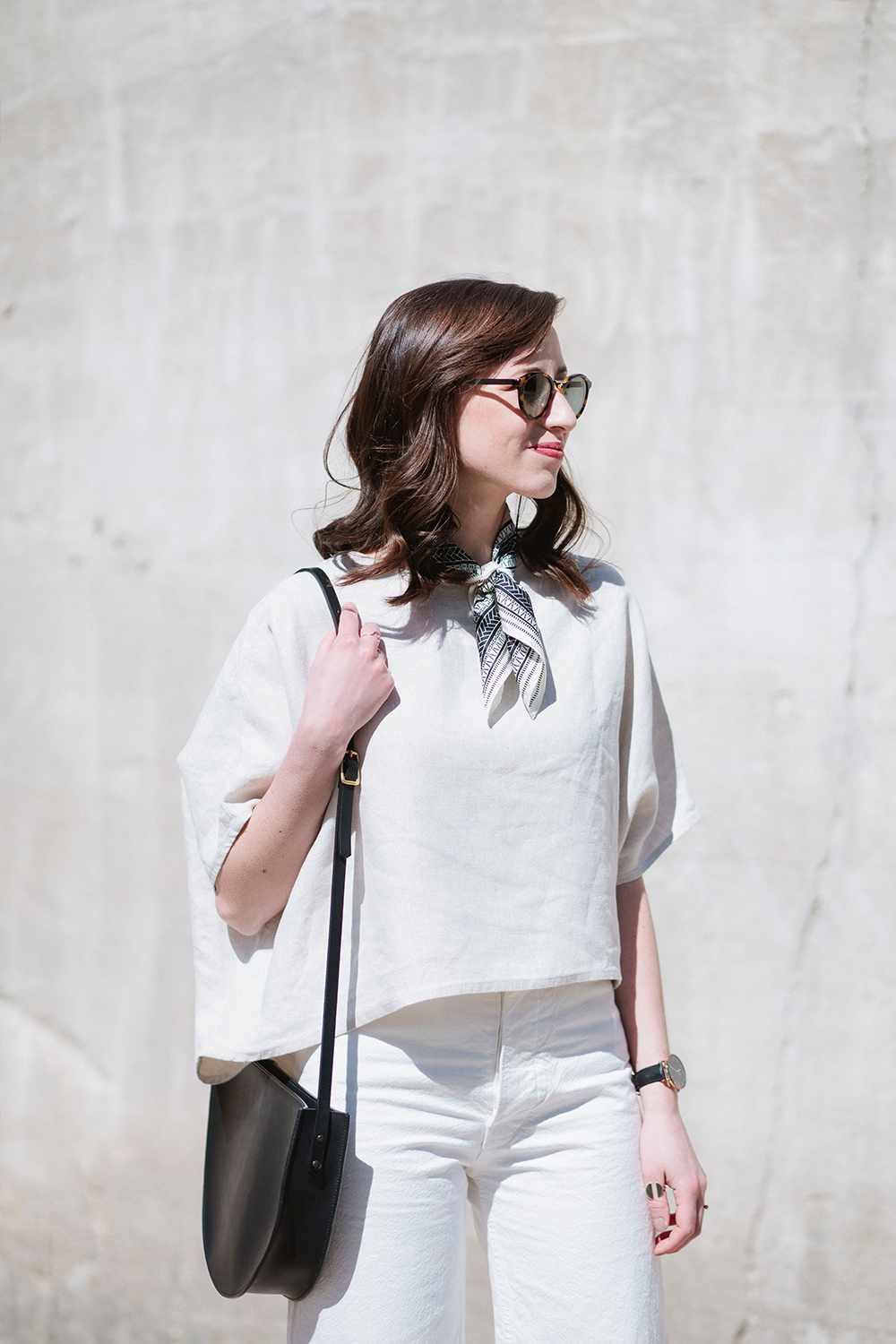 Let's begin with these pants! It's funny how certain styles will grow on you. For instance, I was a die hard skinny jeans girl for ages. If the seam didn't leave an indent on my leg, they weren't skinny enough. Believe me, I only wish I was kidding. Even just a couple years ago I would have never imagined I'd be saving up my pretty pennies to get my paws on a pair of completely opposite pants but time (and marketing) sure can work wonders!
The Sailor Pant by Jesse Kamm has had a cult following for many years (she's been making this pant style for over a decade) but it wasn't until last year (via this article) that they landed on my radar. It was more Jesse Kamm's lifestyle philosophy that intrigued me at first but it didn't take long before the wide-legged, high-rise, slightly cropped canvas splendour of these pants had me hooked. As they're one of the pricier purchases I've made to date, I took my time and stashed away spare change until they finally arrived at a boutique in Canada (One of a Few) and I made my move.
I'm so glad I did because they've quickly skyrocketed to the top of my closet favourites list and I feel like a million bucks whenever I wear them, even though it's been infrequently thanks to our late Spring. I find them bizarrely flattering and surprisingly slimming since they're a heavy-weight cotton that's not terribly forgiving in most styles. Would you believe I'm already scheming to get another colour? Feel free to judge. I guess it just goes to show that you can never get too set in your ways when it comes to personal style!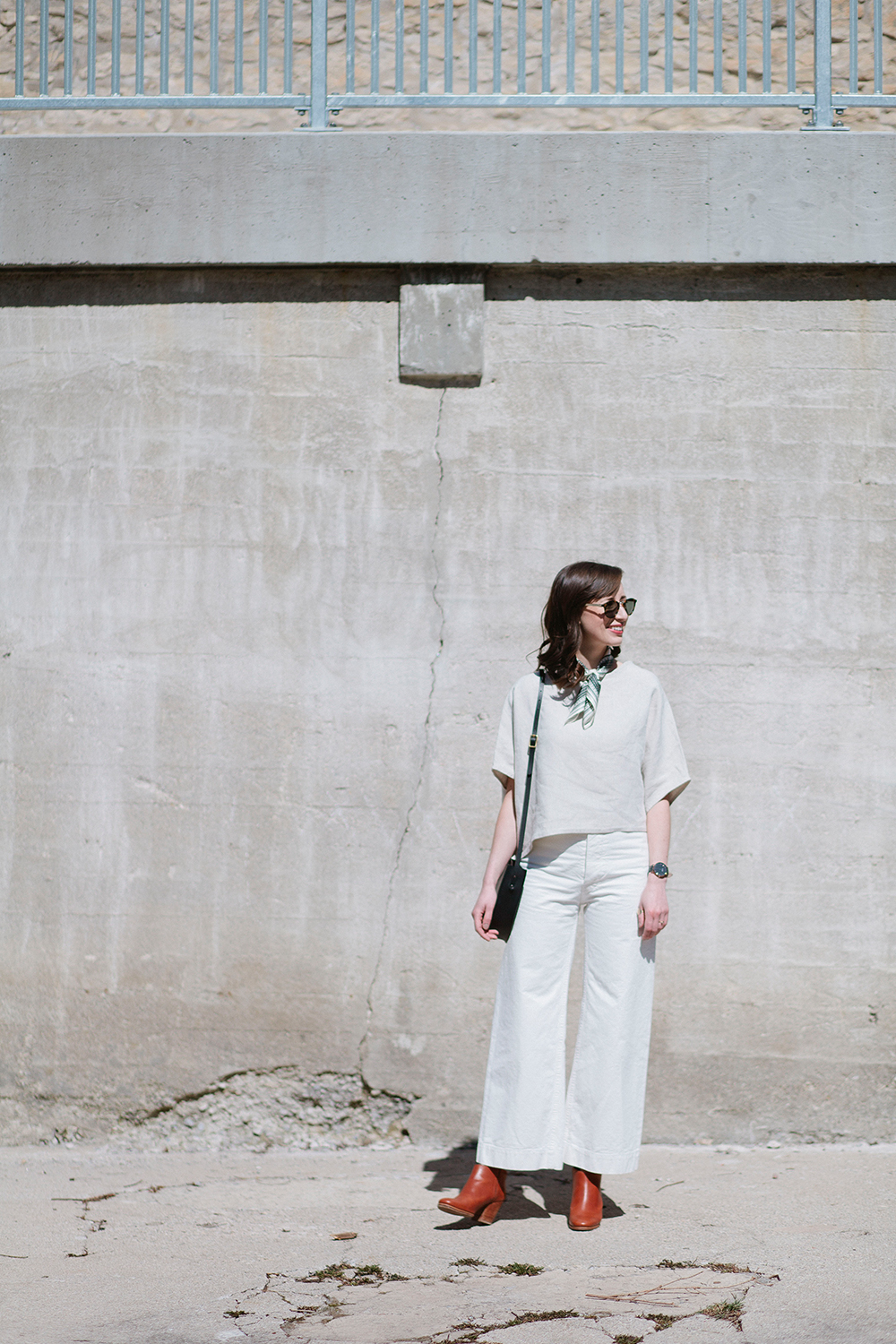 Next up is this top, one of my favourite styles by Elizabeth Suzann, the Linn Tee. I've worn my boiled wool version a few times on the blog (here and here) and absolutely adore it! So as soon as the Signature Collection revealed it's return I knew resistance was futile. The mid-weight linen Elizabeth Suzann has used for this one is absolutely gorgeous and feels fluid and light but not at all delicate or fragile. It feels like it can take a lot of wears and washes, which is key for any closet staple.
The Linn Tee is also the perfect 'crop' for anyone a little hesitant to embrace crop tops. It's cropped but not too short and the hi-low hem definitely helps you feel less exposed. I always recommend it to readers and friends who are looking for a simple but interesting piece that has an oversized feel without the added bulk. I'm currently loving it over these pants but also over a simple shift dress or tunic, which you'll see later in this series.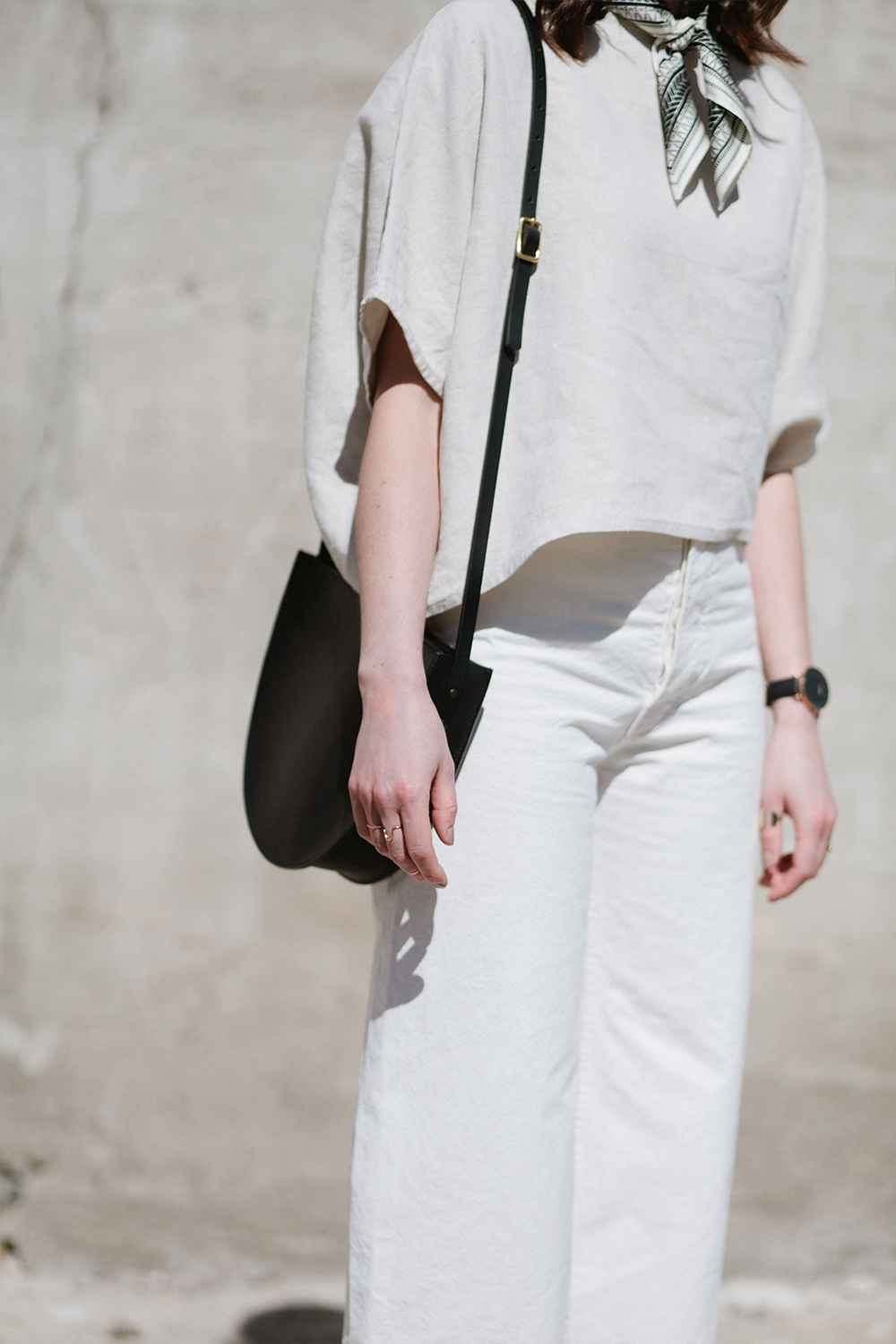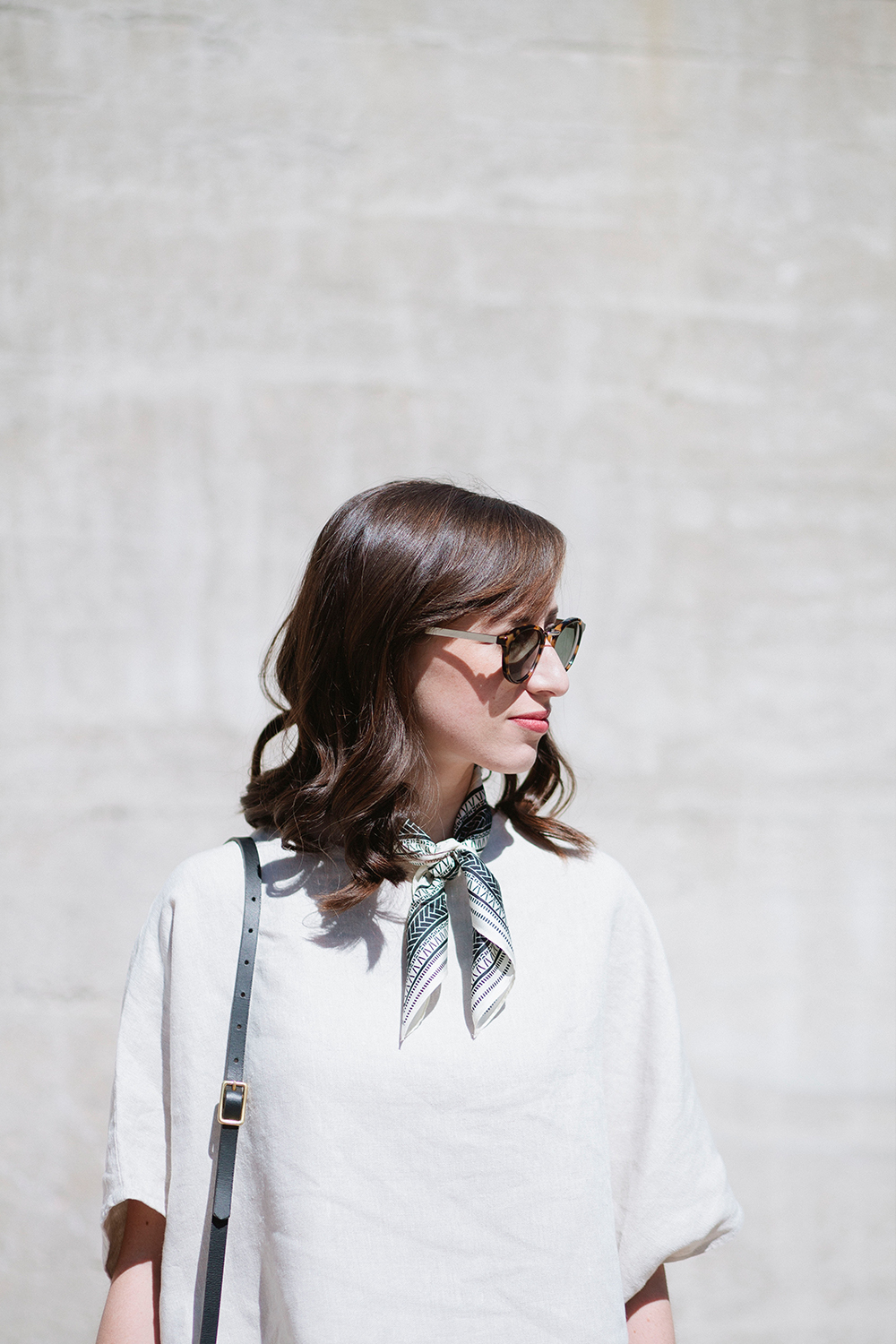 The last element on this look worth noting is this bandana. Well, really it's a lovely little silk scarf that I've been wearing like a bandana. I love the slightly retro, slightly French and slightly Western vibe it adds to a look without being too much of any category. As you know I'm all for adding interest in the simplest way possible. I'll have to thank Leandra Medine for convincing me to try one.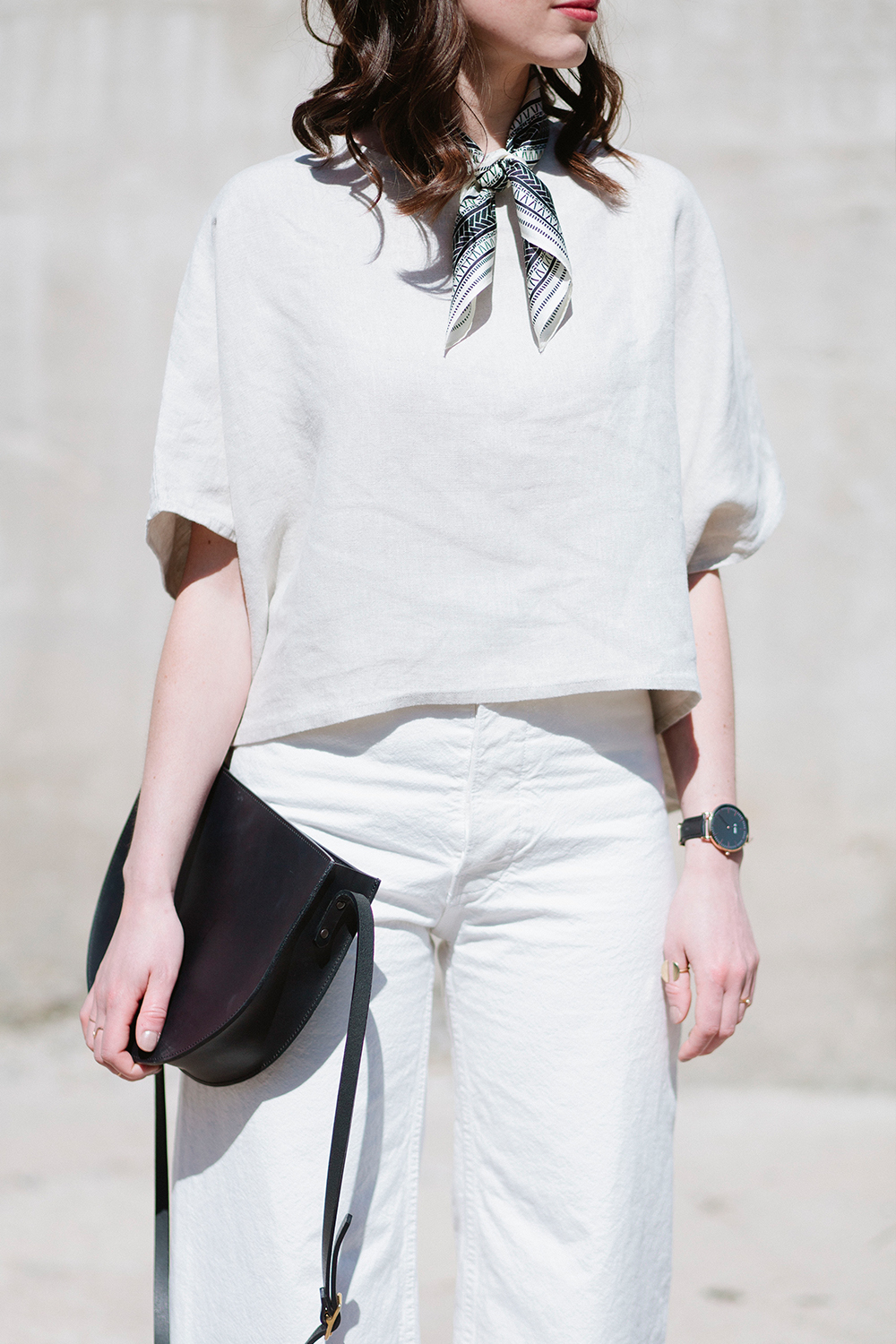 Thanks for reading and for joining me in this fun 10 x 10 Challenge! If you share any photos of your looks on Instagram be sure to tag them with #stylebee10x10 so I can see all the great combos you come up with!
---
Linn Tee in Flax Linen c/o Elizabeth Suzann | Jesse Kamm Sailor Pant | Eloise Bag The Stowe | Scarf n/a A Peace Treaty (large version) | Watch c/o Cluse | Mars Boot Rachel Comey  | Split Ring c/o Claus | Sunglasses c/o Madewell
---

---
Photography by Jacklyn Barber.