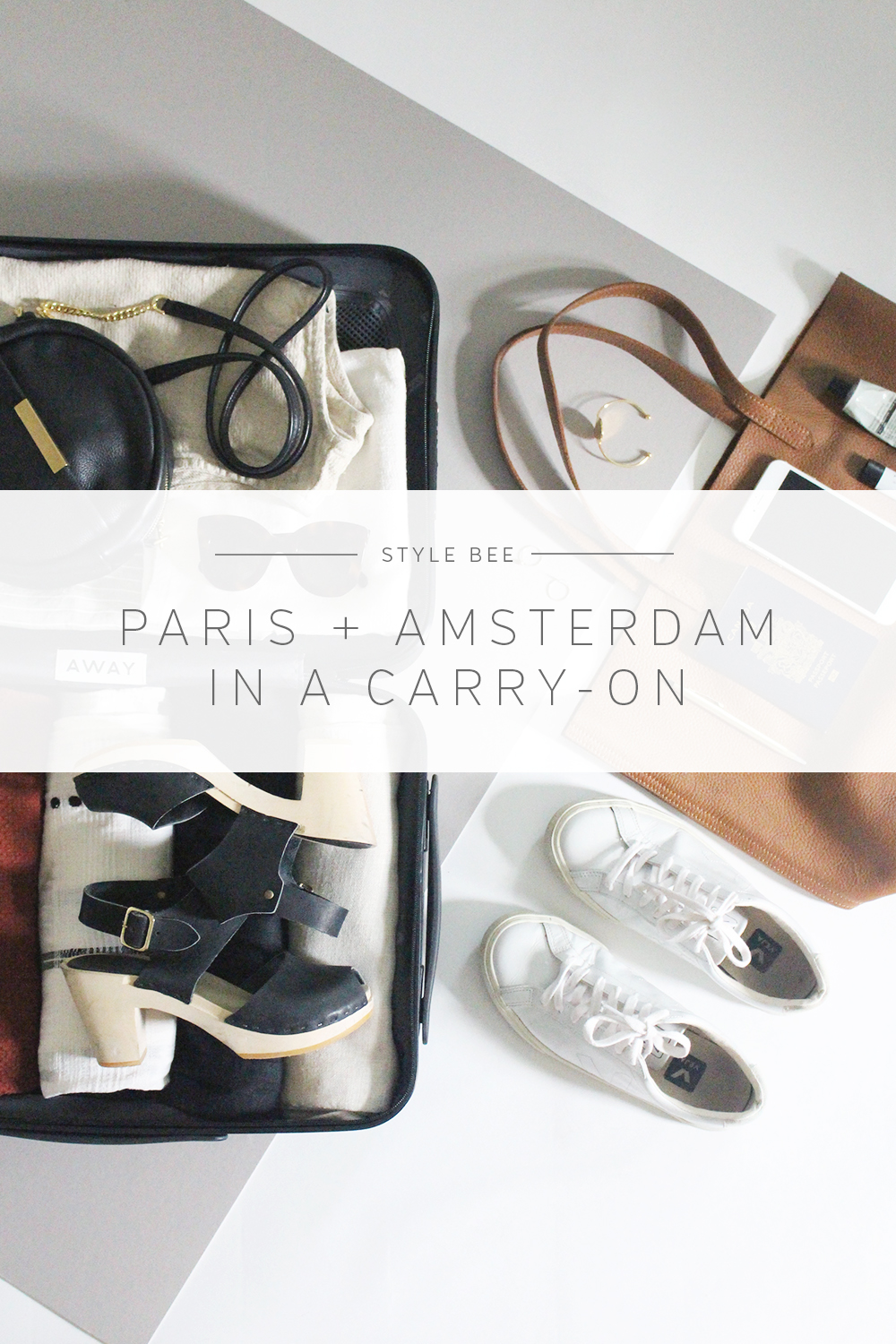 Time to talk travel and packing light! As I've already mentioned (probably way too many times) I spent the last week of June visiting friends in Amsterdam and Paris. It was a quick but jam packed adventure and I had the chance to explore two of this cities I've been dying to see for years. I was traveling solo and I wanted to keep my baggage lean and efficient so I packed my AWAY carry-on full of my favourite summer items and tossed all my easy access necessities into my tried and tested CUYANA Tote. I waited until I got back to share this list to make sure it was going to work well and I must say, it was pretty much spot on!
Today I'll be sharing the following:
1 | Everything I brought (except for toiletries).

1 Carry-On Suitcase
2 Bags
3 pairs of shoes
9 tops
6 bottoms
4 dresses
2 sweaters
1 scarf
1 hat
Accessories

The weather was quite variable, ranging from a few cool mornings (around 15ºC) to balmy afternoons (around 20ºC) that turned muggy, all the way up t0 a couple of hot, dry days (around 28ºC), so my options cater to a wide range of weather. If you're headed somewhere with more stable temps you might not even need as much!

2 | 10 of my favourite looks from the trip.

3 | My top 5 lean packing tips to help you pack smart.
---
CARRY-ON LUGGAGE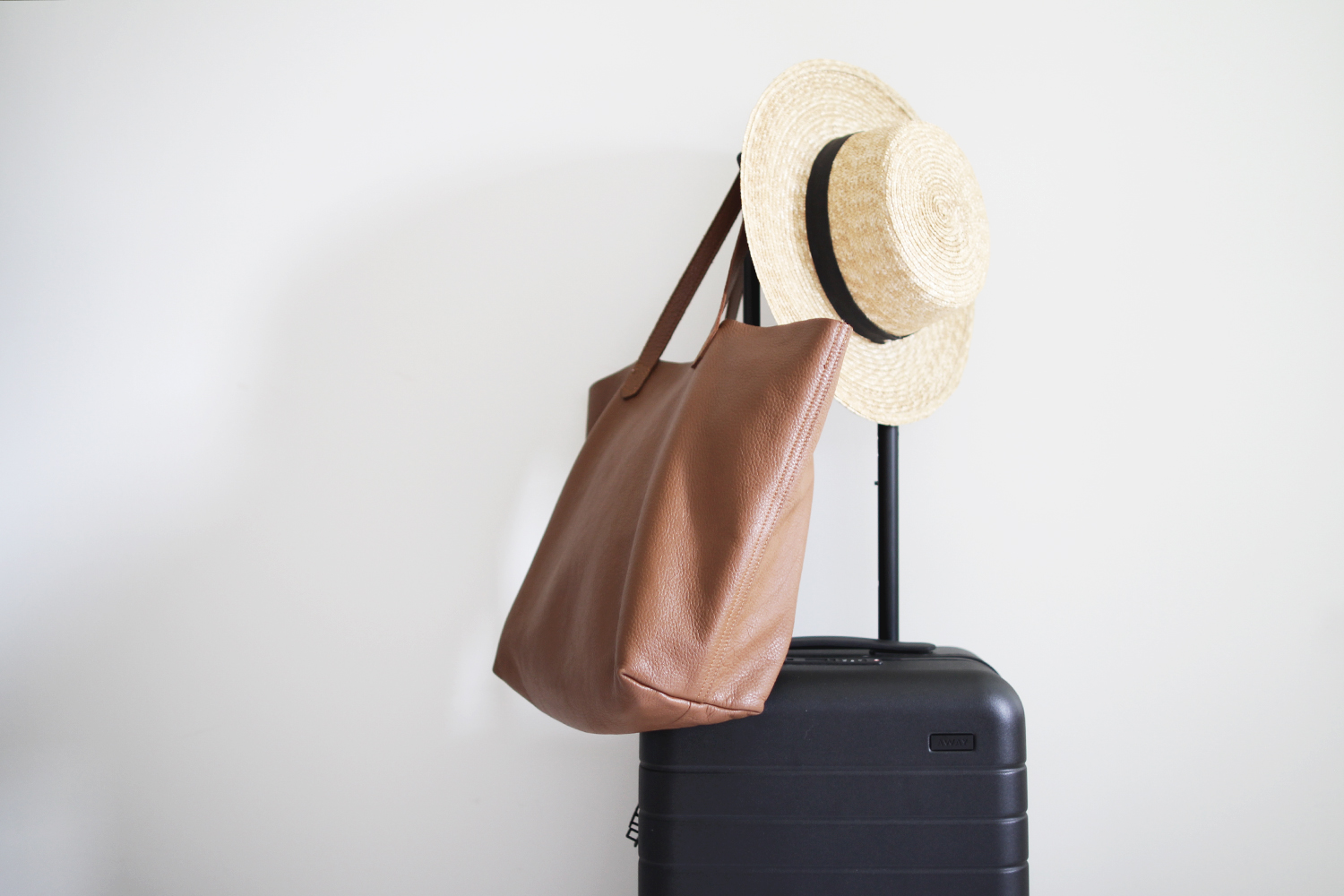 I've been using my Everlane Weekender as my carry-on for over a year now and while it's a great bag it's a bit hard on the shoulder when it's packed to the gills and I sometimes worry about things getting crushed since it's a soft canvas. So I decided to invest in a proper hard shell carry-on. I'd heard great things about AWAY and I must say their Carry-On suitcase lived up to the hype entirely. It held everything I was hoping to bring without hesitation and being able to wheel it along beside me instead of hauling it around was so much better, especially when I was sprinting through Reykjavik Airport to catch my connecting flight. It comes with a great array of interior compartments, a rechargeable USB wall plug, a built-in USB charger and a trusty lock. For $225 USD (+$50 for us Canadian folk) you really can't beat the quality and functionality of this little travel buddy. Even packed to the max it was easy to lift into the overhead bins and up and down a few flights of super steep European staircases. I honestly can't recommend it enough and this is in no way sponsored and I bought the bag myself!
---
CARRY-ON TOTE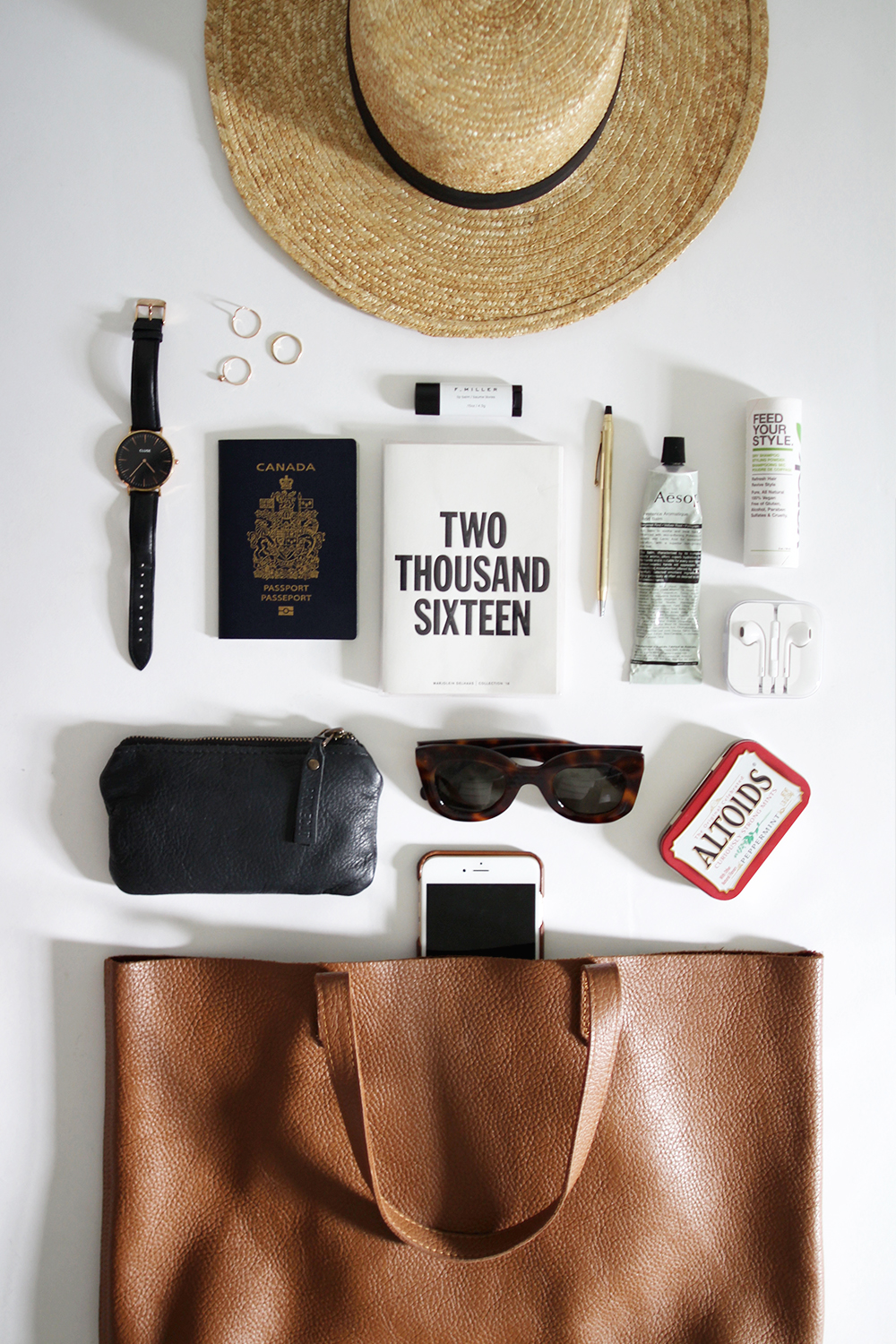 The perfect companion to carry-on size luggage is a roomy tote like this classic one from CUYANA. It's big enough to hold any spill over from my suitcase but not so big that it starts sneaking into duffle territory. For this trip I stowed my toiletries bag in here along with my wallet, passport, agenda and other travel essentials like sunnies, mints, headphones and some basic must-haves like hand cream and dry shampoo. I love this tote because it's sturdy enough to keep things organized but soft enough that you can easily squeeze it under the seat in front of you. Here's a full list of the items I brought on-board:
Tote | Wallet | Sunnies | Toiletries Bag | Passport Holder | Phone Case  | Dry Shampoo | Hand Cream | Pen | Watch | Lip Balm | Rings | Hat |
---

---
TOPS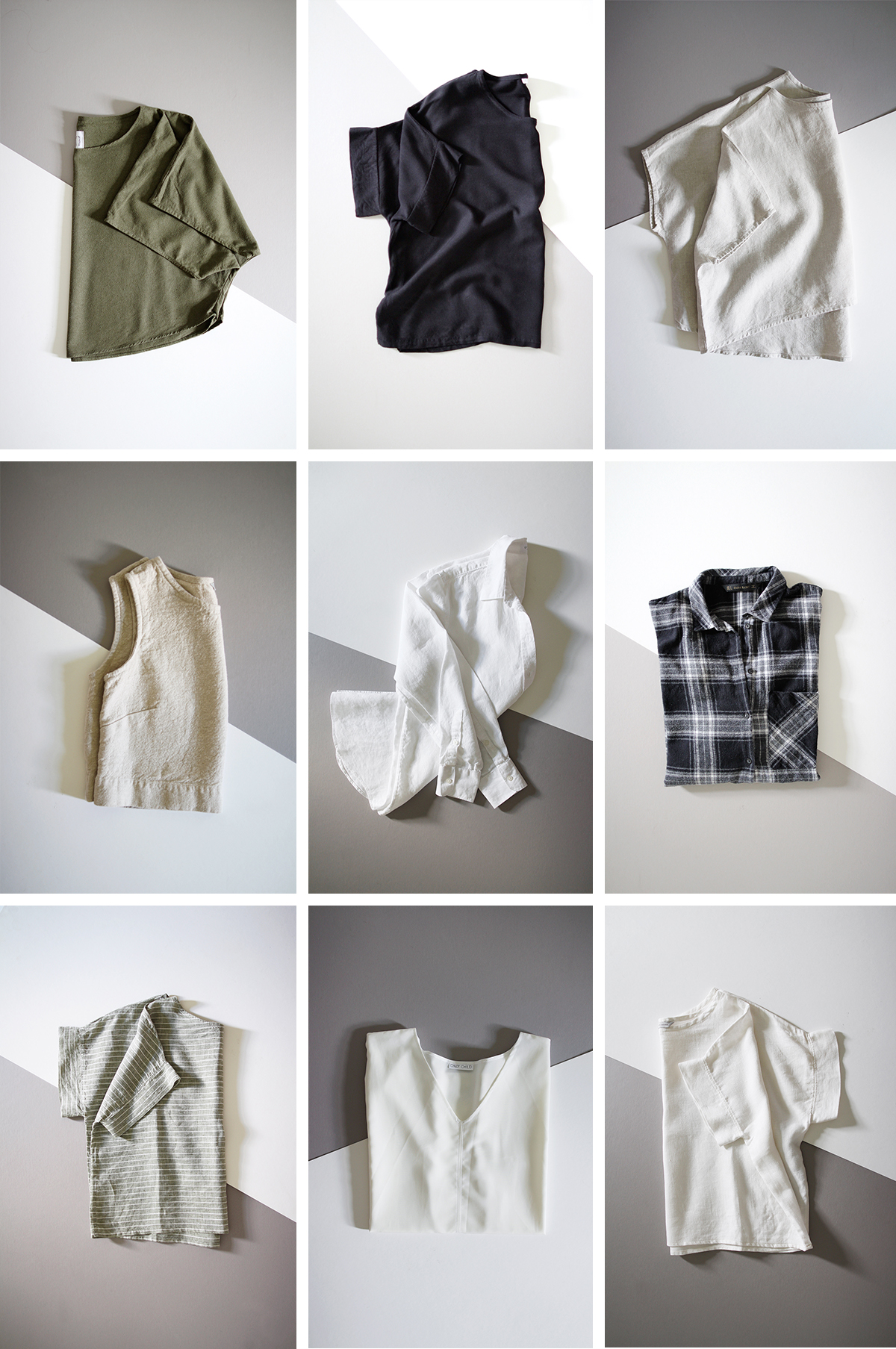 I brought 9 tops on this trip, which might seem like a lot but when you're walking or biking all day in the sun or even in the shade, well, you can work up a considerable sweat and it's nice to have some extra options to change into for the evening. I've also found that having lots of interchangeable top and bottom options is great to switch things up when you have to wear the same thing a couple times. Here's what I brought (similar options to shop below):
Olive Silk Crop | Black Slinky Tee (similar) | Linn Linen Tee | Petra Crop | Linen Shirt (restocked) | Plaid Shirt (modern upgrade) | Georgia Linen Tee (old similar linked) | White Tunic (old similar linked) | White Linen Tee
---

---
BOTTOMS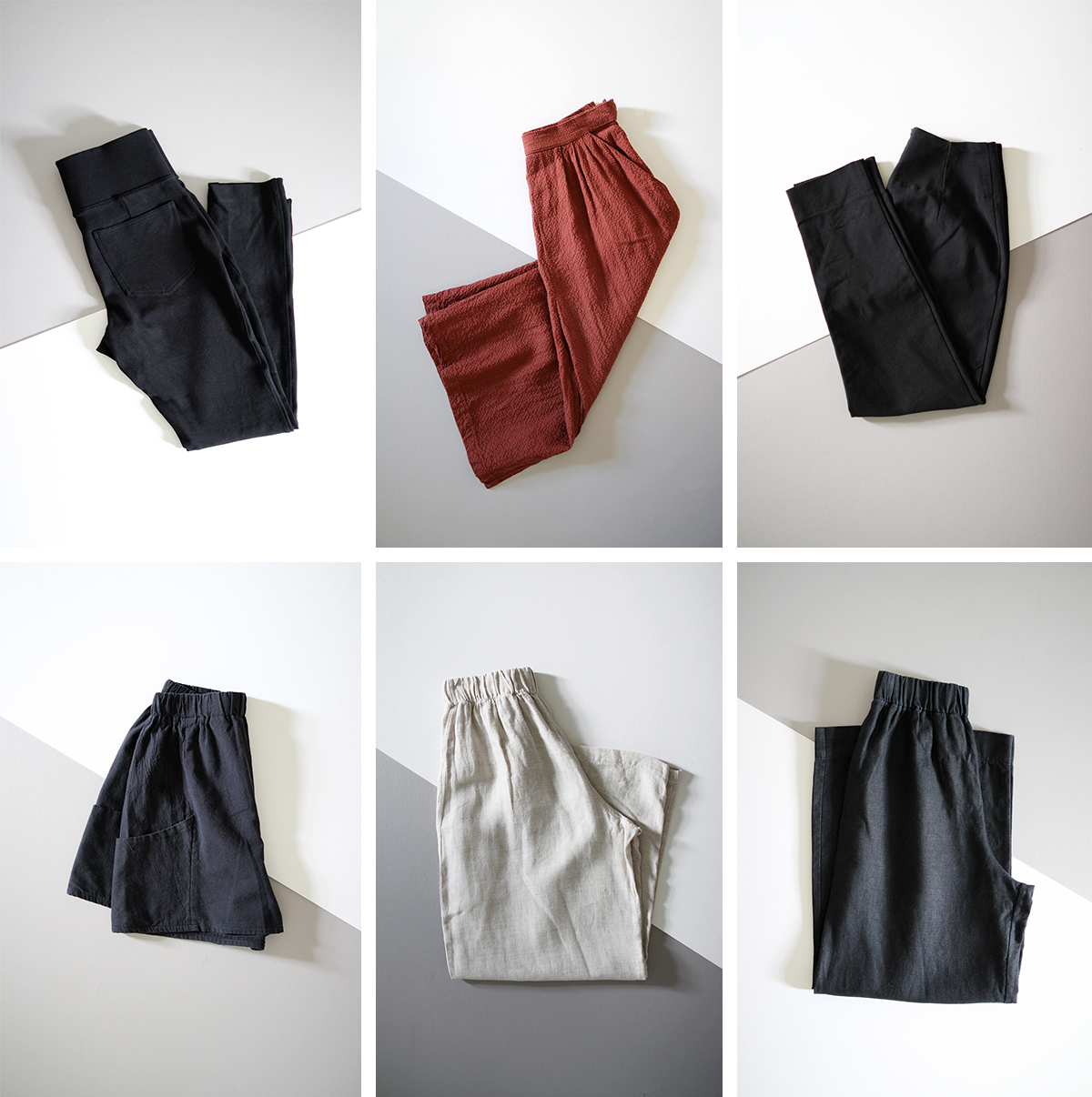 I know 4 black bottom options seems excessive and it probably was a little but whenever I know I have to wear something a few times I opt for black because I it's no fun to stress about what I'm eating or drinking or fret about what I might sit on or brush past for fear of stains. I brought two pairs of skinny black pants, a rust skirt, a pair of flax linen and black linen wide leg pants and a pair of shorts (which was the only item I never wore).
Cecilia Pant | First Rite Skirt (1 left) | Ponte Pant | Black Short (s/o similar linked) | Florence Pant Flax and Black
---

---
ACCESSORIES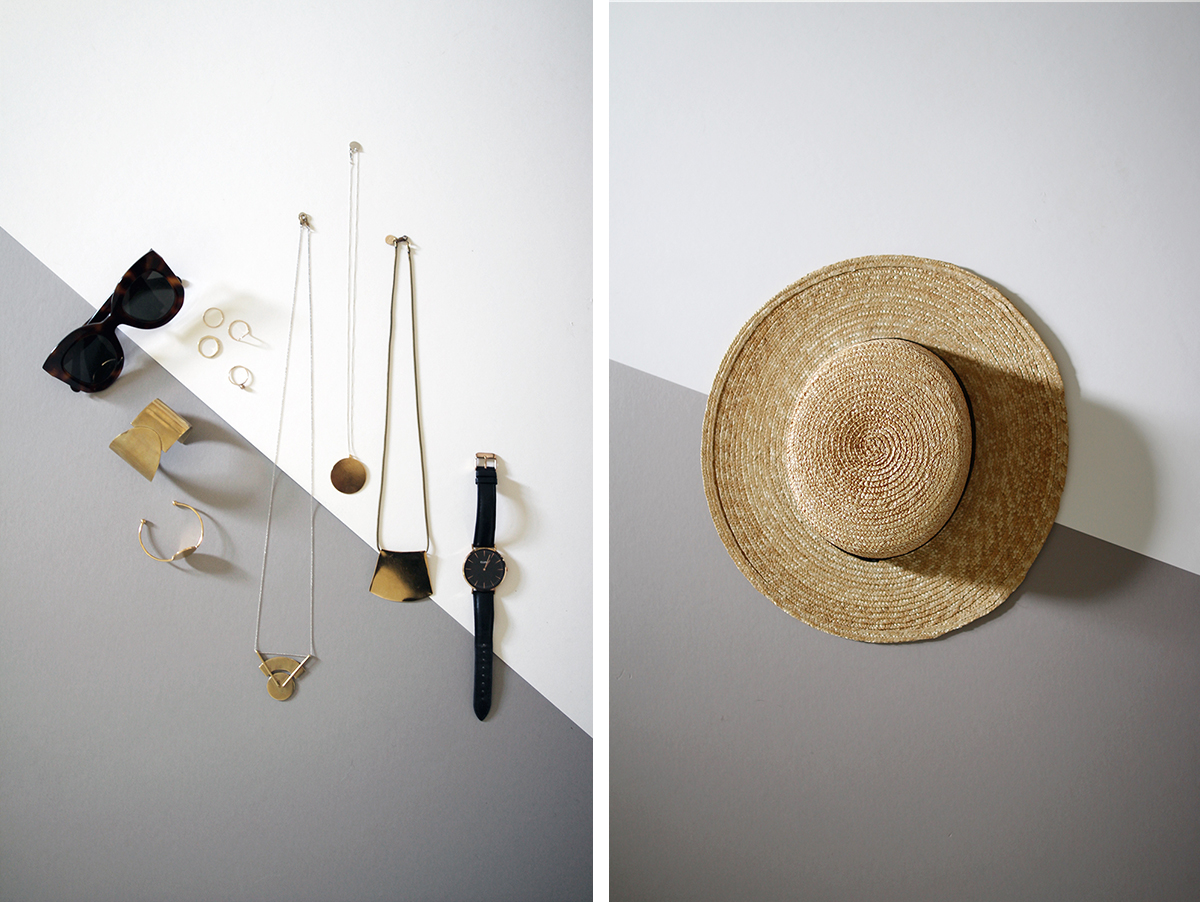 I kept it pretty simple with accessories and just brought my personal faves.
Sunnies | Rings | Large Cuff | Circle Cuff | Long Necklace | Circle Pendant | Plate Pendant (old similar linked) | Watch | Hat
---

---
WARM LAYERS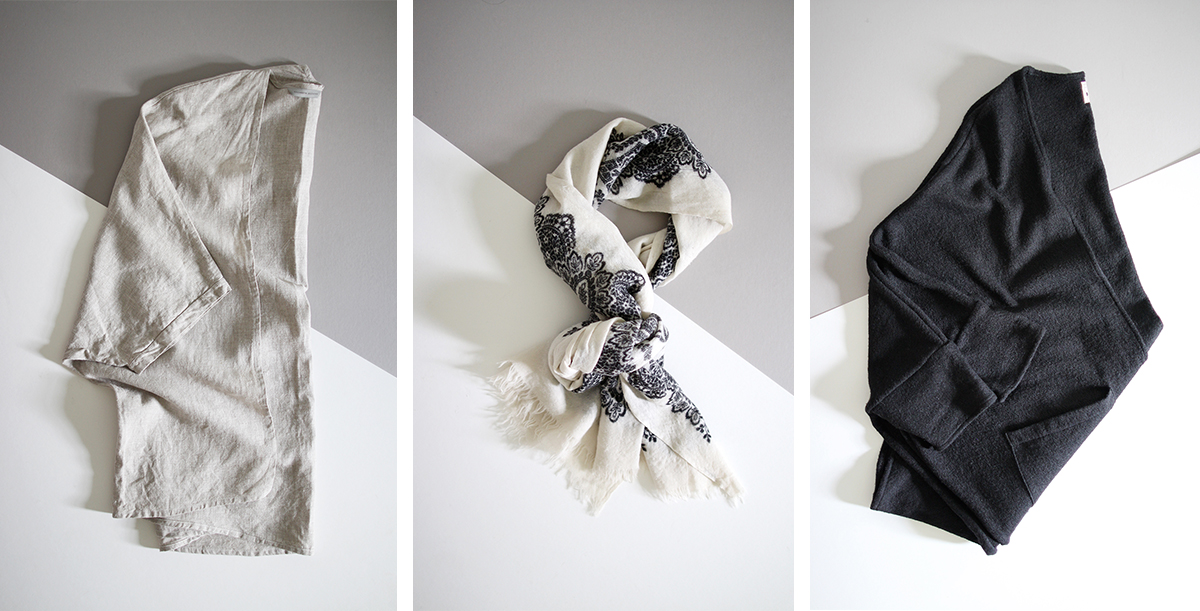 I knew the temps would be fickle, especially in Amsterdam so I made sure I had a couple of warmer options for cool nights or breezy days. I wore my Emma Kimono almost daily, my favourite old scarf a few times as a shawl and my First Rite sweater cape from last Fall a couple of times when it was brisk. Here are a few similar options:
---

---
DRESSES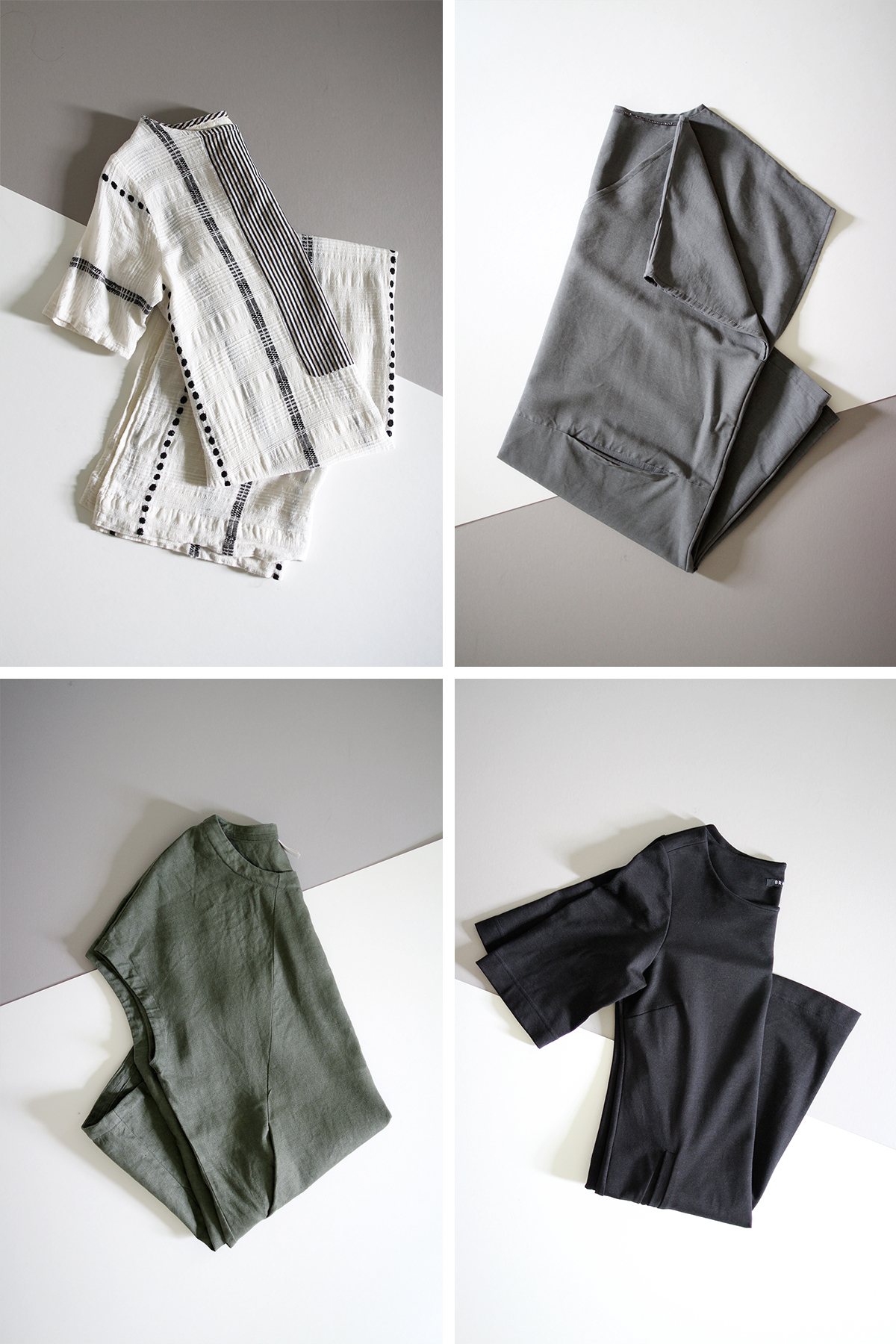 I always bring a few dresses on every trip. I knew it'd be nice to have something simple, comfortable and a little feminine to throw on for dinners out on the canal or tucked away in Le Marais. This Ace + Jig maxi dress (similar linked) has been my go-to travel dress since last summer. It's my absolute favourite warm weather number and it was perfect for one of the warmer days we spent wandering around Paris. My Only Child x Style Bee tunic was perfect for meandering both cities and especially forgiving after I over-indulged on dinner more than a couple times. I also brought my green linen Hoi Bo tunic, which was great over skinnies on cool evenings and my new favourite LBD, the A-Line from BRASS, made me feel instantly put-together and chic.
---

---
SHOES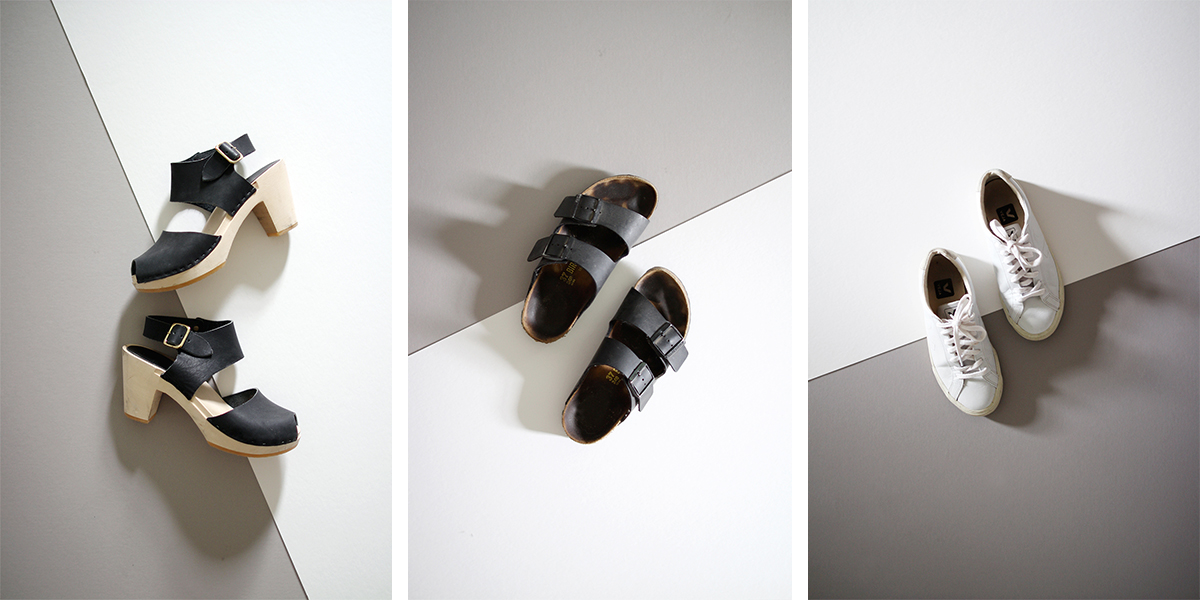 I was particularly proud of myself for being practical about footwear on this trip. Usually I lose control at this point and bring everything that will fit in my suitcase, then end up not wearing half of it because my feet are sore and swollen from walking all-day. This time though, pure restraint! I brought my new BRYR clogs despite warnings of cobblestone streets and I'm so glad I did because they were terrifically comfortable and the streets were entirely manageable. My Birks were an obvious and totally predictable choice and they did not disappoint. My Veja's were also great for travel days and cooler nights, plus I fit right in because everyone in Europe wears white sneakers.
---

---
BAGS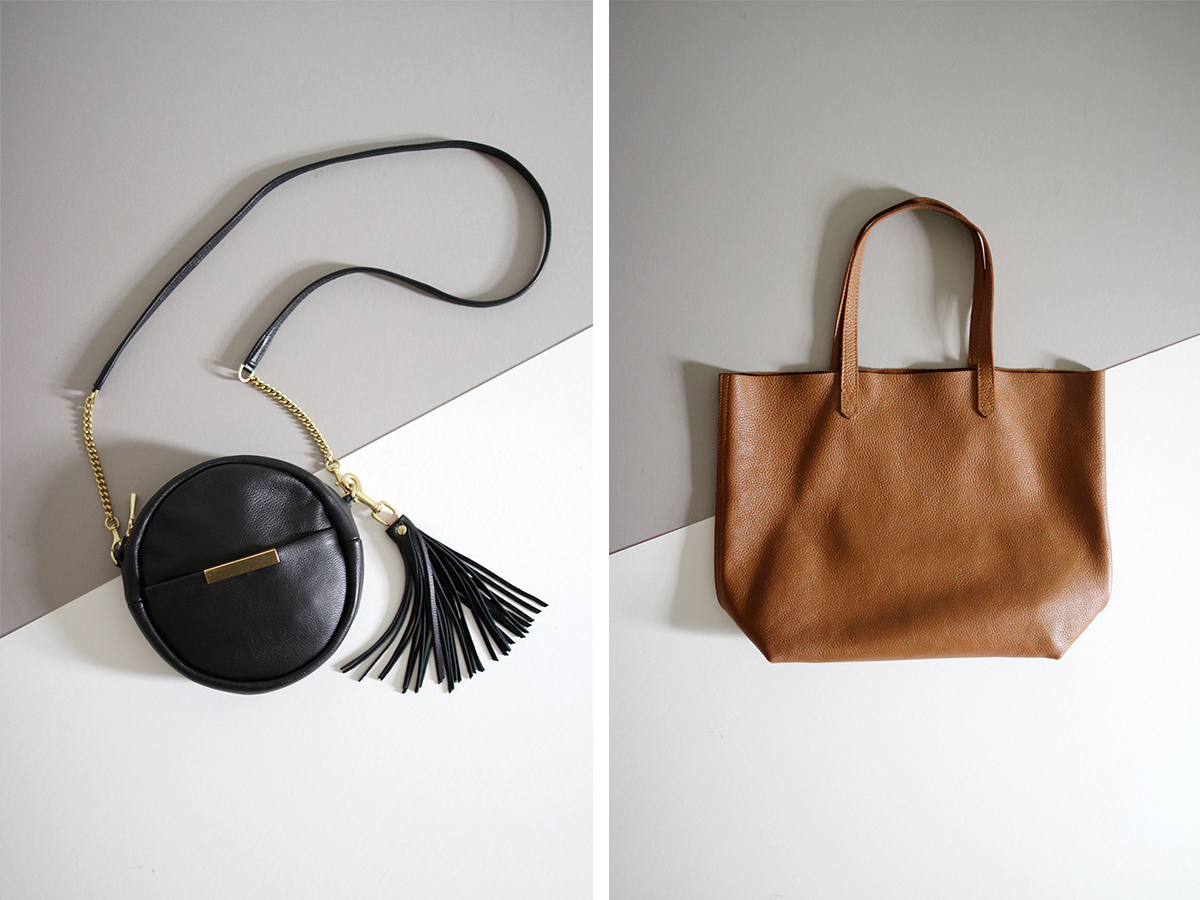 I try to limit myself to 3 bags or less for a trip like this and managed to stick to 2 total. My classic tote which I've already mentioned was a great travel day option and my cross-body from the Opelle x Style Bee collab (now sold out) was fabulous for long days of exploring hands-free, biking all over Amsterdam and transitioned perfectly to night by simply removing the strap to make it a clutch. More options for both types of bags below.
---

---
OUTFITS
I won't blabber on about every outfit but I pulled together my favourite 10 looks from the trip (that I could remember) to help show how the different items work together for different looks. I'll start with my plane look and go from there. I wore two looks a day most days so this gives a pretty good idea about how much you can do within a carry-on! Wherever possible I've linked to the exact item or something very similar (will be noted with *).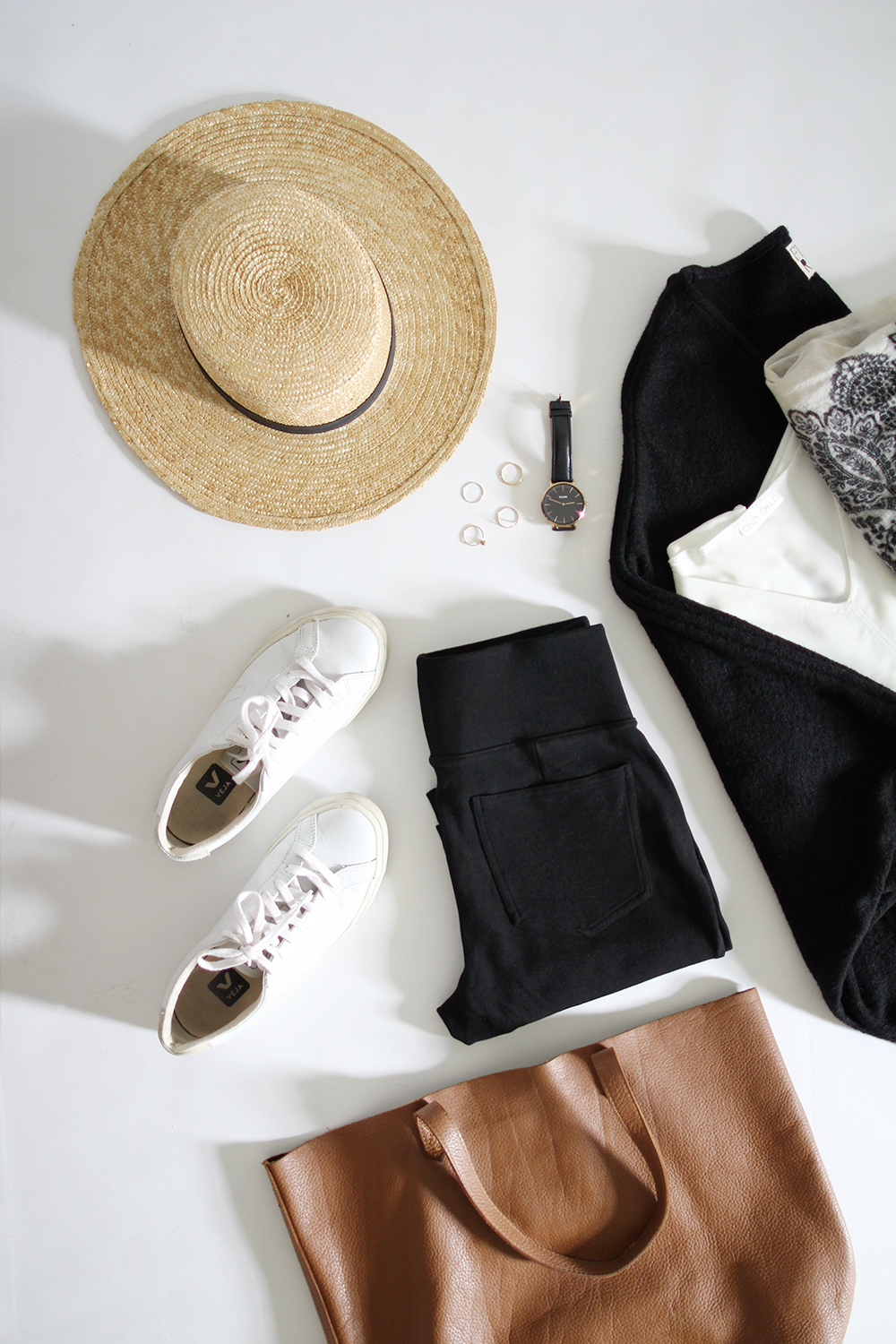 Hat | Rings | Watch | Sweater* | Tunic* | Scarf* | Sneakers | Ponte Pant
---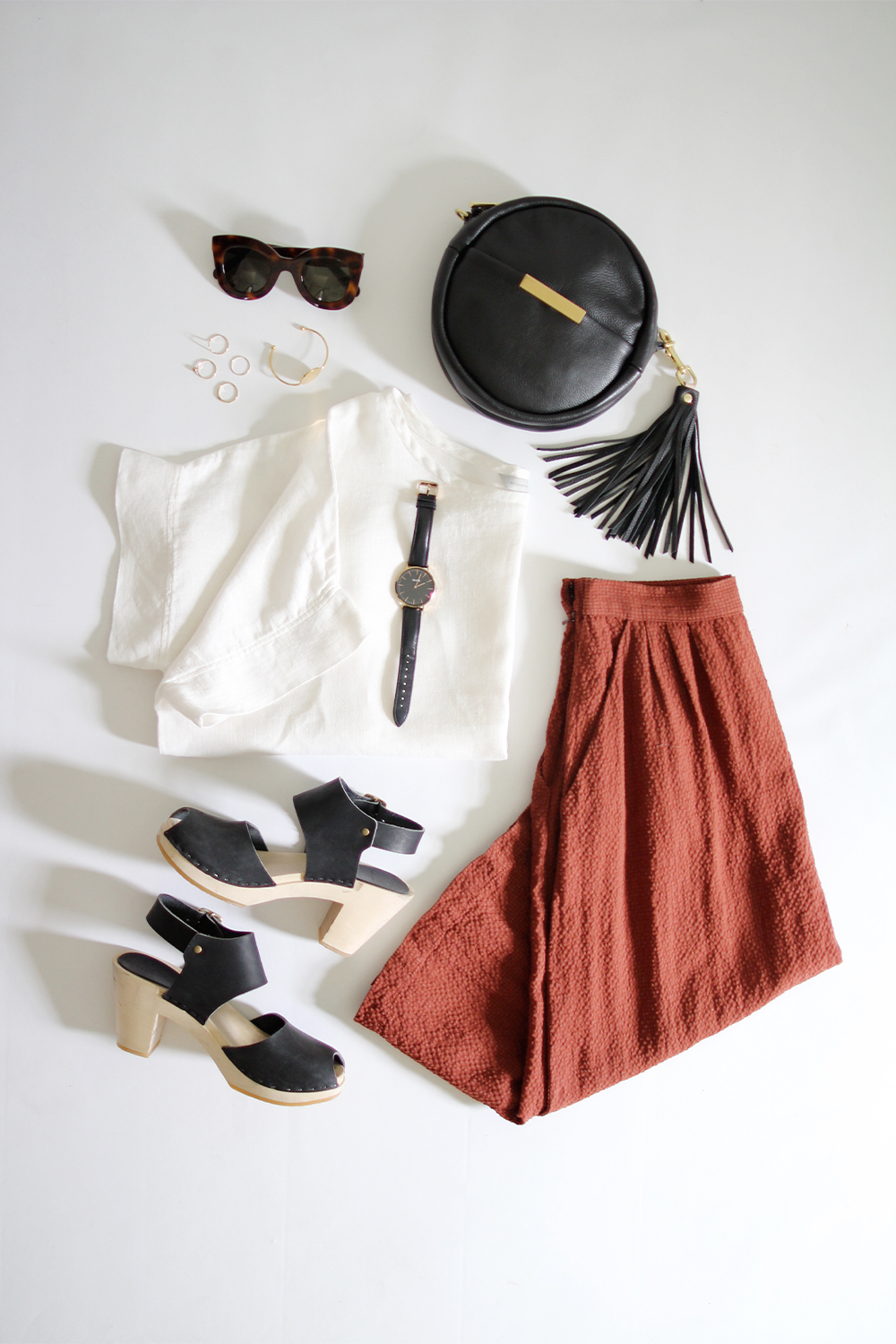 Sunnies | Circle Cuff | Bag* | Tee | Rings | Watch | Clogs | Skirt*
---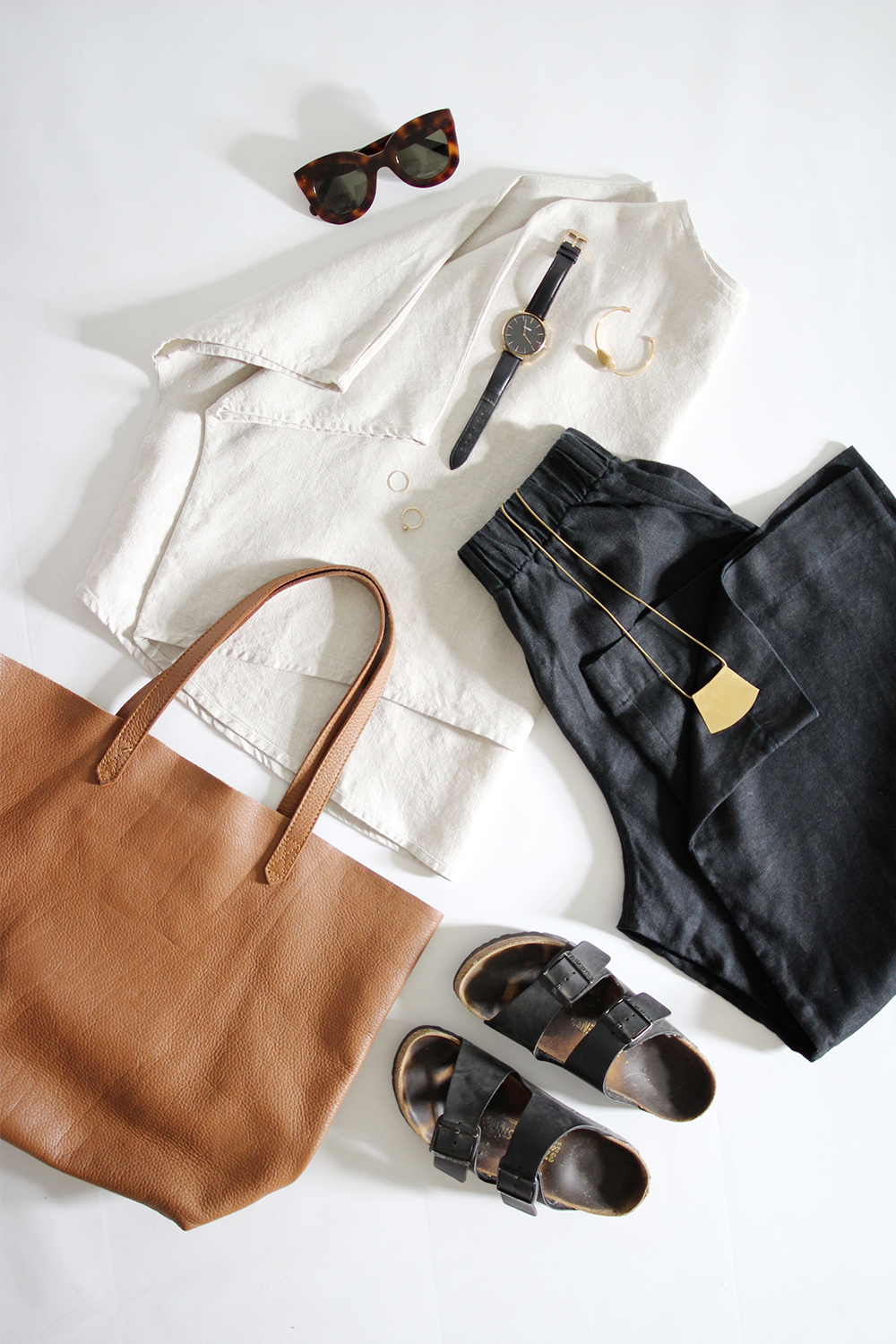 Sunnies | Watch | Rings | Cuff* | Tote | Birks | Necklace* | Pants | Linn Tee
---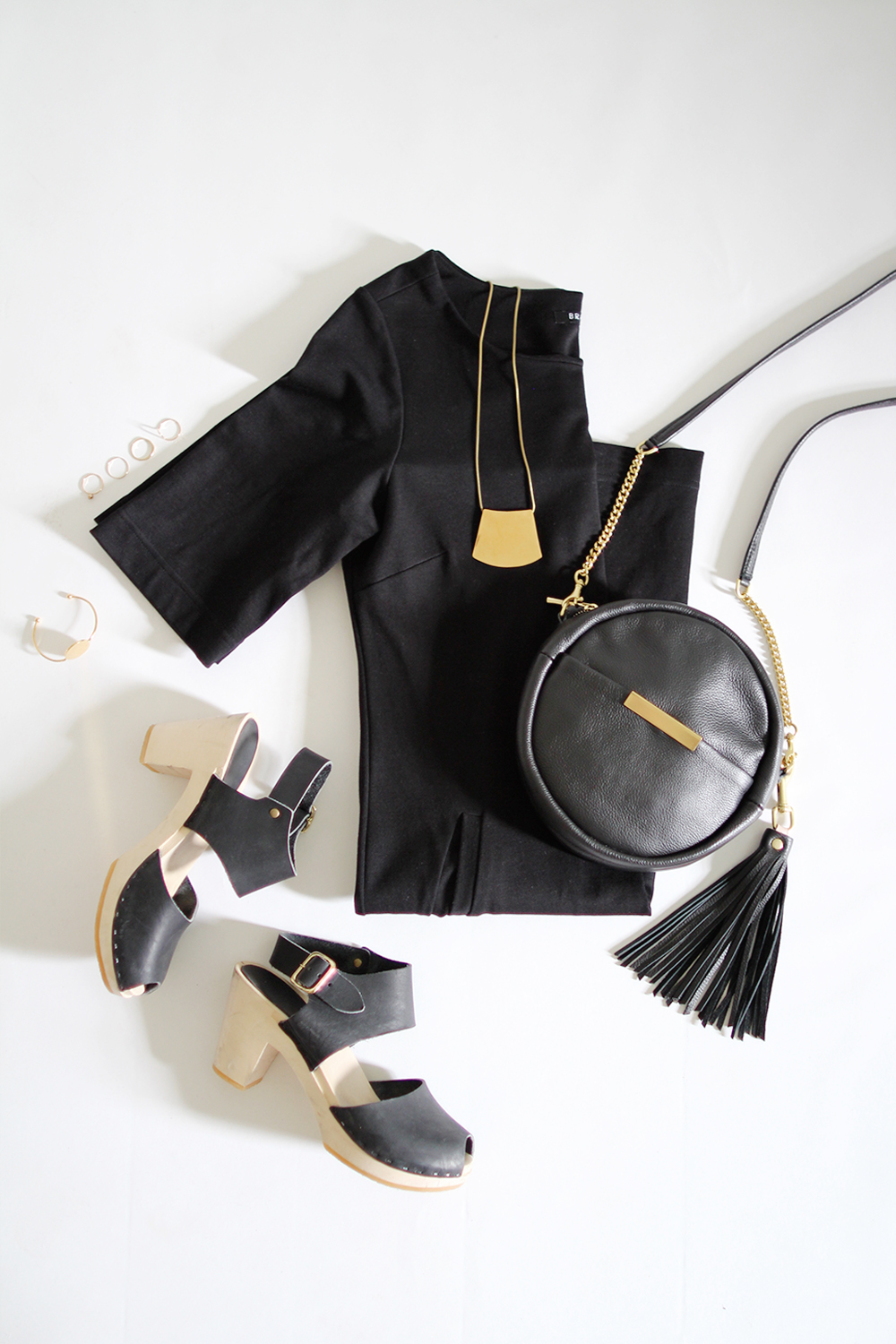 Dress | Clogs | Rings | Cuff* | Necklace* | Bag*
---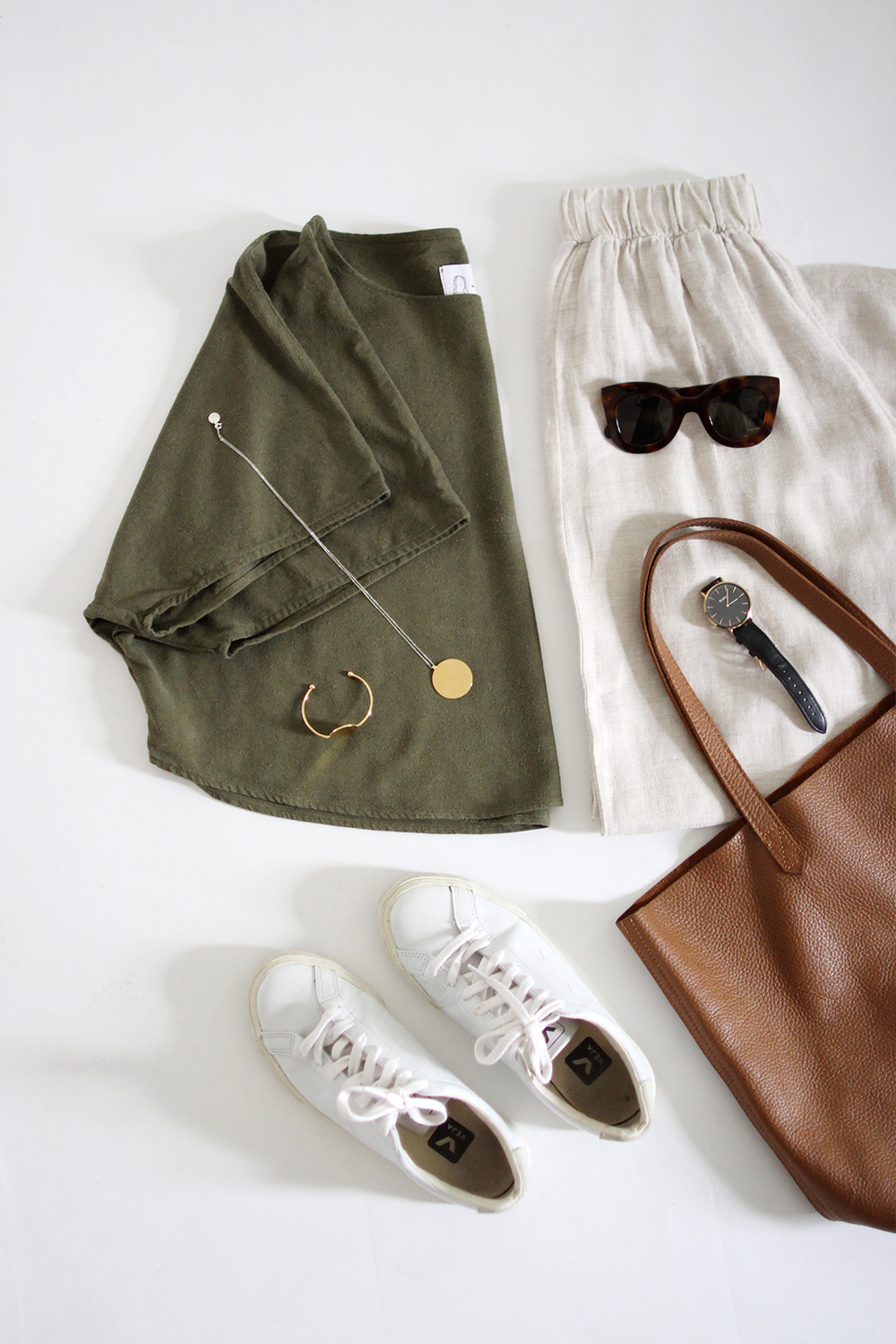 Sunnies | Watch | Cuff* | Tote | Sneakers | Linen Pants | Necklace
---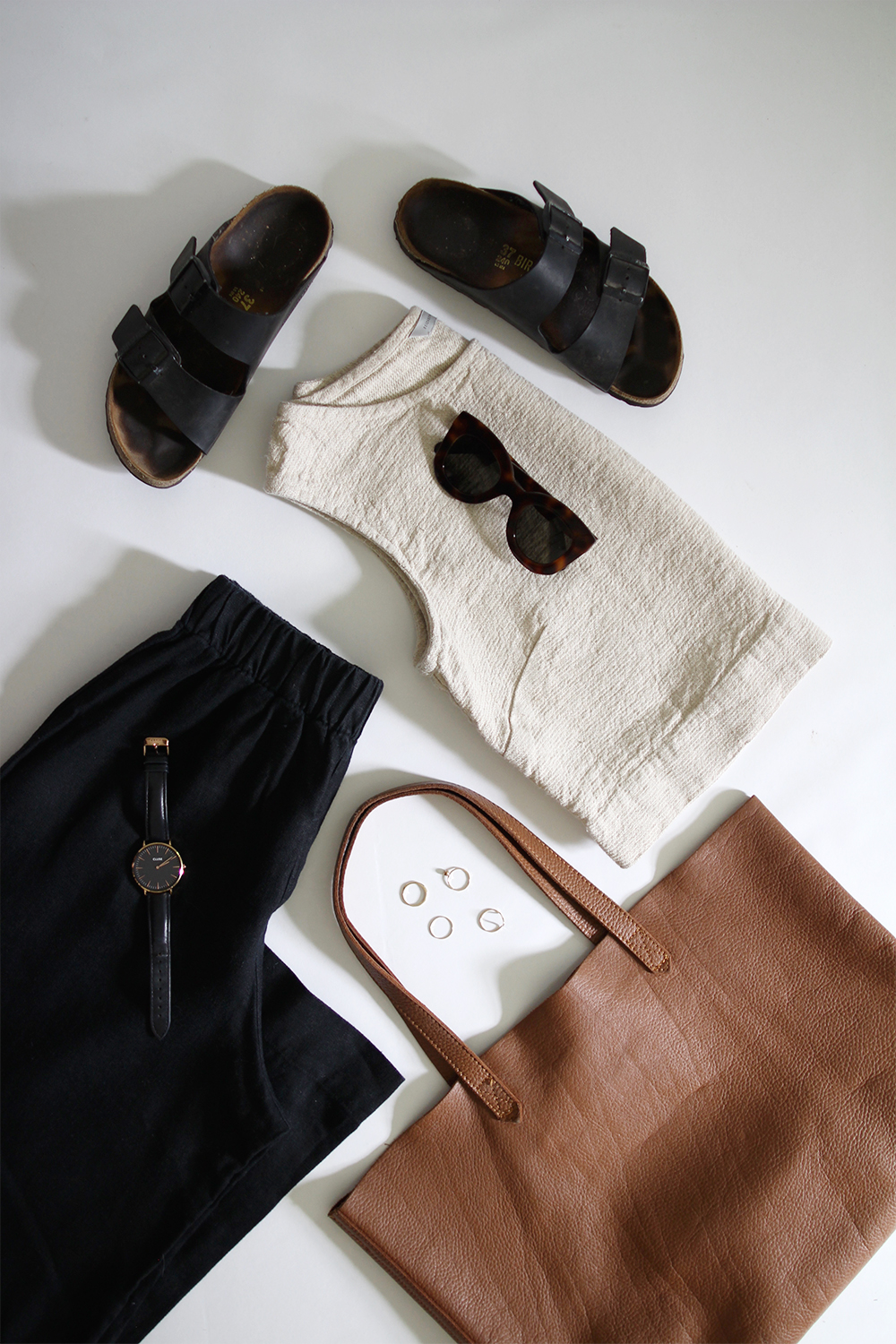 Sunnies | Watch | Rings | Tote | Birks | Necklace* | Linen Pants | Crop Top
---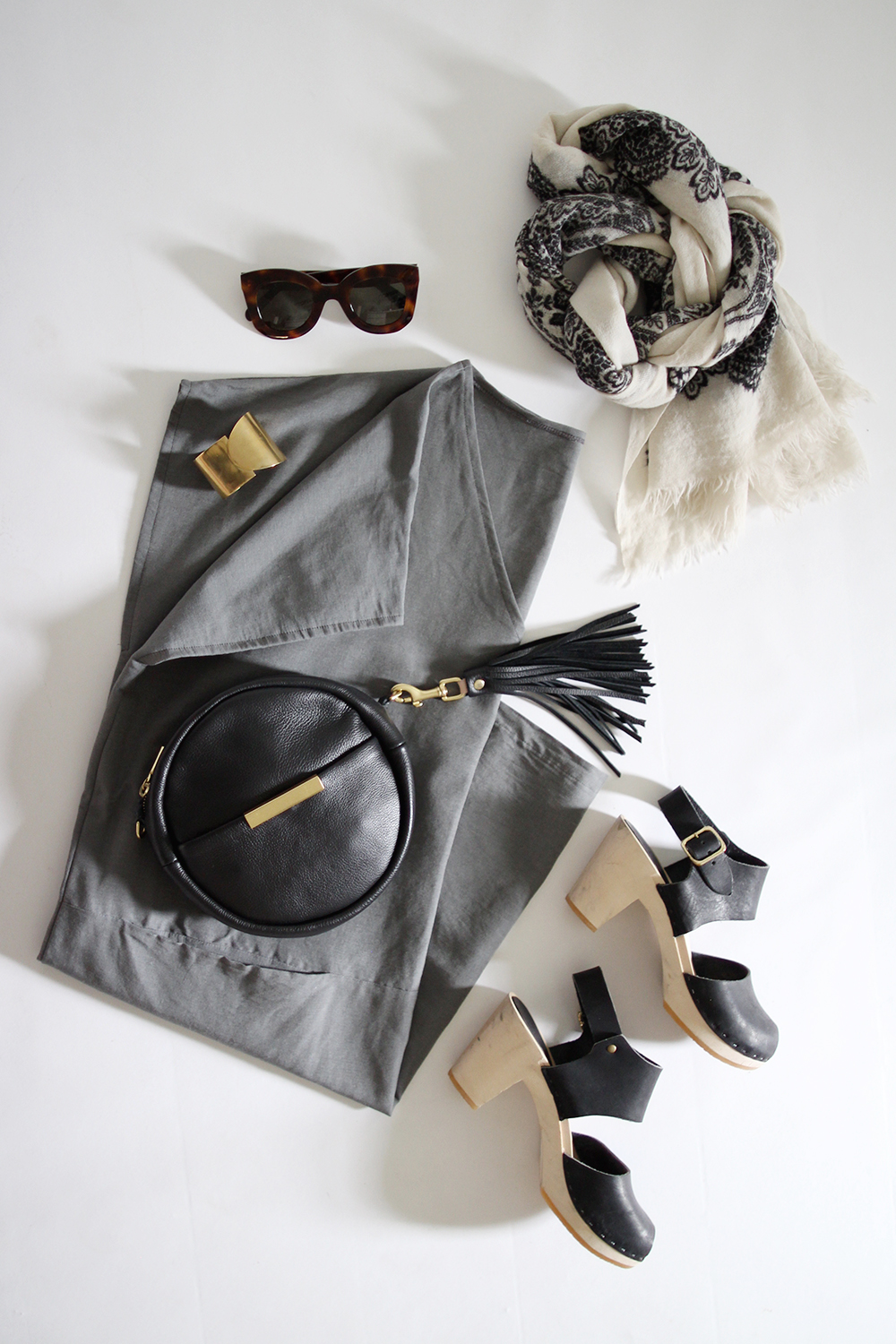 Sunnies | Clogs | Bag* (gorgeous cylinder) | Dress | Cuff | Scarf* 
---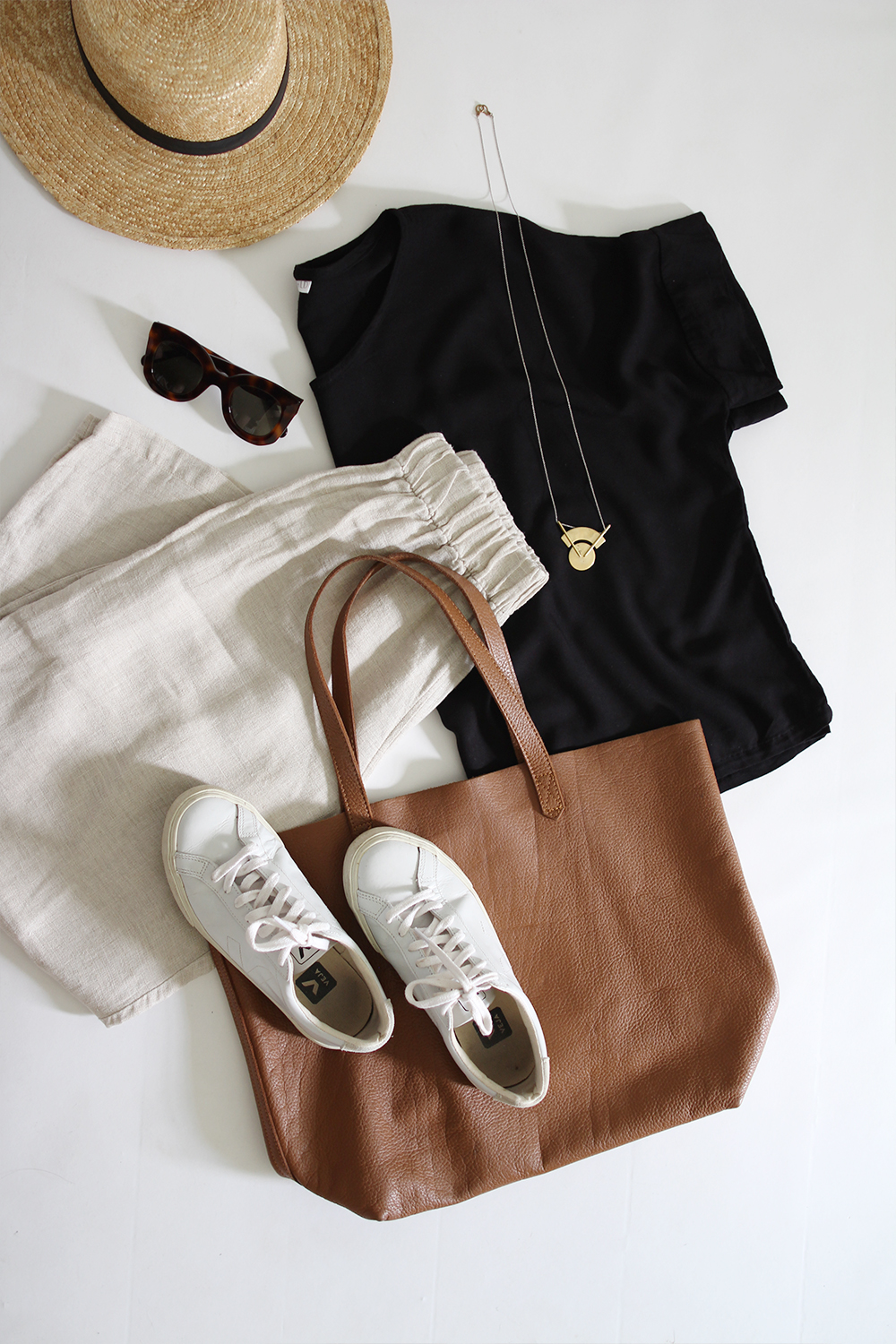 Hat | Sneakers | Black Tee* | Linen Pant | Tote | Long Necklace
---
Emma Kimono | Striped Tee* | Cecilia Pant | Clogs | Bag* | Watch | Circle Necklace
---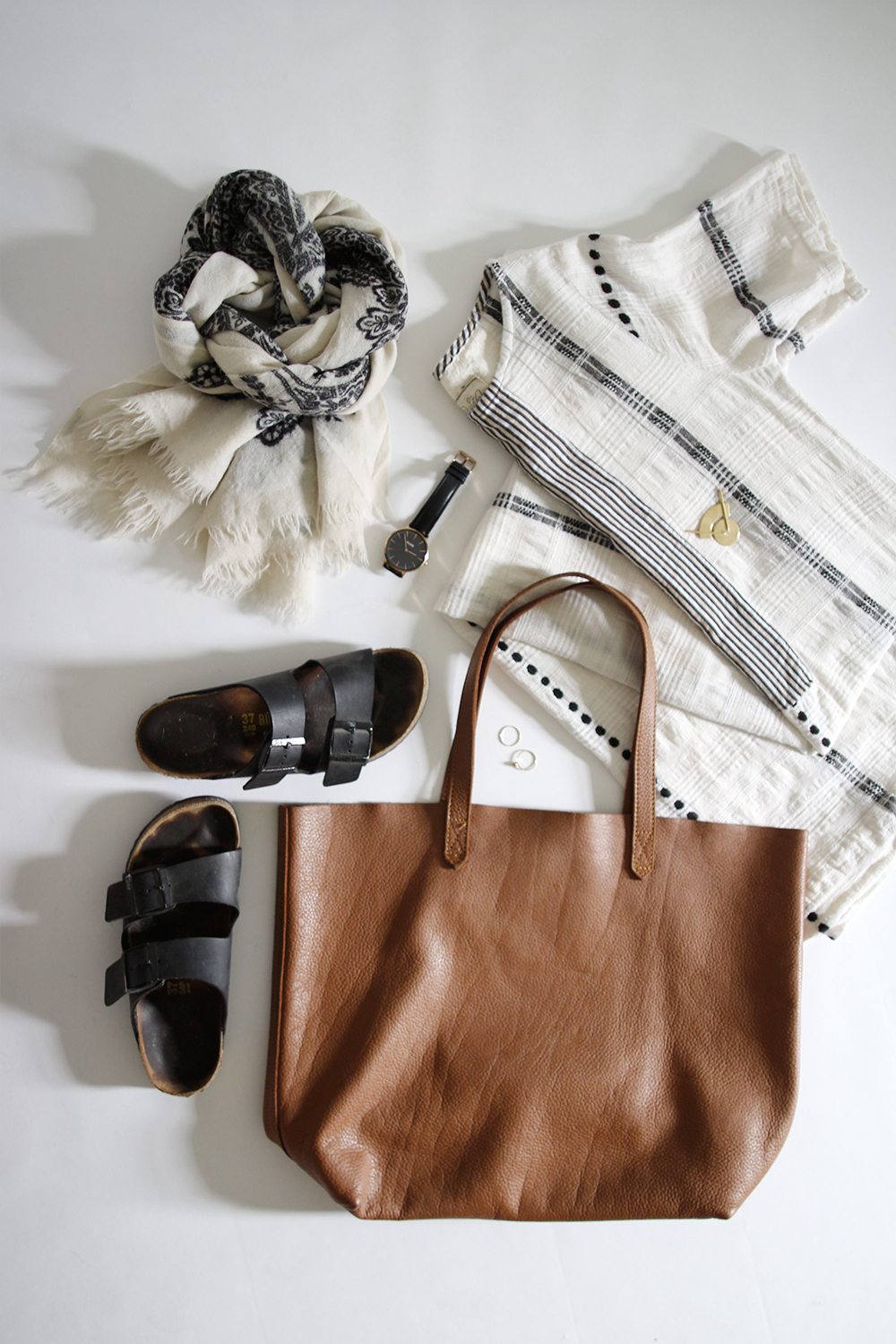 Dress* (second option) | Birks | Tote | Rings | Long Necklace | Scarf
---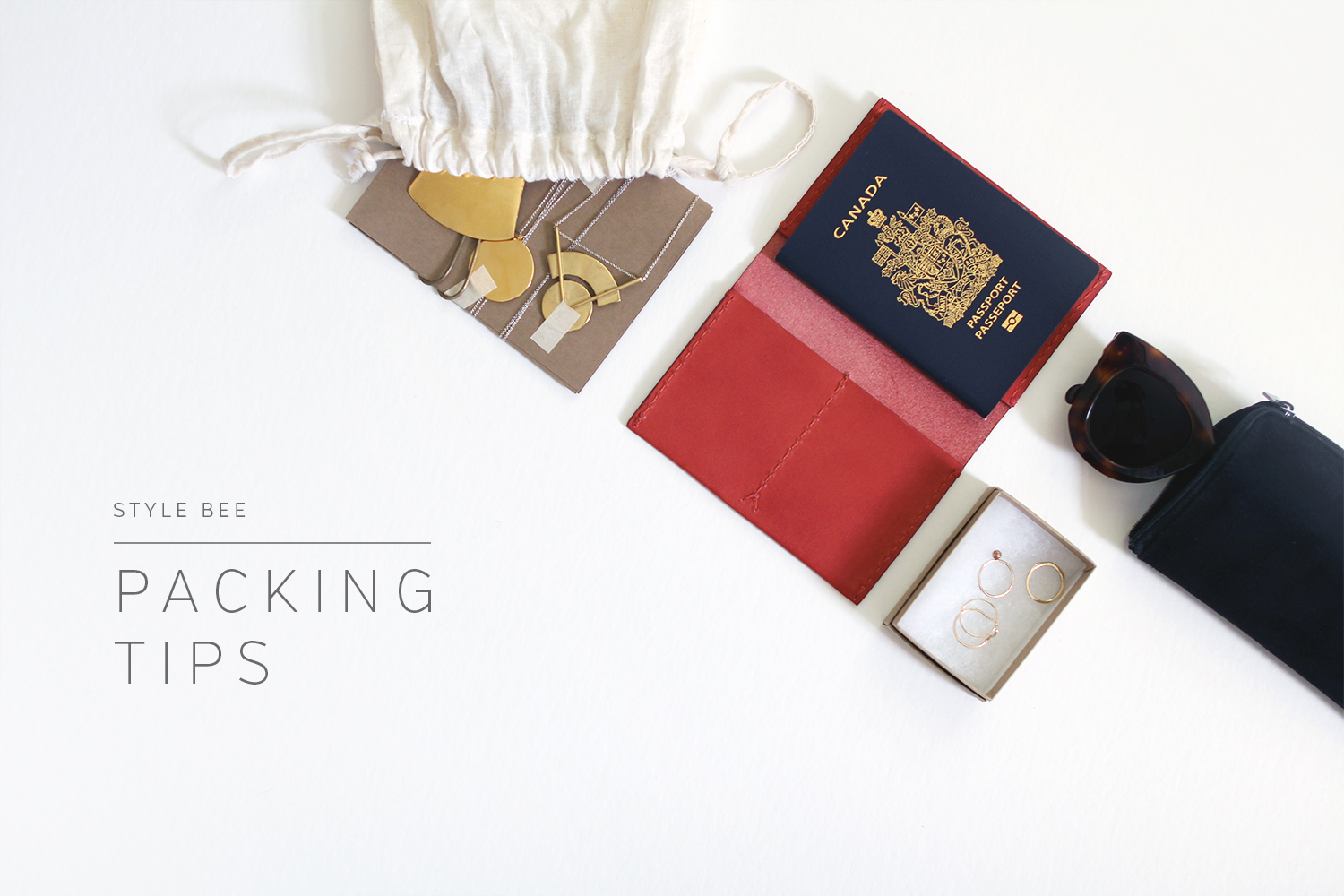 5 LEAN PACKING TIPS
Finally, I'll just leave you with a few of my best lean packing tips in case you're into the details or still on the fence about whether you can manage your next vacation from a carry-on (which you absolutely can!). Here they are:
ROLL, ROLL, ROLL – Rolling your pants, tops and dresses (and anything else you can) saves room and helps prevent wrinkles. It made a HUGE difference for my easy-to-crease items like silk tops and linen pants. Especially since bringing a mini steamer was not an option.
WEAR YOUR BULKIEST ITEMS – This is a well known lean packing trick for a reason. I wore my bulkiest sweater, sneakers, scarf and hat onto the plane. I might have looked a little bi-polar but it was worth it to have those pieces handy and not waste valuable space in my luggage.
CHECK THE WEATHER – I know, thanks captain obvious, but I mean check it under 24 hours before you zip that case up. If I'd gone by an earlier forecast or listened to what everyone was saying about it being hot I'd have been way under dressed in both cities. Being cold or having to buy layers out of necessity is not ideal.
A SPOT FOR EVERYTHING – I'm a chronic organizer so this comes naturally to me but it really makes a difference when traveling, especially if you have more than one destination. Keep your accessories, underwear, socks, pjs, toiletries, tops and bottoms each in their own designated spot. Also, having a proper pouch for laundry and worn clothing helps A TON.
PREVENT THE TERRIBLE TANGLES – There is nothing more annoying than finding the necklaces you've carefully placed in a little pouch have magically found a way to irreparably intertwine themselves during flight. There are plenty of travel cases for jewelry available, but if you'd rather spend your money on the trip itself simply use a piece of cardboard and a few strips of masking tape to secure them. This trick saved the day for me.(See above for visual)
---
And that's about it! I'll be sharing all my trip photos and the spots I visited next week. Thanks for hanging in while I slowly but surely pull these posts together.
So tell me, are you headed anywhere fun? Do you have any packing tricks you'd care to share? I'd love to know!
---
This post is not in partnership with or sponsored by any of the aforementioned brands. All opinions are my own.