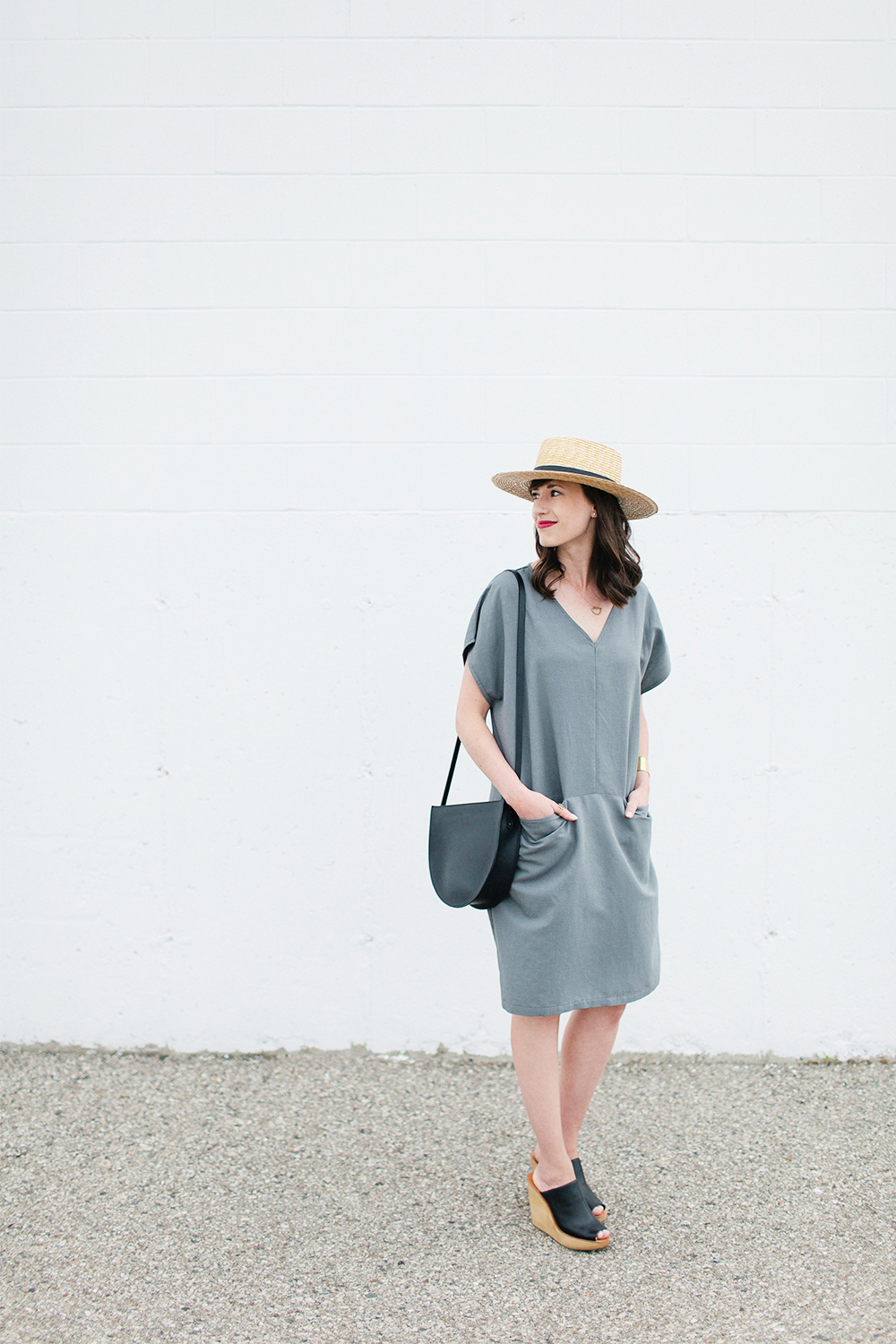 Hooray! The special edition ONLY CHILD x STYLE BEE dress is now available! 
---
It's certainly no secret that I've been a huge fan of ONLY CHILD, the California based clothing line, designed and created by Haley Tucker, since the first collection launched last Fall. The line speaks to my minimalist style and aesthetic sensibilities so well and Haley has an uncanny ability to find magical materials and craft oh-so-wearable pieces that become instant closet heroes. So needless to say, when I suggested we collaborate on a special limited edition piece and she agreed, I was over the moon!
From that point, we started brainstorming ideas, exchanging emails, fabric samples, mock-up dresses, fit and finishing notes and finally, after a couple of exciting months we ended up with this simple, flattering, functional and extremely comfortable summer shift that I've been wearing non-stop ever since. It was a truly rewarding and enlightening experience and a total pleasure to work with such a talented designer.
We put a lot of thought and heart into this piece and really hope you love it as much as we do! See below to shop and for more details on why we chose each important element.
---
---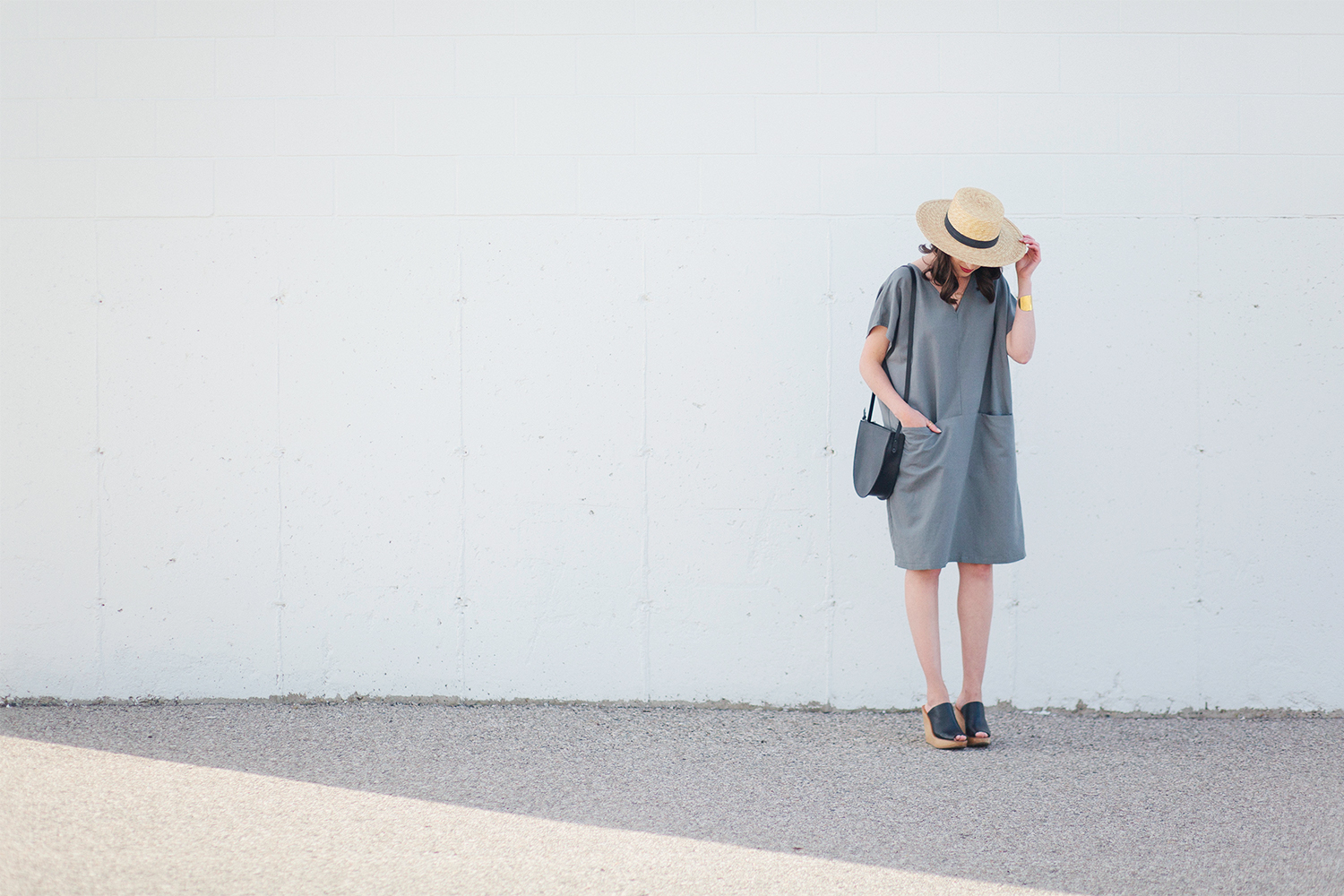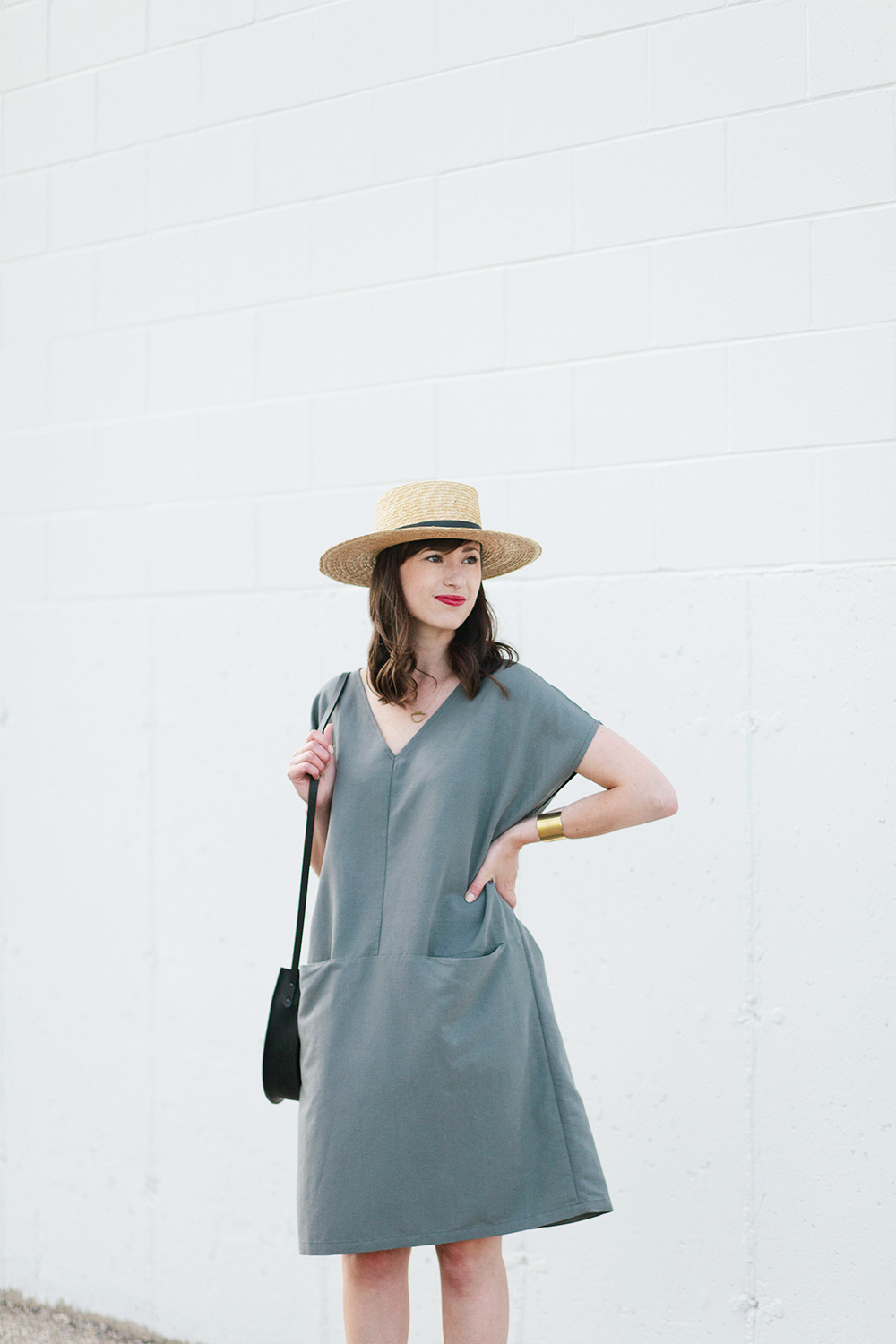 ---
FABRIC
When Haley and I were first hashing out ideas we knew linen was the direction we wanted to go with the fabric but this one definitely surpassed our expectations. For starters the colour is so unique and flatters a wide range of skin tones from barely sun kissed (that's me!) all the way to bold, bronzed goddess so it's not the kind of summer dress you necessarily need a tan to wear. I also loved the muted blend of green, grey and blue that make it a soft sage which changes depending on the light you're in.
The fabric is surplus stock that would have otherwise made it's way to a landfill so we feel great about saving it from such an unfortunate fate. It's a sumptuous linen blend and while we don't know the exact fibre breakdown it feels like a mixture of mostly linen with likely some rayon and/or Tencel that gives it a beautiful drape, wrinkle resistance and excellent breathability. It's been pretty hot and humid here in Ontario lately and this dress has been a superhero for staving off the heat.
---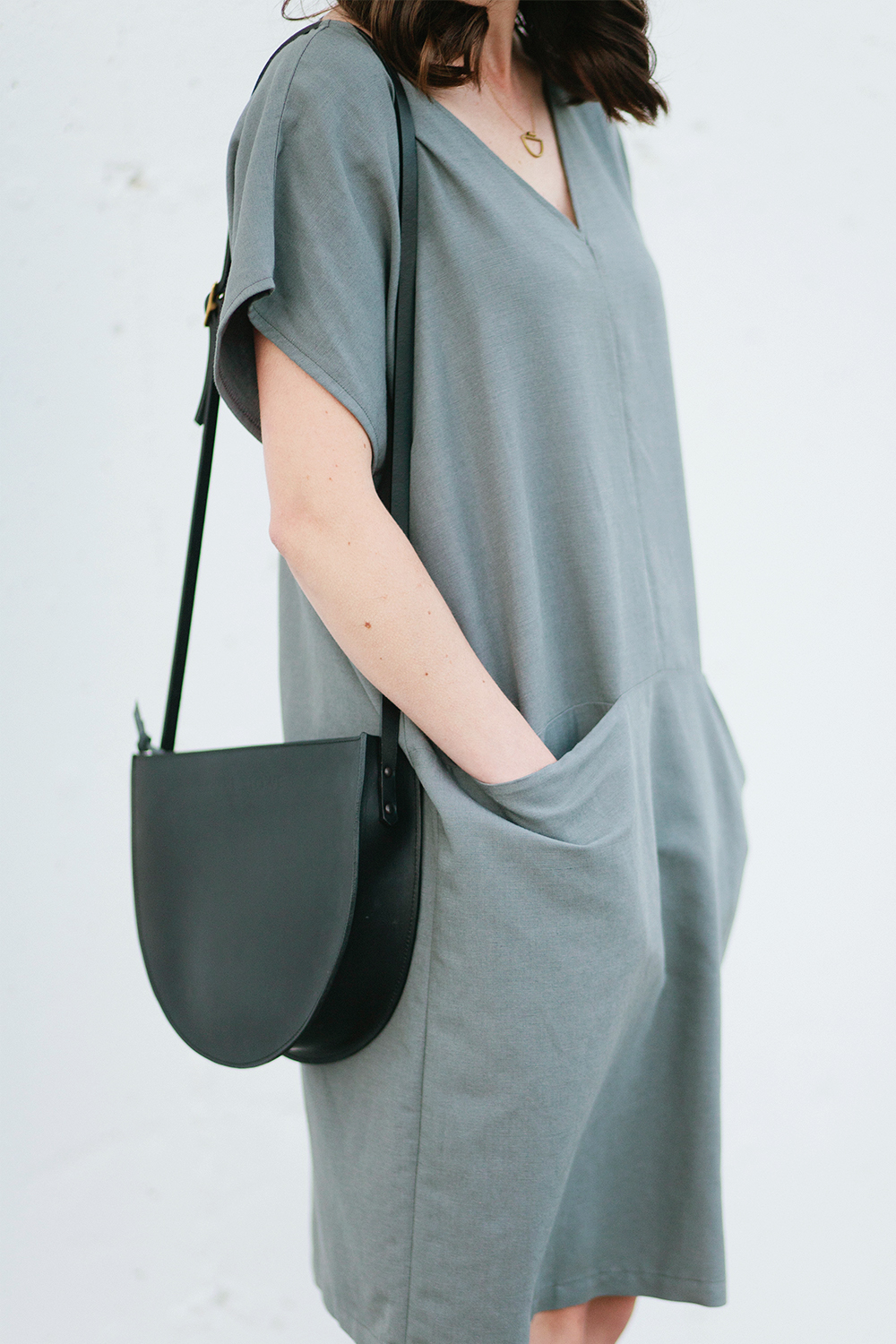 ---
POCKETS
We worked on a few different pocket approaches but loved the result of these hidden front ones. They don't add too much bulk to the hips and yet they're deep and add a level of functionality that many summer dresses are missing. While the fabric is super soft it has enough structure to keep them from getting sloppy too. So far they've been home to everything I need from my phone, to my credit card + gum, to a few treats for the pup on our afternoon strolls and I really can't stop myself from tucking into them. We raised them up a little from the typical pocket height to hit at a flattering spot on the hip and hung them from a slim horizontal line for a subtle hit of interest.
---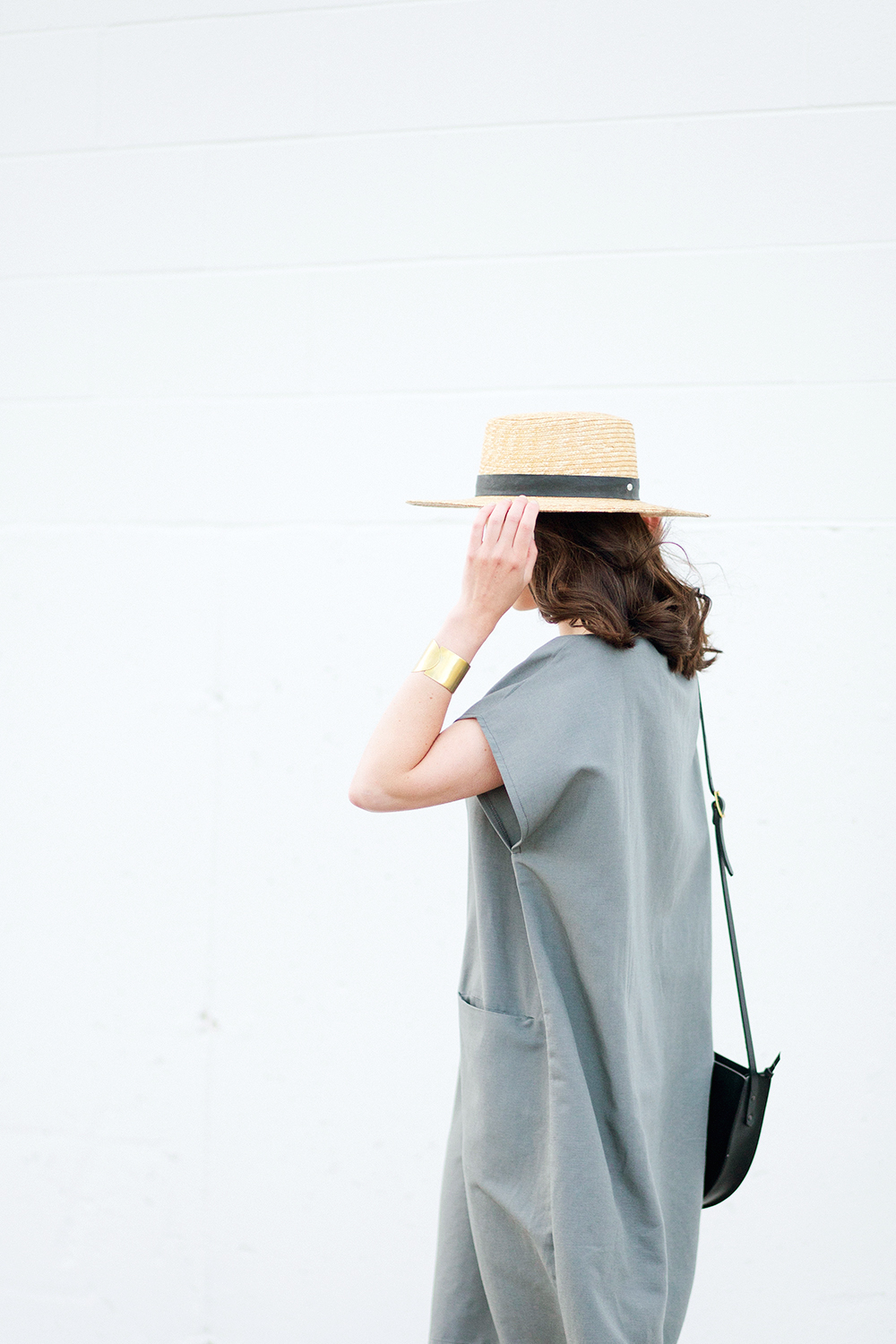 ---
---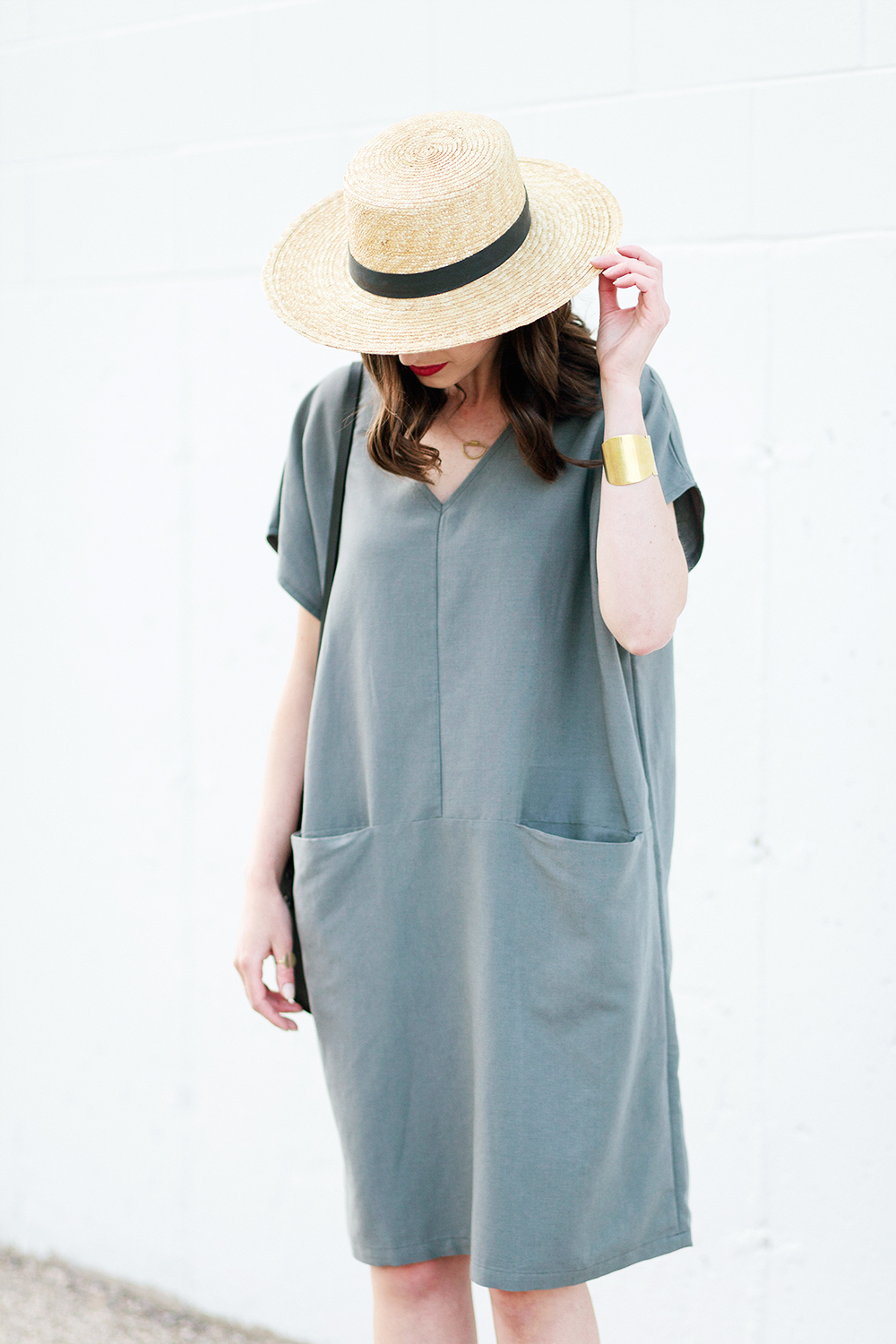 ---
SHAPE
This v-neck and centre seam combination is one of ONLY CHILD's signature details, which I originally fell for in the Mara Silk Tunic. I find these design details very elegant, contemporary and flattering. Haley also worked her magic on the sleeves and I love how they flare out slightly to hit at a favourable spot on the upper arm. We opted for a chic knee length to keep it classy too!
Haley and I both love an over-size, relaxed fit so that was a no-brainer but we wanted to make sure it didn't get too boxy so the dress is available in both S/M and M/L sizes. For reference I'm 5'7, 125 lbs and wearing the S/M.
---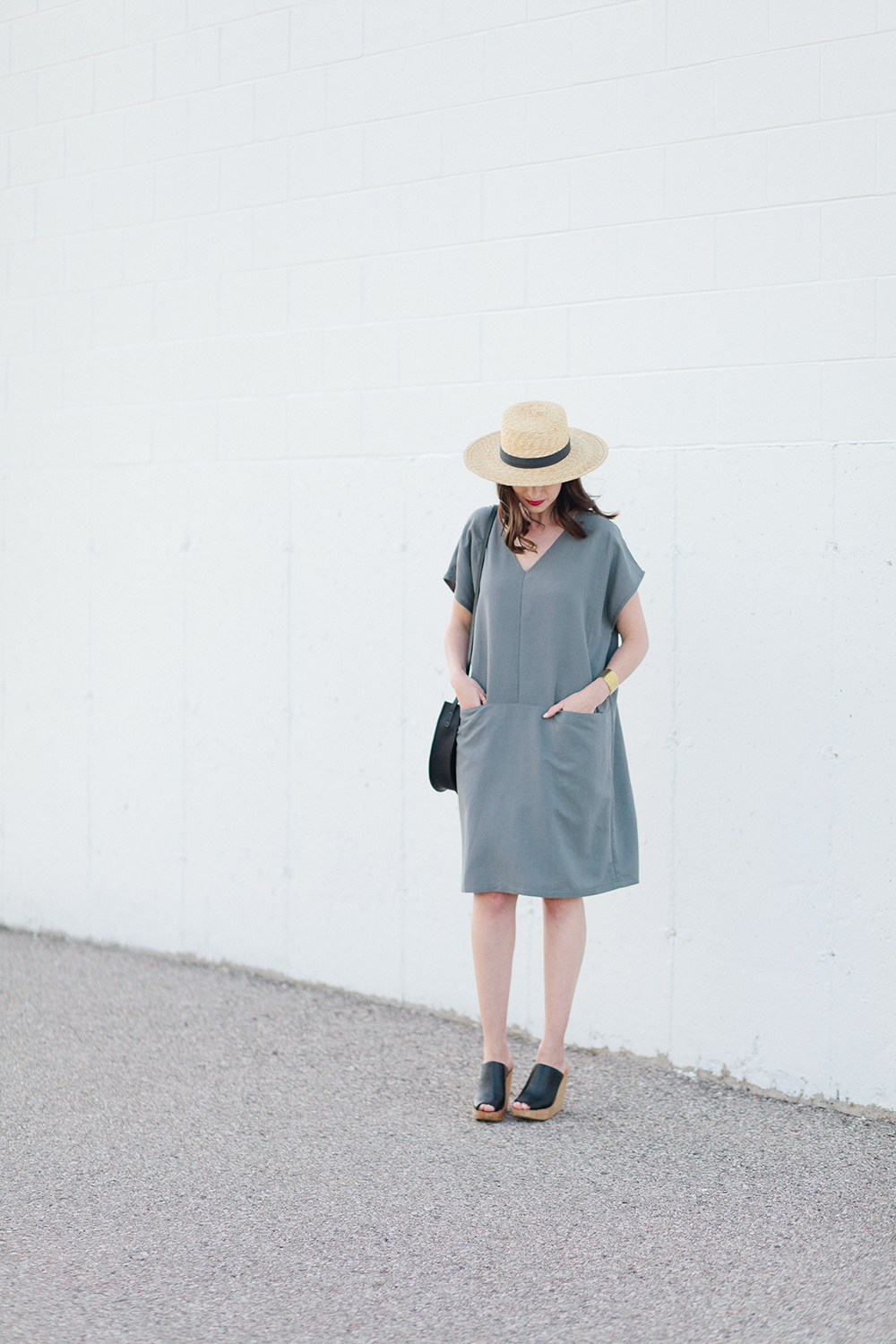 ---
---
Well friends, you'll be hard-pressed to find me in another dress all Summer now that I've got this beauty! It's great on it's own with a straw hat and sandals for weekend fun, over a bikini at the beach and when, God forbid, the temps go down I'll be rocking it over skinnies with ankle boots and a big sweater this Fall. So if this is what you've been looking for be sure to snap one up quick as only a handful are available!
---
ADDITIONAL DETAILS
PRICE | $180 USD
SIZES | S/M + M/L
CARE | Machine wash cold and hang to dry. Press on high.
QUANTITIES | Very limited, so don't wait too long if you love it!
MADE TO ORDER IN OAKLAND, CA
---
Other Items: Hat by Janessa Leone | Shoes By Rachel Comey (similar) | Cuff by Stvdio Brooklyn | Bag by The Stowe | Necklace by Another Feather
---
Photography by the wonderful Jacklyn Barber.