Happy November everyone! Can you believe we're down to just two months remaining in 2017? I can barely believe it but the temps are starting to get serious about dropping and I've started to get serious about my favourite closet category: coats!
Many of my coats have already seen the light of day a few times this season but one that's been in hibernation is my Capote Coat by Lauren Manoogian. It's part blanket, part Jedi costume (wish I'd thought of that last night) and part sweater but all together it's a dream to have on hand when I'm braving these crisp November days.
The Capote Coat is also an item I get asked about a lot. It's a very special piece and definitely an investment so today I'm sharing a dedicated outfit post all about it. If you've been eyeing one yourself but wonder about how warm it is, how to style it or how to care for it, this post is for you! Alternatively, if you're in the market for a big cozy knit but looking for some budget-friendlier options I've stumbled across a few of those too.
So let's have a look, shall we? 
---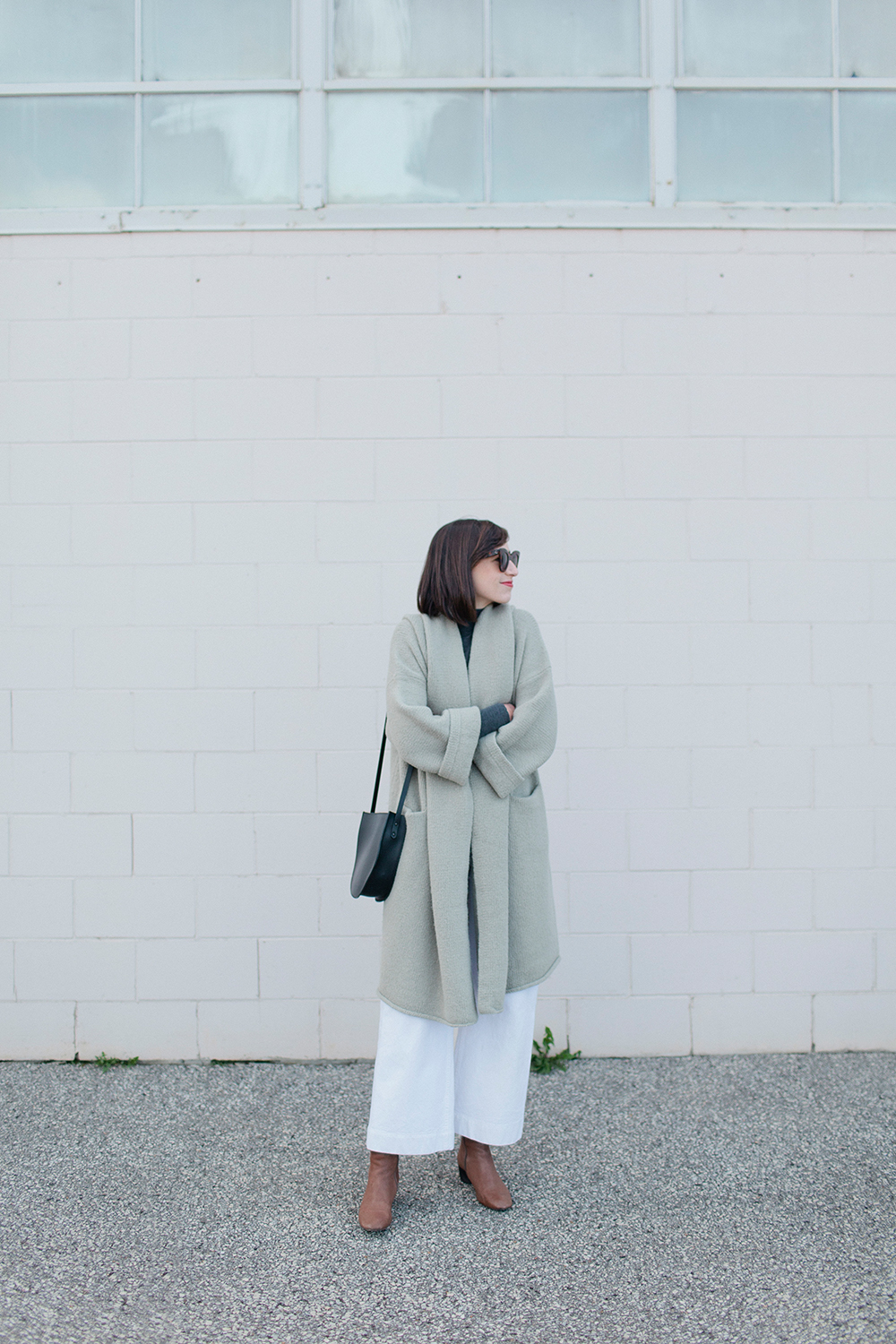 ---
QUICK FACTS
---
ITEM: CAPOTE COAT
DESIGNED BY: LAUREN MANOOGIAN aka. the queen of responsible luxury knitwear.
MADE RESPONSIBLY IN: PERU
MATERIAL: 93% Alpaca Wool 7% Polyamide (to maintain shape) which is super soft and non-irritating on the skin.
PRICE: $570 USD
SIZE: One Size
PURCHASED: In 2015 during the NEED SUPPLY Cyber Monday sale. Currently 30% OFF!
WHERE TO GET IT: See a list below.
---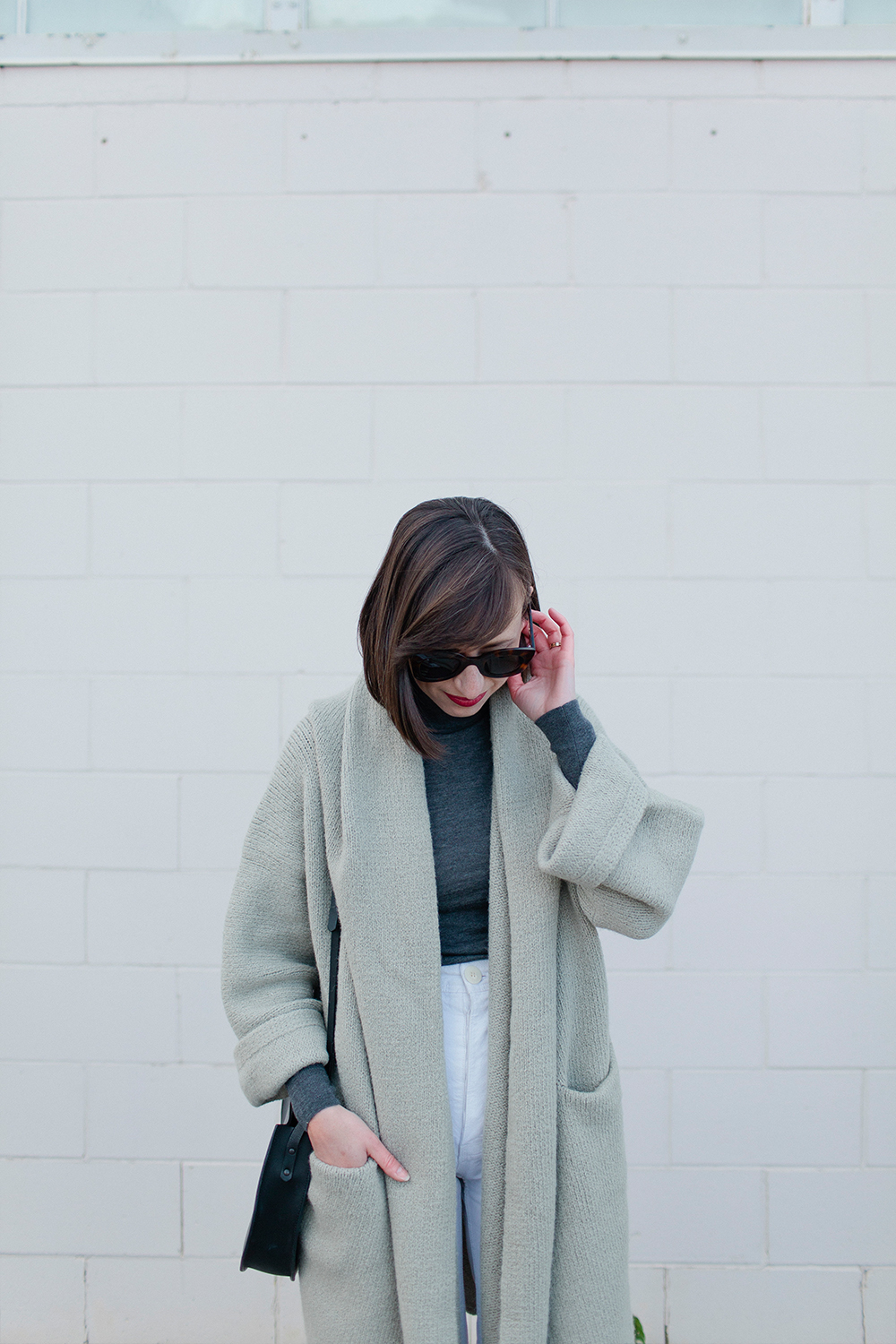 ---
HOW WARM IS IT?
---
This coat can work for a wide range of temperatures, it just depends on how you layer it. I'd say it's good for anywhere between 0°C right up to 20°C depending on humidity, sun and how you're using it. 
For low temps in the single digit range I wear it layered over a sweater or turtleneck. The thickness of my base layer can vary depending on how cold it is. If it's very chilly I'll wear a bodysuit base layer, cashmere or wool sweater tucked into a heavy pant with socks and boots. I'll add gloves and a beanie if needed too. When we shot these photos it was about 6°C and I was nice and warm in this outfit (my sweater is a thin wool).
For higher temps in the double digits I'll wear it over a cotton tee and jeans or my linen florence pants with a simple flat, running shoes or a pair of mules.
Indoors: I wear it as a sweater when I'm working in my office during the coldest winter months and it keeps me super toasty.
EXPERT TIP: To avoid the wind blowing it open, fold one side over the other and use your cross-body bag to hold it closed. I use this trick with all my minimal, open-front, button-less coats.
---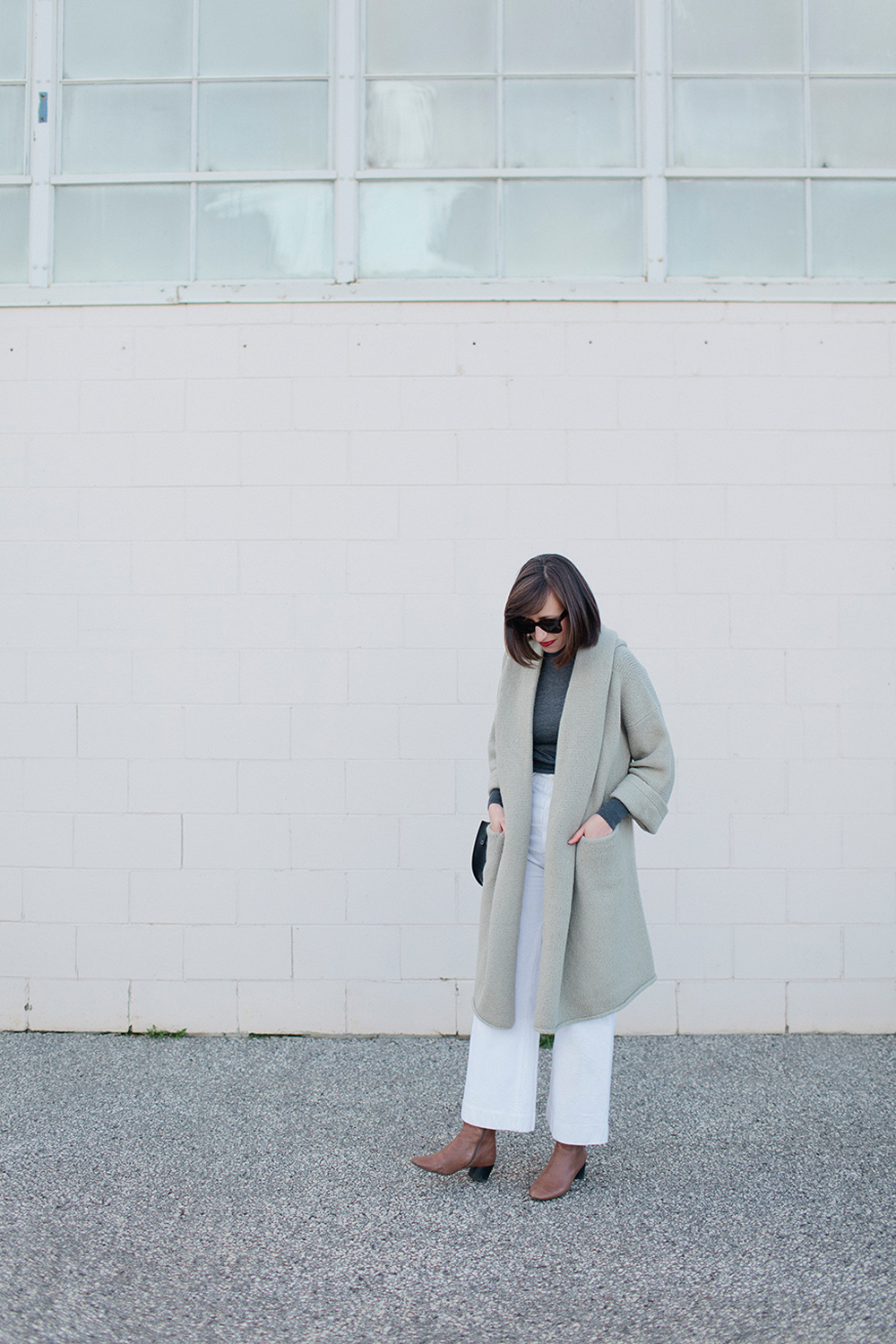 ---
HOW TO STYLE IT
---
I love this coat because it's SO easy to style and goes with a zillion different items in my closet. The key is to let it be the statement and to keep everything else in the outfit super simple. Here's how I have styled it based on temperature (and some other ideas!).
COLD (0°C-9°C):
With a sweater dress with tights and boots. Shown here.
Over my T-Sweater and a tunic with thick leggings, Chelsea boots and a beanie. Shown here.
COOL (10°C-15°C)
Over a jumpsuit. Shown here.
WARM (16°C +)
---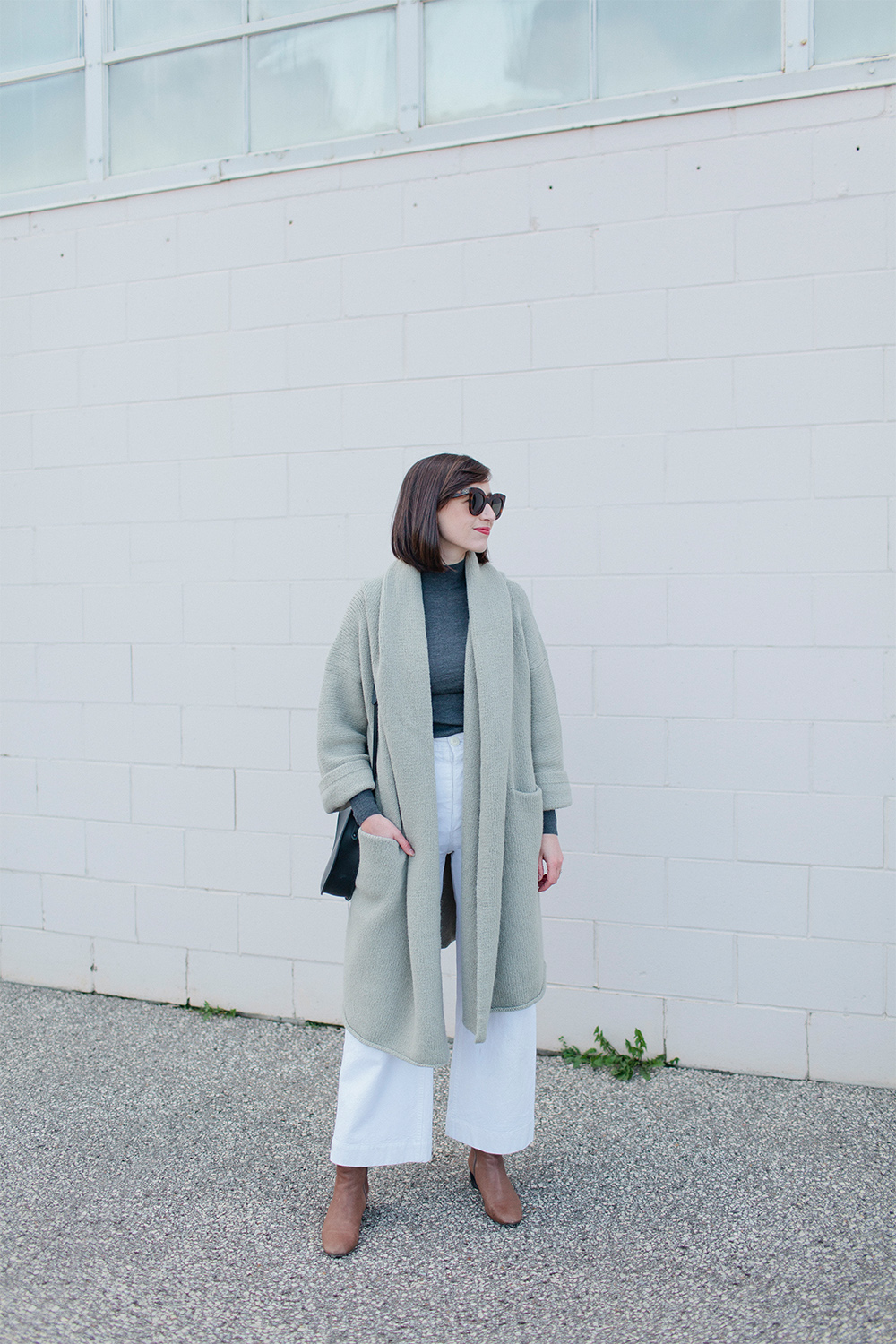 ---
GENERAL UPKEEP
---
Generally, I treat this coat with care and I'm cognizant of where I leave it (ie: on a shelf not in a heap or on a hanger) and what I do when wearing it (ie: avoid rough surfaces). This has helped it stay in great shape over the last 2 years.
CARE: Hand wash cold, air dry flat. Or Dry Clean.
9/10 I'm wearing this coat over a sweater so it rarely comes into contact with my skin. Therefore I haven't felt the need to wash it. I've spilled coffee and lots of other drinks on it but the Alpaca wool fibres are incredible when it comes to wicking away moisture so it's always been super easy to spot clean as needed.
SHAPE: I've worn this coat for countless hours in my office, laying on the couch with my boys and a ton of times out and about and it has yet to show any signs of losing it's shape. This is likely thanks to the poly content in addition to the already resilient nature of Alpaca wool. I keep it neatly folded on a shelf year-round and never smooshed into a space or hung on a hanger.
PILLING: Alpaca is wonderfully flexible fibre and can take a fair amount of rubbing, pulling and general wear. It is definitely a bit fuzzier than when I first got it but there is no pilling or pulls to speak of, even where my bag usually rubs on it.
PET FRIENDLY: Both my corgi and my cat shed a lot and this coat never shows it!
---
---
ANY OTHER QUESTIONS?
FEEL FREE TO LEAVE THEM IN THE COMMENTS AND I'LL DO MY BEST TO RESPOND TODAY! 
---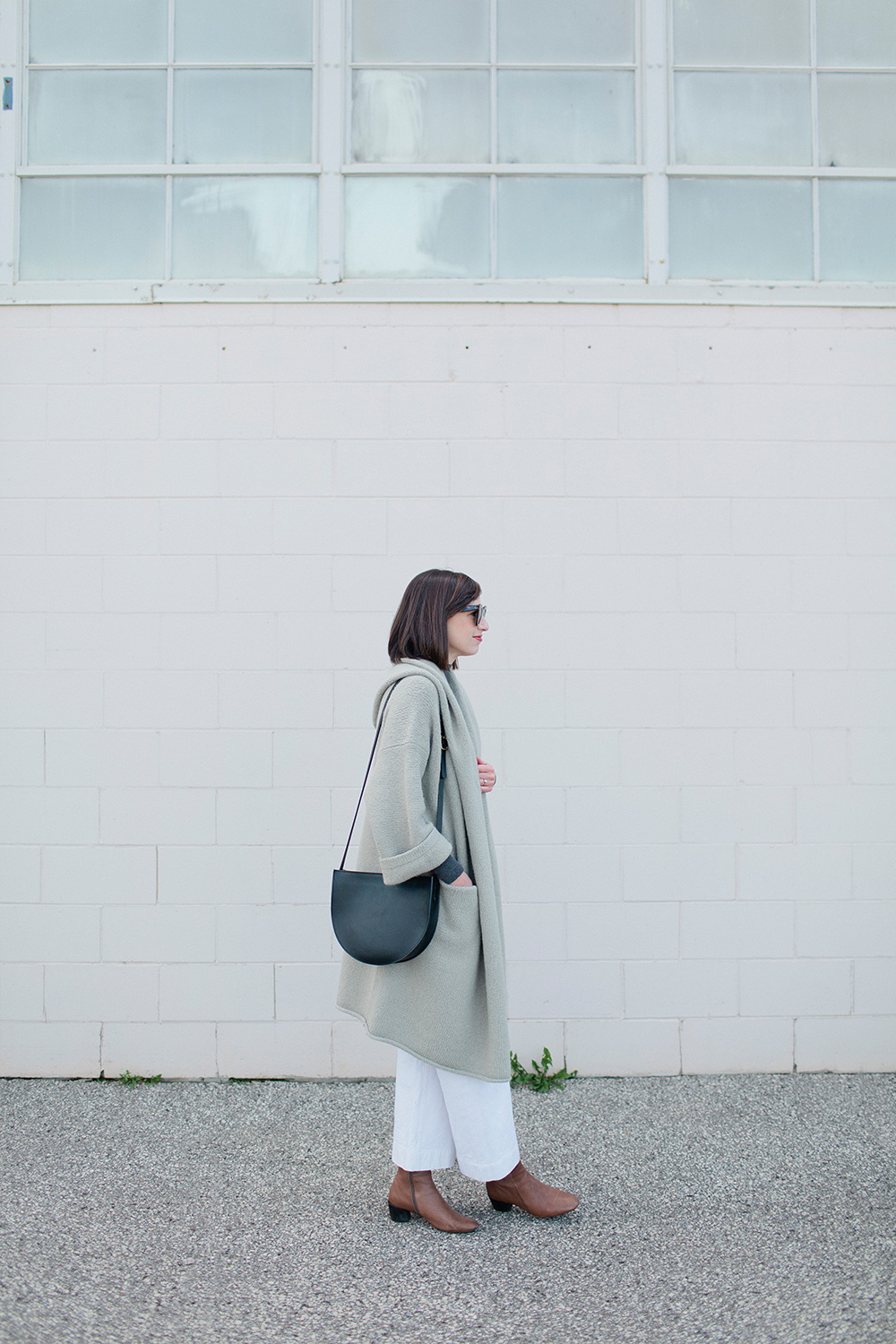 ---
SHOP LAUREN MANOOGIAN FROM THESE STORES
---
DRESLYN – 3 colours available – Free US Shipping
LAUREN MANOOGIAN – Shop direct from the designer for the full range of size and colour options – 10% OFF with newsletter sign-up 
NEED SUPPLY – 6 colours available – Free US Shipping
SSENSE – 3 colours available – Canada-based – Free Shipping & Returns
---

---

---
 SHOP MY LOOK
---
CAPOTE COAT | FITTED MOCKNECK | KAMM PANTS | Similar for less here. | CALLY BOOTS* | ELOISE BAG* | *Linked to similar.
---

---
Photography by Jacklyn Barber.
---
This post was not sponsored but contains affiliate links. When you shop via the links above I may make a small commission from a sale. Thanks for supporting the brands that support Style Bee! As always all opinions are my own.