I hope everyone had a fabulous weekend! Here in Guelph the temps hit double digits on Saturday and I think almost everyone who lives here was out enjoying the sunshine. It was glorious!! We took Dobby for a long walk around our neighbourhood and the look on his little face was pure glee. Safe to say we're more excited than ever for Spring's permanent arrival.
Now onto the post of the day! Every so often Everlane launches a new product that everyone seems to go nuts for and recently that happened to be the Wide Leg Crop Pant. This style of pant has been building in popularity over the last few seasons and it's easy to see why. It's flattering, fresh, empowering and gives a nod to style eras gone by without feeling overtly retro.
As you likely know, I've been a fan of this silhouette for a while now but this is the first time I've tried pants from Everlane. They kindly offered to send me this pair to test out and I alllllmost opted not to try them since I already have my fair share of wide leg pants. But it was a combination of FOMO, curiosity and the fact that I get asked all the time for a more wallet friendly option of the Kamm Pant that swayed me towards trying them. Long story short, I'm very glad that I did and I hope this review and comparison is helpful for those who have been on the fence about this pant style or interested in investing in a pair.
Today I'll take you through:
My review of the Wide Leg Crop by Everlane. *Size Update
A side by side comparison of the Wide Leg Crop vs. the Kamm Pant. *Size Update
My thoughts on whether to save or invest.
---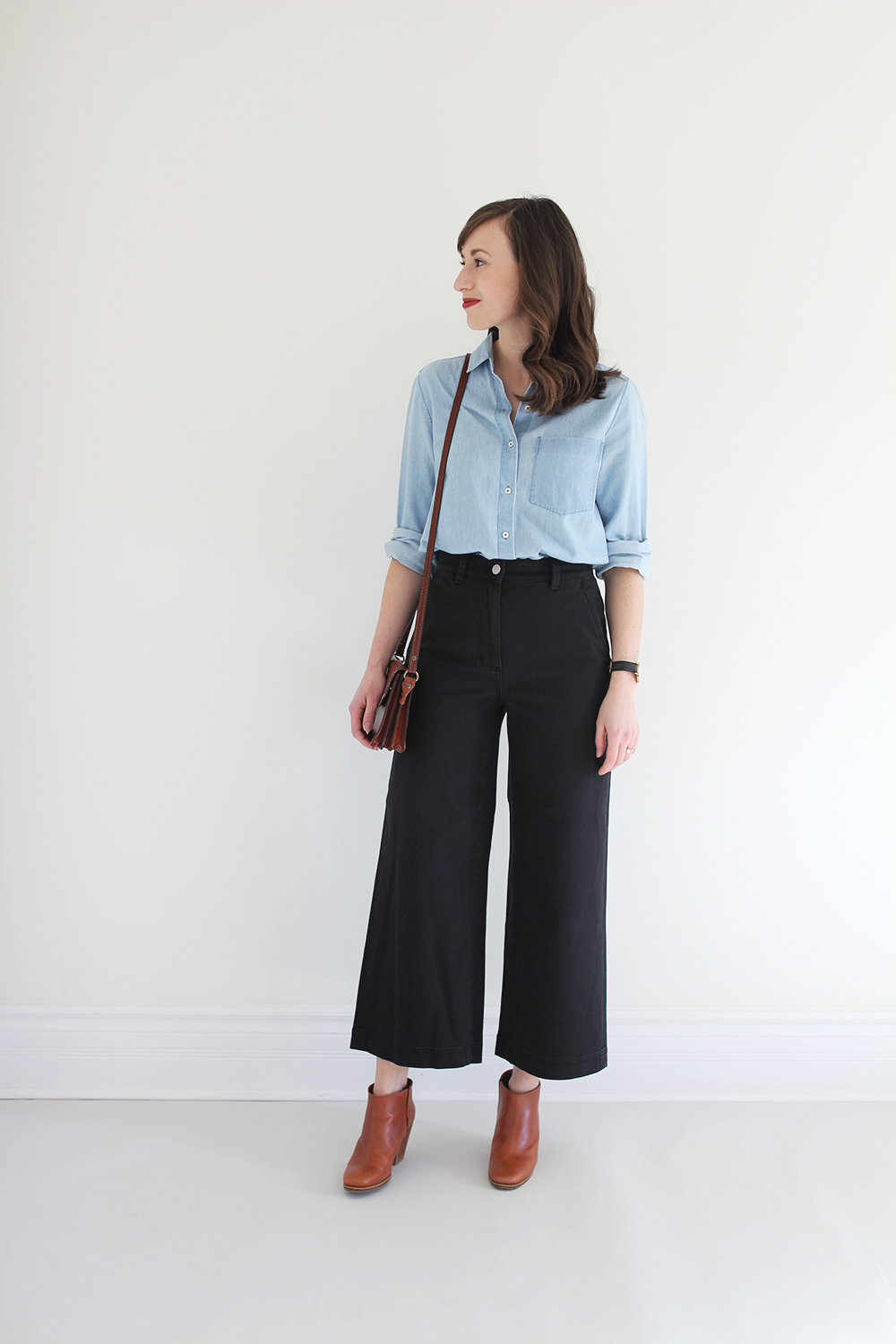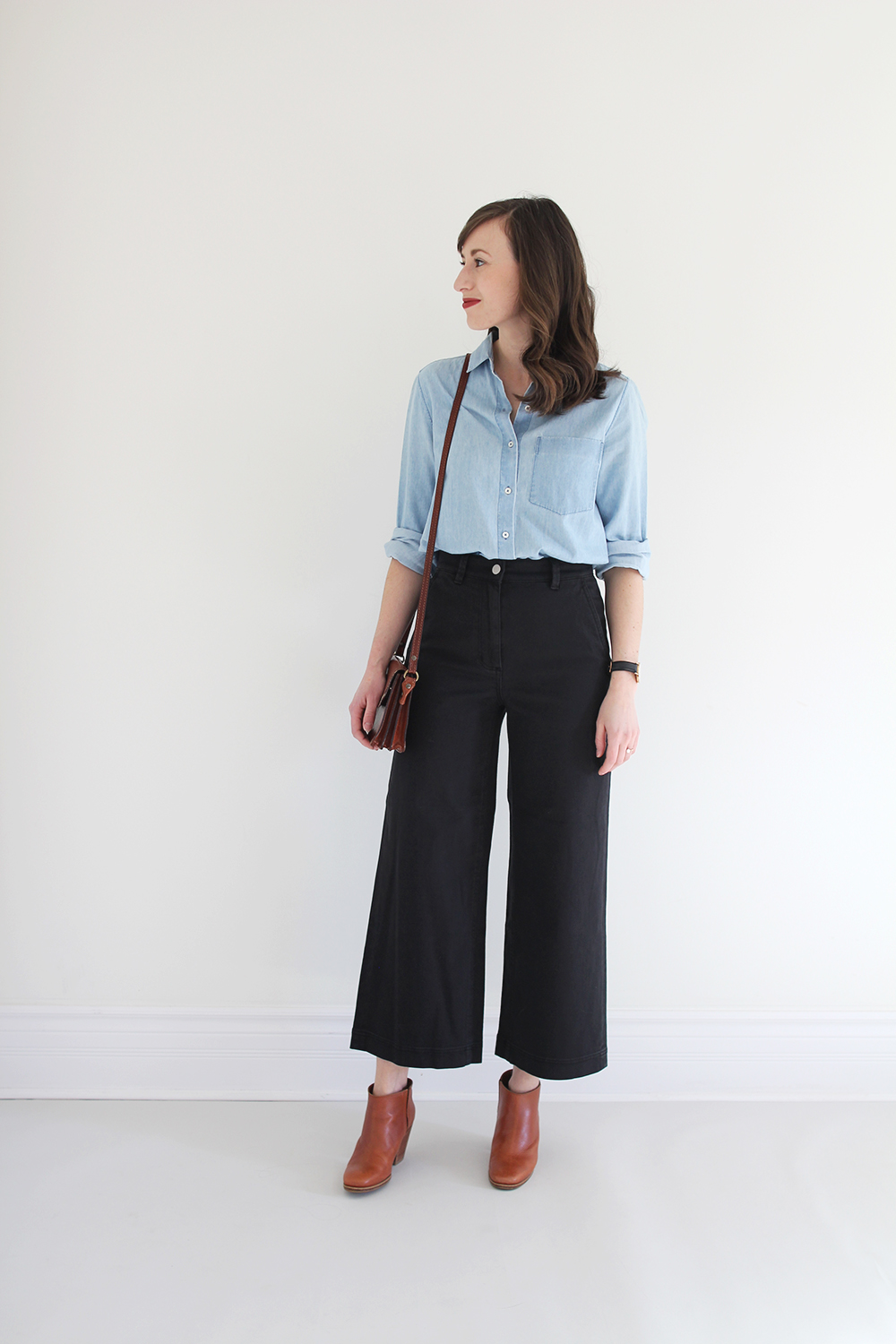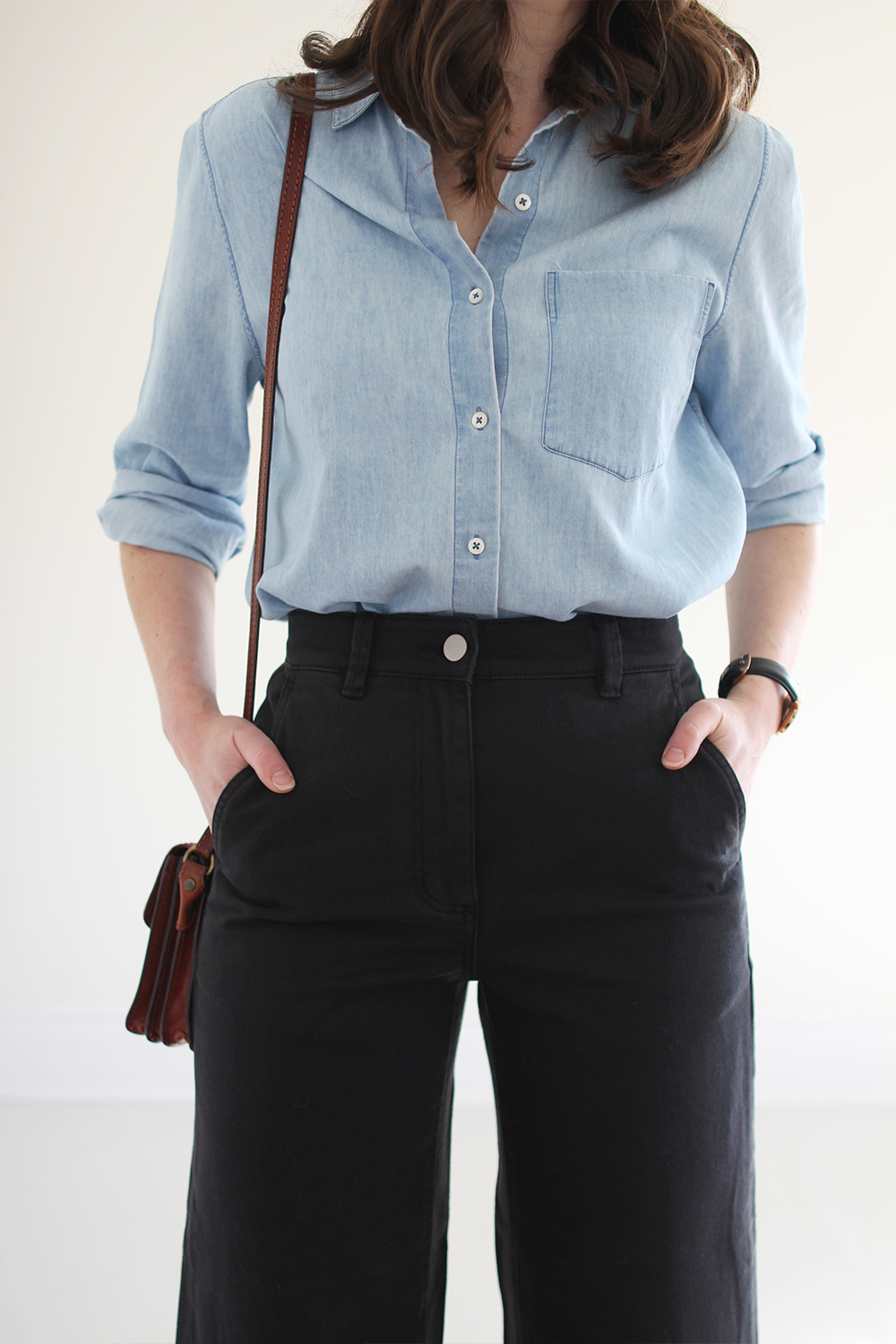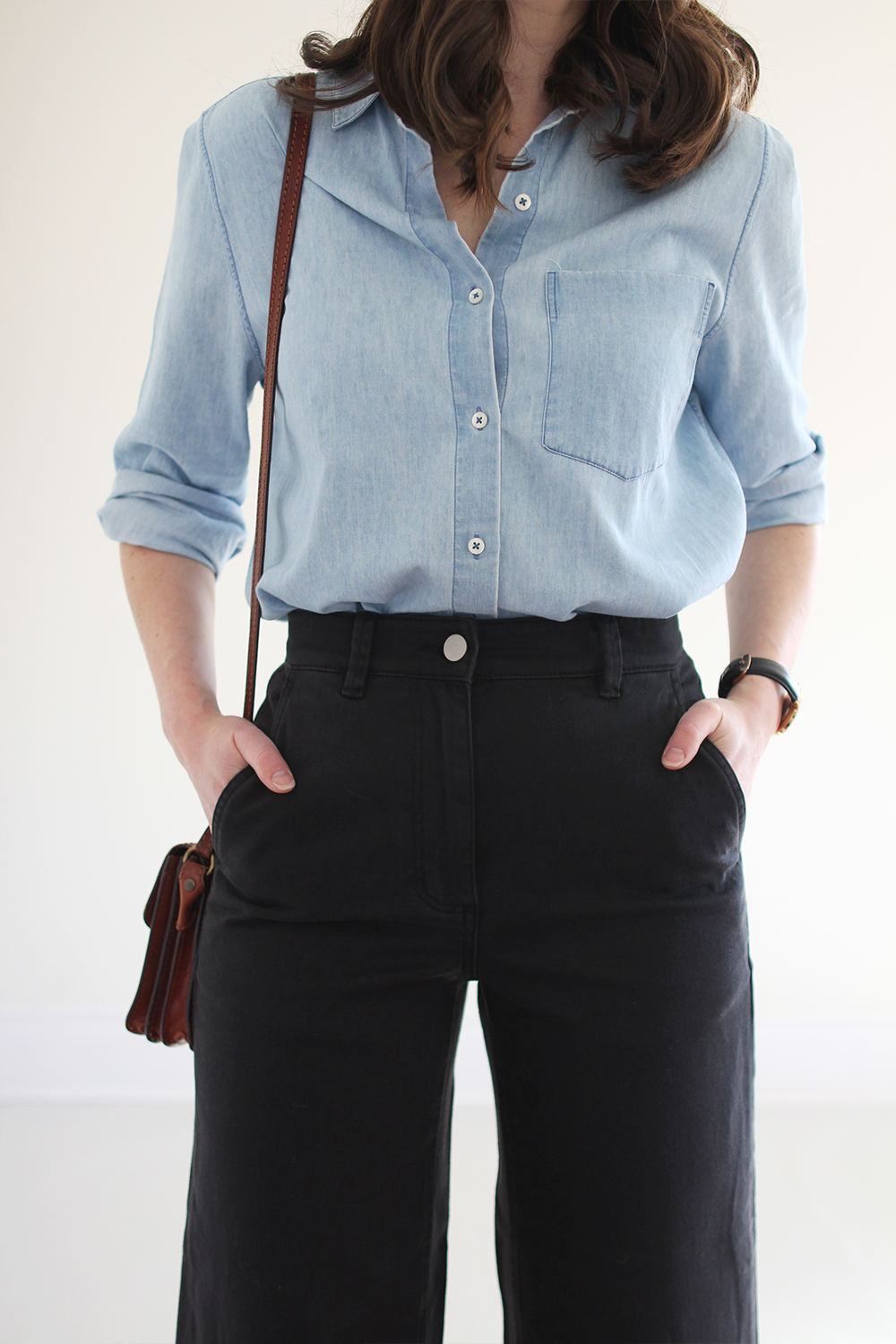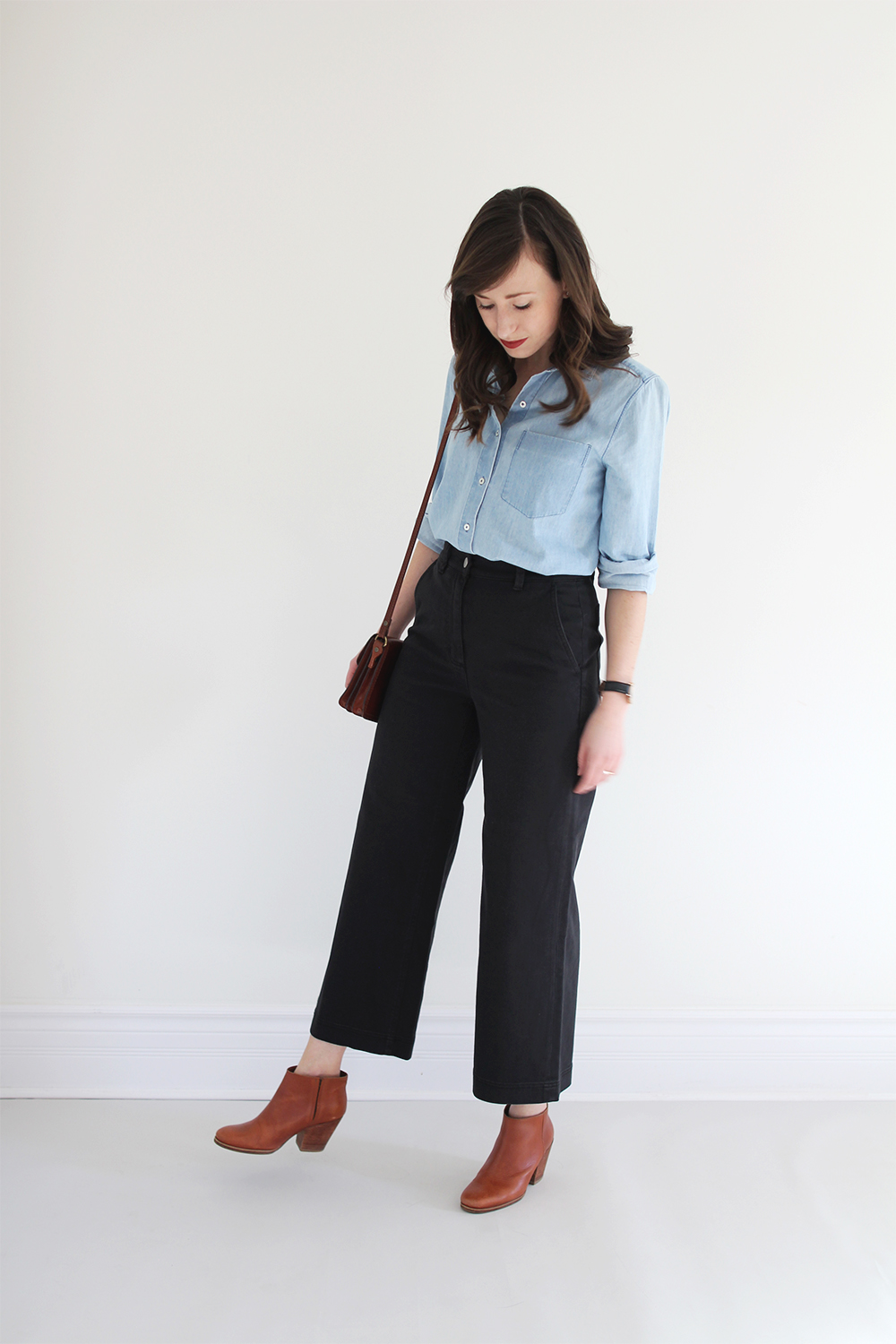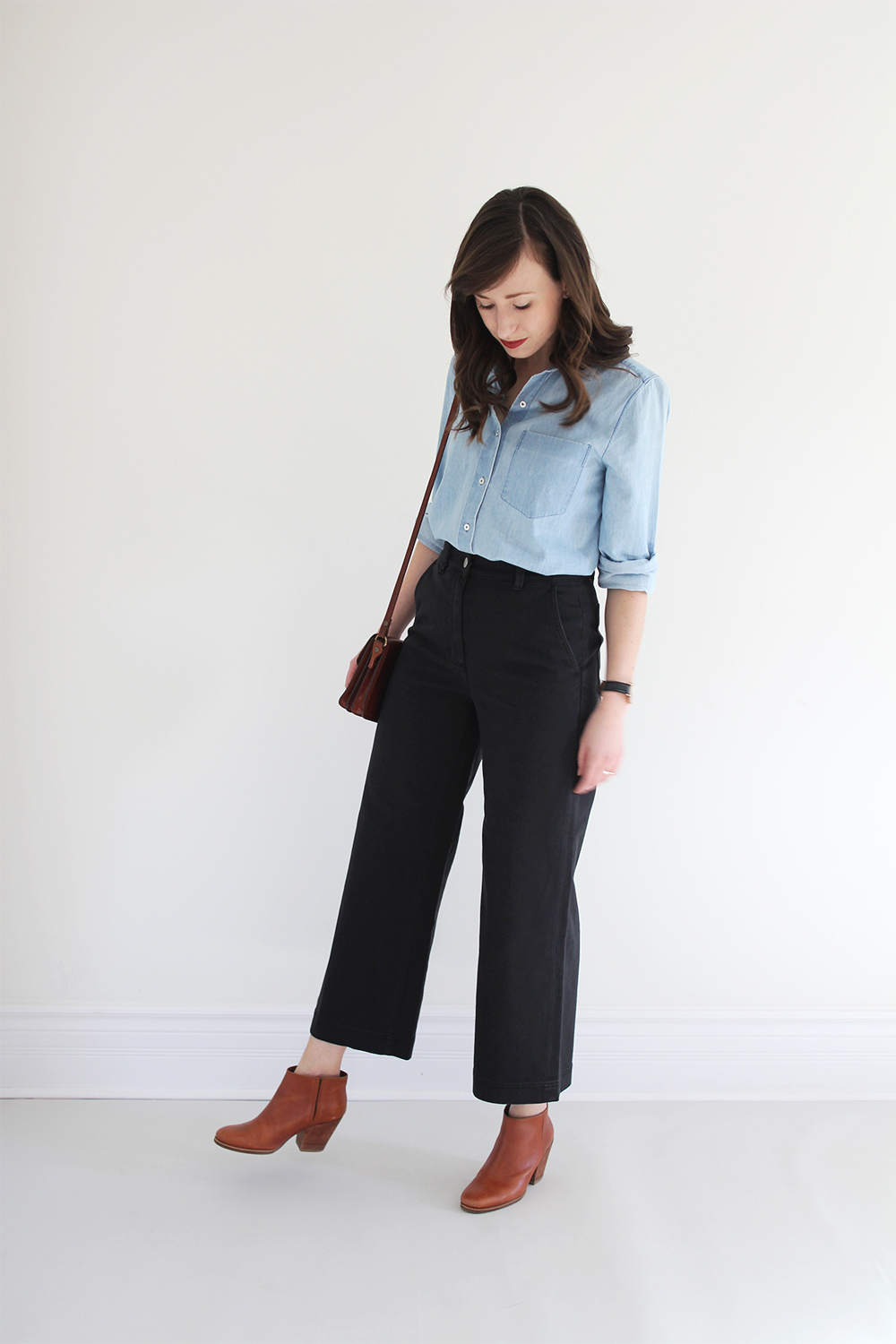 ---
---
Here we have the Everlane Wide Leg Crop Pant in Washed Black.
1 | FACTS |
Cost is $68 USD
Available in 3 colours: Washed Black, Bone and Mid Blue
Numerical Sizing (00, 2, 4, 6, 8, 10, 12)
Made in China (responsibly)
Material is 99% Cotton and 1% Elastane
Machine washable
2 | FIT |
I'm wearing a size 4. Typically I'm either a 2 or 4 in pants depending on the fit and I wear a 26/27 in denim. I'm just over 5'7, 125 lbs and consider my shape hourglass, with my widest area being my hips/butt. I found this size fits very well through the hips (which you don't want to be too snug) but I had to have the waist taken in about 1.5 inches.
The waist hits right at my belly button.
This is the original inseam length. I did not have these hemmed for a more cropped effect but it would be easy to do so if you're under 5'5 and wanted some ankle to show.
These pants hug the butt nicely. They're flattering whether you're flatter or fuller tooshed (I am the latter). See side views below.
***SIZE UPDATE***

These pants will stretch considerably after being worn for a long time or several days in a row.

If I was ordering again I would highly consider a size 2 instead, which might feel too snug at first but would likely stretch to fit like the 4 when new or freshly washed.
3 | FABRIC |
The fabric is super soft but still quite thick and sturdy. It's awesome.
Even just the 1% elastane gives these a lot of stretch.
The washed black is just that, a faded black which pairs nicely with all colours.
4 | DETAILS |
Tonal Stitching
Silver Top Button and Zipper
Slash front pockets, Square back pockets
1 inch hem
Belts loops
Back darts for contour fit
5 | VALUE | HIGH. These pants are surprisingly inexpensive for the quality of the fabric, the tailored fit and the amount of detailing throughout. Definitely decent return on investment!
FAVOURITE PART | The fabric is very soft and feels great on. It is quite forgiving and wearable and would be comfortable for a long day of wear no matter what your activities are.
LEAST FAVOURITE PART | The pockets. To me these are the least flattering element on these pants. They are nice and deep which is a plus but when you walk even just a few steps they start to bulge outwards (you can see a subtle example of this above) and this creates added volume in the hip and lower torso area that most women won't wish for. One solution would be to have them stitched closed, which I might consider since I don't use pant pockets much.
Side note: My pants came with quite a few loose threads sticking out along the seams and on the waist at the belt loops. Not a big deal as they were easy to pull out or trim but this made them feel a bit unfinished.
---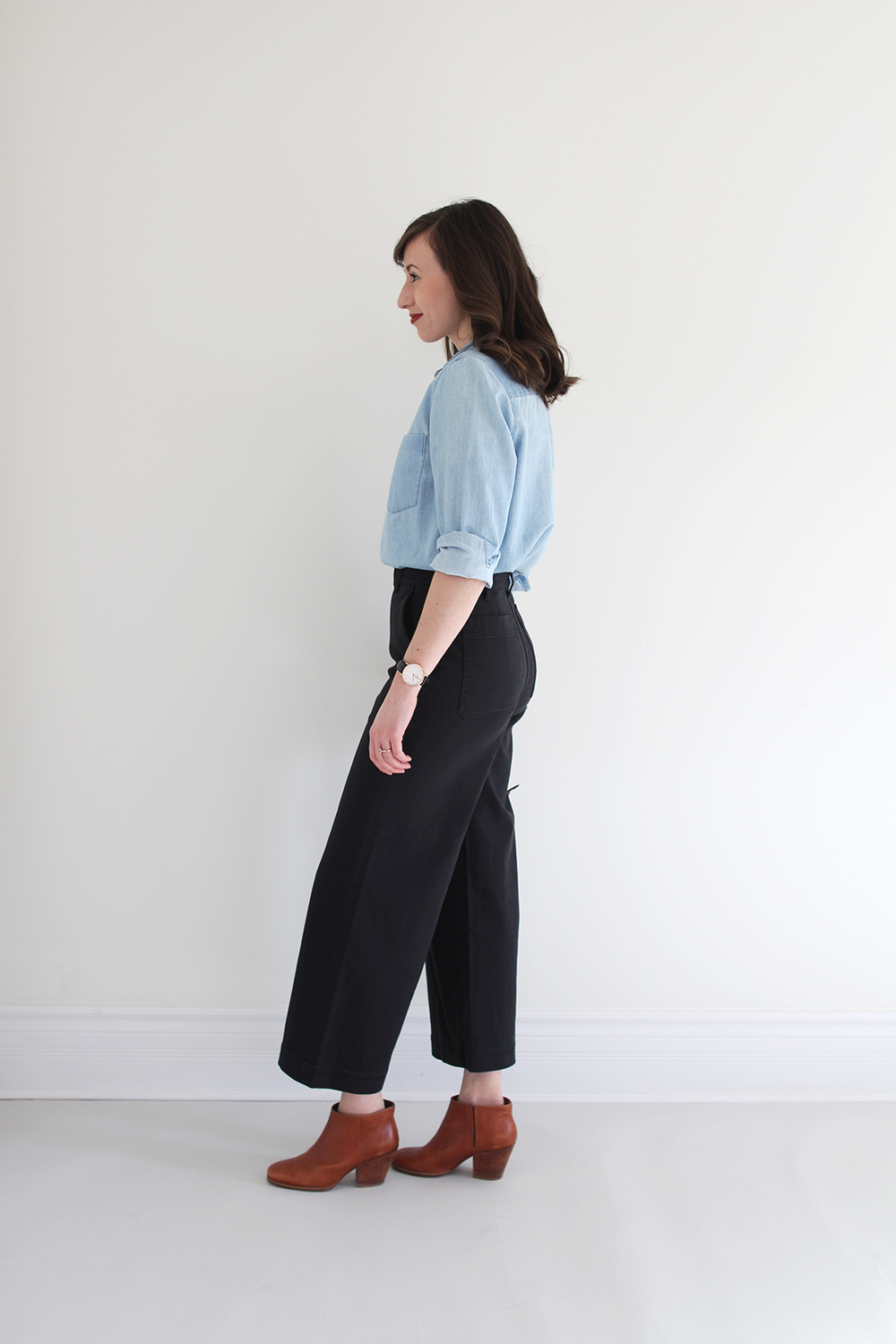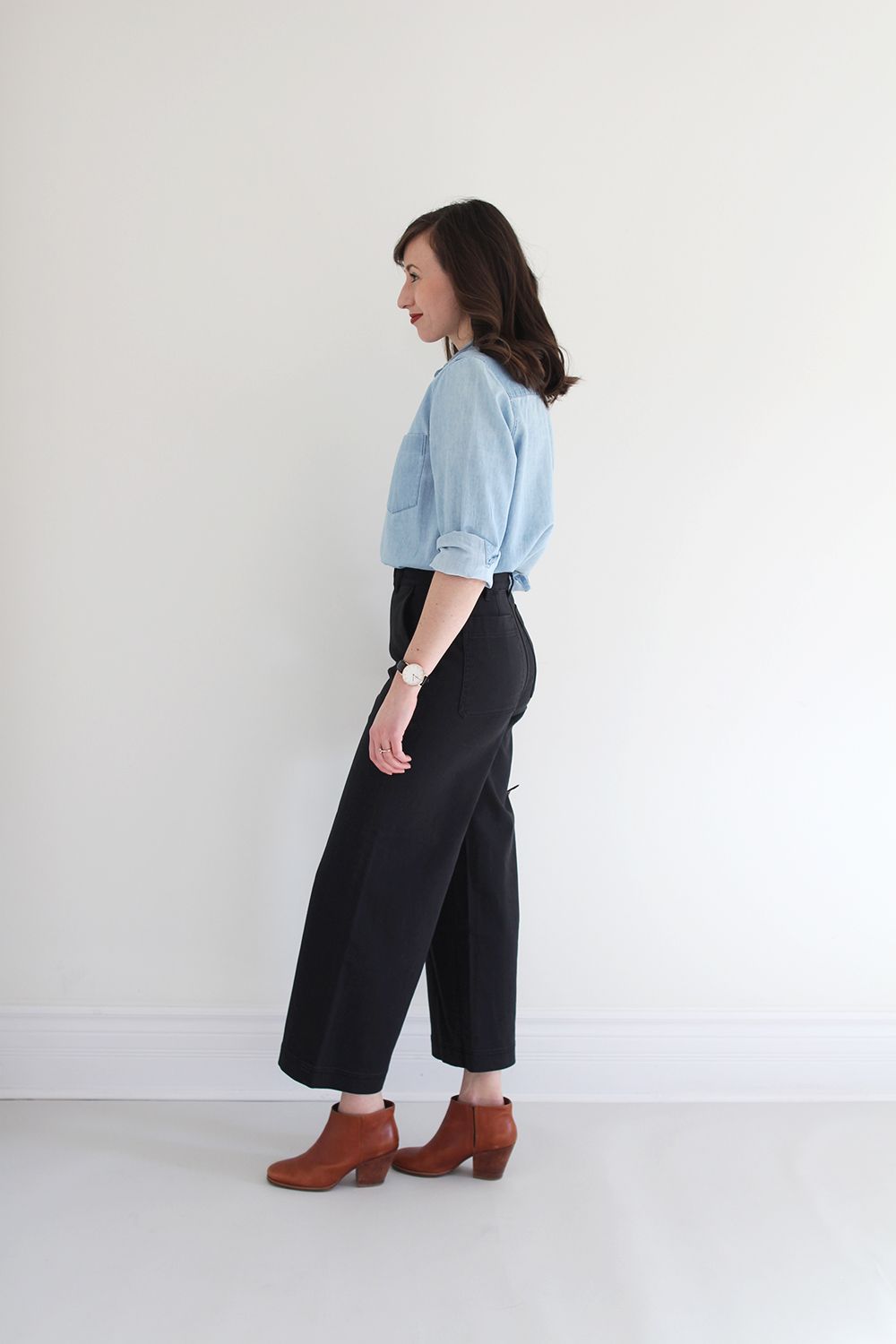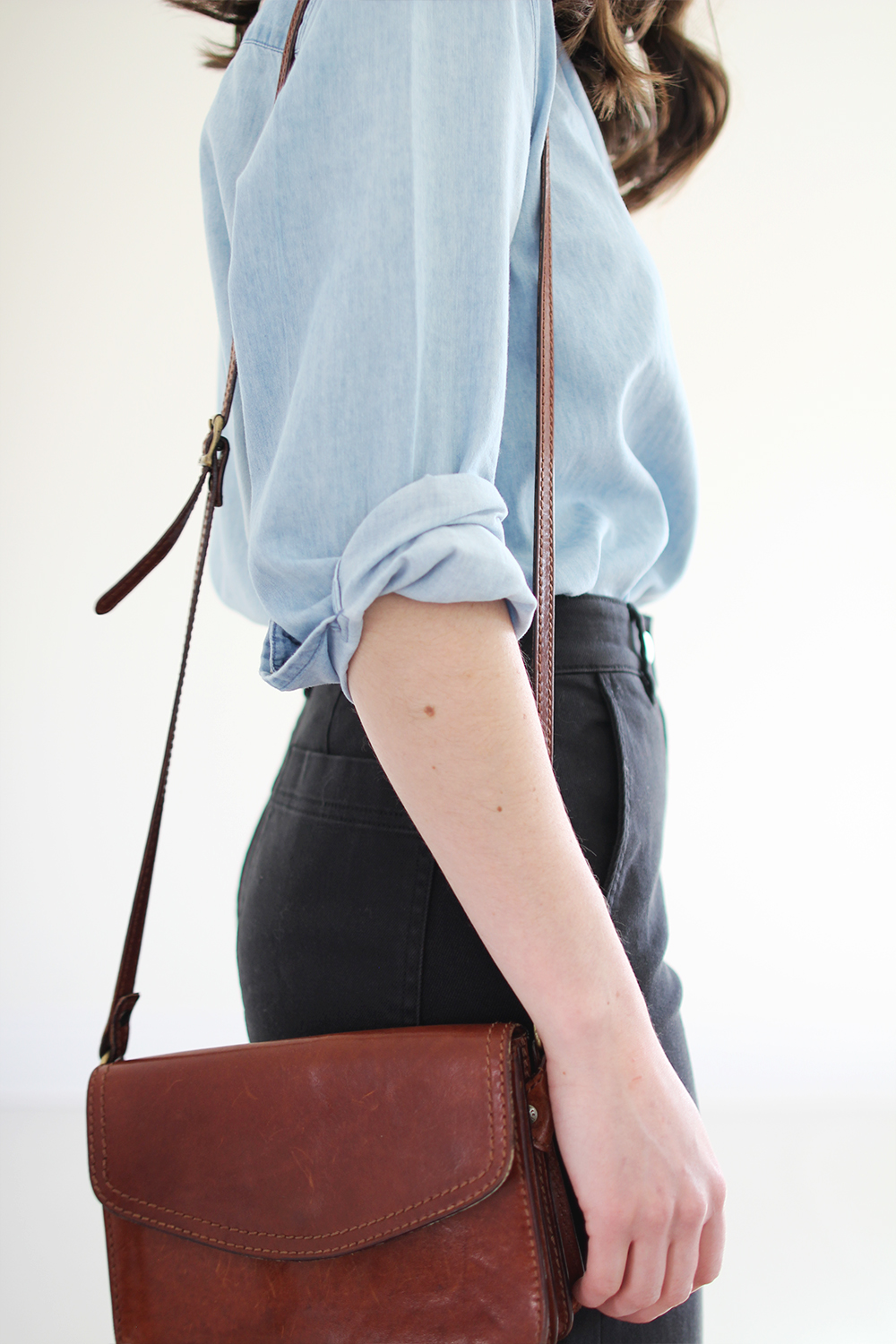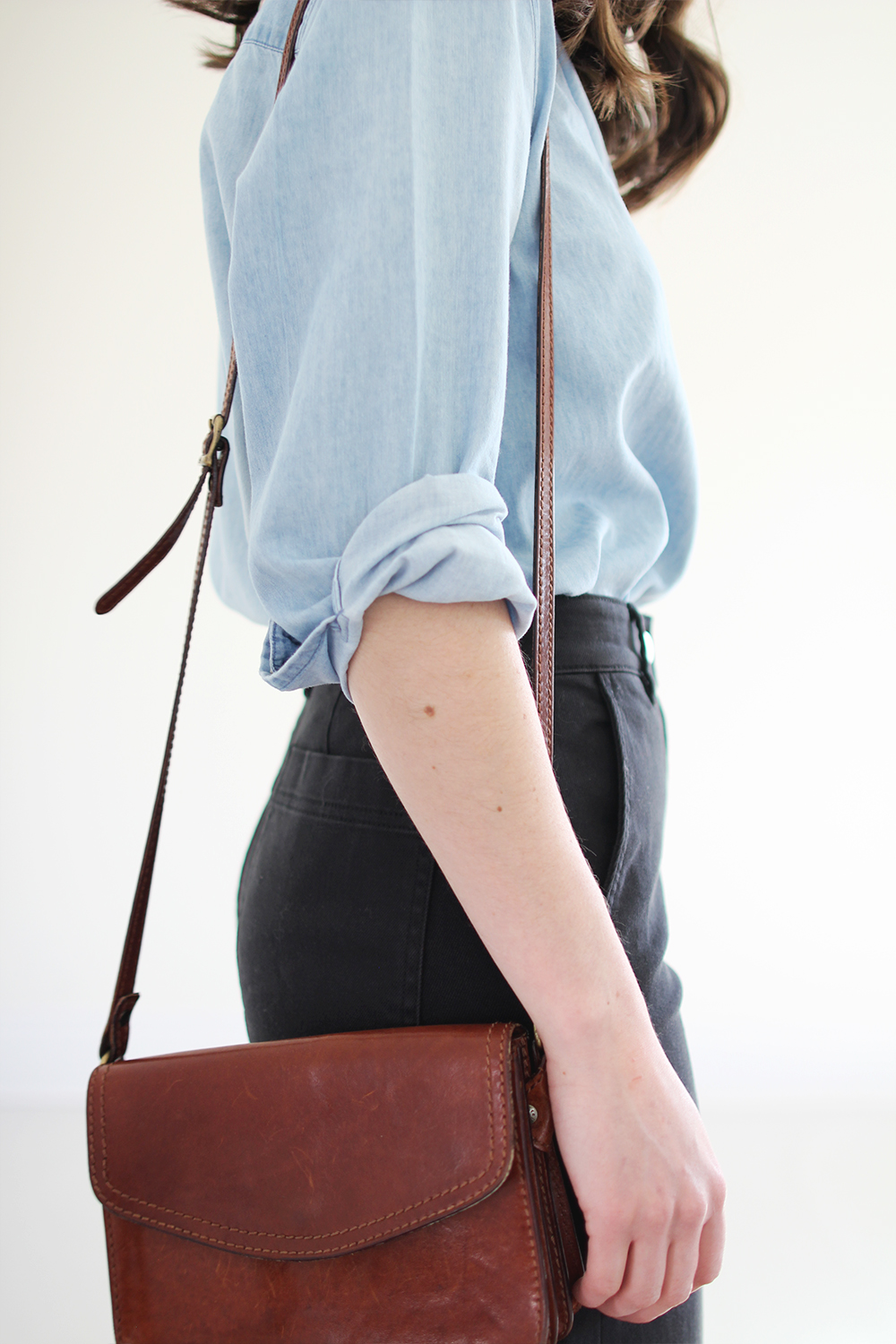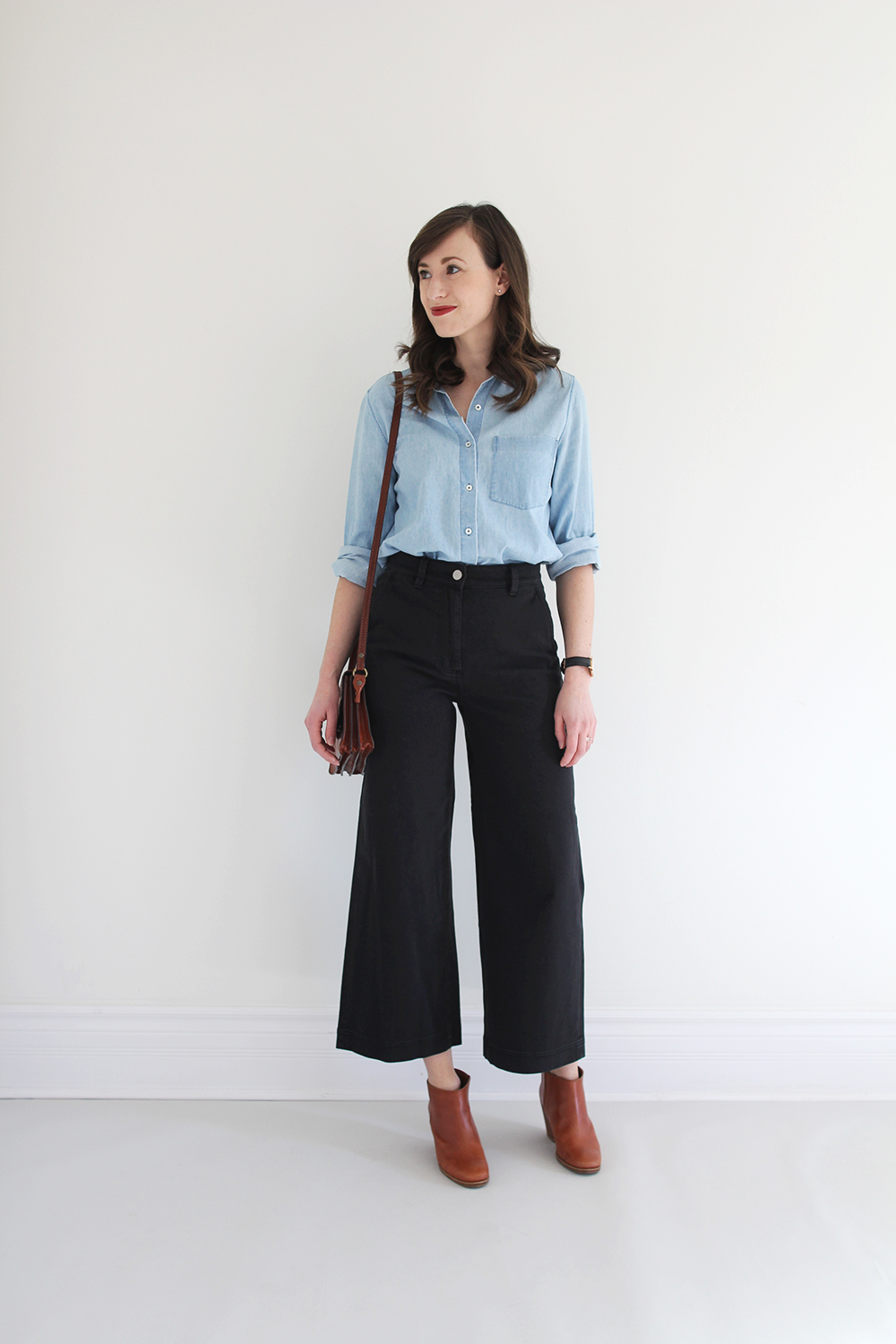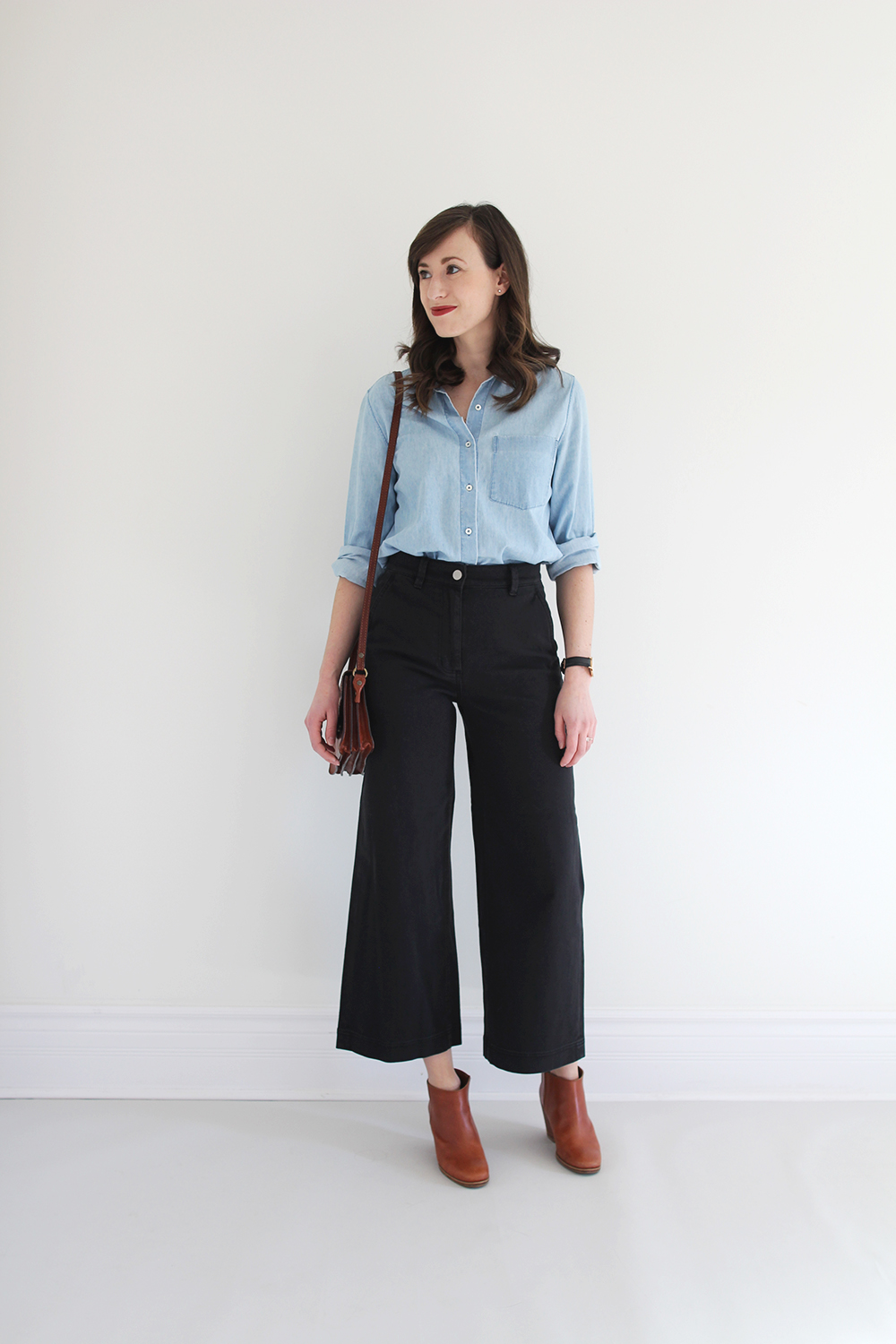 ---
WIDE LEG CROP vs KAMM PANT
---
Here is a side by side comparison of the Wide Leg Crop and the Kamm Pant. I'm wearing the exact same boots and shirt and both images were taken minutes apart on the same day. No different filter tricks or edits either! I'm wearing a size 4 in both pants shown below (please see a sizing update for both) and had the waist taken in by my tailor 1.5 in on both as well. The inseam is also stock length on both.
So let's take a closer look at the facts and compare shall we?
---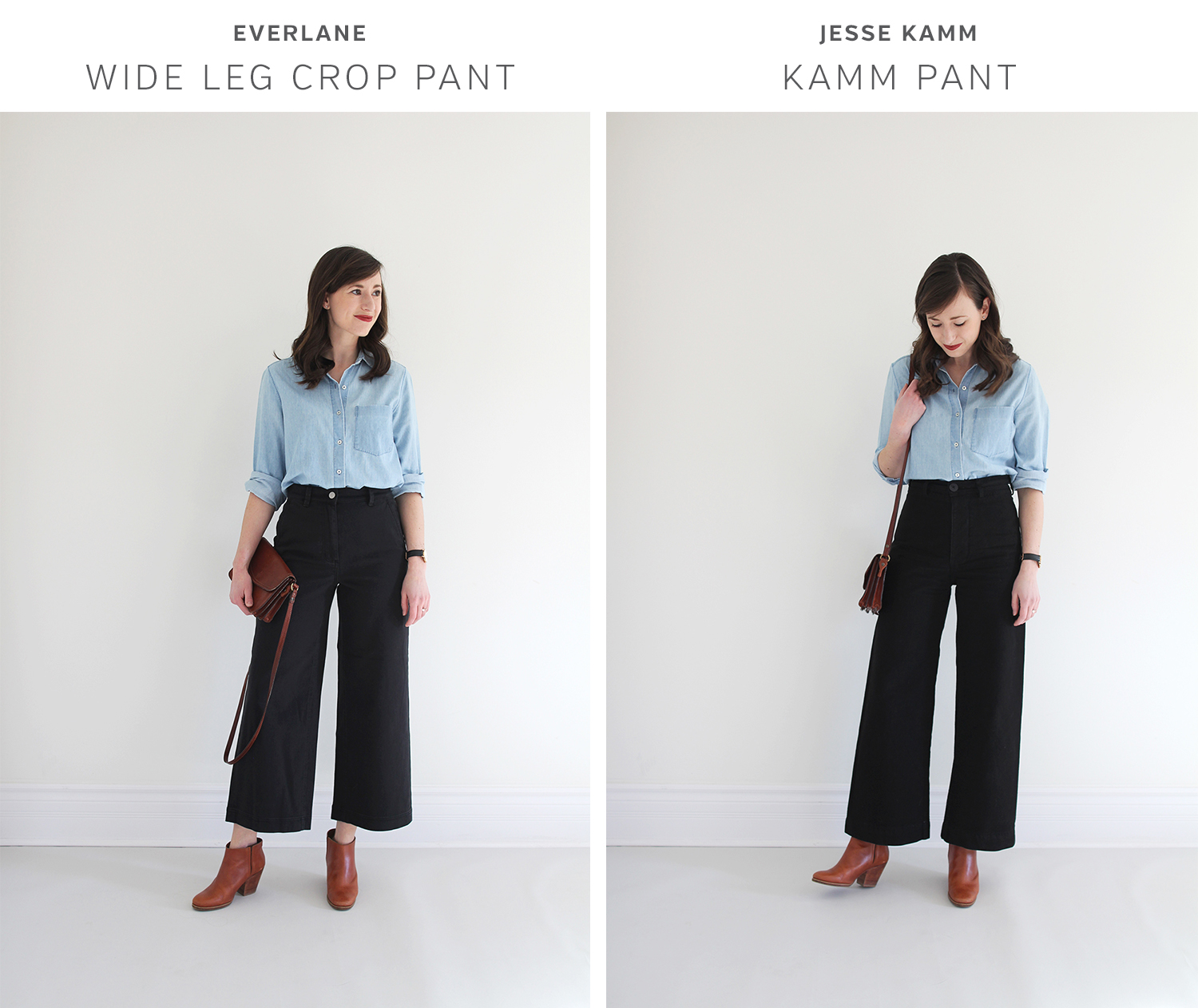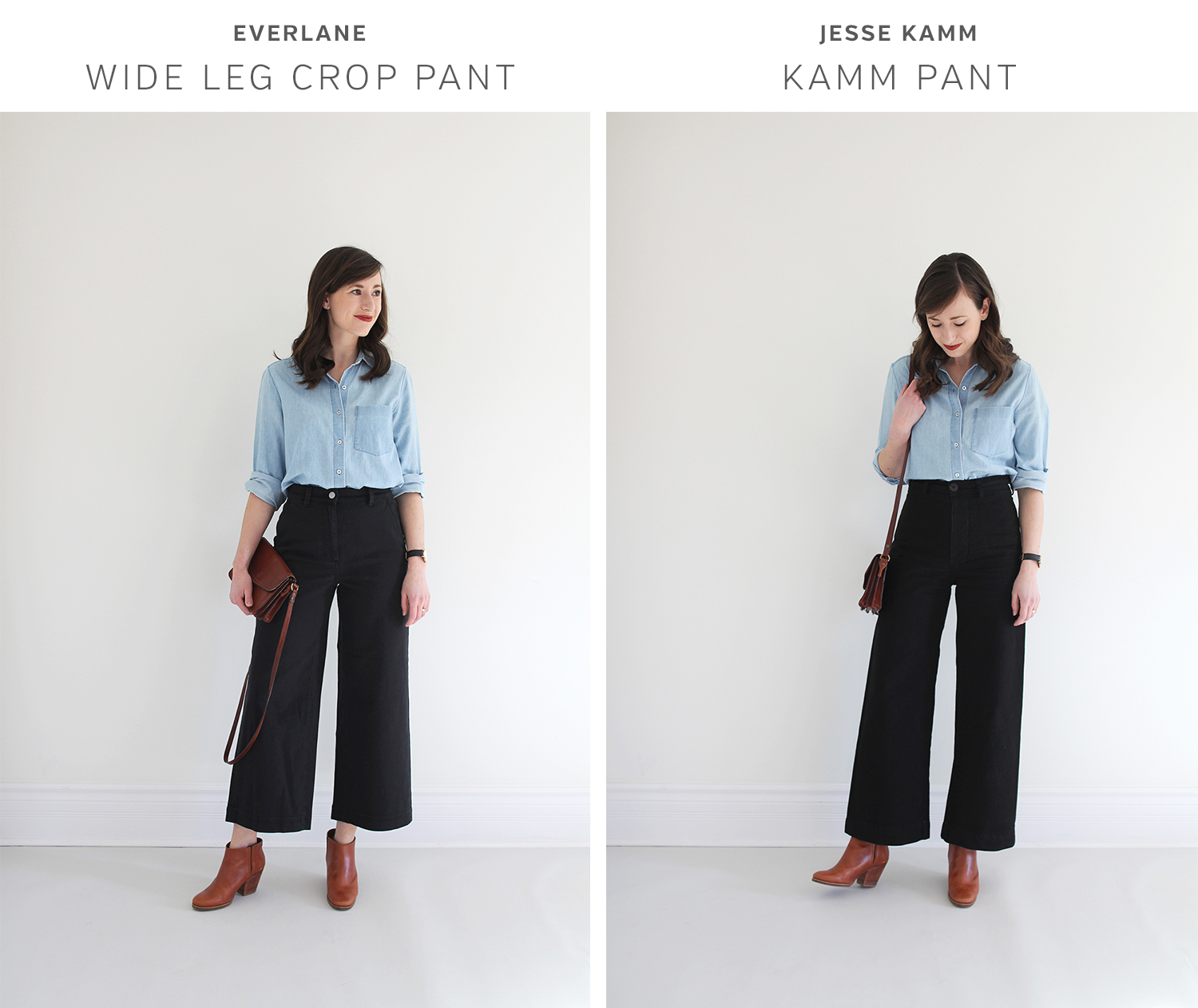 ---
WIDE LEG CROP PANT FACTS:
$68 USD
Made in China
99% Cotton 1% Elastane
Washed Black (+ 2 more colours)
Inseam length is 26.5 in | Rise 11 in | Leg opening 21.5 in
Runs slim through hips
Zip Fly
Slashed front pockets (deep), Square back pockets
Machine Washable, Tumble Dry
On the market 1 week
KAMM PANT FACTS:
$395 USD
Made in California
100% Fine Cotton Canvas
Rich Black (+9 colours)
Inseam is 28 in | Rise is 13 in | Leg opening 22 in
Runs slim through hips
Button Fly
Slit Front pockets (deep), no back pockets
Machine Washable, Line Dry
One the market 10+ years
***UPDATE***

My black Kamm pants stretched considerably after being worn almost daily for a few weeks. Additionally, the original pair I had ended up having a fabrication flaw, which resulted in a tear near the button fly. Certainly not ideal, but JK customer care was very responsive and gladly exchanged them for a new pair in a size 2, which were quite snug at first but have since relaxed to fit more like the 4 when they were new. See them on here and here.

If you don't intend to wear them all day, every day you might prefer a looser fit to start with as they'll only stretch out with lots of continued wear and walking.
---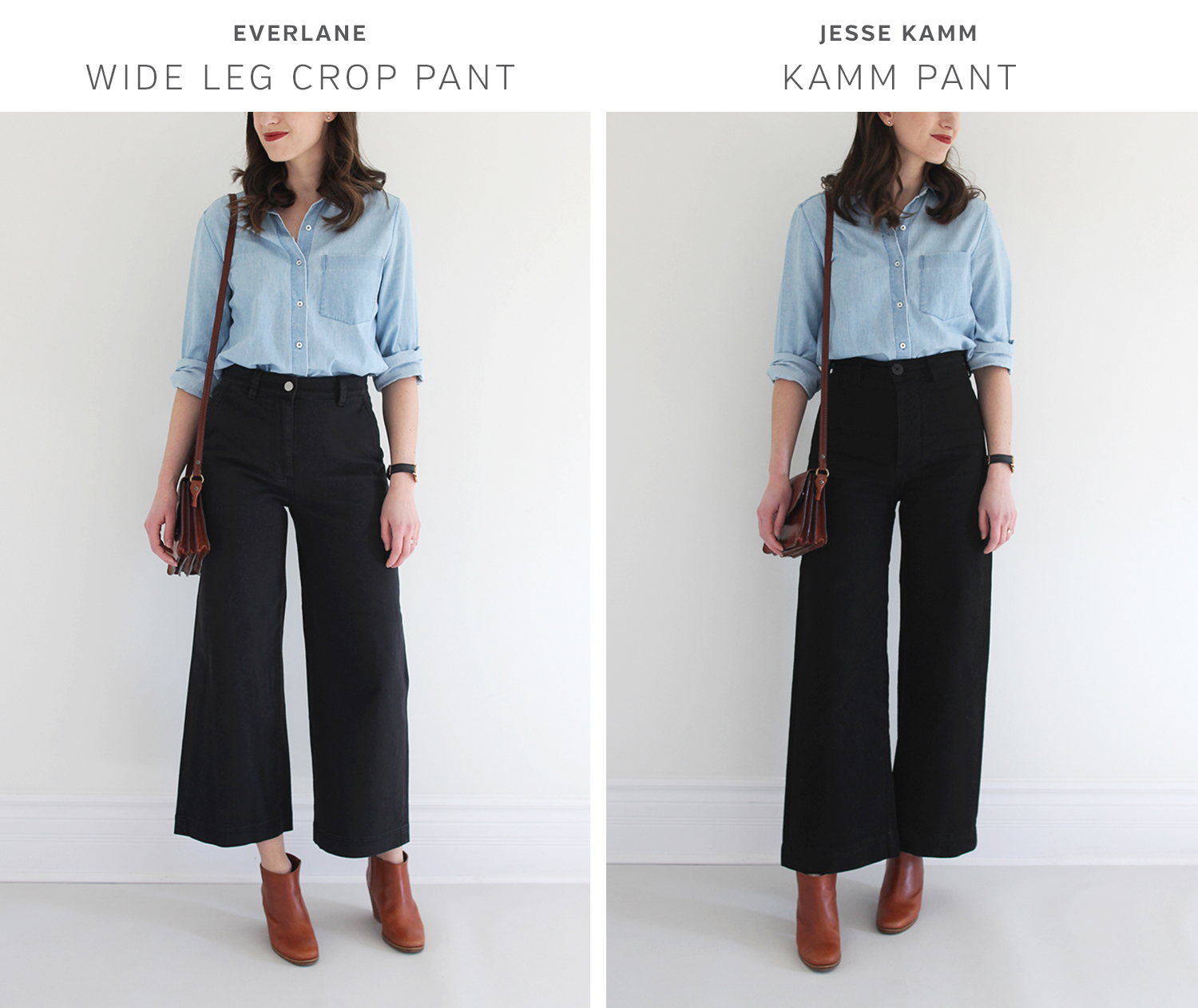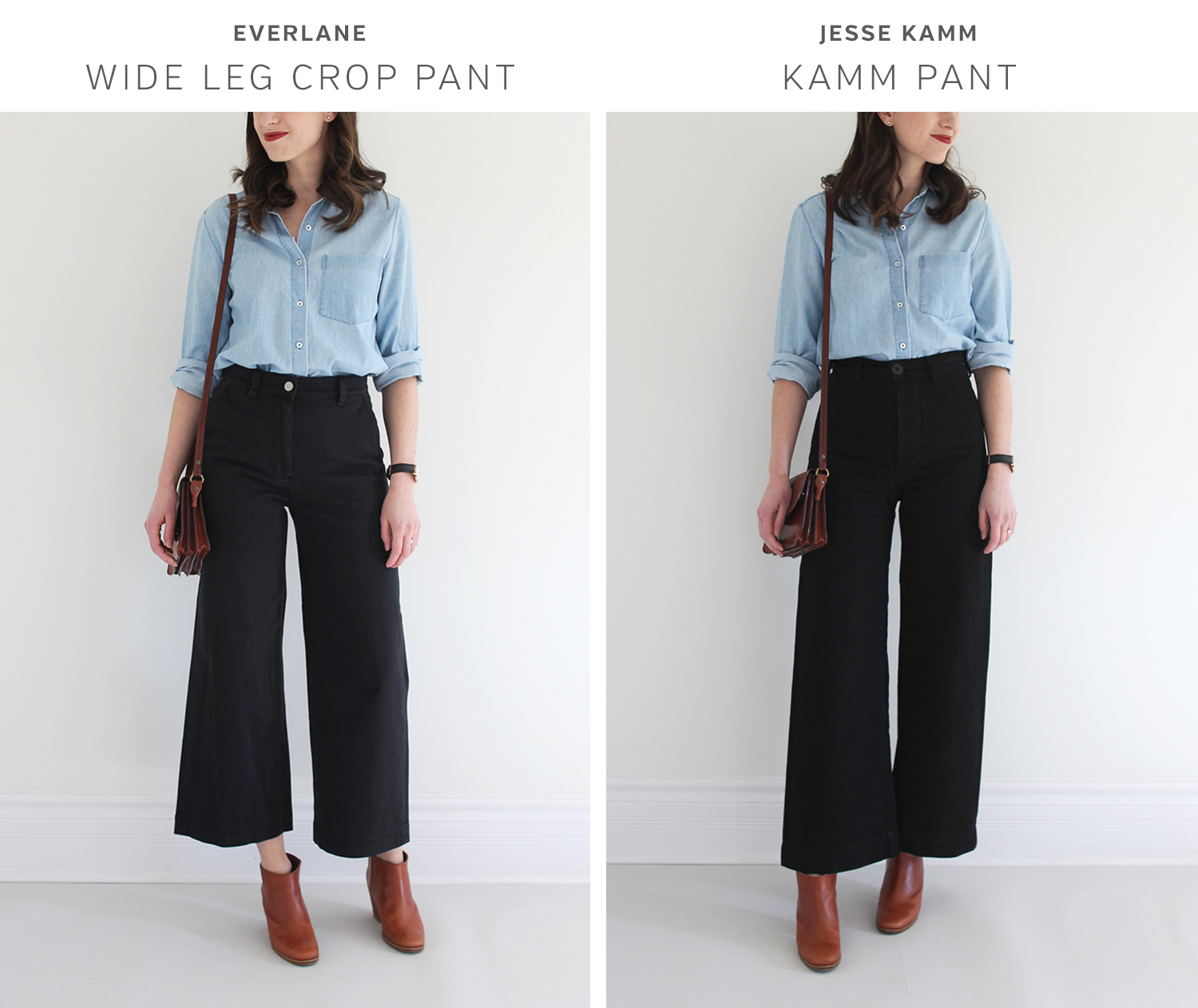 ---
SAVE OR INVEST?
---
It's no secret that Kamm Pants are a serious investment. It's also no secret that they're an iconic, designer piece that Jesse Kamm has been making for over 10 years now. Seeing as Everlane just released their version a week ago they had lots of opportunity to improve on the fit and functionality of this classic style and while they did a great job, for me, the classic Kamm Pant remains the ultimate favourite in my closet. That said, had I not already had them, my desire for this style might have been satiated by the Wide Leg Crop.
These pants are clearly very similar and to an undiscerning eye they might be interchangeable however, to me these are two distinctly different pants. The truth is they both feel great on and I love the silhouette they create. But we all know the devil is in the details so let's get to the nitty gritty.
WIDE LEG CROP PROS: The stretch fabric is forgiving and the pockets are easy to use (although they bulge out). They have a slightly more casual vibe overall. Of course, the price point is definitely one of their main selling features too. The shorter inseam makes the 'cropped' look easy to achieve for most heights.
KAMM PROS: The higher waist sits at your true natural waist and the deep slit pockets (which are functional but snug) create a smooth, tapered hip which is very flattering and slimming. The longer inseam gives the illusion of a long leg and makes them easier to pair with boots in colder temps. The black is a true black. The pant leg falls straight down instead of flaring out which is visually elongating. These are made ethically in small batches in California.
---
So which pair is right for you?
---
EVERLANE'S WIDE LEG CROP IS RIGHT FOR YOU IF:
Budget is your main concern. Seeing as they are a fraction of the cost your bank account will be relatively unaffected.
You're new to the wide-leg pant style. If you're just dabbling with this pant silhouette then you'd be wise to try it out with less risk.
You don't care how long-term they'll be in your closet. If you're not a long-haul shopper then investing in expensive pants is likely outside your protocol anyway.
Stretch is your jam. If you need some give in your materials these have got it.
JESSE'S KAMM PANT IS RIGHT FOR YOU IF:
You're set on the original iconic version. These are the holy grail of the wide-leg pant (IMHO) and nothing out there has captured the same shape and aesthetic quite as well. There is a reason these have had a cult following for many years.
You're happy to wait and save up. I saved up for my Kamm Pants for months and bought basically nothing else all season but they were totally worth it to me.
You value made inland, slow-fashion products. These are made in small batches in California and Jesse Kamm only sells on her own site and through select indie retailers.
You plan to wear this style for years to come. These pants are made to last a really long time and if you want to you can get a TON of use out of them.
You're ok with a sturdy cotton canvas that does not give much with movement. I find them very comfortable but it takes a bit to get used to.
---
Basically, both options are excellent it just depends on how committed you are to the style and what's feasible in your budget. Hopefully with all these facts you can make a call you feel good about!
---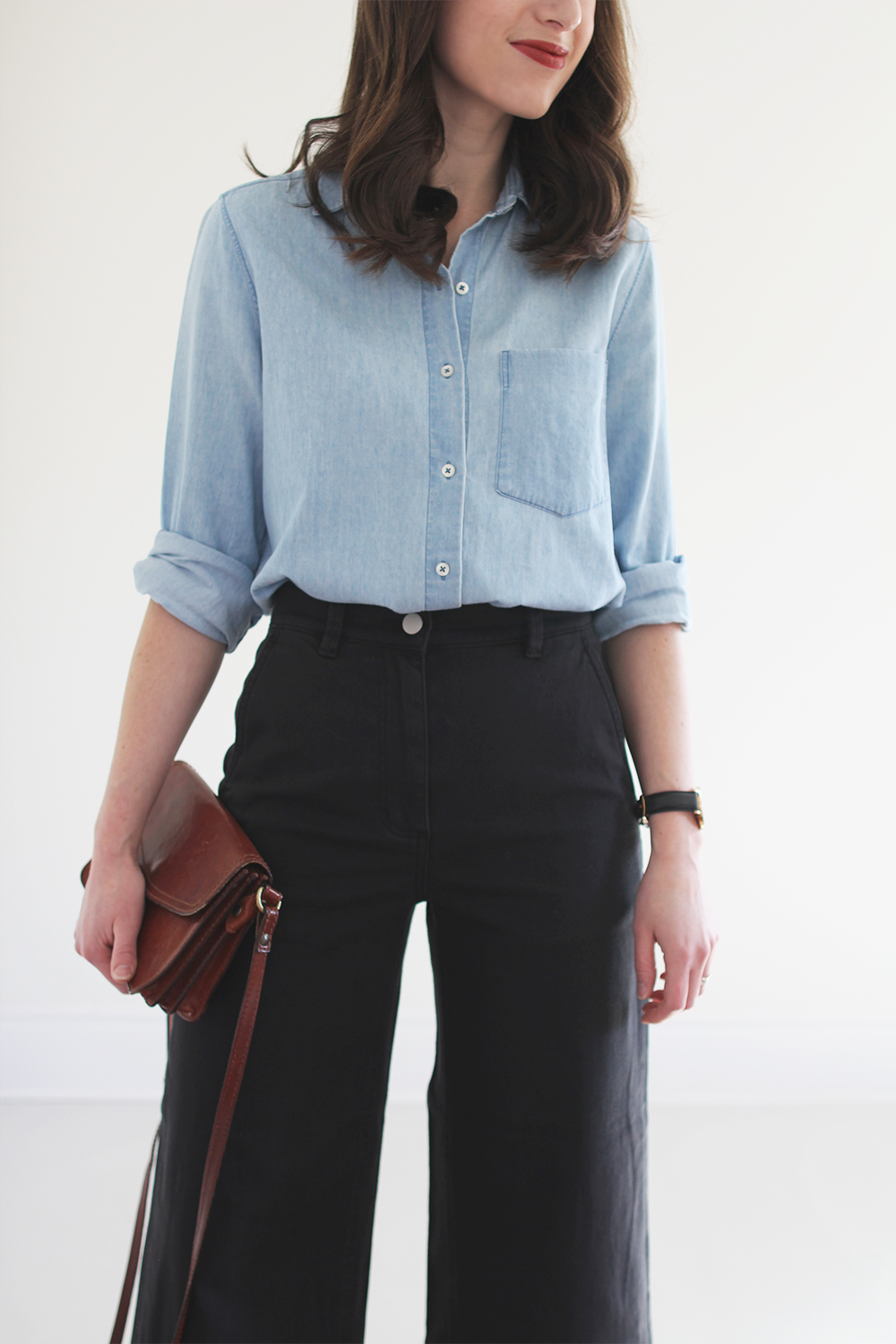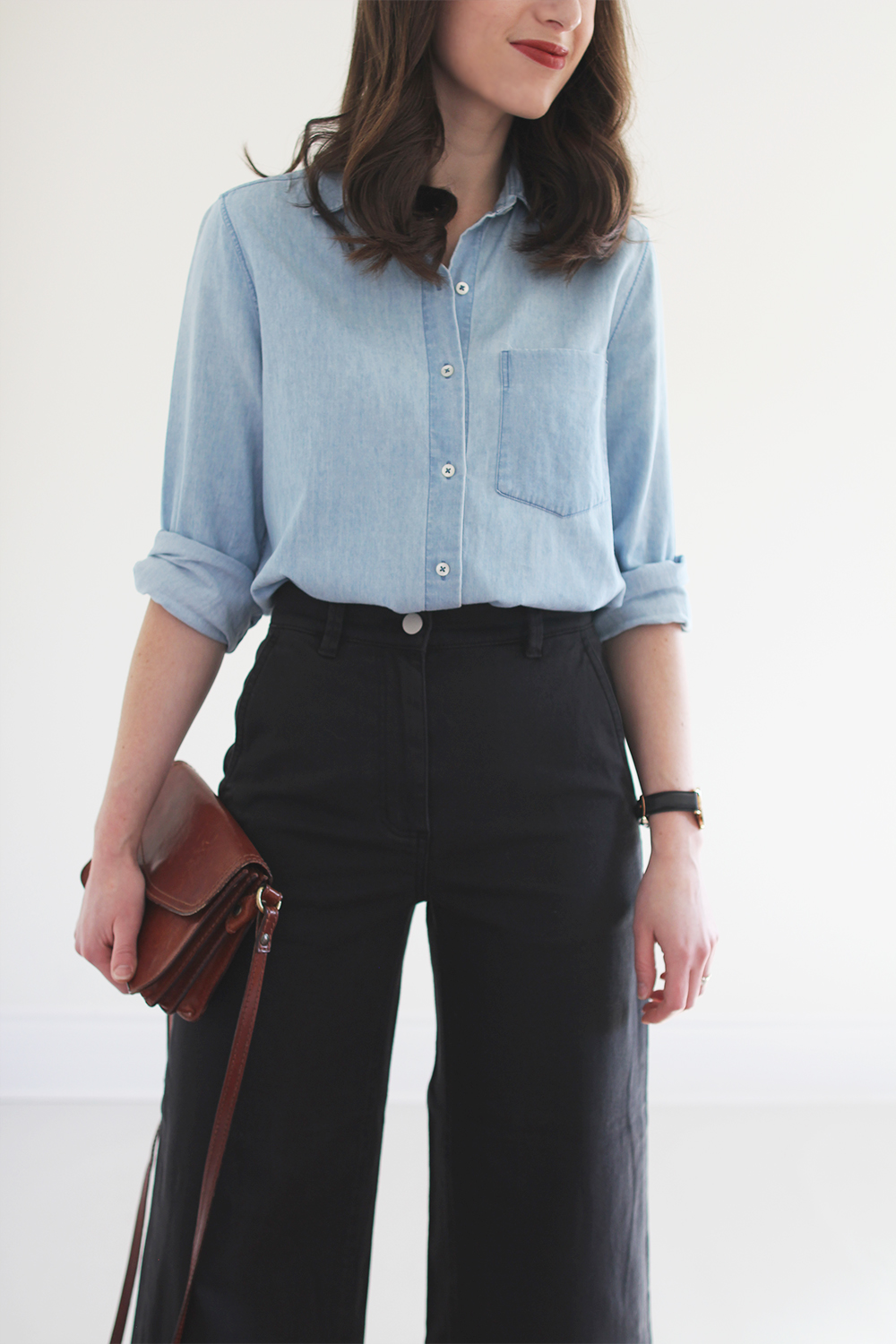 ---
I hope this review and comparison was helpful!
Have you ordered a Pair of the WIDE LEG CROP PANT by Everlane or do you have your heart set on the KAMM PANT? I'd love to know!
---
WIDE LEG CROP (Washed Black, Size 4) c/o Everlane | Chambray Shirt (Linked to similar option, imported.) | Mars Boot by Rachel Comey | Bag Vintage (Linked to Similar) | Kamm Pant (Black size 4) by Jesse Kamm (more black pant sizes here)
---

---
I received the Wide Leg Crop Pant c/o Everlane however this post is not sponsored nor is it affiliated with any of the aforementioned brands. All opinions are my own. This post contains affiliate links which allow you to shop and support Style Bee at the same time. Thanks for reading!