And we're back! I'm excited to share the second (and final) part of this responsible style series with BRASS. In Part 1 on Friday we talked about what an ethical factory looks like and how BRASS works very closely with their manufacturing partners to tweak designs and create the best garments for their customers. Today I'm asking Jay and Katie, BRASS founders, more about sustainability and how their choices in fabric reflects their interest in working with materials that are both great to wear and easy on the environment. Of course, these ladies are experts on the topic and have lots of great insights to share. Like last time, I'll also be sharing a couple of great pieces from the BRASS collection, the CHAMBRAY SHIRT and the PONTE PANT, and my thoughts on fit and functionality. So let's dig in!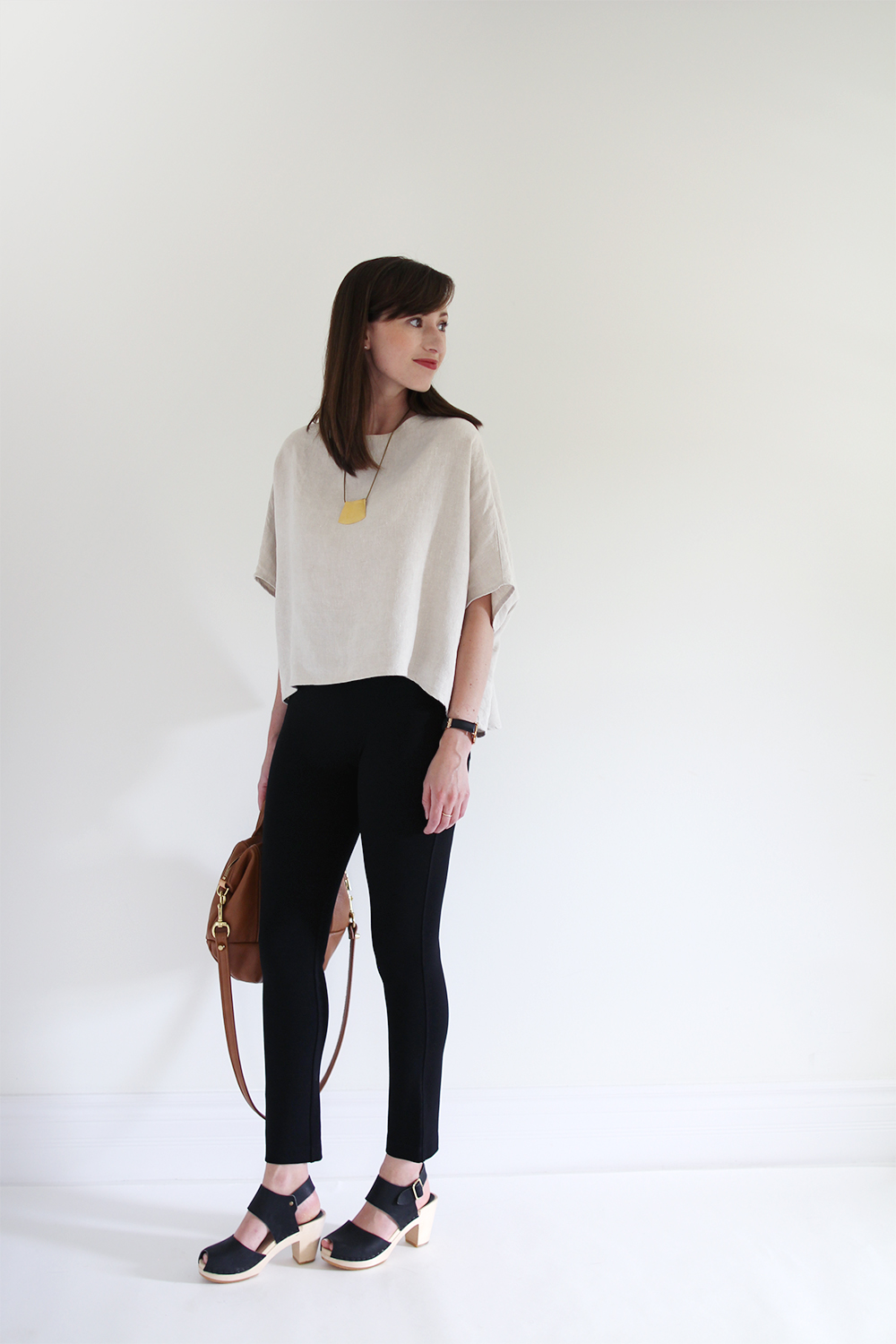 ---
STYLE BEE: It's no secret that the Fashion Industry produces an alarming amount of waste every year. How has your initial production run of the Ponte Pant taken advantage of what might otherwise be considered waste?
BRASS: Not only do we, as individuals, produce a lot of textile waste (82 lbs every year), but the apparel industry as a whole produces millions of yards of fabric every year that go unused. This often happens when large brands buy fabric in bulk (3,000+ yards) and only use a percentage of the fabric for production. The unused portion ends up sitting in warehouses and is referred to as "dead-stock". Luckily for us, we manufacture with a factory that works with major high-end brands (Theory, DVF, Calvin Klein) and we are able to take advantage of the dead-stock left over from large production runs. It may only be 300-500 yards, which is not enough for a large label to put to use, but is the perfect amount for a smaller, growing brand like us to use and test new product. Our Ponte Pants are made using a beautiful, heavy-weight dead-stock ponte. We are rescuing fabric that might otherwise sit in a warehouse unused or be thrown out. We made 220 pieces of these pants and are able to gauge customer feedback for future production. Within 3 weeks, we've already sold through ⅔ of our inventory, so we're confident that these are a total winner and we'll be re-ordering this week. Utilizing dead-stock allows us a level of flexibility that most small apparel brands struggle to achieve.
---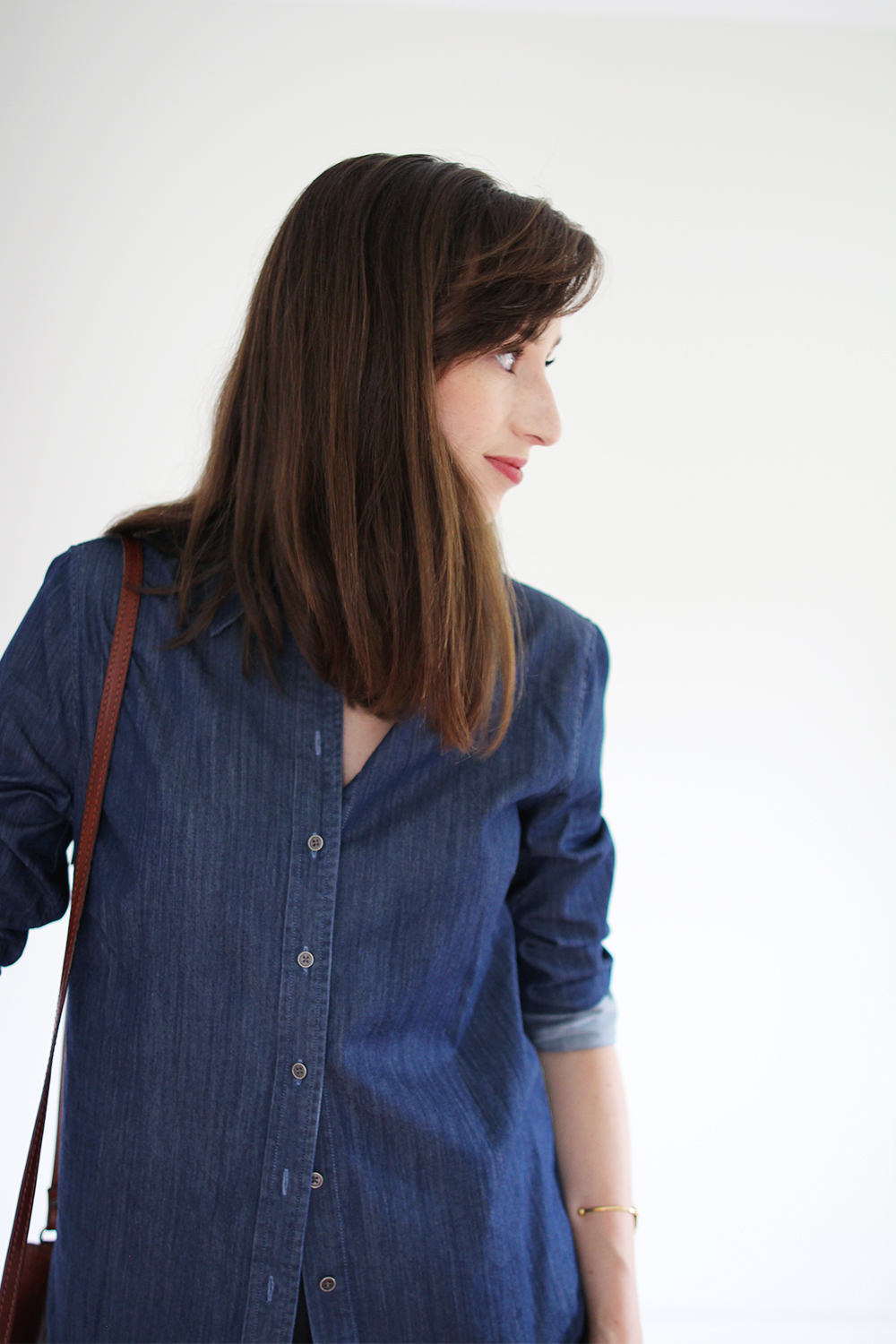 ---
STYLE BEE: Let's talk fibre. Can you give us a bit of insight as to the difference between natural vs. man-made fibres and what your thought process is when you're choosing them for your products?
BRASS: All fabric is made from fibre. There are two different categories of fibre: man-made and natural. Natural fibres are derived from two sources: Plant (cotton, hemp, linen) and Animal (wool, silk, cashmere). Man-made fibres are divided into two categories based on how they are made: Synthetic (polyester, acrylic, nylon), Semi-synthetic (Modal, Tencel, rayon, Lyocell). Synthetic fibres are made using petrochemicals which are derived from petroleum. For this reason, some people are very opposed to the use of synthetic fibres. Our personal view on synthetic fibre is that if it outperforms the natural version then we will use it. For example, silk is extremely difficult to care for and wash, and we hear from customers that they do not wear their silk clothing with frequency. Therefore, we use high-quality polyesters that look and feel like silk but are less prone to wrinkles, wash easier, require less care. Our customers are getting a lot of use out of these pieces and we think this is a crucial part of building a "sustainable" closet.

Semi-synthetic fibers are considered more eco-friendly and sustainable because they are derived from plant-based materials called natural cellulose. For example, Modal is made from beech trees and Lyocell and Tencel are made from wood chips. They still require a chemical process to break the cellulose down and manufacture the fiber. But the process is more energy-efficient and the trees that used to make these fibers grow faster and use less water than even cotton. For these reasons, Modal, Tencel, and Lyocell are great fabrics to invest in if you are trying to cultivate an environmentally-friendly wardrobe. For our recently released Chambray Shirt we've used a medium weight Tencel that feels and looks amazing.
---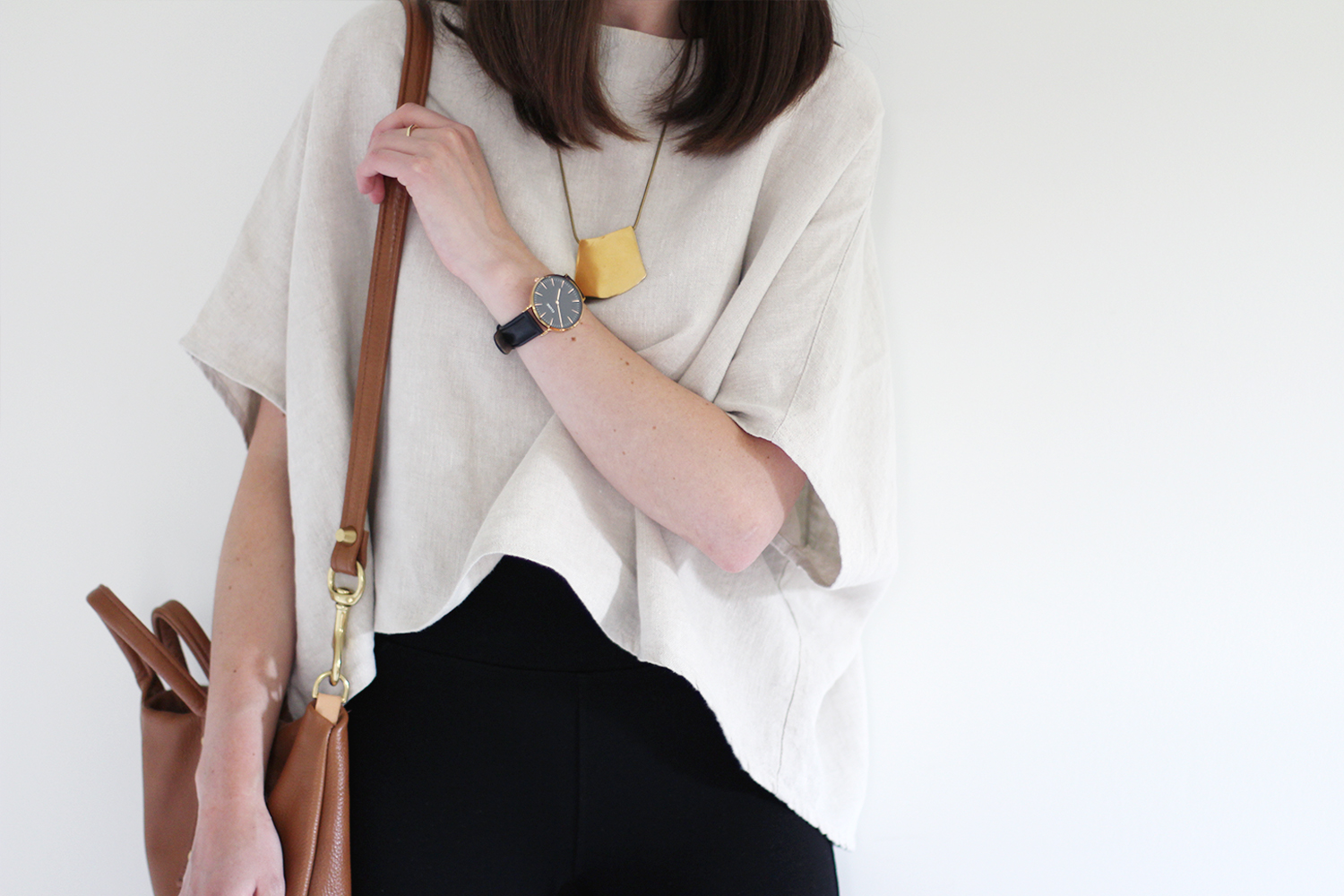 ---
THE SHIRT + THE PANT
Now I'm excited to dig into the details about about two of my all-time favourite pieces by BRASS, the CHAMBRAY SHIRT and the PONTE PANT. These are both classic closet staples but I'm loving them even more after my recent trip to Europe where everyone seemed to be wearing a uniform of black skinnies and button-downs with sneakers and tortoise rimmed glasses. It just doesn't get much more timeless!
---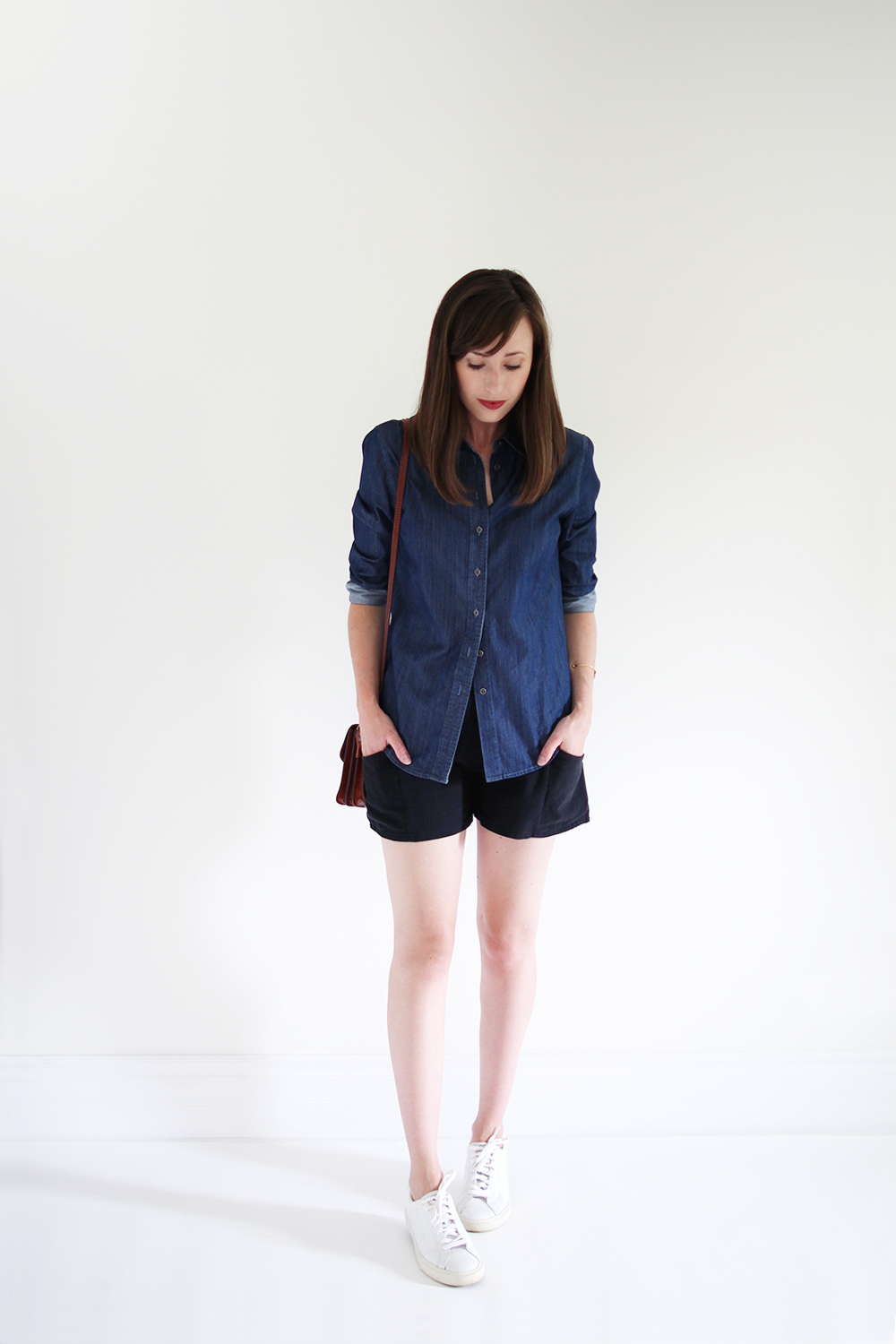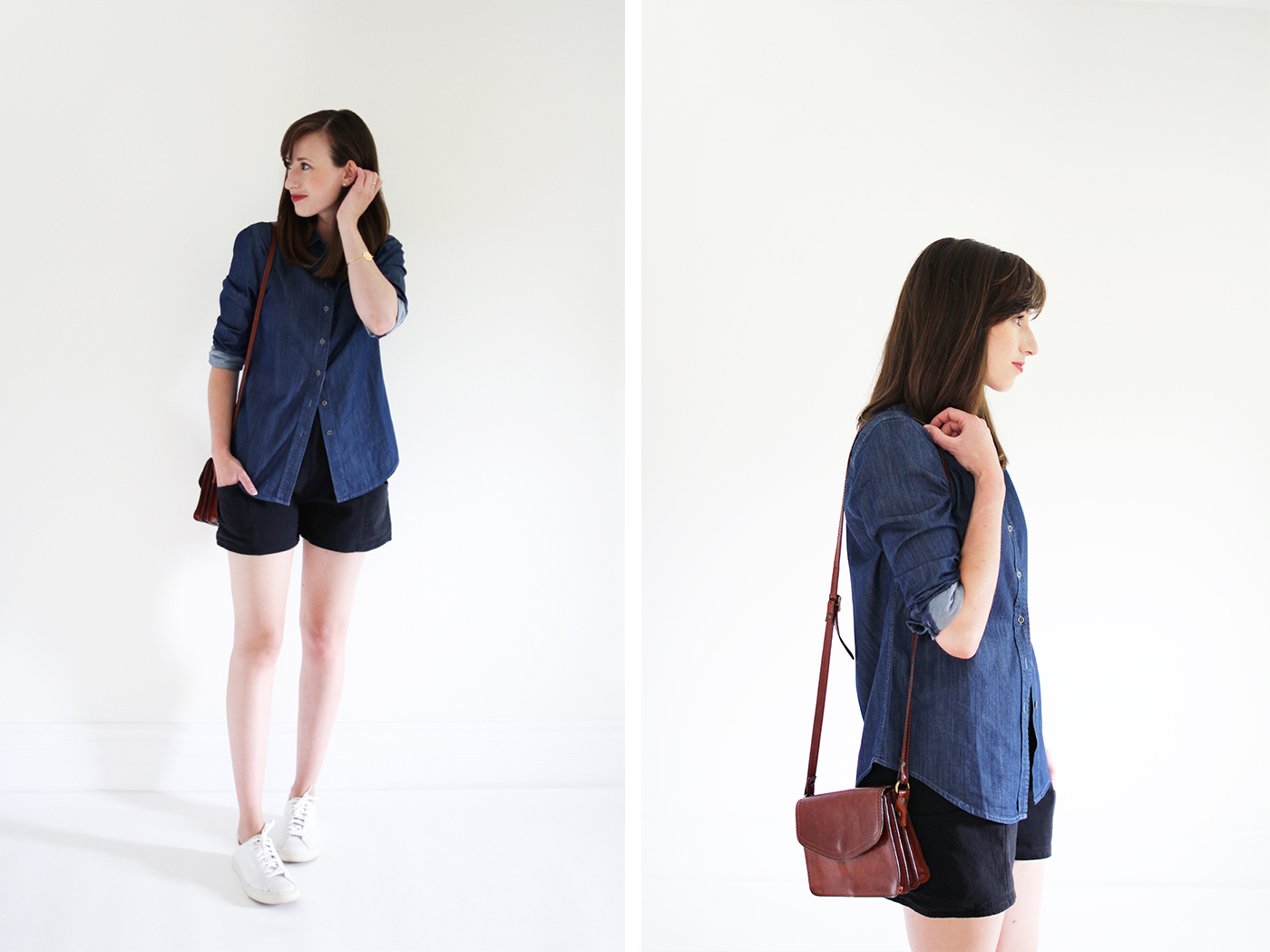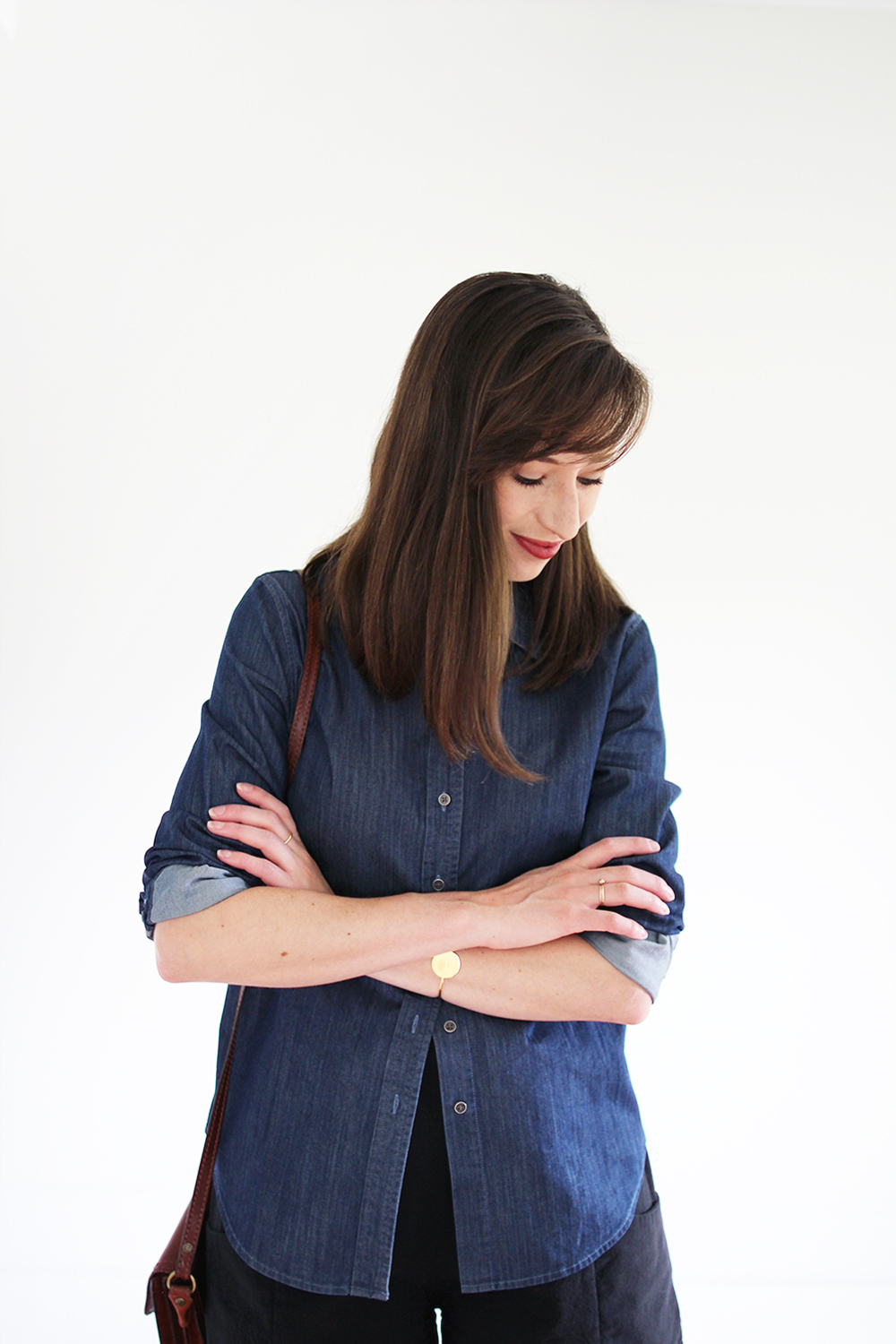 THE CHAMBRAY SHIRT ($ 78 | 100% Tencel)
I'm certainly no stranger to the charms of a chambray shirt. I've had over 1/2 a dozen in my closet at one point or another but this one is definitely going to stand the test of time. I love the dark wash that's not too dark to pair with black but a gorgeous contrast to white. Details like a back pleat and front darts make the fit super flattering and I really like how the light blue interior stands out when the sleeves are rolled. I've already worn this one to a couple of work meetings and one client immediately said she had to know where I got it. Not a bad way to go into a presentation! The fabric feels great and has a little stretch which makes it even more comfortable than your typical button-down. It's going to be great as a light later this summer or a perfect base for sweaters in the fall.
FIT: I'm wearing a size S and a 32 C bra.
---
Chambray Shirt c/o BRASS | Shorts old Formation Design (similar here and here) | Rings c/o Everli | Cuff c/o Young Frankk (on sale!) | Bag Vintage (similar) | Sneakers VEJA
---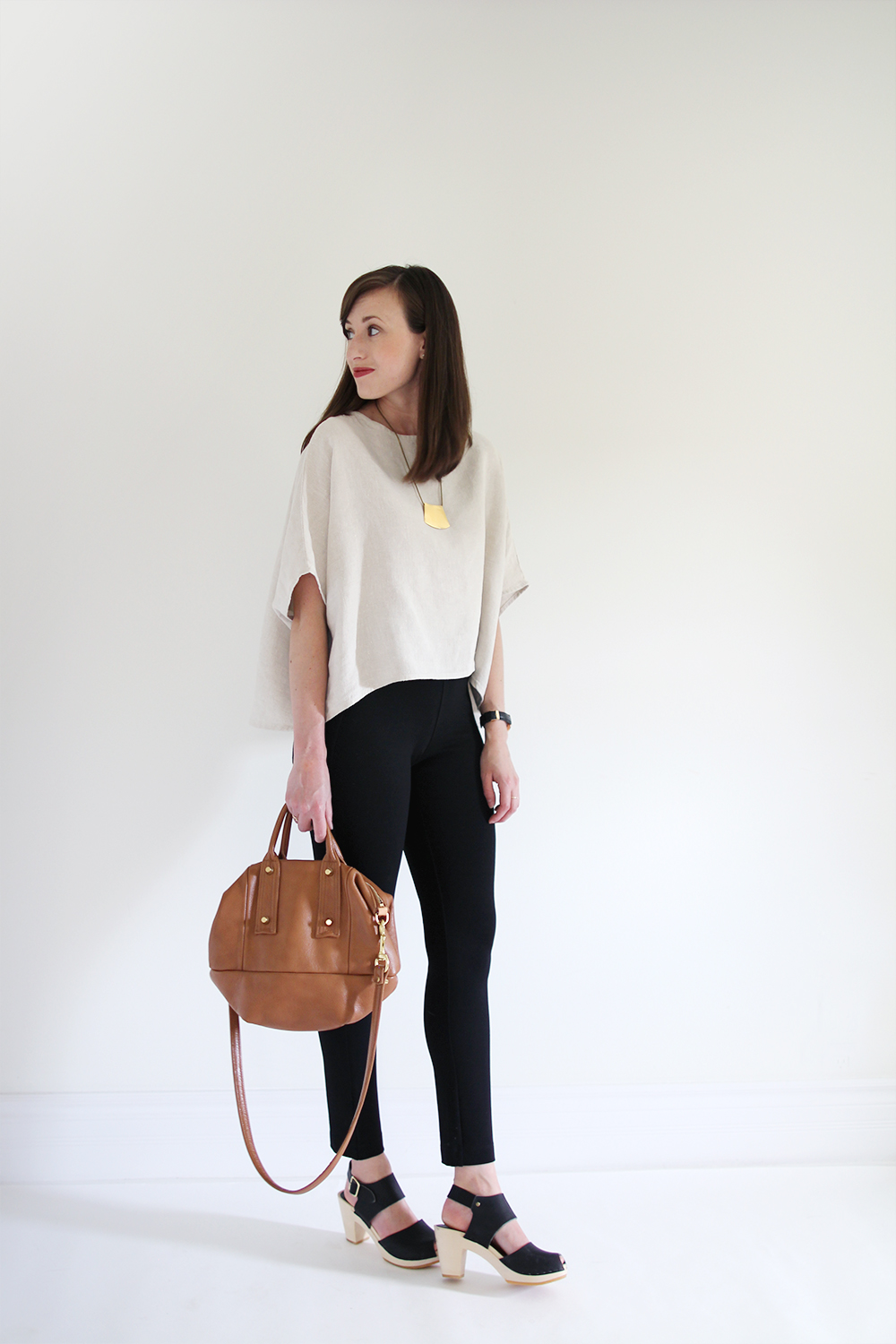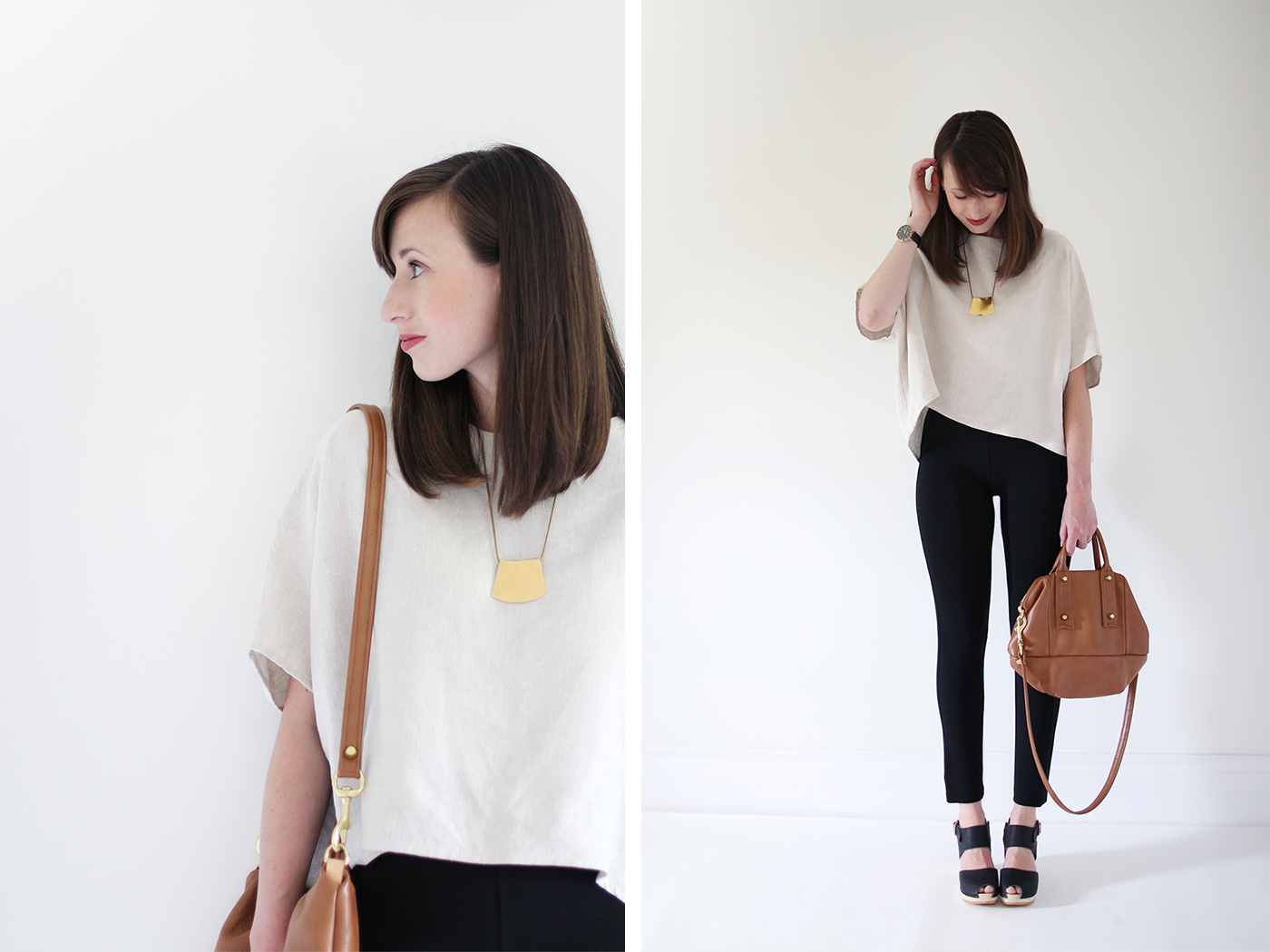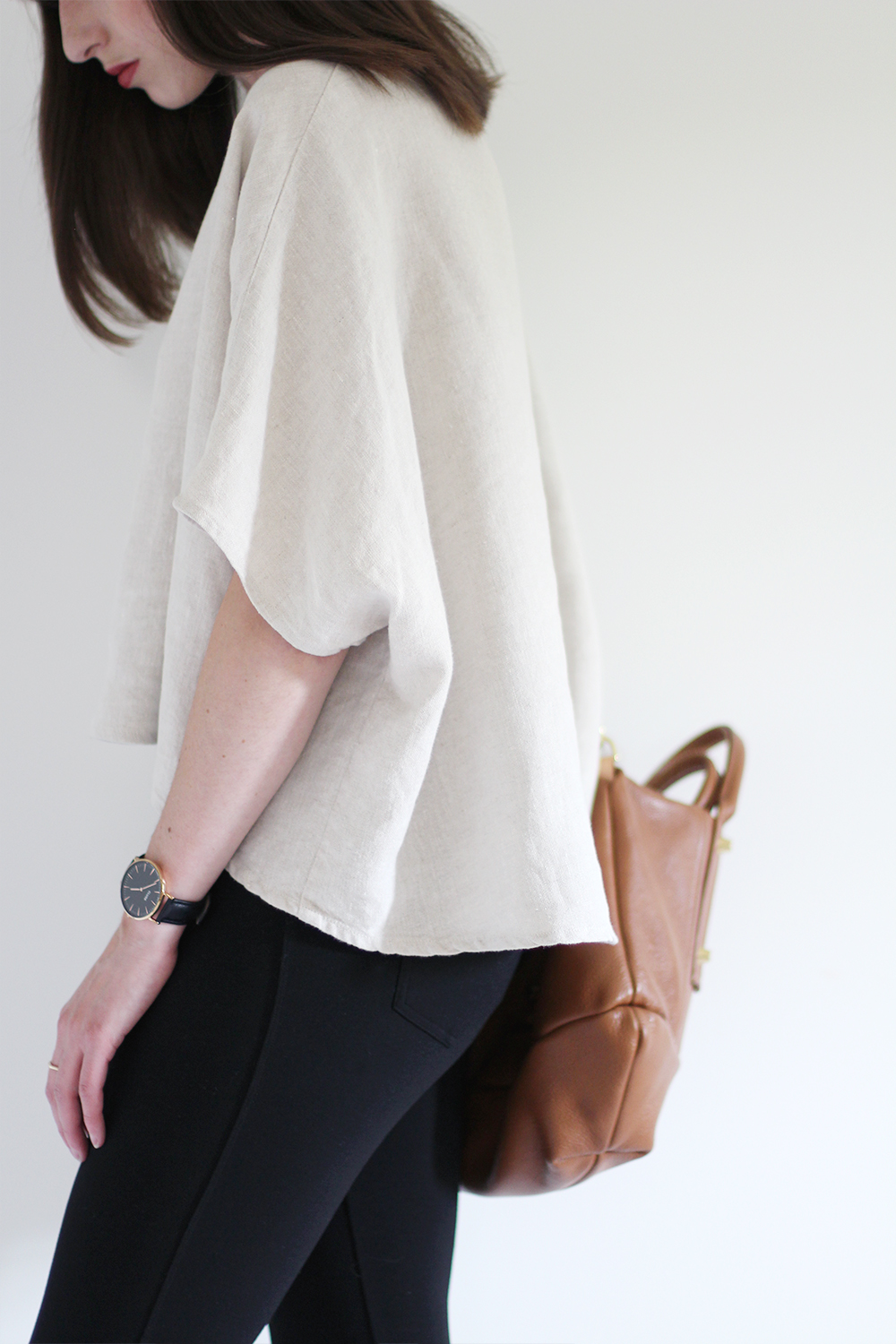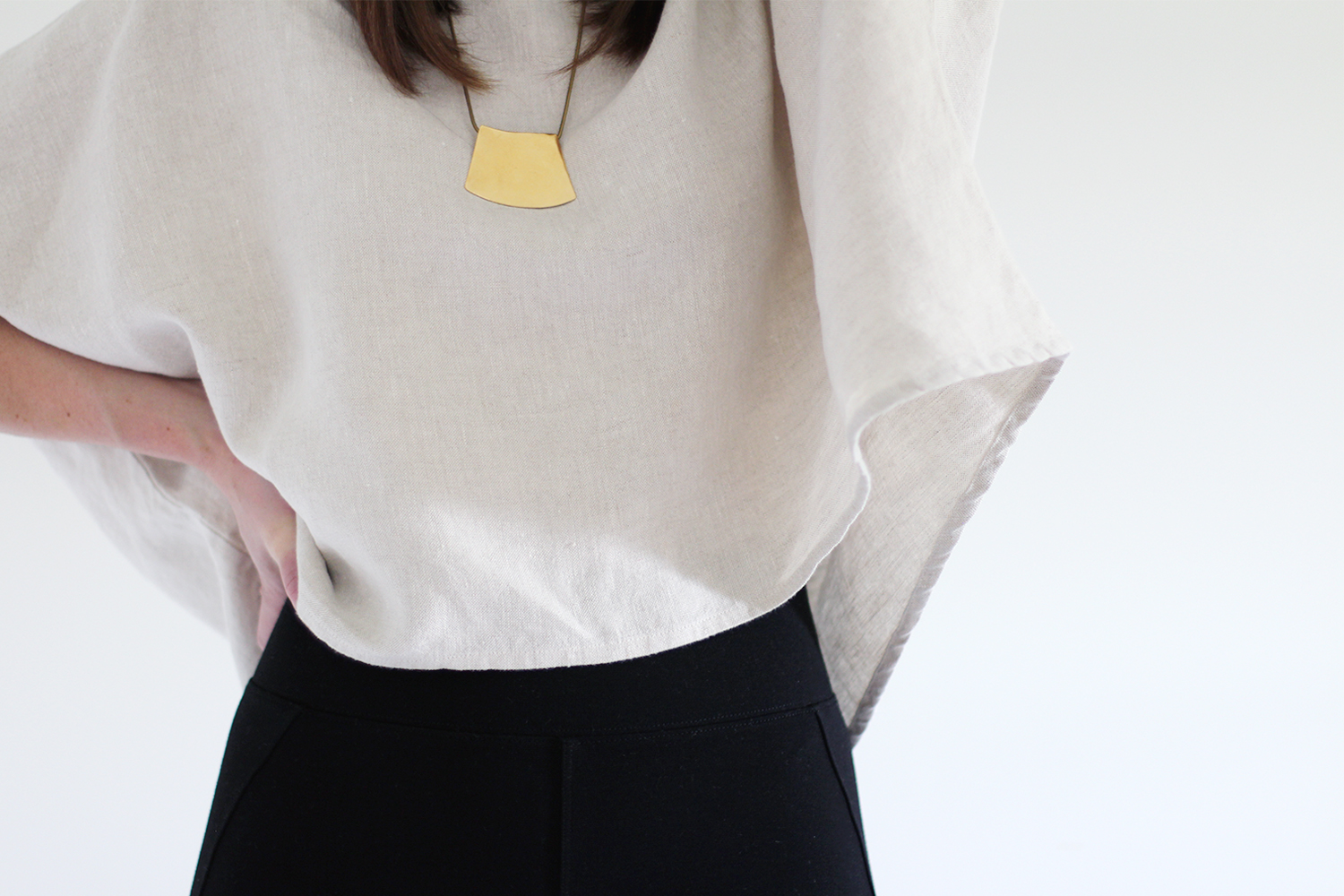 THE PONTE PANT ($98 | 100% dead stock Ponte – rayon/nylon/spandex)
I've been on the wide-leg pant train for much of the Spring and Summer but these are certainly swaying my vote. As soon as I pulled on the Ponte Pant I knew they were keepers. They are definitely more of a legging than anything else but much more substantial and structured than any of the pairs I've had before, even more so than some 'jeggings' I've dappled with previously. I wore them with my loose Linn Tee for this shoot to show off more of the pant but I've since opted for light-weight tunics and oversize shirts to pair them with. These were my travel pants throughout Europe and performed perfectly. The thick and sturdy 3″ waist band is genius. It's super slimming and flattering and removes any chance of unwanted 'digging in' that many waist bands can cause. It's gotten a bit too hot to rock these where I live right now but I can't wait to wear them this Fall with oversize sweaters and ankle boots for an easy everyday look.
FIT: I'm wearing an XS and I typically wear a size 26 or 27 in denim.
---
PONTE PANT c/o BRASS | Linn Tee c/o Elizabeth Suzann | Clogs by BRYR | Bag c/o Opelle | Watch c/o CLUSE | Necklace c/o Young Frankk (similar)
---
Well friends, that concludes this mini series in partnership with BRASS. I hope you've found it helpful and maybe even a little bit eye-opening. I find it so rewarding to discover and share companies that are creating beautiful goods in a responsible way that gives personal style and our choices in fashion a lot more meaning. Thanks so much for tuning in!
---
A big thank you to BRASS for sharing their insights and for sponsoring this series. All opinions are my own. Thank you for supporting the brands that support Style Bee.