Look #2 comin' atcha! Tuesdays are normally a studio day so with that in mind I opted to keep things suuuuper simple and comfy for the 2nd look in the challenge. This is a great outfit for in-office days filled with layouts, production art, shoots, email replies and just about everything else in between (read: dog walks). I'd probably switch to something a little different for a date night or dinner out but overall I'm very happy with this option for a casual work day.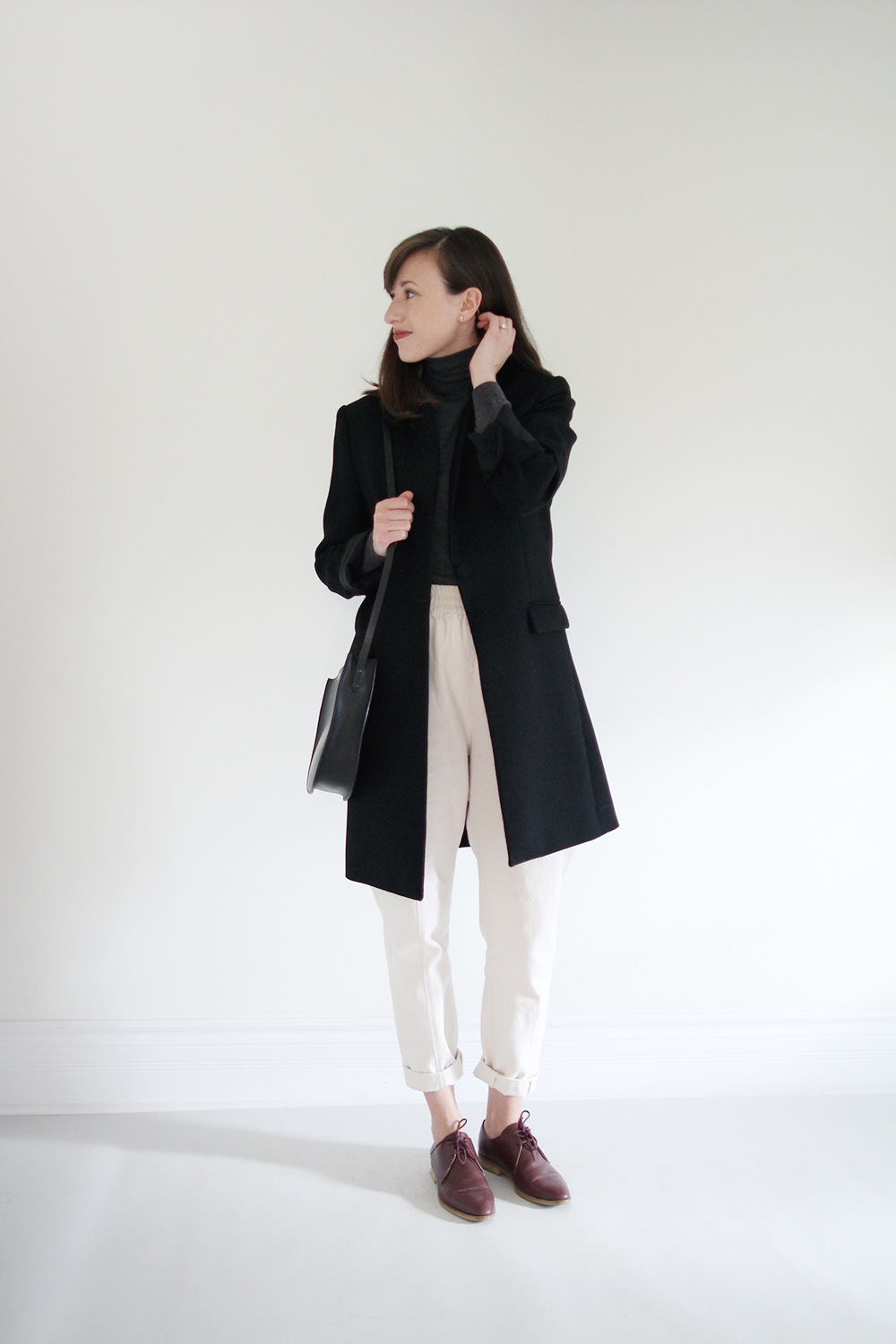 ---
INITIAL THOUGHTS
Right off the top I love the colour palette happening here. Cream, Grey, Burgundy and Black is surprisingly sophisticated and I've made a note on my worksheet that it's one to keep in mind for all seasons.
Next thought, I am SO comfortable. But then…
As I mentioned earlier, I love these pants and I wear them a lot but find myself feeling self-conscious about the added volume at my hips when I'm taking photos in them. Yet, at the same time whenever I wear them out, without fail, someone comes up to say they love them or ask where I got them and that of course changes my tune immediately! So I guess it's safe to say I'm torn. I'll explore these more in-depth once I've tried them a couple of different ways.
The last initial feeling I have about this look is that it's about as far as I'd like to go on the 'masculine' style scale. I like it and it's empowering for sure, but I think I've found the edge of what I'm comfortable with. Duly noted!
---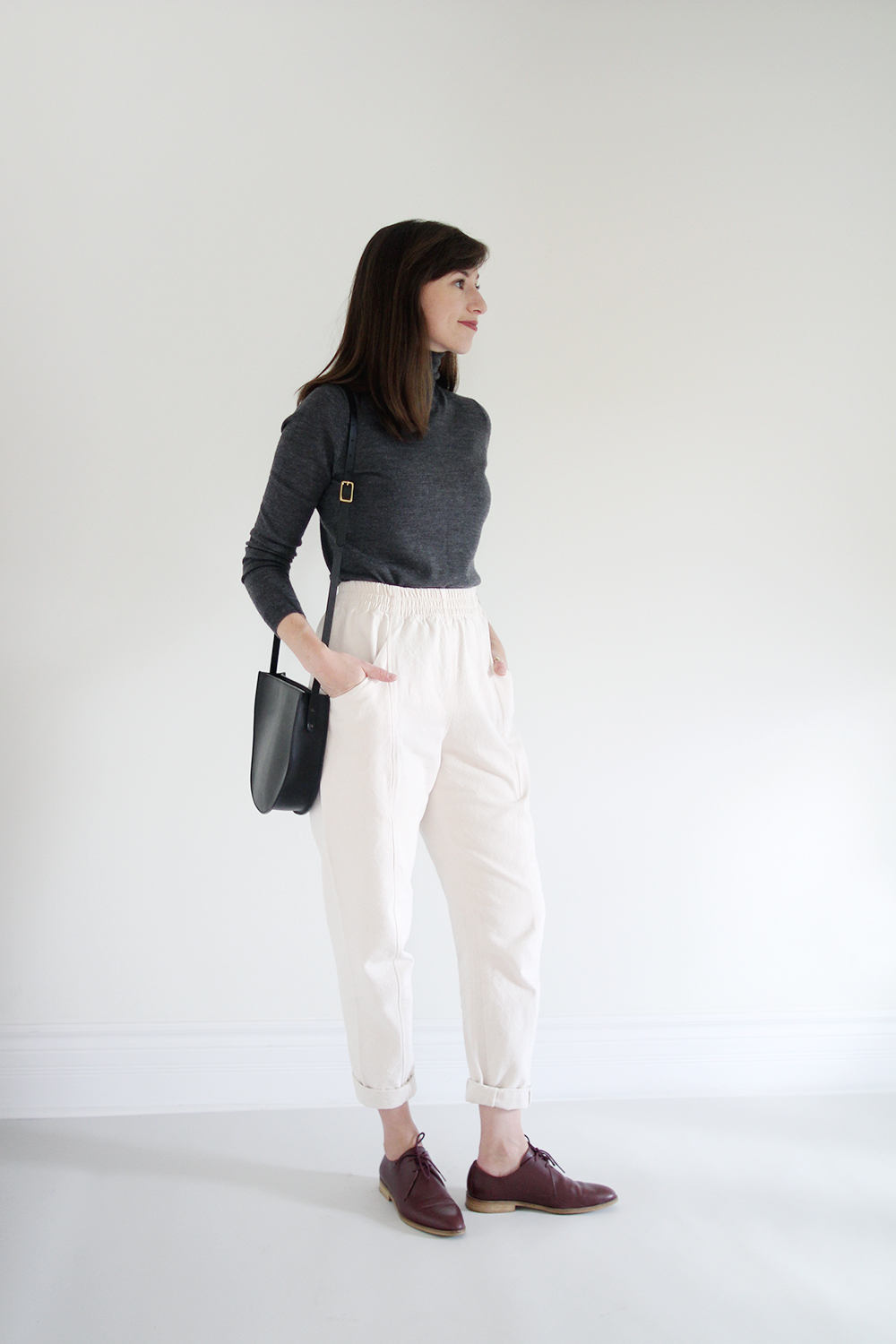 ---
Let's talk about the next 'item' shall we? The Everlane shoe fairy delivered these oxblood beauties right to my doorstep and I'm so thankful she did because I might not have ever tried them otherwise. For the sake of full disclosure I'll tell you that Everlane is a brand partner that I'm proud to work with on occasion. Sometimes, when new collections launch they'll send me an item to test out and give feedback on. There are no strings attached and I'm never obligated to feature them or say nice things about the product. But 9 times out of 10 I love the item and I'm happy to share it with my readers in case they're interested in it themselves. So that's the scoop! Now onto these puppies! 
I get a lot of inquiries about the Modern Oxford so here are some answers to the most frequently asked questions:
1 | Are they true to size? Yes. I typically wear a US size 7 and have these in the 7 and the length is perfect. I also have the modern loafer in a size 7 and these are not nearly as narrow. I think the team at Everlane really worked hard to make these wearable and practical for their customers. They should be snug to start and the leather will relax to fit your foot with wear.
2 | Do they rub your ankles? I had zero issues with that BUT I did opt for a pre-emptive band-aid on my heel to prevent rubbing and that really helped with the breaking-in process. I can happily say these shoes have not injured me in any way to date.
3 | How quick do they break in? As far as Italian-made leather shoes go, very quickly. I spent about 3 full days in them to start, walking Dobby, working in the studio, running errands etc. and they have since melded beautifully to my feet. I've probably worn them about 20 time now.
4 | What do you wear them with? Sometimes bare feet when it's the perfect temperature. But mostly I wear them with a little sockette from the drugstore. I'm wearing them in these photos but you can't tell and it just saves your feet from getting rubbed and the shoe from getting sweaty and stinky cuz, ew.
Finally, I'll just add that these are possibly the most flattering flats I've had the pleasure of wearing. The 'tapered' toe is lengthening so it elongates the foot without turning you into a clown-footed buffoon as some pointed shoes can. I've never been into rounded toe oxfords as I have small feet to begin with and find they look even stumpier. I really can't say much other than, if you're into oxfords, try these!
If you have any other questions about them, just let me know in the comments! They also come in BLACK | COGNAC | BLUSH | BLACK + NATURAL 
---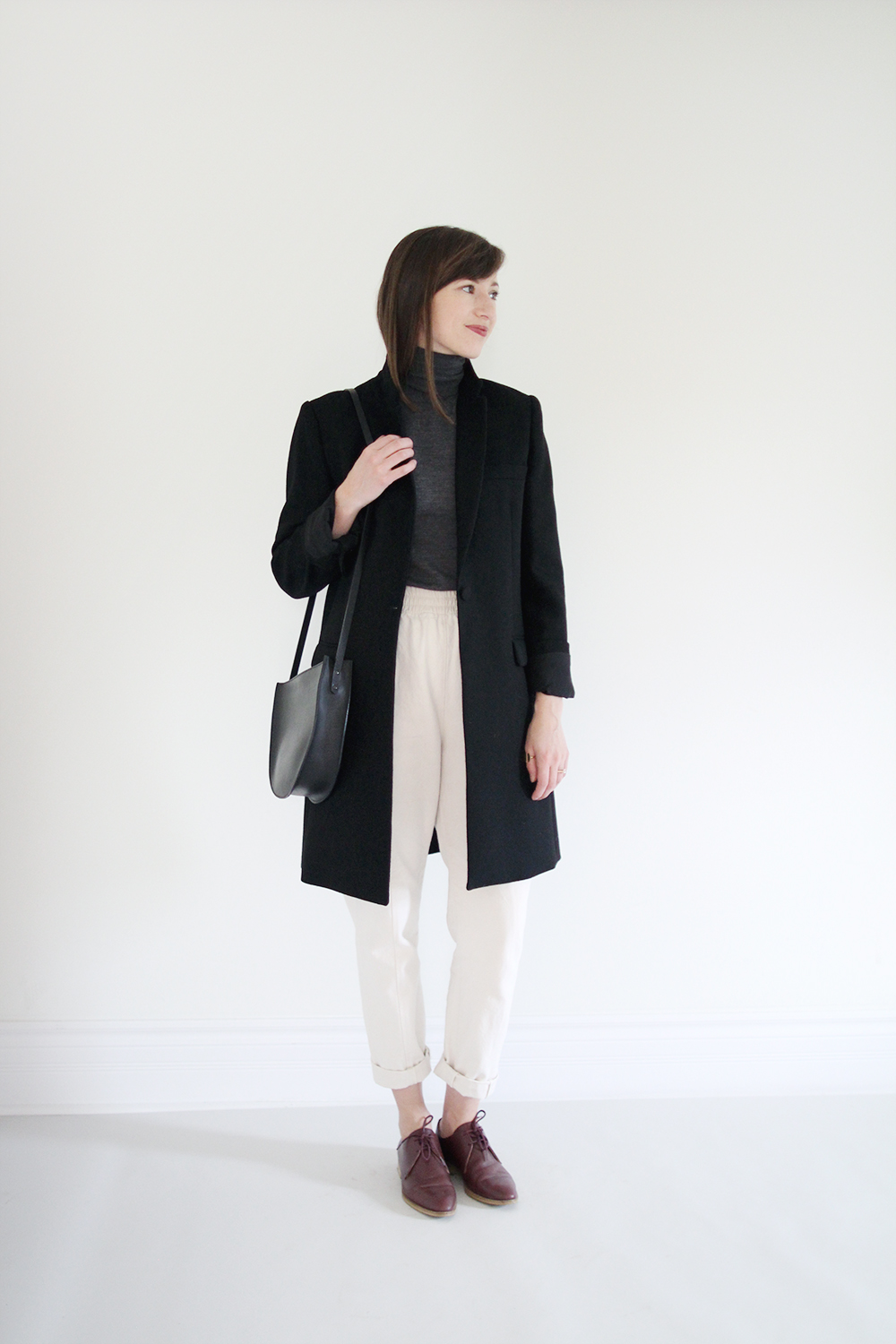 ---
STYLE + FIT DETAILS
1 | BALANCE | I wanted to make sure I balanced the volume of the pants with a more fitted top and this turtleneck did the trick. I also think the sleek coat helps to stabilize the relaxed vibe of the work pant without feeling disjointed.
2 | CONTRAST | I like the heavy contrast between cream and black here but if it weren't for the neutralizing grey sweater it might feel a bit too harsh. Well, maybe not, but let's just assume so.
3 | CUFF | I've really only ever worn these pants with the cuffs rolled up and I think it's key to reveal a bit of ankle before the shoe starts, plus, the cropped length is more flattering to me than when it's left straight. I also like the super subliminal repetition of the rolled jacket cuffs too. Little touches like these help give the whole outfit a bit more character.
4 | FULL TUCK | I am all for a front tuck, as you know, but when I wear these pants with a flat shoe I like to highlight my waist and minimize bulk. A slim turtleneck tucks in real easy for a slim upper half.
5 | A POP OF COLOUR | I love the subtle but noticeable pop of oxblood in this outfit SO much.
---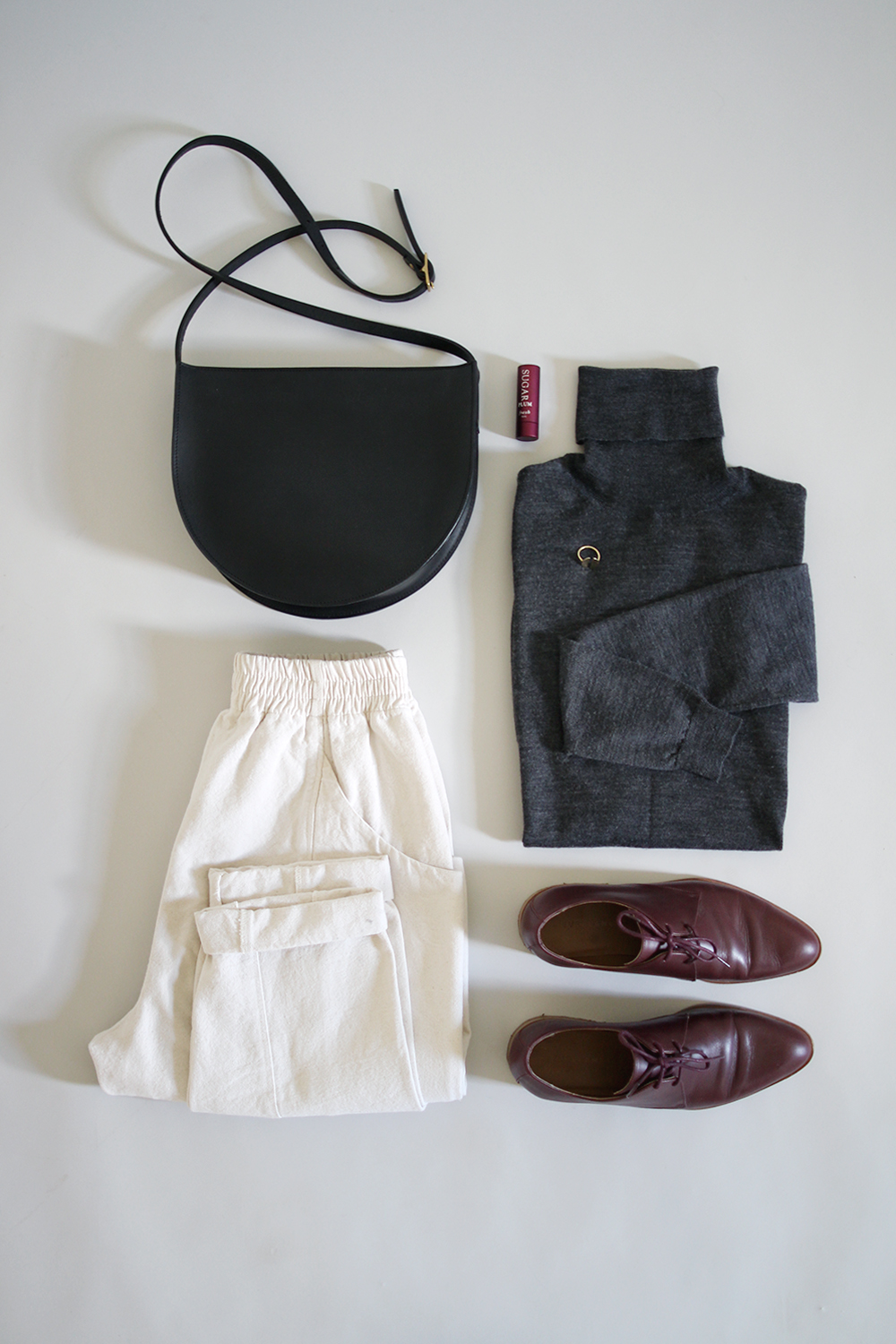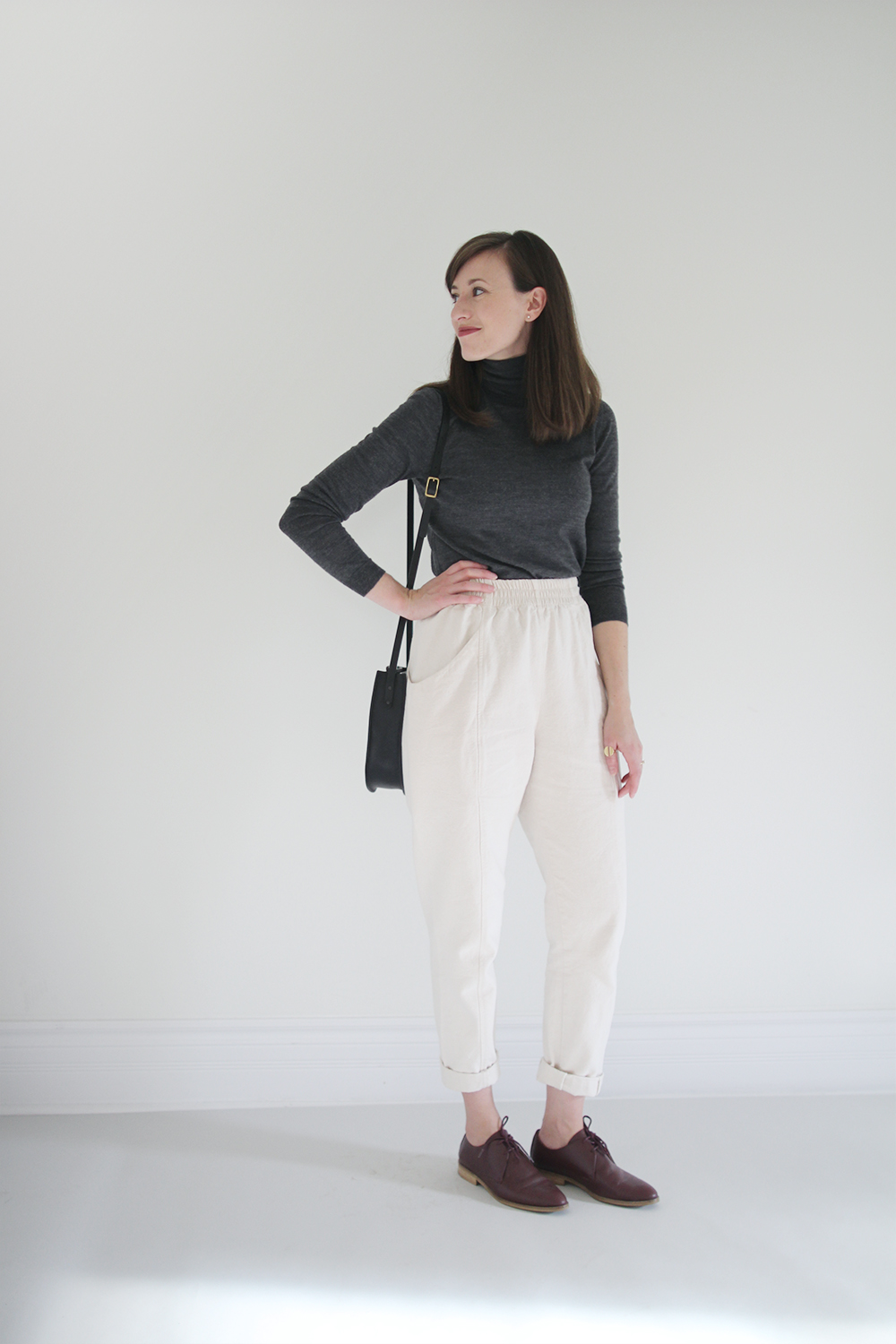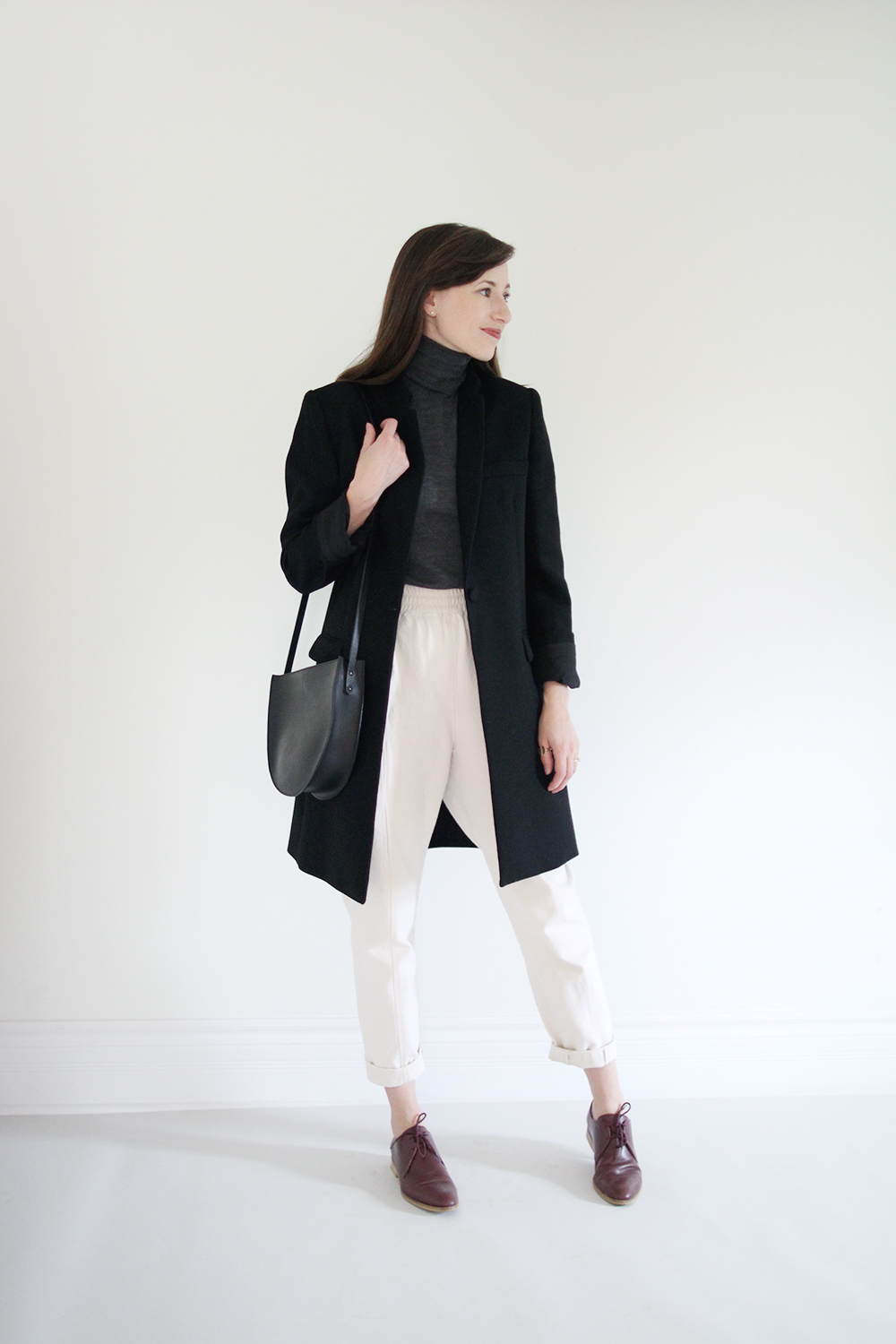 ---
And there we have look #2! I'm very pleased to say that so far these outfits have been both a pleasure to wear and totally weather appropriate. YAY!
Also, LOVING all the challenges going on the #stylebee10x10 feed. You guys are so freaking stylish!
---
---

---
This post is not sponsored but contains affiliate links. When you shop via the links above I may make a small commission from a sale. All opinions are my own. Thanks for supporting the brands that support Style Bee!