I hope everyone had a good weekend! Ours started with a long discussion about the Danish lifestyle philosophy known as Hygge (pronounced "hoo-gah," and defined as: a quality of cosiness and comfortable conviviality that engenders a feeling of contentment or well-being.). Then after yet another day-long snowstorm we started putting the theory to work by hunkering down at home and embracing all the cosy creature comforts that the custom calls for. Such as: lighting candles, hiding phones, donning warm socks, piling on blankets, appreciating our good fortune and hopefully ordering pizza counts, because we did that too.
Hygge is definitely a buzzword right now but I've enjoyed exploring this wholesome, slow, albeit indulgent, approach to enduring the long dark days of Winter. If you're interested in learning more, here are 3 articles worth a scan: The Year of Hygge, The Danish Obsession With Getting Cosy | Is This Hygge? | I'm Swearing By the Hygge Manifesto
After another weekend of continued blizzards and snowfall I figured it was a good time to test out yet another cosy look. Similar to my T-Sweater post from last week, I wanted to give my old sweater cape a chance to shine since it has been fairly dormant so far this season. One reason for that was because I kept putting off a trip to the cleaners and another was that I've sort of categorized it as a Fall layer in my mind. I can't wear it under a coat so it's a bit impractical but at the same time I love it's shape, length and the way it feels sophisticated but still totally relaxed and homey. It might be one of the most Hygge items in my closet! 
---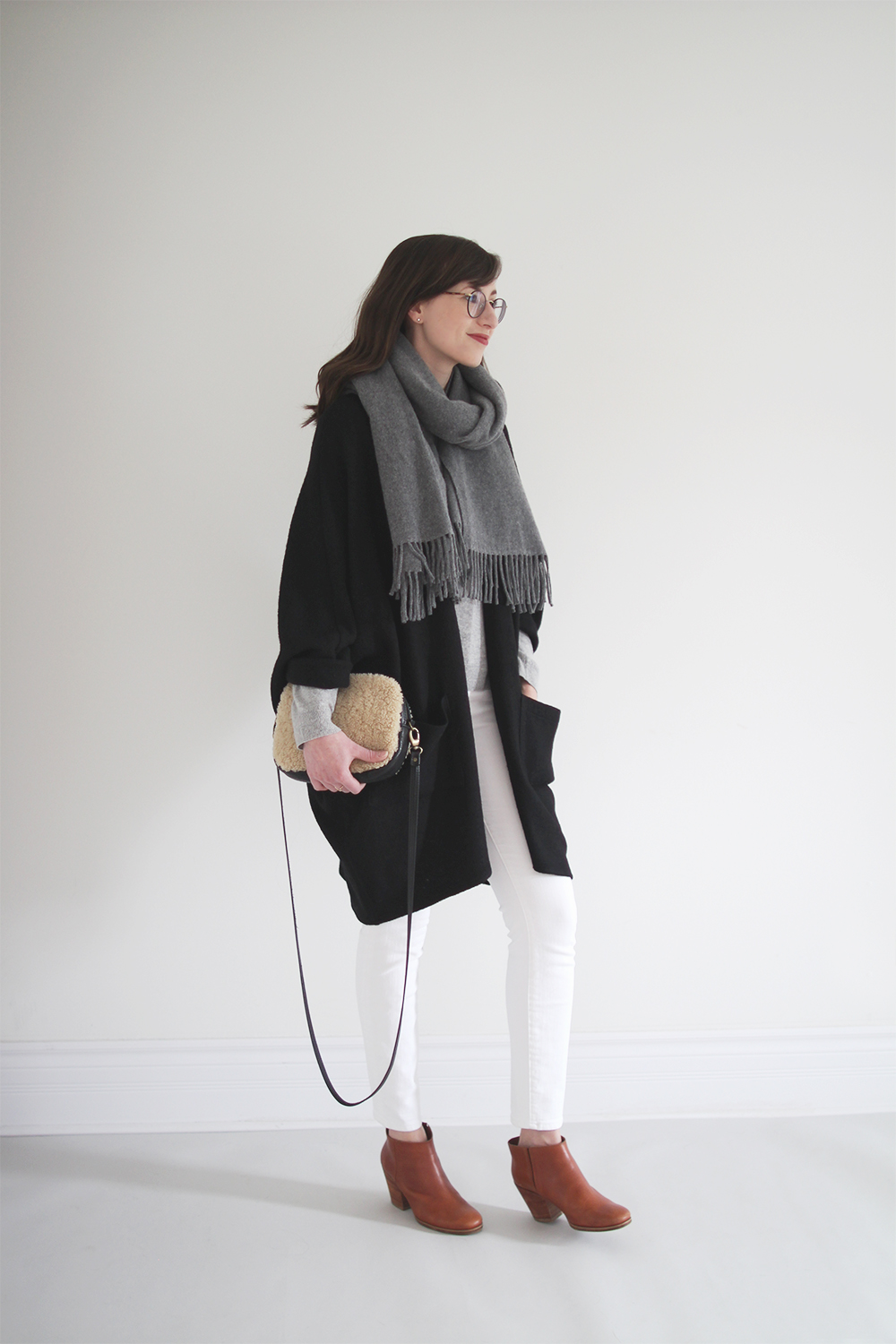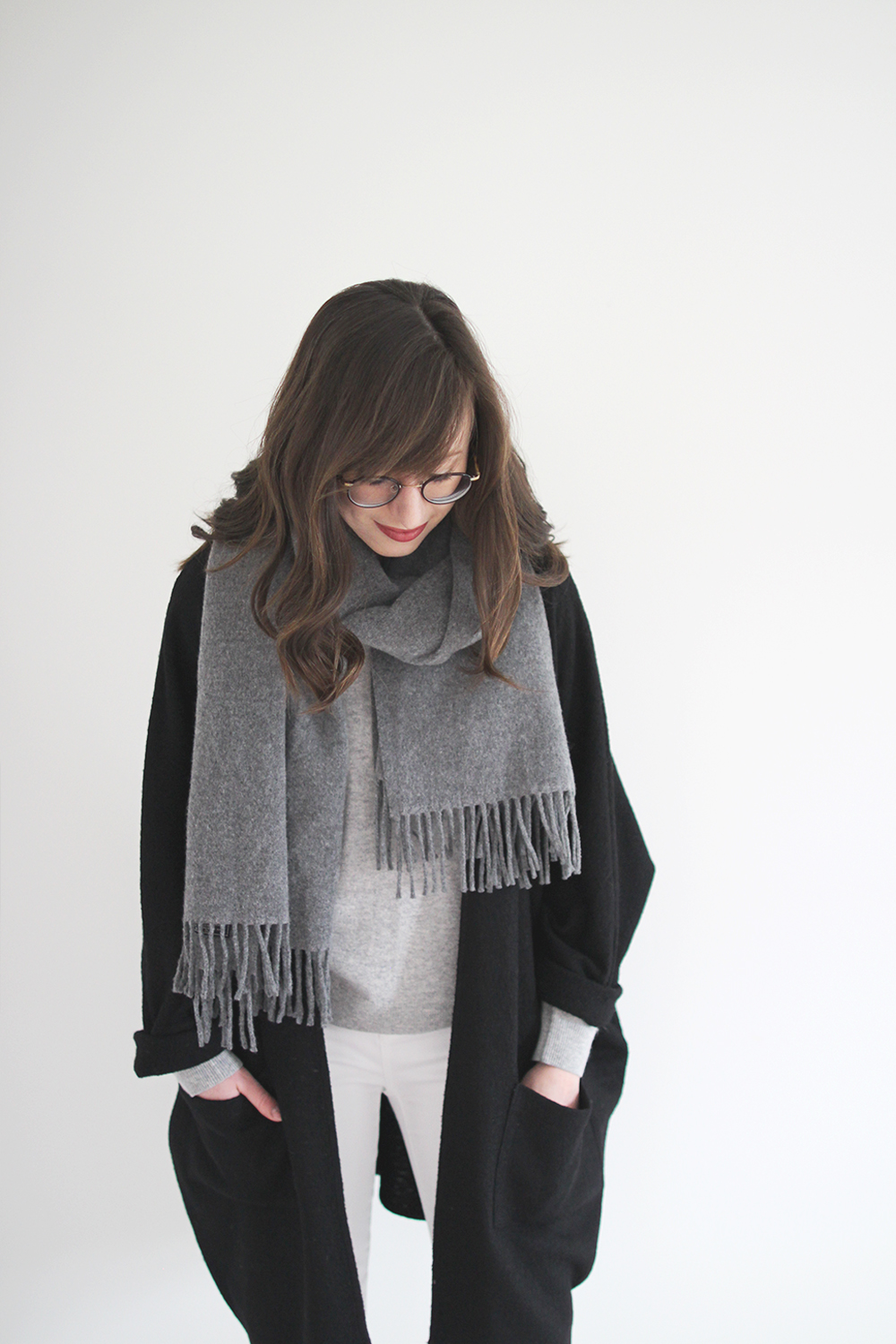 ---
INITIAL THOUGHTS
Until I added the chunky scarf to this outfit it was feeling a little meh, but after that scarf got involved I was like, 'Ok now we're talking!' It balances out the shape of the sweater and adds an extra dimension of texture and colour. Plus, I really love that fringe.
After last week's post with my T-Sweater & Ivory Tunic I just couldn't help but wish for some more light/white/bright elements in my life. So I decided to pull my white skinny jeans out from the back corner of my 'pant' shelf and loved how they added a fresh, clean feel to this look. Plus, with a long sweater over top I don't have to worry about where to sit and since they're a slightly cropped length I'm not thinking about hems on the ground, plus the fitted shape tucks right into boots. Otherwise, you're right, white pants in general aren't terribly practical. But hey, we're working with what we've got here right!?
My only regret about this sweater was not buying it in grey. I love black, it's probably my favourite colour, but this material seems to attract and highlight every bit of lint and fur. Luckily, it comes off easy with a roller but that's another reason why I don't wear it as much as I might if it were grey. Just saying.
What I do love about this sweater is how it's just the right amount of warmth. I can toss it over a cashmere crew or a fitted turtleneck now or over a cotton tee or a linen shirt in the spring and it has a magical way of regulating my temperature. I'm always warm but not overheated, which my other favourite cardigan tends to cause.
At first I had my black Mars Boots on with this look and they obviously worked well but I felt that was too obvious a choice so I switched to my 'whiskey' pair and really liked the pop of colour and warmth they added. For such a strong colour it's really hard to find things that 'whiskey' or 'cognac' doesn't work with!
Overall this is definitely one look I'll be repeating! 
---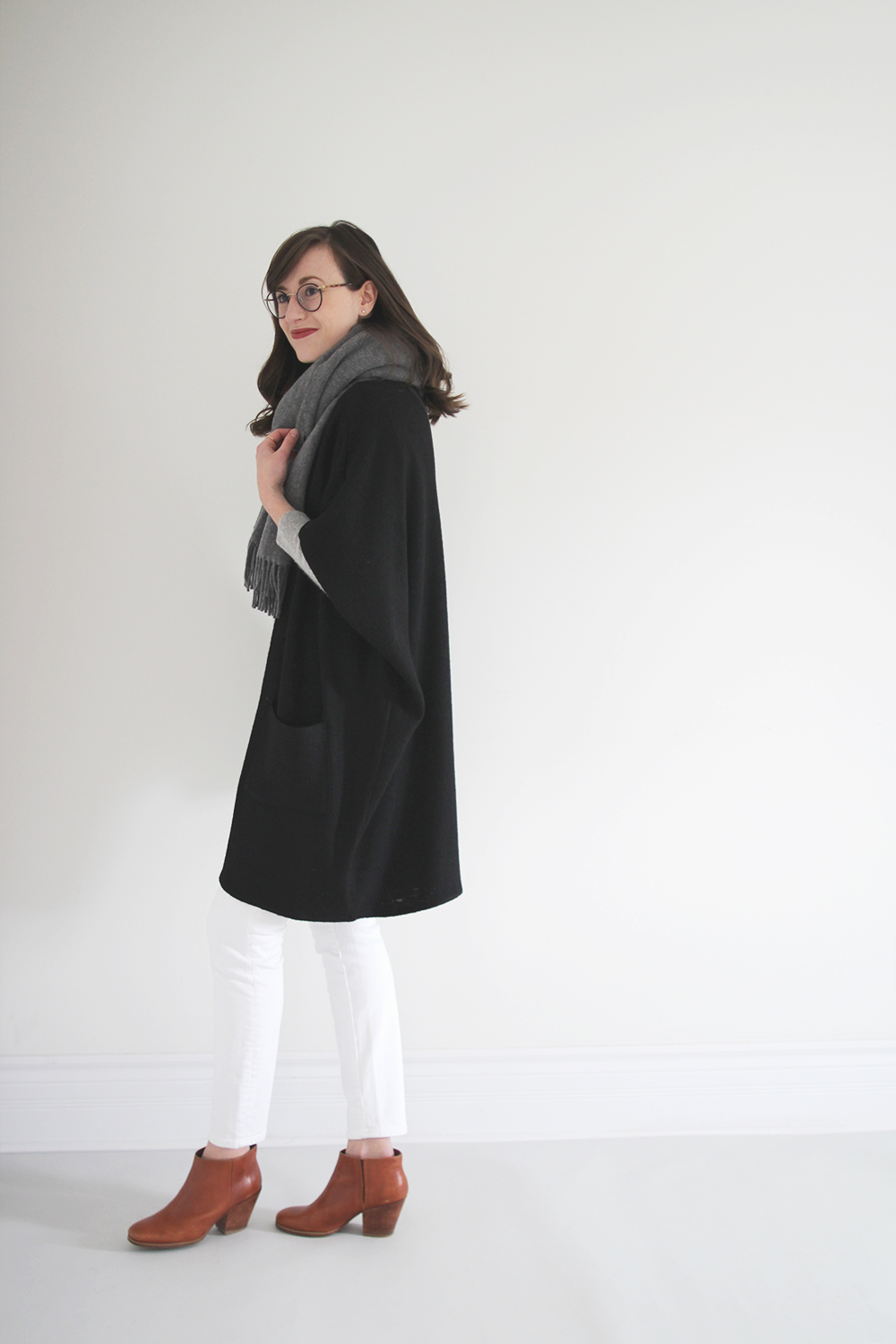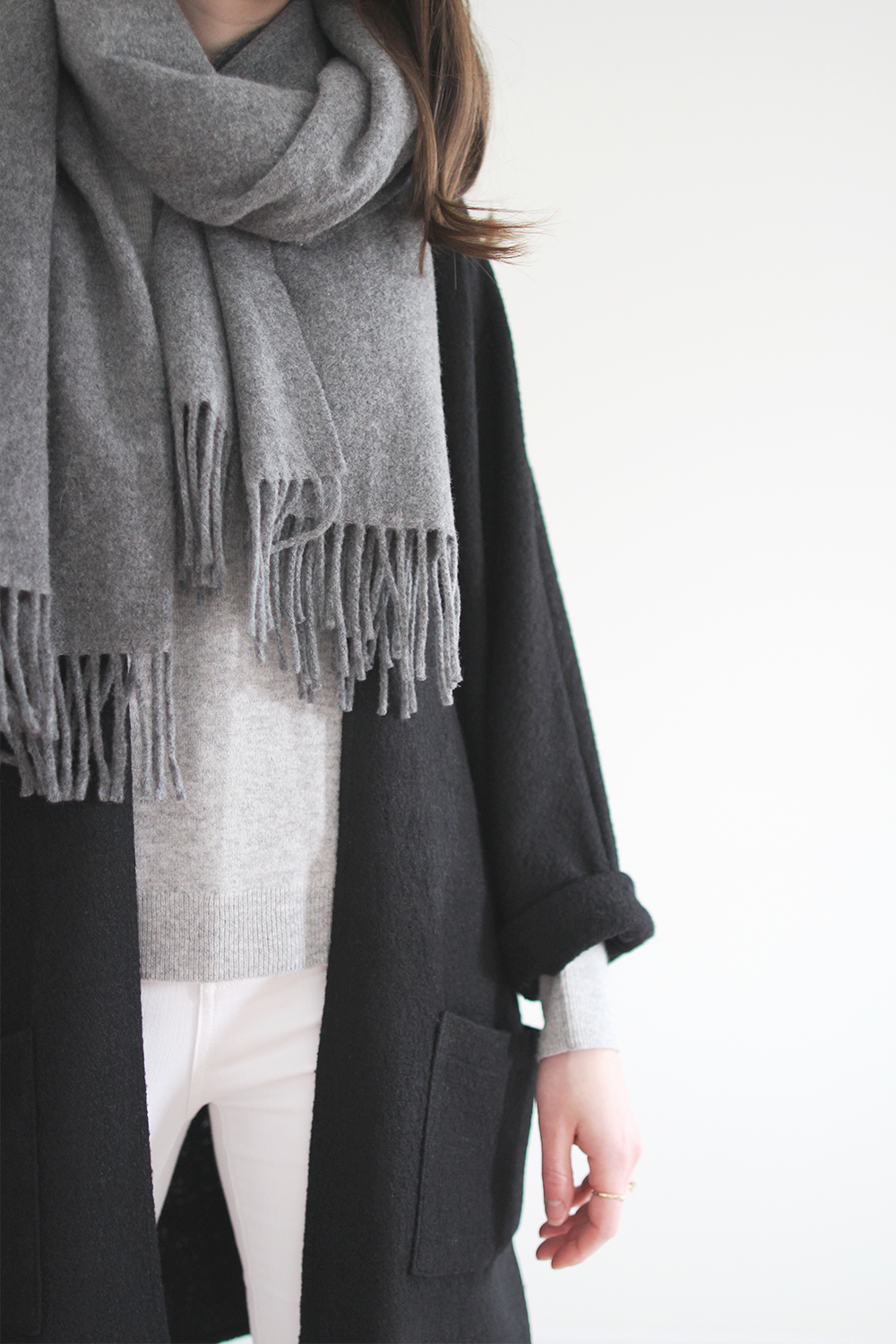 ---
STYLE + FIT DETAILS
1 | GREY ON GREY | So I totally stole this trick from an Evelane product image (not online now) where the model had on this grey cashmere crew with a slightly darker grey scarf and I LOVED it. It's such a basic styling approach but the result is so effortlessly chic. Of course  you can use a monochrome styling trick on any shade but to me greys always work together without ever feeling too matchy or planned. And yes I avoided using the phrase 'shades of grey' as best I could in this explanation!
Try pairing different shades of grey (but then I gave up) in a look to create visual depth and continuity while maintaining a very simple but stylish outfit overall. 
2 | WINTER WHITE | I think you should wear as much white as you like all year-long. If you're willing to risk it, you go for it! I've actually found in the winter its easiest to keep clean compared to Spring when it's rainy and muddy or Summer when there are grass stains and miscellaneous outdoor seating disasters at every turn. Plus, bleach and stain removers were made for us to wear white, hence how these pants are several years old and still as fresh as ever.
So if you've been waiting for some encouragement to bust out your favourite warm weather whites, here it is! Bring out the lights, brights and whites you've been saving for Spring. You probably need their good vibes now more than you will then anyway! 
3 | FULL + FITTED | The sweater and my chunky scarf add a dose of volume to this look that makes it feel unique and contemporary. At the same time I avoid being swallowed up in wool by pairing my slim fitting jeans with a relaxed but lean cashmere sweater. I think it also helps that the two 'fitted' base layers are the lightest colours in the look, while my 'full' layers are the darkest. Somehow this balances things out in an aesthetically pleasing way. 
If you're tempted to try adding volume, you might try a dark colour paired with a slimmer fitting light colour. The two will balance out nicely making each one feel and look a little less extreme. 
4 | SATURATE | Like I mentioned above and many times before, I love warming up an otherwise stark look with a bit of cozy neutrals like these boots or this fuzzy little bag. For me it's the quickest way to add character and interest without clutter or too much colour.
If you haven't tried and black, white and grey look lately, give it a go and just add one or two warm tones to make it feel a bit more welcoming.
---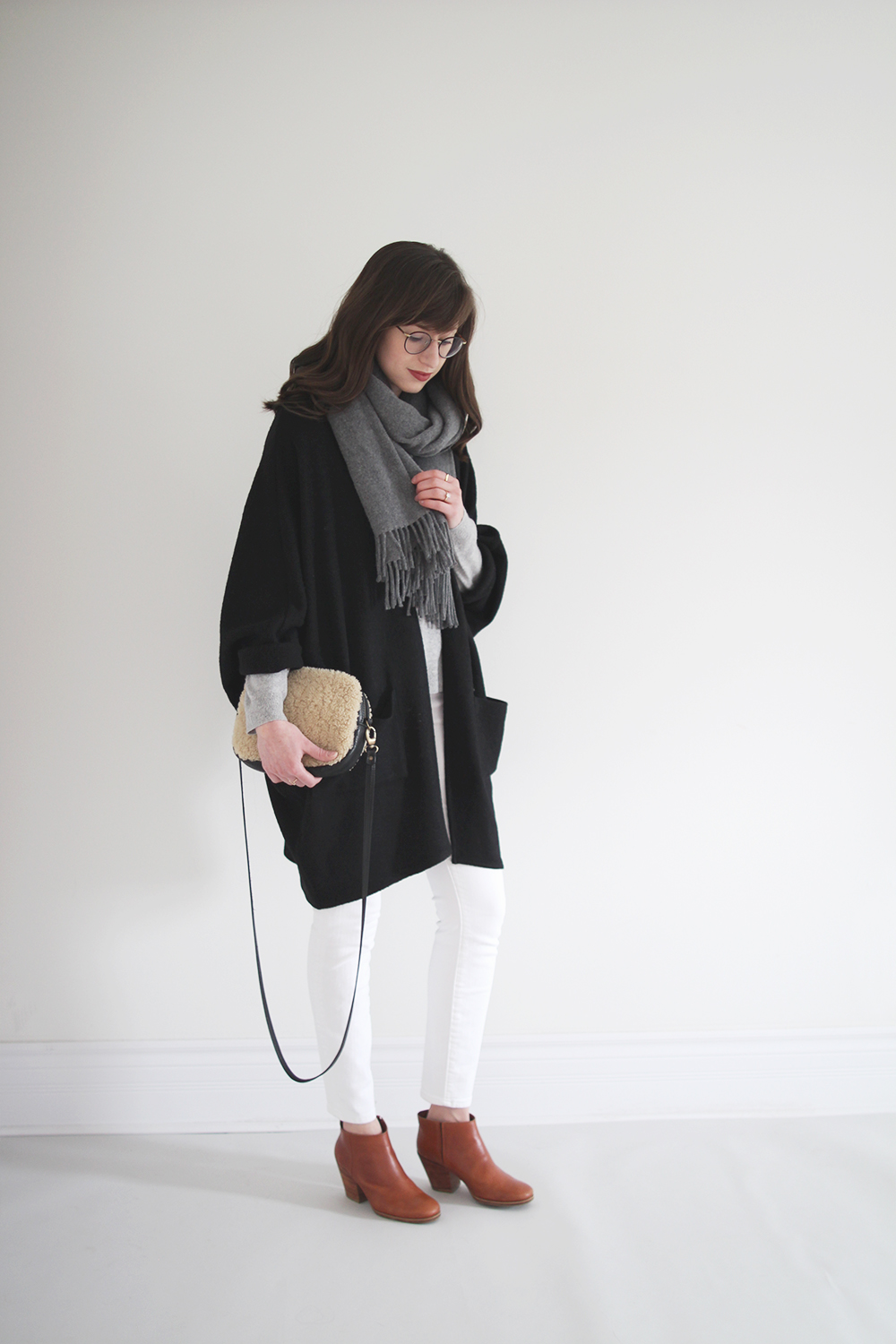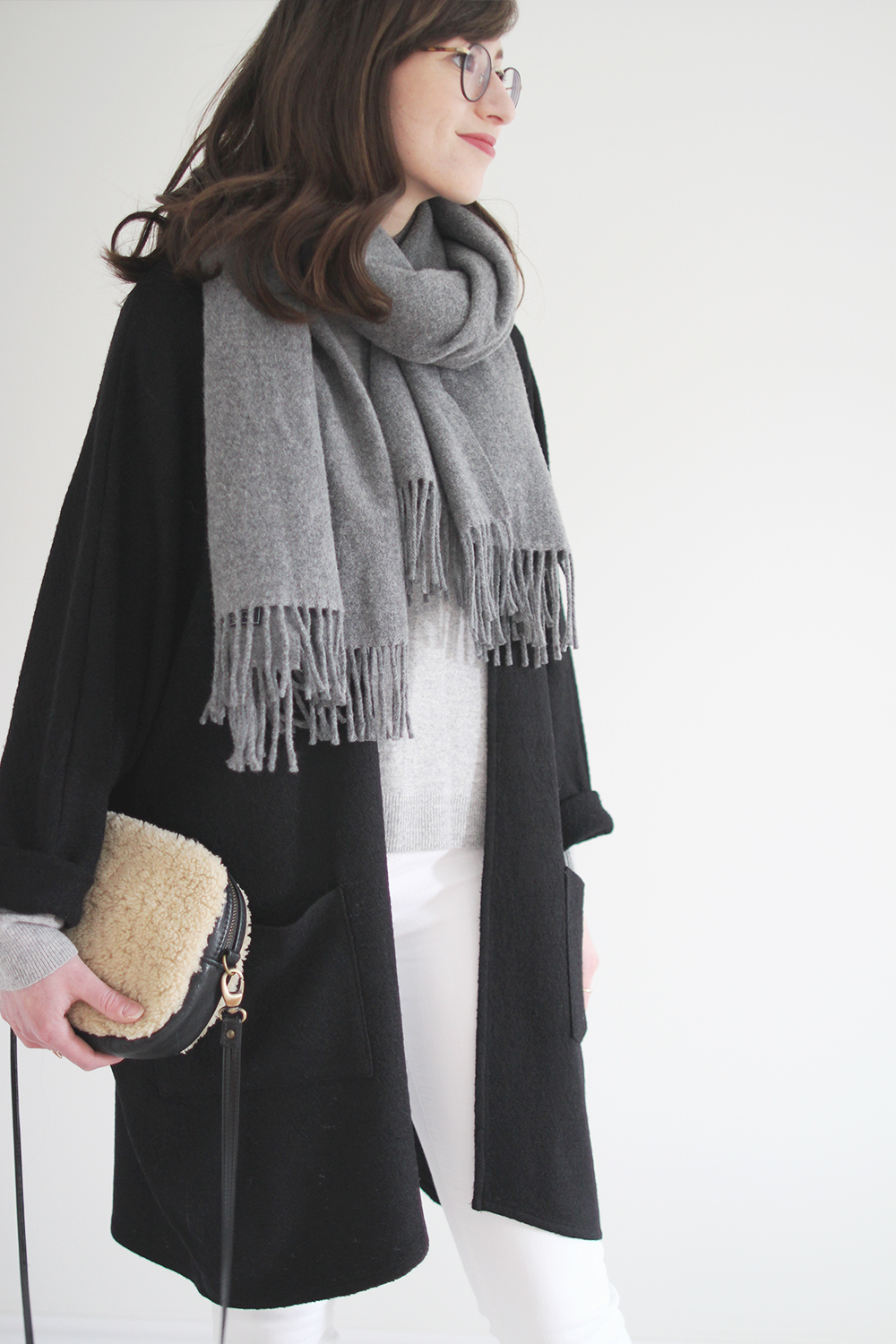 ---
So there we have a seemingly simple look with some surprisingly impactful nuances. How fun!
But back to Hygge (since I'm obsessed). Do you have any Winter rituals that are Hygge-esque? 
Tips on your favourite candles, books, podcasts, morning or evening rituals that keep you happy and toasty in this very long winter season would be much appreciated! 
---
Sweater Cape old from First Rite (similar here, here and here ) | Scarf by Acne Studios (black version) | Cashmere Crew from Everlane | Denim from Madewell | Bag old from Primecut (linked to similar) | Mars Boot by Rachel Comey | Glasses by Garrett Leight (sunglass version here)
---

---
See something you liked? You can shop it and support Style Bee by using the affiliate links provided. This post is not sponsored but when you shop via the links above I may make a small commission from a sale. Thanks for your support!