I hope your week has been going well! I've been scrambling to get some projects done and my paperwork in order for tax season (UGH) but the weather has been lovely. It's had me finally believing that Spring is arriving in a real way, not just a teasing one day here and there kind of way. I actually felt the heat of the sun on my skin yesterday, which I haven't felt in WAY too long.
As such, I felt compelled to share this very springy shoot I did for an instagram collaboration earlier this month. I loved the photos so much that I just couldn't bear to let them get lost in the depths of my instagram feed forever, plus many haven't seen the light of day yet! So here's a cute look I put together and cannot wait to wear more as the days get hotter and longer.
Oh and speaking of this warmer season, how about another 10×10 Challenge? Hell YES! is my answer and I really hope you'll join me and my blogger bestie Caroline of Un-Fancy too! I've shared some more info including start dates, basic guidelines and where to get tons of inspo below. Safe to say, I Can't wait! 
---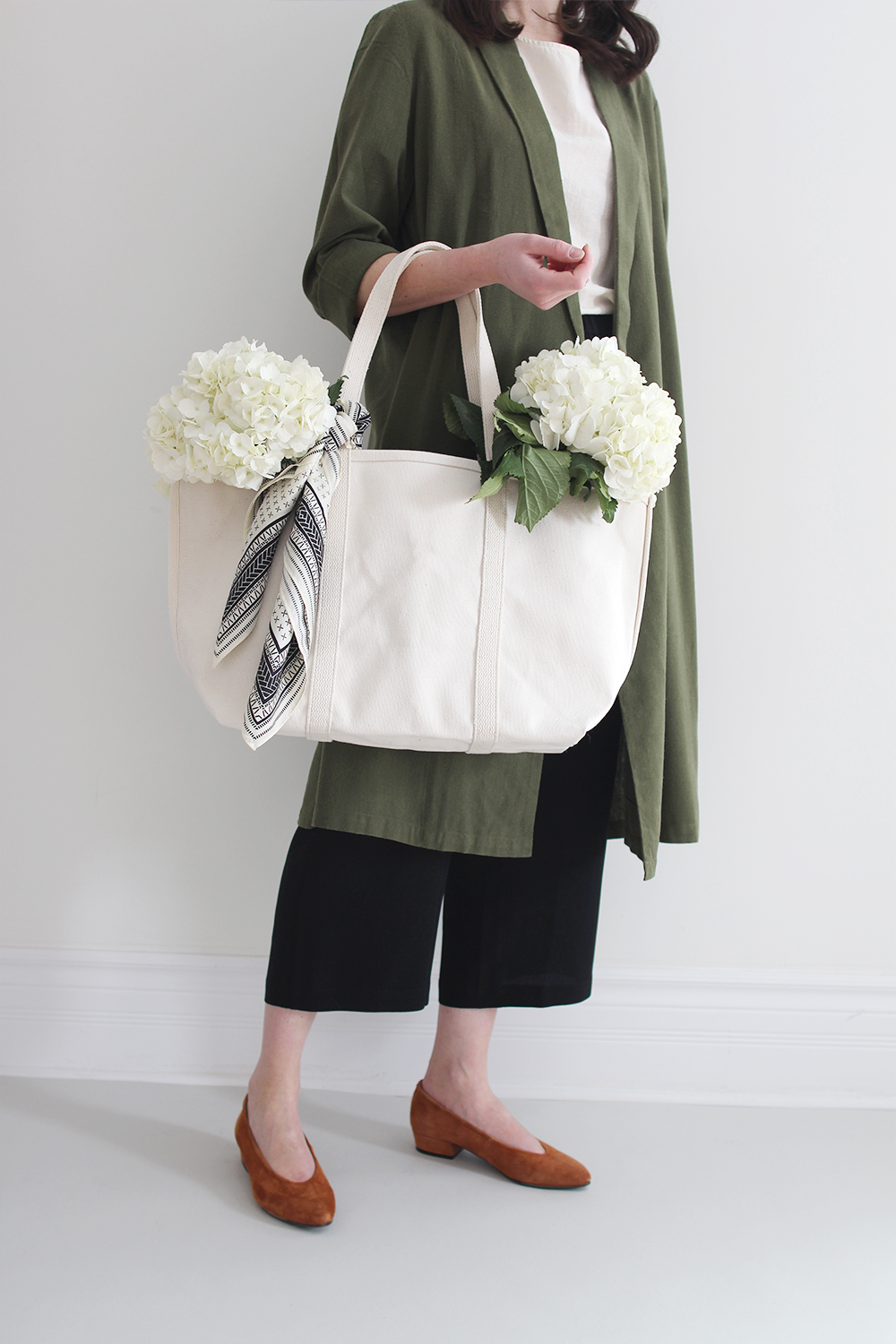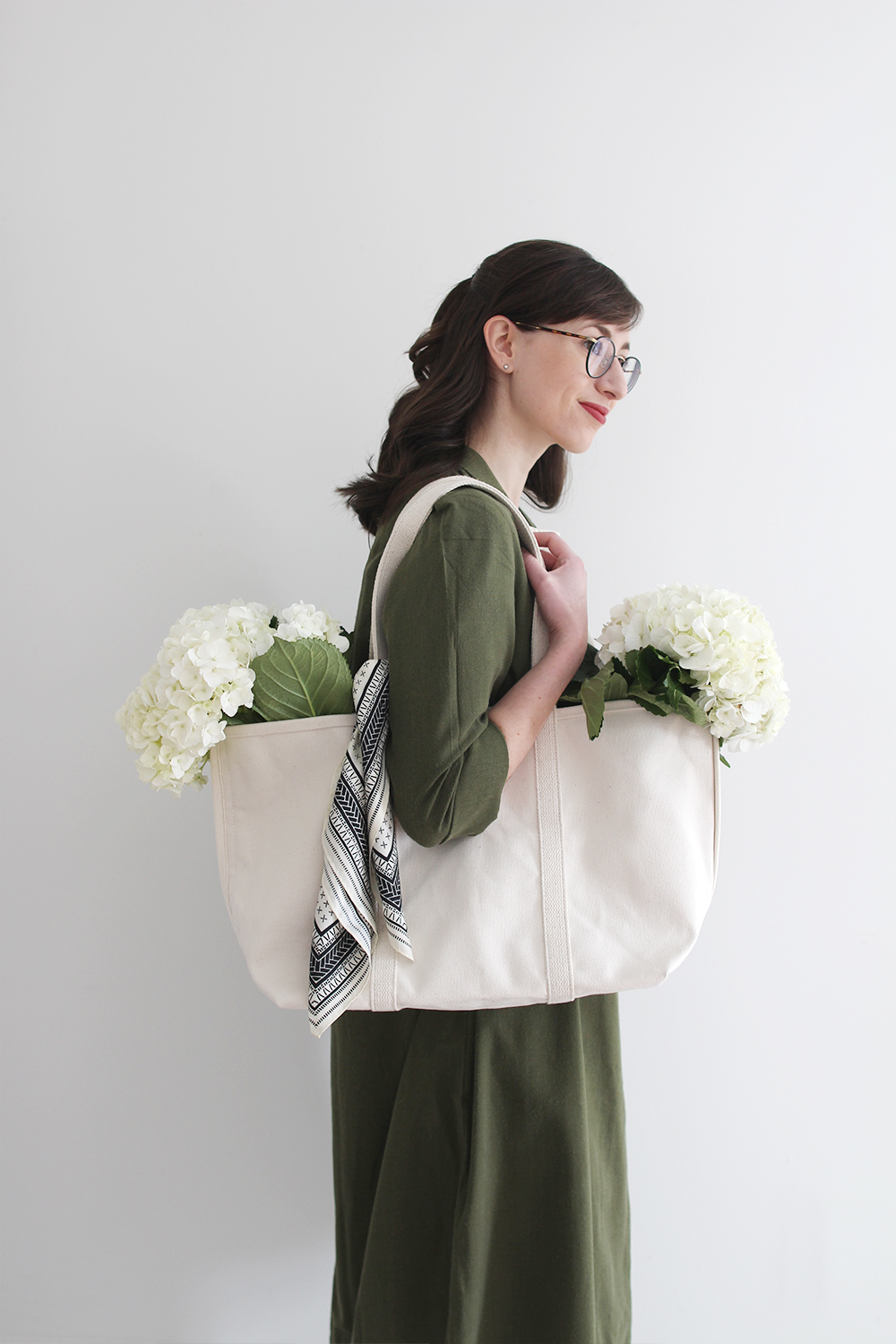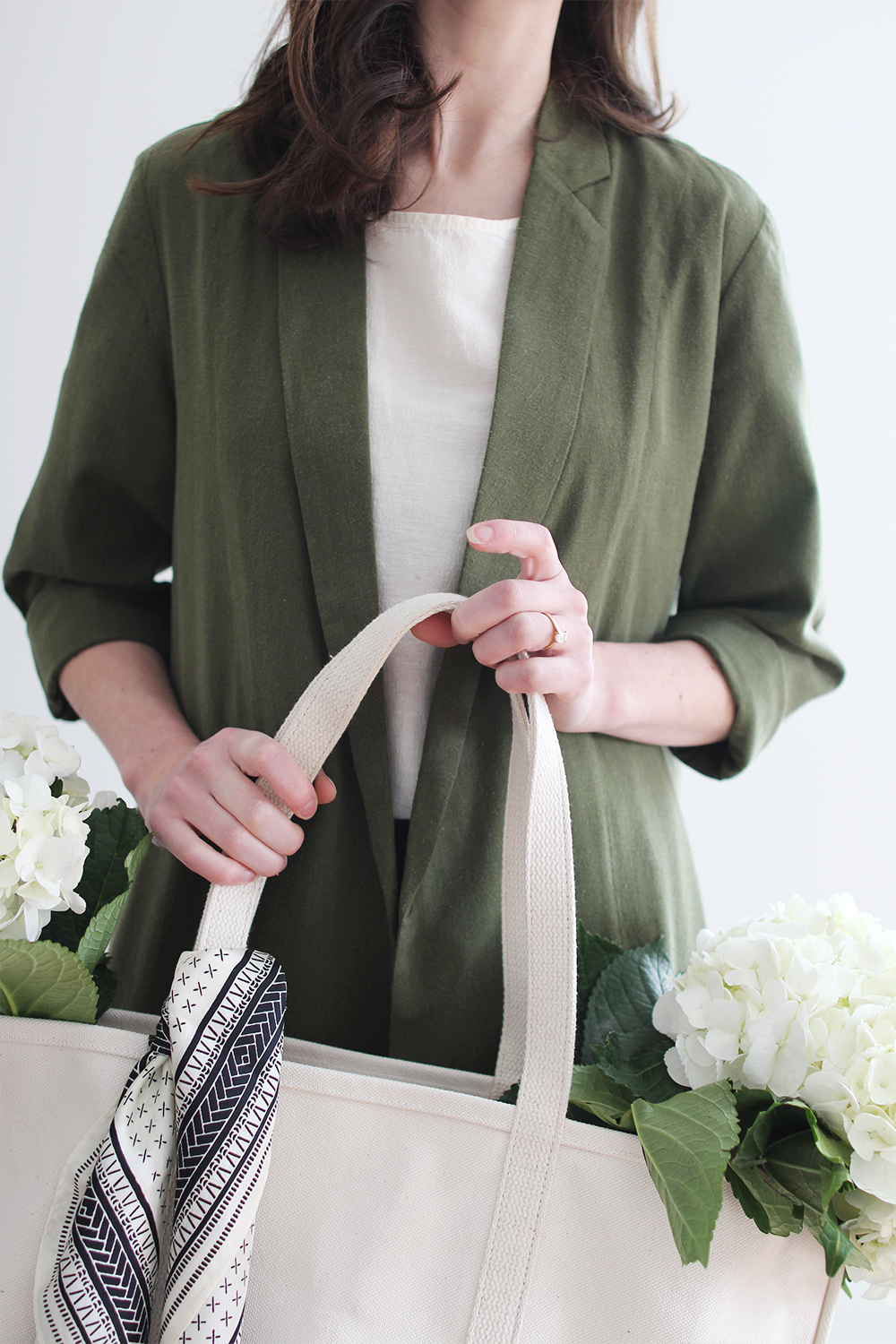 ---
INITIAL THOUGHTS + STYLING NOTES
So I'll keep my thoughts on this look brief (at least to me) but it's definitely one of my all-time favourites! The palette, the mix of materials, the ease of the fits and layers, it all just feels really great. So here's a breakdown a of those key elements in this outfit.
COLOUR – This coat is one of the boldest items in my current closet in terms of the colour. I LOVE this olive hue though, especially in a raw silk and it's already been a weekly go to for me. Worn over a base of neutrals, like this cream tee and black pants, it doesn't feel too loud but instead a little bit refreshing from my Winter of essentially only neutrals.
The little pop of cognac in my flats also makes me happy. I love how it compliments the olive and adds a final touch to the look. Ps. I'm working on learning more about this Montreal brand but all I can say so far is that these flats are beautifully constructed and super comfy.
FLOWY FABRICS – There is not one form-fitting item in this look and that's fine by me! There are however a couple of form-skimming elements that help it steer clear of baggy. My silk georgette straight pants have a beautiful movement to them and the hemp/silk blend tee drapes beautifully as well. Both pieces 'skim' my figure so they allude to my shape without expressly hugging it. The weight of this raw silk coat is just enough that it falls nicely and flows elegantly as I move around, giving glimpses at the items underneath.
DUSTER AS A BLAZER – I knew this additional duster would be a workhorse since I've been loving my denim version for a couple of seasons now. I wear my duster coats in place of a blazer or cardigan and toss on an extra top coat if I'm going out and it's cold. I've found I get way more use out of them this way and they're not limited to the outerwear section of my closet. Plus I love how the long length peeks out under a coat for added interest.
I love the look of a proper blazer but for my lifestyle I don't need much in the way of formal structure so the duster silhouette really fits nicely as a relaxed but still structured option for me.
COMFY-CHIC – If I've learned anything from my Loungewear Capsule experiment, it's that you need not sacrifice style for comfort. I would say this look is essentially one of my loungewear formulas, just in some slightly more upscale materials like raw silk or hemp silk instead of jersey or cotton. I would gladly wear this outfit all day for just about any typical activity or even a more formal dinner out or client meeting. It's also a perfect travel outfit for exploring a new city. I'll definitely be repeating it in as many ways as I can soon.
All things considered, this look is well on its way to starting a new uniform trend in my closet for Spring and I don't mind one bit! 
---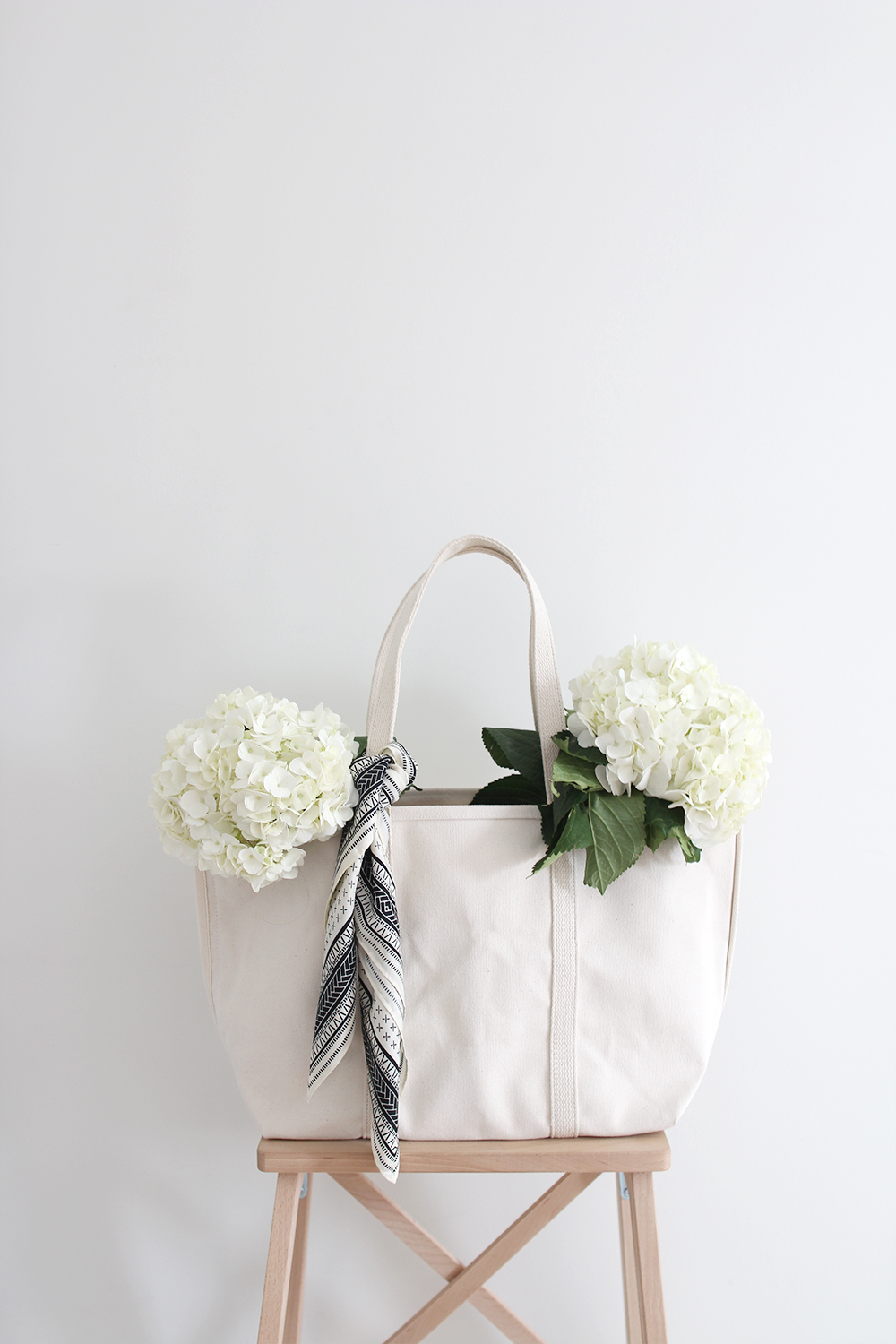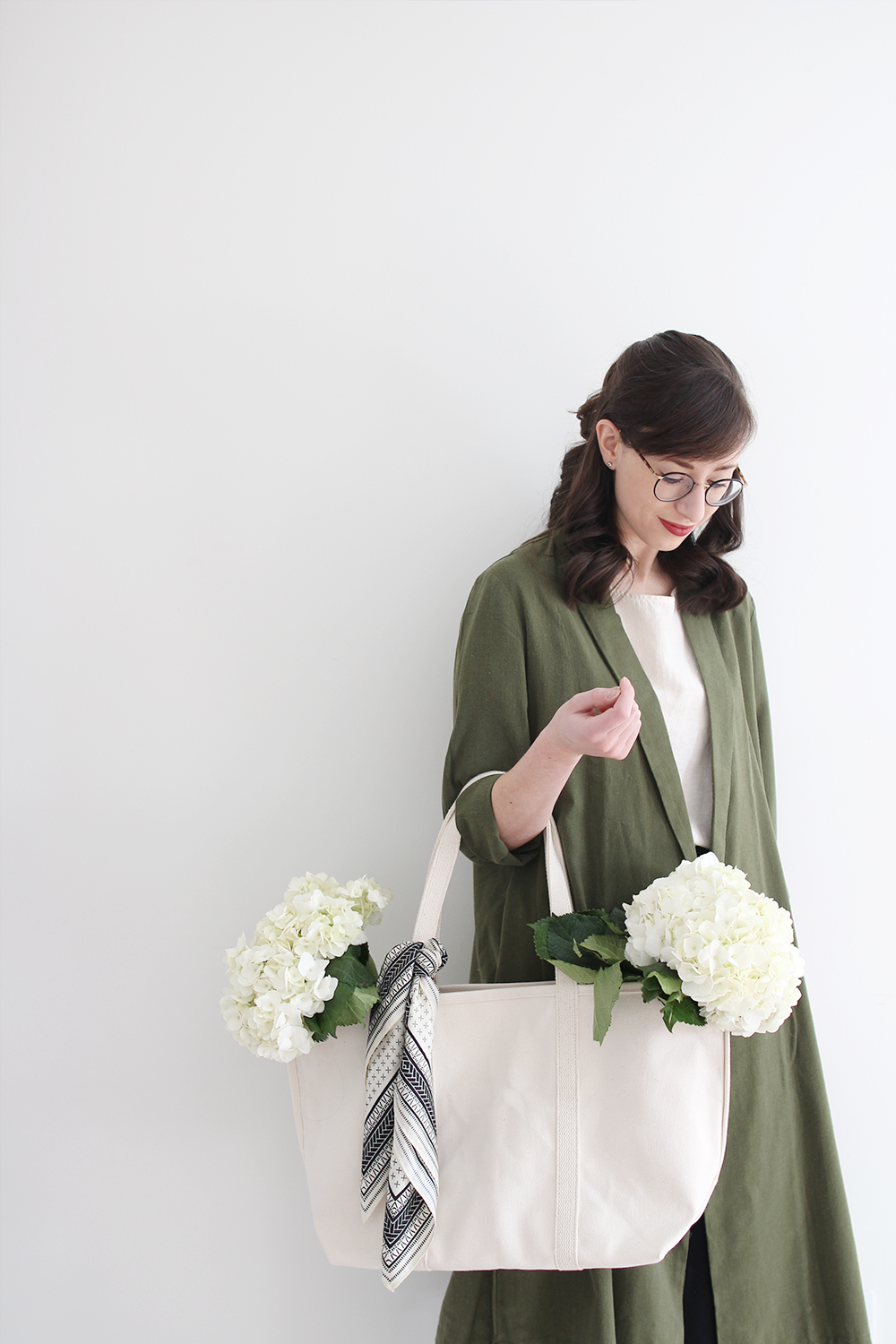 ---
JOIN ME FOR THE #SPRING10x10 CHALLENGE!
---
WHEN IS THE NEXT CHALLENGE STARTING?
FRIDAY, APRIL 7th
---
I'll share all 10 items I'm including on the Friday and start posting outfits the following Monday.
MEGA BONUS – CAROLINE OF UNFANCY, AKA OUR CAPSULE CLOSET GURU, IS JOINING ME AGAIN! YAY!
---
WHAT IS A 10 x 10 CHALLENGE?
---
The 10 x 10 Challenge is an exercise I adopted in 2015 to help encourage myself to get more creative with my clothes during a 30 Day Shopping Fast. The concept is essentially a micro capsule closet that you work with for 10 days, trying new looks and styling your clothes in ways you might not otherwise try.
---
THE BASIC GUIDELINES
---
PICK ANY 10 ITEMS FROM YOUR CURRENT CLOSET
STYLE THOSE ITEMS INTO 10 DIFFERENT LOOKS
USE 10 DAYS TO DO IT
HAVE FUN AND DON'T TAKE IT TOO SERIOUSLY!
I say 'guidelines' instead of 'rules' because this is meant to be a fun and helpful exercise, not a daunting or rigid task. You can limit yourself to only those 10 items for the full 10 days or just wear those items to work or after work. Take the weekend off and do 10 business days (that's what I do). You can try a smaller challenge first if you prefer with only 6 items over 6 days or up the ante and choose a few more items to style over a longer period (I've done 20 pieces over 20 days before). Leave out shoes or coats if you want more flexibility!
Accessories like bags, jewelry, scarves and bags are not included so turn to those when you're looking for versatility!
Do whatever makes it feel manageable but still be sure to challenge yourself!
---
ARE YOU UP FOR IT? WONDERFUL! TAG YOUR POSTS WITH #SPRING10x10 SO WE CAN SEE! Feel free to tag your shots under #StyleBee10x10 and #UnFancyRemix too so they're in the general library.
NEED MORE CONVINCING? NO PROB! SEE THIS PAGE FOR TONS OF INSPO AND INFORMATION.
---
Hope to see you there and feel free to shoot over any questions in the meantime! 
---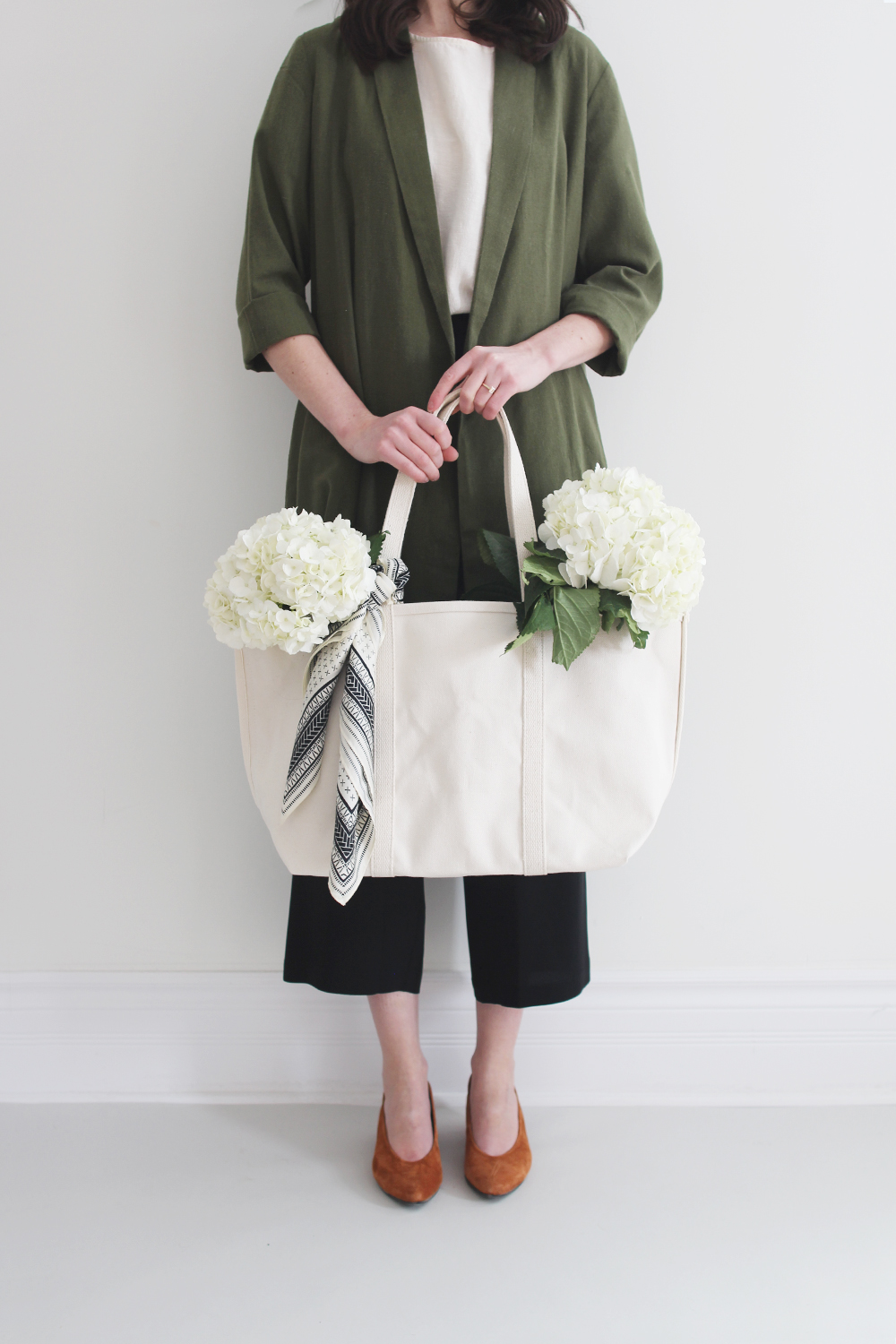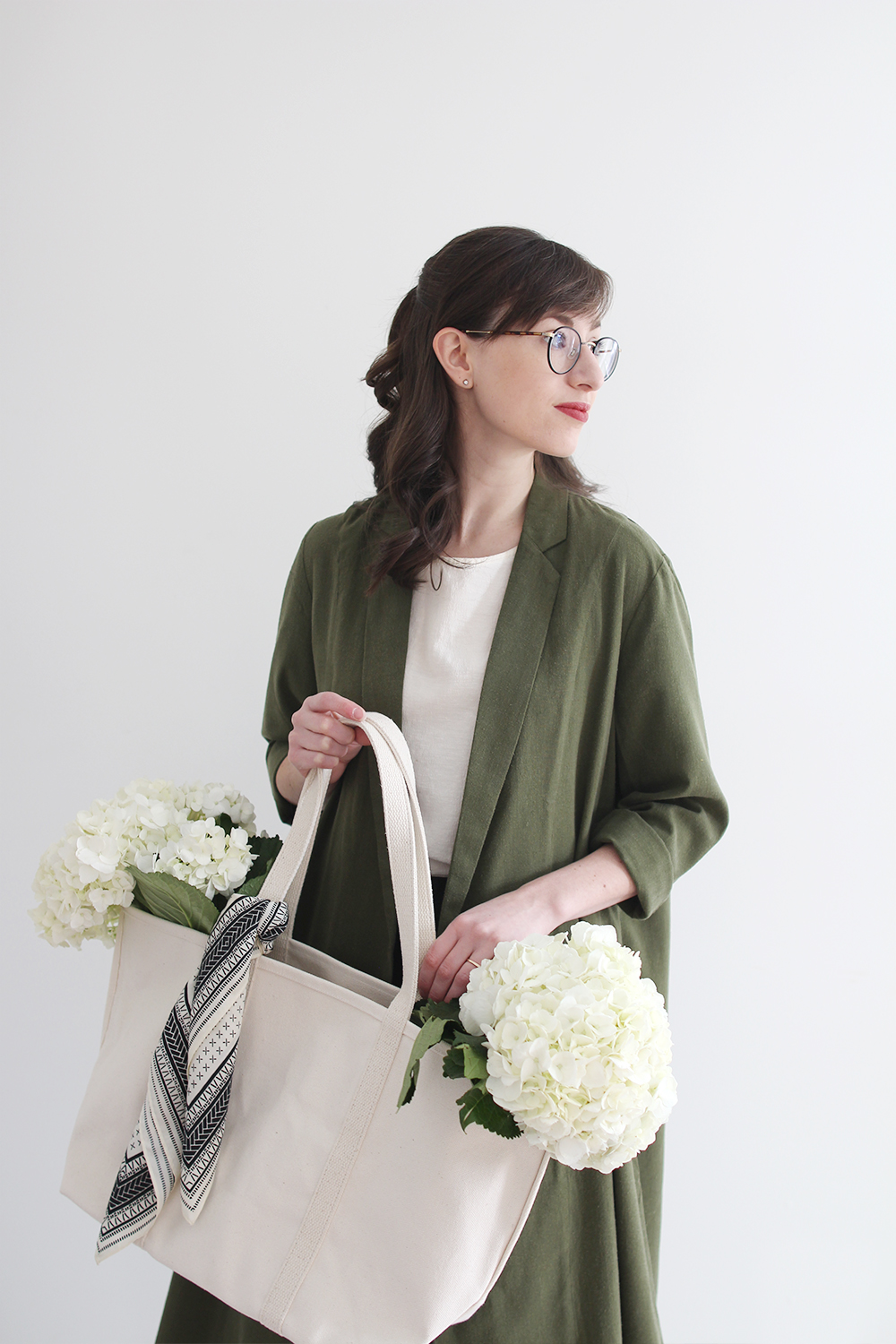 ---
Thanks for bearing with me lately as my posting schedule has been somewhat sporadic. Work/Life/Blog balance is something I've yet to master but the next few weeks will be nice and steady!
See you on Friday with a new Life Lately post! 
---
1 | BEACH TOTE | c/o JOSHU + VELA | $68 USD | Long handles shown. Made in San Francisco.
2 | GREEN DUSTER | ALI GOLDEN (S, M, L still available on sale for $135 USD!) Ordered originally via AKIN & CO during their epic Spring sale. | Made with love in a Fair Trade Certified™ facility in India. Also available in Rust. | Wearing a M.
3 | GEORGIA TEE | old ELIZABETH SUZANN | $145 – $175 USD | Available in Linen, Silk and Raw Silk Broadcloth | Made in Nashville. | Wearing a OS.
4 | STRAIGHT CROPPED PANT | c/o EILEEN FISHER | $270 USD | Also in Bone. | Responsibly made in China.
5 | SUEDE FLATS | L'INTERVALLE | $138 CAD | Made in Spain. | I wear a 37 and I'm usually a US 7.
6 | SILK SCARF | A PEACE TREATY | n/a | Made Responsibly in India.
---
See something you liked? You can shop it and support Style Bee by using the affiliate links provided. This post is not sponsored but when you shop via the links above I may make a small commission from a sale. Thanks for your support!