I hope you had a great weekend! Are you ready to really dig into this #Spring10x10 Challenge? Awesome, me too! I've loved seeing and reading about everyone's 10 items and what they're excited to try out. Lots of people have started sharing their looks too and it's safe to say we're off to a fabulous start! My 10 x 10 co-host Caroline of UnFancy and I are thrilled to begin sharing outfits and playing around with some fun Spring style.
If you're still on the fence about the challenge, or just tuning in, it's definitely not too late to join in! You can get all the info you need from Friday's Post or check out the dedicated 10 x 10 Challenge page for tons of inspiration to kick-start your outfit ideas. We'd love to have you!
But now it's time to dig into the best part of this series, the OUTFITS! I'm starting things off with one that's composed of all my spring favourites and perfect for this magical 20+ degree weather we're having here in Guelph, Ontario today!
So let's have a closer look!
---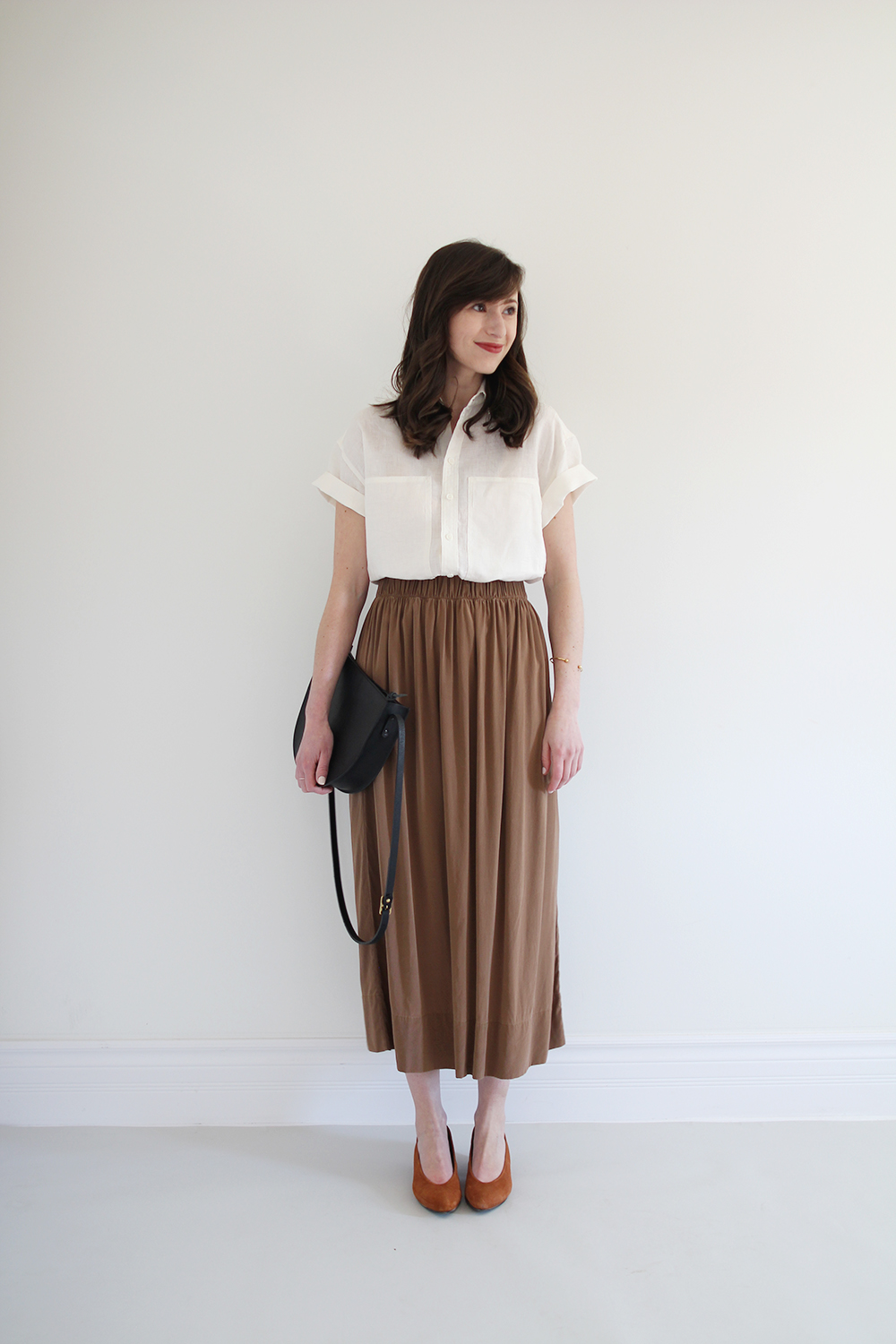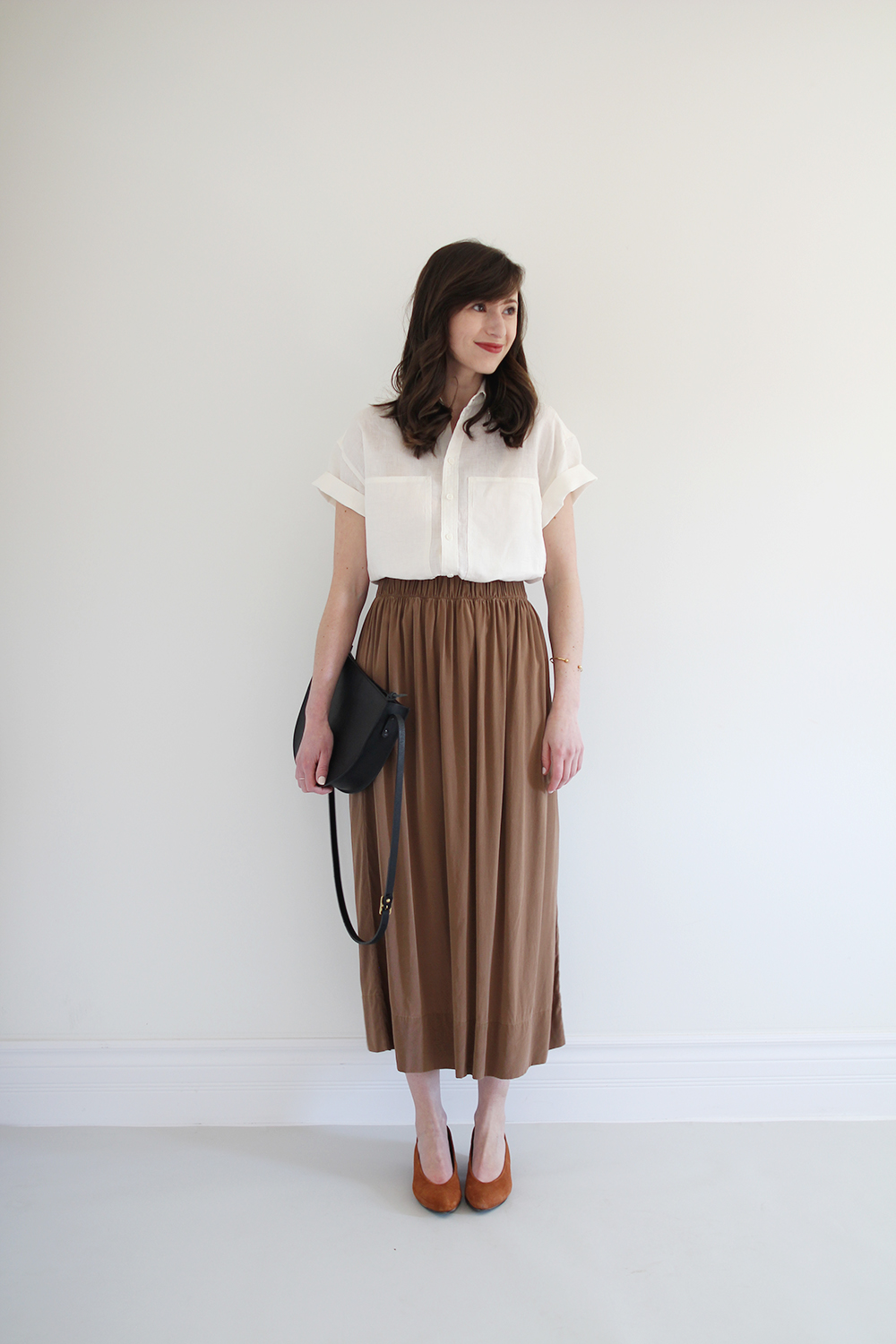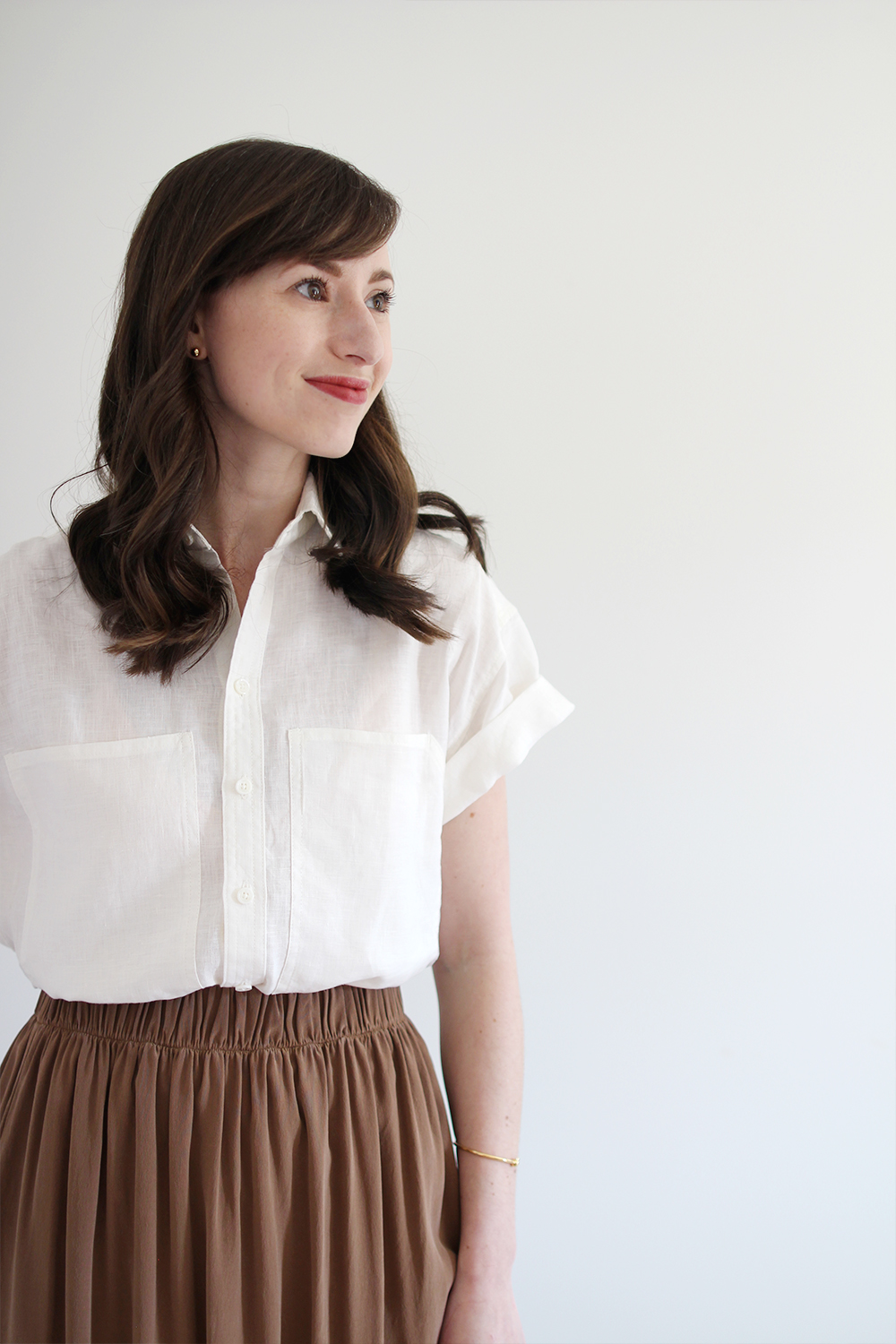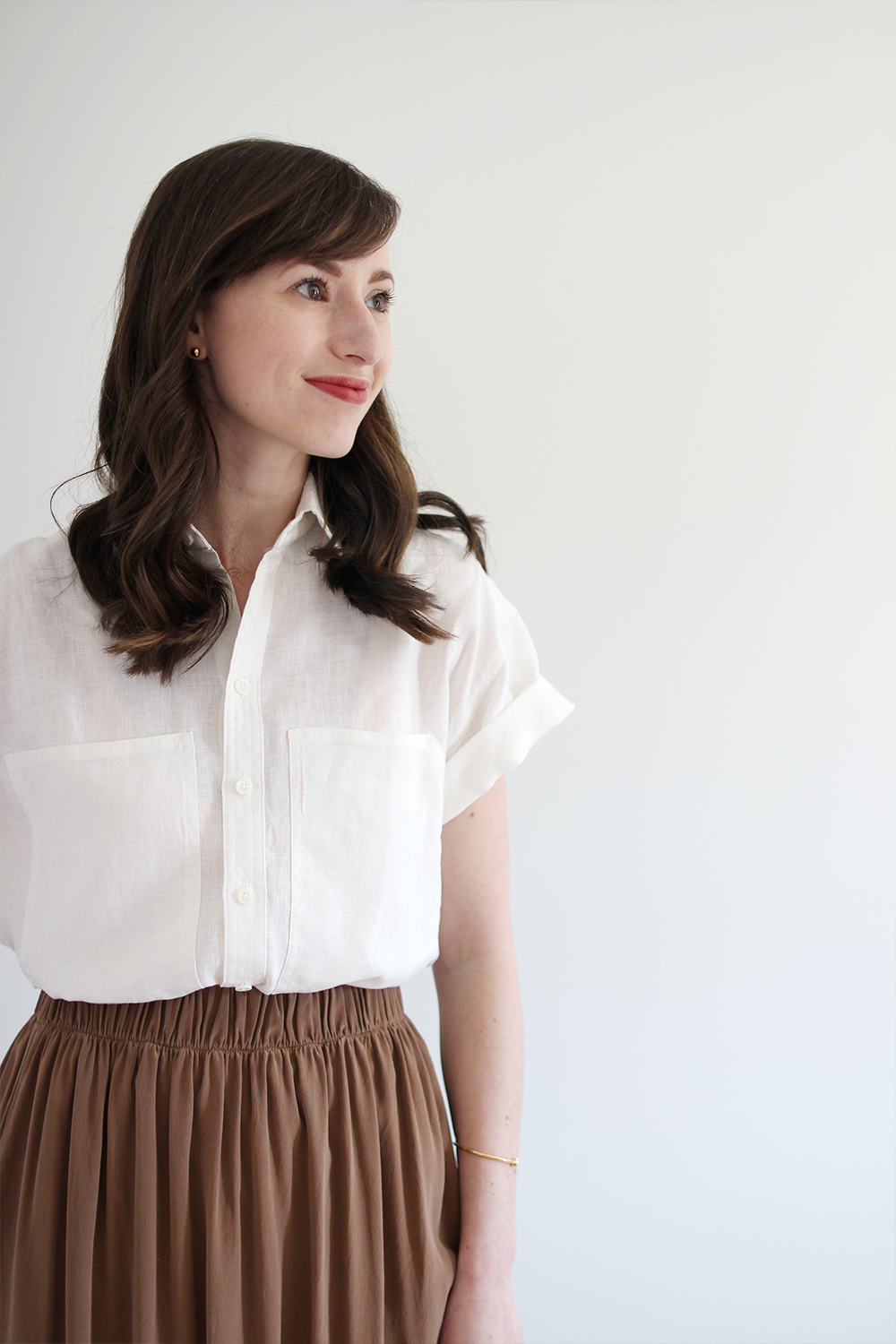 ---
INITIAL THOUGHTS
---
I really couldn't help but pick this these items first and I LOVE how this look came together. I've been dying for a reason to get this skirt out and love how timeless it feels when paired with a fresh white button down. Not to mention the fact that I'm obsessed with these flats! Today is going to be the warmest day over the next two weeks so I wanted to take advantage by wearing some short sleeves and silk to celebrate Spring's true arrival. Plus it's Monday and if wearing a cute outfit can boost my mood then I'm all for it.
I'd initially planned on tying my shirt into a knot (like this) but once I tried it tucked in I loved how clean it looked and felt. It's hard to know how a button down will work when fully tucked, meaning if it will billow out in a nice way but because this waistband is thick and the linen is lightweight, but still sturdy, it falls into a really nice shape. I also wasn't sure if these shoes would clash or work with the moss skirt but I dare say they're getting along quite well!
I love that this look is totally uncomplicated and yet there are some really interesting elements. The large shirt pockets immediately set it apart from your typical button-down and the colour and midi length of this skirt make it a soft statement. A unique shoe and fun shaped bag really top it off nicely.
The colours in this look are super simple but I love the contrast of rich brown tones with fresh creamy white and a hit of black. I think I'm going to go ahead and file this one under easy and elegant!
Today's agenda: Lots of time outside, whether I'm answering emails in the yard or walking the pup. Some of the usual office stuff and perhaps a dinner out with my fella.  
---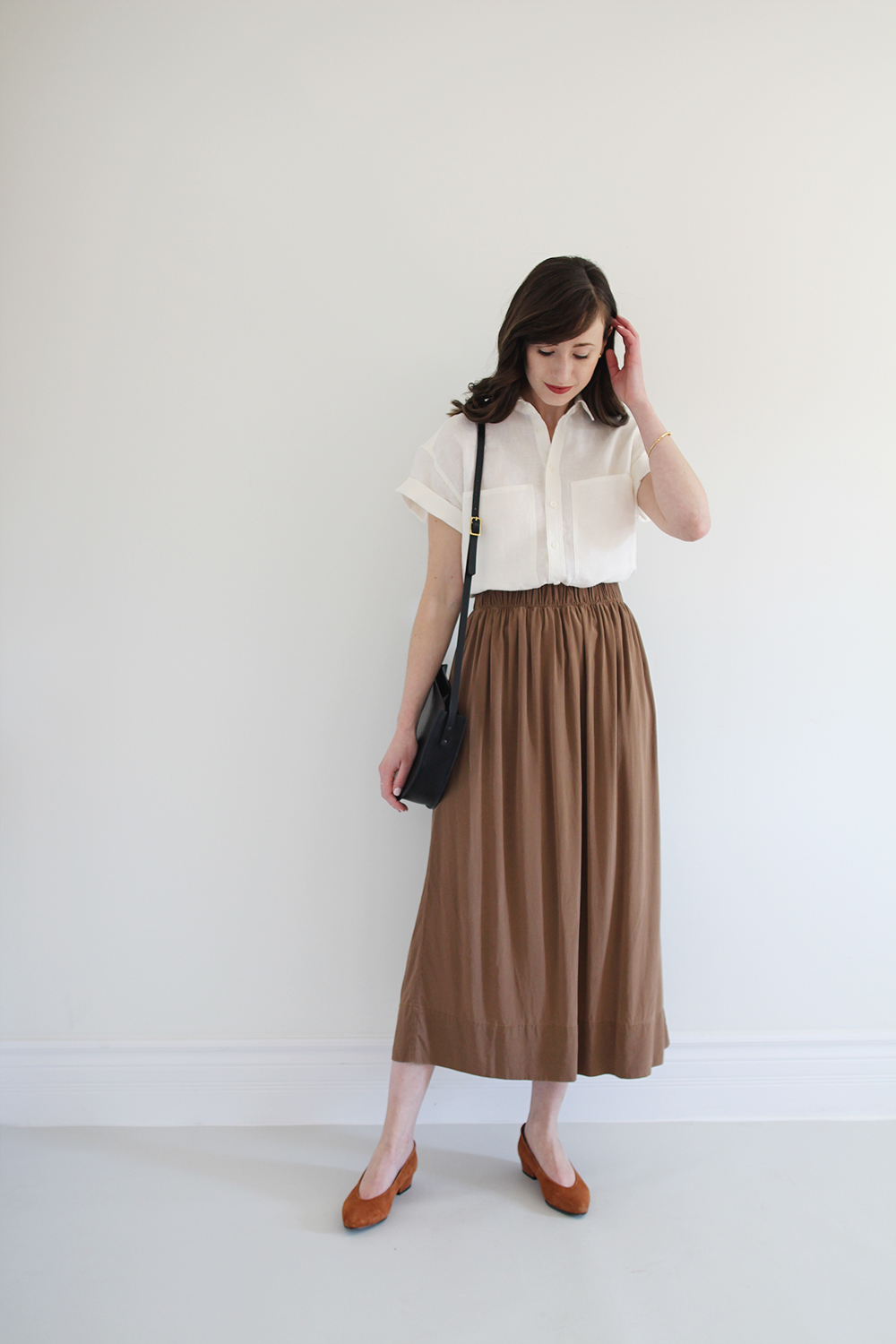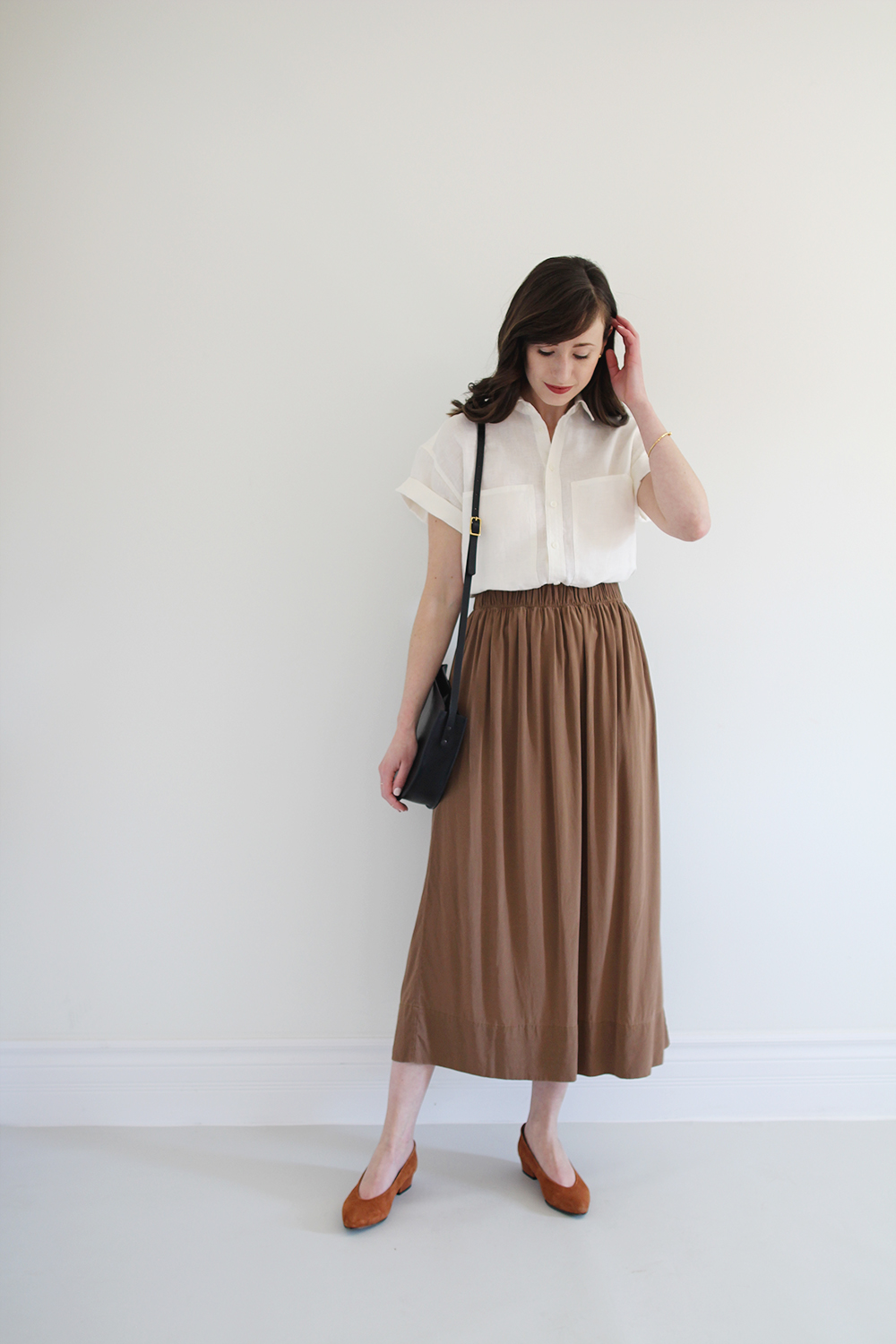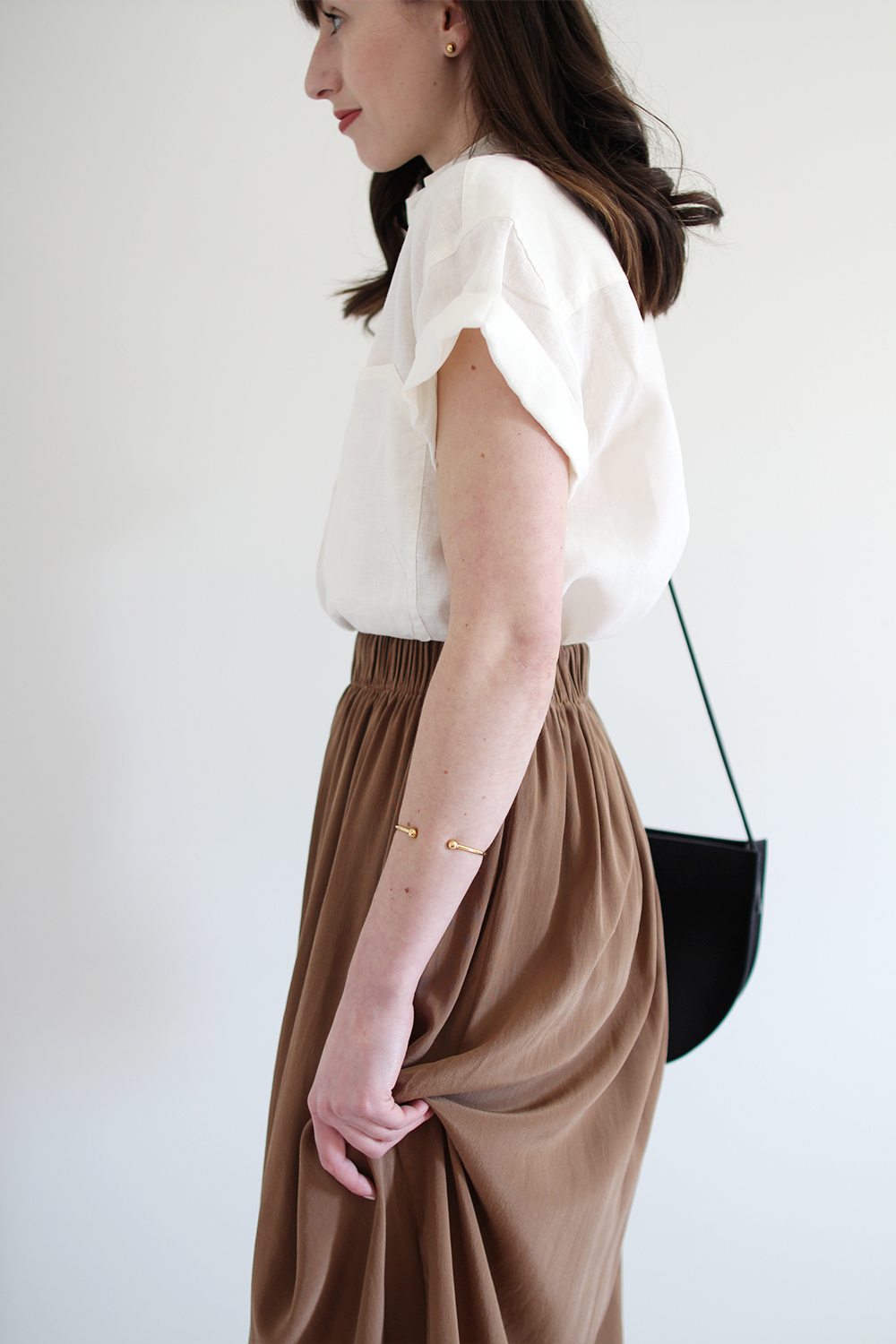 ---
STYLING DETAILS
---
1 | DOUBLE ROLL | This shirt has some nice wide short sleeves that are just begging to be rolled. I also find them more flattering and relaxed when they're cuffed. I rolled them twice and to keep them from unrolling I went over the inside of the folded area with the iron to set the crease. This worked great because now they don't want to budge!
If you want the sleeves on your shirt to stay rolled or the cuffs of your pants to hold, run an iron (with some steam) over the inside for a few seconds to set the crease.
2 | FULL TUCK | This look definitely called for a full tuck in of the shirt. A front tie could also work but the full tuck feels more sleek and sophisticated. To get a full tuck to work with a skirt like this I always start with the shirt then add the skirt otherwise the tuck-in is never as clean.
To achieve this clean tucked in look put your top on first, button it all the way to the bottom and then pull your skirt on from over your head and down, instead of trying to tuck the top into the skirt after. To adjust the top so it billows out slightly just lean left and right, back and forward slightly until it flows over the waist slightly. 
3 | TEXTURE PLAY | Every element of this look is a unique and relatively luxe material so even though there's not a lot of colour or pattern it's far from mundane. The linen is a very fine gauge, the silk is a buttery crepe, the flats are a rich suede and the matte leather bag blends in nicely without creating too much of a focal point.
Whenever you're working with a lean colour palette, play with texture and pair unique fabrics together to add interest. 
4 | FUNCTIONAL + FLIRTATIOUS | I really like how there are two themes colliding in this look. The first being a very functional workwear vibe thanks to the crisp button-down and they second being a ladylike, flowy feel from the midi skirt. The two balance each other out nicely and keep the outfit from feeling too much one way or the other. A low, practical heel in a strong colour with a sleek shape also carries the same balance through.
Next time you're looking to try something new, pair a work shirt like a button-down with something more feminine like a billowy skirt or culottes for an unexpected balance of styles.  
5 | BIG BAND | The thick elastic waistband on this skirt is amazing and I'm not sure I can go back to skirts without elastic in the waist. It's not only super comfortable but it's extra thick width also helps it stay in place and makes tucking things in a breeze. By letting it sit at my natural waist it creates a slimming midsection as well.
Thick elastic waistbands are universally flattering, so don't be shy and wear one right at your natural waist for a slimming silhouette and a long leg. 
---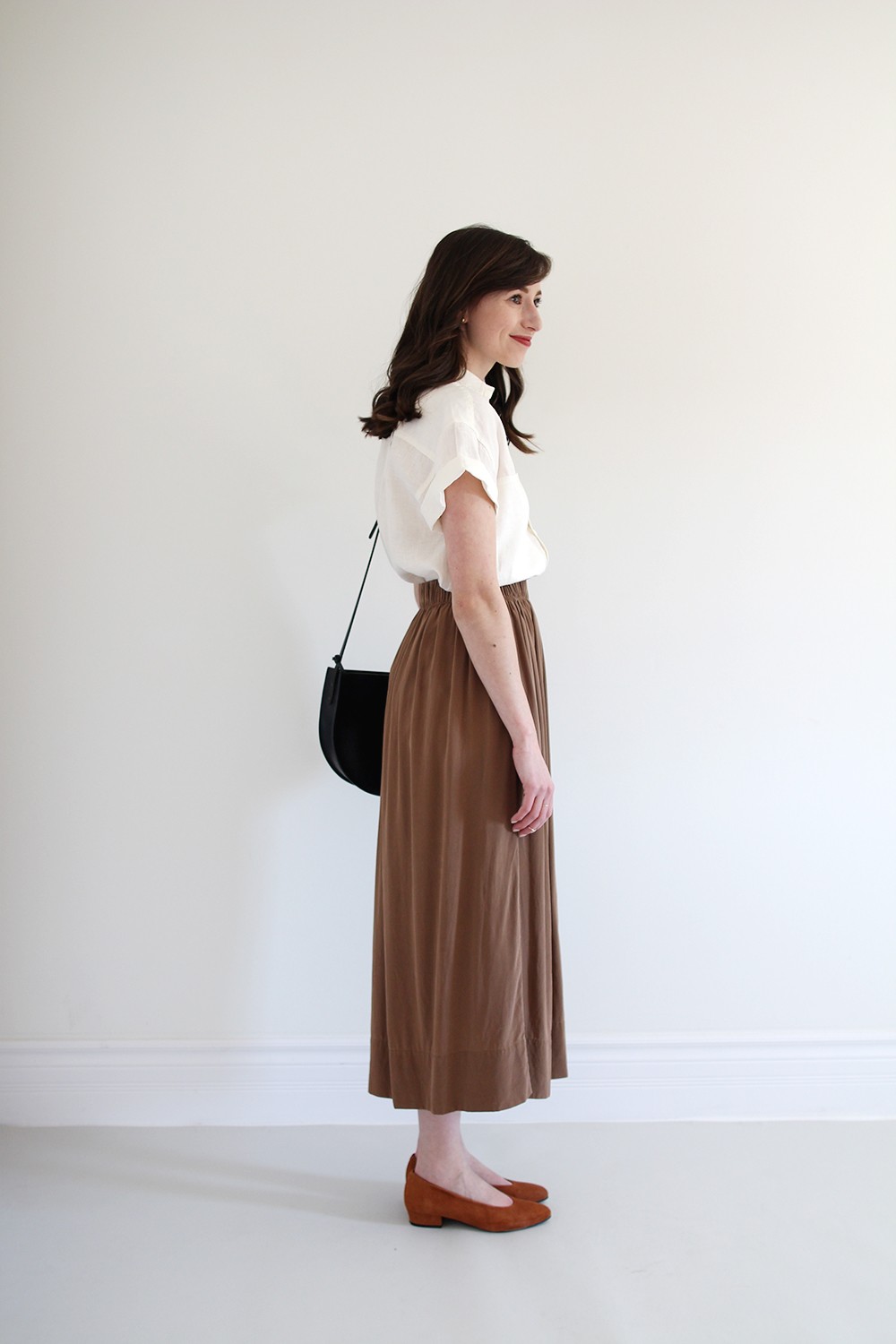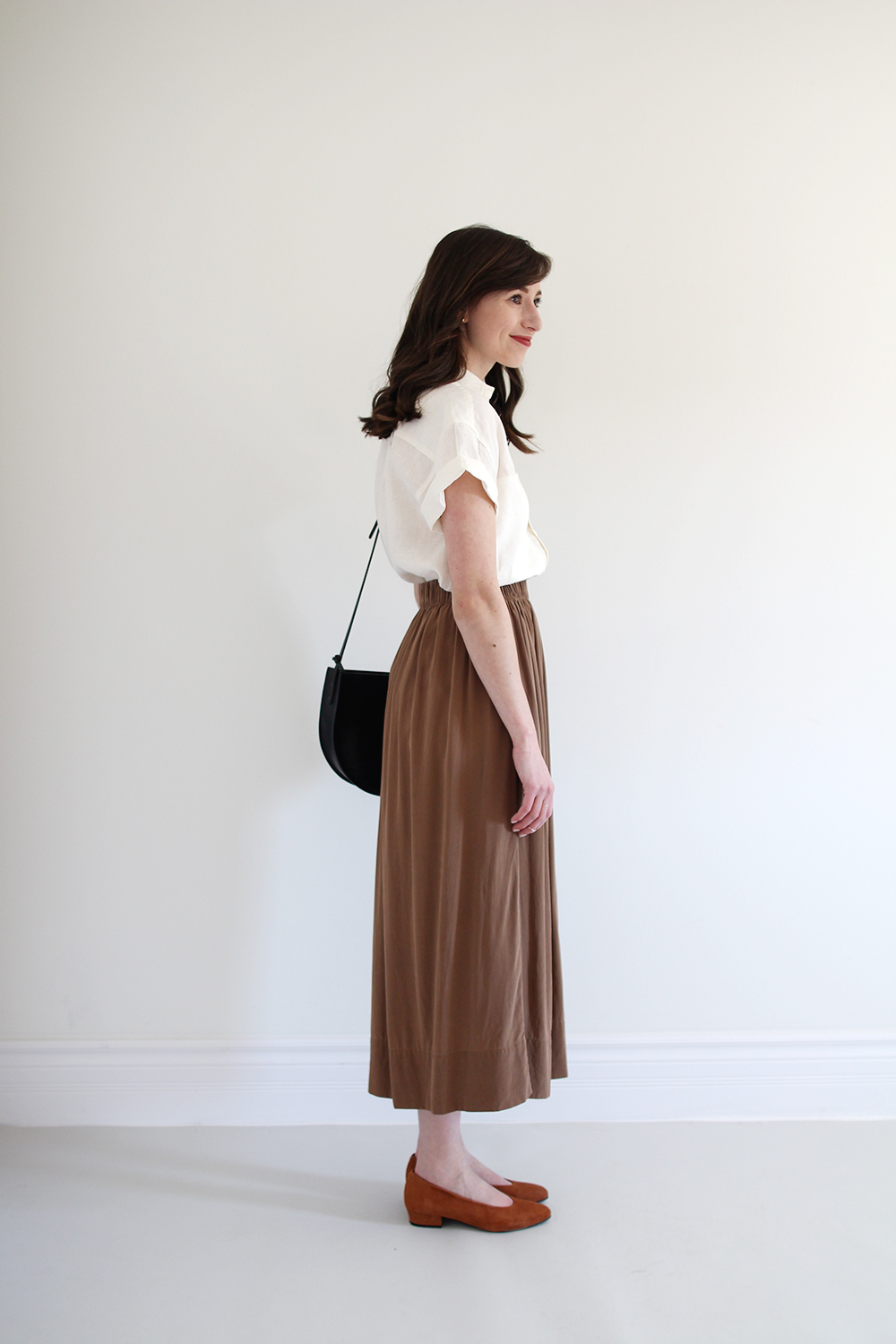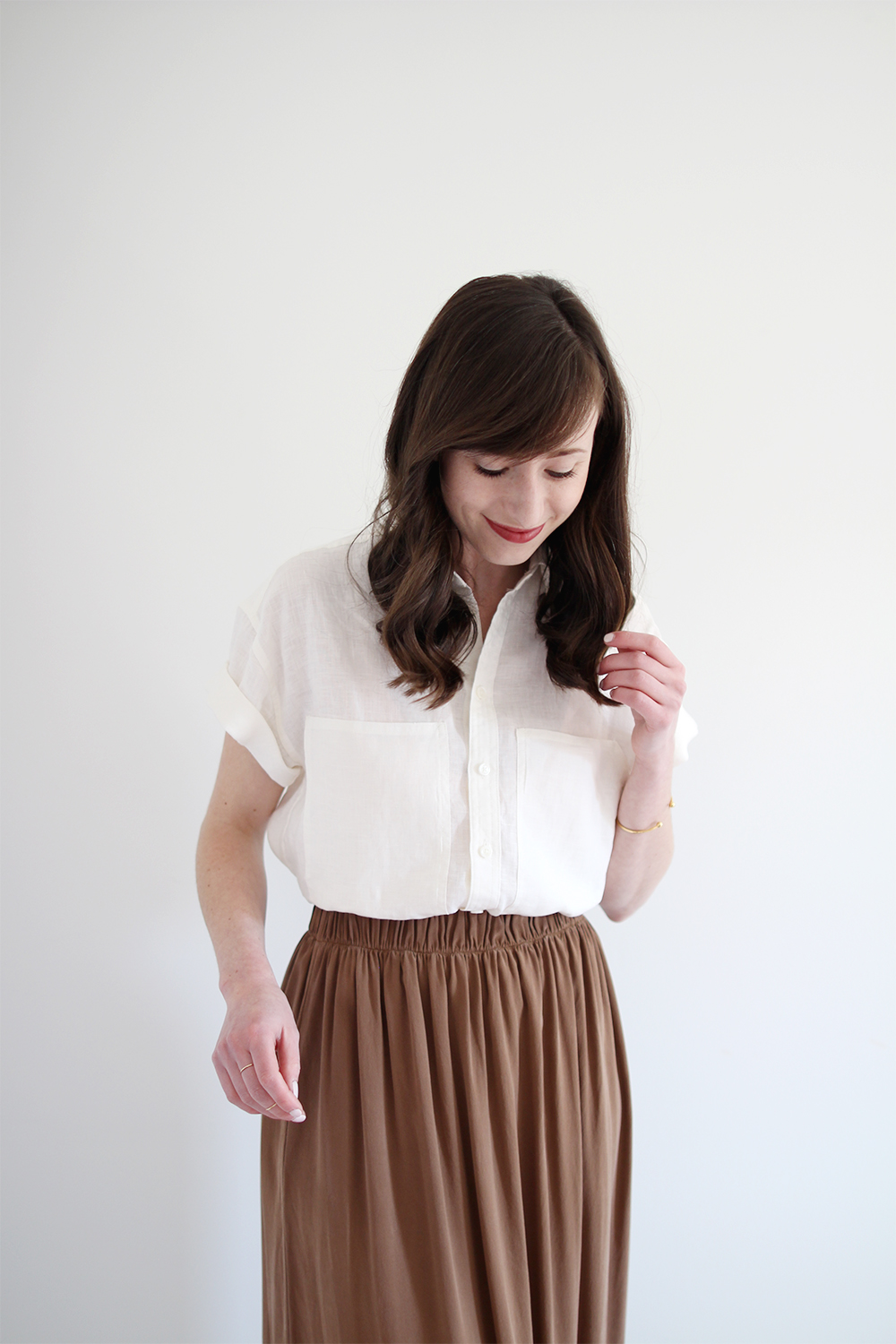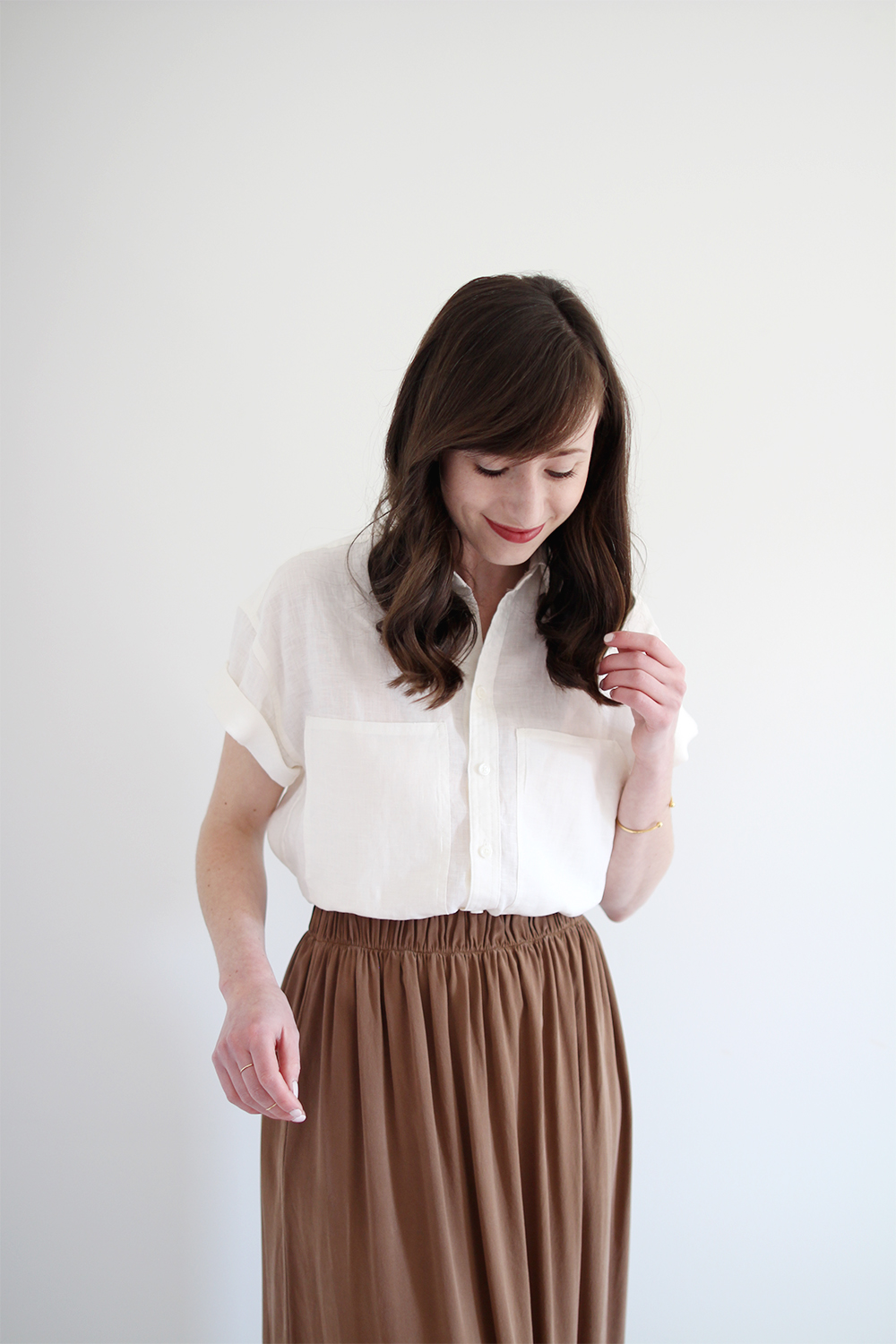 ---
TODAY'S ITEM SPOTLIGHT – WHITE LINEN BUTTON DOWN
---
Today I'm wearing The Friend Wayward Fit button-down by the Canadian west coast shirt atelier Power of My People. This one had been on my staples wish list for a long time. My partner Dave has three of their shirts and they're easily his (and my) favourites. He's also not one to go easy on his clothes so I knew if they could handle his use they were seriously well made.
Button-downs are a pretty universal closet staple and I love them but the right one can be tricky to find. I often feel they're too short or too conventional in shape and fit but this one really stood out to me for a number of reasons:
Short Sleeves 
Big Front Pockets
Long Length
Smooth Lightweight Linen
Not Too Sheer
As soon as I tried it on I knew this beauty was worth all the hype and would soon be a closet hero. So here's a little more about this classic but-not-too-classic gem.
ABOUT THE BRAND: Jessica Matthews and Kyle Kozma co-founded Power of My People in 2015 with a serious passion for the perfect shirt and a whole lot of elbow grease. They spent over 6-months developing, testing and refining their 3 signature fits, The Women's Proper, The Men's Proper and the Wayward and have stayed true to them ever since. The duo used to cut and sew every shirt in their apartment (spending no less than 18 hours on each one) but have since expanded their shop to a beautiful studio space and have moved production to a local set of skilled craftsmen in Vancouver, BC, where they can ensure every shirt created meets the highest standards. The line has earned a cult following across North America (my fella included) and once you've seen their work in person it's easy to understand why.  These folks really, really know their shirts.
Not to mention, all Power of My People shirts are proudly made in Canada.
FABRIC: This linen is not quite like any of the linens I've worn before. It feels very fine and smooth, not as nubbly or fibrous as other options in my closet. When it first arrived it was quite stiff but at Jessica's suggestion I washed it and let it air dry before wearing it and it softened up a lot right away. Now I've worn it about 6 times and it's super soft but still smoother than others, which helps it feel more refined and polished. I love it!
SHEER FACTOR: This lightweight linen is slightly sheer but thanks to the big front pockets and a relaxed fit, it's not a problem. I'm wearing a nude-ish bra in these shots and you can't see through at all.
CREASING: It's funny how often people ask me if a linen piece 'creases easily' and the answer is always, 'yes'. But this one I've found a bit more wrinkle resistant than those in the past (especially this one). Even after I wore it all day at my desk and in the car (for an hour) there were only a few lines on the front which was surprising. It also irons up nice and smooth, no problem.
8 FRONT BUTTONS: All Power of My People shirts have 8 buttons, which means no boob gap, yay! This one is a relaxed fit anyway so it wouldn't be an issue but in case you decided to size down or try another style.
SIZE + FIT: I'm wearing an XS and it's perfectly roomy but not too oversize. The flattering curved hem falls about an inch past my hips and butt when worn out (which I'll show you later this week). I'm 5'7 and 125 lbs for reference. See the Fit Guide for more info.
COLOURS: I knew I'd have to start my collection with the Wayward Fit in Cream (which looks very close to white) but they also offer a gorgeous Green, Sky Blue, Spring Stripe and Rose for those more adventurous.
VERSATILITY: You can do so much with this shirt it's pretty remarkable. Wear it tucked into a cute skirt like this, tied at the front with wide-leg jeans for a 70's vibe, wear it loose over a slim black pant or unbuttoned over a tank dress for an easy breezy look. I plan to try all of the above this Spring!
---
STYLE BEE TREAT: Power of My People is generously offering Style Bee readers 20% OFF every order with the code STYLEBEE for the entire 10×10 Challenge!
If you're in the market or your fella needs some new duds definitely take advantage (see the men's collection here). Shipping is free on orders over $200 CAD and returns/exchanges are free across Canada (so rare for us!) which makes getting the right size super easy and stress free. 
---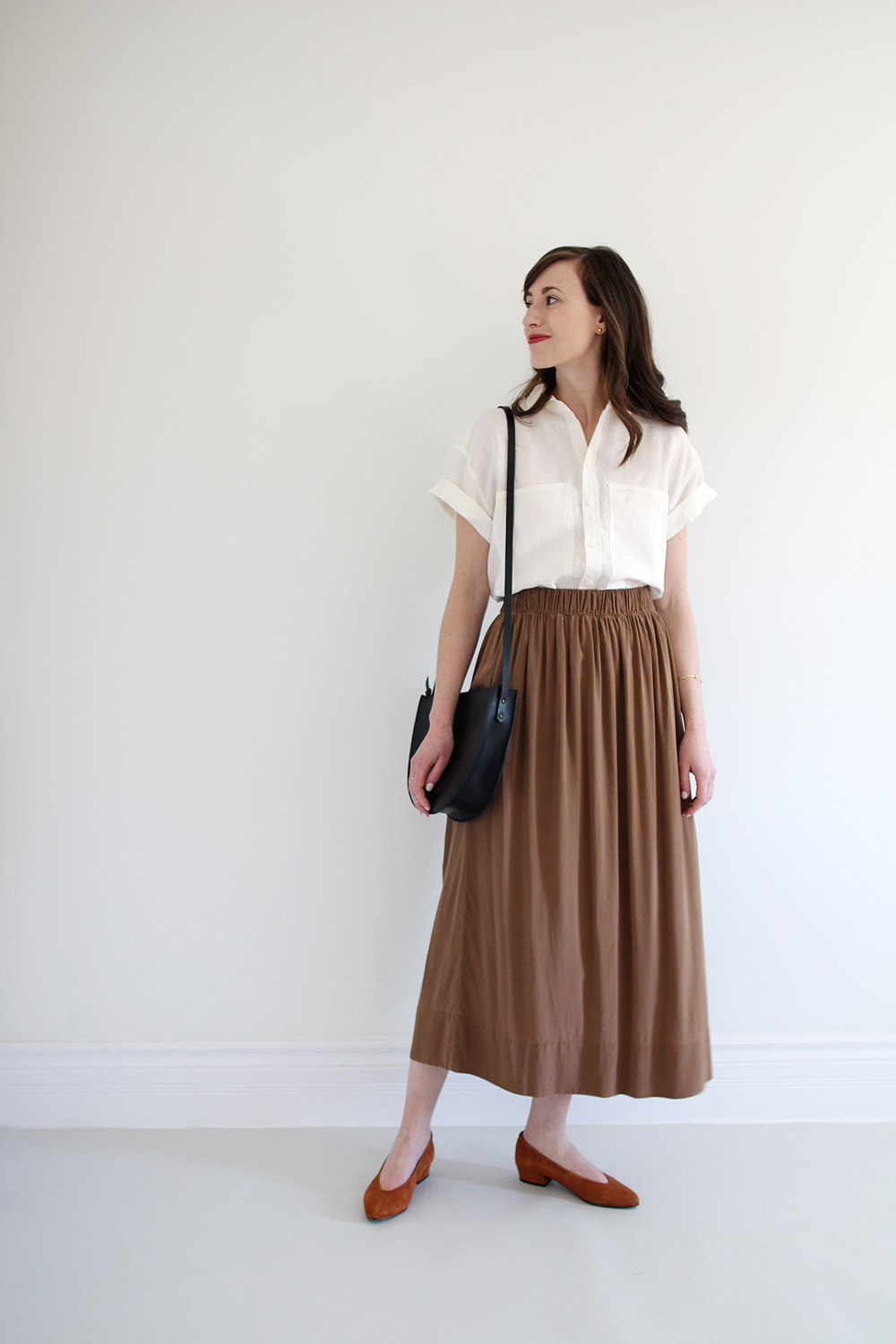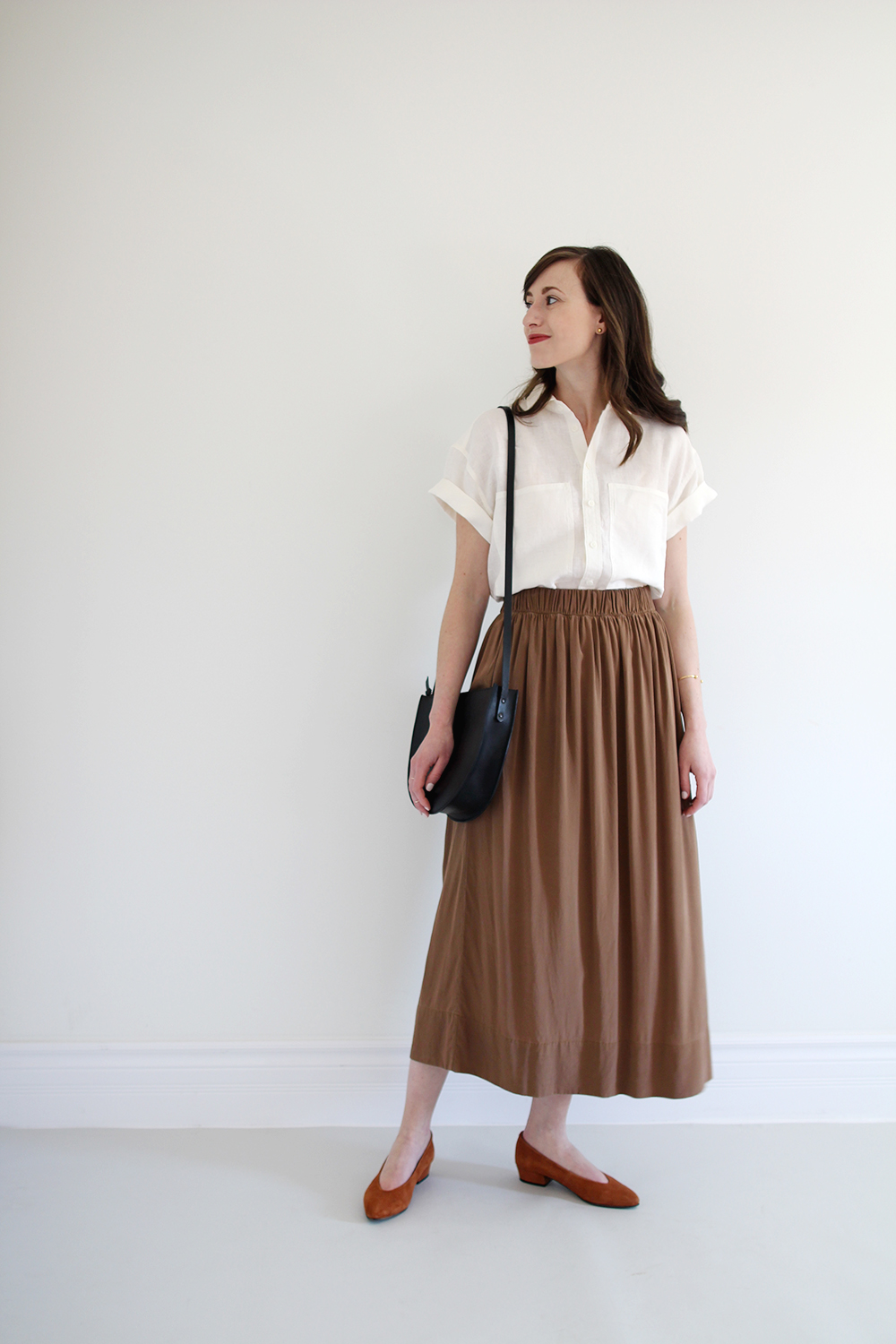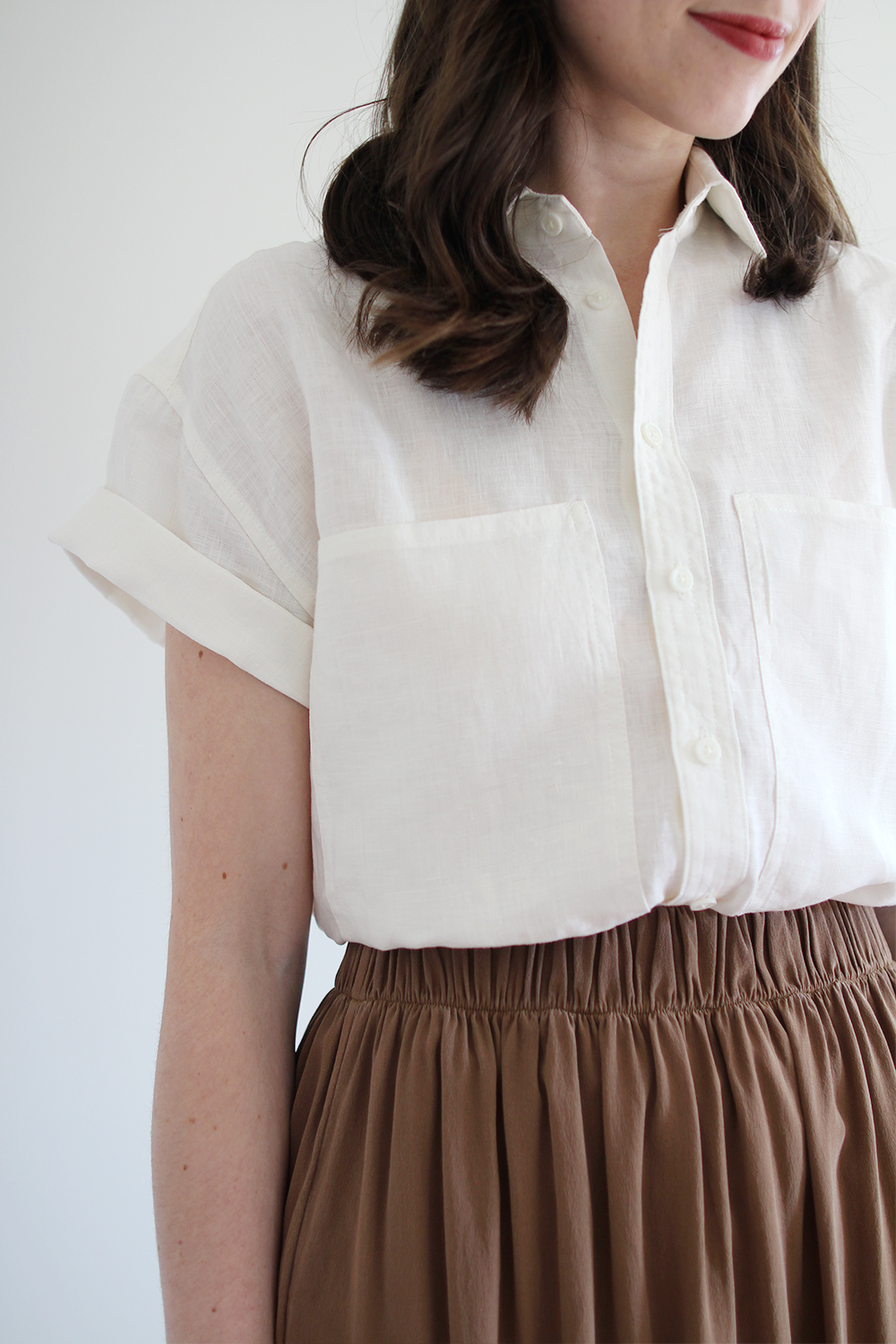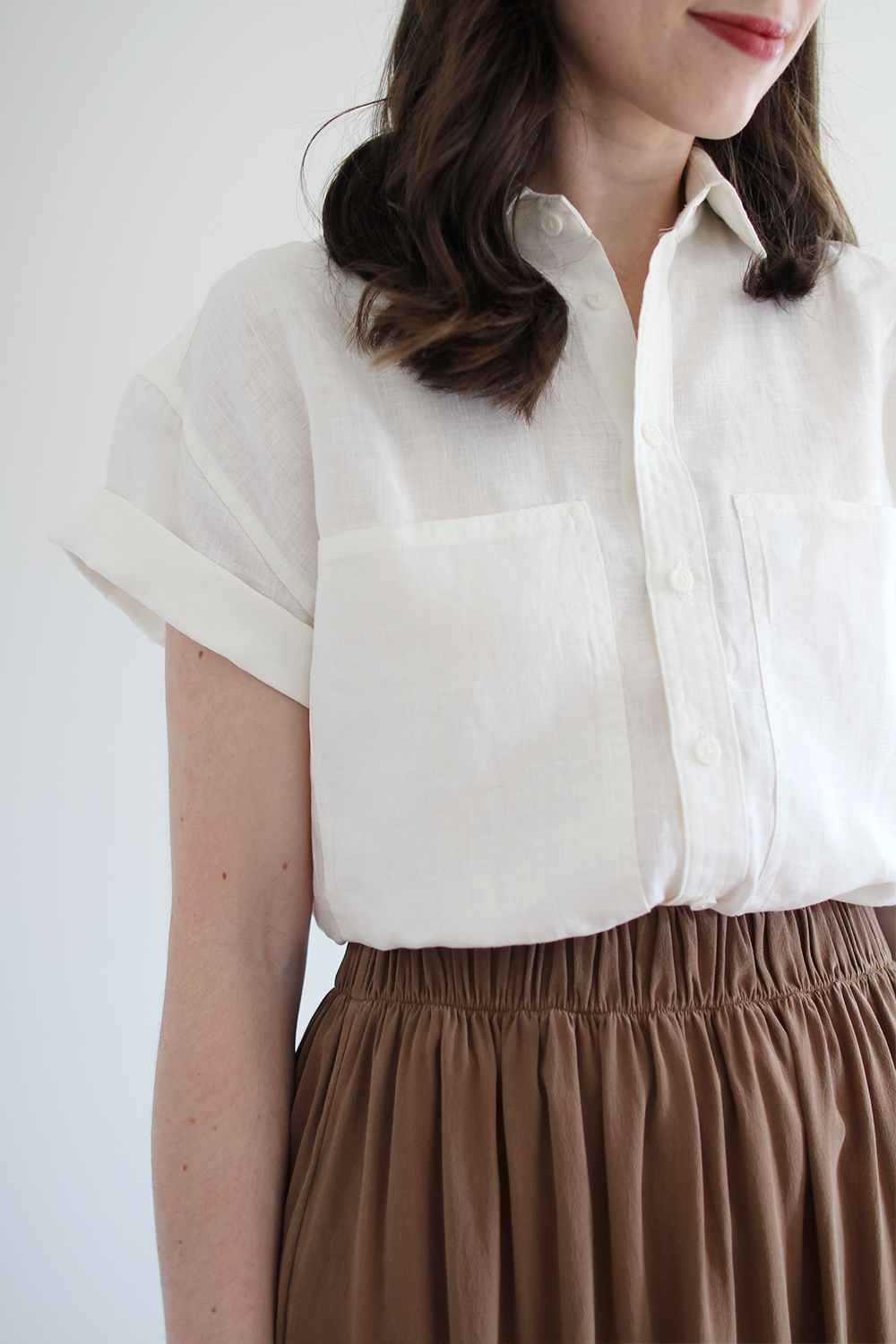 ---
COAT OPTIONS
---
As I mentioned, I chose not to include any coats in my 10 pieces so that I would have some flexibility with the weather being all over the map right now. Today is absolutely beautiful so I could probably forego coats all together but if with wind picks up or I head out for dinner I'll reach for one of these top layers.
---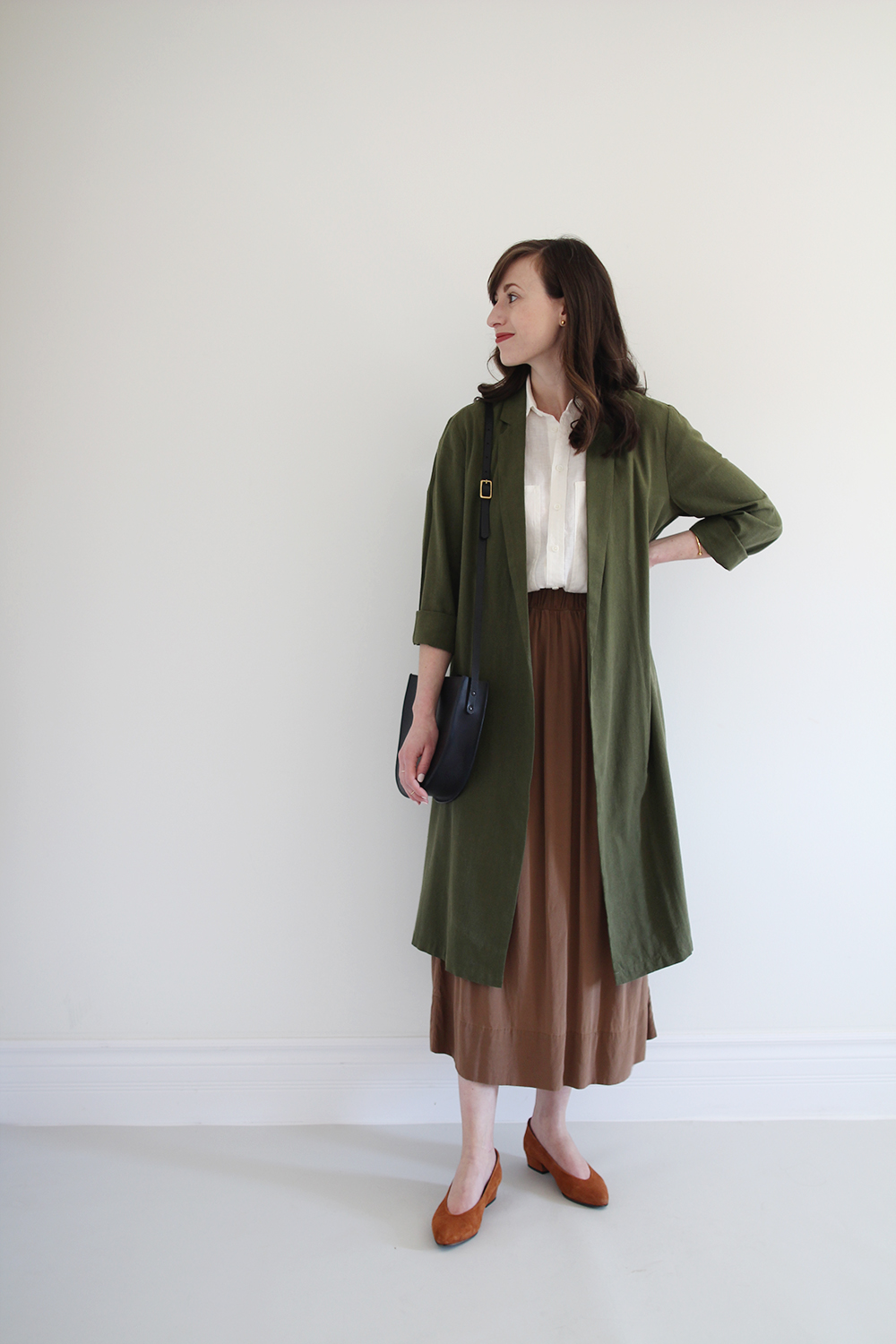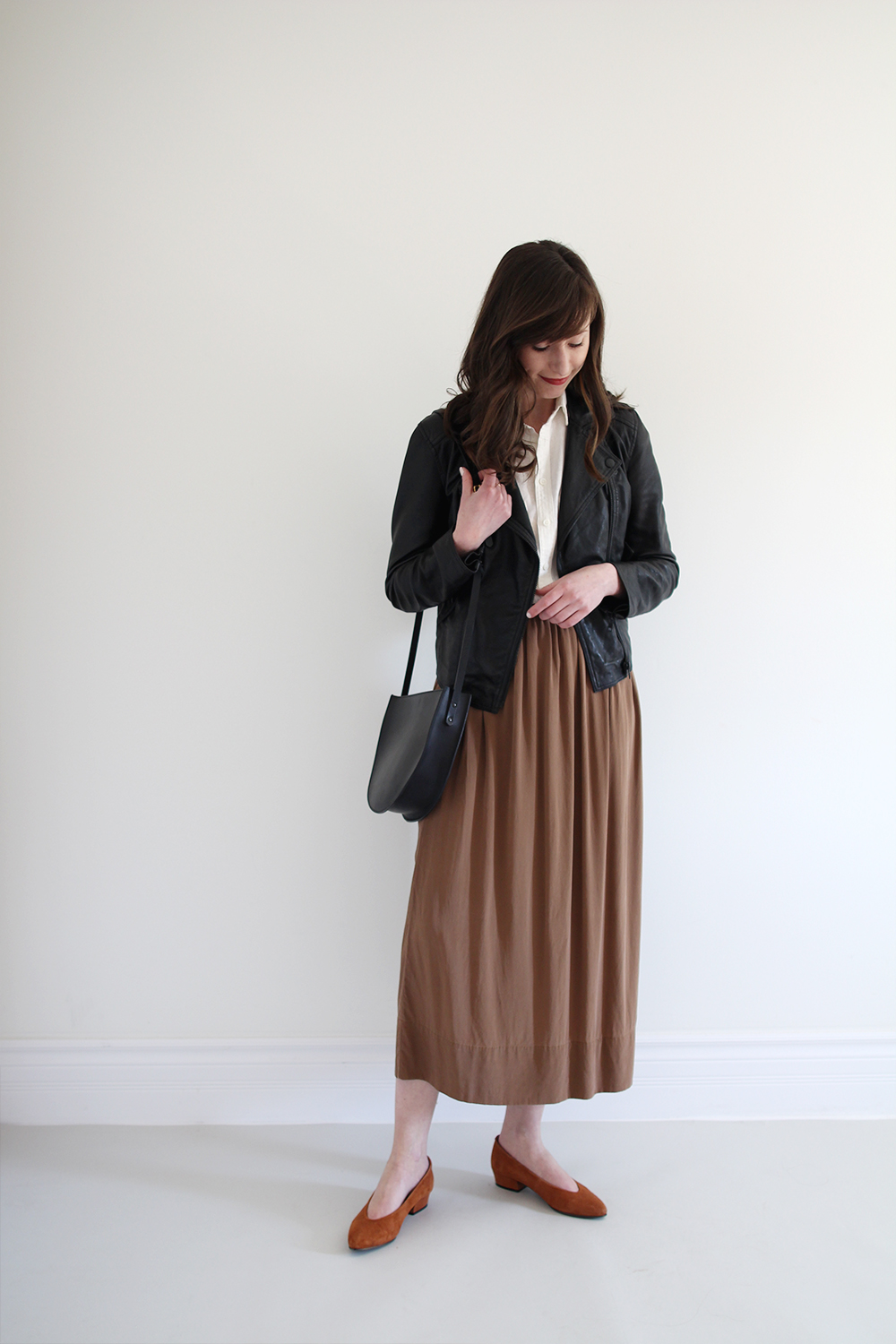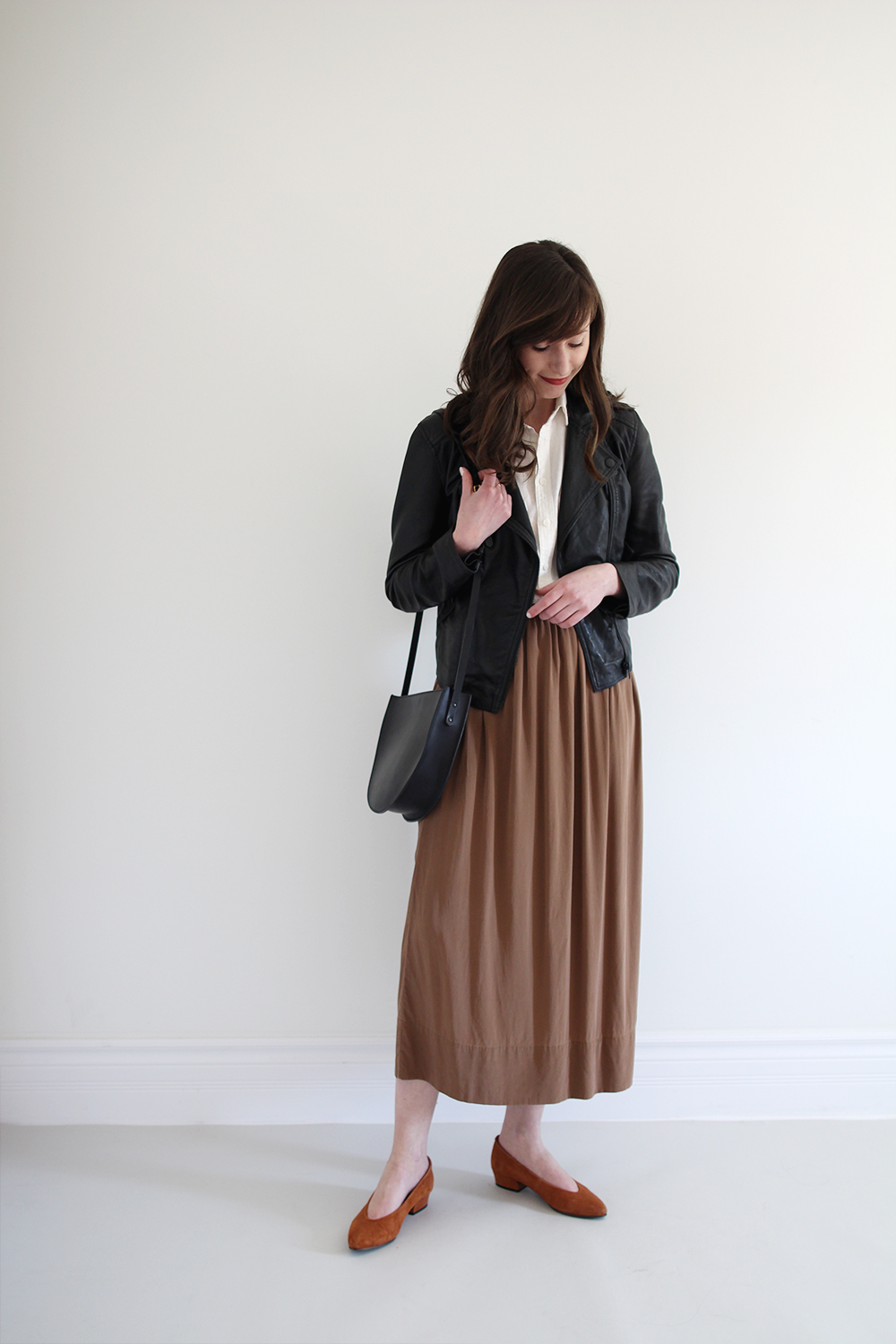 ---
SHOP THE LOOK
---
1 | LINEN BUTTON DOWN | c/o Power of My People (new) | $165 CAD | Made responsibly in Canada | The lovely folks at P.O.M.P. have generously offered Style Bee Readers 20% OFF sitewide during the 10 x 10 Challenge! Just use code: STYLEBEE when you checkout. | Wearing an XS and 5'7 and 125 lbs for reference.

2 | SILK MIDI SKIRT | c/o Elizabeth Suzann (1 yr old, sold out) The Clyde Skirt in Raw Silk looks gorgeous!| Made responsibly in USA | Similar option by Base Range ($210 USD) and this one is similar in linen by Black Crane ($229) 

3 | COGNAC SUEDE FLATS | L'Intervalle (2 months old) | $138 CAD | Made in Spain | Similar pair by Stuart Weitzman ($365 USD) and in Blush by Coclico ($295 USD) | Wearing 37 and usually a US 7 (narrow)

4 | ELOISE BAG | The Stowe | $378 USD | Made in Montreal | Receive $20 Off when you sign up here. 

5 | DOT EARRINGS + BANGLE | c/0 BIKO | $55 CAD each | Made in Toronto

6 | GREEN DUSTER | Ali Golden via Akin & Co. | $135 USD On Sale | Made with love in a Fair Trade Certified™ facility in India. | Wearing a Medium. 

7 | LEATHER JACKET | Madewell (old) Linked to Similar | $700 CAD | Imported.
---
WOOHOO! Look #1 is out of the gate and going strong.
Tune into my Instagram Stories (@leevosburgh) later today for a look at this one in action. Be sure to see what Caroline is up to over on her blog and Instagram too!
Are you joining in this 10×10 Challenge? If so, what were the first pieces you reached for?
See you on the #Spring10x10 hashtag and tomorrow with Look #2!
---
This post is not sponsored but contains affiliate links. When you shop via the links above I may make a small commission from a sale. Thanks for supporting Style Bee! All opinions are always my own.