Well we're just motoring along here aren't we? I can't believe we're on Look 7 and that there are only 3 more left in this #Spring10x10 challenge! Similar to what my co-host Caroline of UnFancy mentioned yesterday, I'm usually feeling antsy and eager to get access to my full closet back by now but this time I'm more content than ever. Maybe it's because I left coats in the mix as a bonus or maybe it's because I chose items that are actually really versatile and fun to wear, rather than pieces I felt like I should wear. Perhaps it's been this incredible community and all the positive energy that's been going around. Most likely it's a combination of all three and I love it!
How are you hanging in there? I know days 6, 7, 8 have definitely been the hardest for me to endure in the past so don't worry if you're feeling frustrated or just plain sick of this whole thing! But if you can muster the strength to stick with it I promise you won't regret it! Plus you'll be surprised by how easy the final days end up being and by just how much you learn during the home stretch. If you're still considering joining in, please give it a go! Lots of people are only on their first few looks and you can get all the info here and tons of inspo here. Otherwise we'll catch you this Summer!
Now let's take a peek at Look #7! Even though it's more of a fantasy outfit than a reality outfit it's still pretty darn fun!
---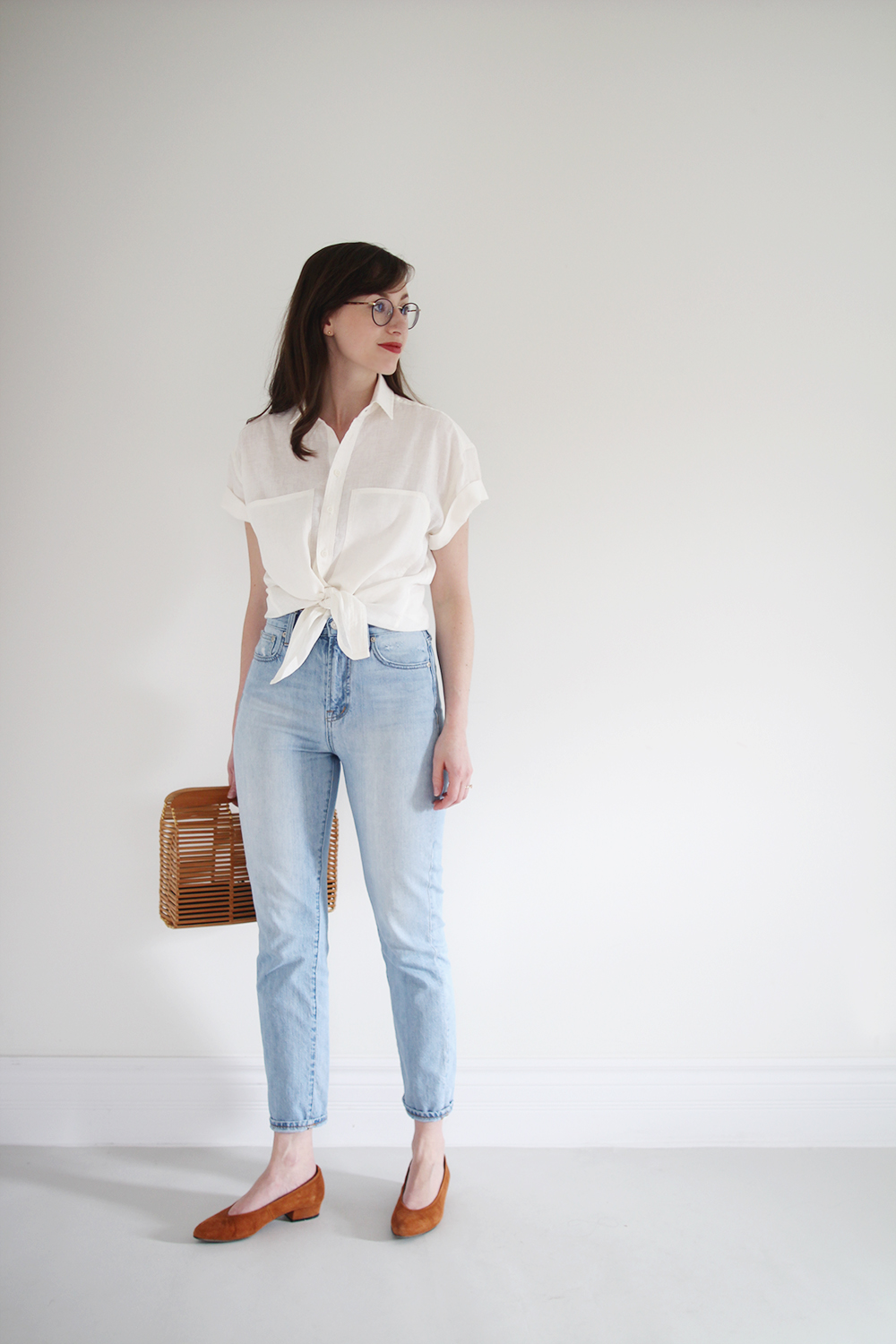 ---
So yes, I'll admit I gave into some Spring fantasy with this one. It's definitely not hot enough out to rock this yet, but at least I've got it up my sleeve for when it finally is! It is however, nice and sunny outside so at least I can pretend from my cozy office.
I just really wanted to try this button down knotted like this because I wasn't sure how it would work out with the big front pockets, but it's great! Now I know it works fully tucked, worn loose and tied up! It is easily one of the most versatile pieces in this challenge and in my closet generally. So glad I included it!
This look was heavily inspired by the #Spring10x10 feed (so many great knots!) and one of my style muses Haley Boyd who rocked a similar look with white Kamms here and hello bonus look hint here. Haley does effortless, timeless, feminine looks so well!
I love the result of this shirt and denim combo. It feels fresh, relaxed and a little flirty with a definite nod to the 50's. The addition of a warm cognac suede flat and a whiskey bamboo bag warms it up well too. I do wish I'd swapped my glasses for sunnies because they look way better but at least the frames have a vintage feel to them. Overall I'd say this is a pretty fail-safe warm Spring look, perfect for a day off spent strolling the town and enjoying a patio or a picnic.
In reality I'll be tucking this shirt in fully for the day today and adding a belt and even considering switching my flats for boots but we'll see how it goes! Check out my stories @leevosburgh to see it all unfold. (I know the suspense is killing you!)
Today's Agenda: I'll be hunkering down in the studio today so it's the perfect opportunity to wear this button-down and these jeans one last time during the 10 x 10 challenge (at least until the bonus looks!). It's comfy for a long day but put together enough that I'll be fine if someone drops by or an impromptu errand gets me out of the house. 
---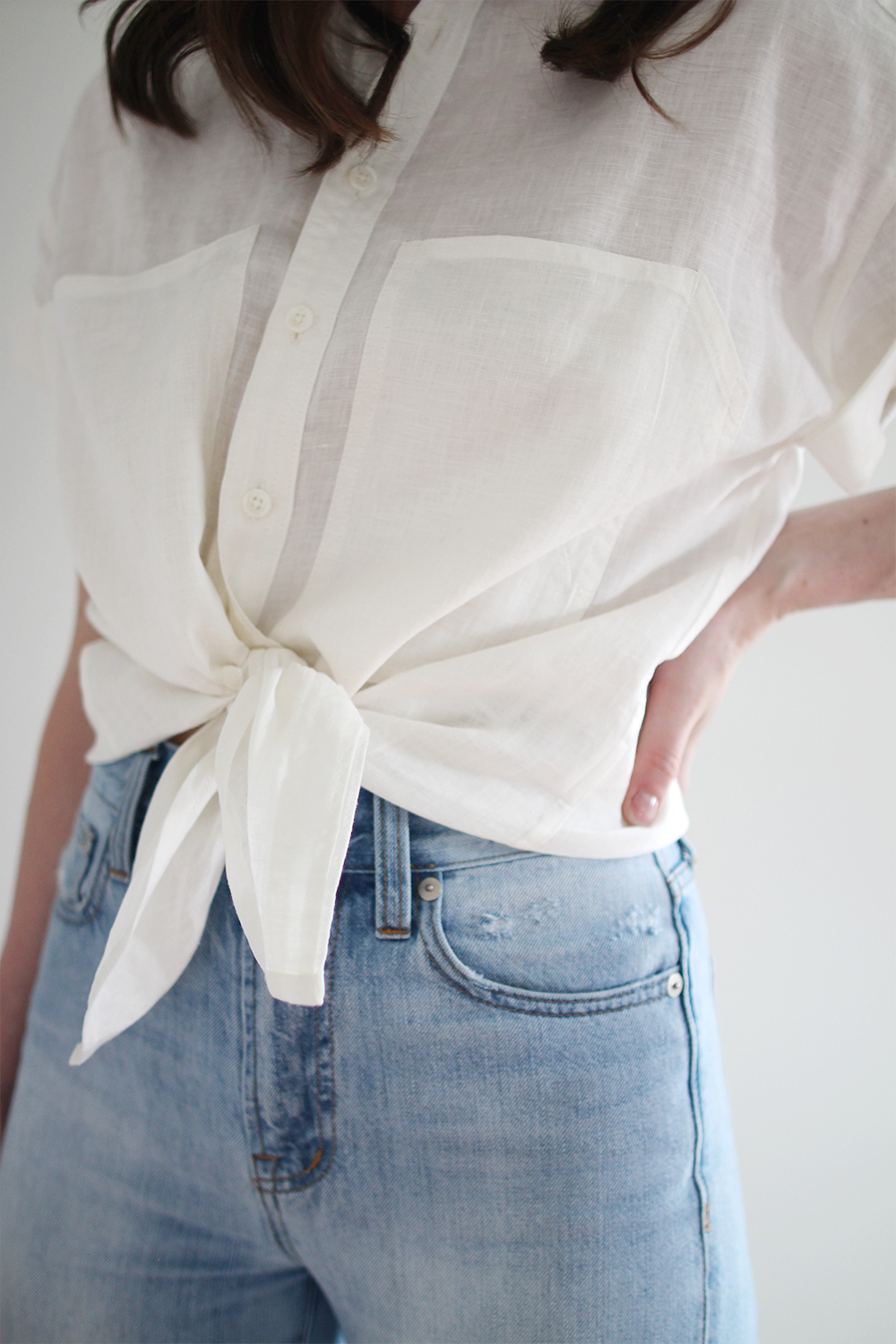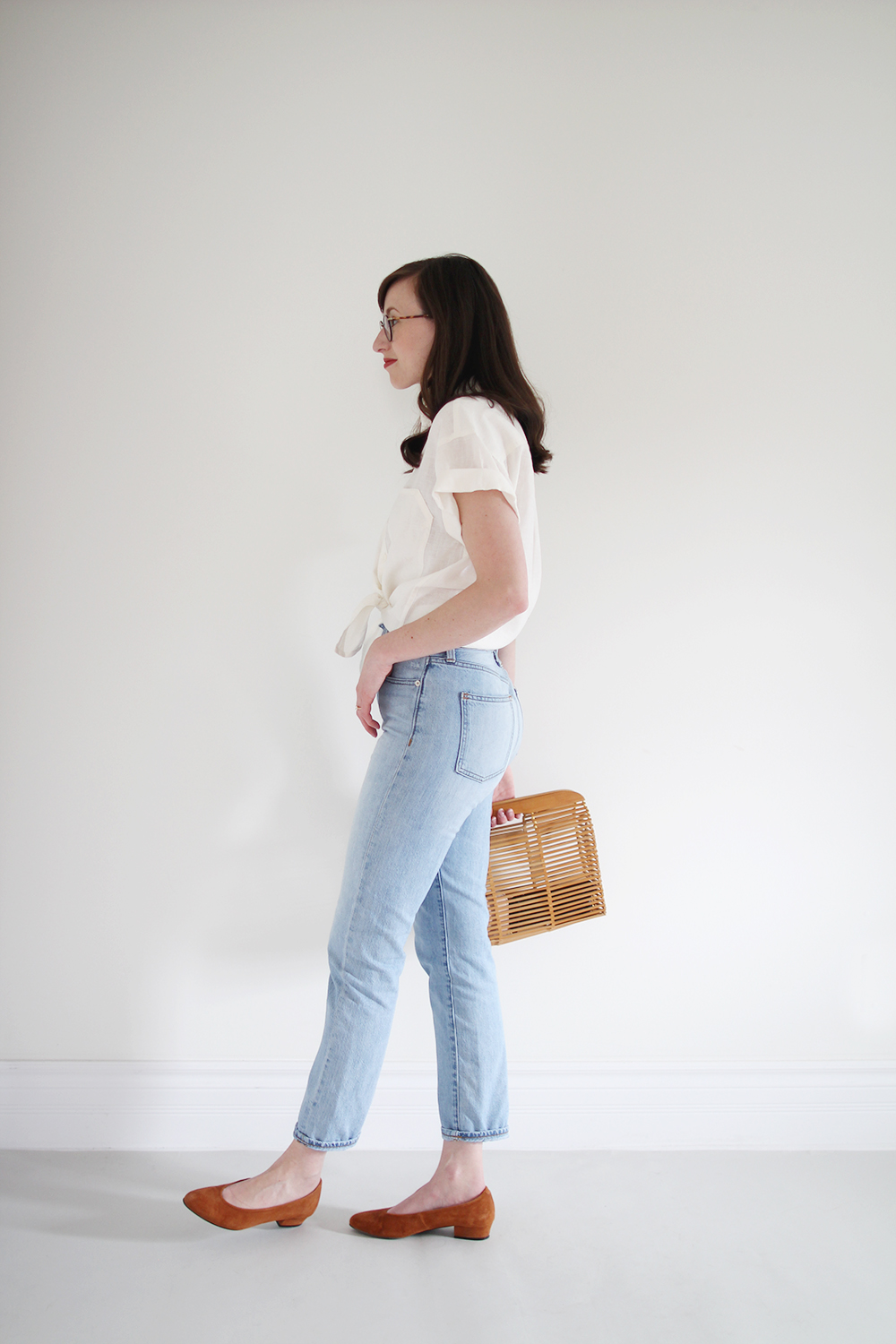 ---
STYLING DETAILS
---
1 | THE FRONT KNOT | Ah yes, the front knot. This has been a great go-to move for button-down shirts for decades now and it's still going strong! I love how it looks with a slightly oversized shirt so there is lots of fabric to work with and it doesn't get too tight through the shoulders or too short in the front.
To achieve the front knot look start by buttoning the buttons down to your belly button and leaving the bottom open. Then begin rolling the back hem in on itself in 2 inch increments until it's at your waist. Next, pull it tight to your back and slide your hands forward to grab the two long front pieces. Tie those into a knot and pull it tight. You should be all set! Tune into my stories for a full tutorial later today.
2 | TINY CUFF | I almost left these jeans alone but then at the last minute I decided to roll them just a tiny bit. To me this just adds a hint of styling and a touch of relaxation to the look, without being obvious.
You don't need to go overboard with rolling and cuffing. Simply flipping a hem can sometimes be just enough!
3 | STATEMENT BAG | You can never go wrong with adding a statement bag to a simple look. This vintage beauty adds a summery touch to make this outfit feel special and unique instead of basic.
Don't underestimate the power of a well-chosen bag. It can make all the difference!
4 | THREE IS COMPANY | As far as jewelry goes in this look I'm only wearing my gold studs and engagement ring. I actively opted to leave off any extra rings, delicate necklaces and bangles because I wanted to let the 3 key elements of this look have centre stage. The front tie (1) is eye catching enough to forego a necklace and my cute little bamboo bag (2) steals the show without needing any rings or wrist bling to draw the eye. The rich cognac suede flats (3) also help to ground the outfit and add a little extra texture and colour.
Sometimes when you've got a few key elements in a look it's not a bad idea to keep the accessorizing to a minimum. Let the core outfit stand alone and see how that feels.
---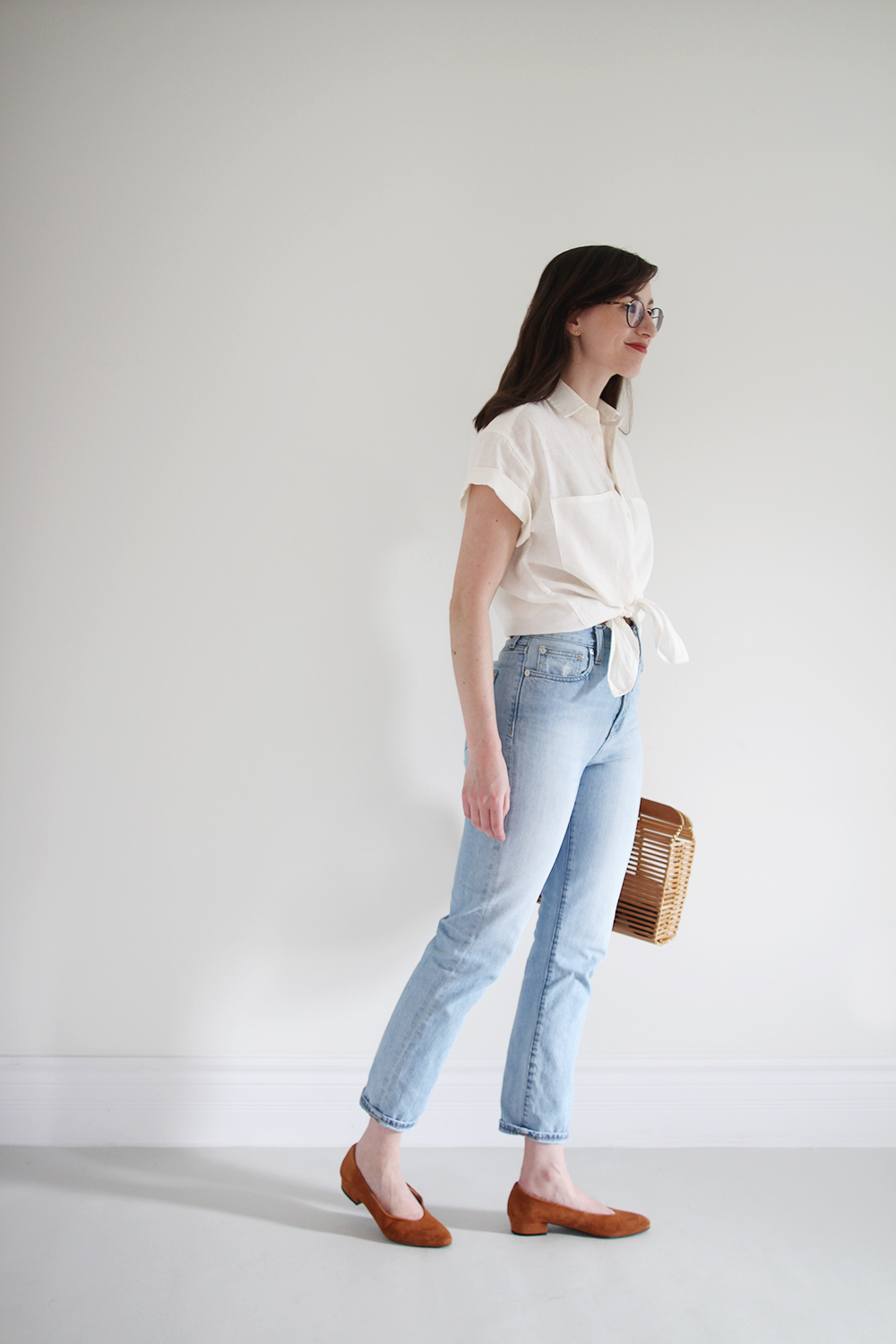 ---
TODAY'S ITEM SPOTLIGHT – SUEDE FLATS
---
I'm thrilled to be able to share a review of the Clou Suede Flat and some insider info on the Montreal based shoe brand L'intervalle. I had the pleasure of chatting with Vicky, the company's co-founder yesterday and it was such a treat to learn more about their philosophy and process. So here's a bit about my new favourite (and Canadian!) shoe line!
ABOUT THE BRAND: L'intervalle is the brainchild of Vicky Scalia and Sam Assaf, a husband and wife team who saw an opportunity to bring highly fashionable, beautifully made and well-priced shoes to the Canadian market. Sam heads up the design side, while Vicky runs the business development. All the design happens in Montreal and the team partners with artisans in Spain, Italy and Brazil to produce their various shoe styles. Vicky and Sam work directly with the factories to bring their designs to life and visit often. There is no middle man involved and all the manufacturers they work with are considered of an ethical standard with excellent working conditions and regulations. Some of the employees have been working at the factories for decades and are true masters of the art of shoemaking.
I asked Vicky about how they've grown their business and she said they've done this organically and authentically by always striving to under-promise and over-deliver. Their goal isn't to be on everyone and anyone's feet but instead to be a part of someone's story and on individuals who appreciate the quality and uniqueness of the L'intervalle approach. This concept resonated so well with me and even before I bought my shoes I was hooked by this line:
Owning a L'intervalle piece feels like you've discovered a well-kept secret—by keeping the brand independent and a touch hard to find, each pair is akin to uncovering a treasure. With a goal to always produce timeless product.
WHAT DOES IT MEAN: As Vicky explained it to me, the word 'L'intervalle' translates to 'a space between things, points, limits, etc.'. This core philosophy is what the brand seeks to offer their customer, a beautiful shoe that answers a need for quality beyond what fast fashion offers and is far more accessible than luxury brands without sacrificing great design.
WHERE TO SHOP l'INTERVALLE: You can shop L'intervalle online (shipping is $9.99 in Canada and $14.99 to the US) and they accept returns/exchanges within 14 days. If you're in Quebec or Ottawa there are several brick and mortar locations with a Toronto location opening soon too! See locations here.
---
---
FIT: I typically wear a US 7 and have a narrow foot. I bought the 37 which was snug in the toe initially but has since broken in very well and now they feel like a custom fit. A friend of mine wears a US 7.5 (normal width) and bought the 38 which fit her perfectly.
COLOURS: The TAN colour I have is running low but they also carry a beautiful NUDE, WINE and BLACK with lots of sizes available.
PRICE: $138 CAD
CARE + DURABILITY: Suede can be a bit precious for sure but I simply use this protector spray and it works wonders. I got caught in a major downpour while walking home in these and they got completely soaked. I let them dry out overnight and the next morning they were good as new (*phew)! If you get mud or dirt on them let it dry and brush it off gently and you should be fine. The main thing to watch out for is gouging so sharp edges on stairs and curbs are not going to be terribly forgiving. Just watch out!
COMFORT: These shoes are seriously so comfortable. Of course, they're not a trainer or runner but as far as cute flats go they're one of the best pairs I've ever had. They took some breaking in but nothing major (just walking around the house) and I've never had any blisters from them (and I always get blisters). I wear them on long walks with Dobby and don't even think about it! The little heel is perfect for a touch of glam but zero pain.
MATERIALS: Suede upper, leather lining and sock with a man-made sole and heel cap.
If you're after a cute flat that's a little vintage, a little different and totally chic, these are a great call. I'm also swooning over the new ILLY Sandal and the sale section is great for boots! It's always such a pleasure to find and support a responsible Canadian brand too! Feel free to ask any unanswered questions in the comments.
---
This review is not sponsored and I bought these flats myself without notifying the brand so I could test and enjoy them without any obligation. Since they've become a personal favourite and the brand aligns so well with my own responsible style philosophy, I'm excited to share that I'll be teaming up with L'intervalle later this Spring! So stay tuned for a special reader treat.
---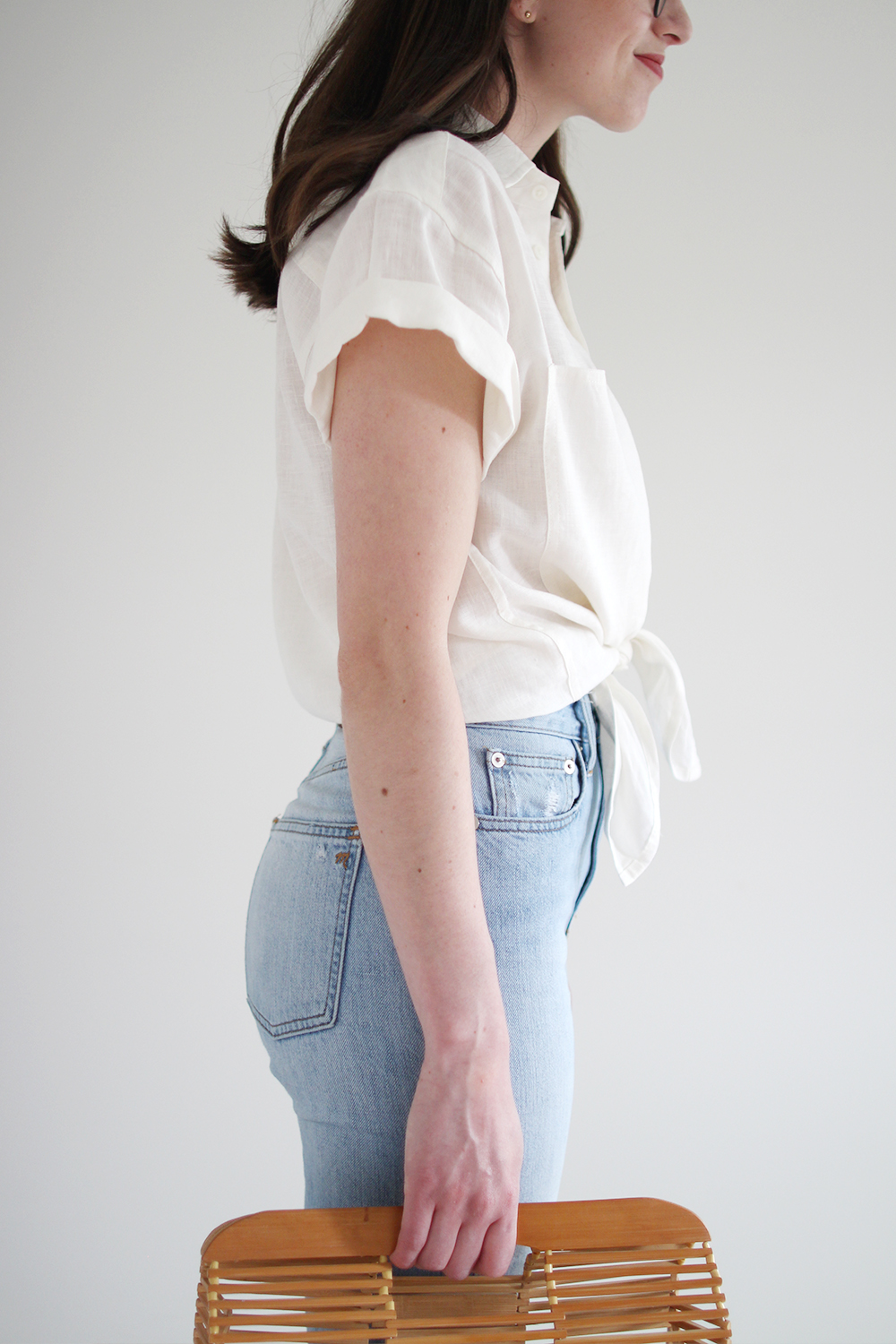 ---
COAT OPTIONS
---
Honestly this look is best worn without a top layer but my choice if needed would definitely be my Olive Duster. This colour has been such a surprisingly versatile option and I can't seem to find much it doesn't work with! In this case it's minimal cut and open front are the perfect match for this front tied top. It adds a special dose of colour without over cluttering the outfit in general. A duster vest would also be a great option but then your arms are still chilly.
---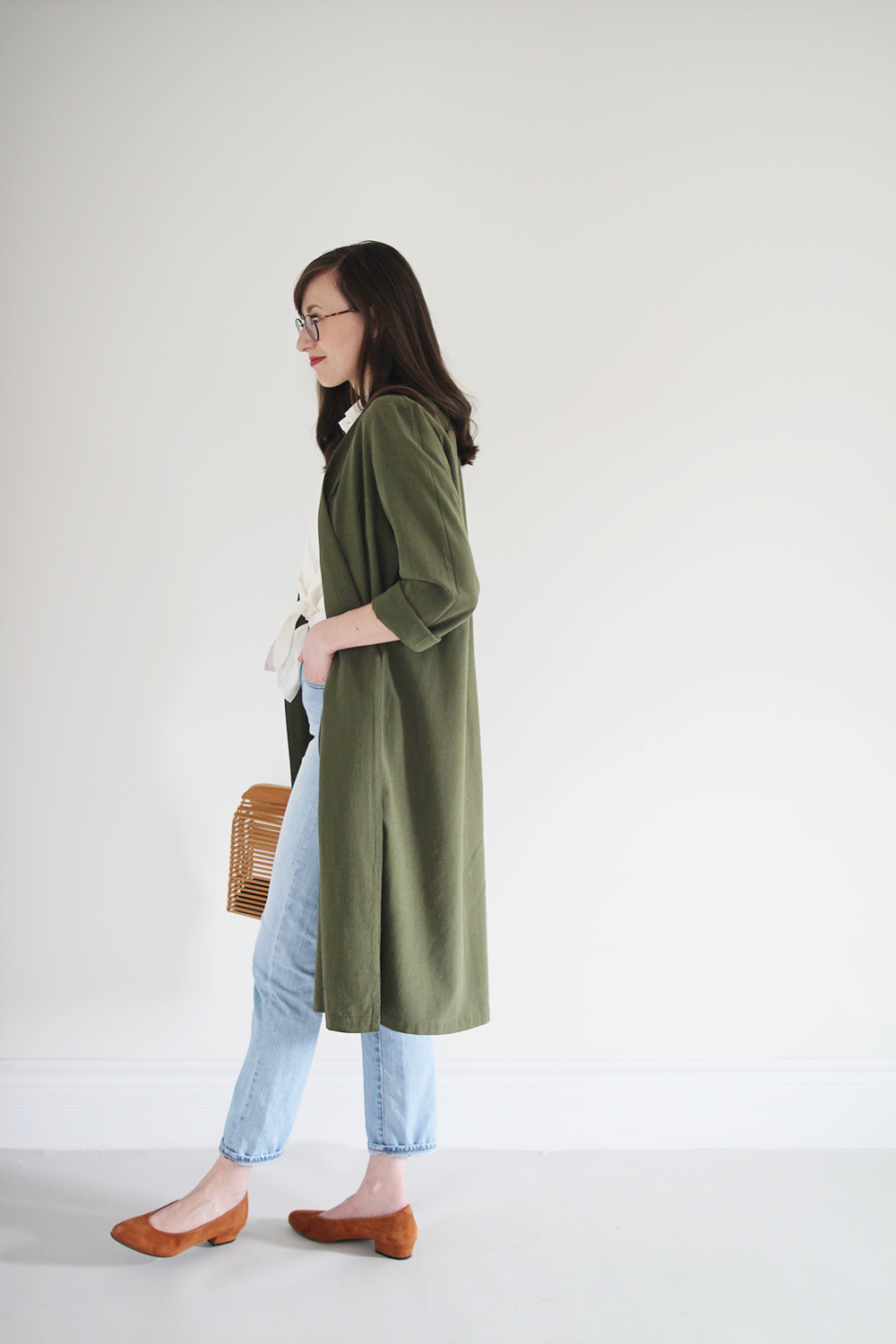 ---
1 | LINEN BUTTON DOWN | c/o Power of My People (new) | $165 CAD | Made responsibly in Canada | The lovely folks at P.O.M.P. have generously offered Style Bee Readers 20% OFF sitewide during the 10 x 10 Challenge! Just use code: STYLEBEE when you checkout. (Stock is running low but there is M, L and XL still available).
2 | VINTAGE FIT JEANS | Madewell | $162 CAD | Imported | Responsibly US Made Option by AGOLDE ($158 USD)
3 | COGNAC SUEDE FLATS | L'Intervalle | $138 CAD | Made responsibly in Spain | All colour options here.
4 | BAMBOO BAG | vintage via Passenger (so many great vintage bags) | Similar option by Cult Gaia (Imported but sign-up for restock notification)
5 | GLASSES | GARRETT LEIGHT | $335 USD
6 | GREEN DUSTER | Ali Golden via Akin & Co. | $135 USD On Sale | Made with love in a Fair Trade Certified™ facility in India. | Wearing a Medium but take your normal size.
---
OK FOLKS, START THE COUNTDOWN! JUST 3 LOOKS LEFT!
Tune into my Instagram Stories (@leevosburgh) later today for a look at this one in action. Be sure to see what Caroline is up to over on her blog and Instagram too!
See you on the #Spring10x10 hashtag and tomorrow with Look #8!
---
This post is not sponsored but contains affiliate links. When you shop via the links above I may make a small commission from a sale. Thanks for supporting Style Bee! All opinions are always my own.