We're really starting to get into this #Summer10x10 challenge now aren't we? Despite some summer styling trepidations I'm actually finding this weather pretty fun to dress for, which was pleasant surprise. Plus, I caught up with my co-host Caroline of UnFancy last night and we both agreed that this challenge is shaping up to be our most enjoyable one yet! Must be all the positive vibes and cute outfits.
Speaking of which, there are already lots of looks on the feed that have been standing out so I thought I'd link to a few in case you need a little mid-week outfit inspo!
So good right? And there's a heck of a lot more where those came from! Thank you for sharing away #Summer10x10 friends! Ready to join in? It's not too late and you can get all the info you need right here.
Now onto outfit #3, which is ranking pretty high on my all-time favourites chart right now!
---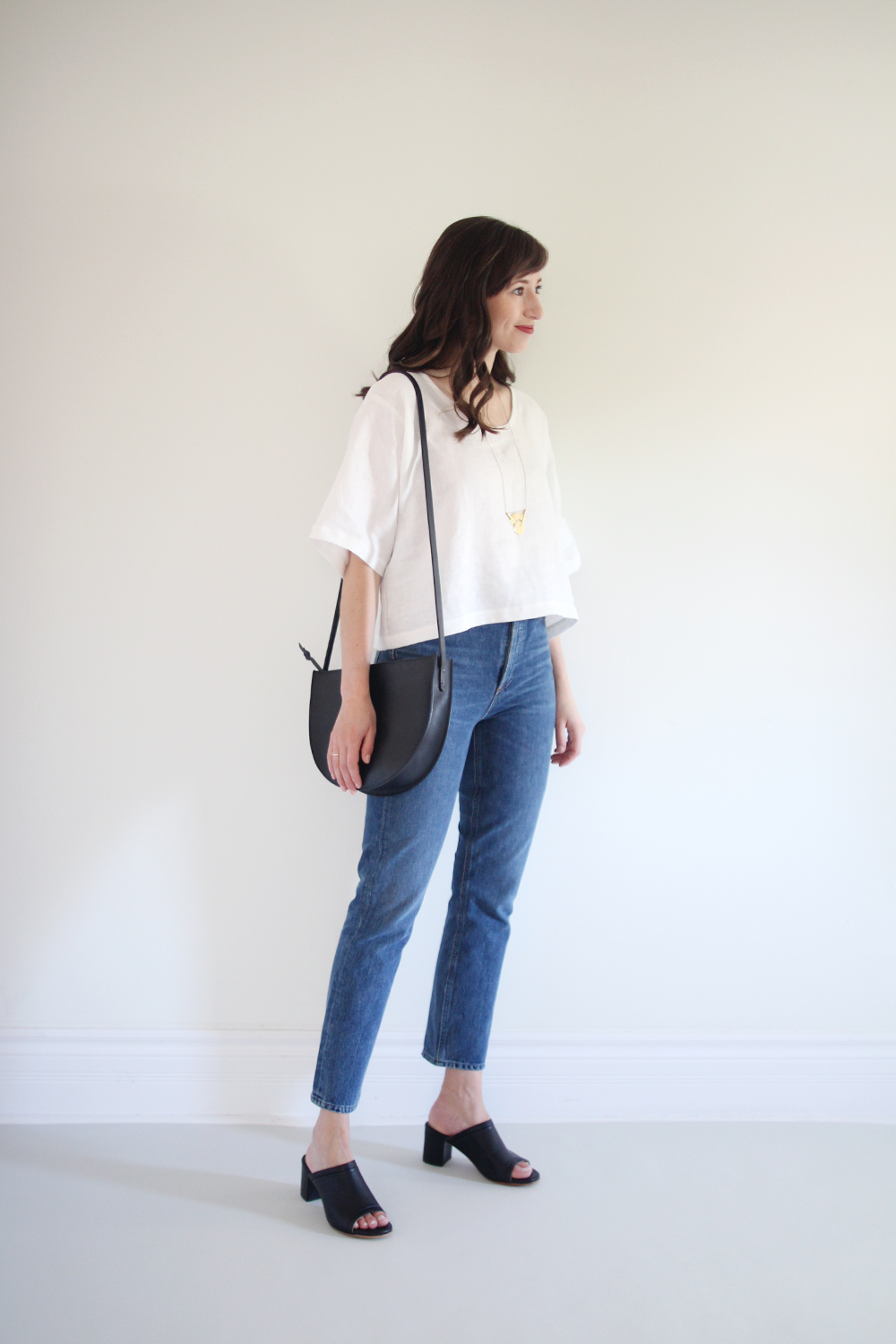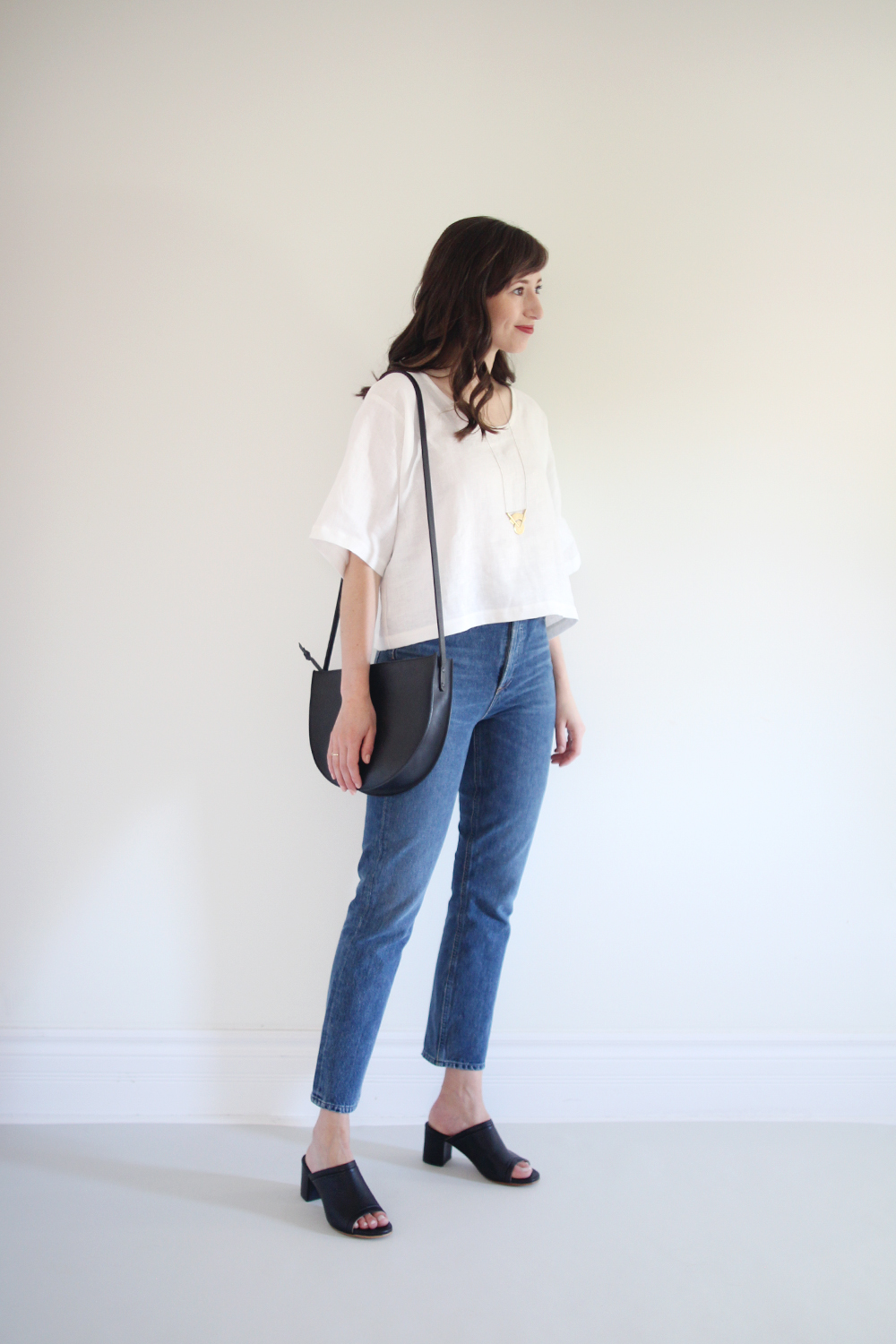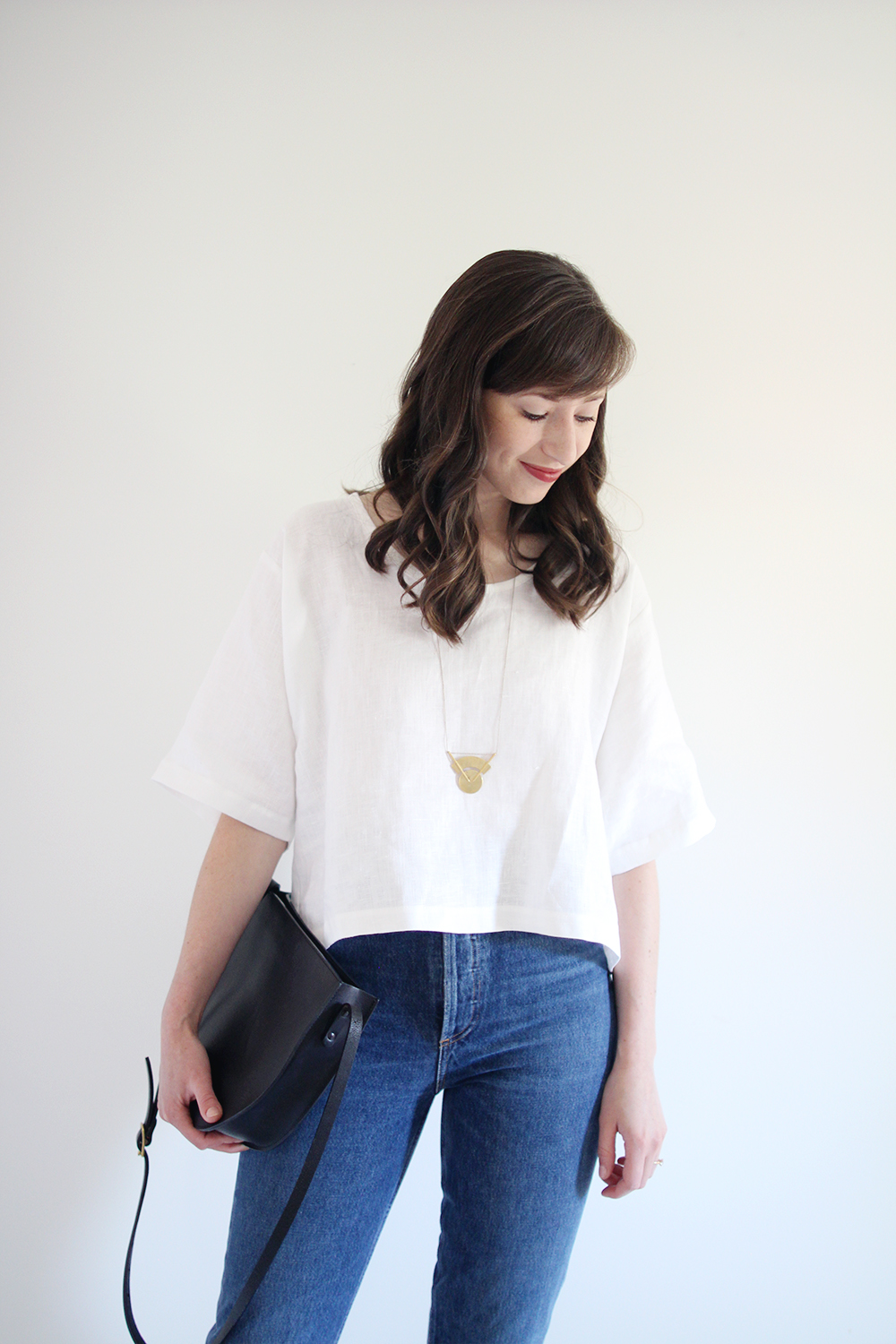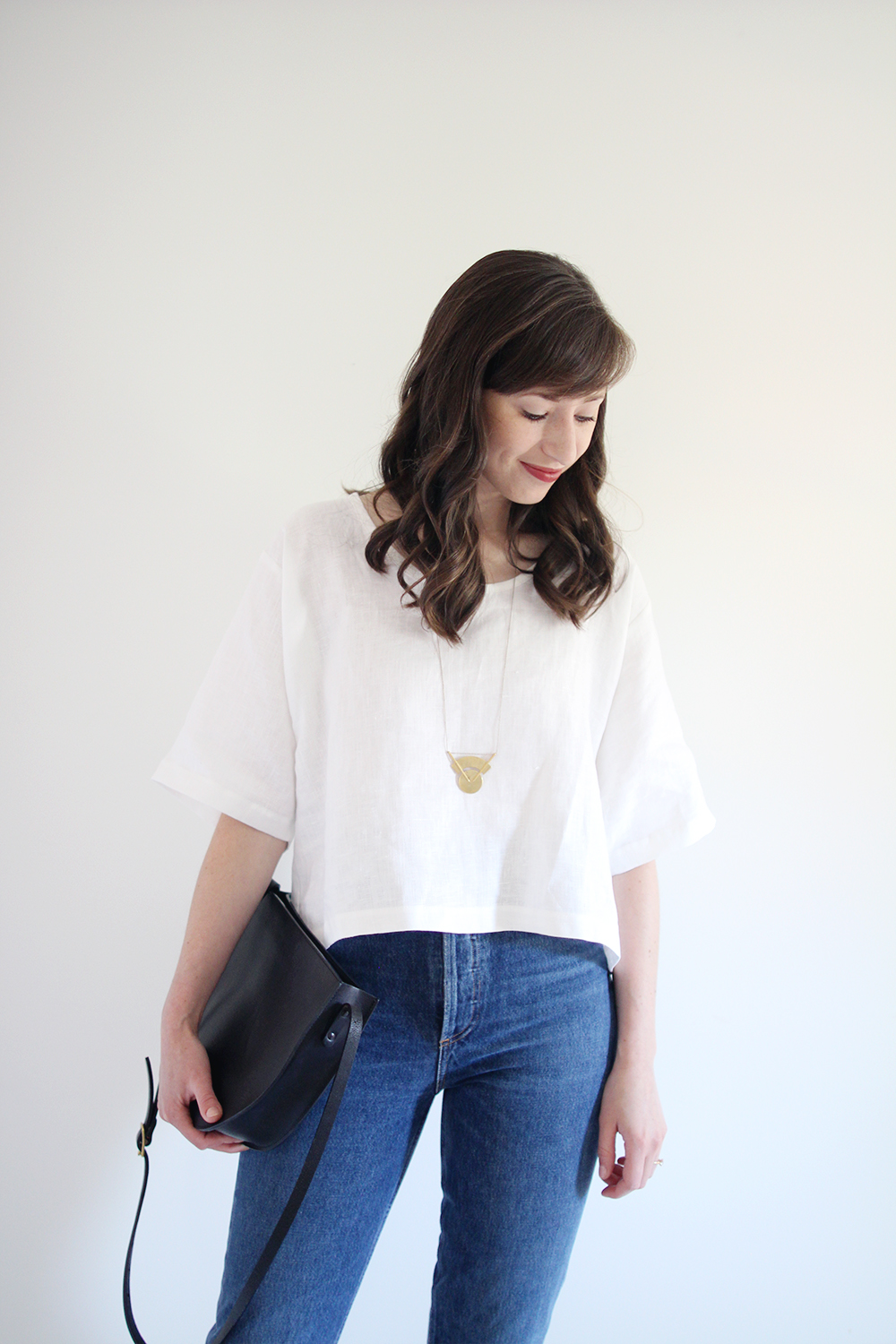 ---
INITIAL THOUGHTS
---
TEMPERATURE – High of 25º C with a mix of sun, thunder showers and humidity.
ACTIVITIES – Morning meeting and an afternoon in the studio. Then drinks downtown.
INITIAL THOUGHTS – These jeans are, as I feared, a wee bit hot for the humidity we're getting lately BUT they've been perfect first thing in the morning or later in the evening when it cools down and there's a breeze in the air. So I'm definitely not sad I included them. In fact, I'm totally obsessed with them and can't stop wearing them even when it's super hot out. More on why below.
I paired them with this loose, airy, linen tee so everything up top stays nicely ventilated and cool. To give this look a little bit of a sophisticated edge I slid into these incredibly comfortable black mules (they're on sale BTW) and grabbed one of my favourite long, pendant necklaces. Of course, my go-to half-moon bag was the natural choice to polish things off.
This look is so simple and classic in theory, I mean white tee, jeans and black heels, isn't reinventing the wheel, yet it feels contemporary and fresh thanks to some interesting shapes and proportions. I feel completely comfortable and put-together for everything this day has in store for me. Plus, I can think of about a zillion other days where this look would have been great too!
Safe to say this one is getting repeated after the 10×10. In fact, this might be one of my all-time favourite Summer looks! 
---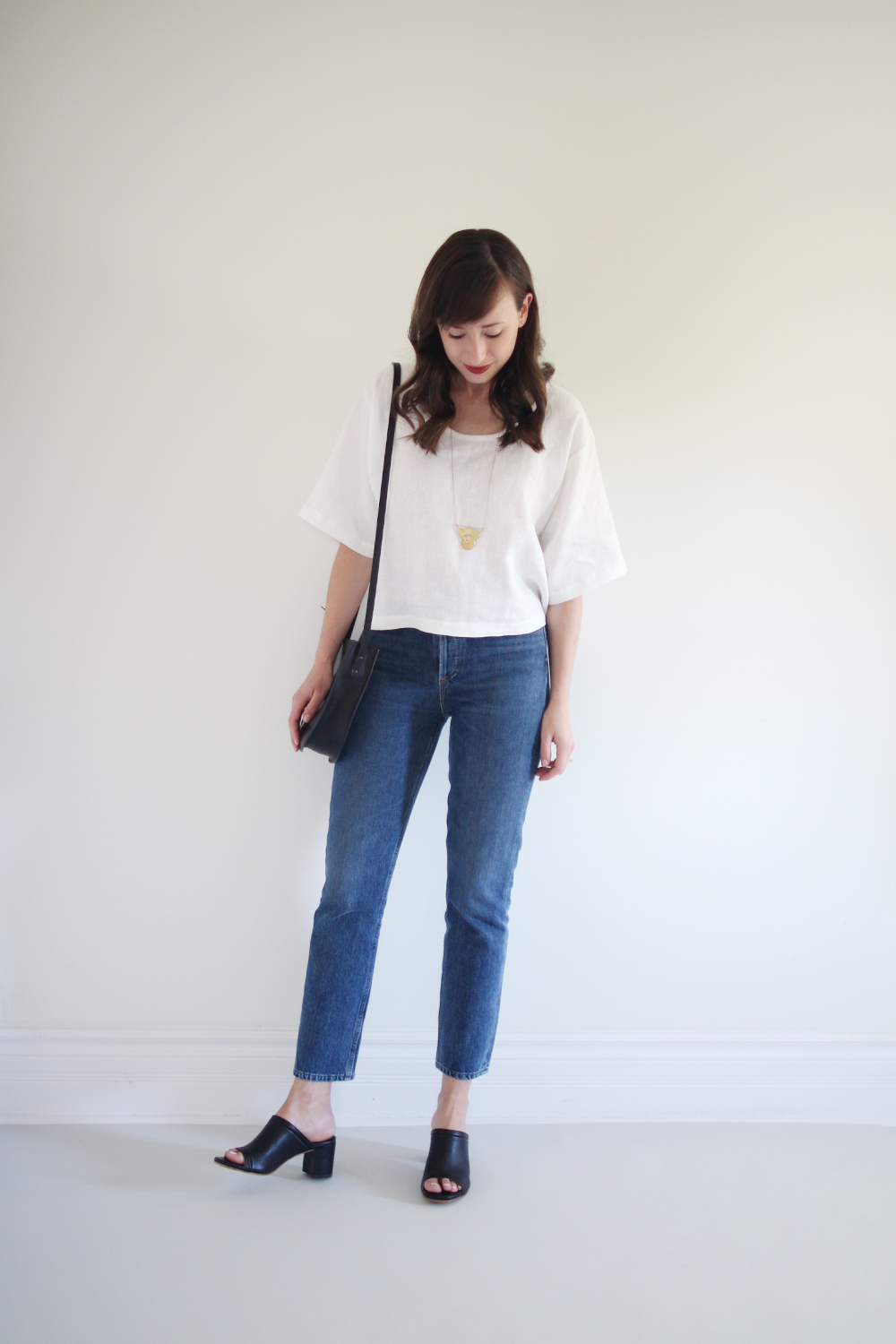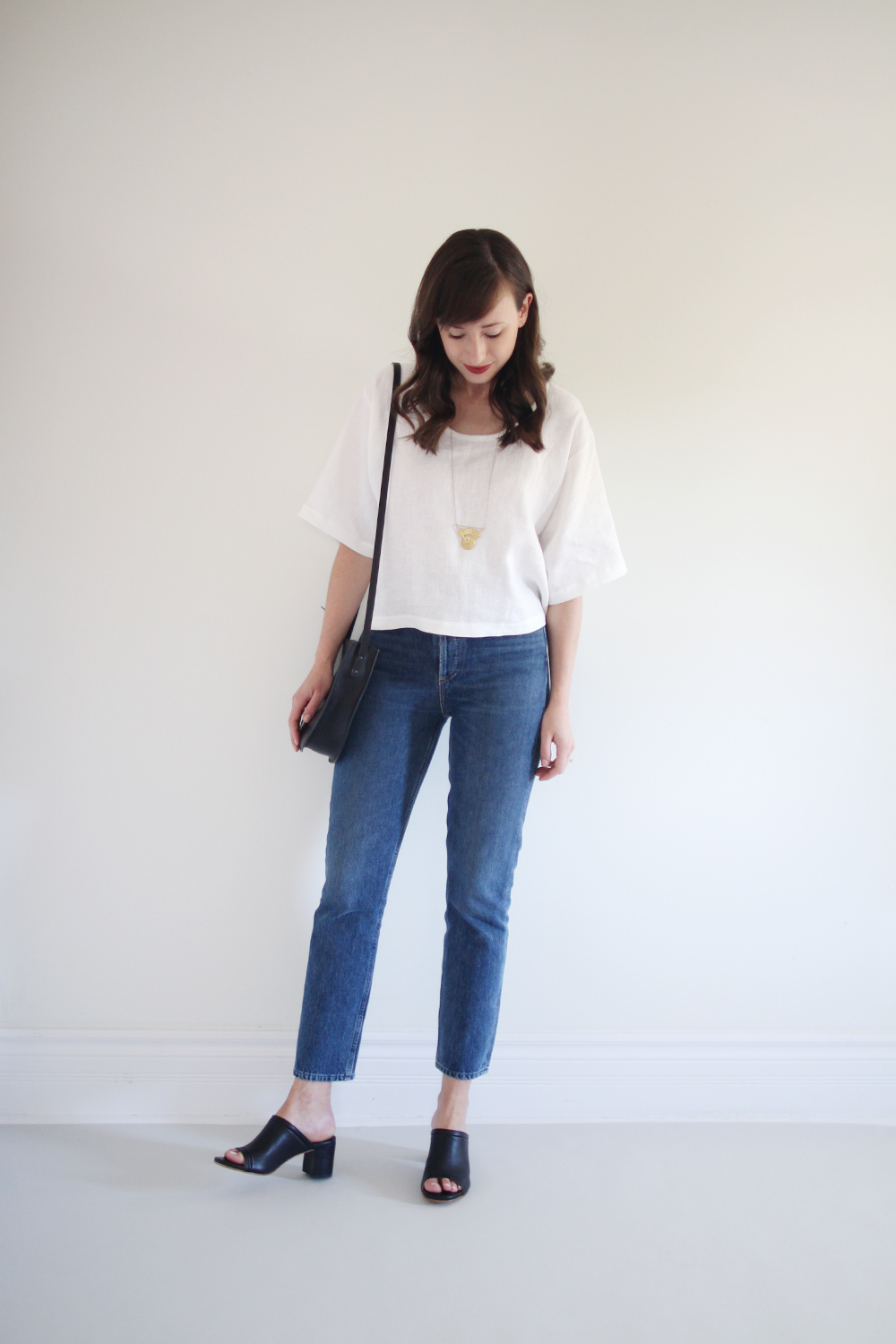 ---
STYLE TIPS
---
1 | CLASSIC LOOK NEW SHAPES | As I mentioned above this look is about as basic as it gets. White tee, jeans and black heels. BUT thanks to some interesting cuts and updated proportions, it feels contemporary and fresh, at least to me! The boxy, slightly cropped fit with the wide bell sleeve make this seemingly basic white top suddenly more of a statement piece when paired with a classic fit denim. The sleek, modern shape of the shoes and bag feel sculptural and strong. Then finally a geometric pendant maintains the theme as a final detail.
Basically, there's no need to reinvent the style wheel. Simply inject your look with one or two contemporary shapes and you're well on your way to an outfit that feels fresh while still being simple and chic. 
2 | VOLUME UP – SLIM DOWN | I really loved this look from the Spring 10×10 Challenge. It was a slightly new silhouette for me (as you know I'm a wide leg pant fanatic) but I really felt good in it. So I knew I wanted to give it another go this time around and I'm feeling just as good!
When you discover a new silhouette you feel good in, see if you can't create it with different pieces in your closet. They might not all work out but a few will and you'll have a whole new uniform to rely on!
3 | THE LONG PENDANT | I tried a few necklaces out with this top but this one was by far the winner. Because this shirt has a scooped neckline, my shorter length necklaces were hitting at an awkward spot. This long one though, fell way below the scoop and makes for the perfect subtle focal point.
Give your neckline some breathing room from any necklace you opt to wear. If the neckline is high, choose a piece that falls at about mid-sternum, if the neckline is low, go for a shorter length necklace to draw the eye up. If the neckline is in between, like this one, opt for a long chain.
4 | STRONG TOUCH | You know I'm big on black leather accessories, but in this case I wanted to make sure they weren't just the right colour, but had the right presence too. These mules have a sturdy block heel and design that's anything but precious and I love how they pair with the cropped length of my jeans. This bag is a simple, sharp shape that I felt was large enough to balance out the loose fit and wide sleeves of the top.
You can always count on the right shoes and bag to take a look from 'yeah, okay.' to 'hell yes!'. Trust your instincts and if you feel the outfit needs something stronger, go for it. If you feel a lighter, more open combo is better, then you're probably right too!
---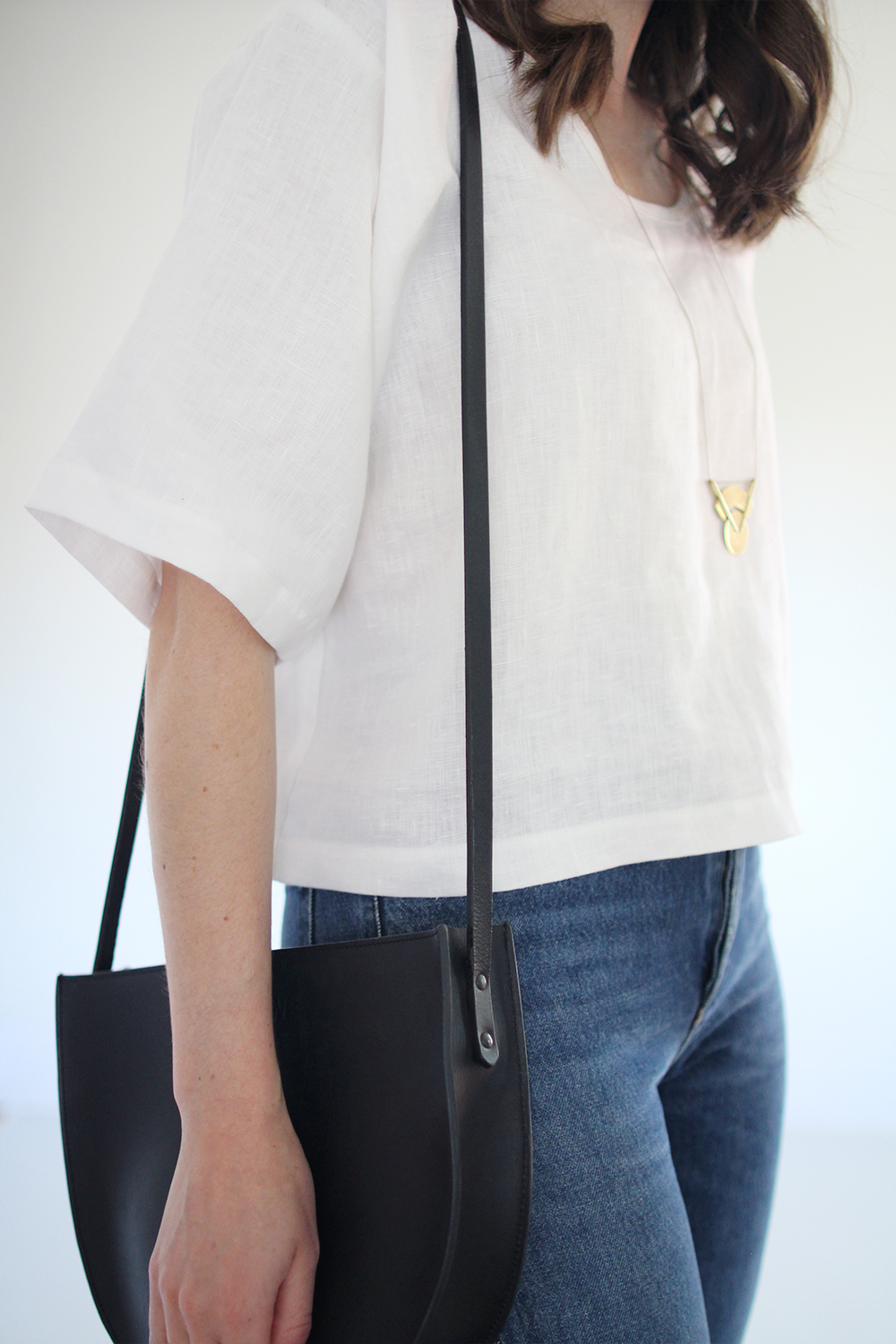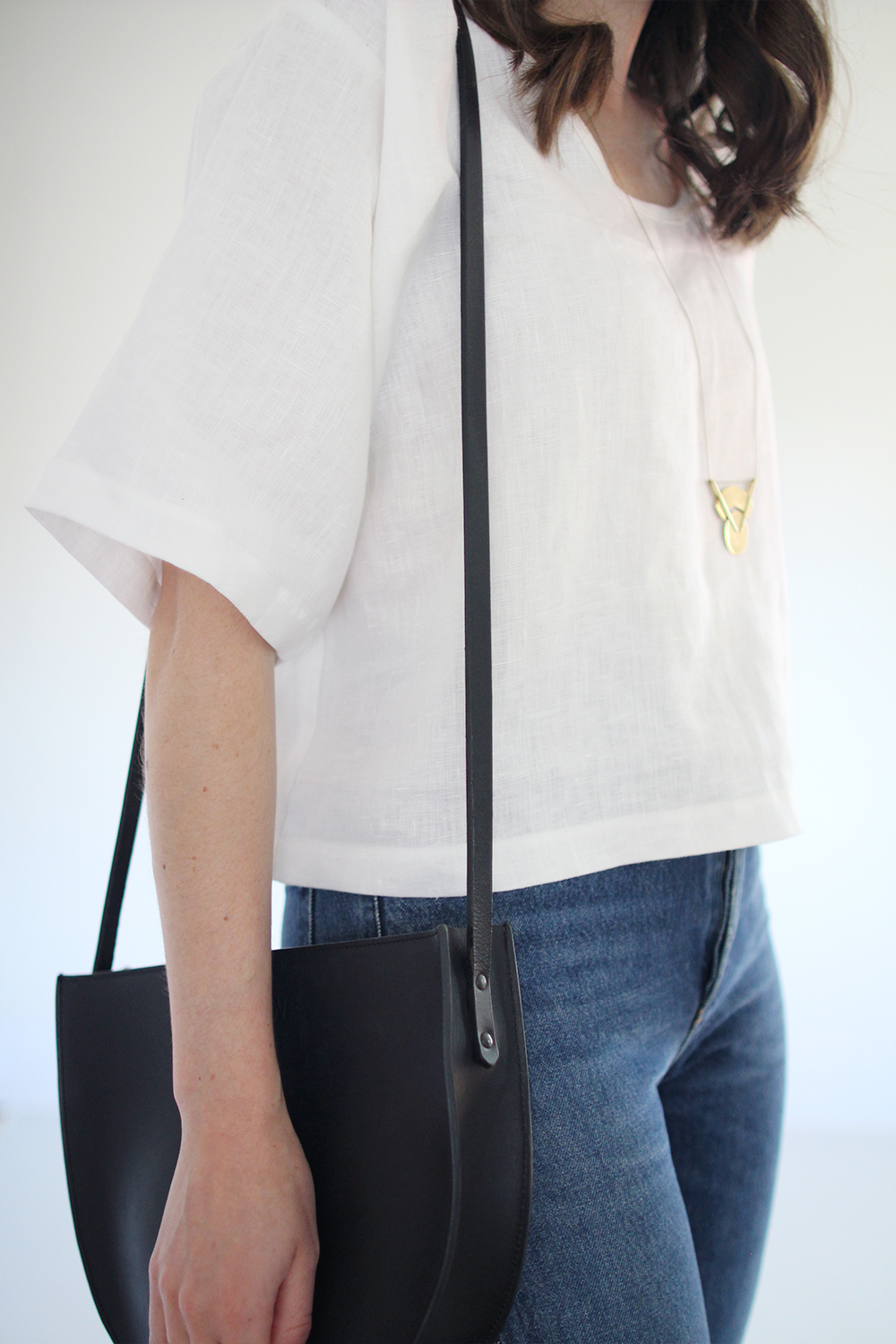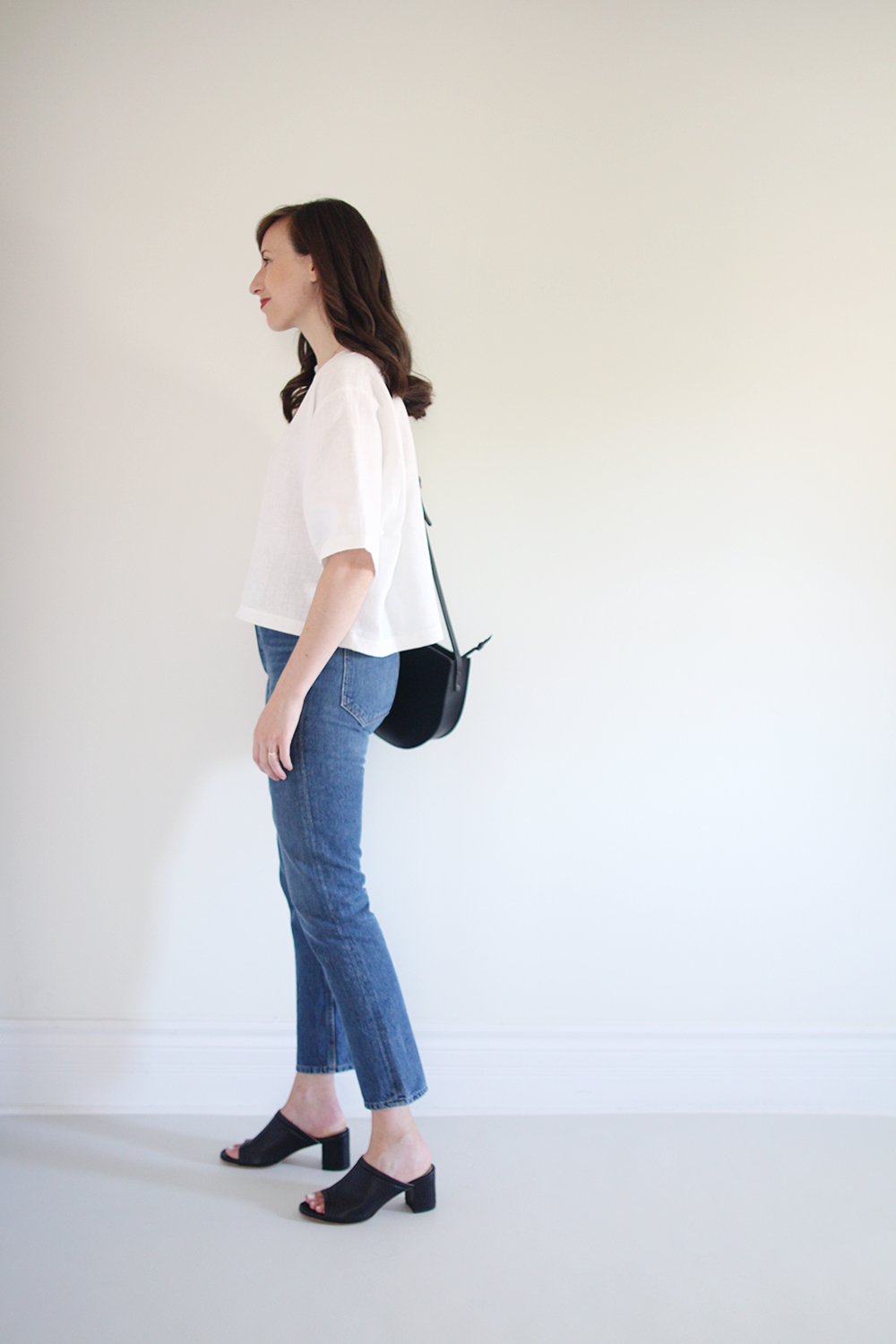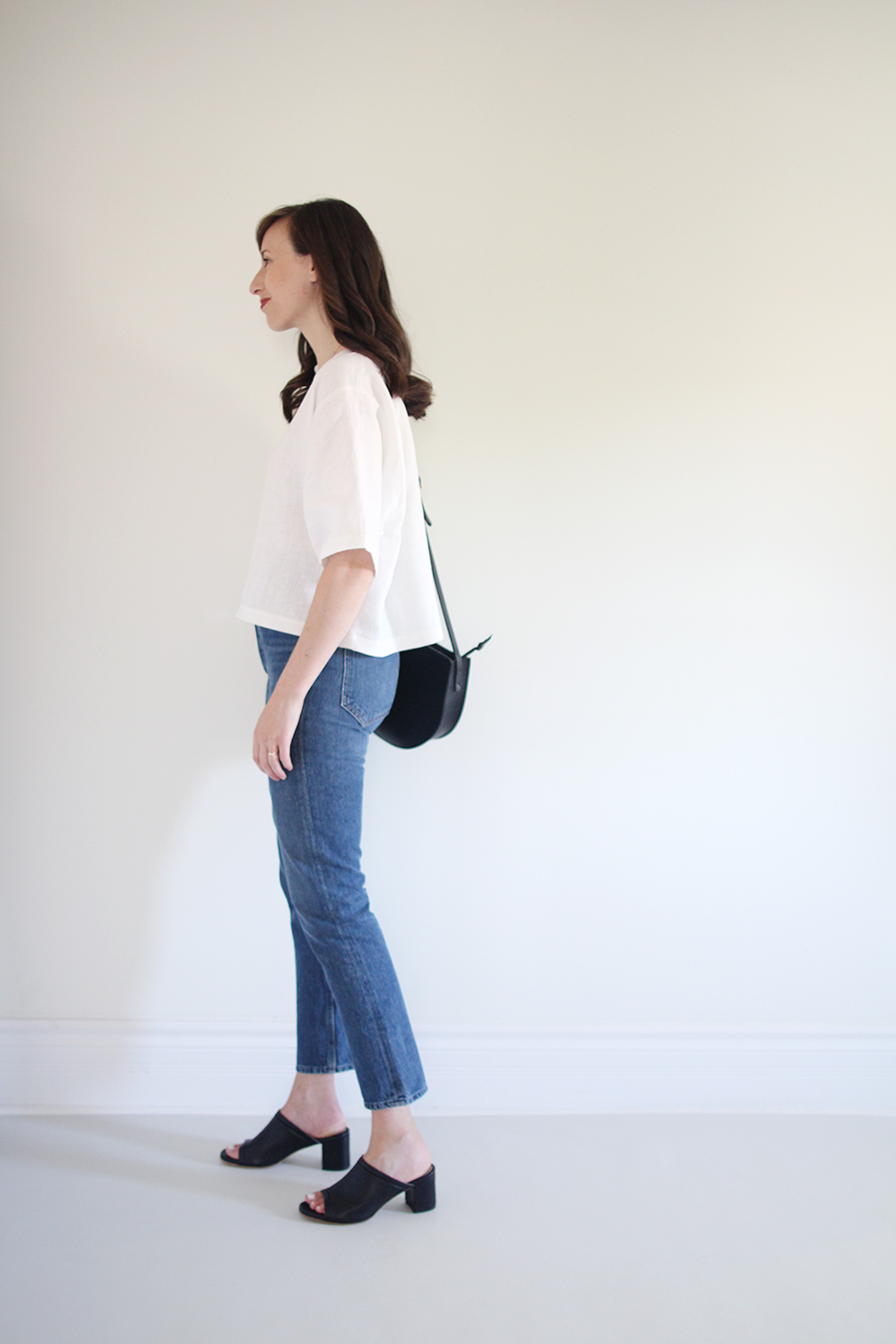 ---
ITEM SPOTLIGHT – STRAIGHT CROP JEANS
---
It's been quite a while since I added a new pair of jeans to my closet. I've tried countless pairs of vintage Levi's in an effort to find that perfect pair but every time I leave empty-handed and dismayed. So when I spotted the Riley Straight Crop by AGOLDE on ShopBop a few months back I was instantly intrigued. They have that timeless high-rise, straight-leg styling and are made from a thick, 99% cotton fabric that is very hard to find in modern denim (it's usually got too much stretch or none at all).  So I decided to try them out and well, the rest is pretty much history, except not since I've noted my sizing story below, but they've become quite possible my favourite pair of jeans to date.
So here's the 411 on these bad boys:
FABRIC: 99% Cotton, 1% Elastane. These are part of the "Not So Rigid" collection made from warp stretch fabric. With the look and feel of a non-stretch jean, the warp stretch offers a level of comfort and movement often lacking with traditional denim. The denim is definitely thick and sturdy like vintage jeans but it feels soft and has a discernible give which makes them super comfy.
This fabric is AMAZING because it really, truly, holds you in all the right places without having to feel like you can't move. Plus they do not stretch out. Like I've tried to stretch them out and they just don't! I've worn them every chance I get since they arrived and haven't felt the need to wash them yet at all. Usually I get a few wears out of my jeans before they're in the wash for a reshape.
FIT: I'm wearing a size 25 and I'm 5'7, 125 lbs and have a 26 in waist and 37 in hip. I had the waist taken in by a couple of inches by my tailor so now they fit perfectly. They sit at my natural waist, hug my hips and butt and gently relax through the leg without getting saggy or baggy anywhere.
I first ordered a 26 but they were HUGE in the waist and although I liked the relaxed fit through the thigh I couldn't see how the waist could be taken in enough to fit without them looking weird on the butt. So I exchanged for the 25 and although the hip/thigh fit more slim, I felt it was ultimately more flattering. The waist was still big but my tailor could easily adjust.
MADE IN: USA
PRICE: $158 USD
BASIC SPECS:
Rise: 11.75in / 30cm
Inseam: 26.75in / 68cm
Leg opening: 13.5in / 34cm
5 Pocket
Button Fly
CARE: Machine wash cold. Hang Dry.
WASH: These are a true mid wash denim which will be great year-round. There is some slight whiskering around the pockets but it's not overdone.
DETAILS: I really love the button fly on these. They've designed it so they're easy to pull on and off, which can be tricky with high-rise jeans that are fitted through the hip. The button fly keeps the front of the jeans laying nice and flat and it doesn't bulge out after a few hours of wear the way a zippered fly tends to.
I also really like the cropped length and straight cut because this makes them jut out slightly around the ankle in a flattering way. The length is awesome with ankle boots, especially the shape of the Mars boot.
COMPARED TO THE PERFECT SUMMER JEAN: These are a much darker wash, the inseam is 1 1/4 inch shorter, these have a button fly and a slightly higher rise. The Riley is a thicker denim than the Summer Jean and has a touch of give compared to being 100% cotton. Otherwise the fit through the butt/hip/thigh and leg are very similar. I had to have both pairs taken in at the waist.
It's safe to say this won't be my last pair of AGOLDE jeans but here are some similar options from other denim brands worth checking out:
---

---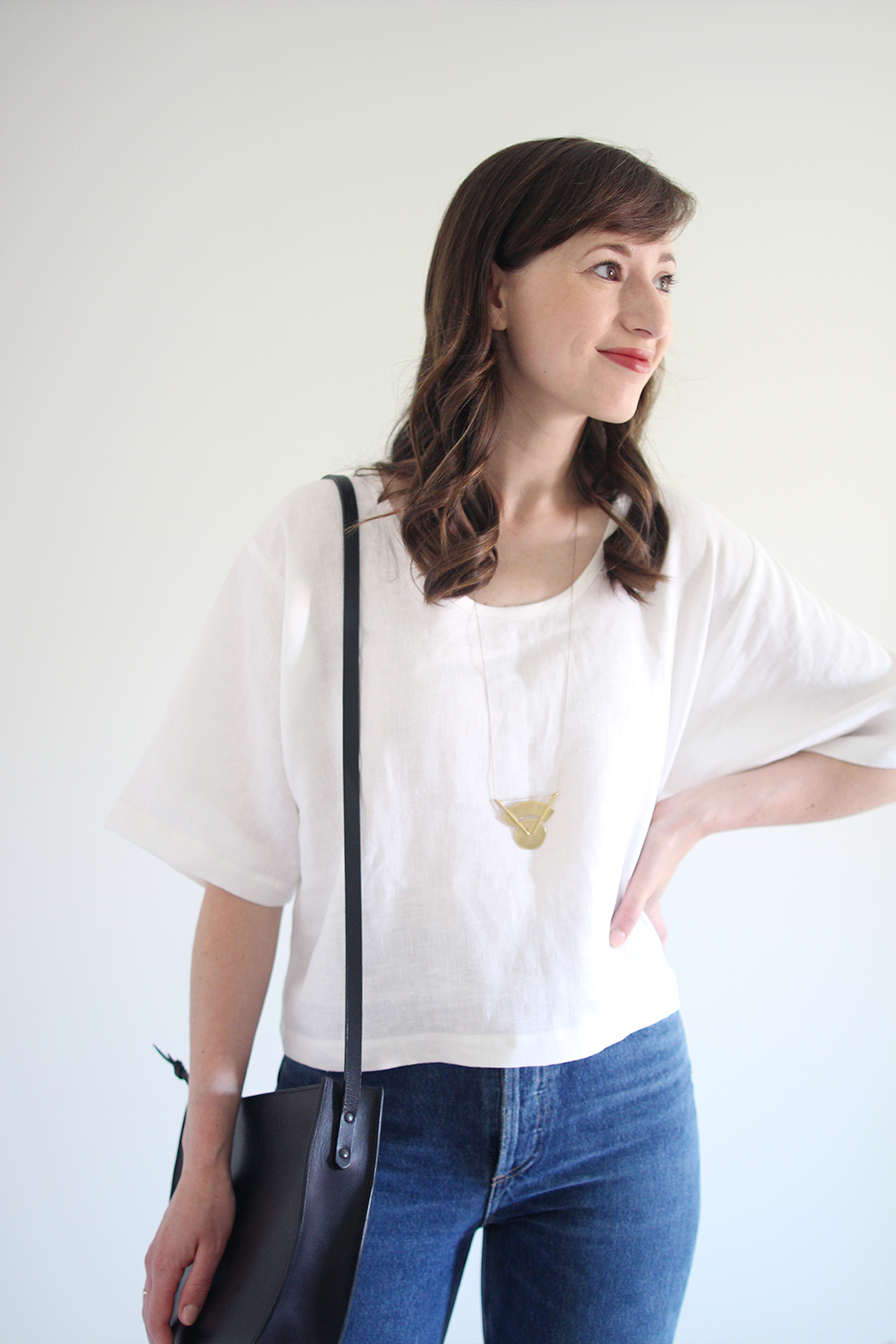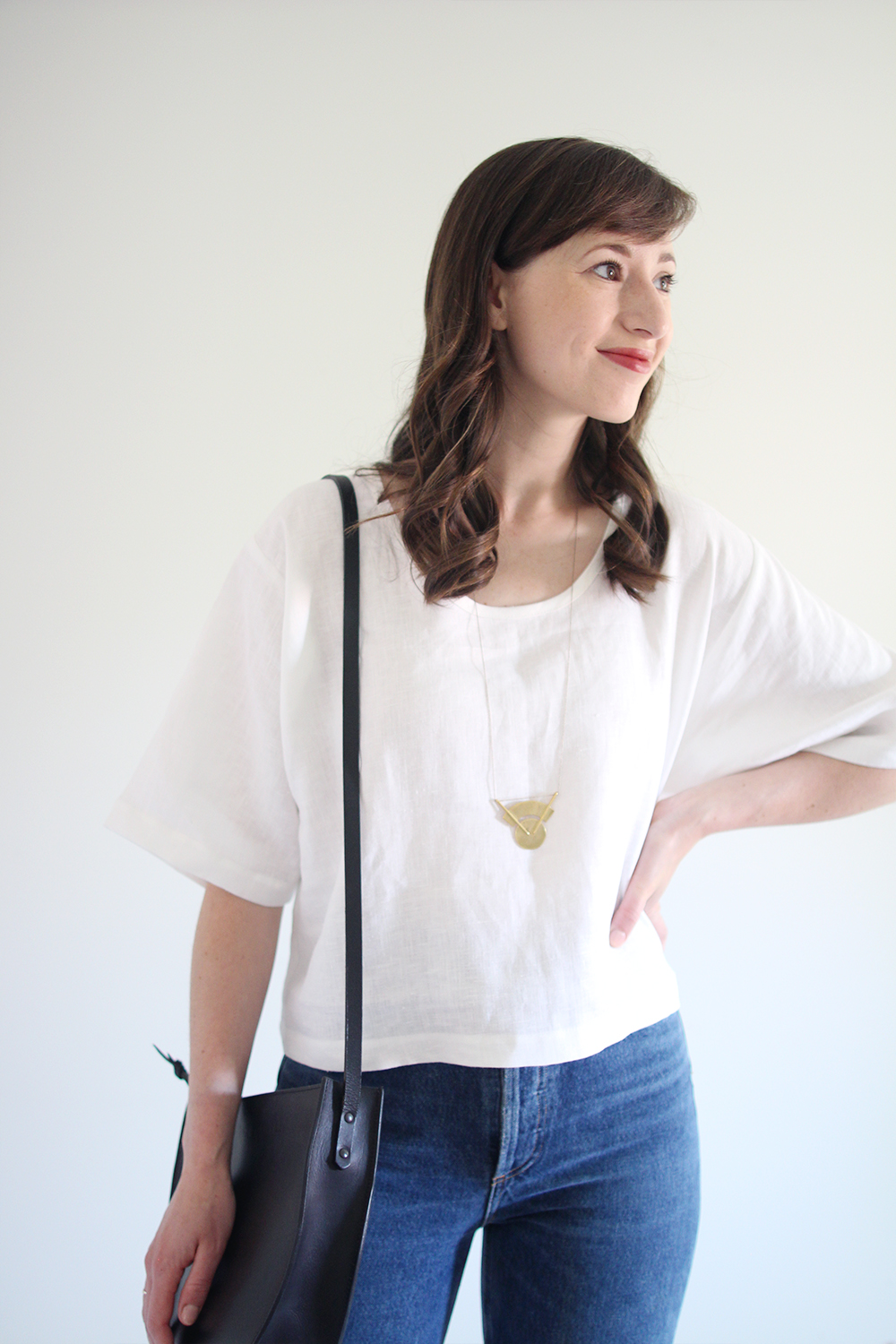 ---
SHOP THE POST
---
1 | CROPPED LINEN T-SHIRT | c/o LLOYD CLOTHING | $110 CAD | Made in Vancouver | OS | Style Bee readers save 10% OFF sitewide at LLOYD with 'STYLEBEE' during the 10×10 Challenge! 
2 | RILEY JEANS | AGOLDE | $158 USD | Made in the USA | Runs large I have a 25 | Similar style by LEVIS ($88 USD imported) By PAIGE with stretch ($209 made in USA) and By CITIZENS OF HUMANITY with Lyocell ($218 USD made in USA)
3 | PEEP TOE MULE | c/o POPPY BARLEY | $248 $208 CAD On Sale! | I wear a 7 Narrow | Made responsibly in Mexico
4 | ELOISE BAG | THE STOWE | $387 USD | Made in Canada
5 | PENDANT NECKLACE | STVDIO BROOKLYN | s/o | Similar option here ($110 USD | Handmade in Kenya) and here ($54 USD | Handmade in Nashville)
---

---
SEE YOU TOMORROW WITH LOOK #4 & DON'T FORGET TO CHECK OUT CAROLINE'S LATEST LOOK TODAY TOO!
Tune into my Insta Stories for a look at this outfit in action later today.
---
This post is not sponsored but contains affiliate links. When you shop via the links above I may make a small commission from a sale. This income helps limit the amount of sponsored content that appears on Style Bee. Thanks a lot for your support!