We're really cruising along here aren't we? Maybe it's just me but this #Summer10x10 feels like it's going extra fast. But you know what they say about time when you're having fun! If you're just tuning in, my friend Caroline of UnFancy and I are hosting another installment of the 10×10 Challenge. We've taken 10 items from our closet and have been styling them into 10 looks over a 10 day stretch! Intrigued? If so, we'd love to have you join us! You can get all the info you need right here.
For those already joining in, I hope you're enjoying it so far! Tomorrow we hit the midway mark and after that is typically when the real creative muscles have to start flexing and the actual 'challenge' begins. Now is a good time to start giving something thought to how your 10 pieces have served you so far. Have you worn them all yet? Are you wishing you'd chosen something else? Is there a look you can't wait to wear again? Have your picks been good for the weather? Lots of small, simple questions that can add up to some great insight. I'll be sharing my thoughts so far in tomorrow's post!
Now let's dig right in to Look #4! 
---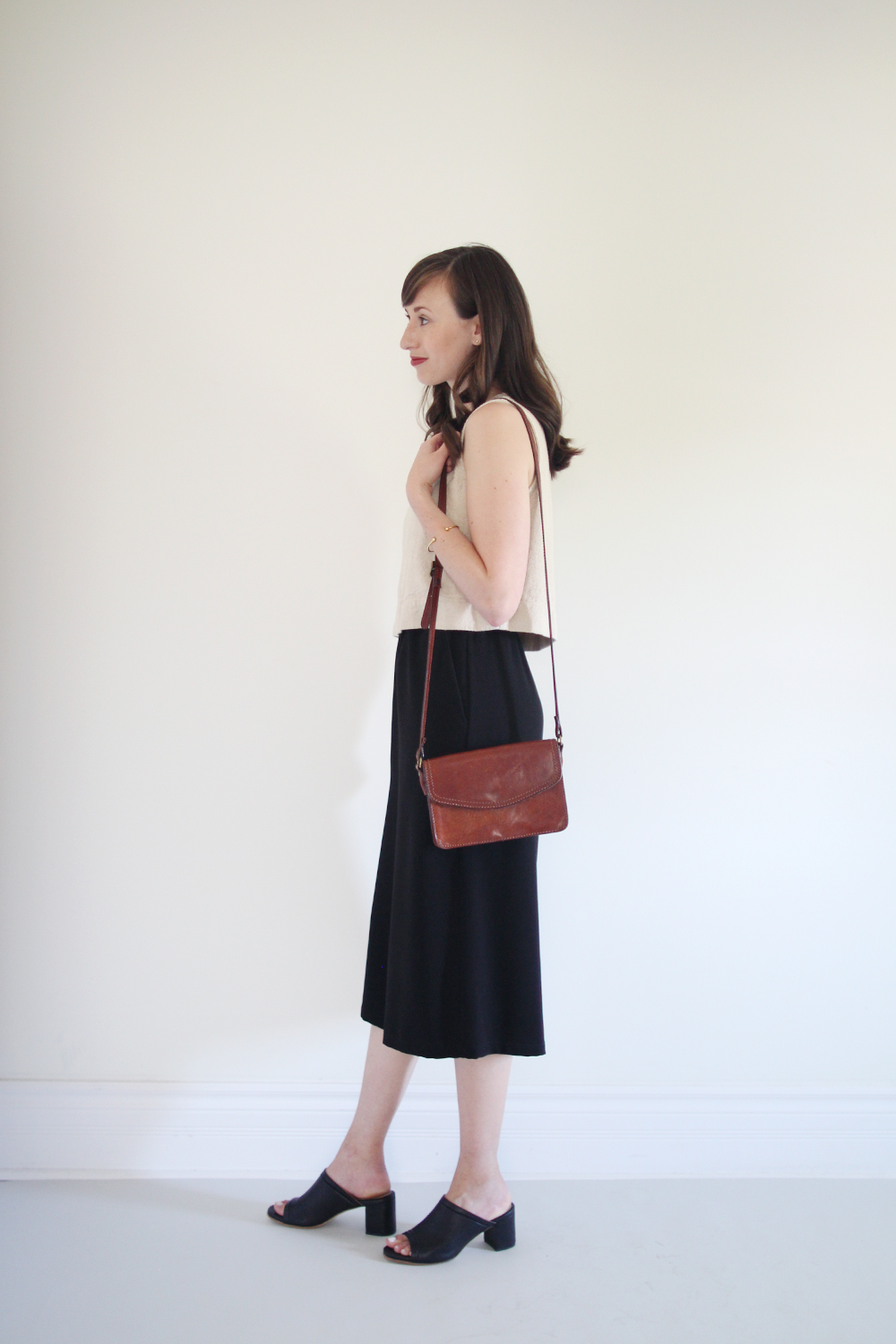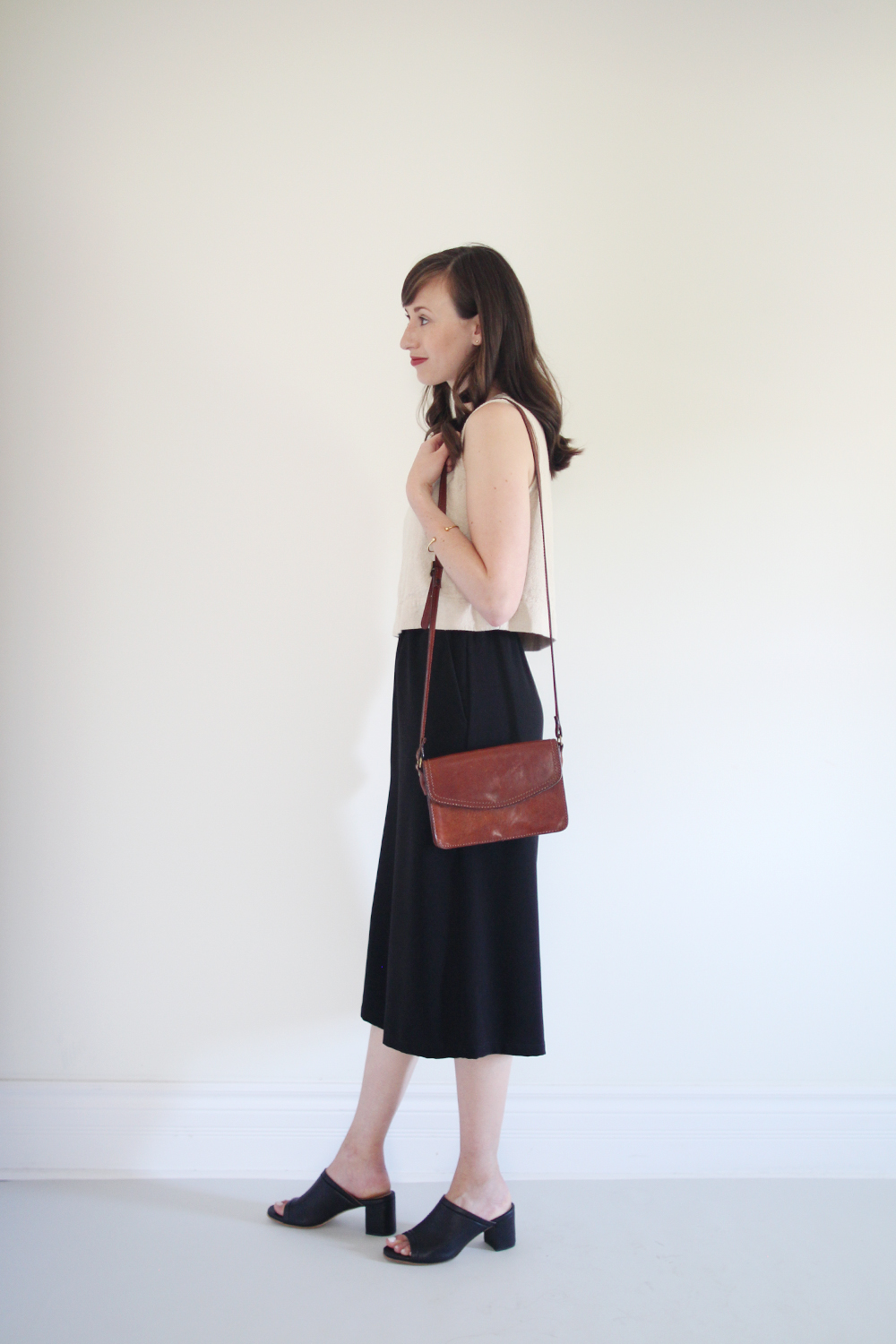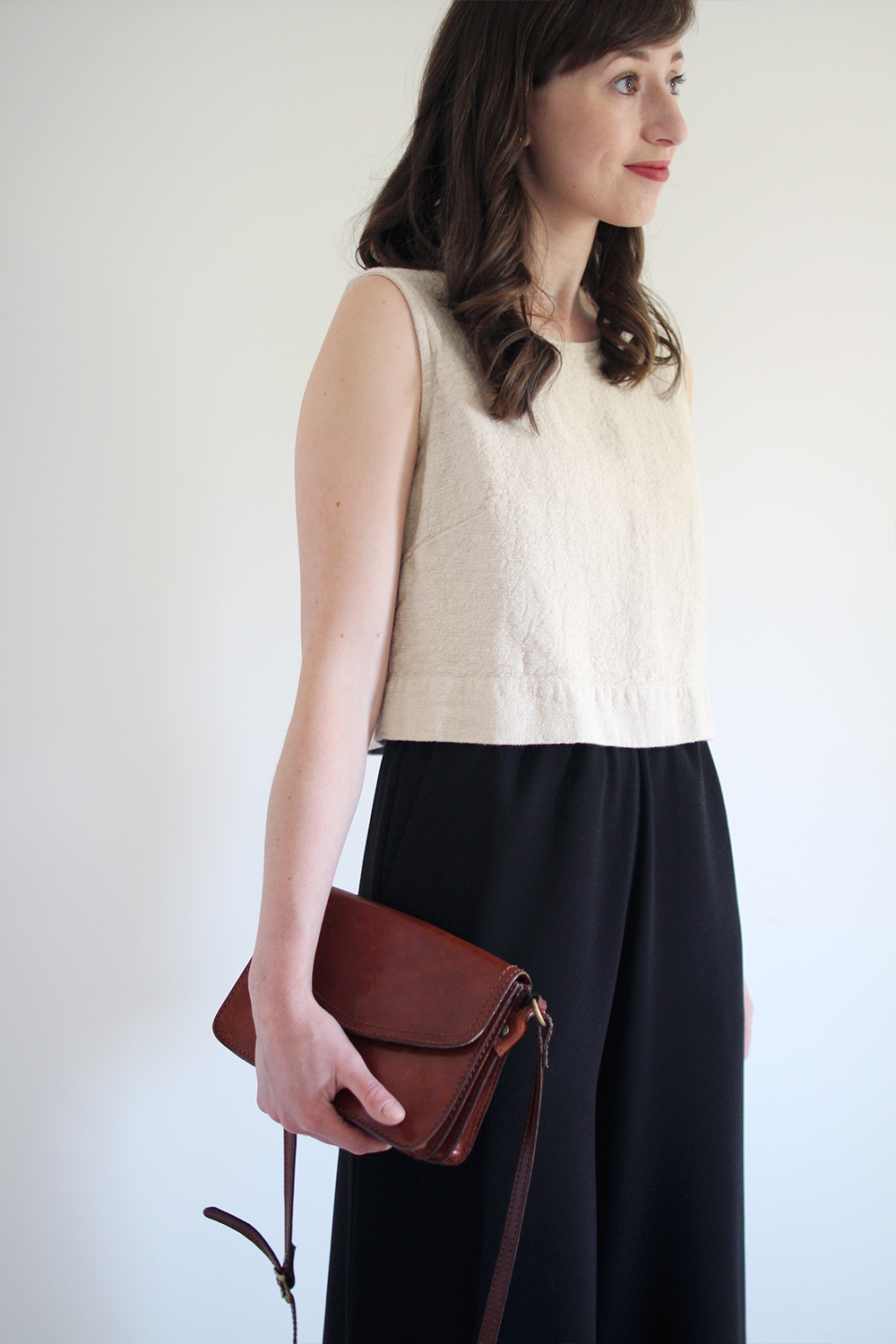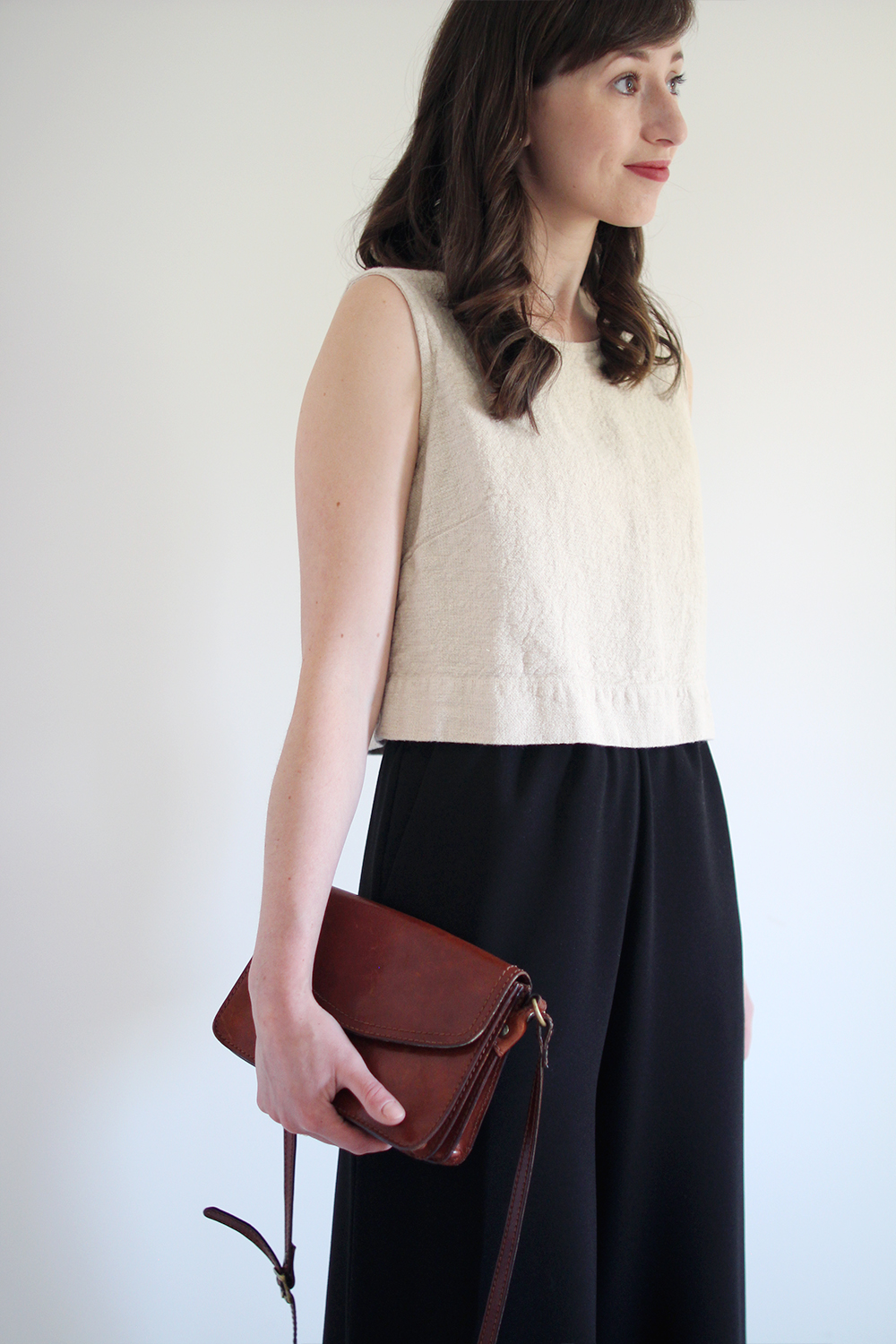 ---
INITIAL THOUGHTS
---
TEMPERATURE – High of 25º C with a mix of sun, thunder showers and humidity. So same as everyday this week.
ACTIVITIES – Morning of emails, a lunch out and an afternoon in the studio. Then drinks dinner with the fella.
INITIAL THOUGHTS – I really didn't over think this one and I kept it ultra basic on purpose because that's how I'd probably wear it out the door if I wasn't shooting for the blog. This colour palette is one of my favourites with a heavy dose of black, some nubbly flax texture, a pop of rich neutrals and a couple hits of gold jewelry. Easy, peasy!
At first I really wasn't sure about these pants, especially the length since I'm used to an ankle crop, not a true culotte. But as I've been wearing them more and more I'm getting comfortable with it (we'll get back to those another day though). I love how they pair with this floaty, neutral Petra Crop from last summer and I think they look great with either my strappy flat slides or these mules but the extra height felt right for today.
This look is perfect for any number of activities my week calls for from client meetings, appointments, running errands, dinner out, drinks with friends or just some time in the office working away. It also lends itself very well to cooler temps because I tried it on with my denim duster and it was SO GOOD. Cannot wait to wear that when it's cool enough! 
---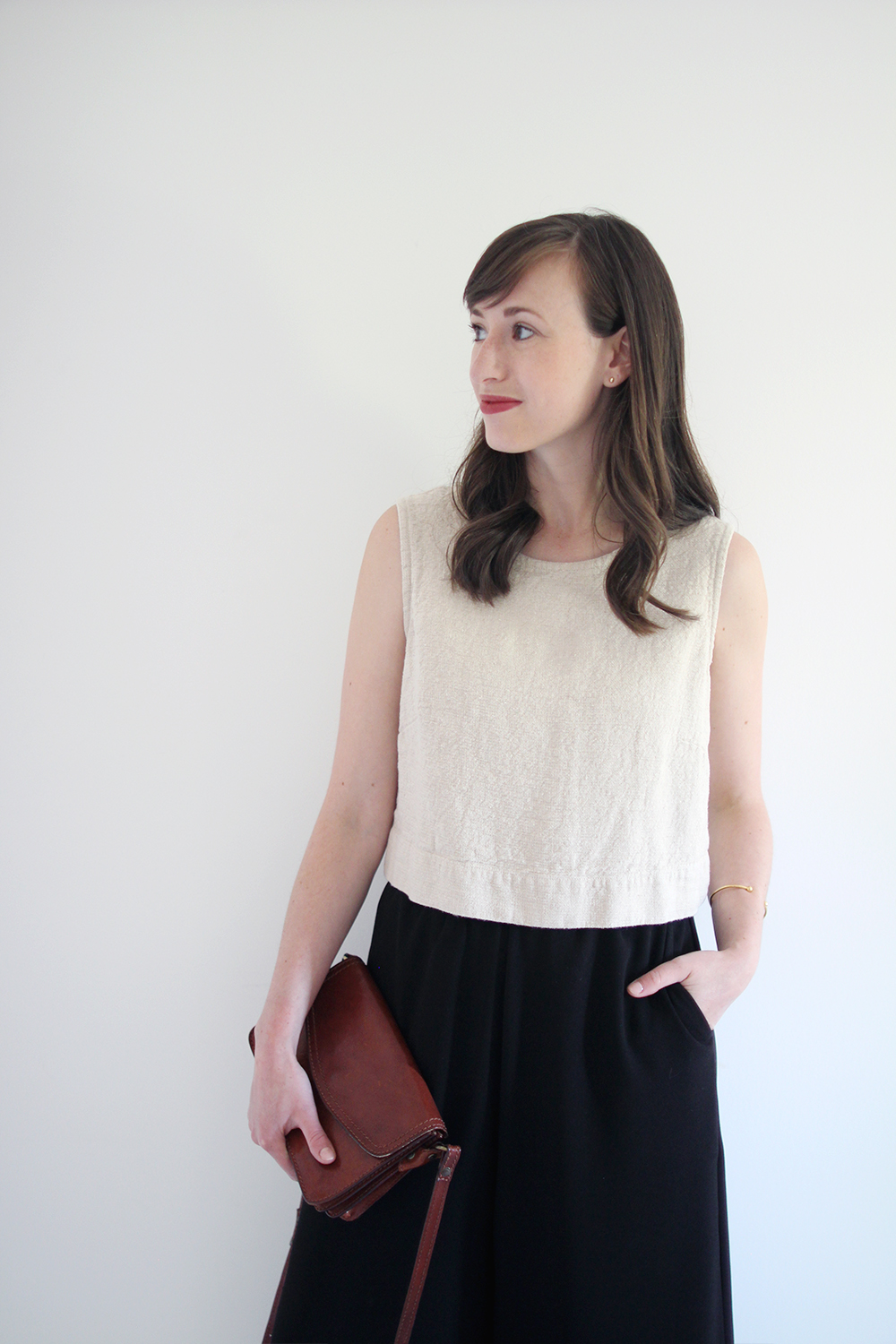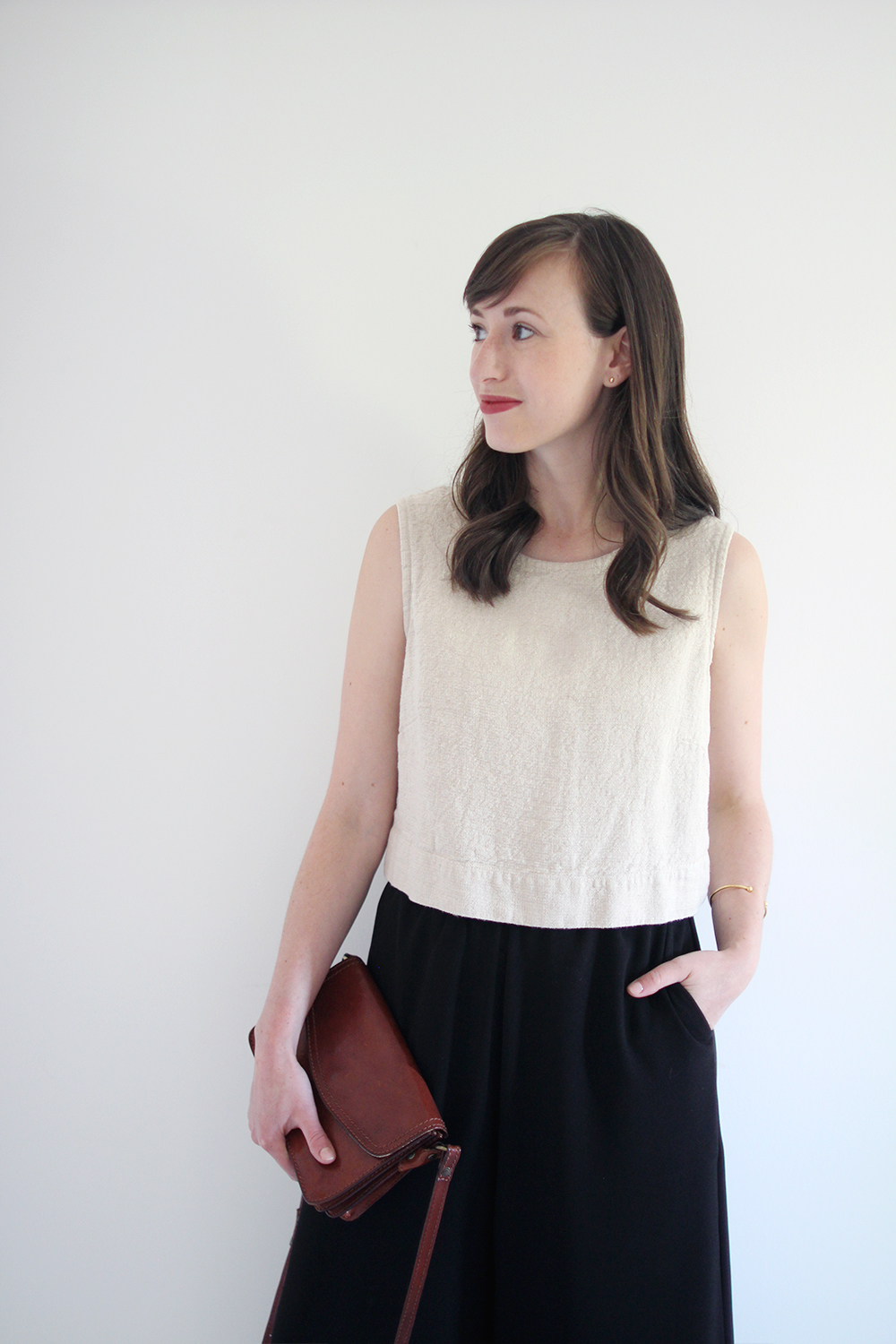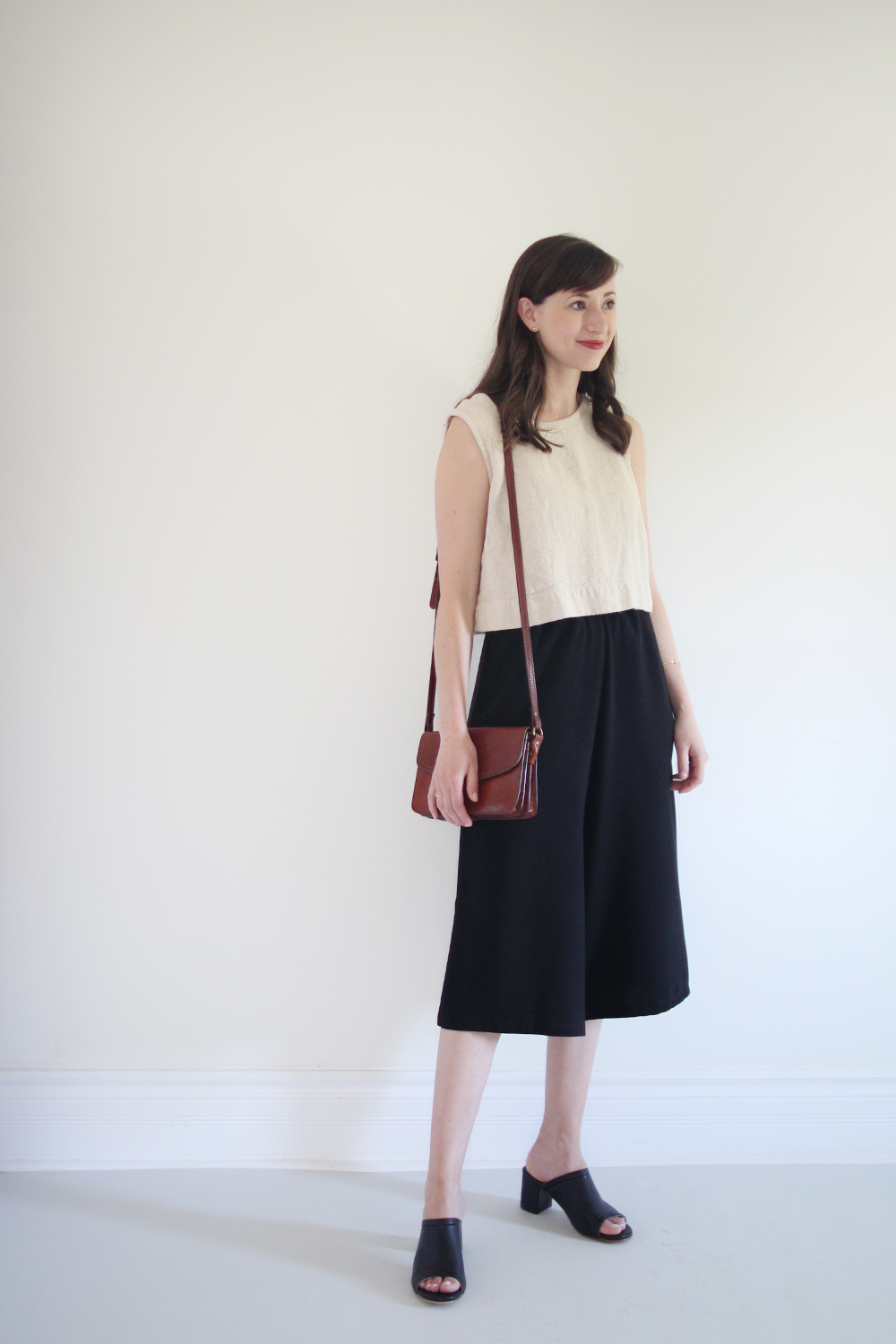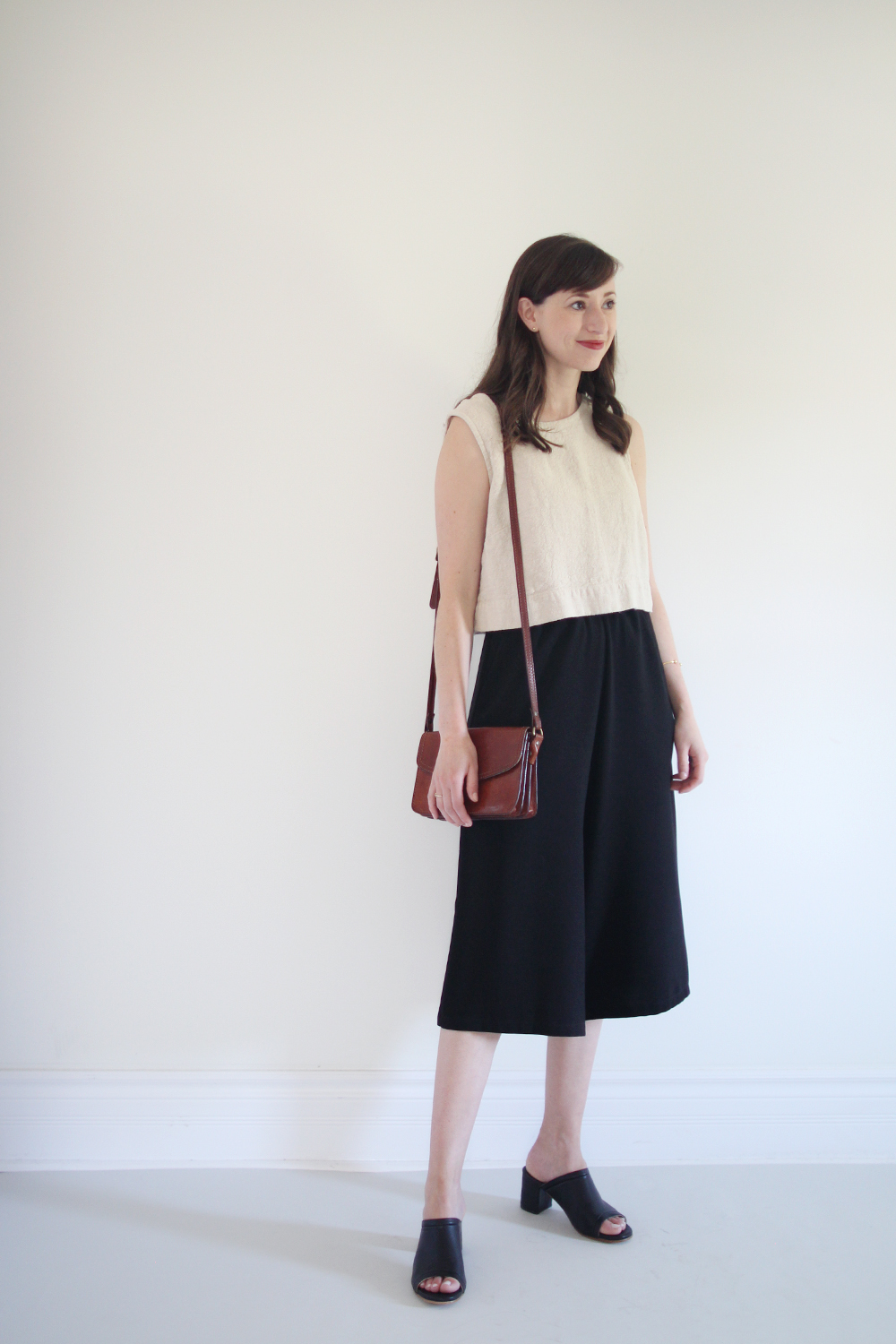 ---
STYLING TIPS
---
1 | DOUBLE WIDE DOUBLE CROP | This is a trick I used for Look 2 of the Spring 10×10. In fact, almost all the same tips from that look apply here too. Both of these items are wide and cropped in length, which I think helps them work so well together. The cropped length on the top helps create a shorter torso, ergo longer leg. Then the cropped length on the wide pant reveals plenty of my calf and ankle to be summer ready.
Next time you're wondering what to pair with a wide top or wide pants, try something that's also wide and look for at least one of the two to be slightly cropped for a more contemporary feel. 
2 | POP OF POLISH | The core of this look is very relaxed and loose-fitting but then I've added a minimal shoe and a compact bag to help add a little bit of refinement. They're both in a smooth leather and hold their own just enough to give the look the polish it needs.
When you're wearing a relaxed fitting pant and  top try pairing them with a more cleanly shaped shoe and sharp bag to balance things out.
3 | LOW-KEY BLING | Once thing I've noticed through this challenge and the June 30×30, is how little jewelry I've been wearing. It's not that I don't love the pieces in my collection, I just haven't felt the need to add much to a look. A simple stud, a single bangle and a ring or two are usually all I need. Something about a sparse look seems extra chic lately and I'm rolling with it.
Next time you add jewelry to a look try going for a simple, intentional approach. Just add a basic pair of studs and a matching bracelet in a unique shape. 
4 | THE MODEST CROP | This is my favourite way to wear a cropped top. These pants hit at my natural waist and the hem of my top falls about an inch below. There's a bit of overlap and the chance of skin being exposed is pretty low. It's not that I don't think a little sliver of mid drift showing isn't cute, it's just that I've just found I get a bit self-conscious in that scenario, and I try to do my best to keep from feeling that way. However, when there's a touch of overlay it feels a more demure than daring and I'm into it.
The easiest way to rock a crop top without feeling exposed is to wear it with a high rise pant that hits an inch or so above where the top ends. But if the top is too long you can lose the waist cinching, leg lengthening effect of a cropped look so keep that in mind as well.
---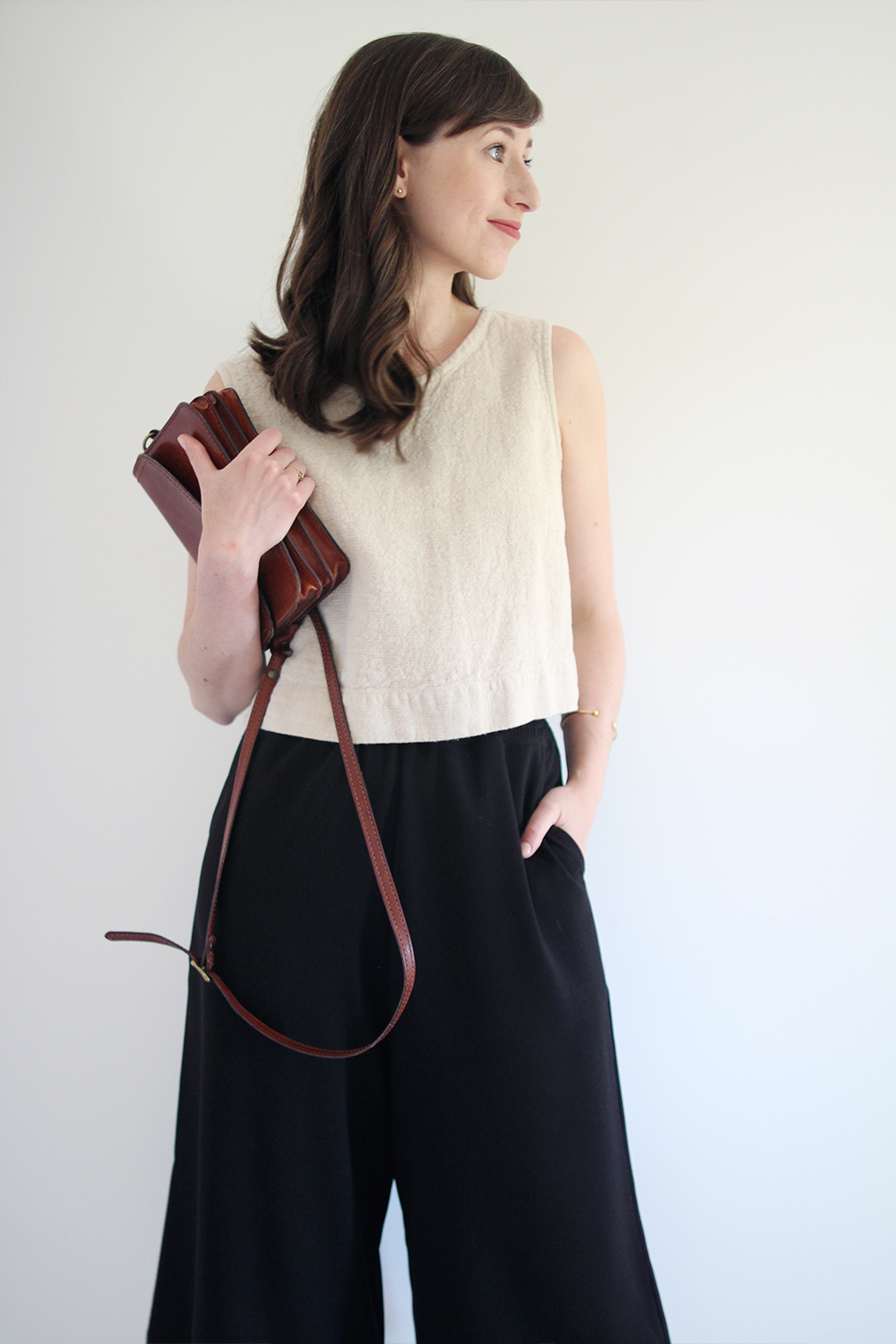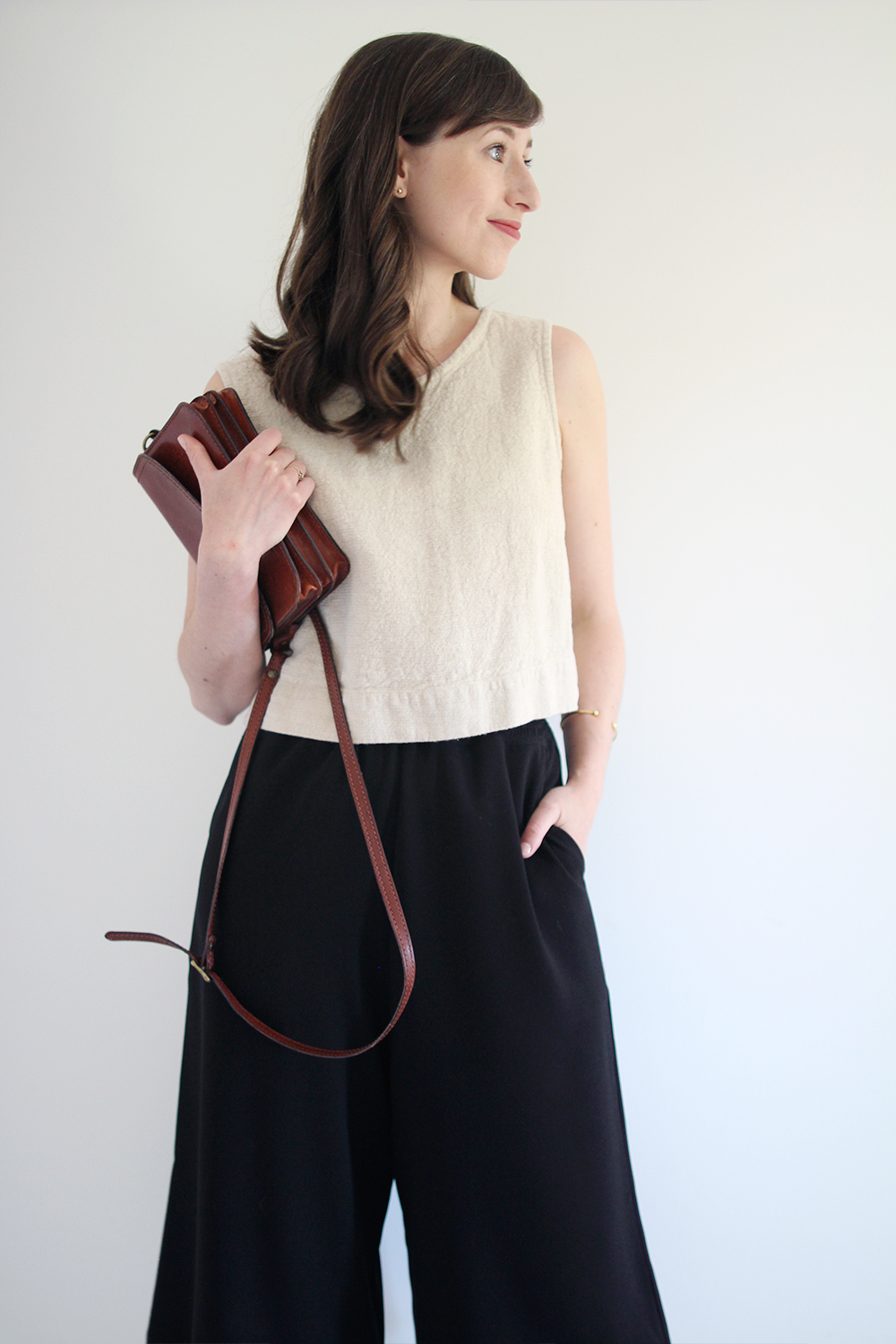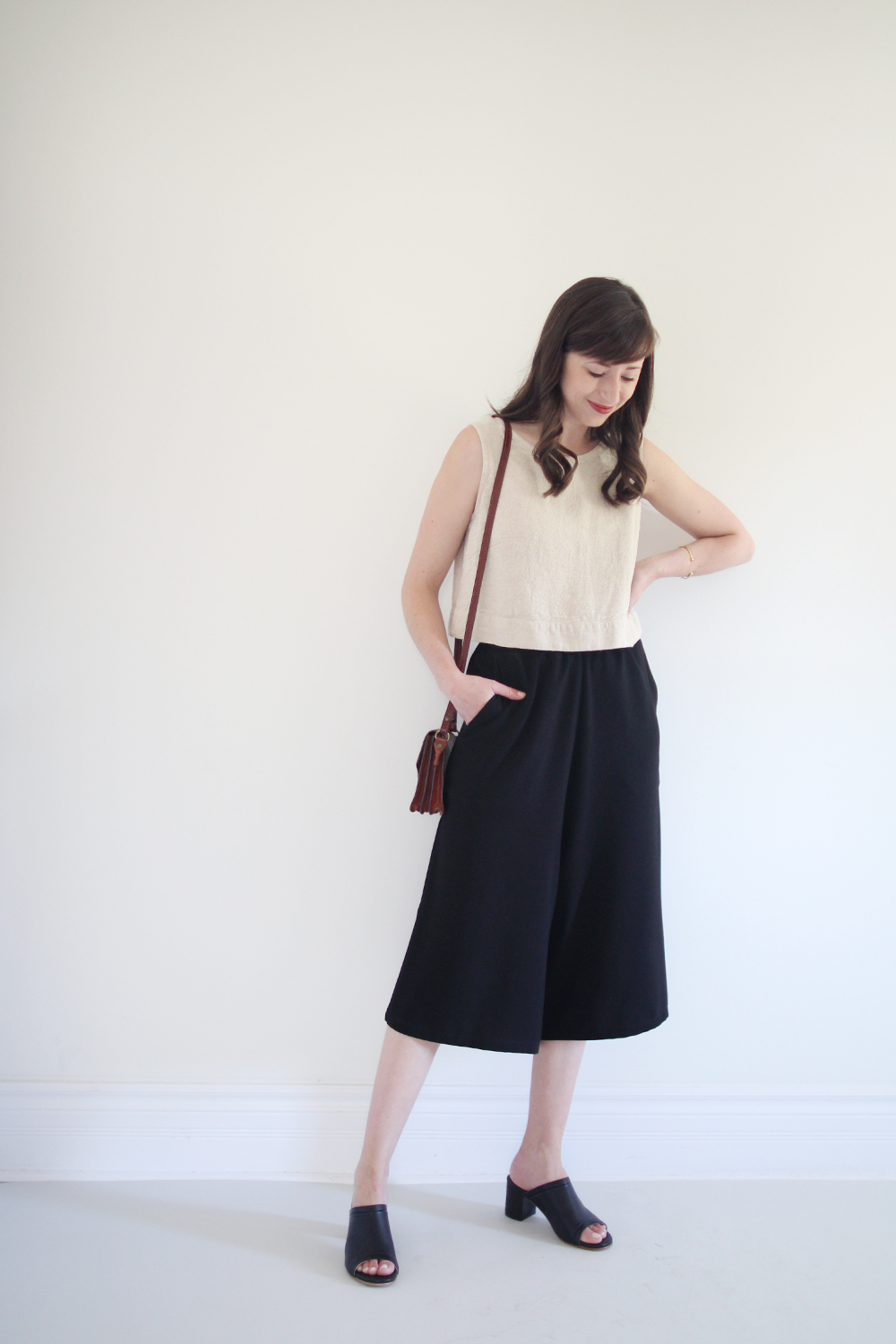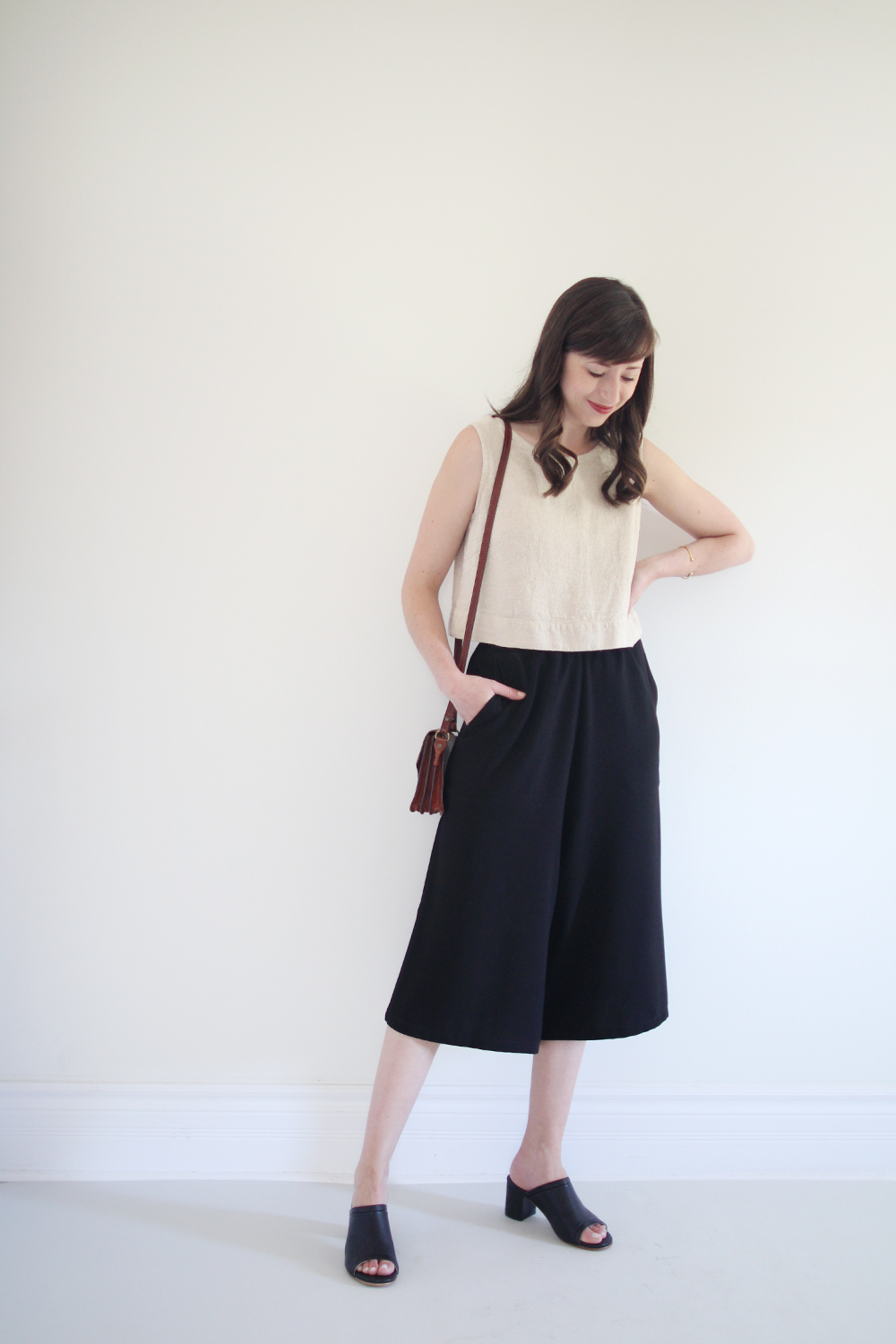 ---
ITEM SPOTLIGHT – THE PETRA CROP
---
This is my second summer with the Petra Crop by Elizabeth Suzann and it's become a favourite I rely on whenever it gets hot and humid. I first fell in love with this style of top when I bought the Lee Crop way back in 2014. In fact, I love this piece so much that I actually ordered it in two colours from this year's WWC! It's just a simple classic that I know I'll be wearing for many summers yet. Even though this fabric is no longer available I thought it was worth highlighting some of the other elements that make this piece a closet hero for me and a favourite among ES customers.
SIZE + FIT: I'm wearing a size S in these photos (I am a 32C and have a 26 in waist for reference) and while I do like the fit I finally opted for the XS in the linen ones I ordered this year. The XS is just a touch shorter (by 1/2 an inch) and slimmer around the torso (by 1.5 inches) and I felt that would be best. We'll see how it works out!
I love the armholes on this piece because they hit at a very flattering spot and are 100% bra friendly. The bust darts are also a great subtle detail that helps it fit nicely and fall away from the body.
The hem is probably my favourite part because it's 1.75 inches deep, which creates a beautiful thick band that also helps to weight it down slightly and keep it in place. It hits about an inch below my natural waist which makes it the perfect top to pair with high-rise bottoms.
The last element of note would be the neckline, which I'd qualify as a mix between a scoop neck and a boat neck. It shows just a bit of collar bone to be flattering and it's not so wide that you have to fuss with bra straps.
FABRIC: This one is 100% hemp and has a gorgeous weight, breathability and movement to it. The new fabric options available are Cotton Poplin (which has a smooth, crisp texture), a Midweight Linen (which has a similar texture to the hemp but is a touch softer and lighter) and a Linen Gauze (which is lighter than the midweight linen but has a crinkly texture that gives it some stretch).
PRICE: $115 / $125 / $135 USD respectively.
MADE: To order in Nashville TN, USA
CARE: (Cotton Poplin/Midweight Linen) Machine wash cold, tumble dry warm. Press on low with steam to remove wrinkles, or leave unpressed for a perfectly unfussy look. (Linen Gauze) Hand or machine wash on gentle cycle with cold water. Tumble dry hot. Store folded or flat in order to avoid stretching – if stretching occurs, machine washing and drying will return to original shape. Crinkled finish is intentional, do not press.
DURABILITY: Just like anything from Elizabeth Suzann, this piece has been made extremely well. I've worn it and washed it countless times and it's still like new.
I really can't recommend the Petra Crop enough! Just let me know if you have any further questions about it. 
---
Question for you: Would you like to see a fit comparison between the S and XS Petra?
---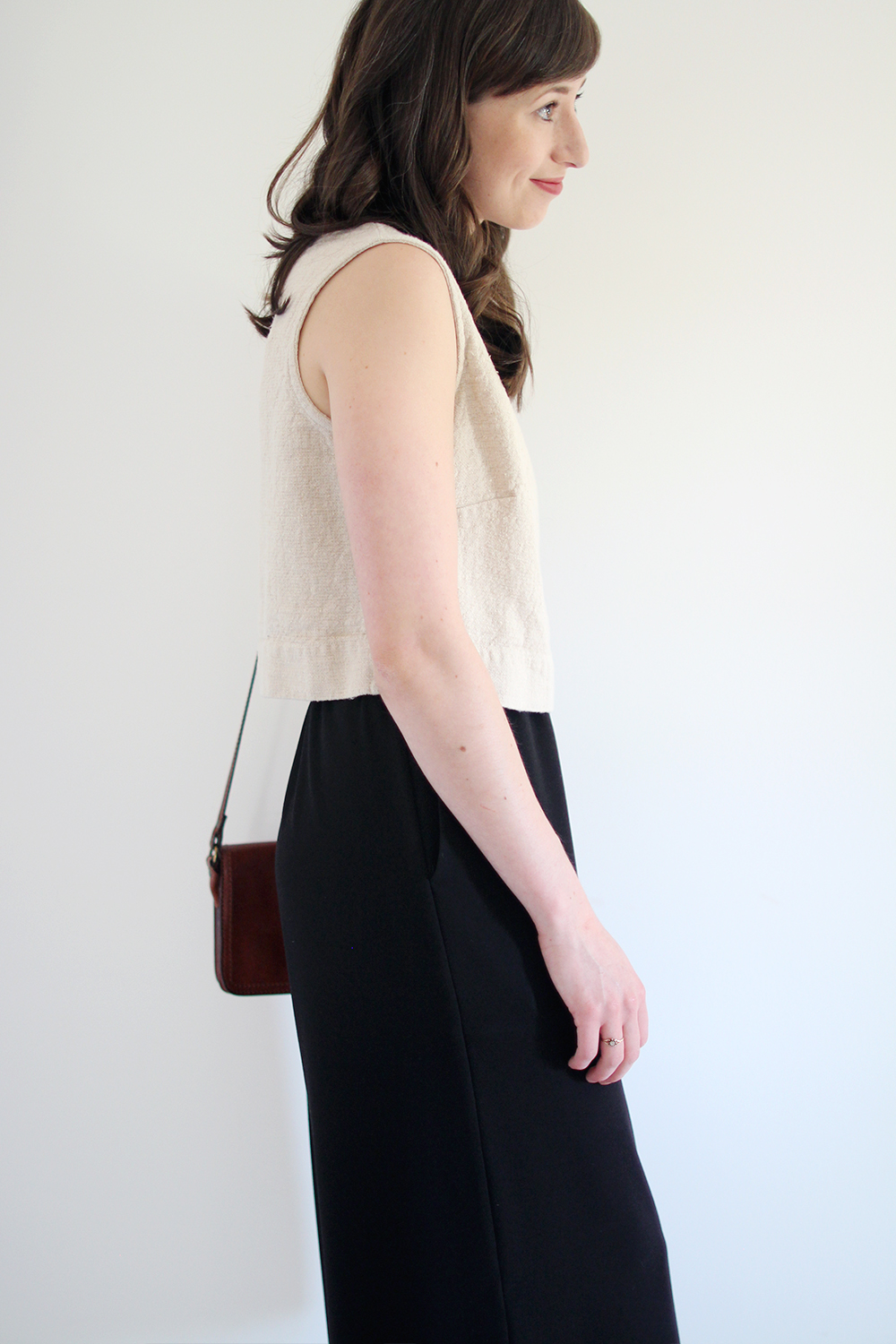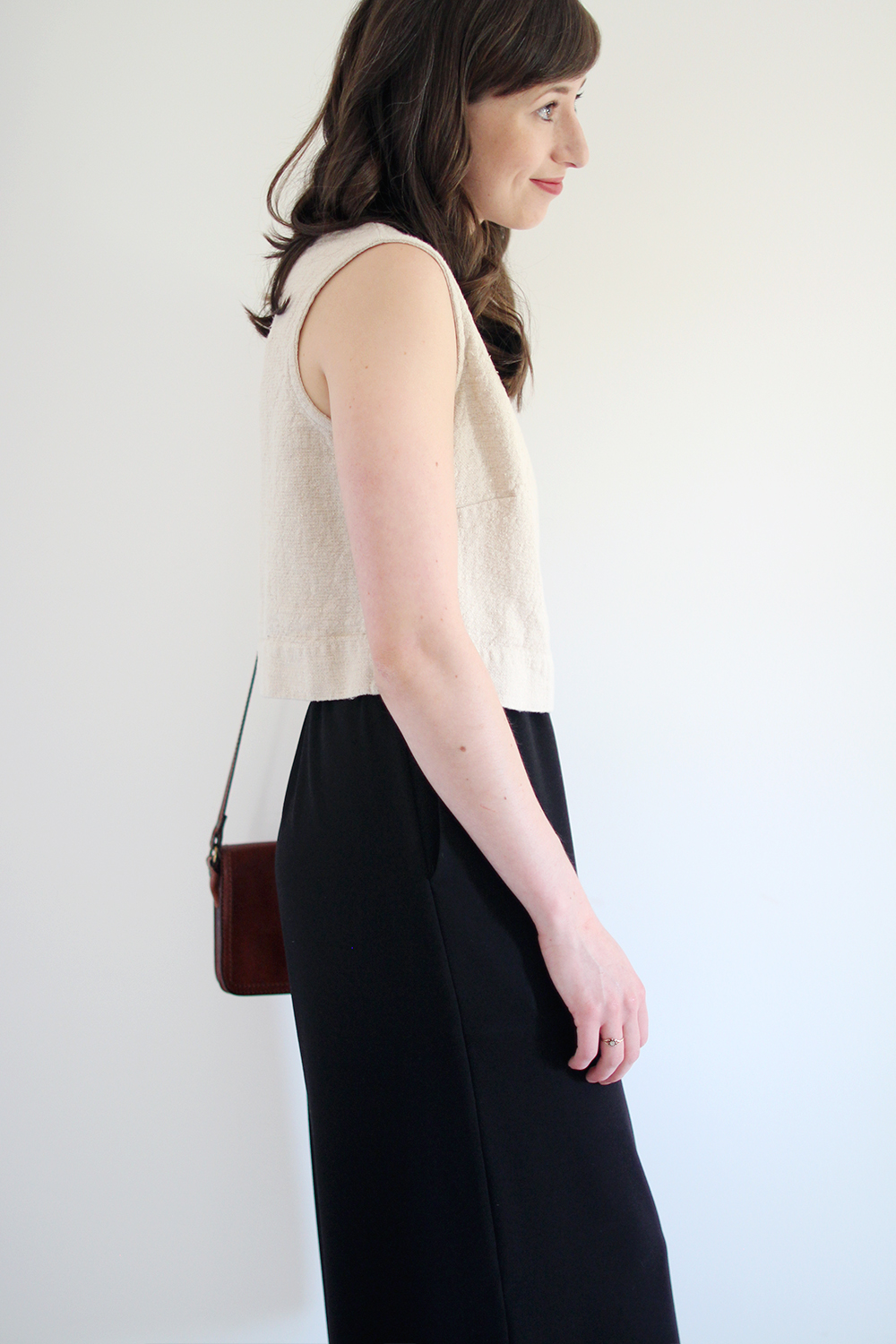 ---
SHOP THE POST
---
1 | PETRA CROP | c/o ELIZABETH SUZANN | s/o linked to same style in linen | $125 USD | Made in Nashville
2 | BLACK CULOTTES | JESSE KAMM | s/o | Similar by EILEEN FISHER ($168 USD) by EVERLANE ($68 USD) and these from BRASS ($82 USD) look awesome! | Also, the Wide Leg Crop just got a restock.
3 | PEEP TOE MULE | c/o POPPY BARLEY | $248 $208 CAD On Sale! | I wear a 7 Narrow | Made responsibly in Mexico
4 | OXBLOOD BAG | VINTAGE | Love this option from Baggu  | $120 USD | Made in USA
5 | DOT BANGLE | c/o BIKO | $55 CAD | Made in Canada
---

---
SEE YOU TOMORROW WITH LOOK #5. IT'S A SUPER FUN ONE FOR FRIDAY!
Tune into my Insta Stories for a look at this outfit in action later today.
---
This post is not sponsored but contains affiliate links. When you shop via the links above I may make a small commission from a sale. This income helps limit the amount of sponsored content that appears on Style Bee. Thanks a lot for your support!