It's only Day 2 of the #Spring10x10 Challenge (depending when you started) and already I've been so inspired by this community. You folks have made so many stellar choices for your 10 pieces and the colour palettes floating around are fabulous. Pops of pink are definitely a theme and it's nice to see so many dresses out and about right now! I've already read some great insights on unexpected colour pairings, new layering techniques and some realizations about how nice it is to wear the items we used to 'save' on a normal day. I especially loved how Sophe P. and her adorable daughter have joined in the fun, wearing all handmade items (that are matching!). Now that's what I'm talking about! 
Seriously though, my co-host Caroline of UnFancy and I can't believe how this exercise has been catching on and how much more we take away from the challenge than just cute new outfits. It's pretty special! So thanks for joining in and for putting yourself and your style out there. It won't go unnoticed! If you haven't joined in, there's still time and you can get all the info here and tons of inspo here.
Now onto the outfit element of the challenge with Look #2! 
---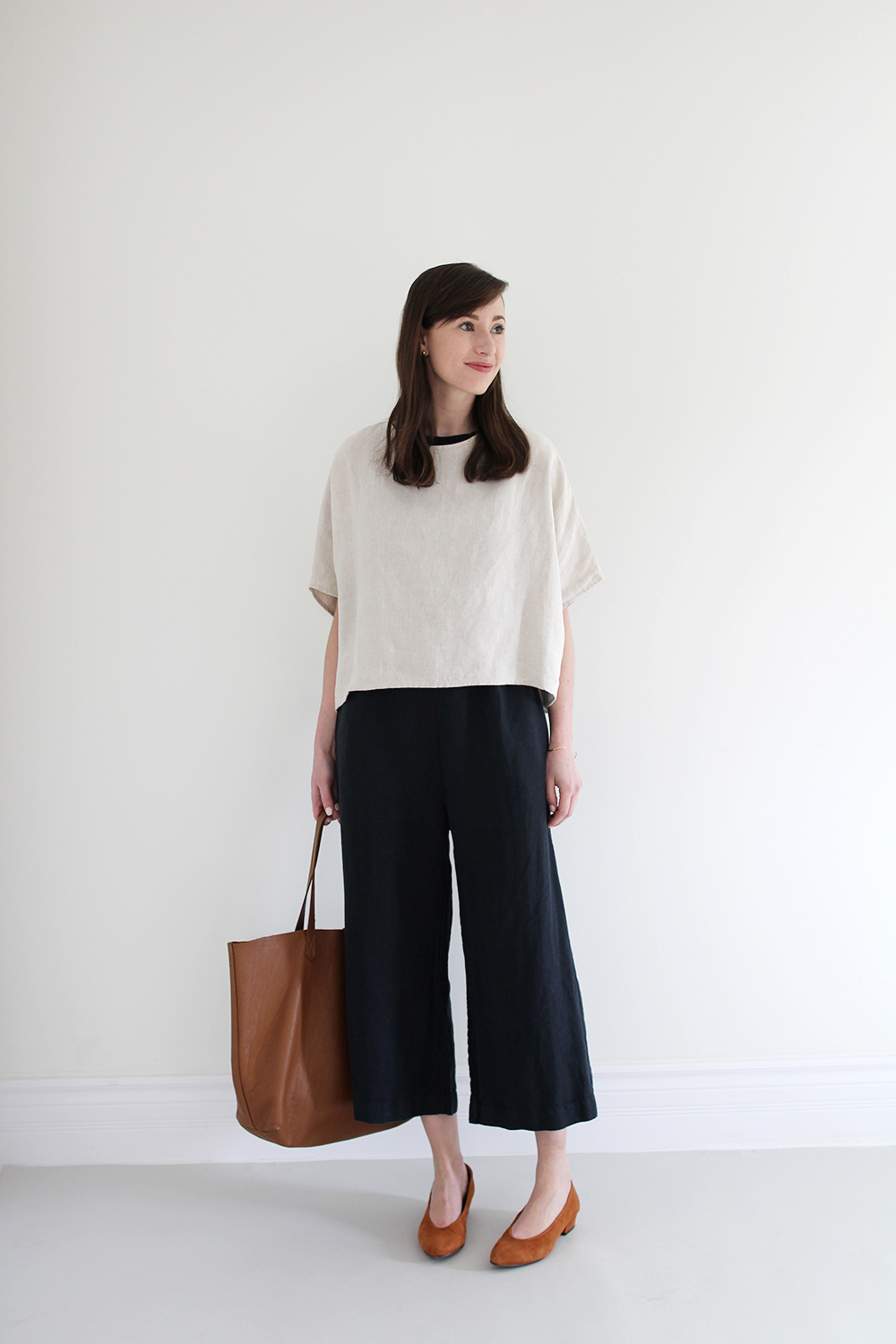 ---
INITIAL THOUGHTS
---
So technically the base of this outfit has already been on the blog before (see it in this post) but I really couldn't wait to try it out again. Plus, you know what, I repeat outfits ALL THE TIME in real life so it was just a matter of time before that happened on here. It's also one of the comfiest ones I think I'll be able to come up with during this challenge, and after being under the weather yesterday, comfort is very much essential right now.
I'm really loving this look for the easy shapes and movement. Both my jumpsuit and my top are linen so they float around nicely when I move and feel really great on my skin. They're both wide shapes, which I don't always feel great in (I tend to like more balance) but in this context it doesn't feel too bulky, which is likely thanks to the fluidity of the fabric and the cropped lengths.
The palette happening here is also something I'm digging. Flax linen, with washed black and two hits of caramel/cognac makes for a very sophisticated Spring colour story that's laid back at the same time.
Normally I wouldn't intentionally match my shoes and bag so exactly but I think it actually helps the palette feels intentional and clean rather than sparse. Or maybe it is boring, and I just happen to like it. Don't care.
So basically, I can see why I was so eager to repeat this combo. It's elegant, comfy and a little but unexpected. Basically my ideal style in a nutshell!
Today's Agenda: Will involve a lot of catching up after my impromptu sick day on Monday but that's ok. I still managed to get a lot of emails sent while I was on the couch (and also enjoyed a thunderous spring storm) and the restful afternoon really helped me bounce back. Luckily the weather is looking just about as nice, so I'll get to enjoy some time outside after all. Otherwise it'll be layouts, planning and hopefully an escape for some lunch and errands around town.
---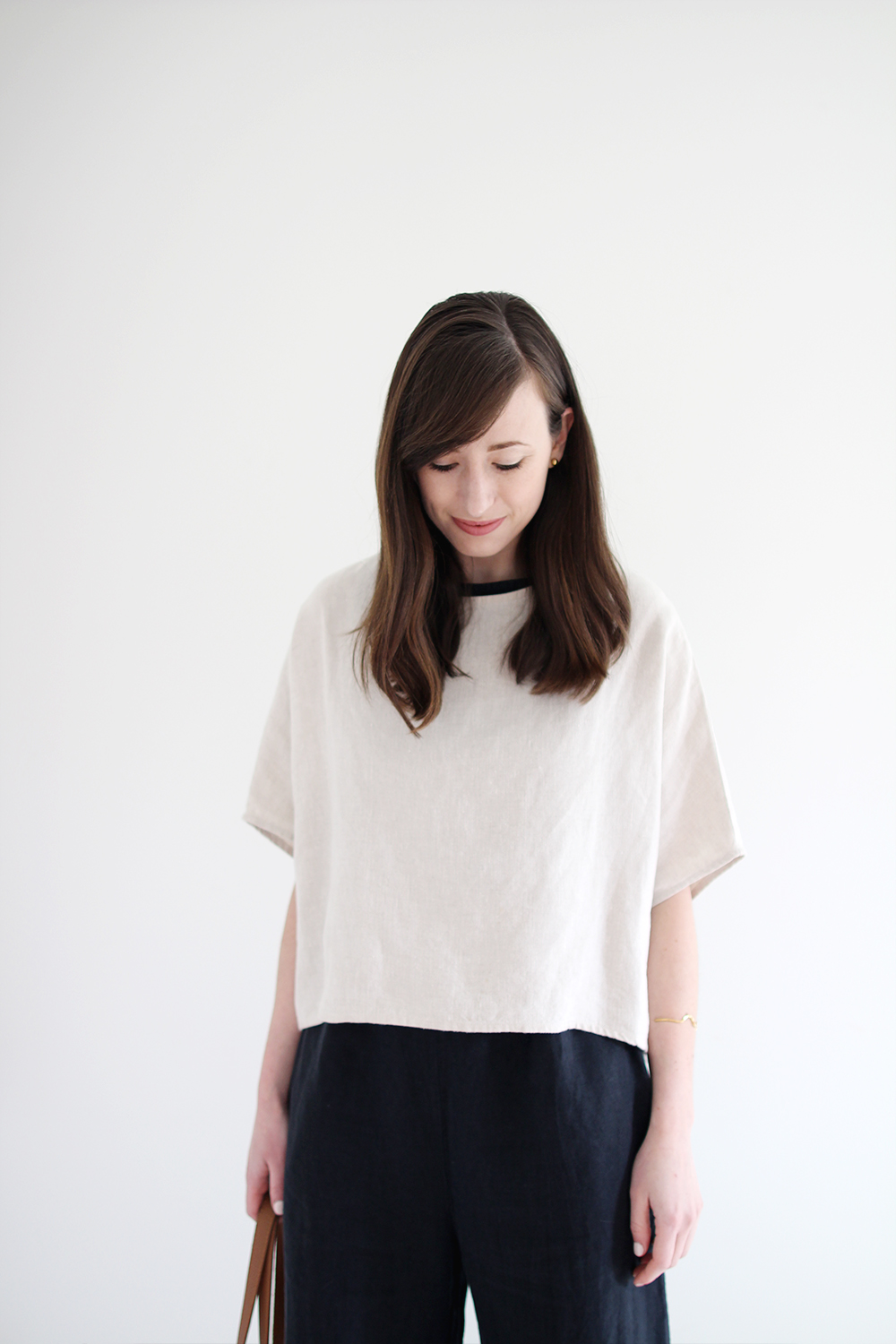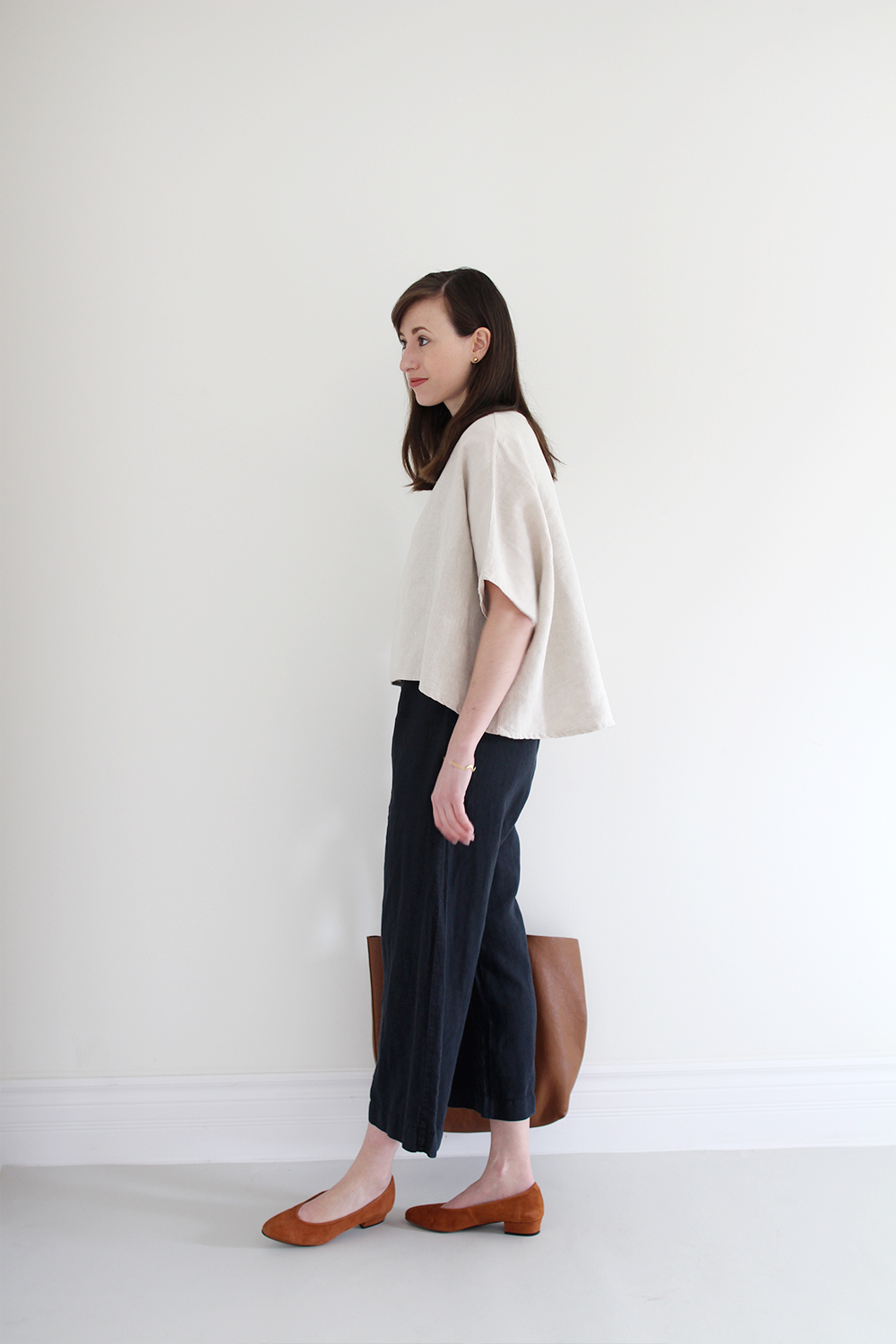 ---
STYLING DETAILS
---
1 | DOUBLE WIDE DOUBLE CROP | Both of these items are wide and cropped in length, which I think helps them work so well together. The Cropped length on the top helps create a shorter torso, ergo longer leg. Then the cropped length on the wide pant reveals just enough of my ankle and lower calf to be flattering and feel fresh. I also love how just a little bit of the top of the jumpsuit can be seen peeking out of the top.
Next time you're wondering what to pair with a wide top or wide pants, try something that's also wide and look for at least one of the two to be slightly cropped for a more contemporary feel. 
2 | POP OF POLISH | The core of this look is very relaxed and loose-fitting but then I've added a sleek sharp shoe and a clean square bag to help add a little bit of refinement. They're both in a warm colour and a soft material so they stand out just enough to give the look the polish it needs.
When you're wearing relaxed fitting pants and a top try pairing them with a more cleanly shaped shoe and sharp bag to balance things out.
3 | LINEN ON LINEN | One of my favourite fabric combos is linen on linen. Nothing feels more Spring and Summer ready than that. It's also such a no-brainer pairing.
Next time you need a breezy look try pairing two linen pieces in contrasting colours. No doubt you'll look as effortlessly cool as you feel! 
4 | LOW-KEY BLING | In her post yesterday, Caroline mentioned how she's 'all but hopped off the accessories train' and I must admit I've reduced my accessory use considerably too. It's not that I don't love many of the pieces in my collection, I just haven't felt the need to add much to a look for a while now. A simple stud, a single bangle and a ring or two are usually all I need. Something about a sparse look is extra chic lately and I'm rolling with it.
Next time you add jewelry to a look try going for a simple, intentional approach. Just add a basic pair of studs and a matching bracelet in a unique shape. 
---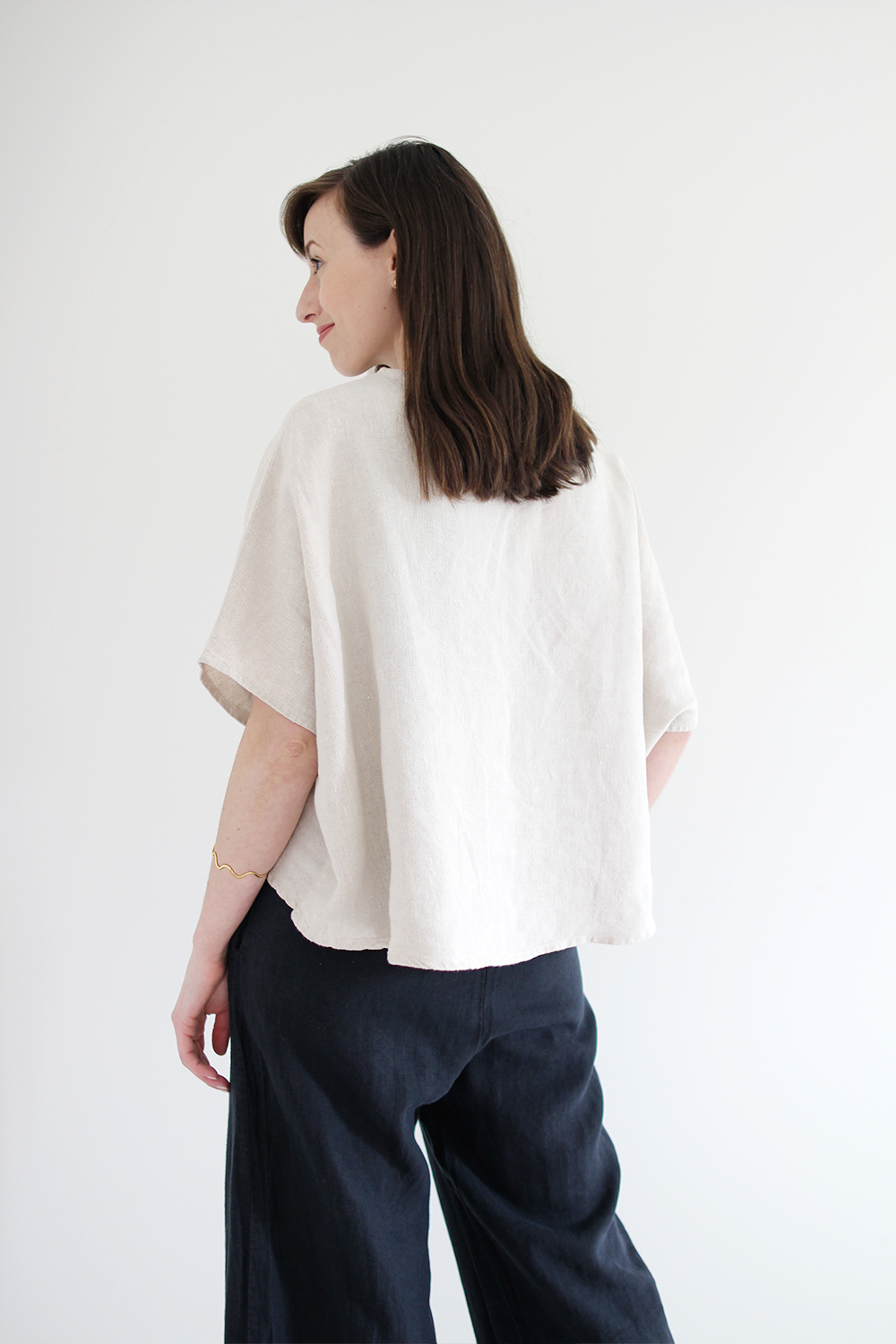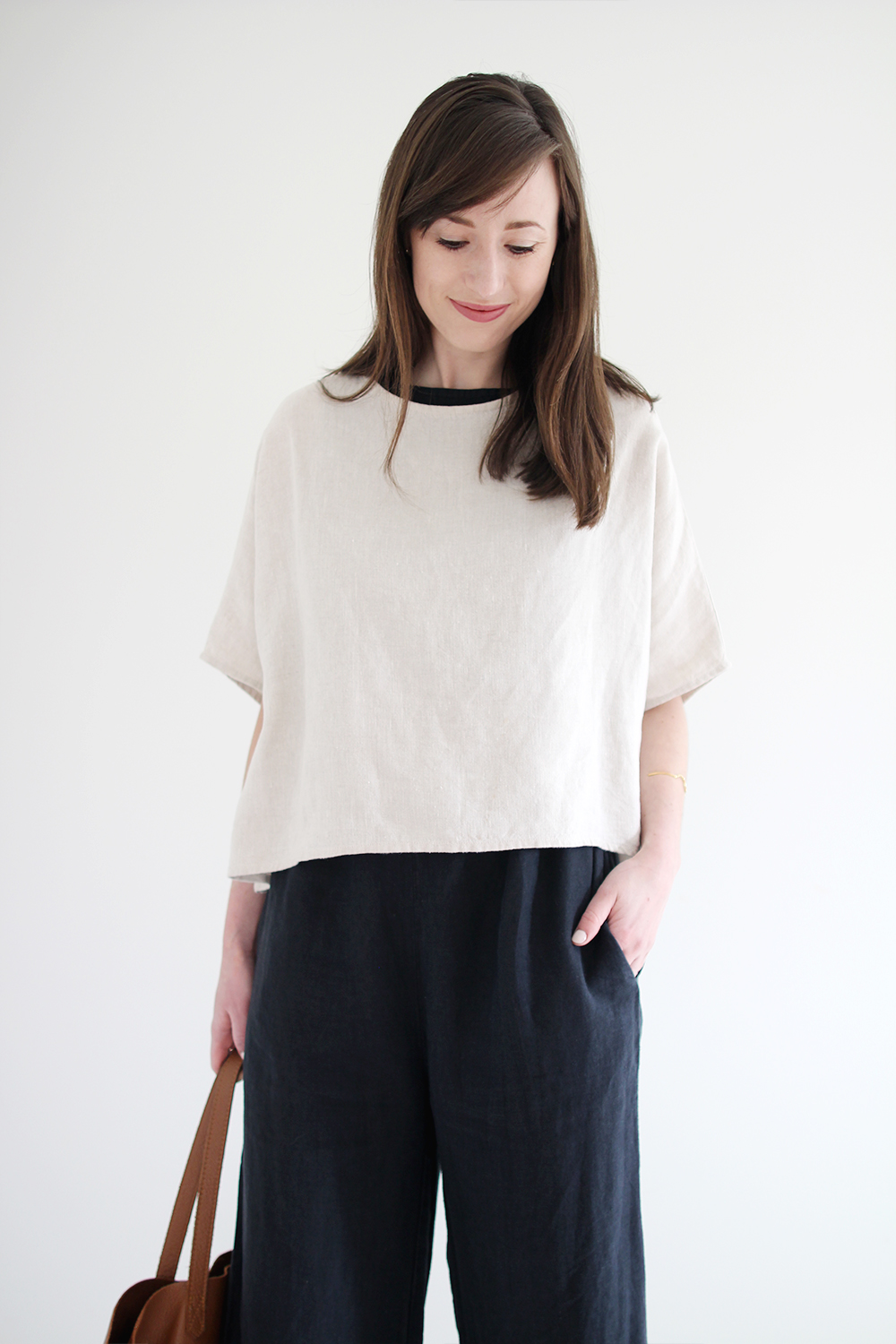 ---
TODAY'S ITEM SPOTLIGHT – LINN TEE
---
Today's item spotlight is on the Linn Tee in midweight linen by Elizabeth Suzann. It's one of my all-time favourite tops and the shape has a magical way of feeling totally relaxed but still looking effortlessly chic and elegant. It's one of my 'when in doubt' tops that I toss on whenever I'm short on time.
I always get lots of messages and questions about it. So here's a quick Q&A of the most frequently asked ones:
WHAT SIZE DO YOU WEAR: I'm wearing the OS. I'm 5'7, 125 lbs and my measurements are 32/26/37 for reference.
DOES THE LINEN CREASE EASILY: This is a midweight linen so it's got a nice weight to it and while it does crease, it takes quite a lot of pressure to set a crease in it. I actually rolled it up and brought it on my trip to Europe last summer and it handled the trip really well! Usually wrinkles from sitting or wearing a bag will fall out over night when it's hung up.
DOES IT WASH UP WELL: Yes, so well and it's so easy. I simply wash it with like colours on delicate with cold/warm water. After washing it I'll let it hang to dry on a hanger and then steam iron it to smooth it out, which ends up looking like it does in these photos. You can also tumble dry it but I haven't tried that yet. I can usually get away with many wears between washes unless I get a stain or some dirt on it.
WHICH DO YOU PREFER THE LINN TEE OR THE GEORGIA TEE: This is such a good question but a tough one to answer since they're two of my all-time favourite tops (and the same price in linen). I LOVE my Linn Tee in both wool and linen (and would be all over a silk option) and find they're the best top to layer over other items like a dress, jumpsuit or tunic because of the wide fit and cropped length in the front.
The only tricky thing about the Linn shape is that wearing a coat over it can be difficult because of the winged shape. I have the Cocoon Coat from many seasons back which does the job in cold weather, an Emma Kimono in Linen which is great for the Spring/Summer and my new Cardiff Work Coat fits great. So if you already have a kimono style jacket, you should be fine.
The Georgia Tee is also wonderful though. It's the perfect boxy tee to wear over just about any bottoms. It also layers well but I prefer it front tucked into high-waisted pants like my Kamms or Florence (like this and this). It's usually the one I recommend first for anyone looking to invest in an Elizabeth Suzann piece. You just cannot go wrong with it. I have three Georgia tees and they're my go-tos all Spring and Summer. The shape of the Georgia is a little easier to accommodate under a typical coat as well.
PAST EXAMPLES: I've styled the Linn Tee SO many times on the blog, but it never ceases to inspire new looks for me. Here are a few personal favourites:
---
In the interest of maintaining transparency I'll say that I don't make commission off of any Elizabeth Suzann products I share. Nor do I have some sort of kick back deal. In the past I've received items to style and was recently gifted some store credit, which I truly appreciate (esp with our crummy exchange rate)! But I just truly believe in everything the company stands for and LOVE the clothes. 
---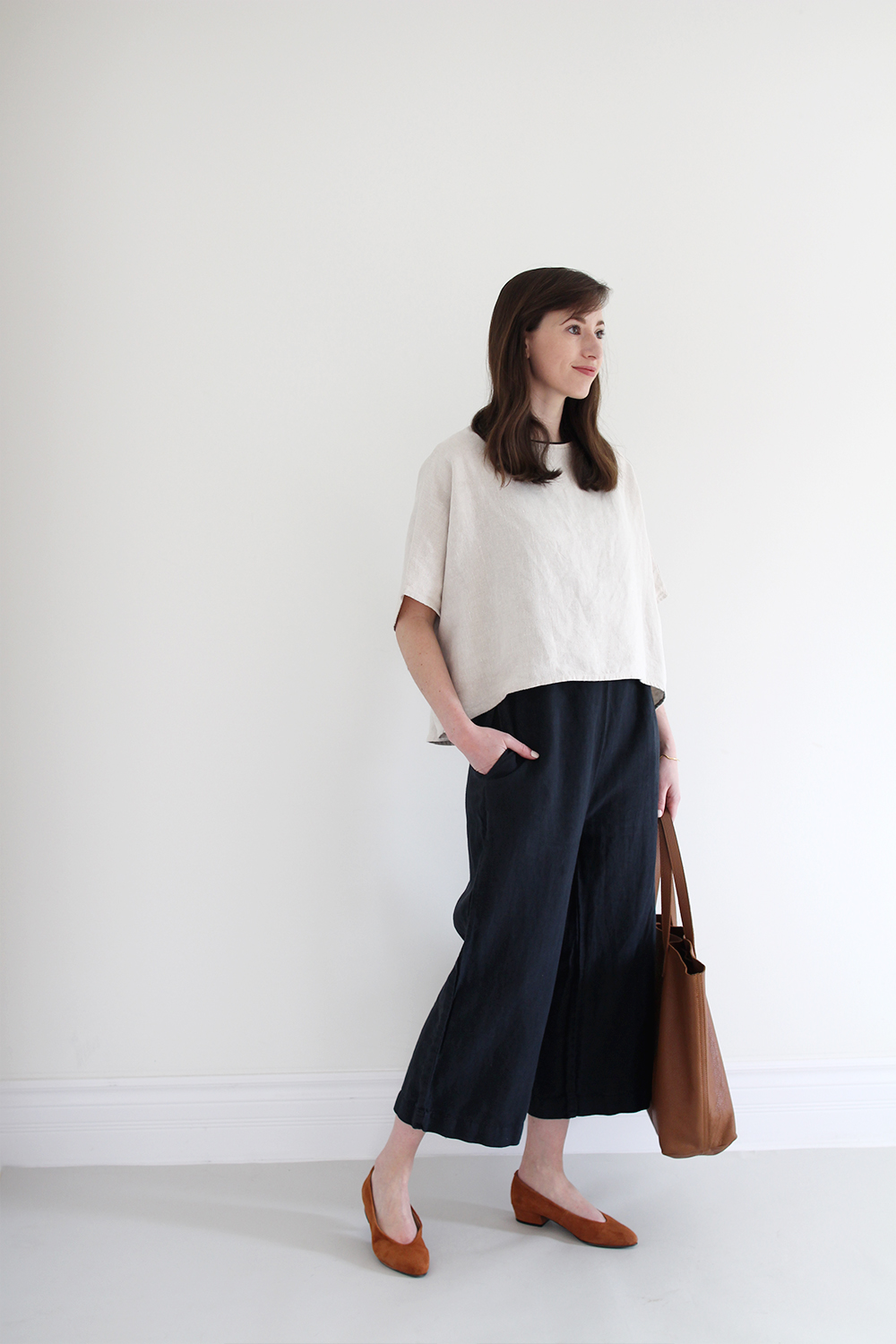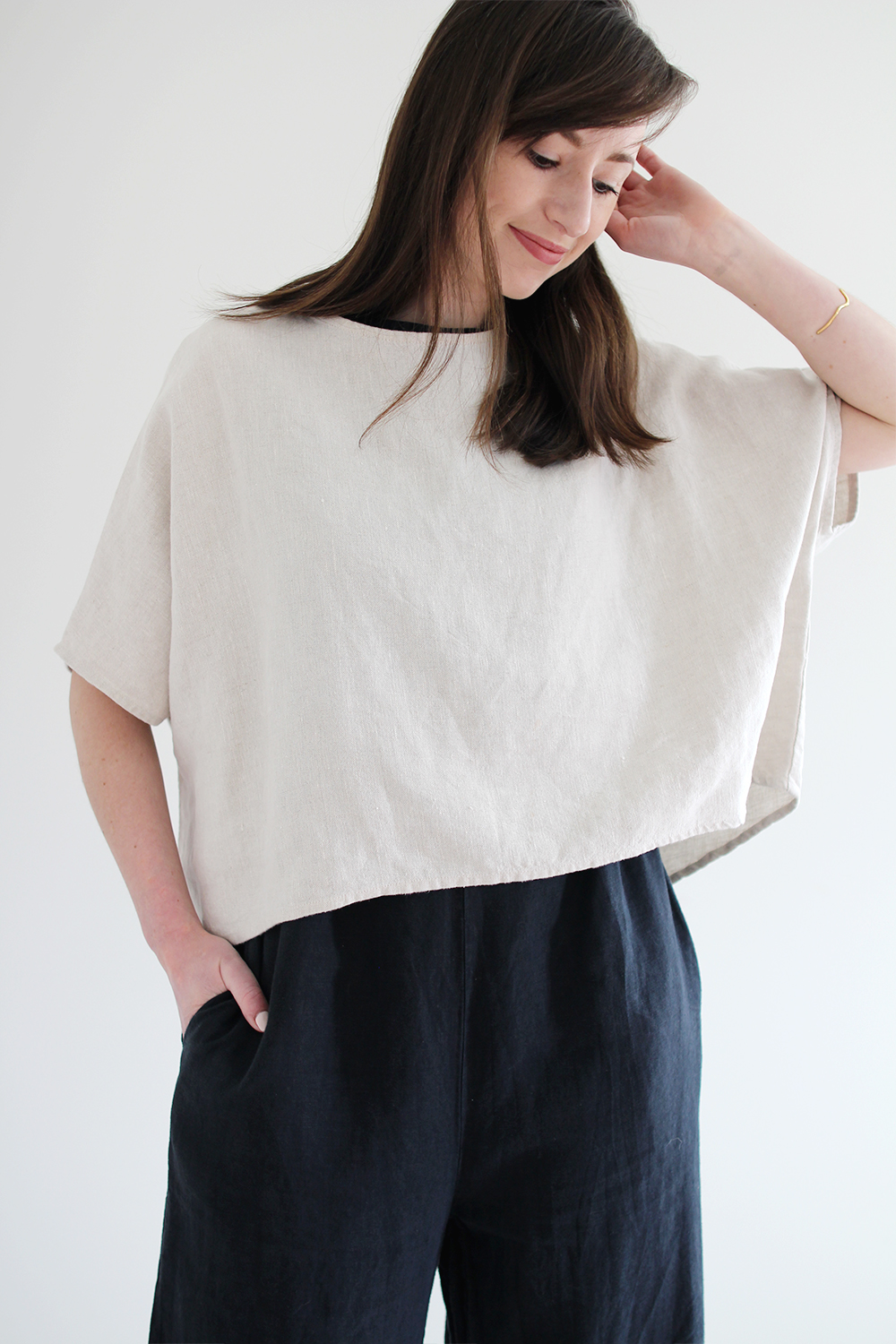 ---
COAT ADDITION
---
This creamy Cardiff Work Coat by Only Child is the perfect topper for a day like today and this look. I love how easily it fits over my Linn Tee and how the cream colour adds an extra dimension to the palette without complicating things. It's clean, simplified shape is an ideal addition to any contemporary look.
---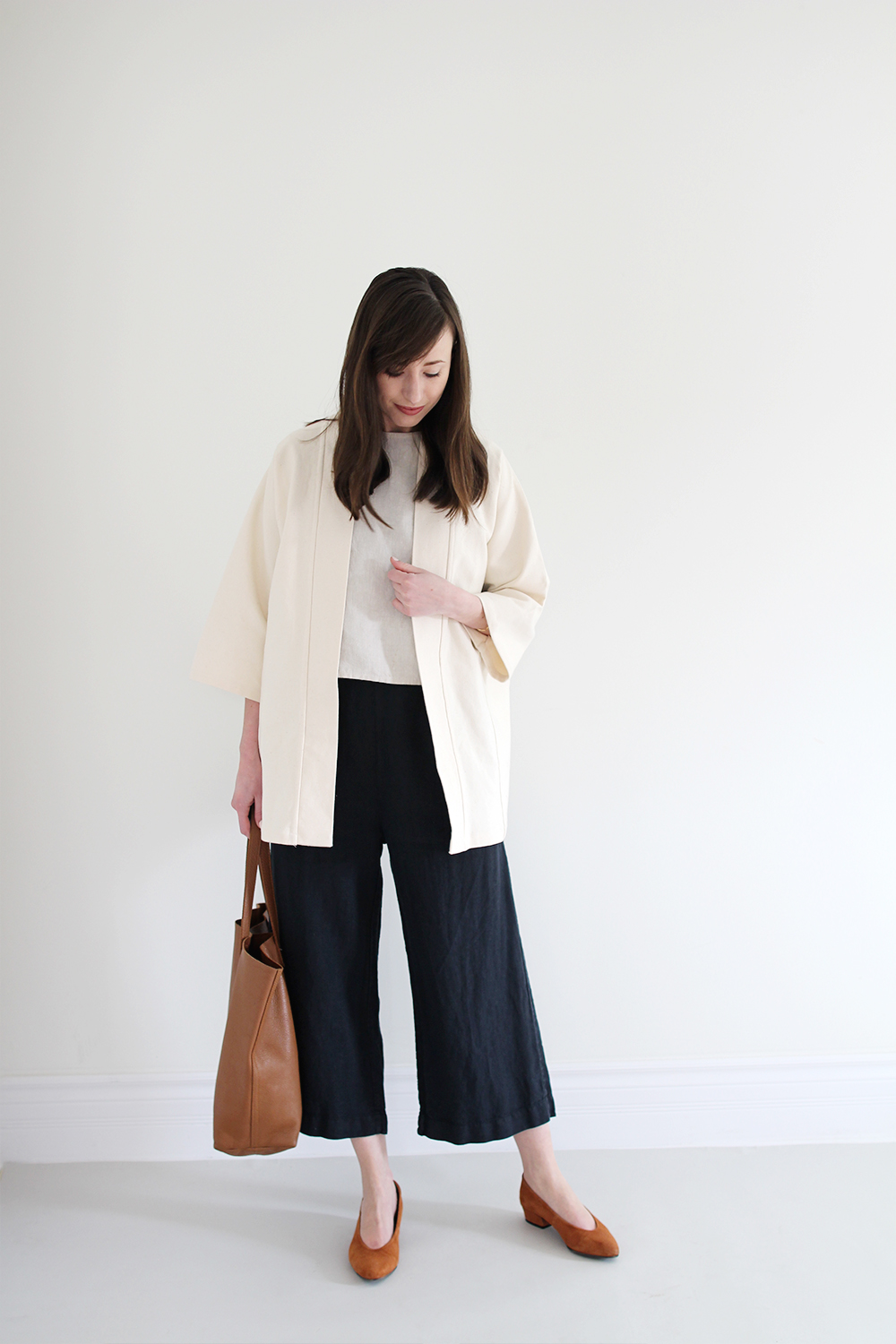 ---
1 | LINN TEE | c/o Elizabeth Suzann (1 yr old) | $145 USD  | Made responsibly in USA | Similar by Eileen Fisher on sale.
2 | JUMPSUIT | c/o Esby Apparel (1 yr old, linked to new version) | $295 | Made responsibly in USA | Similar by Black Crane ($190 USD) and Not Perfect Linen ($136 CAD) |
3 | COGNAC SUEDE FLATS | L'Intervalle (2 months old) | $138 CAD | Made in Spain | Similar pair by Stuart Weitzman ($365 USD) and in Blush by Coclico ($295 USD) |
4 | CARAMEL TOTE | Cuyana | $175 USD | Made responsibly in USA
5 | CARDIFF COAT | c/o Only Child | $225 USD | Made responsibly in USA
---
Well We're already 1/5 of the way through the challenge friends! 
Tune into my Instagram Stories (@leevosburgh) later today for a look at this one in action. Be sure to see what Caroline is up to over on her blog and Instagram too!
Have you got any favourite looks so far (yours or others)? Let me know so I can take a peek!
See you on the #Spring10x10 hashtag and tomorrow with Look #3!
---
This post is not sponsored but contains affiliate links. When you shop via the links above I may make a small commission from a sale. Thanks for supporting Style Bee! All opinions are always my own.