Last week we had our first snowfall and -10°C temps (ew!) so I thought it was about time to bring up one of the key categories in my cold weather closet: Winter Accessories. Until last year I had totally neglected this critical section of my wardrobe. I used to have a hodge-podge stash of toques (that's Canadian for 'beanie' btw), most of which were mainly for show, a tangled mess of scarves and like 1 glove that was seemingly forever solo. Needless to say it was dysfunctional and inconvenient at best.
I decided to remedy the situation, as I've done with most other areas of my closet, and since I began investing in better quality hats, gloves and scarves it has made a HUGE difference in how I feel about braving our harsh Ontario weather. I've also learned that good winter accessories not only keep you cozy but they can also extend the use of pieces that might not seem warm enough otherwise. For example we shot this look in the early evening on a cold day when it was only about 5°C and windy. Instead of having to swap my cardigan for a coat I simply added my gloves, a big scarf and a wool beanie and I was cozy as could be!
So in case you're headed towards the same frosty fate we are right now, I wanted to share how I've transformed this accessory category with just a few additions and where I shop for hats, gloves, scarves and tights that are both cozy and chic. Because being warm and feeling stylish are not mutually exclusive!
So let's dig in!
---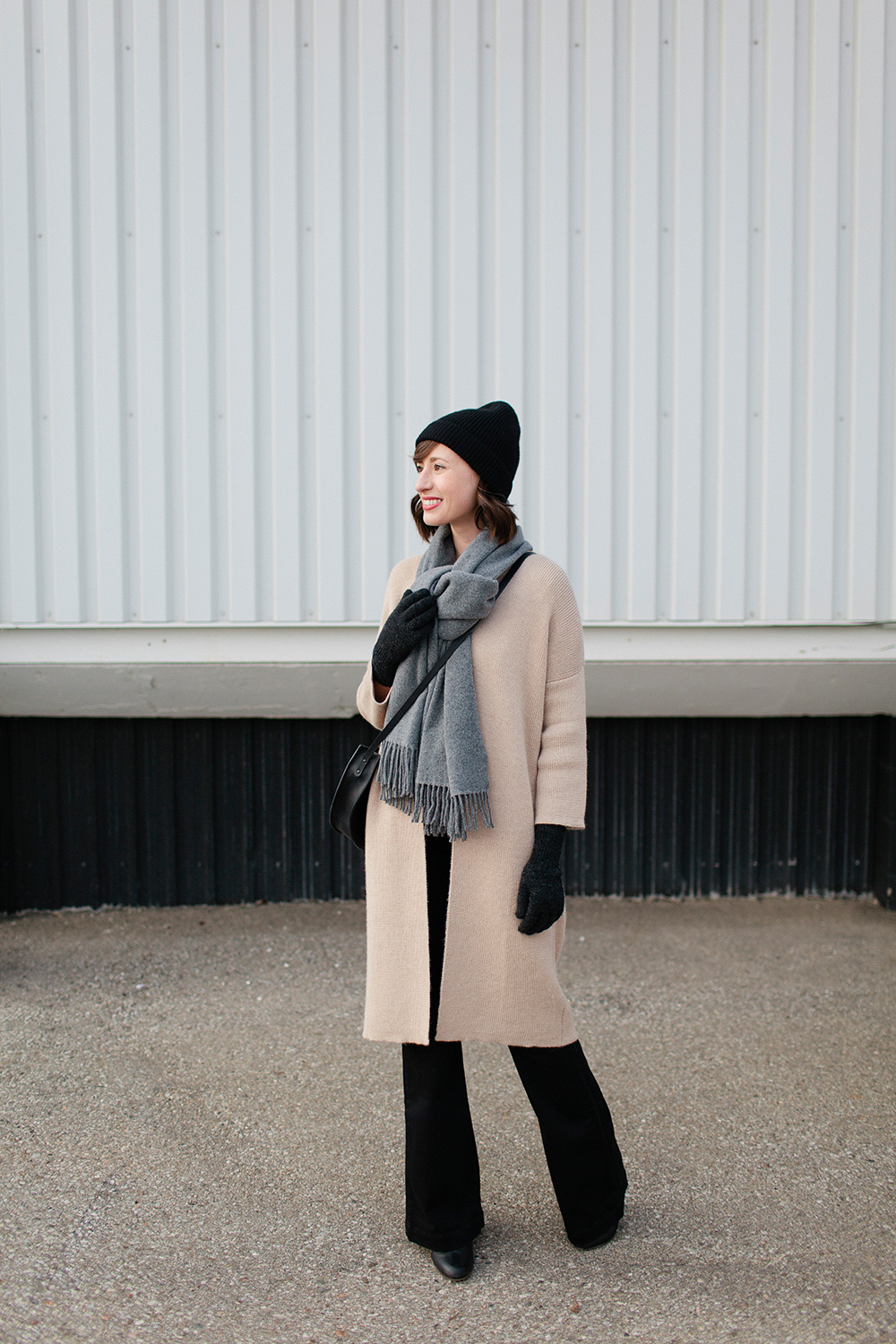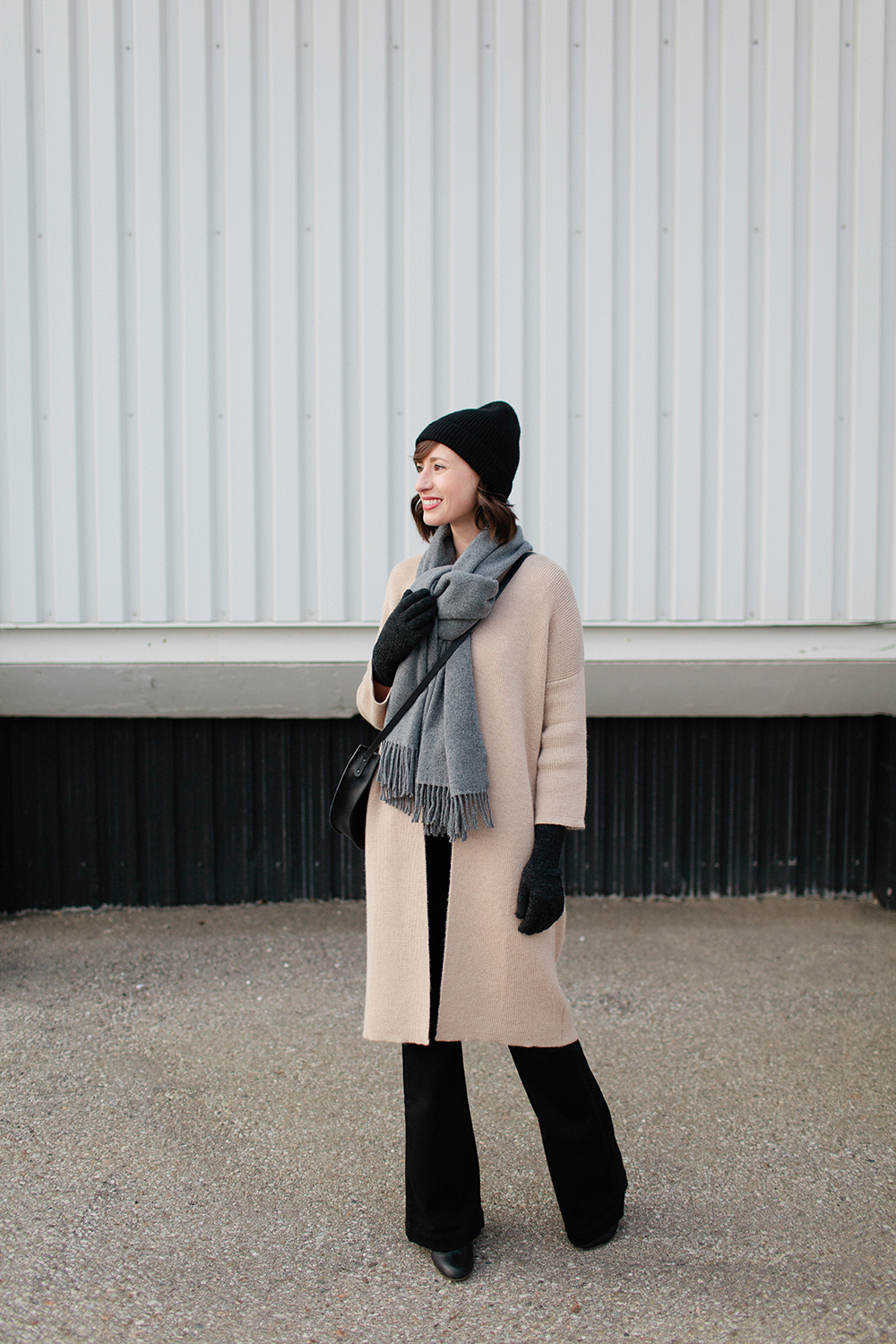 ---
HOW TO REFRESH YOUR WINTER ACCESSORIES
---
STEP 1: CLEAN OUT | Once I'd identified this lacking area in my winter wardrobe I began by getting rid of all the items that weren't working for me. Those were some cheap poly blend hats that didn't actually provide much warmth, a few scarves that weren't my style and were going unused. I ditched that annoying, forever lonesome glove and cleared my storage baskets to get ready for my new additions.
Of course, I kept the items that were working well like a couple of chunky hand knit beanies, a pair of sheepskin mittens for when it's super cold, a pair of driving-style leather gloves and a couple of old scarves that were still getting worn now and again.
STEP 2 : ASSESS YOUR NEEDS | From there I made it a budget priority to add a few key pieces that would make getting ready for cold days a lot more effective while still being stylish. I made a list of necessary items, which for me was:
STEP 3: SET ASIDE A BUDGET | Accepting that these more practical acquisitions were needed meant facing the fact that I'd have to go without a new holiday party dress or a new bag or a new pair of boots etc. to offset my budget. Now, I'll be the first to admit that practical pieces are a lot less exciting to shop for than fun ones. BUT one winter season with decent accessories was all it took to realize that they make A LOT more impact on my day-to-day life than a new skirt or something I'll wear only a handful of times.
STEP 4: ADD THE KEY PIECES YOU NEED | Once I knew what I needed and I had a budget set aside I pulled the trigger on the items over the Winter season. The beanie came from Everlane first, the gloves from American Apparel soon after, the scarf from Acne Studios I saved for Christmas and the socks from HUE via a local shop in Guelph were bought on a whim over the holidays.  Spreading my budget out over a couple of months made it much easier to accommodate. Links to exact and similar items below.
STEP 5: STORE IN A CONVENIENT AND ORGANIZED SPACE | Part of ensuring this section of my closet is useful means keeping the items easy to access and stored neatly. I keep my all scarves, beanies, gloves and socks in a series of three baskets in my closet. They're easy to pull out and not so deep that items get buried. When I'm using certain ones every day, as I do all winter, I move them to a little storage credenza we have in our entryway so they're easy to get when I'm going in and out. See my Insta Stories for a look at those two spots today! 
Now I'll share all the accessories currently in my collection and where I recommend looking for your own!
---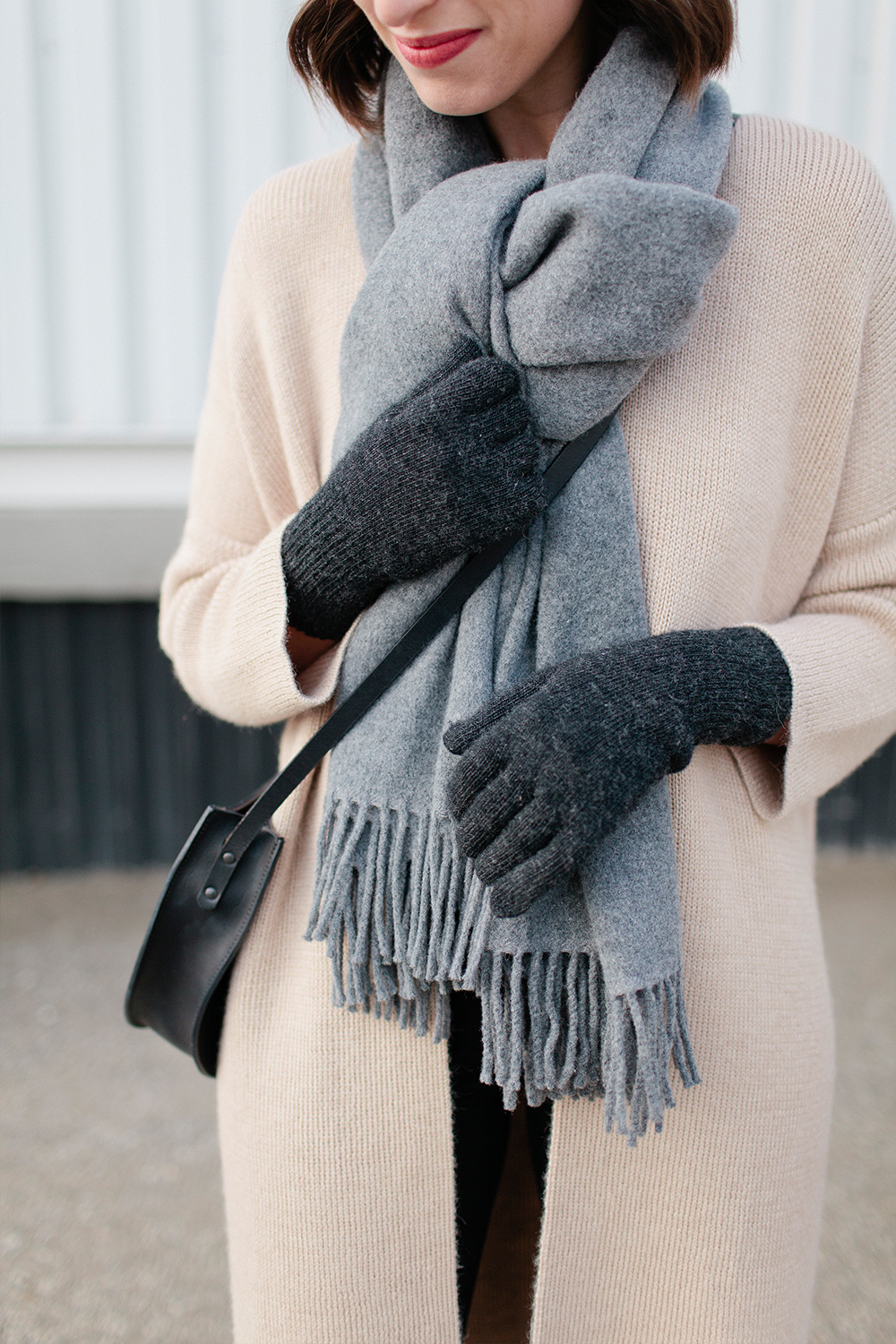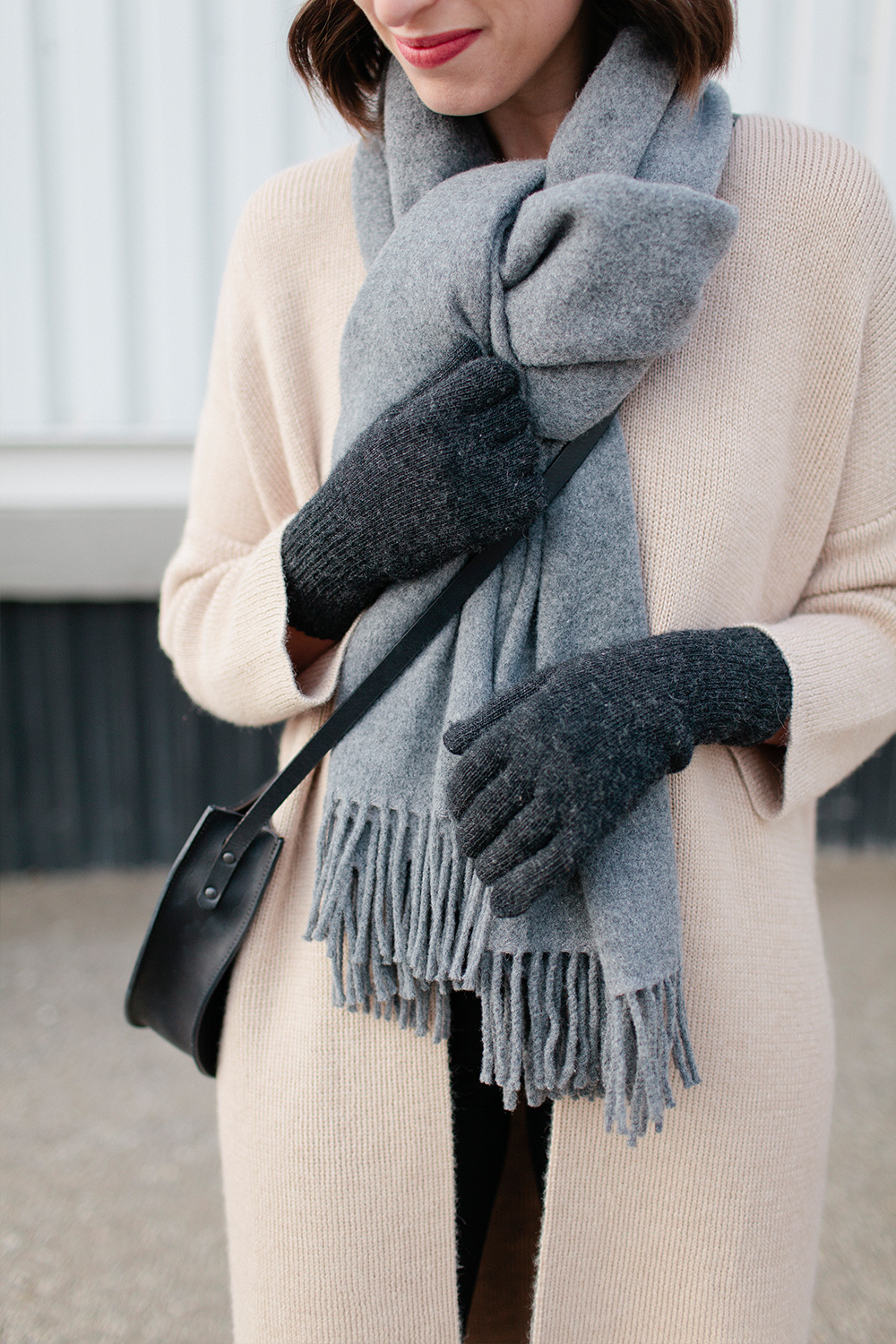 ---
GLOVES + SCARVES
---
Currently in my glove/mitten collection I have:
If you're into fingerless gloves check out this pair (great for photographers!). If you're into tech friendly options Nordstrom has lots of those.
---

---
My winter scarf collection consists of: 
Where to look for scarves?
Need some scarf styling tips and tricks? Take a look at my 5 SCARF TUTORIAL for lots of ideas! 
---

---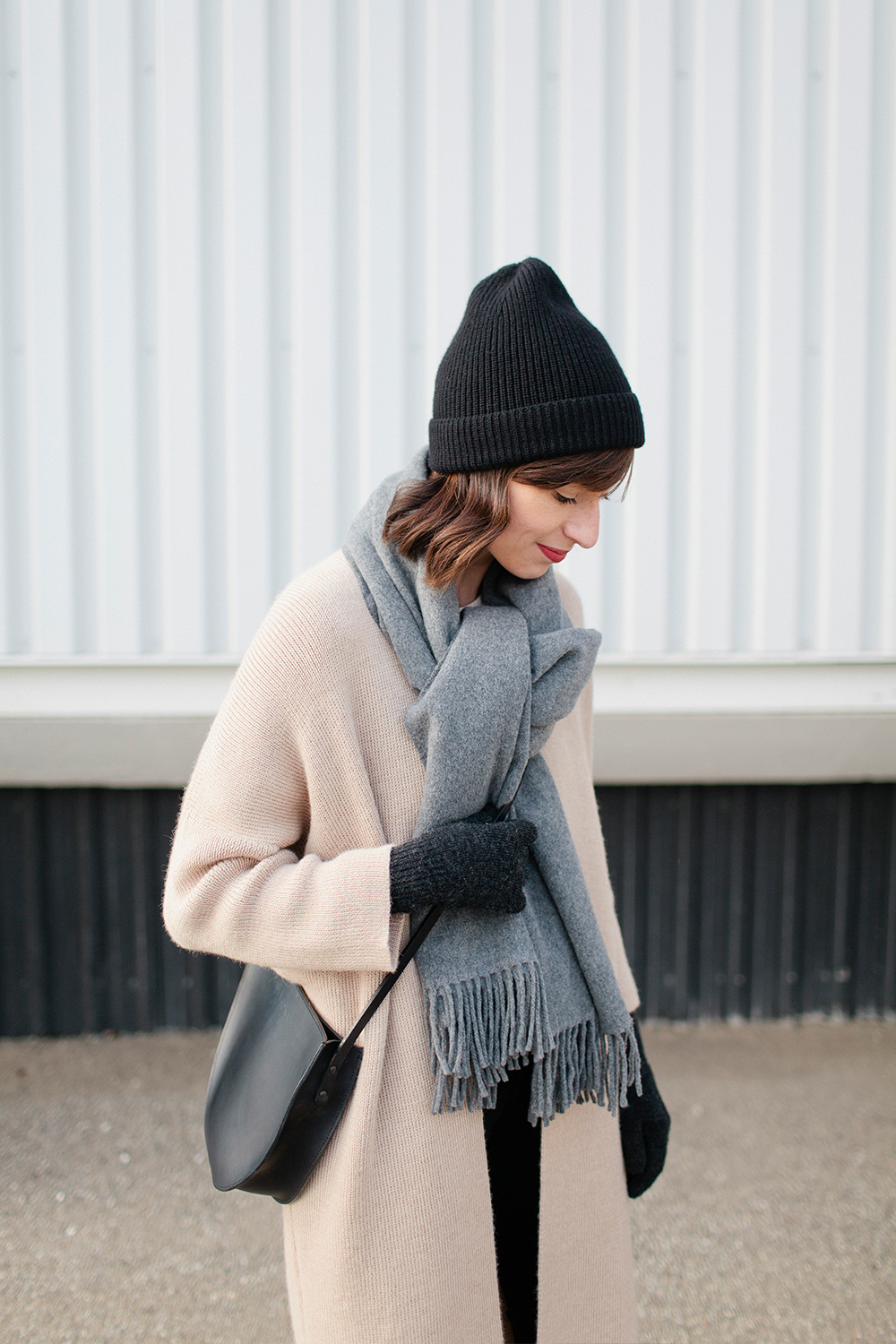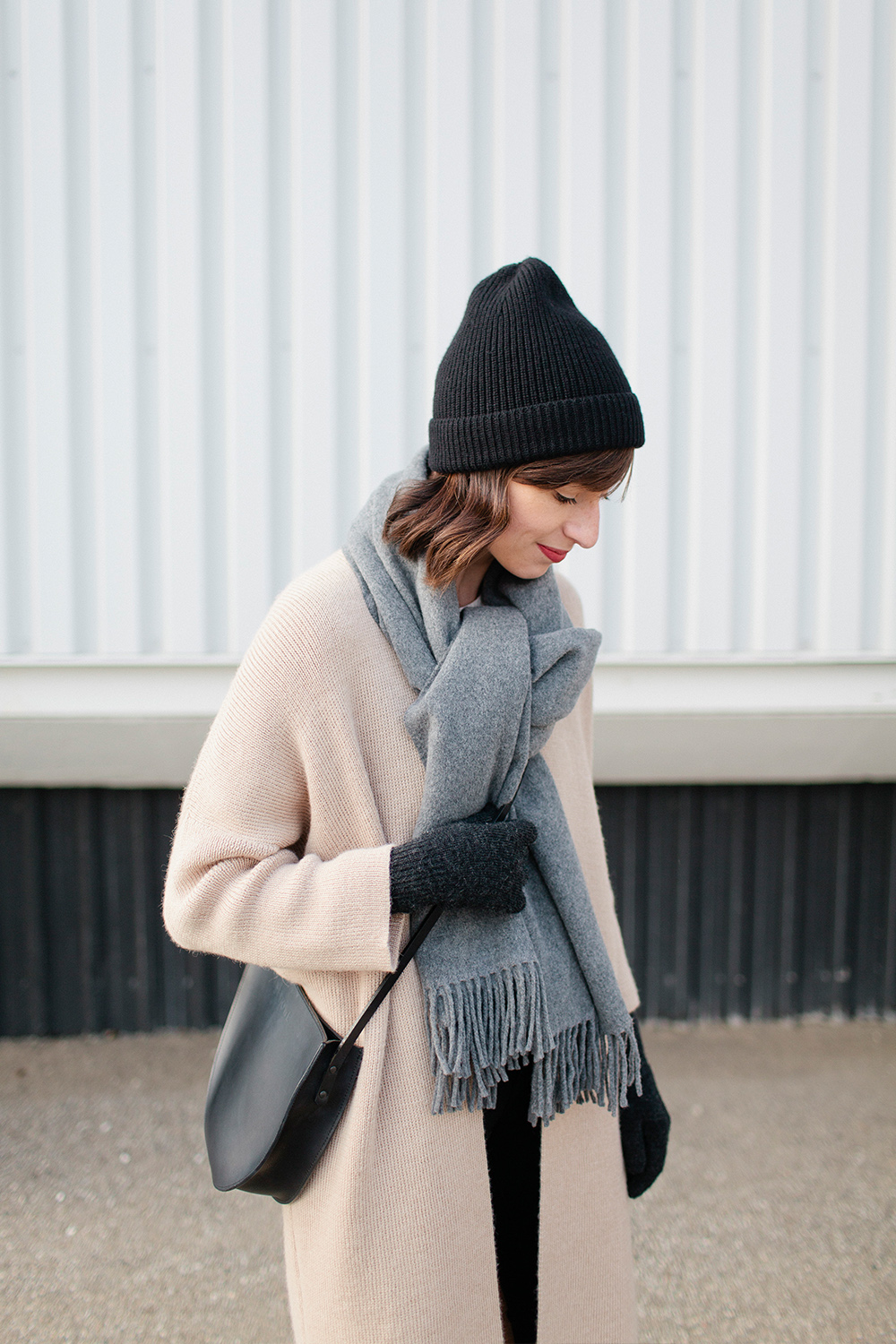 ---
BEANIES
---
My beanie collection has grown slightly since last year because I found I was wearing one every single day. They're not not only good for going outside but for in an old house or a chilly office too. Honestly, I don't know what I'd do without them!
I currently rotate through the following set:
---
What to consider?
Temperature: Go for options that are properly warm enough for the temperature(s) you're dealing with. In Guelph that changes from cool and windy, to cold, to downright freezing. If it's over 5°C you're probably good with a light wool or cashmere option. For cooler temps I like a dense cashmere and for really cold weather (ie: -10°C and lower) I like my chunky knits on their own or a thinner beanie worn under my parka hood.
Washability: I hand wash all my knitted hats by hand once or twice a month, depending on how much I wear them. I use The Laundress Wool & Cashmere Shampoo and lay them flat to dry.
---
Where to look for beanies?
My personal favourite beanies are from Everlane and Bare Knitwear but I've also seen great options through these responsible makers:
If you're vegan or sensitive to animal fibres then there might be some good options available at:
---

---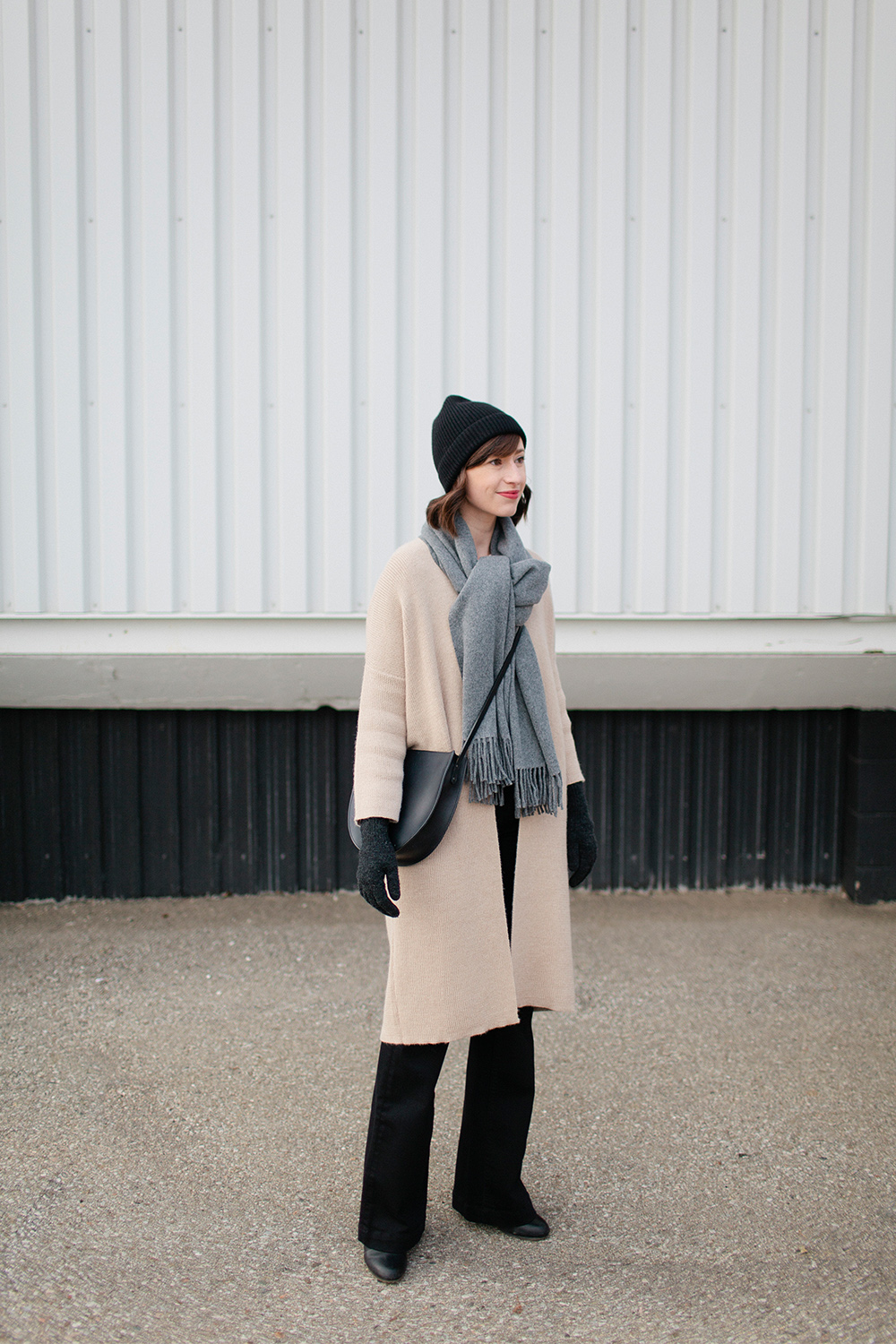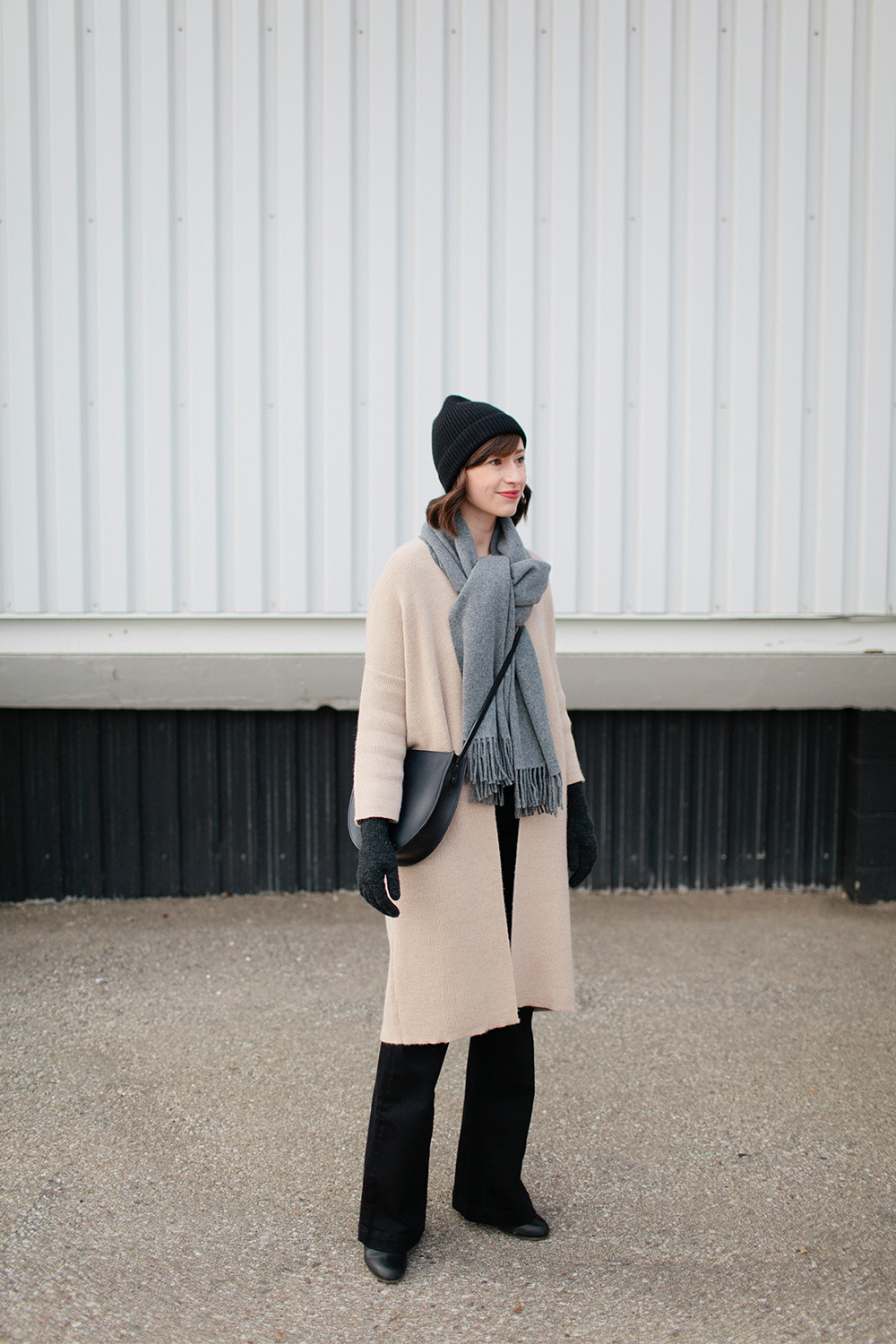 ---
KNEE SOCKS + TIGHTS
---
This might seem like a weird category to include in my Winter Accessories but it's SUCH a game changer. If you've got any pairs of wide leg pants you'd like to wear into the colder months this will make it entirely doable. I used to think I needed super heavy socks like those for snowboarding but found they were never comfortable in my boots and ended up being almost too hot for around the house. I've also tried wearing leggings/yoga pants under my wide-leg pants but always felt too bulky in the extra layer. So I tried a  knee-sock option, in a lightweight wool and it feels WAY better while still being a great way to fend off the cold breeze blowing up my pant legs.
The ones I bought were like these from Nordstrom and they're 100% merino wool which packs in lots of coziness without having to be thick and heavy. Merino wool is also great for temperature regulating and wicking moisture so your feet stay dry.
Where to look for knee-socks:
Where to look for Tights:
I don't wear a lot of dresses in the winter but when I do a good pair of thick, opaque (100+ den) tights is great to have on hand.
---

---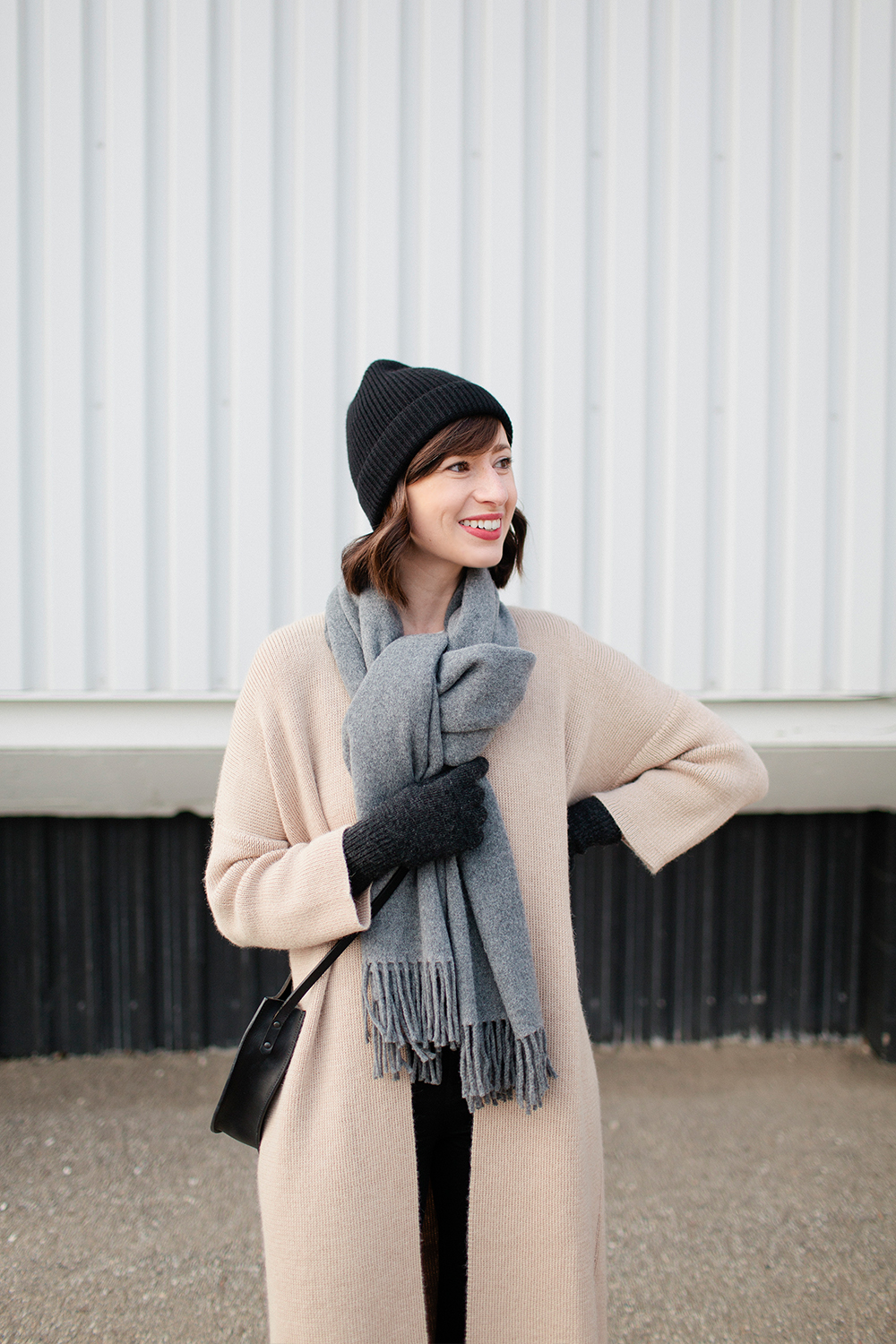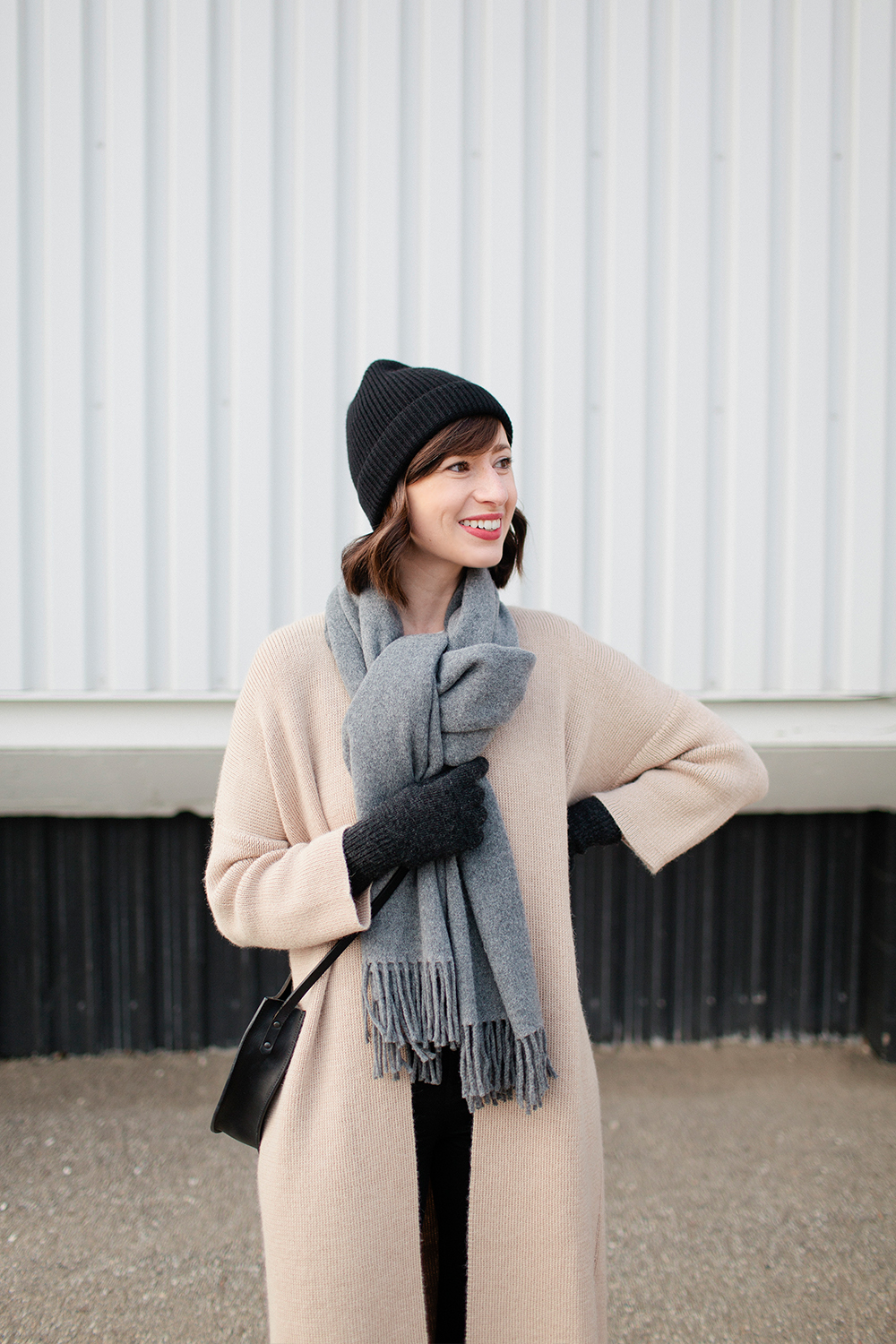 ---
As you can see, I don't take my winter accessories lightly! Haha! Hopefully these tips will help you add one or two accessories that really make a difference in your cold weather closet.
---
Do you have any game-changers for the winter months?
Where do you find your coziest accoutrements?
Are you a gloves or mittens kinda gal? 
---
SHOP THE LOOK
---
BEANIE – Everlane | SCARF – Acne Studios | CARDIGAN – Han Starnes via Garmentory – Save $20 when you sign up here. Free Shipping & Returns. | GLOVES – old American Apparel (linked to similar) | JEANS – old JBRAND | BOOTS – old Rag & Bone
---

---
Photography by Jacklyn Barber.
---
This post was not sponsored but contains affiliate links. When you shop via the links above I may make a small commission from a sale. Thanks for supporting the brands that support Style Bee! As always all opinions are my own.