Happy Friday folks! I'll start off by extending a HUGE thank you for all the wonderful support I received on my last post. If you missed it, I announced that I'll be taking Style Bee on full-time in the new year and I cannot even wait! Your enthusiasm and positivity really means so much and has helped make this leap of faith a whole lot less terrifying. Merci beaucoup!
Now can someone please tell me how the heck it's already mid December? This holiday season really snuck up quick on me despite all my efforts to have things under control. C'est la vie I suppose but it just means I'll be streamlining my approach to holiday style and keeping my looks super simple while still a little fun and festive. Luckily I've got a few key tricks to help make that happen. I'm excited to be sharing those in the post today along with a very special giveaway from ONLY CHILD, one of my all-time favourite responsible brands. Since we're all short on time these days let's get straight to it!
Today's post will cover:
How to WIN your favourite ONLY CHILD piece! Yep, whichever one you want!
My 6 go-to holiday style tips that can work for any closet!
---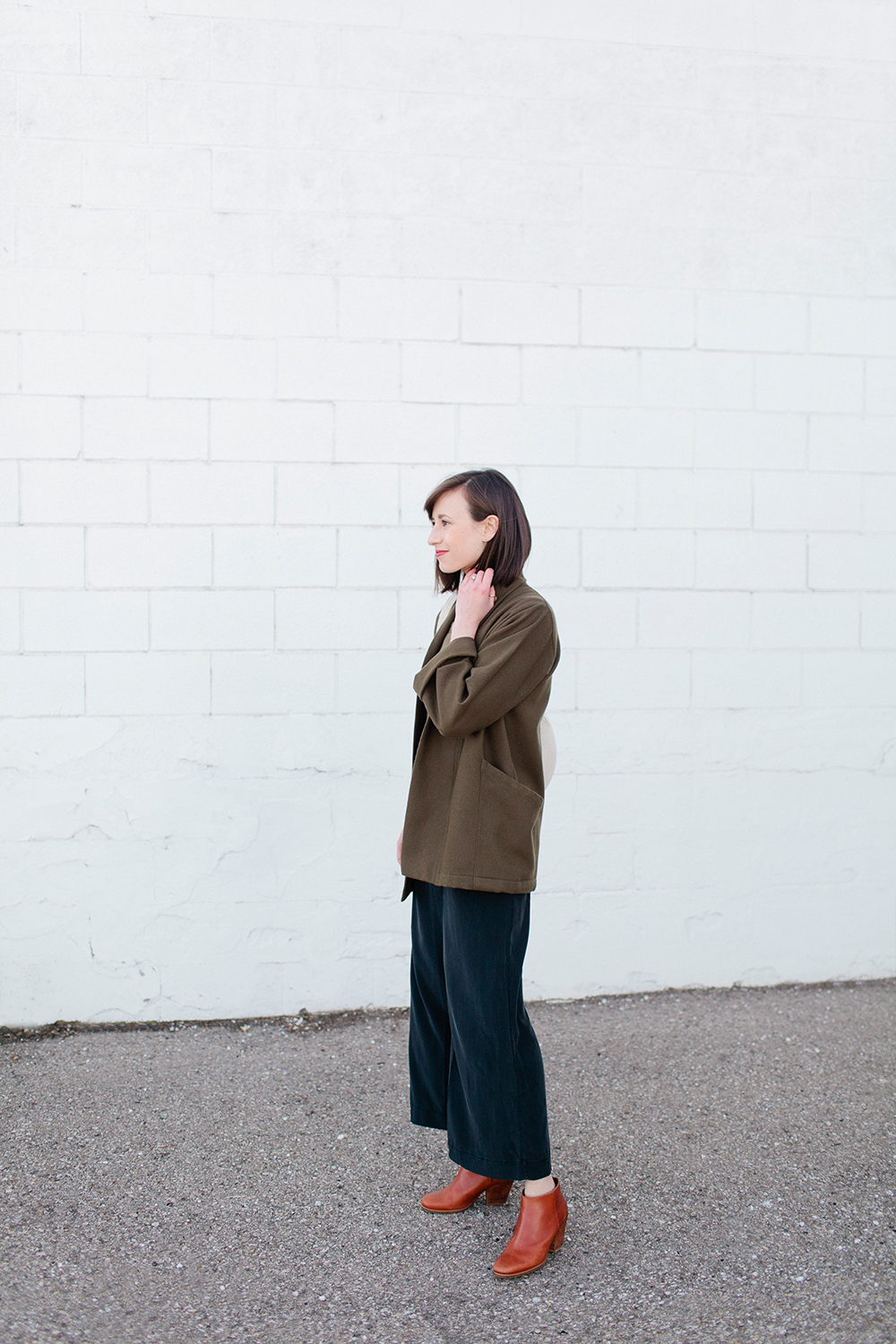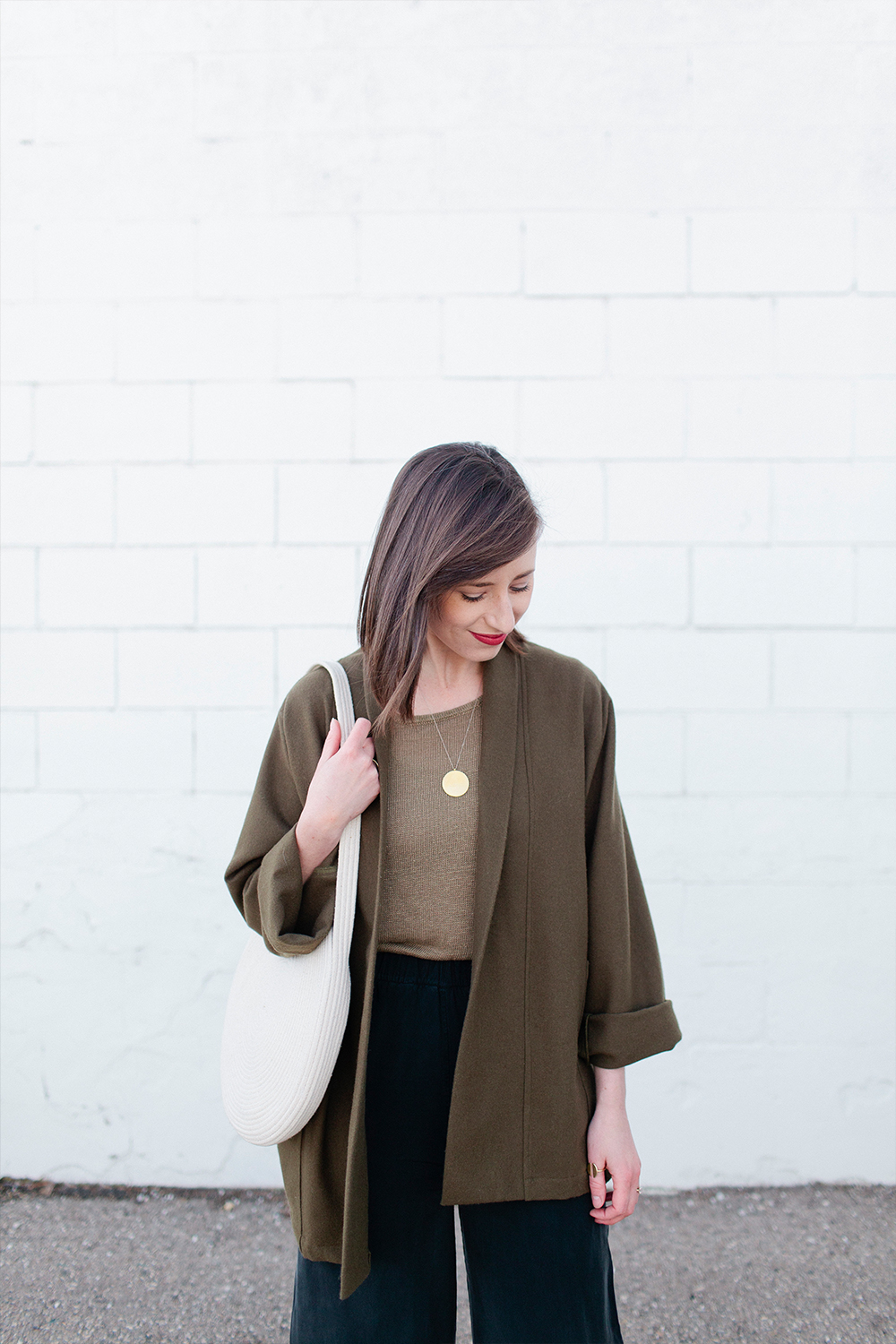 ---
ONLY CHILD GIVEAWAY
Win your favourite piece from the FW17 Collection!
---
ONLY CHILD, created by Haley Tucker (aka indie designer extraordinaire), was one of the first independent brands I fell head over heels for when I was starting out with responsible style. As soon as I discovered the line I knew it was going to be a forever fave. That was in 2015 and I'm still a HUGE fan of every collection that Haley thoughtfully designs and meticulously crafts right in her studio in Oakland, CA. Over the years of working together, Haley and I have become pals and I'm so grateful to have connected with such a hard-working, funny, talented and genuine woman in this industry. Plus it's nice to know a fellow only child who's as obsessed with her pup as I am with mine. If you don't already, be sure to give @only_child a follow on Instagram. You'll love Haley's laid-back style, hilarious anecdotes and I basically live for cameos from Penny the pup.
I was absolutely smitten with the FW17 collection (no surprise!) and being a total Cardiff Coat addict and could barely contain myself when I saw that an olive wool version would be released. I've honestly worn it nearly every day since it arrived and have found it's the perfect top layer for my chilly office. I love it dressed up a bit for a look like this one or over a basic tee and jeans. It's super soft, cozy and the muted olive green goes with all the neutrals I love to wear. This one will take me through the colder months and into early Spring when I can swap it out for my cotton canvas alternative. I love this piece for it's easy collar, perfect past the hip length, rollable sleeves and deep pockets. It also folds up quite small and doesn't wrinkle, which is great for traveling!
Now for the good news! I know many of your are already big fans of ONLY CHILD so I've teamed up with Haley to offer one lucky Style Bee reader an item of their choice from the collection!
---
Here's how to win the ONLY CHILD piece of your choice:
Leave a comment on this post with your favourite item and how you'd style it. That's it!
Check my Instagram post today for another way to enter. (Live at 11 AM EST)
Winner will be selected at random and announced on Monday December 18th. 
Open to everyone! 
Good luck! 
GIVEAWAY WINNER SELECTED: Congratulations to @brookeekoch please check your direct messages on Instagram. 
 Thank you so much to everyone who entered! You guys are the best and shared so much fabulous style inspo! Ps. more giveaways to come soon! 
---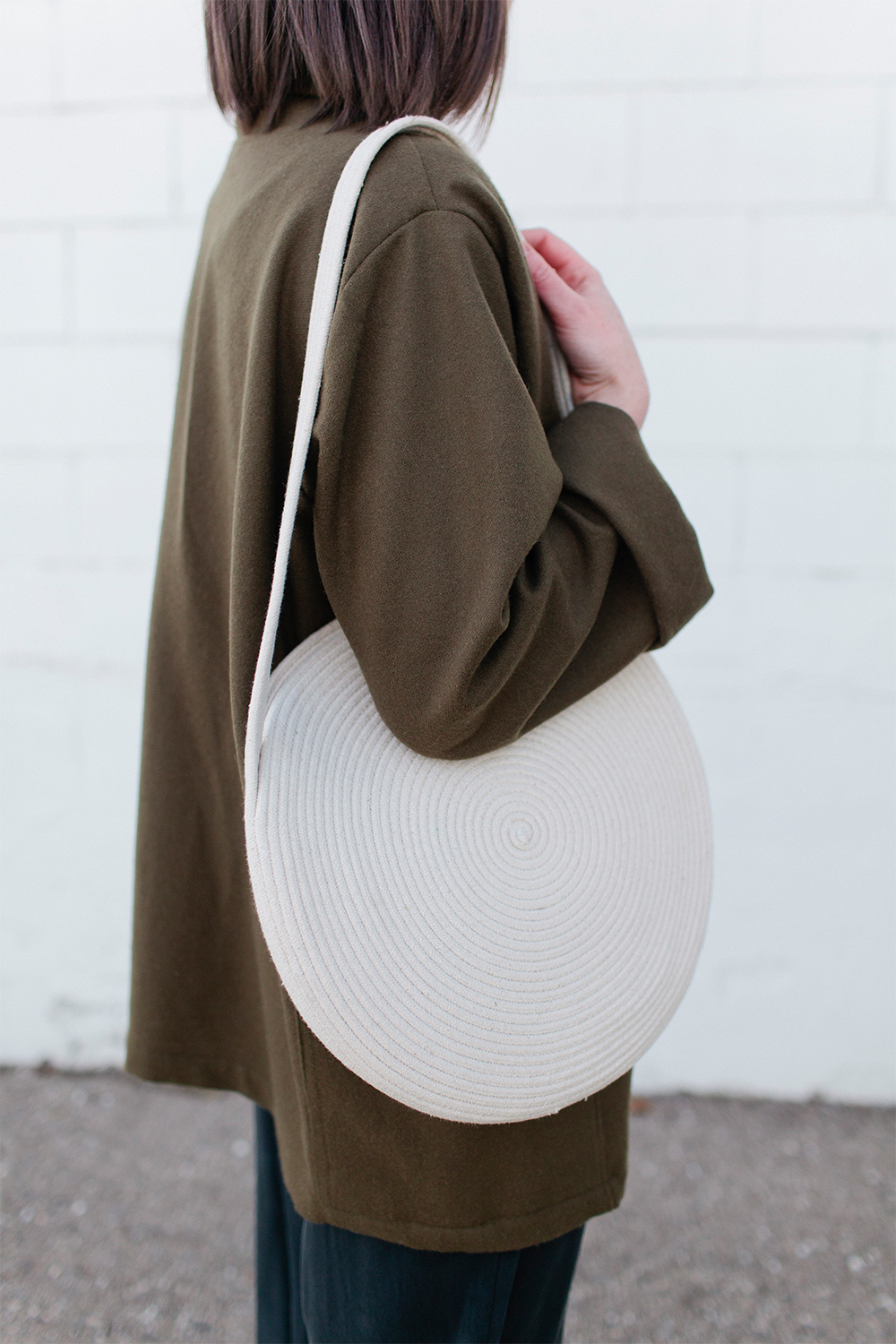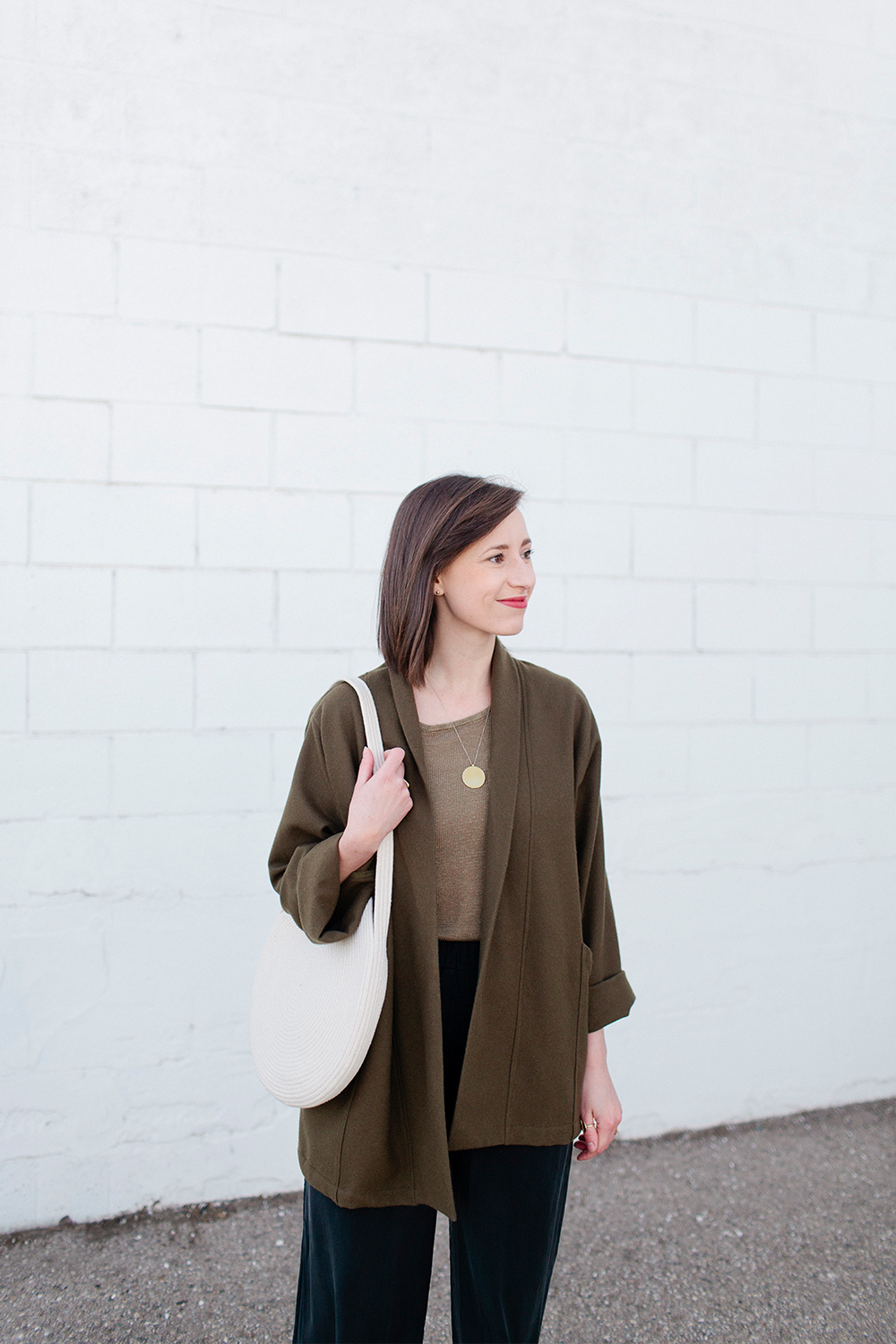 ---
MY 6 GO-TO FESTIVE STYLE TIPS FOR ANY CLOSET
---
Feeling good about how you present yourself over the holidays might seem like a small thing but this time of year can be stressful for a lot of people (calling all my fellow introverts!) and I've found that once I feel good about the surface elements the internal anxiety often backs off too. This allows me to be more present with the people I'm around and enjoy myself a whole lot more. If you feel the same about this time of year maybe give one or two of these tips a try to see if that helps take the edge off some holiday stress.
---
1 – MONOCHROME – Whether it's festive greens in muted tones like this look or greys, or creams or even black on black, I find monochrome is the way to go for an easy, chic, festive feel. It need not be continued throughout the whole outfit, just base top and outer layer are all you need to achieve the look. But if you're up for a head to toe approach that's great too!
Here are a few examples: Cream and Ivory, Black on Black, Taupe Twice (pinterest), Grey on Grey, Double Oatmeal (pinterest). Also LOVE this look with a red sweater and red pumps (pinterest). 
2 – A BIT OF BLING – I've been off accessories for the last little while but recently began dipping back into my favourites for the holidays. A bit of gold is my personal go-to but any metal works to upgrade a simple look. In this case I kept my everyday gold studs in and added a statement pendant and thumb ring to boost the look. I adore the look of gold and green but silver and blue or grey make for a really great combo too.
Here's a few more examples of simple ways to let accessories amp up an outfit (all pinterest): Go for one element like giant circle studs with a simple crew neck, layer a fun cuff or thick bangle over your sleeve, pile on some dainty strands under a collared shirt (bonus points for a low cut like this!) or get a glossy black mani and stack on the rings!
3 – LUXE FABRICS – I love the cooler months because I get to embrace all my favourite luxurious fabrics and knits. Whether it's cashmere, silk, wool or lighter fibres like this linen shell, I say pile them all on until you're happy! These silk pants are a new addition but I've been basically living in them. With a pair of knee socks and a few layers on top they're totally warm enough and oh-so fun to dress up. Plus silk pants that feel like PJs are the ultimate hack to staying comfy during all the holiday hoopla. Basically, just base your outfit around pieces that feel great on your skin and you're already well on your way.
4 – SIMPLE 'DO – There are lots of fun ways to get creative with your hair over the holidays. Velvet ribbons, pretty clips, dainty up-do's and the list goes on but honestly, I like to keep it super simple and go for a sleek style that keeps the whole look feeling deliberately understated. If you're desperate for some texture opt for a loose wave because that always looks like you put in the effort without trying too hard.
5 – LOOSE LAYERS – There's always a lot of eating and drinking at holiday parties and I'm never one to abstain from either at this time of year. To account for this, and just because I generally prefer them, I like to wear loose layers and forgiving waist-bands so I'm not worried about anything but catching up with my friends and family!
6 – BOLD LIP – If all else fails and you just want to wear jeans and a sweater that's cool too! Just put on a bright red lip for an instant festive vibe. The plus side of a bold lip colour is that you always know which glass is yours! My personal favourite is Fringe by Kosås.
Here are a few ways to try the lip trick (all Pinterest): Cherry red lips + nails, Bordeaux pout with a black sweater or a rich red with a comfy sweater.
---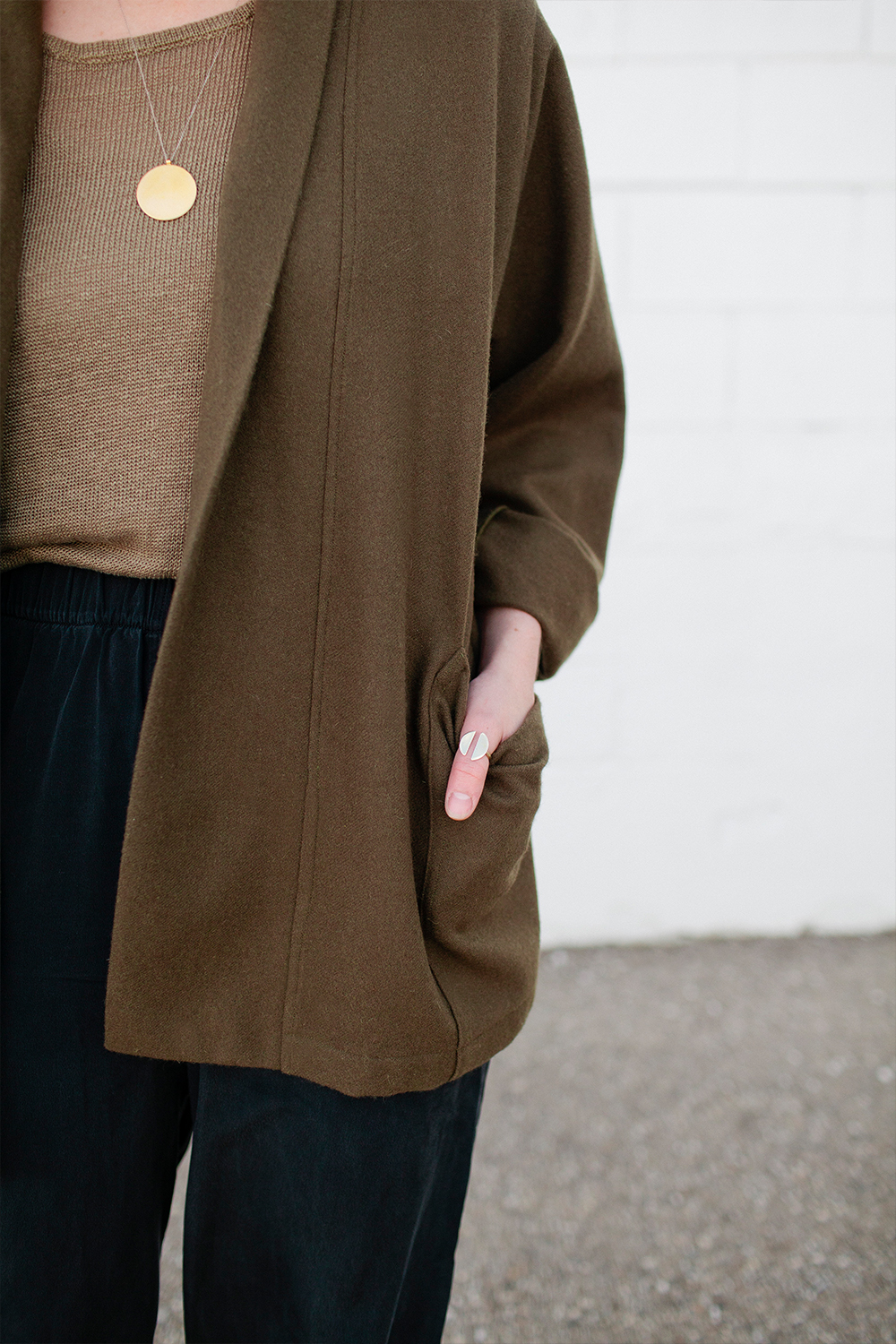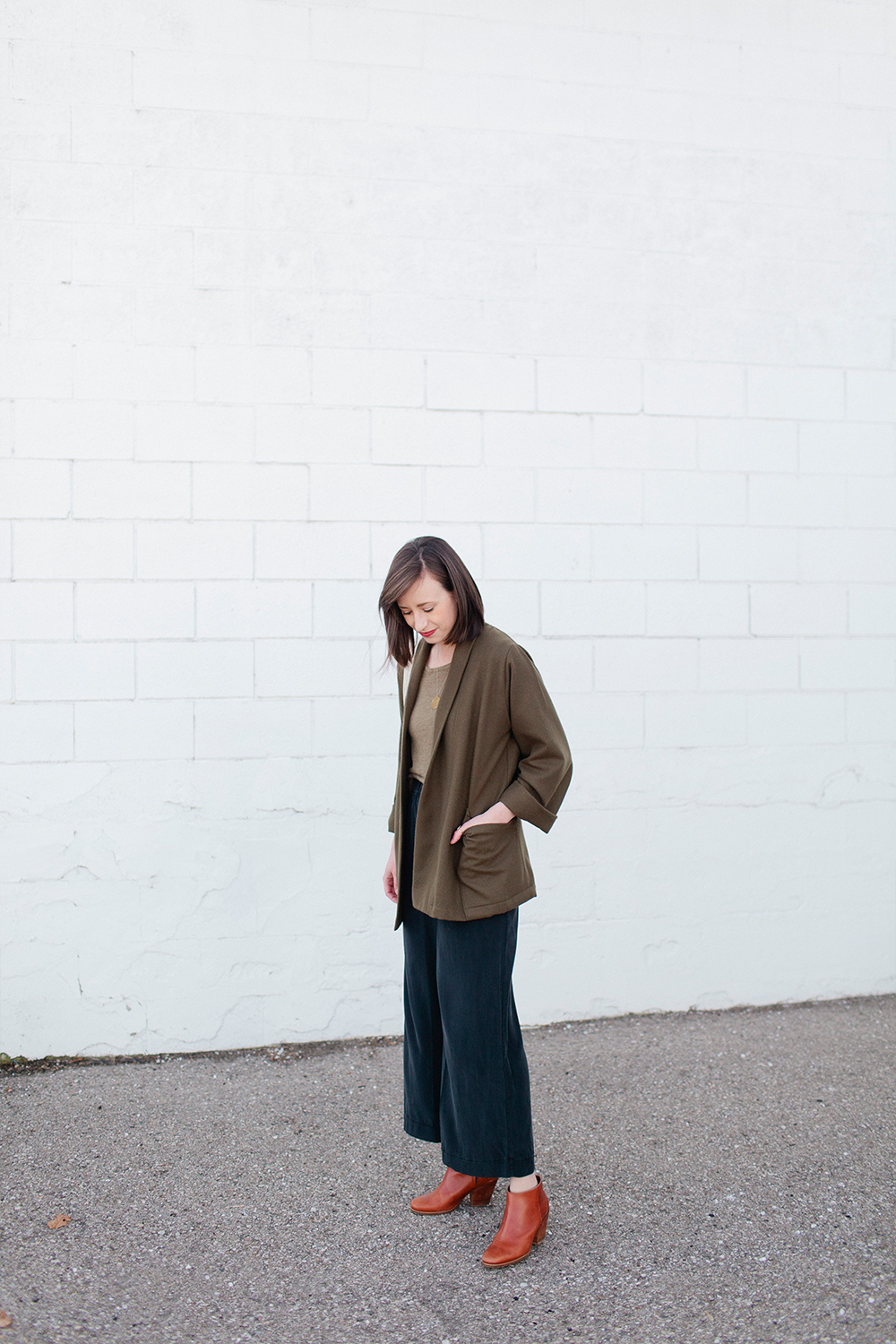 ---
Since this look was shot on a MUCH warmer day than today I'll be sharing a couple of ways to style the Cardiff Coat for cold winter weather on my instagram stories over the weekend. Be sure to tune in and enter the giveaway there too!
---
That's all for today's post, thanks for tuning in.
Have a wonderful weekend!
---
SHOP THE LOOK
---
CARDIFF COAT in WOOL | c/o ONLY CHILD | $275 USD | Wearing OS. More colours available. | Made in Oakland, California.
PATTI SHELL | Elizabeth Suzann | $220 USD | Wearing Size S. More colours available. | Made by Kordal in Brooklyn.
FLORENCE PANT in SILK | Elizabeth Suzann | $235 USD | Wearing S Reg. More colours available. | Made in Nashville, Tennessee.
MARS BOOT | Rachel Comey | $425 USD | Save $20 OFF when you sign up here. | Made in Peru | Similar option for less here and they are gorgeous!
CIRCLE BAG | c/o APPRVL | $82 USD | Washable! | Handmade in Brooklyn, NY.
SPLIT RING | c/o CLAUS | $90 USD | Adjustable | Handmade in Brooklyn, NY.
NECKLACE | old Young Frankk | Linked to similar. 
---
Photography by Jacklyn Barber.
---
This post was produced in collaboration with Only Child and I received product in exchange for producing this content. When you shop via the links above I may make a small commission from a sale. Thanks for supporting the brands that support Style Bee! As always all opinions are my own.