I hope everyone had a great weekend and you're ready for a fun style post with lots of looks!
You may already be familiar with SOTELA from past blog posts (like this one & my 2016 Fall 10×10) or for being a formidable up-and-comer in the responsible style world. If not, well, you're in for a treat! Hanna Baror-Padilla, is an entrepreneur, new mom and closet problem-solver, and started this line after being a long-time sustainable fashion fanatic and experiencing her own struggle to find clothes that fit. The core belief of SOTELA is that women should be able to reach into their closets and have multiple pieces that will always fit, and better yet, make her feel beautiful. I couldn't agree more and I'm so pleased to be partnering with Hanna once again and to be able to support a brand that's creating a thoughtful line of versatile pieces that are safe for the environment and gentle on the budget (no easy feat!).
For today's post I'll be playing around with three pieces from the LIVE Collection, discussing the pros and cons of each and ultimately deciding which one to hang on to. You might remember this approach from a previous collaboration, which I felt was a great way to share how I deliberate on pieces to keep and how different options can integrate into my wardrobe. I'll be sharing the Stella Jumpsuit, the Ryan Trouser and the Heather Dress each styled two ways and I can honestly say the final choice was not what I'd expected it to be.
---
+ SOTELA is offering Style Bee readers 10% OFF on any order with the code 'STYLEBEE10'
The entire collection is made with sustainable materials like Tencel and Modal, produced ethically in LA and every item is $180 USD or much less. Plus there are short and tall options for inseams! All sales using the Style Bee code will help support the work that goes into this blog. 
Now let's get stylin'!
---
LOOK 1 – RYAN TROUSER
---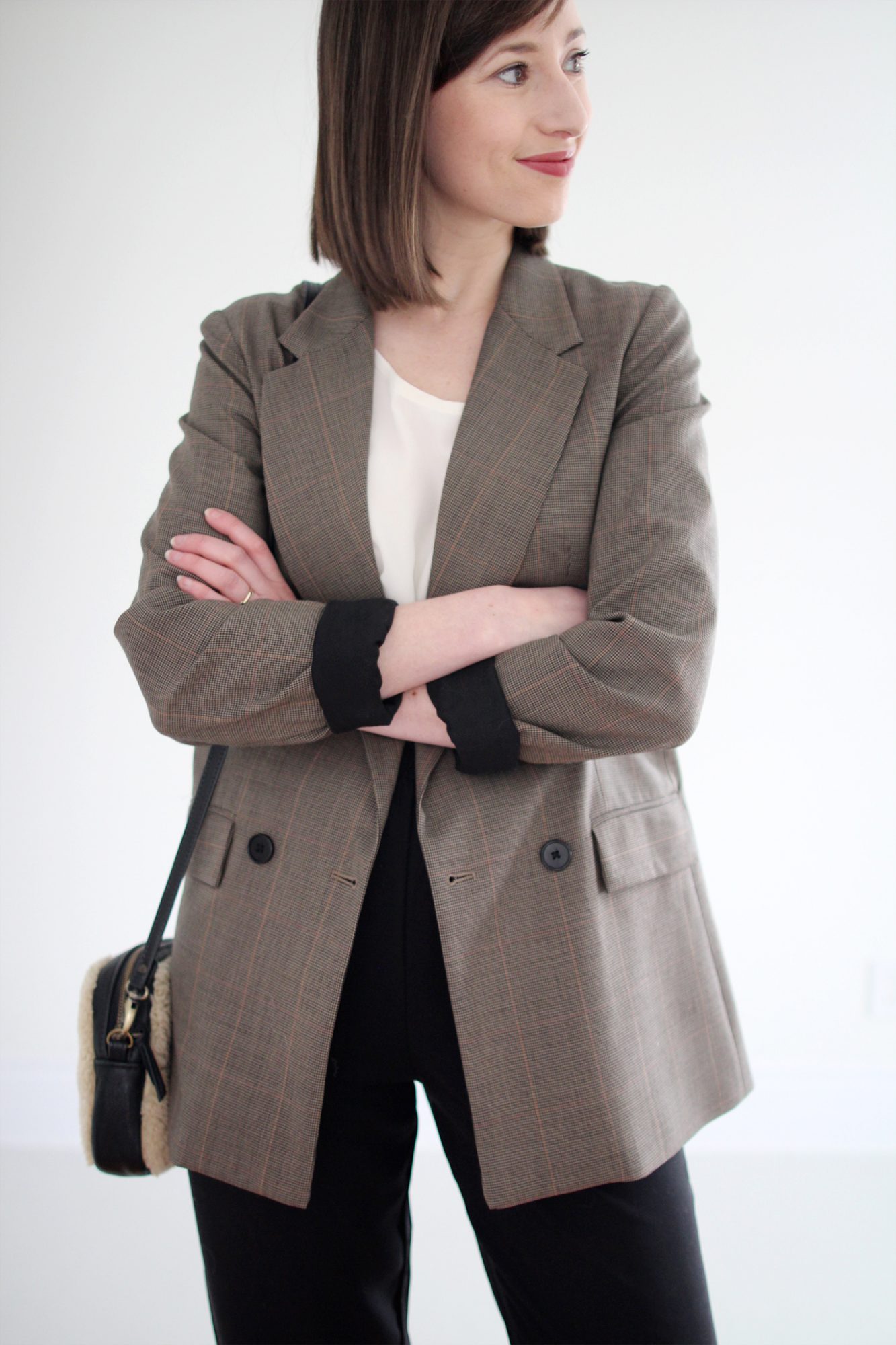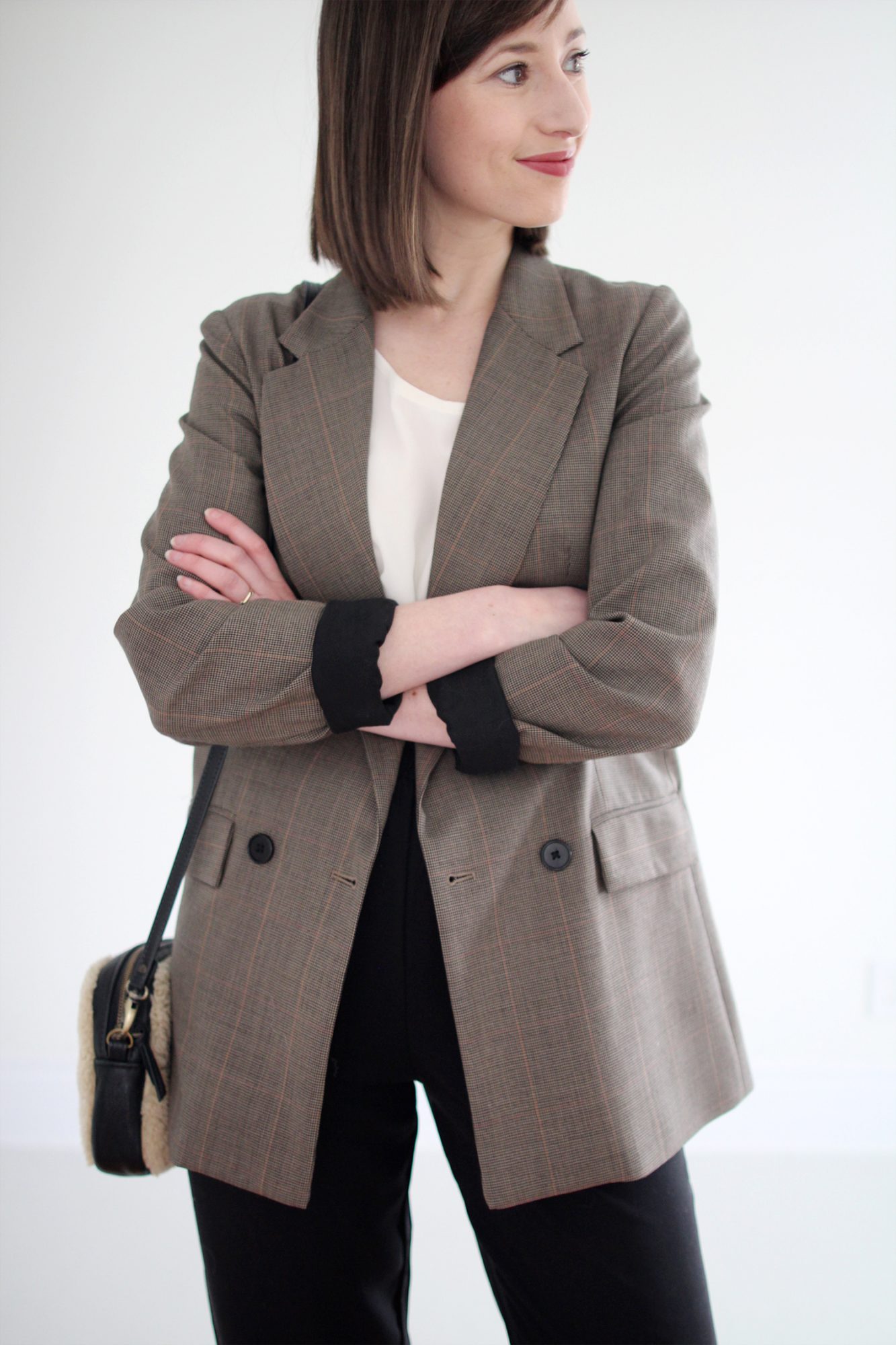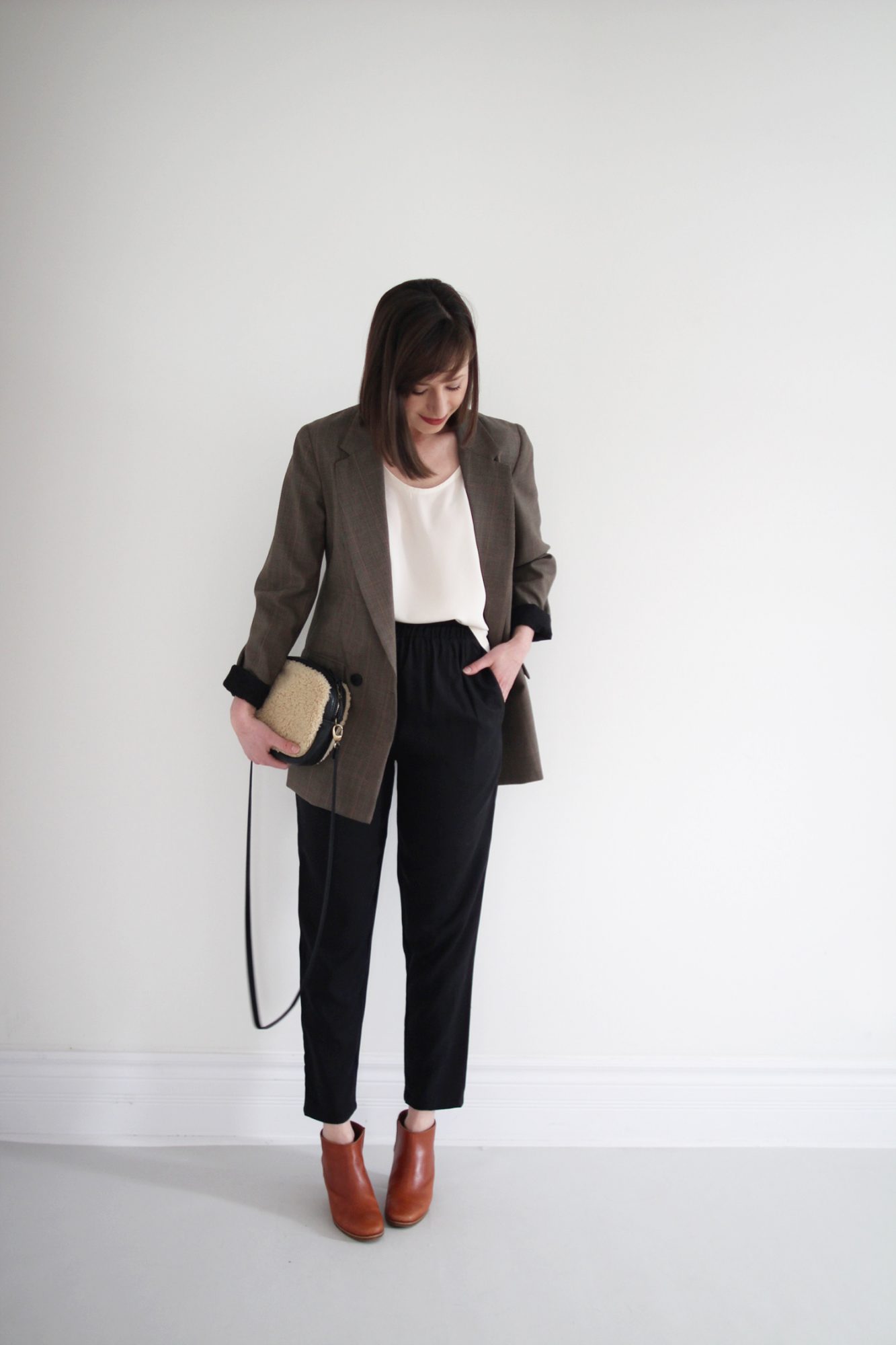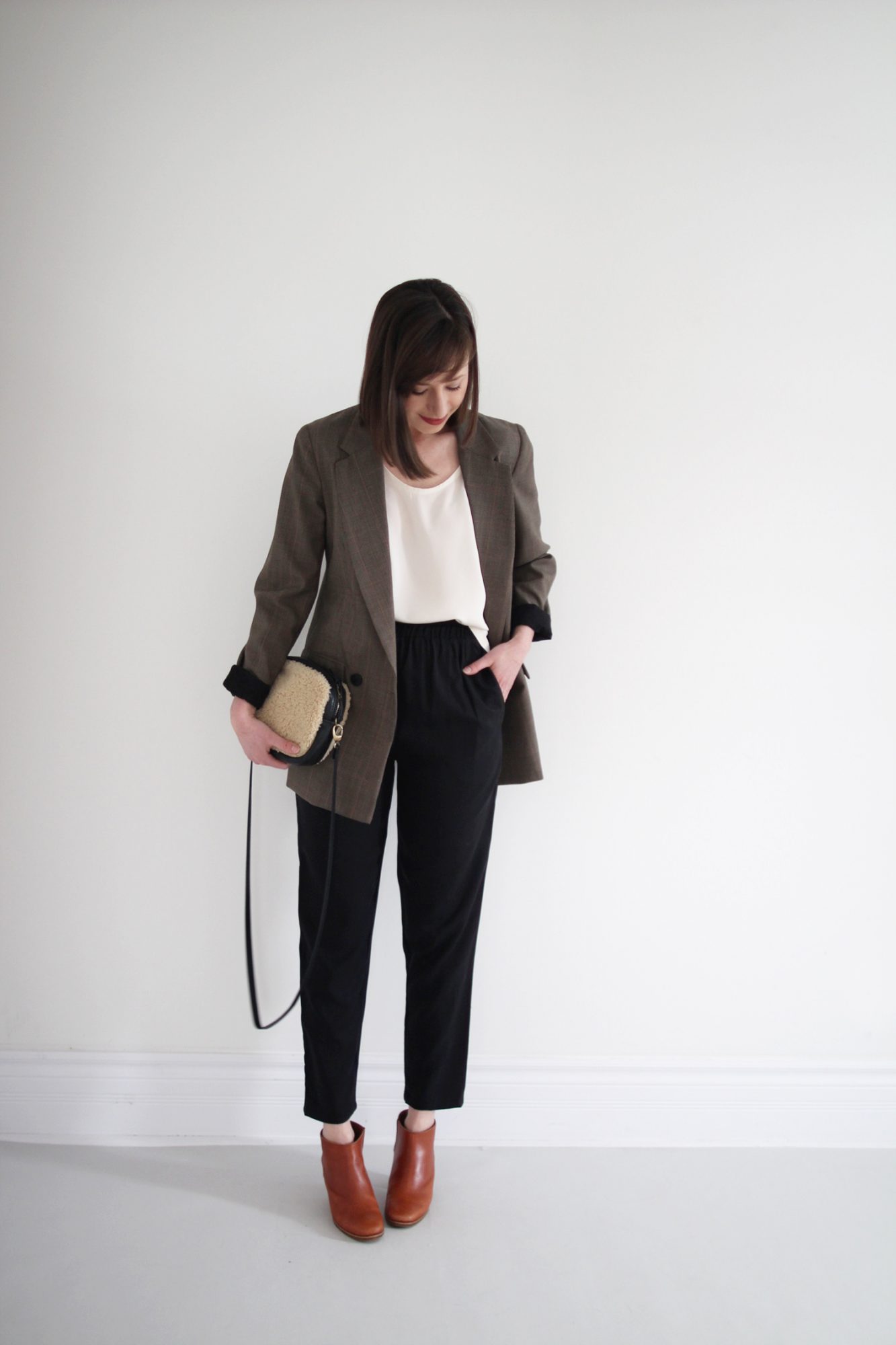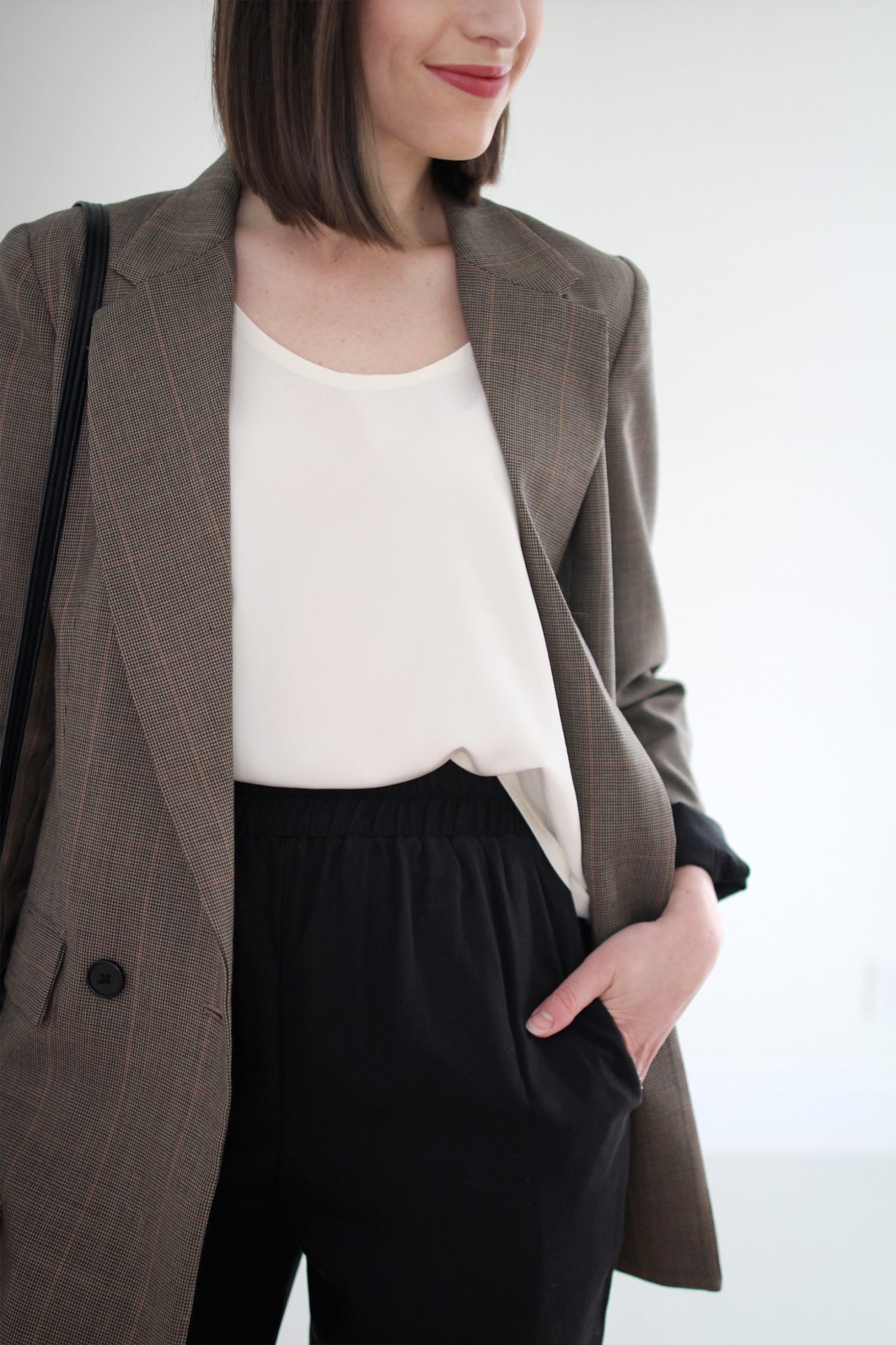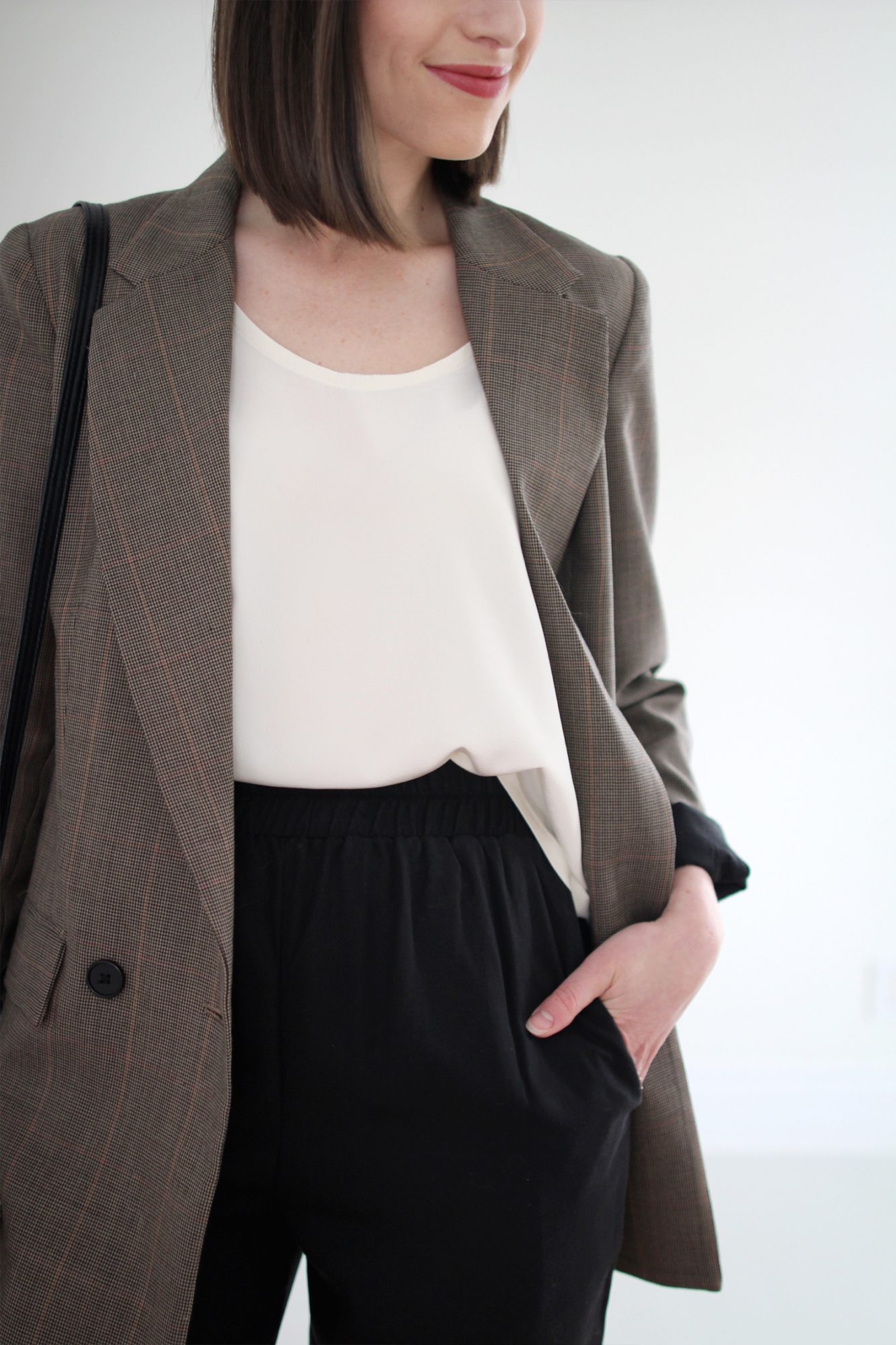 ---
INITIAL THOUGHTS: Oh, hello power suit! I love love love how the Ryan Trouser pairs with a plaid boyfriend blazer like this one. They both have the perfect balance of slouch and structure that I am very into these days. With a silk tank and a cognac leather ankle boot this look feels timeless but gives a firm nod to the menswear trend happening lately. I could wear this look to meetings, dinner dates and any number of activities my week has in store.
PROS: I love the Tencel Twill fabric these pants are made of. It's thicker than silk crepe but still has a nice drape and subtle satin finish to it. I also really like that it's an environmentally sustainable material made from wood pulp. Oh and it's naturally wrinkle resistant, which I can confirm after wearing these around the house and in the office. Not wrinkle-proof but not as inclined to crease as cotton, linen or silk.
The design of these pants is just the right amount of dressy for work and client meetings without being an actual 'work' pant. With a cotton tee and a pair of sneakers these would be perfect for a weekend 'jogger' feel too.
CONS: The front on these pants has a fair amount of gathered material which is good and bad for me. On one hand it's forgiving because it falls away from the body (and food baby zone) but on the other hand it adds a bit of volume there too. This is made more obvious with a shirt tucked in, which is how I'd be planning to wear these.
---
---
LOOK 2 – RYAN TROUSER
---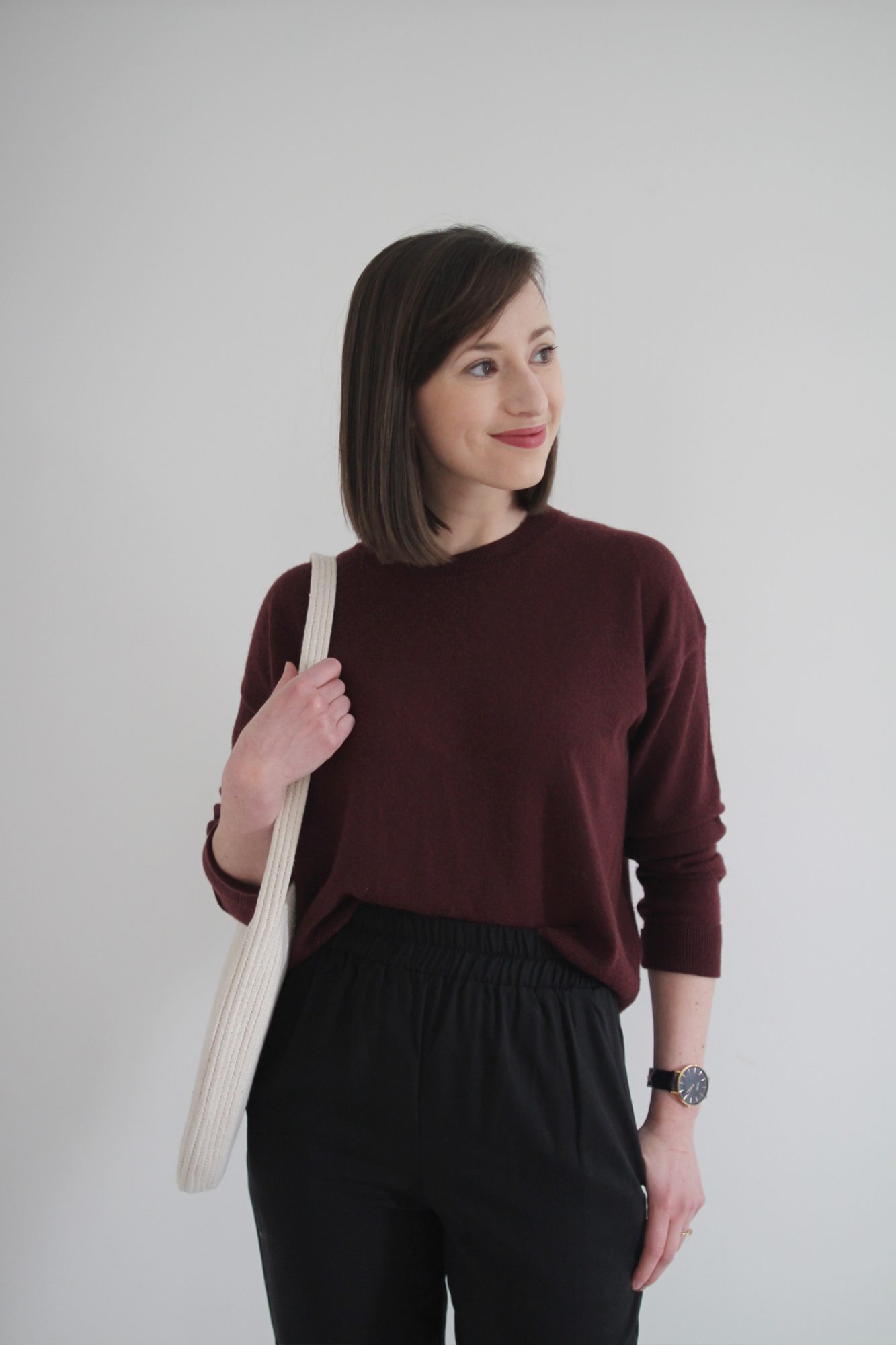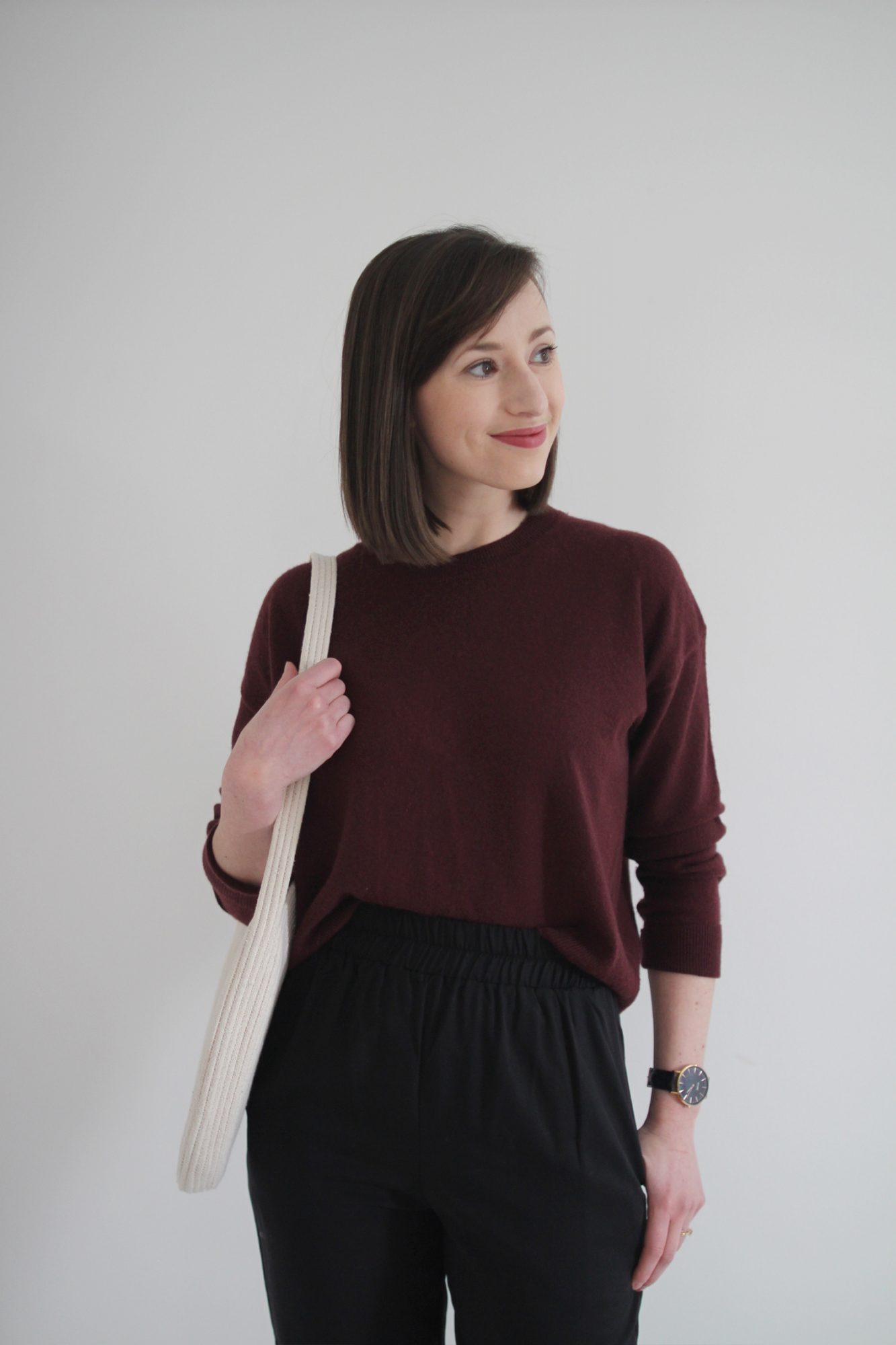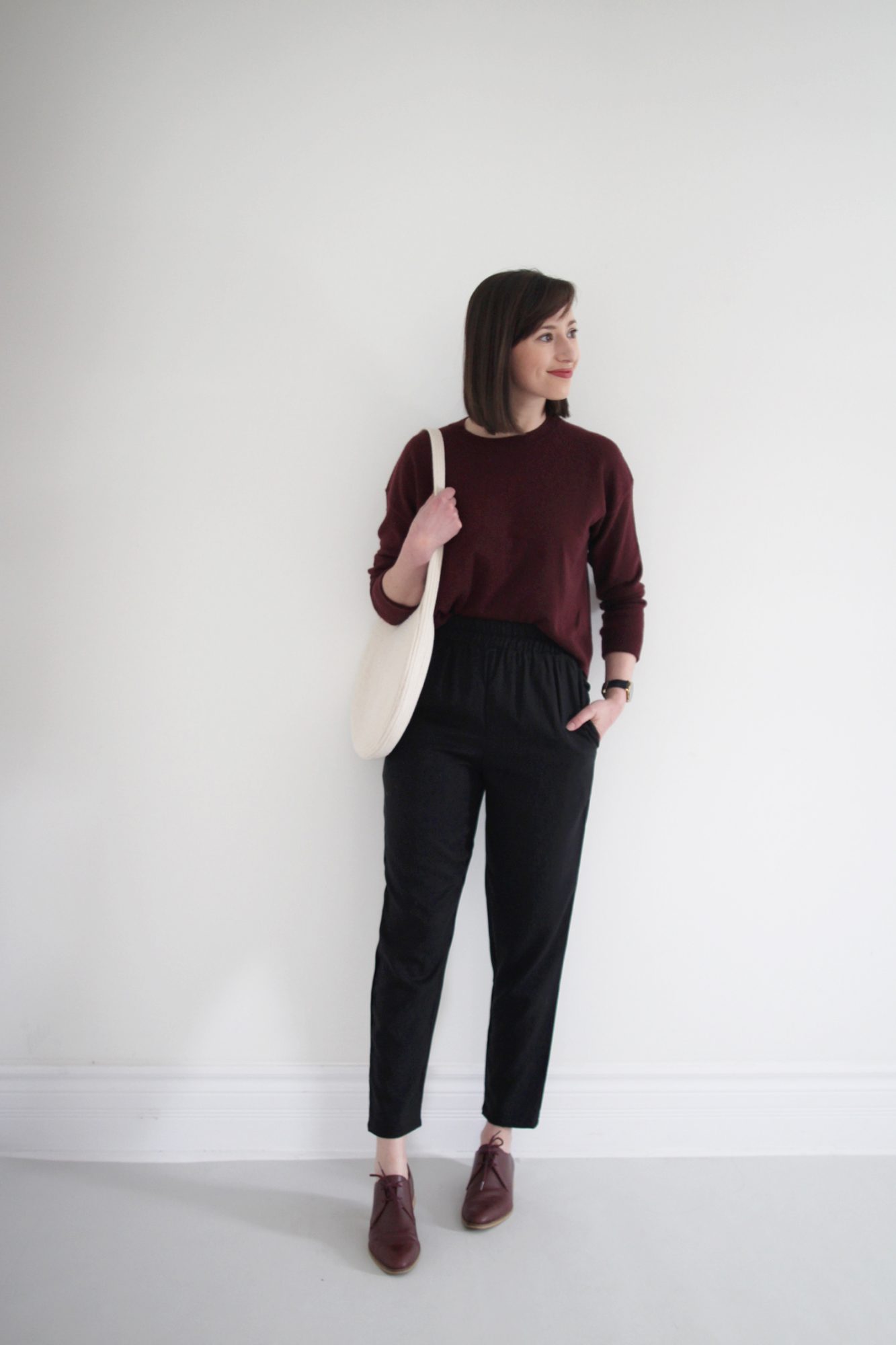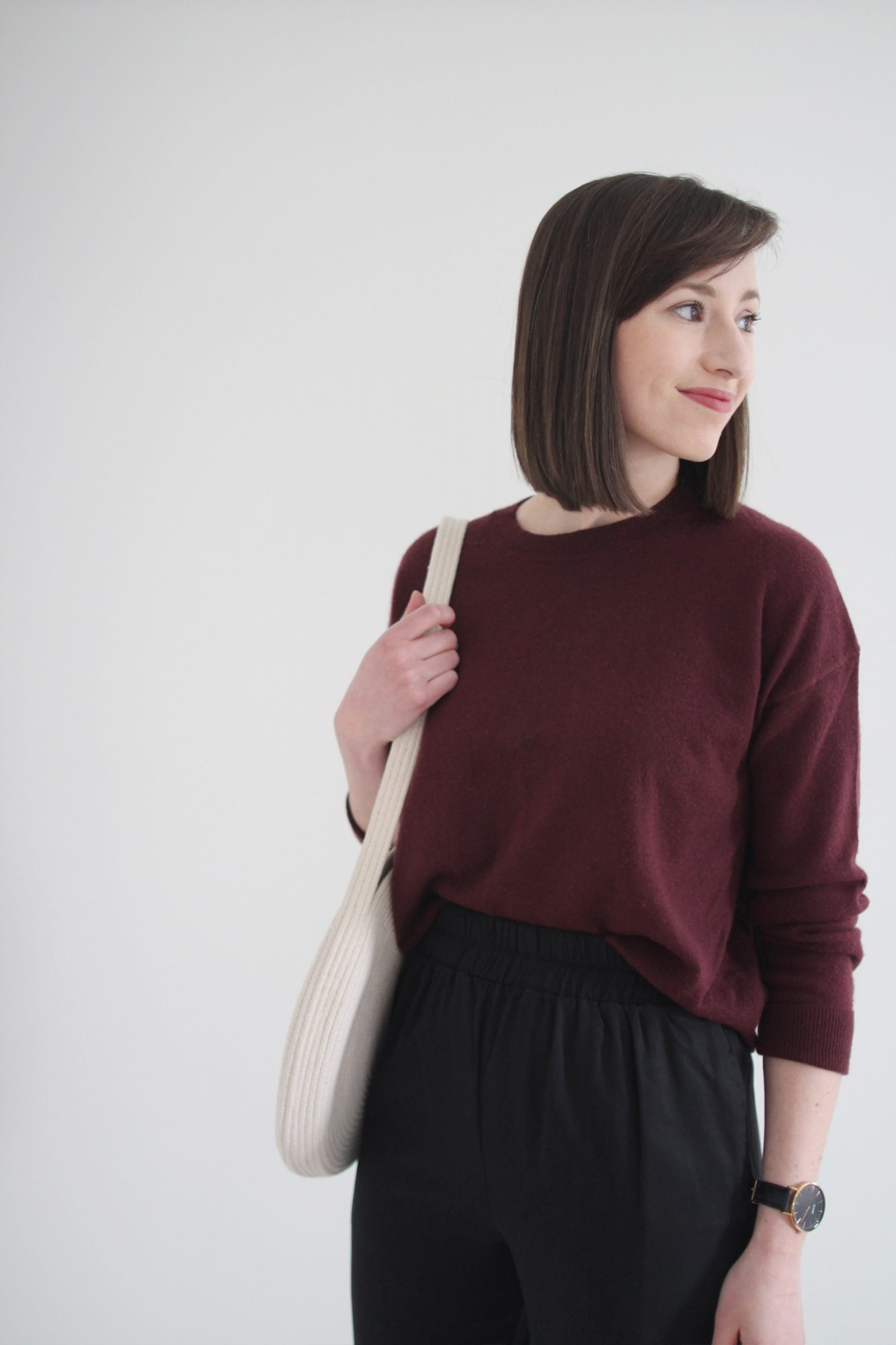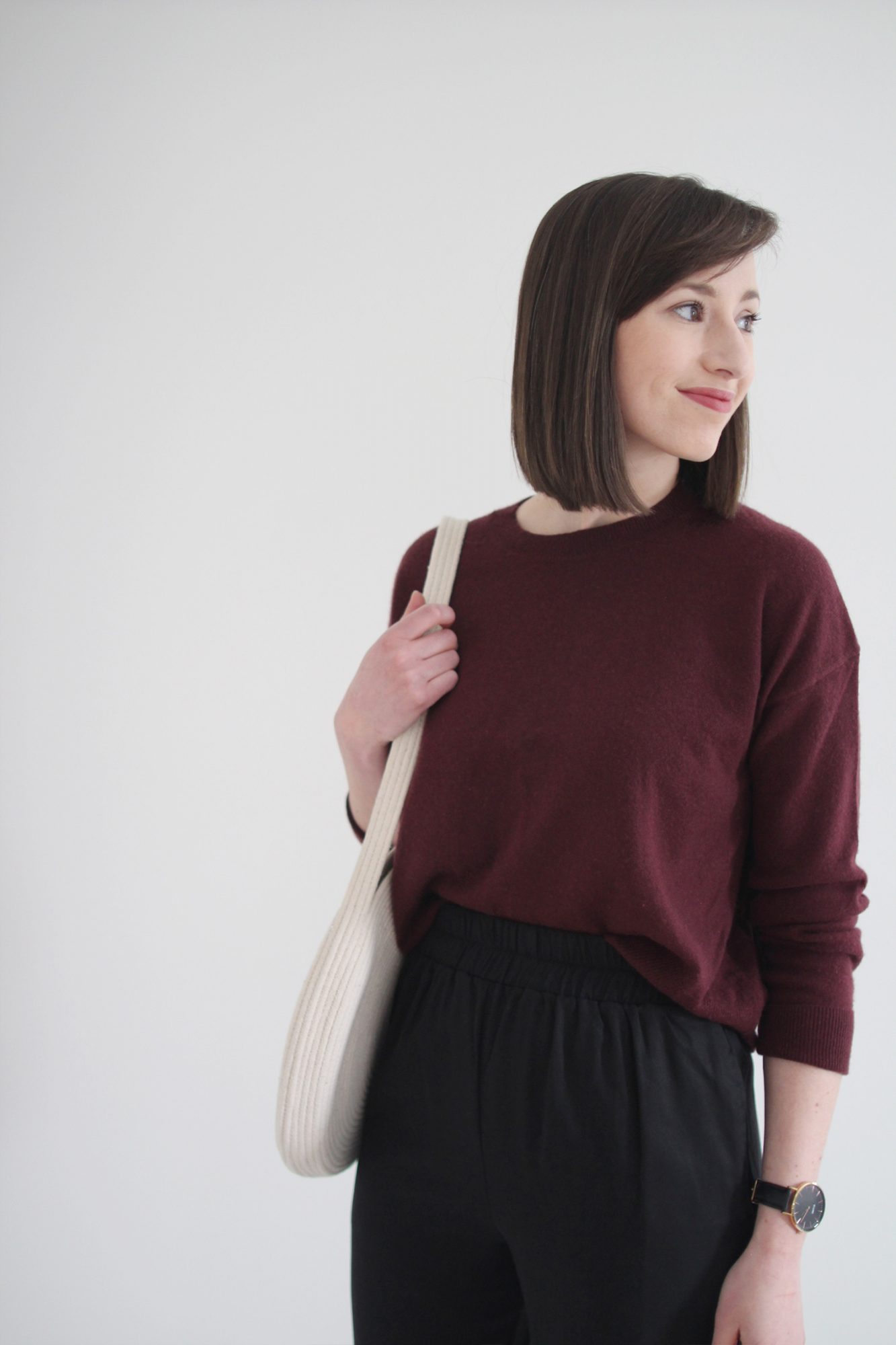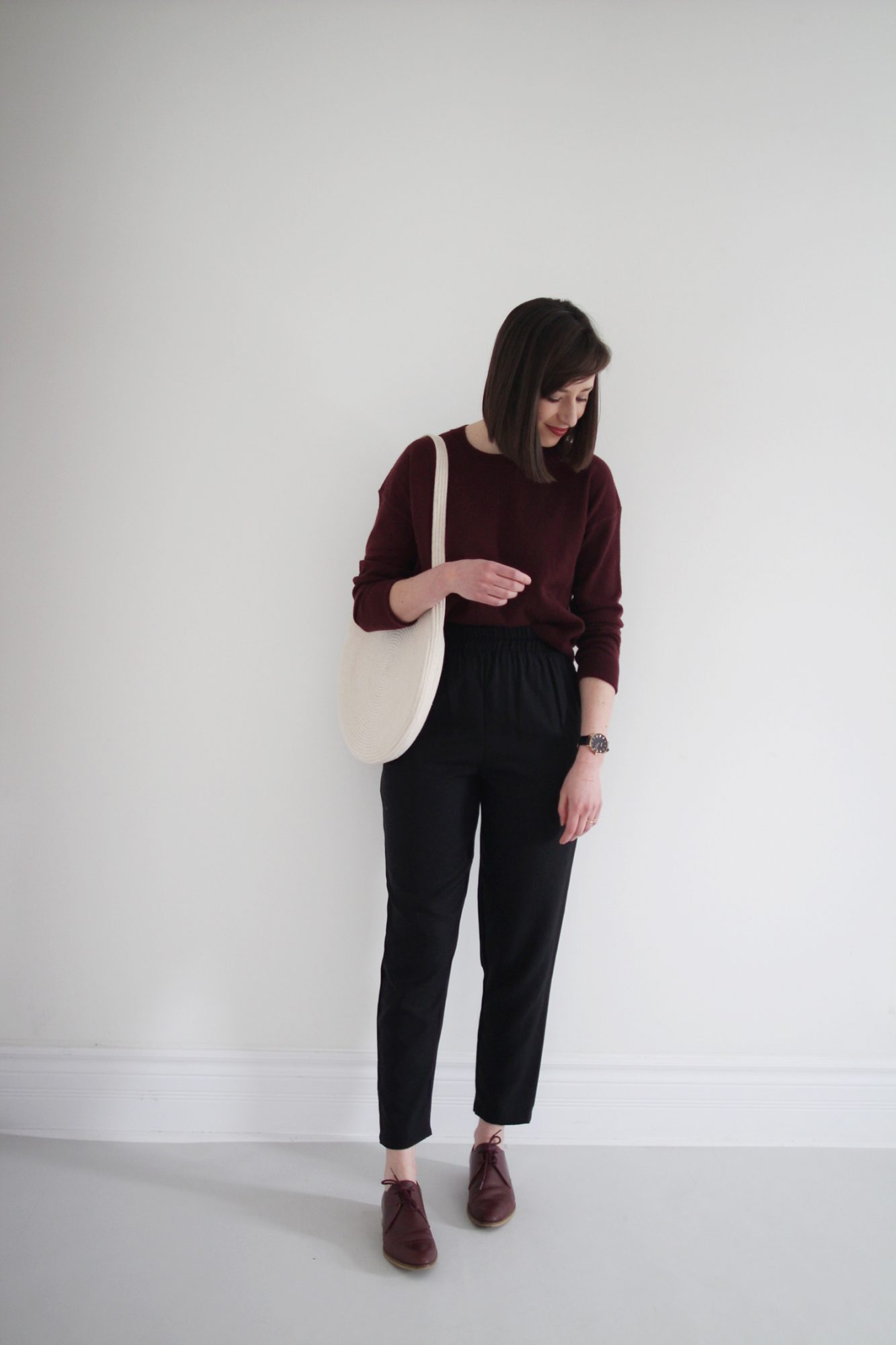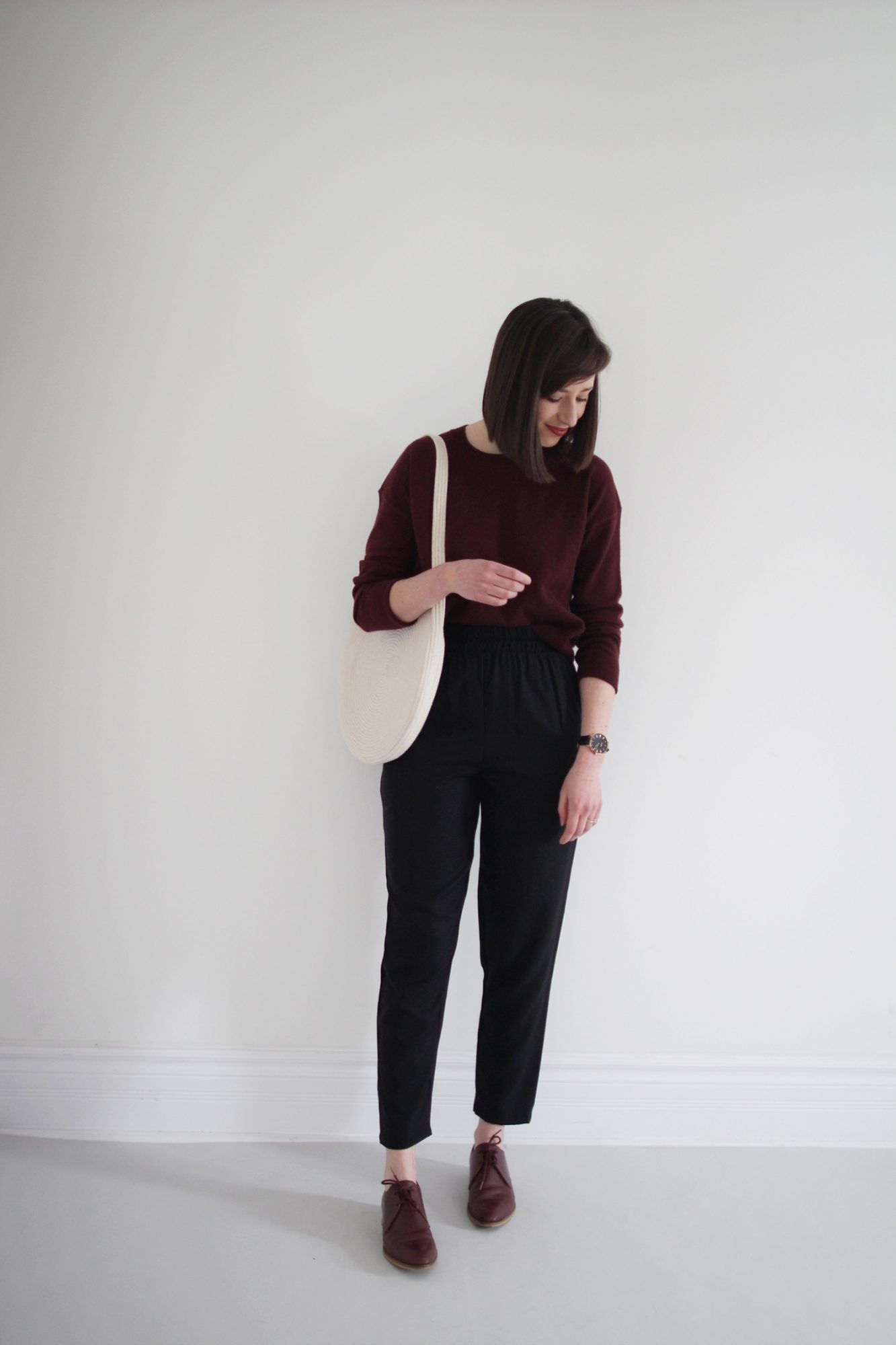 ---
INITIAL THOUGHTS: Not trouser related but I've been dying to try this burgundy sweater with these burgundy oxfords and I finally did! It might be a little too matchy matchy but I'm into it. All-in-all it's a great get-up for a day in the studio, running errands or getting up to my usual daily stuff. Simple, comfortable and put-together! I'm also thinking this look would be great with my natural cotton Cardiff Coat worn over top but I wanted to show the pants in the photos.
PROS: The waist-band on these pants is super comfy. It's thick and sturdy but still has lots of stretch and feels very comfy when sitting down. I really like the tapered leg on these because it's not too skinny and the cropped length helps to visually elongate the leg.
CONS: I feel like I need to wear the waistband quite high up on my torso for the rest of the pant to fall into the right places. When worn too low the pockets end up feeling a bit bulky. It's not uncomfortable but if I didn't wear high-rise pants all the time it might feel a bit odd. Overall I really like these pants but I already have a similar pair from Eileen Fisher that I haven't found myself reaching for all that much so it's hard to know if these would be a different story.
---
---
LOOK 3 – HEATHER DRESS 
---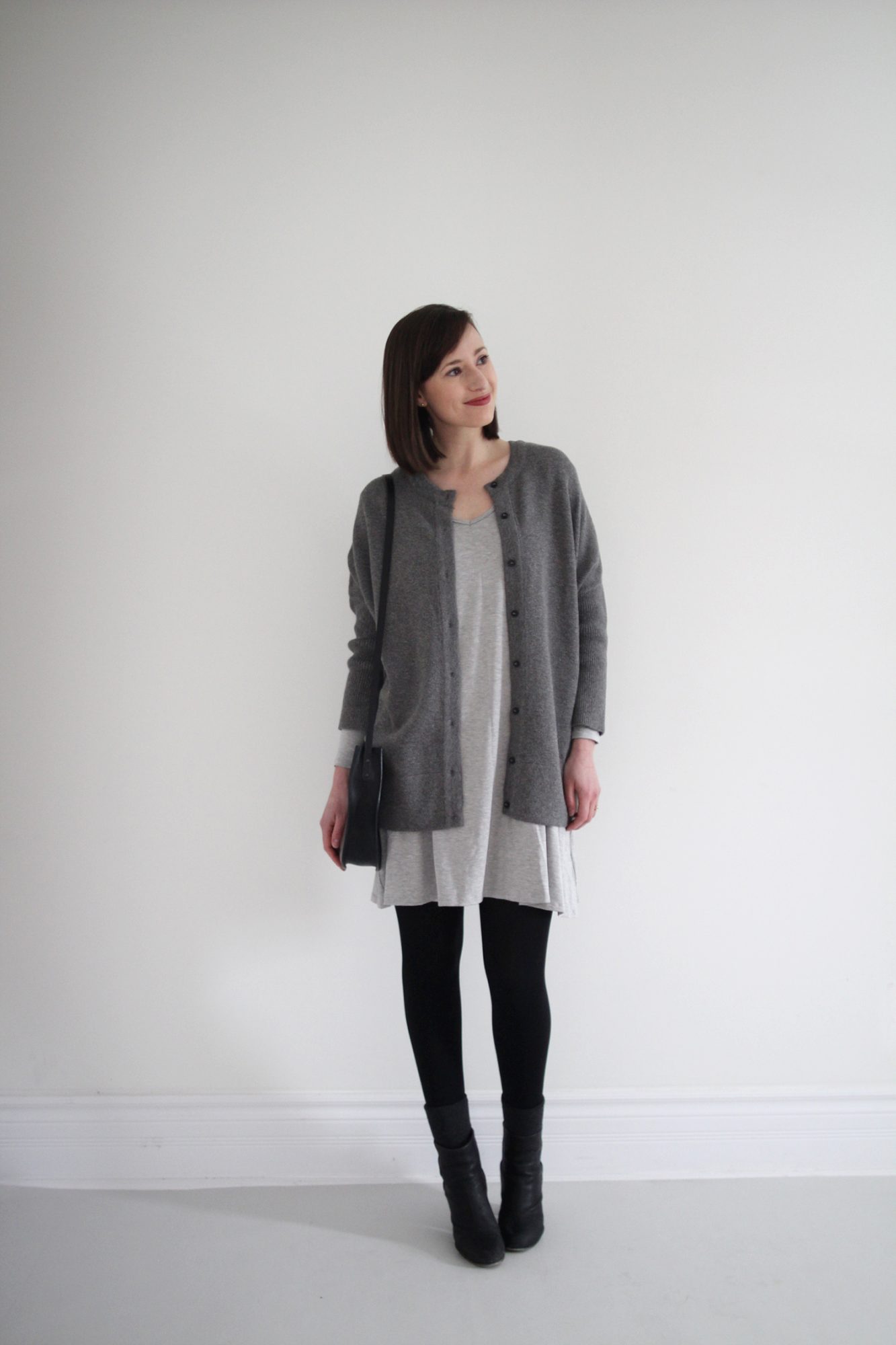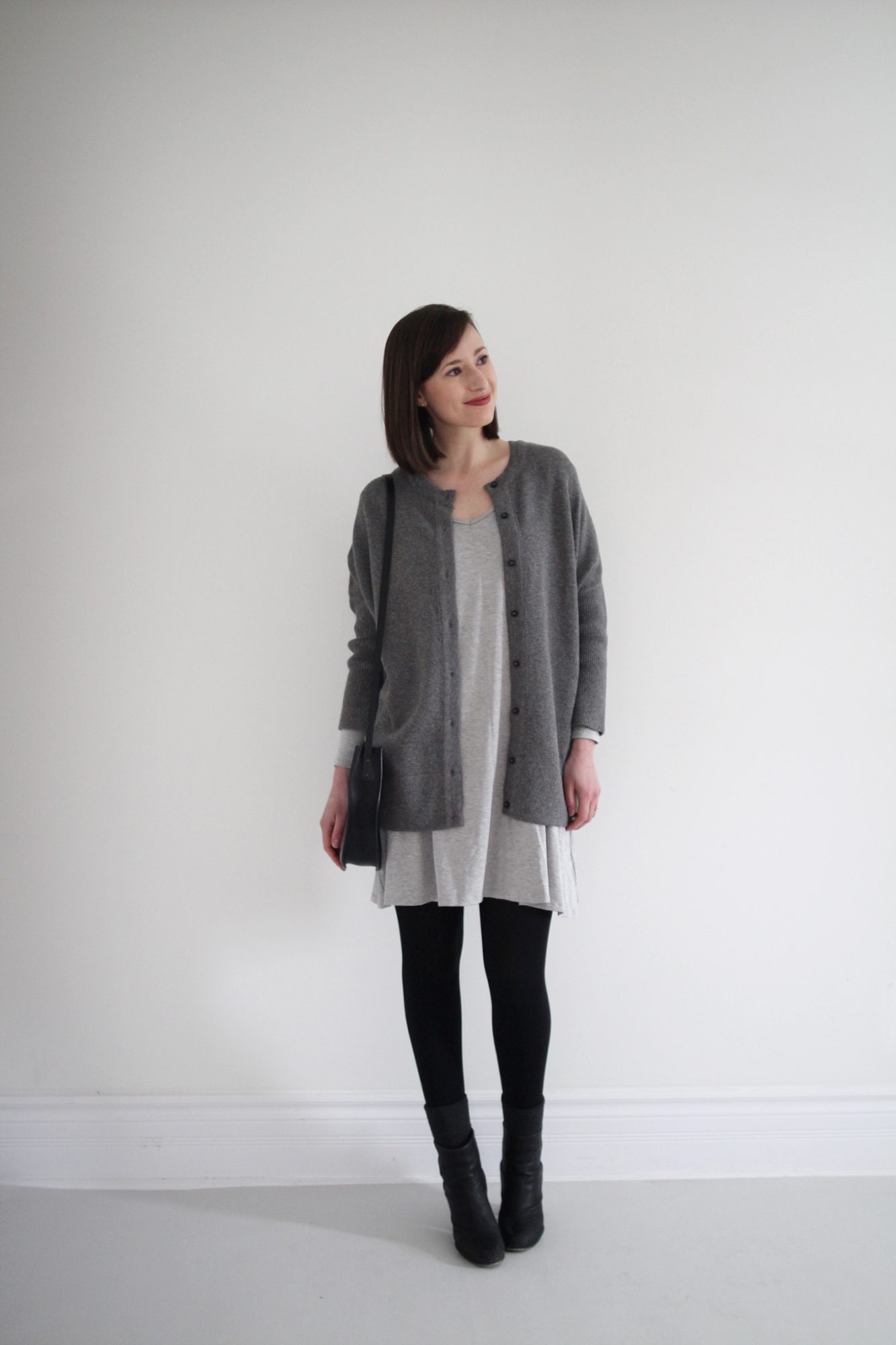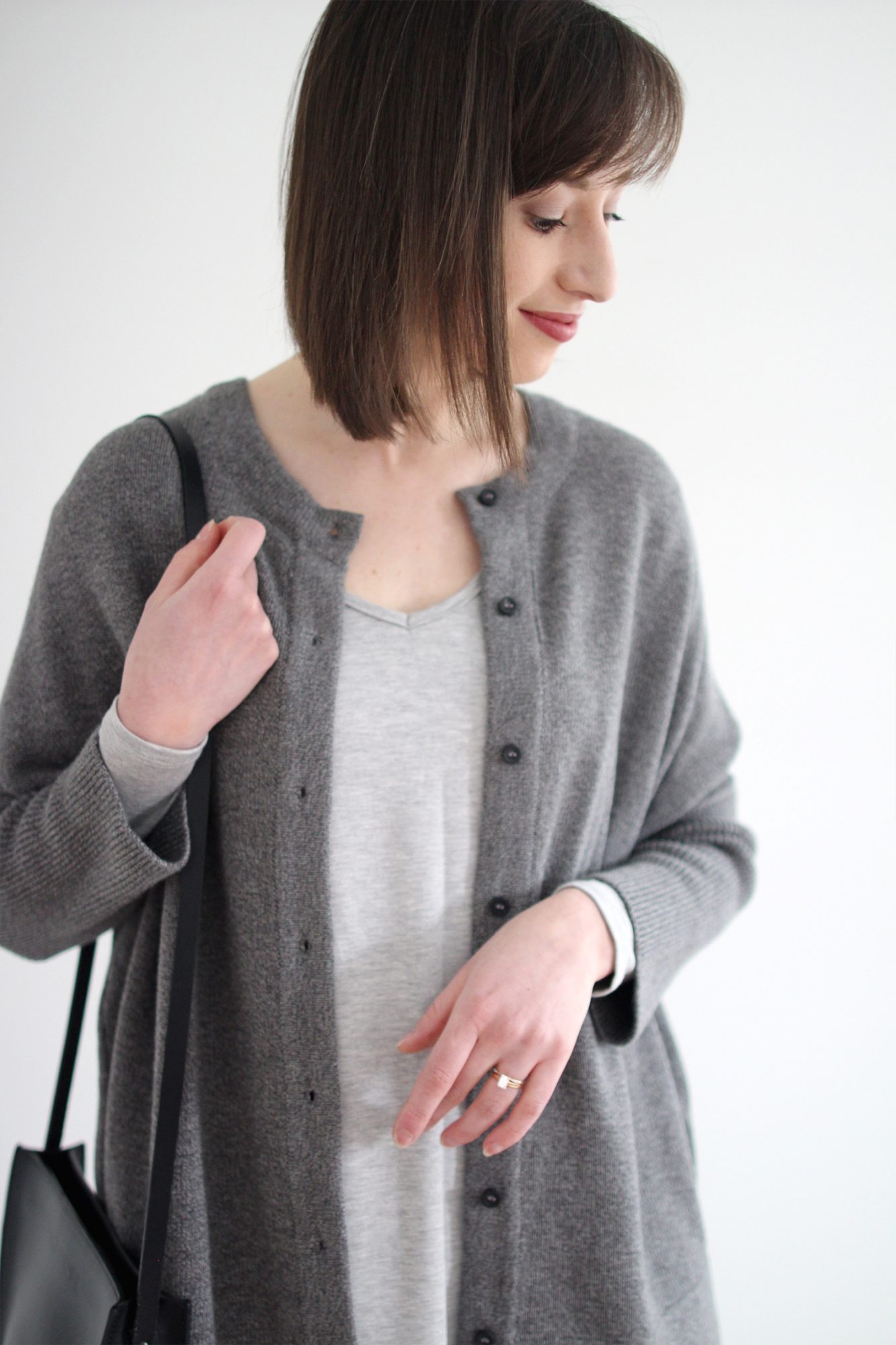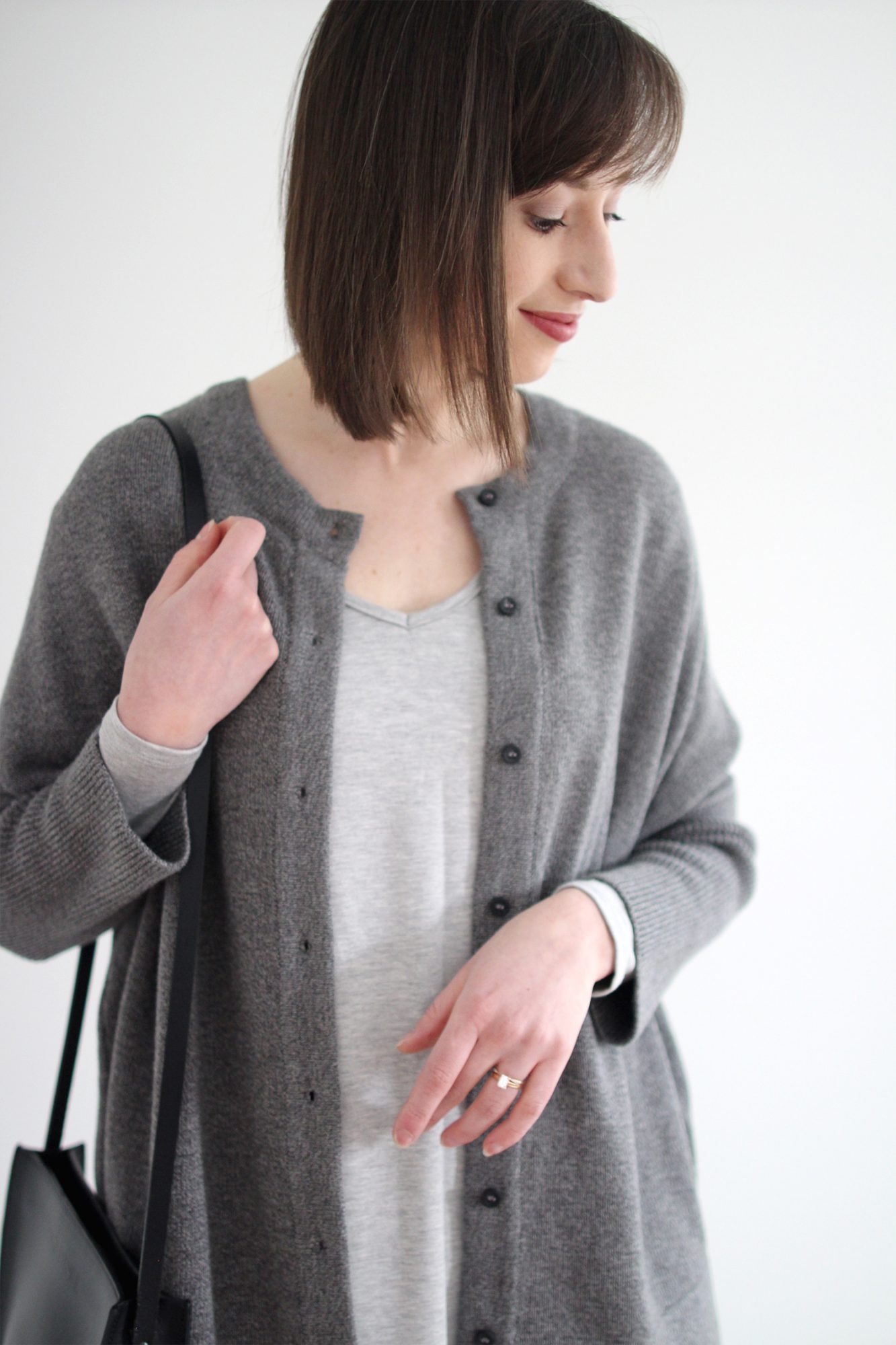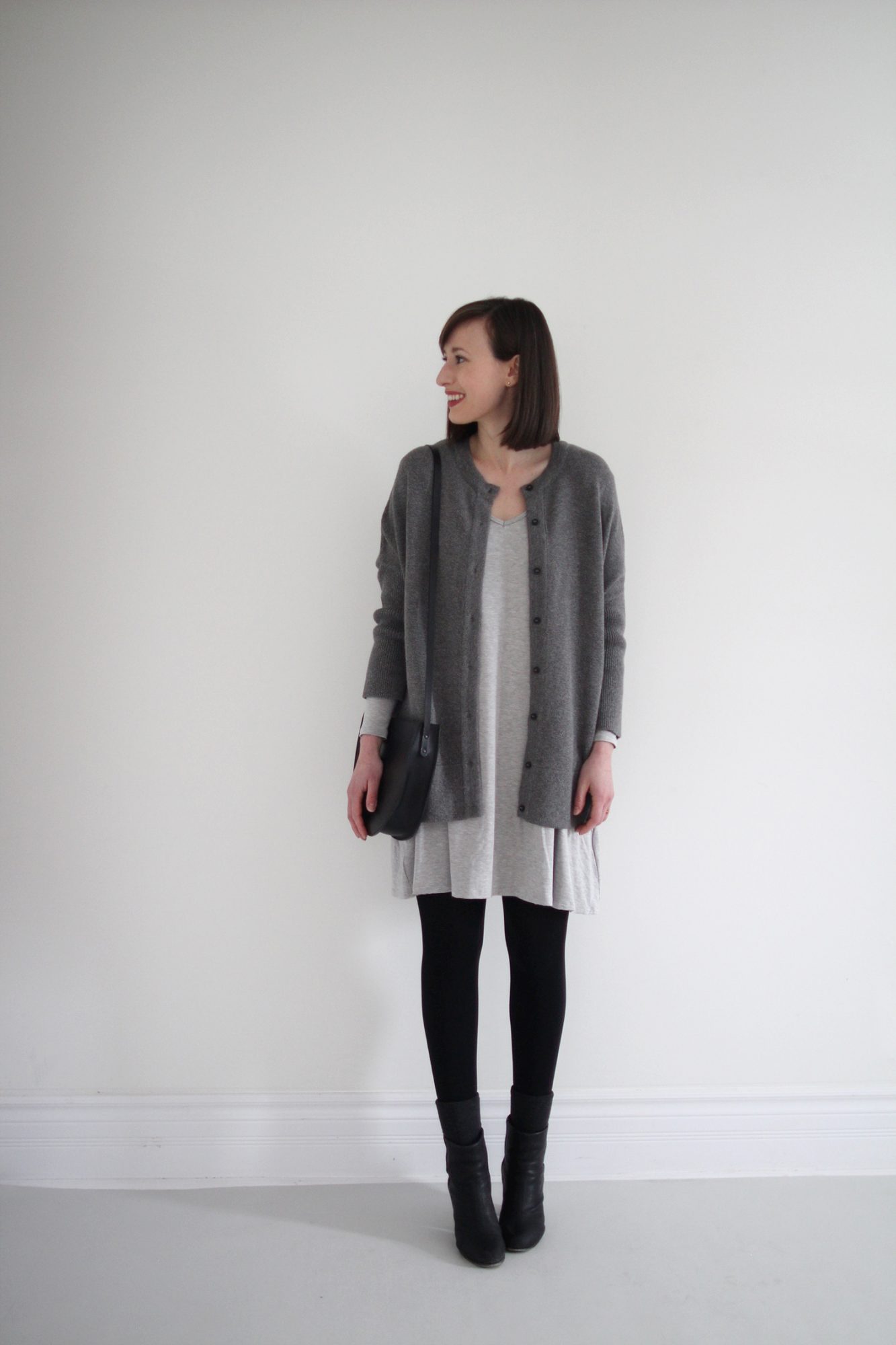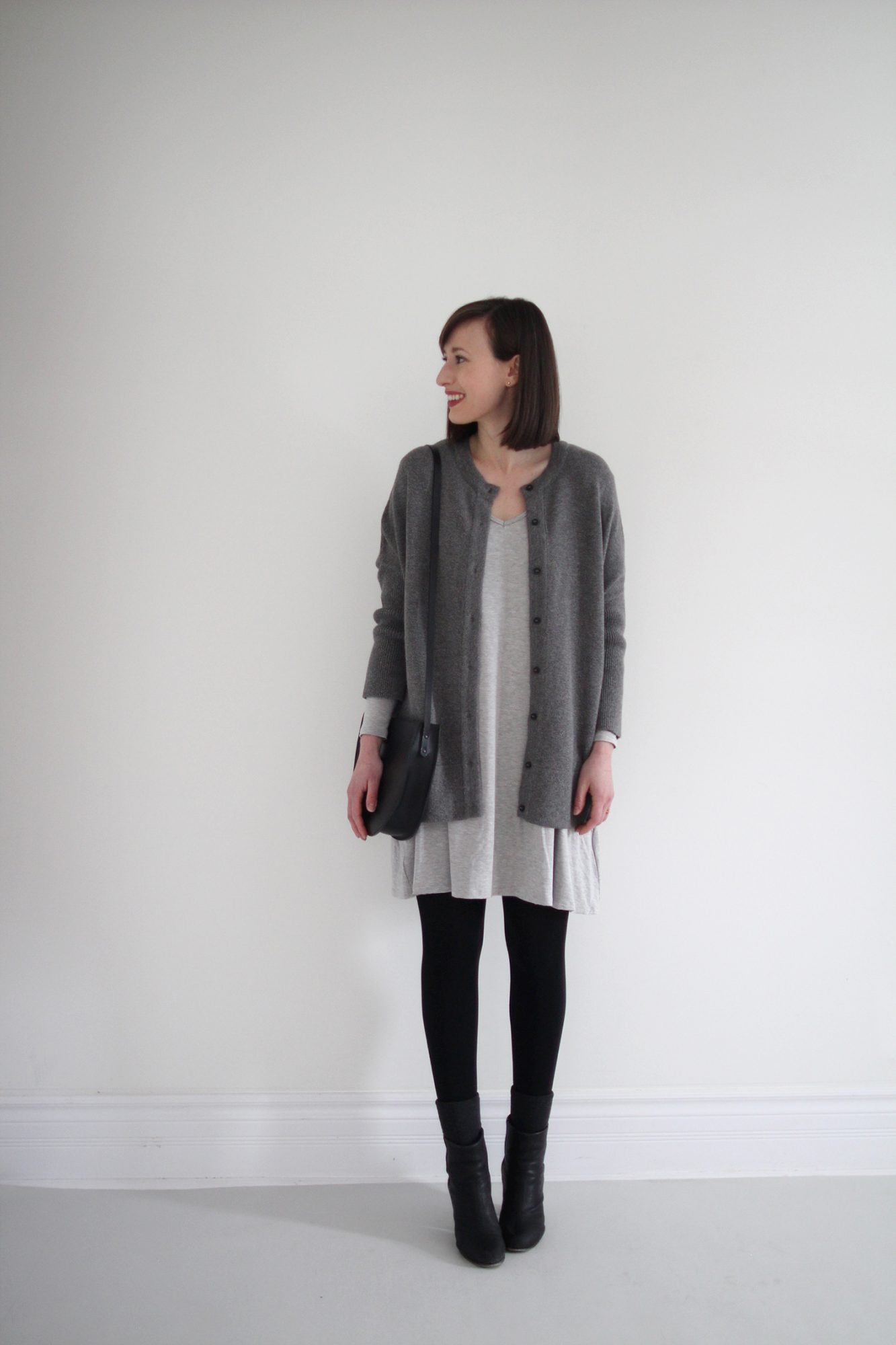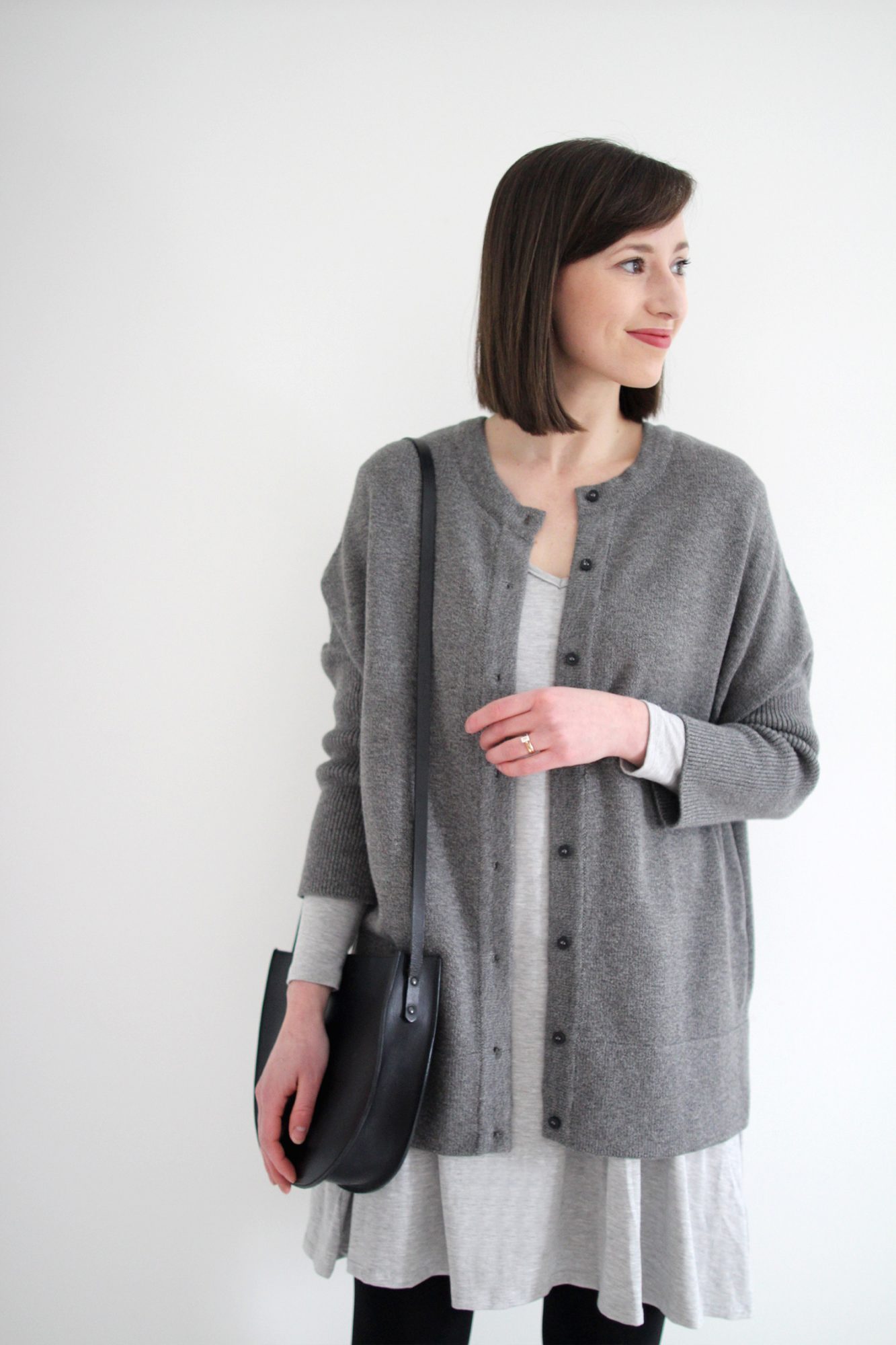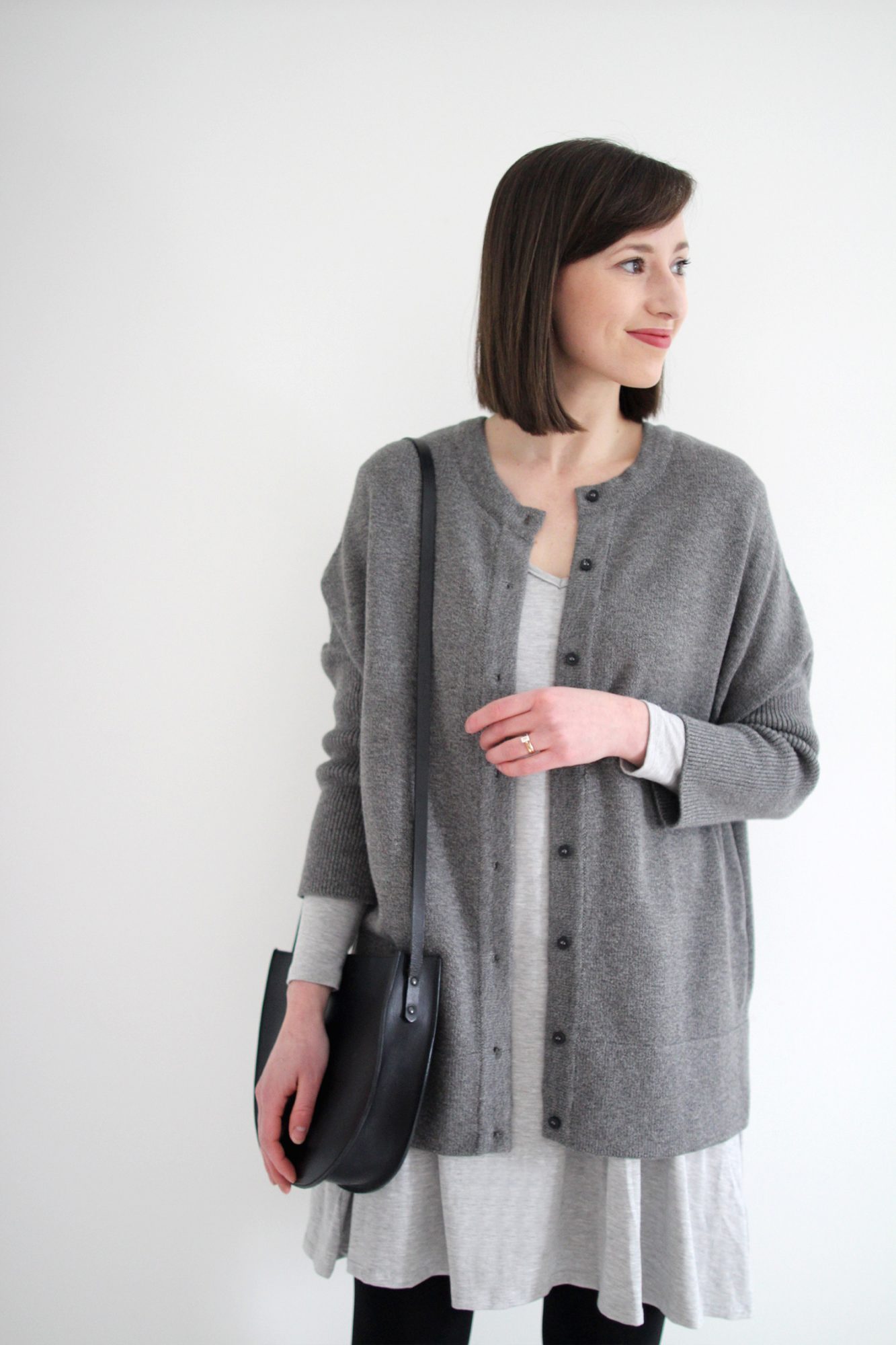 ---
INITIAL THOUGHTS: Okay, 100% transparency here, initially I included this dress for the post because I thought it would be a crowd pleaser not because I thought it would be ideal for me personally. But I put it on and fell in love. This is easily one of the comfiest dresses I've ever worn. It's relaxed and floaty but falls near enough to the body that it's doesn't feel too boxy at all. I love this layered look with an oversize sweater and a pair of socks peeking out above my ankle boots. It feels cozy and flirty at the same time. It's perfect for coffee dates and lunches downtown and just about everything in between.
PROS: I really like the material that was used on this dress (Hanna sure knows her fabrics). It's swingy, stretchy and feels great on the skin. The sleeves and shoulders are fitted and feel as though they'll hold their shape really well. The grey is also a nice light heather which I don't have much of in my closet. It pairs beautifully with darker greys and blacks and I'd like to see how it looks with creams and warm neutrals too.
CONS: At the moment I love this dress over opaque black tights but I don't know how much I'll wear this dress when I can't wear tights. I thought about trying it over white skinnies but it might be a bit too long to serve as a 'tunic'. It's also a bit on the wrinkly side from shipping across North America but I think after a good steam or a tumble dry it would be totally fine.
---
---
LOOK 4 – HEATHER DRESS
---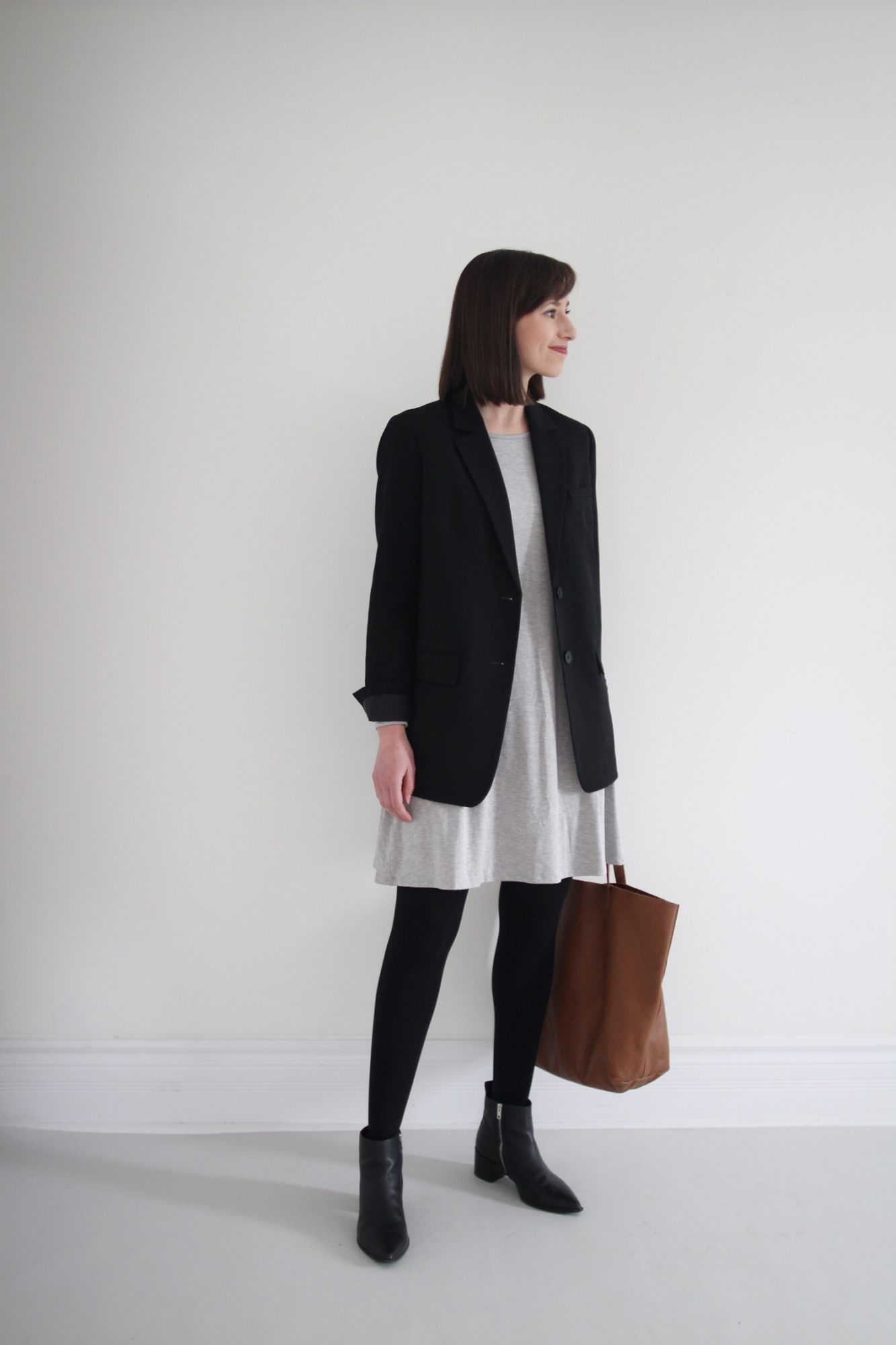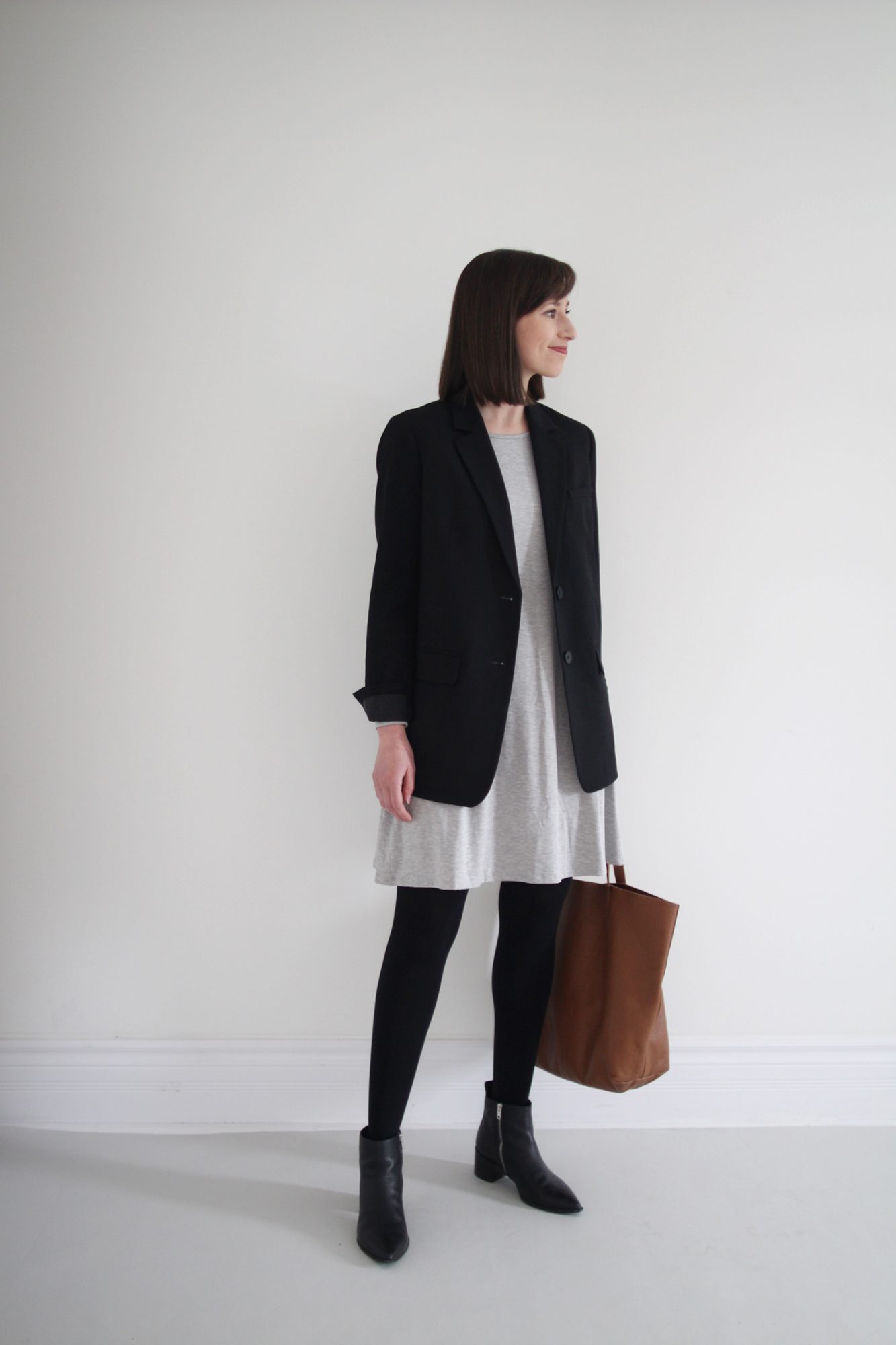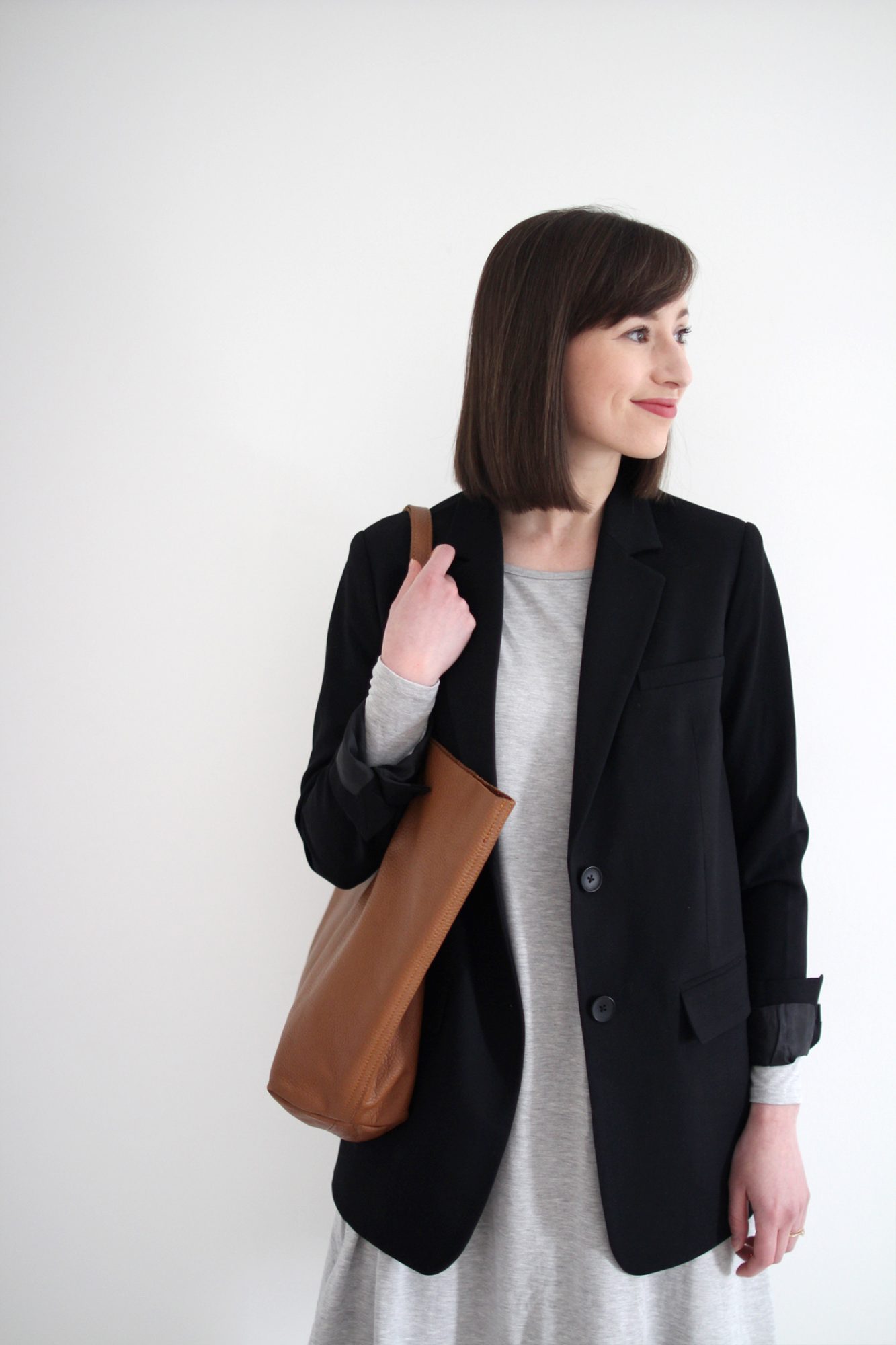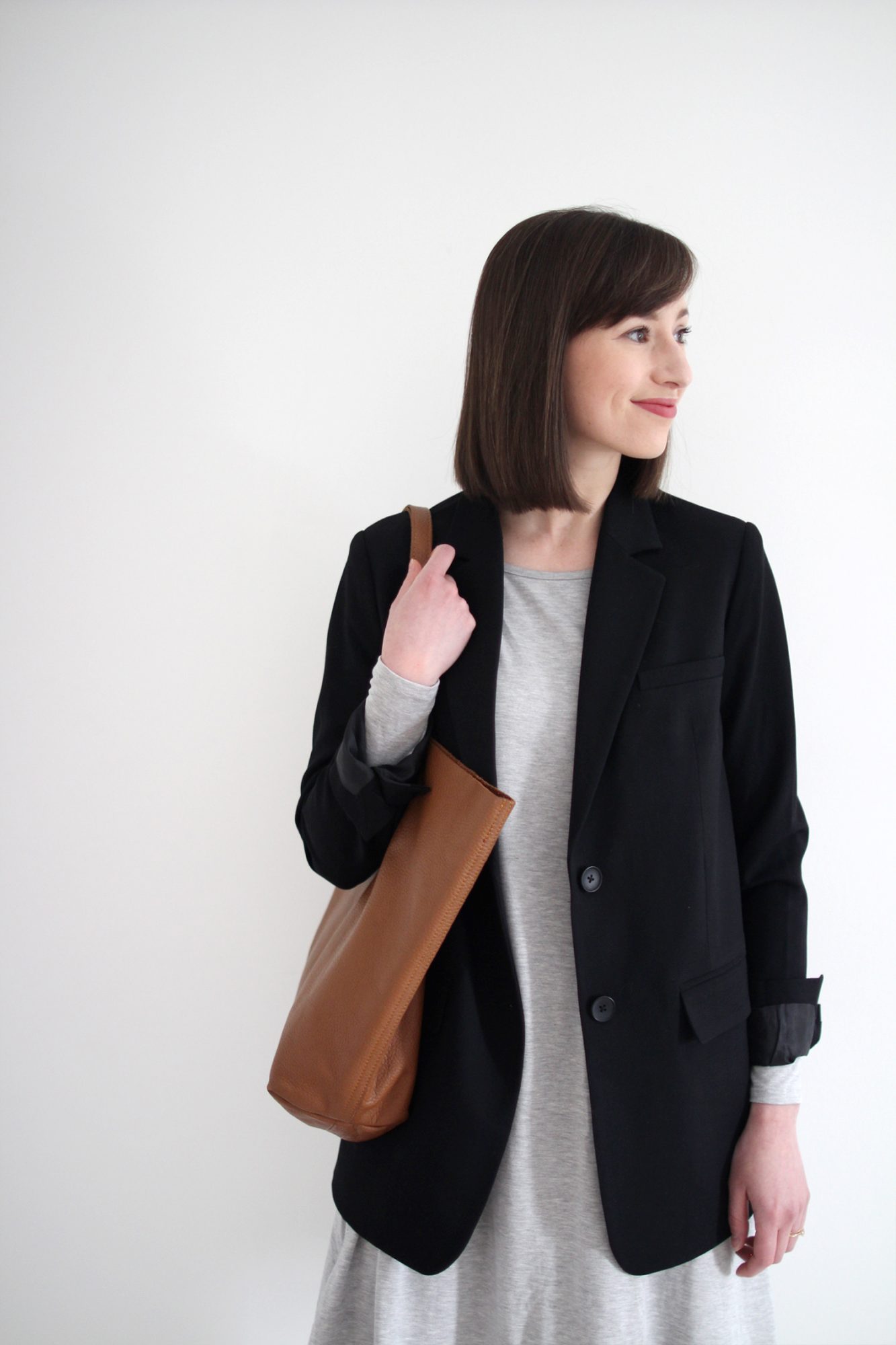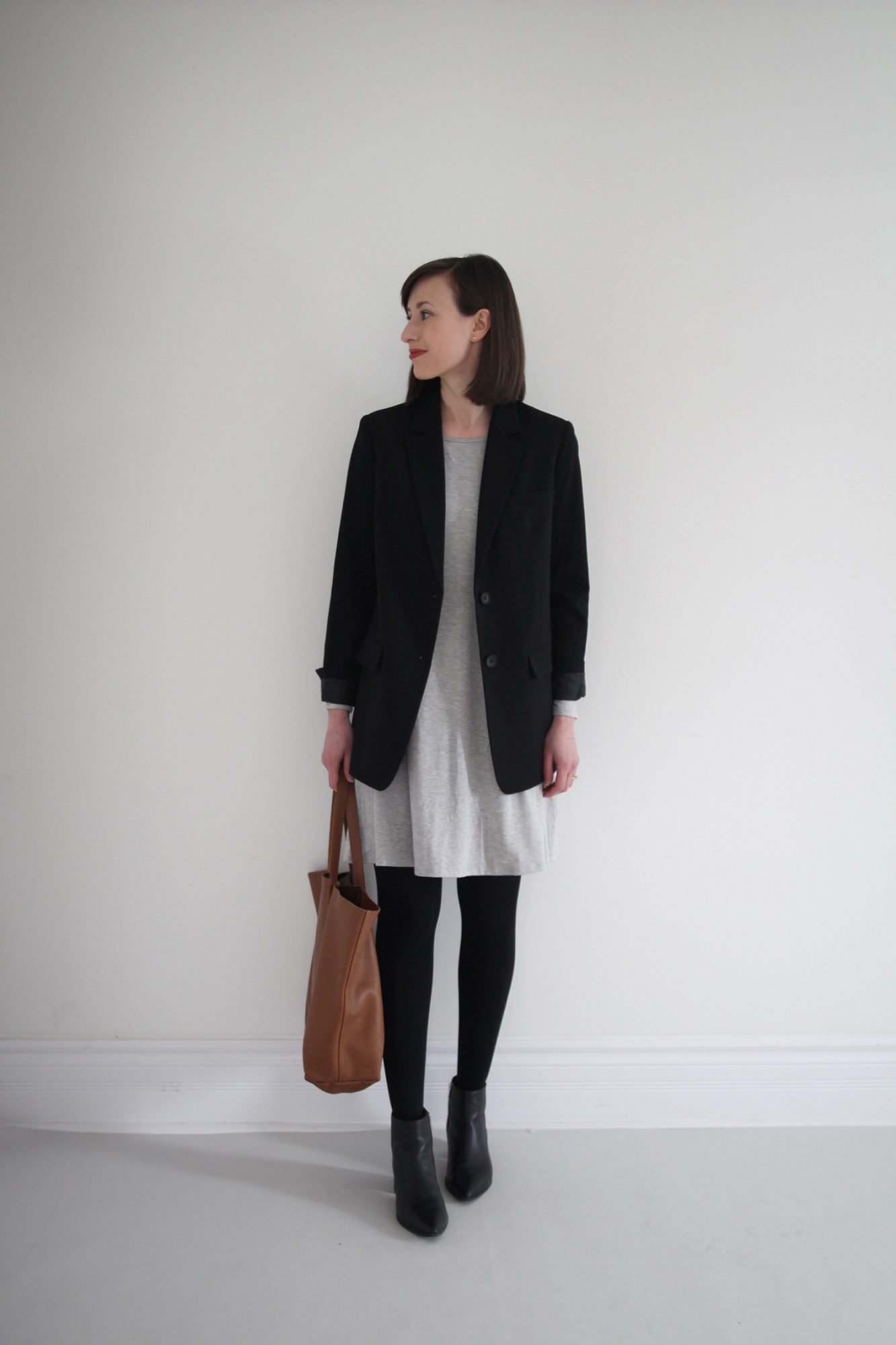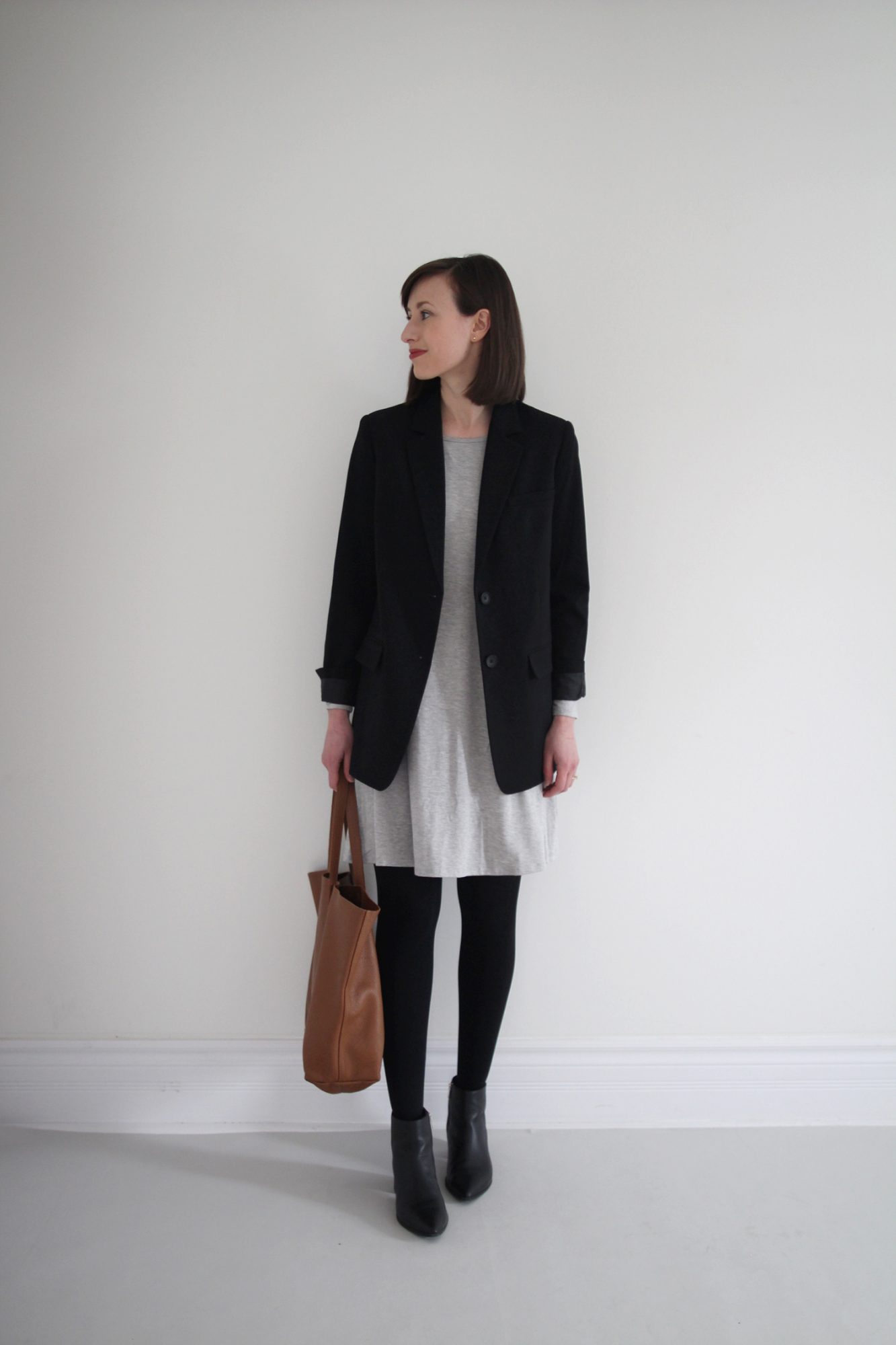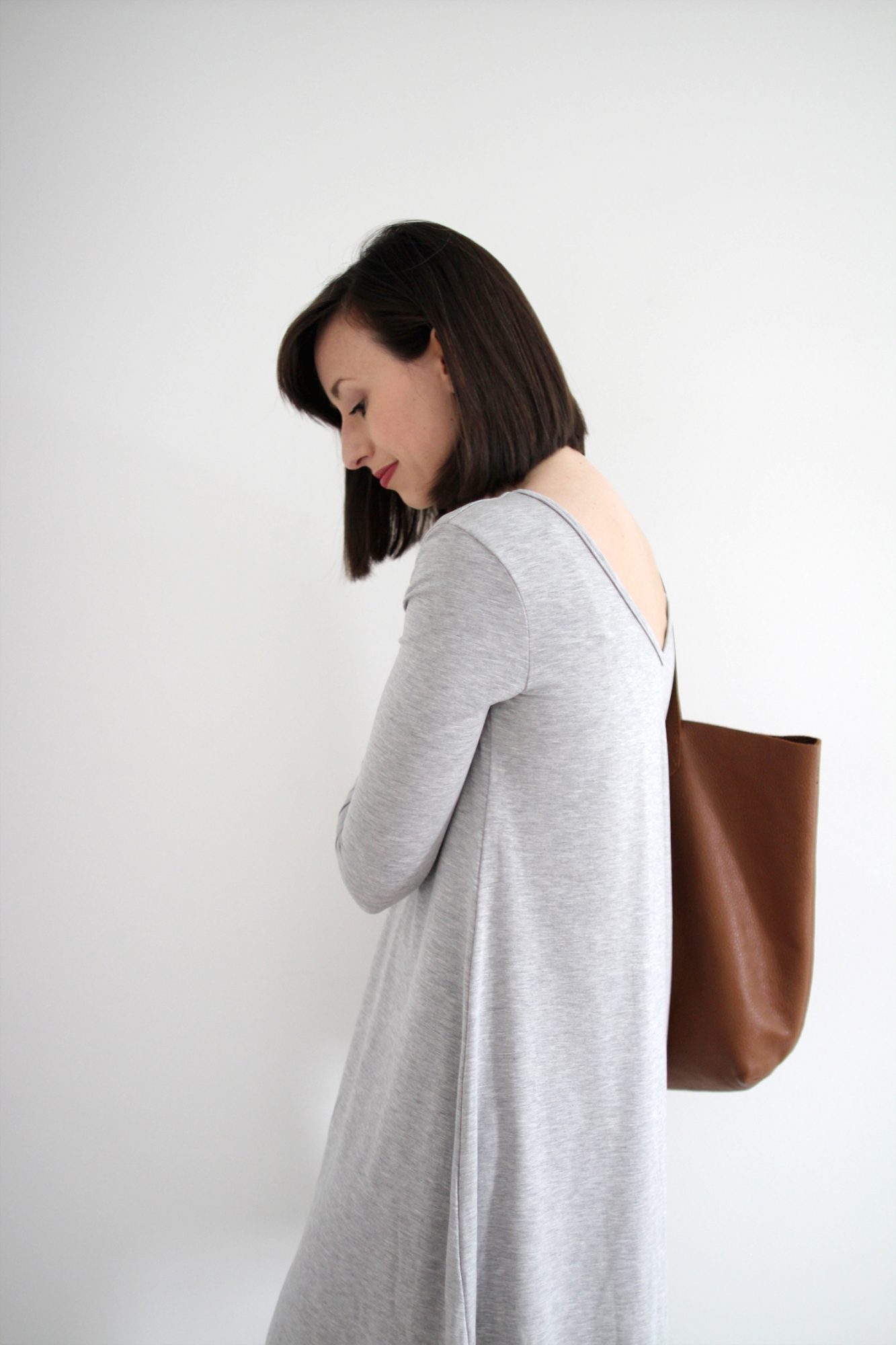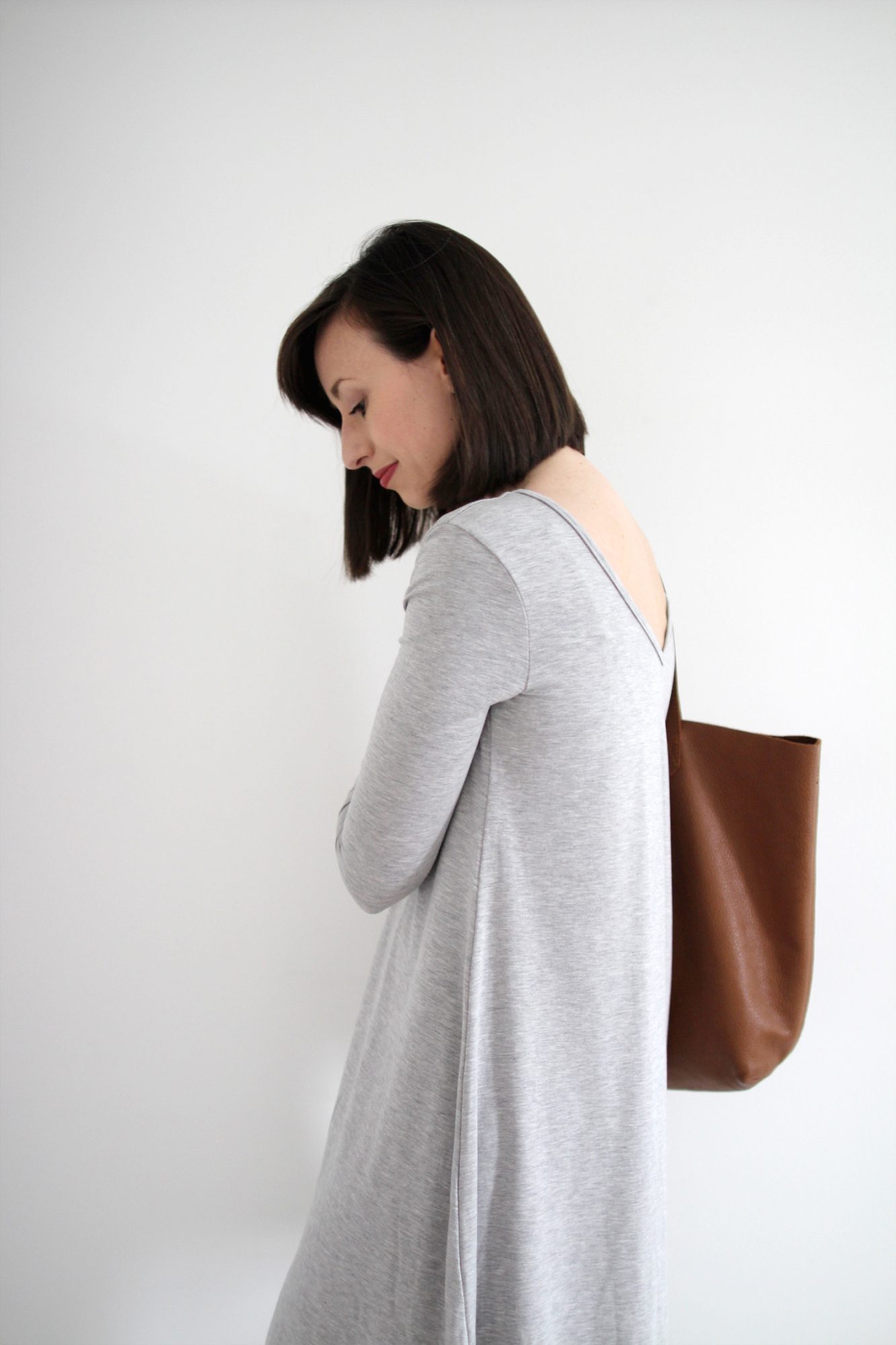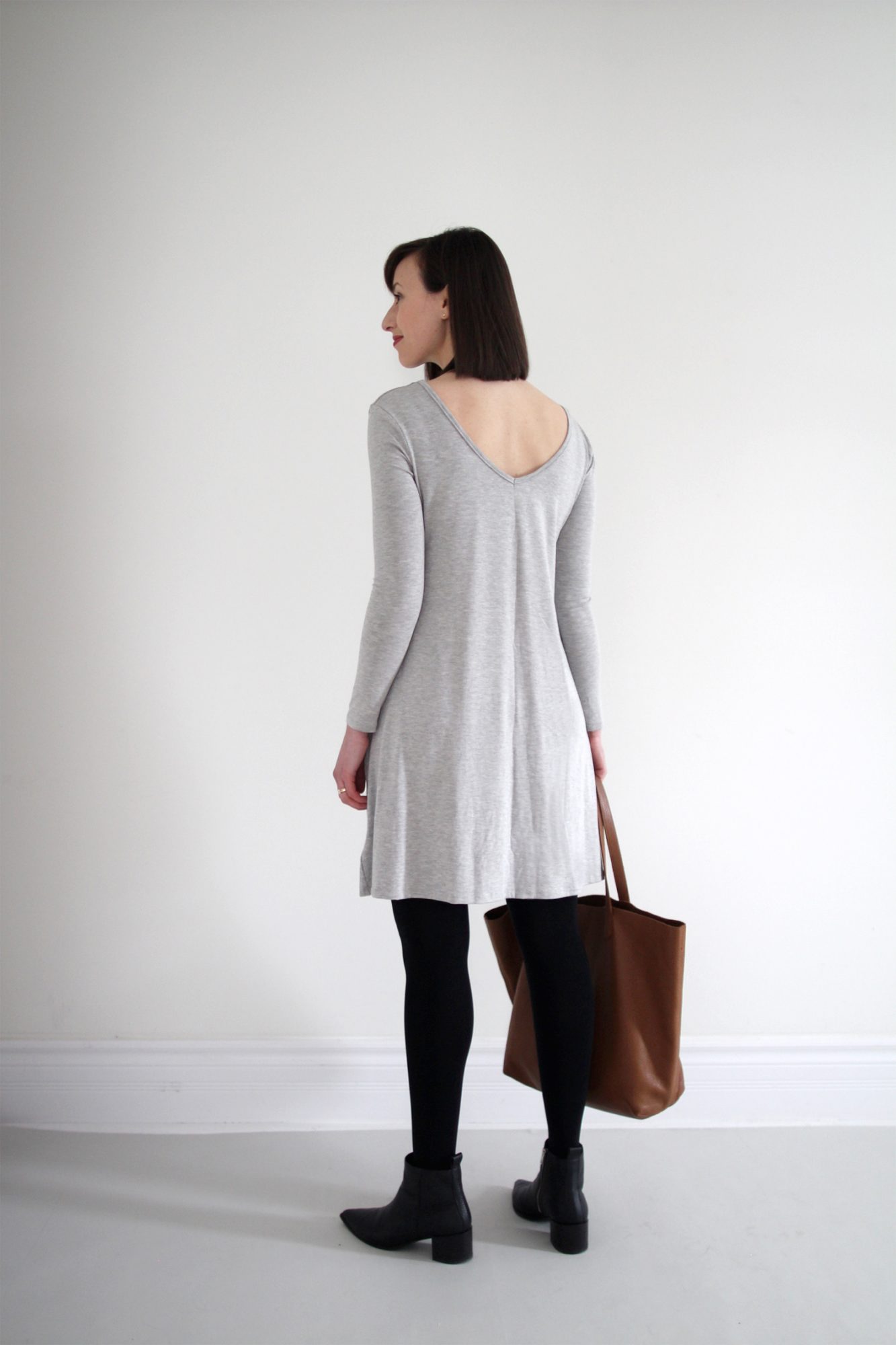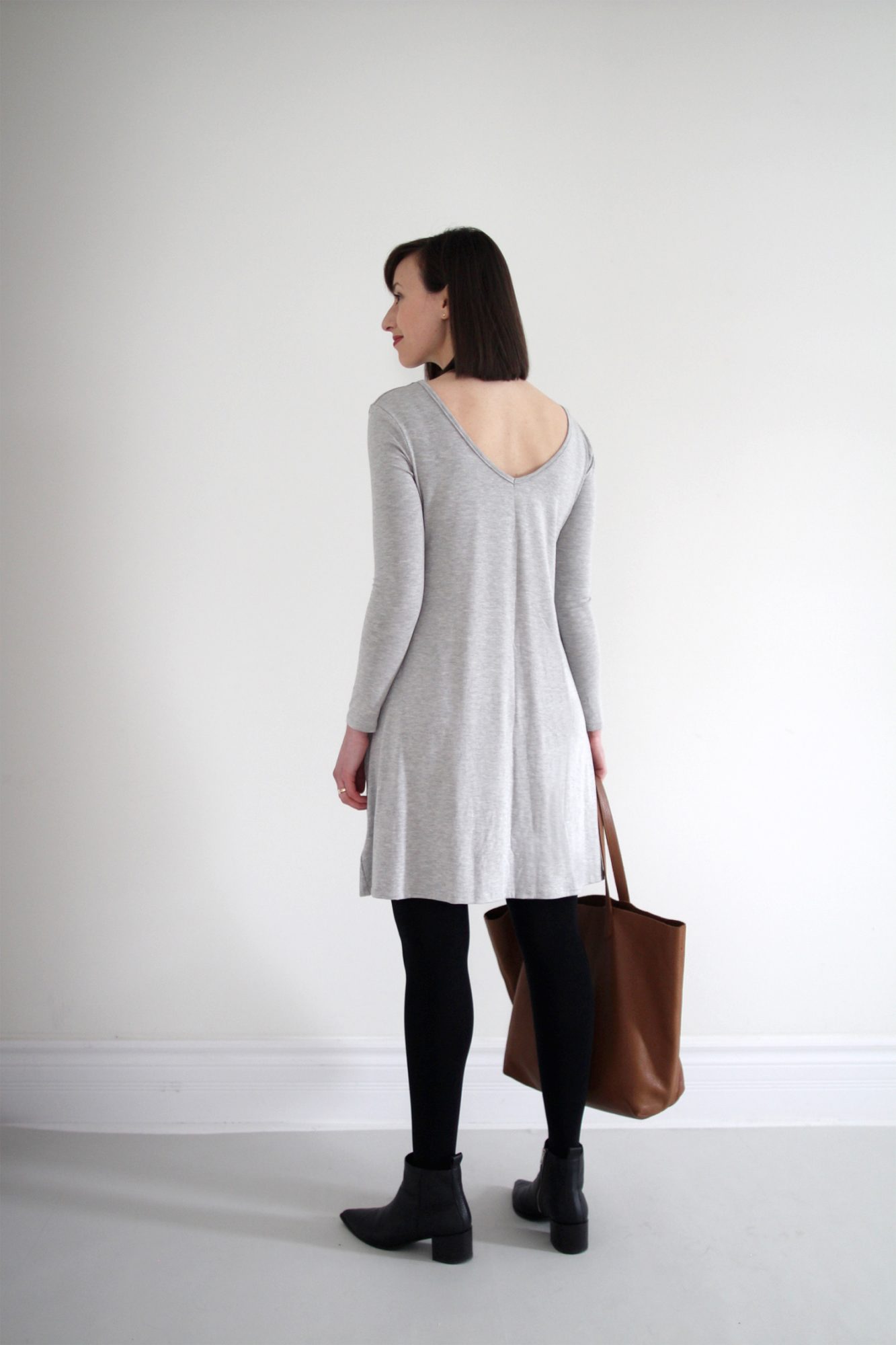 ---
INITIAL THOUGHTS: My main question with this dress was whether or not it has that 'chic' factor I'm always after but once I tried it with a blazer and sleek black boots I knew the answer was, 'Oh hell yes!'. This look would be perfect for any client meetings or dinners out I might have. I also reeeally like this dress with the v-neck worn at the back. It's a playful surprise that's attractive but still entirely bra friendly.
PROS: This dress has inspired a new term and I'm calling it a closet chameleon. It can be 'styled up' to look sophisticated and elegant as per the outfit above or 'styled down' like the first look. Pair it with a strappy black heel and a bold red lip for sultry spring vibe or grab a denim jacket and some birkenstocks for a tour around the farmer's market. It's honestly so comfy that I'd wear it for a lazy day of Netflixing on the couch between coffee runs and dog walks.
CONS: The main hesitation I had when considering this piece was the fact that I rarely wear dresses. I loved the jersey swing dress which has a similar cut but didn't end up wearing it all that often and in the end I passed it along to a good friend who was totally smitten with it.
MORE PROS: That said, there were a few differences that make me prefer this one. The first is the reversibility factor and that there is a v-neck and high neck option. Makes it feel more like two pieces in one. The boat neck on the Jersey Swing dress often exposed my bra strap too which wasn't ideal. I also really like the long, fitted sleeves and tight shoulder vs the drop-shoulder and 3/4 length sleeves on the jersey swing dress. This design change gives it a slightly sharper feel and makes it extra easy to layer under sweaters and jackets.
---
---
LOOK 5 – STELLA JUMPSUIT
---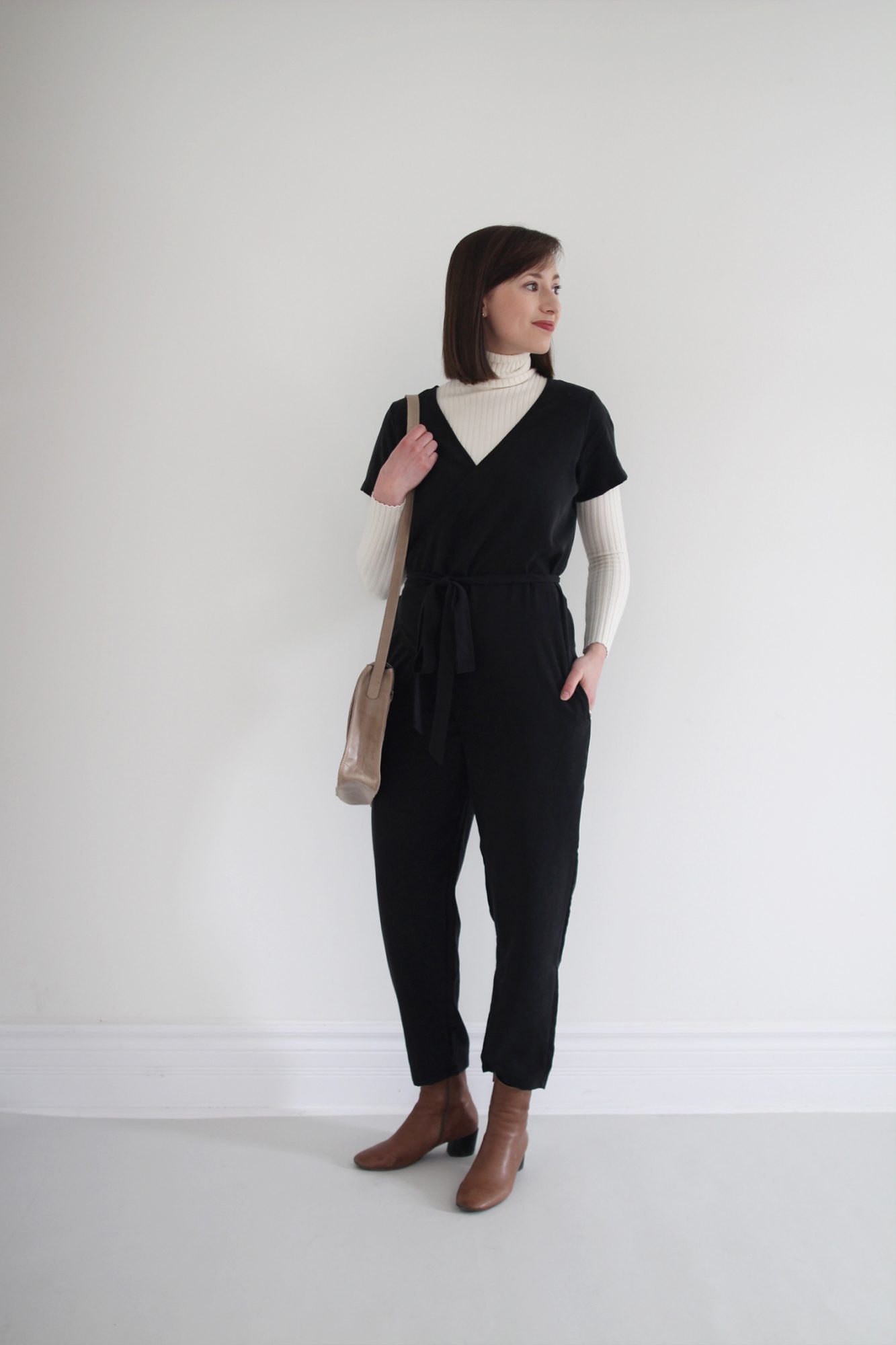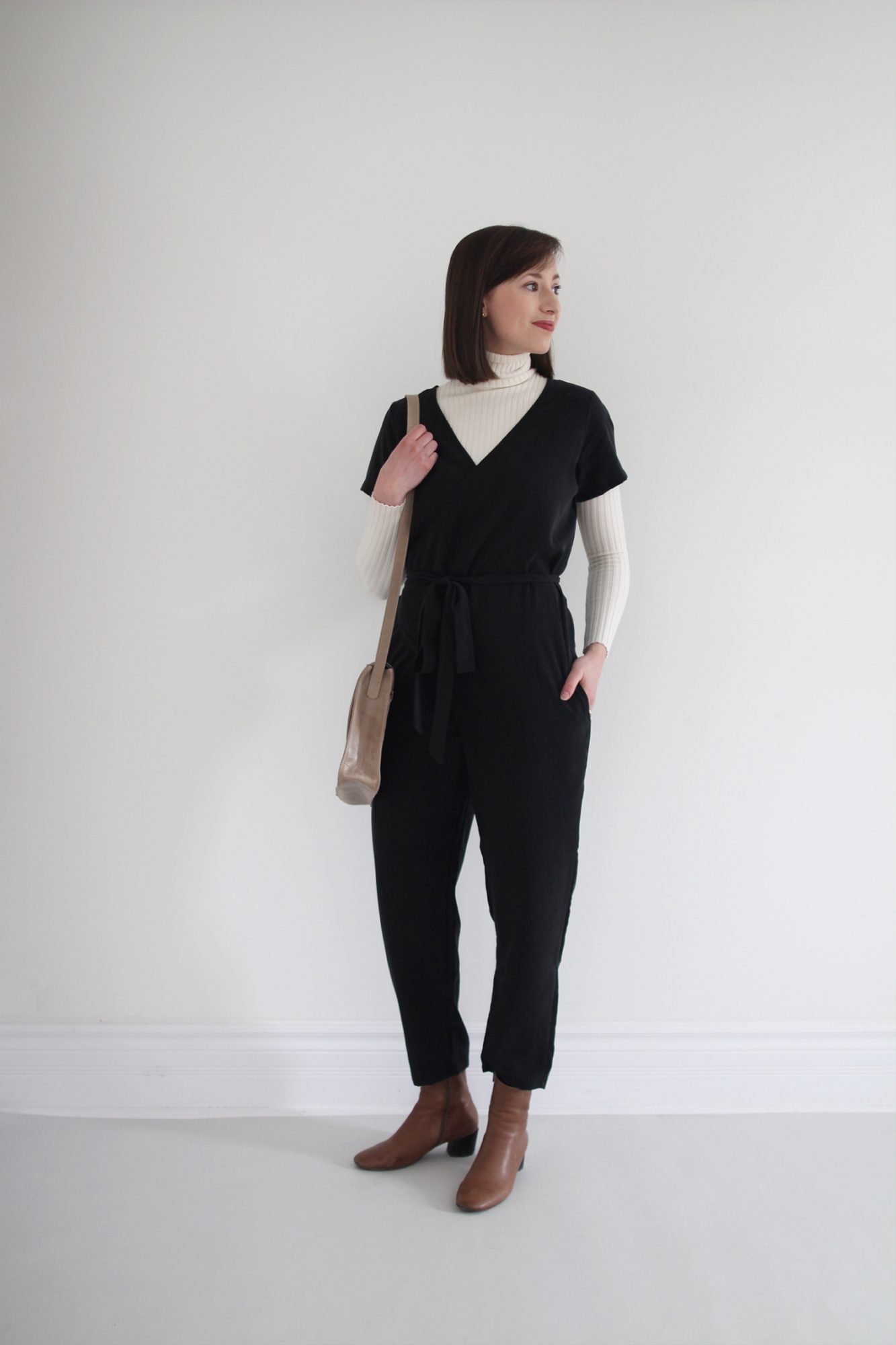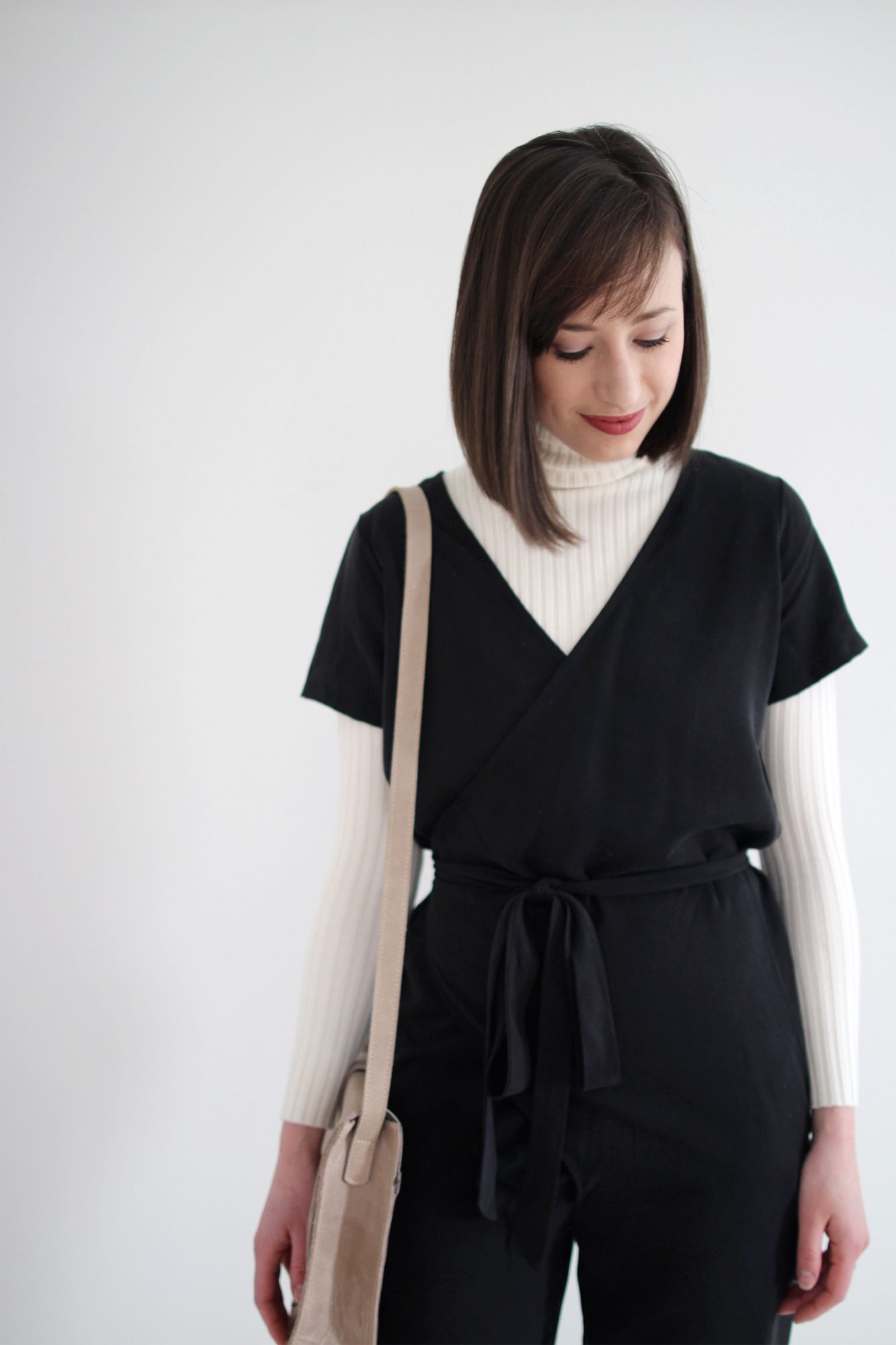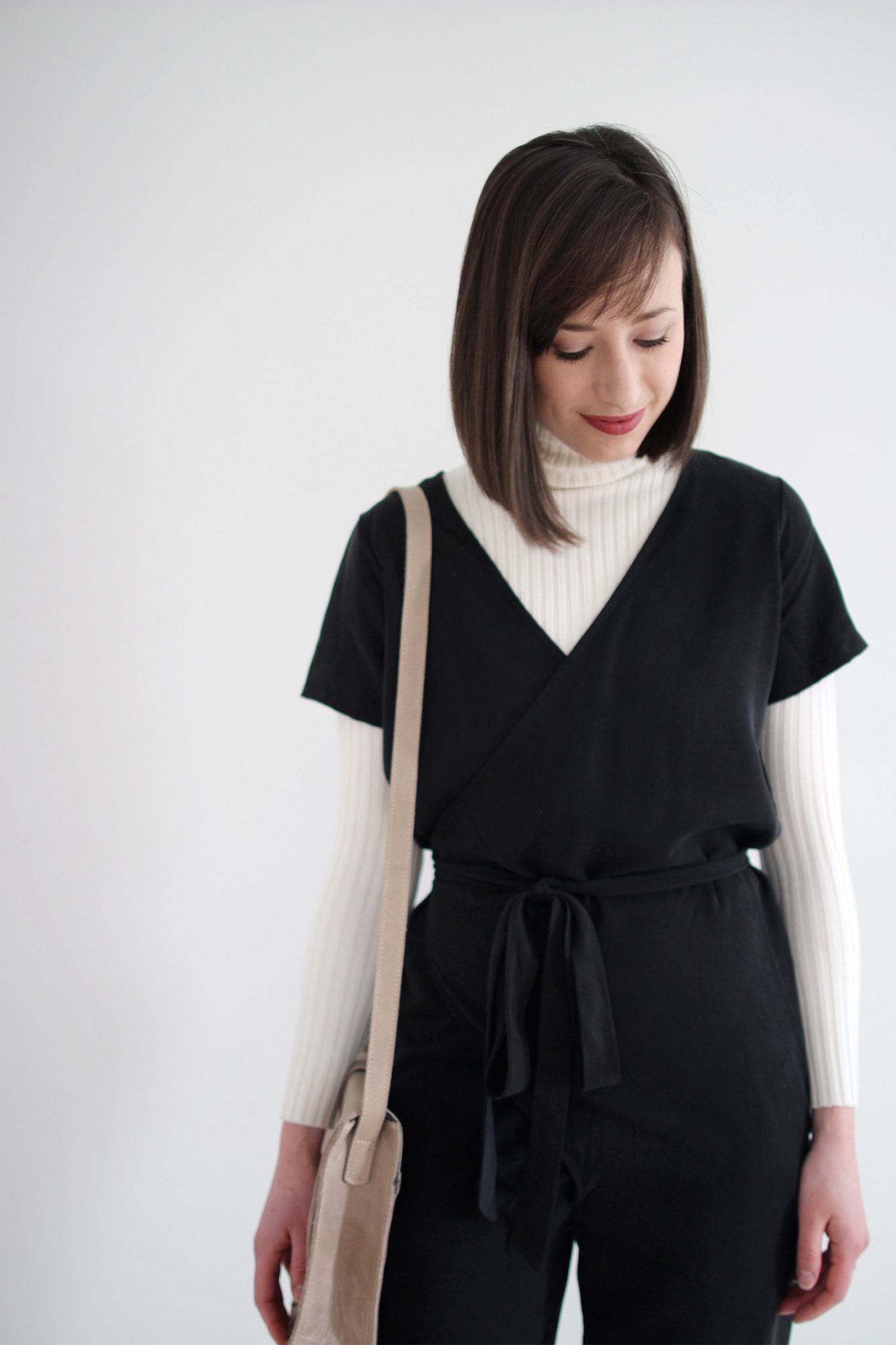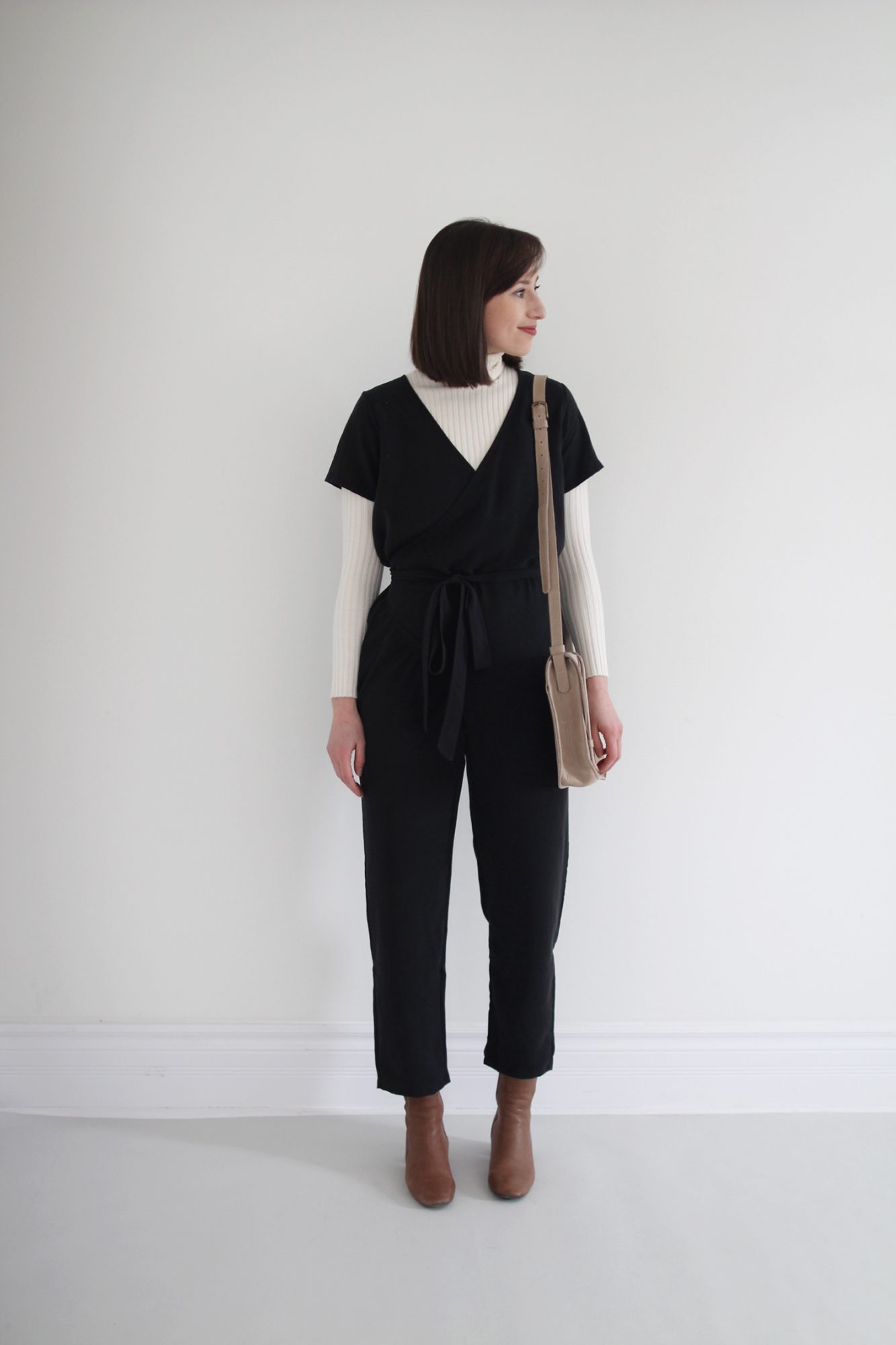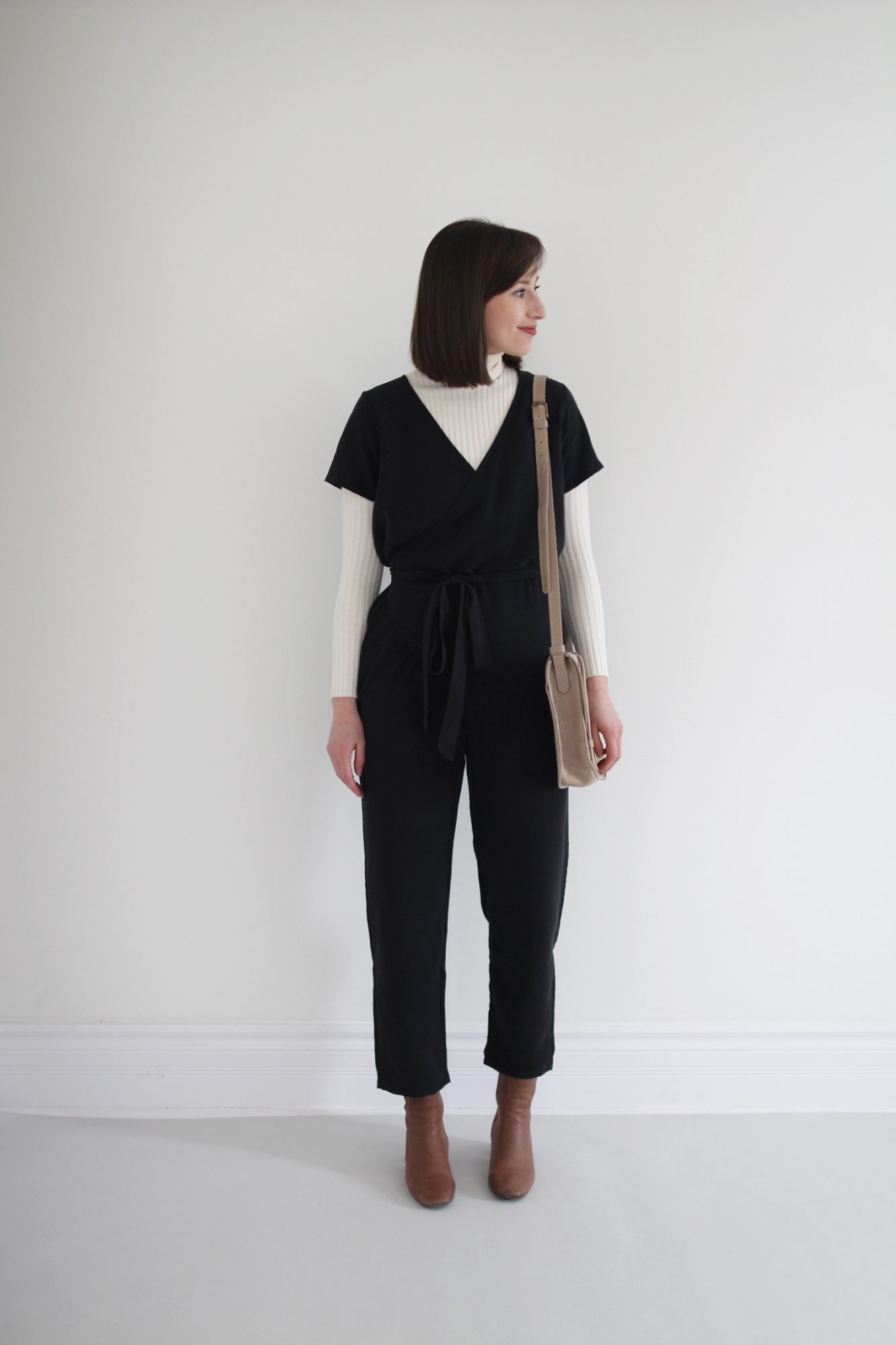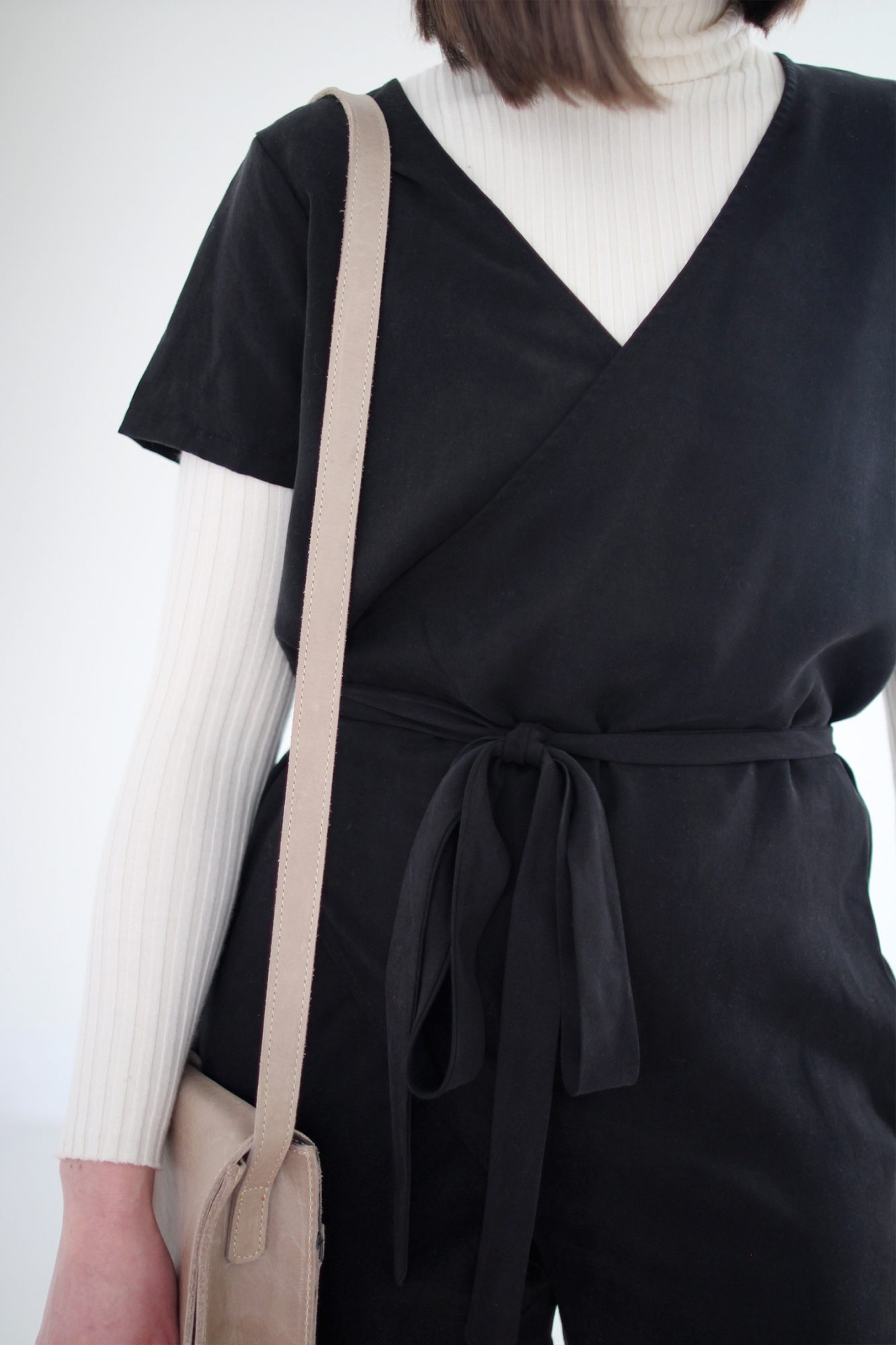 ---
INITIAL THOUGHTS: I had this jumpsuit in mind for warmer weather use but wanted to see if I could make it work for winter with boots and a base layer. I like the end result visually but it did feel a touch fussy with a layer underneath a wrap top and pockets. A bodysuit would have been better but I rest my case that this piece can indeed be made cold weather ready!
PROS: Again, the Tencel Twill used on this piece and the Ryan Trouser is beautiful and feels really great on. It glides on the skin and yet it doesn't feel nearly as 'precious' as silk.
The next detail is both a pro and a con for me, which is the pockets. They definitely improve functionality and help when it comes to what to do with your hands in a photo but ultimately I find pockets on something like this jumpsuit to be unnecessary. I know, I know, everyone loves pockets but I rarely ever use them! You can see it best in the photo one up from the one above, but the pockets add volume in the hip area where I'd prefer to have the pant fall smoothly along the upper leg. This is not a deal-breaker at all though and if I were to keep this jumpsuit I'd probably just have my tailor delete the pockets all-together.
CONS: Despite it having viable layering potential, this piece would likely end up hanging out in the warmer weather section of my closet. Not the end of the world but that does limit its use for me. I'm also inclined to go for a wider leg on a jumpsuit and when I compare the tapered leg to the wide crop on my linen jumpsuit I prefer the balance of a wider cut. I still think this cut is flattering of course!
---
---
LOOK 6 – STELLA JUMPSUIT
---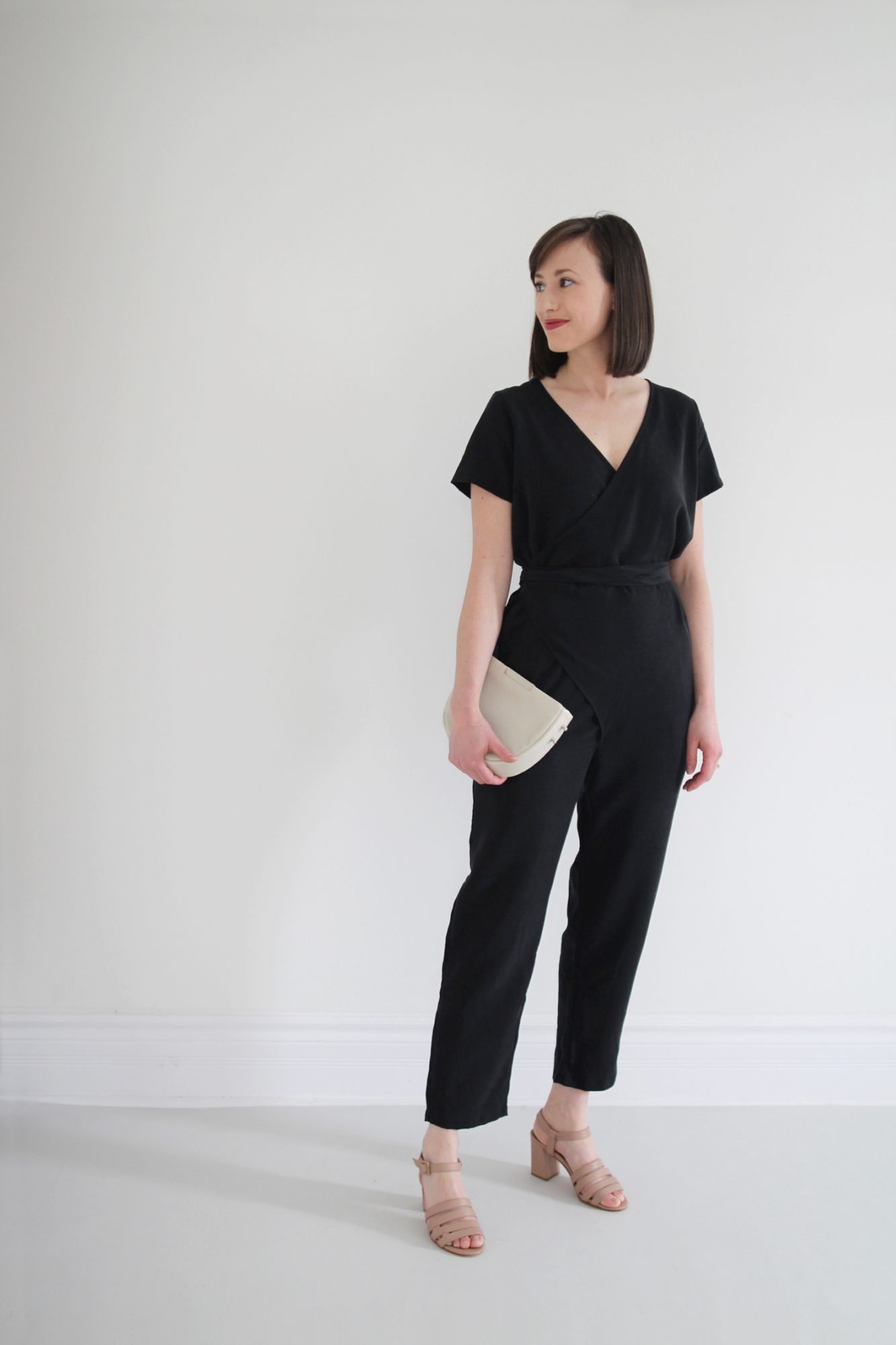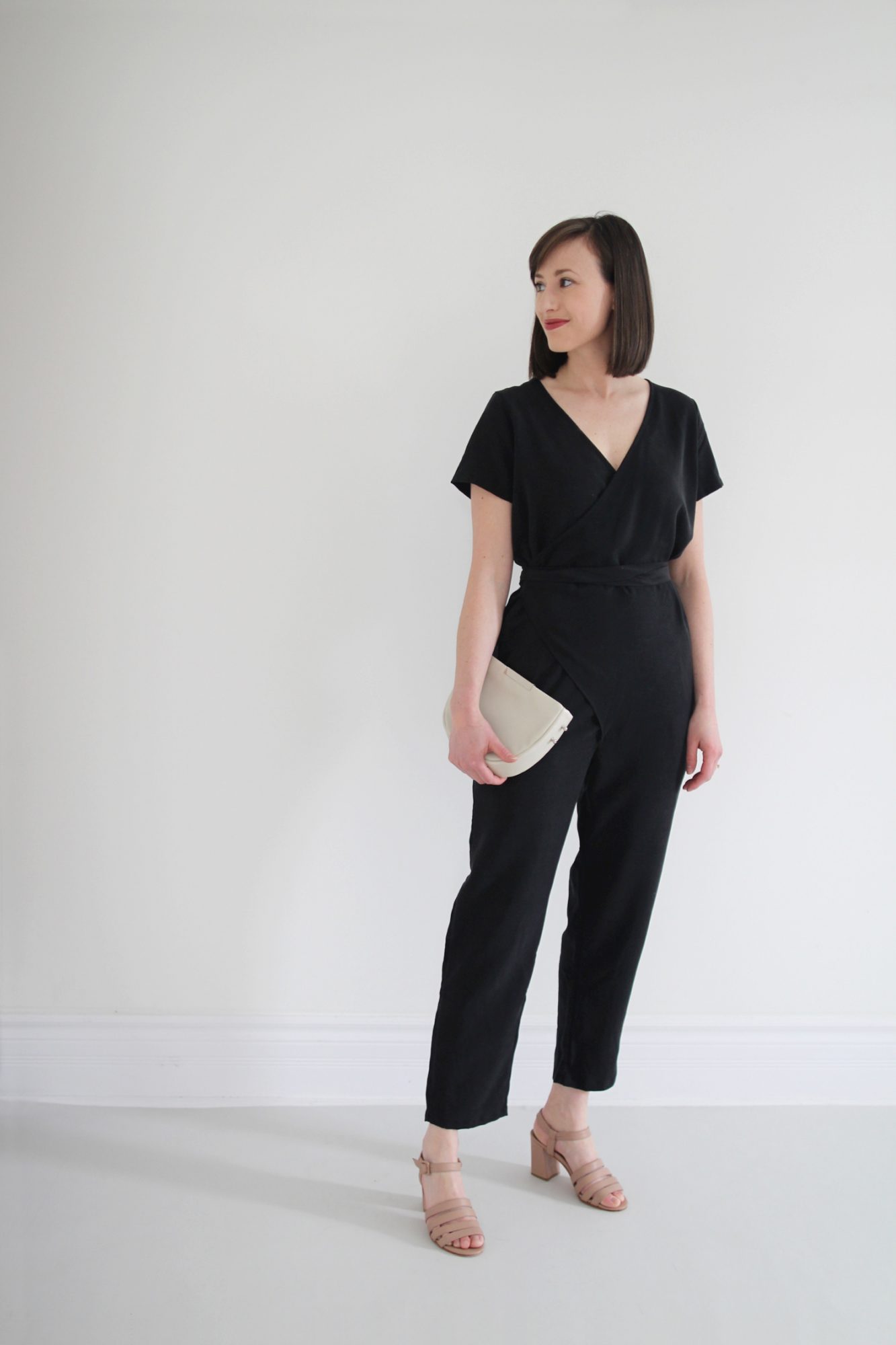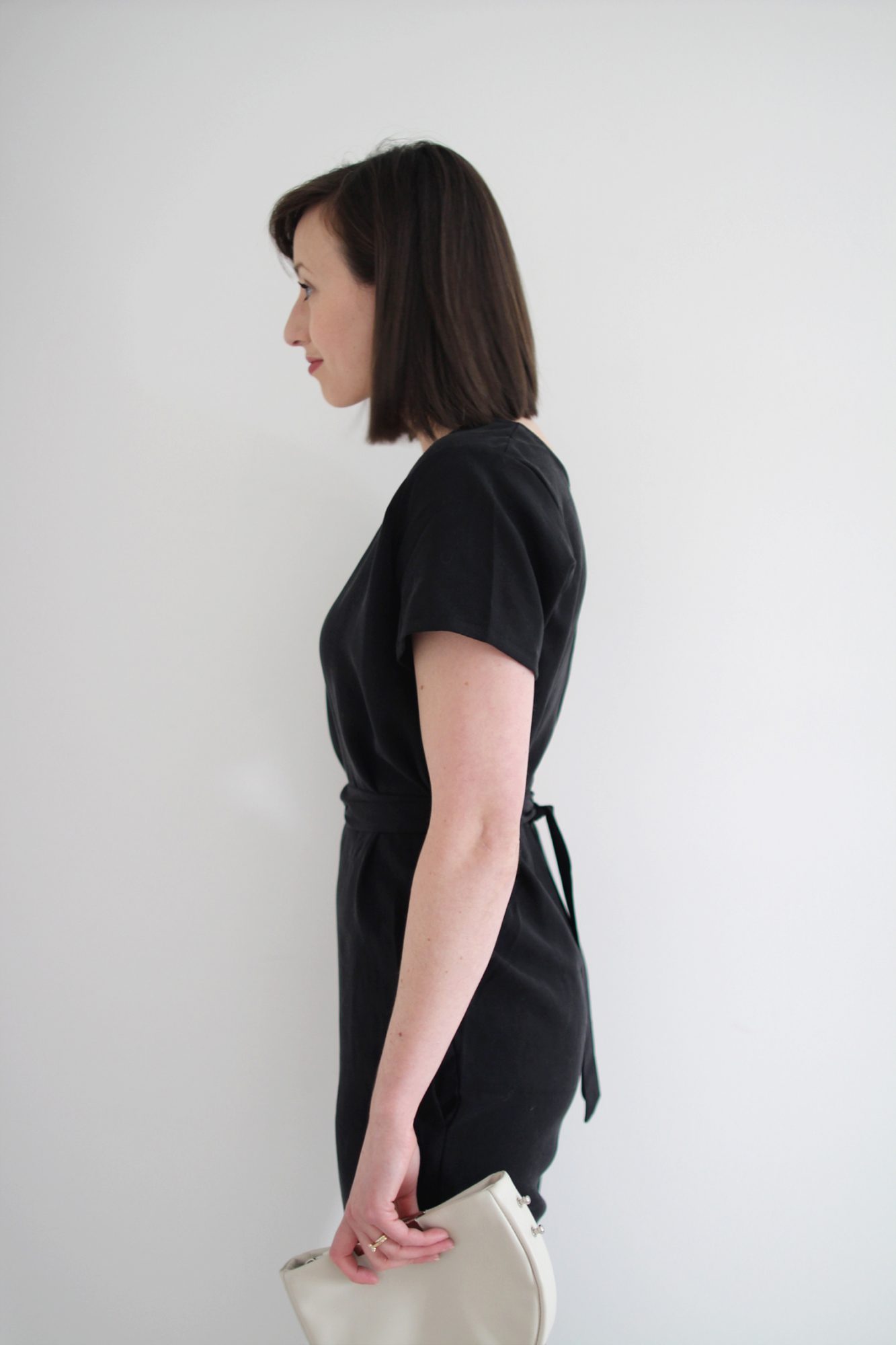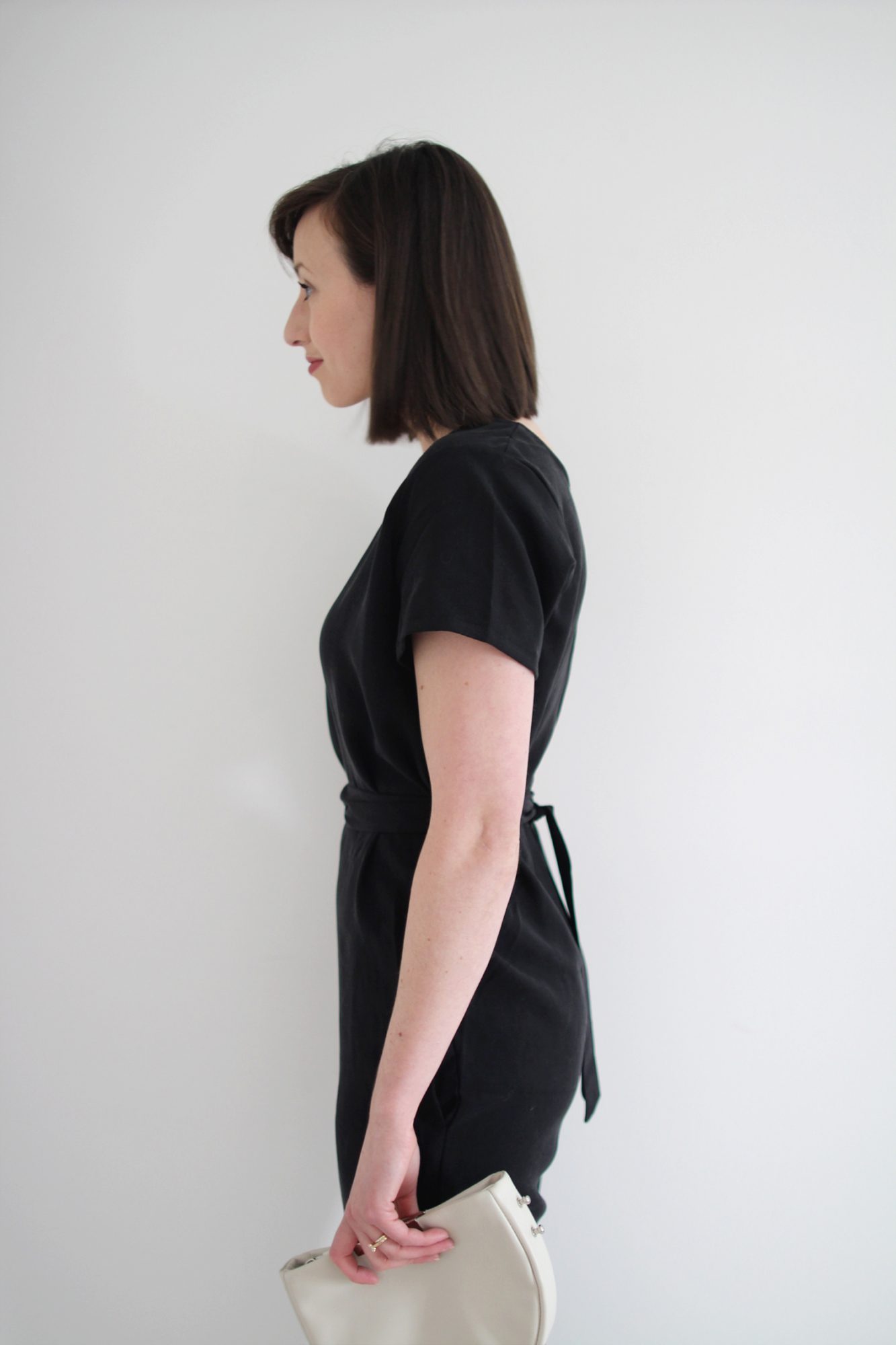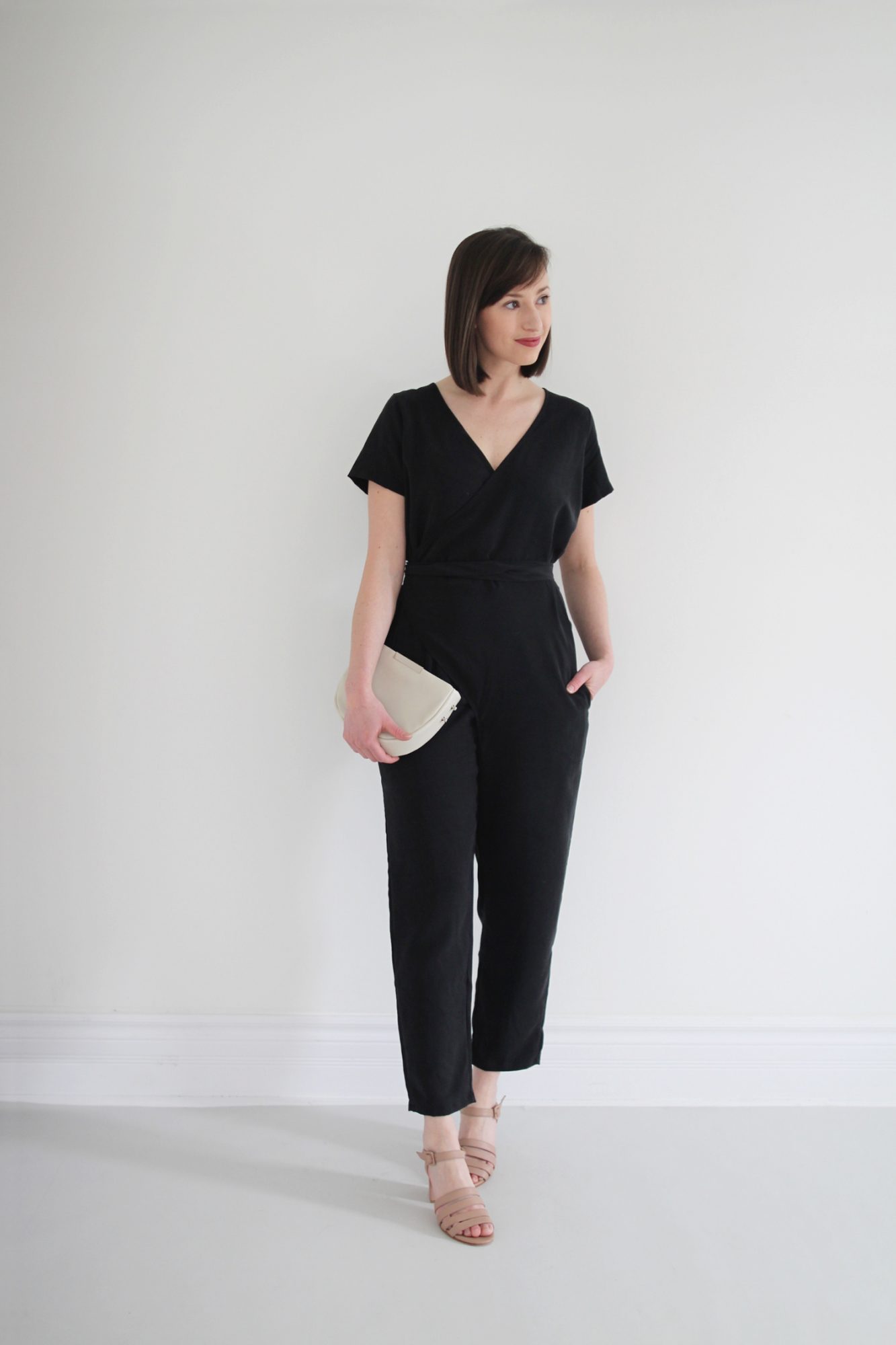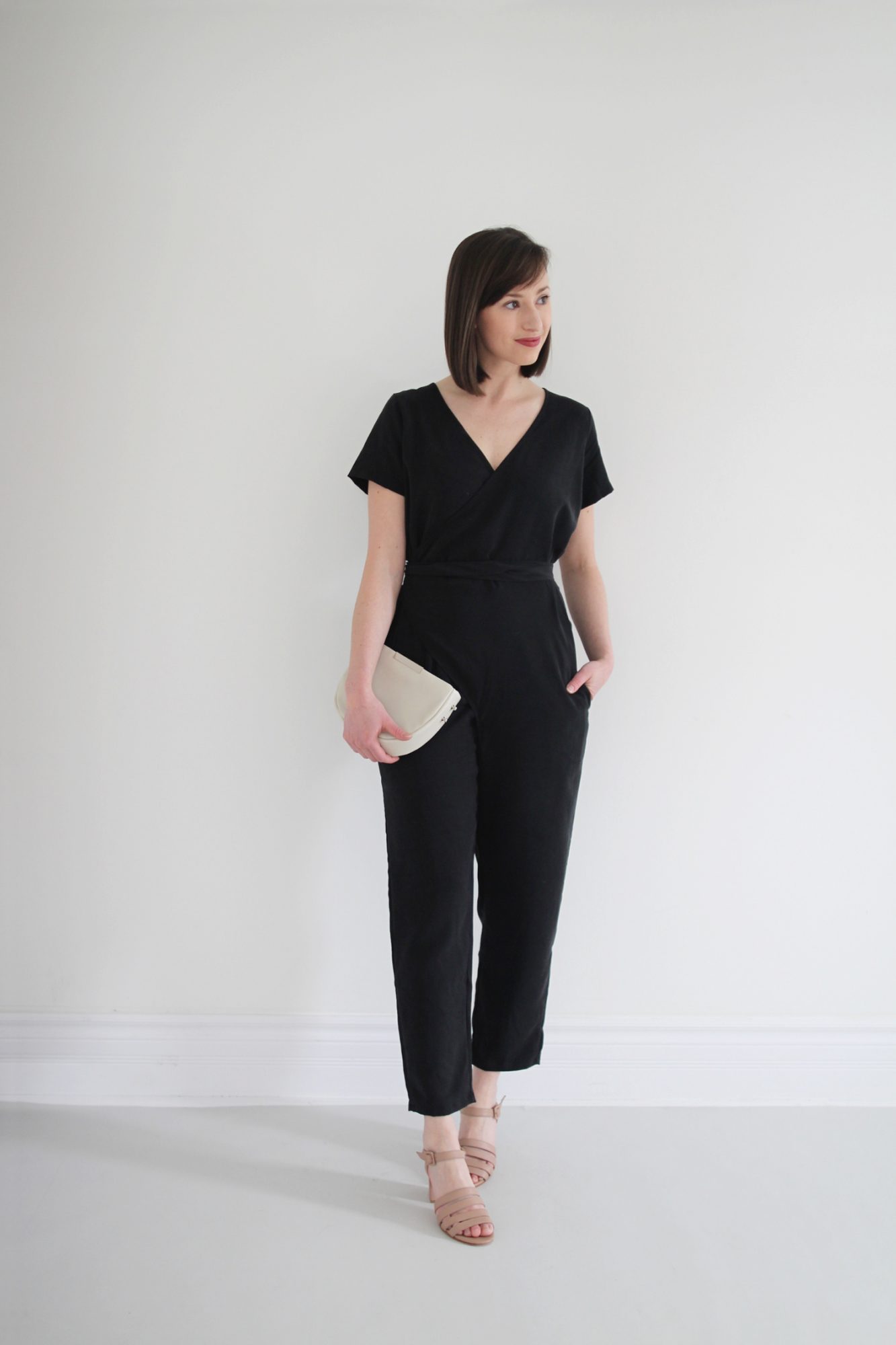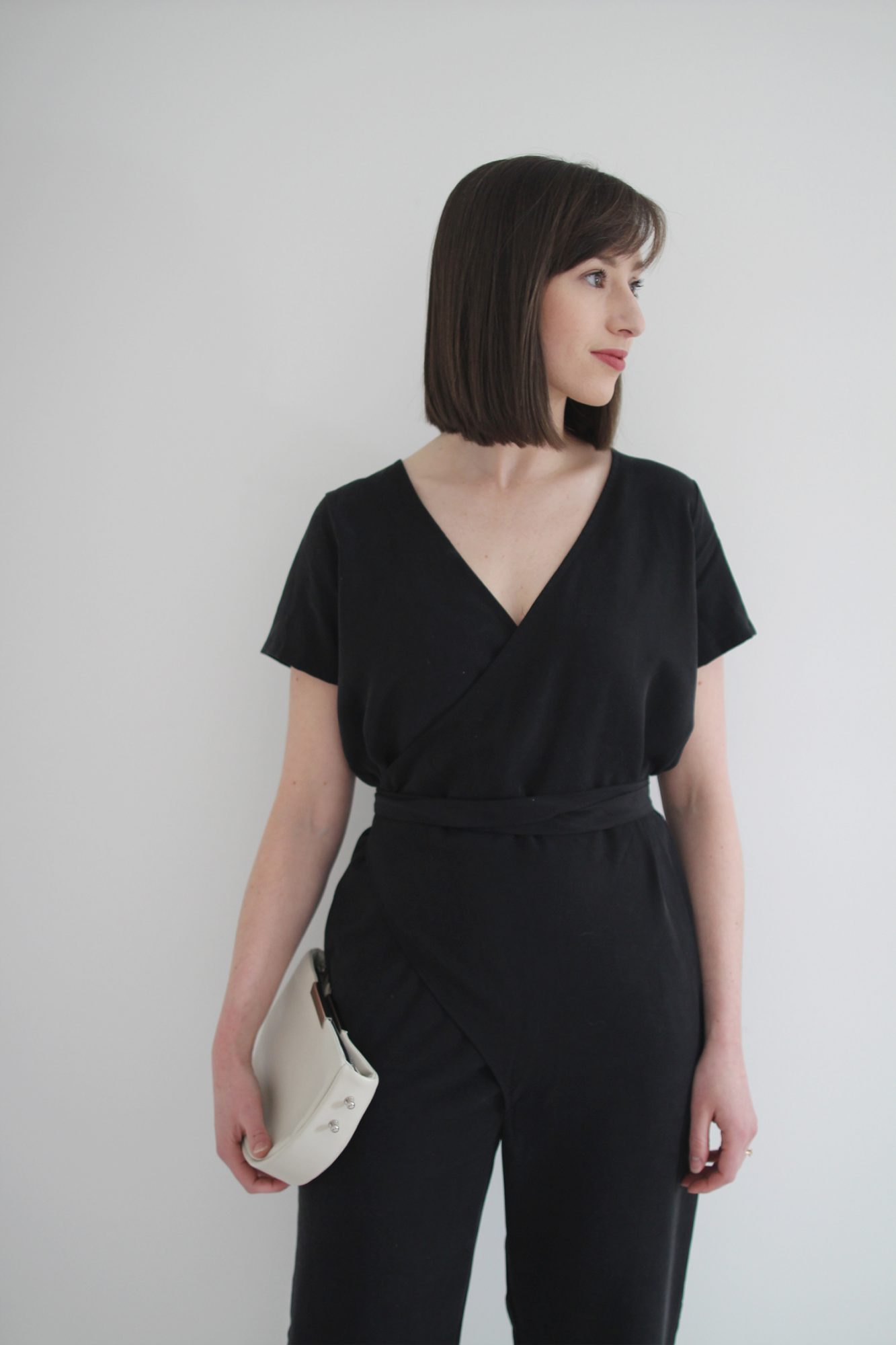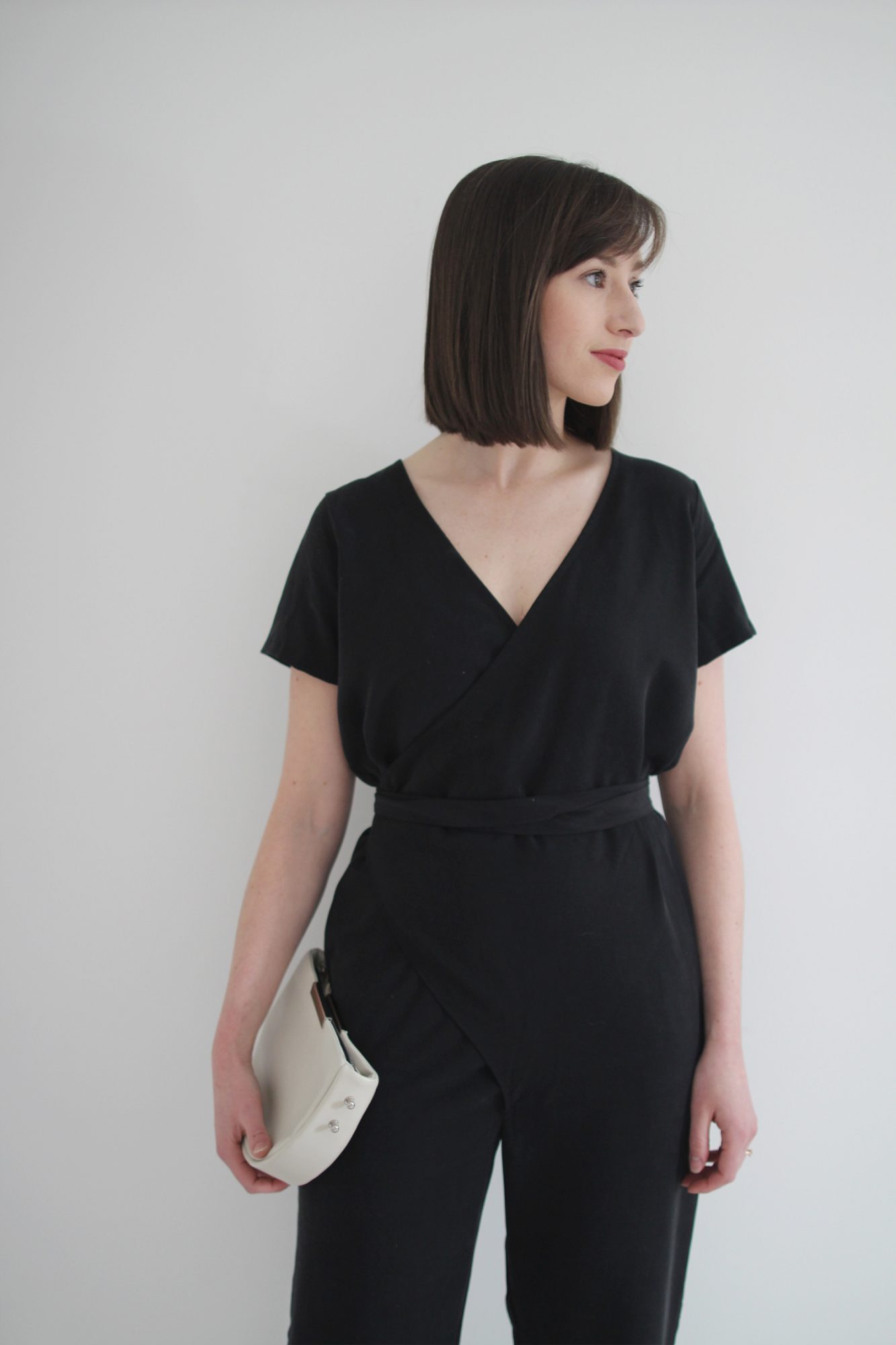 ---
INITIAL THOUGHTS: This look was what came to mind first when I saw the Stella Jumpsuit in the Live Collection. It's just such an elegant one-and-done option for any sort of dressy occasion. It's simple but striking and so darn flattering it's silly! This is basically the perfect wedding guest or party look for someone (like me) who wants to be super comfy and still look chic as hell.
Fun fact: these are the heels I wore on my wedding day and I bought them with the intent of wearing them again many times.
PROS: Similar to how it feels, this jumpsuit looks really lovely on too. The neckline and short sleeves are very flattering and the v-neck is just deep enough to be demure without becoming scandalous. I love the different ways you can tie the wrap belt to create a super slimming visual midpoint like this or into a bow for a focal point (as per the first look).
CONS: Going to the bathroom in a jumpsuit is never easy and that remains the case with this one. You don't have any zippers to worry about which is great but keep an eye on the long wrap ties for sure!
This is getting nit picky but the point where the two front panels overlap at the crotch feels as though it could pull open slightly if tension was placed on the pockets. For instance if I put both my hands fully in the pockets and pulled outwards that would cause a gap to occur. This might be solved by trying the next size up but it doesn't feel tight through the hip it just feels as though there should be a bit of additional fabric for more overlap.
---
---
I guess it's decision time now! Can you guess which piece I've decided to keep?
---
DRUMROLL PLEASE…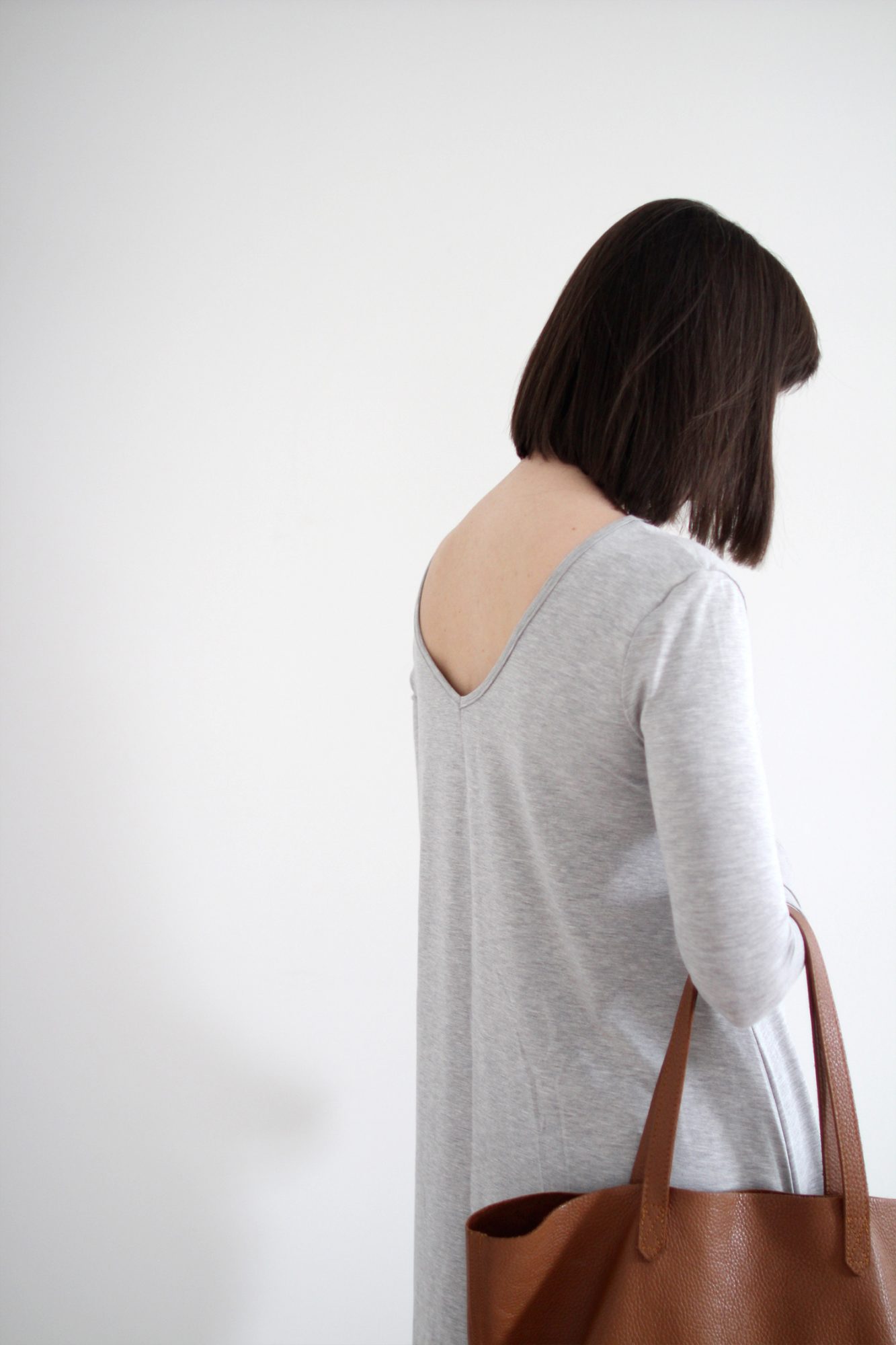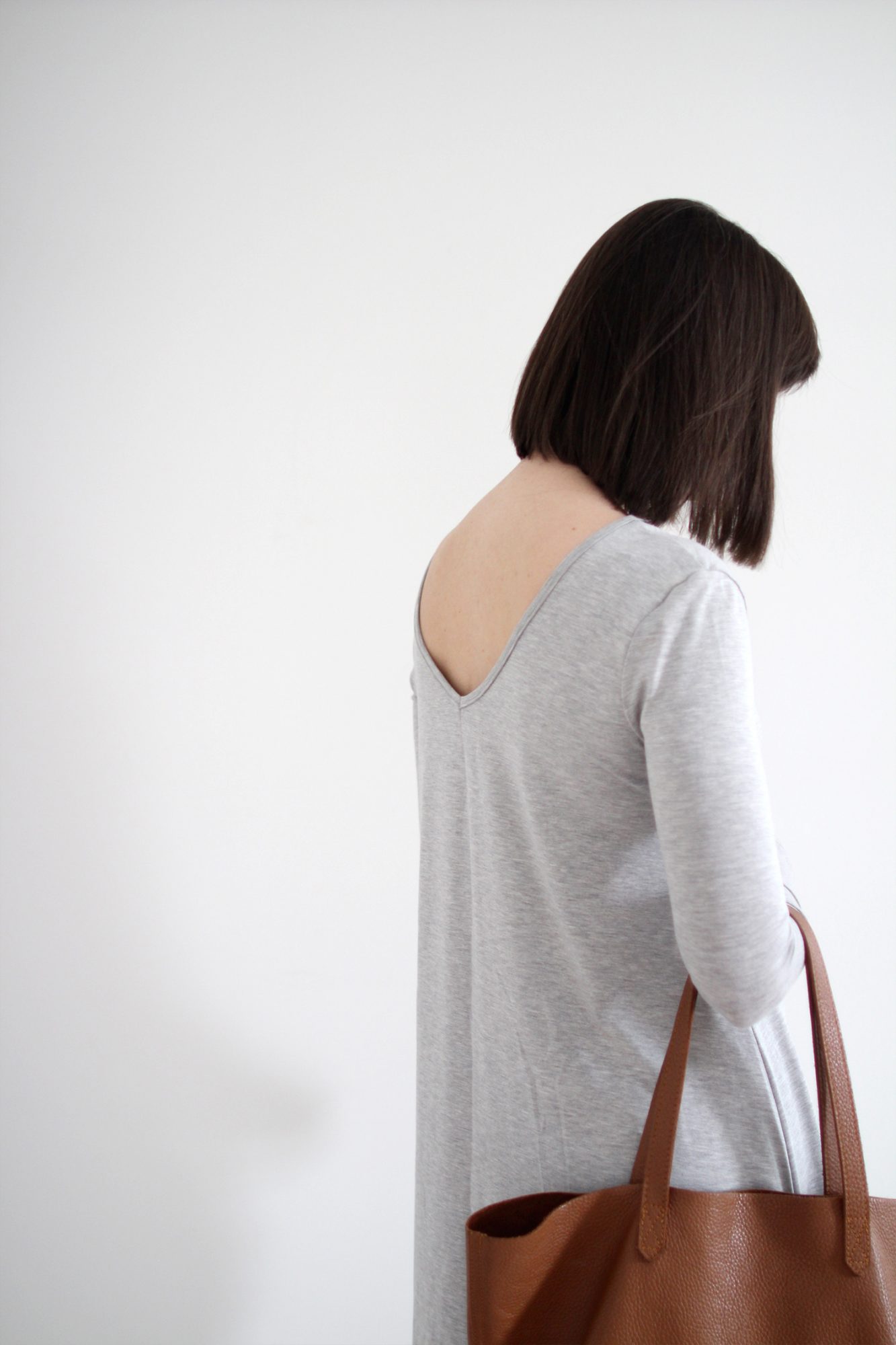 ---
THE HEATHER DRESS!
Honestly, I went into this collaboration thinking it would be the Stella Jumpsuit for sure but this little number totally won me over. I really didn't want to take it off after shooting these looks so I decided to take that as a sign. I'm also thinking it'll be a great addition to my West Coast capsule and pair perfectly with a raincoat and wellies! All three pieces were beautiful and so much fun to style and play around with.
Huge thank you to SOTELA for the opportunity to play dress up and share some candid thoughts!
---
GOT A FAVOURITE LOOK TODAY OR PIECE FROM SOTELA? I'D LOVE TO KNOW WHICH ONE IT IS!
---
Valid through Monday February 12th, 2018
---
This post was produced in partnership with SOTELA and contains affiliate links. When you shop via the links above I may make a small commission from a sale. Thanks for supporting the brands that support Style Bee! As always all opinions are my own.