Happy almost Friday everyone! We felt some proper Fall temperatures this week, which had me raiding my stash of knits and cozy layers. One that instantly caught my attention was this oversized grey sweater from a collaboration I did with VETTA last Fall (catch that post here) so I pulled it out and started playing around with outfit ideas. Right away I was reminded of why I chose this sweater over the others and just how much it can do! Serendipitously, I caught wind that it was being restocked today (along with the entire Minimal Capsule) so I decided to revisit this special piece since many readers missed out on it last Fall.
Why is this sweater 'special'? Well, I went into the nitty-gritty details last time with lots of pros and cons but the short version is that it's:
Super versatile and a joy to wear, which VETTA pieces always are.
Made responsibly in NYC.
99% organic cotton (with 1% elastane for stretch) and machine washable.
A steal at $159 USD.
Finding responsibly made knitwear at an approachable price-point is no easy feat so I felt compelled to revisit this one. Alas, today's post is all about three new ways to style this past Fall closet favourite. Even if you're not in the market for a new sweater, I'm hoping this post might inspire some styling ideas regardless! So let's have a look.
---
LOOK 1 
---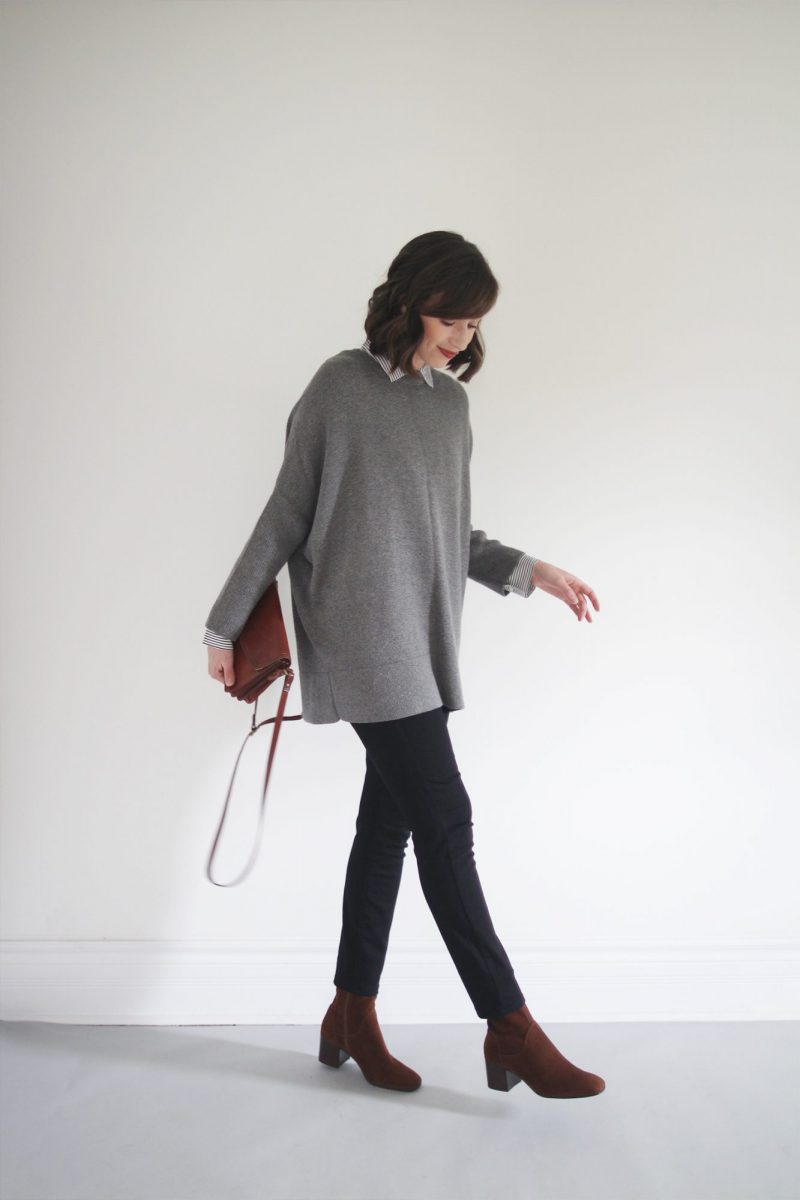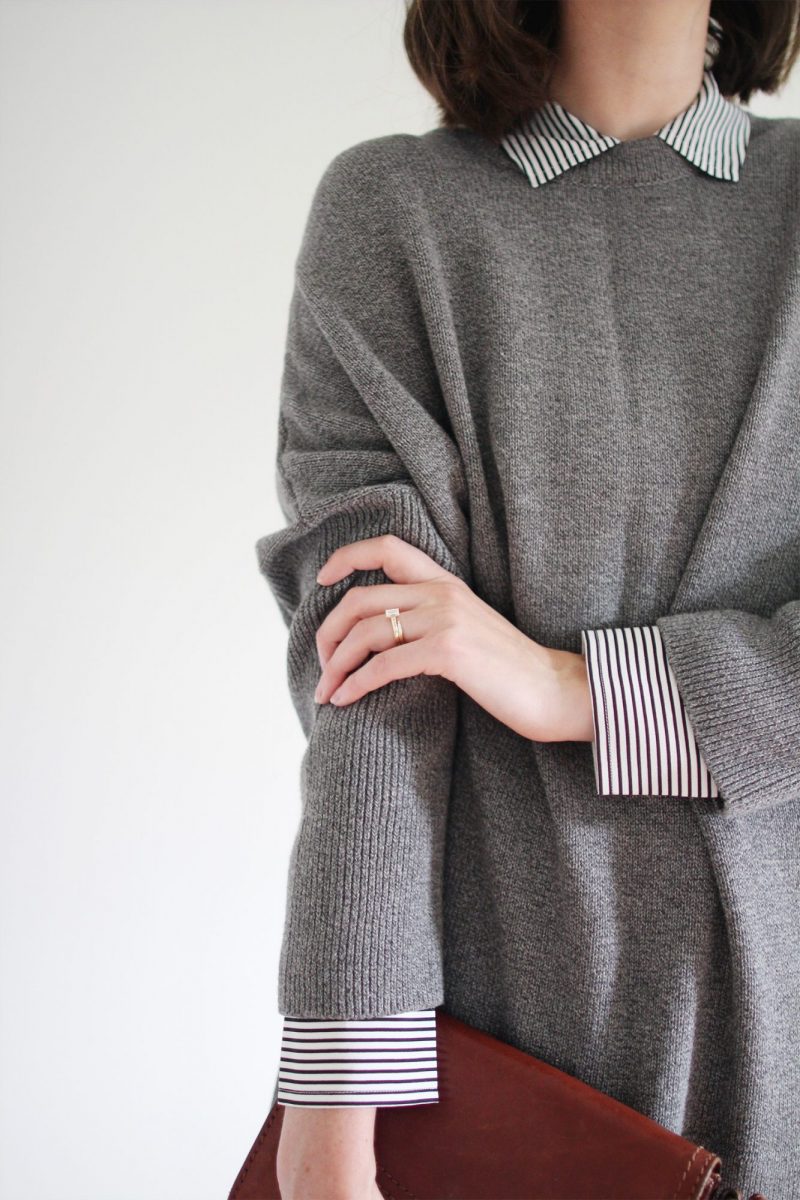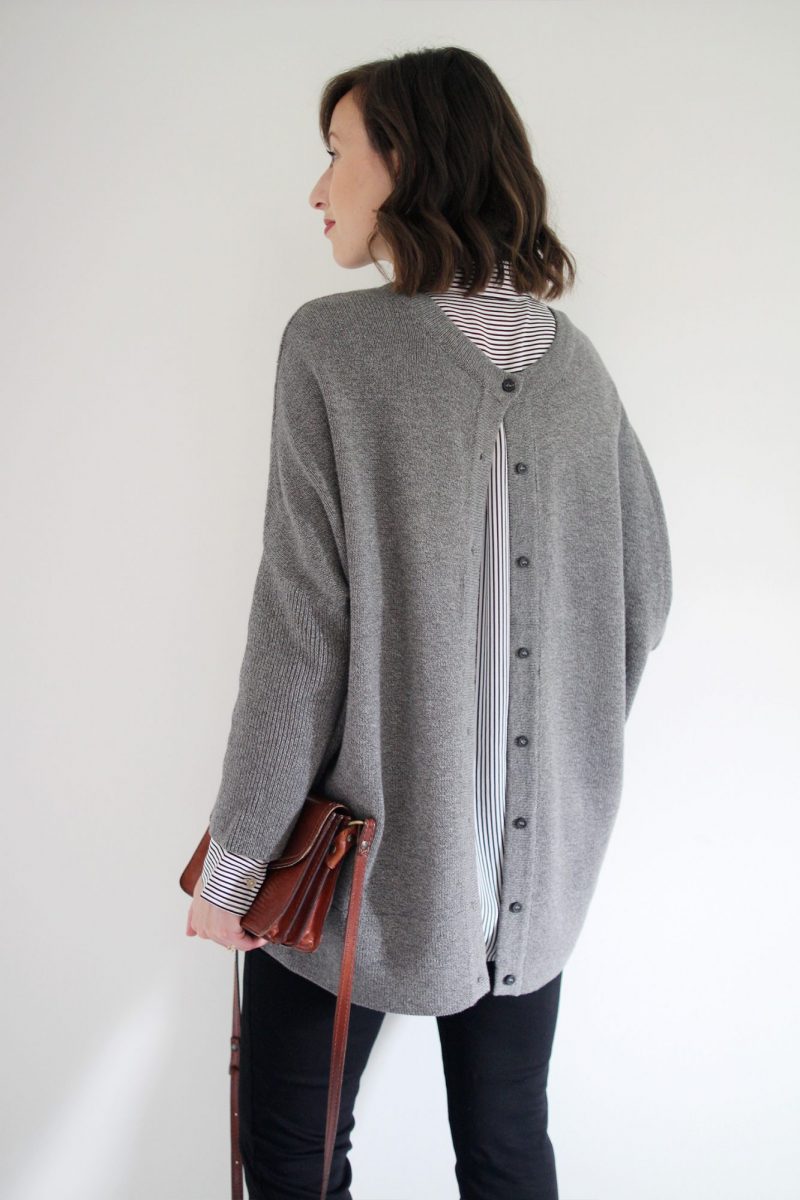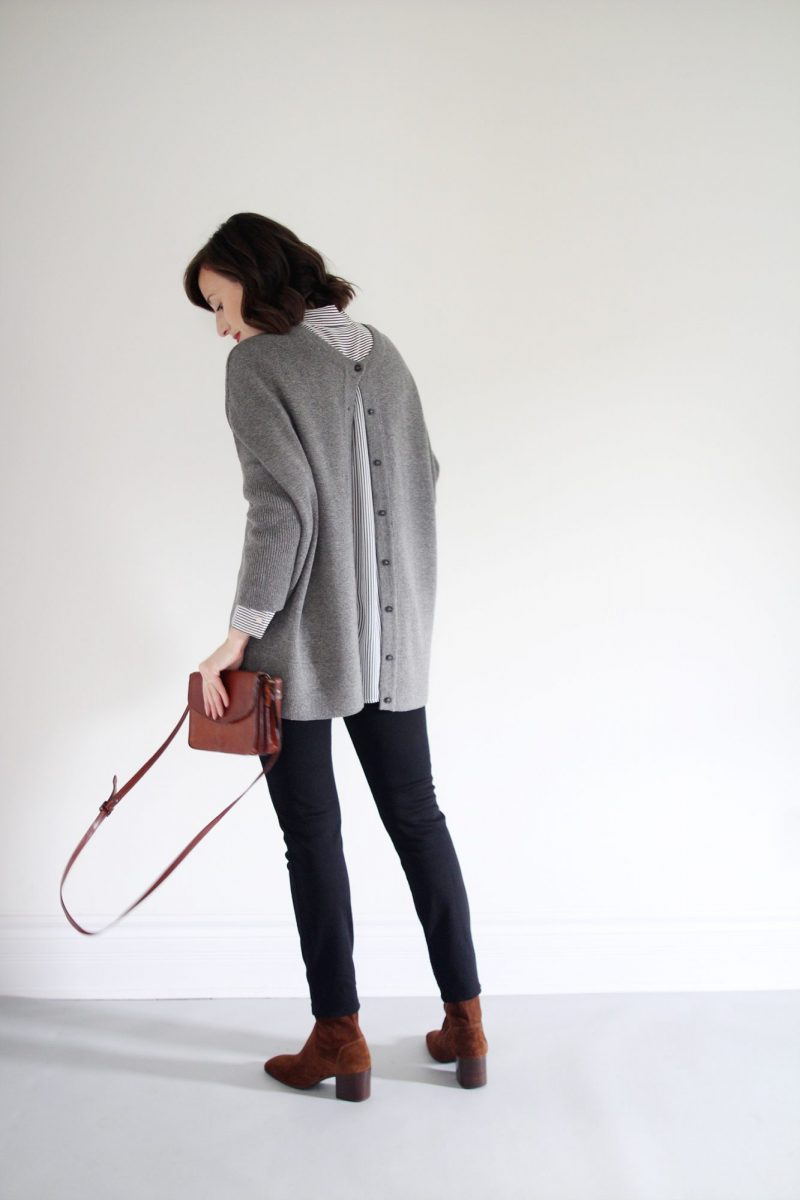 ---
THOUGHTS ON LOOK 1
---
For this first look I had to try it with the back worn open all the way except for the top button, which reveals my striped shirt underneath. I'd never thought of wearing it this way but I love the result!
FAVOURITE ELEMENT: I love how clean and polished it is from the front while this fun and unexpected reveal is just chilling around back. The way the striped silk and the weighted cotton move together it delightful too! Check out my stories for this one in action.
GREAT FOR WORK: Paired with some skinny black pants, sleek suede boots and a vintage bag this look is perfect for a work day in just about any office!
SPECIAL DETAILS:
1 | The sleeves on this sweater are slightly cropped which keeps them out-of-the-way but also makes layering long-sleeved items a breeze! I love how the striped cuff pops out below the sweater and connects the pattern with the collar reveal up top. This is one way I love to create continuity in a visually dynamic way.
2 | The length of this sweater is great for lots of different heights and sizes. I'm about 5'7 and it covers my butt and lands at my upper-mid thigh for a proper tunic length. I wear a size Small and you can see it on women sizes XS -XL right here.
3 | Brown tones add warmth and subtle repetition throughout the look through a chocolate suede boot, oxblood bag and a tawny red lip colour.
4 | Unrelated to the look, this sweater stored really well over the warm season. Aside from the front crease, which I left on purpose, it's in pristine shape. The crease will come out in the wash obviously but it's already falling out now that it's been released from it's densely packed storage situation.
---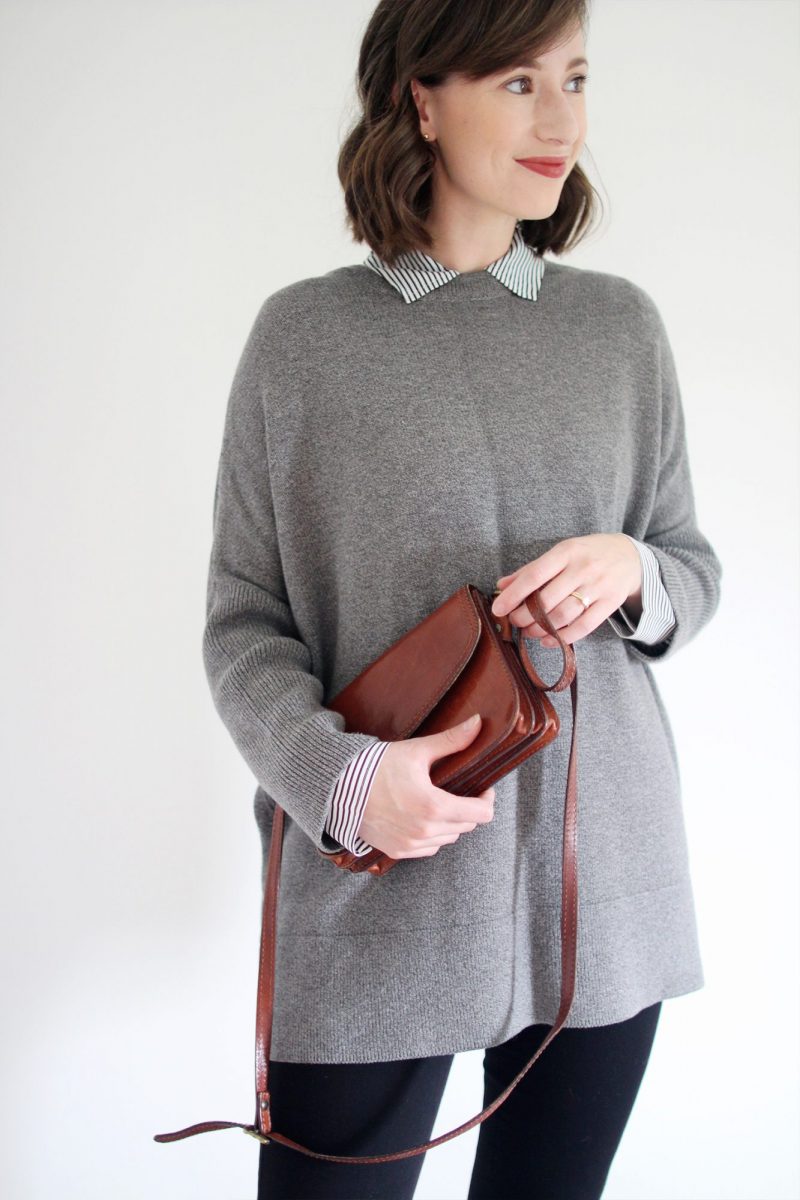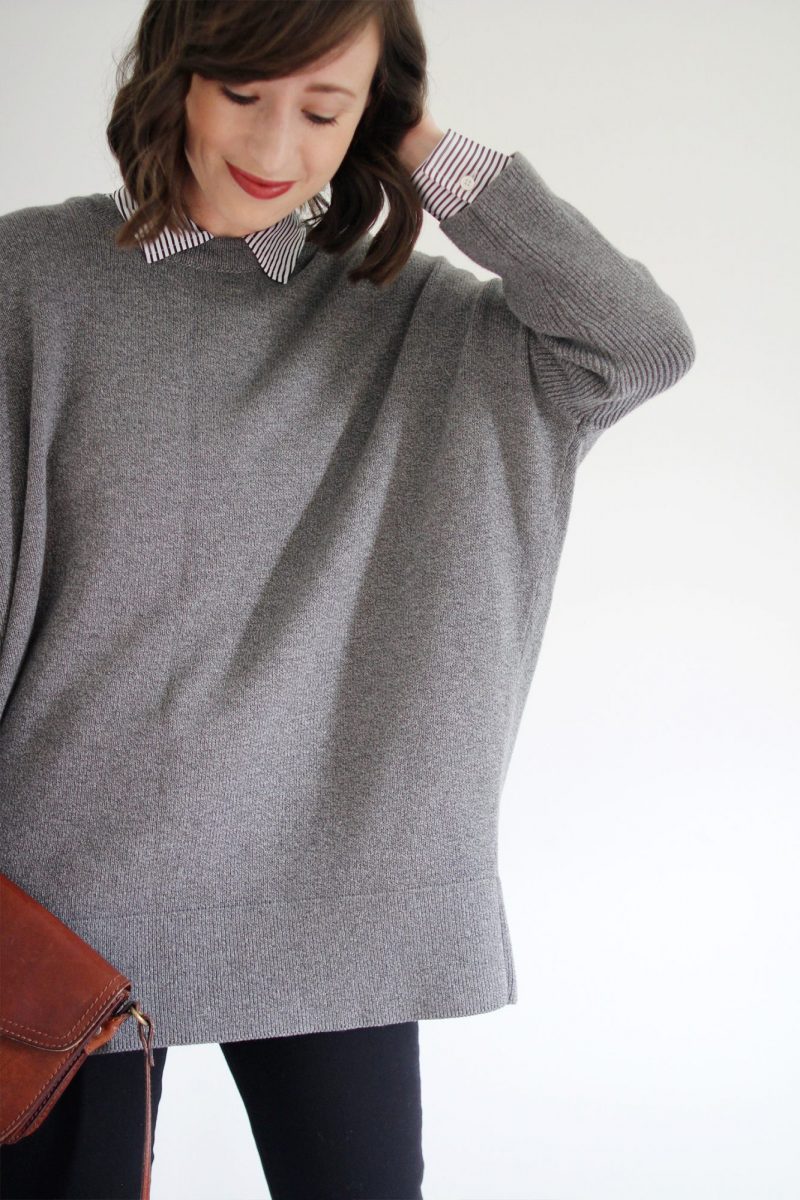 ---
---

---
LOOK 2
---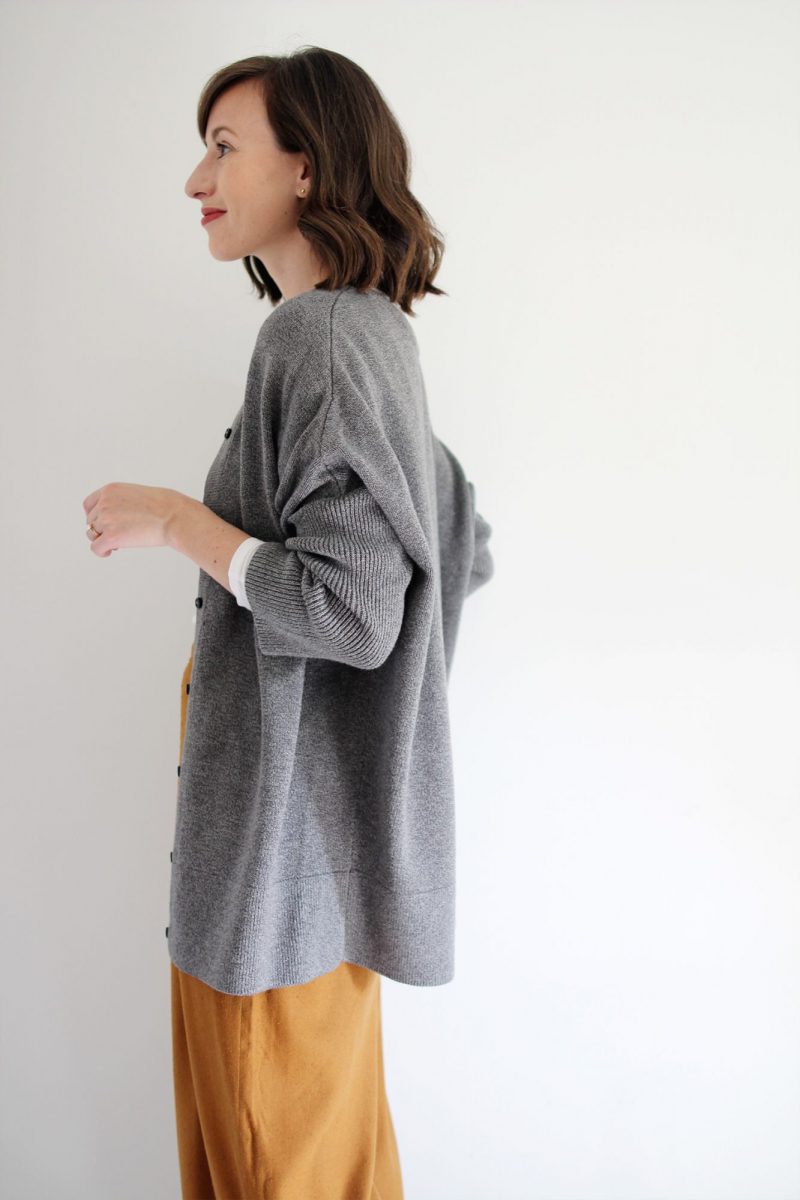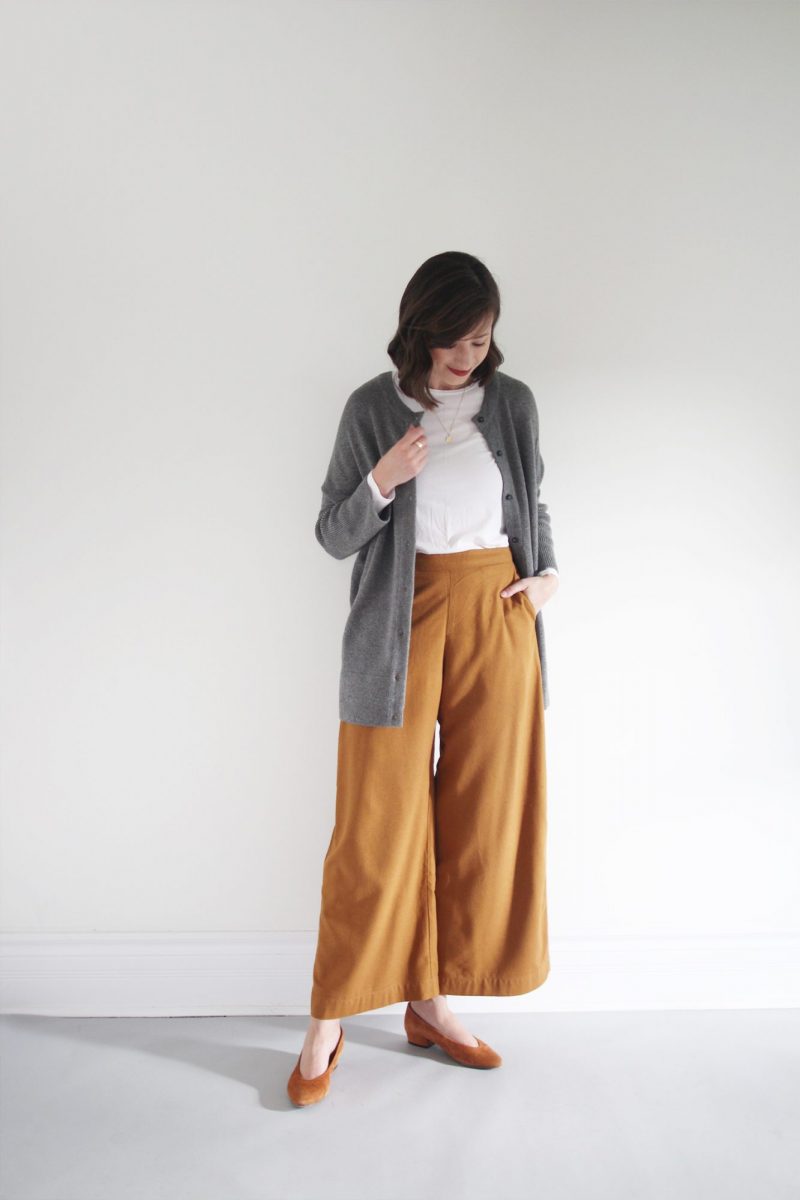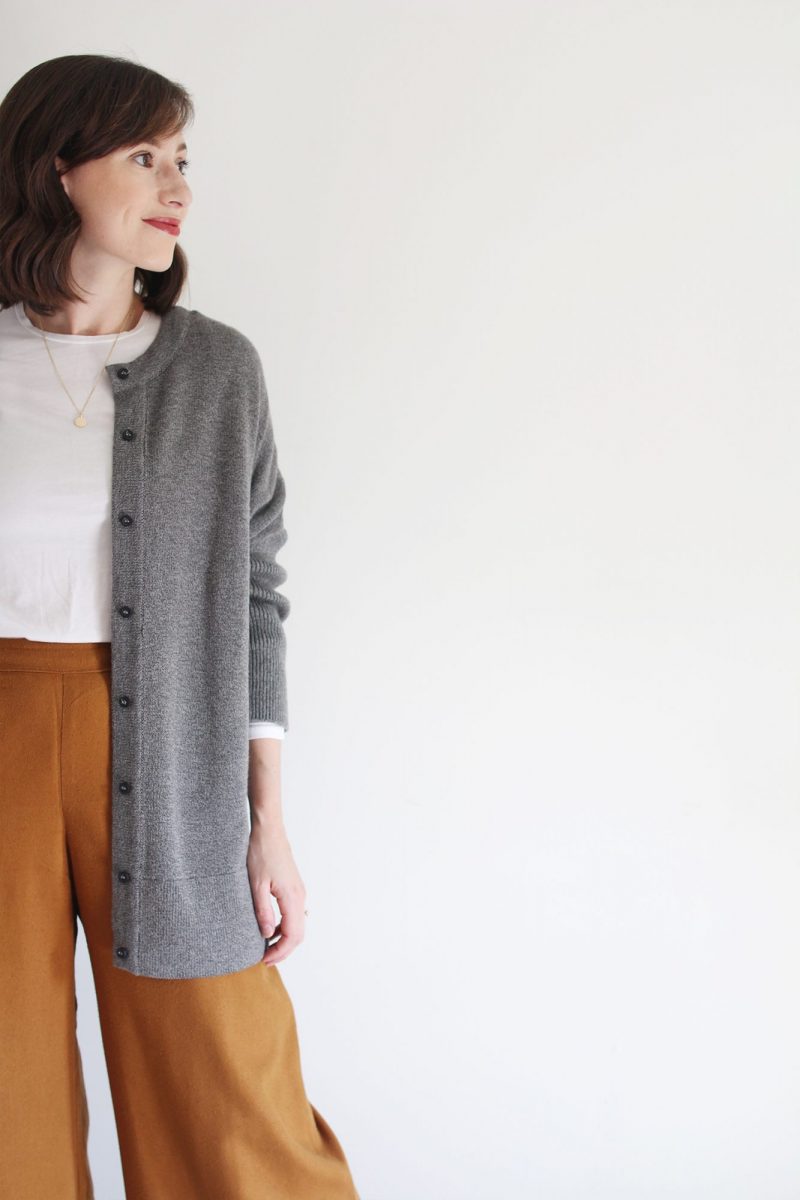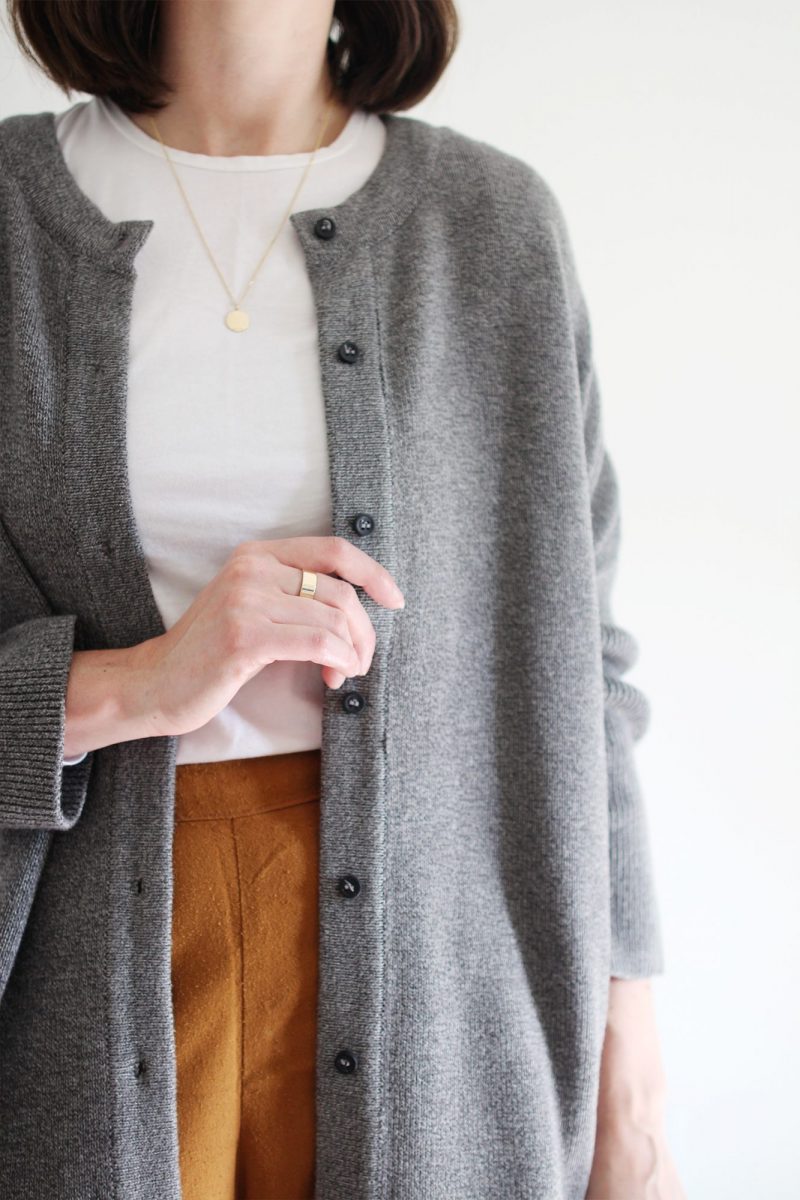 ---
THOUGHTS ON LOOK 2
---
This outfit came together by accident as I was lining items up on my clothes rack. I had planned to wear different pants (my silk flos) but was drawn in by these colours and had to give it a try!
FAVOURITE ELEMENT: I love the unusual colour combo but I'm really smitten with how comfortable this outfit is. In fact, I shot this one last and just stayed in it right until I went to bed!
GREAT FOR TRAVEL OR A CASUAL OFFICE: I think this look is perfect for a casual workplace but even better for travel! This would be so comfy and cozy for a train ride or flight but still polished enough to seem like you've got your life together (which I never feel like I do when I'm travelling).
SPECIAL DETAILS:
1 | Pushed up sleeves are perhaps the simplest but most effective of my sartorial 'tricks'. Just by adding that extra bit of scrunch the look feels more relaxed and lived in.
2 | A touch of gold jewelry elevates this look from a 'Netflix and chill' vibe to a 'totally presentable' one. It doesn't take much!
3 | This marled grey and umber are surprisingly complimentary colours. I probably wouldn't have tried them together were it not for seeing them side by side but I'm kind of into the combo! I let this unexpected palette be the star of the outfit by wearing a simple white tee and maintaining the umber tone through the shoe.
---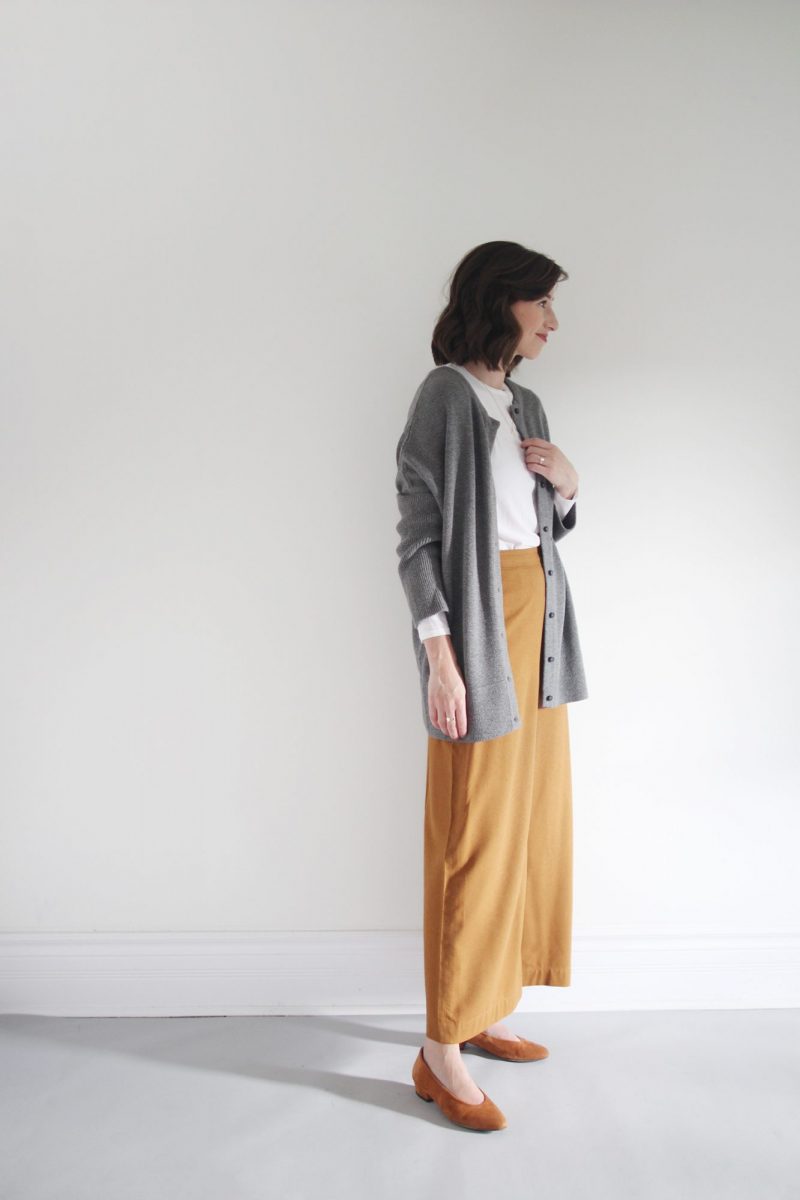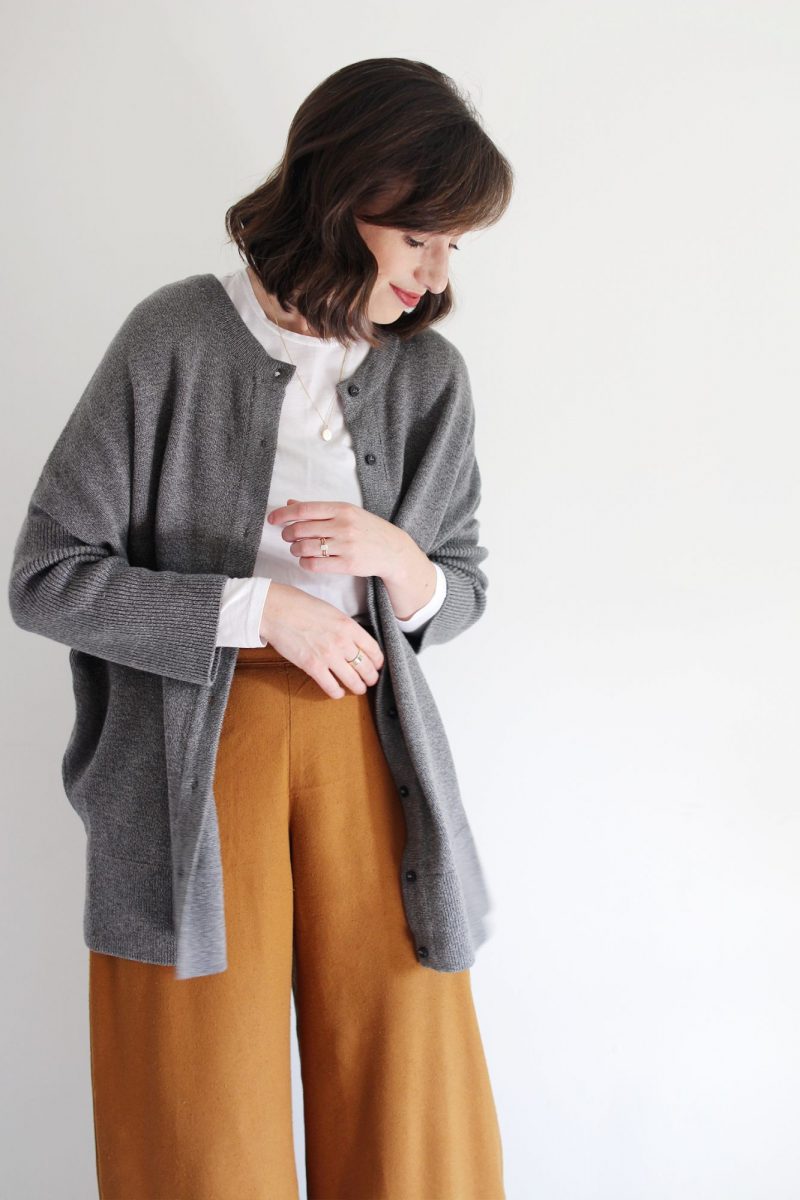 ---
---

---
LOOK 3
---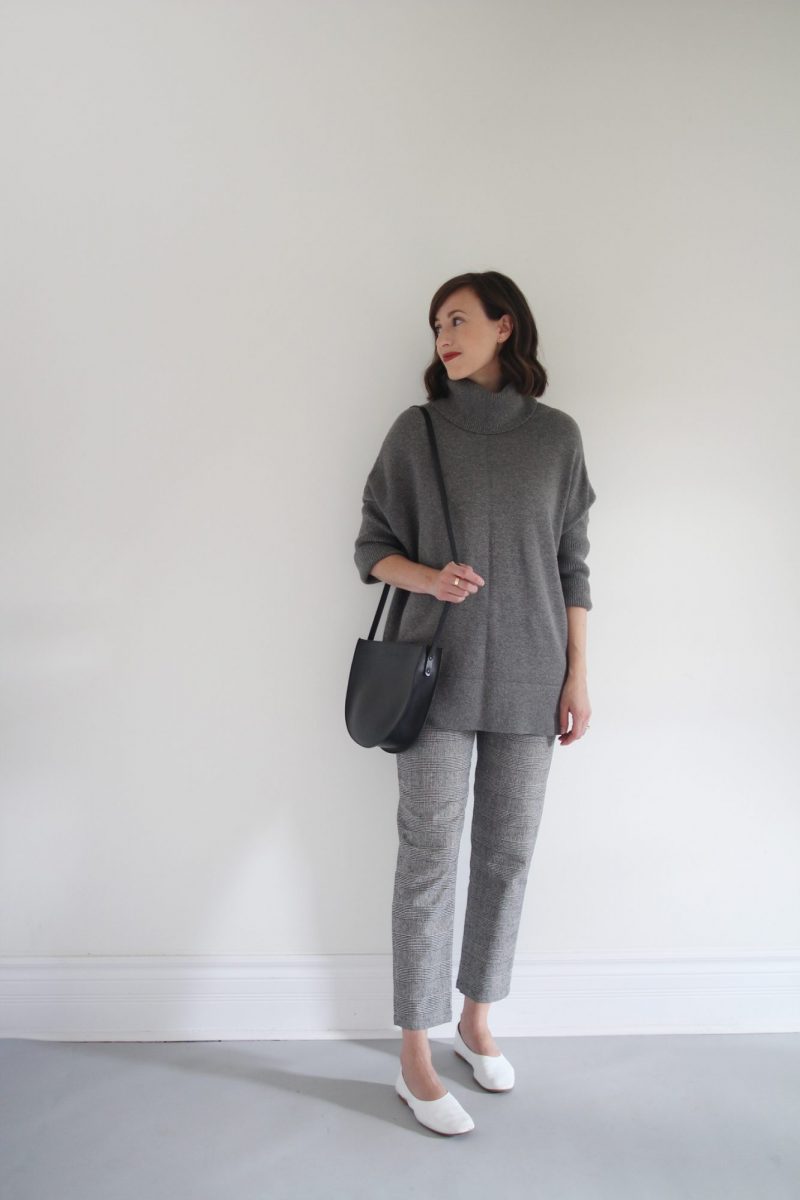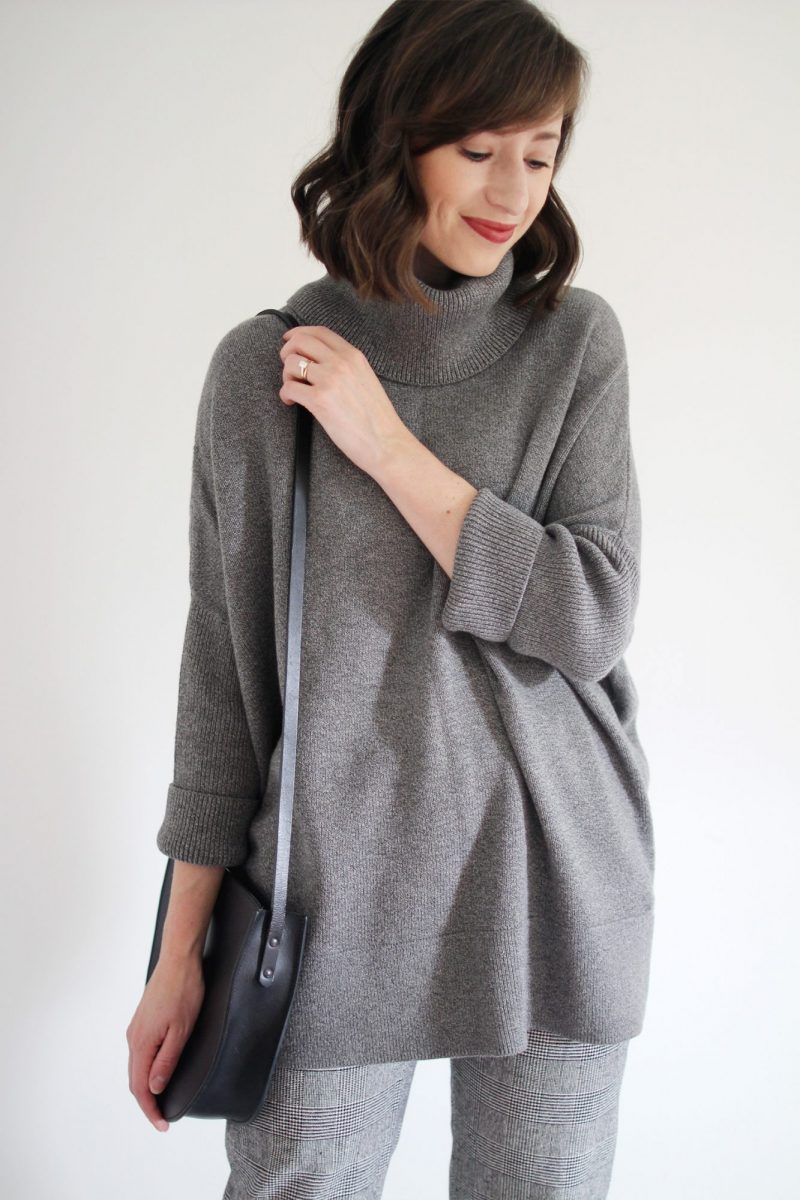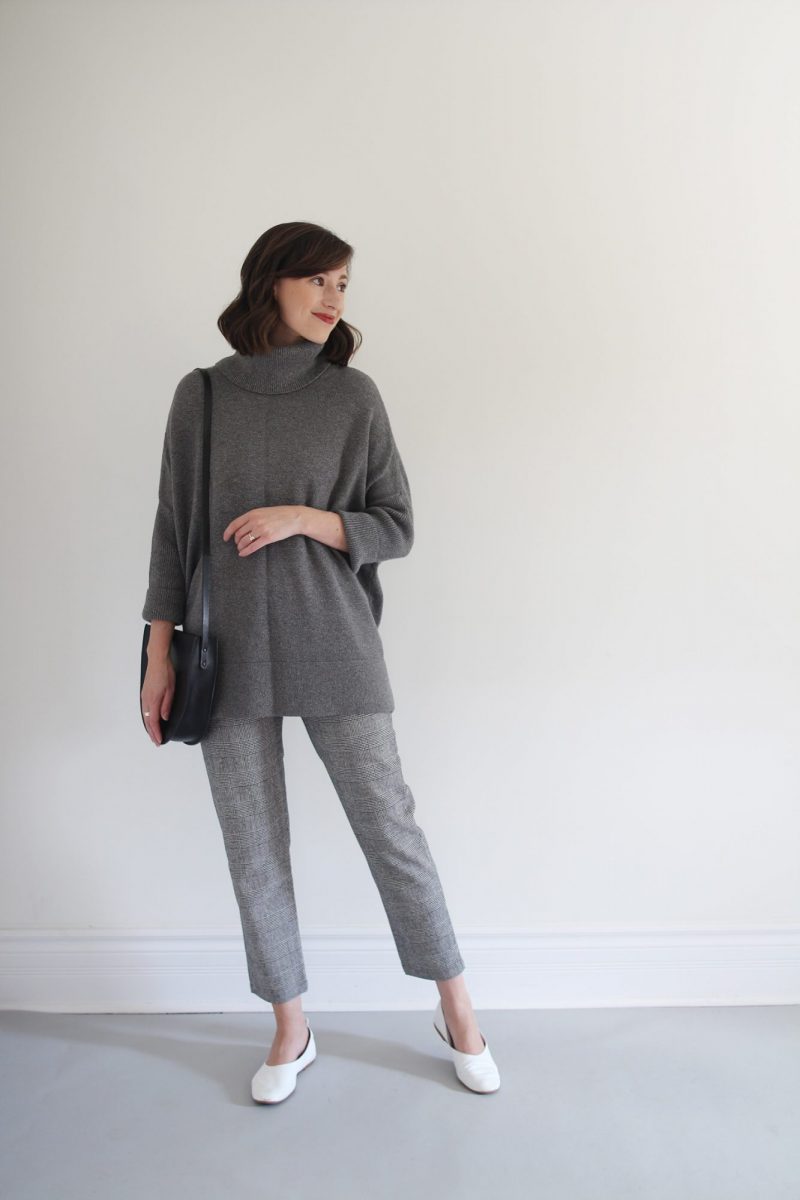 ---
THOUGHTS ON LOOK 3
---
After revisiting my post from last fall I really loved how Look 1 had come together with these plaid trousers and the black oversized sweater. I decided to see if I could swap in the grey version and switch up a couple of accessories to make it work. I dare say that it passes!
FAVOURITE ELEMENT: I'm so excited to try this styling trick out with other items in my closet.
EASY, WEEKEND OUTFIT: You could definitely get away with this for work or travel but I also think it's great for a weekend brunch, coffee date, market visit or errand run!
SPECIAL DETAILS:
1 | In person the contrast comes through better than in photos but I like the almost monochrome vibe that's happening with the marled grey and black and white plaid pattern. I added my Day Glove flats for a pop of fresh white and kept things streamlined with my favourite sculptural black bag.
2 | This optional turtleneck is genius and super warm. I can sort of see why I felt like it was 'overwhelming' in my review last year but I'm actually into the chunky, gigantic-ness of it this time around. So funny how our preferences change from year to year!
3 | I decided to embrace my newfound love of the detachable turtleneck and mimicked it by folding the sleeves up. I didn't even realize until I was editing photos that the 4 inch hemline (or whatever the proper term is on knitwear!) also ties into the theme. How interesting! 
---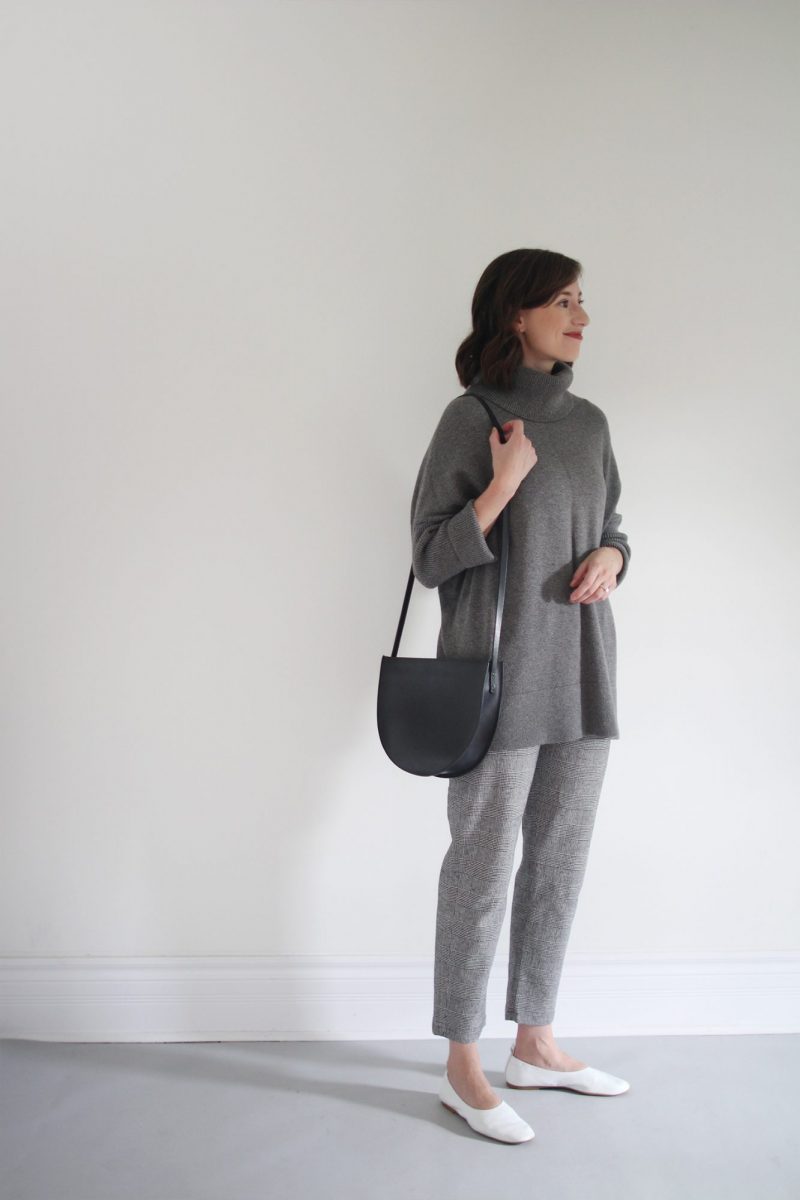 ---
---

---
If you love this piece too, you'll want to order ASAP because they sell out quick!
DO YOU HAVE A FAVOURITE LOOK?
I'd love to hear which pieces you're excited to pull out for Fall this year!
---
BE SURE TO CHECK OUT LAST YEAR'S REVIEW POST FOR 6 LOOKS + MY THOUGHTS ON THE BLACK VERSION AND ANOTHER STYLE THAT'S BEEN RESTOCKED TODAY!
---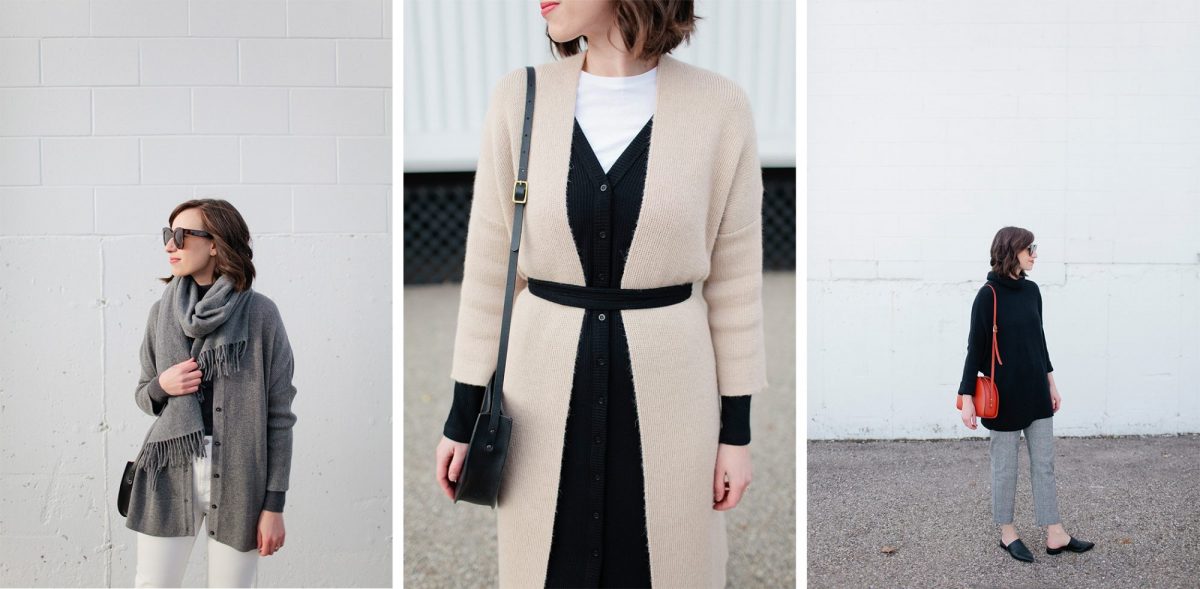 ---
That's it for posts this week but I'll be back next week with more favourites from seasons past! 
Thanks for reading and enjoy the rest of your week!
---
This post is not sponsored or produced in partnership with the aforementioned brands but it does contain affiliate links. When you shop via the links above I may make commission on a sale. Thanks for supporting Style Bee! All opinions are always my own.