Just two more days to go! We've seriously flown through this #Summer10x10 Challenge and unlike past sessions, I'm extra bummed that this one is coming to a close. Usually I can't wait to dive back into my full closet but like my brilliant co-host Caroline (of Unfancy) said yesterday, 'This has been my favorite 10×10 challenge of all time.' and it really has been! Something about a Summer version has felt light-hearted and relaxed in a way I wasn't anticipating but really needed. It must be all those chill Summer vibes in the air these days!
But honestly, you've been the reason this challenge has felt so natural. Whether you joined in or simply watched from the sidelines your presence was not missed and it's been wonderful to see how everyone has approached and embraced the exercise in their own way. That's another thing I love about the 10 x 10, that it can be so personalized and tailored to each individual so your creativity gets to lead the way. So thank you for trusting us enough to give it a try!
If you missed this round of the 10×10 Challenge, don't worry! You're always welcome to give it a go on your own time but we'll definitely be back with another one next season. In the meantime, get all the info you need to try it out here.
We've still got today's outfit and one more to go so let's take a look at Outfit #9! 
---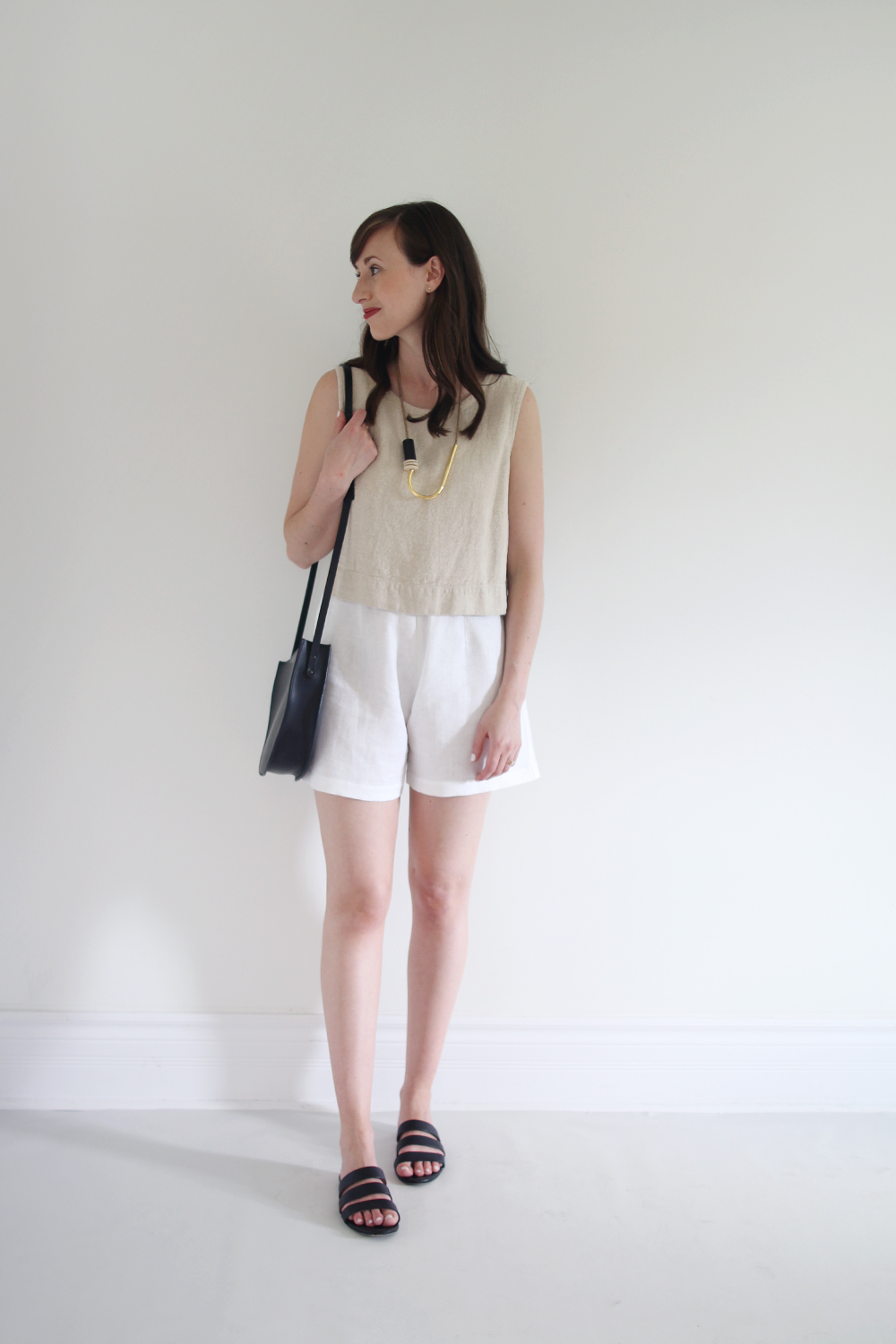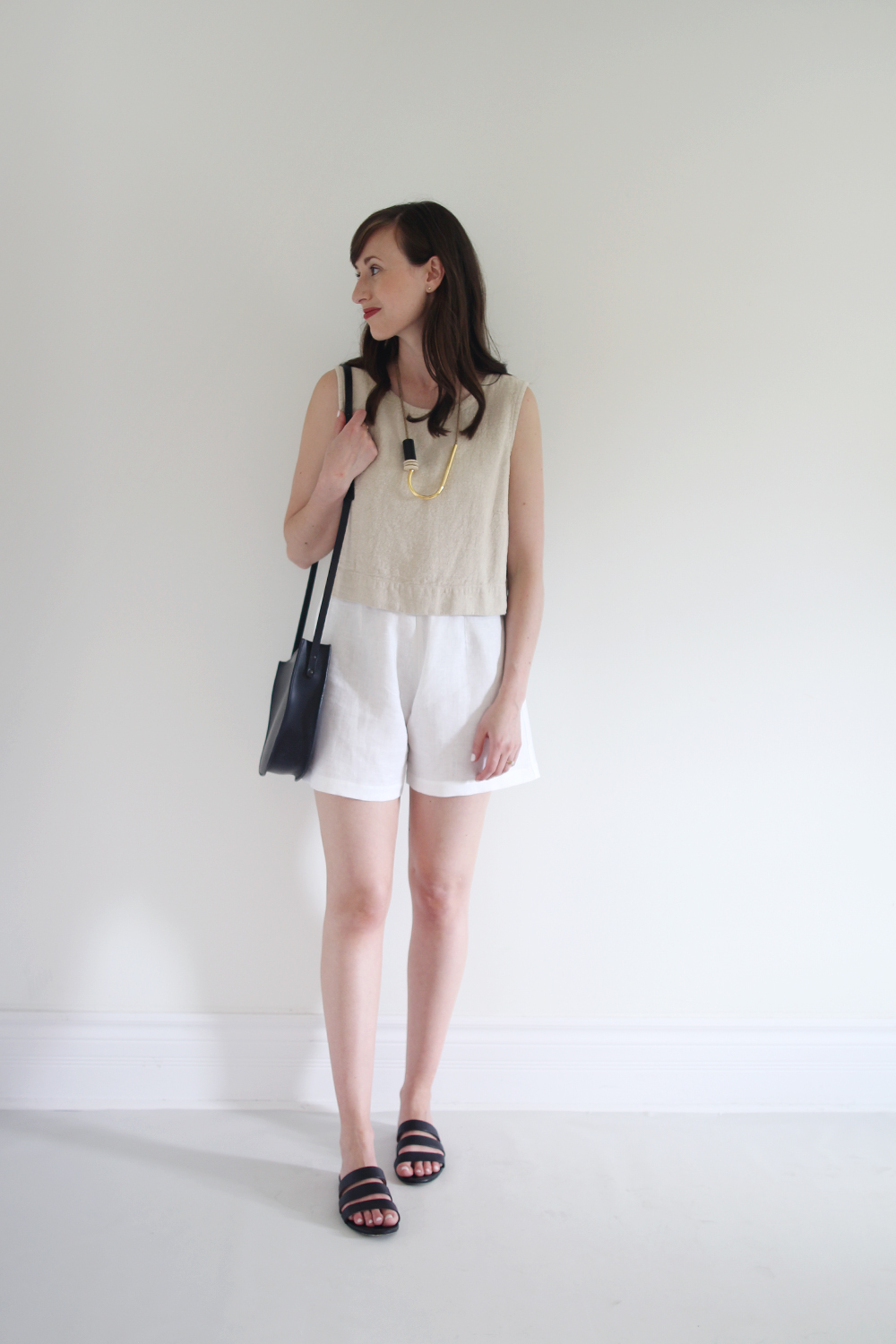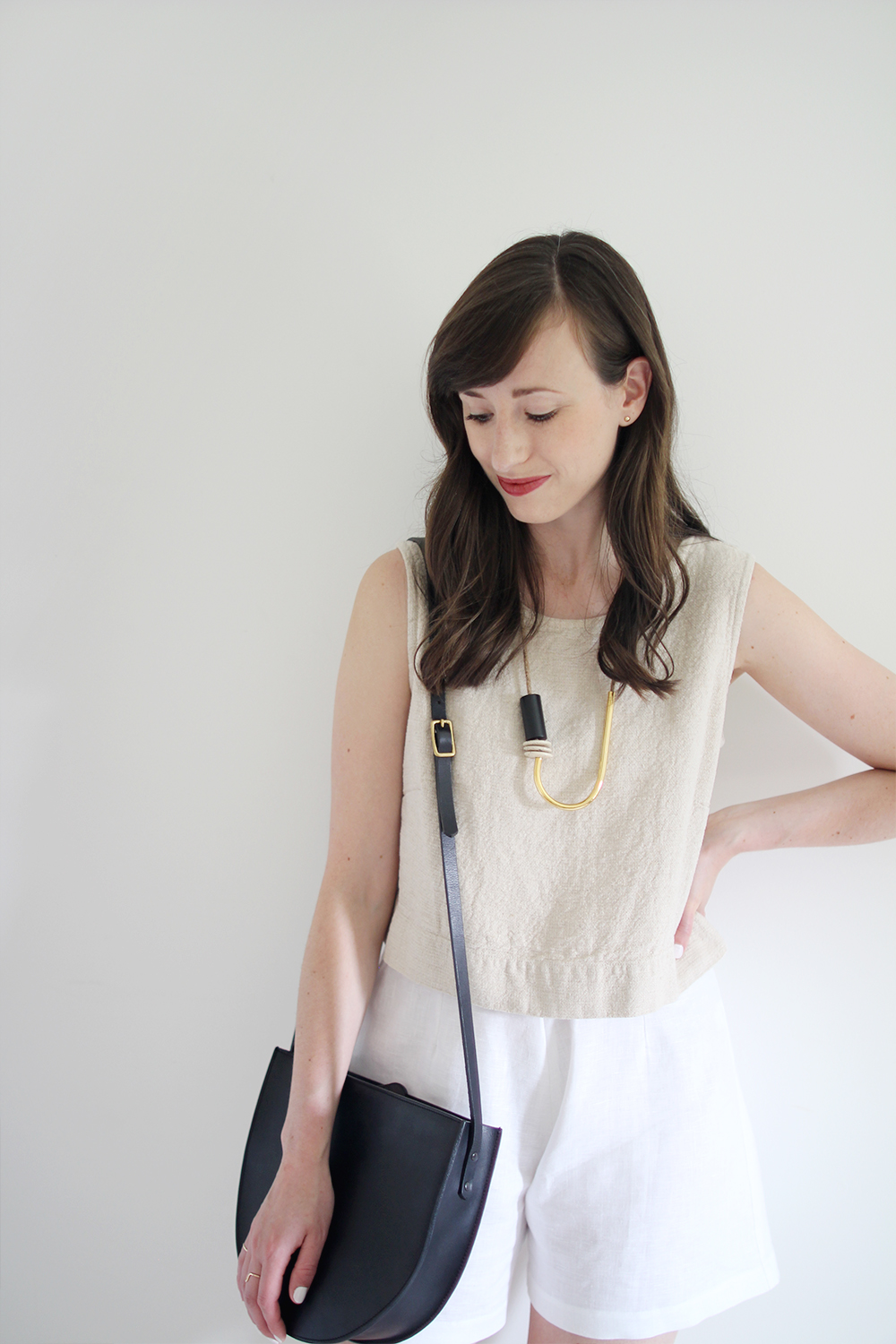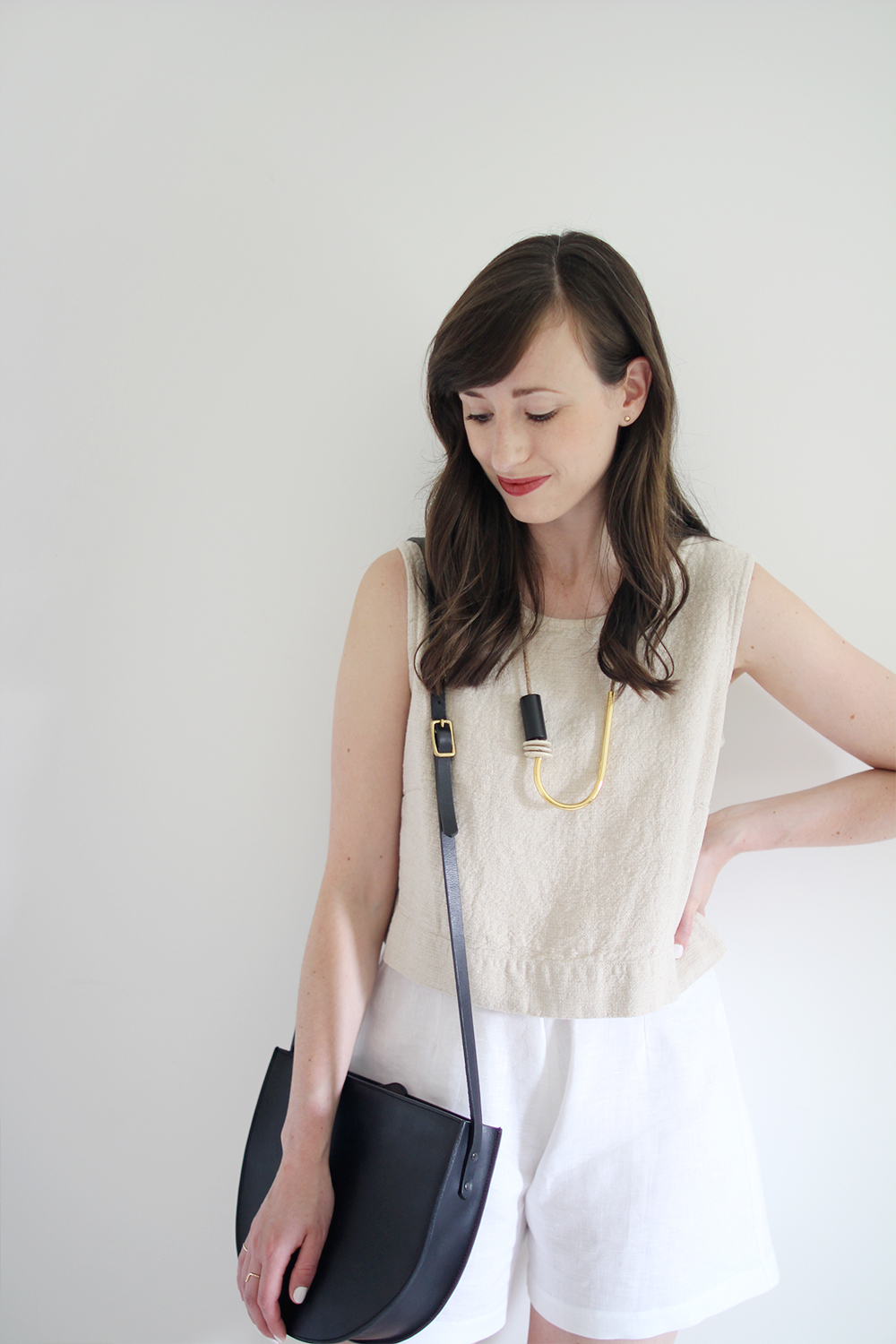 ---
INITIAL THOUGHTS
---
TEMPERATURE – High of 24º C with a mix of sun, thunder showers and humidity. It's supposed to feel like 33 in the afternoon.
ACTIVITIES – Oh you know, jet setting, fancy French café lunches, beach going, fabulous photo shooting. Oh wait, none of that. Just the usual coffee guzzling, office hunkering, corgi snuggling. Definitely not complaining though!
INITIAL THOUGHTS – I can't believe this outfit allllmost snuck by the 10×10 without me noticing. But luckily, at the last-minute when I was assessing the outfits I had planned for this week I realized this crop and these shorts were a match made in easy breezy sartorial heaven. So here we are!
This colour palette is a personal favourite for summer. Some bright white, some textured neutral and some fun doses of black. I feel totally at home in this one and really like how the clean, contemporary shapes are working together. It's fresh and fun but totally comfortable at the same time.
I love this as is for the day but if I was going out for dinner I would add my linen blazer and switch to the heeled mules. This crop top and linen shorts base will definitely be on repeat during the warm weeks ahead!
---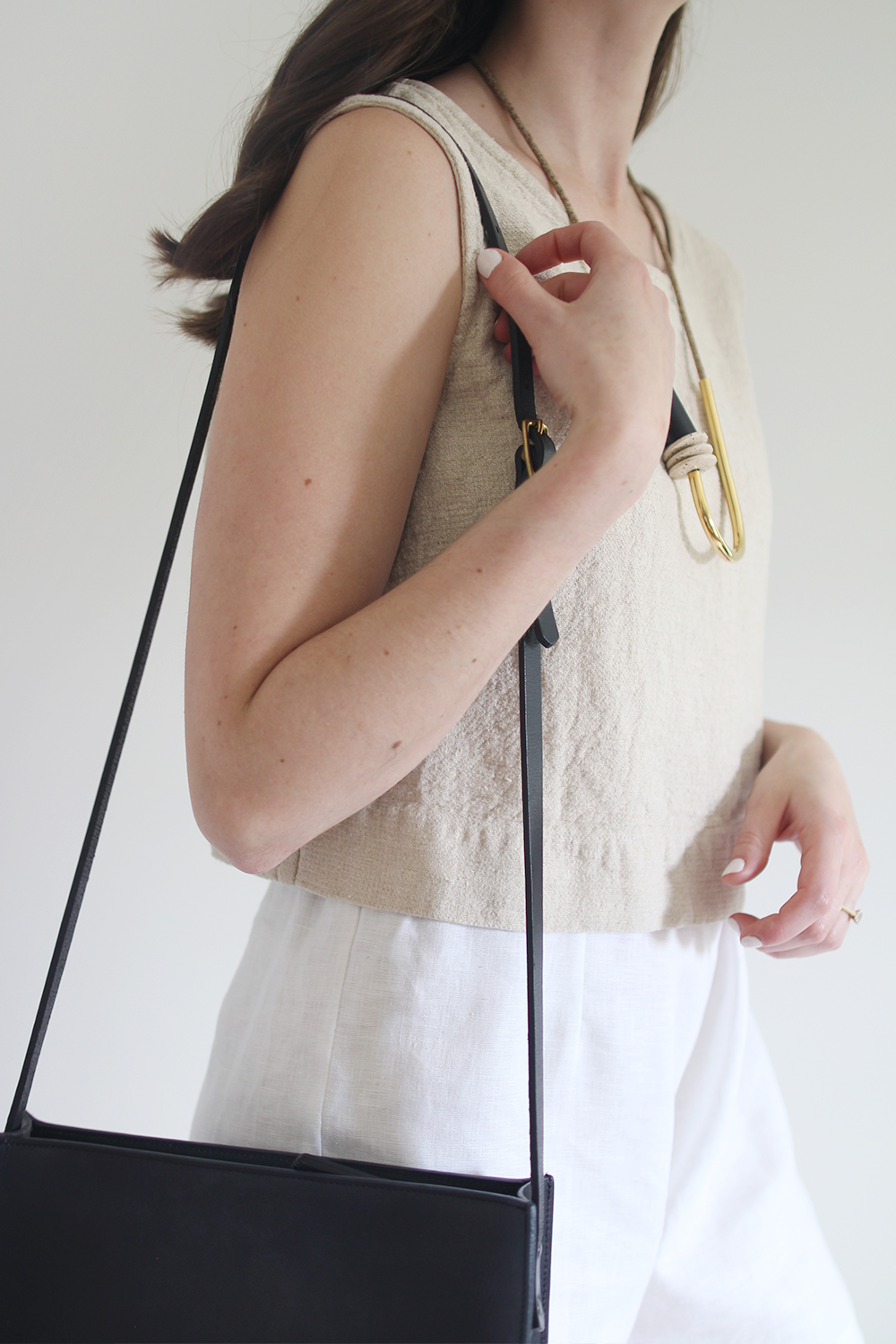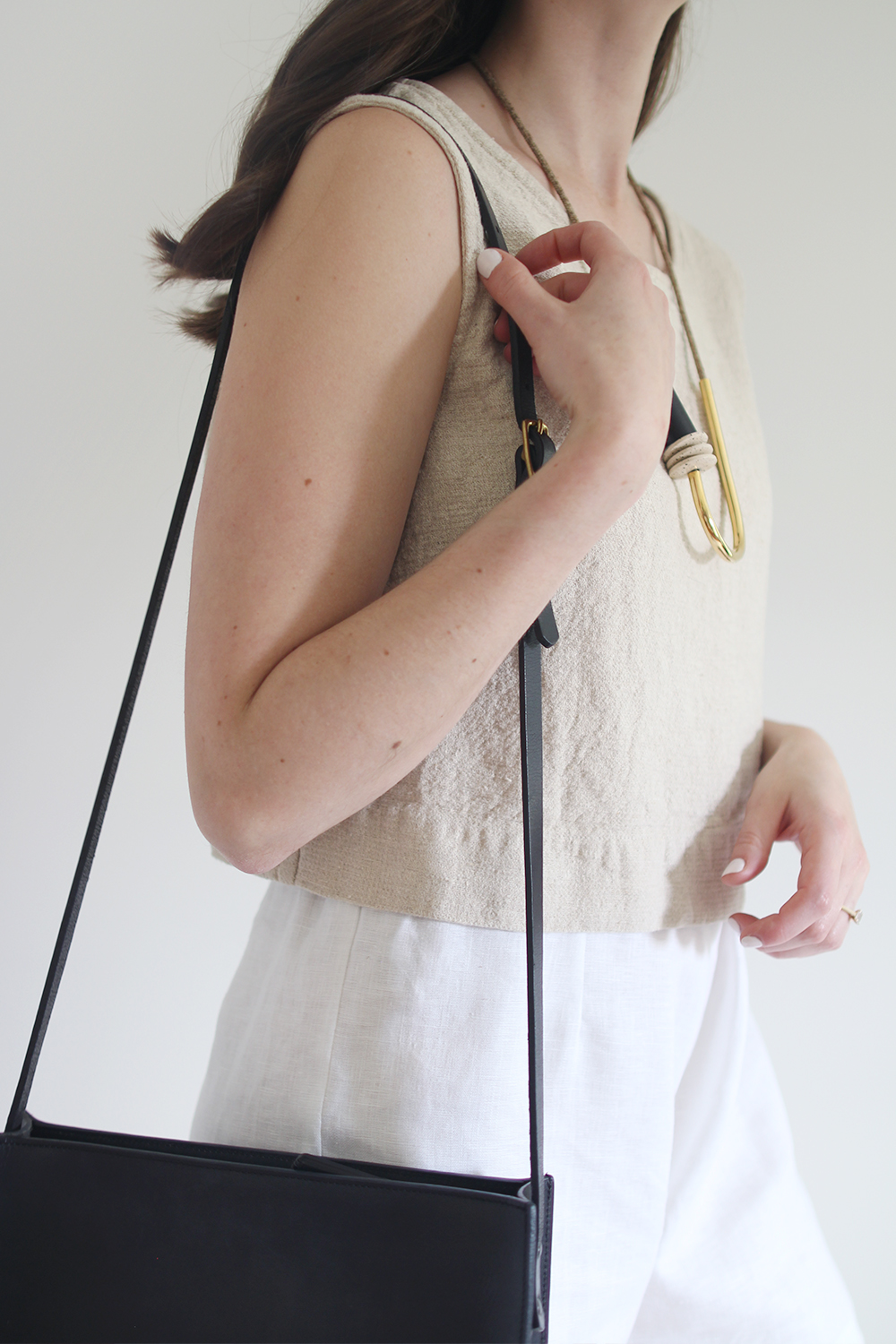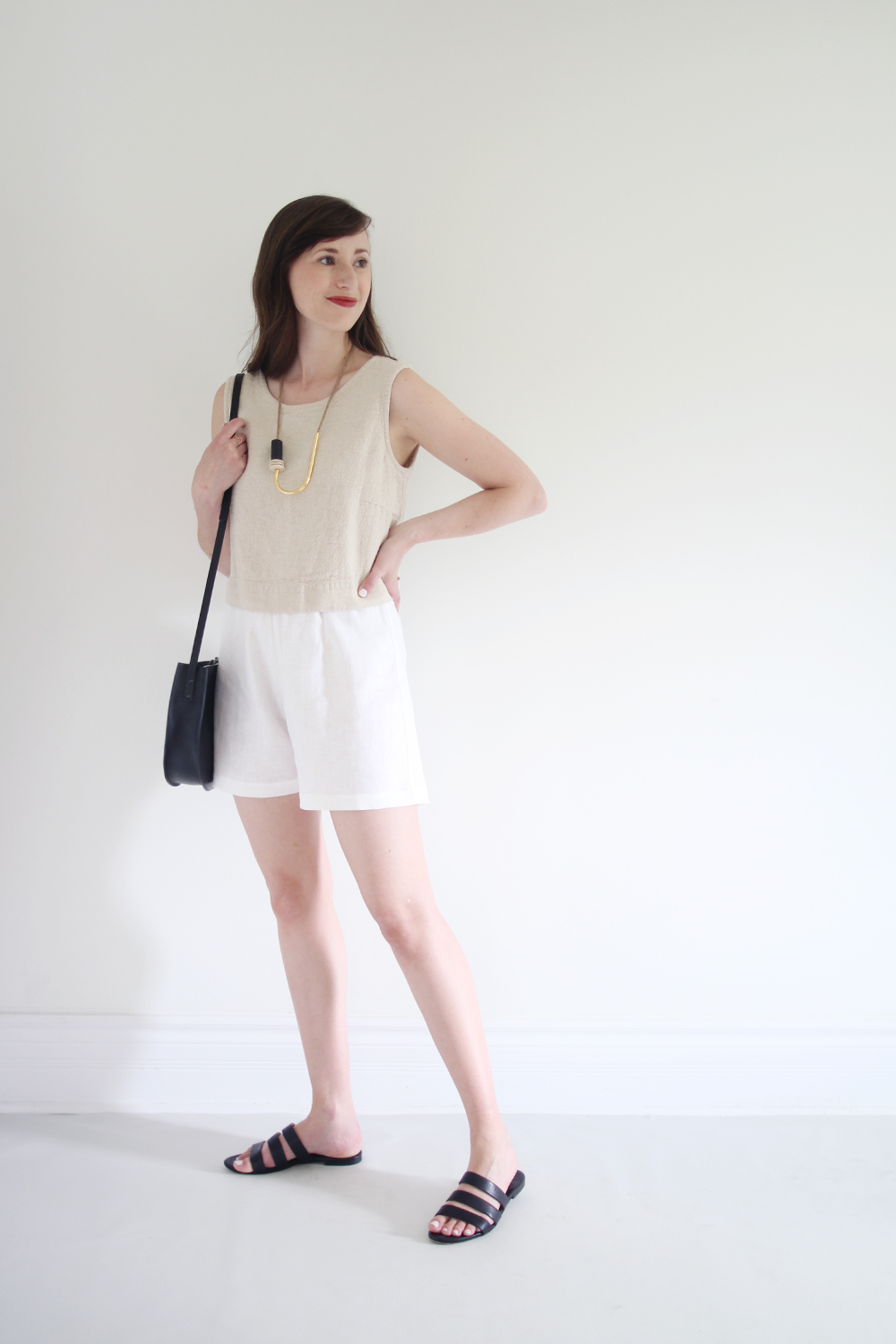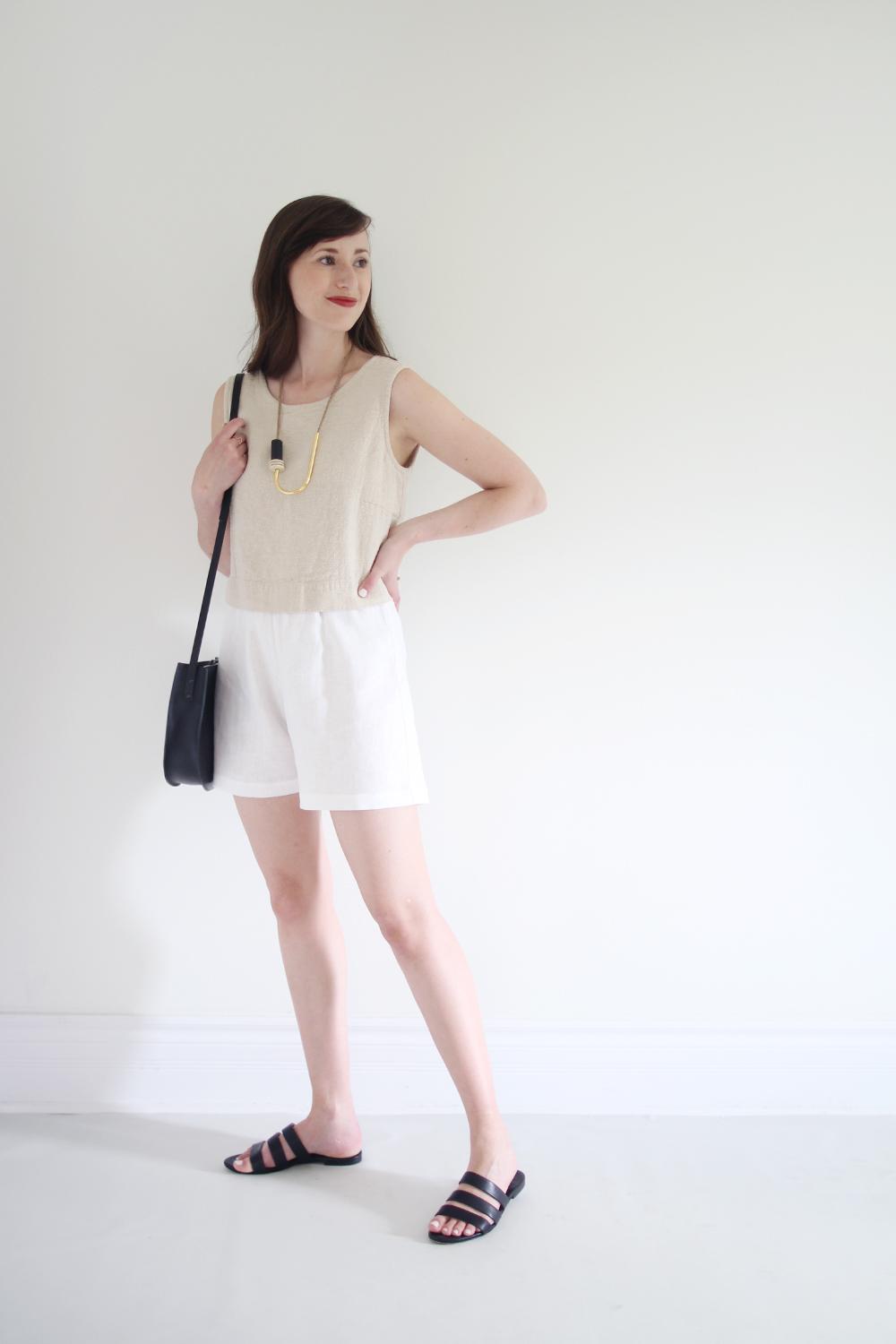 ---
STYLING TIPS
---
I've pulled today's tips from previous looks in the challenge because these are some of my favourite Summer style tricks. I also think it's interesting to see how the same styles apply to different looks.
1 | ON REPEAT | (First seen in Look 2) | I know, I know, I STILL won't shut up about the importance of subtle continuity. But it just works! For instance in this look there are three instances where this trick is coming into play. The first is the light, flecked beads which mirror the nubbly texture and colour of the top. Then there are three doses of black evenly spaced out throughout the outfit via my necklace, bag and shoes. Then there's a curve on my bag, arc ring and the main gold bead on my necklace. Finally, there are three beads stacked in the necklace and three straps on my sandals. #cantstopwontstop
Once you get the hang of this trick you'll start doing it subconsciously. Or you may already be doing it! Take a closer look at the pieces you pair together often. Are there similar elements of colour, shape, texture or geometry in them? Maybe that's why they work so well!
2 | THE MODEST CROP | (First seen in Look 4) | Once again I'll mention that this is my favourite way to wear a cropped top. These shorts hit at my natural waist and the hem of my top falls about an inch below. There's a bit of overlap and the chance of skin being exposed is pretty low. It's not that I don't think a little sliver of mid drift showing isn't cute, it's just that I've just found I get a bit self-conscious in that scenario, and I try to do my best to keep from feeling that way. However, when there's a touch of overlay it feels a more demure than daring and I'm into it.
The easiest way to rock a crop top without feeling exposed is to wear it with a high-rise pant/short that hits an inch or so above where the top ends. But if the top is too long you can lose the waist cinching, leg lengthening effect of a cropped look so keep that in mind as well.
3 | DARK ACCENTS | (First seen in Look 8) | Even though the base of this look is light and airy there are still a few elements that are darker accents to keep it feeling grounded and well, I just like contrast! The dark(ish) lip colour wasn't intentional really, but this colour works with everything I wear and adds a nice touch of drama. I also opted to leverage the black bead in my necklace to help my black slides and bag fit into the look without feeling too heavy and I think the strategic placement of black works nicely.
Don't be afraid of adding some darker contrasting elements to a light look for Summer. Keep dark elements well spread out and you'll find it keeps things simple and subtle so you're not taking away from the soft base. 
---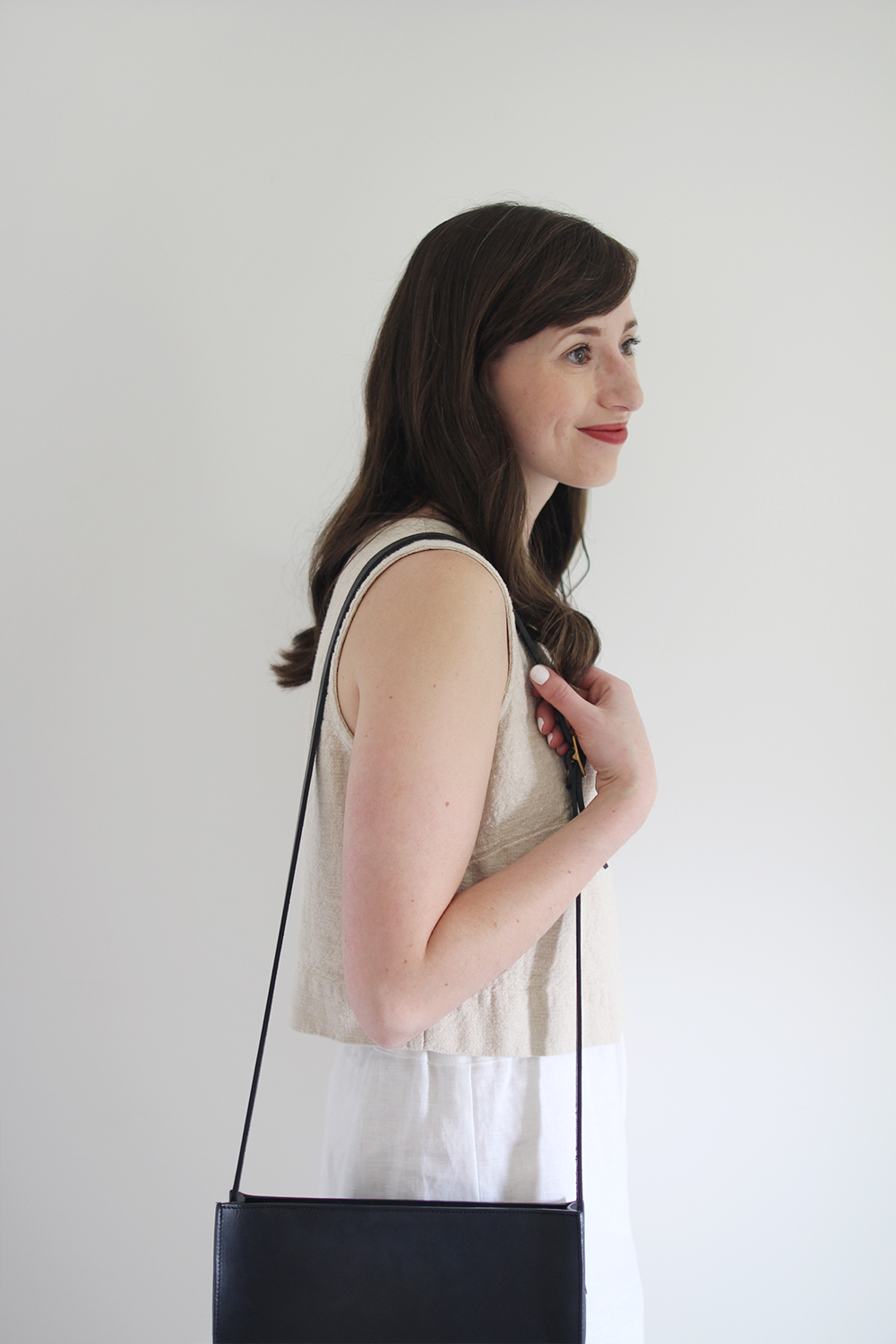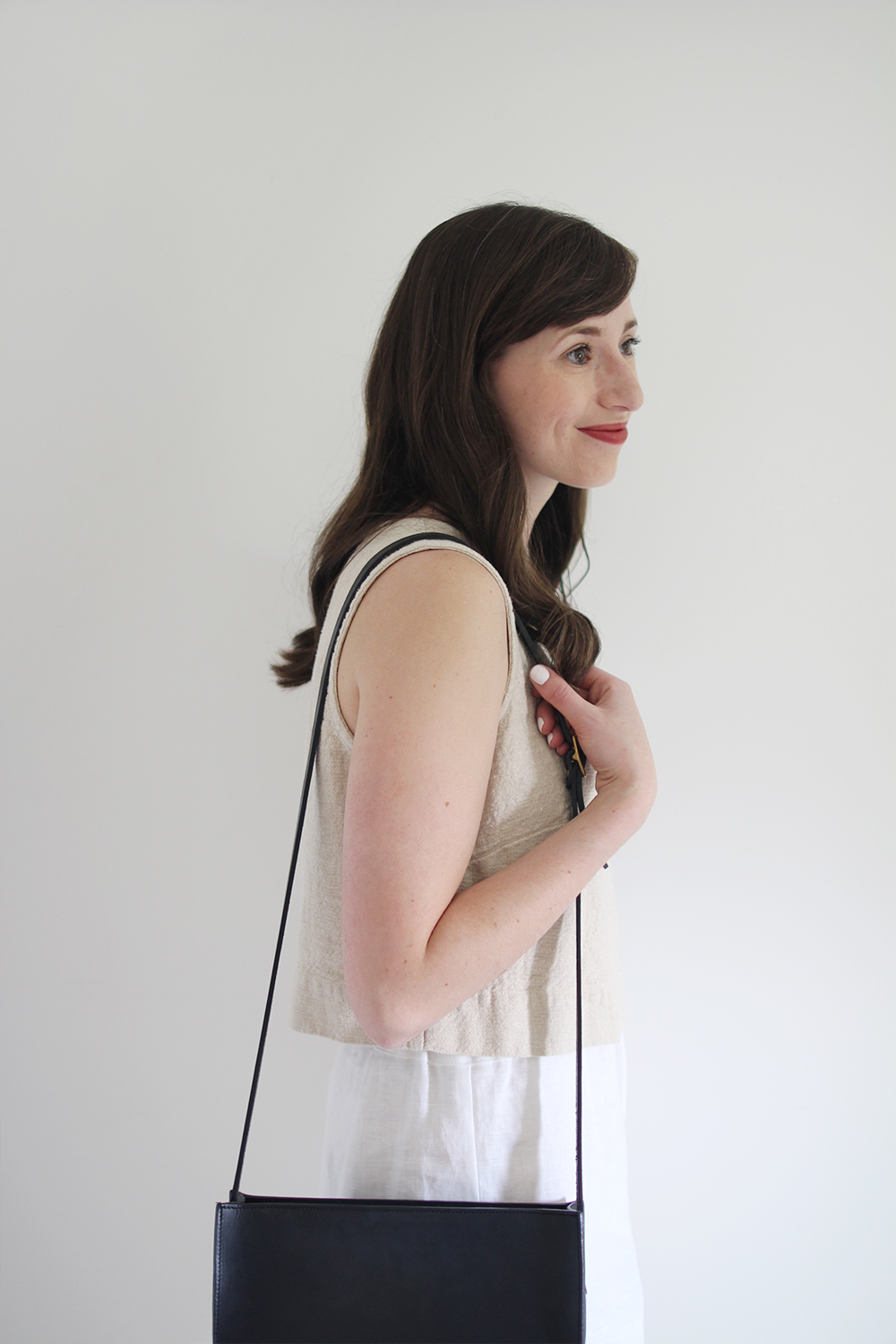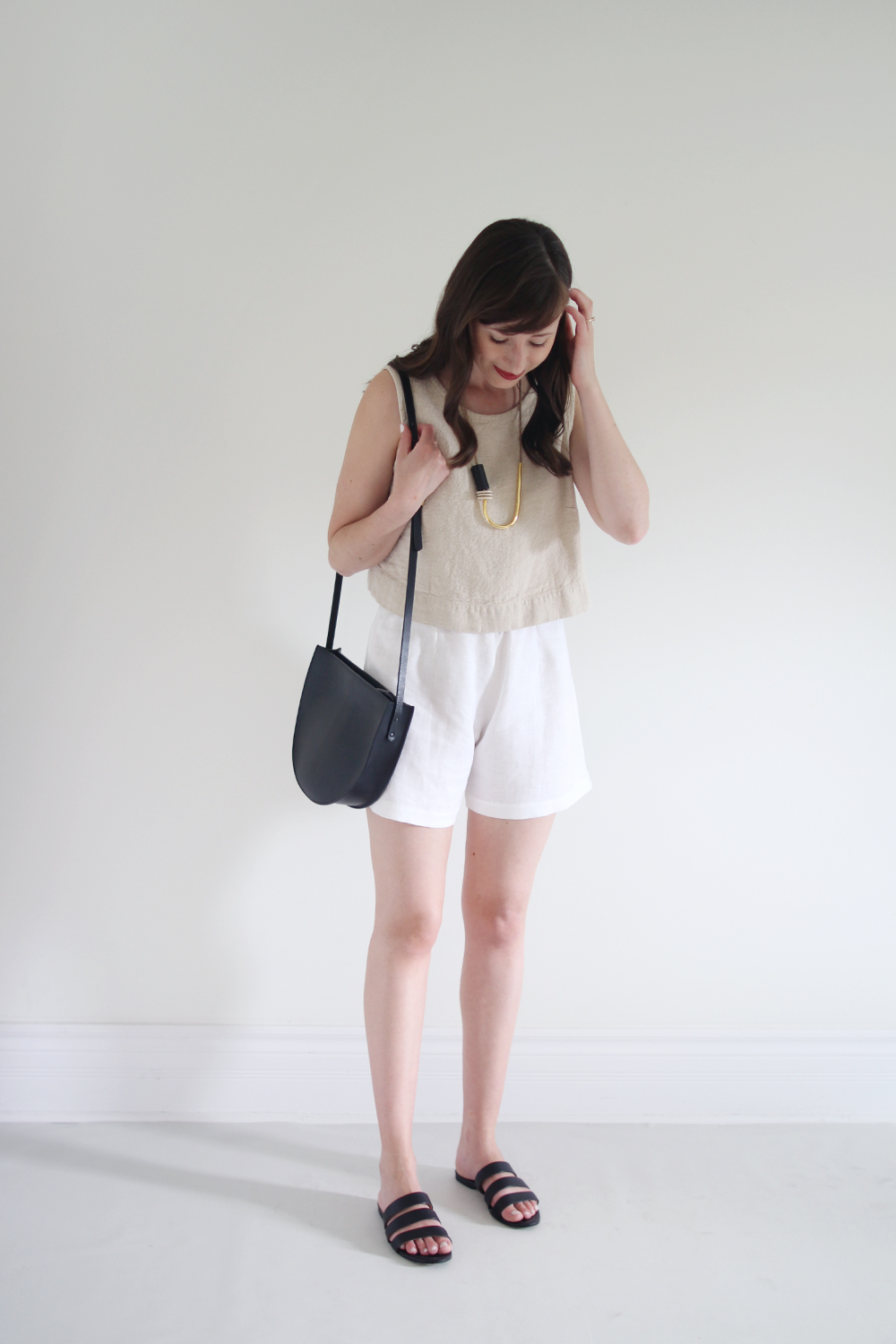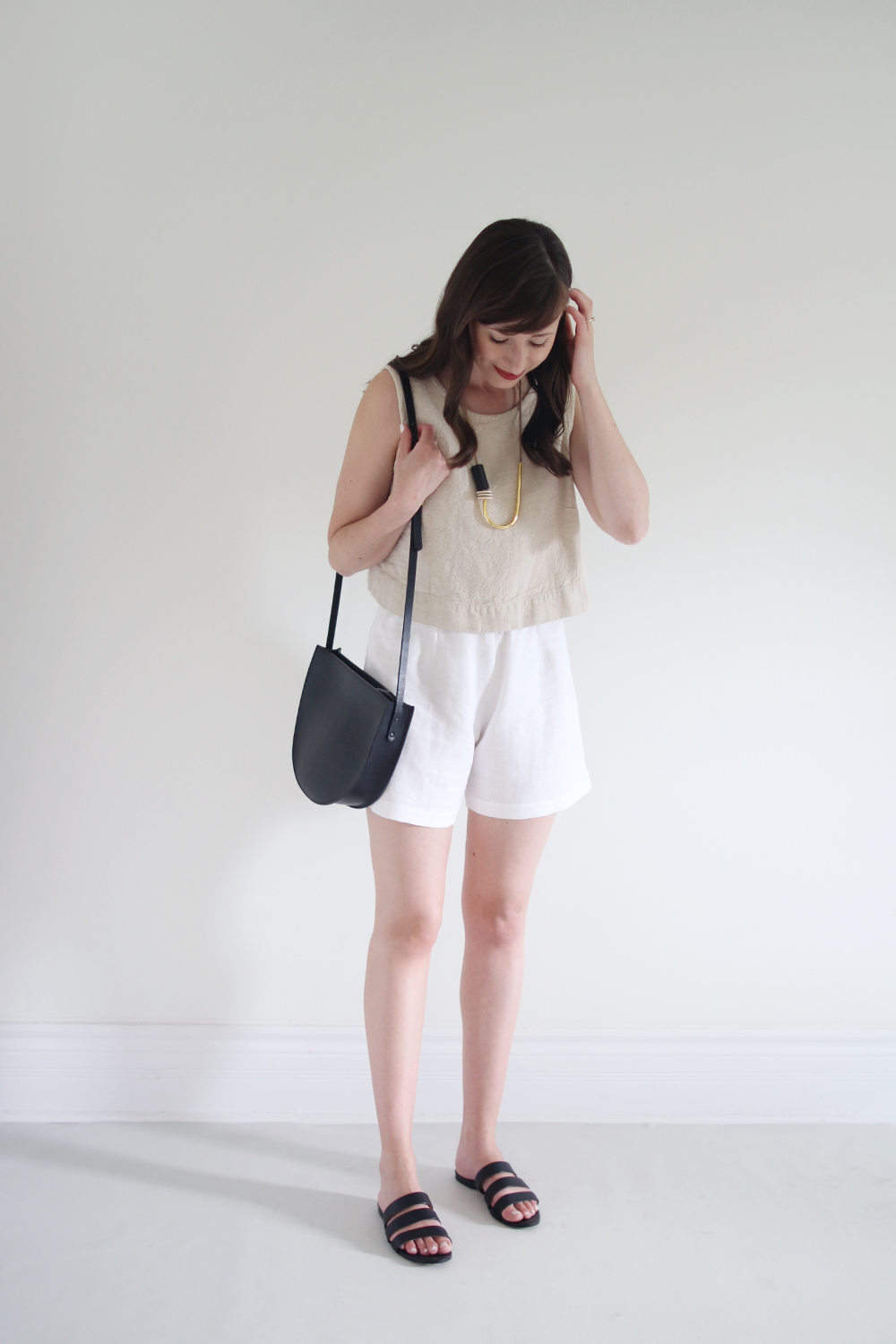 ---
ITEM SPOTLIGHT
---
I've already covered the key items in this look but I'll be going into detail on the Silk Box Tank and Peep Toe Mules tomorrow. If you're interested in more details on these pieces feel free to check out the individual posts on:
---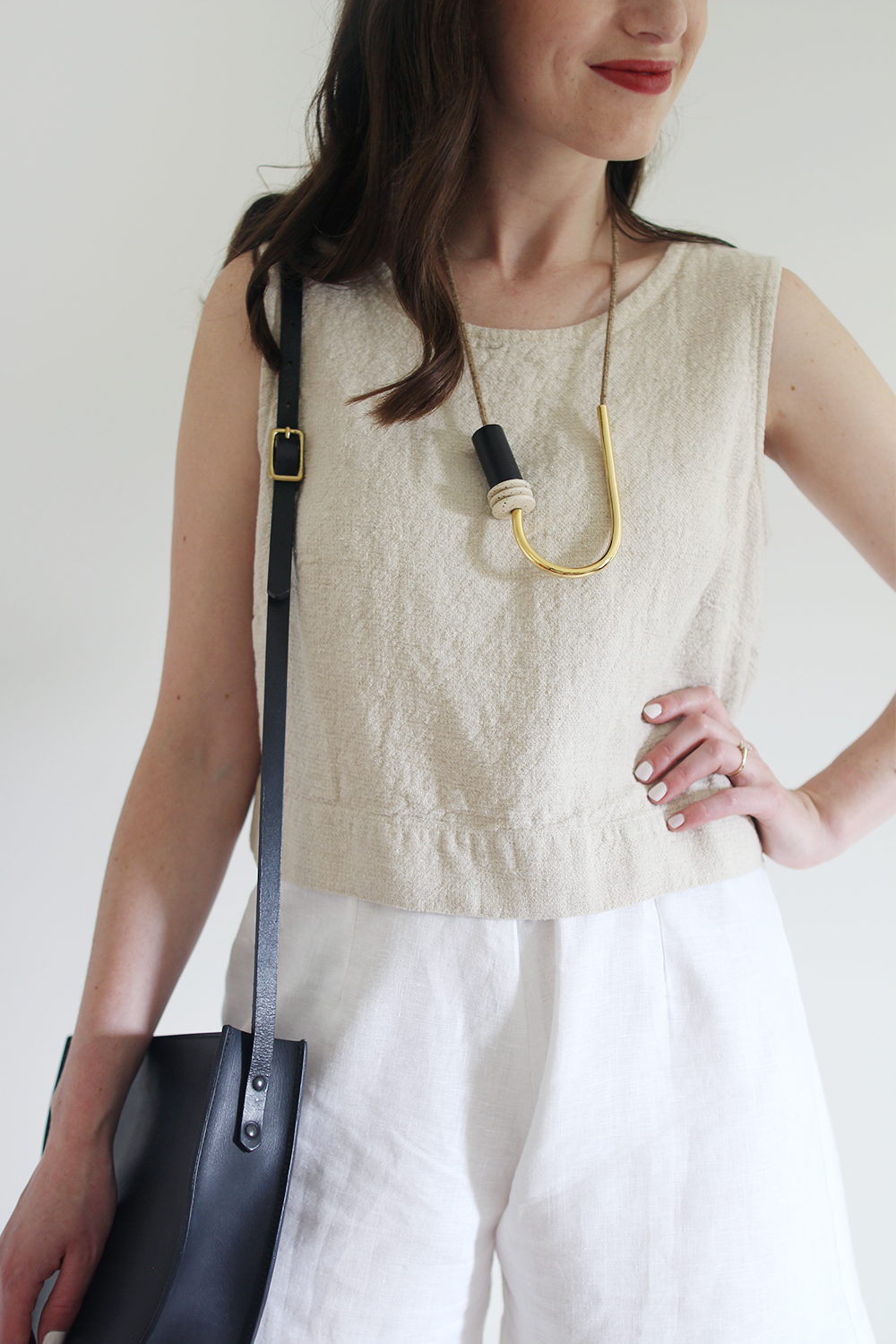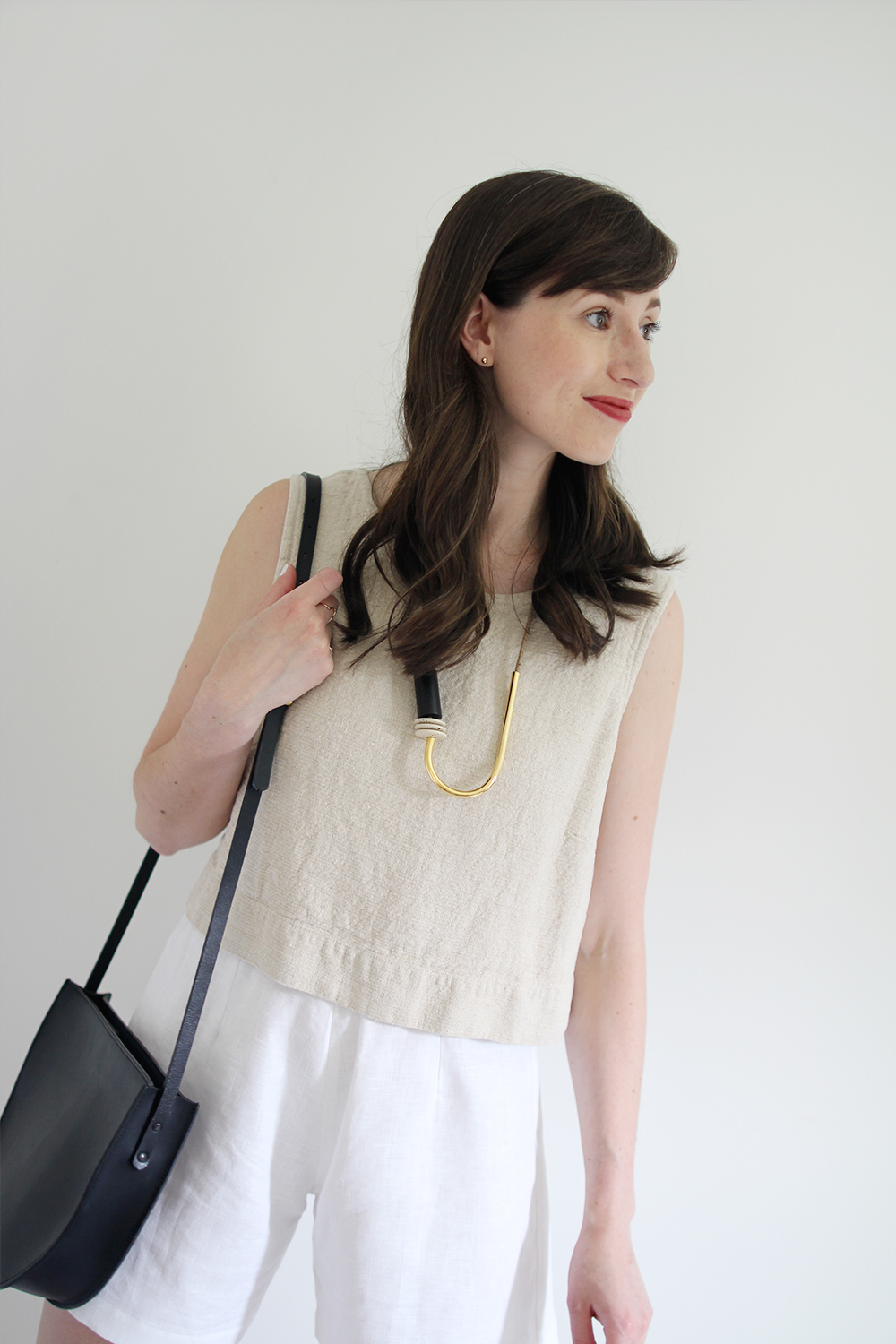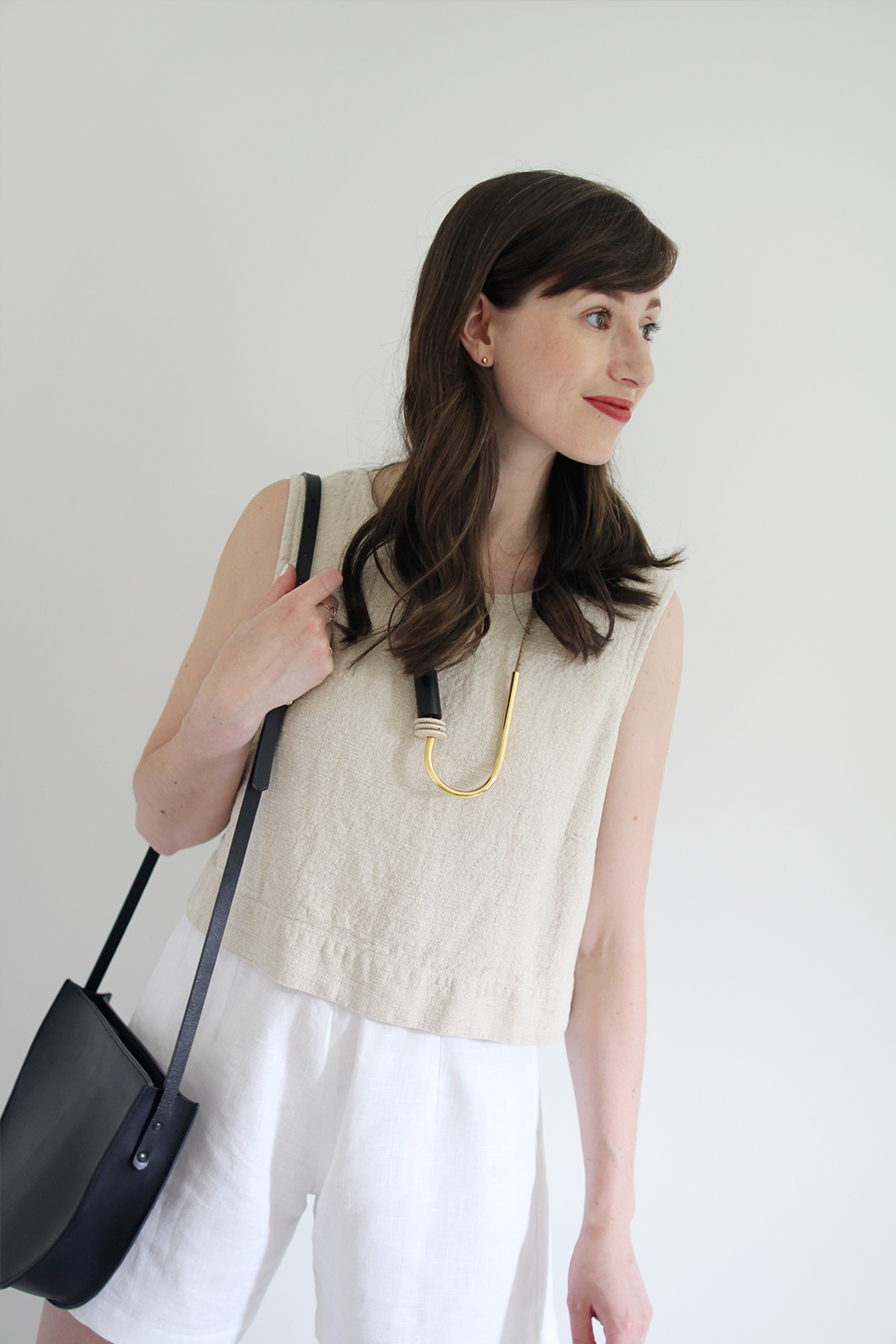 ---
SHOP THE POST
---
1 | PETRA CROP | c/o ELIZABETH SUZANN | s/o linked to same style in linen | $125 USD | Made in Nashville
2 | SUMMER SHORTS | c/o LLOYD CLOTHING | $160 CAD | Made in Vancouver | I wear a size S | Style Bee readers save 10% OFF sitewide at LLOYD with 'STYLEBEE' during the 10×10 Challenge! 
3 | CHOCK A BLOCK NECKLACE | c/o Maslo | $58 USD | Made in USA
4 | CAMILLA SLIDE | NISOLO via GARMENTORY |  $88 USD | I wear a 7 | Made responsibly in Mexico | Save $20 OFF your first order when you sign up here. 
5 | ELOISE BAG | The Stowe | $387 USD | Made in Canada
6 | GOLD STUDS | ATTIC | $290 CAD | Made in Toronto
---

---
YOU GUYS, THERE'S JUST ONE DAY LEFT!
SEE YOU TOMORROW FOR THE LAST OUTFIT FROM THE #SUMMER10x10!
---
This post is not sponsored but contains affiliate links. When you shop via the links above I may make a small commission from a sale. This income helps limit the amount of sponsored content that appears on Style Bee. Thanks a lot for your support!