It's no secret that my favourite colour for spring (and summer) is green. My birth stone is emerald after all. I love the full spectrum of the hue, however, the particular green I'm loving right now is nearest to a muted sage.
It's soft and reminiscent of the earliest greens that begin to emerge from the cold earth after a long winter. Like the lichen stretched over rocks or the tip top of a daffodil's leaves jutting up towards the sun.
Today I'm sharing a couple of looks I created to celebrate this special colour, with help from the folks at Jenni Kayne*. Read on to see how I'm styling it within my closet this spring!
---
---
*I'm a brand ambassador for Jenni Kayne, which means I get to test out different styles on a regular basis. This post is not sponsored, however, I was gifted the items featured and this post contains affiliate links through which I will earn a commission at no additional cost to you. Thanks for supporting Style Bee in this way, should you decide to shop.
---
LOOK 1
---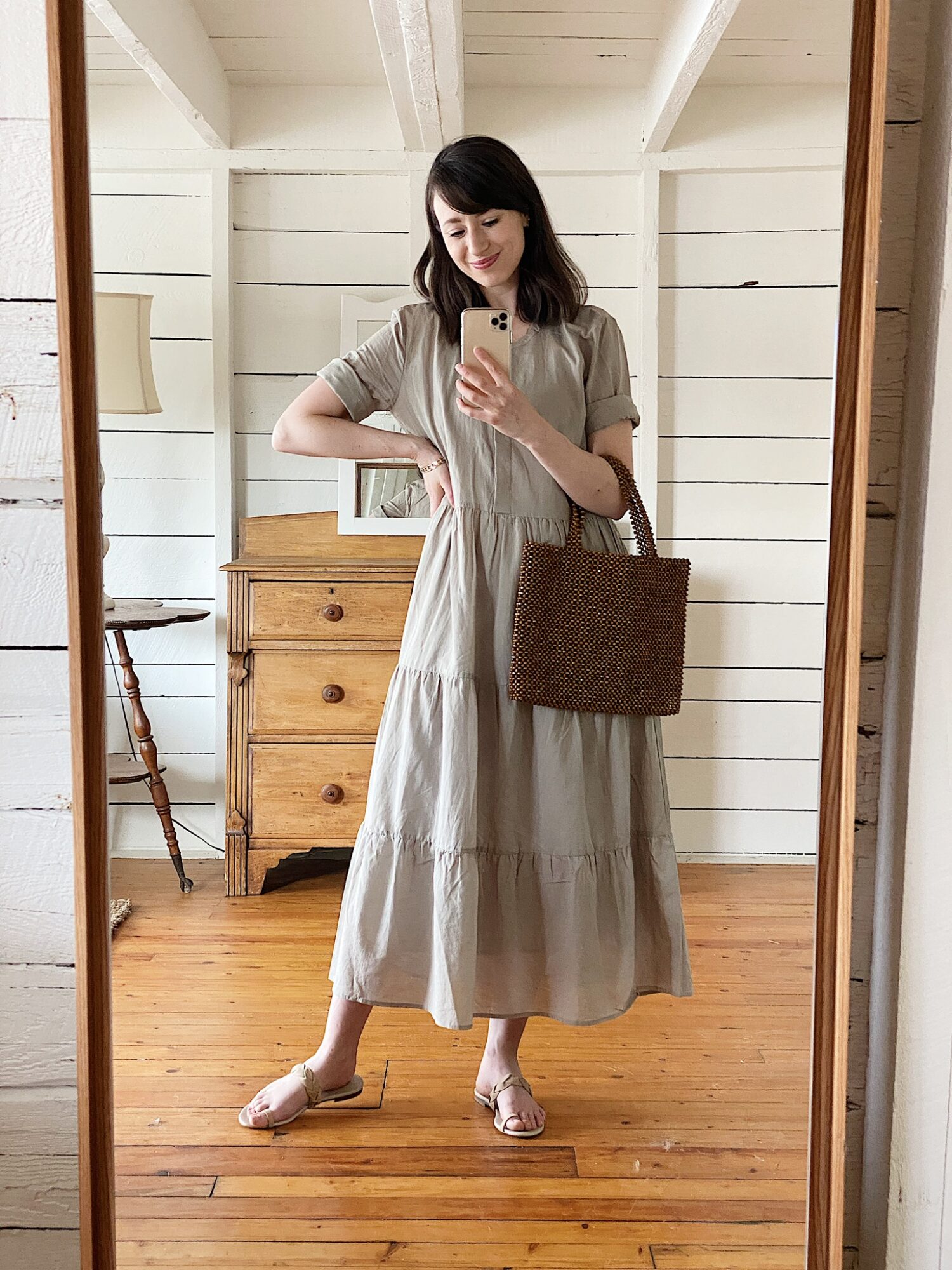 ---
The James Dress is spring in dress form and I can't wait to wear it every chance I get this season. Particularly for dinner with friends in the Muskoka room, all the windows opened wide. You bet I'll be tossing it on over a swimsuit to sip cold drinks on the dock as well. It's also a perfect piece for a summer travel capsule!
---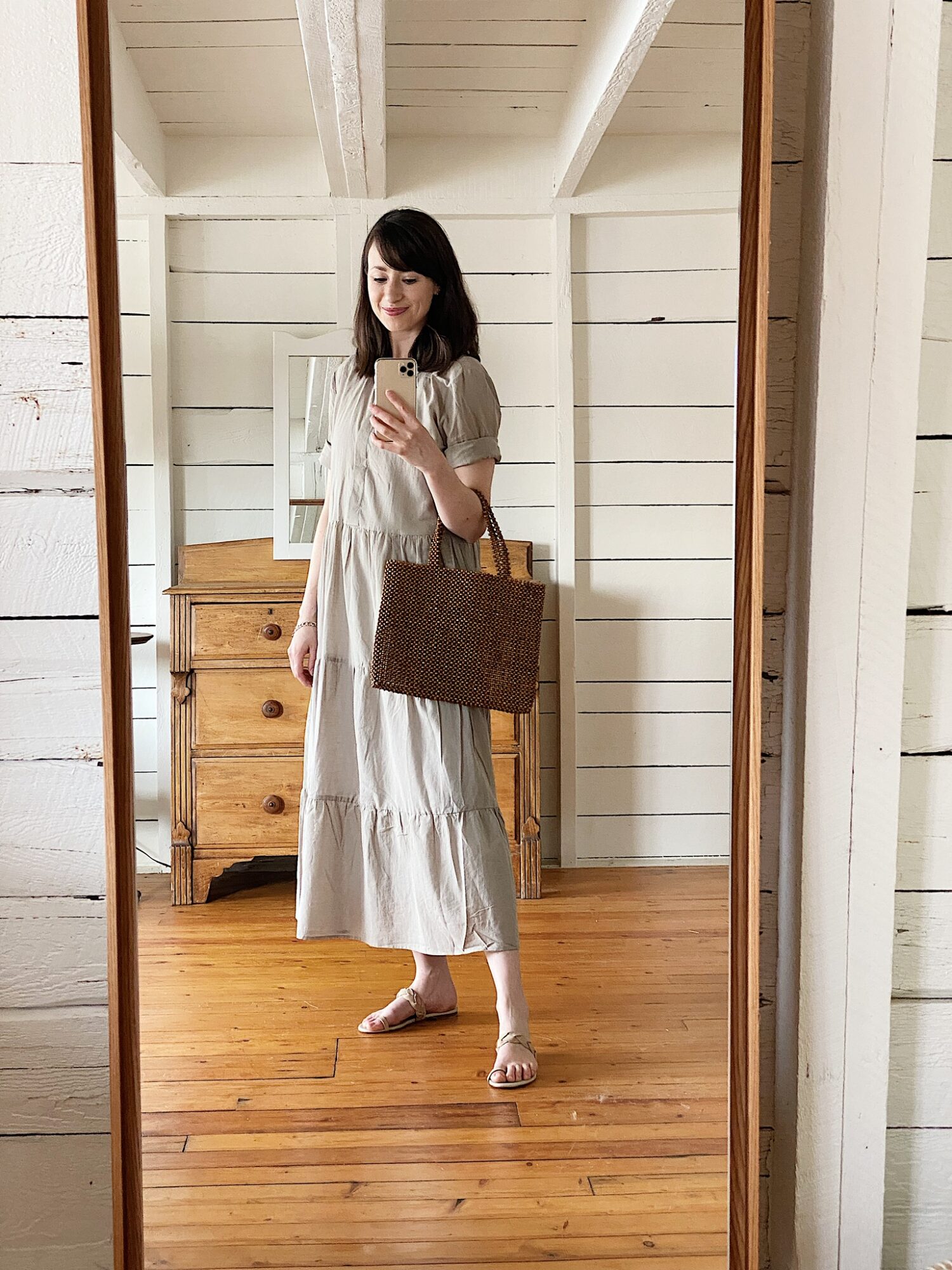 ---
JAMES DRESS | Willow, other colours avail. | Jenni Kayne | gifted | True to size. | Comes with a slip. | Use LEE15 for 15% Off anytime.
BRAIDED STRAP SANDAL | Natural | Jenni Kayne | gifted | True to size. I wear US 7 and have the 37 | Use LEE15 for 15% Off anytime.
BEADED BAG | ANCÁN | old | Linked to a similar option and I LOVE this larger woven leather tote.
JEWELRY | GOLD PENDANT + CIGAR RING ATTIC (Canadian made!) | Chain Bracelet is vintage, similar option here and here.
---
Here are a few details about this look.
---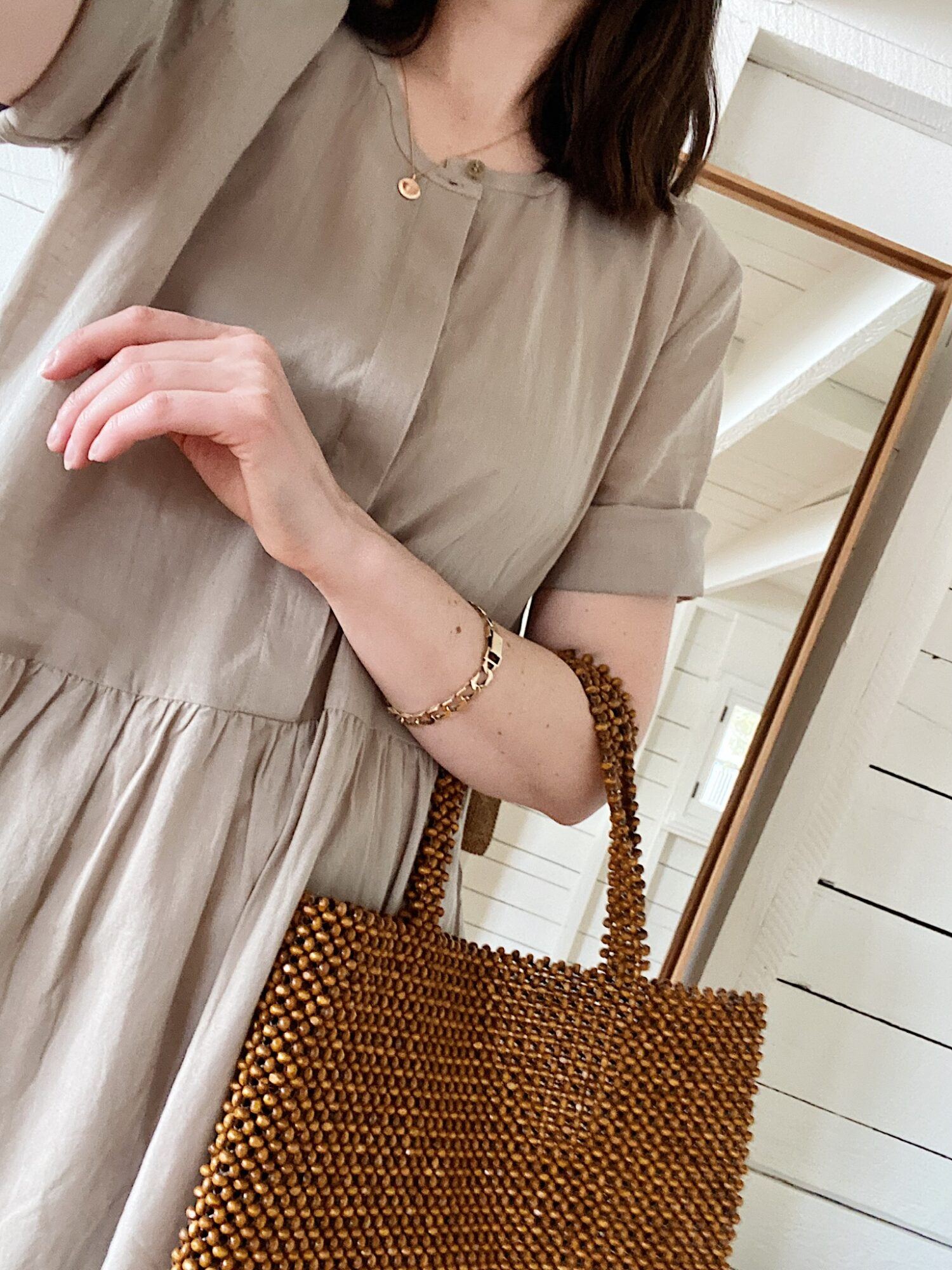 SLEEVES
The James Dress has wrist-length sleeves with a little button cuff, which is lovely, and offers the option to wear them long or rolled up as I have.
After a hot day in the sun a bit of extra coverage never hurts!
---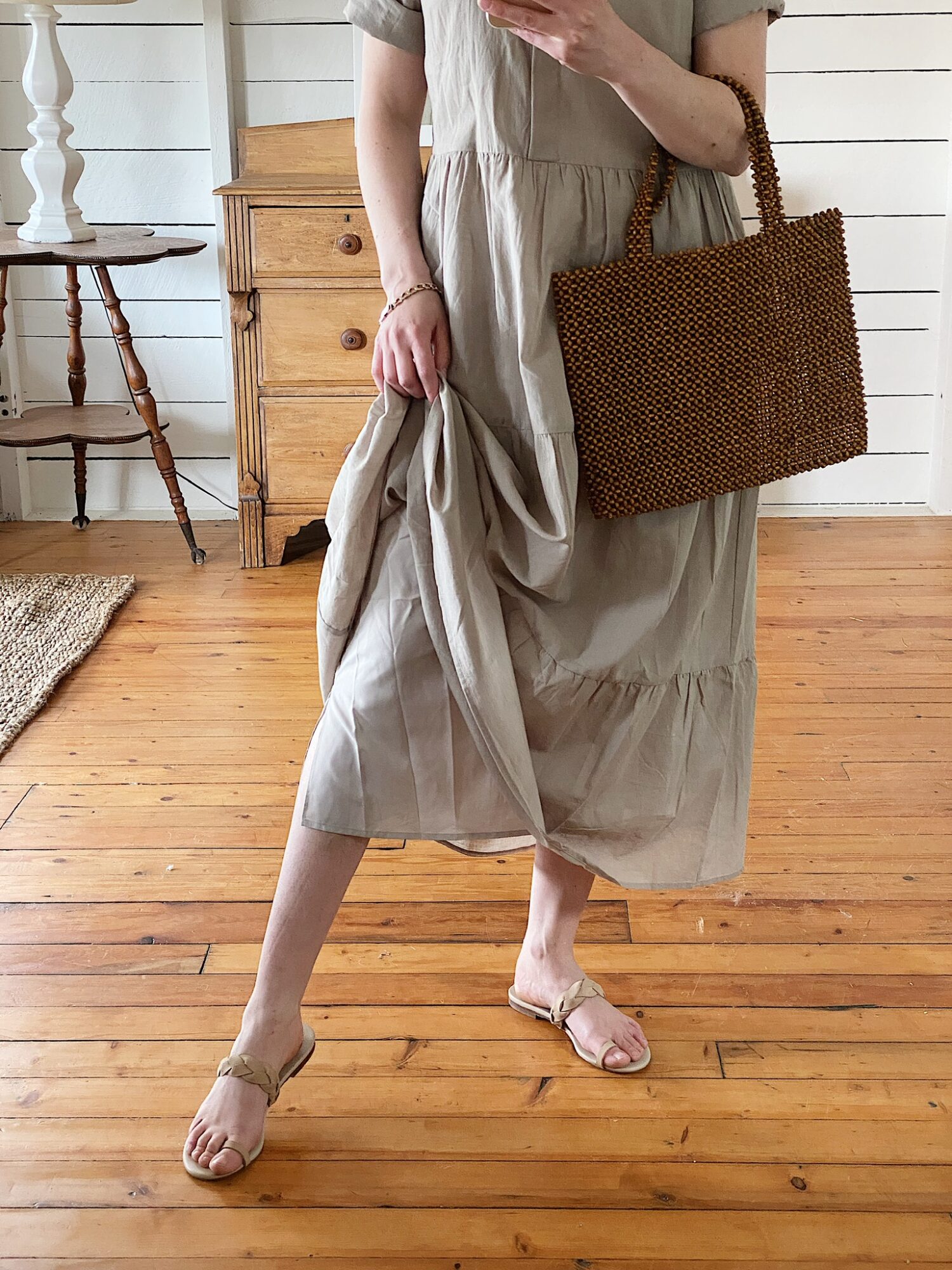 REMOVEABLE SLIP
The James Dress also comes with a matching slip underneath, which eliminates any transparency.
I plan to skip the slip with I wear the dress as a cover up over my swimsuit.
---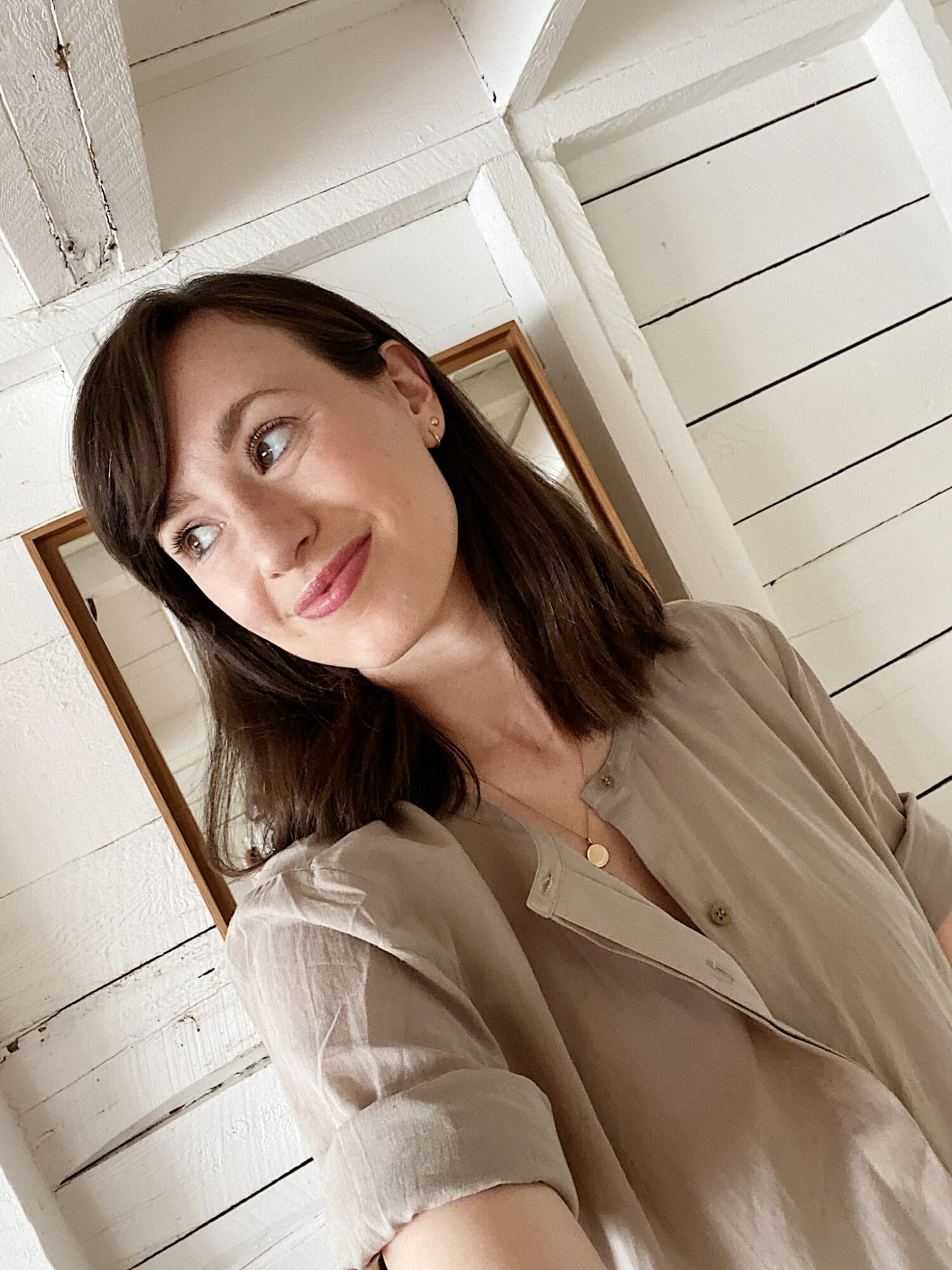 BUTTON FRONT
The covered button front is a lovely detail and also makes this dress breast-feeding friendly. I like to leave the top two open to show my necklace.
---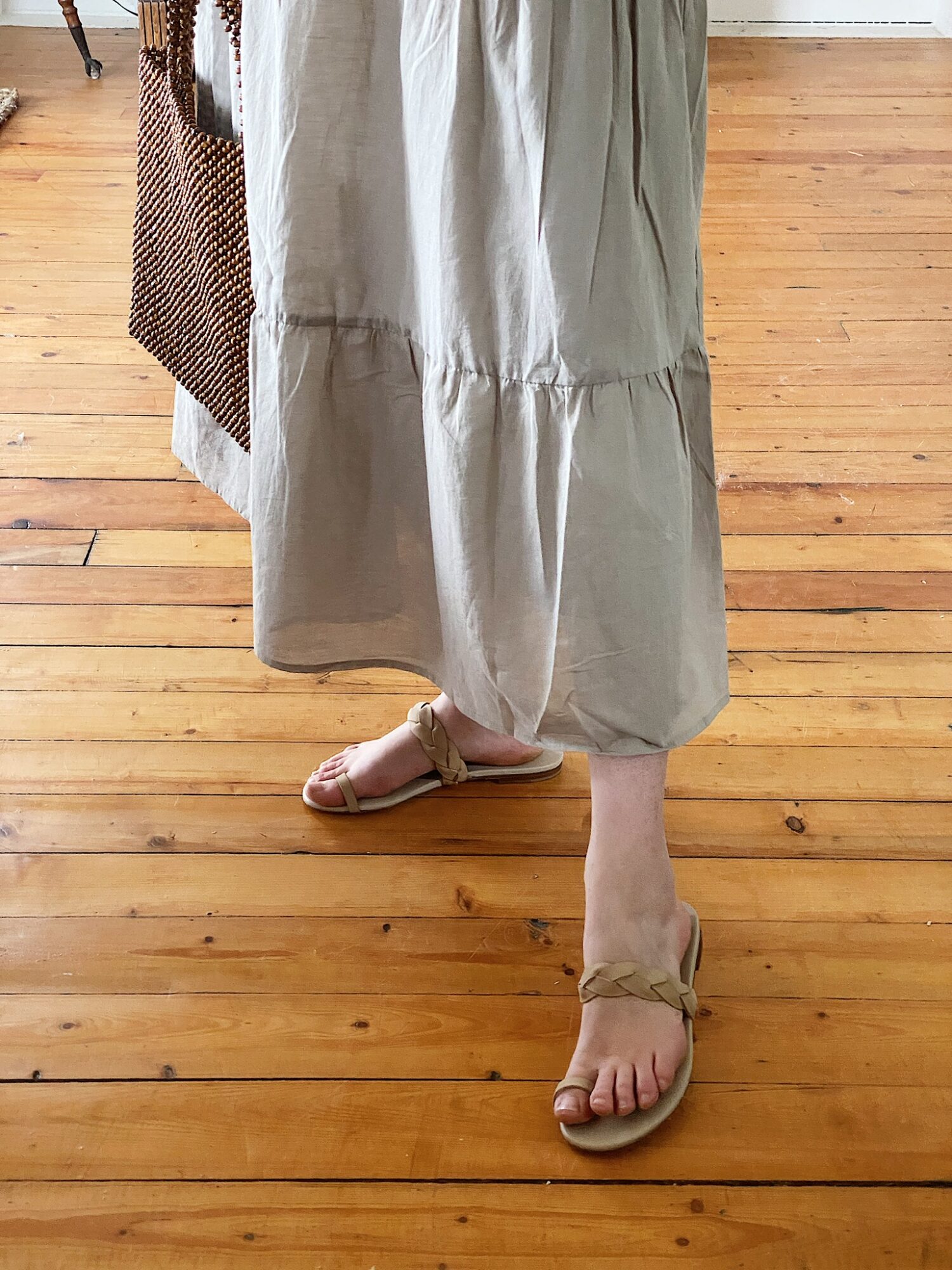 THE BRAIDED STRAP SANDAL
If you have a narrow instep like me, then these simple sandals are a great option. The braided band is very comfortable and will adjust as needed for your foot.
---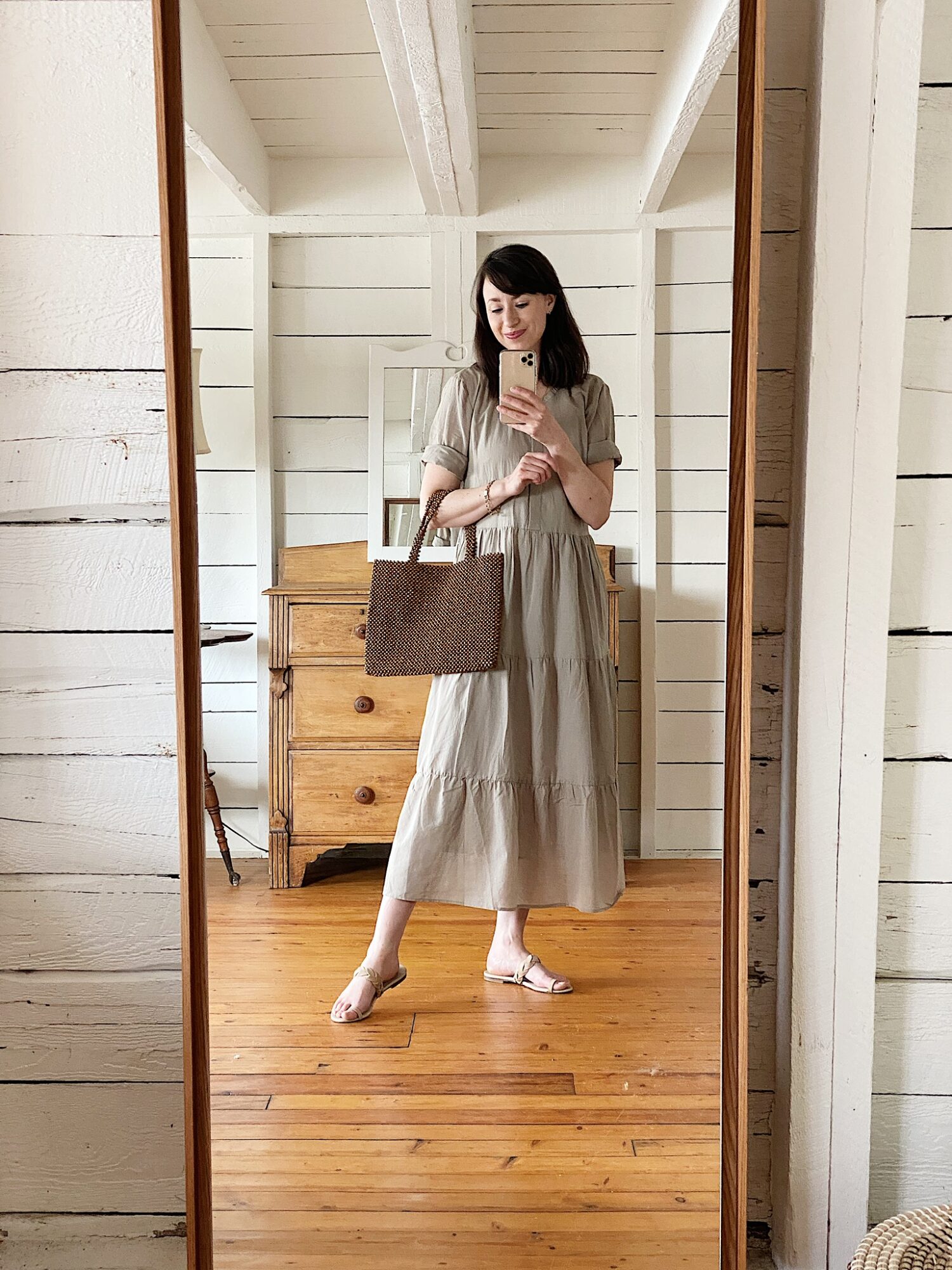 ---
LOOK 2
---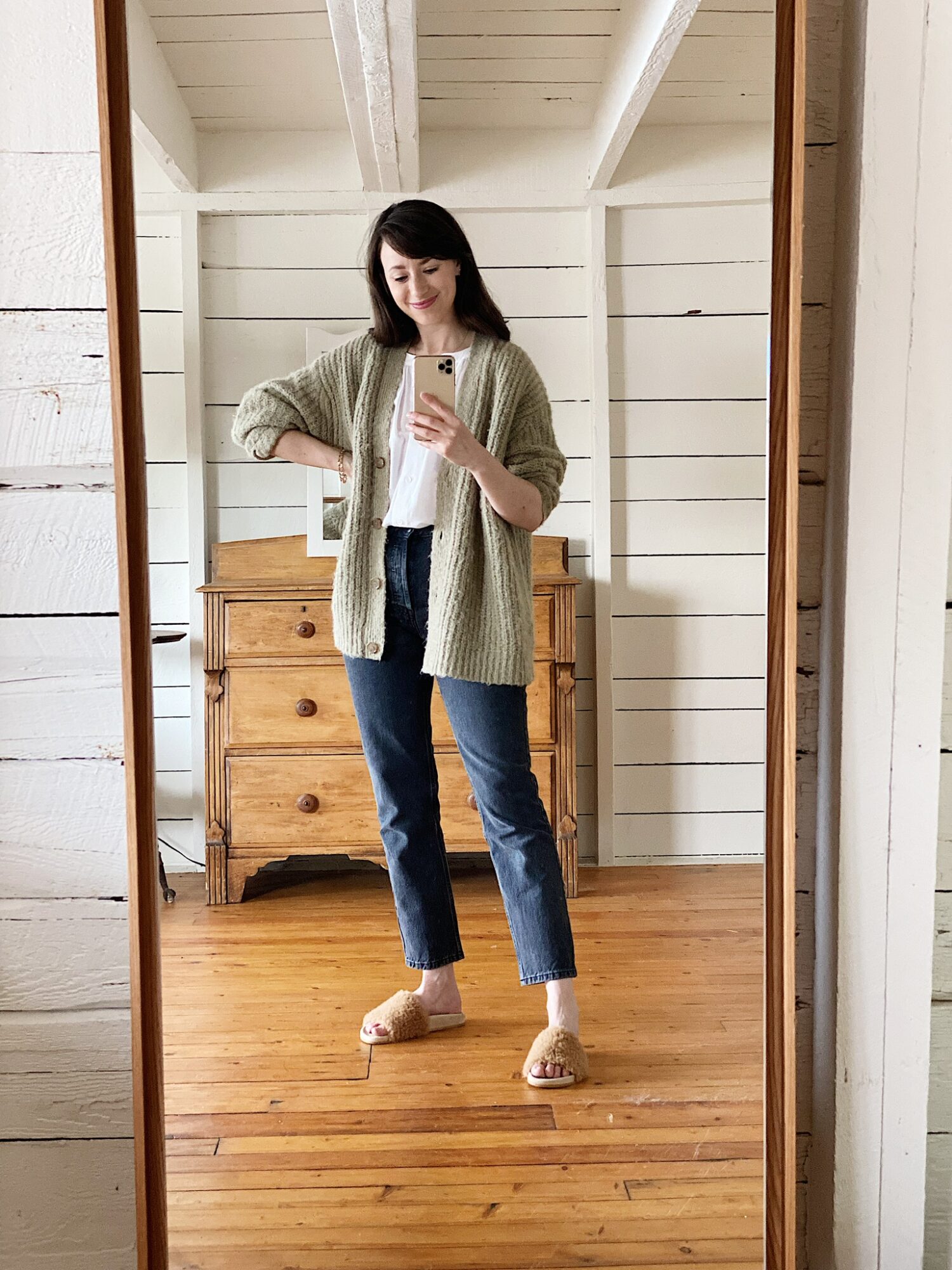 ---
This is my take on Coastal Grandmother (which I absolutely aspire to be, although grandchildren remain optional). I love a floaty blouse tucked into waist-cinching denim, which are magically still comfy, with a big cardigan overtop and fuzzy slides.
---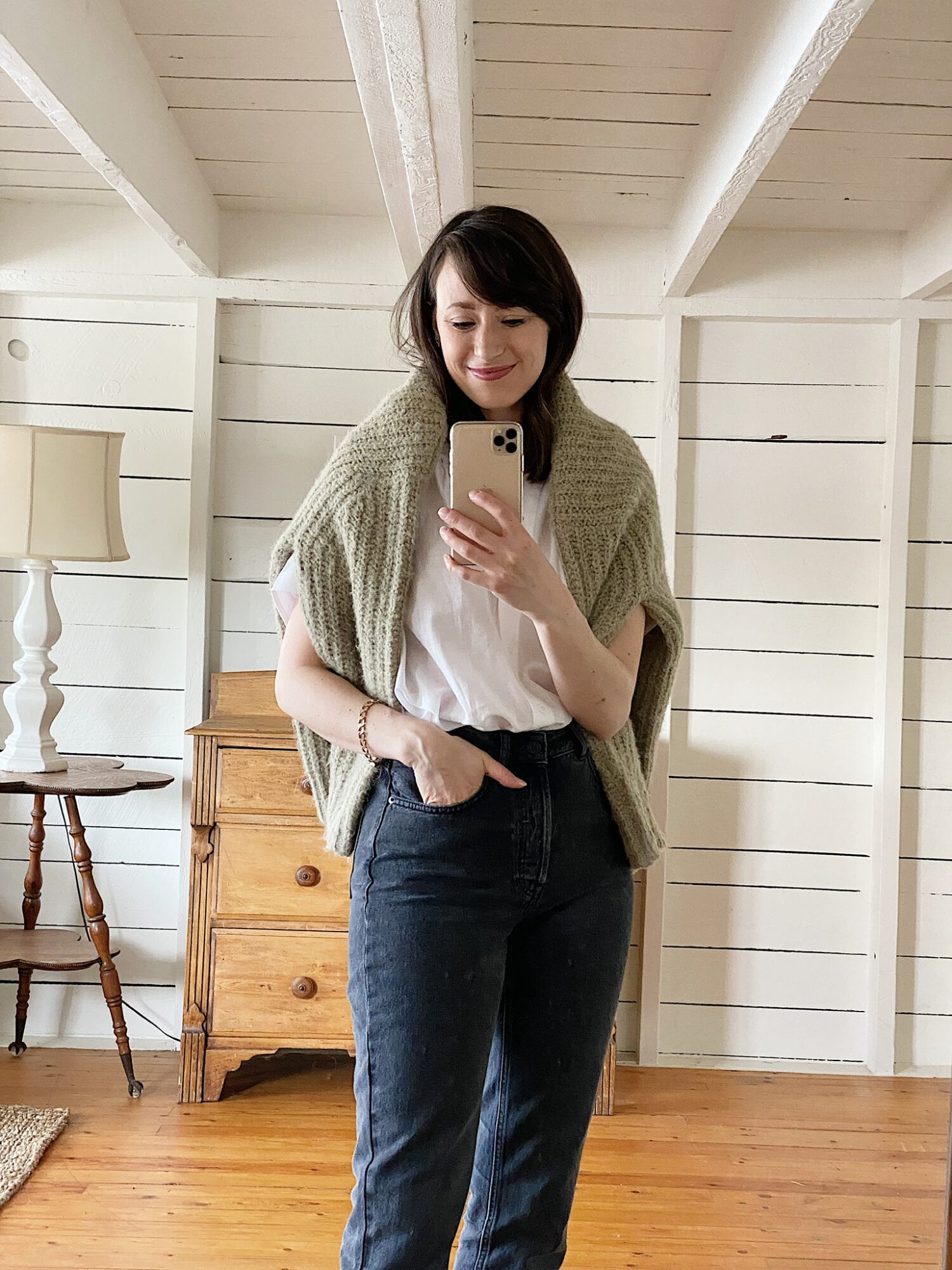 ---
COCOON CARDIGAN | Willow, other colours avail. | Jenni Kayne | gifted | I sized down in this sweater. | Use LEE15 for 15% Off anytime.
WILLOW BLOUSE | Ivory, other colours avail. | Jenni Kayne | gifted | I took my usual size but the fit is very roomy. | Use LEE15 for 15% Off anytime.
90's CHEEKY JEANS (curvy) | Washed Black | EVERLANE | gifted | I'm between sizes in this style and always order down. Regular inseam. I'm 5'7 for reference.
SHEARLING SLIDE SANDAL | Jenni Kayne | gifted | True to size. I wear a US 7 and have the 37. | Use LEE15 for 15% Off anytime.
---
I've had the Cocoon Cardigan in Willow since last fall and it's been such a staple. It's an alpaca blend so it has a bit more volume and heartiness than it's cashmere counterpart, while still remaining very soft. I love it for spring and couldn't wait to try it over the airy Willow Blouse with washed black jeans and my favourite shearling slipper/slides.
---
Here are a few details about this look.
---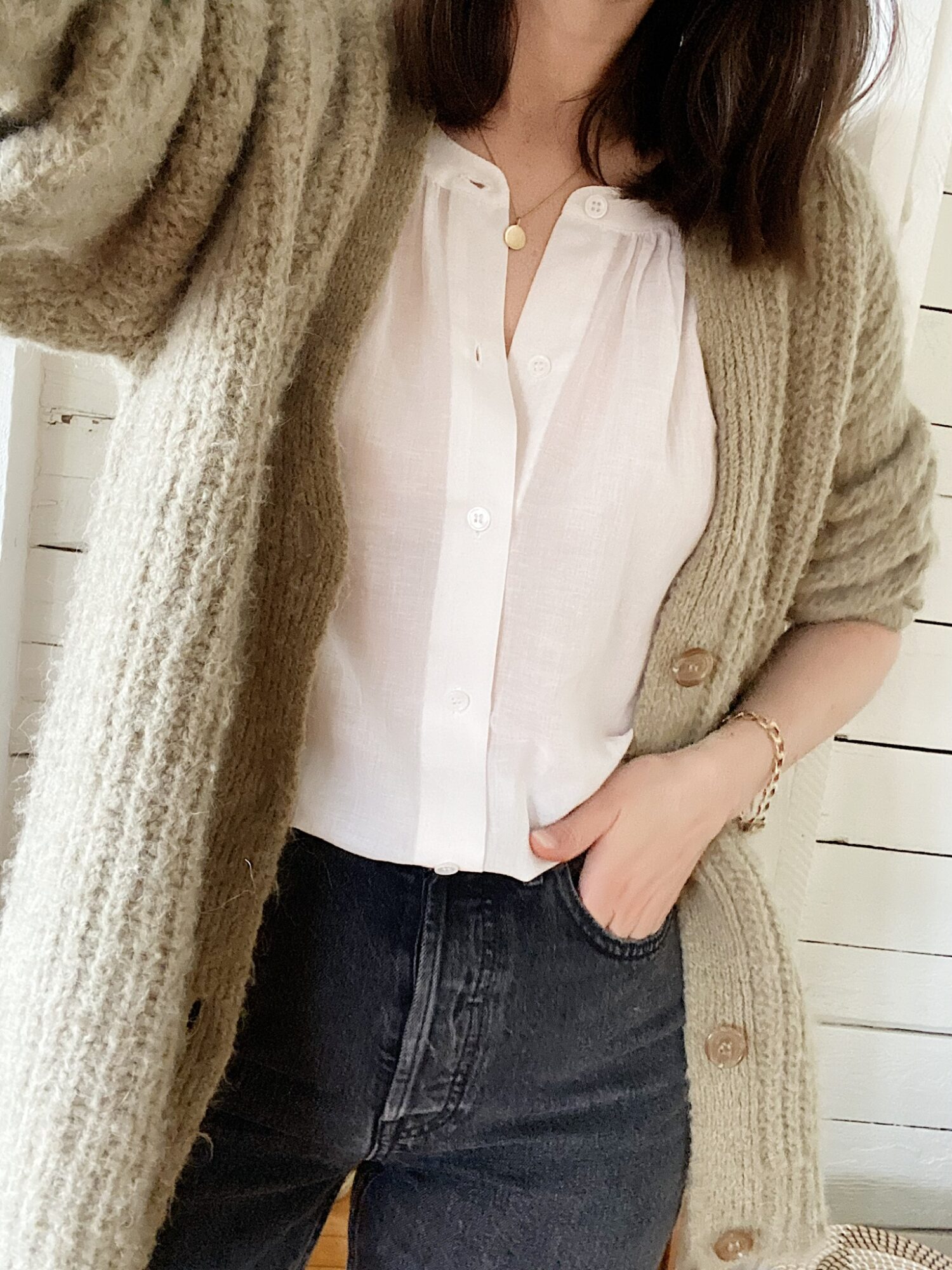 RESILIENT KNIT
I have found that the Cocoon Cardigan, being an alpaca blend, is a bit heartier than the cashmere version. It's a really great cottage knit because it works for lots of temperatures and it's not too precious.
I've collected firewood, picked up muddy pups, sat by fires and spilled coffee on this one and it freshens up magically every time!
---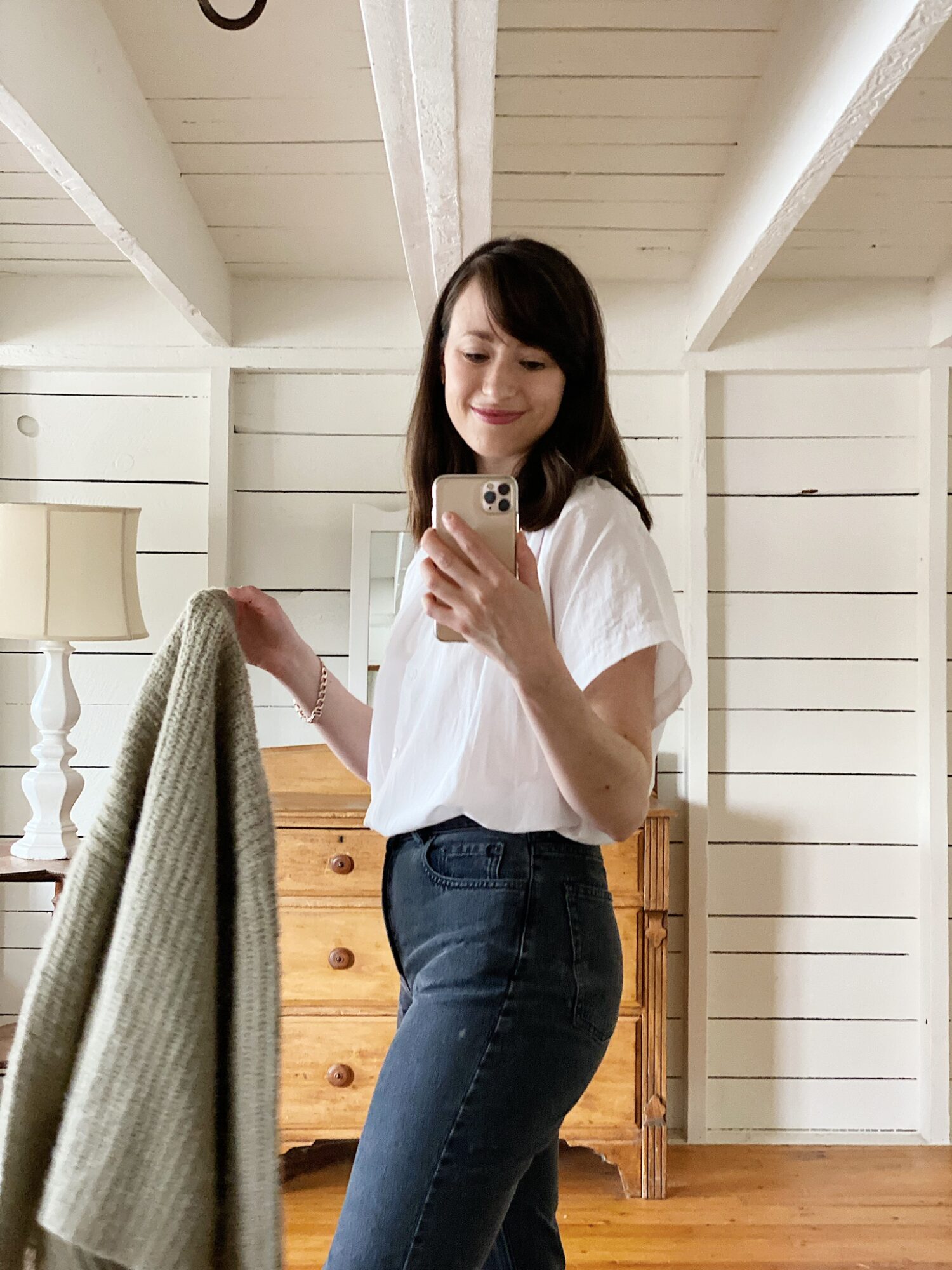 THE WILLOW BLOUSE
If the James Dress is spring in a dress, the Willow blouse is summer in a top.
Light as air and an absolute dream to style. It tucks and billows perfectly. It's very light so there is a sheer factor but with a skin-tone bra beneath I see no issues.
---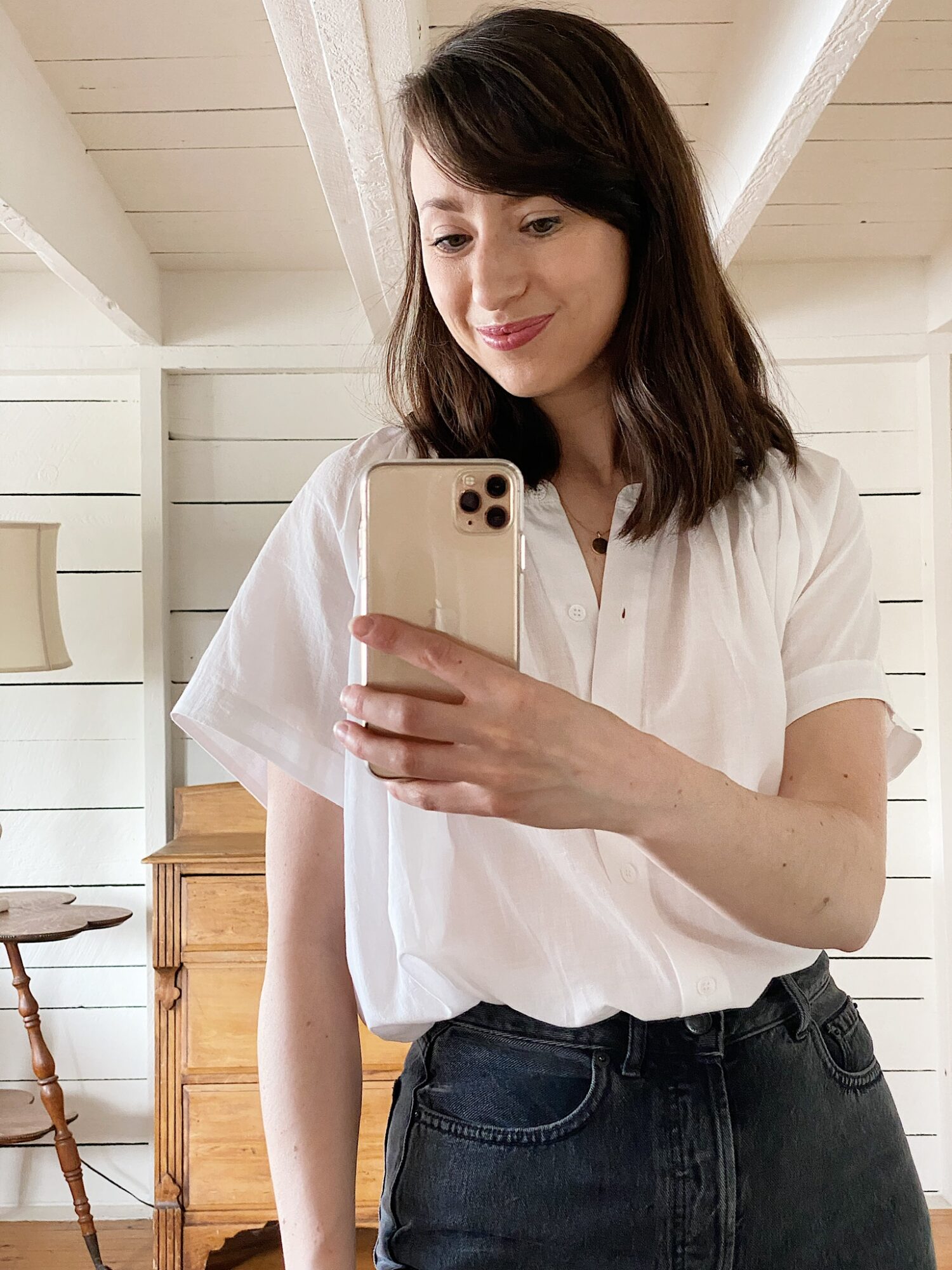 THE FLOATIEST FABRIC
The Willow Blouse is made of an incredibly light cotton/linen blend that truly floats over the frame. It's absolutely perfect for hot days and great for layering now too.
I love the double sewn edge, which helps the sleeve stand off the arm at an elegant angle.
---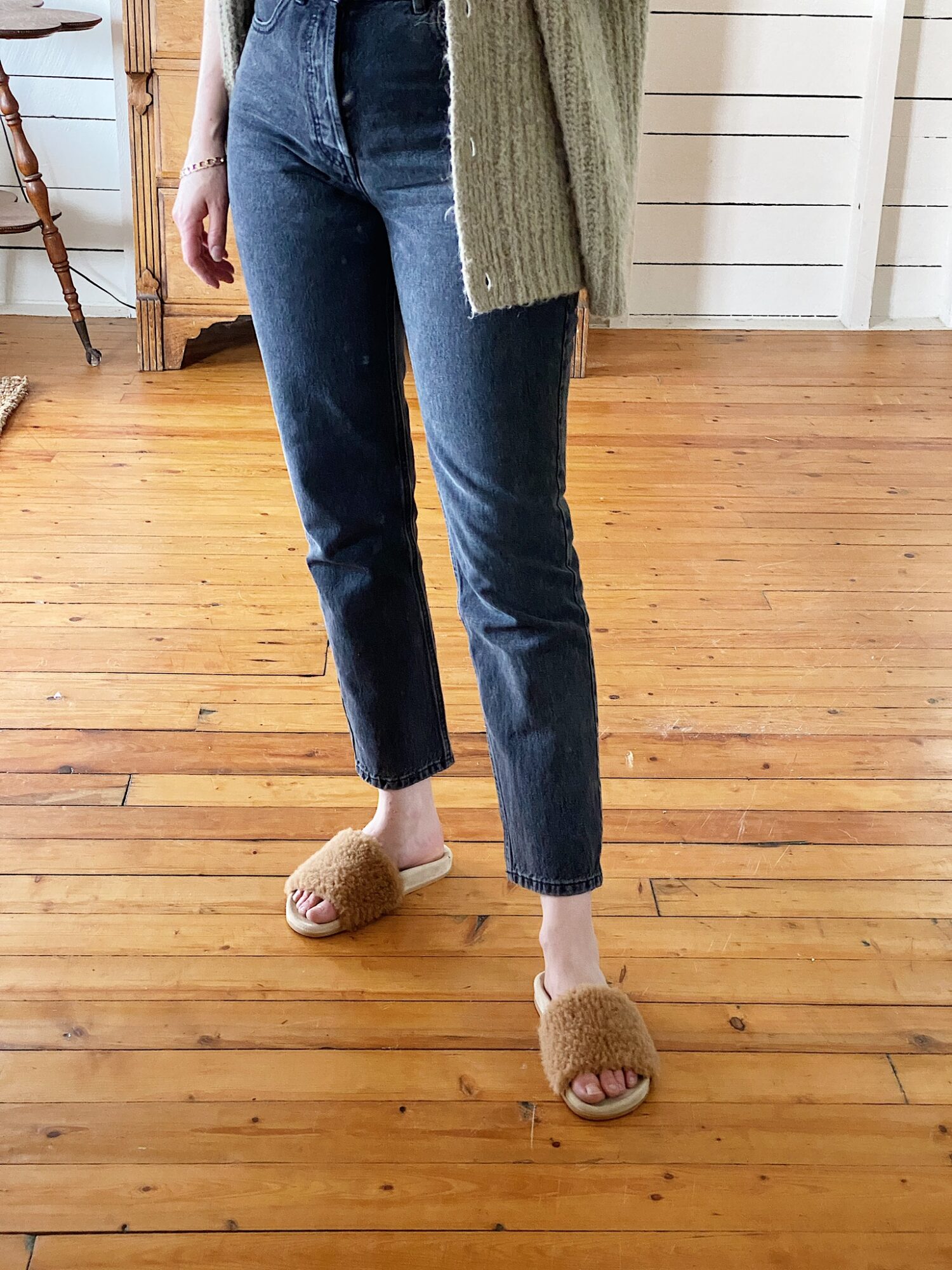 THE SLIPPER SLIDE
I've been wearing these shearling slides at home all winter and love that it's finally warm enough to consider stepping outside in them. They're the perfect cozy spring slide to give any look a bit of interest.
---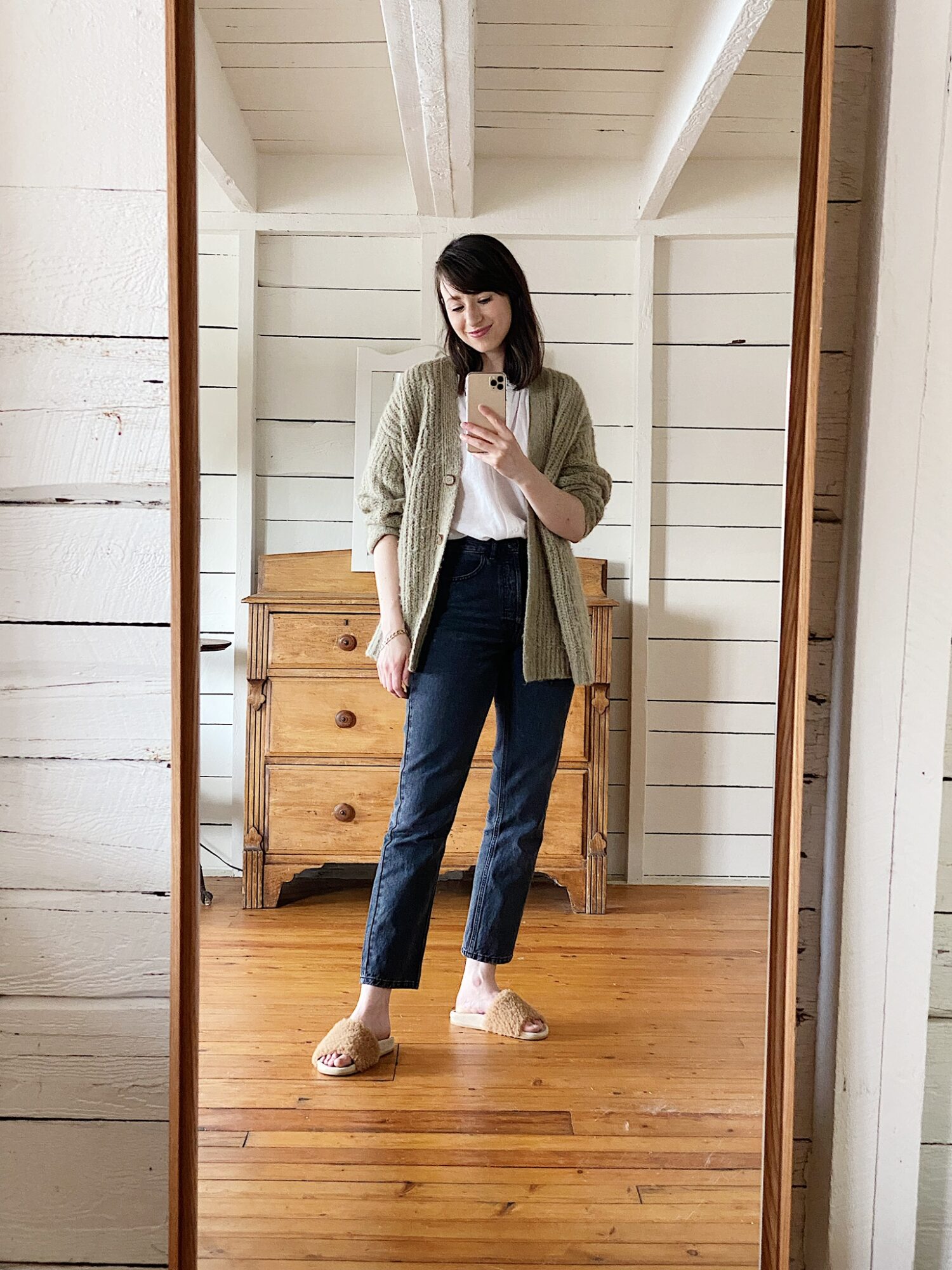 ---
Thanks for tuning in!
BE SURE TO CATCH BOTH OF THESE LOOKS IN MY LATEST REEL!