It's fair to say I've been having a love affair with green this summer and well, cupid has struck again! This dress was one of those pieces that comes out of the package and goes on right away. It didn't even make it past the steamer.
This exact number, the Riviera Dress (in Beech) is nearly sold out, but I still wanted to share it along with some styling ideas because they can work for just about any simple summer dress you might have in your closet. I've also pulled together a selection of other green dresses I love at the end of the post.
I hope this gives you some fresh ideas to help you style your favourite summer dresses in a few different ways!
---
This post is not produced in partnership with any brands mentioned but does contain affiliate links and gifted product. If you see something you like and decide to shop through the links included, I may earn commission on a sale at no additional cost to you. All opinions are always my own and I only share items I love and think you might too. Thanks for supporting Style Bee!
---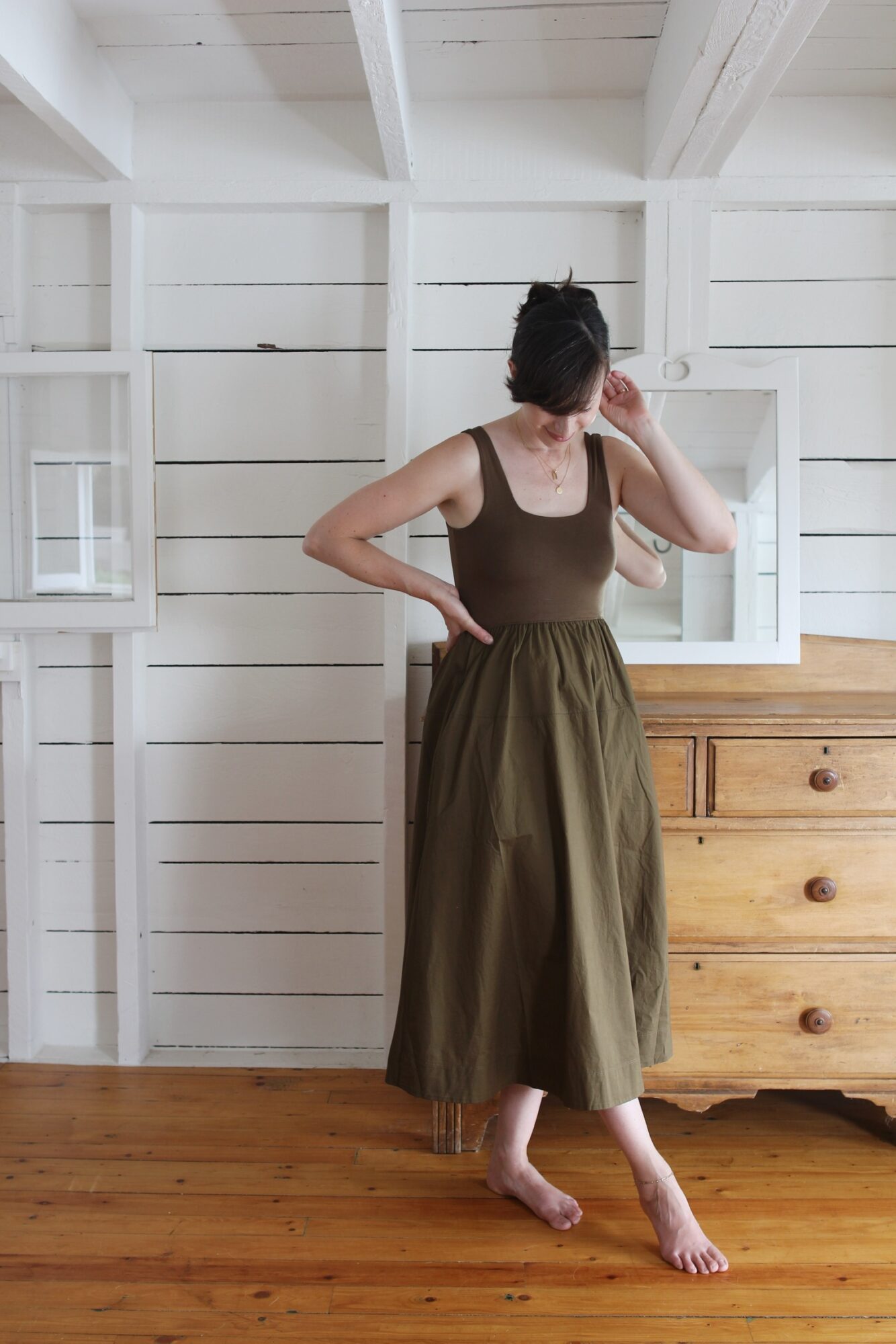 The Riviera Dress gifted EVERLANE | True to size. Wearing my usual size Small & yes, it has pockets!
---
STYLE IDEA #1
WORK / BRIDAL OR BABY SHOWERS / DINNER DATE
This first styling approach is for a range of occasions in which you may want a touch of structure and polish. I've added a white, slightly oversized blazer, minimal strapped block heels, and a soft neutral tote with a patterned silk scarf tied on the handle. This one feels sophisticated and elegant but still summery and fresh.
---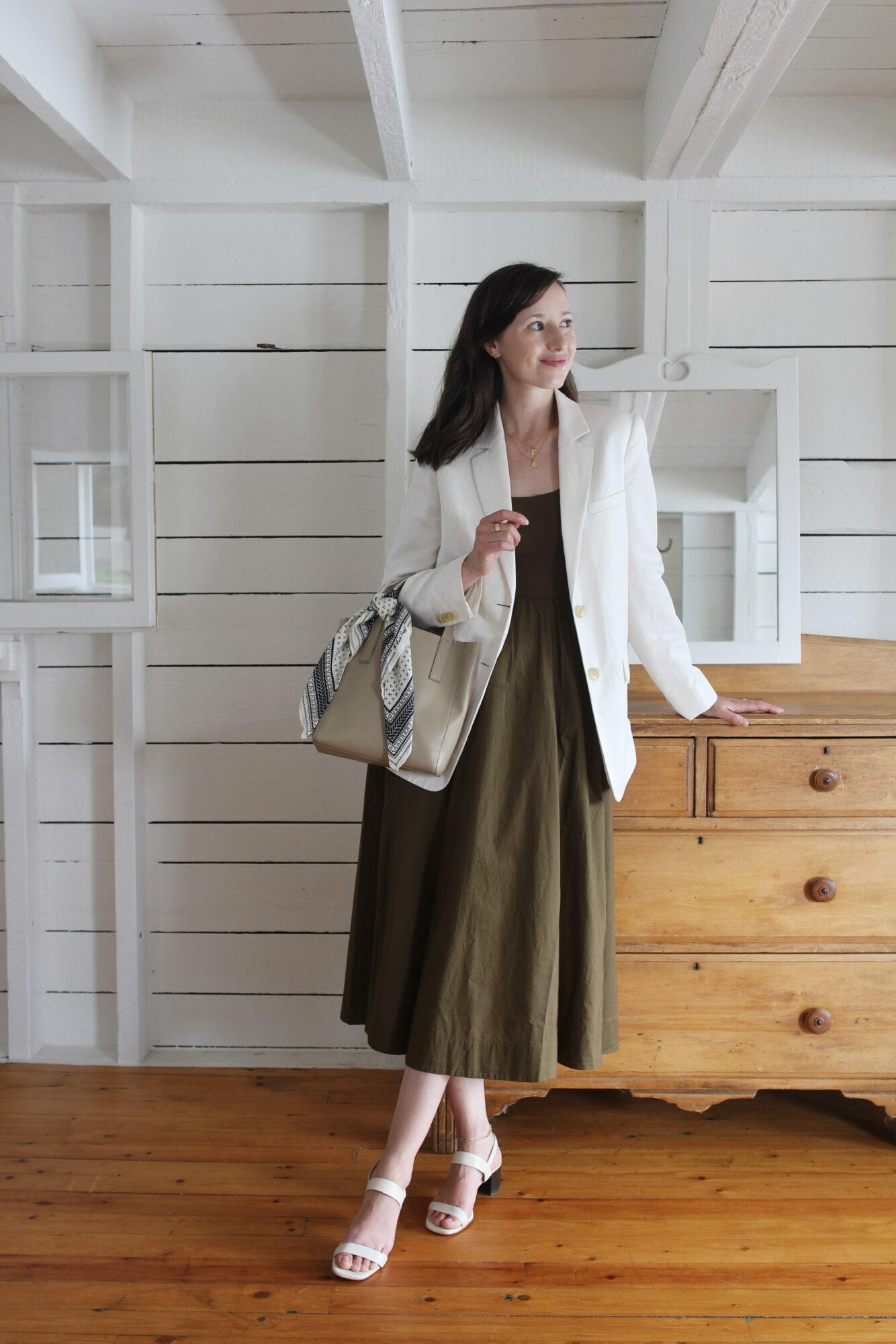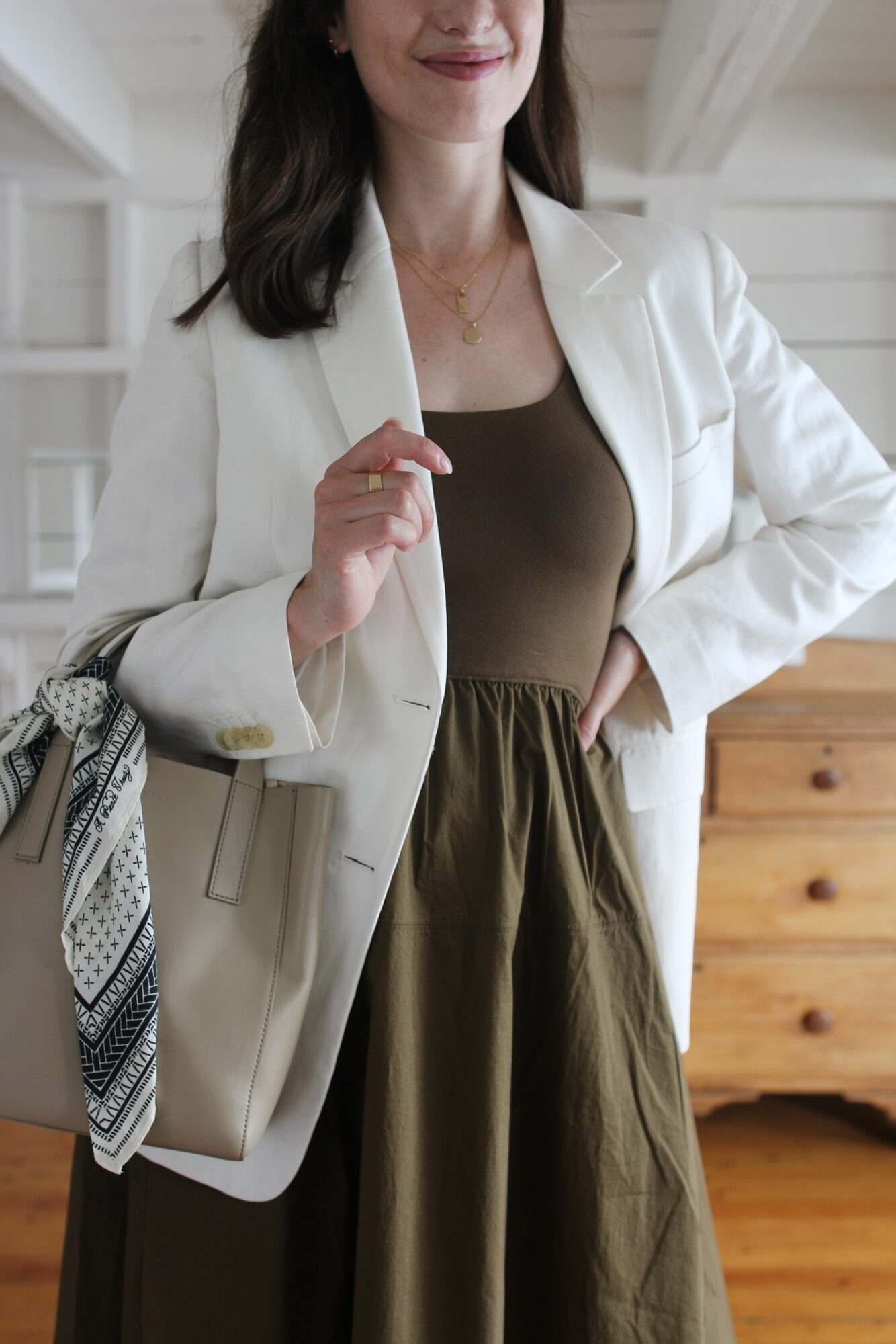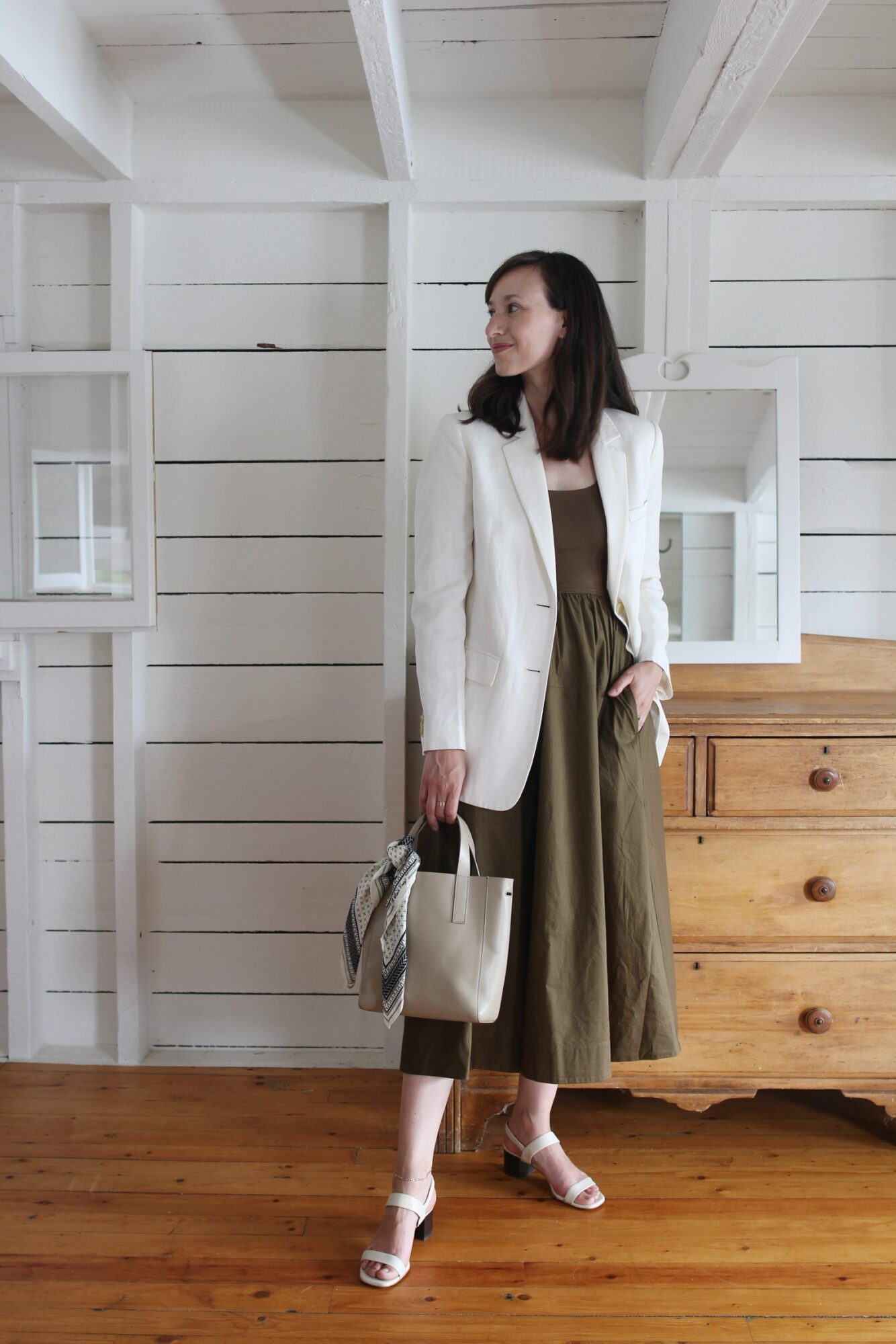 Riviera Dress (in Beech) gifted | Blazer old (similar linked) | Ivory Strap Sandals old (similar linked) | Tote old | Scarf old (similar linked) | Jewelry sources can be found in my Minimal Gold Jewelry Capsule

---
STYLE IDEA #2
HOT SUMMER DAYS / CONCERTS / MARKETS
This is how I immediately wore this dress to go collect a friend from the airport before an evening bbq at the lake. I just LOVE a palette of olive green, ivory and black. In fact, I used it in the first look too!
I love a hands free bag for days when I'll be out for awhile and a chunky, comfy sandal is always welcome when I'm on my feet for any length of time. I like these as an elevated take on Birks.
---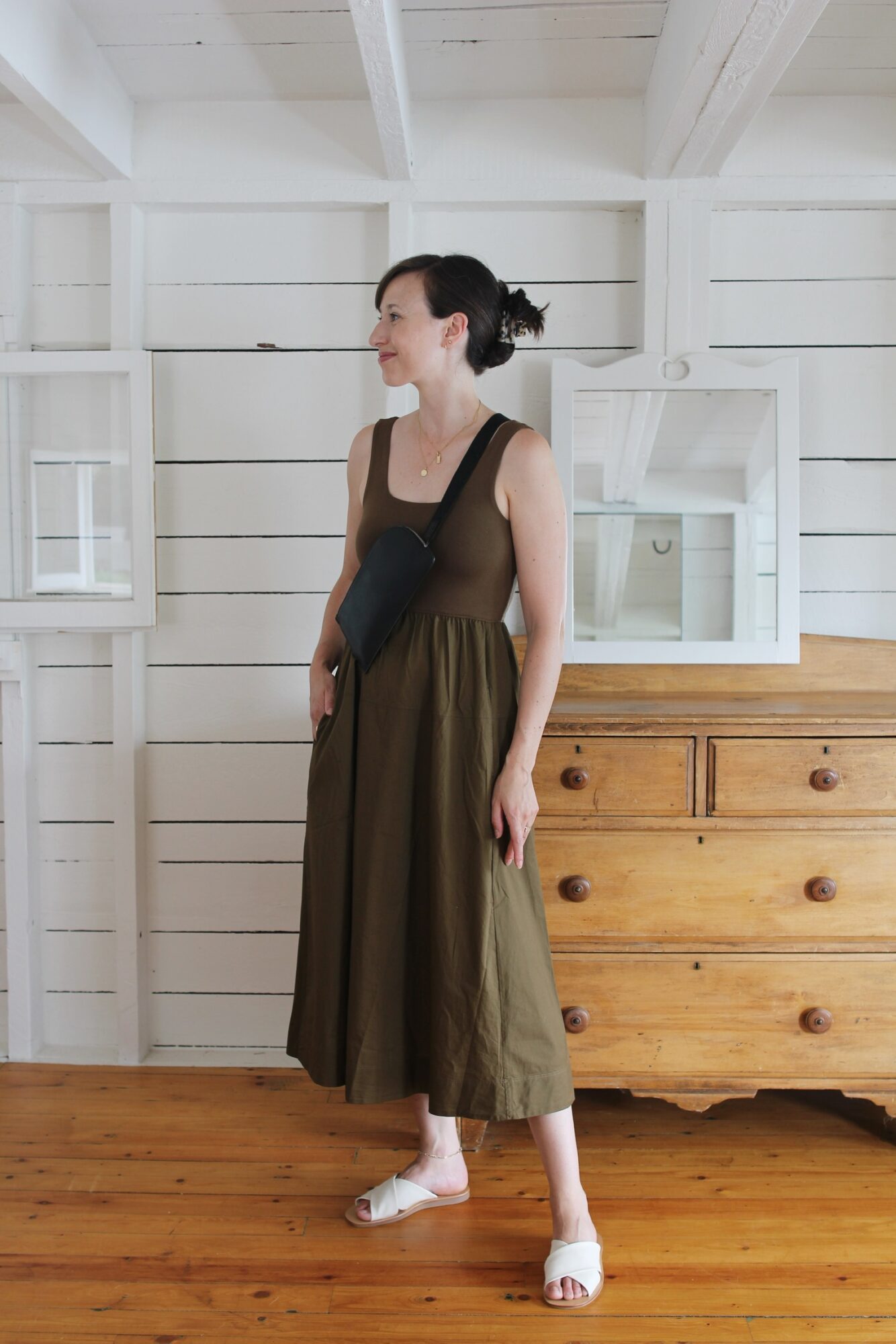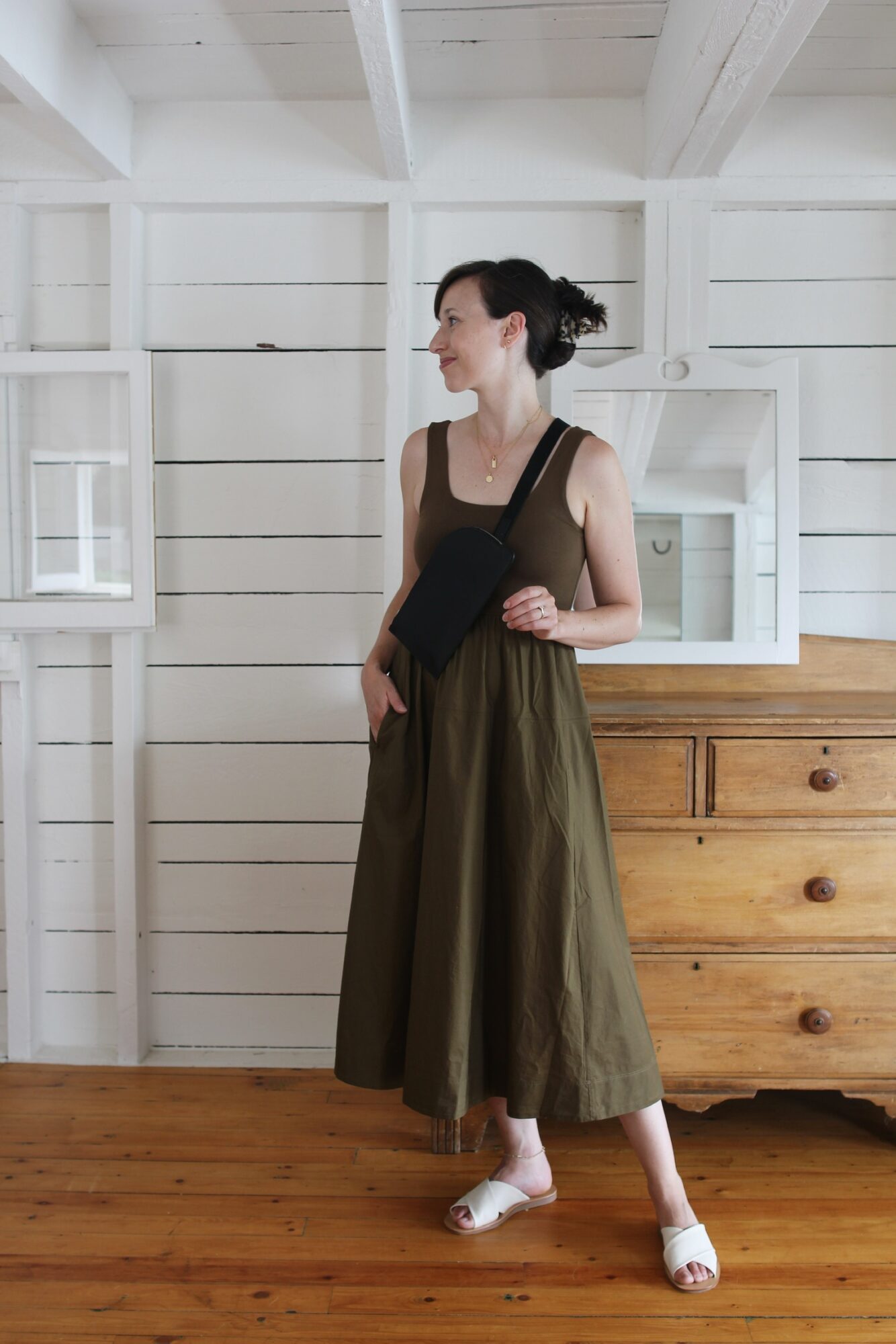 Riviera Dress (in Beech) gifted | The Day Crossover Sandal (colour sold out) gifted True to size. | Bag | Hair Claw | Jewelry sources can be found in my Minimal Gold Jewelry Capsule

---
STYLE IDEA #3
ERRANDS / TRAVEL
I always go for my denim jacket and a pair of comfy sneakers on "get sh*t done" days. A black baseball cap is perfect when my hair isn't in the mood to cooperate and a canvas tote is probably my most worn accessory in the summer. This look is perfect for running around town, hopping and out of my truck. I'd also wear it on a travel day so that my bulkiest items like a denim jacket and sneakers weren't taking up space in my carry-on.
---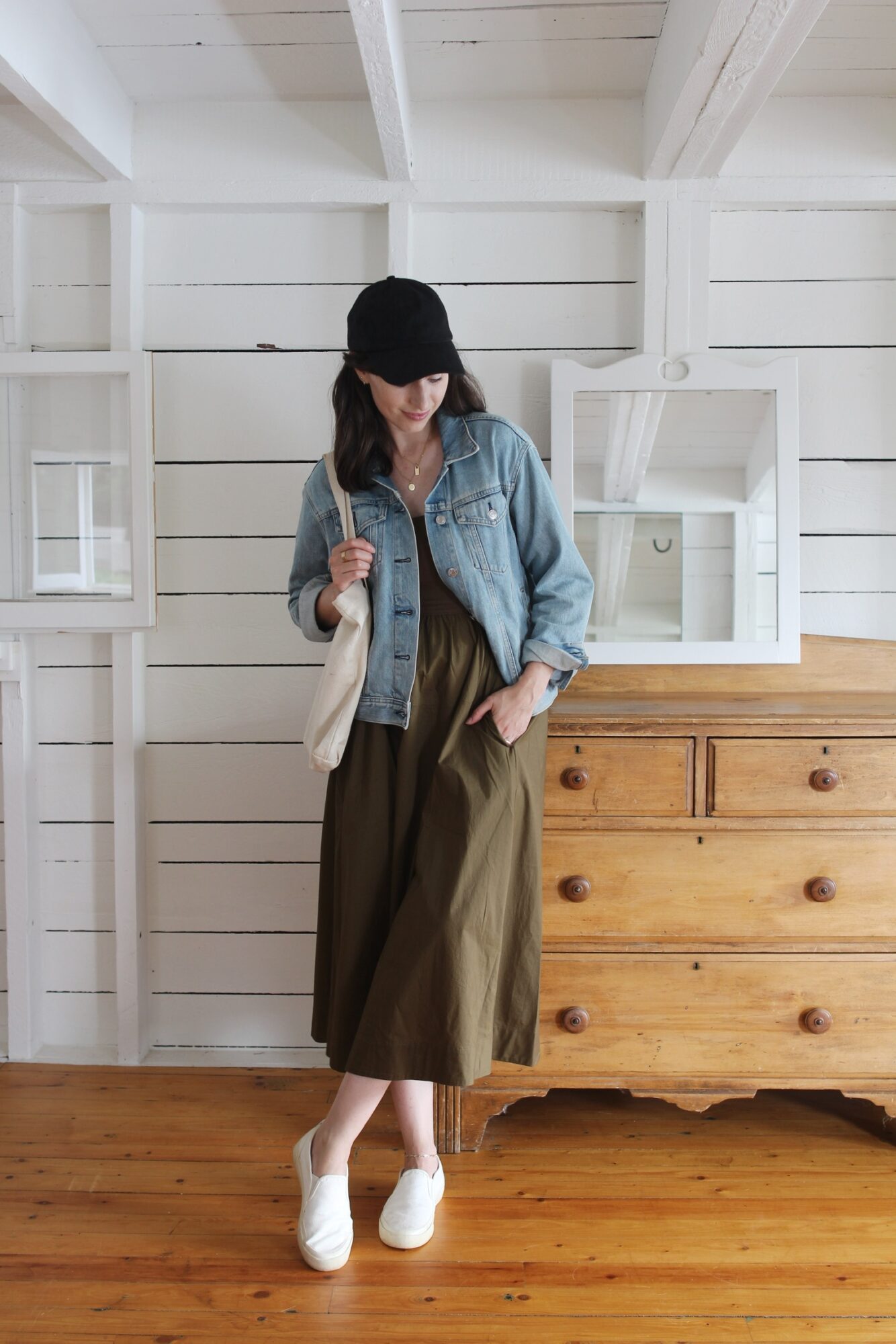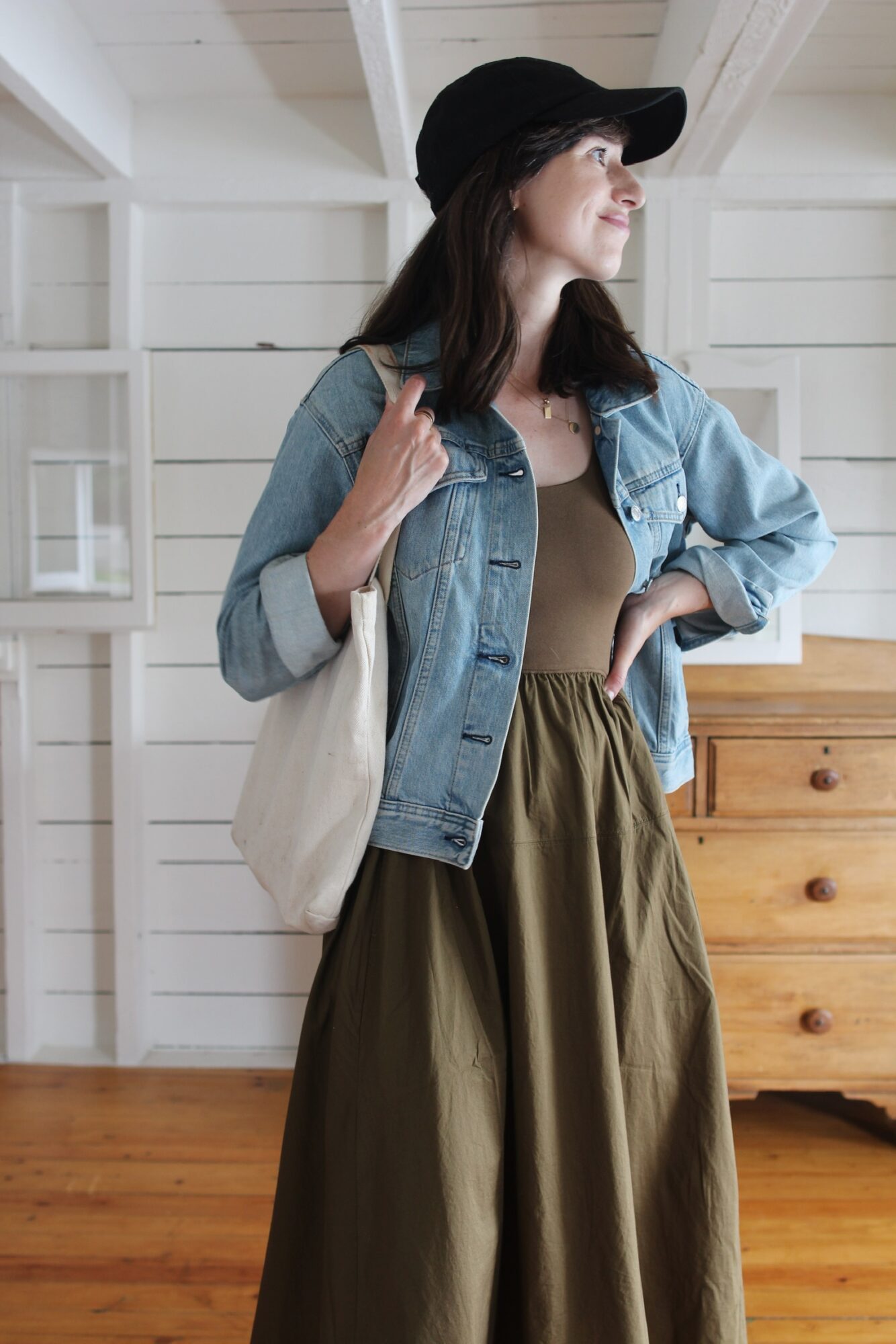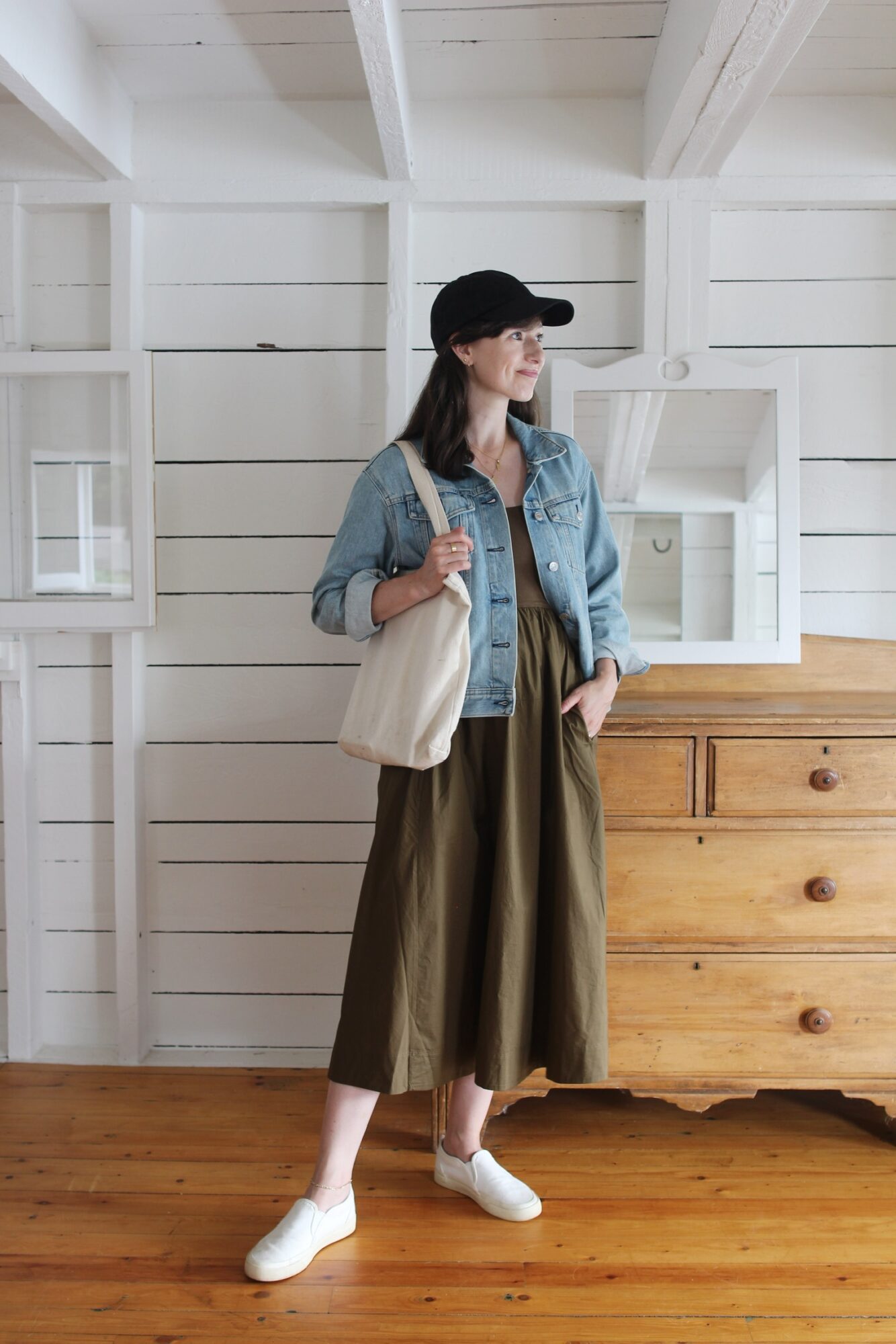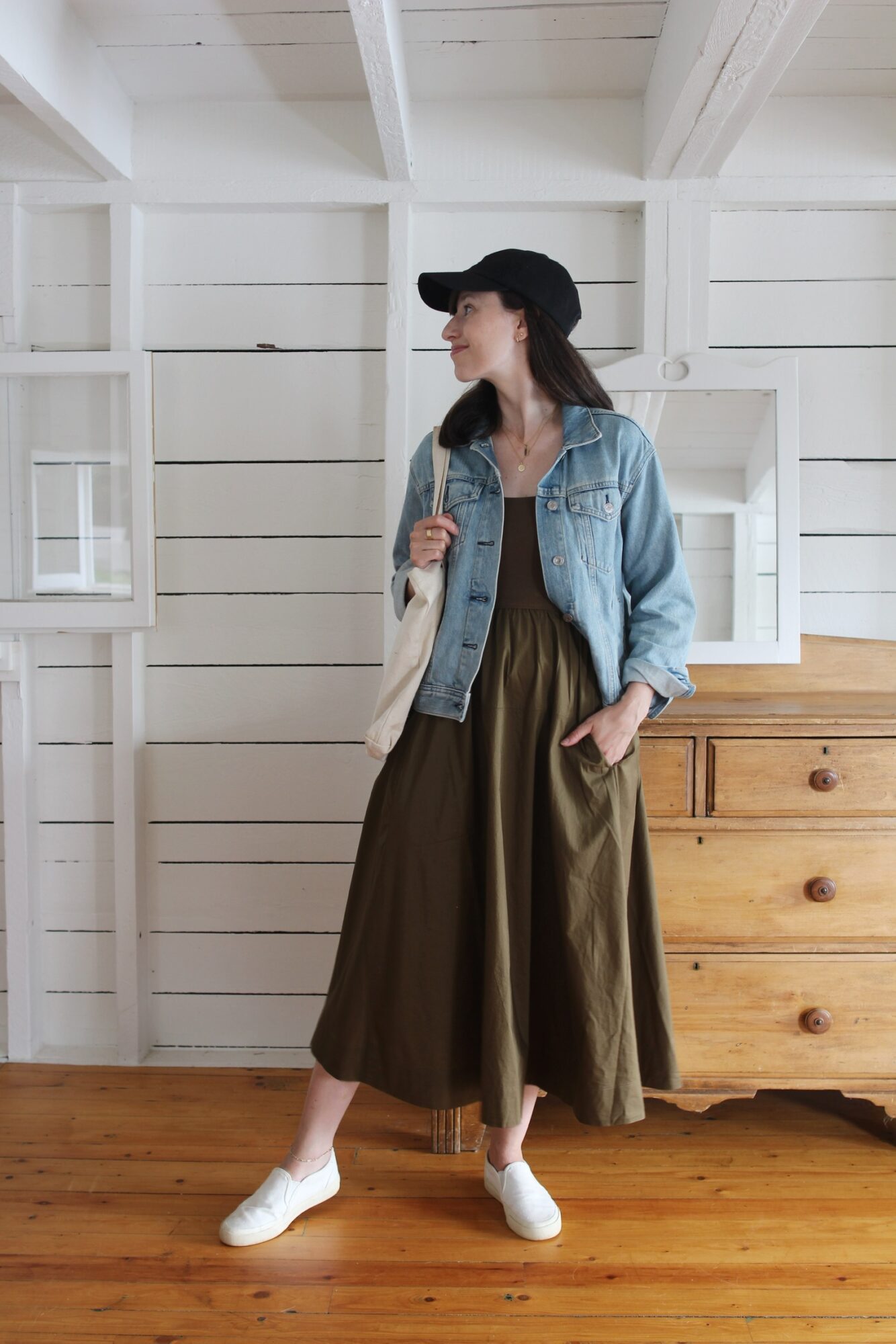 Riviera Dress (in Beech) gifted | Denim Jacket old (similar linked, use LEE15 for 15% Off) | Forever Slip On gifted I love these, check sizing notes. | Canvas Tote Bag old (similar linked) | Baseball Cap | Jewelry sources can be found in my Minimal Gold Jewelry Capsule

---
STYLE IDEA #4
BACKYARD GET-TOGETHER / DINNER OUT / BACHELORETTE / HOLIDAY
The final styling approach I took with this dress was for a more dressy occasion. Something like a summer party, a dinner out on holiday or a fun bachelorette evening. It really doesn't take much to elevate a simple dress. In this case, I slid on my go-to mules and chose a hair accessory in the same rich brown as the wooden heels. It's a very subtle "bookend" or "sandwich" trick that I love. Then I grabbed my beloved basket bag to add a summery texture and feel to the look. I'd probably just add a warm smokey eye, lots of mascara, and a slightly deeper lip colour if I were to wear this out IRL.
---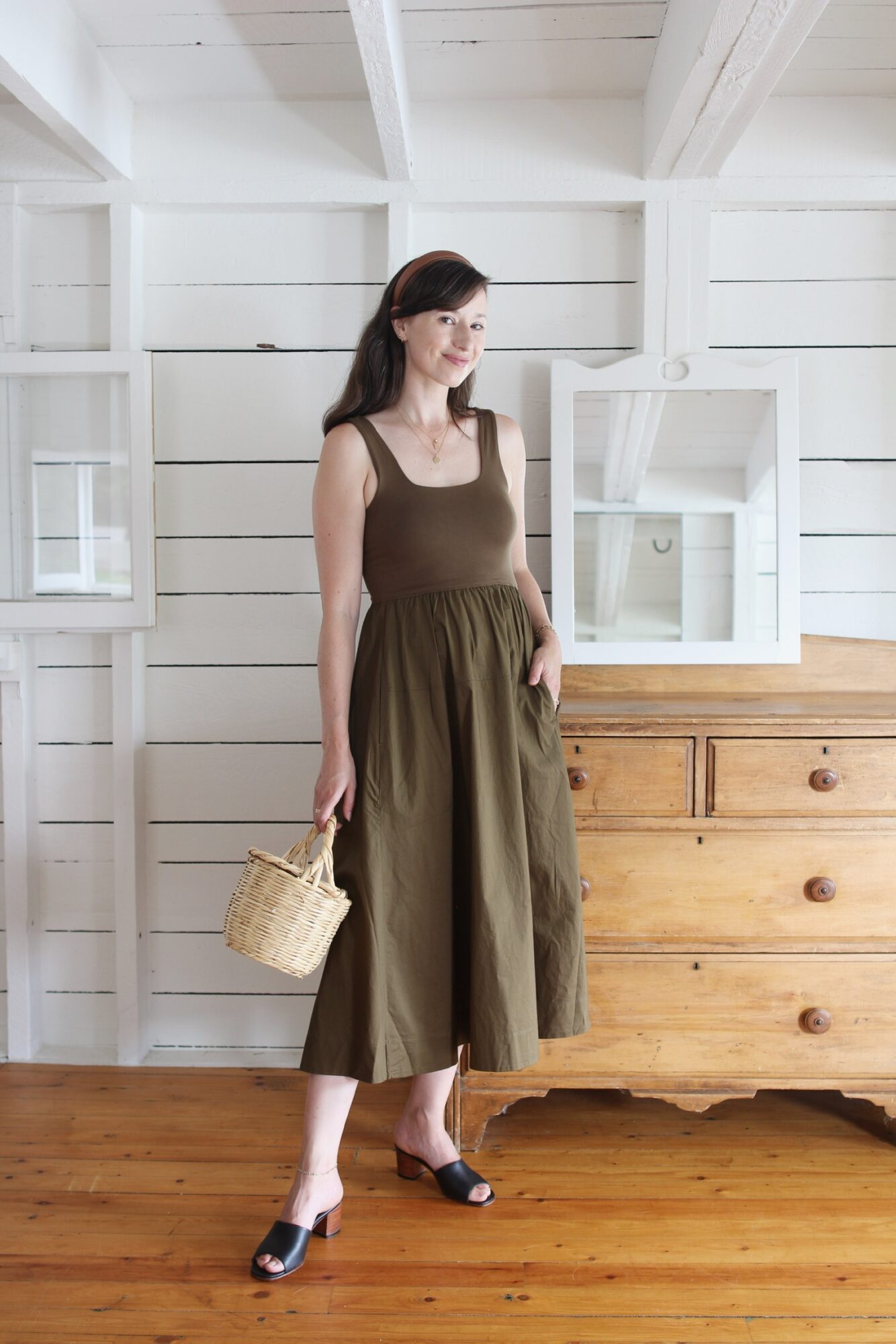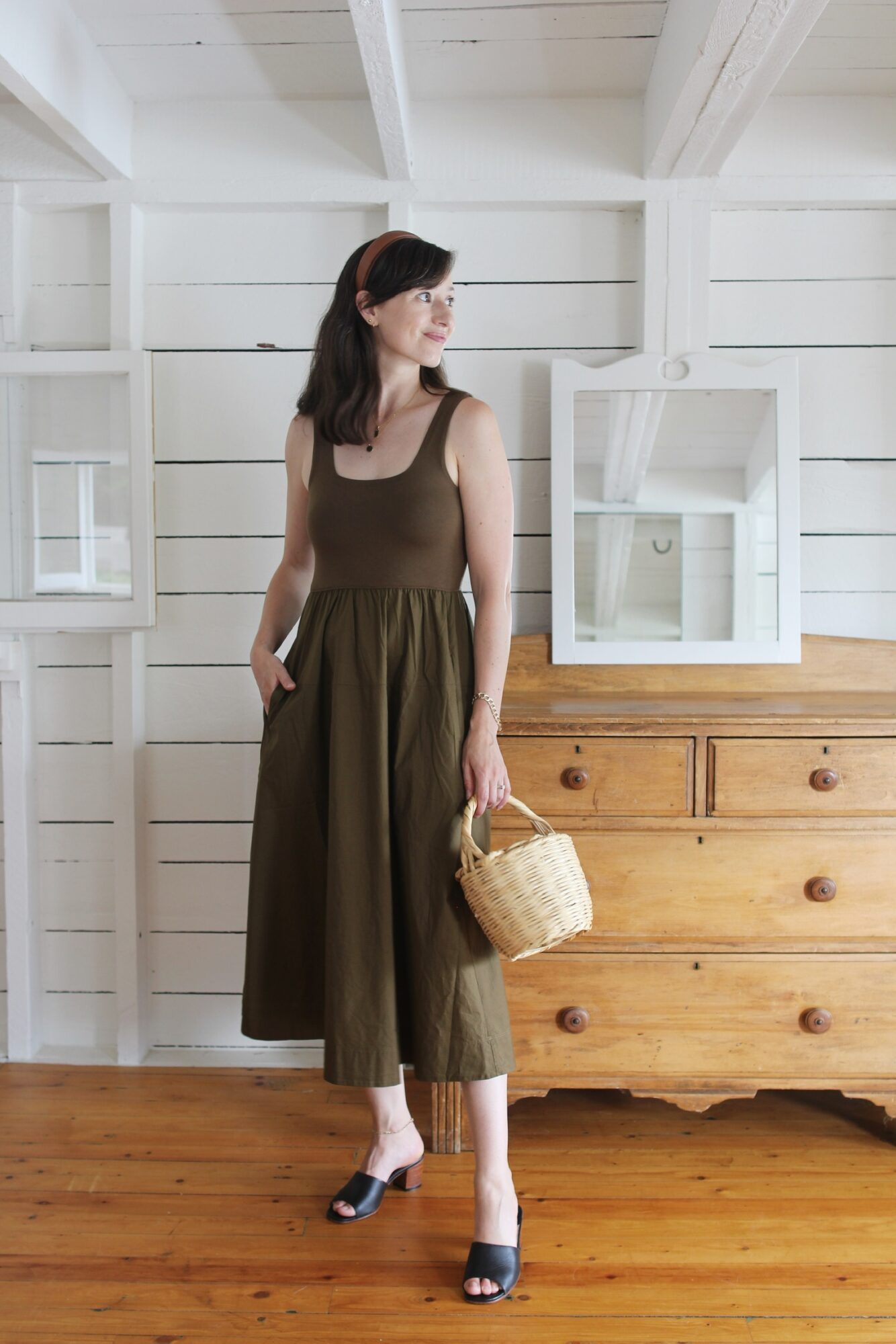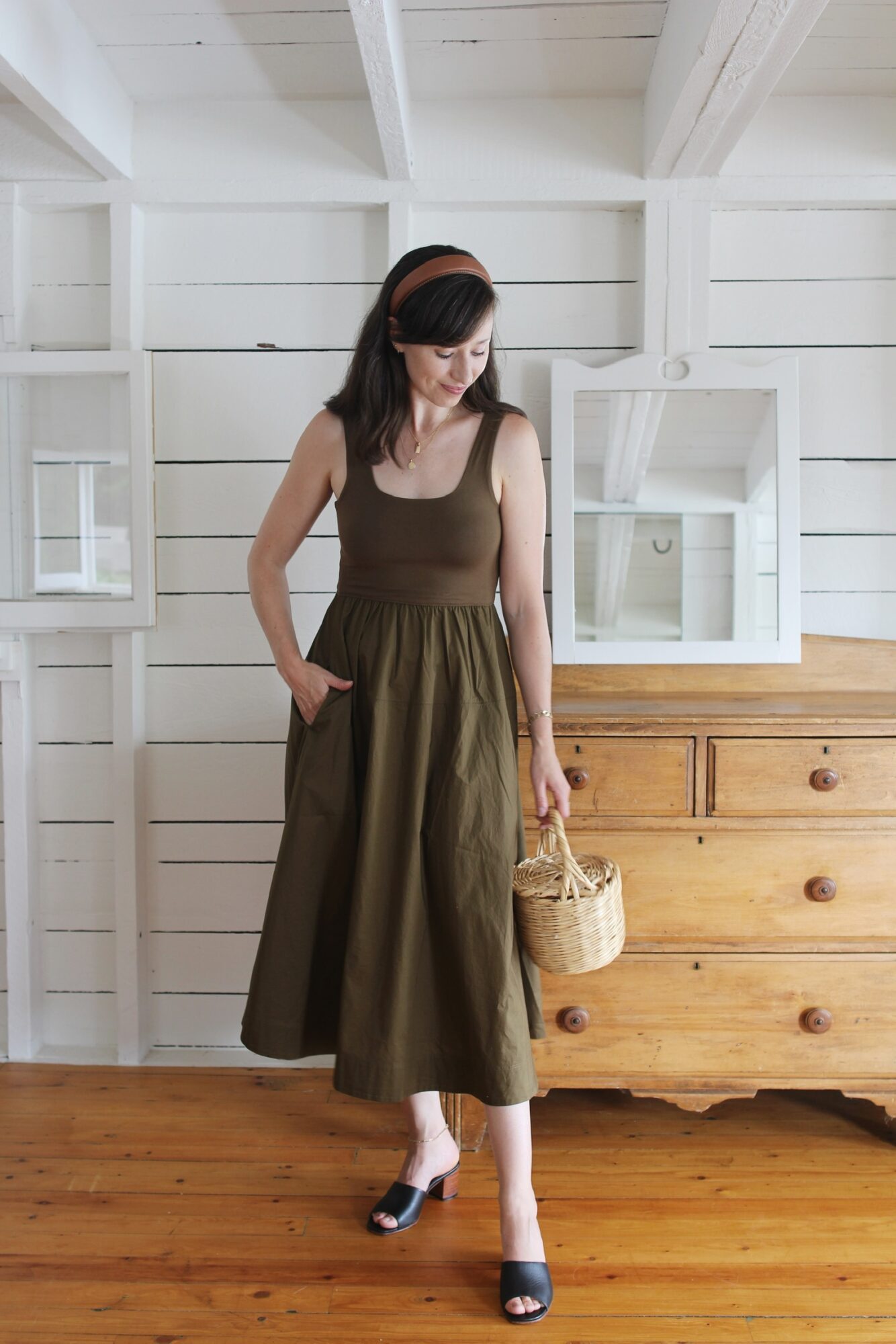 Riviera Dress (in Beech) gifted True to size. | Minimal Black Mules old | Basket Bag old | Leather Headband old | Jewelry sources can be found in my Minimal Gold Jewelry Capsule
---
MORE GREEN DRESSES I LOVE
The Smock Tiered Dress by VETTA
Silk Georgette Square Neck Dress from EILEEN FISHER
The Scarlett Dress by CHRISTY DAWN
The Puff Sleeved Smocked Bodice Midi from ABERCROMBIE
The Market Dress from ARITZIA
The Japanese GoWeave Slip Dress from EVERLANE
The Riviera Slip Dress by JENNI KAYNE
The Smock Dress from EVERLANE

---
Thanks for tuning in!
Wishing you all a lovely weekend and if you need a sign to wear a dress you love, this is it!