I shot this outfit about a week ago as a back-up look and now I finally have a chance to share it along with a few blog and style related things that have been on my mind. I suppose this will serve as a sort of mini Closet Mission Check-In since it's been too long (yet again) since I took a moment to 'check-in' about where things are at. So here's what I've got on deck:
 A proper 'Hello'.
Where my BLOG brain is at.
Where my STYLE brain is at.
How this outfit says it all.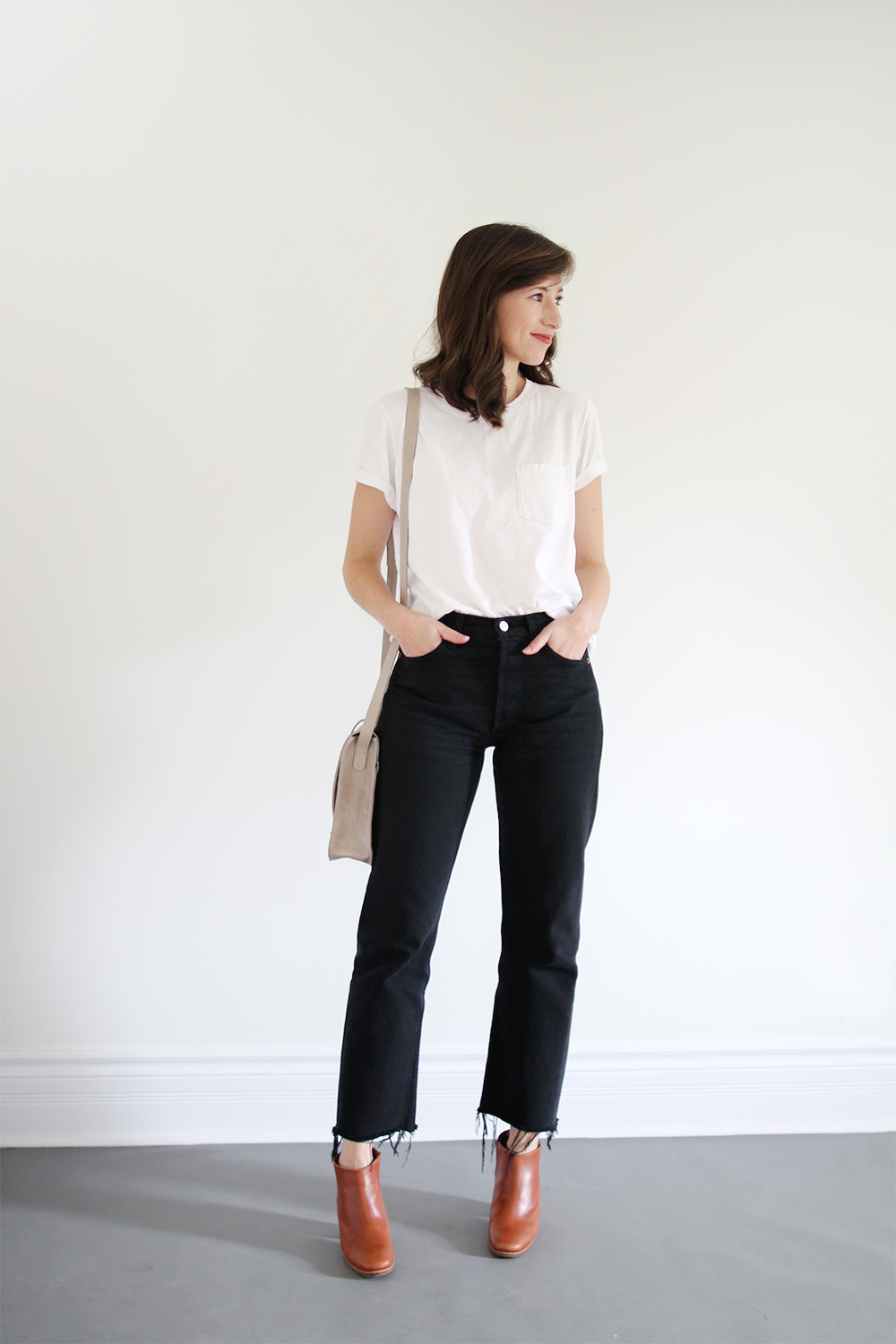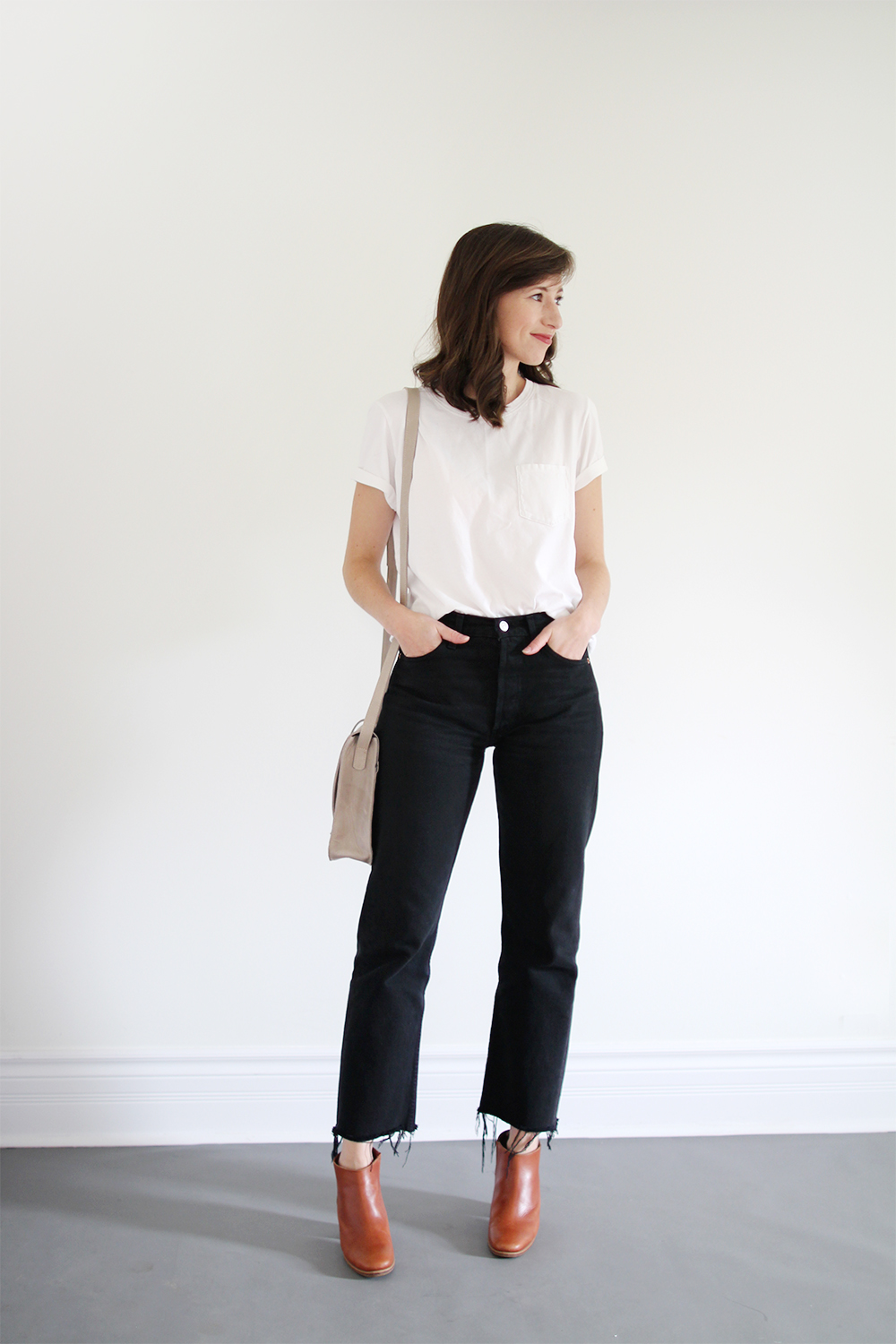 ---
1 | A PROPER 'HELLO'
There's been a lot of new folks checking out the blog lately, in large part thanks to the totally rad Caroline of Un-Fancy and in small part due to my recent Canadian Shopping Guide. But with everything going on I've yet to say an official, 'Hello and welcome to Style Bee!'. So here it is! I'm so glad you've made your way to my little corner of the lean closet loving interwebs. I know there's a whole lot of other awesome places you could be and a ton of great ways to get your style fix so I really do appreciate that you're doing some of it here.
A bit about me:
I started Style Bee in 2013 as a creative outlet where I went on tangents and ramblings about my personal style and 'stuff' I thought I should have until I realized it was mostly nonsense. Then after discovering some amazing blogs like Un-Fancy and Into Mind I started my own sort of CLOSET MISSION through which I've since been making an effort to buy less, ask more and make carefully considered additions to my wardrobe. It's been a ton of fun and a huge learning experience and even though there's a good chance it won't ever be fully complete I'm totally OK with that.
Now let's hear about you:
Where are you at with your style and perhaps your own closet mission?
Just starting?
Old hat?
Intermediate?
I'd really love to know what it is about personal style that makes you tick!
For me it's making a real effort to shop responsibly and only add items that I'm completely smitten with. Which brings me to my next topic…
---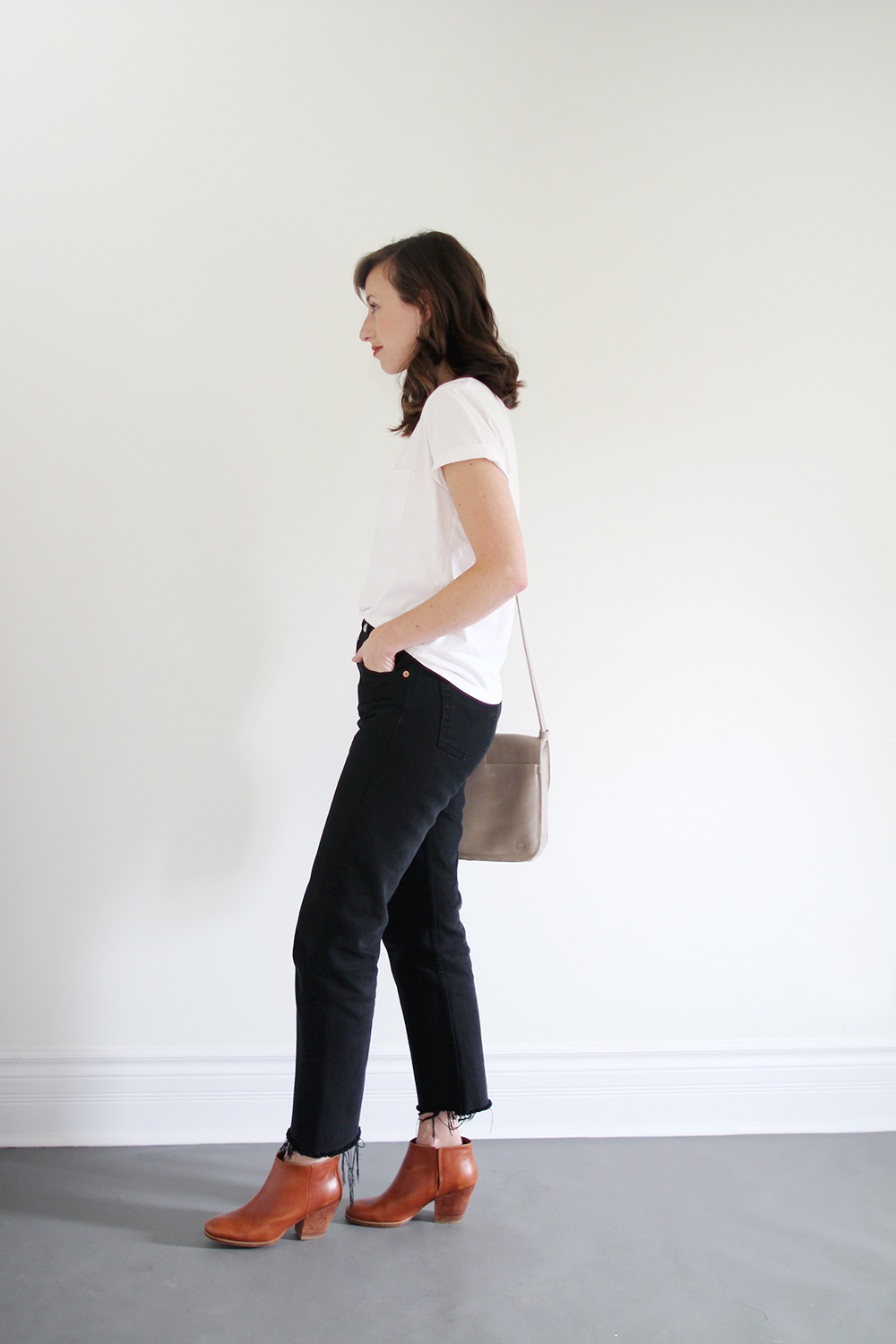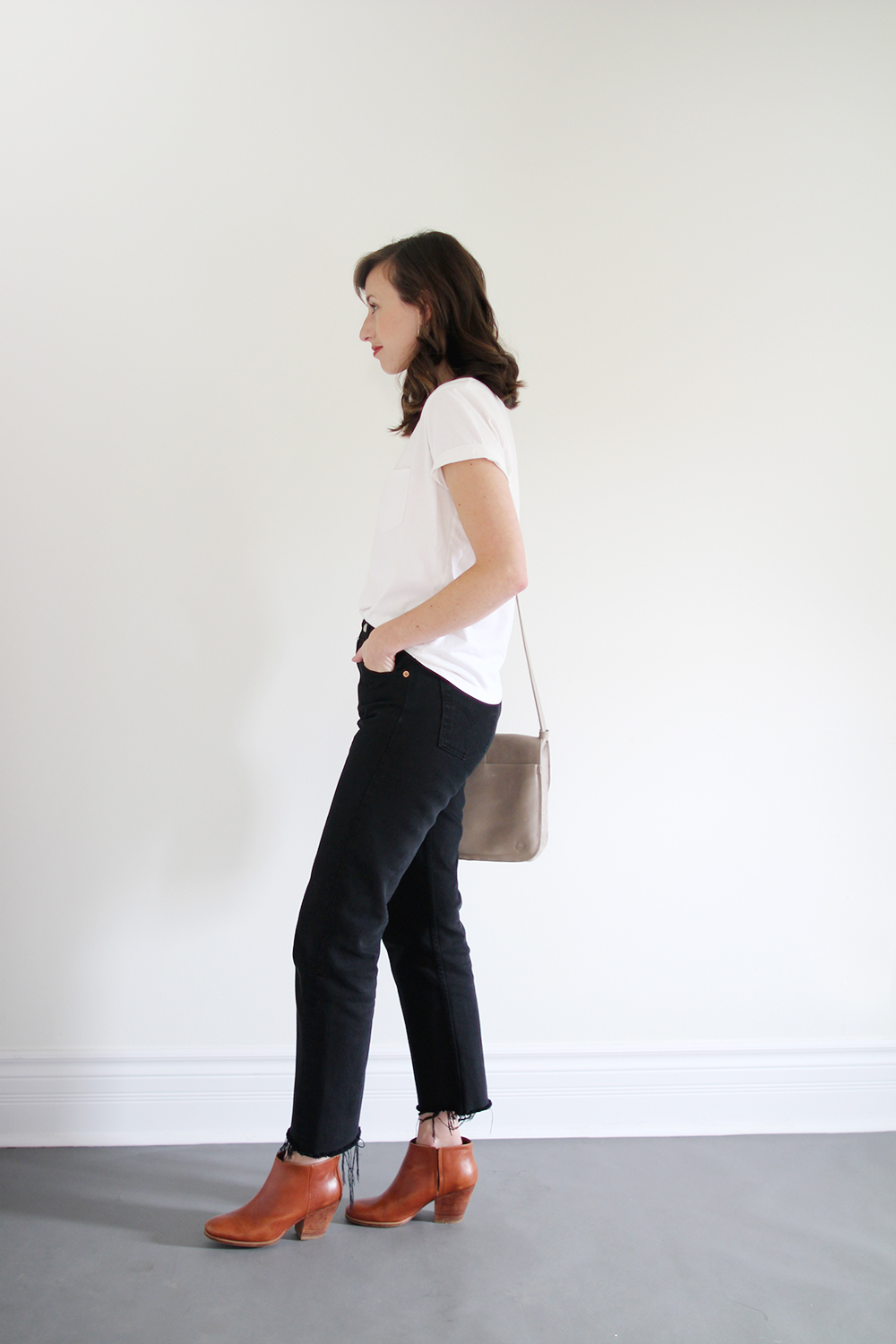 ---
2 | WHERE MY BLOG BRAIN IS AT
To be honest I feel like this is the first moment I've had to come up for air in a long time. The blog has been growing and as much as I've been trying to keep up with it's momentum, I've also had tunnel vision. As much as I say 'No' to opportunities that I know aren't a good fit, once in awhile I say 'Yes' to opportunities that might not be the best fit and I'd like to try and improve on that. I'll be the first to admit it's easy to get carried away when people want to send you beautiful things and even pay you to talk about them, especially when you'd love to blog for a living.
So I'm working to bring the blog back to an even more authentic and genuine state. The truth is I love blogging more than I love getting new stuff, which might seem counterproductive given the way the fashion blog industry runs but regardless, it's the truth. Of course, when the stars align and I get to add an amazing new piece to my life, I'm all for it but the whole process of planning, shooting, editing, writing, publishing and sharing is what I truly adore.
For example: I used to have my posts drafted days in advance. I'd tinker with photos and copy, show Dave my drafts, agonize over what to share on Instagram (in a fun way). I'd double and triple check to make sure everything was just right, then I'd schedule a publishing time and head off to sleep soundly.
Lately though, I've been scrambling. Shooting posts the day before, frantically trying to write copy and tie things up late the night before, if not early the morning of, forgetting to share things, putting off emails and well, it's been mega stressful. Somewhat self-imposed sure, but stressful nonetheless. That pesky old day job hasn't exactly left me twiddling my thumbs lately either! Oh and I almost forgot I'm supposed to be planning a wedding, AH!
But instead of letting myself run any more ragged I've decided to put a hold on partnerships and collaborations for a bit. I'm going to regroup and refocus on what it is about this space that I love so much, which is building beautiful content, writing little stories and connecting with awesome, like minded people who love making sense of their style. So that's what I'll be up to for the next little while!
---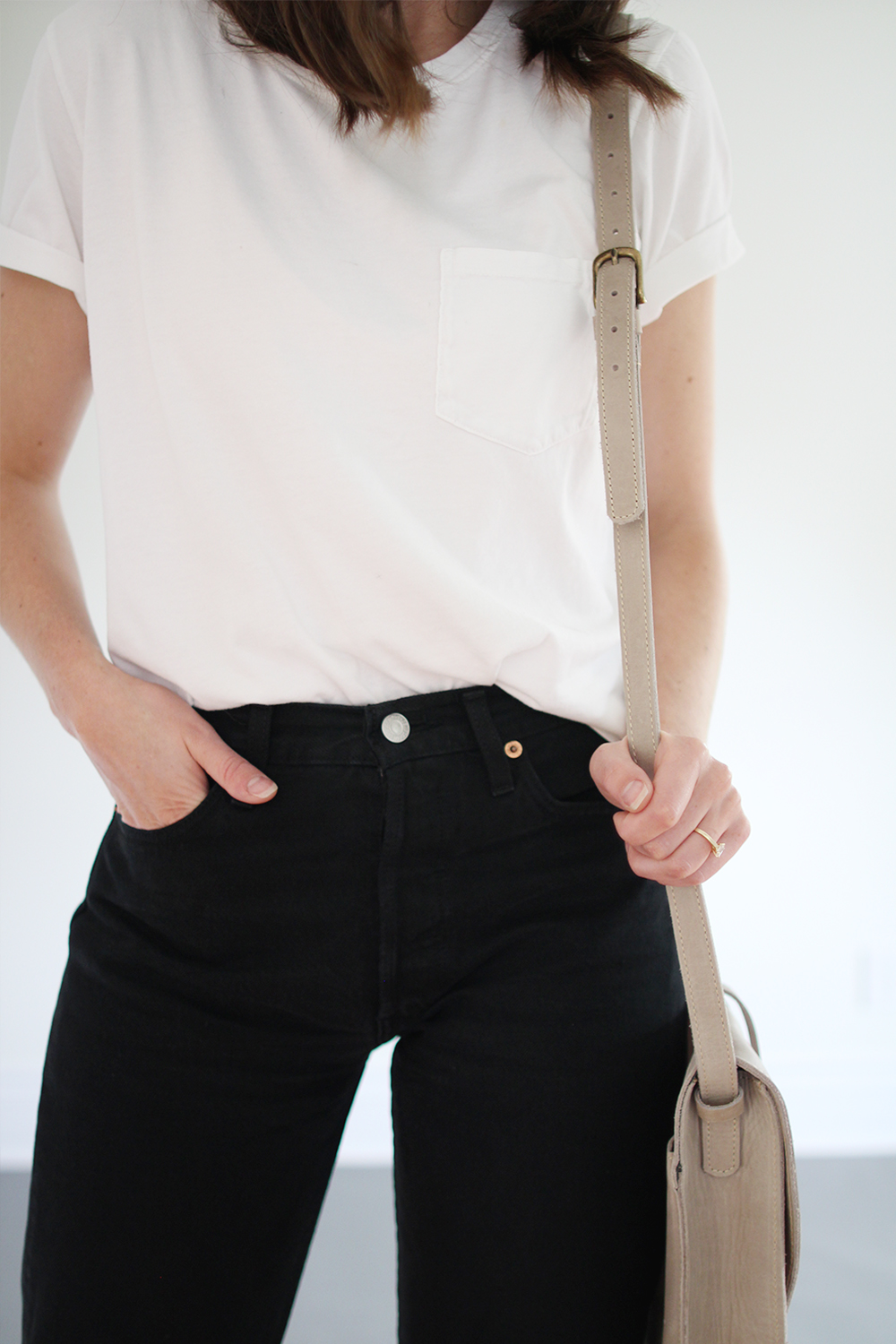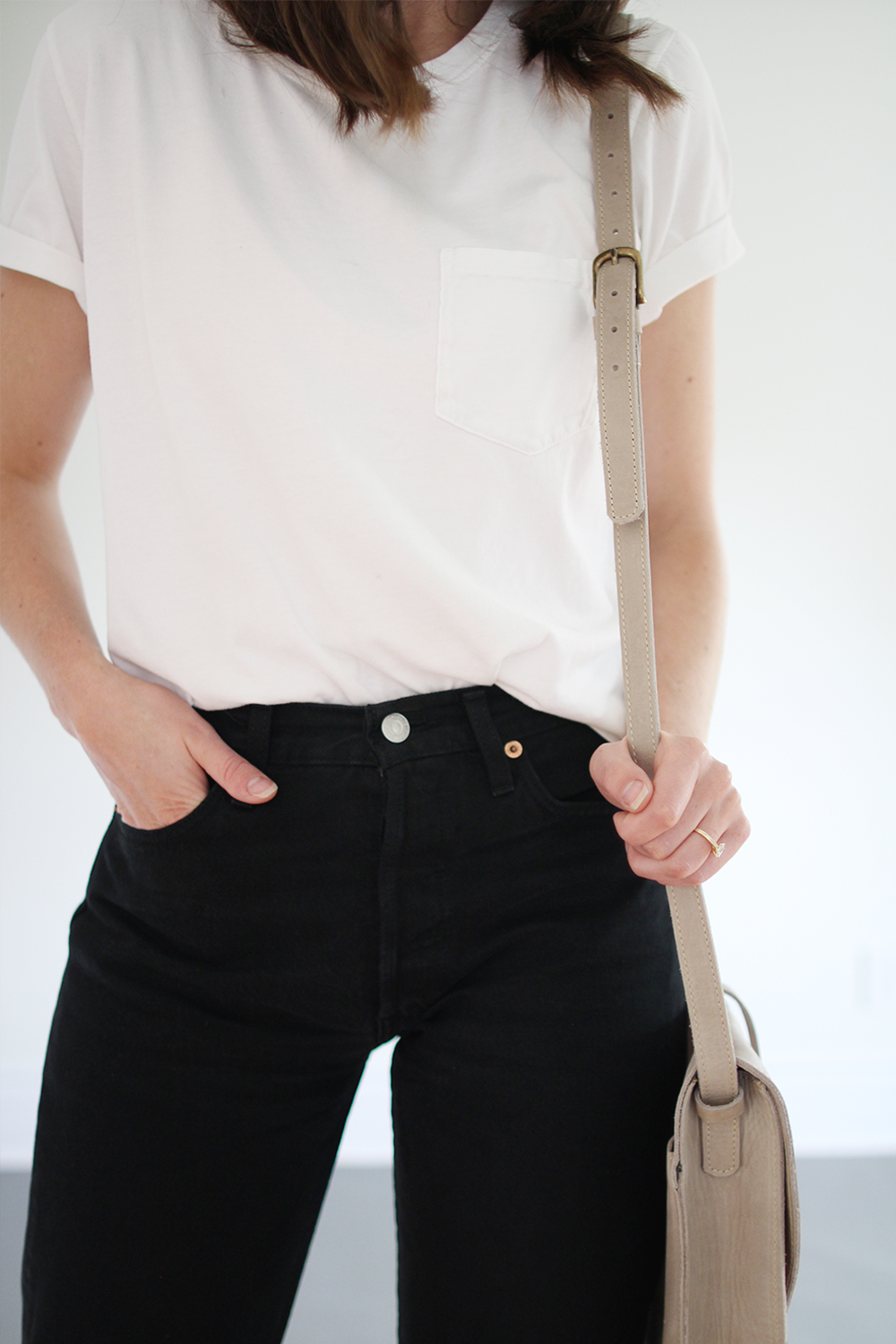 ---
3 | WHERE MY STYLE BRAIN IS AT
It's hard to believe but I haven't shopped since August. Well, actually I bought a pair of black skinny jeans last week, but they weren't right so back they went. Being busy has played a huge part in my accidental shopping fast (more on what that's about here) but I also just haven't really felt like it. I've felt like I should because I write a fashion blog and it certainly hasn't been for lack of temptation.
I picked up a few items in August when I was getting antsy for Fall (see my Fall Wish List) and it's only just started getting cool enough to wear them! So as much as I've been tempted by amazing Autumn style (hello ES Cold Weather, Jesse Kamm and DOEN!), I haven't felt compelled to pull the trigger on anything quite yet. This is very new for me so I'm just letting it all sink in.
Now, I could interpret this a couple ways but I'm choosing to see it as a very positive sign. I dare say, I'm legitimately content with my closet and my style at the moment. So instead of chasing the next new addition, I'm just going to take a deep breath, literally and sartorially, and enjoy what I have.
Saying it (or at least typing it) out loud already makes me feel better. I can't wait to dig into my FALL 10 x 10 CHALLENGE on Friday and take a closer look at a few old and a couple new-ish favourites that have not had a lot of face-time yet on the blog.
---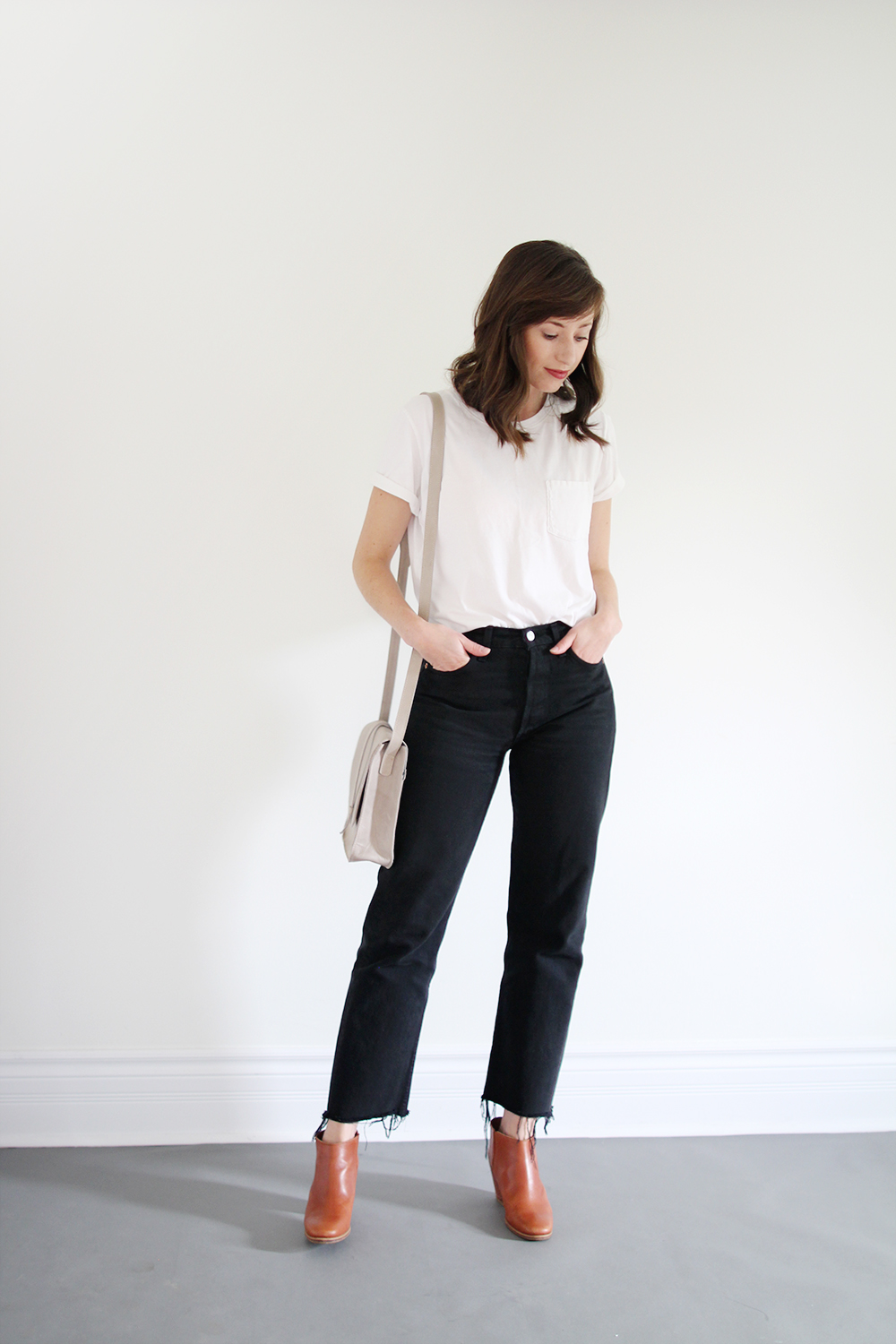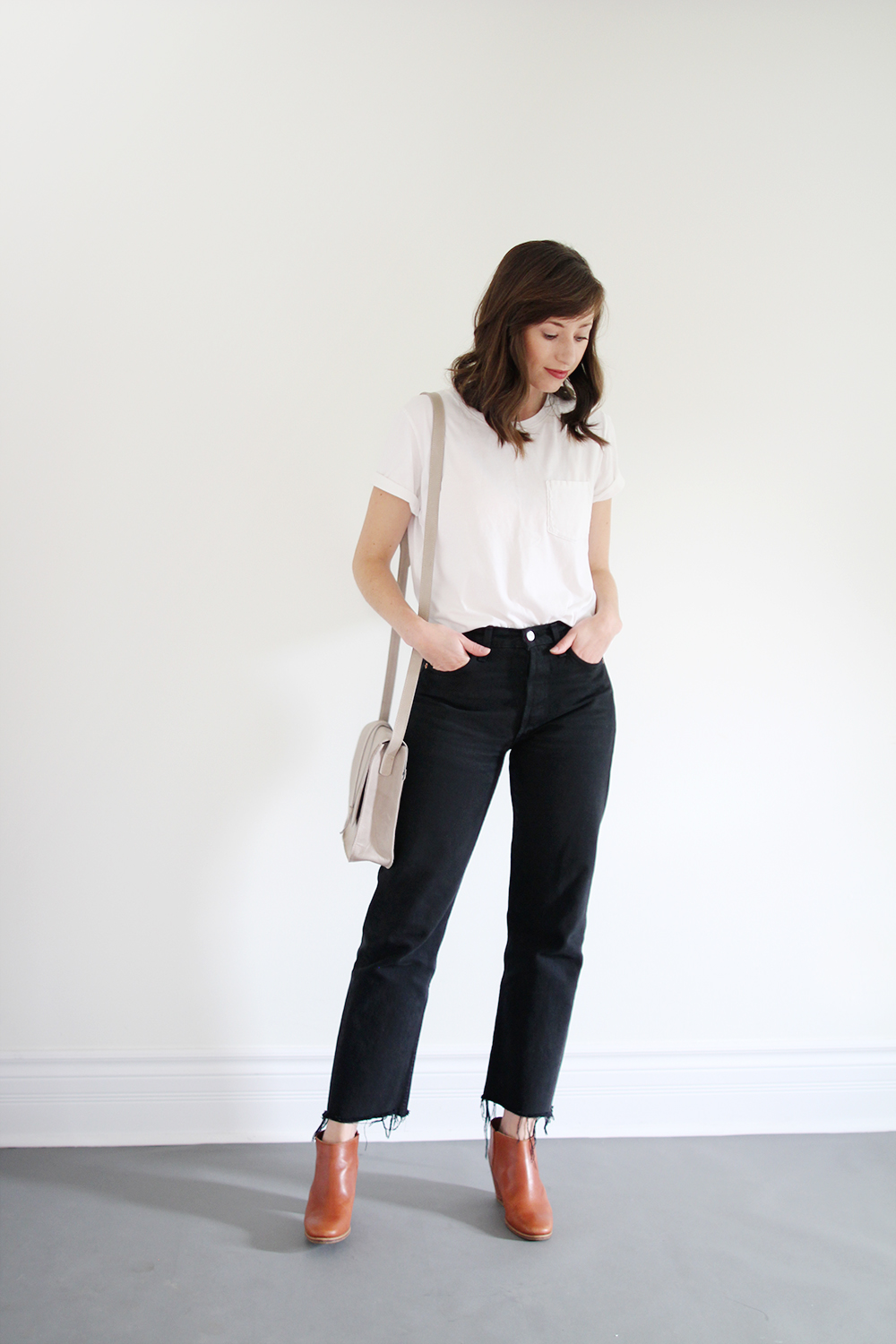 ---
4 | HOW THIS OUTFIT SAYS IT ALL
So just how does this outfit say it all? Well, for one, I didn't even plan on shooting it but I had my hair done for another style post and while I was setting up the studio in my favourite old tee and vintage jeans I thought why not shoot this one while I'm at it. Turns out this is the most accurate representation of my style I've captured in ages and probably one of my all-time favourite looks. It's relaxed but stylish, comfortable yet presentable and downright minimal in every way.
This t-shirt is my favourite. I know, I say I like a lot of tees, and I do, but this one, the Box-Cut Tee from Everlane, was my first purchase from them and to this day, probably my favourite. I'm making a mental note that I need to just ditch my other mediocre tees and only wear/buy this style going forward. My one wish is that it didn't have a pocket but I can definitely live with that. Size note: I'm wearing a M and usually order S. 
These jeans are vintage, fabulous and funny story…
I bought them at Episodes while I was visiting my wonderful friend Hannah in Amsterdam. I tried on about 20 pairs of black Levi's and when the perfect pair slipped on I knew they had to leave with me. In my haste, I ended up bringing the wrong pair back to her apartment, where I realized my mistake in horror. I made poor Hannah and her partner Ben come all the way back to exchange them in a frenzy before we caught a boat-ride along the canal. But I wore them out that very night, to the Red Light District no less, and they're an all-time closet favourite now! I've linked to some great black vintage (and new) options below.
This bag was the result of a great collaboration that I'm so glad I did and these boots are probably my favourite shoes ever, sorry if you're sick of them, I just can't help myself!
The key thing is that every part of this look has a small but important story behind it and I love how it feels when they all come together. That's what personal style should be about, right? Bringing small but tangible parts of your life together to give them a whole new meaning. Not just trying to be the first to wear or share some new 'must-have' item.
Thanks for indulging my stream of consciousness friends! See you on Friday!
---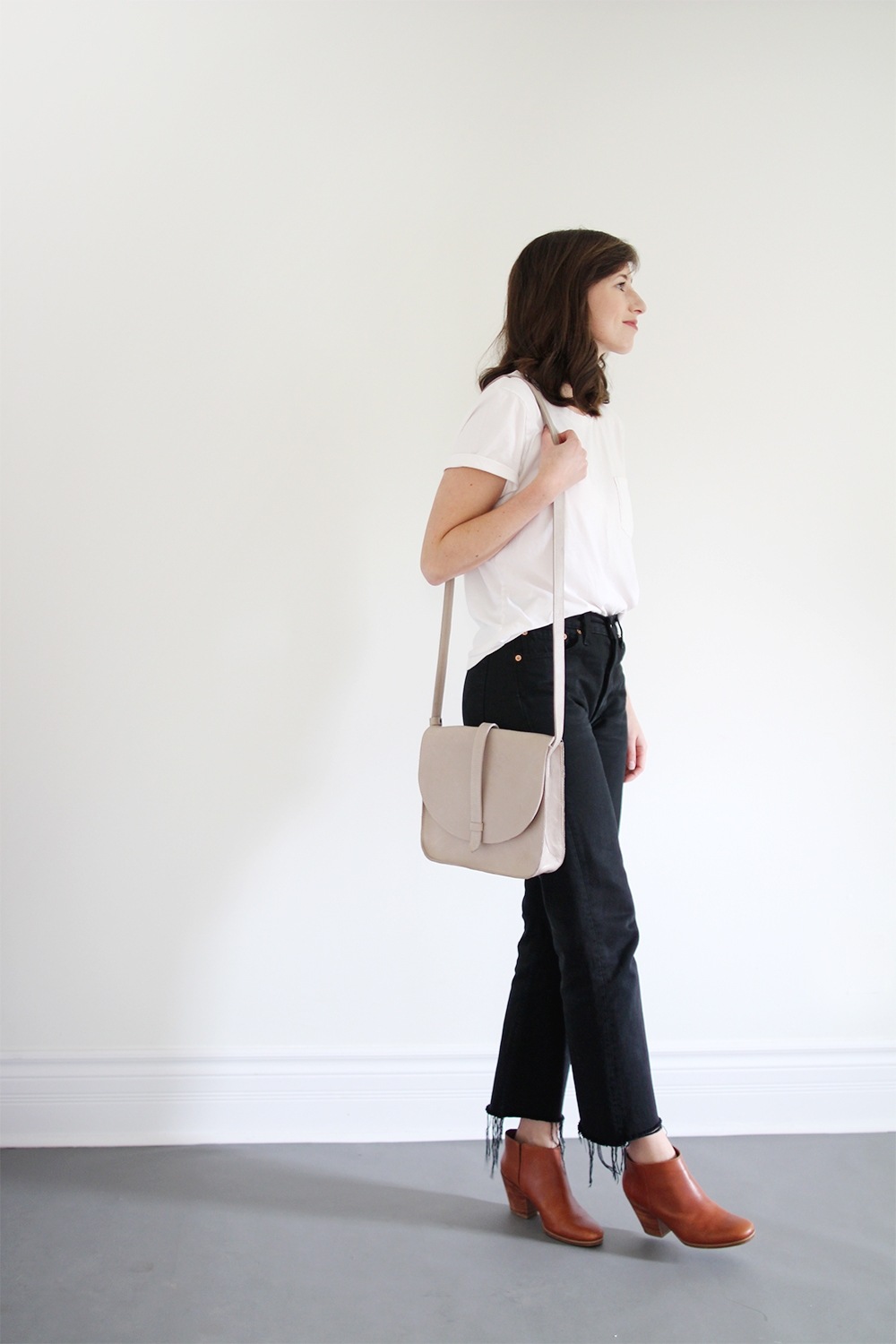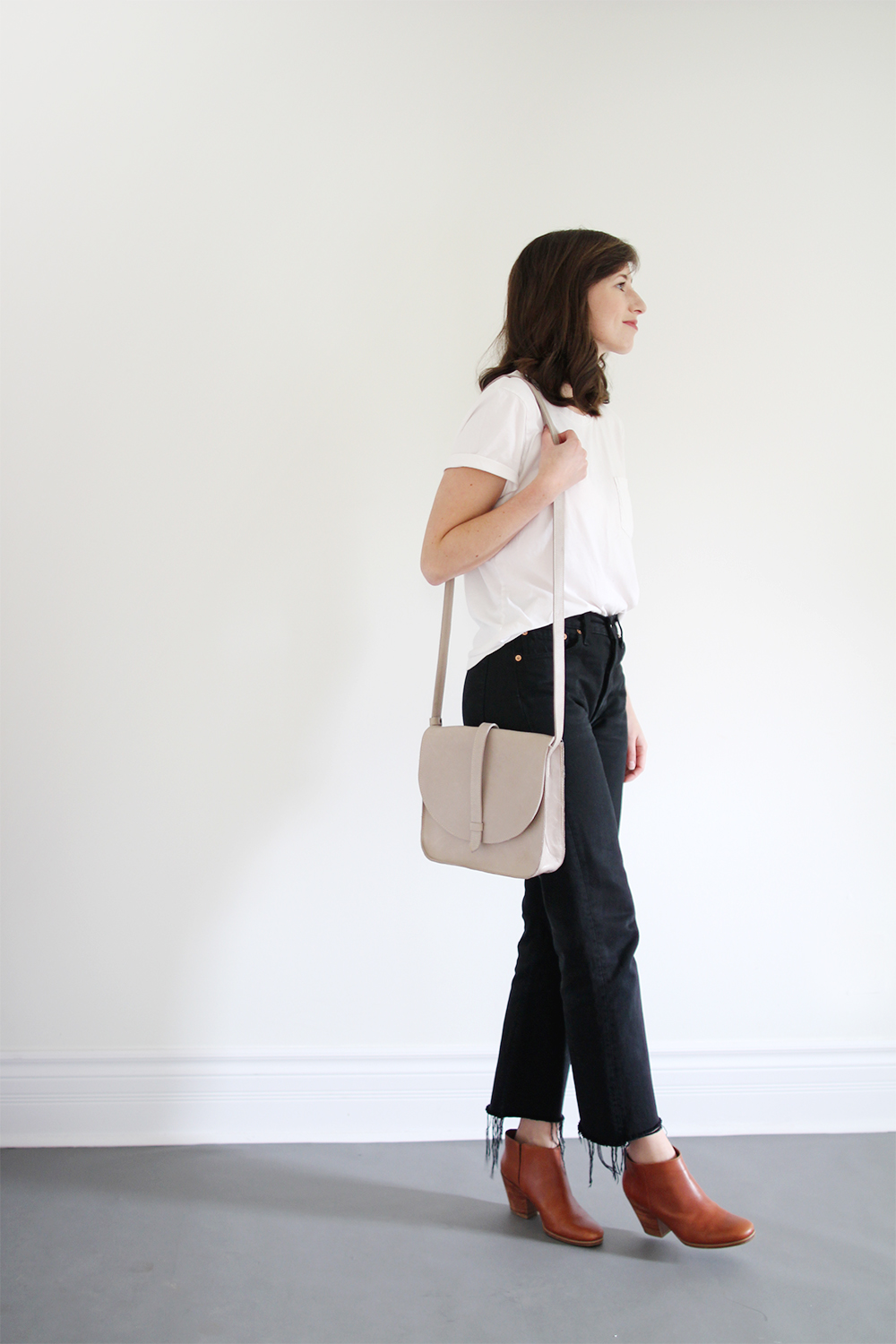 ---
Box-Cut Tee Everlane (I'm wearing a size M) | Vintage Levi's from Episodes in Amsterdam (similar vintage here and here | modern versions here and here) | Tirhas Saddle Bag c/o FASHIONABLE | Mars Boot by Rachel Comey (Also in All Black, Black/Brown and I'm obsessed with this shearling lined pair) | Earrings c/o CLAUS (also LOVE this pair and these are epic) |
---

---
This post is not sponsored but does contain affiliate links. When you shop via the links above I may make a small commission from a sale. Thanks for supporting the brands that support Style Bee!