So apparently it's Friday (the 13th!) and this whole week was a blur in the best way! I can't tell you how much fun Caroline, of Un-Fancy, and I have been having while hosting this #WINTER10x10 series. Well actually I can, it's a TON and we hope you're enjoying it too! Whether you're still completing the challenge, you've tapped out or you were just scoping it out to begin with, we're all stepping outside our comfort zones in one way or another and I dare say we're better for it.
If you've been thinking about joining in, it's not too late! Caroline and I will be posting right through January 24th so hop aboard! Get all the info here and here plus lots of inspo on the #WINTER10x10 feed.
Now, let's address the fact that it is indeed Friday and once in a blue moon that calls for a night out (at least for this homebody)! During every 10×10 Challenge I try to put together at least one dressy look so I have it in my back pocket if needed. Plus, I find it curbs my craving for a more fashion-forward get-up since most of these challenge outfits are for the everyday.
So let's evaluate this 'going-out' look shall we?
---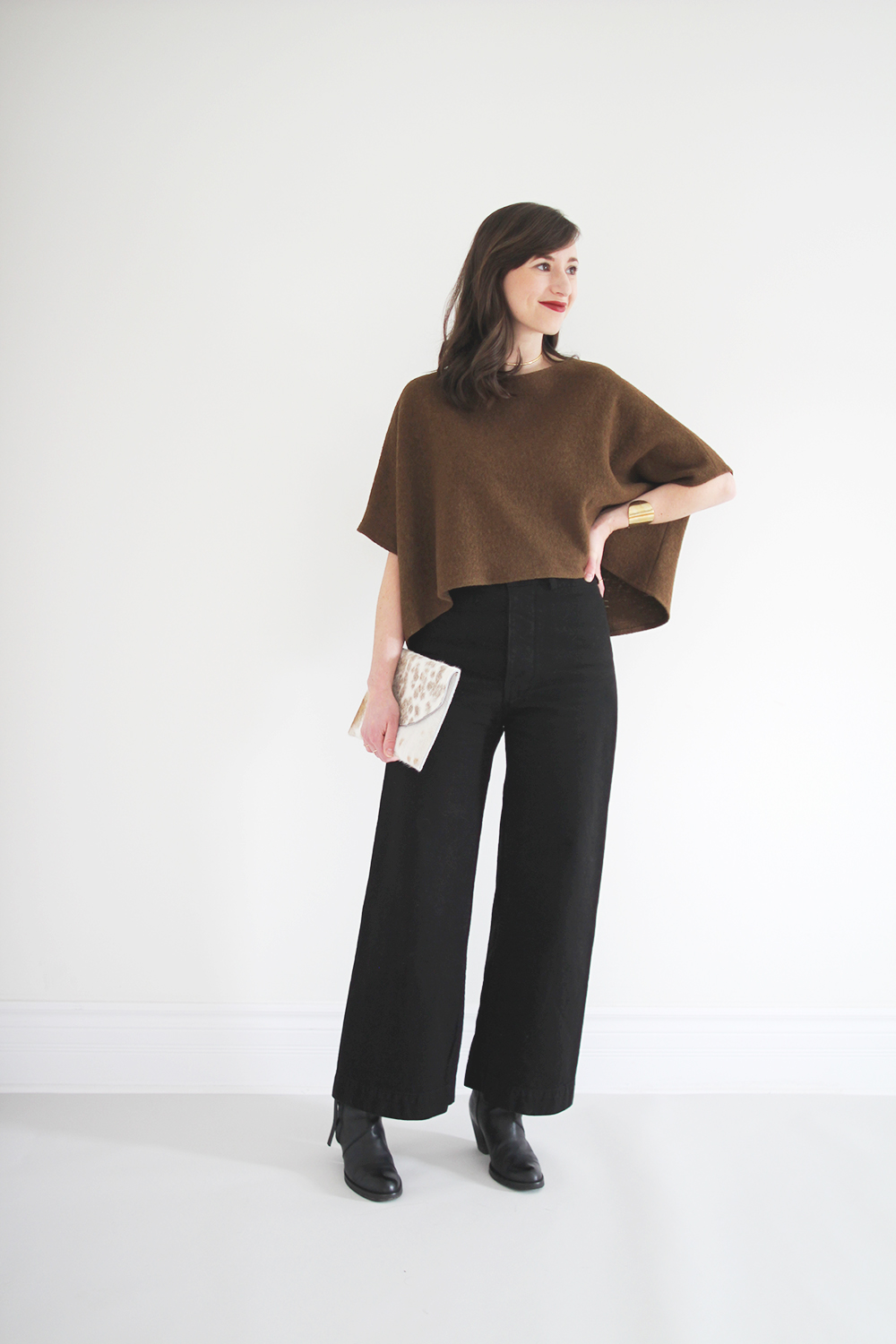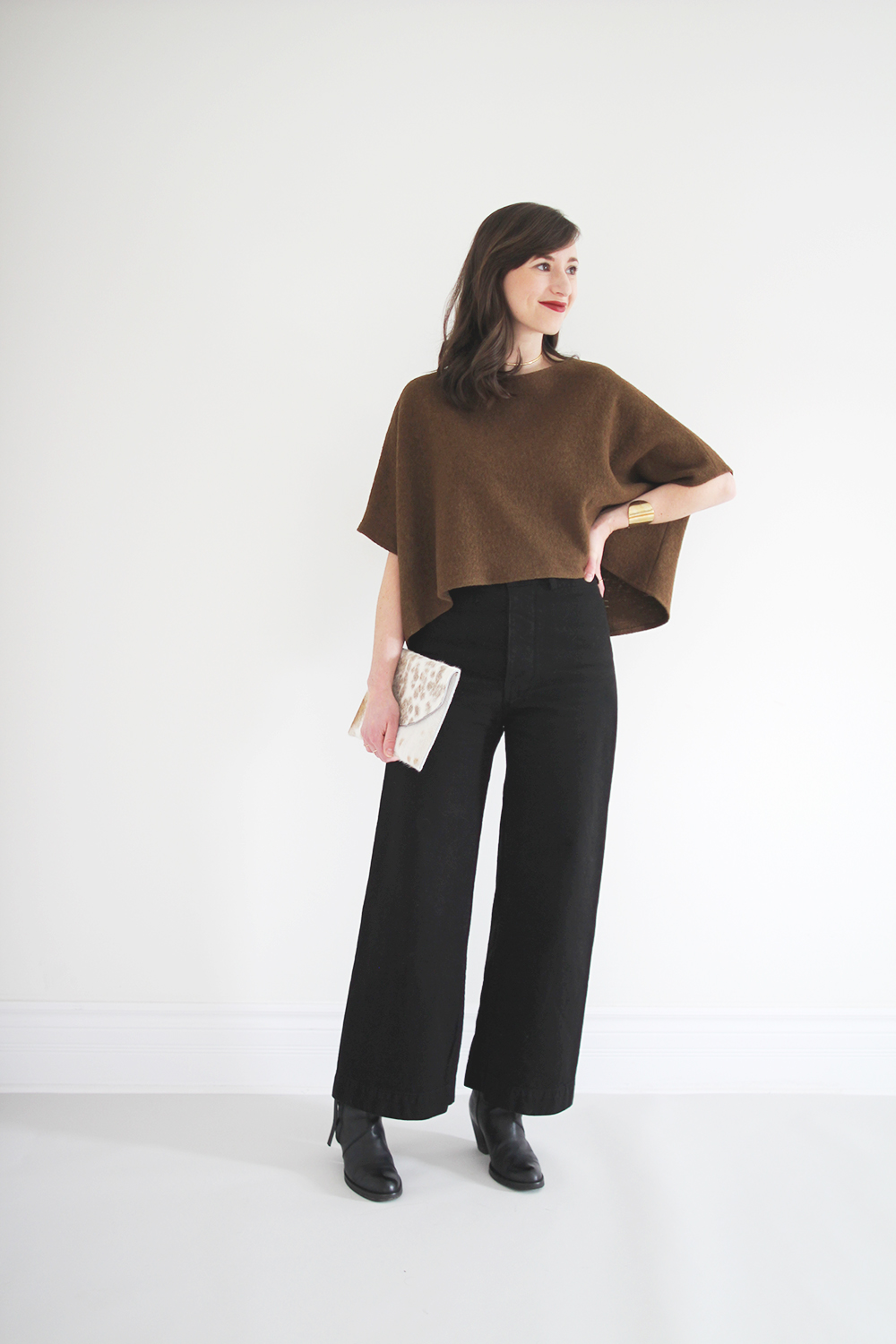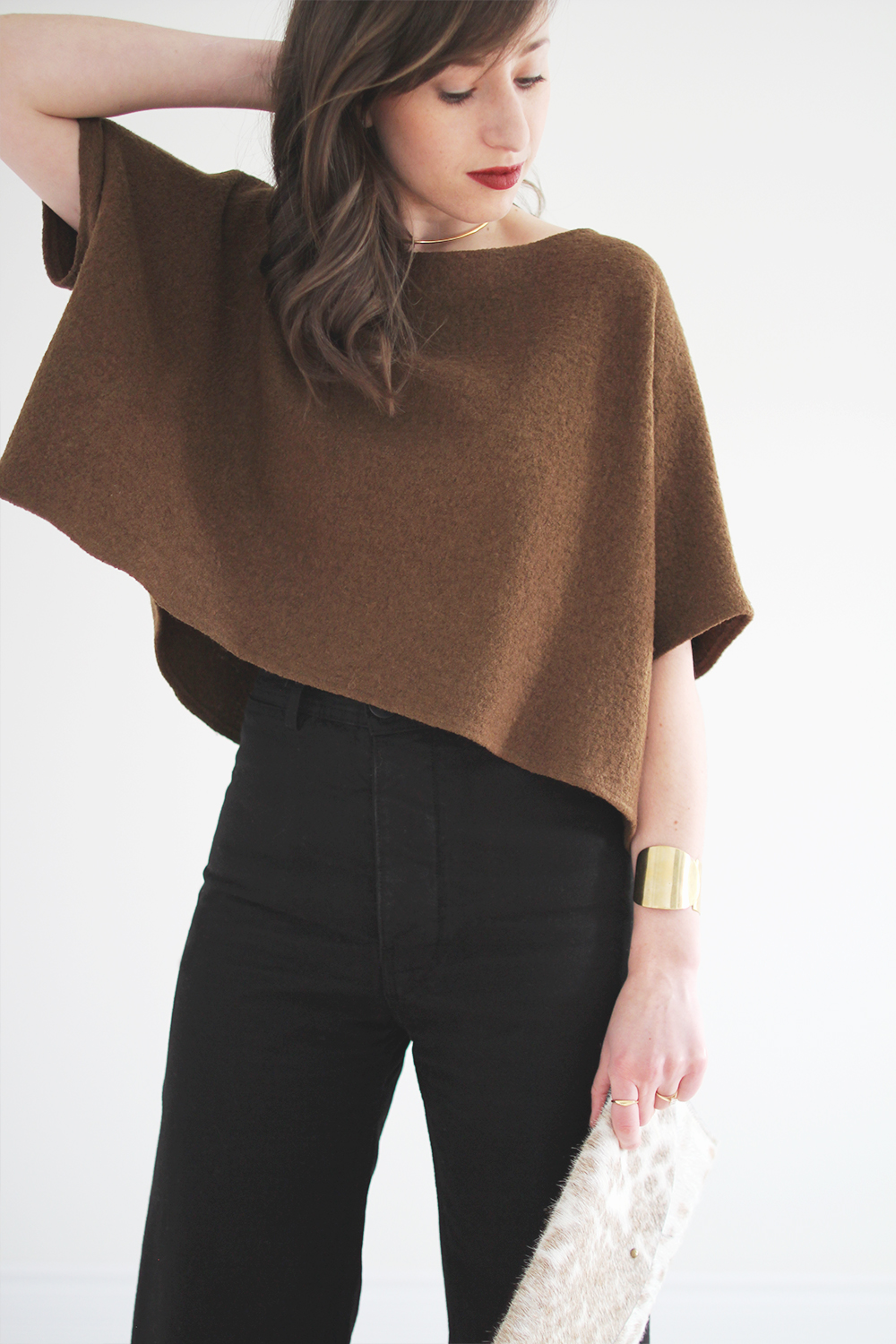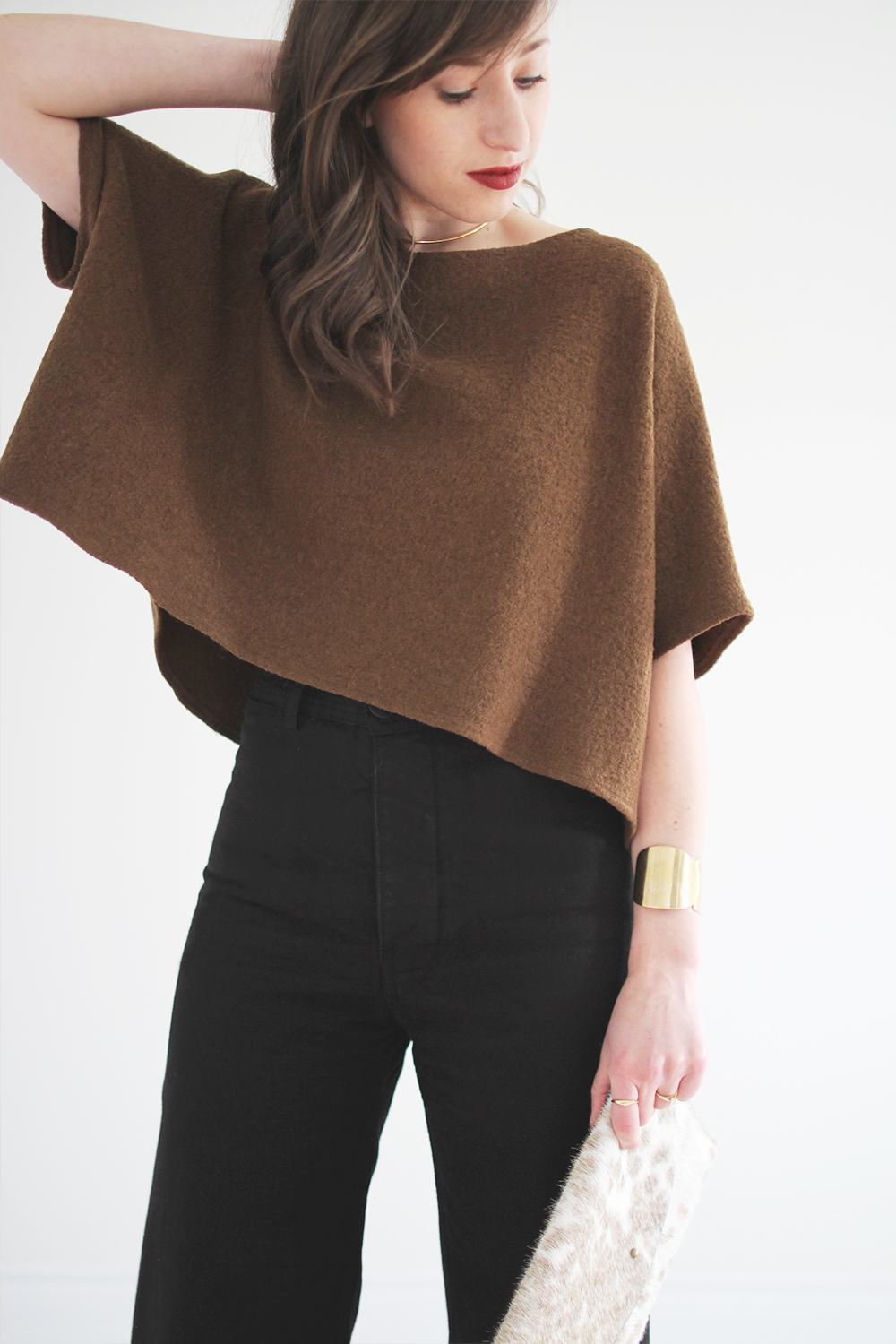 ---
INITIAL THOUGHTS
Oh yeah baby! Now we're talkin'! Challenge aside, this is one of my favourite outfits to date. I feel sophisticated, chic, attractive and most of all, I feel the like the best version of myself and my style are coming through. This is what I call a power outfit. 
I'll confess, I wanted to share this look before I'd even chosen my full 10 items so I knew these three pieces (top, pants and boots) were non-negotiable.
Now of course, I'm not going to be curling my hair and donning a choker for a day in the office. No no, this is a night out look for sure. Luckily, tonight we're heading into the big smoke (aka Toronto) for a friend's birthday. But during the day I'll be shooting next week's looks for the better part of the late morning and early afternoon so I'll probably just stick to last night's loungewear (these pants and this tee) until it's time to get ready for the night. I still plan to share on my stories though so no worries! 
Despite it's tendency to be drafty the Linn Sweater (old from Elizabeth Suzann) is easily one of my top 3 favourite items in my closet (please don't make me pick the other two!). I love the shape, the colour and the boiled wool fabric has the most beautiful movement. It's been in heavy rotation since the day it arrived in the Fall of 2014 and I can't quite imagine my closet without it!
Discovering the Linn Sweater was one of those personal style defining moments. You know, when you go out on a limb to try something new and it really, I mean really, hits the mark for you? From then on I was no longer afraid of odd shapes or volume. To be fair, I credit Elizabeth Suzann's design genius to much of my style progression. These pants and boots were similarly pivotal as well.
But I digress! The long story short here is that this outfit is just really hitting the mark for me. Enough said!
---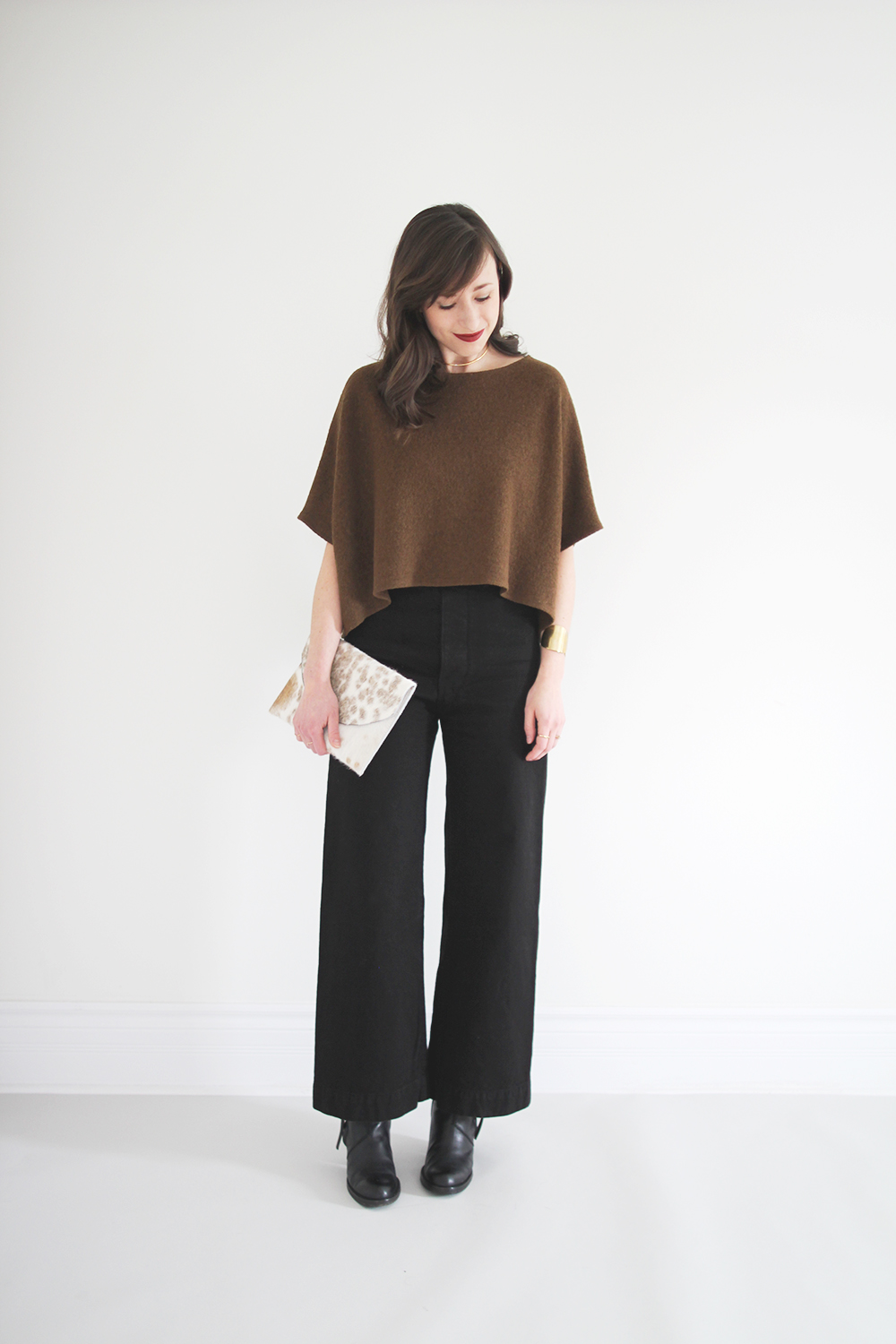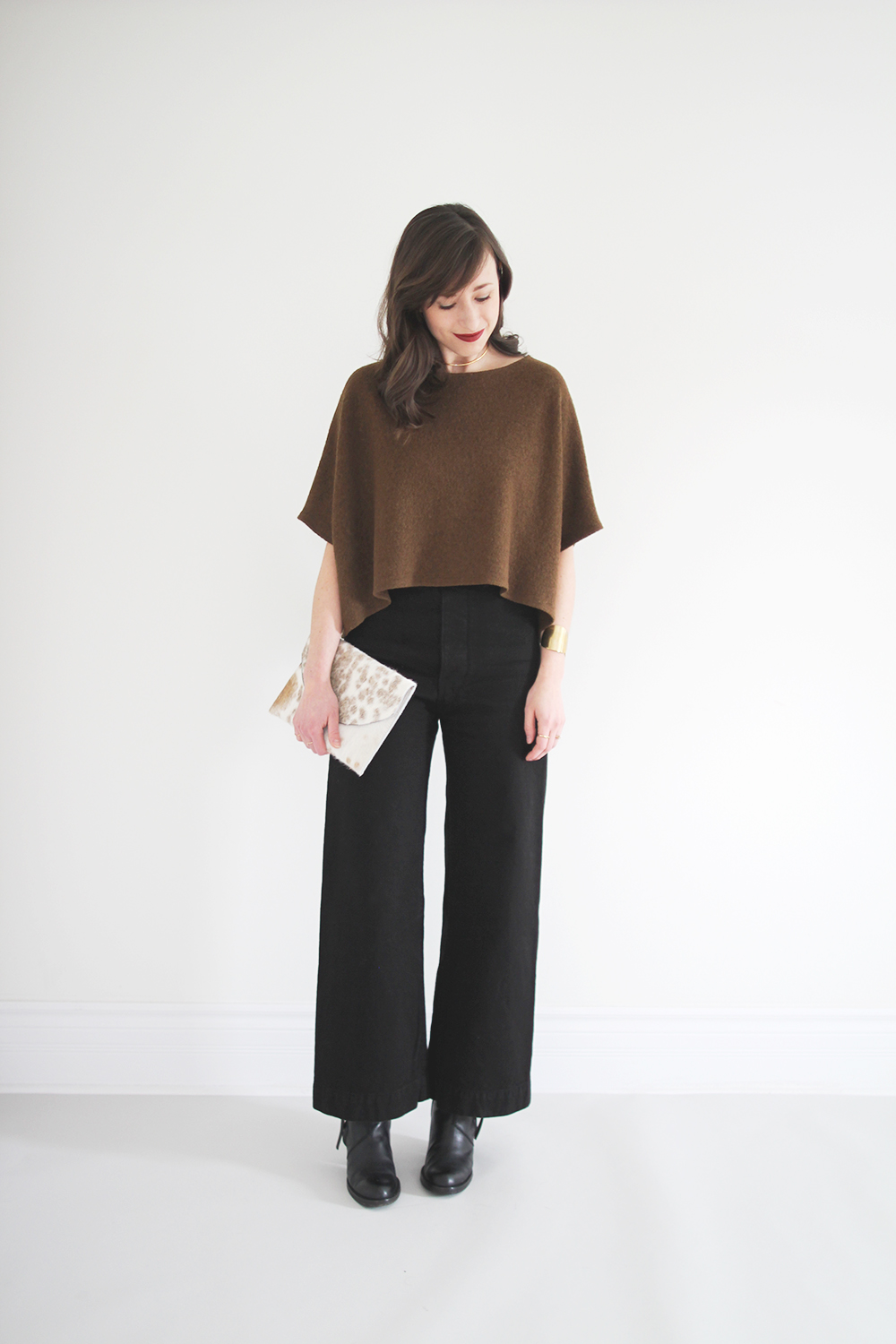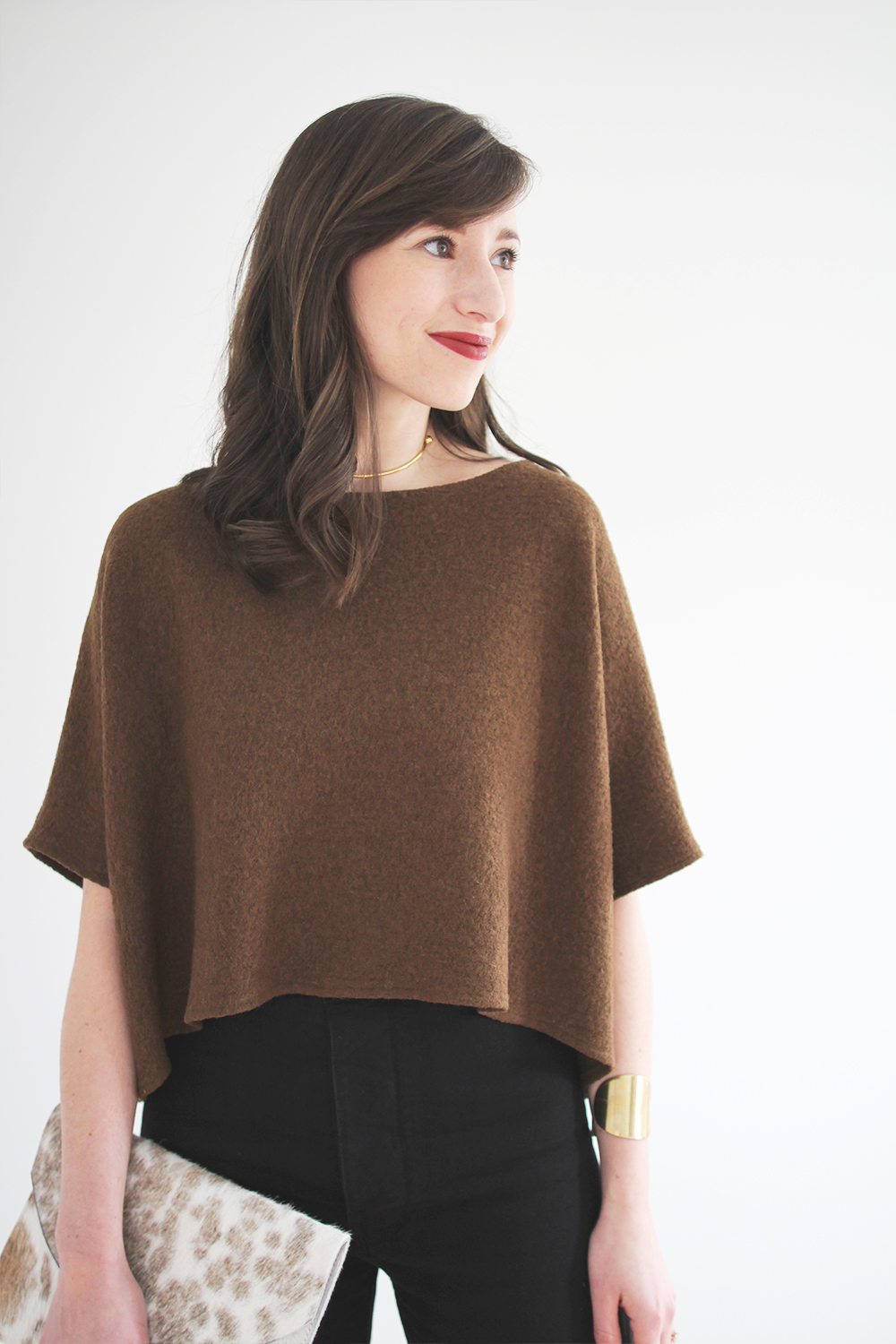 ---
STYLE + FIT DETAILS
1 | CALCULATED GLAM | I resisted my urge to go for a statement necklace with this top. Not that it would have been a bad choice, but I've been into slightly more unexpected hits of gold lately. For instance, this choker isn't obvious but when you notice that it's there, it's like, 'Yowza, that's good!' So I decided I would go big with my cuff to reinforce the theme of minimal but impactful accessories. I think this might be one of my new favourite combos too!
Try giving your go-to jewels a momentary breather and opt for something a little unexpected. You may end up with a new stand-by! 
2 | WINTER POUT | Maybe it's all the 90's beauty trends getting to me (hello, I'm rocking a choker here!) but I'm loving a deep dark lip-colour lately (remember when I talked about a bold lip in Look #1?). Something about it just feels spunky and provocative but also very grown-up and I like it! Until not long ago, I afraid of wearing any lipstick but I've found a few that I really like and have performed beautifully. Burt's Bees Lip Crayon (Napa Vineyard), BeautyCounter Sheer LipStick (Currant) and Kosås LipStick (Fringe is what I have on) are on repeat in my cosmetics rotation right now. They don't dry me out or jump ship for my teeth either!
If you're going out tonight considering trying a bold winter pout with your look. Just keep the rest of your make-up low-key and you'll be sure to turn heads! Here's a tutorial to help you get started.
3 | POP OF PATTERN | I love a look comprised of solid blocks of colour but it's so nice when you can add a bit of energy and interest with a jolt of pattern. In this case I've done that with my clutch. I love how it reinforces the warm tones in my sweater and adds some fresh white too.
If you're in the market for a new clutch or bag, consider something with a pattern. Then you've got an easy add-on to any look that adds some intrigue without taking over. 
4 | WINTER CROP | I know this was already a Style + Fit Detail on Tuesday but what can I say other than it's one of my go-to silhouettes right now! High-waist bottoms paired with and angled crop that overlaps slightly is a look I love. It highlights the waist without being tight and elongates the legs without needing high-heels. Big win, HUGE!
5 | DOUBLE ODD | By most standards this top and these bottoms would be considered unconventional shapes. The top is super wide and cropped and the same goes for the pants. But done in the right materials (a flowy wool and a stiff canvas) they pair very nicely. I'm loving the subtle repetition and the double a-line effect that's happening. It certainly takes a basic brown top and black pants to a whole other level! Here's a few examples of what I mean: A (wide A-line top + skirt), B (sleek long top + pants), C (flared tunic + flares)
Do you have a couple items in your closet with a similar shape? Try pairing them together for an unexpected and sculptural vibe. 
---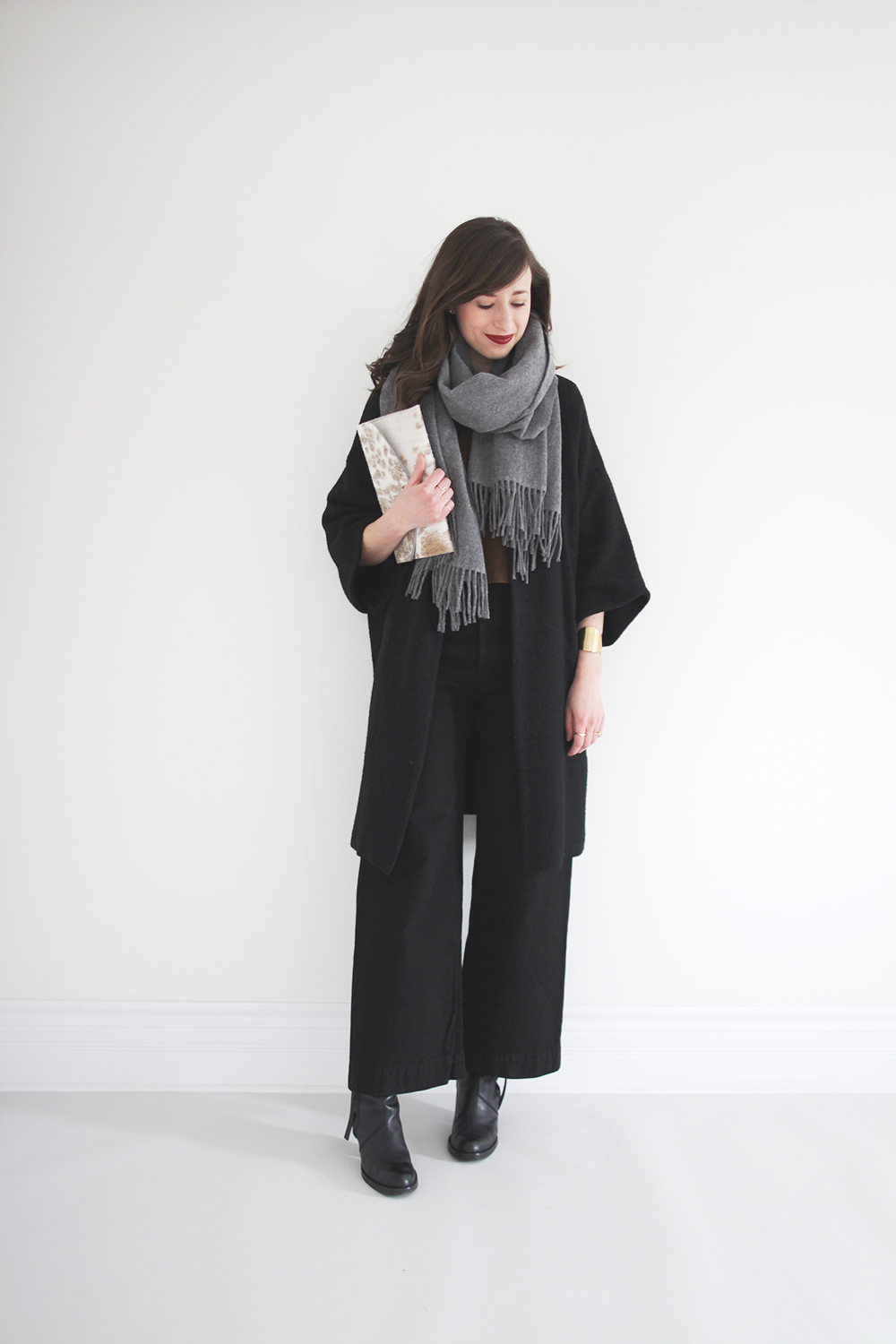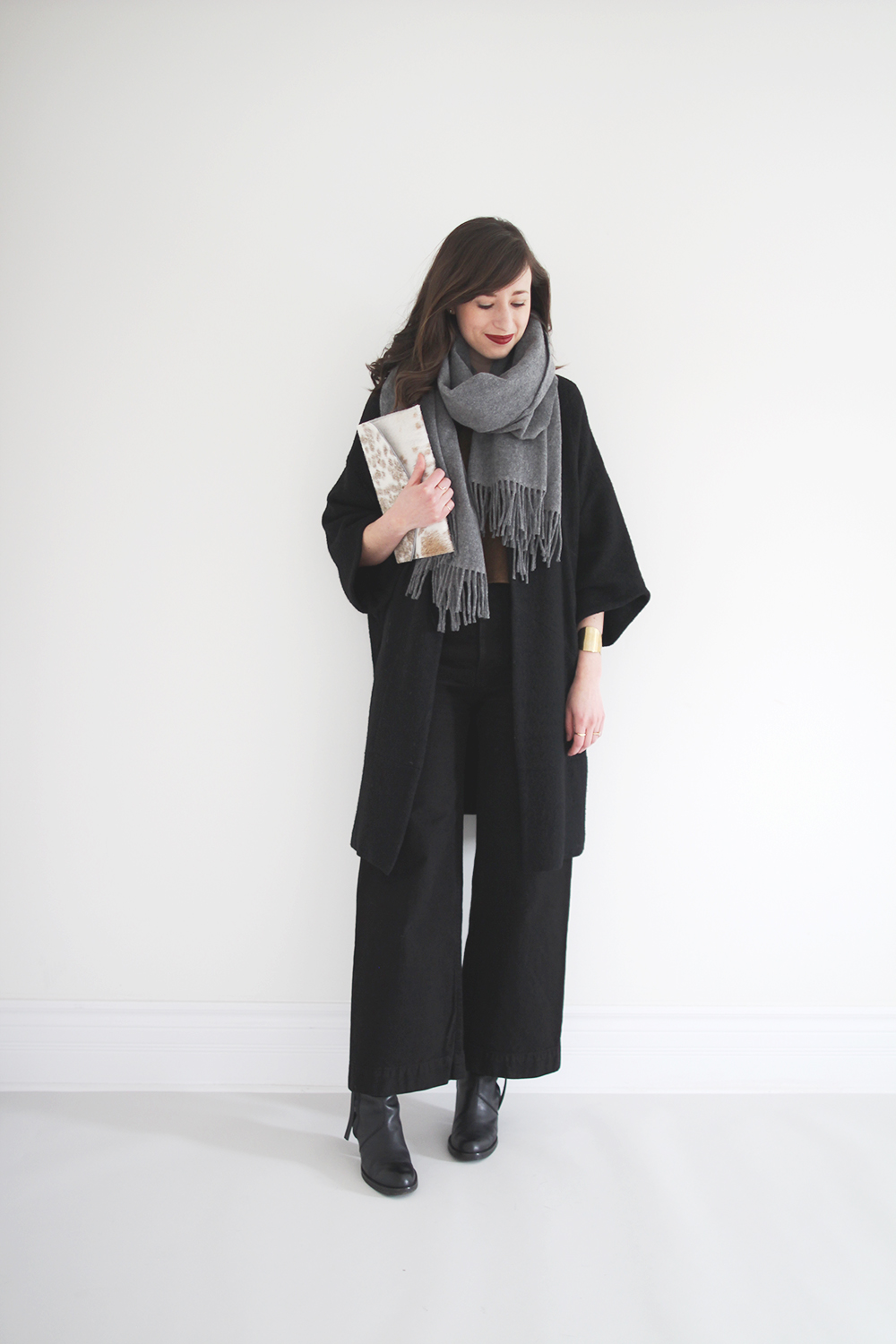 ---
OUTSIDE
OK so, I LOVE the outside version of this look. This coat was another style defining purchase for me (thanks again Liz!) and this scarf is a recent addition that's become my favourite winter accessory to date. It's SO cozy! (links below)
For this look I pulled inspiration from these pins: A, B, C and I know this approach will be my go-to for any Winter 'night-out' going forward (weather permitting of course). Oversize Coat + Giant Wool Scarf = Chic + Toasty.
There is one trick I used here, which was to make sure the ends of my scarf were uneven. I don't know why but for some reason it just looks way cooler that way. It's as if I just wrapped it around without thinking and it fell perfectly into place. Of course, I thought about it way too much but ah-well, it worked!
Now the one flaw in this outdoor look is the sleeves. When it's -13 degrees out (which the forecast is predicting) you really don't want any bare skin showing. That's why I'll most likely be adding a long-sleeved body-suit and a pair of long gloves. Then I'll be happy to run for a cab from a cozy restaurant and vice versa.
---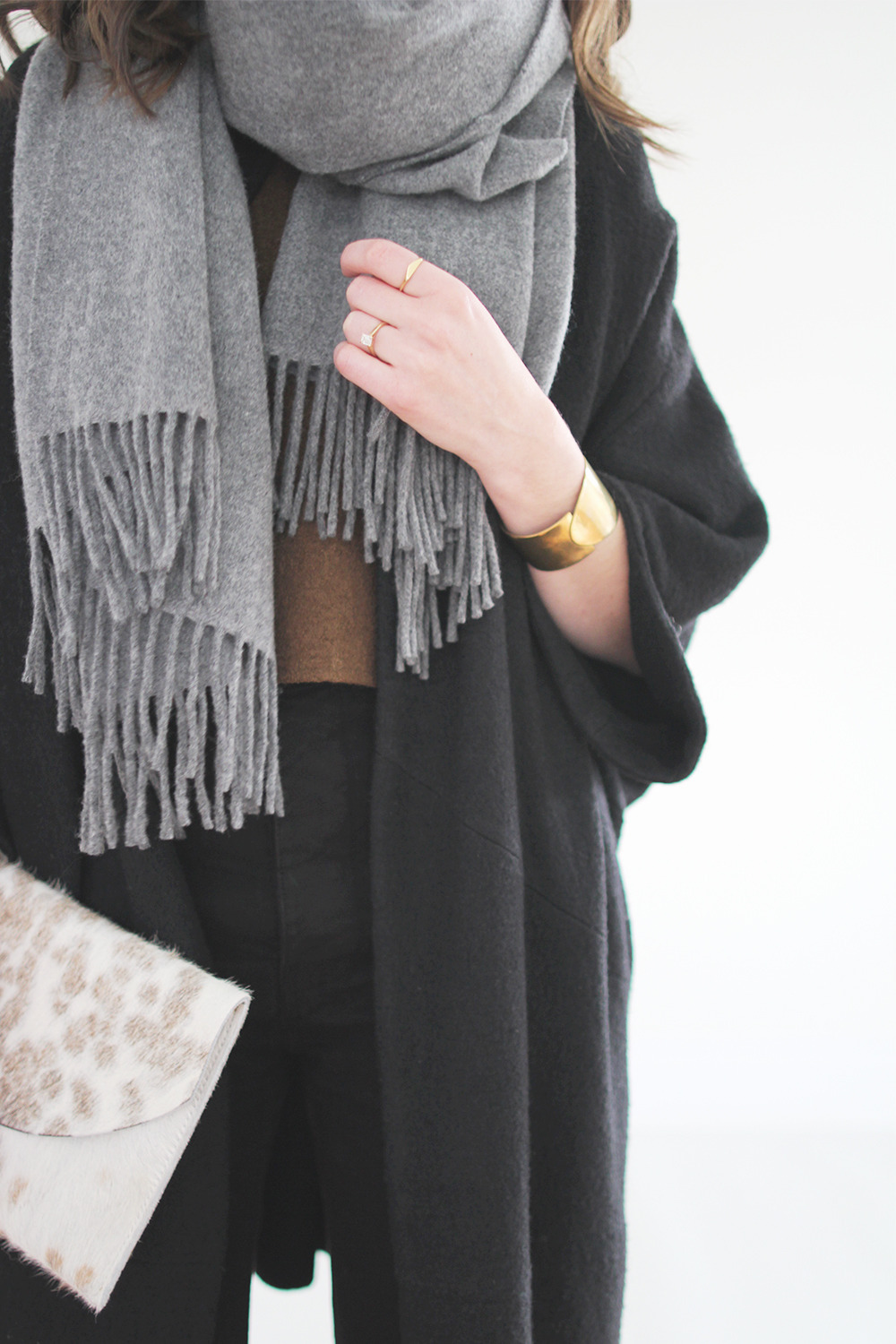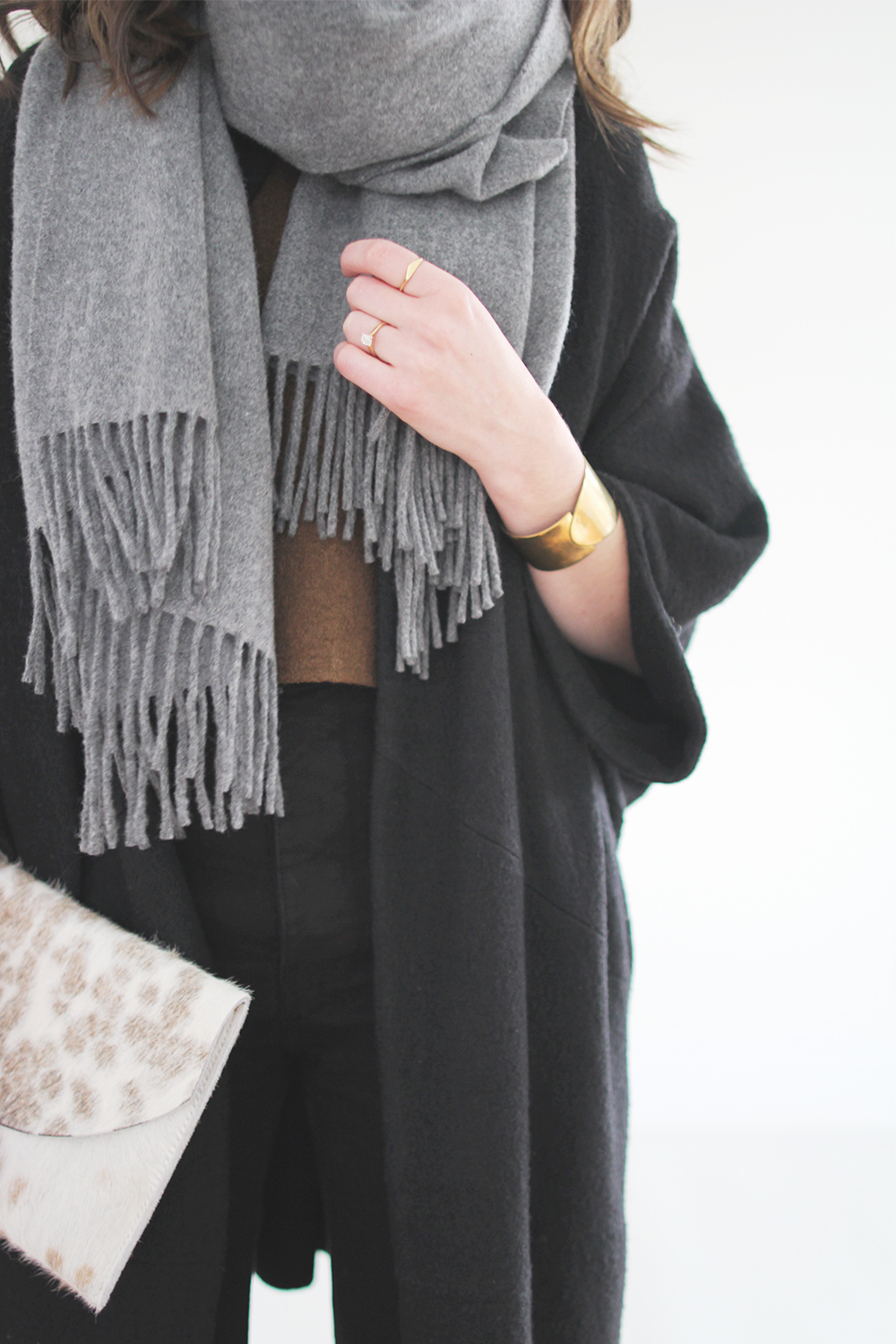 ---
SO THERE WE HAVE OUTFIT #4 AND #5 LANDS ON MONDAY!
Be sure to pop over to UnFancy for Caroline's latest too!
+ Keep sharing your looks with #Winter10x10 and if you have a sec, check Instagram Stories today for a real-life look at our outfits in action (@caroline_joy + @leevosburgh).
HAVE A GREAT WEEKEND FOLKS!
---
---

---
This post is not sponsored but contains affiliate links. When you shop via the links above I may make a small commission from a sale. Thanks for supporting Style Bee! All opinions are always my own.