I hope you had (or you're having) a restful weekend! We spent most of ours up north in cottage country with some wonderful friends, gorgeous views, lakeside hangouts and it was the best. There is just something about being near a big body of water that's so good for the soul. I always find the cottage air leaves me feeling much less stressed and much more appreciative of the little things in life. Plus, coming home to our place is extra special once we've been away.
Speaking of comfort and savouring the weekend, today's post is along those very lines. I'm sharing a new addition to my closet that was made thoughtfully and is intended to be a conduit for a simpler, slower life. The classic shirt dress is indeed a timeless design that is infinitely wearable and applicable to whatever any given day might have in store.
I'm excited to share three ways in which I'll be wearing this one throughout the months ahead + an exclusive discount for Style Bee readers!
---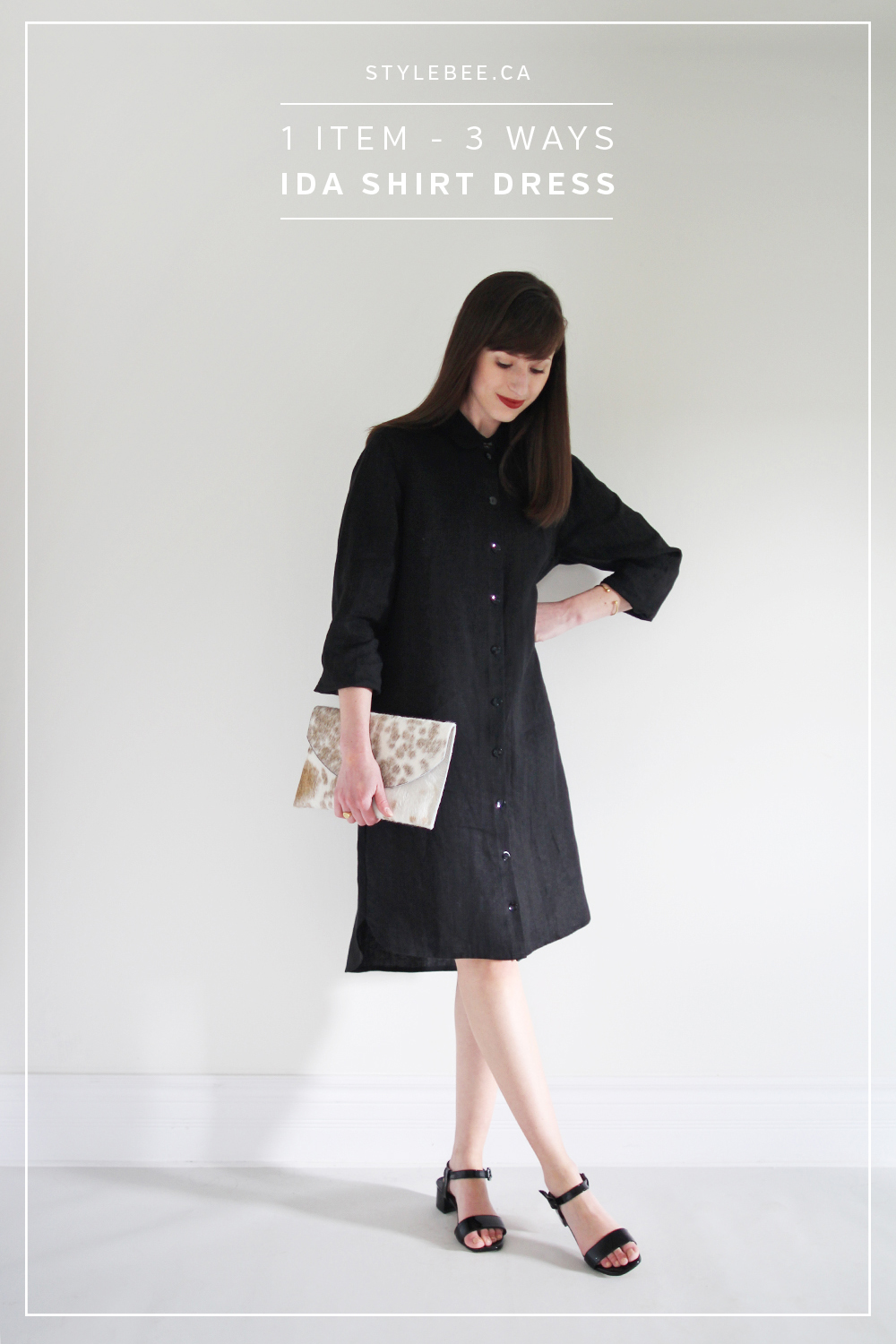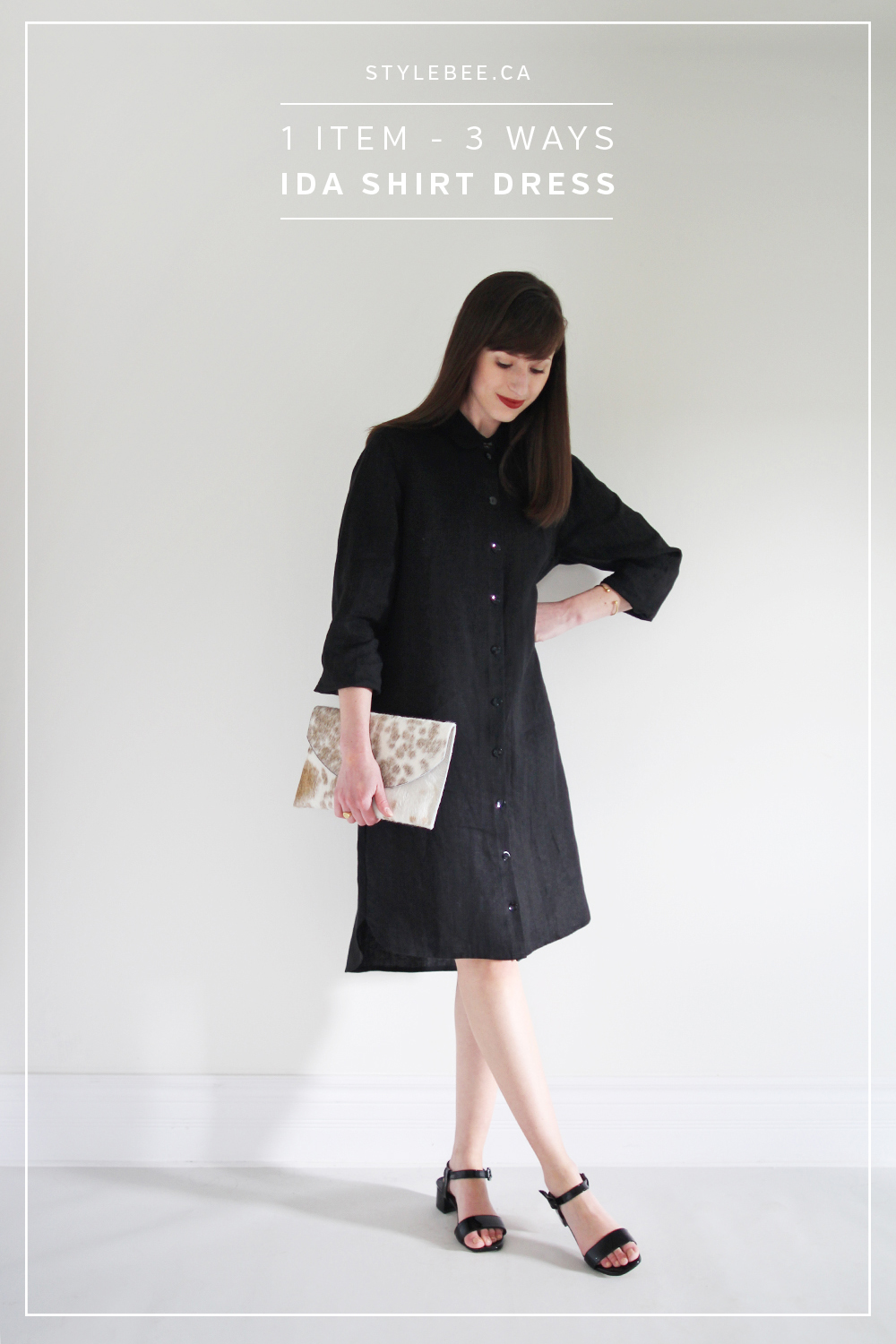 ---
---
Today we're looking at a classic closet workhorse, the shirt-dress. This one in particular is the Ida Shirt Dress in Black Linen by Ode To Sunday, a beautiful collection of timeless linen essentials, all made responsibly in Lithuania (a country renowned for its linen expertise). Last year I styled a couple of their pieces and had an opportunity to get to know the company founders, a best friend duo, Ange and Vaida. The care that goes into their collection is incredible and the sentiments behind the brand, which is all about living thoughtfully, really resonated with me. Their delightful series of #odetosunday stories highlighting creative women from around the world, is especially charming.
So we're collaborating again to celebrate their recently expanded collection and to give Style Bee readers a very special opportunity to shop Ode To Sunday at 20% off (they never have sales!). This one is especially awesome for any European readers! Please see details just below. 
Here are some key features of this timeless shirt dress, followed by 3 fun ways to style it too!
1 | RESPONSIBLY MADE | You won't find an item from Ode To Sunday that hasn't been thought out meticulously and made impeccably from the finest Lithuanian Linen right in the city itself. In fact, Agne and Vaida make it a point to be involved with every step of the process. Right on the garment tags you'll see:
We explore our weaver's fields.
We know our tailors names.
We feel connect to our clothes.
Ode to Sunday is an independent clothing line manufacturing effortless style through socially conscious methods. Lithuanian linen is used for its low-impact production and charactered imperfections. Garments defined by modern strokes and organic silhouettes are constructed entirely by hand by tailors paid fairly. This appreciation for local resources and historic processes, combined with a focus on quality, ethics and wearability builds an investment wardrobe, and helps to sustain a world in which pleasure is found in letting mind and body wander.*
2 | MATERIAL | 100% Lithuanian Linen. Mid-weight and very soft.
3 | PRICE | € 220 |
STYLE BEE READERS RECEIVE 20% OFF ANY ODE TO SUNDAY ORDER WITH CODE 'STYLEBEE20'. 
Discount is valid through June 11th.
4 | FIT | I'm wearing the size S and it fits just as I'd hoped, tailored through the shoulder and relaxed through the torso and hip. I'm 5'7 and about 120 lbs for reference (measurements are: 32/26/37).
---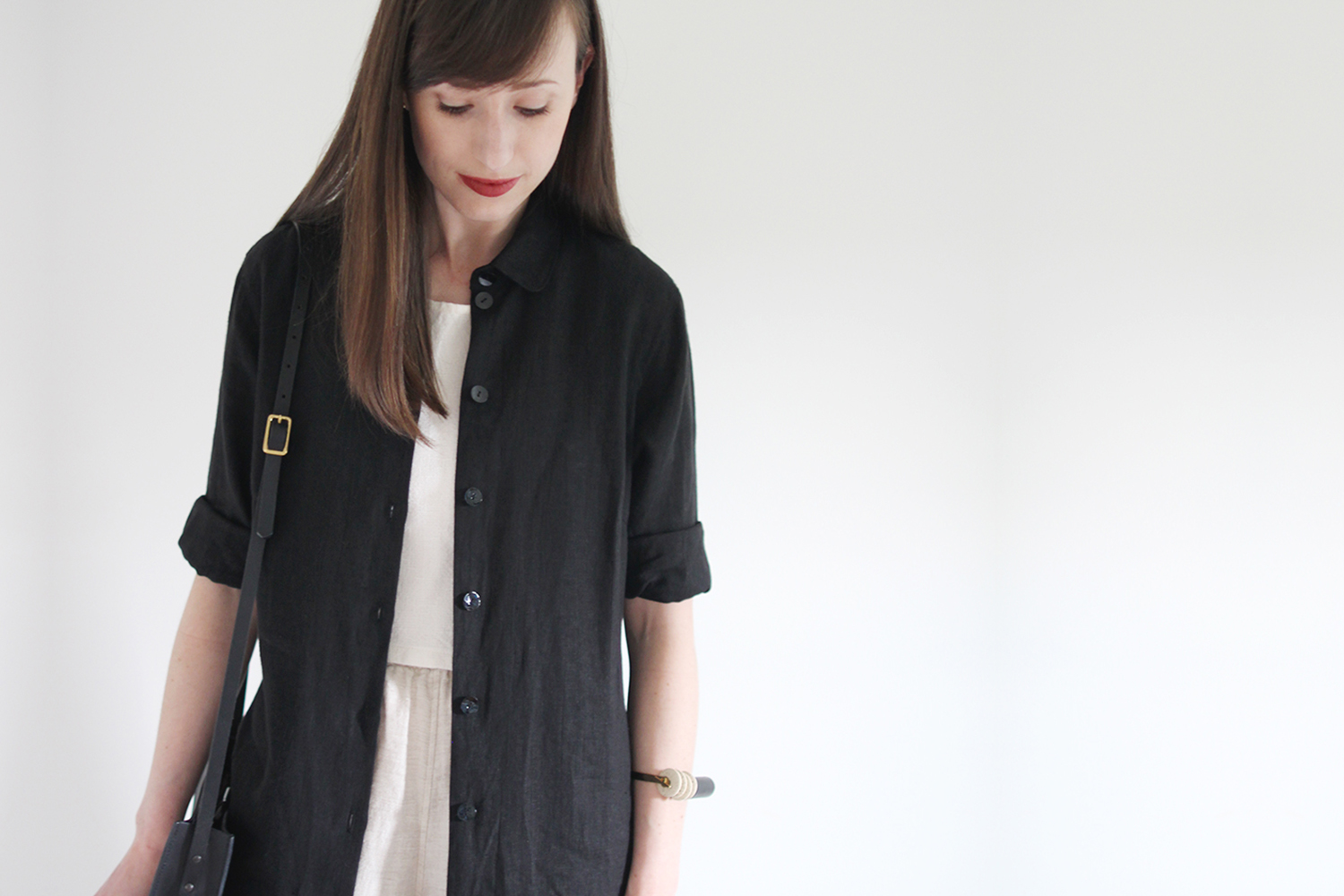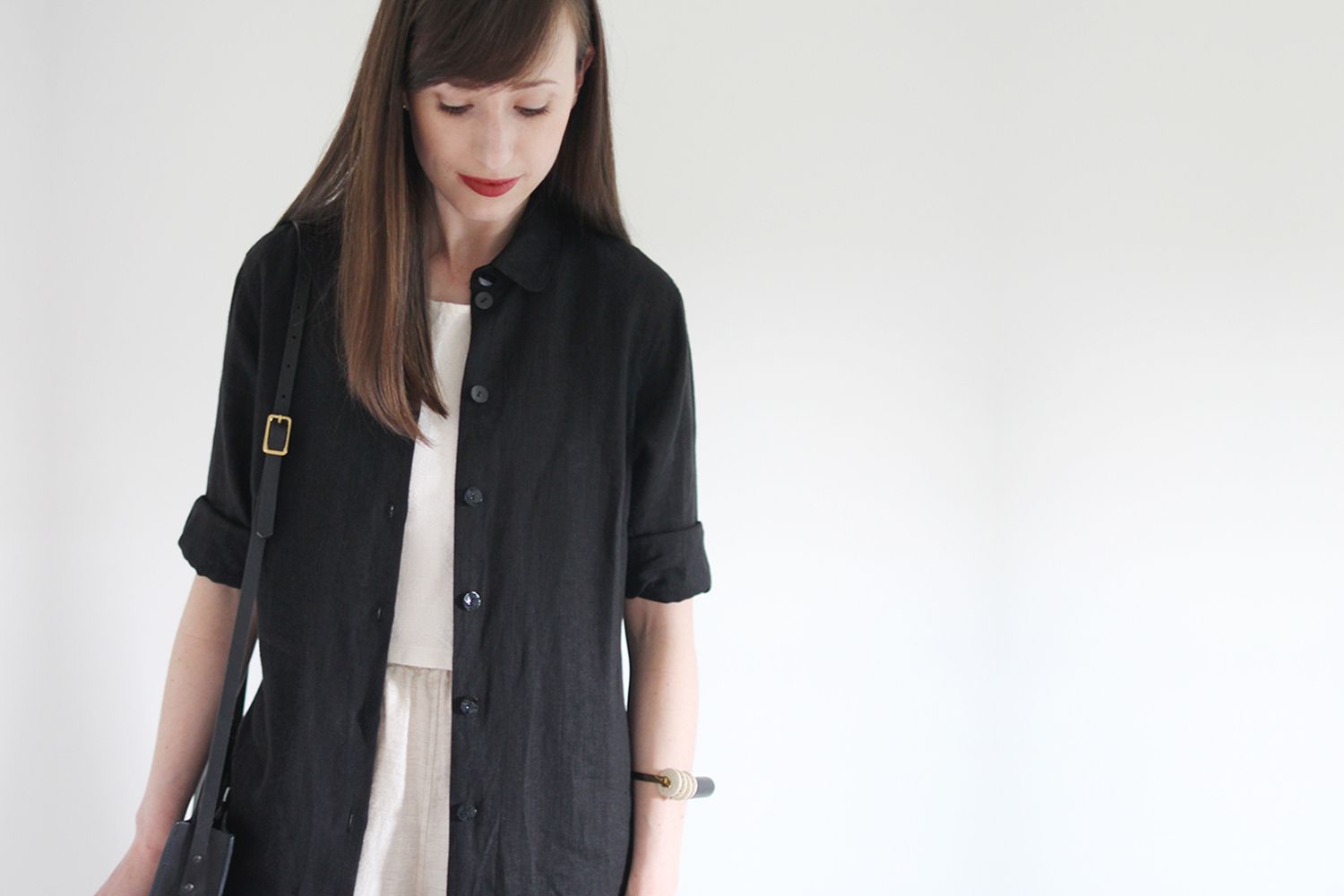 ---
5 | DETAILS | My favourite detail on this lovely piece would have to be the glossy black mother of pearl buttons. It would have been so easy to use a basic black plastic button but these low profile, glossy, two-holed beauties were the perfect choice to elevate the shirt dress in such a simple way.
Another nice detail is the high-low hem that hits just at the knee in front and just below in the back. This design element makes for a flattering cut that you never have to worry about when you're bending forward or if the wind is blustery.
I also loved that there are only curved edges on this dress. The cuffs, collar and hem of the dress are all curved which helps to really soften the look of a black dress.
Of course bust darts make for a comfortable front fit and an inverted back pleat creates an elegant slope that falls just away from the body.
I kind of wish this dress had pockets but at the same time I'm glad it doesn't as they add bulk to the hip area and ultimately I think I'm happier with the simplicity and sleek fit.
6 | WEAR | This shirt dress feels fabulous on. The linen is absolutely beautiful and very soft. It will wrinkle but the black colour helps to hide that and in my opinion the wrinkles are what makes it look so effortless, relaxed and comfortable.
7 | CARE | Machine wash cold, inside out. Hang dry. Wear as is for a more natural texture or iron with steam while linen is still damp for a crisper finish.
8 | DURABILITY | As this item is relatively new to me I have not had a long time to test its durability however the constructions is very high quality and the fabric is clearly very hearty. I imagine the deep, rich black will fade slightly over time however, after its first wash I didn't notice any fading.
OPTIONS | This exact dress is also available in Charcoal Gray and Brown.
*Content borrowed from the Ode To Sunday website.
---
Style Bee readers receive 20% OFF any Ode To Sunday order with code 'STYLEBEE20'.
This is an excellent opportunity to grab a closet hero or two from this gorgeous collection. Valid through June 11th.
---
LOOK 1 – EASY CHIC
---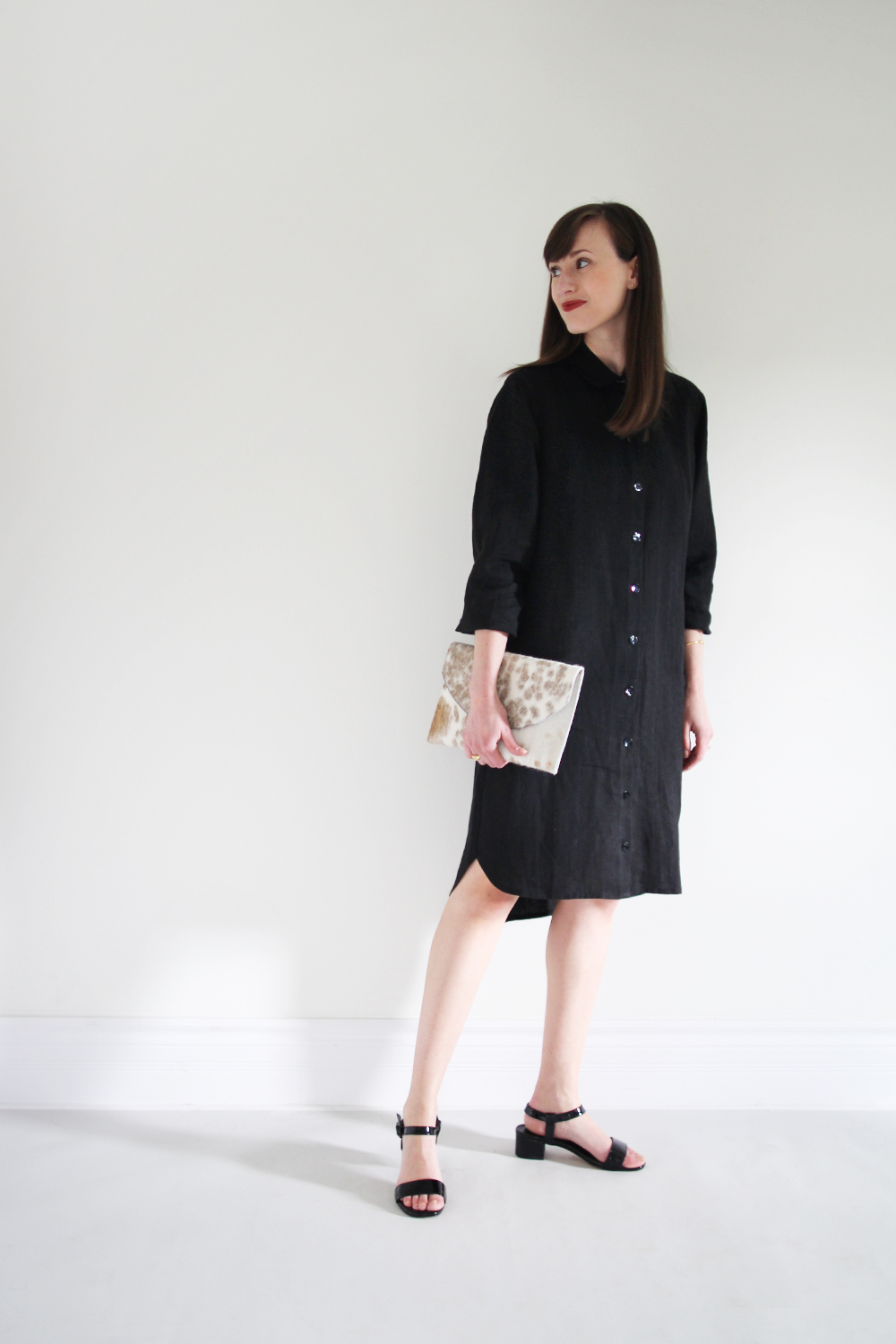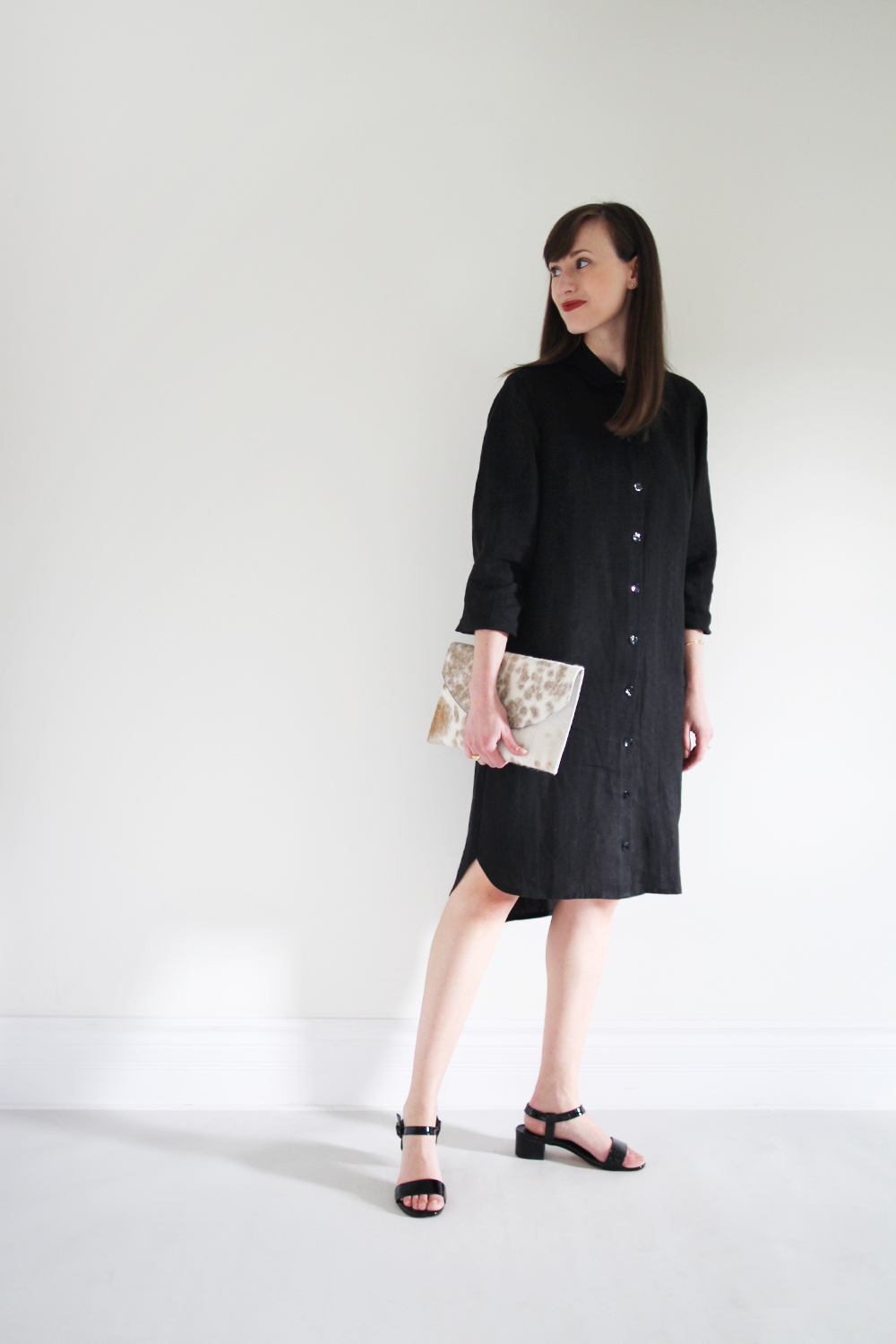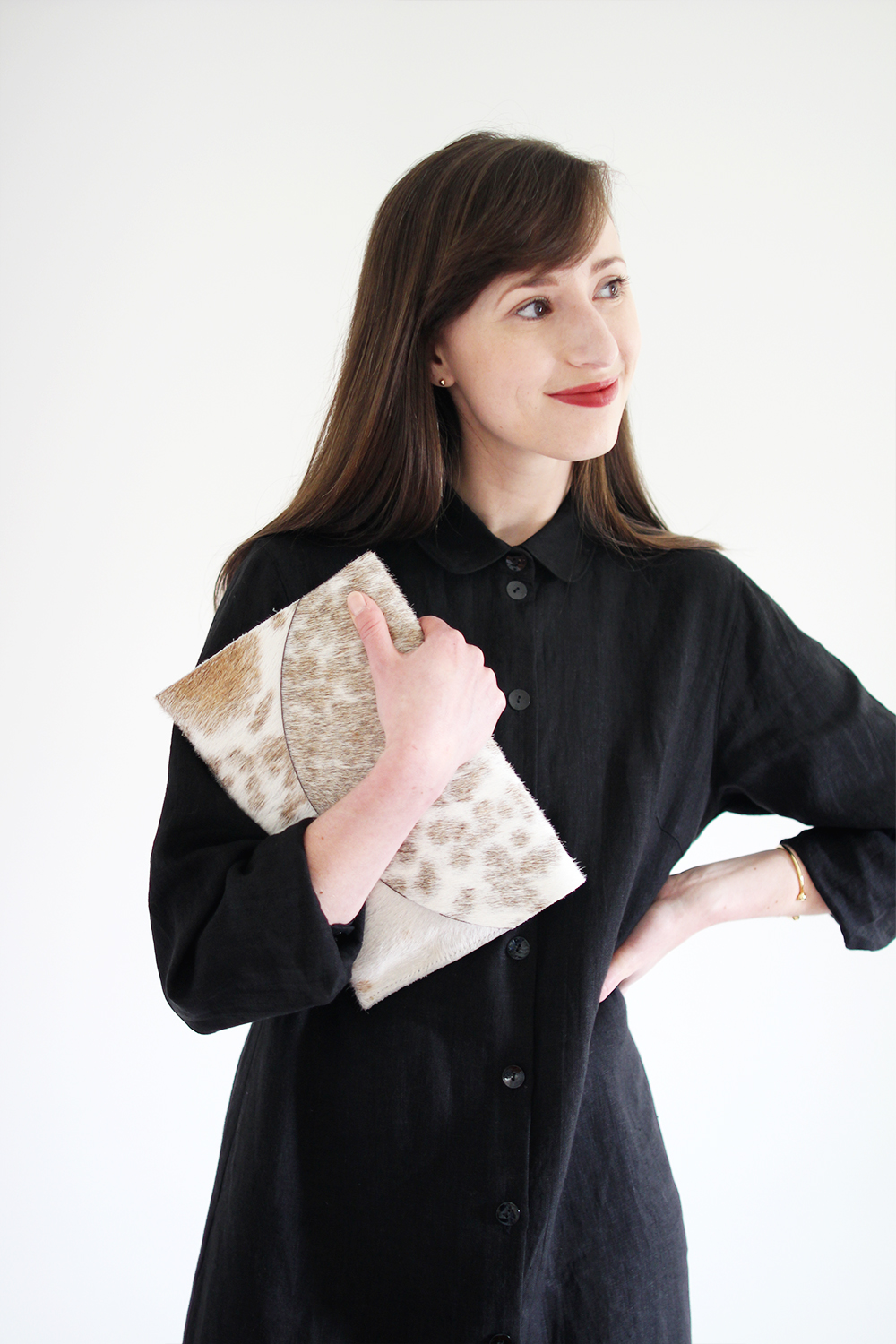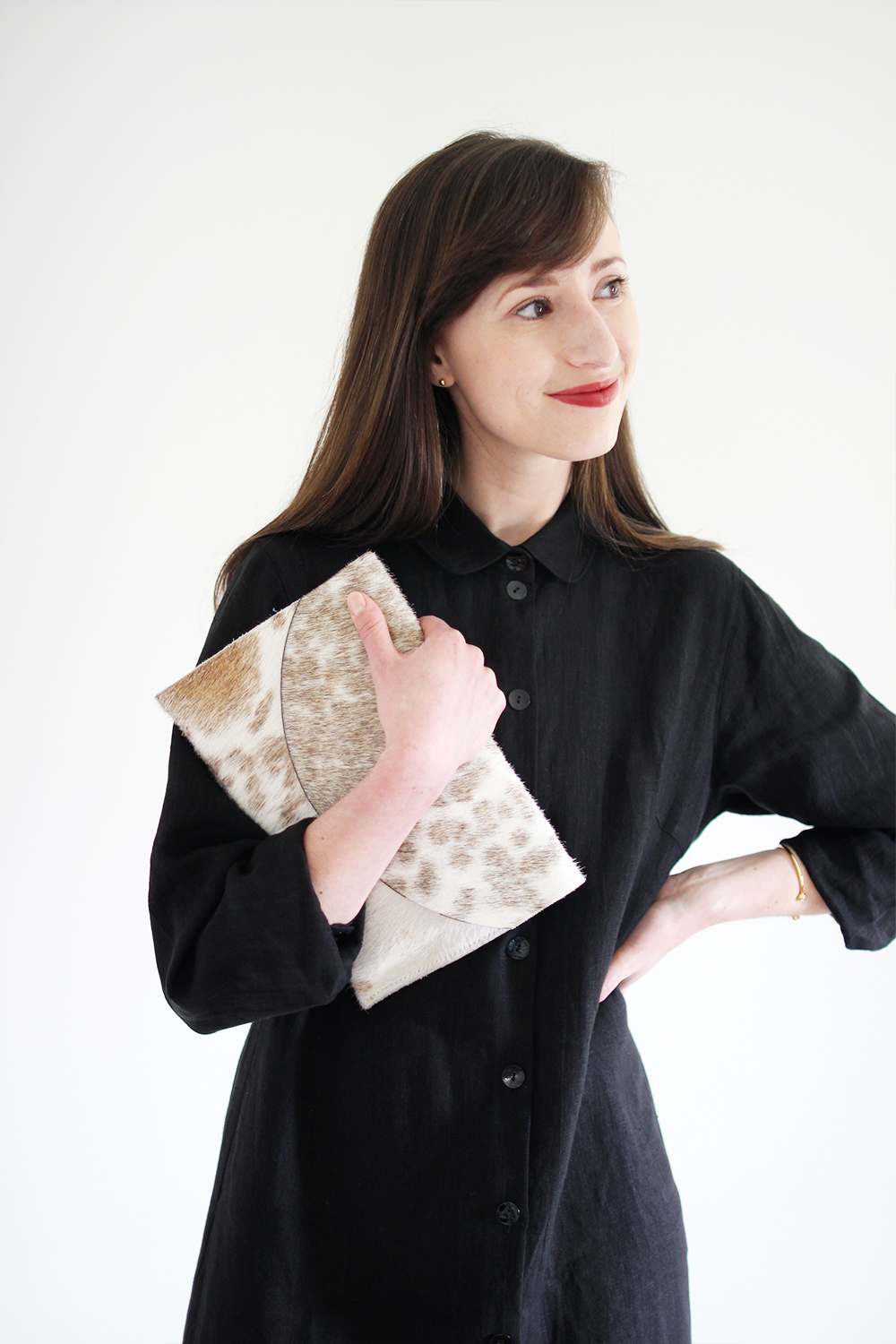 ---
This simple, effortless look was the first one that came to mind when I was dreaming up ways to wear this shirt dress. I chose to keep it very simple to begin with and just add items that would complement the dress. My simple block heeled sandals in patent leather were the perfect shoe to augment the dress and bring out the glossy mother of pearl buttons that I love so much. A pushed up (but not rolled) sleeve gives the look a lighter feel than a long sleeve and makes way for a simple touch of gold via one small bangle. A bold red lip and sleek hair keeps it feeling sharp and intentional all around.
This is the kind of look I could wear any day of the week if I wanted. A denim jacket, boyfriend blazer or duster coat would be the perfect topper if it got chilly too.
TRY THIS LOOK YOURSELF BY:
Buttoning your favourite shirt dress to the top.
Pushing up the sleeves for a 3/4 length.
Pairing the dress with a super simple and elegant pair of sandals in the same colour or a neutral.
Adding a cute clutch with some texture and a pop of colour or pattern.
Keeping your hair straight and sleek with a bold red lip to polish things off!
---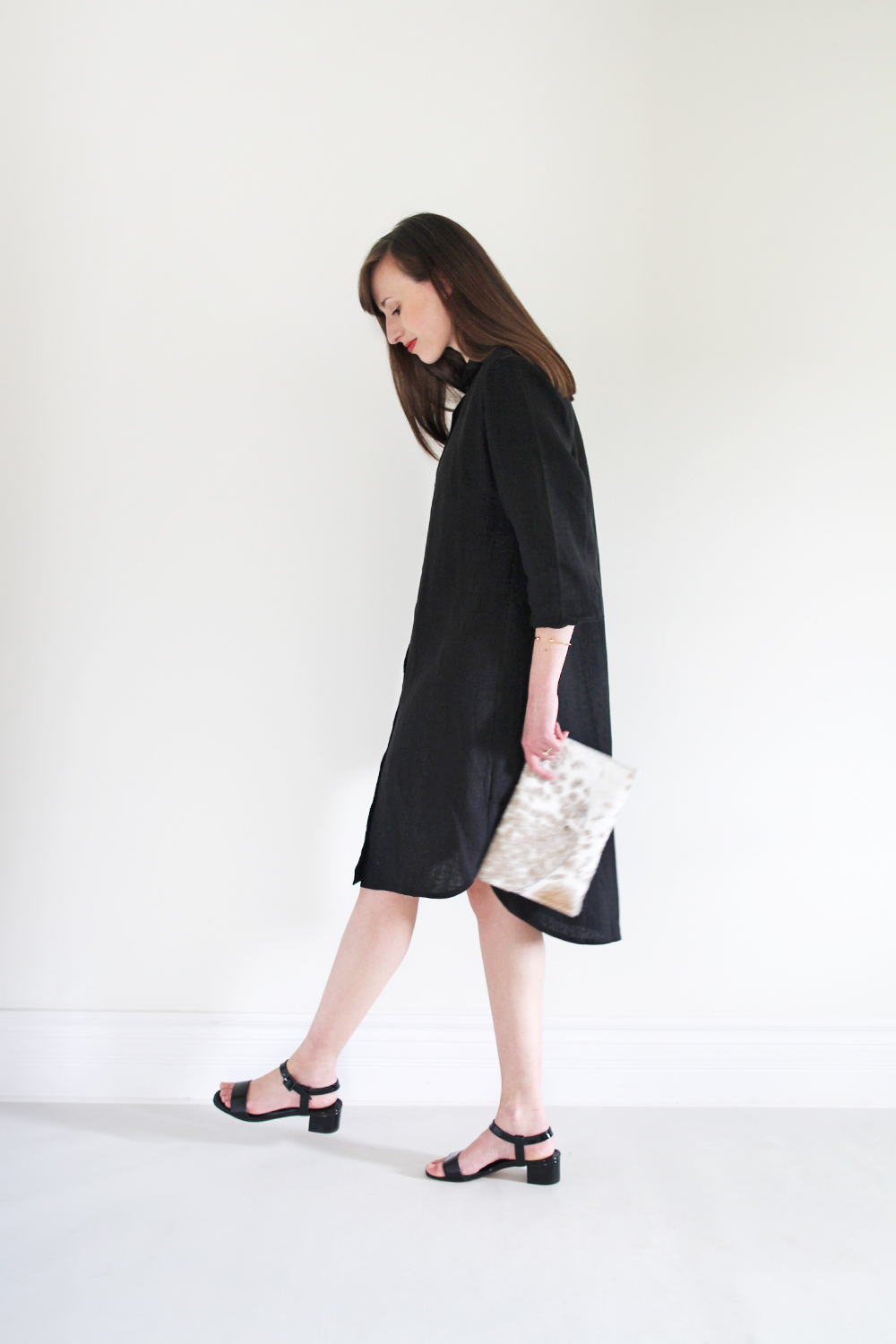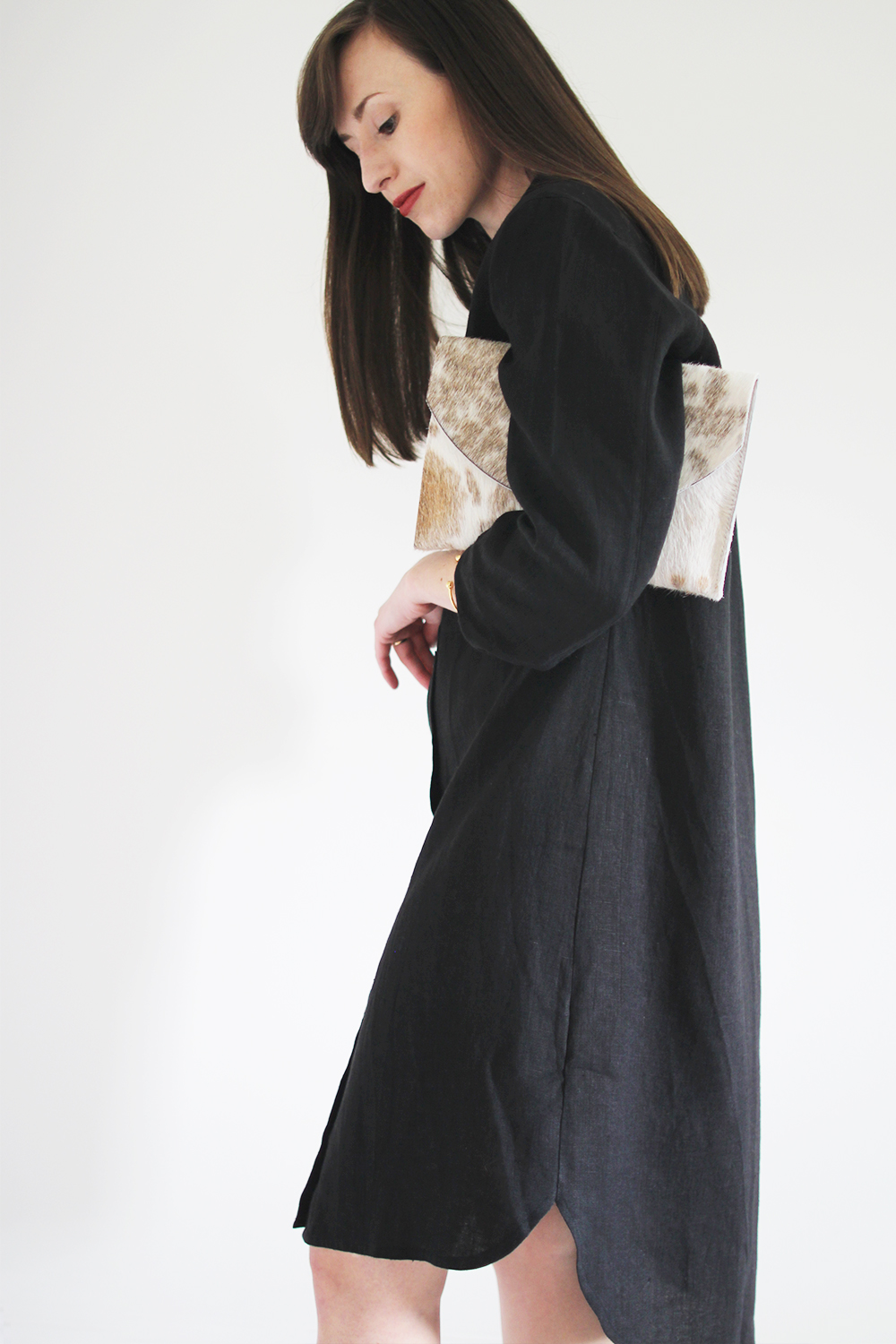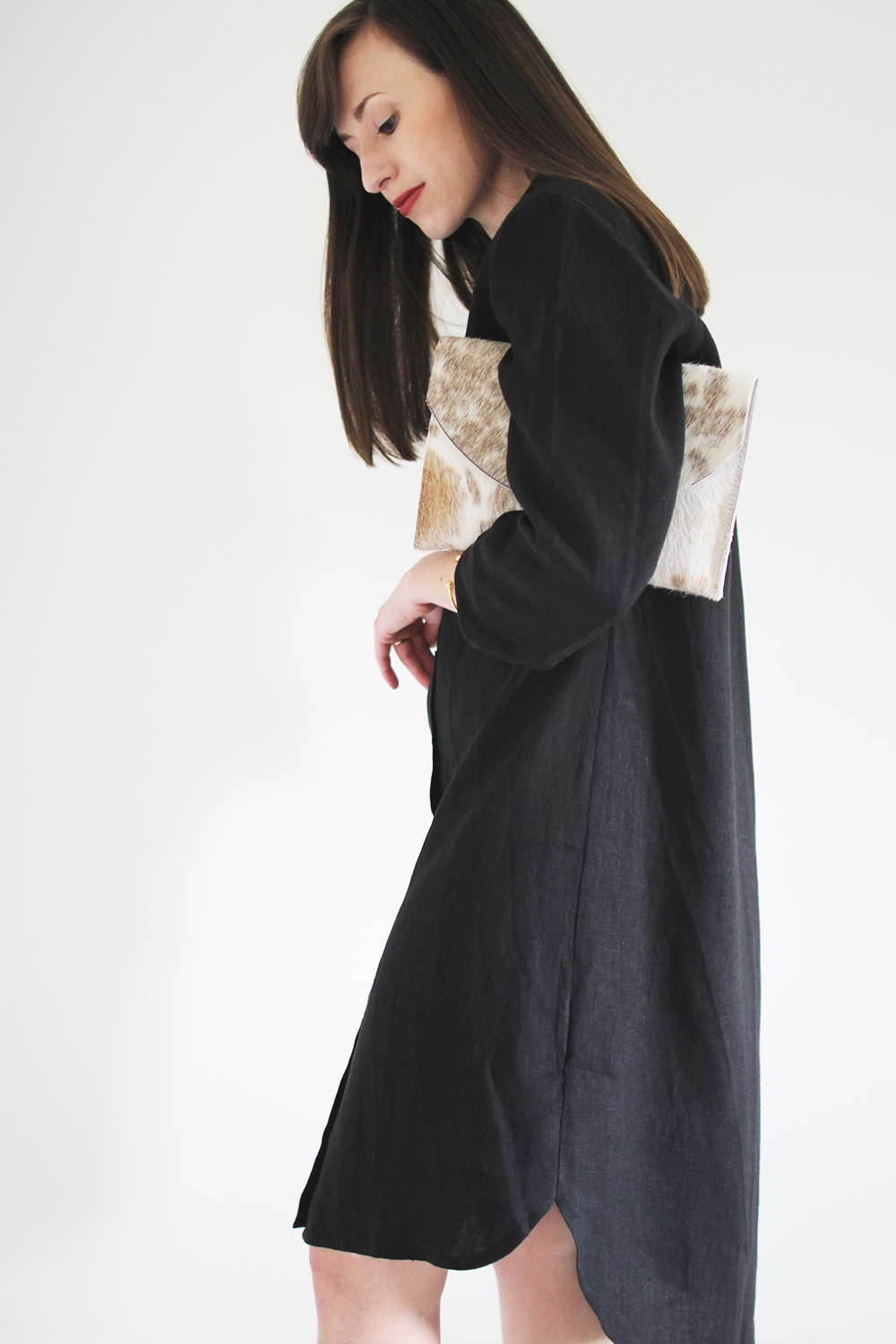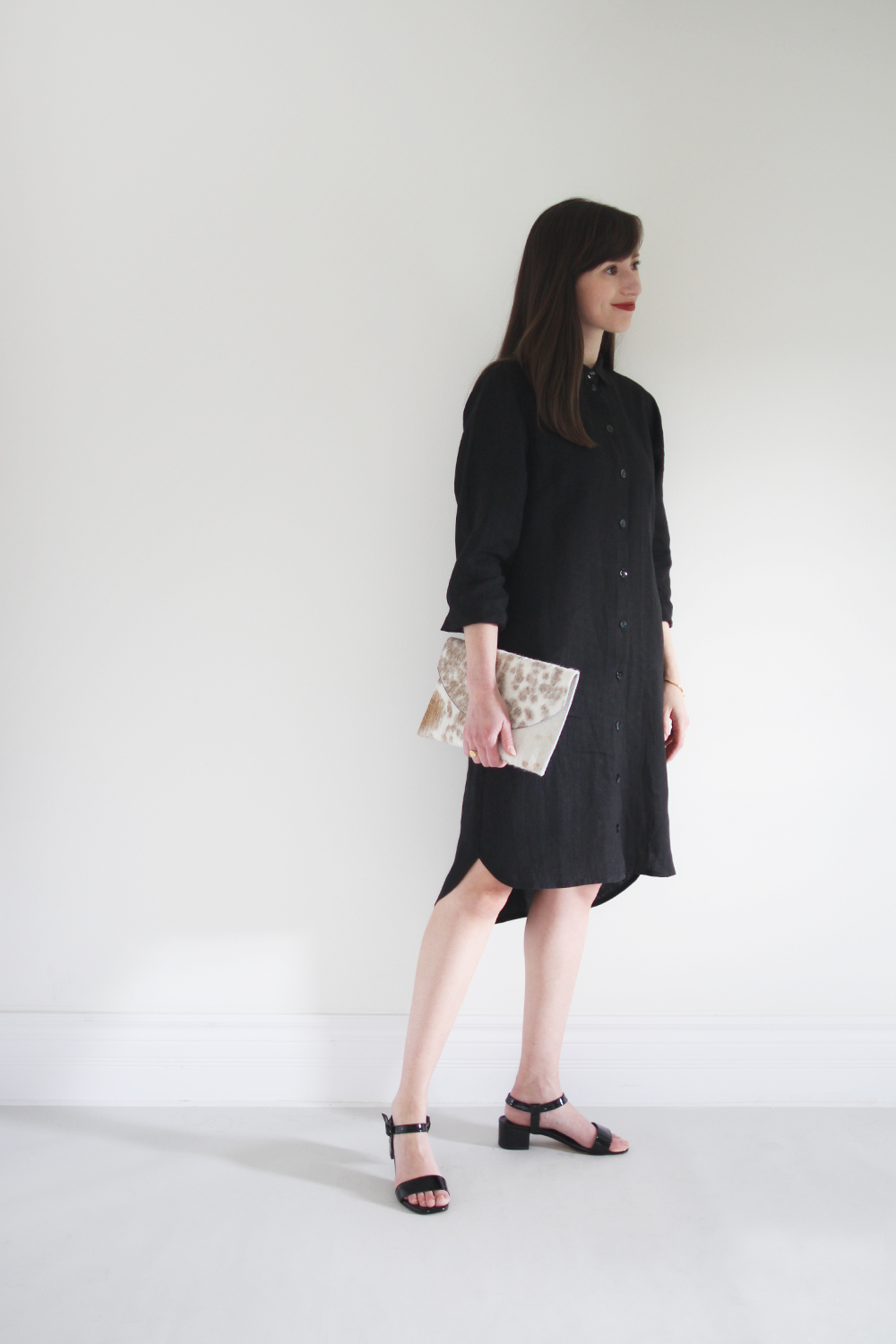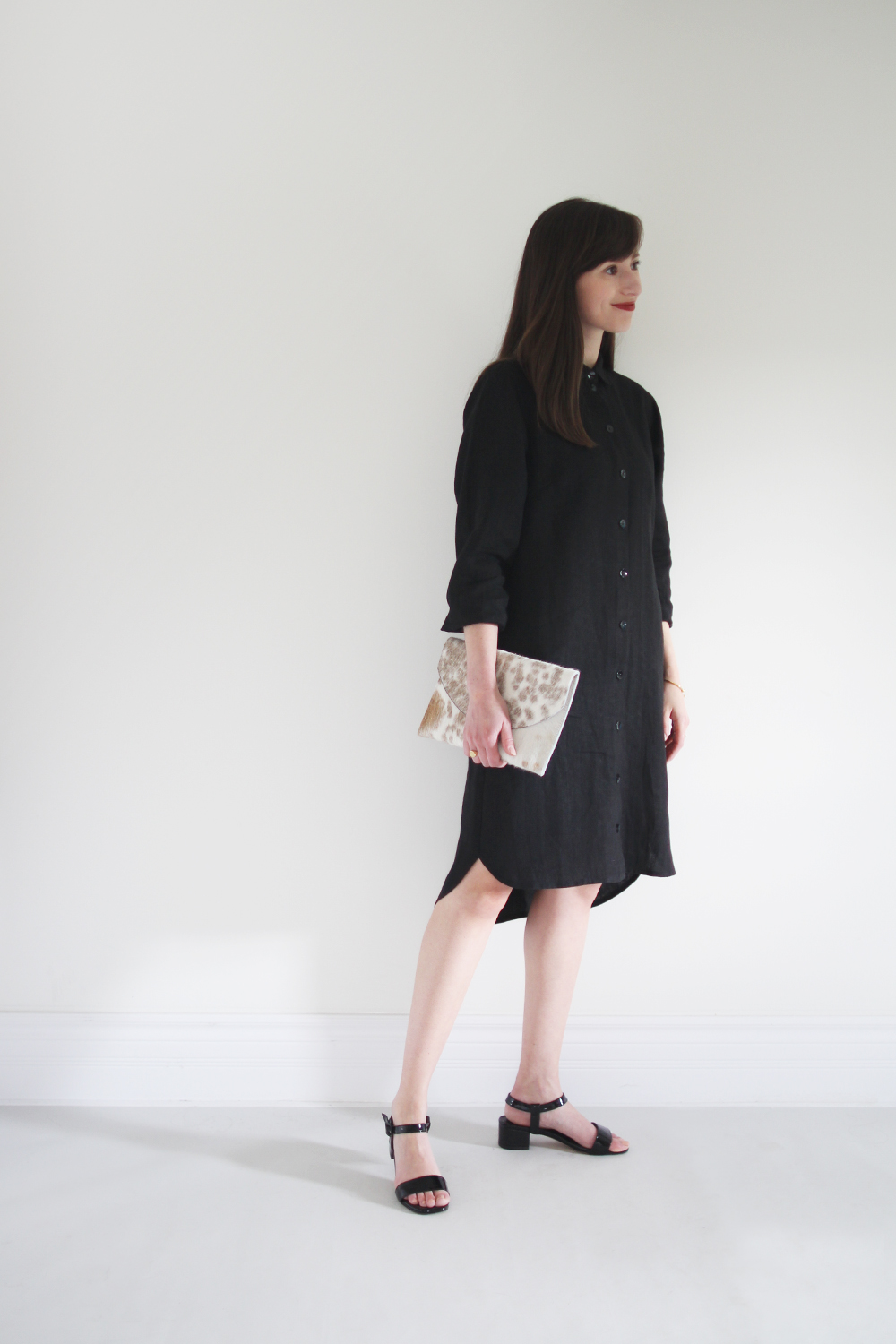 ---
1 | IDA SHIRT DRESS | c/o ODE TO SUNDAY | €220 | Wearing a size S.
Receive 20% OFF any order with 'STYLEBEE20' now through June 11th. 
2 |  CLUTCH | c/o Primecut Bags | $85 USD | Made in Portland | Receive $20 OFF your first order when you sign up here.
3 | SOPHIE SANDAL | Maryam Nassir Zadeh | $400 USD | Made responsibly in Turkey | Wearing a 37 and typically a narrow US 7. | Available in Red here and White here.
4 | LIP COLOUR | Kosås in Fringe | $24 USD | Same on all looks.
5 | SIGNET RING | c/o CLAUS | $110 USD | 6 | DOT BANGLE | c/o BIKO | $55 CAD | Made in Toronto
---
LOOK 2 – LOOSE LAYERS
---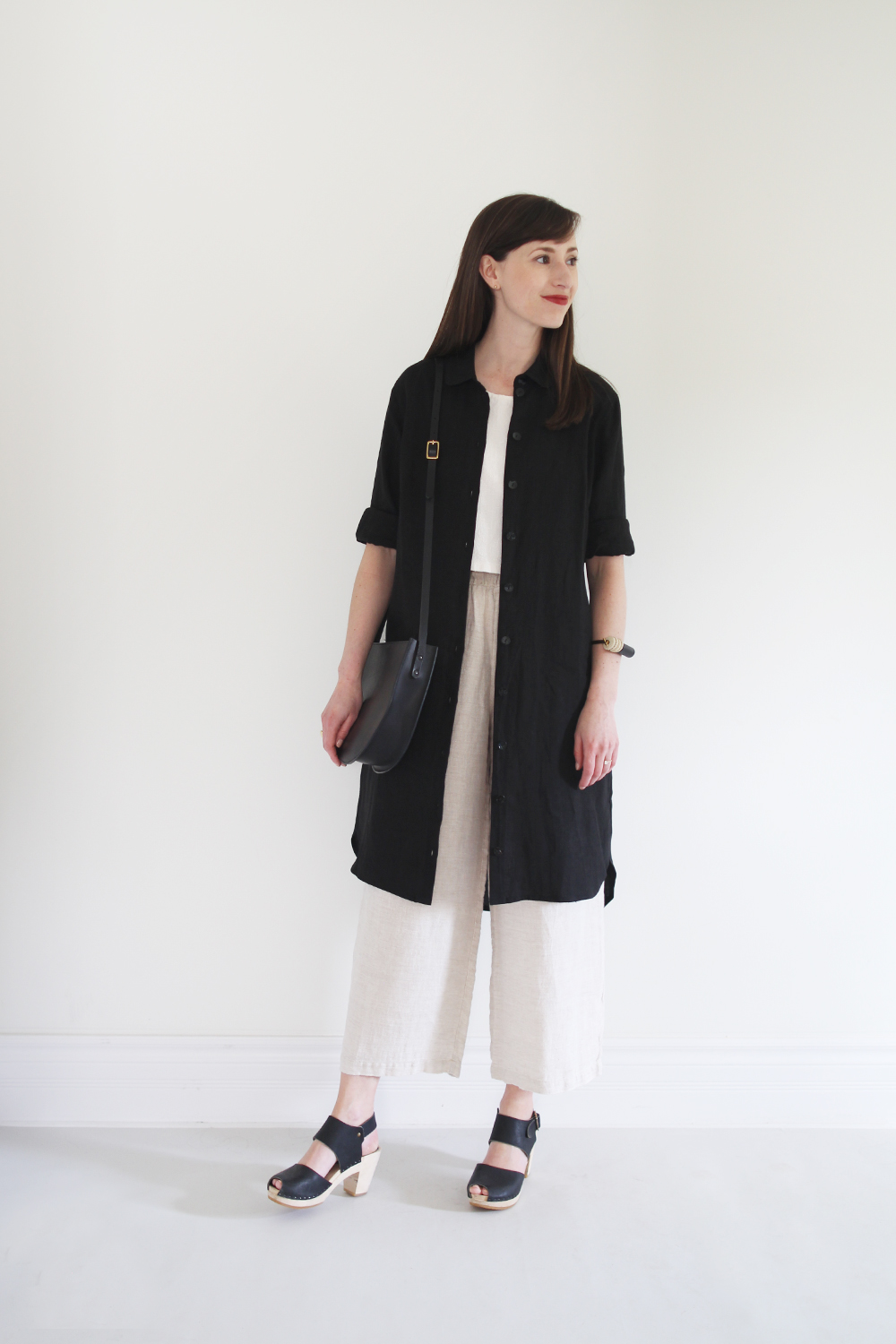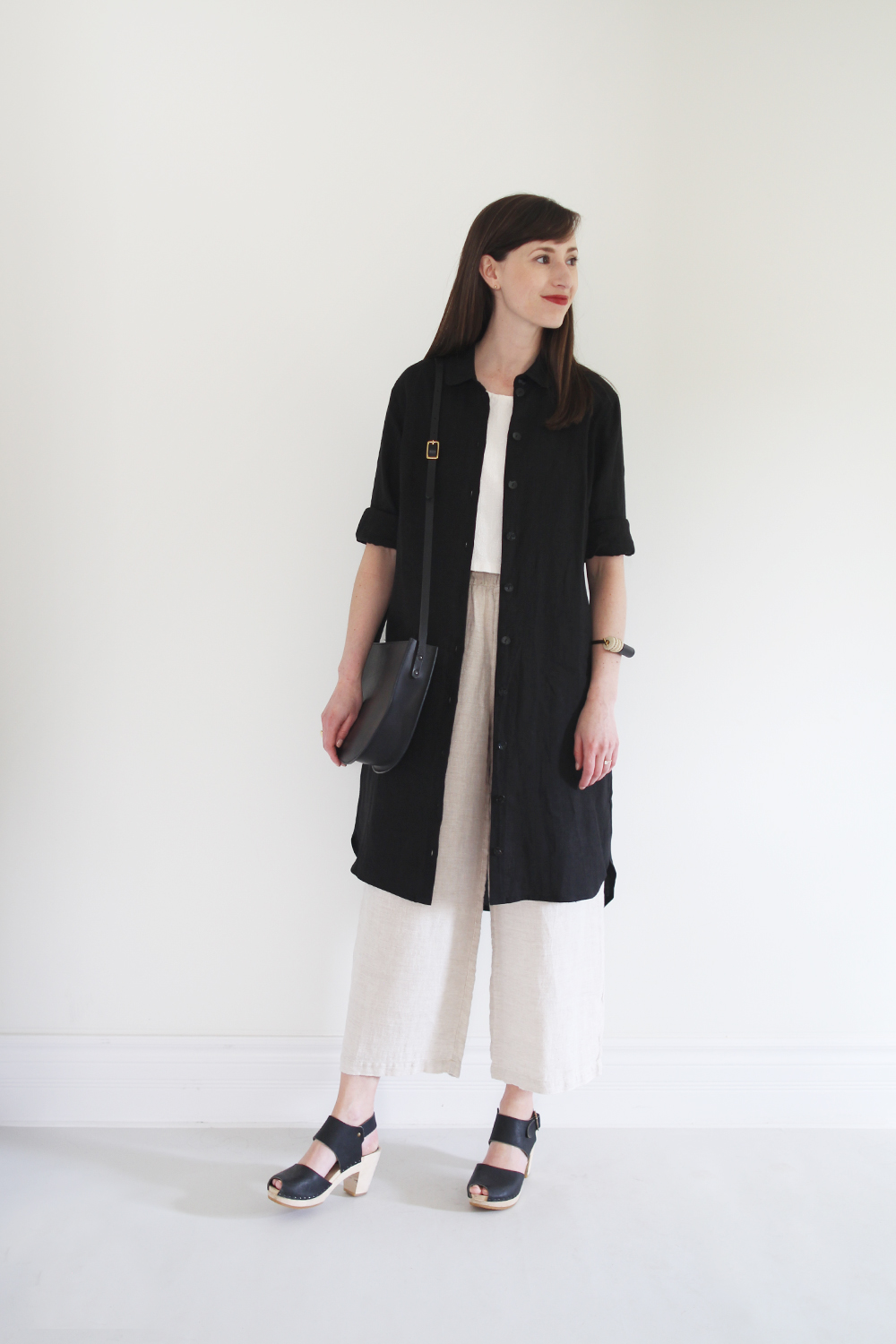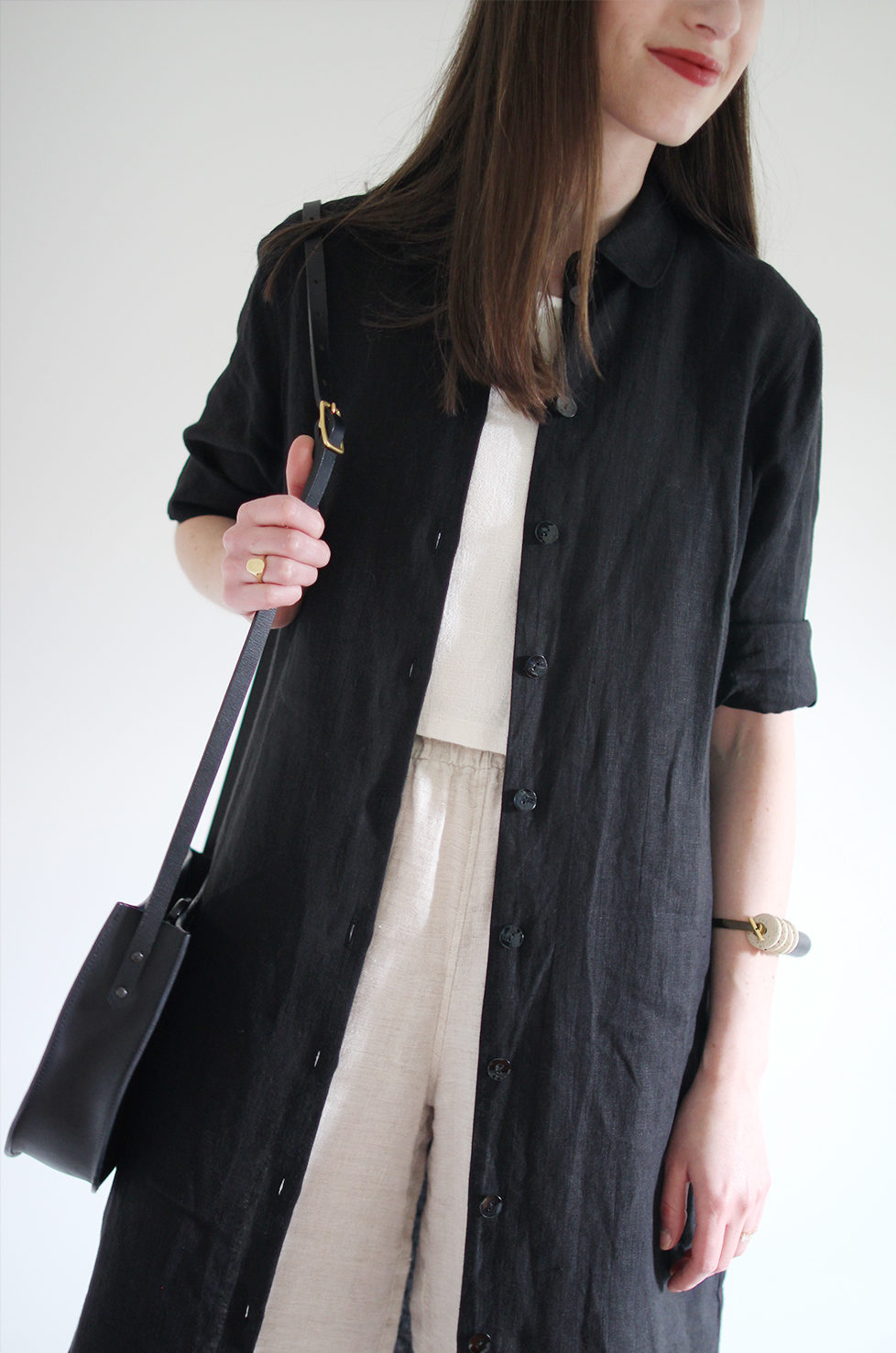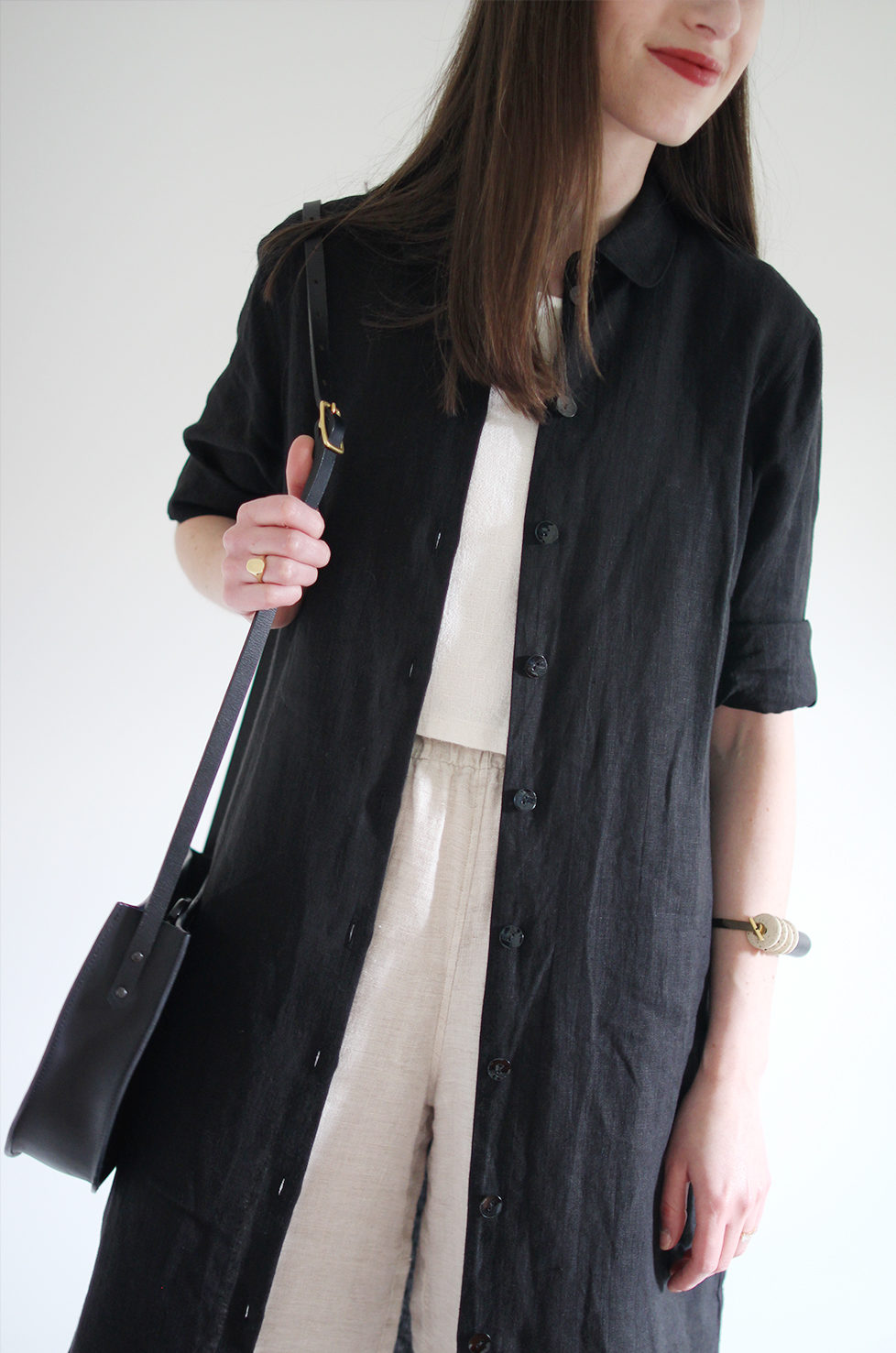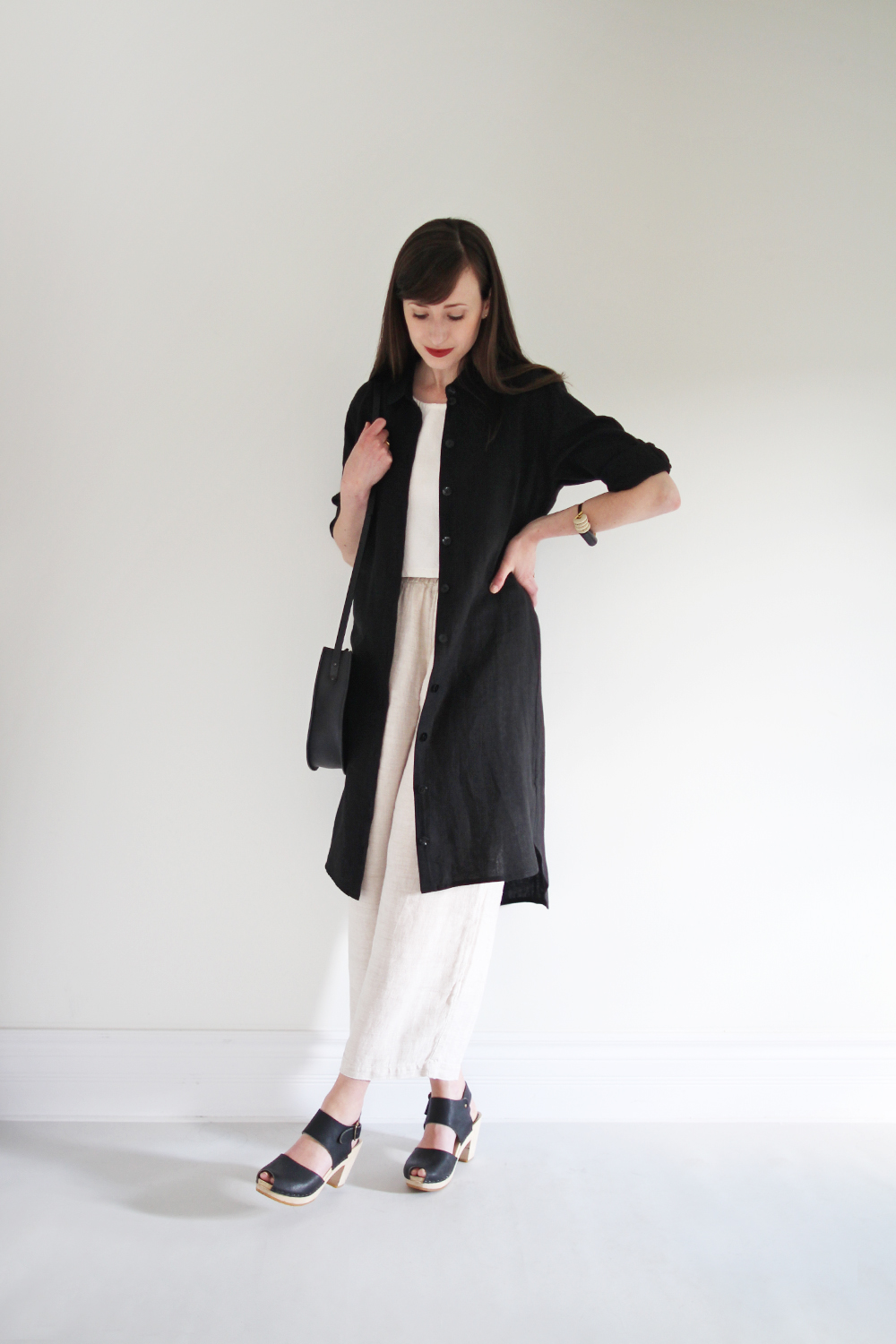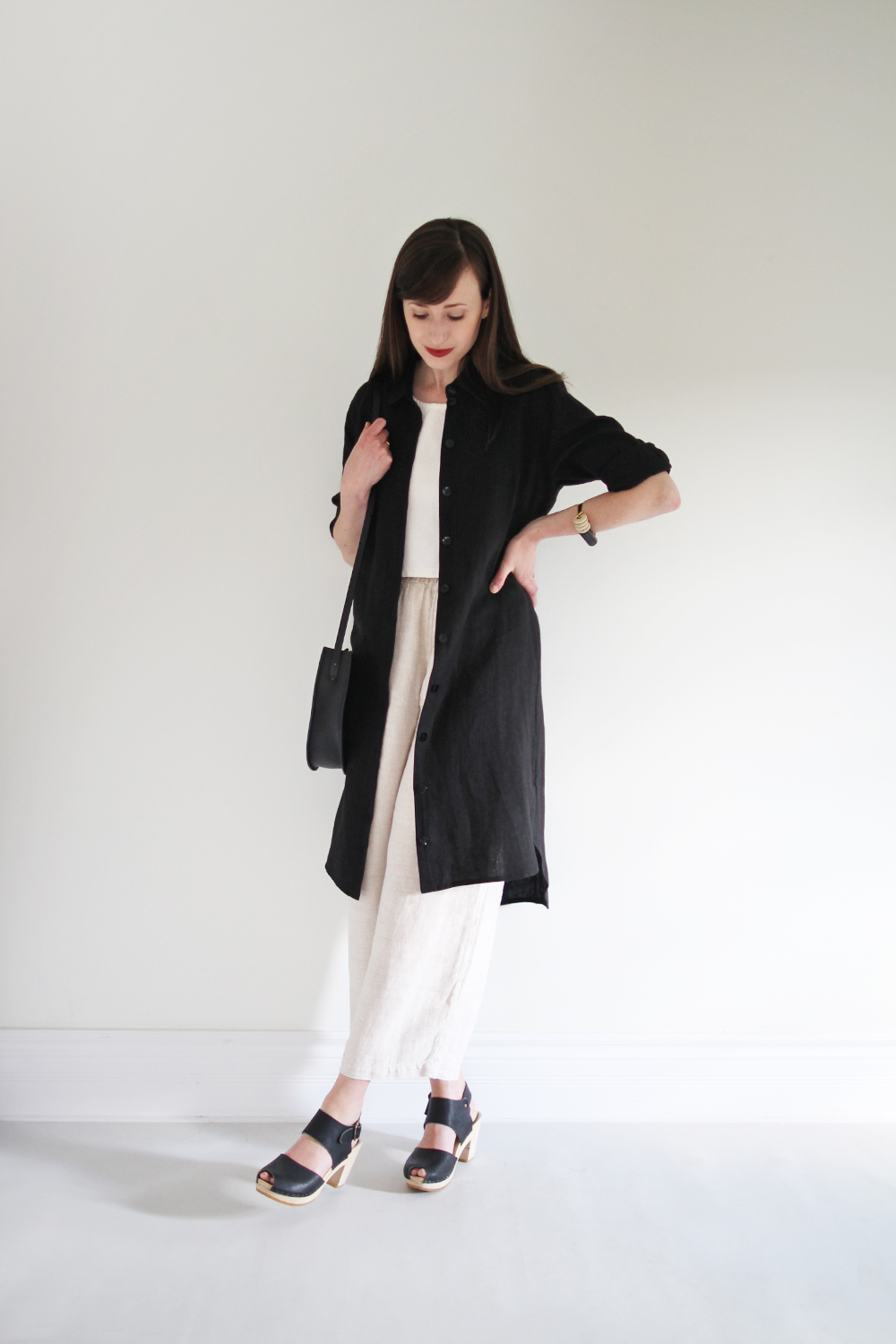 ---
I love the laid-back artsy vibe of this look and I LOVE wearing shirt dresses as a coat. By now you probably know that my main move when wearing a wide leg and a long top layer is to create a high visual midpoint with a cropped base top, and this is precisely what I did in this case. Lots of linen, natural tones and these fabulous clogs make this look a great spring option when it's not quite warm enough to forego a jacket but too hot for a coat.
I'm also liking this one because there are lots of black elements and yet the light, floaty base, keeps it from being too heavy. I rolled the sleeves up to above the elbow for a relaxed look and added a chunky sculptural bracelet with the perfect flaxy tones and black beads to tie the look together.
This outfit has weekend adventures written all over it and I can't wait to take it for a spin to the farmer's market soon!
TRY THIS LOOK YOURSELF BY:
Pulling on a floaty pair of linen pants.
Adding a simple white tank that's either cropped or can be tucked in for that high visual mid-point.
Top that base with an unbuttoned shirt dress for a lightweight jacket substitute.
Grab your favourite clogs and a matching cross-body bag to keep the palette lean.
If you feel so inclined add one piece of special jewelry and you're good to go!
---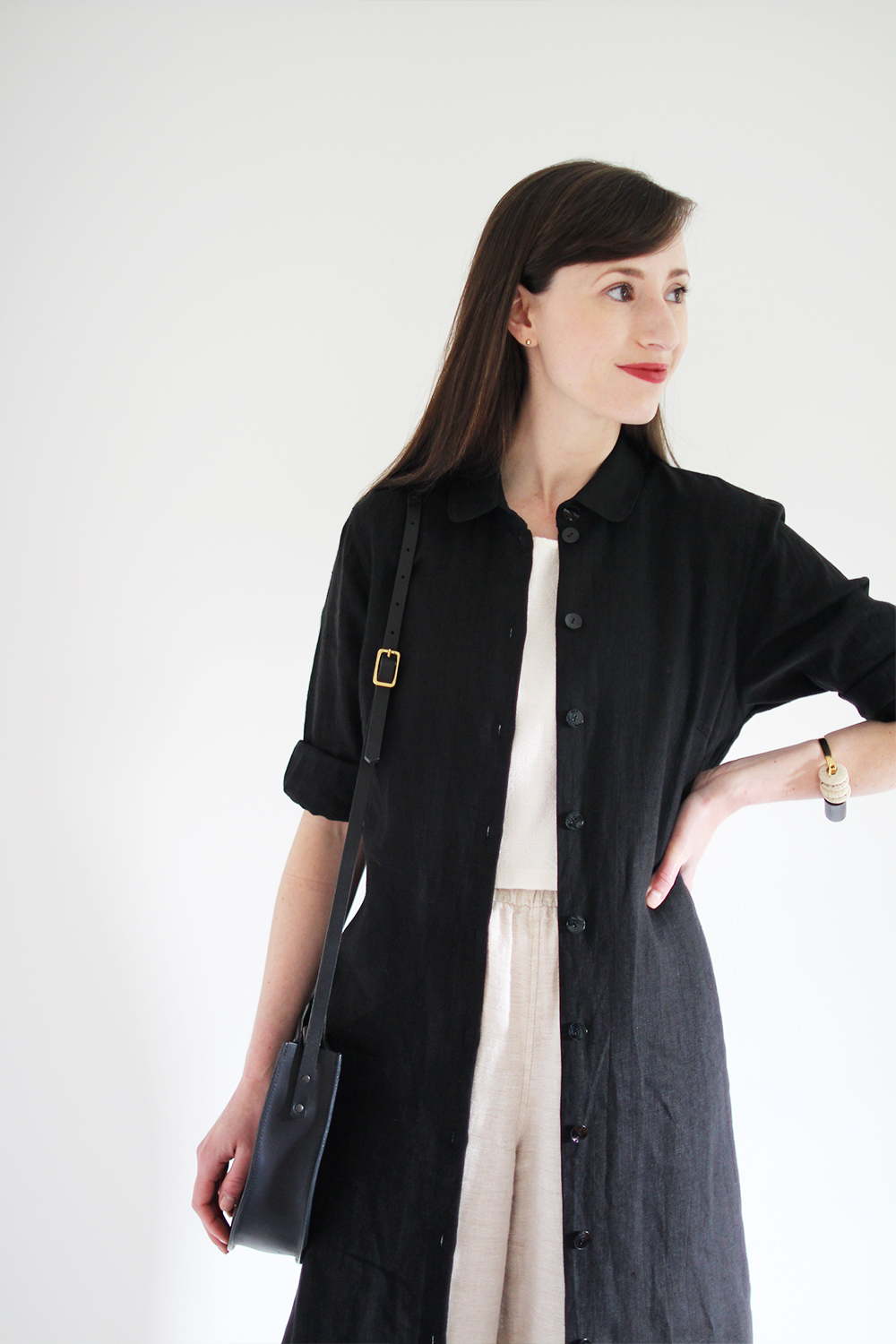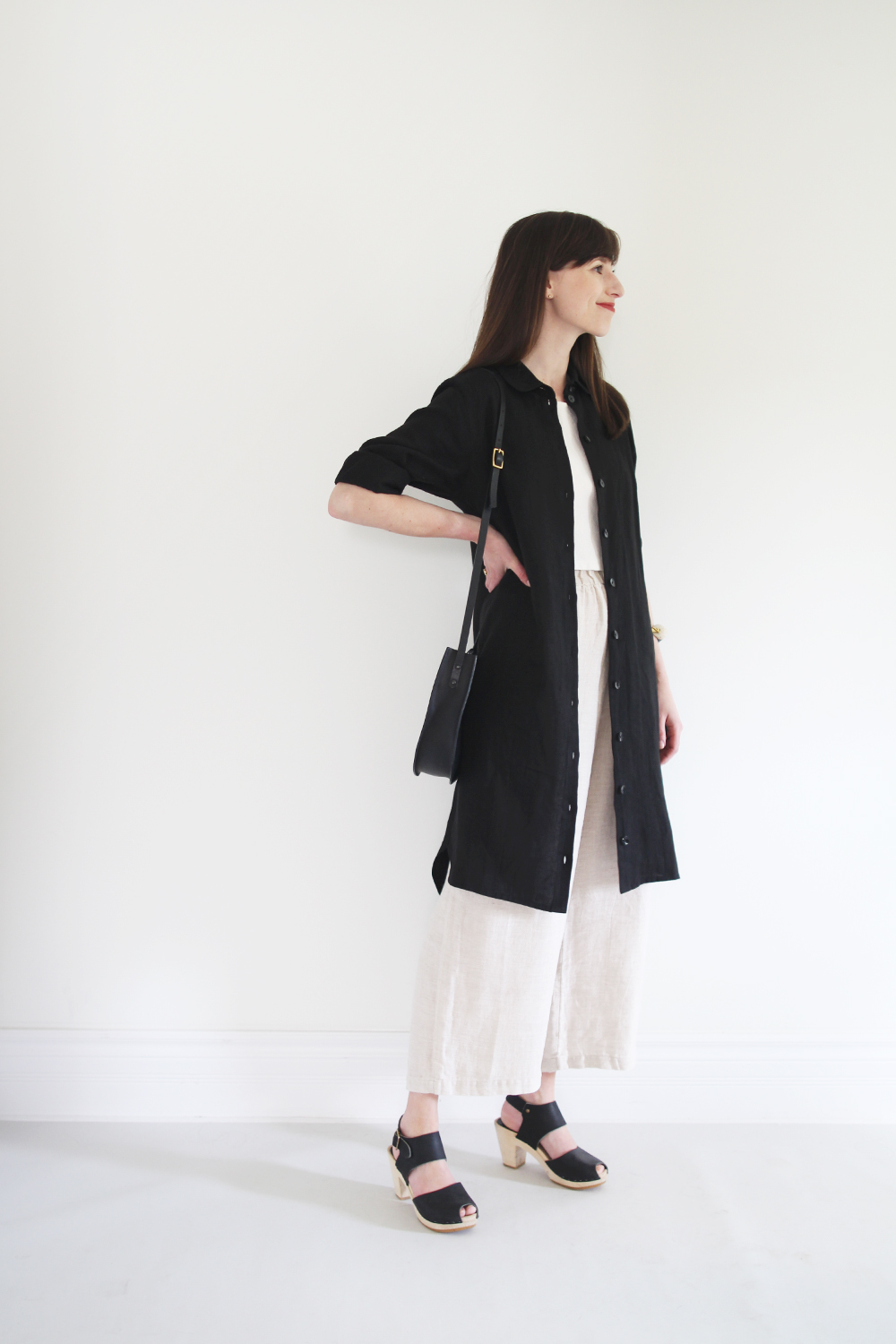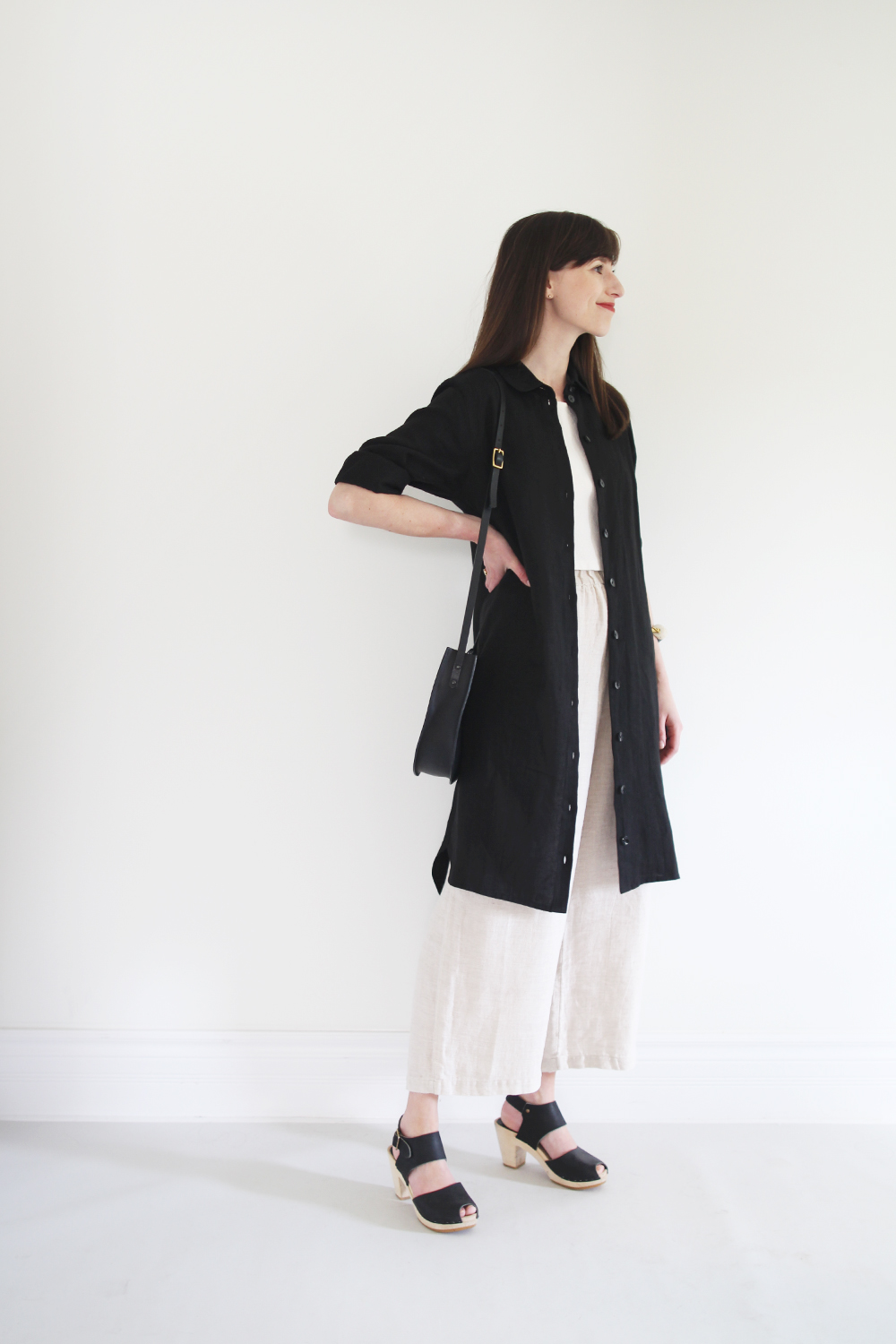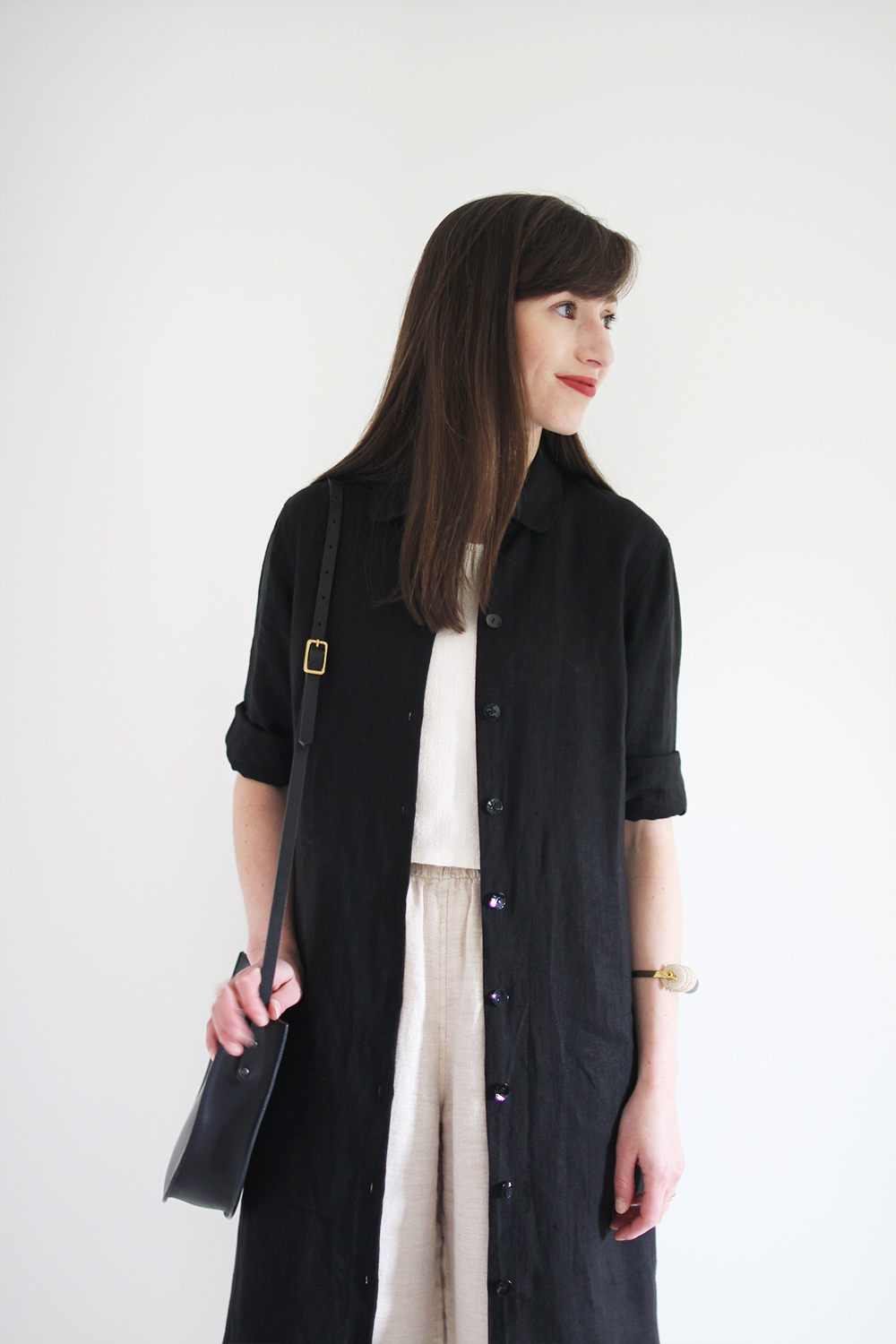 ---
1 | IDA SHIRT DRESS | c/o ODE TO SUNDAY | €220 | Wearing a size S.
Receive 20% OFF any order with 'STYLEBEE20' now through June 11th. 
2 | PETRA CROP | old Elizabeth Suzann (linked to current version) | $125 USD | Made in Nashville
3 | FLORENCE PANT | old Elizabeth Suzann (linked to current version) | $205 USD | Made in Nashville
4 | CLOGS | BRYR CLOGS | $262 | Made in San Francisco | Wearing US7 and they run wide.
5 | ELOISE BAG | The Stowe | $387 CAD | Made in Canada.
6 | BRACELET | c/o Maslo Jewelry | $42 USD | Made in Portland.
---
LOOK 3 – BELTED 
---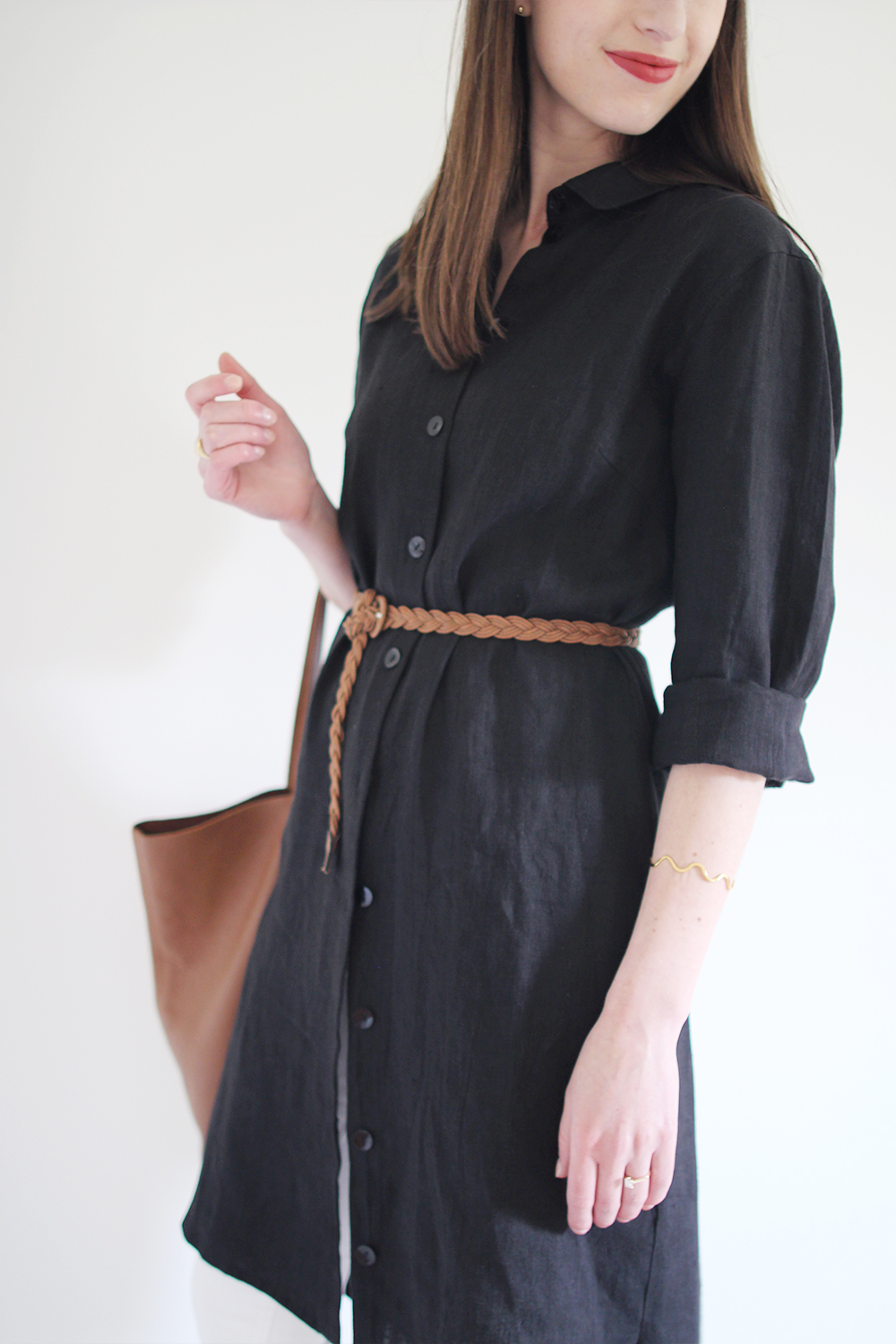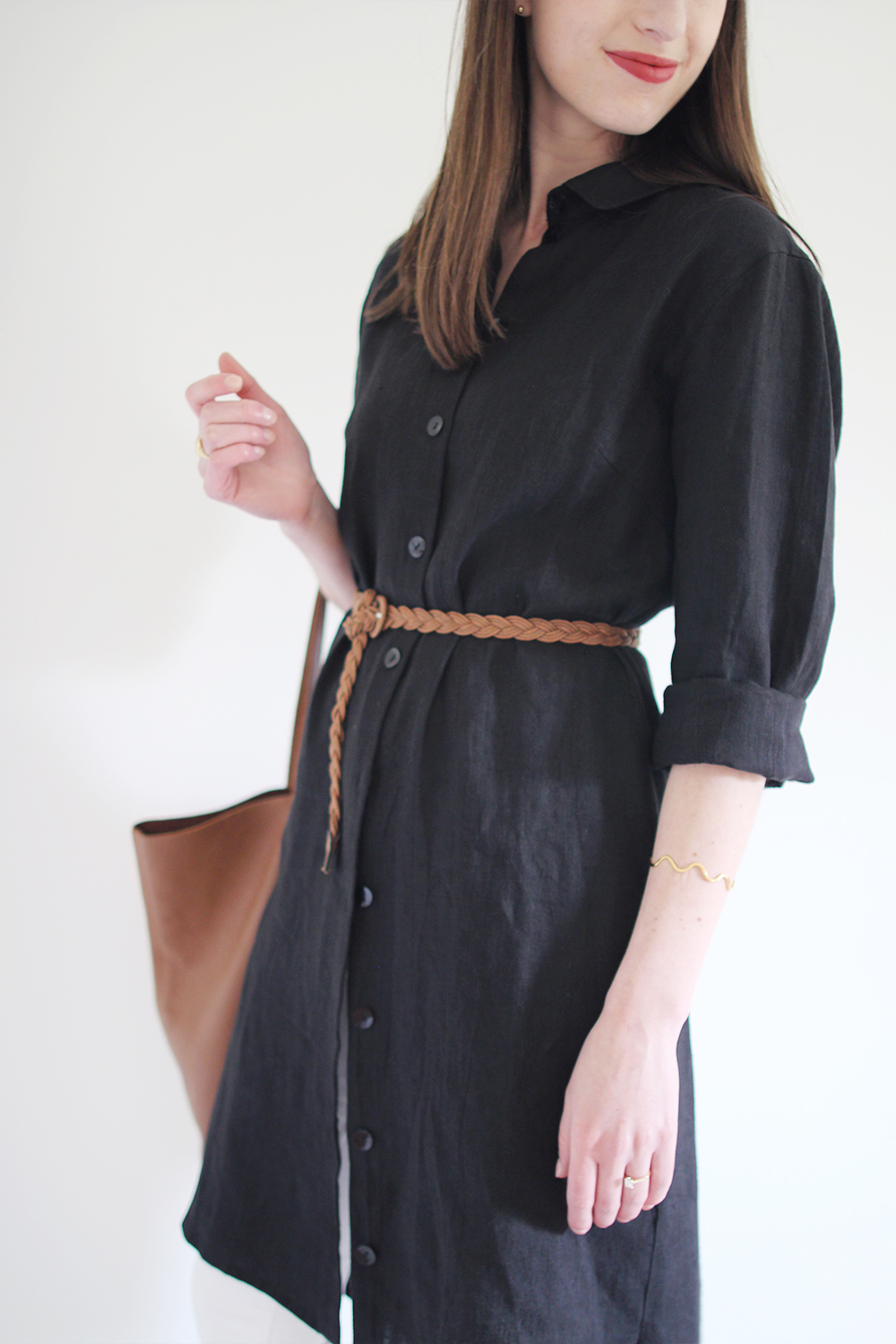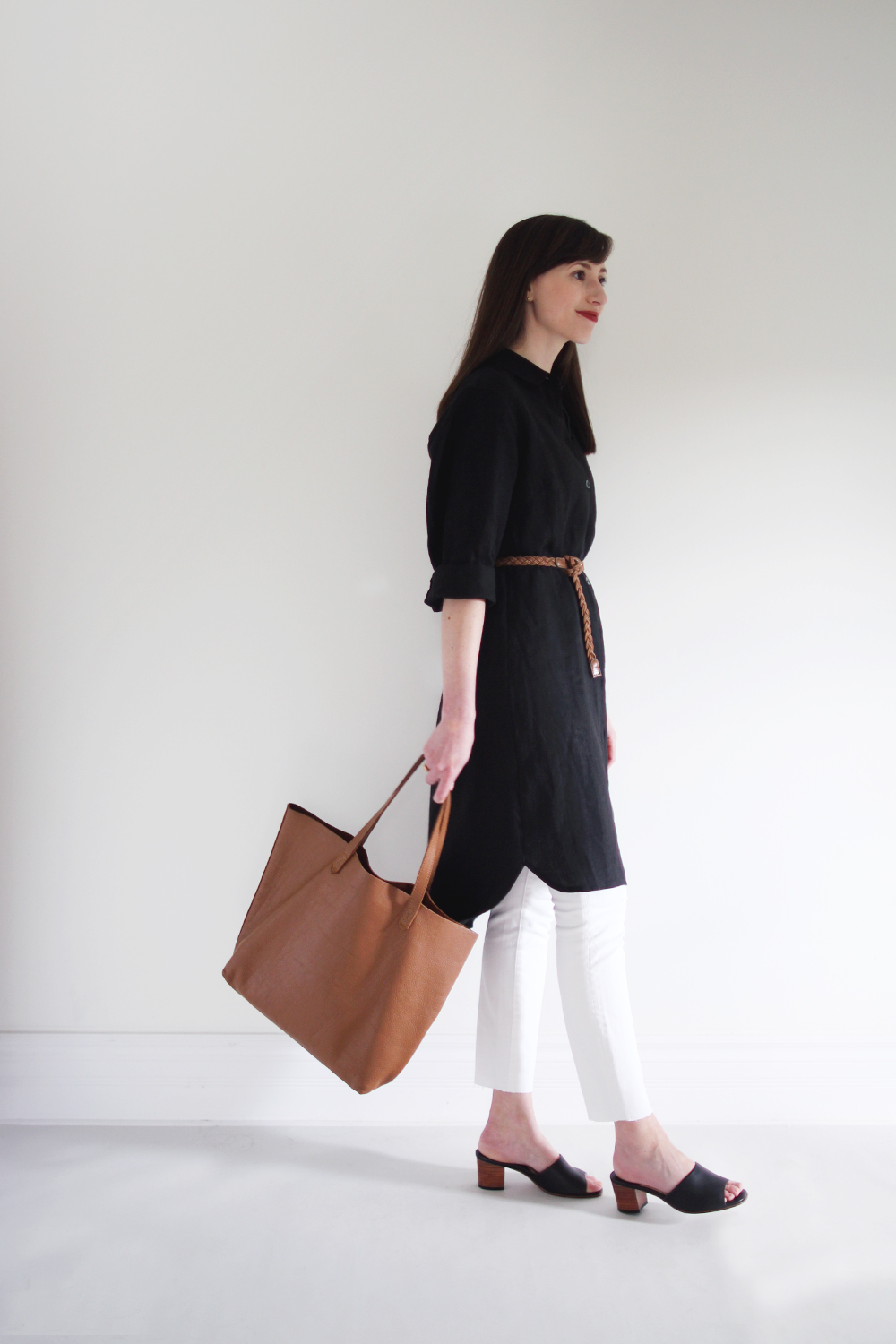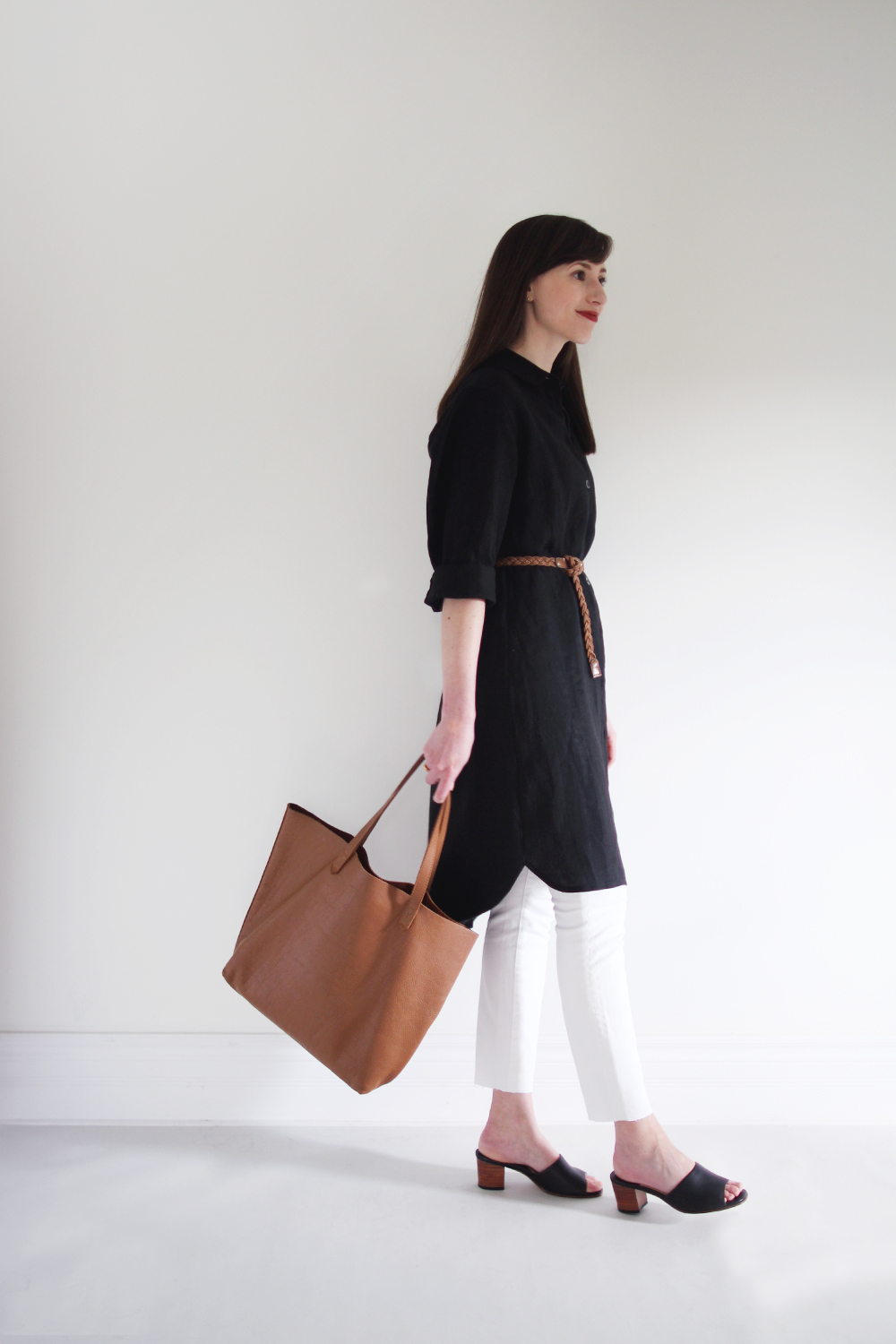 ---
This last look is probably my favourite because I was totally blown away by how well all the elements came together. In fact, I wore this one out the evening after I shot this post and it performed great!
I thought a dress over jeans with a belt would feel cumbersome but instead it feels totally put-together and chic. A key factor to keep it uncomplicated is the minimal palette and pared down style of each item. Of course, these colours are very much my jam right now (black, white + caramel) and I'm glad I was able to find such a warm weather friendly way to utilize them.
This look is perfect for my typical work day in which I'm in the studio, grabbing a quick coffee or zipping out for errands or a meeting.
TRY THIS LOOK YOURSELF BY:
Zipping on your favourite white (or light) skinnies. Bonus points if you just lopped off the hems for a cropped length. 
Slipping on a shirt dress (in a darker tone) and buttoning up three or four buttons in the front and leaving the rest open.
Then you'll cinch your natural waist with a braided or smooth leather belt.
Slide into some minimal mules in a matching dark tone or neutral.
Grab a big tote and your favourite lip colour and there's no doubt you'll be ready for anything the day throws your way!
---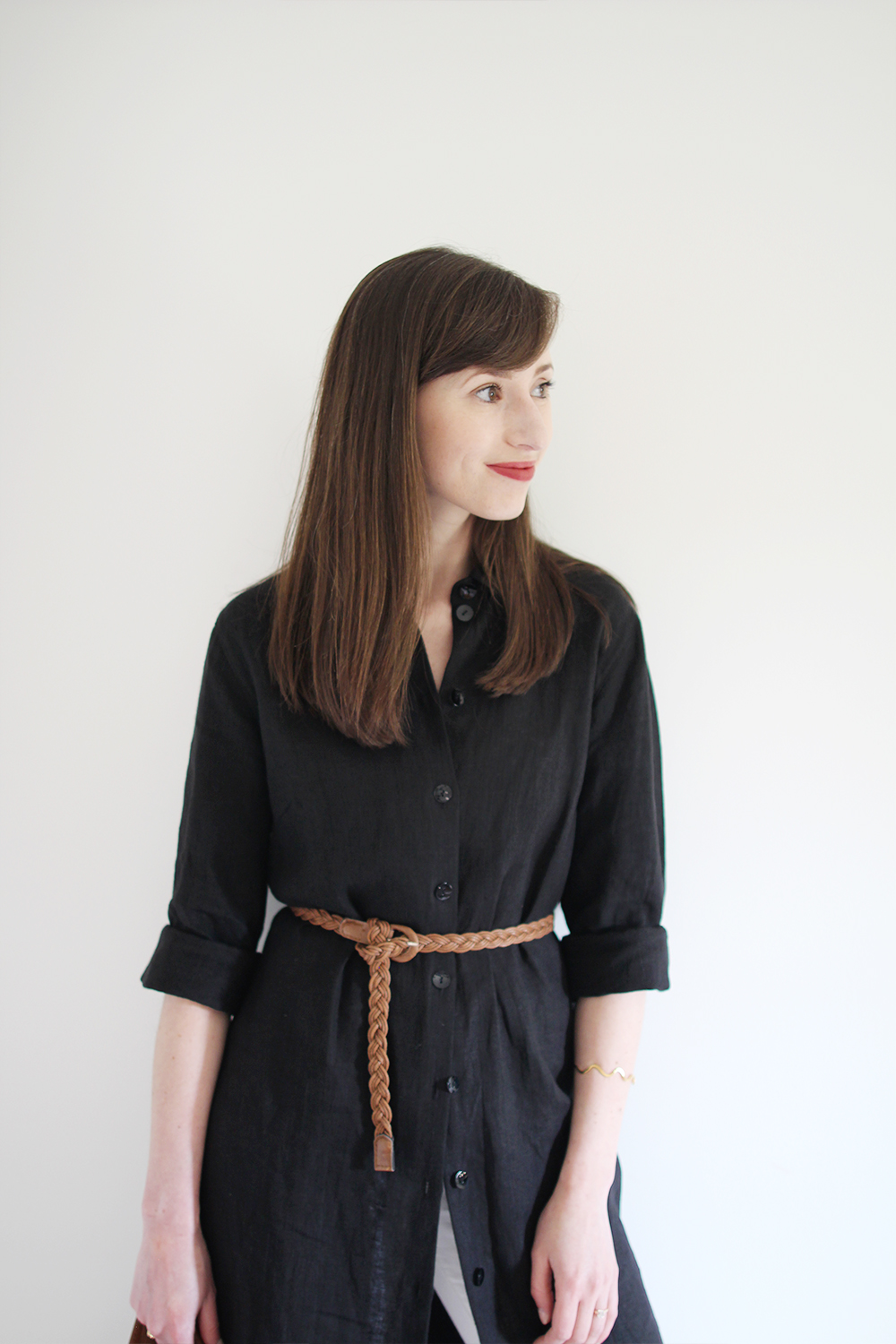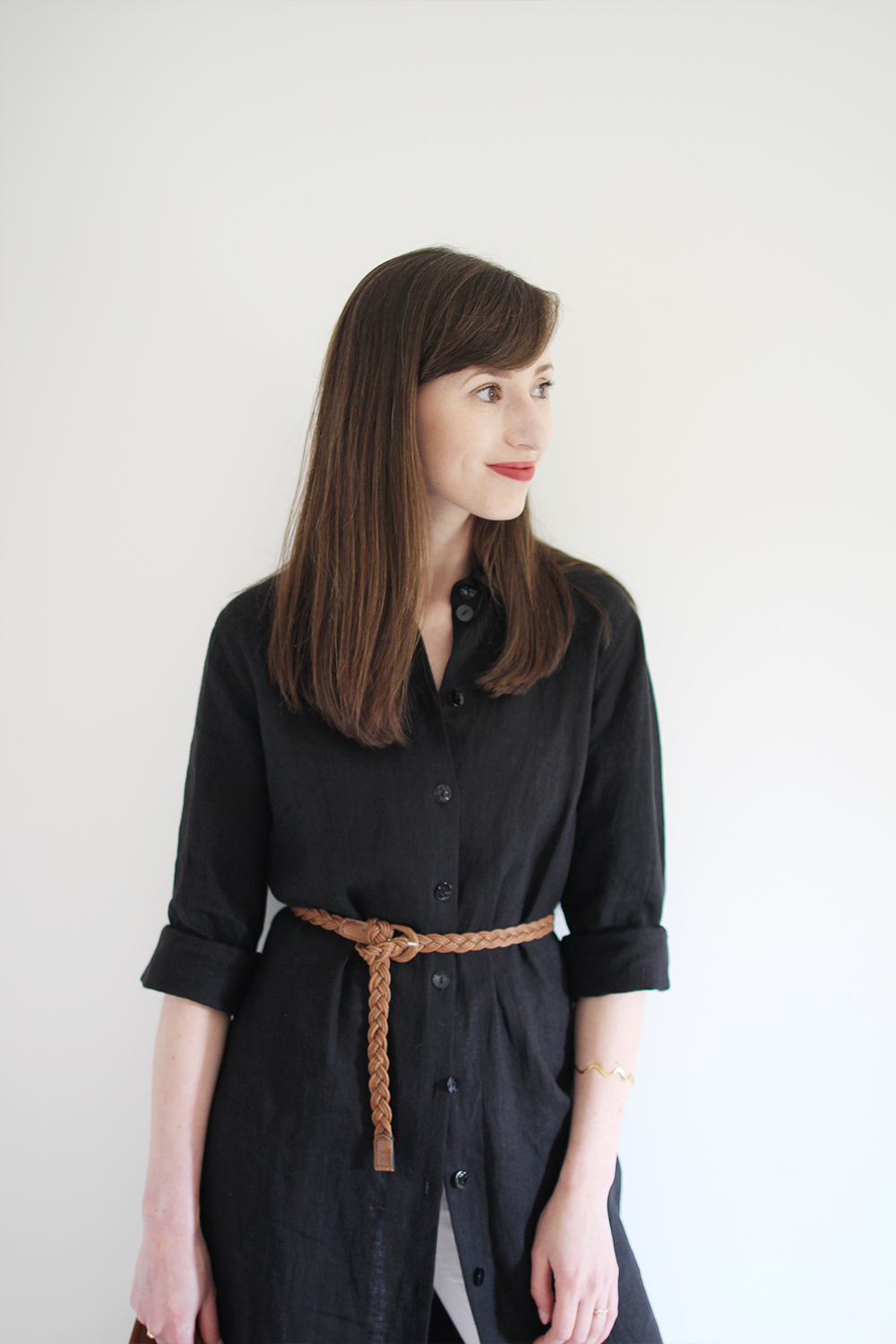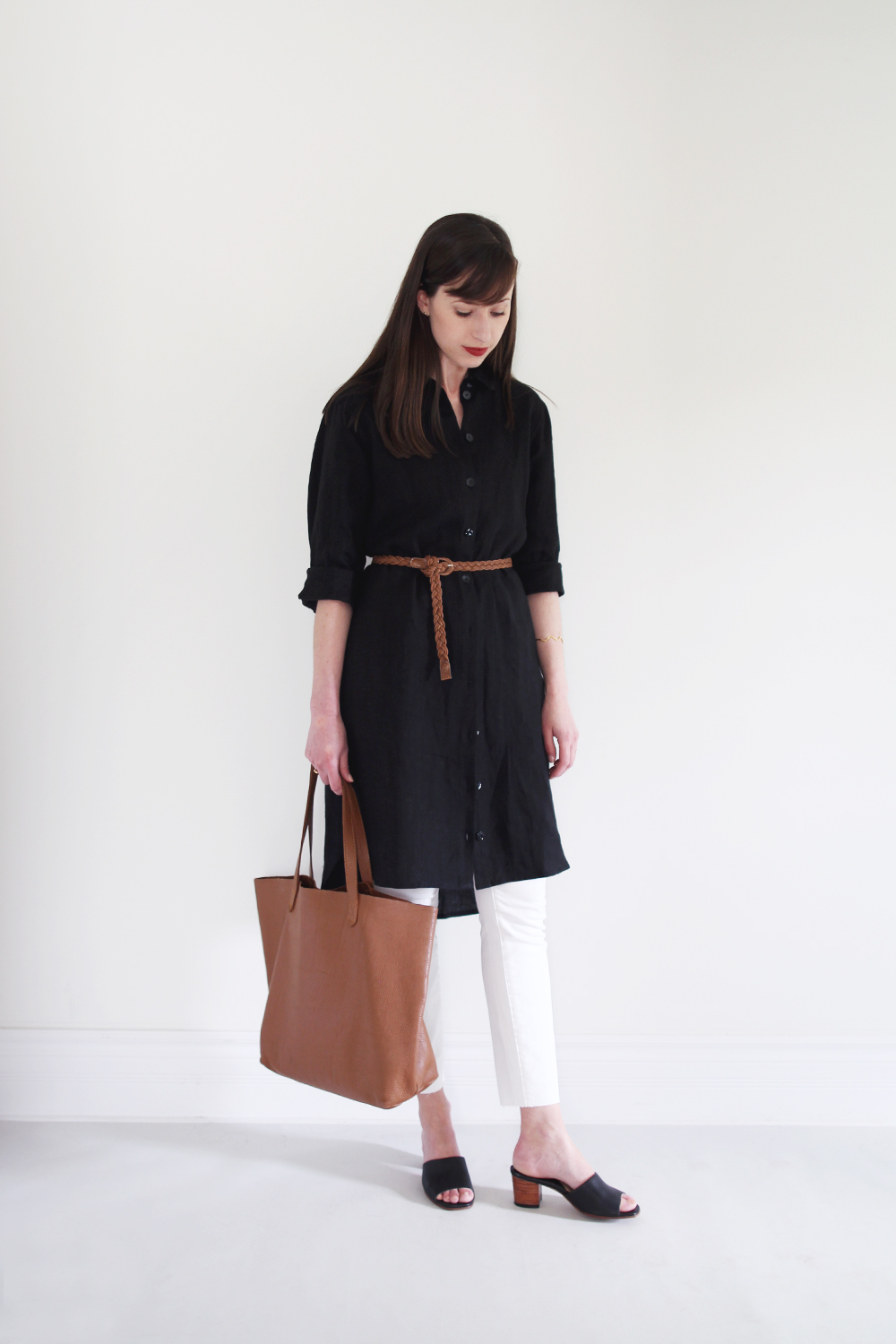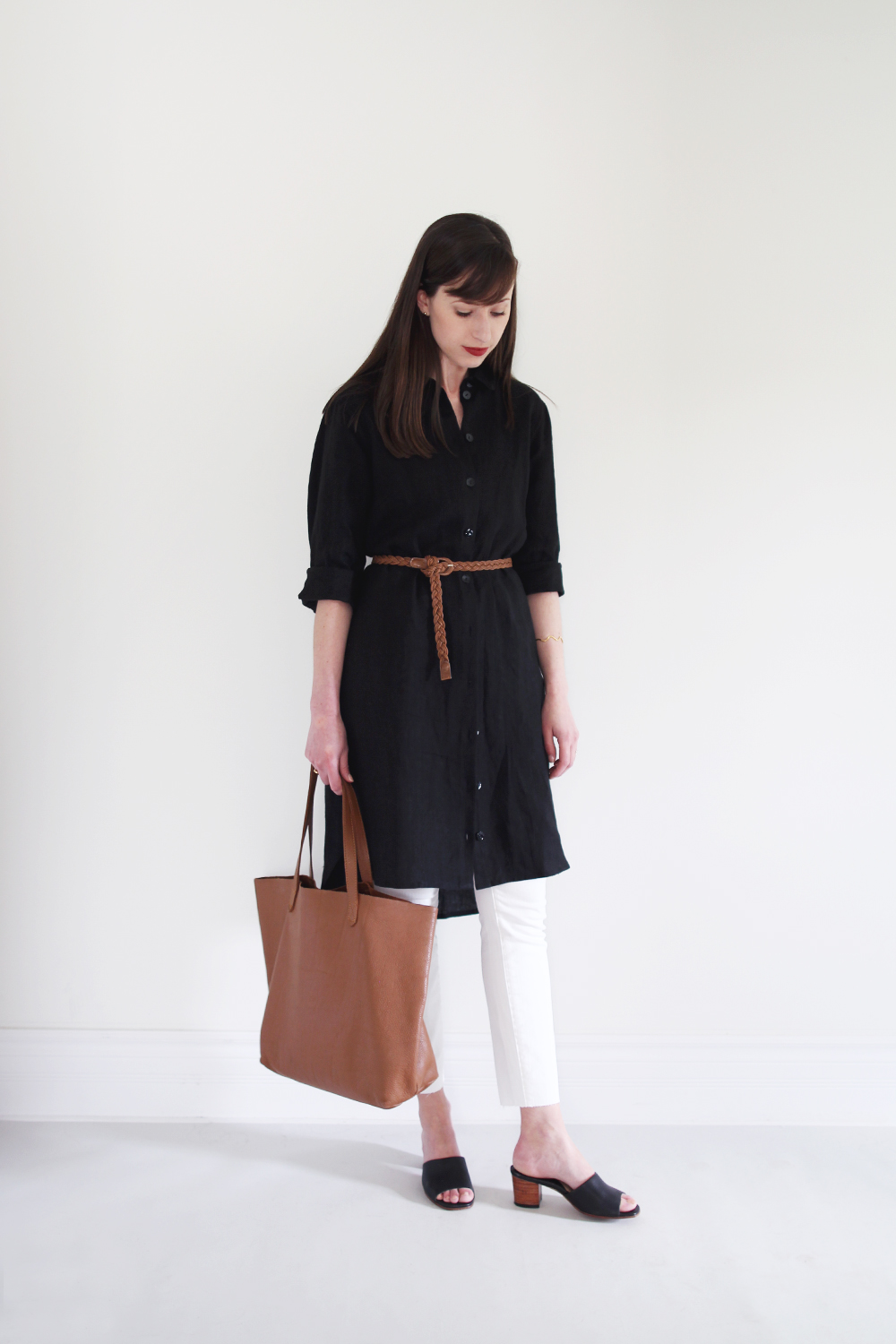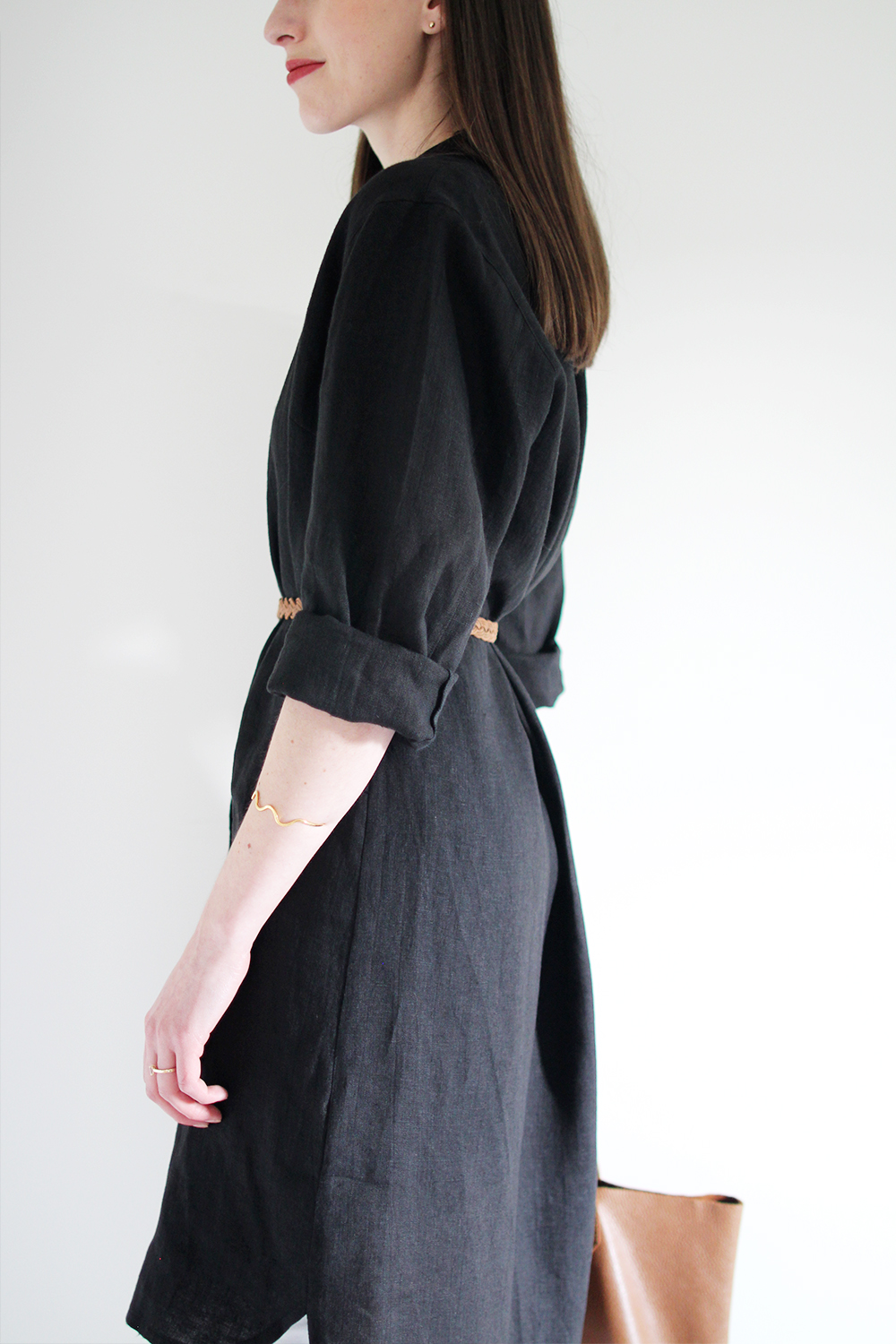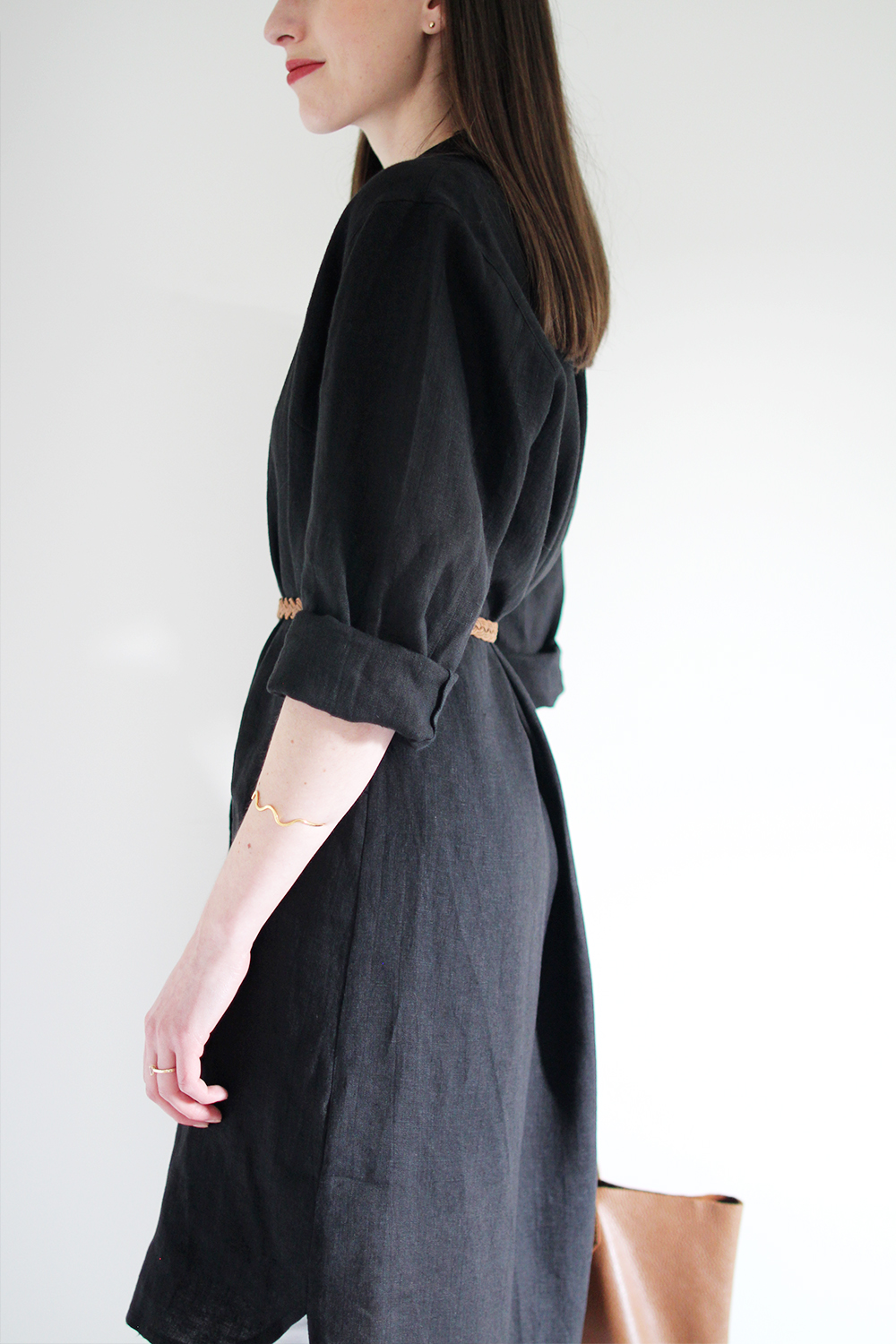 ---
1 | IDA SHIRT DRESS | c/o ODE TO SUNDAY | €220 | Wearing a size S.
Receive 20% OFF any order with 'STYLEBEE20' now through June 11th. 
2 | WHITE SKINNIES | Madewell | $125 USD | Imported. | Wearing a 26.
3 | ELIZABETH MULES | c/o Nisolo | $158 USD | Made ethically in Peru | Wearing size 36 typically a narrow US7 | The FUKO Sandal is a similar option in more sizes from L'Intervalle for $148 CAD, made responsibly in Spain. Receive 10% Off with 'STYLEBEE10' through July 31.
4 | TOTE | Cuyana | $175 USD | Made in USA
5 | BELT | old H&M | 6 | WAVE CUFF | old Young Frankk
---
ARE YOU A SHIRT-DRESS FAN? IF SO, HOW DO YOU STYLE YOURS?
WHICH OF THESE LOOKS WOULD YOU TRY?
WHAT'S YOUR FAVOURITE PIECE BY ODE TO SUNDAY?
See you on Wednesday with a new instalment of Life Lately! 
---
This post was created in partnership with Ode To Sunday and contains affiliate links. When you shop via the links above I may make a small commission from a sale. Thank you for supporting the brands that support Style Bee!