This year feels like it's been moving at warp speed and I can't believe we've already been in Vancouver for over a month! Before we left Ontario I decided that once we were out west I'd begin working on one of my 2018 Closet Mission goals, which was to: Develop a better system for closet analysis.
As I mentioned in that post, I quite enjoy scrutinizing over my style and closet, yet, I've found it hard to put real numbers to my outfit and wardrobe performance. So I decided to start keeping track of how often I've been wearing the core items in my closet in order to gather some real data about how pieces are performing. My blogger buds Andrea (Seasons & Salt) and Paige (Style This Life) inspired the idea and for the last month or so I've been maintaining a 'wear count' of all the items I've worn while we've been on the west coast.
Today I'm sharing:
My full list (as of last week) and how I've been keeping track.
My findings so far.
My 15 most worn pieces to date.
Plus, all the outfits I've managed to capture.
So if you're interested in this nitty-gritty closet stuff feel free take a look and maybe consider creating your own list because, spoiler alert, it's been a great learning exercise!
---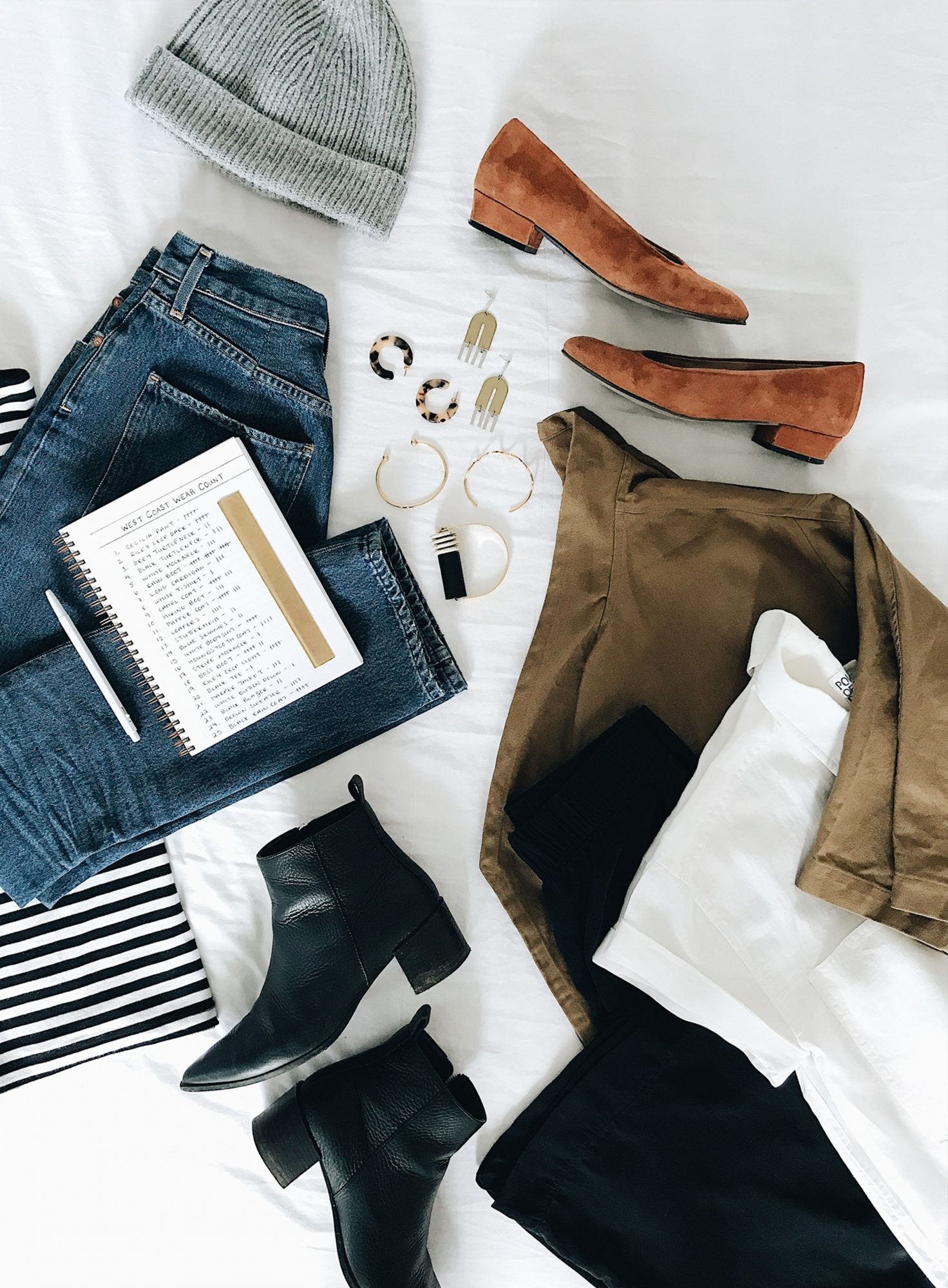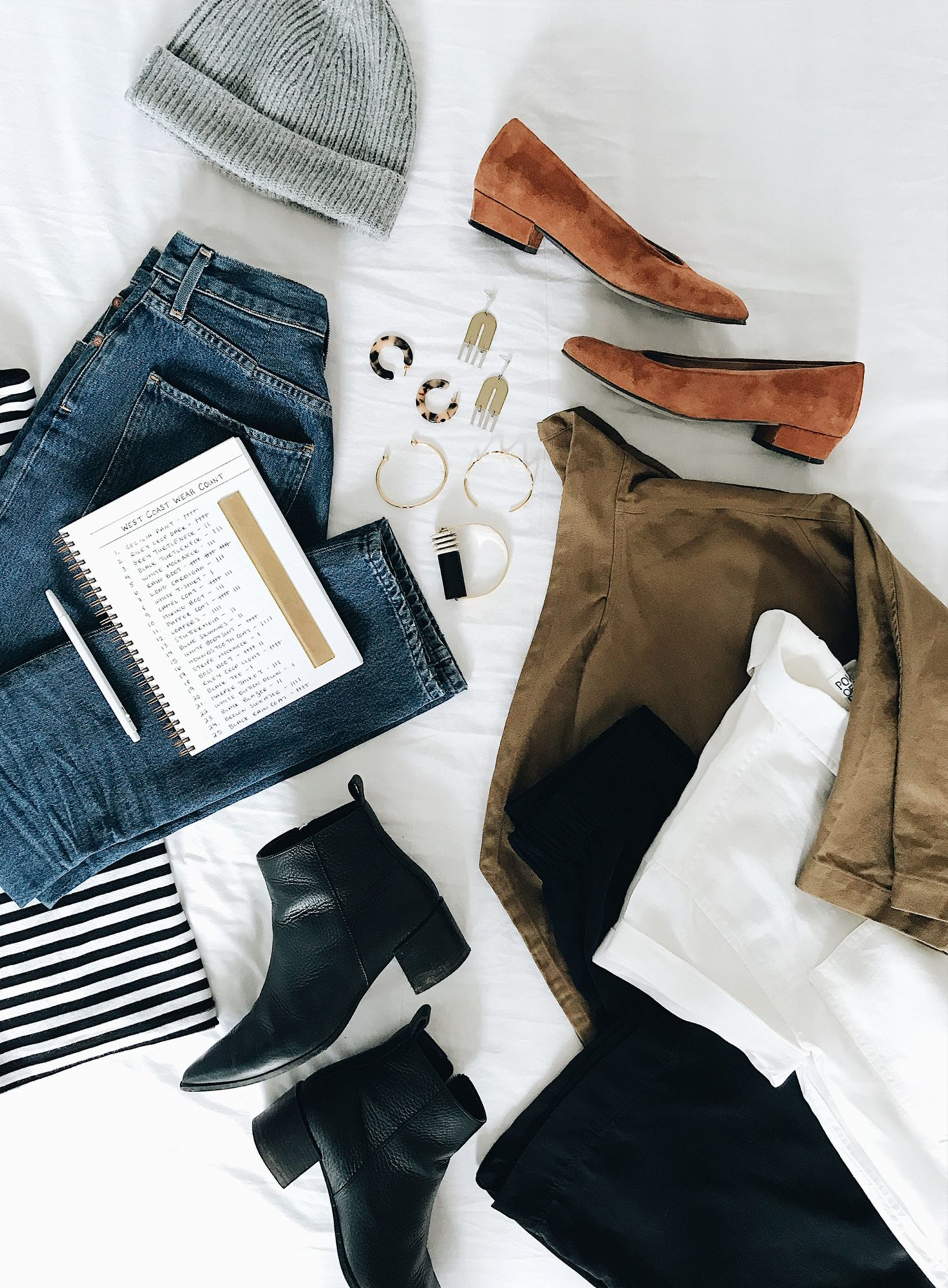 ---
MY LIST + HOW I'VE BEEN KEEPING TRACK
---
The two photos below show my full West Coast Wear Count list as of last week. Since then I've mostly worn lounge wear and snowboarding gear so the count hasn't changed a whole lot. I tried to write clearly so hopefully you can decipher what everything is!
What am I tracking? You'll notice that there is no workout stuff or loungewear included in the list and that is intentional. I wear those pieces plenty and I only brought a handful with me out west so I'm not as concerned about the performance of those right now. Since I'm new to this whole wear count thing I wanted to keep it streamlined and focused on my core closet so I'm tracking shoes, outerwear, blazers, pants, jeans, tops, sweaters, tees, dresses and jumpsuits but not accessories or jewelry (although I've got a general idea).
Where do I keep track? I'd initially thought I would try to create some sort of digital check list or use an app like Style Book for this but in the end I ended up keeping the process suuuuuper simple. I also wanted to make sure I'd follow through so I knew it had to be integrated into my existing routine. With that in mind, I flipped to a back page of my trusty notebook, which I use everyday without fail, and that's where my list lives.
How do I keep track? First thing on weekday mornings I flip to the wear count page in my notebook and jot down anything new I've worn and add to anything I've worn again.
Why on paper? I felt that going analogue with this exercise would be easiest and I'm so glad I did. I need to be on my laptop and phone for work so much that it's really refreshing to not be tied to any device for this purpose.
What's my goal? I don't have one! It seems that people often set a goal of 30 wears for their items but I'm not trying to force anything. I'm just wearing what I want and making notes. It's already pretty clear which items will get worn 30 times while I'm out west for another 2 months and which items won't.
---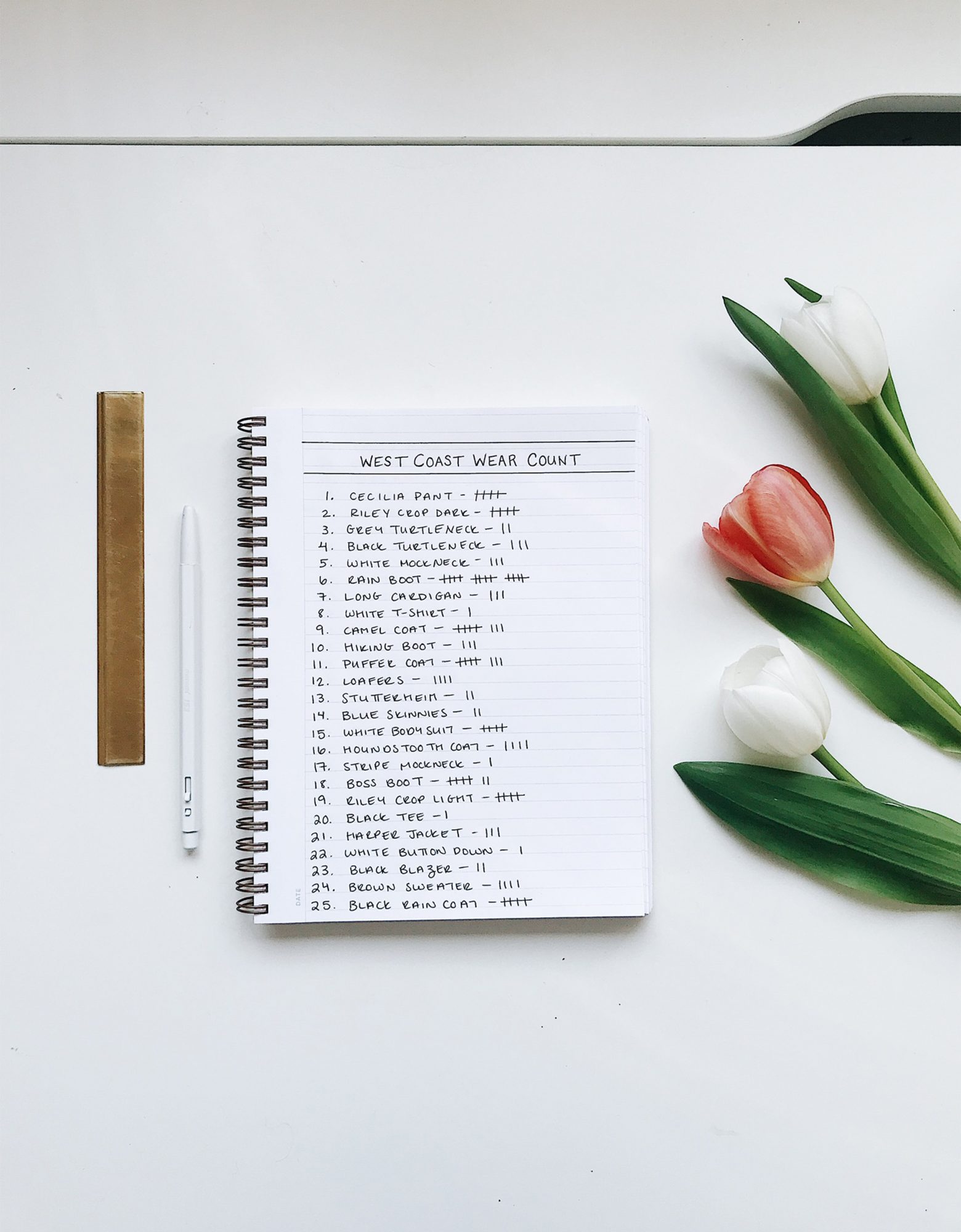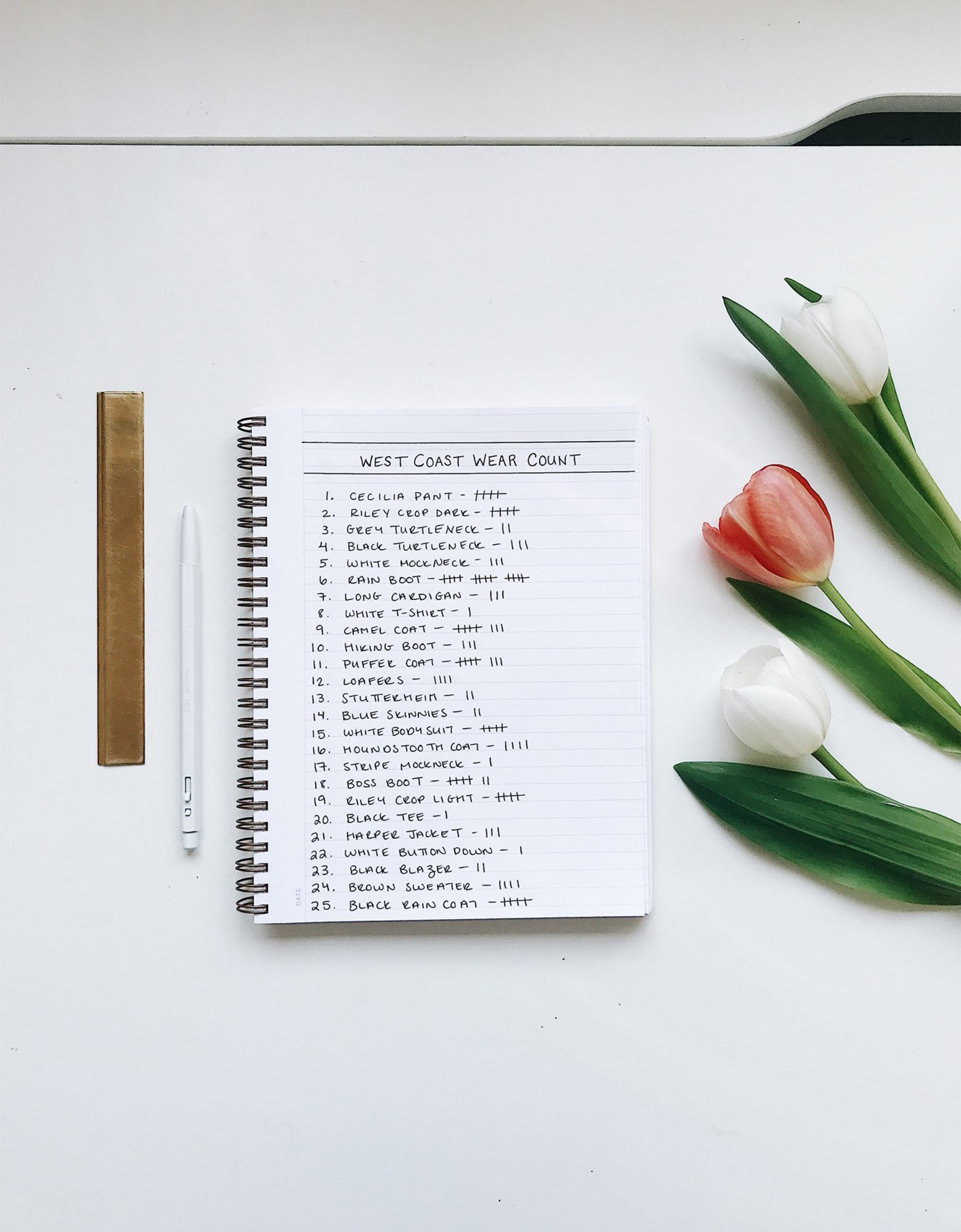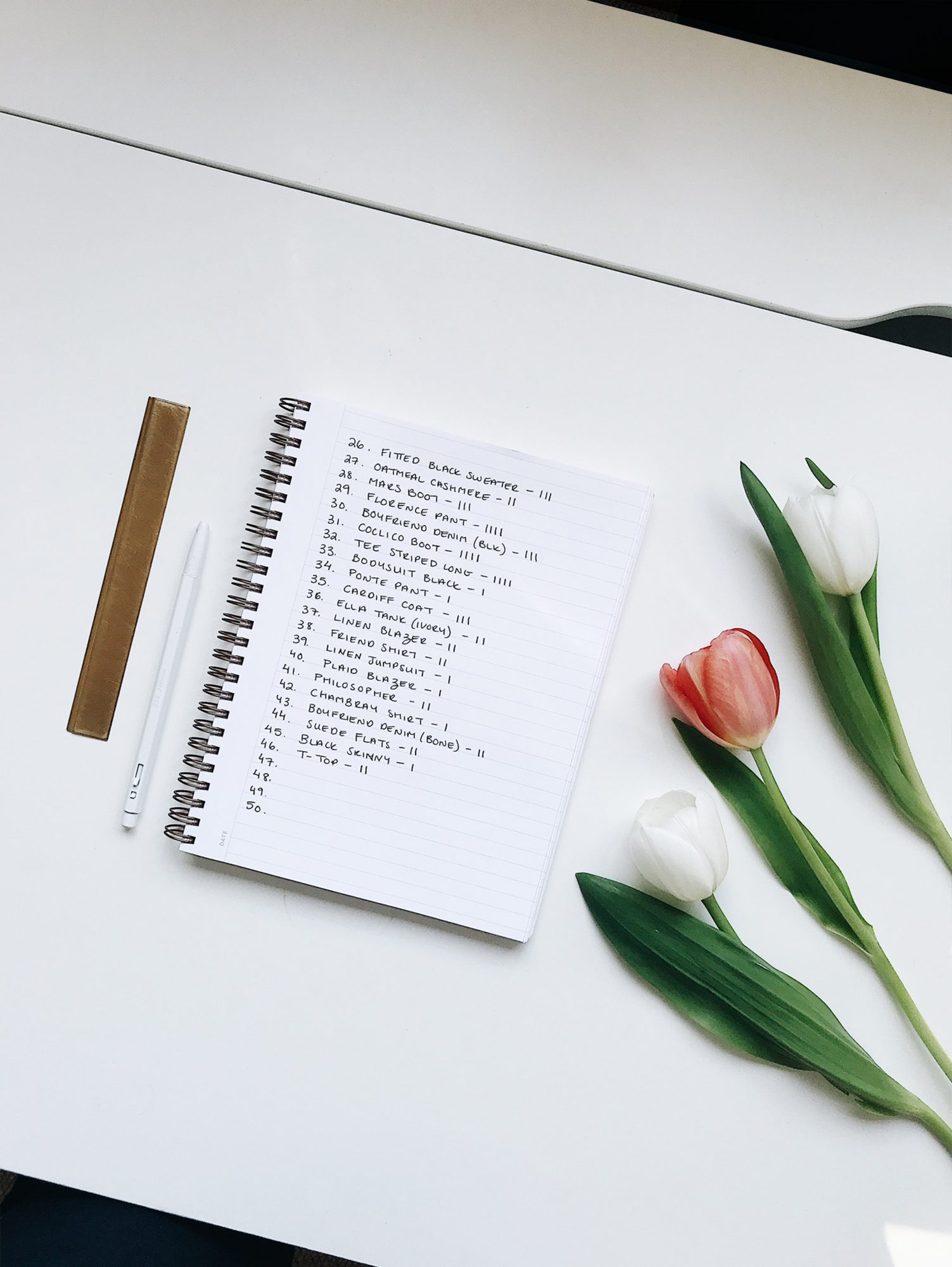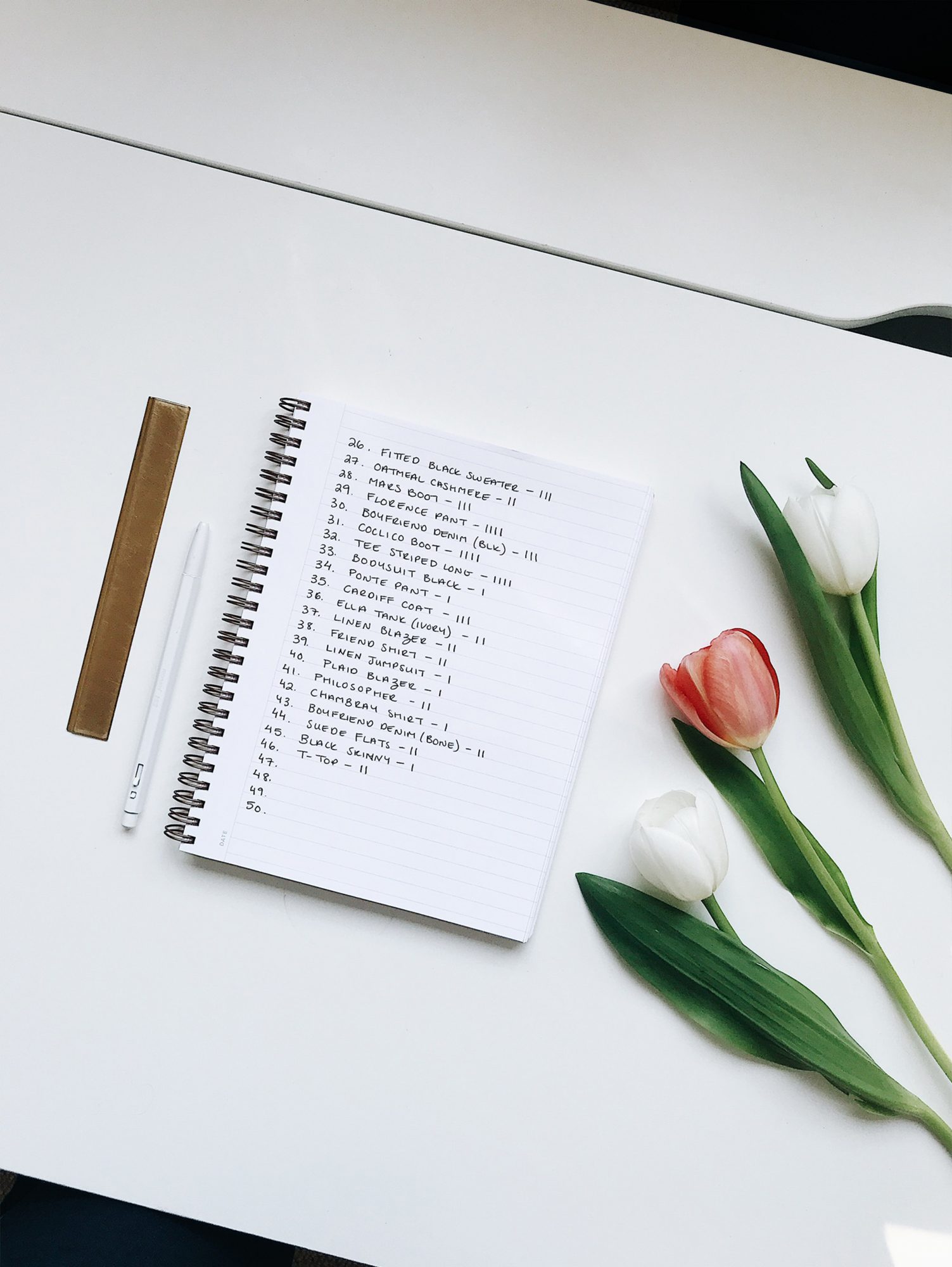 ---

---
FINDINGS
---
I've been trying to make notes as I go to gauge the impact this exercise is having on my closet and to keep tabs on any insights that come up. Here's what I've noted so far.
Just because something is a favourite item doesn't mean I wear it most.
I thought I'd way overpacked but I've been steadily making my way through all the pieces I brought.
The only pieces not used yet are warmer weather items like cotton dresses, some linen pieces, sandals and a couple of silk tanks.
Reviewing the list really encourages me to wear more of my closet.
It will take me quite awhile to get to 30 wears on most items. And that's ok!
I've been really comfortable this whole trip so far because I can work and explore in almost everything I brought. No fussy pieces that are impractical!
It's so much easier to dress for west coast weather than it is to dress for Ontario's never-ending winter BUT at the same time I'm still wearing a lot of my eastern winter uniform out here.
The items on my clothes rack get chosen more often than those in a drawer or packing cube. It's all about visibility for me!
Wearing the same thing every morning to walk Dobby (leggings, tee, jacket + walking shoes) then getting ready for the day has been way more efficient and has allowed me to put together looks I enjoy more.
I've already worn almost 50 items and yes, that's a lot, but that's ok! Having a lean closet is different for everyone and I'm really happy with the options I have available.
If I don't love how something fits, I don't wear it!
---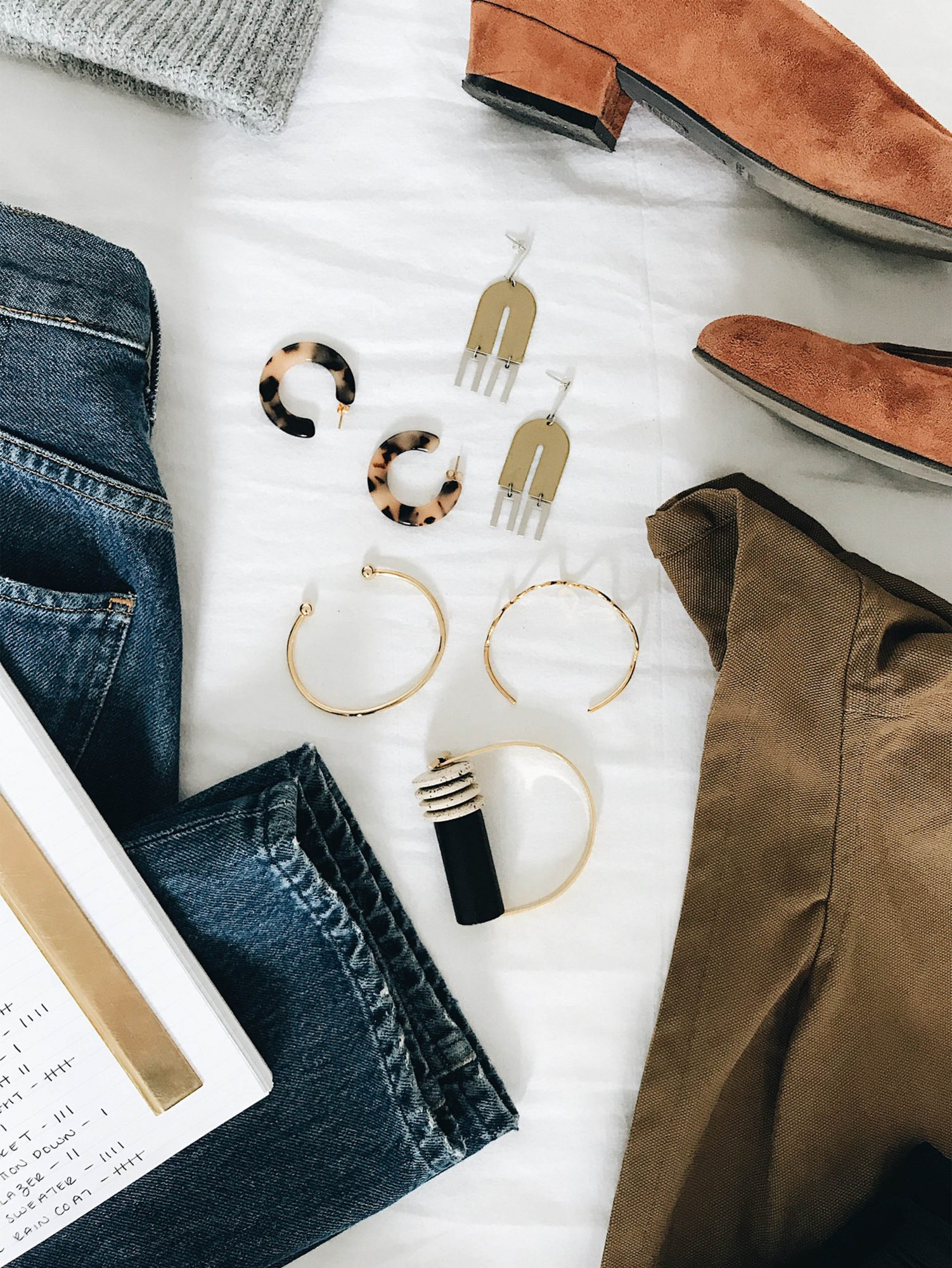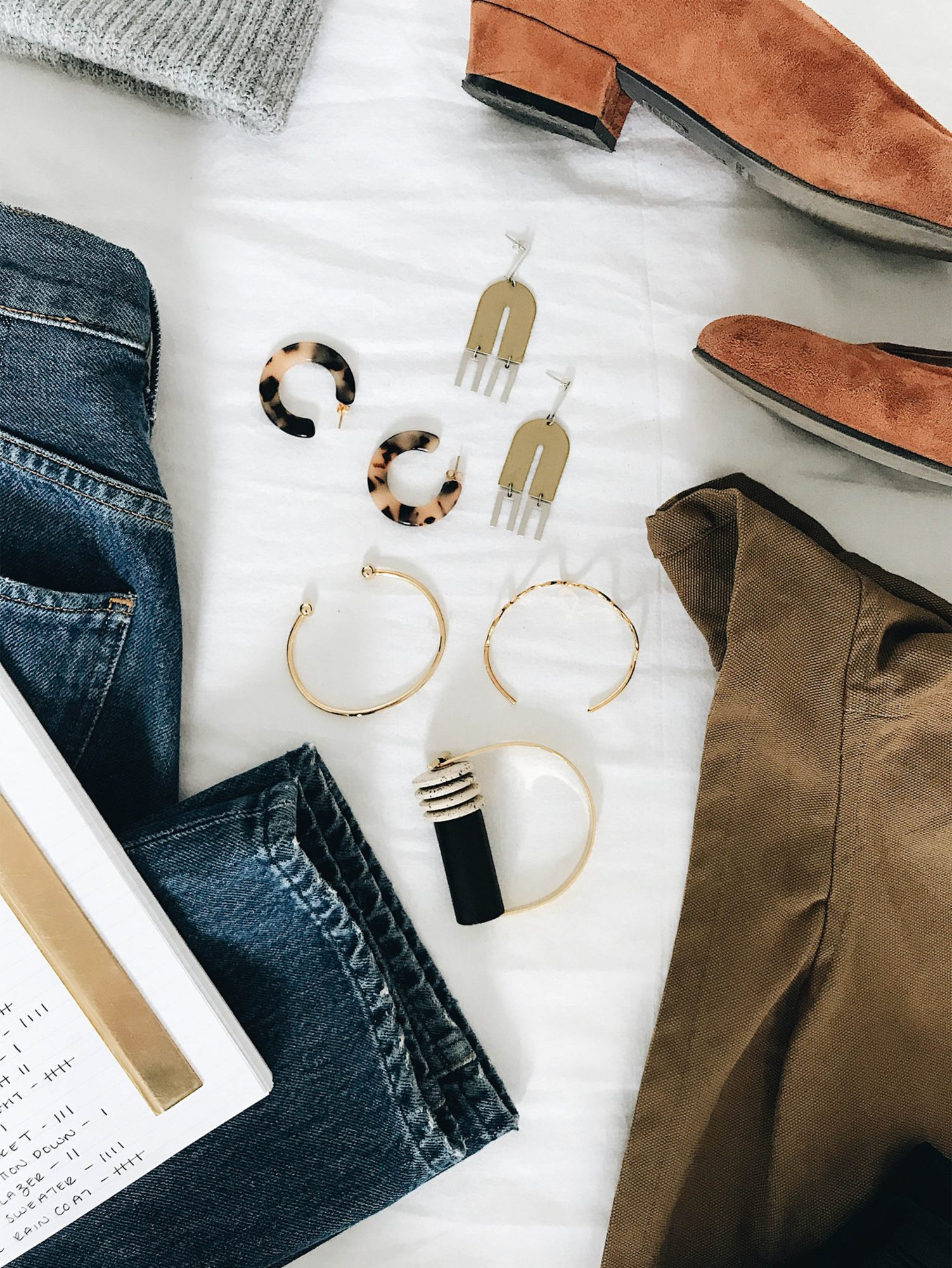 ---
15 MOST WORN ITEMS
---
Based on my most recent tally, these are the 15 items that have been getting the most wears. Some items I'd wear more often if I didn't need to wash them or dry clean them (like bodysuits and cashmere), but items like boots, jeans and coats get the most wear because they're daily necessities and super low maintenance. This is simply a good reminder about where I should focus my closet investments!
---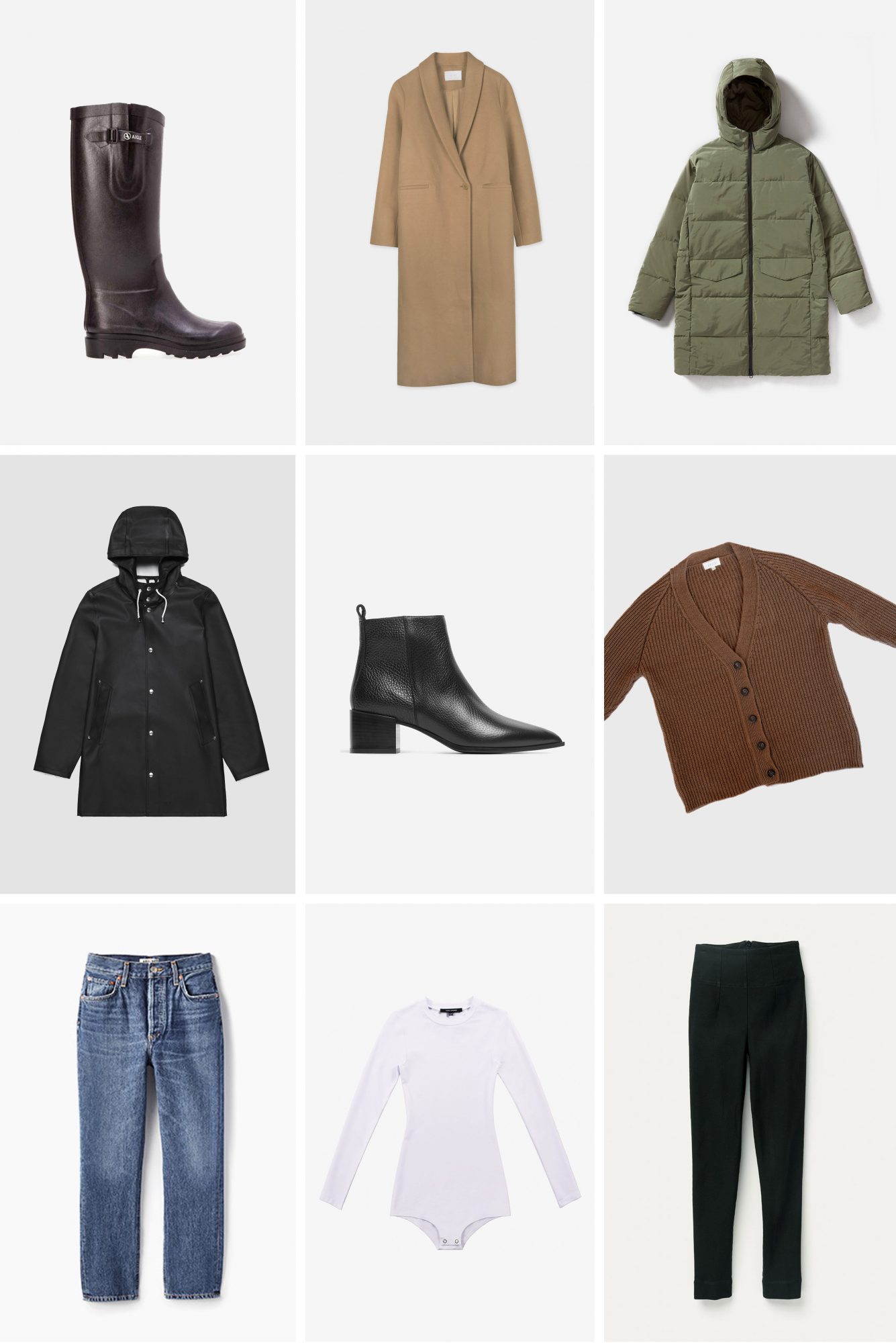 ---
RAIN BOOTS by AIGLE | Handmade in France | $150 USD | I wear 38 in these and a US 7 usually.
WEAR COUNT: 17 | I invested in these boots because I knew they'd be a critical footwear option out here. They are really comfortable and beautifully designed however the insole started peeling up after a few long walks. I was able to peel it out completely and now they feel fine, but I was disappointed since Aigle boasts so highly about their craftsmanship.
CAMEL COAT by Marvin Browne | Made in England | n/a
WEAR COUNT: 8 | This coat is no longer available (as far as my research has revealed) but it remains one of my best purchases ever. You cannot go wrong with a classic camel wool coat!
PUFFER COAT c/o EVERLANE | Made ethically in Vietnam | $168 USD | Generous fit. I wear a size S.
WEAR COUNT: 8 | This coat was sent from Everlane's PR team last Fall and it's been such a great coat all winter! I never got a chance to share my review but I would highly recommend this puffer. It's been awesome out here on cold mornings and nighttime walks with Dobby.
RAIN COAT by Samsoe + Samsoe | Made in China | Approx. $100 USD
WEAR COUNT: 8 | This was a spur of the moment purchase when I was travelling in Amsterdam a couple of years ago. It's a great lightweight, waterproof shell. I wear this much more than my more expensive and stylish Stutterheim raincoat but it is starting to show signs if wear and tear around the seams.
BOSS BOOT c/o EVERLANE | Made in Italy | $225 USD | TTS. I wear a 7 usually.
WEAR COUNT: 9 | These are probably my favourite boots ever. They are super comfy, look good with everything and honestly have barely shown any signs of wear since I started stomping around in them last Fall.
CLAUDE SWEATER c/o L'Envers | Made in Spain | Approx. $220 USD | I sized up for an oversize fit.
WEAR COUNT: 5 | This was a piece I received as part of a collaboration this Spring and I'm SO glad I added it to my closet. It's held its shape really well and I haven't felt the need to wash it yet! So far no significant pilling or fuzziness to report.
RILEY CROP JEAN by AGOLDE | AIR BLUE + HIDEAWAY (shown below)| Made in USA | $168 USD each | Sizes between washes varies. Light wash runs large, dark wash runs small.
WEAR COUNT: 10 total | Personal favourite jeans at the moment. I've completely lost count of how many times I've worn the Air Blue since I bought them but they are probably my most worn pants in the last year. I bought the dark wash (Hideaway) in the Fall and absolutely love those too! The Riley style just has that wonderful high-rise and fitted butt with a straight leg and flattering cropped length. The ideal vintage fit that I've yet to find in actual vintage!
WHITE RIBBED BODYSUIT by Bodysuit of Barcelona | Made in Barcelona | Approx. $100 USD | I wear a M in these bodysuits and the fit is great.
WEAR COUNT: 5 | I'm a totally bodysuit convert so there's a reason few other tops are on this list. I love the fitted rib style for staying warm and the streamlined design of a bodysuit for tucking into high-rise pants and jumpsuits.
CECILIA PANT by ELIZABETH SUZANN | Made in Nashville, TN | $220 USD | I wear a 2 Regular and the fit is snug but very comfortable.
WEAR COUNT: 6 | These are an all-time favourite black cigarette pant that I replaced when the new version was released and love the longer inseam, stronger zipper and more tailored fit through the leg. I gave my original pair to a friend whom they fit really well. Plus, I've got it on good authority that these pants will be restocked soon.
---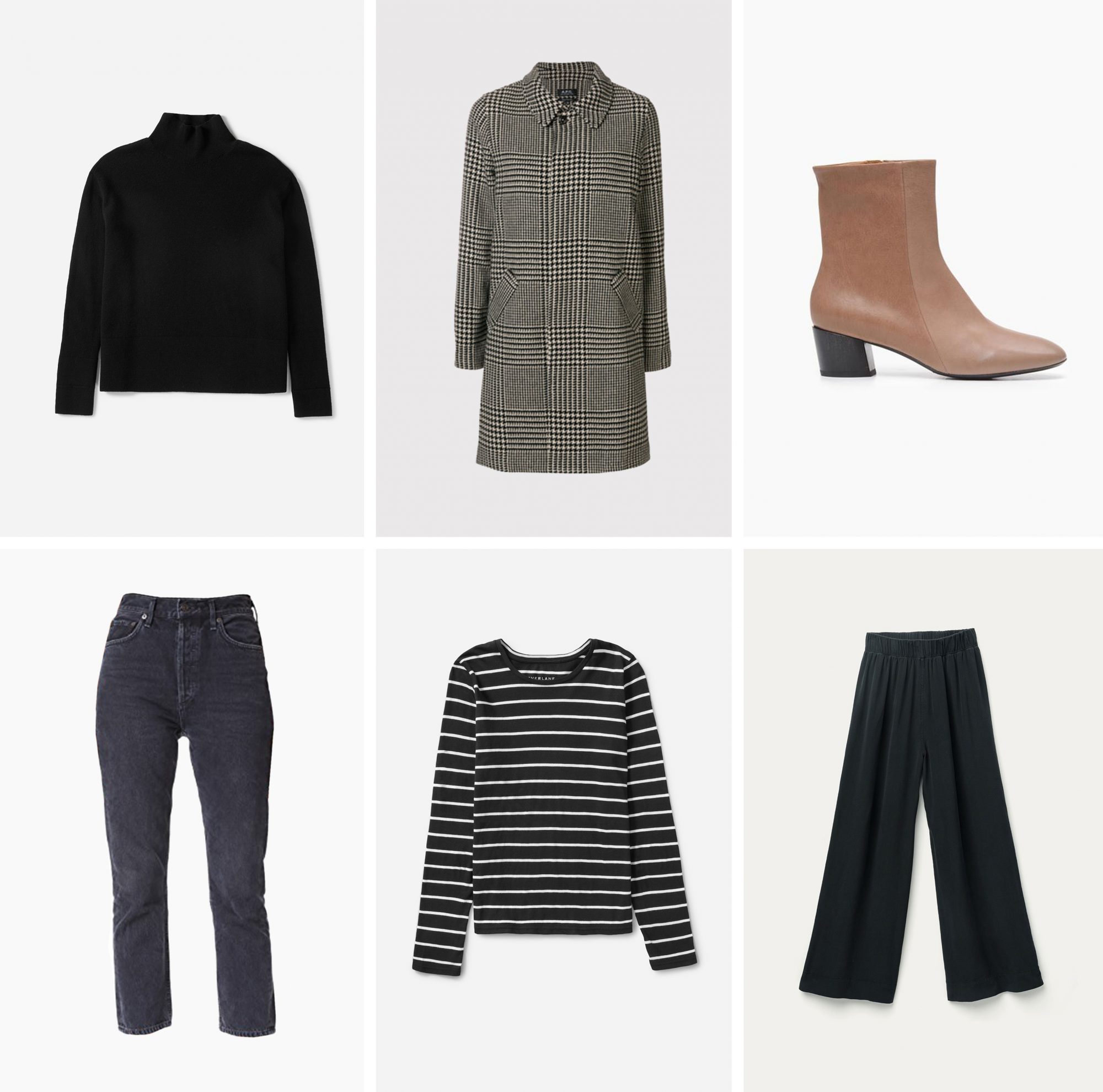 ---
BLACK CASHMERE TURTLENECK c/o Everlane | Made responsibly in China | $150 USD | I have a M in this sweater and it's an oversize fit.
WEAR COUNT: 4 | This is one of those easy, chic, throw on and go sweaters that looks great over skinny jeans or a wide slinky pant. It's also super cozy!
HOUNDSTOOTH COAT by Ralph Lauren | Vintage
WEAR COUNT: 7 | This coat works so well over everything. It's relaxed but not enormous and the classic pattern feels timeless. I think it will be one of those coats I wear well into my later years.
CALLY BOOT c/o Coclico | Made in Spain | $435 USD | I wear a 37.5 in these and recommend sizing up at least a 1/2 size from the European sizing.
WEAR COUNT: 6 | I just can't quit these boots! Not that I want to but I was surprised at just how much I've reached for them ever since they arrived last August. Coclico makes exceptionally beautiful and comfortable shoes.
STRIPED TEE by Emerson Fry | n/a | Linked to Similar
WEAR COUNT: 4 | I can't seem to go much more than a week without wearing a striped tee. It's so soft and washes up really easy.
FLORENCE PANT by Elizabeth Suzann | Made in Nashville, TN | $235 USD | I wear the old S regular in these. I tried the Tall in another colour and they were too long.
WEAR COUNT: 4 | These are a personal favourite pant for sure. I always feel amazing in them and really can't recommend them enough! The only thing that's kept me from wearing them even more is that I don't like getting the silk wet in the rain.
---

---
MOST WORN JEWELRY
---
I haven't been wearing much jewelry this trip other than my statement earrings and my go-to bangles. This is mostly because I can't be bothered to dig into my packing cubes for anything. I literally haven't touched a single necklace that I brought but they'll probably come back into play when the weather warms up. For now, here's a look at my most worn jewelry!
---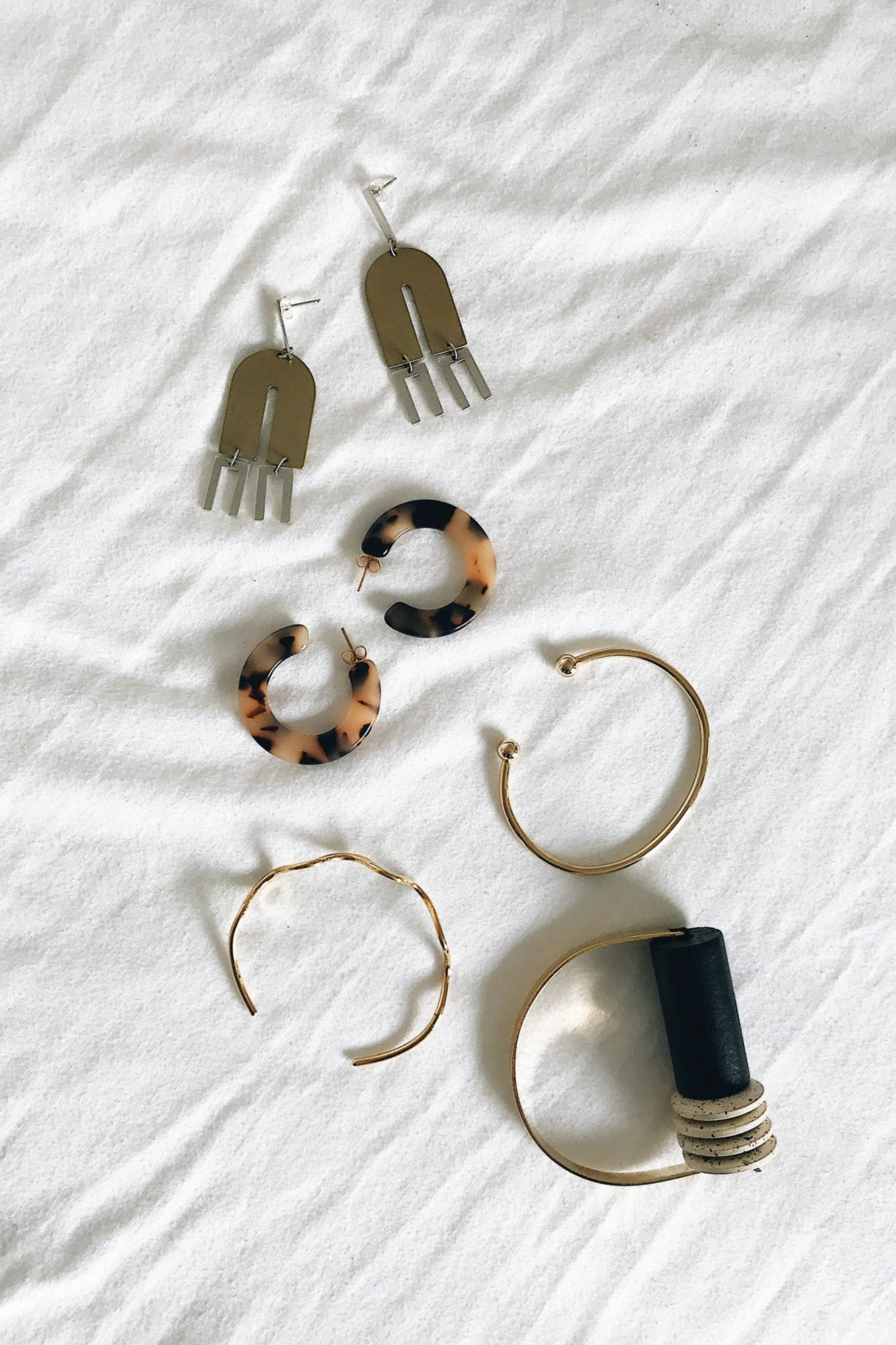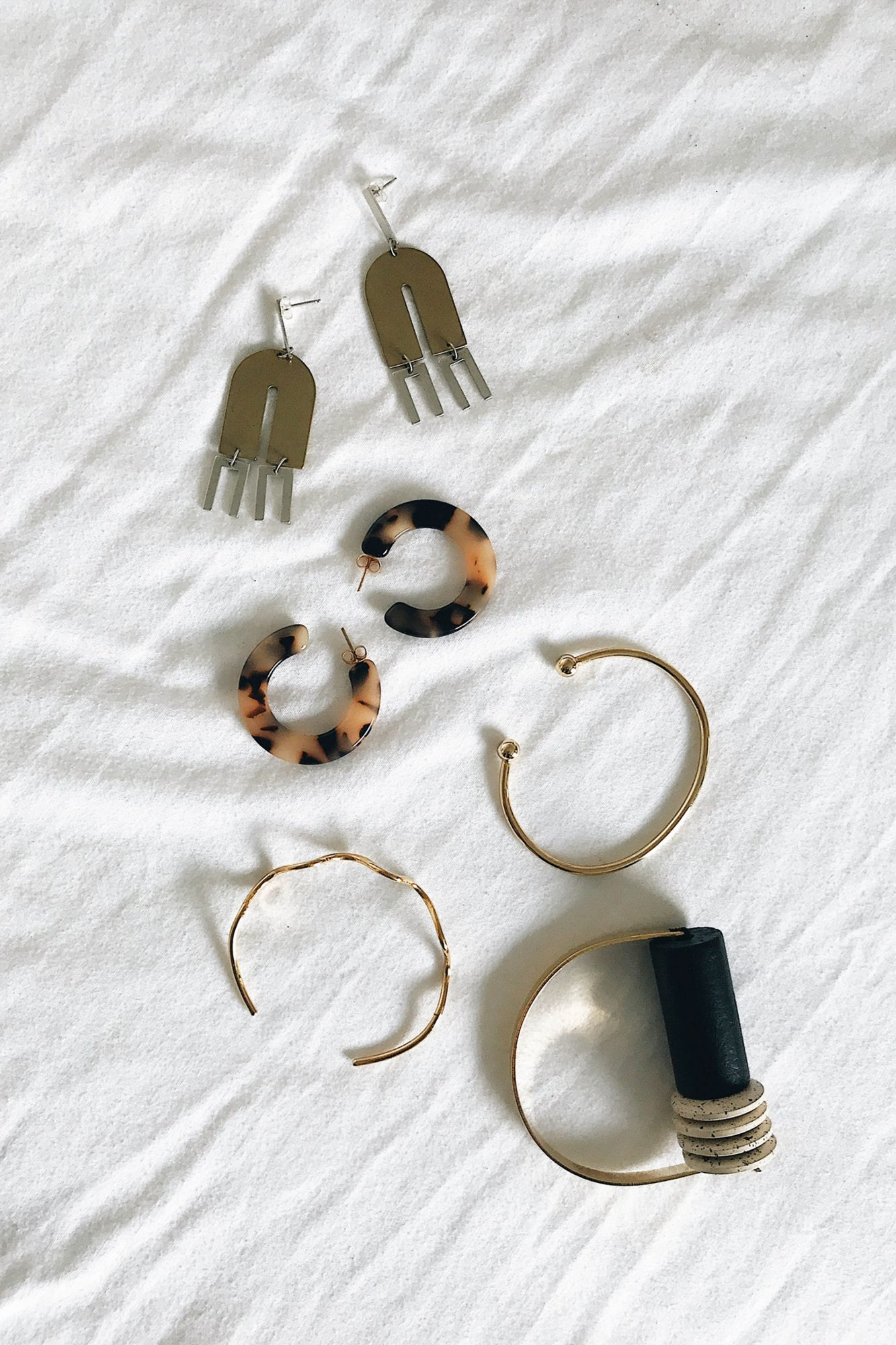 ---
ARC + LINE Earrings | c/o Natalie Joy | $100 USD | Handmade in Portland.
Kate Hoops | Machete Jewelry | $44 USD | Sustainably sourced and handmade in Atlanta.
Double Dot Bangle | c/o BIKO | $55 CAD | Made in Canada
Wave Bangle | c/o Young Frankk | n/a |
Guideline Bracelet | c/o Maslo Jewelry | $25 (on sale!) | Made in Richmond, VA
Dome Studs | Attic | $290 CAD | Made in Toronto
---
OUTFITS
---
Most weekends and whenever it's a nice afternoon I ask Dave to snap a photo for my 'outfit diary' and these are most of the ones we captured so far. They're not necessarily my favourite outfits or my most successful but it's fun to look at them all together and see what's been happening. So far it's been lots of layers, neutrals and fun with proportions, which is nothing new.
The cherry blossoms are likely to be out in full force this week and I'm dying to bring out some linen layers and lighter tones! I'm also hoping the weather forecast cooperates with what I've got pencilled in for my #Spring10x10. Until then, here's what I've been wearing out west.
---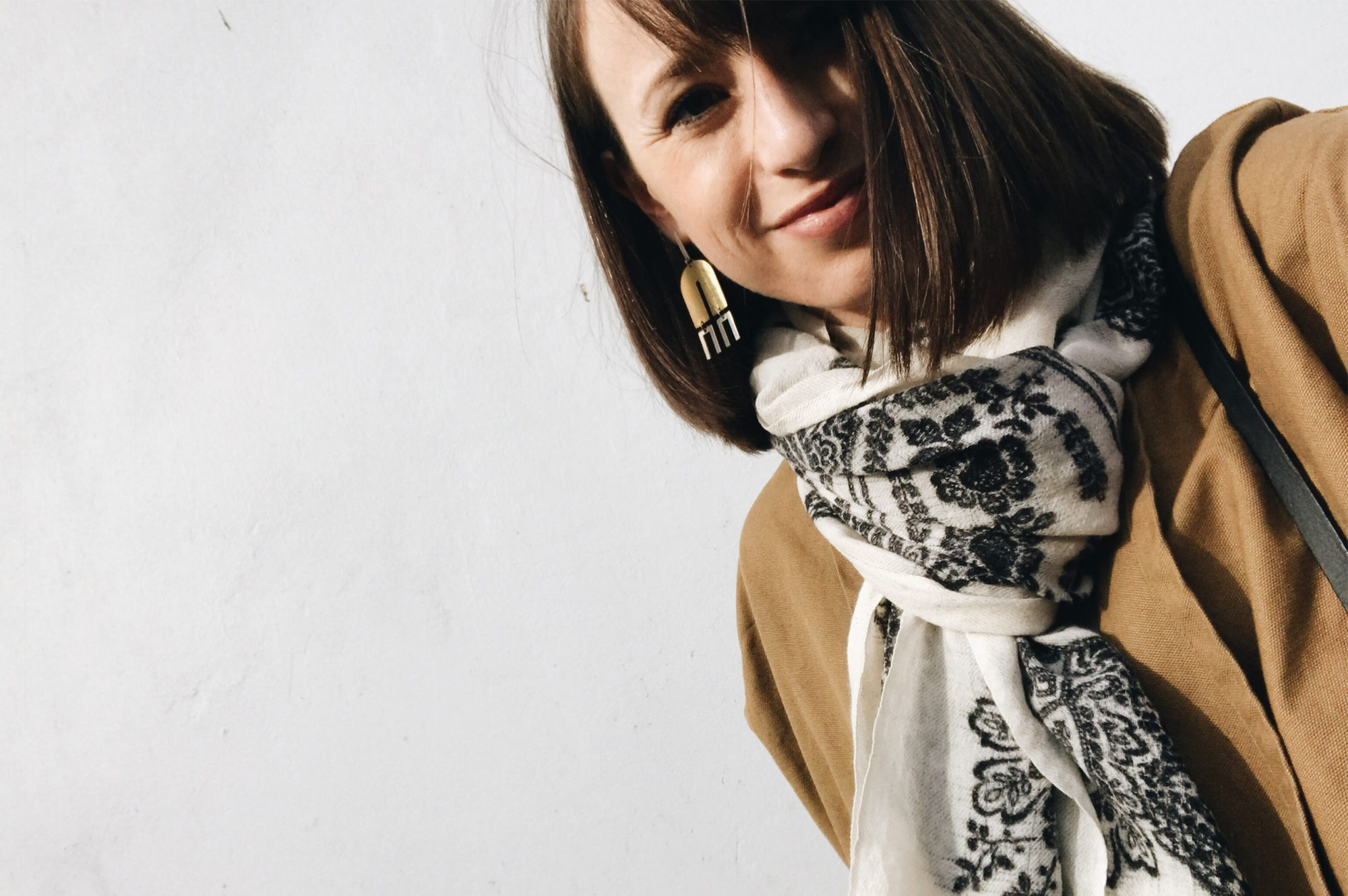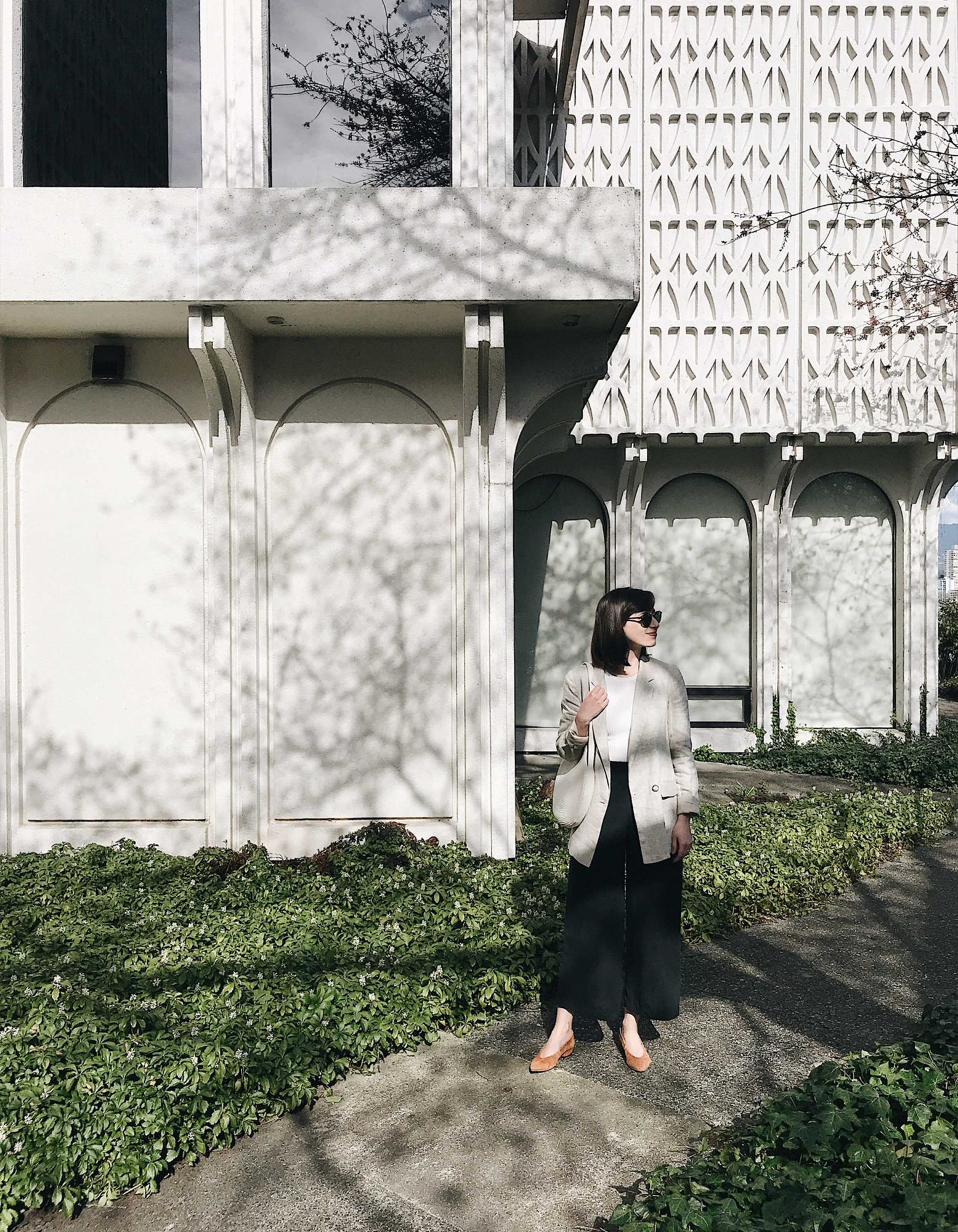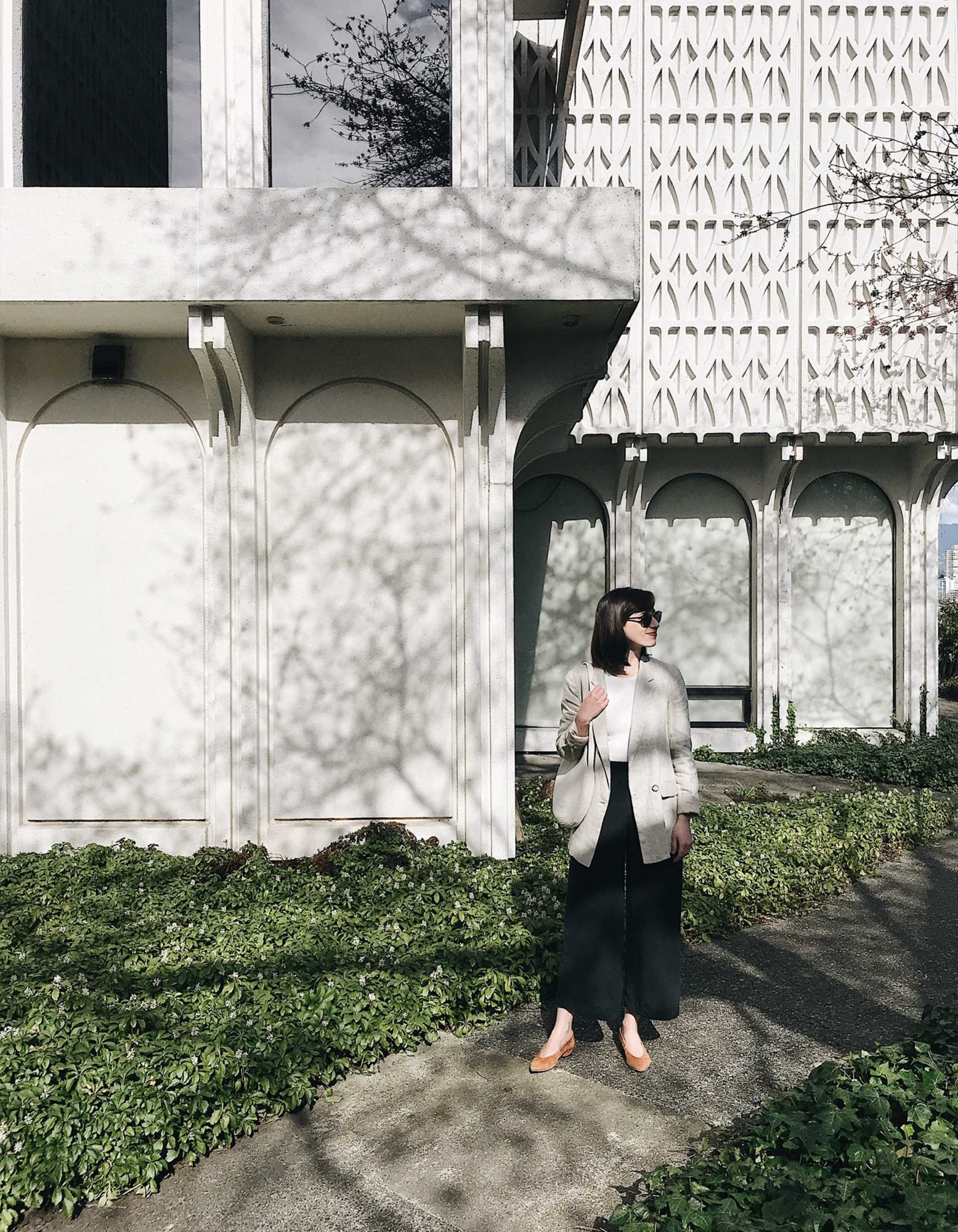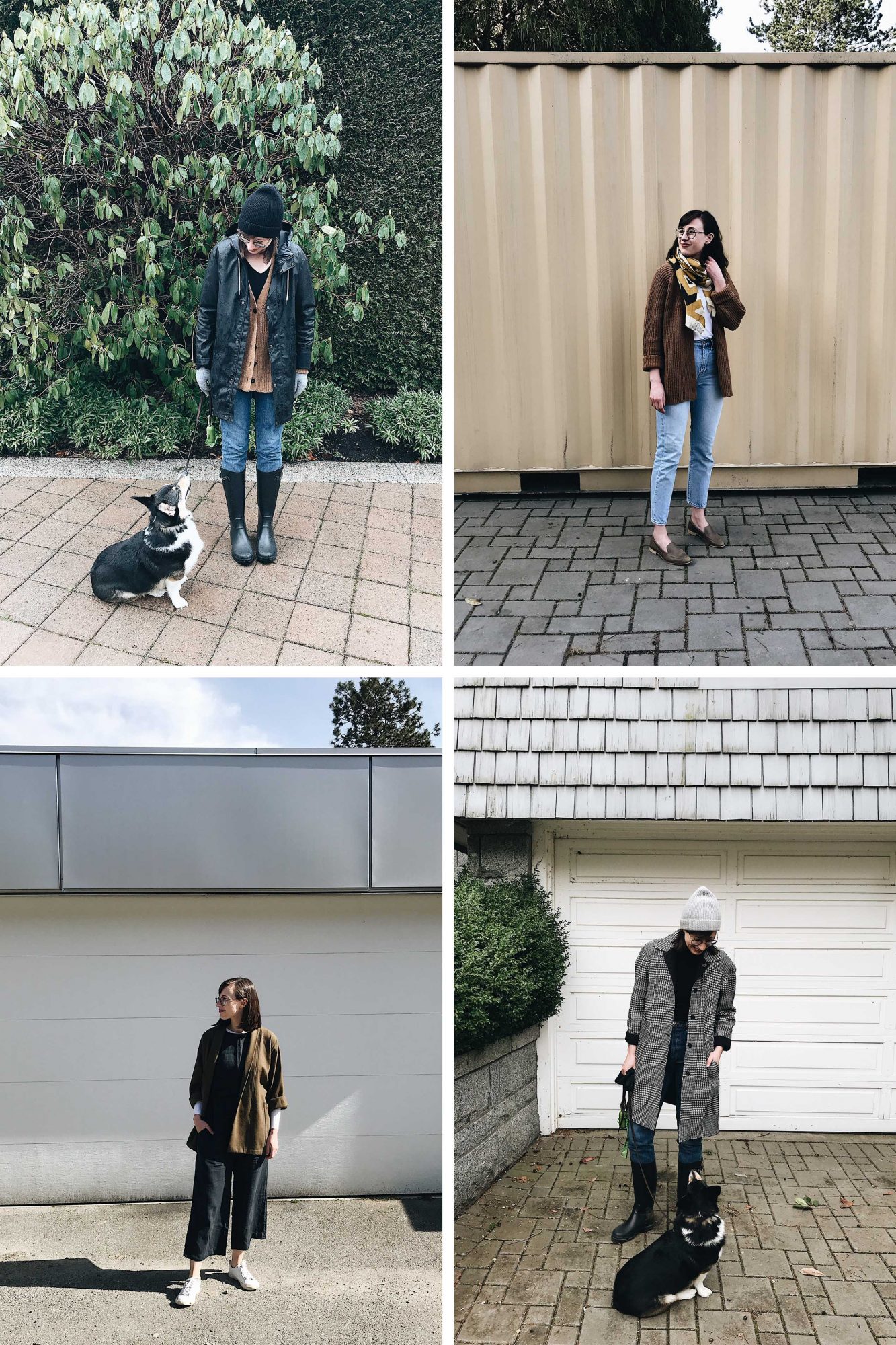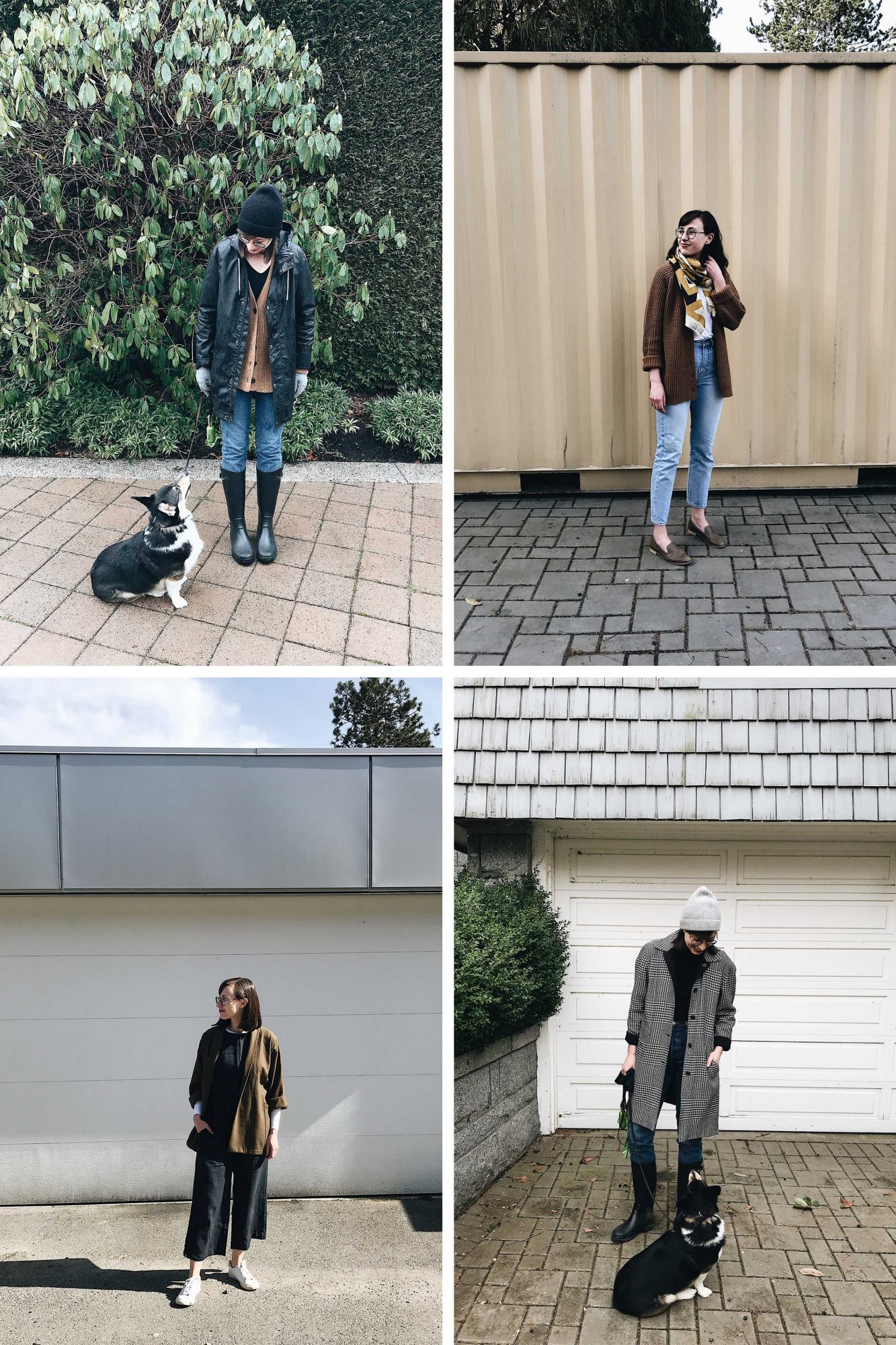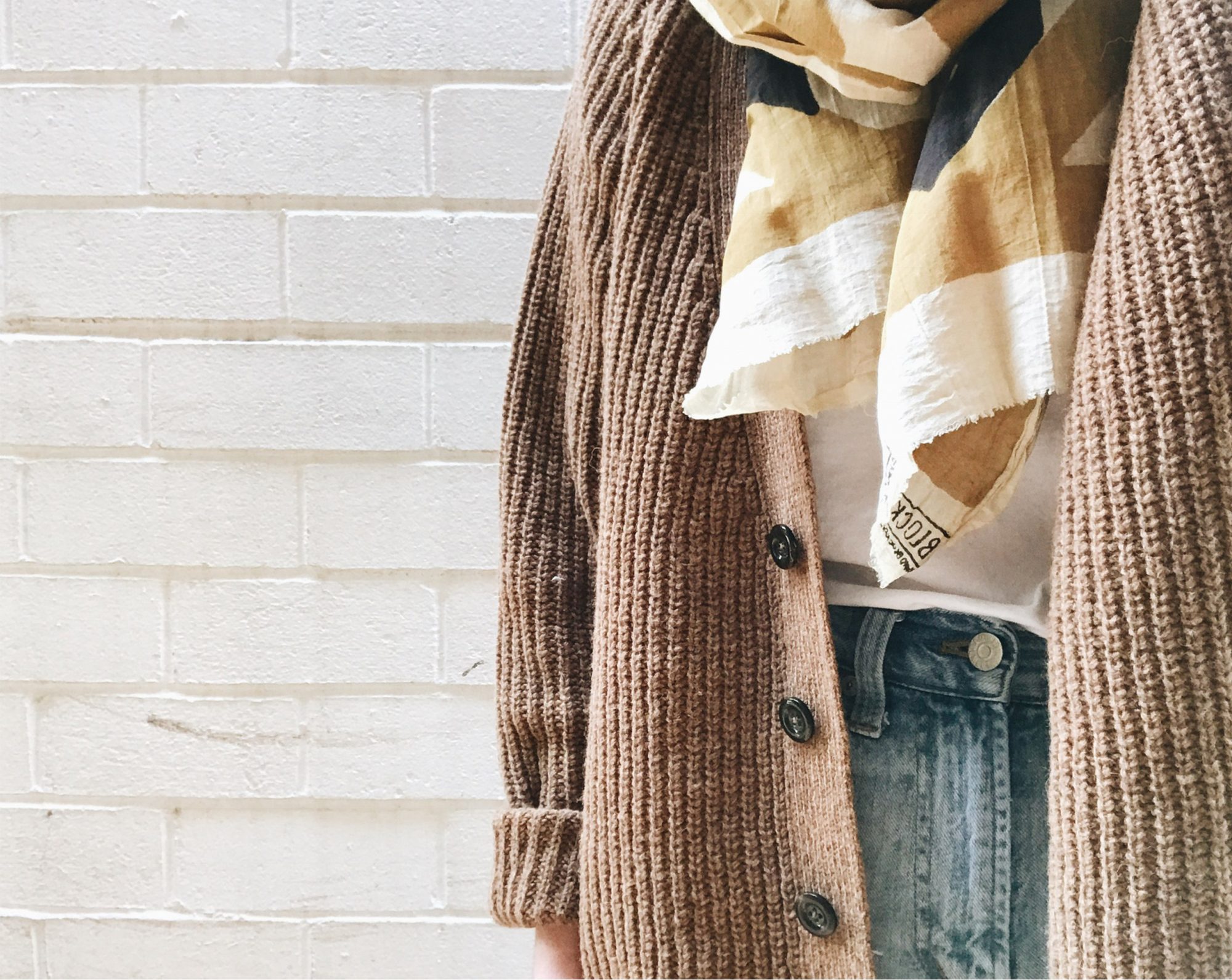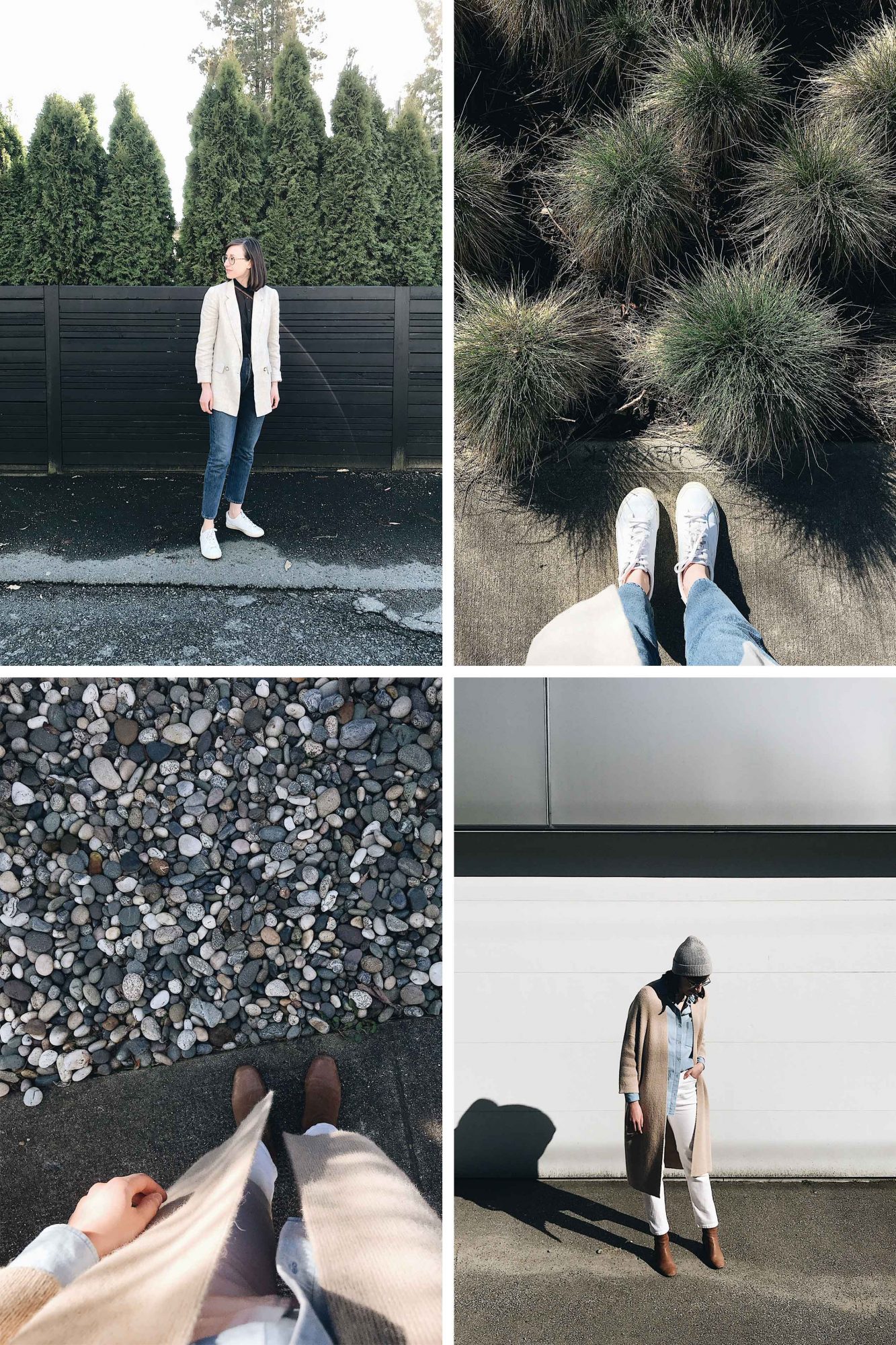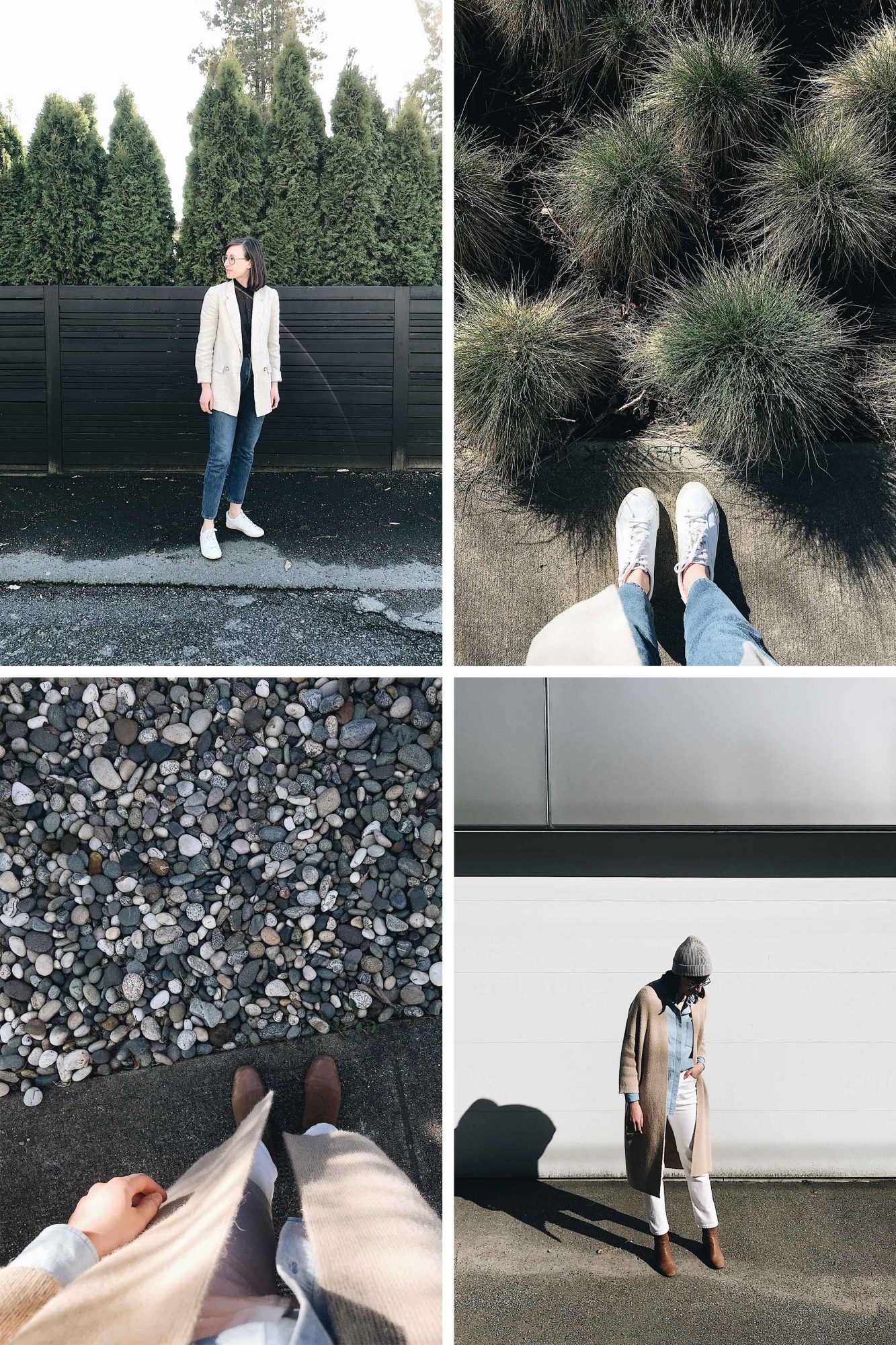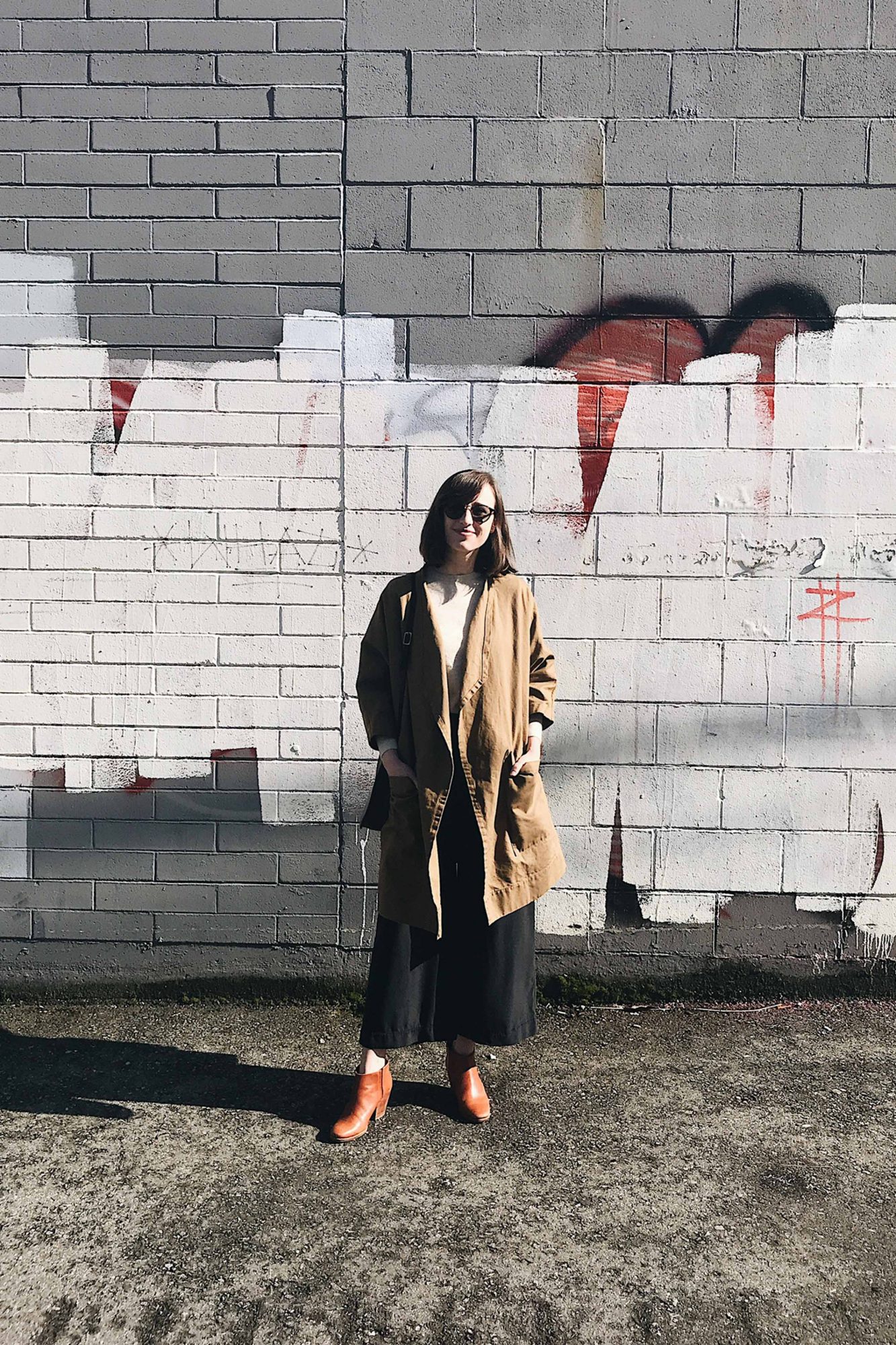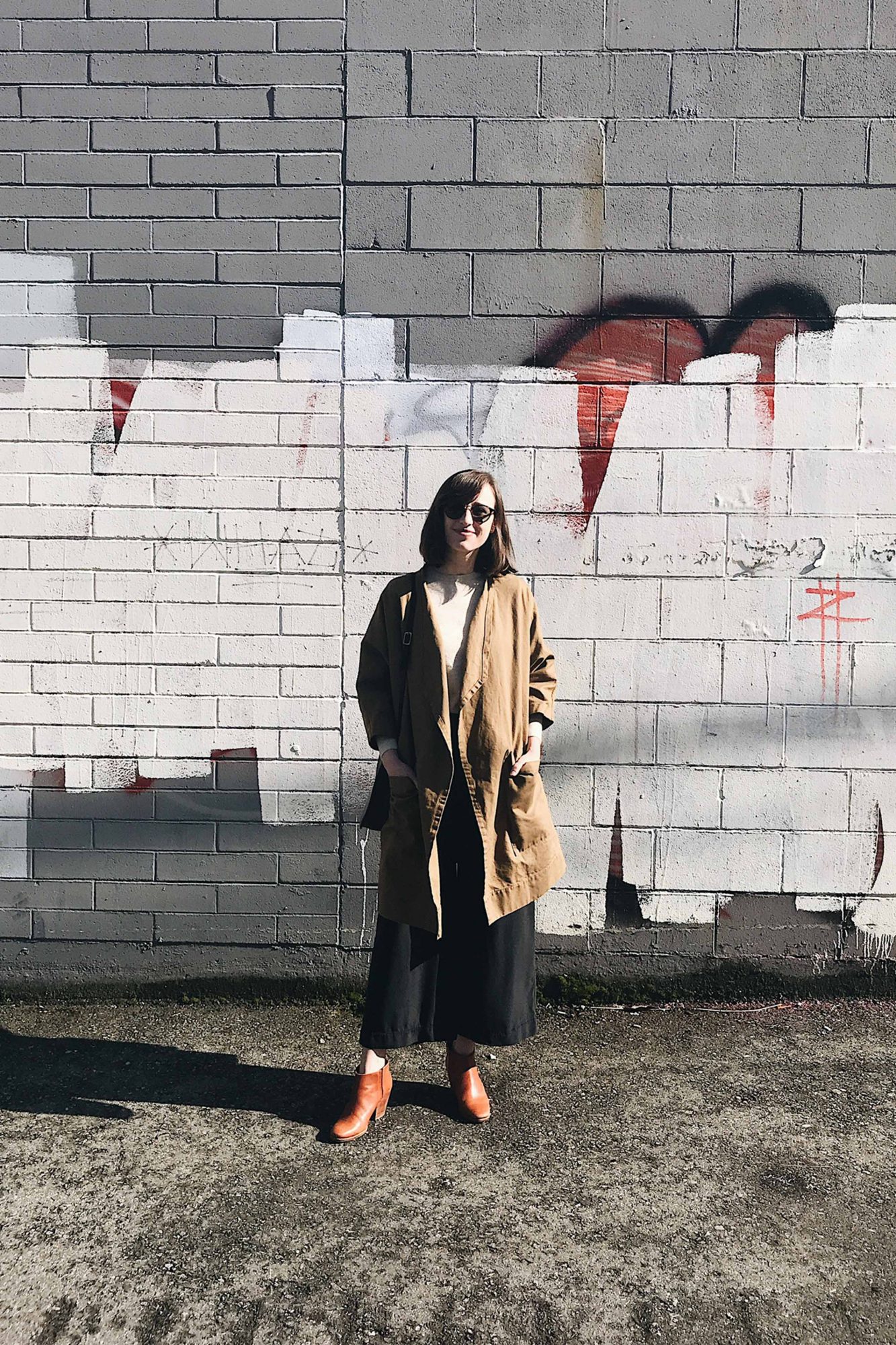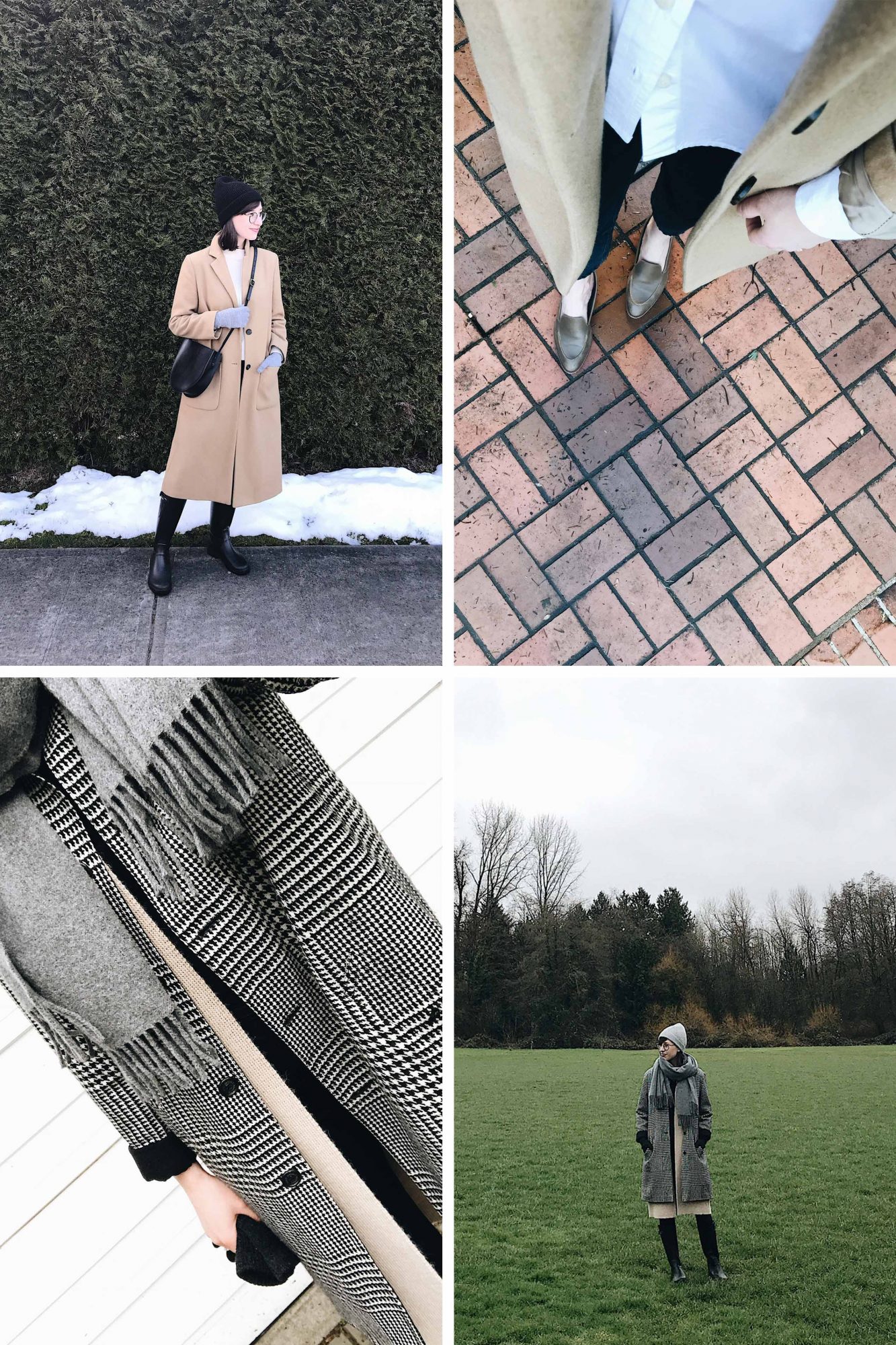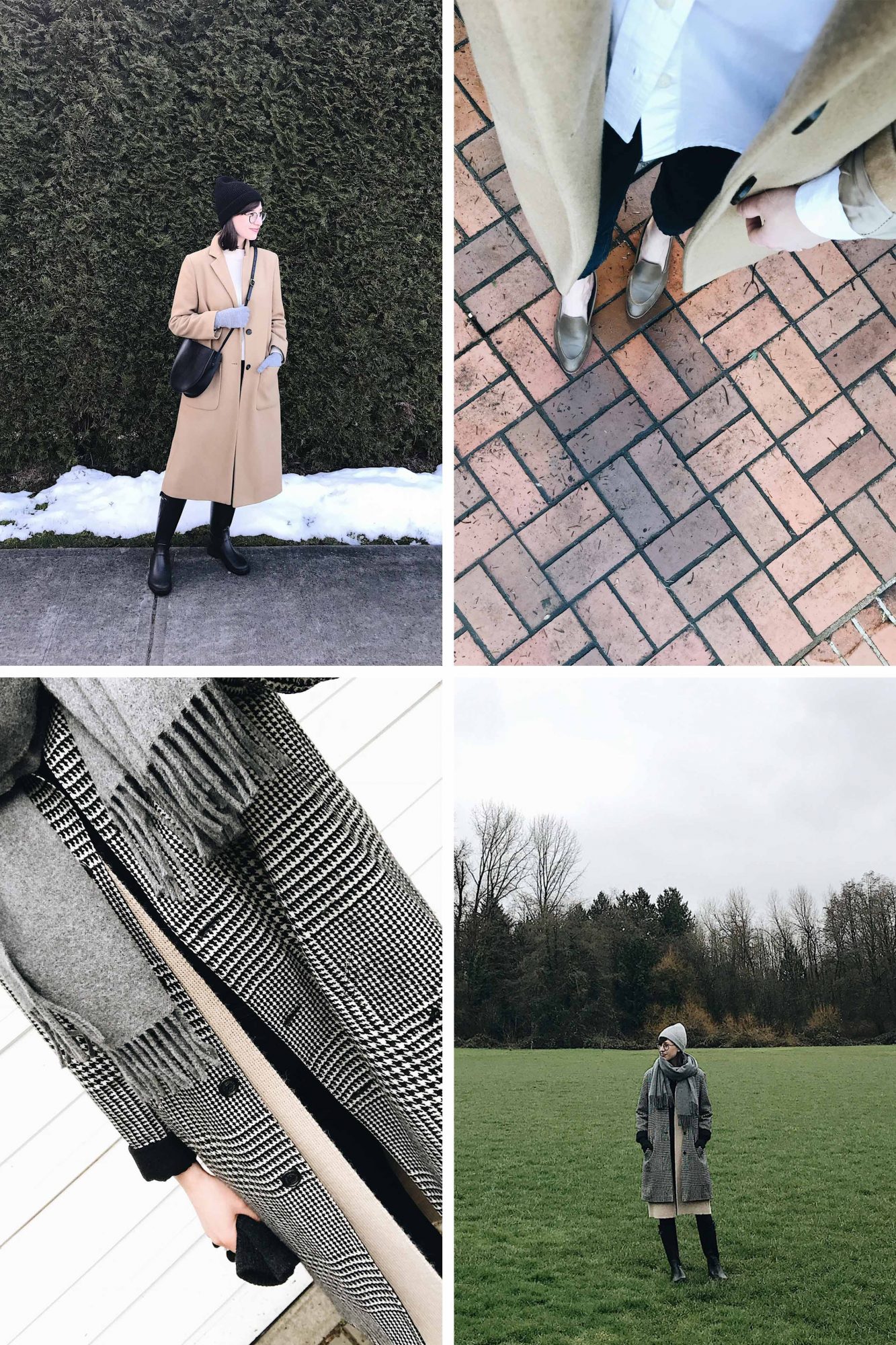 ---
Well, that about sums up my West Count Wear Count so far! I'm looking forward to seeing how the list evolves and what looks the warmer spring weather inspires. My plan is to share Part 2 at the end of our west coast stay.
---
So what do you think, would you ever want to try tracking your item wear count?
If you already do, care to share some of your key findings?
---
Looking forward to seeing you on Friday as we kick off the 2018 #Spring10x10!
See my Instagram feed and story highlights for more info!