A new season has begun and that my friends means we're due for another 10×10 Challenge. I'm so excited to be hosting the #Spring10x10 with my go-to lean closet gal Caroline (@Caroline_joy and Un-Fancy) and this time a VERY special guest host, the beyond brilliant Liz, designer and founder of Elizabeth Suzann (@elizsuzann). It's such an honour to have both these inspiring ladies joining me and I can't wait to see what they put together throughout the challenge!
The 10×10 Challenge has certainly grown from its single participant (that would be me) beginnings and I can't quite believe how it's caught on. Hundreds (maybe thousands?) of women around the world are sharing their take on personal style and a peek into their lives, which is incredible! The best part of it all is how much more we take away from the challenge than just cute new outfits and style inspo. We make real connections, with real people and in this day and age that's pretty special! So whether it's your first or fifth challenge, thanks for joining in and for putting yourself and your style out there.
Remember to go at your own pace, have fun, make mistakes, take notes and enjoy the journey that is personal style. It's meant to be a challenge but not a chore!
Today's kick off post will cover:
Why this 10×10 is particularly special for me.
How to qualify for a chance to win one of 10 $100 ES Gift Cards + 3 beautiful books.
My 10×10 Goals, Schedule and the 10 Items I've included.
10 x 10 Challenge 101 – All the info you need to join in
A few tips on pulling together your 10 items – To help you get started
---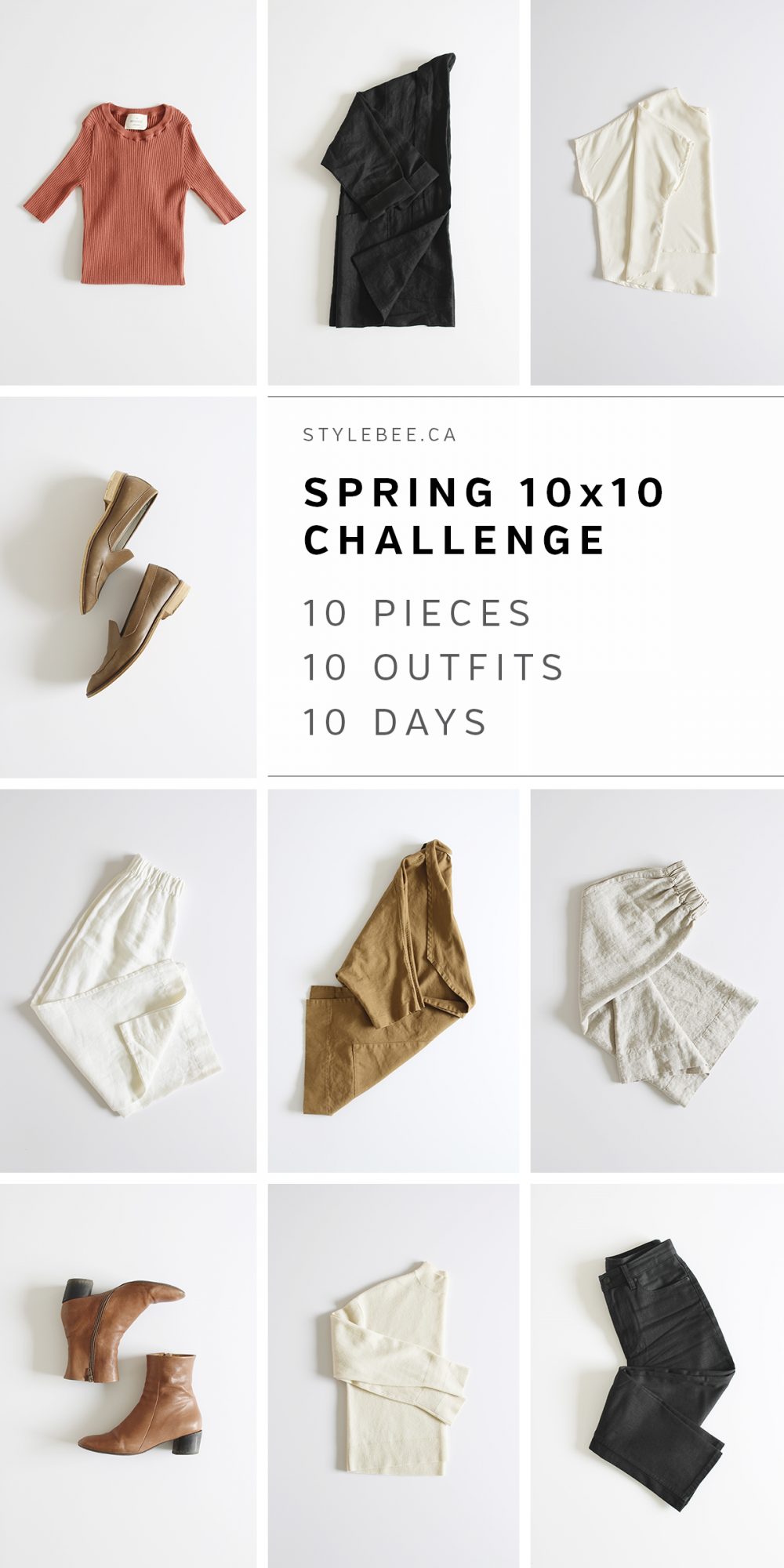 ---
Before we dig into giveaways and 10×10 items, I'll take a quick moment to share why this 10×10 challenge is a particularly special one for me. In 2015 I made a pivotal purchase when I ordered a simple white top (the Lee Crop) from a little known (at the time) independent brand called Elizabeth Suzann.
I had saved up for it all season and finally pulled the trigger, feeling fluttery and lightheaded as all those Canadian dollars converted into US funds haha. Then I waited as it slowly made it's way to my doorstep. It arrived, carefully packaged, impeccably made and topped with a handwritten note. It was special, personal and the first time I'd ever felt a true connection to not just a lovely article of clothing but to the people who had brought it to life.
From that moment on I knew that shopping responsibly was going to play a big role in my life and here I am writing about it for a living! It's only fair to say that Liz's work has truly changed how I shop, how I dress and my relationship with clothing and I know I'm not alone in that. To now be hosting this weird and wild little challenge with someone who inspires me so much both personally and through their work is truly a dream come true!
So thanks to my #Spring10x10 co-hosts Caroline and Liz for doing what they do to inspire so many and an equally hearty thanks to all our #10x10friends for helping to grow this amazing community!
Let's do this thing! 
---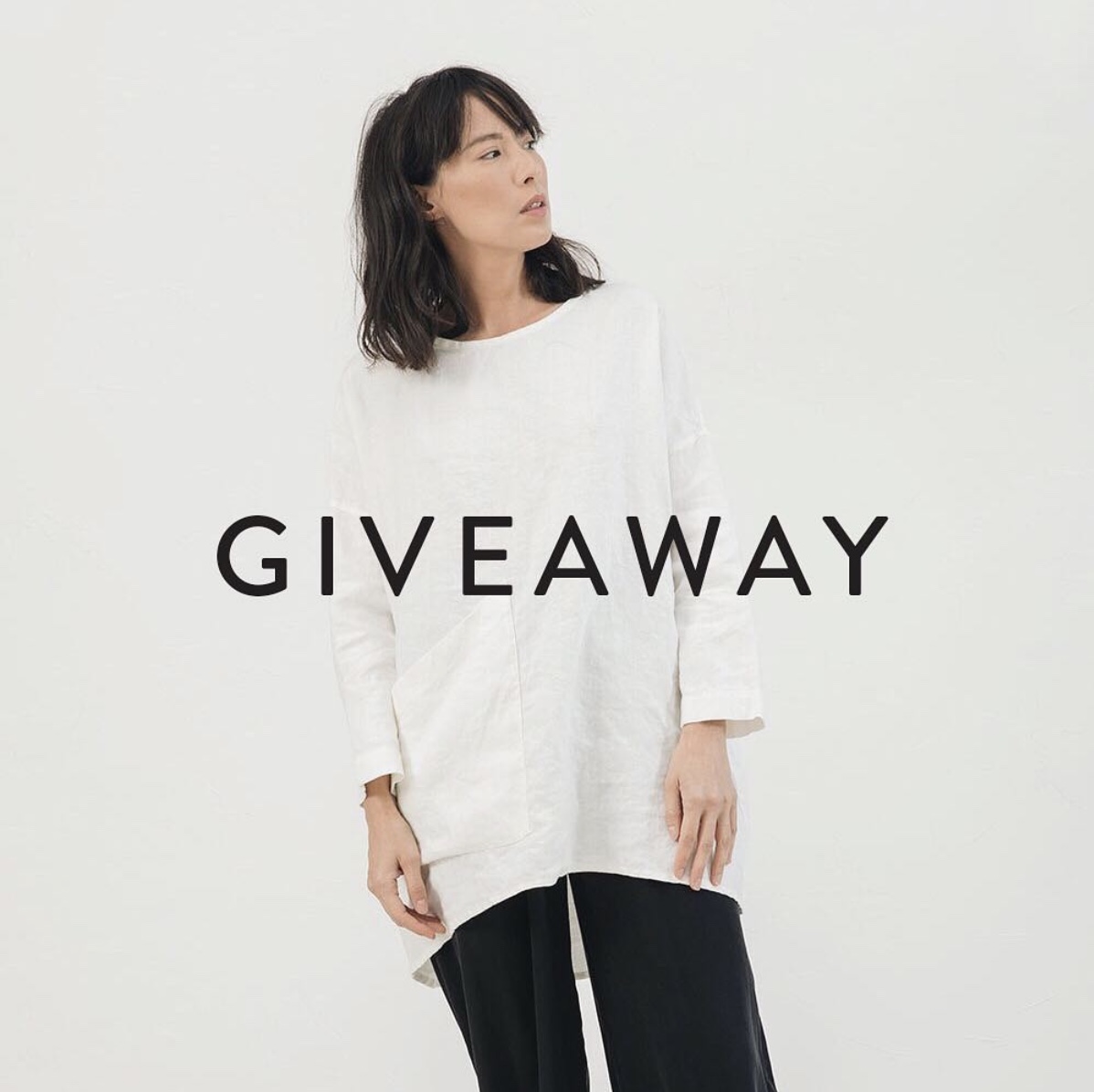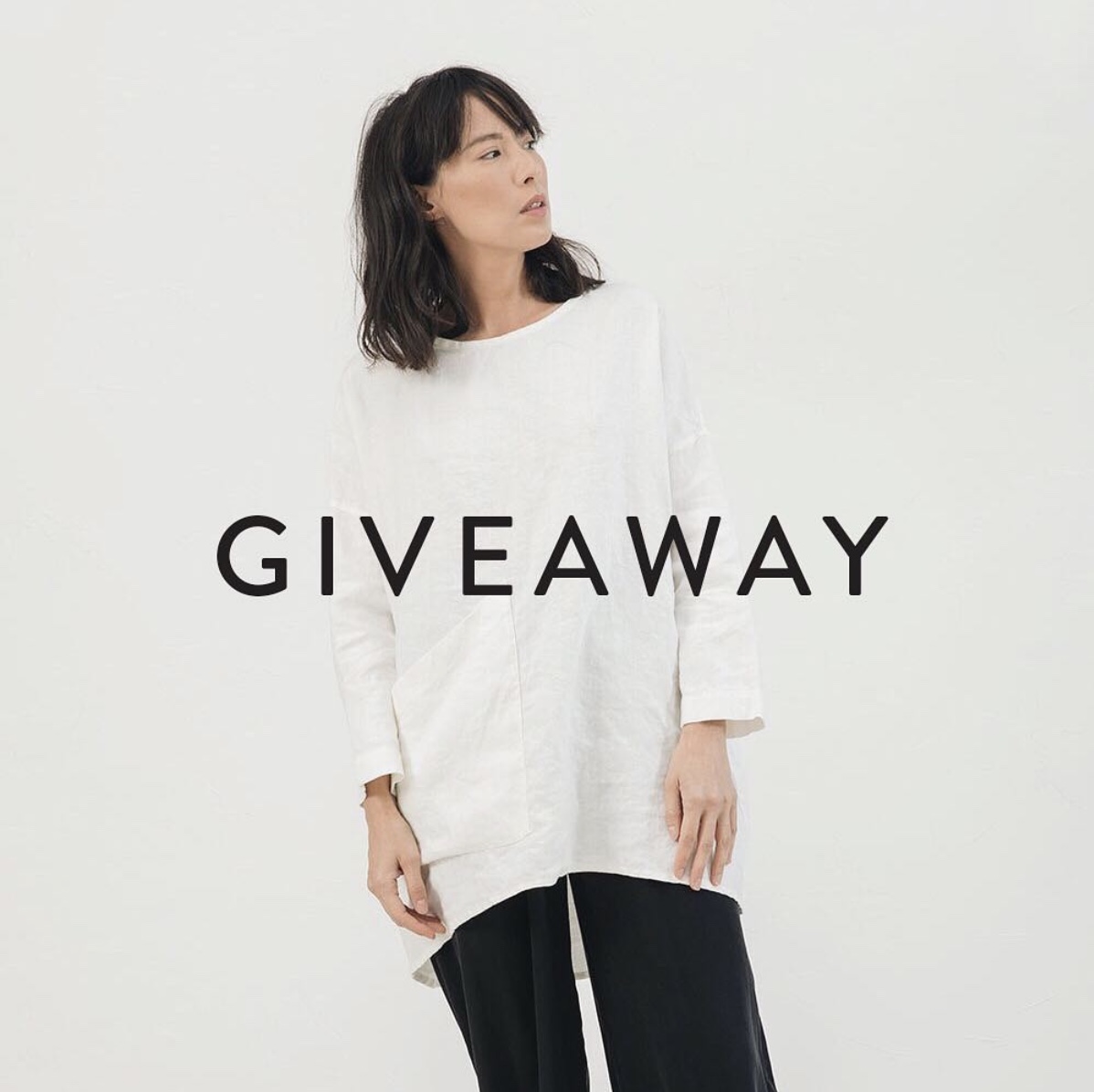 ---
ELIZABETH SUZANN GIVEAWAY
---
As a very special treat our designer guest host, Liz, of Elizabeth Suzann, is generously giving away 10 (yes, 10!) $100  Gift Cards to shop the collection and 3 of our favourite books to 10 lucky Spring 10×10 Challenge participants!
---
Here's how you can qualify to win:
1 | JOIN THE SPRING 10×10 CHALLENGE!
It starts today but you can start anytime before April 9th to qualify.
2 | SHARE YOUR OUTFITS ON YOUR INSTAGRAM FEED 
Each post you share counts as an entry so include as many or as few as you'd like!
Unfortunately tagged stories will not be included in the draw. You must post on your feed or we won't see them.
3 | TAG YOUR POSTS WITH #ES10x10 #SPRING10x10 and #10x10FRIENDS
4 | WINNERS WILL BE SELECTED RANDOMLY ON APRIL 9th FROM THE HASHTAG FEEDS NOTED
MORE DETAILS: 
Open worldwide.
You do not need to have any Elizabeth Suzann items in your 10×10. But if you do, that's awesome!  
The posts don't necessarily need to be of you wearing the outfit, they can be flat lays or any other creative way of expressing your style. 
You do not need to be finished the 10×10 on April 9th to qualify. Take your time and go at your own pace.
---
GOOD LUCK EVERYONE!
Now onto the post! 
---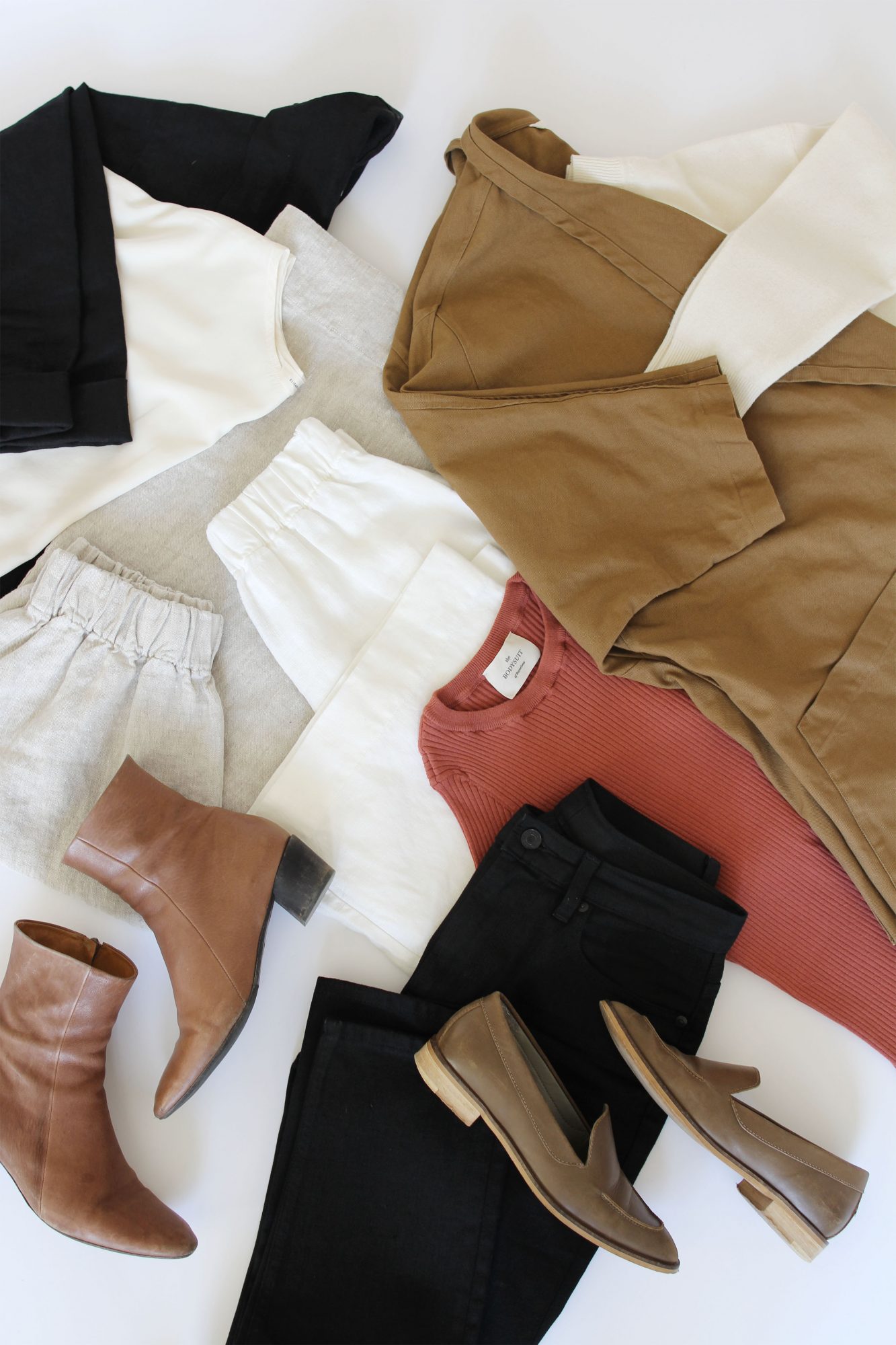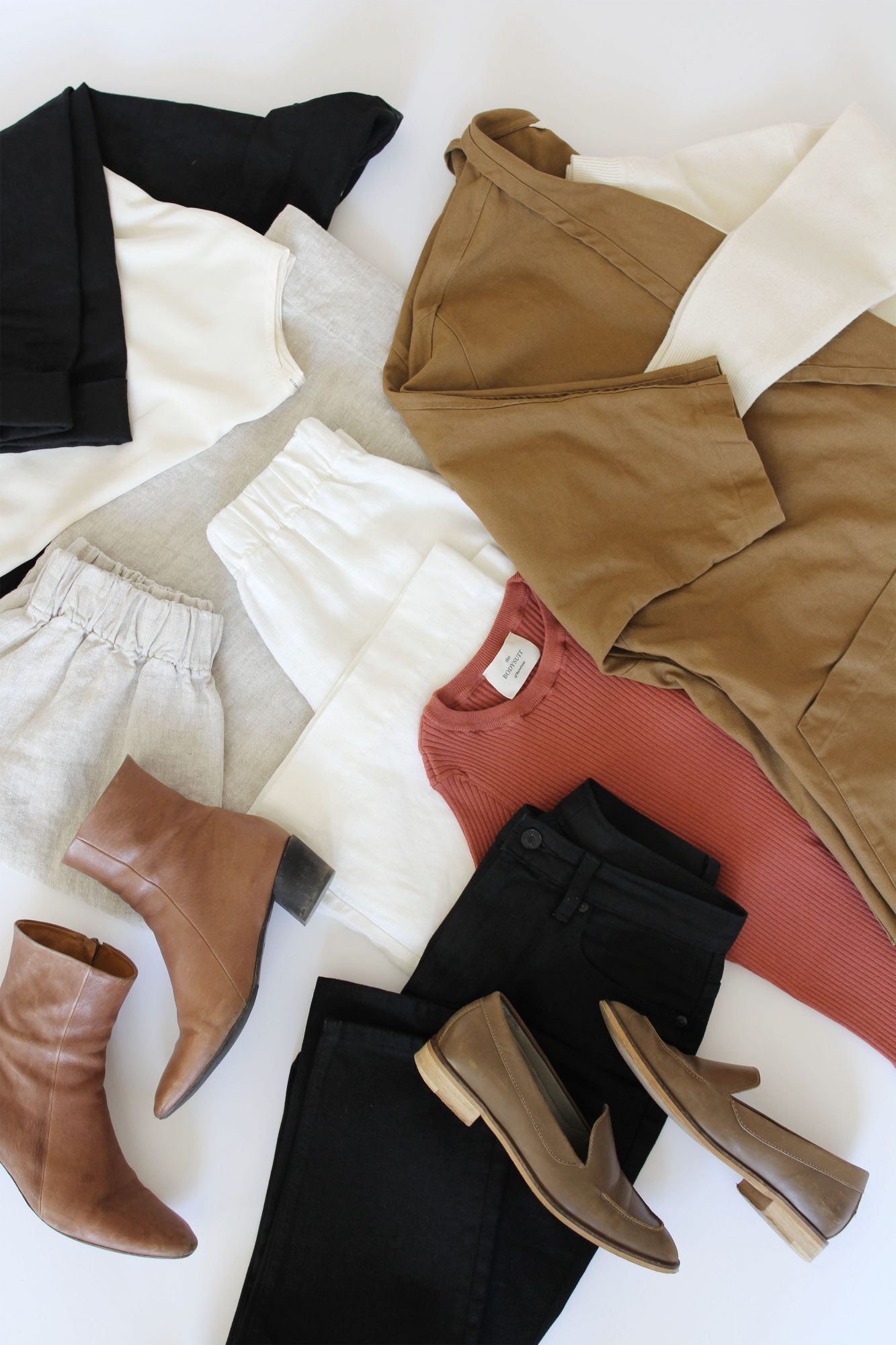 ---
MY 10×10 CHALLENGE GOALS
---
1 | EMBRACE SOME COLOUR
This will be my eleventh 10×10 Challenge and I still love participating and seeing the community grow! That said, I've been feeling pretty darn good about my style and closet these days so the outfit aspect of it isn't getting me going the way it used to. I am, however, very excited to embrace a lighter palette and a bit more colour than usual thanks to a couple of new pieces in Clay and Rust (more on those below) so that will give me lots to play around with. In the past I've been almost averse to colour because it means that not everything in my whole closet 'goes' but I think I'm getting over that. We shall see, shan't we? 
2 | GET OUT MORE!
This is the goal I am most excited about! I want to get out of the basement apartment we're staying in every day of the challenge and go somewhere I'm excited to check out. Cafes, botanical gardens, shops, new neighbourhoods, museums, restaurants, you name it! All of which I'll be sharing in my stories of course! I've received so many great suggestions of places to visit in Vancouver and this will be the perfect opportunity to really check some out. If you've got some, please feel free to share!
I'm also planning to get my ass in gear earlier in the morning to walk Dobby farther and I know he's excited about that! I won't be wearing my 10×10 items for those (often wet and muddy) treks but that's ok, I'll stick to my dog mom uniform of leggings, t-shirt, rain jacket and walking boots. Expect lots of leaves and blossoms in my stories!
---
MY 10×10 CHALLENGE SCHEDULE
---
Similar to last time I'll be doing the challenge in 10 consecutive days instead of taking weekends off and doing week days only (although that might be nice for next time!). I've really enjoyed the momentum that comes with this straight through approach but don't let that deter you from taking it at your own pace! Do weekdays only, weekends only, take a midway break, whatever works for you.
I'll be starting with my first look today and plan to share it this afternoon on my instagram (@leevosburgh). This time around I'll be focusing on the 10×10 community and my 10×10 goals for the next 10 days so I won't be blogging until my wrap up post on April 9th (it seems my blogging efforts are futile anyway during challenges). I'll be sharing each look daily on either my feed or stories though!
Another slight change from the usual will be that I haven't shot any outfits ahead of time. I usually shoot them all the week/day the challenge starts and then wear them throughout but not this time. I'll be putting outfits together each day and trying to convince Dave (aka bribing him with beer and donuts) to take my photo while we're out. Wish me luck! 
---
WEATHER: Everyone who said that west coast weather was temperamental was dead on. It can be cold and rainy in the morning and patio weather by the afternoon! In fact, every forecast site has told me something different but it looks like the days will be mostly sun and cloud with a chance of rain and hovering around 10 degrees. I'm optimistic but I'll definitely be bringing my umbrella around with me!
ACTIVITIES: The next ten days are going to be a mix of meetings, working from cafés, dinners with Dave, exploring the city, chasing cherry blossoms, visiting family in Victoria, daily dog walks and workouts along with the usual errands and business out and about. It's going to be pretty great!
So here's what I'll be mixing and matching for the next 10 days!
1 Cropped Silk Tee
1 Short Jacket
1 Bodysuit
1 Pair of Loafers
1 Skirt
1 Long Jacket
1 Pair of Ankle Boots
1 Pair of Linen Wide Pants
1 Cashmere Sweater
1 Pair of Jeans
---
my ten items
---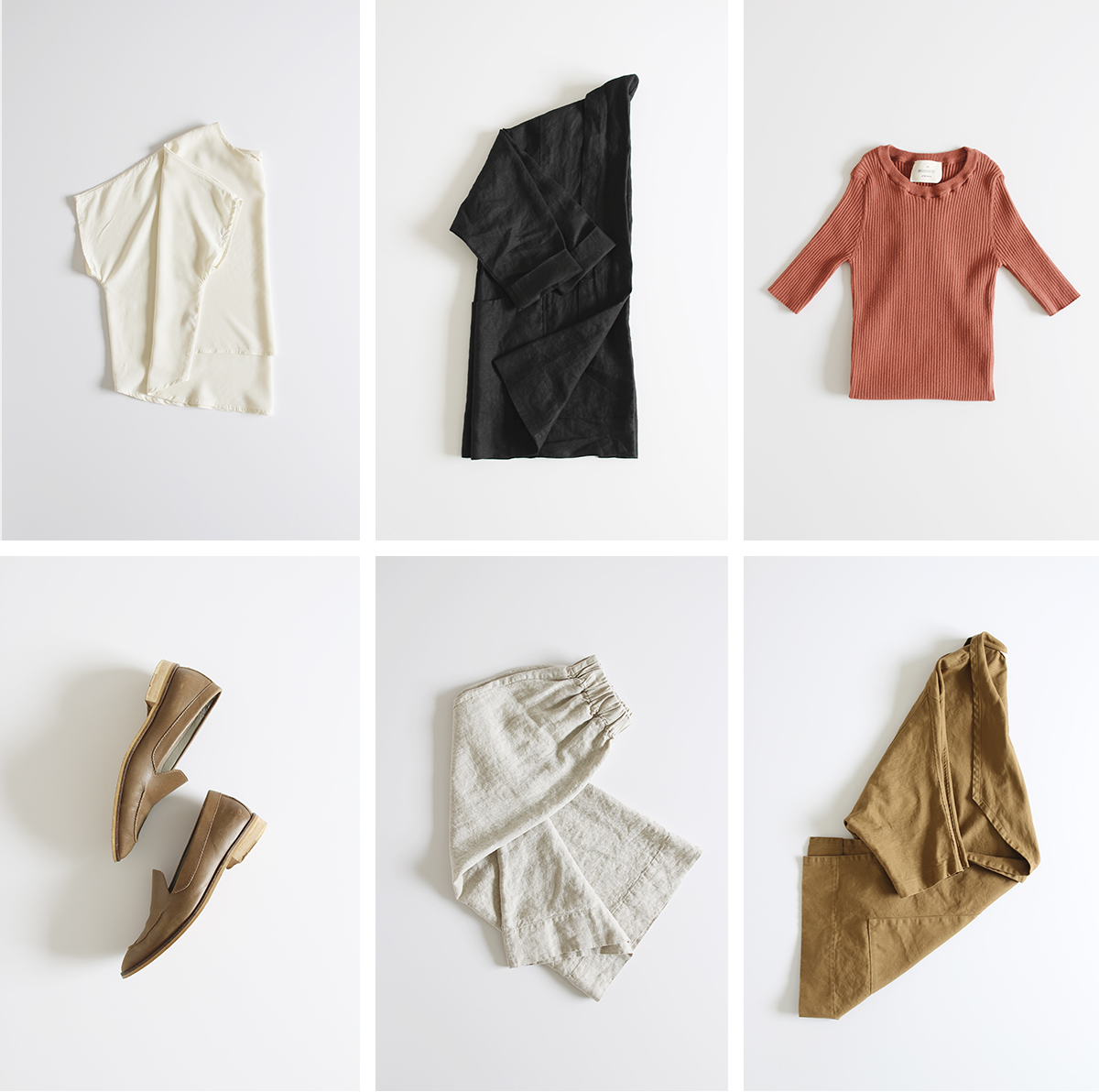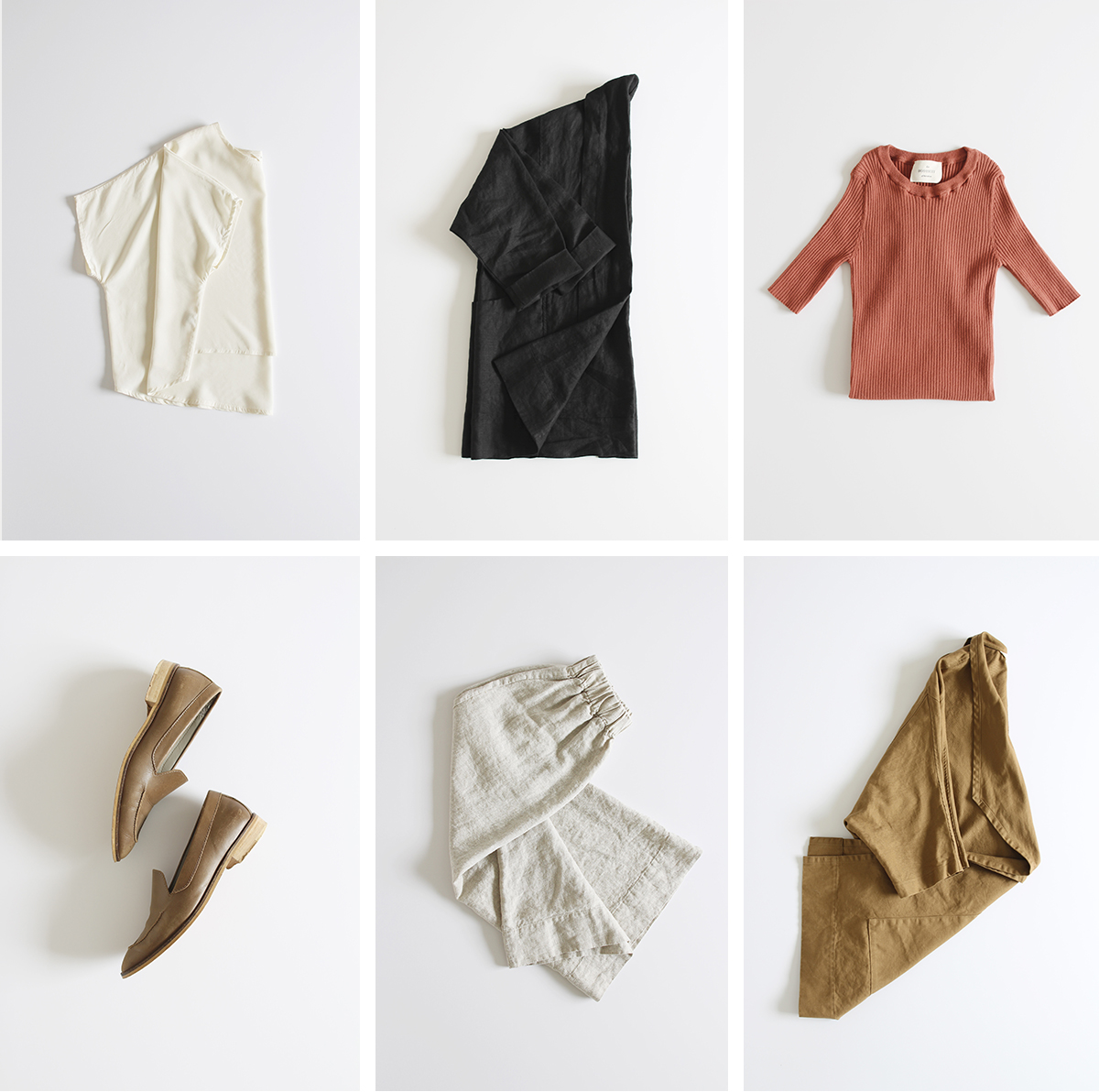 ---
1 | LINN TEE in IVORY SILK | Elizabeth Suzann | Bought by me | I wear an OSM in this piece. | $175 USD | Made responsibly in Nashville, TN.
I've been a fan of the Linn Tee style for several years and love it's simple, contemporary cut and the flattering way it drapes over the body. It's not the easiest piece to layer under jackets but of course it works well under all of Elizabeth Suzann's outerwear. I've worn Linn Tees in several 10×10 challenges in the past and decided to include the silk crepe one I bought last Fall in this round. I love how it feels and pairs with denim but I'm excited to test it out with the 2 linen bottoms I've included too.
2 | CLYDE JACKET in BLACK LINEN | Elizabeth Suzann | Gifted | I wear a S in this piece. | $245 USD | Made responsibly in Nashville, TN.
This floaty beauty is a new piece that I'm so excited to put to the test during this challenge. I've worn it most days since it arrived and so far it's been a fabulous Spring layer. As I noted in this post, I tried the Clyde Trench in Cotton Canvas and found it was just too much coat for me but the jacket version, in midweight linen is much better. I'm also looking forward to seeing how it compares to the Cardiff Work Coat, which I've had a few people ask about.
3 | SIMONE BODYSUIT in RUST | Bodysuit of Barcelona | Bought by me | I wear a M in this piece. | €80 EUR | Made responsibly in Barcelona. | Viscose/Spandex Blend
It's no secret that I'm obsessed with bodysuits and this line in particular. I included one in my Winter 10×10 and it worked out great so I couldn't help but include one in this round too. But let's talk about this COLOUR for a moment! Rust is popping up a lot this Spring and I was immediately drawn to this softer, romantic take on red. It's a new tone for me and definitely outside my typical wheelhouse of neutrals but I'm excited to see how it works out! I love the high neckline and cropped 1/3 sleeve length which feels very Parisienne and feminine.
4 | MODERN LOAFER in OLIVE | Everlane | Bought by me | I wear a 7 and they run narrow to I had the toe stretched out. Order 1/2 size up. | $168 USD | Made responsibly in Italy.
I've had these loafers in my closet for ages and while I really like them I don't find myself wearing them all that much. In fact, I almost didn't bring them out to BC until the last minute. I've included them in my 10×10 to see how the work within my current Spring style. I also like that they're a close olive tone to my Harper Jacket and I'm excited to try out that pairing.
5 | BEL SKIRT in FLAX LINEN | Elizabeth Suzann | Gifted | I wear a S Reg in this piece and it's very roomy. | $205 USD | Made responsibly in Nashville, TN.
Last Spring I included the original Bel Skirt in Moss Silk in my 10 items and while I loved that piece, ultimately we had to part ways. The silk just always seemed to show water marks and it felt a little precious. Cue the Bel Skirt in Flax Linen, the hearty, ready for anything but still feminine and floaty version. I'm still getting used to this piece and as you know dresses and skirts rarely win a top spot in my closet but I think this one has potential!
6 | HARPER JACKET in CLAY CANVAS | Elizabeth Suzann | Bought by me | I wear an OSM in this piece. | $265 USD | Made responsibly in Nashville, TN.
You're probably not surprised to see this piece in my 10×10 selection because I've been wearing it every chance I get since it arrived. I shared a full review on the Harper Jacket where you can see what I think and all the details.
---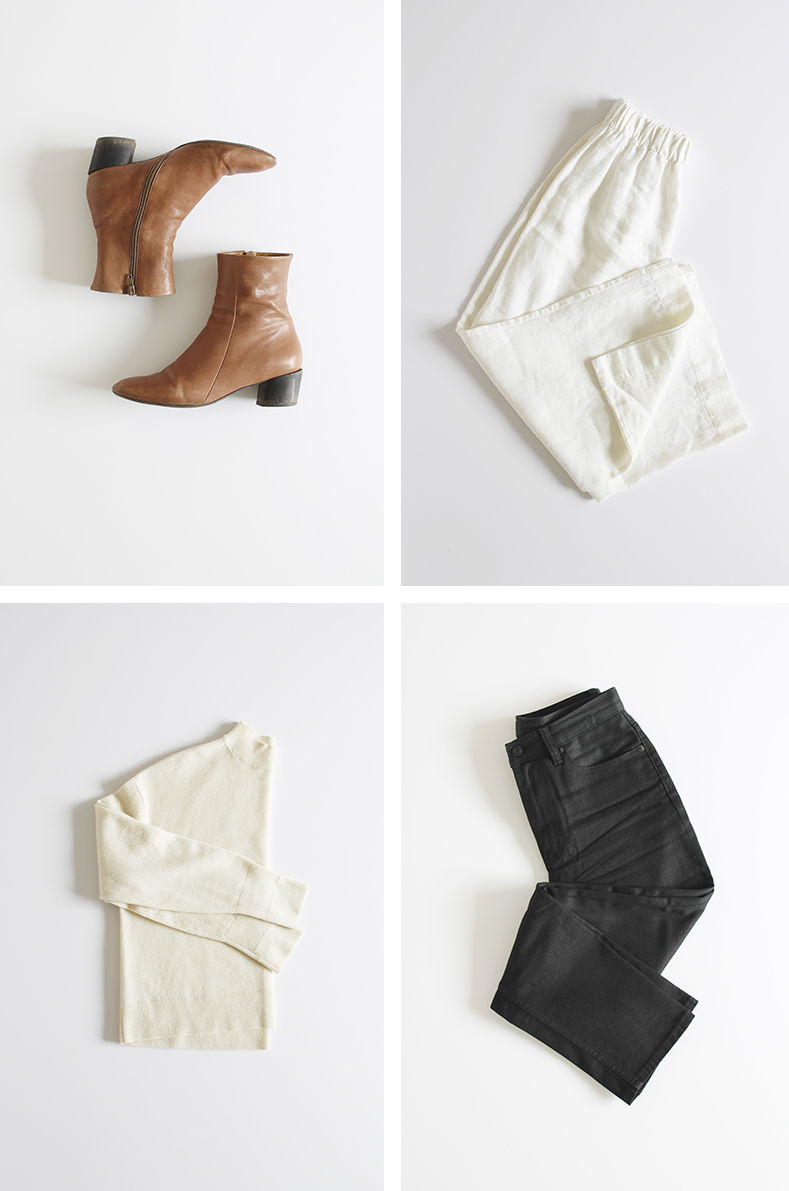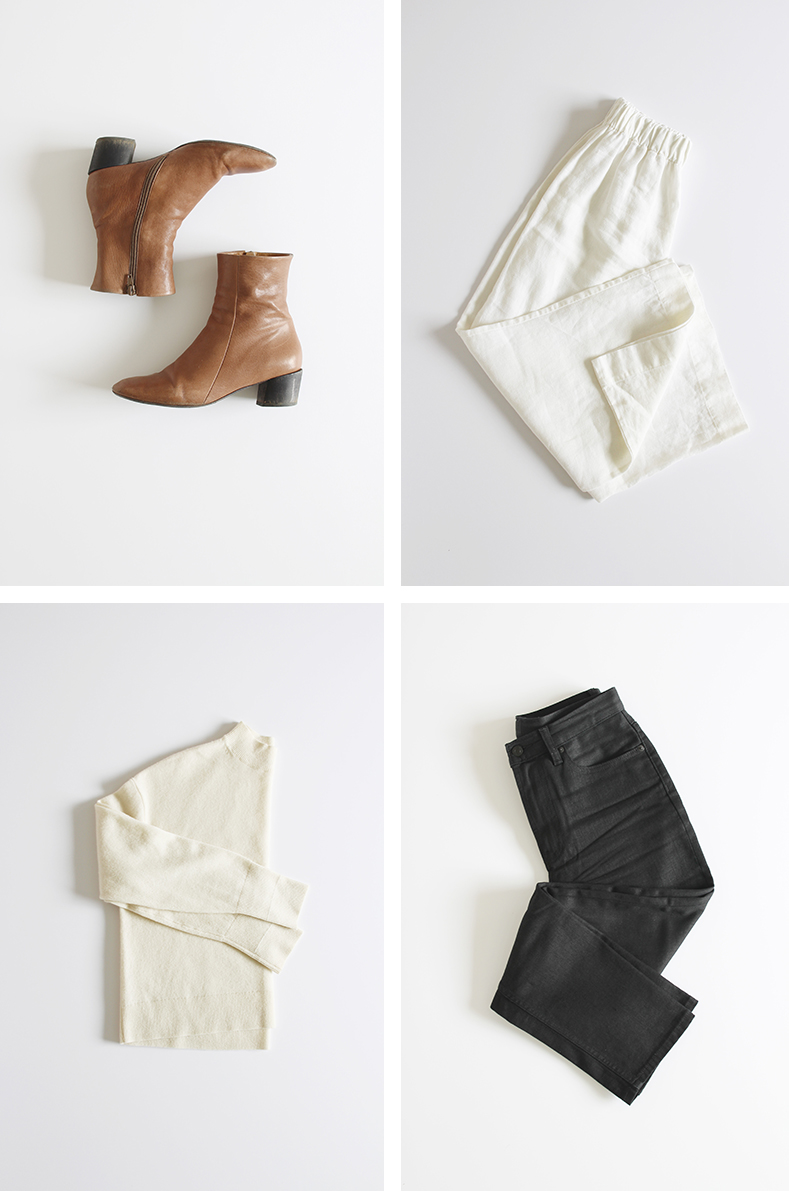 ---
7 | CALLY BOOT | COCLICO | Gifted | $435 USD | I wear a US 7 and the 37.5 is snug but fits. I would recommend going a full size up ie: US7 = 38 | Made responsibly in Spain.
As I mentioned in my last post, I cannot stop wearing these boots! They're so comfortable, sleekly designed, beautifully made and the colour seems to work with everything. This is the third challenge I've included them in and even though Spring isn't really ankle boot season, I have a feeling they'll come in very handy on cold/rainy days.
8 | FLORENCE PANT in IVORY LINEN | Elizabeth Suzann | Bought by me | I wear the S Reg in these but this is the old inseam length which is a tad longer. | $195 USD | Made responsibly in Nashville, TN.
These are essentially the polar opposite closet item to leather ankle boots but let me tell you, the two look AMAZING together. I really love my Flos and couldn't wait until later this Spring to bust them out so I'm seeing if I can't make these quintessentially summer pants more cool weather ready. The good thing is that the midweight linen is quite heavy so I should be ok with a jacket on too.
9 | CASHMERE CROP MOCK NECK | Everlane | Bought by me | I wear a S in this style or M if I plan to layer. | $100 USD | Made responsibly in China.
You might recognize this one from my Winter 10×10 and I really considered swapping it for another sweater but just couldn't bring myself to part with it for 10 days. It means I have two ivory tops in the mix, which is a bit redundant but, well, I'm fine with that! Who knows, if I feel like it's too much I'll make a switch. Nothing is set in stone here! 
10 | MODERN BOYFRIEND DENIM | Everlane | Gifted | I have a 27 in these but had them tailored a fair amount to fit how I wanted. I would get a 26 if ordering again. | Made responsibly in Vietnam.
During the Fall 10×10 (and in many posts since) I styled the Bone Modern Boyfriend (which I really like) and serendipitously Everlane sent me the black version to try. As it turns out I actually like the black wash better! It's not as soft as the bone but I've found it also holds it's shape much better. I LOVE the all black hardware and super rich black wash that hasn't faded after several washes. I like to wear them higher on my waist than the original fit but really like the way the straight leg flares slightly through the calf. If you like that fit too I would consider the Kick Crop instead but it's not quite as relaxed through the leg and has a raw hem.
---
HERE'S A LOOK AT THE ACCESSORIES I ASSEMBLED
+ SOME OUTFITS I'M CONSIDERING! 
---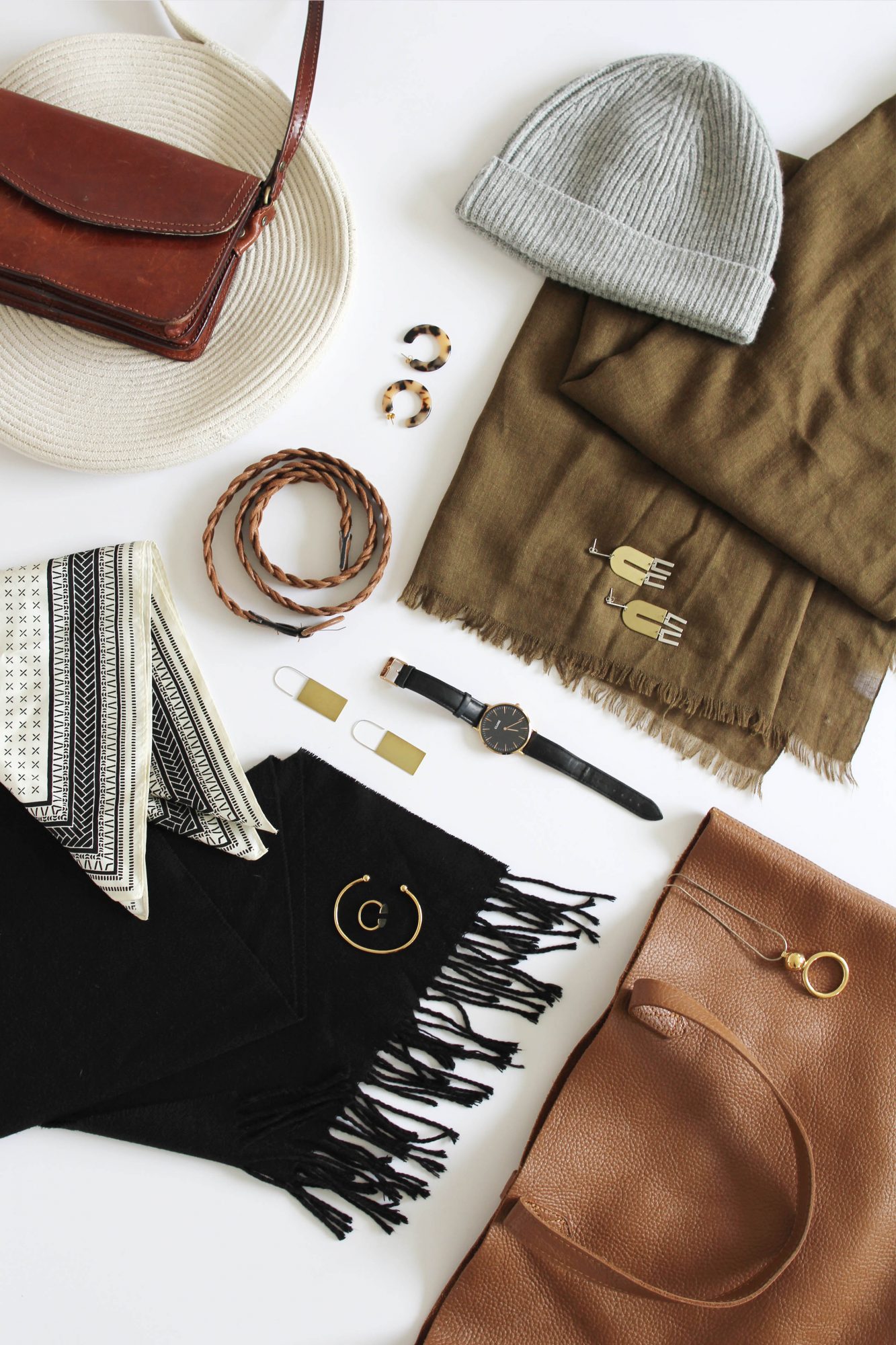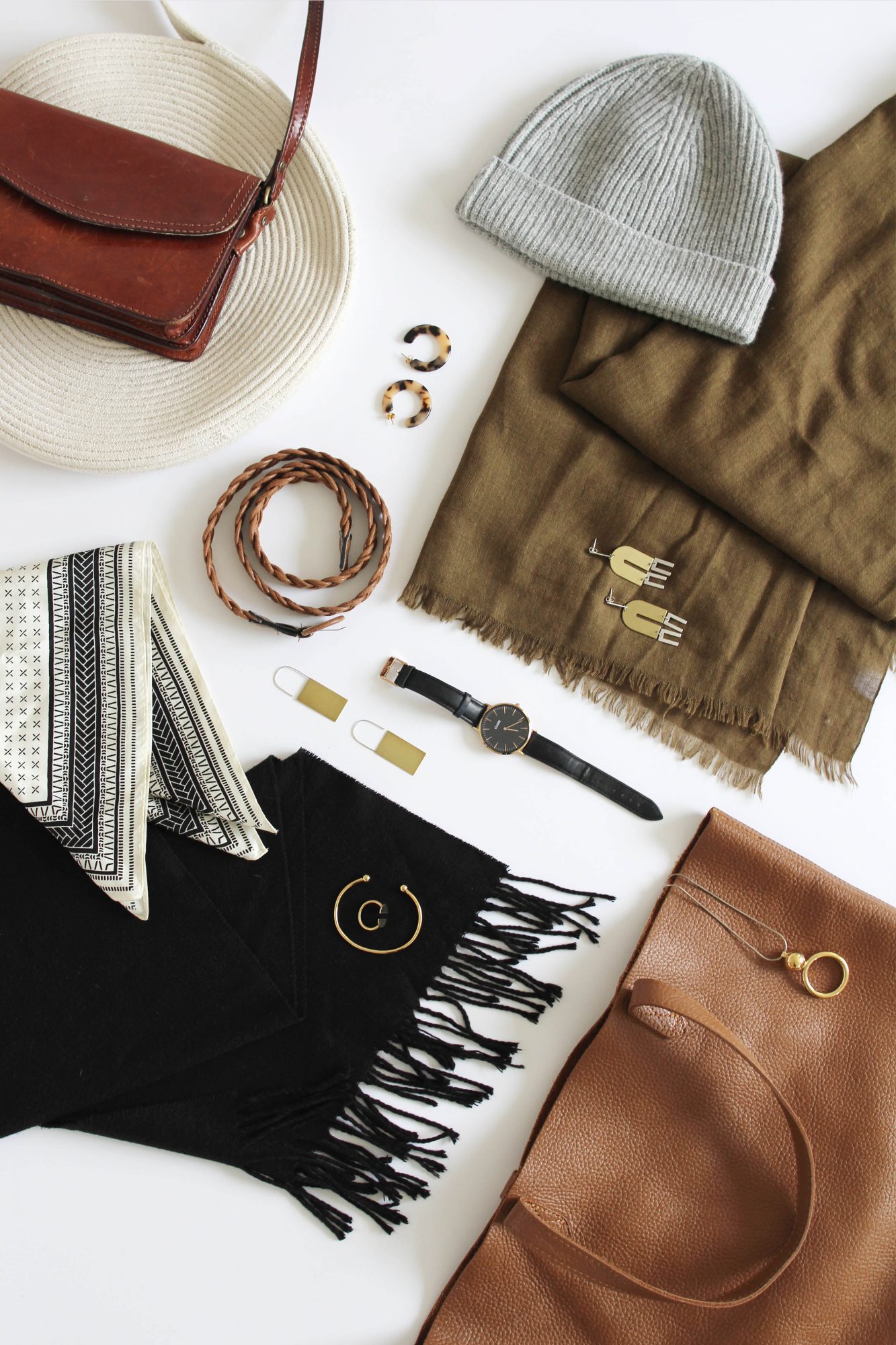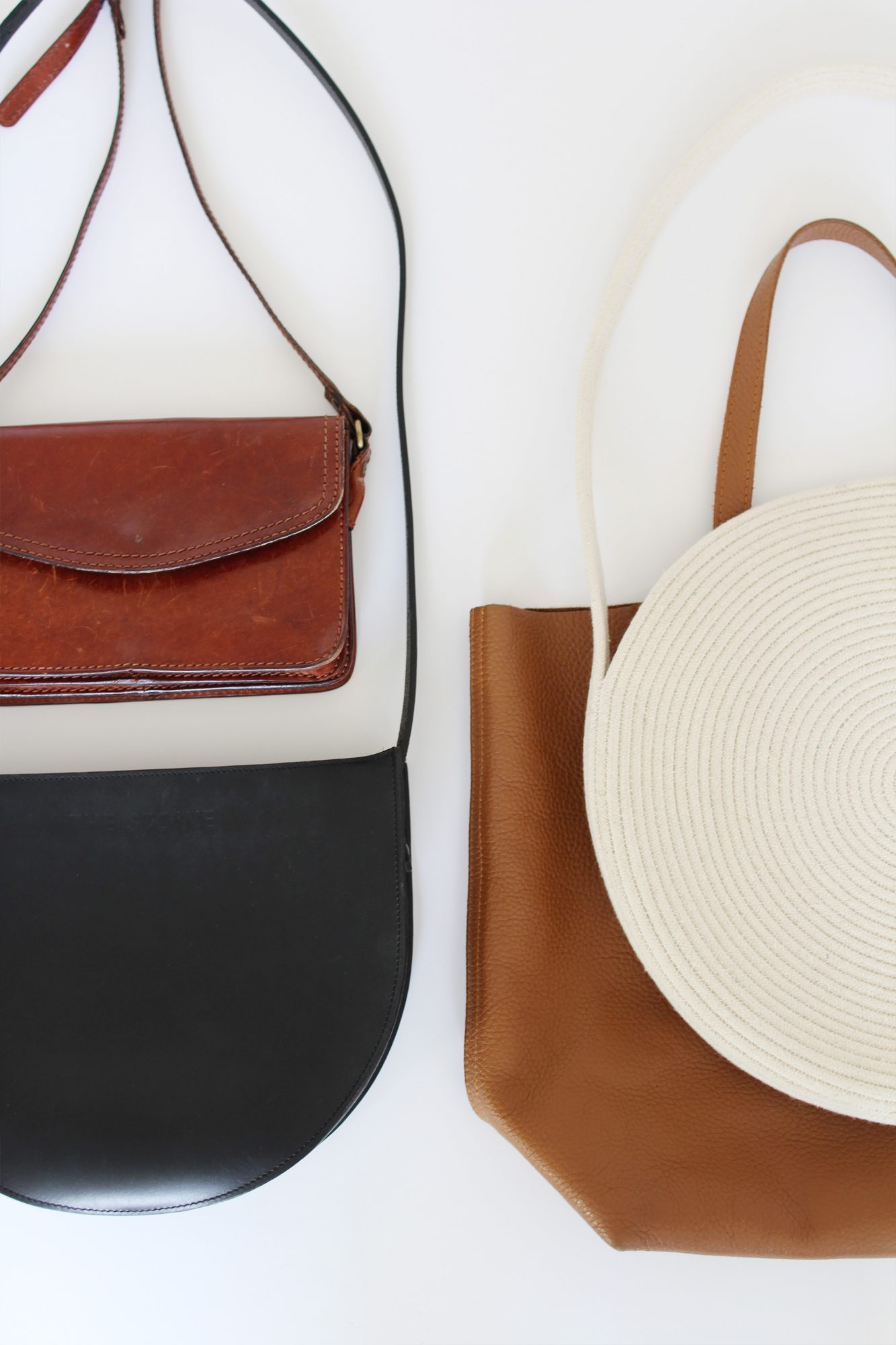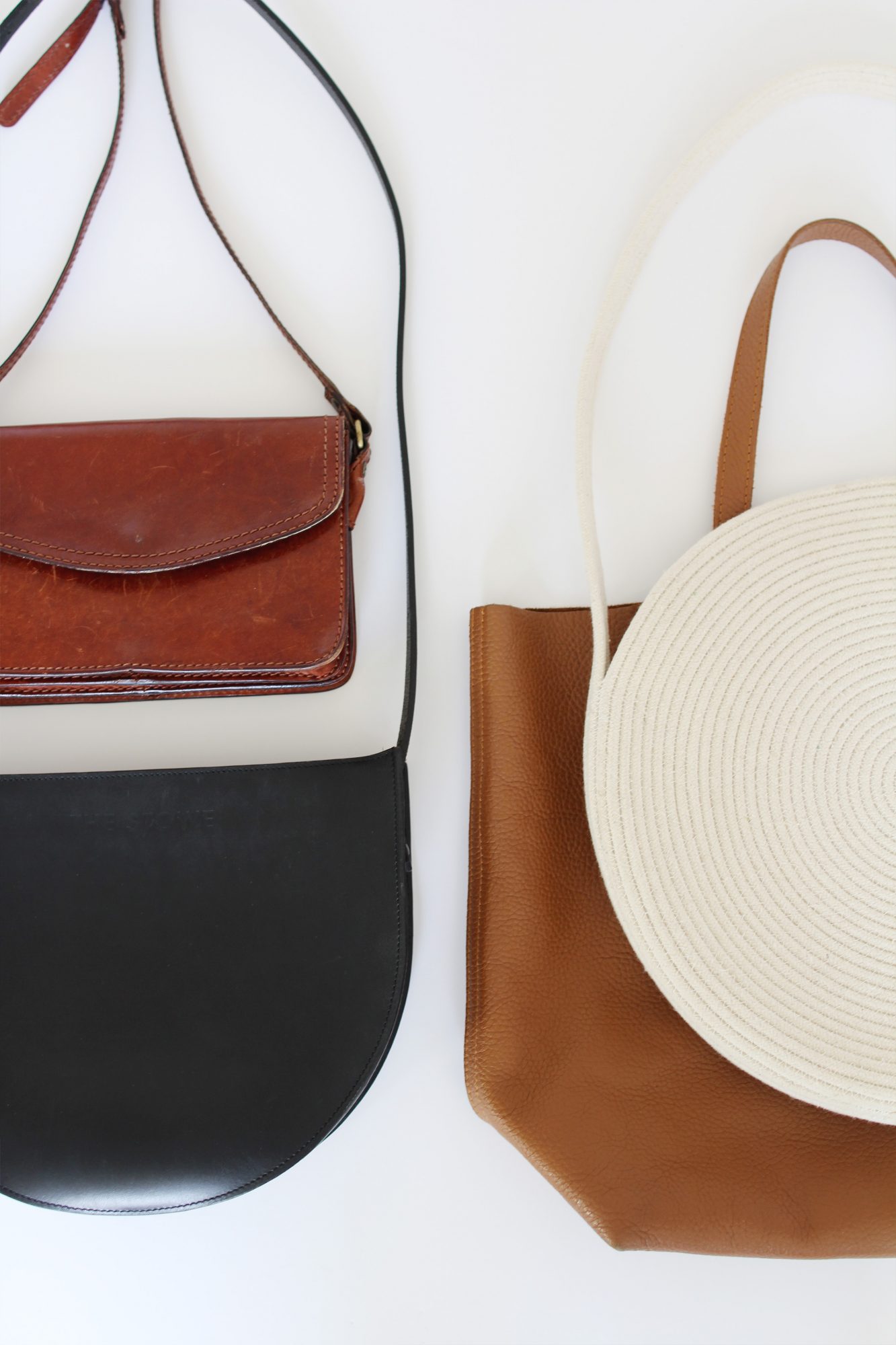 ---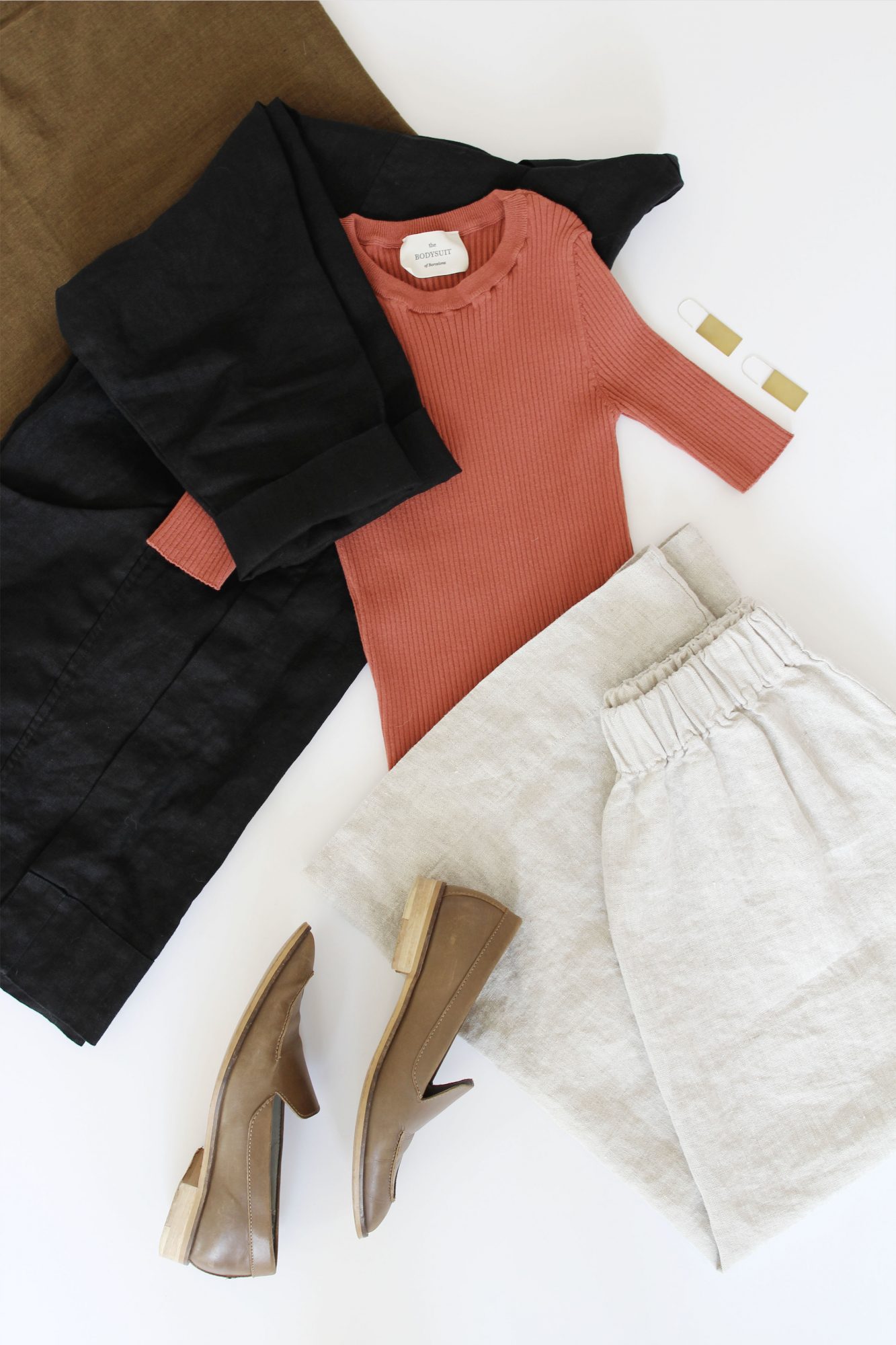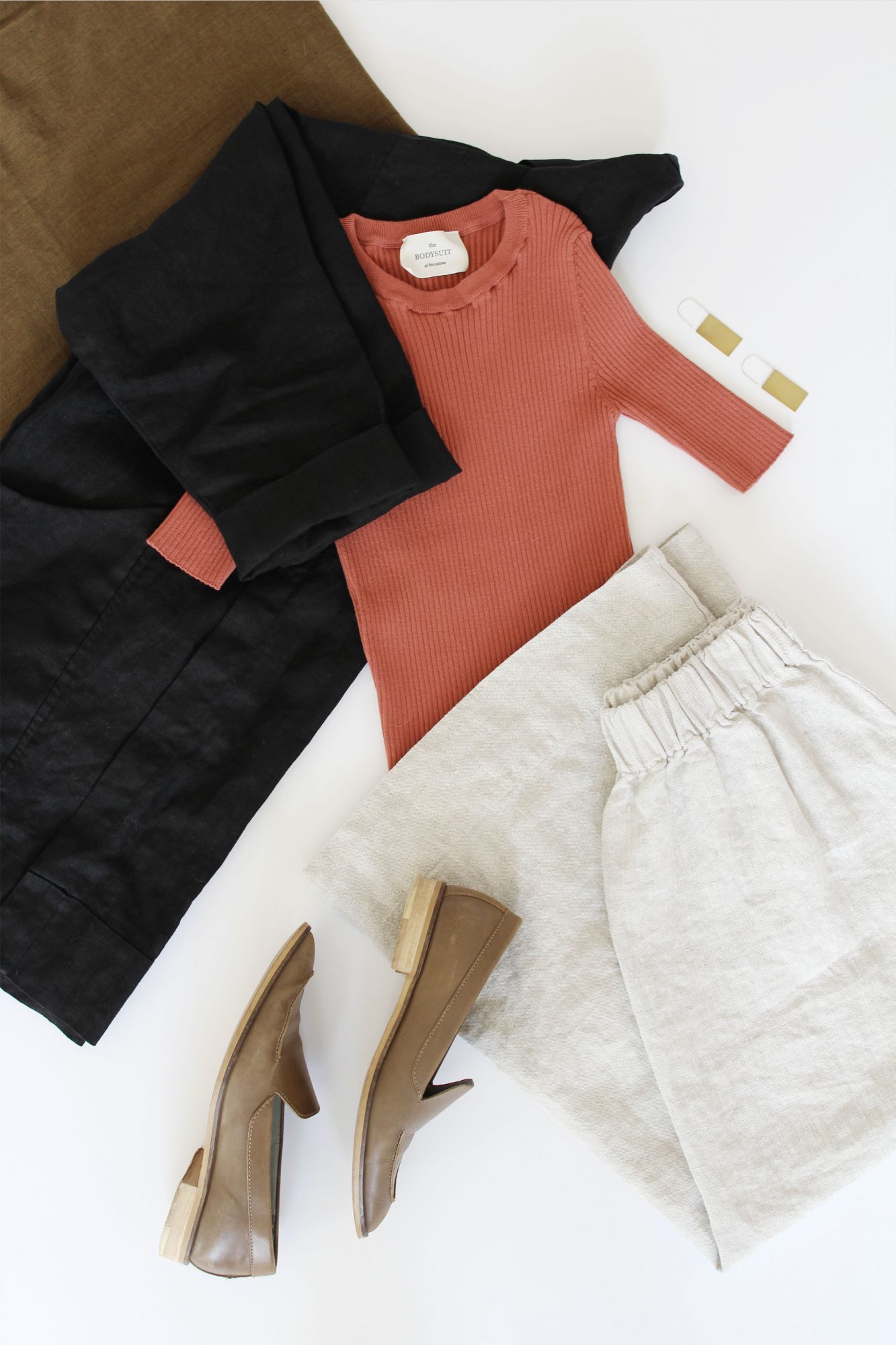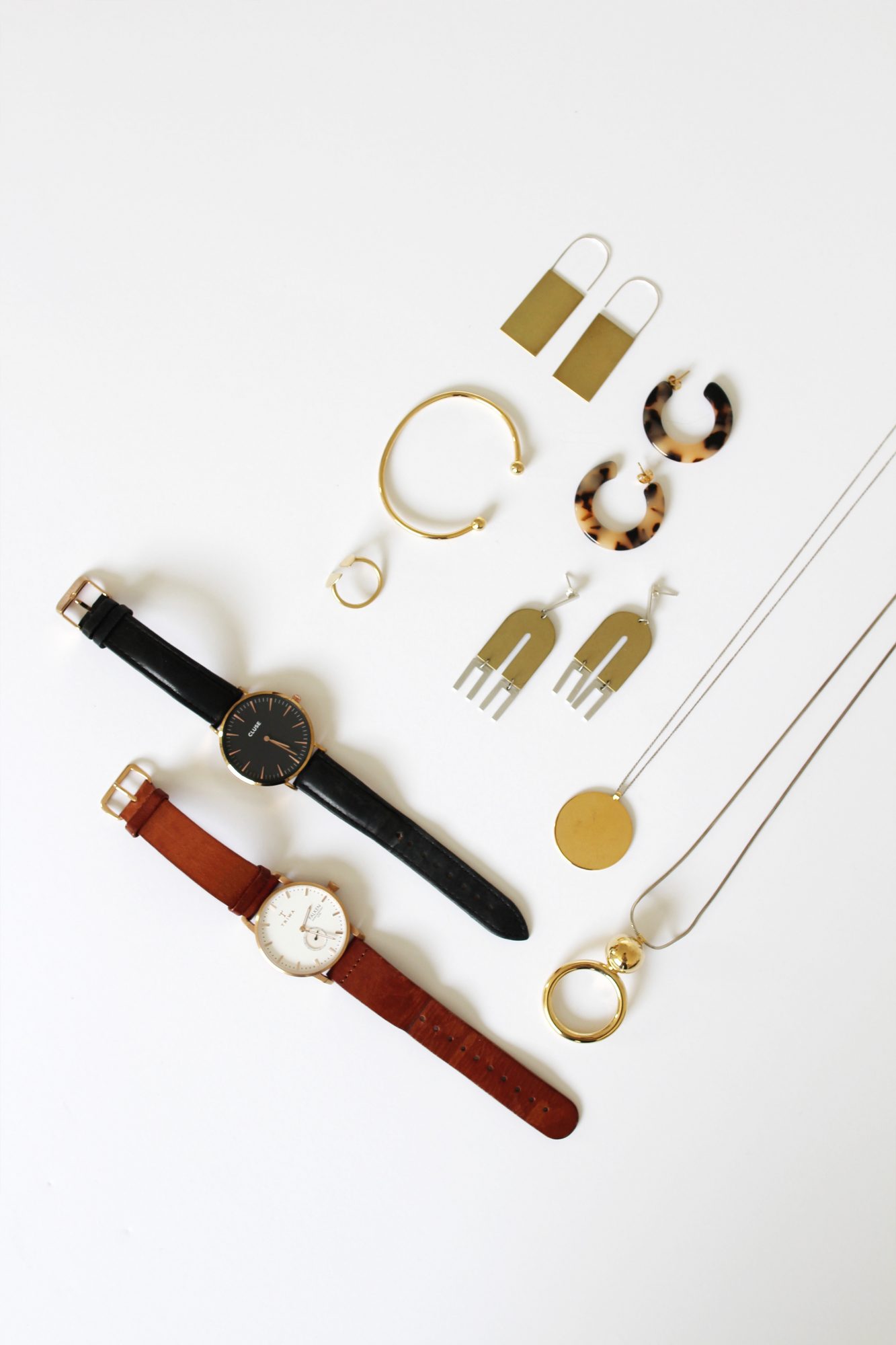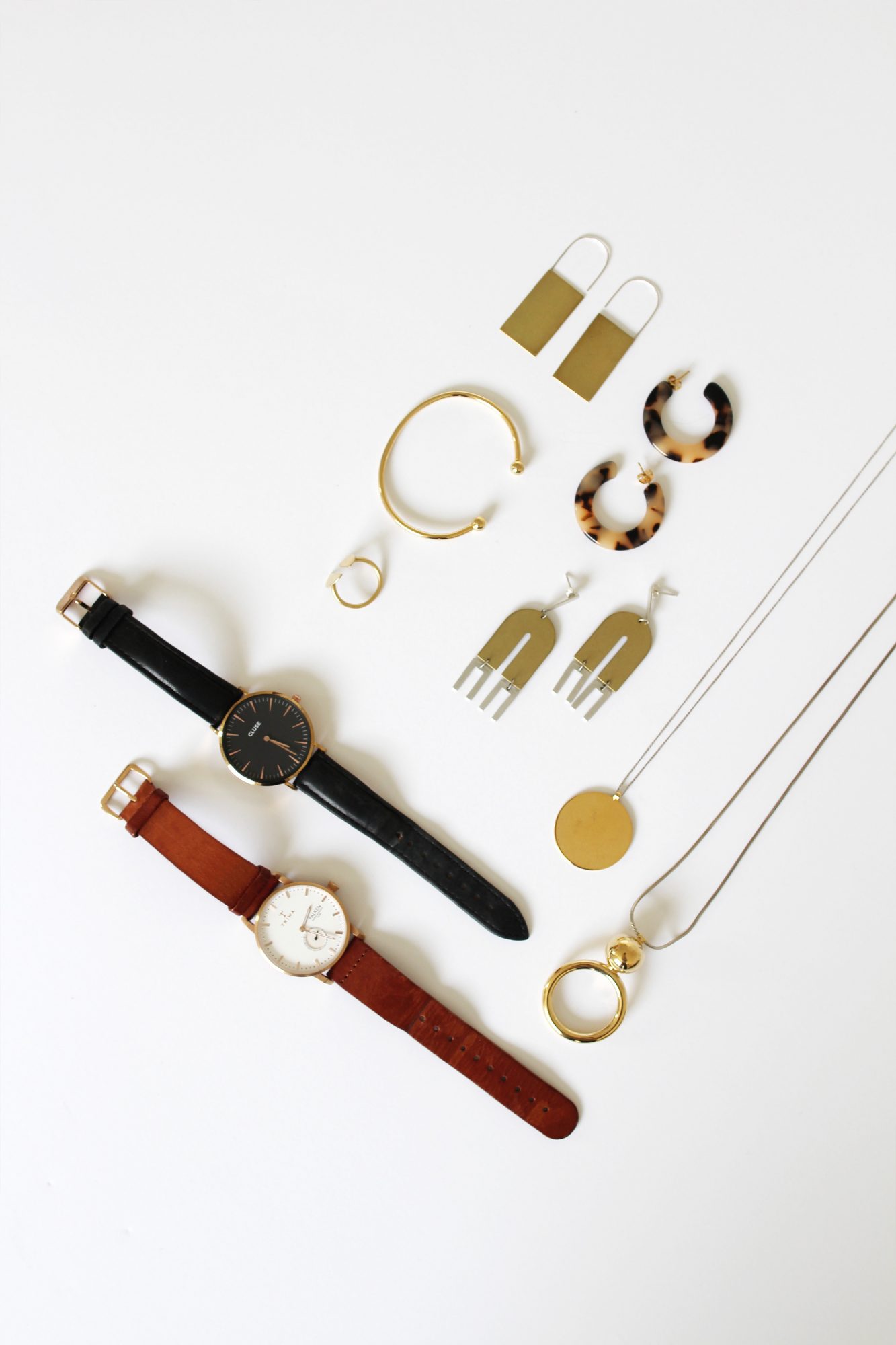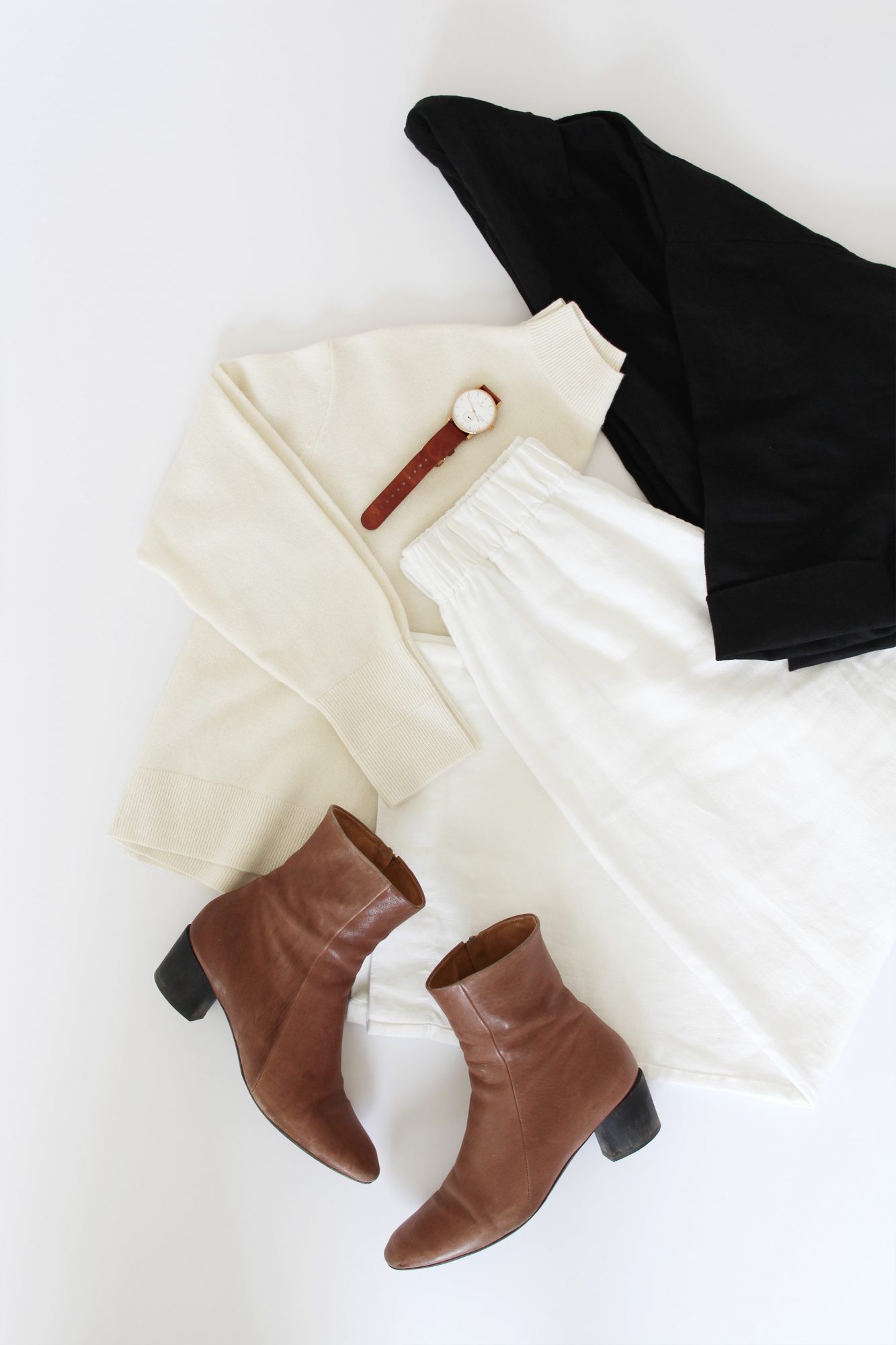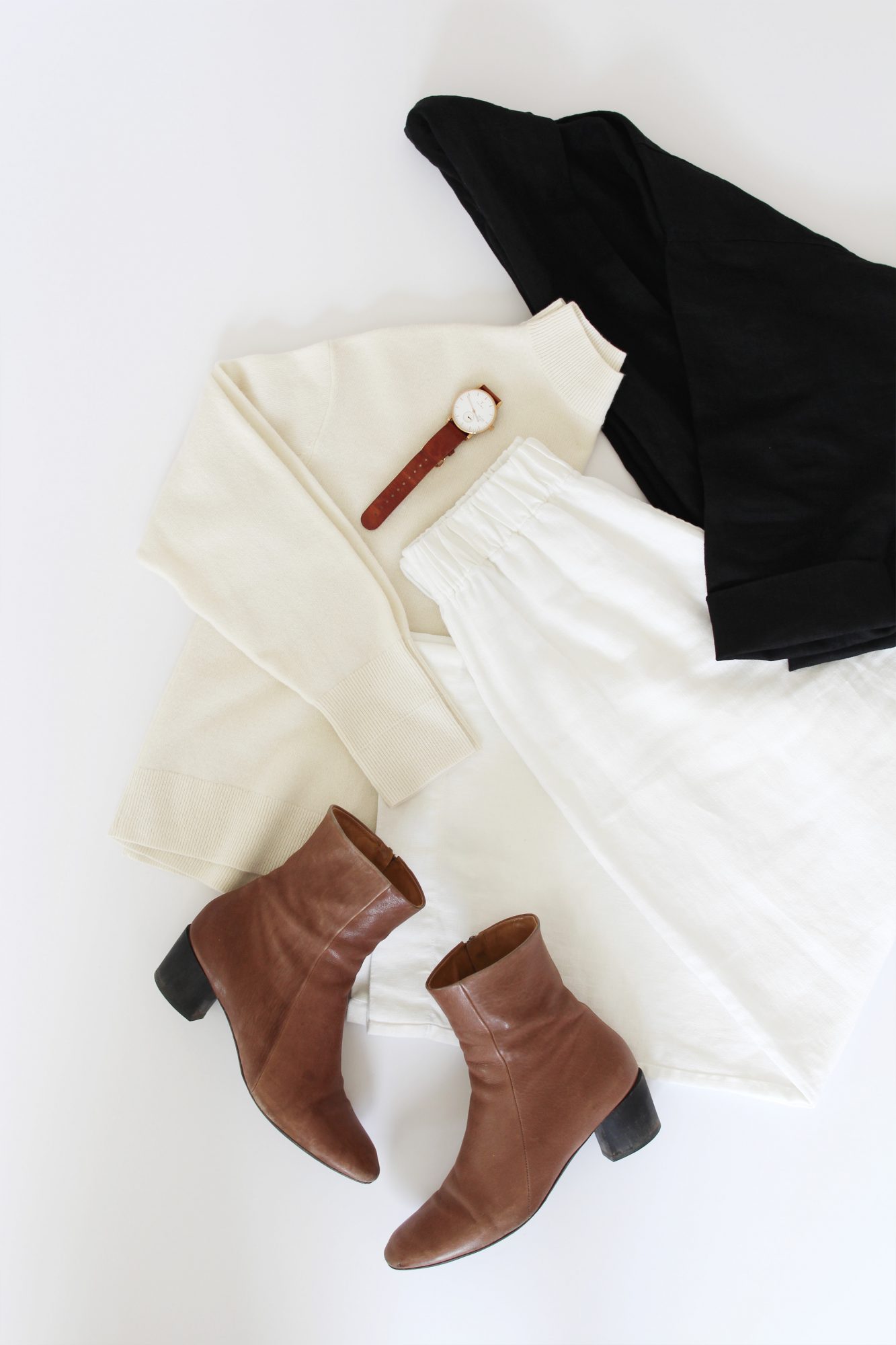 ---
10 X 10 CHALLENGE 101
---
No worries if all this challenge talk has you scratching your head! The 10 x 10 Challenge is an exercise I established in 2015 to help encourage myself to get more creative with my clothes during a 30 Day Shopping Fast. The concept is essentially a micro capsule closet that you work with for 10 days, trying new looks and styling your clothes in ways you might not otherwise consider.
---
WHO IS THE CHALLENGE FOR?
---
ANYONE! But more specifically, anyone looking to:
Take a break from shopping.
Reinvest in their existing closet.
Test their style creativity.
Make their closet work harder.
Find a better sense of personal style.
Test out a capsule closet.
Establish a couple of go-to uniforms.
Pack for a trip. 10 x 10 Challenges are ideal for travellers looking to pack lighter.
---
BASIC GUIDELINES
---
PICK ANY 10 ITEMS FROM YOUR CURRENT CLOSET
STYLE THOSE ITEMS INTO 10 DIFFERENT LOOKS
USE 10 DAYS TO DO IT
HAVE FUN AND DON'T TAKE IT TOO SERIOUSLY!
I say 'guidelines' instead of 'rules' because this is meant to be a fun and helpful exercise, not a daunting or rigid task. It's all about being creative and exploring personal style. If it doesn't go flawlessly, no worries, you're still going to learn something positive from it.
For example:
You can limit yourself to only those 10 items for the full 10 days or just wear those items to work or after work.
Take the weekend off and do 10 business days.
You can try a smaller challenge first if you prefer with only 6 items over 6 days or up the ante and choose a few more items to style over a longer period (I've done 20 pieces over 20 days before).
If you're really not loving one item, just switch it out!
Loungewear and gym gear don't count unless you want it too.
Stressed about choosing shoes, no prob, let those count as extra!
Do whatever makes it feel manageable but still be sure to challenge yourself!
---
HOW TO PARTICIPATE IN THE WINTER 10 x 10 CHALLENGE
---
1 | Pick 10 Items from your closet to wear for the next 10 days.
2 | Snap some shots of your 10 pieces and your outfits as you go and post them on Instagram. It can be a flat lay, wardrobe shot or a stack to start then a daily outfit (ask a friend or the fella to snap one), a mirror selfie or you can wait and share a grid of many looks together. Whatever you're comfortable with and if that means no photos that's cool too. 
2 | Use the hashtag #SPRING10x10 so we can see what you put together! We'll be sharing our favourites from the feed during our wrap-up posts too!
3 | Feel free to include the existing hashtags #10x10Friends, #StyleBee10x10 and #UnfancyRemix if you like as well! That way they'll be in the general archive for all future challenges too.
---
CHECK OUT THE 10 X 10 CHALLENGE PAGE WHERE YOU'LL FIND MORE INFO, TONS OF EXAMPLES, STARTER TIPS AND A HELPFUL WORKSHEET TO GET YOU STARTED.
---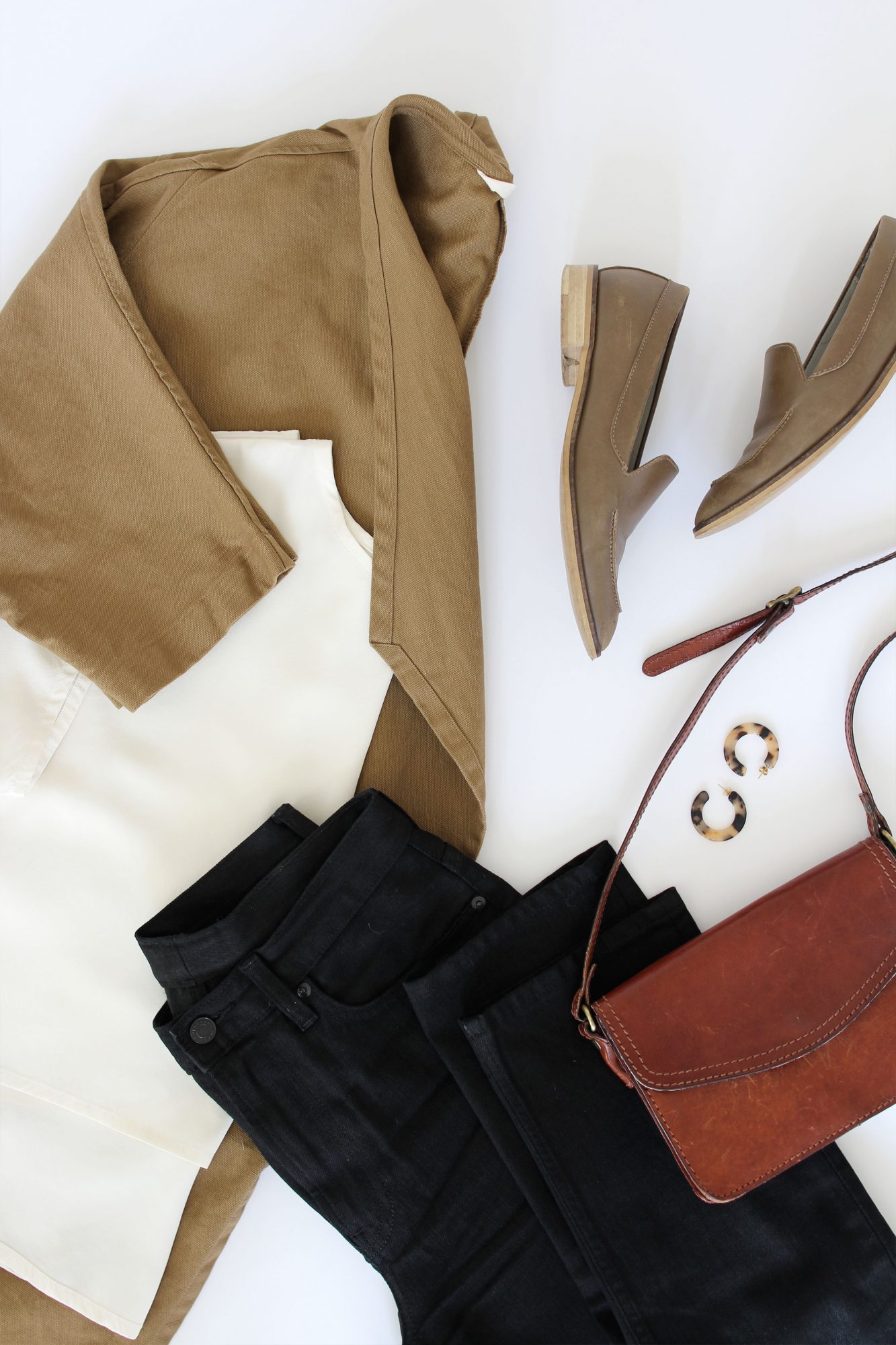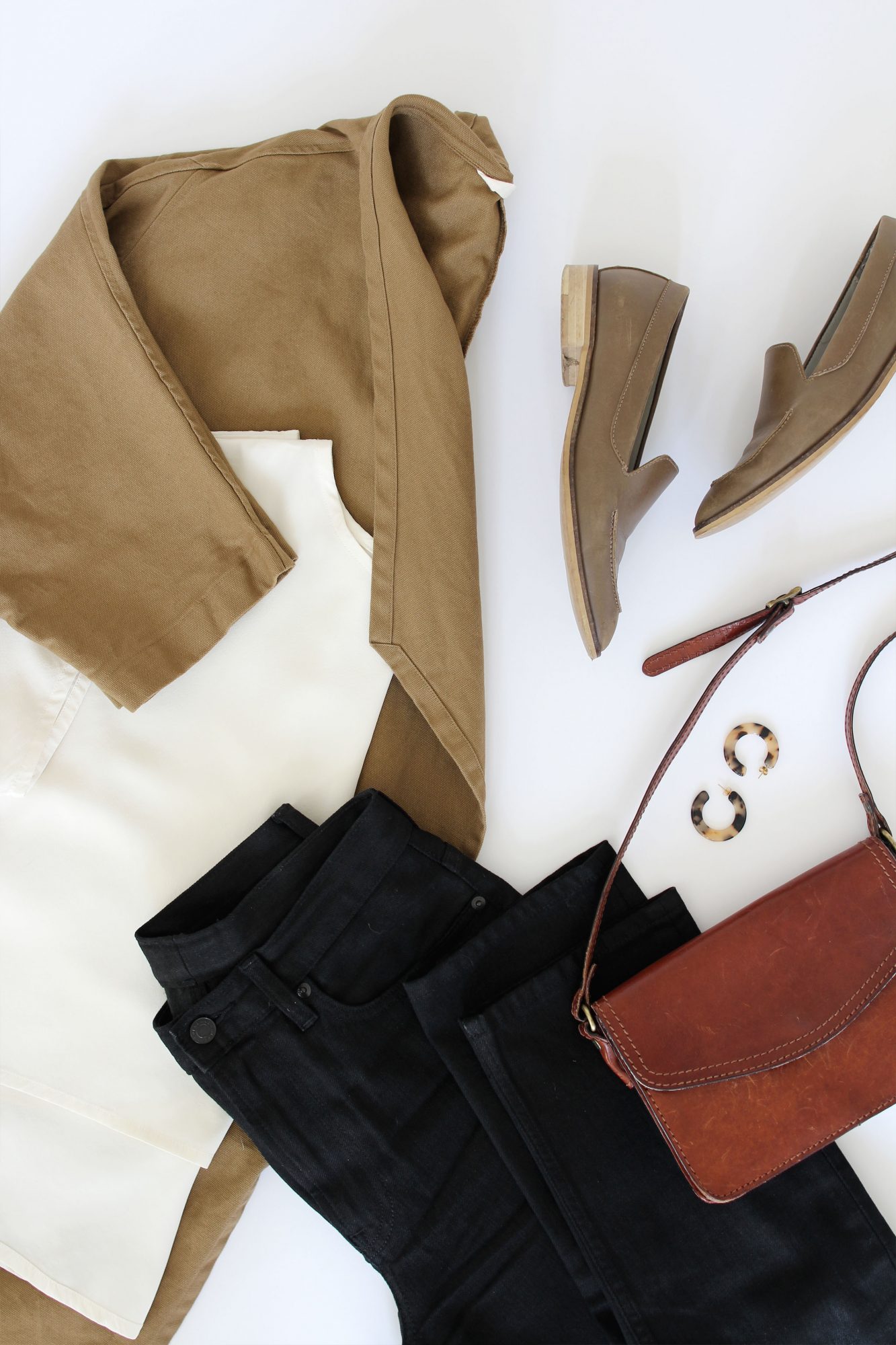 ---
TIPS ON PICKING YOUR ITEMS
---
WHAT IS INCLUDED?
---
Any core closet item you choose counts as a part of your 10 items. For example:
TOPS
SWEATERS
PANTS
DRESSES
SHOES
COATS
Keep in mind these are not hard and fast rules! If you really feel like you need all your shoe options that's OK, don't include shoes this time around and add an extra top or bottom instead. No judgement shall be passed ?
---
WHAT IS NOT INCLUDED?
---
Any accessories or jewelry you add to a look does not count as a part of your 10 items. For example:
Hats
Bags
Scarves
Necklaces
Gloves
Jewelry
Base Layers (ie: underwear, tights, bodysuits, socks etc.)
Workout Gear (unless you want to try a workout 10×10!)
PJs and Loungewear
---
BEGINNER'S FORMULA
---
If you're a little bit stumped as to where to start with your items consider this formula:
2 Pairs of Shoes (1 heel + 1 flat)
4 Tops (Consider pieces that layer well like a fitted long-sleeve, a button-down and a cardigan)
1 Dress
2 Bottoms
1 Top Layer (like a coat or blazer)
A few other tips for choosing items:
Check the forecast and pick practical items for the weather.
Consider your activities for the next 10 days.
Don't give yourself too much time to choose. Try to make the call in under an hour. But if you need more time, that's cool too!
Go for an easy, lean colour palette. Think neutrals, denim, white, black and grey with 1 or 2 colours.
Reach for your favourites first and then add one or two pieces you'd like to wear more or aren't sure about.
Avoid Dry Clean Only items or pieces that are a pain to launder so if need be you can refresh them during the 10 days.
---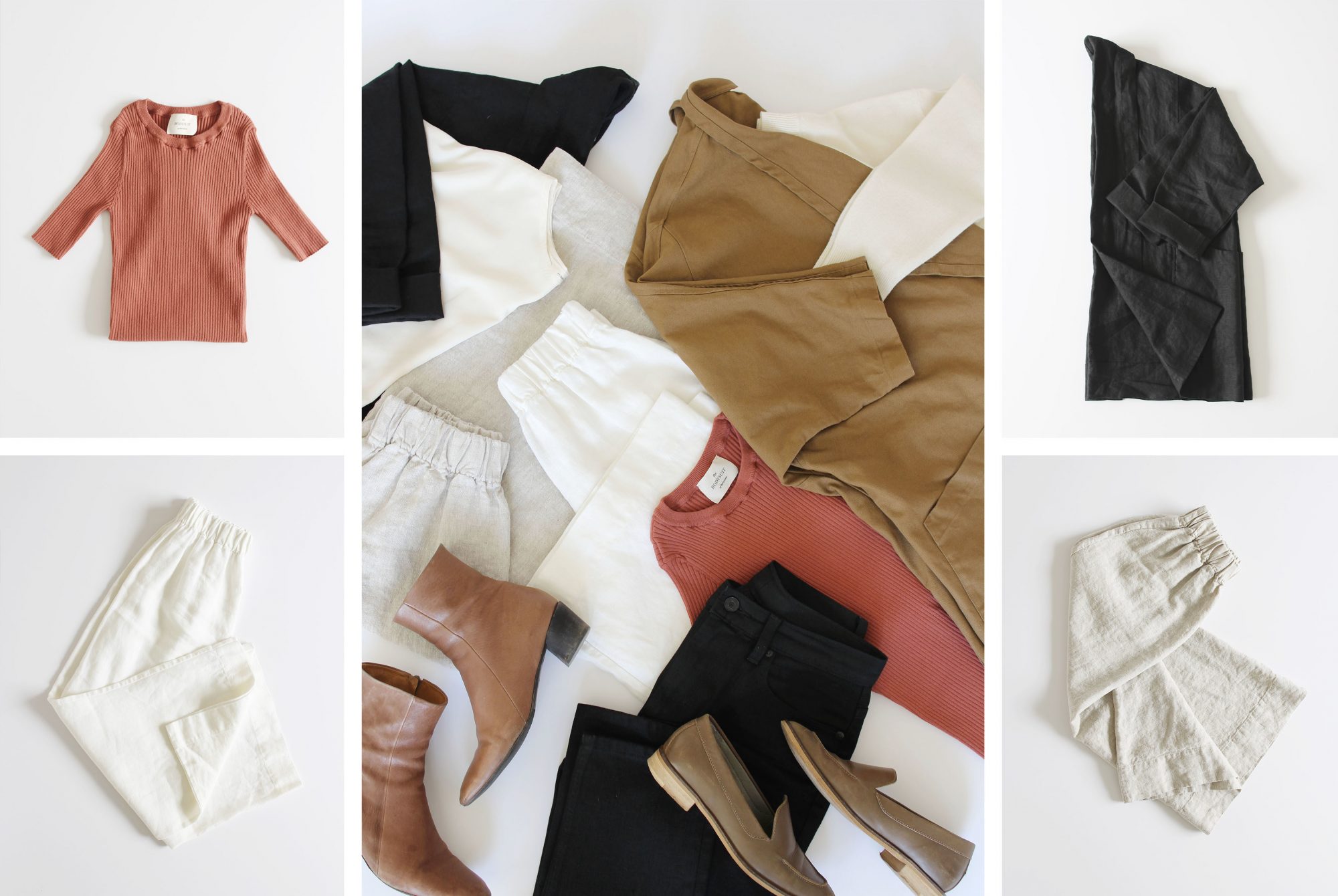 ---
SO WHAT DO YOU SAY? CARE TO JOIN US? 
WE HOPE SO!
---
I'LL SEE YOU ON INSTAGRAM TODAY WITH LOOK #1! 
DON'T FORGET TO SEE WHAT MY CO-HOSTS CAROLINE & LIZ PICKED FOR THEIR 10 ITEMS!
---
This post is not sponsored but contains affiliate links. When you shop via the links above I may make a small commission from a sale. Thanks for supporting Style Bee! All opinions are always my own.