Happy Friday! Ready for a new installment of 1 Formula – 3 Ways? I hope so! I love putting together posts for this series because it really forces me to play with my existing options and look for themes throughout my closet. After a 10×10 Challenge I'm often itching to get my shop on and I found this exercise very helpful in keeping my spending under wraps. Especially since it's sale time!
This 'formula' or 'uniform' approach is also a great way to pack for a trip or plan looks for a work week. For the most part with this method all the items are interchangeable so you can simply swap pants, tops or shoes around for a totally different look and make way more than just 3 outfits. So easily!
Since the weather has been pretty erratic here lately, I've been able to get away with adding a light jacket or blazer most days and if I get hot I just leave it off. These looks aren't too far off the May Formula but they're slightly adjusted for a laid-back summer vibe with sandals, jeans and easy t-shirts getting involved.
So let's take a look at this simple formula in action!
LIGHT JACKET + FITTED TOP + HIGH-WAIST PANTS + BLOCK HEELS
---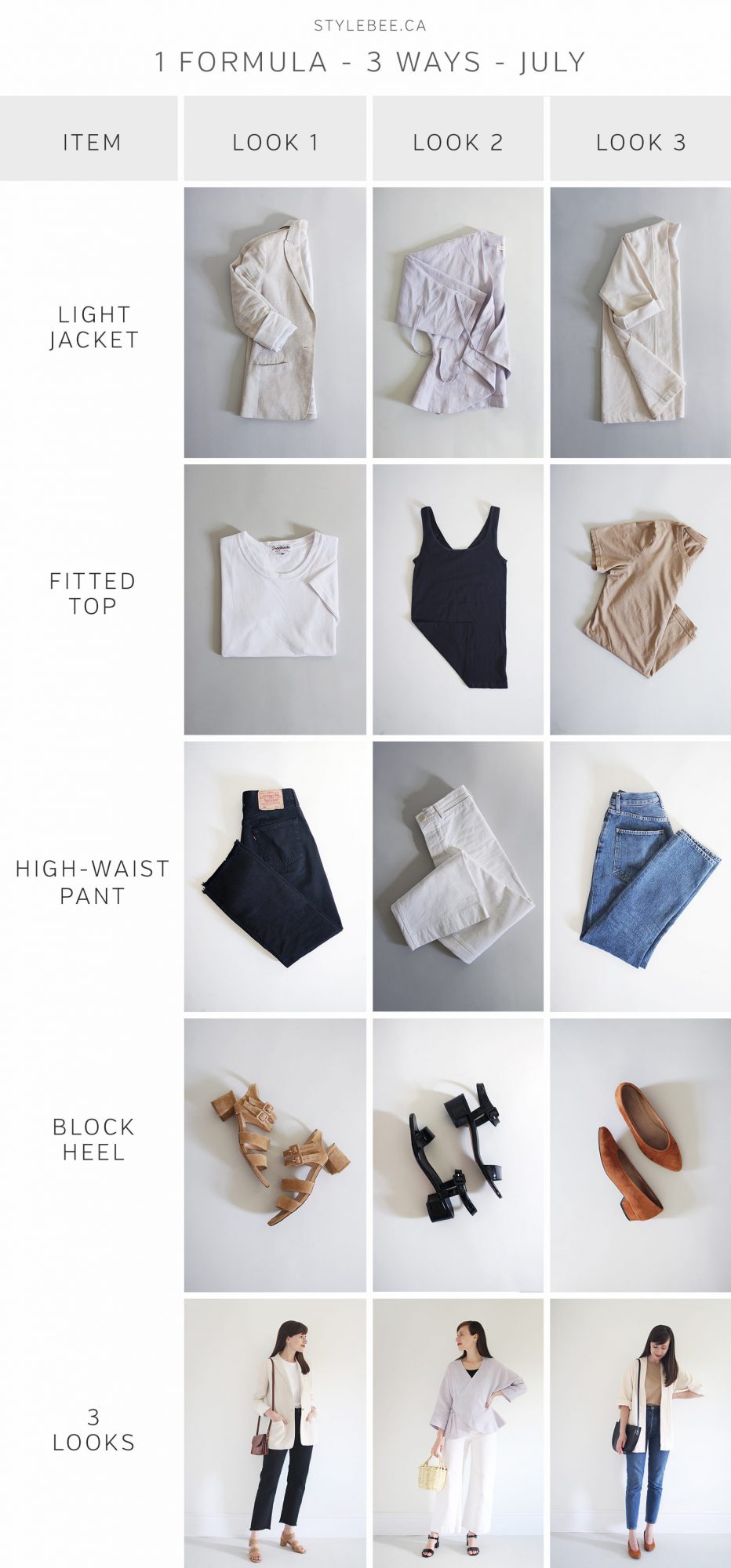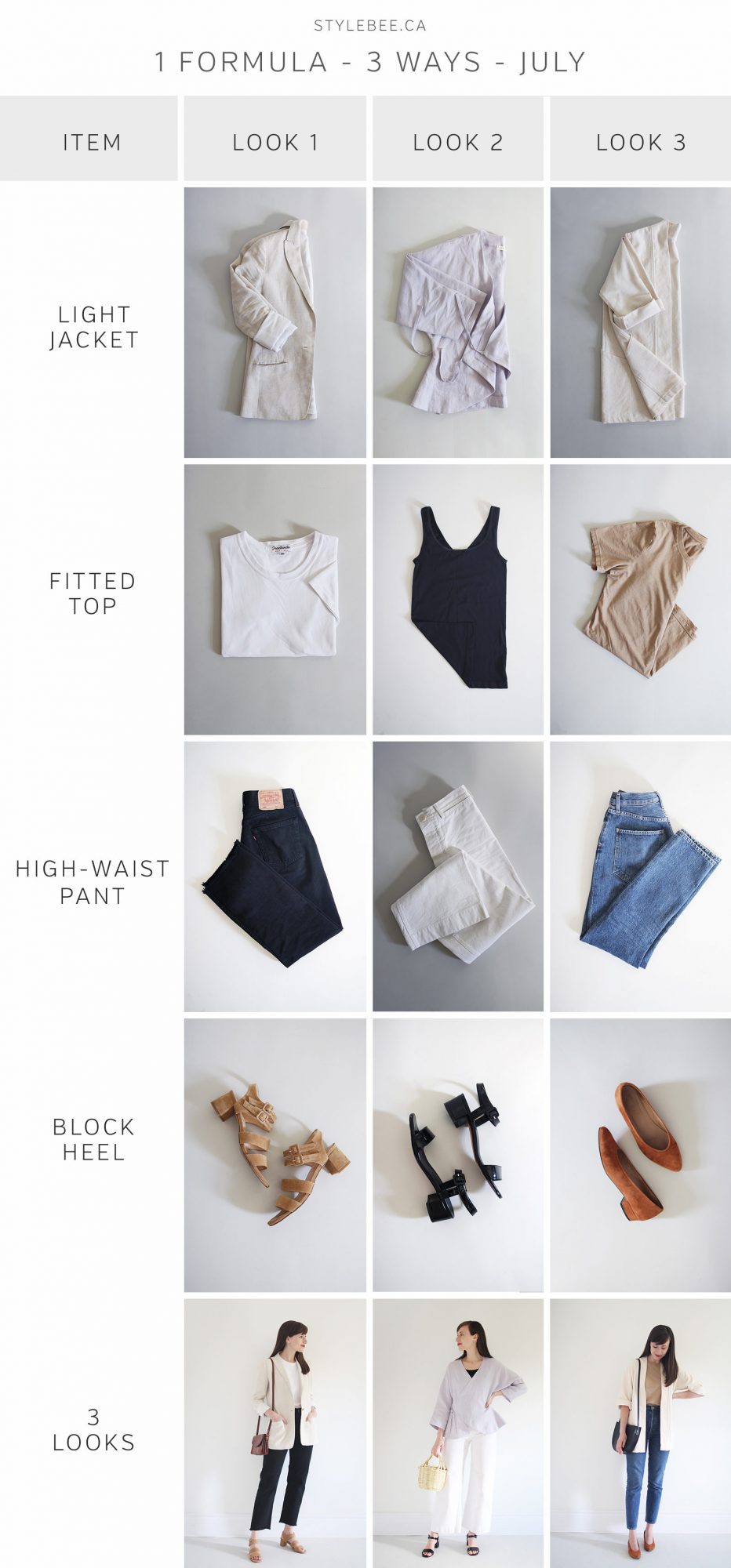 ---
LOOK 1 
---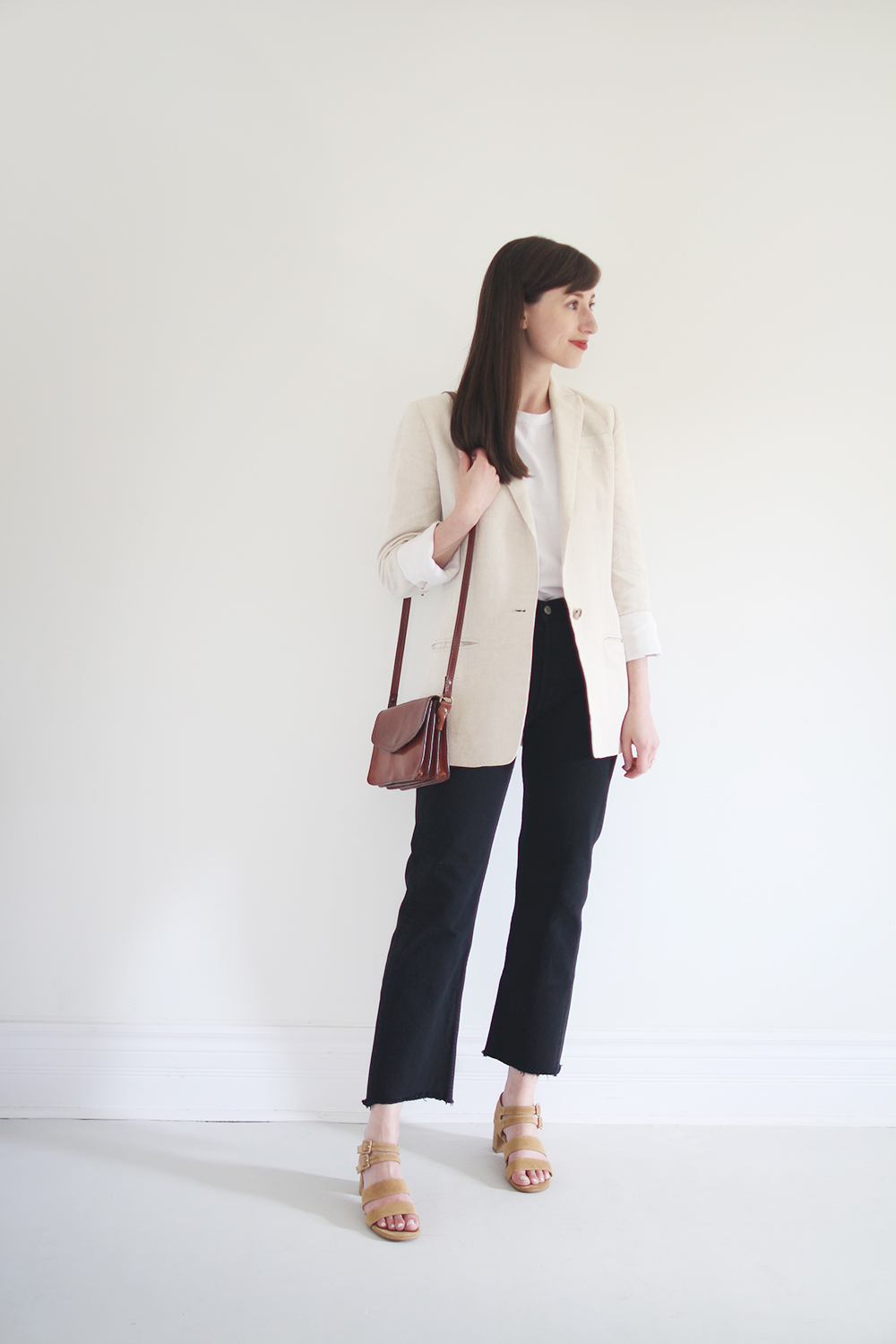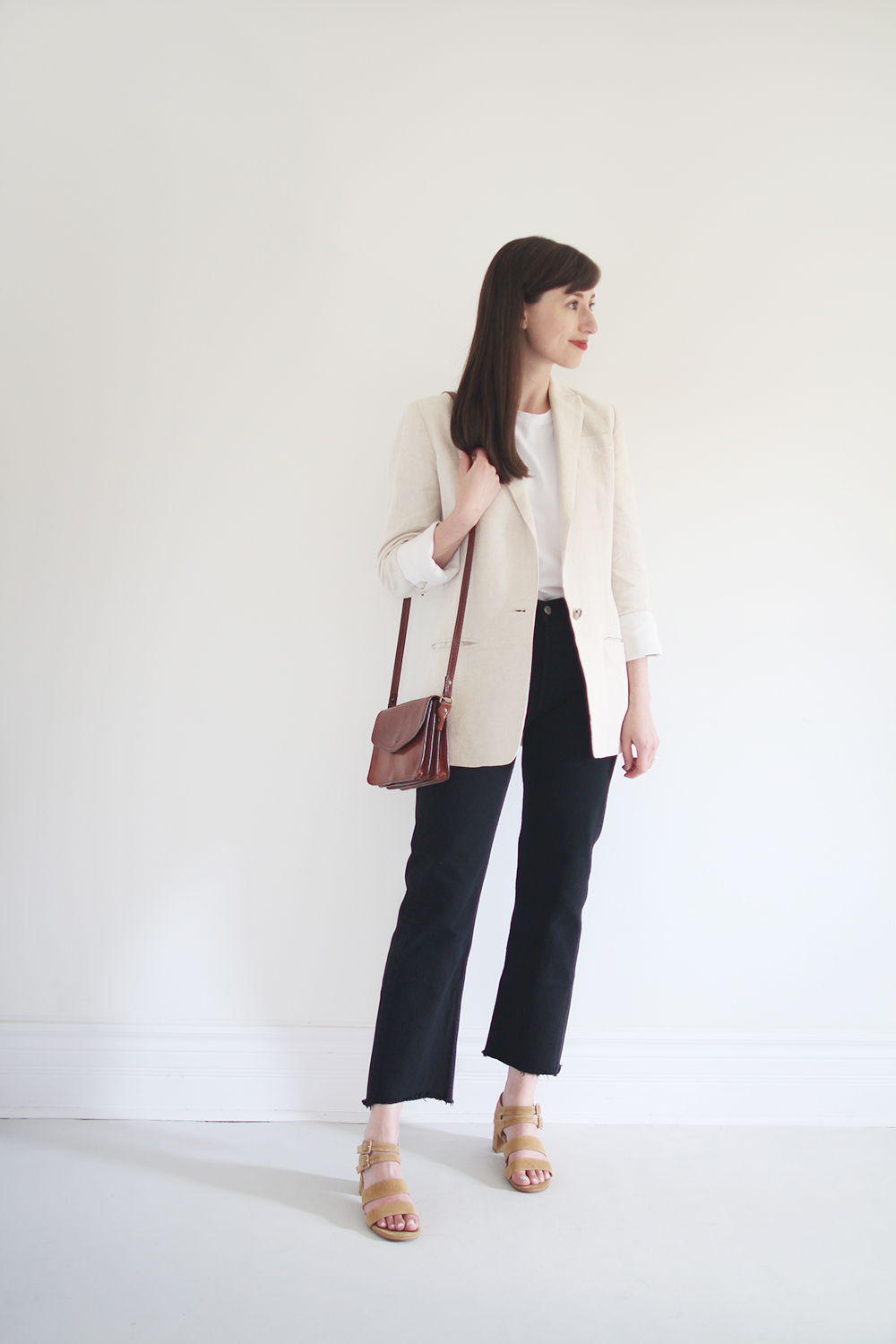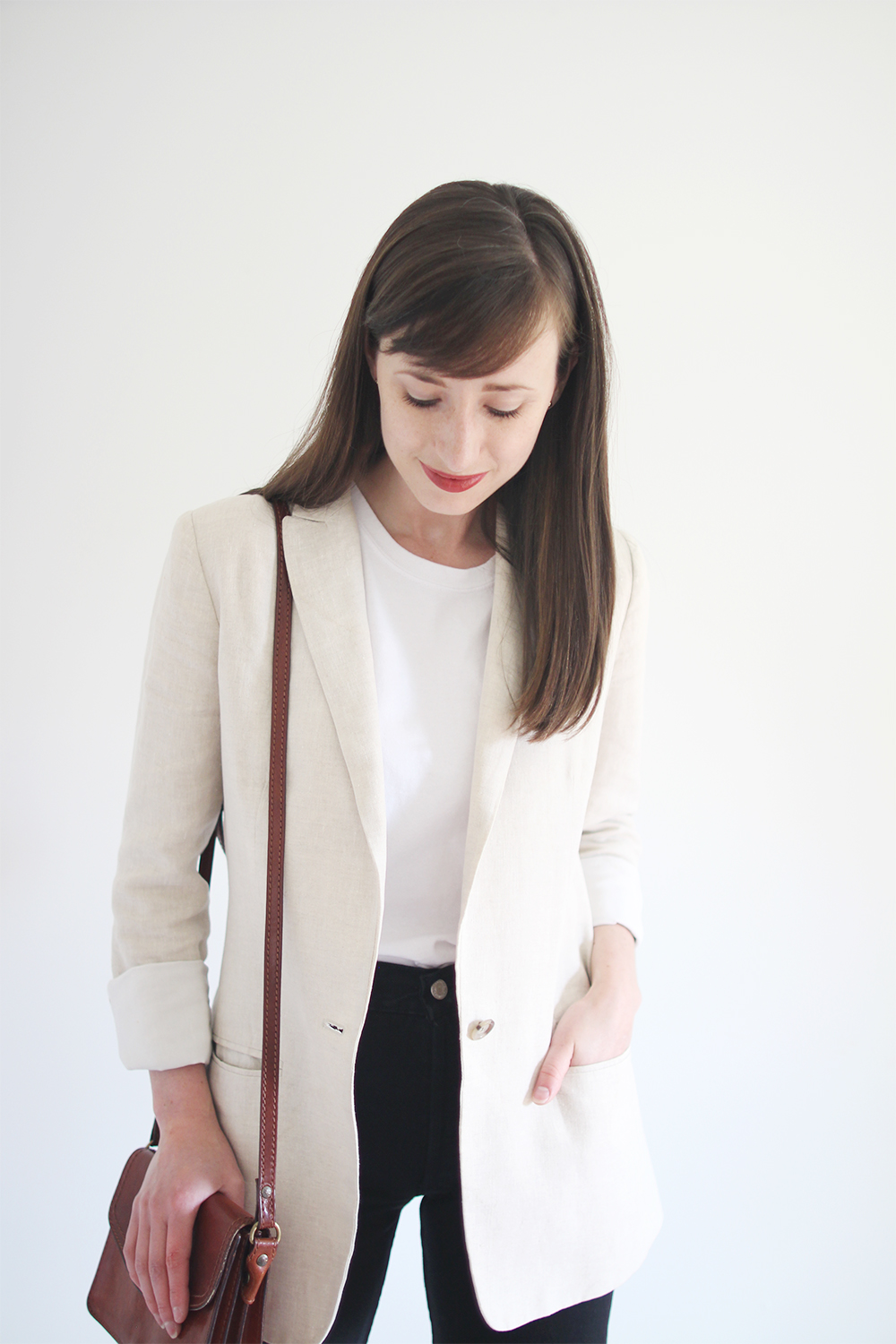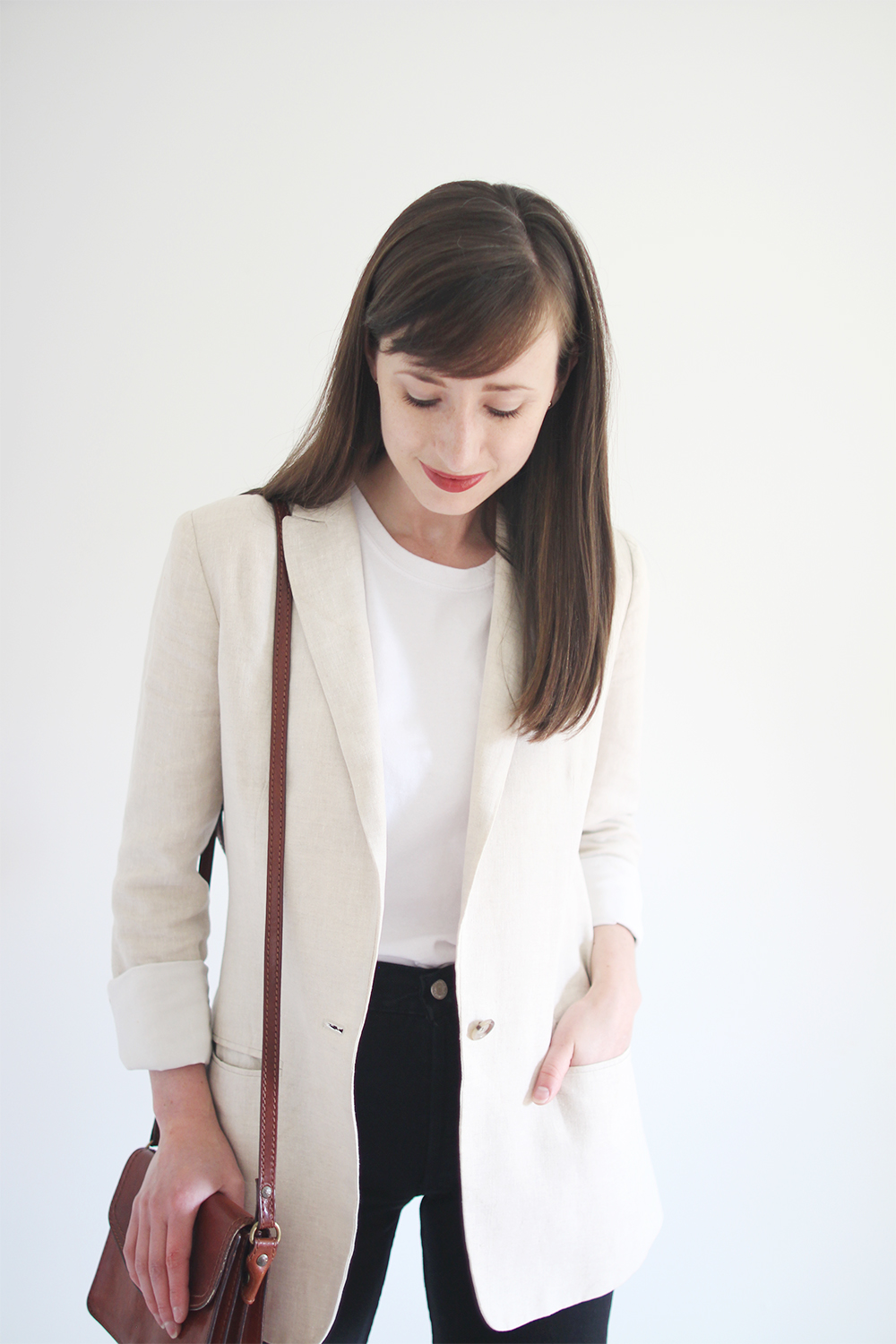 ---
THOUGHTS ON LOOK 1
---
THE FORMULA BREAKDOWN:
---
This look is not particularly ground breaking for me but I love it just the same. It's definitely one of my go-to looks for just about any day during the week right now. I love it for casual meetings, lunches out and especially for date night (which I wore it to on Tuesday). It's just an easy classic that never lets me down.
It's no surprise that I love this colour palette and always feel good in lots of neutrals with slightly unexpected shapes and details. Plus, a base involving a basic tee and vintage jeans can pretty much do no wrong as far as I'm concerned. Adding a fun shoe takes things up a notch and suddenly the look goes from classic to cool.
---
KEY STYLE TIP
---
GO AHEAD, REST ON YOUR STYLE LAURELS. | You know the saying, 'Don't rest on your laurels.' which essentially means, to stop trying because you're satisfied with what you've already achieved. In most cases in life, I agree we shouldn't get complacent, but when it comes to personal style I think we can give ourselves a pass now and then and just go with what we know works. All the best style icons have found a few formulas that worked for them and used them over and over. I'm certainly not one to doubt Audrey, Grace, Jane or Katharine, are you?
Next time you feel like you 'should' try something new or you're feeling meh about your options think about the look you feel best in. Wear it, enjoy it, repeat! 
---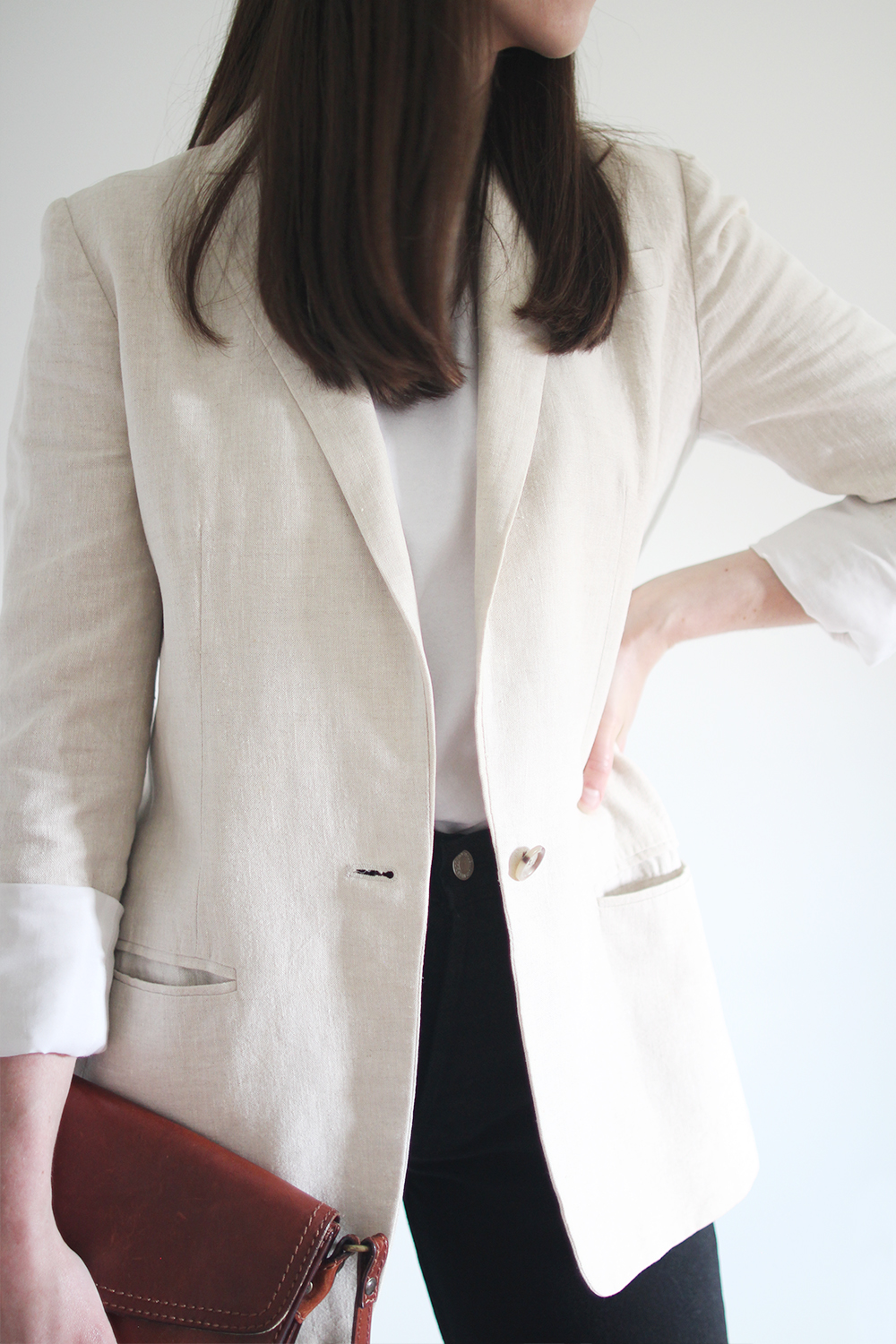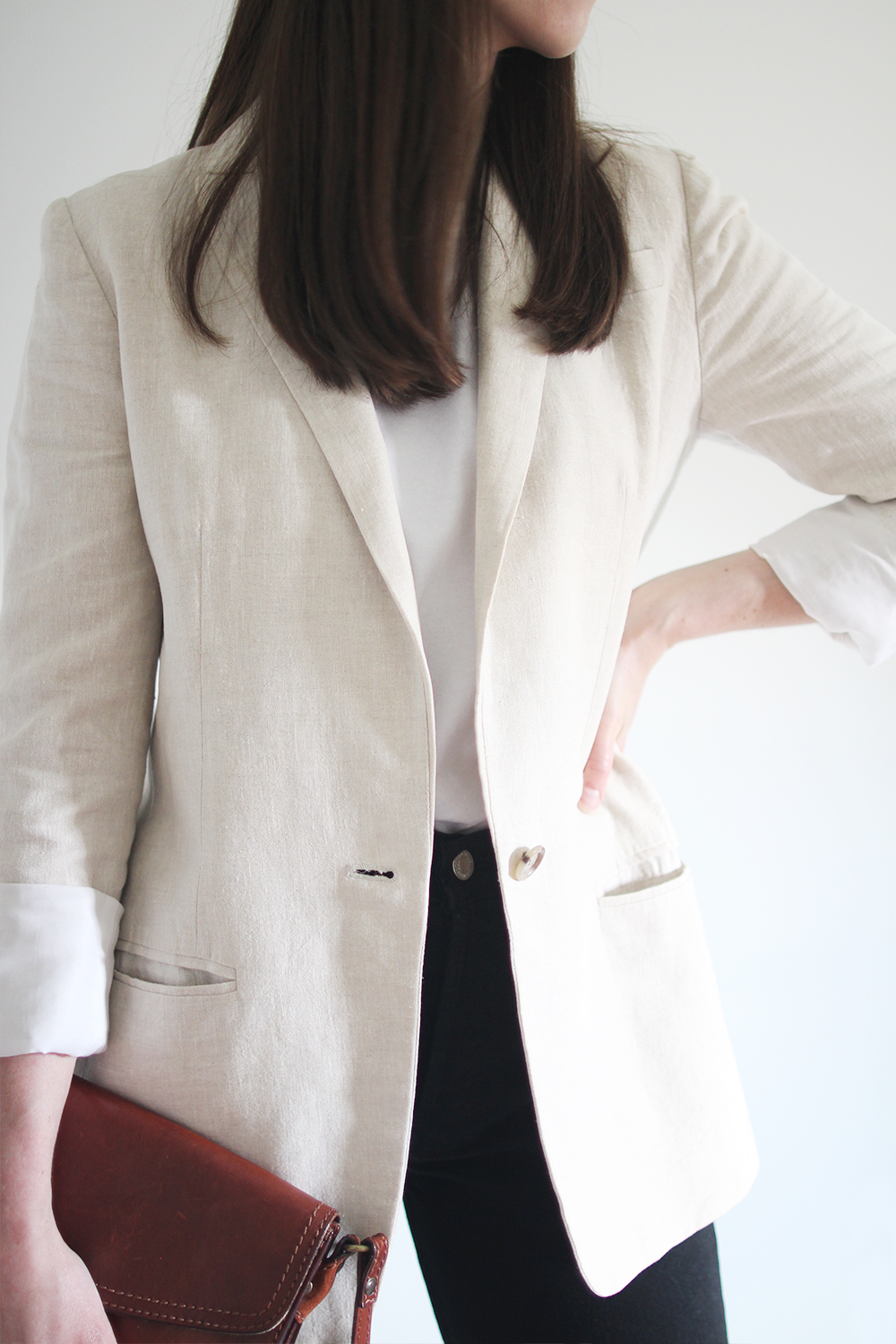 ---
LOOK 2
---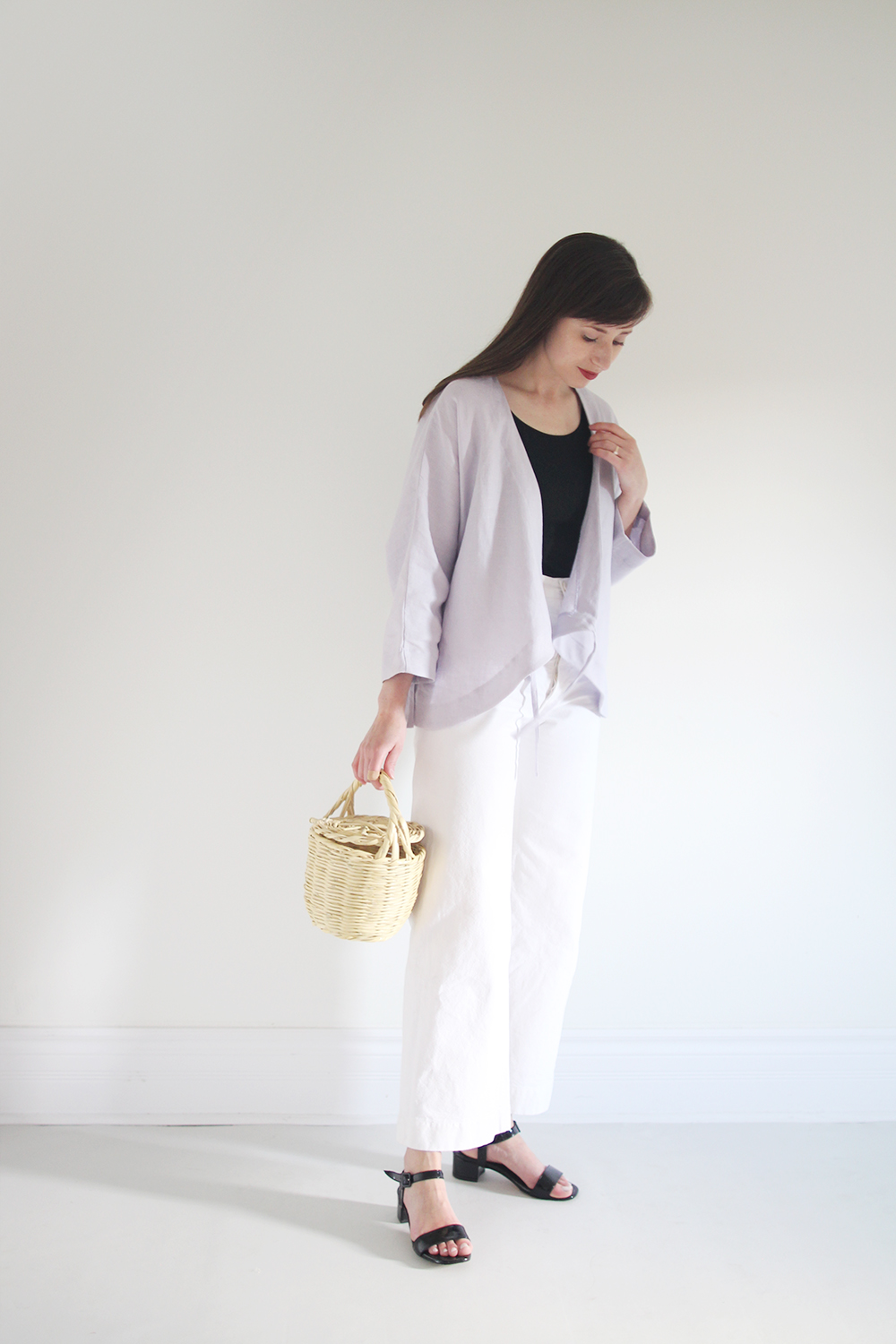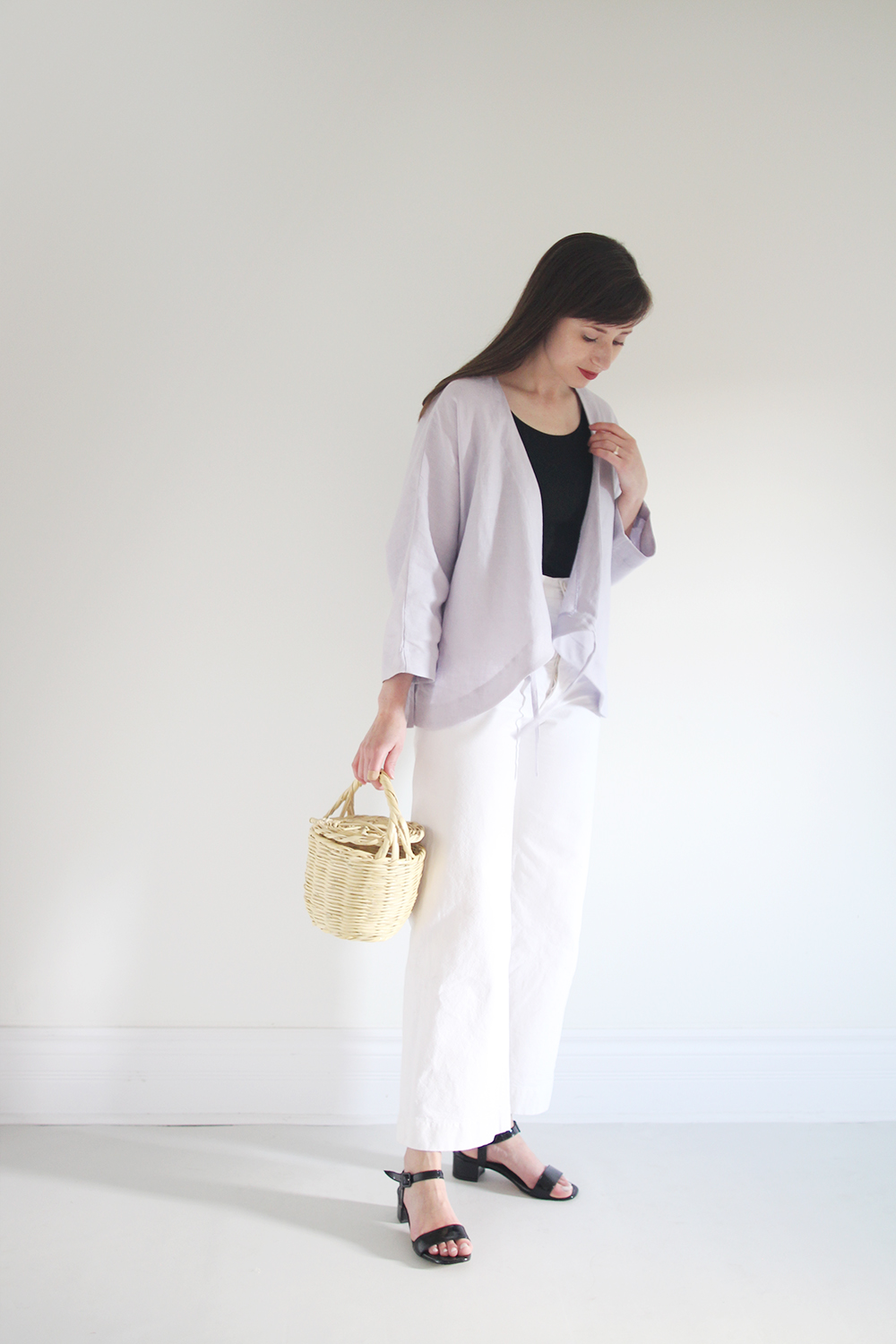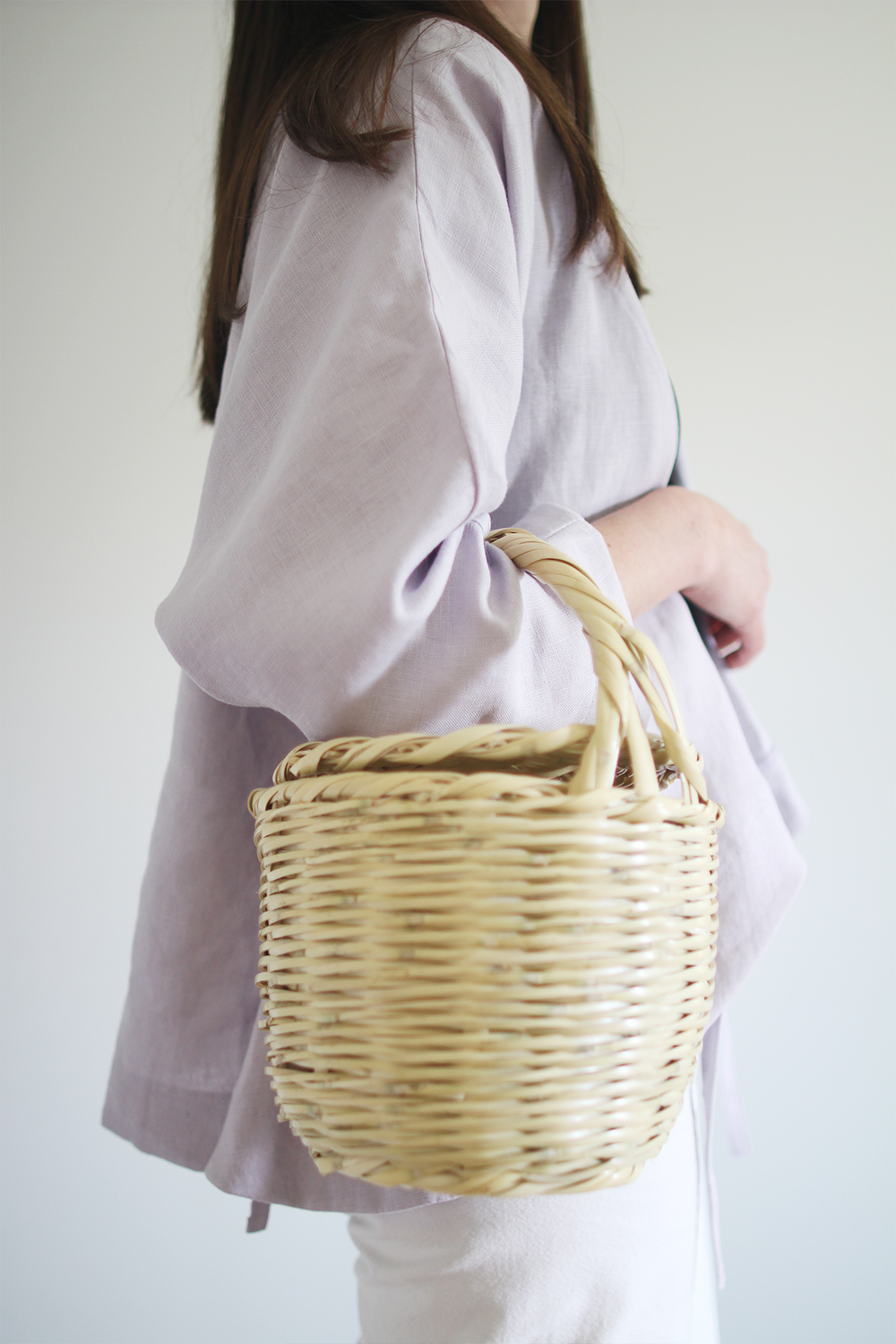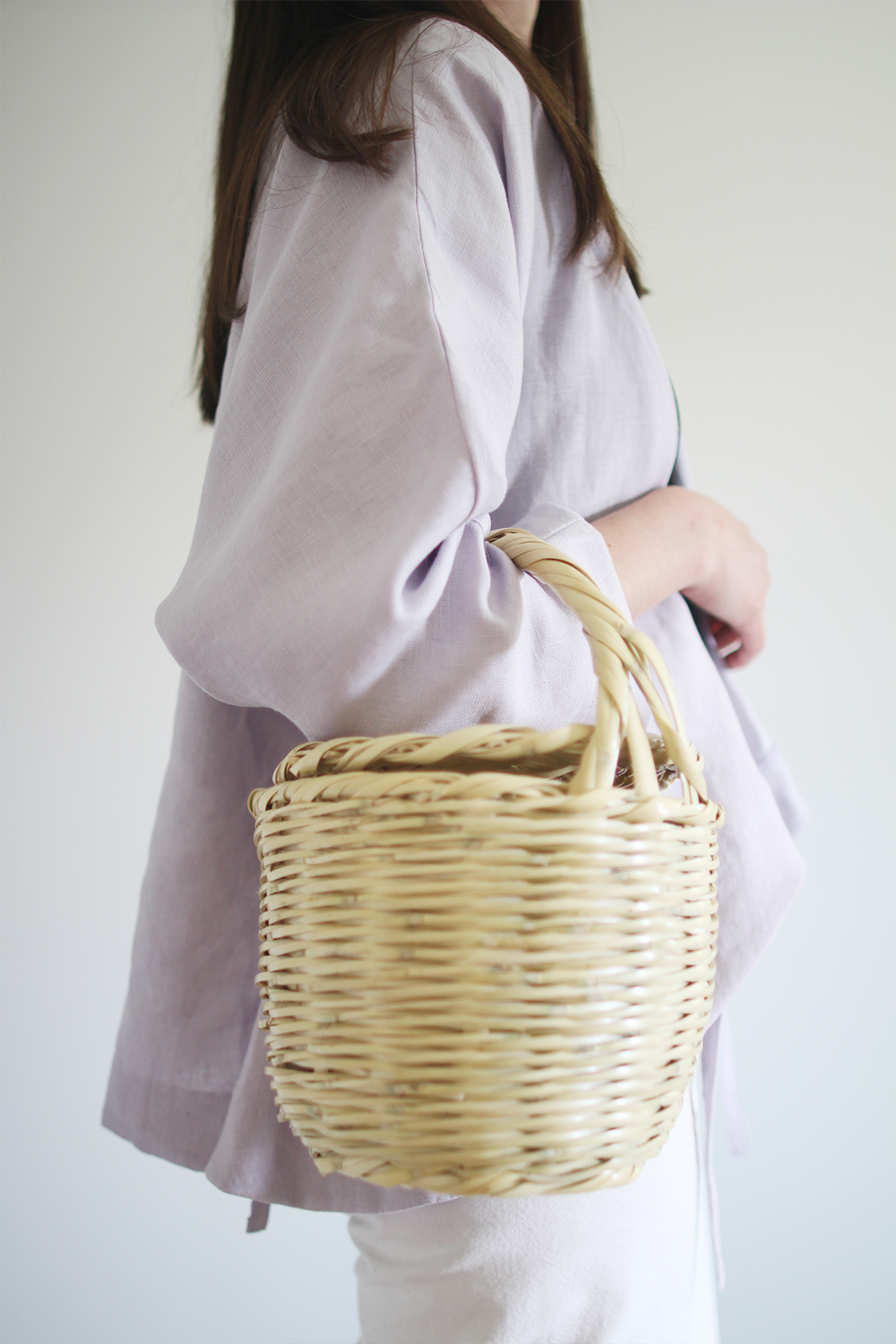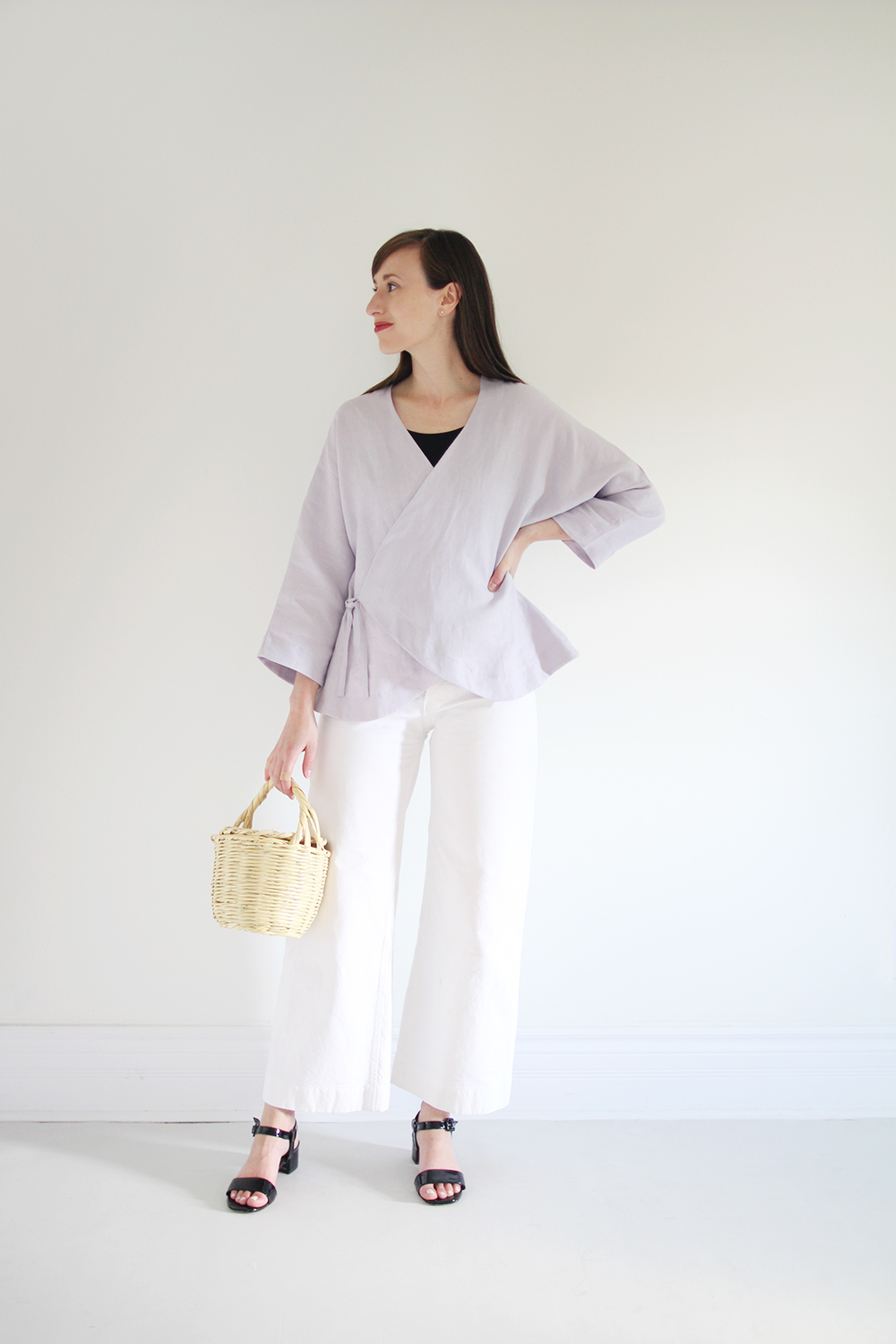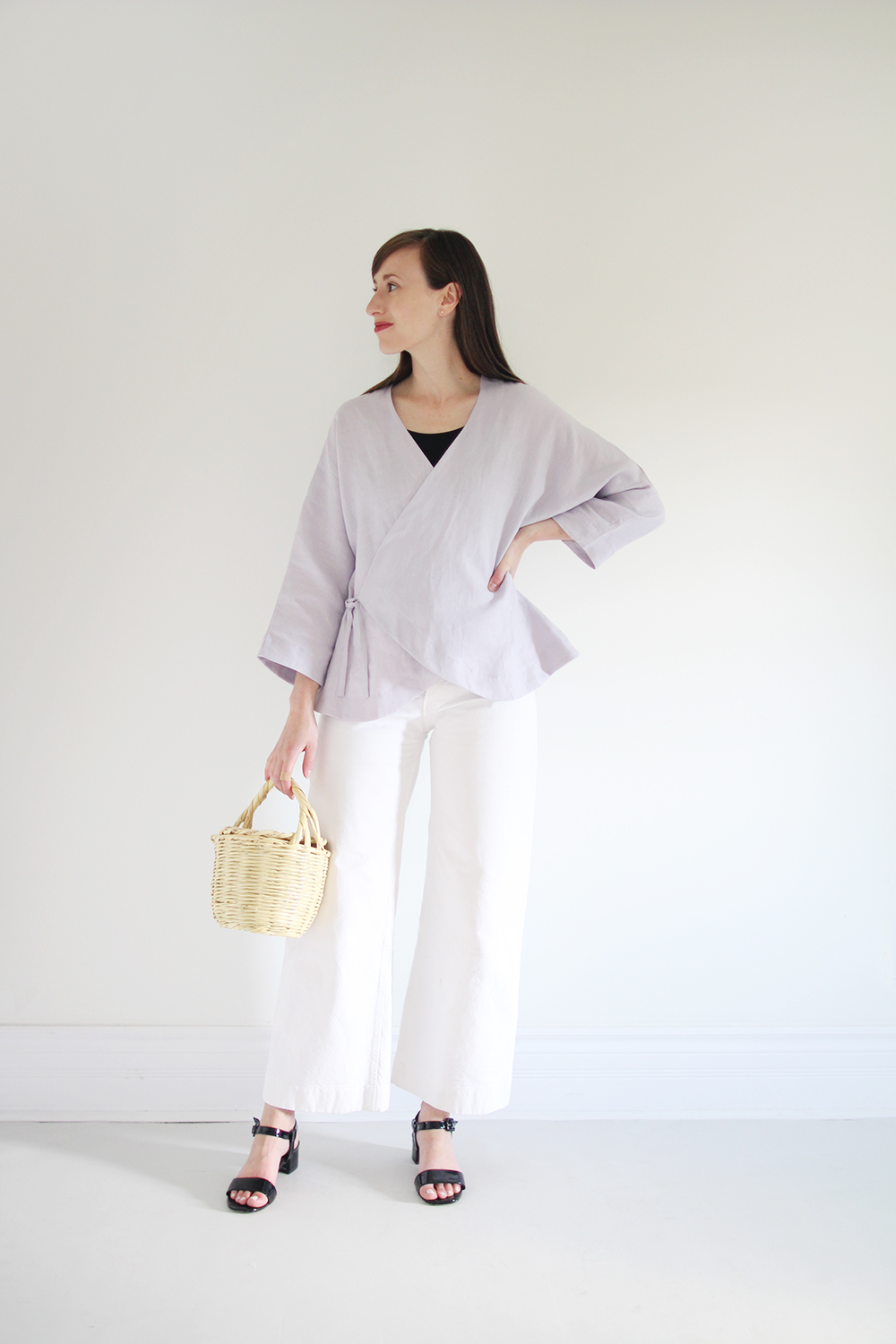 ---
THOUGHTS ON LOOK 2 
---
THE FORMULA BREAKDOWN:
---
If you follow my stories on Instagram you may recognize this look from last weekend since I wore it out to brunch on Saturday. It was the first one that spurred this formula to life. It had been a while since I wore my white Kamm pants and I knew I had to try pairing them with this incredible wrap coat my friends at Garmentory treated me to (from their epic exclusives collection). It turned out to be the perfect brunch get-up for the morning after a friend's wedding. It was chilly and grey outside but this one had me feeling all the summer feels! A pretty colour and a cute basket will do that I suppose.
I love how this jacket can be worn open for a relaxed vibe or tied up to create a beautiful shape that's sculptural and elegant. I pair it with my wide leg pants for a statement look but paired with black or white cropped skinnies would look great too. Of course, I couldn't help but add a couple of doses of black through my sandals and tank and my basket bag was the perfect touch of texture to top it off.
Come to think of it, this one would be great for showers (bridal or baby!), trips to the antique or farmer's market, drinks with friends and totally appropriate for work meetings or date nights. Definitely a number to repeat!
---
KEY STYLE TIP
---
PAIR A NEW COLOUR WITH OLD STANDBYS | Truth be told I was both ecstatic and apprehensive about this lilac colour. I was instinctively drawn to it (despite my usual aversion to purple) but a bit unsure about how I'd integrate it into my wardrobe. So, to ease it into my closet I opted to pair it with the most neutral of neutrals, black and white. Thanks to that decision I immediately felt right at home in this new-to-me tone and started to see lots of ways it would work with other pieces in my currently closet.
When you're unsure of what to pair a particular colour with, opt for black and white to start. Then you can start integrating other accents and tones as you get more comfortable. Or you can just stick with black and white to keep it simple and let the one colour take the stage.
---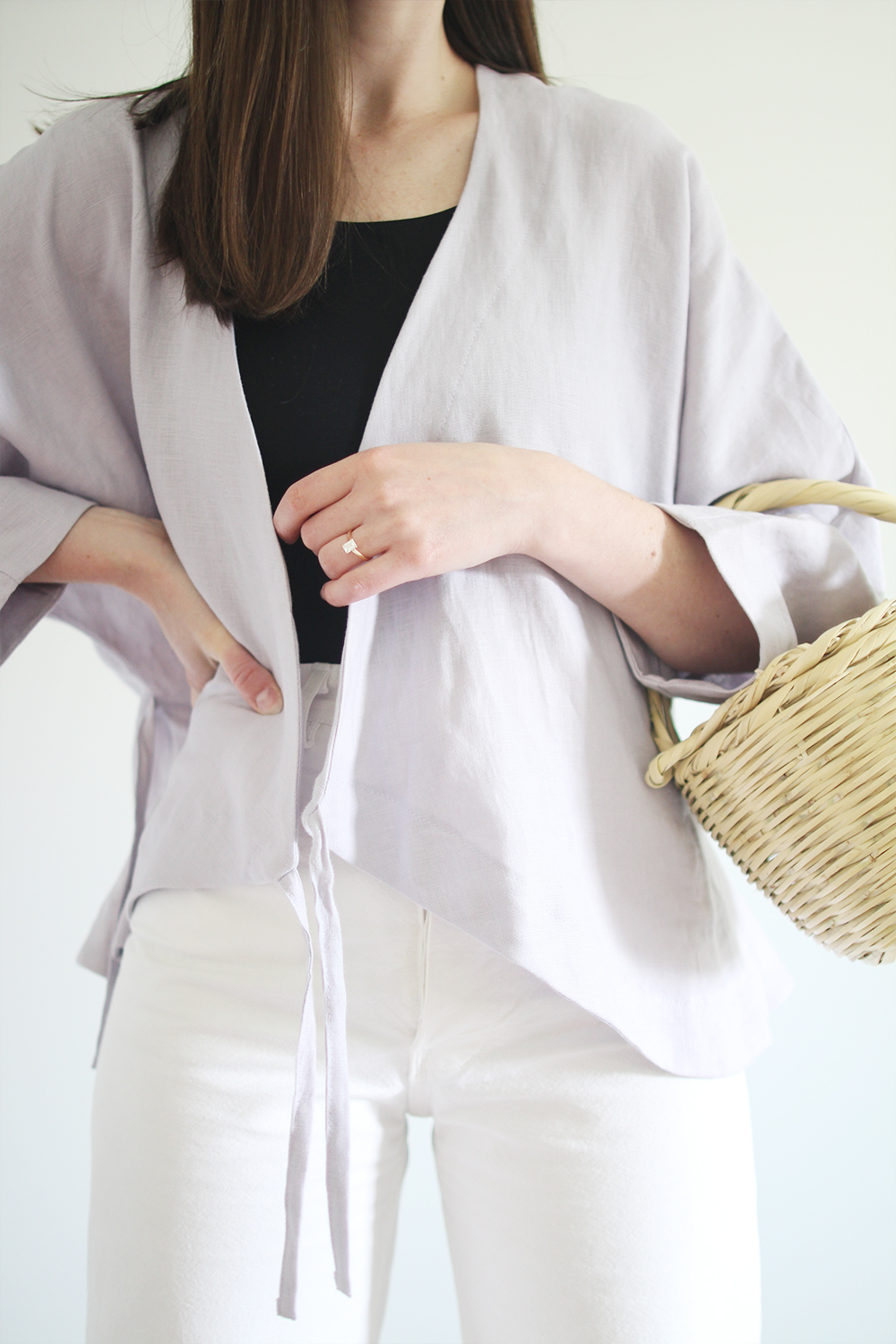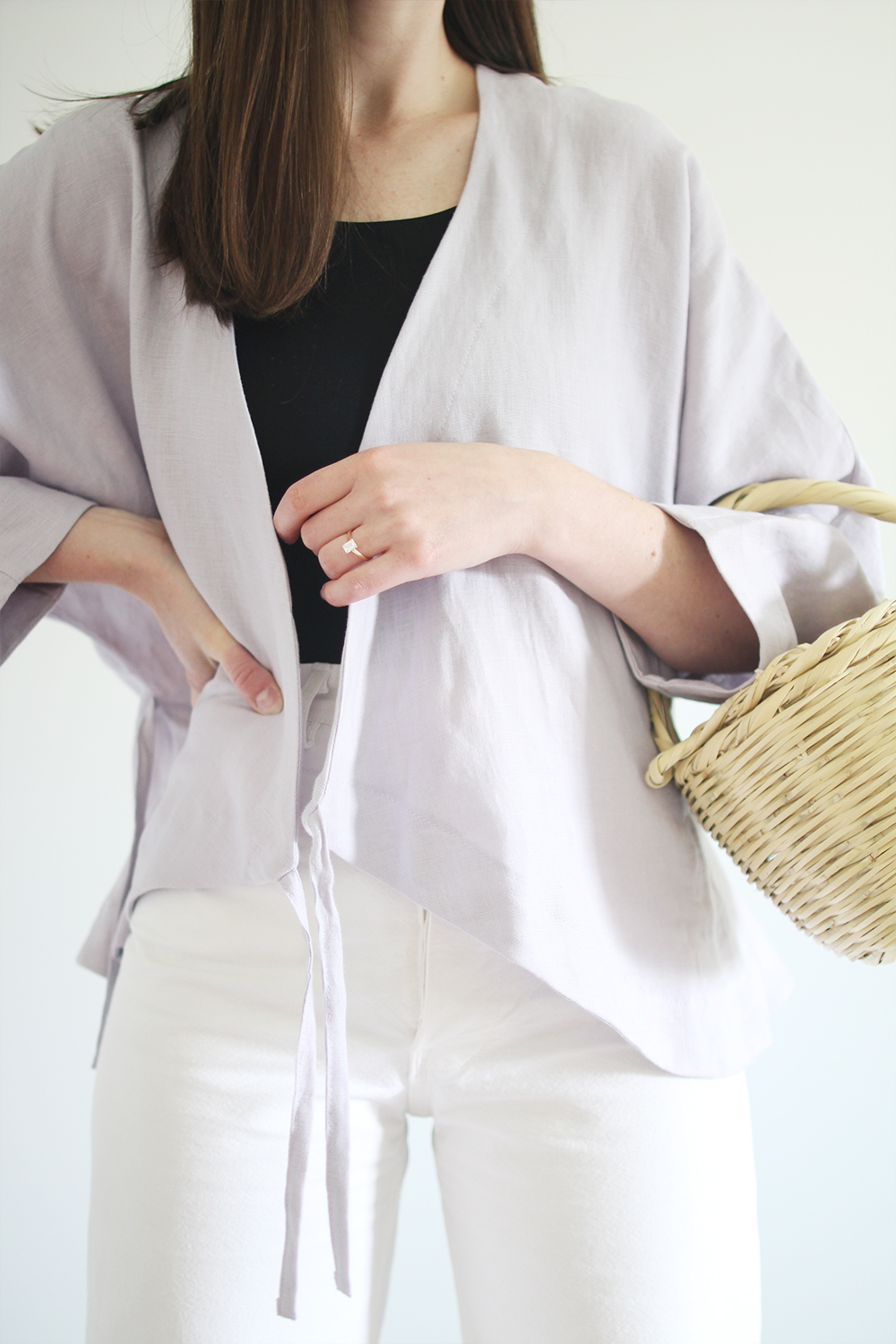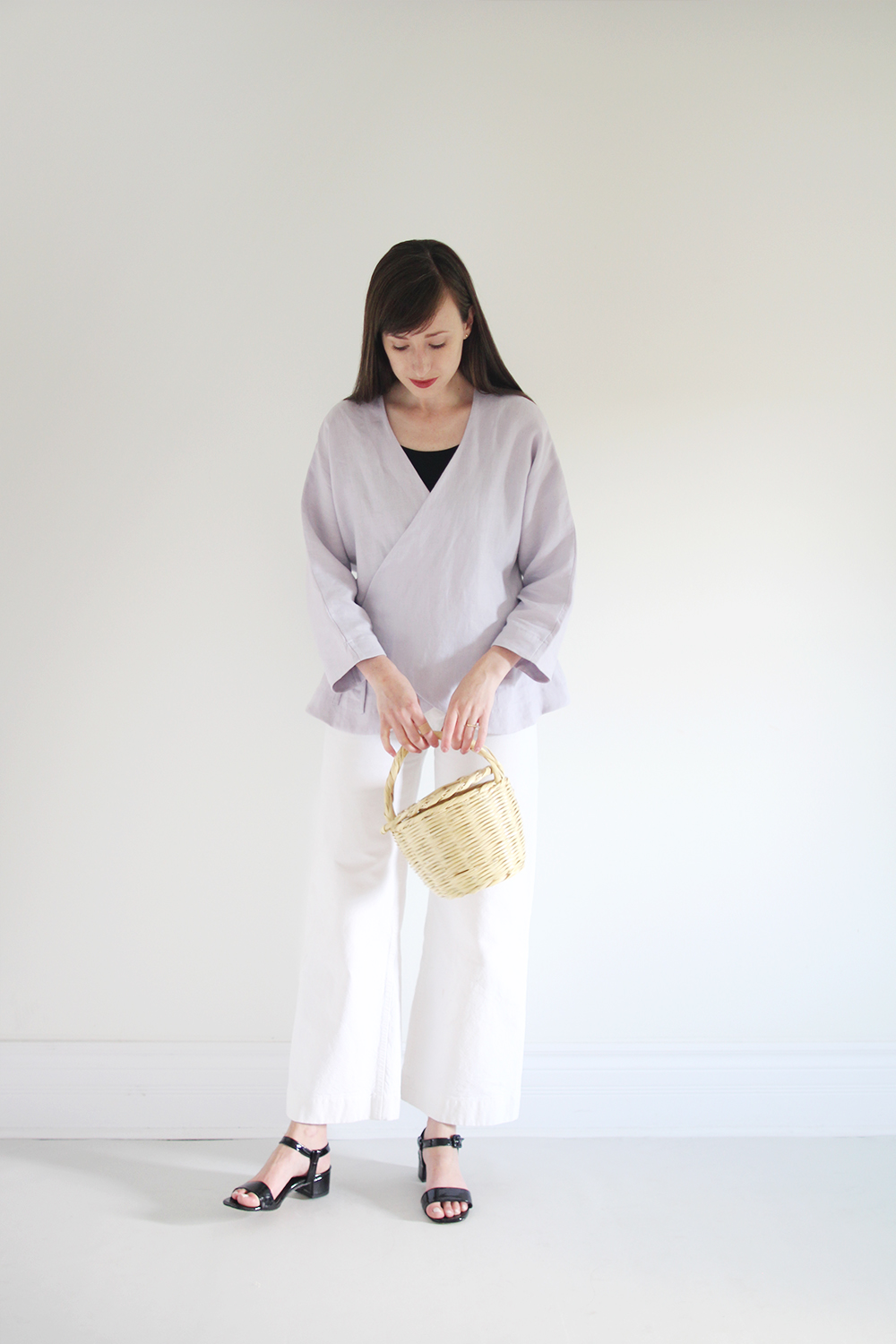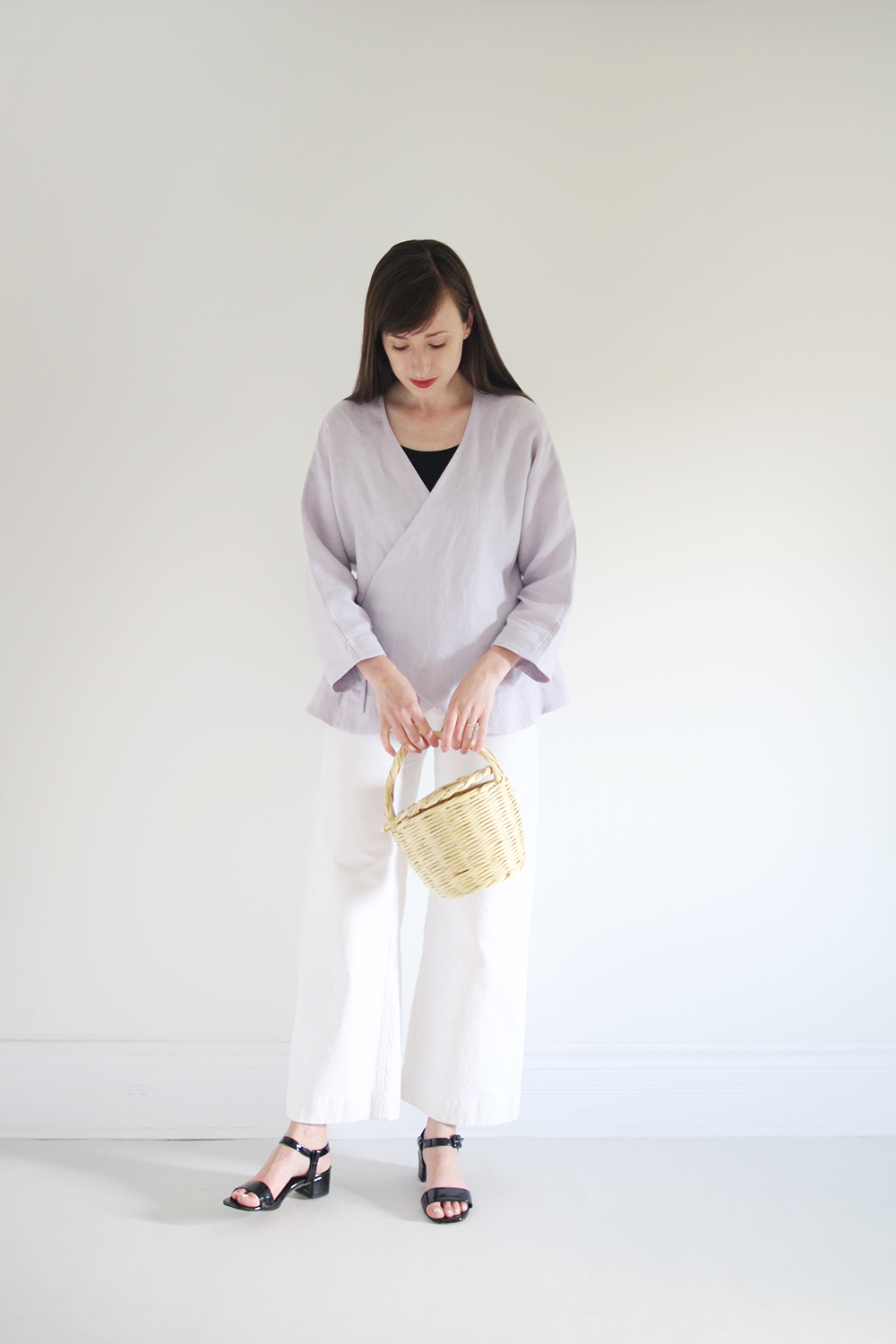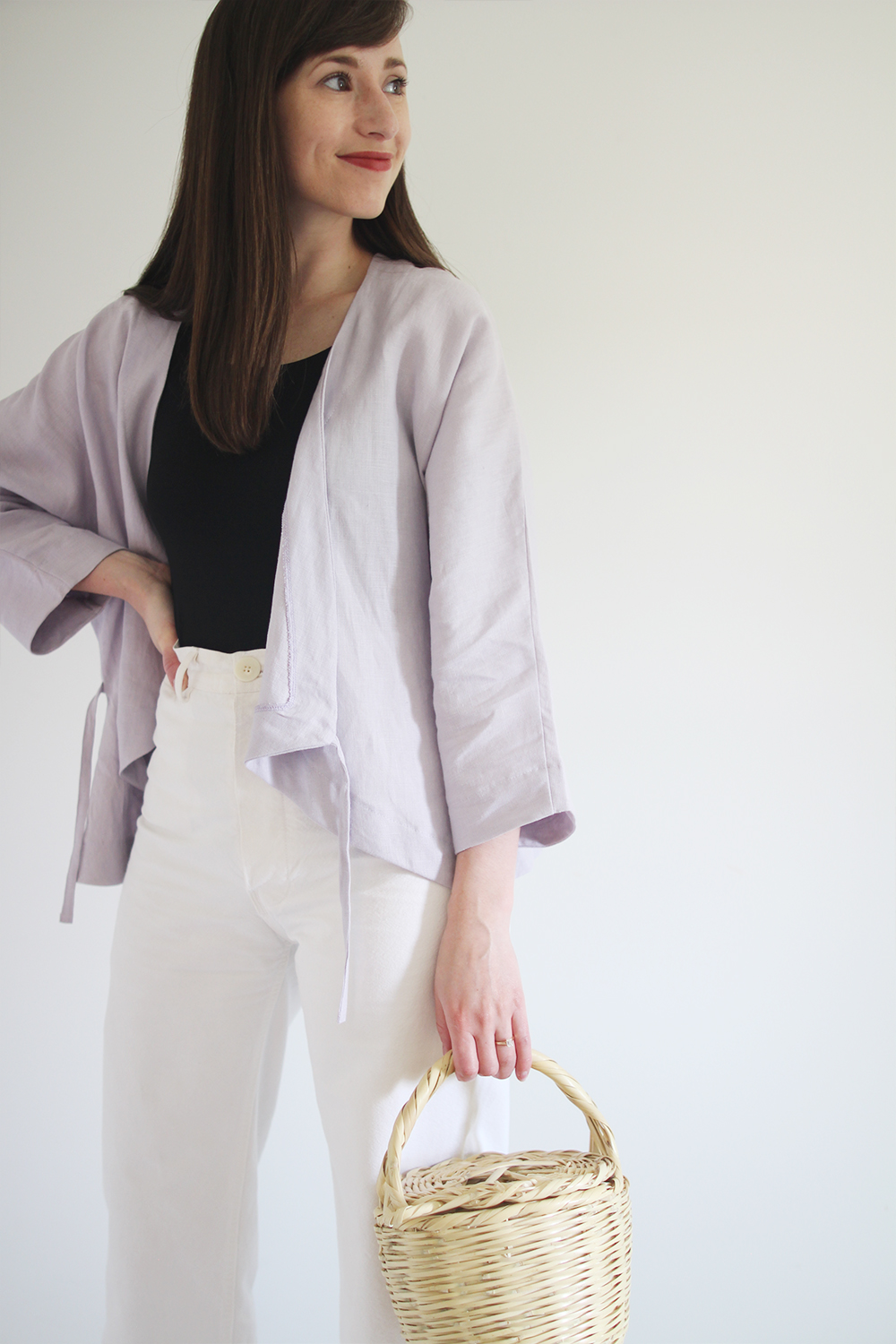 ---
LOOK 3
---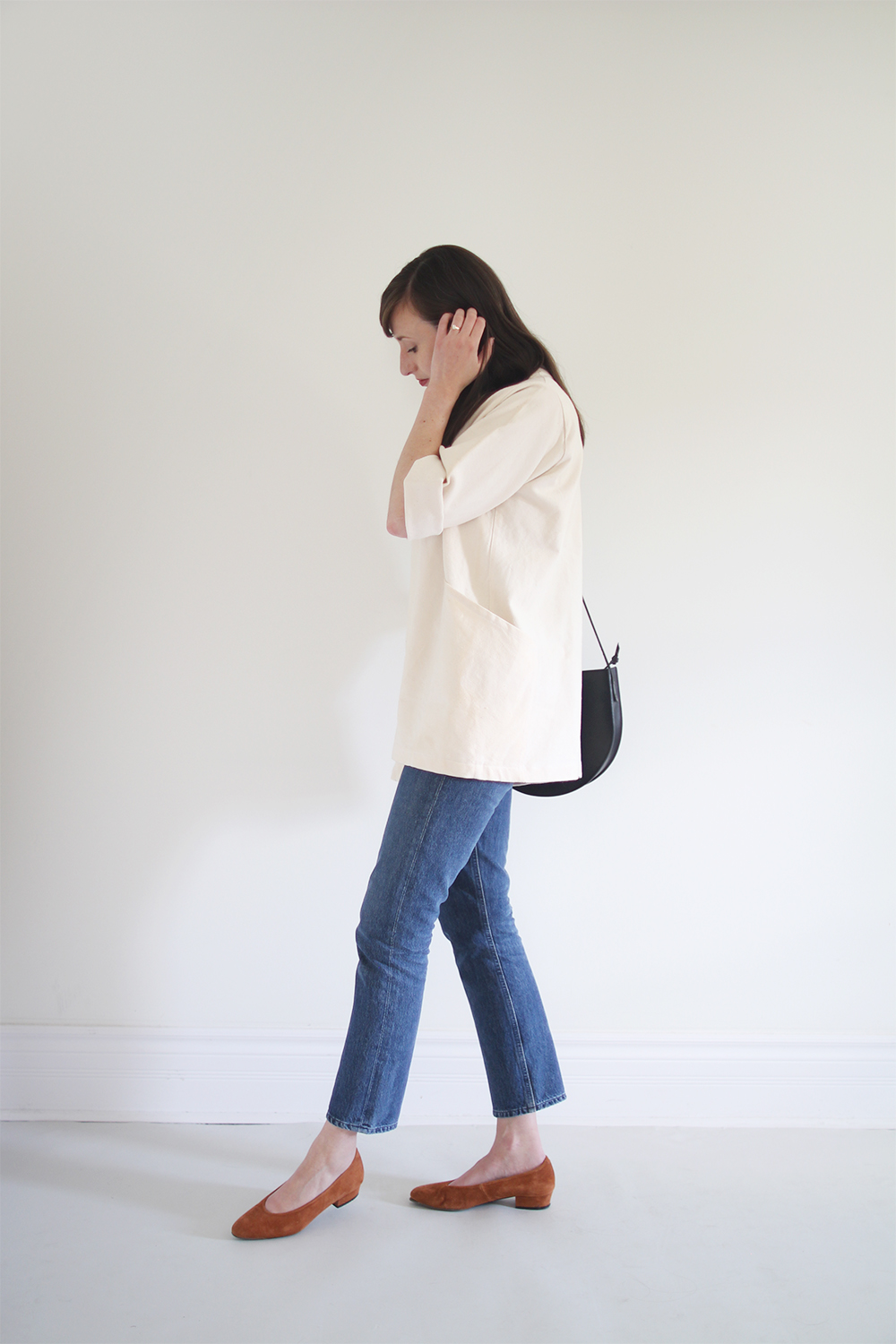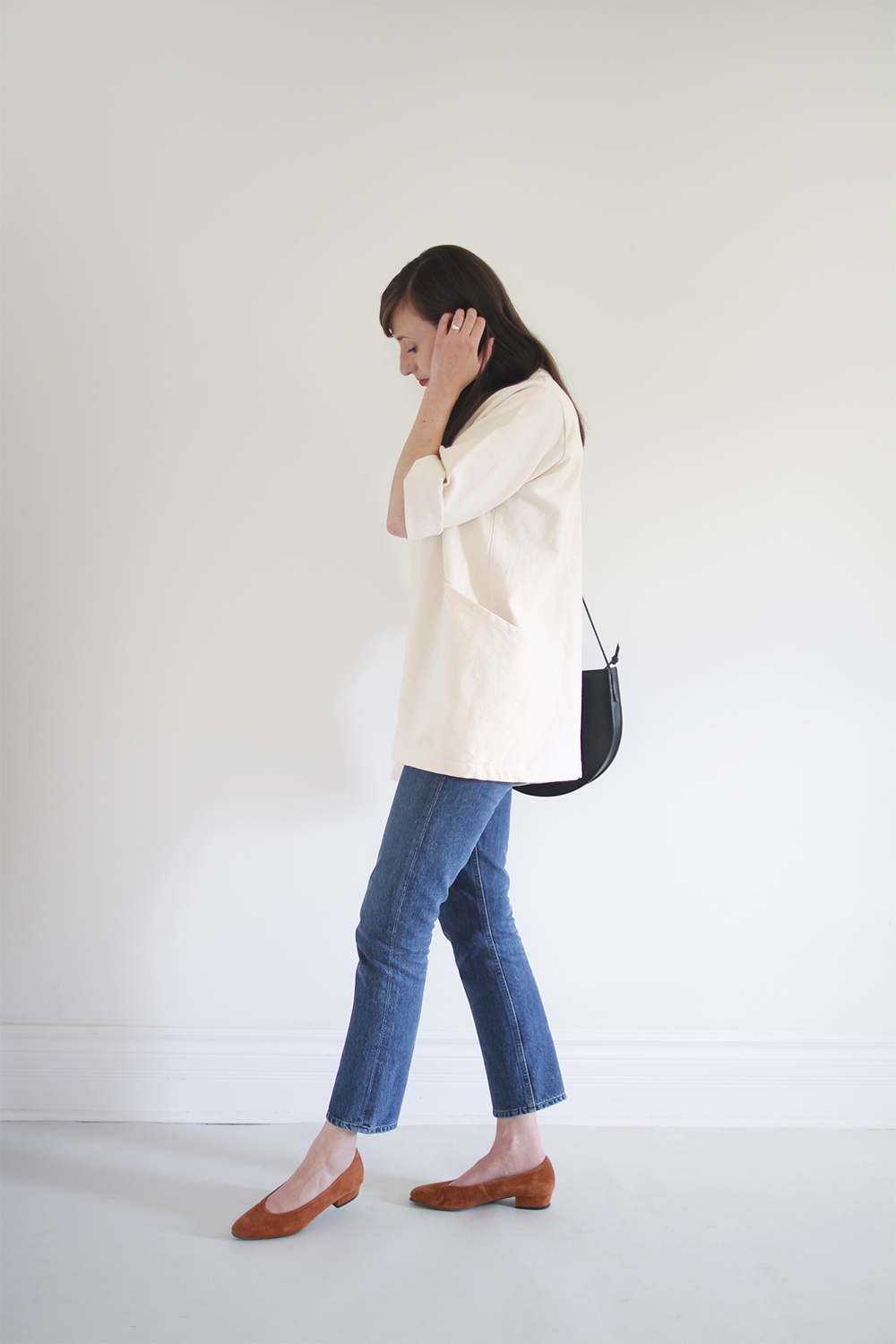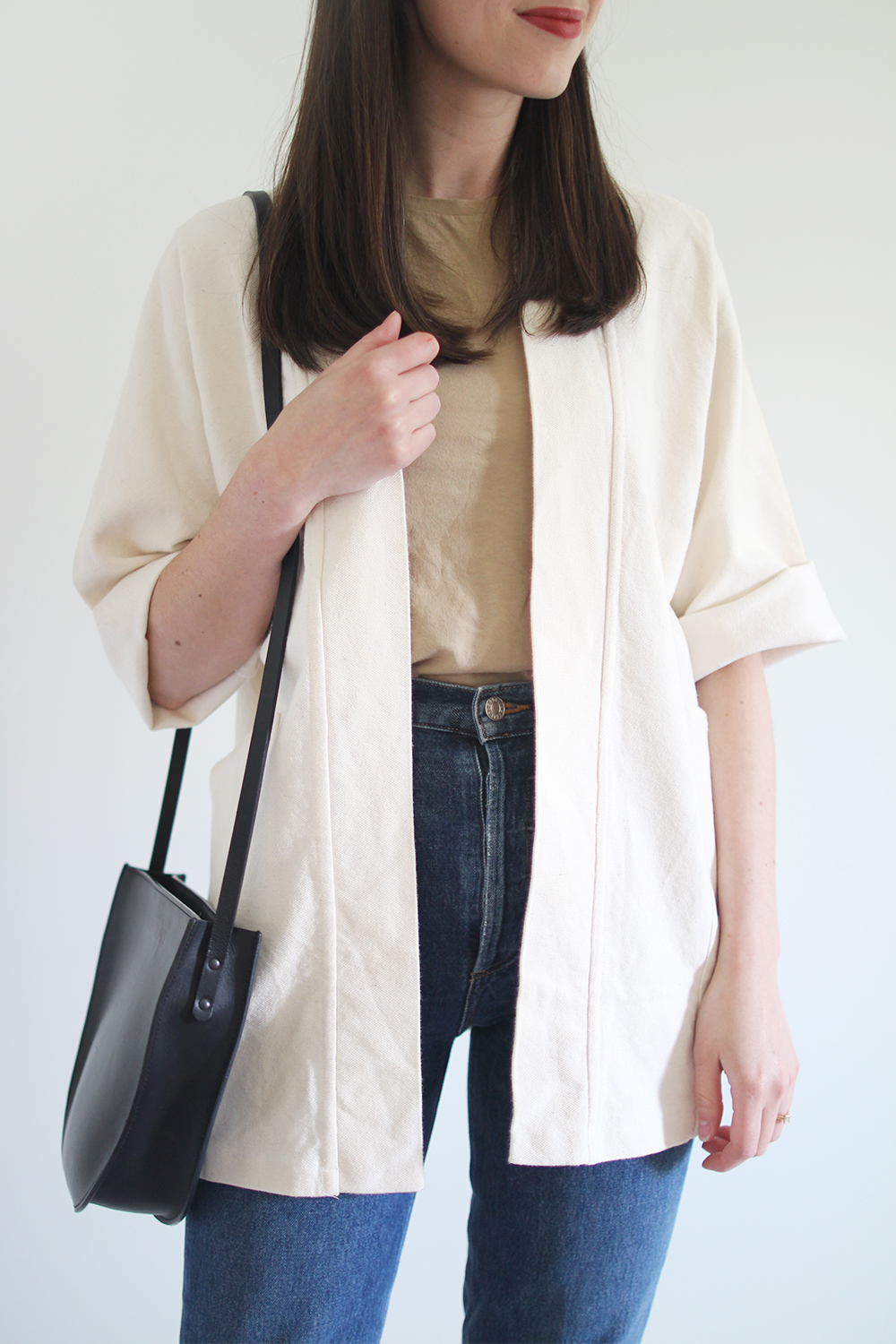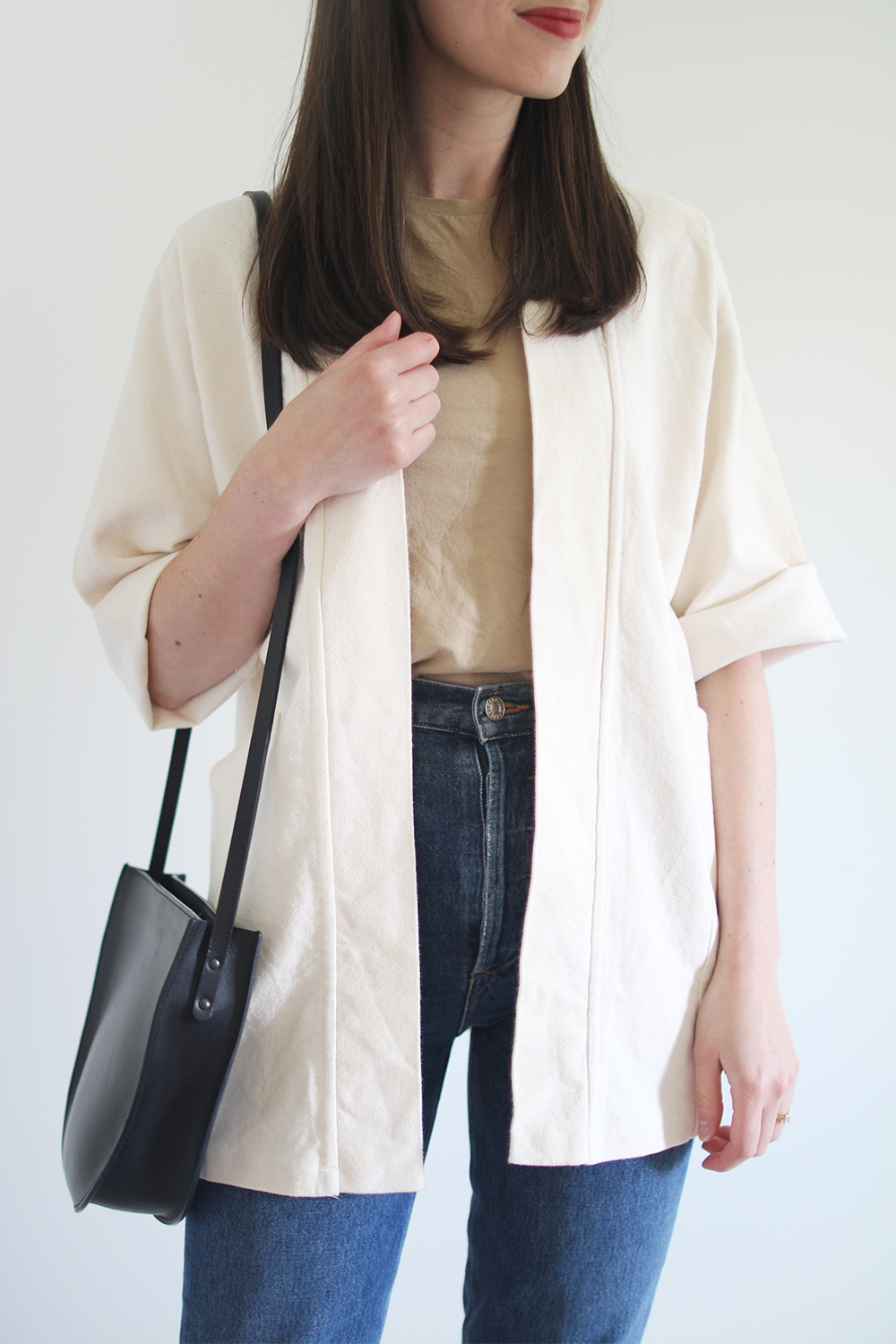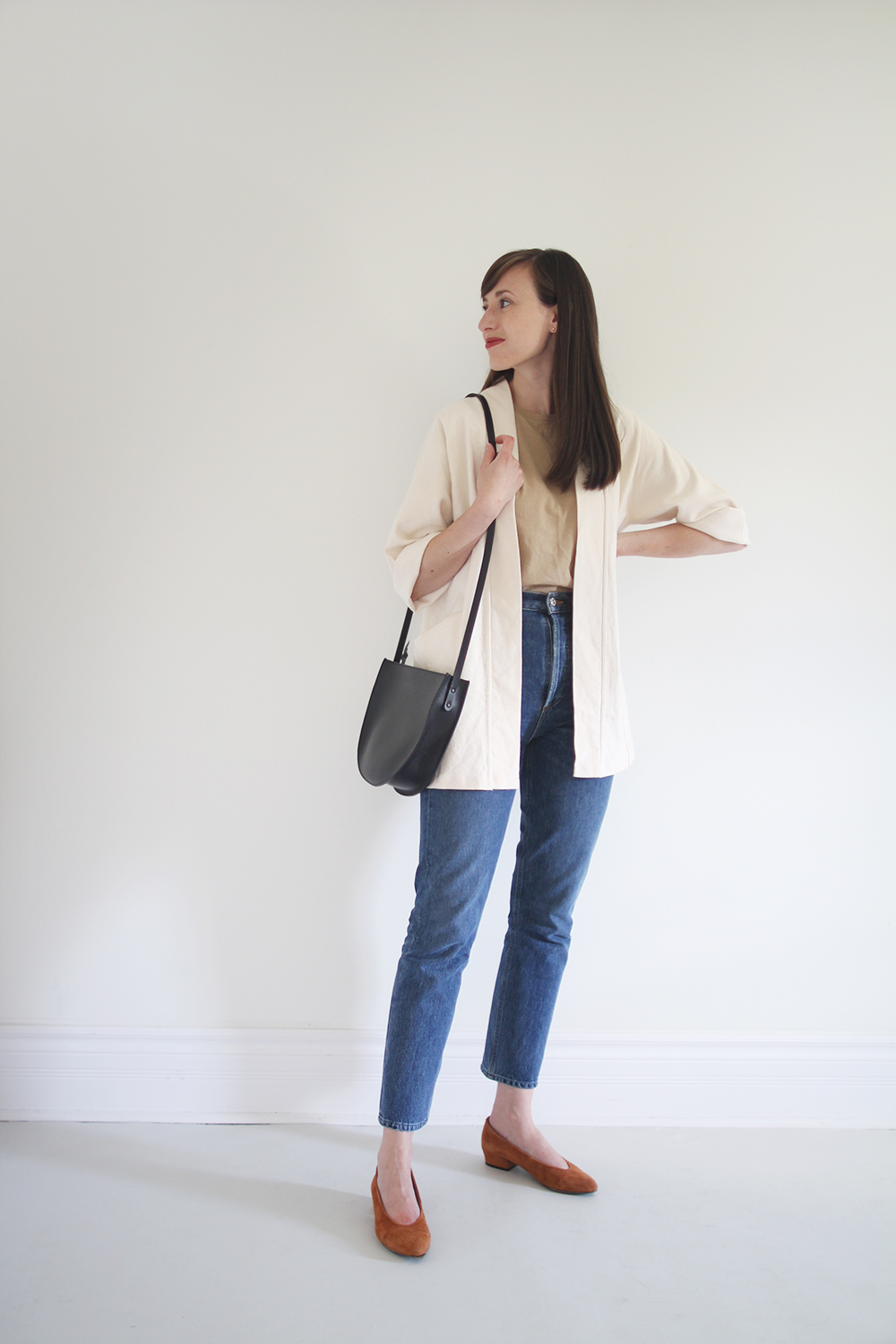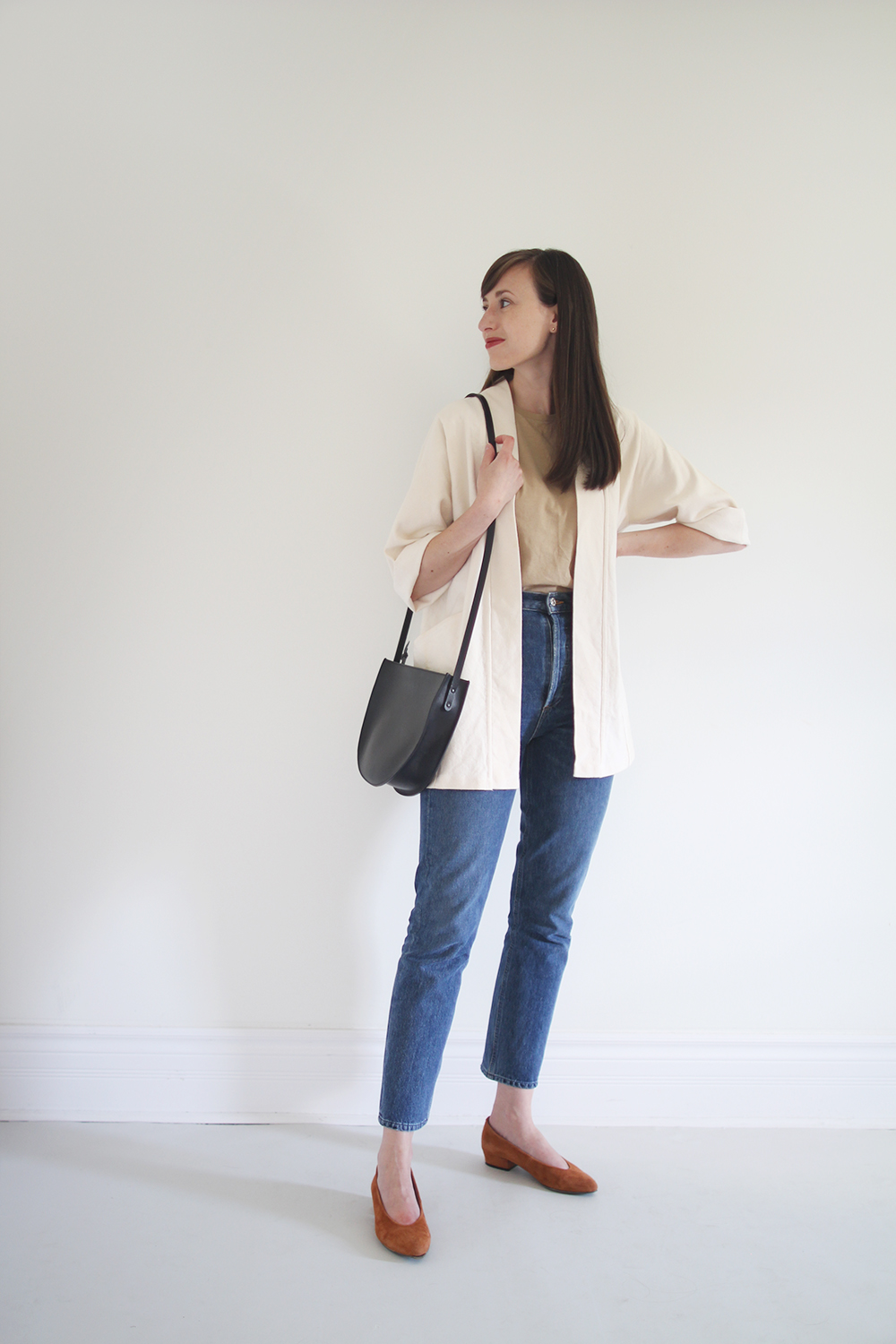 ---
THOUGHTS ON LOOK 3
---
THE FORMULA BREAKDOWN:
LIGHT JACKET – Cream Cardiff Work Coat c/o Only Child (sold out but available in denim)
FITTED TOP – Camel Crew Neck Tee by Everlane (color sold out)
HIGH-WAIST PANTS – Riley Straight Leg Crop by Agolde
BLOCK HEELS – Clou Flat by L'Intervalle (save 10% off any order with 'StyleBee10' ends July 31)
---
I wore this look on Monday but I've worn a few variations of it in the past. The base is essentially the same as the first look, high-waisted, vintage fit jeans with a simple crew neck tee tucked in. But with a couple of different additions like my pointed suede pumps in a rich cognac and a less structured approach to the blazer with my Cardiff coat, it feels like a totally different look (at least to me!).
I'm loving the subtle nod to Fall in this one too. Sorry, I know, too soon but this palette of rich, earthy colours, mid wash denim, mixed with some great textures is one I'll gladly wear any season.
---
KEY STYLE TIP
---
MONOCHROME + DENIM | I love the way all the earth tones are working in this look. The camel tee under the cream coat has a really nice monochrome feel to it. Plus it picks up nicely with the cognac flats which give the overall palette a major boost. I love how it contrasts with a mid-wash denim and how the contrast stitching becomes ever so slightly more noticeable too. The palette feels warm, understated and comforting.
Next time you're putting together an outfit, start by pairing two tones of the same colour family up top for a monochrome look, then contrast with your bottoms and add a rich dose of that first colour through your shoe choice. Think shades of blue paired with camel or khaki or shades of white and grey with burgundy. 
---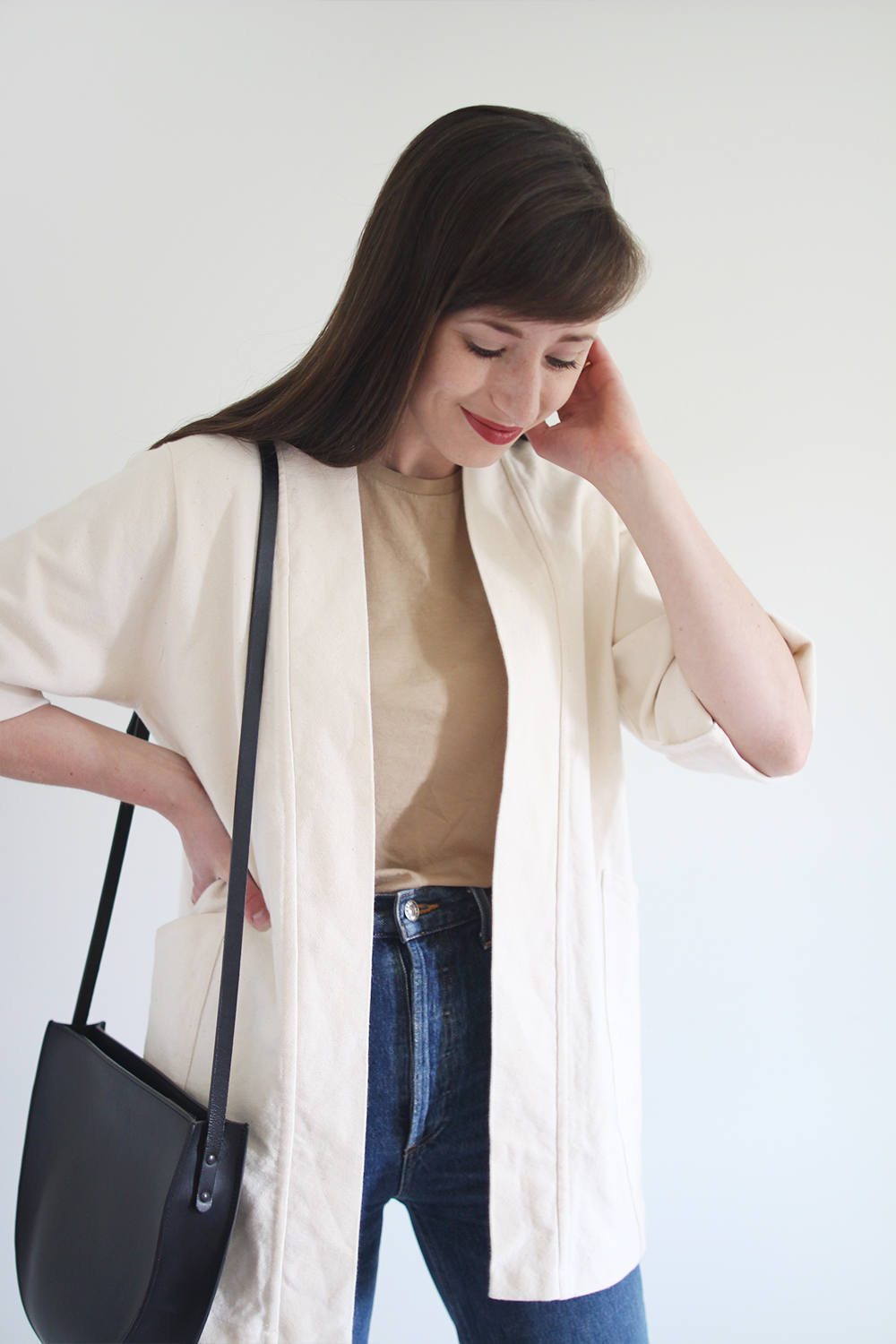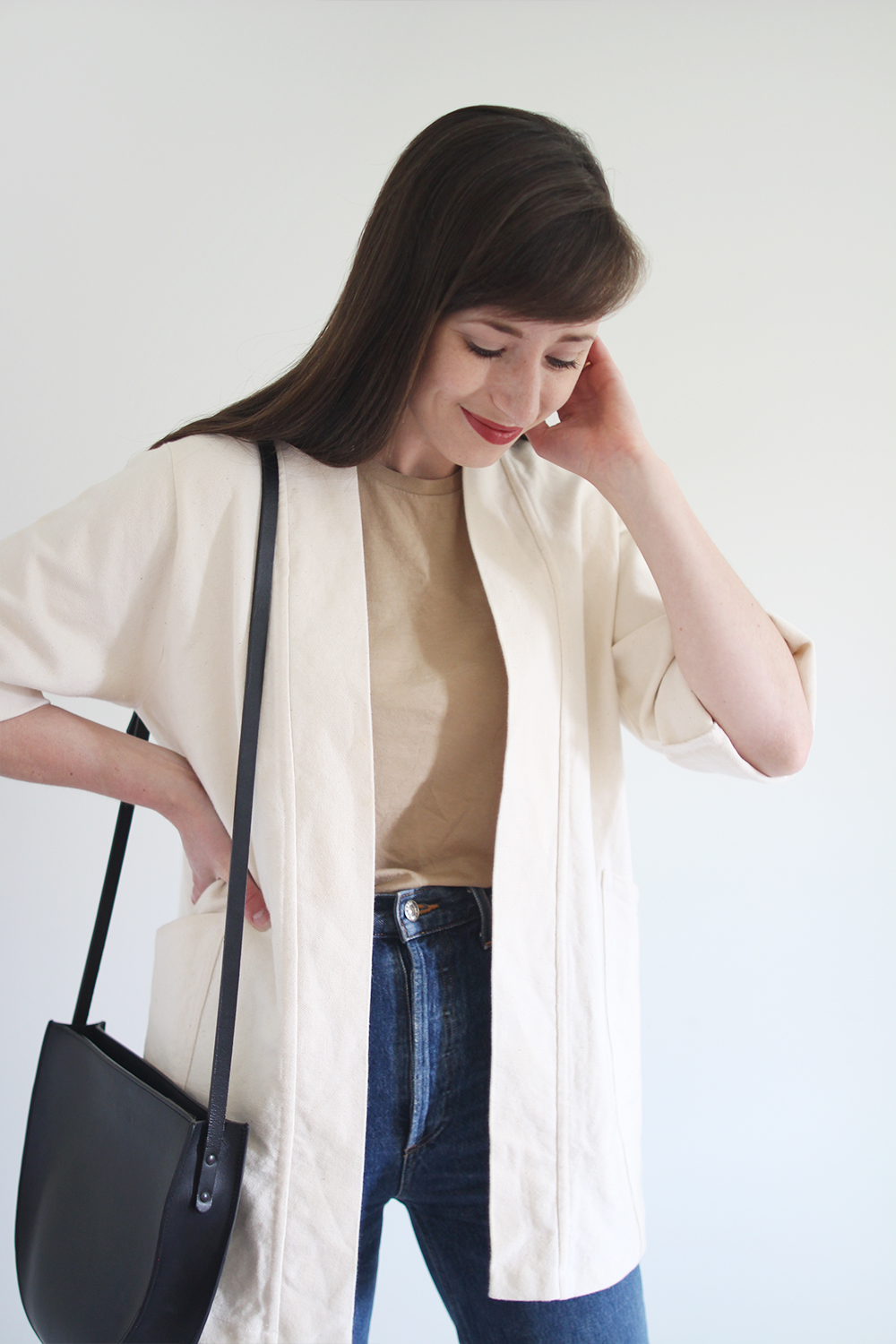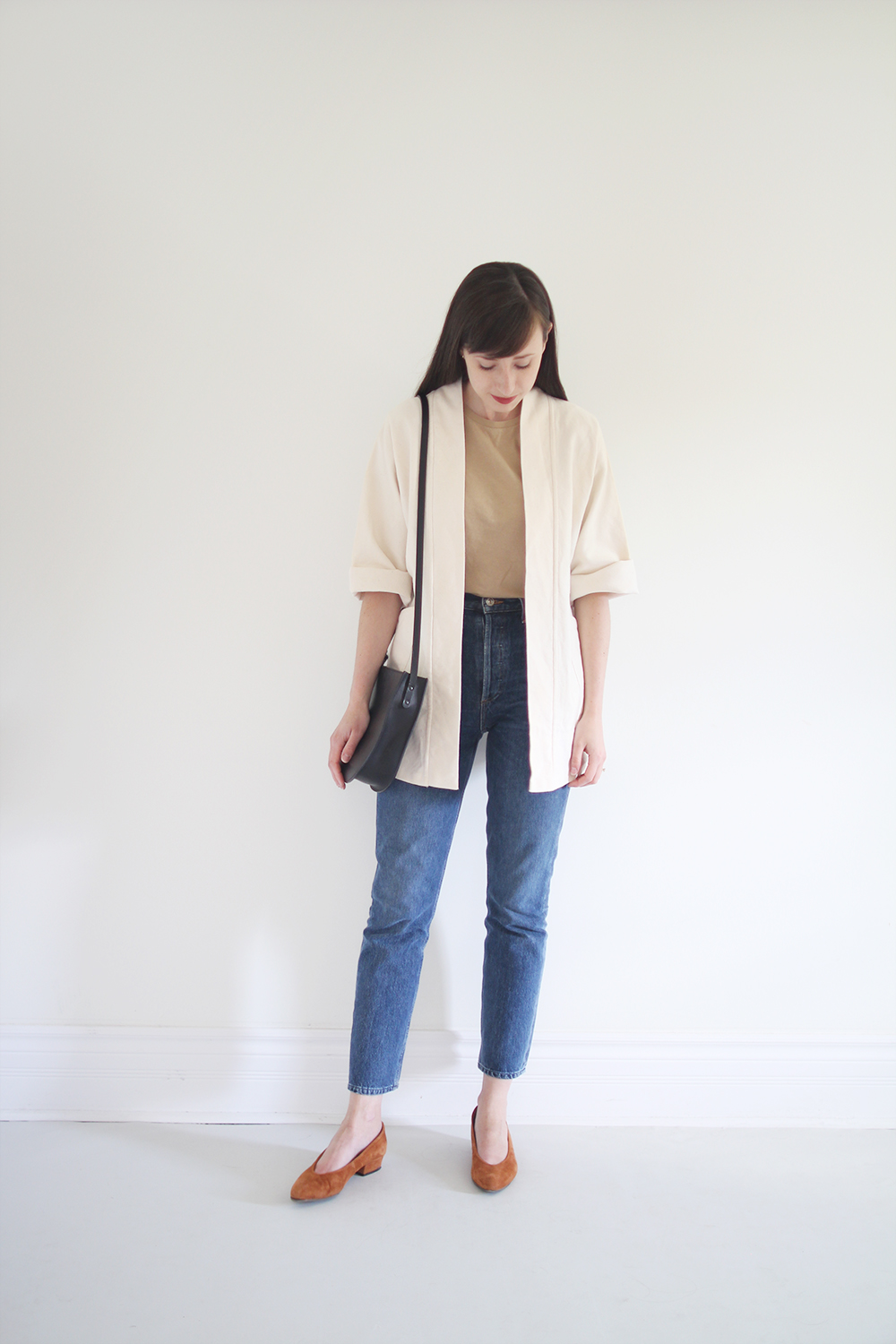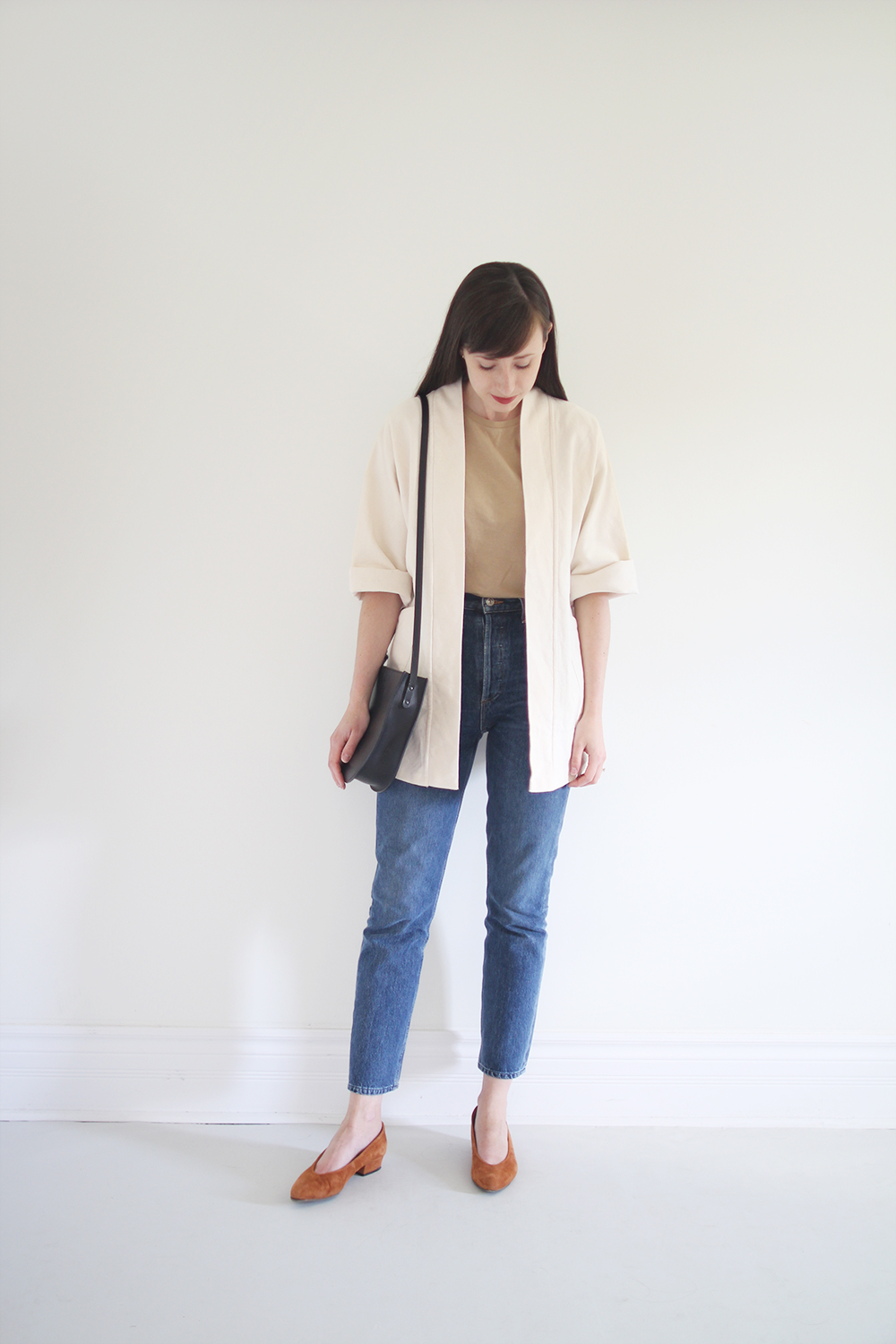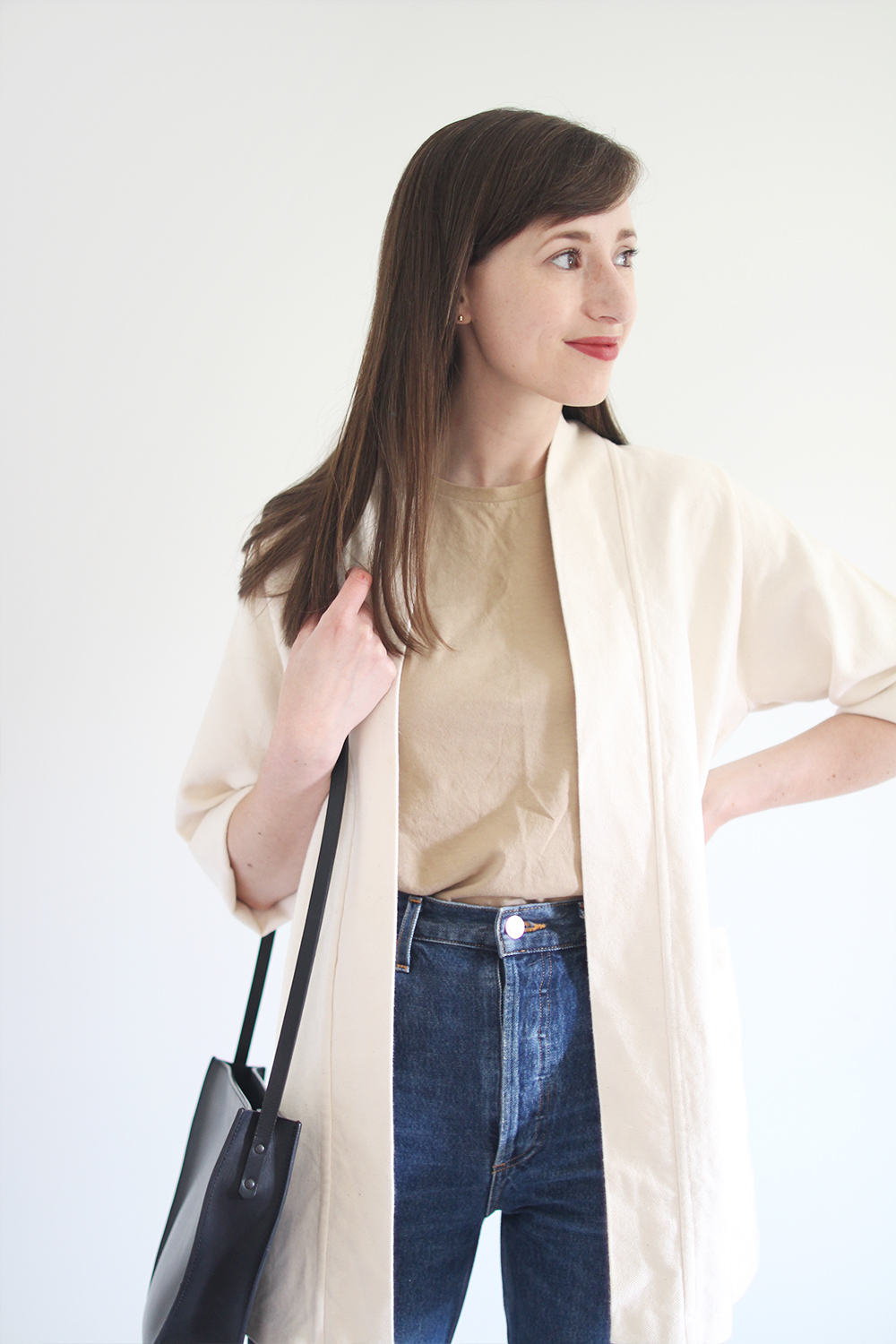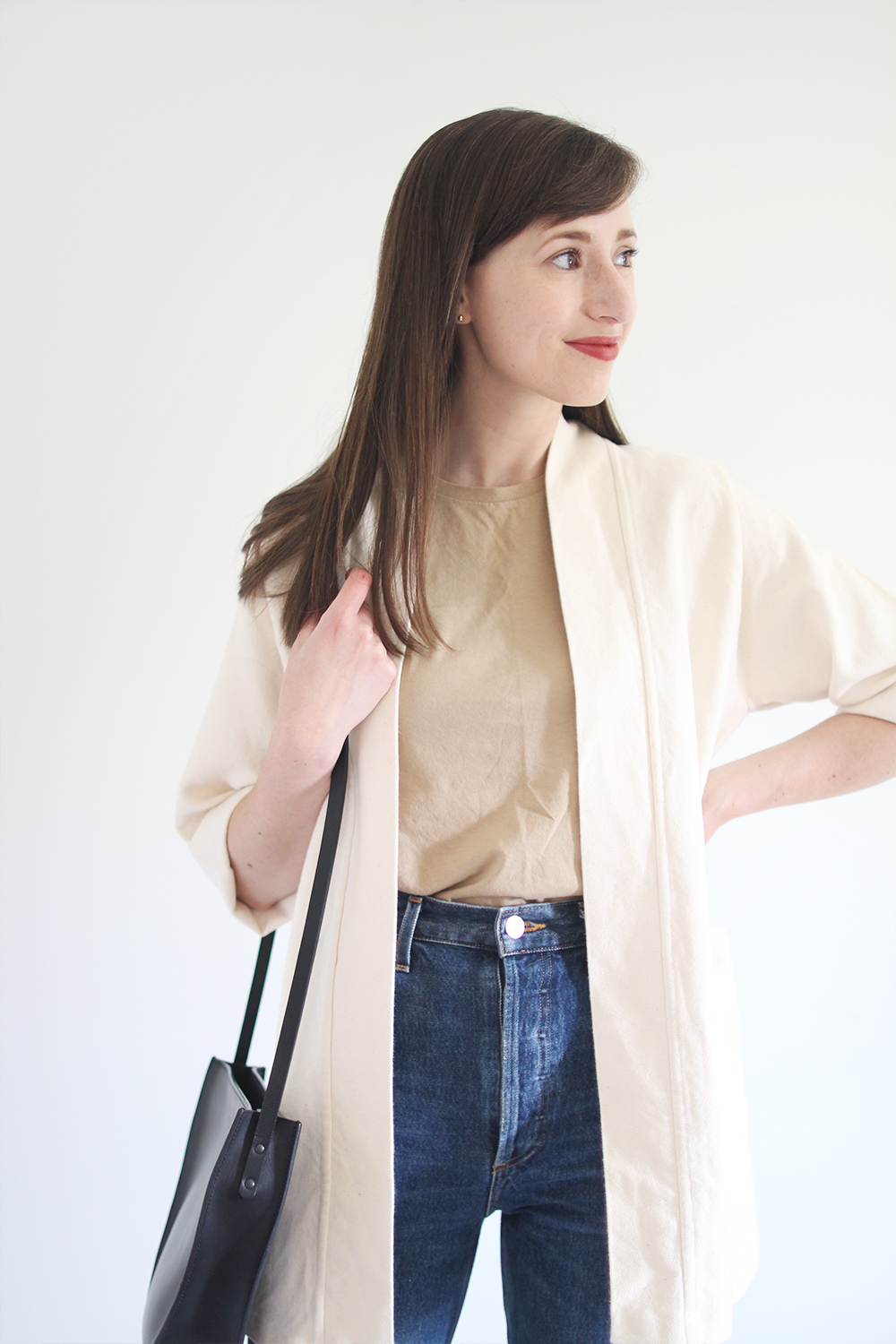 ---
WHICH OF THESE LOOKS IS YOUR FAVOURITE? 
WOULD YOU GIVE THIS FORMULA A TRY?
If you like this formula style series have a look at NOVEMBER, JANUARY, MARCH + MAY for more mixing and matching tricks! 
---
WISHING YOU ALL A WONDERFUL WEEKEND!
---
This post is not sponsored but contains affiliate links. When you shop via the links above I may make a small commission from a sale. This income helps limit the amount of sponsored content that appears on Style Bee. Thanks a lot for your support!