While I might be more than ready to welcome spring into my style and closet, the forecast isn't exactly on the same page here in Ontario. Instead of letting that get me down, I've been trying to have some fun with my winter closet. One way I like to get creative is to pull together monochrome looks. Even if they aren't entirely based on a single hue, it's still a great launching point to build an outfit from.
Today I'm sharing a few outfits that have helped me break out of my leggings all day everyday winter style rut without sacrificing too much comfort or coziness. Plus, if you're lucky enough to live where it's warming up already, look 1 & 3 are totally spring weather friendly if you skip the coat and accessories.
Hopefully these will offer a little style boost for you as we embark on the home stretch of winter. Now let's dig in!
---
This post was not produced in partnership with any brands mentioned but does contain affiliate links and some gifted items (from previous partnerships). If you see something you like and decide to shop through the links included, I may earn commission on a sale at no additional cost to you. All opinions are always my own and I only share items I love. Thanks for supporting Style Bee!
---
LOOK 1
---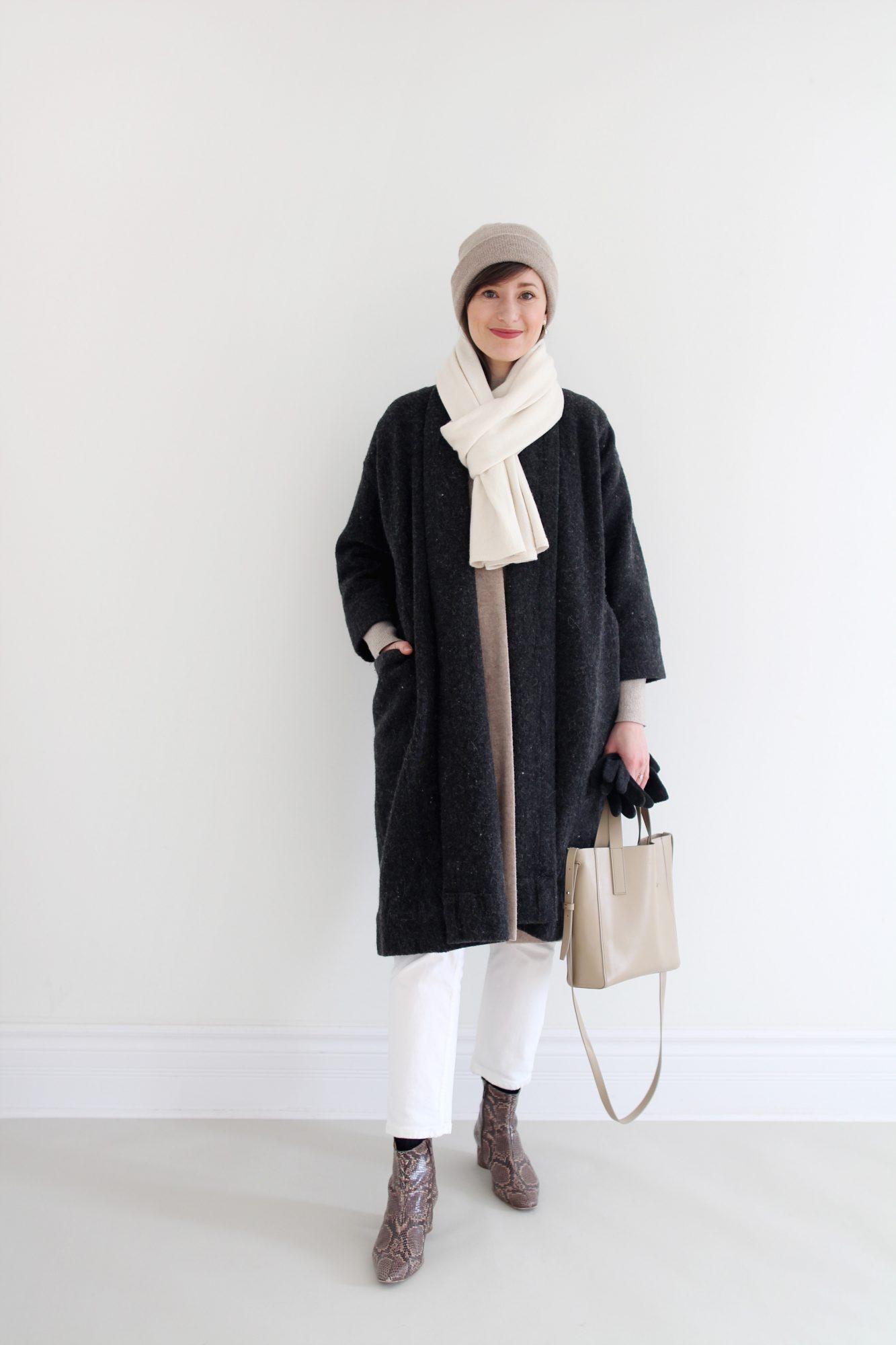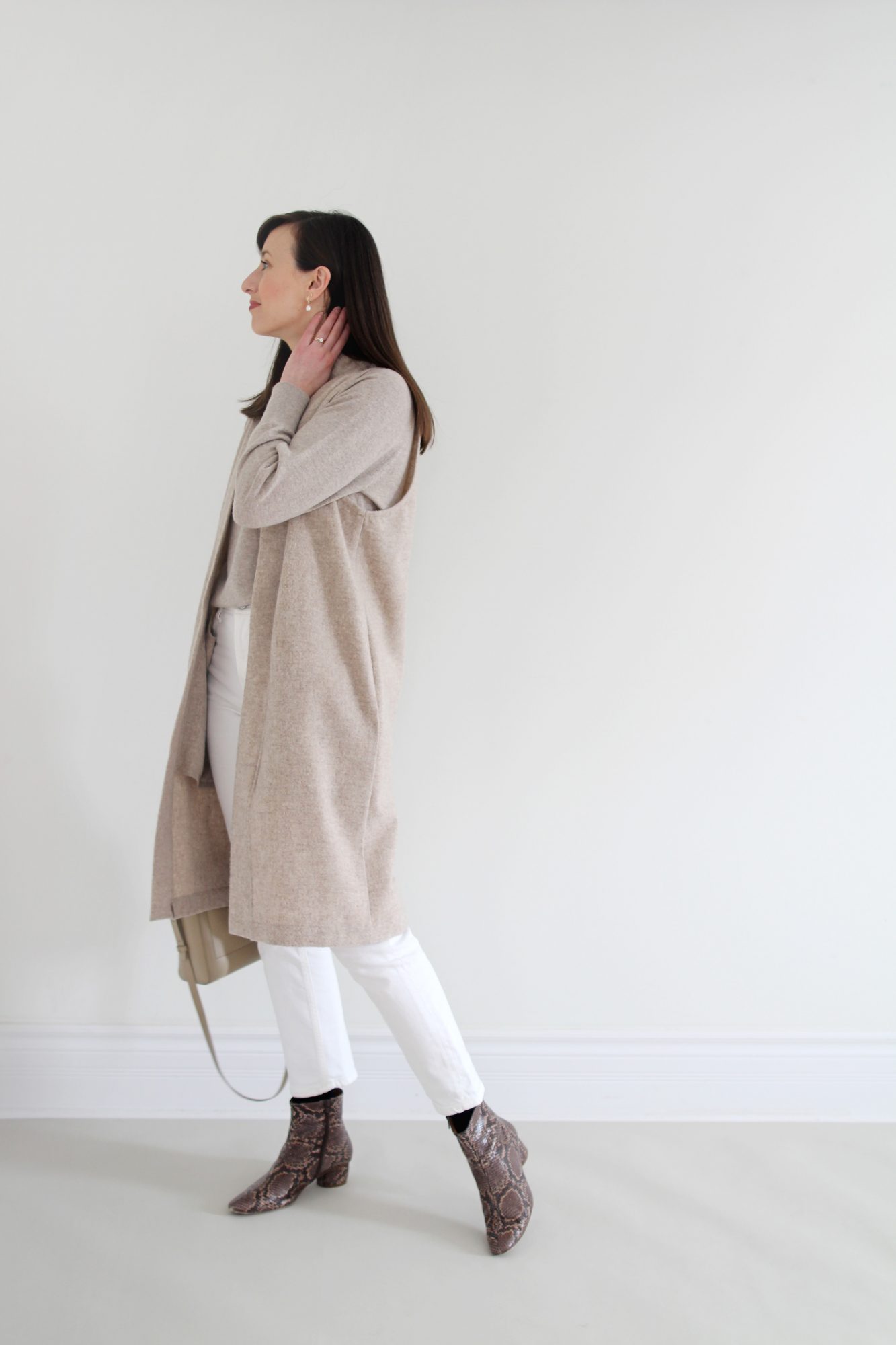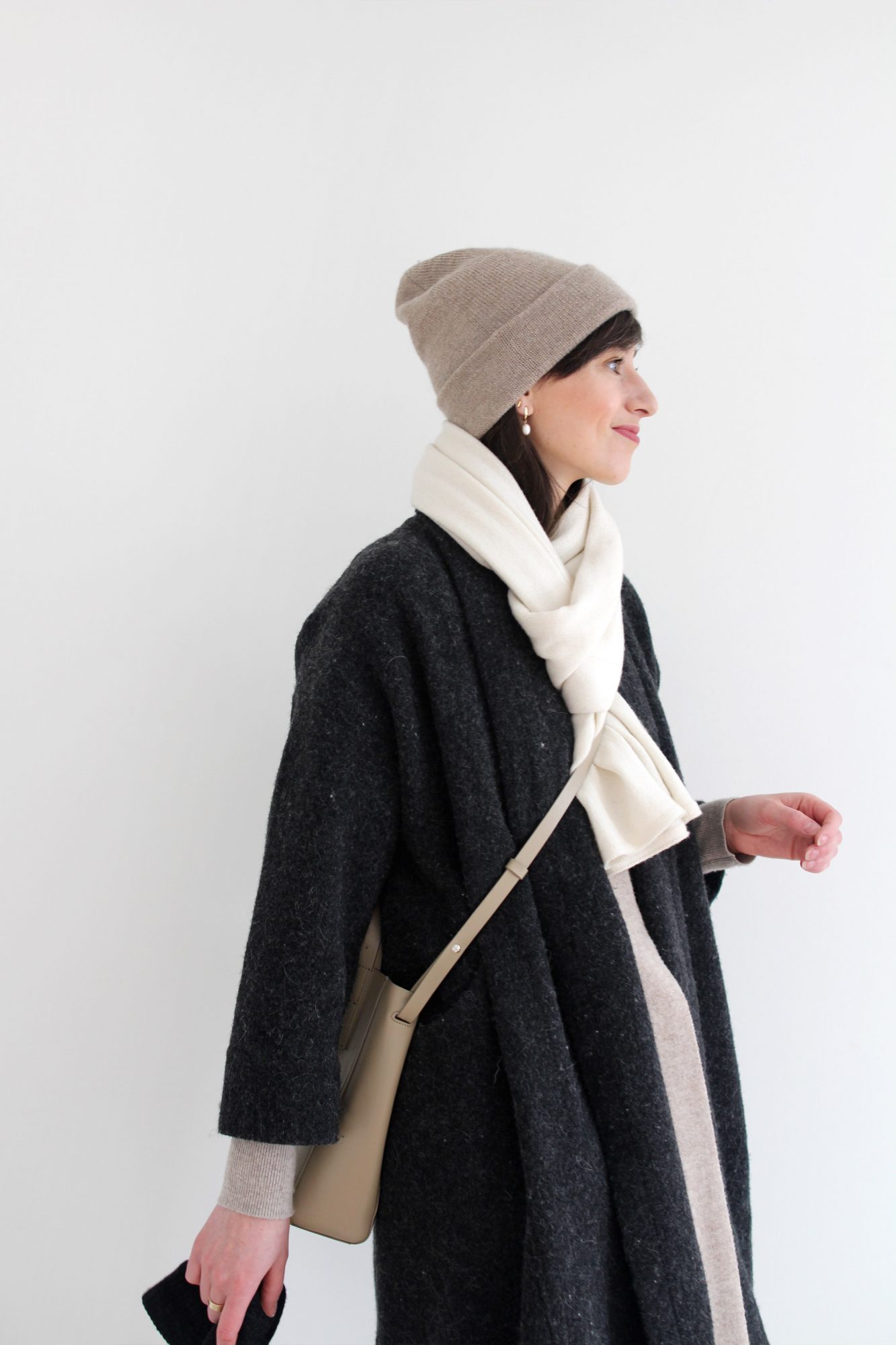 ---
Whenever I'm in a winter style rut I try to build a look that feels fresh and hopeful but still delivers on the need for warmth. The easiest way to get started is to pick out a pair of white denim, which I find gives the palette an instant boost of optimism. Then I start adding soft neutrals like this oatmeal mockneck sweater and wool vest. I love when pieces that I didn't think of combining end up layering beautifully just like this!
From there I grabbed a printed boot for a hit of pattern and interest. I broke the monochrome palette a bit by adding a dark coat but it's flecked texture works really nicely with the heathered pieces underneath. To keep the look feeling light, a cream scarf picks up my pearl earrings and a taupe hat and bag help to pull tones from the base.
I love this look for a comfy work day when I might have a meeting or need to run some errands around town.
---
OUTFIT SOURCES: SWEATER / SCARF / BAG* gifted EVERLANE | WHITE STRAIGHT JEANS* old EVERLANE | MATEA ANKLE BOOT by LOQ (on sale!) | WOOL VEST old gifted ONLY CHILD | HEAVY WOOL COAT gifted ELIZABETH SUZANN (more details here) | SOCKS by PACT | BEANIE sold out gifted BARE KNITWEAR | *linked to similar
---

---
LOOK 2
---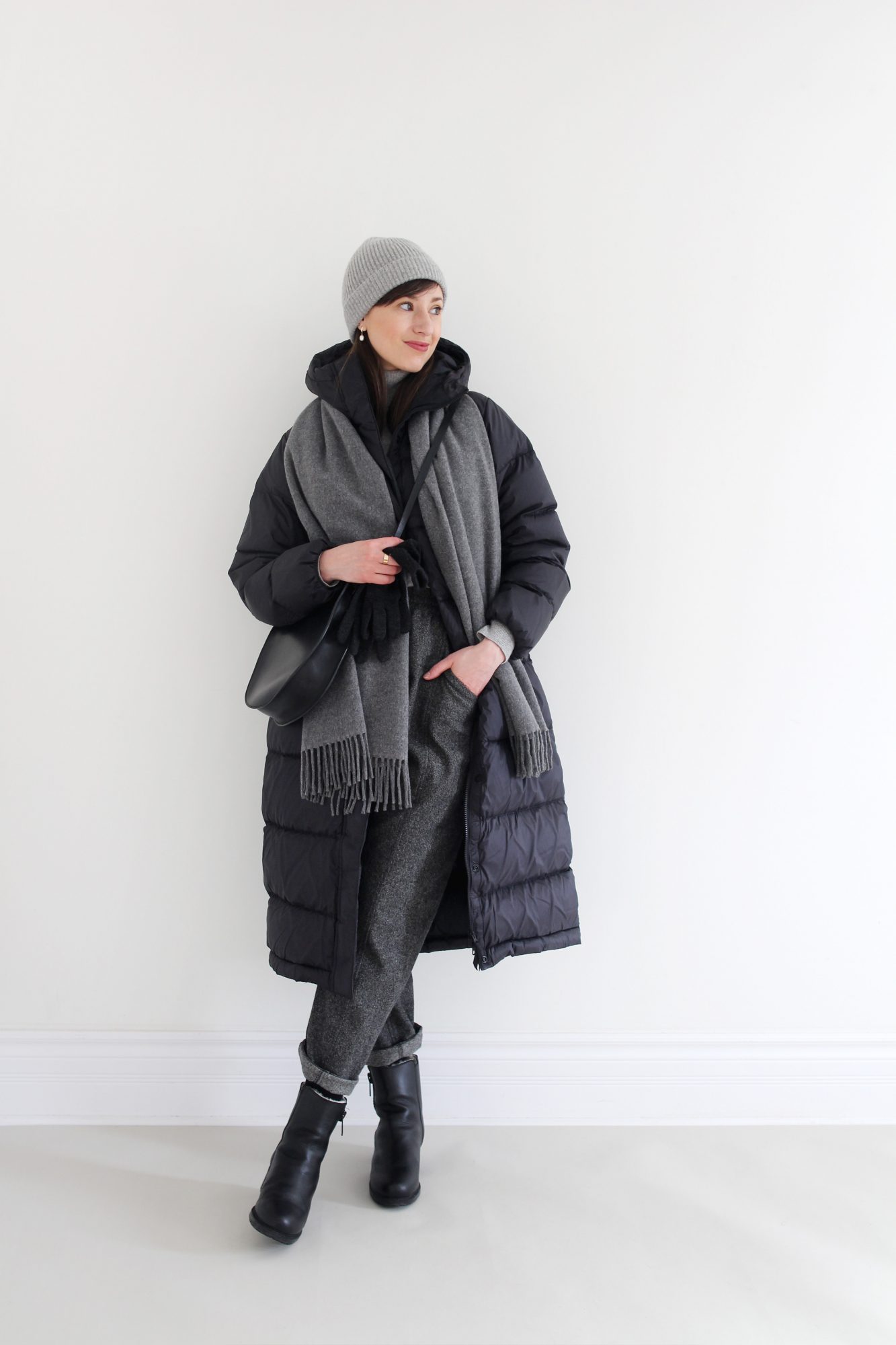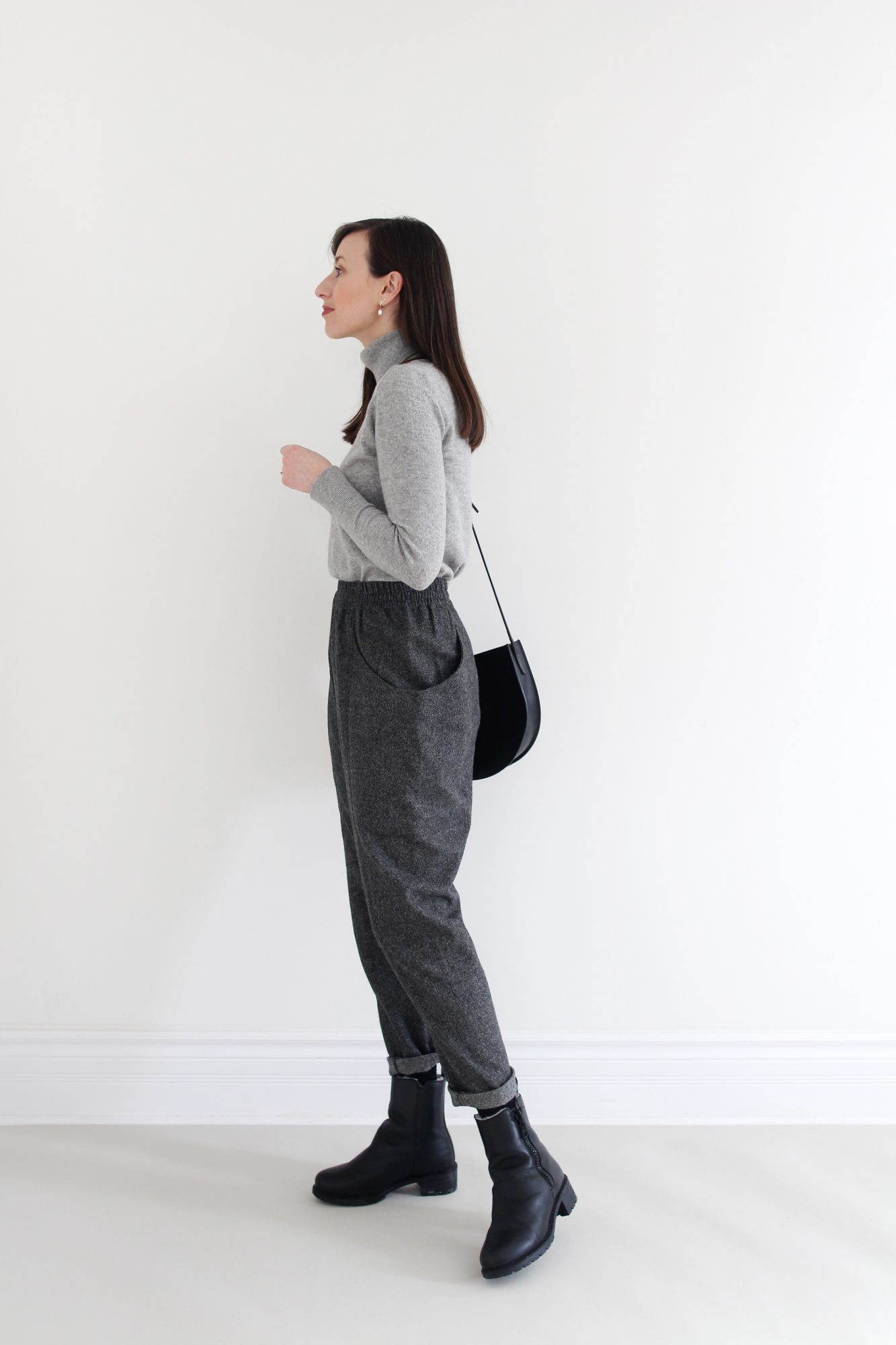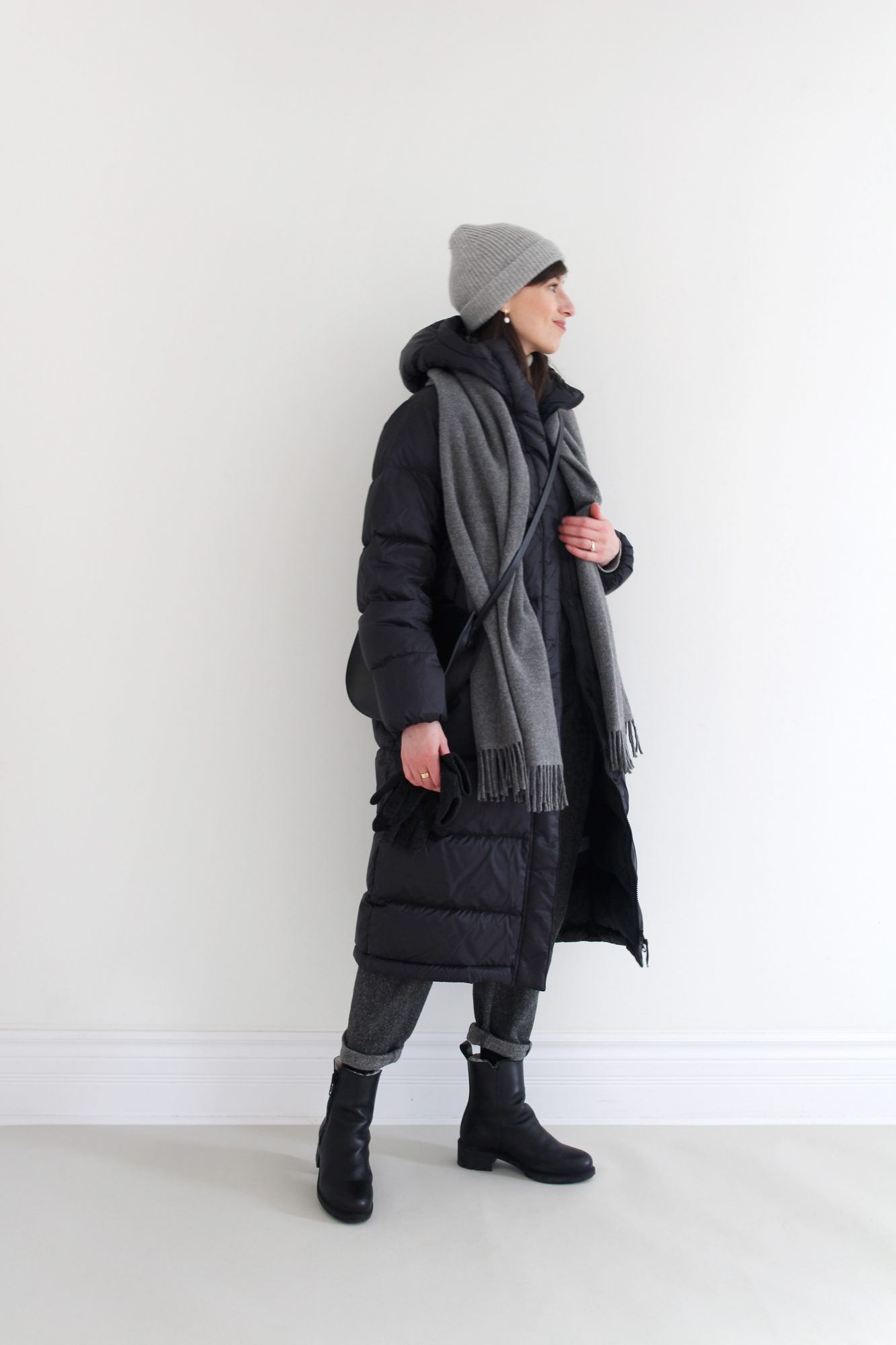 ---
All grey all day, just like the weather lately. This one is decidedly less optimistic than look 1 but it's definitely ready for any last minute blizzards that might be headed our way. I never used to consider myself the type to wear so much grey but with lots of textures and unique proportions I feel right at home in this one.
I've lived in this puffer all winter and truly can't imagine going back to a shorter length coat. One of my favourite styling techniques is to layer my big wool scarf over top and let it function as a shawl. This helps to balance out the expanse of black and the horizontal lines in the puffer by drawing the eye up and down.
This look is ideal for cold, snowy, blustery days when I have to leave the house but wish I could just stay cozy indoors.
---
OUTFIT SOURCES: TURTLENECK SWEATER by EVERLANE | WOOL CLYDE PANT* old ELIZABETH SUZANN | BOOTS by MAGUIRE (made in Canada!) | PUFFER COAT gifted EVERLANE | SCARF by ACNE STUDIOS | BEANIE / BAG* / GLOVES* old | PEARL EARRINGS by CADETTE (made in Toronto!) | *Linked to similar
---

---
LOOK 3
---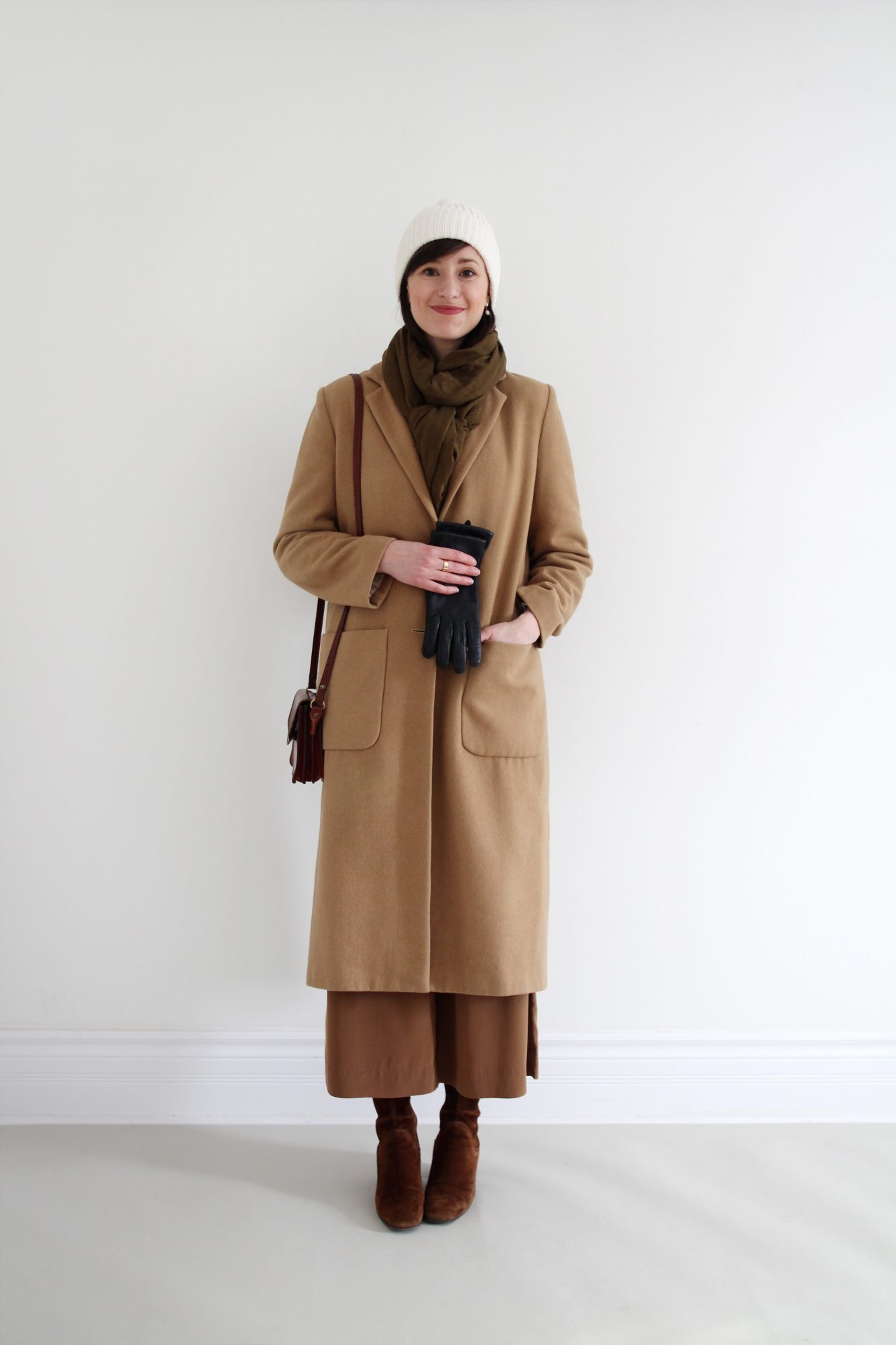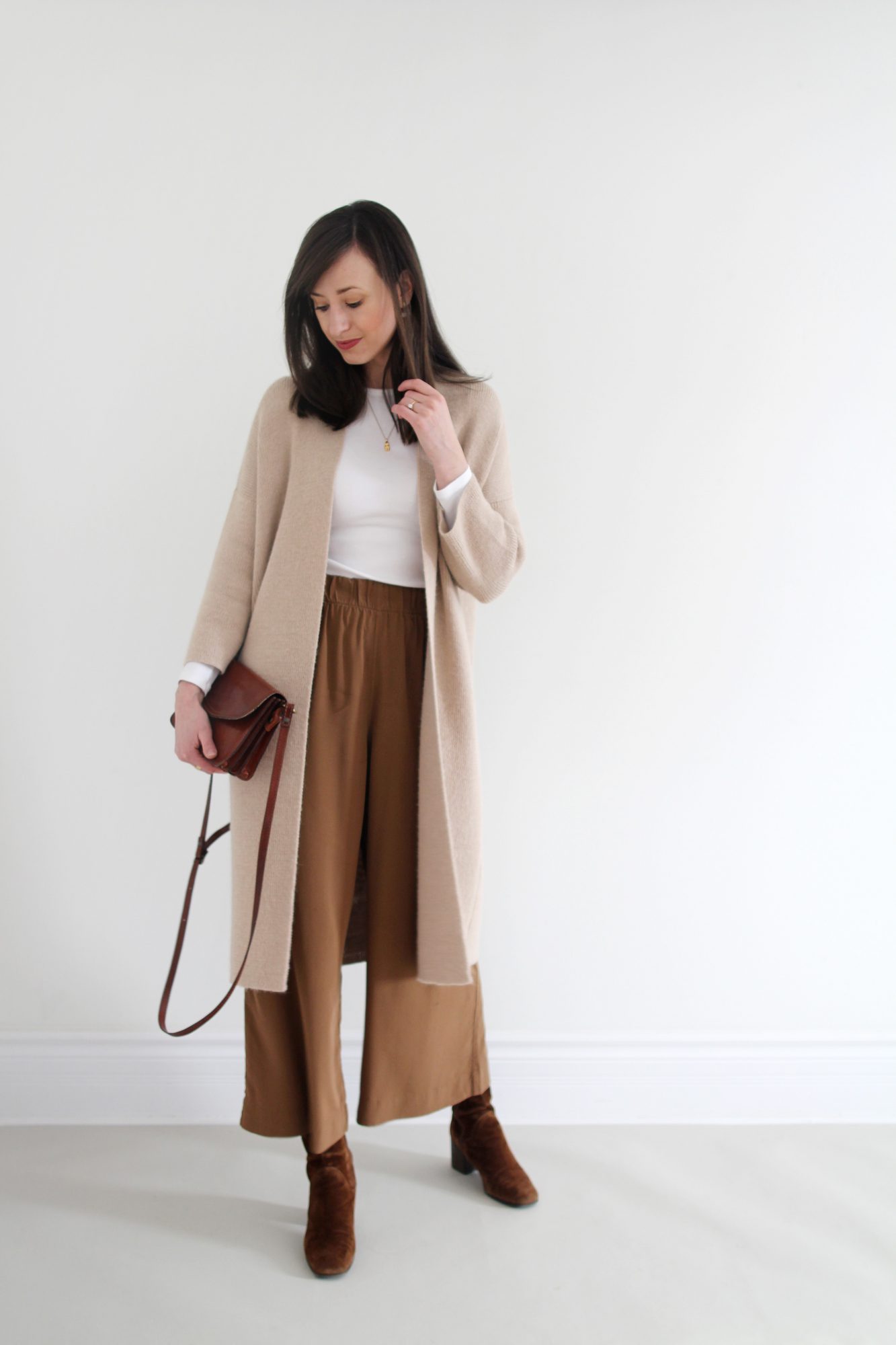 ---
With hits of cinnamon, cumin, paprika, cloves and herbs, this look is almost as comforting as a piping bowl of chilli!
An outfit like this one has been a go-to formula for several winters now. I just adore the clean minimal lines of this alpaca cardigan and how it falls over a fitted long sleeve and floaty silk pants. As you've probably gathered, I love mixing all the warm neutrals in my closet and seeing how subtle differences in tone and texture come together.
I layered my long camel coat over top for when I'm braving the outdoors and wrap a rather large but very light blanket scarf around my neck to stay when I'm not already wearing a turtleneck. My all-star favourite suede boots and vintage bag are an obvious addition to this earthy palette and a chunky beanie adds a bit of fun to the look!
This is a great option for get-togethers with friends and family or a dinner downtown with the fella.
---
OUTFIT SOURCES: CAMEL COAT* old | LONG-SLEEVE TEE by EVERLANE | SILK PANT by ELIZABETH SUZANN (wearing M Reg) | LONG CARDIGAN* old HAN STARNES | SUEDE BOOT* (similar on sale!) by AQUATALIA (similar here too)| SCARF* old | CROSS-BODY BAG* vintage | BEANIE / GLOVES (similar on sale!) | PEARL EARRINGS by CADETTE (made in Toronto!)
---

---
There's my take on some late winter monochrome style.
Let me know which of these looks is your favourite!
THANKS FOR READING!